Indulge in the ultimate comfort food – pasta! Elevate your weeknight dinners with this irresistible Roasted Butternut Squash Pasta w/ Parmesan Garlic Sauce recipe! Deliciously seasoned squash, your favorite pasta or ravioli, and a creamy parmesan garlic sauce that's pure cheesy indulgence. It's the coziest bowl of Butternut Squash Pasta, perfect for satisfying your Italian + fall flavor cravings all in one delightful dish! Ready in only 30 minutes. Dairy-Free, Vegan, + Gluten-Free options.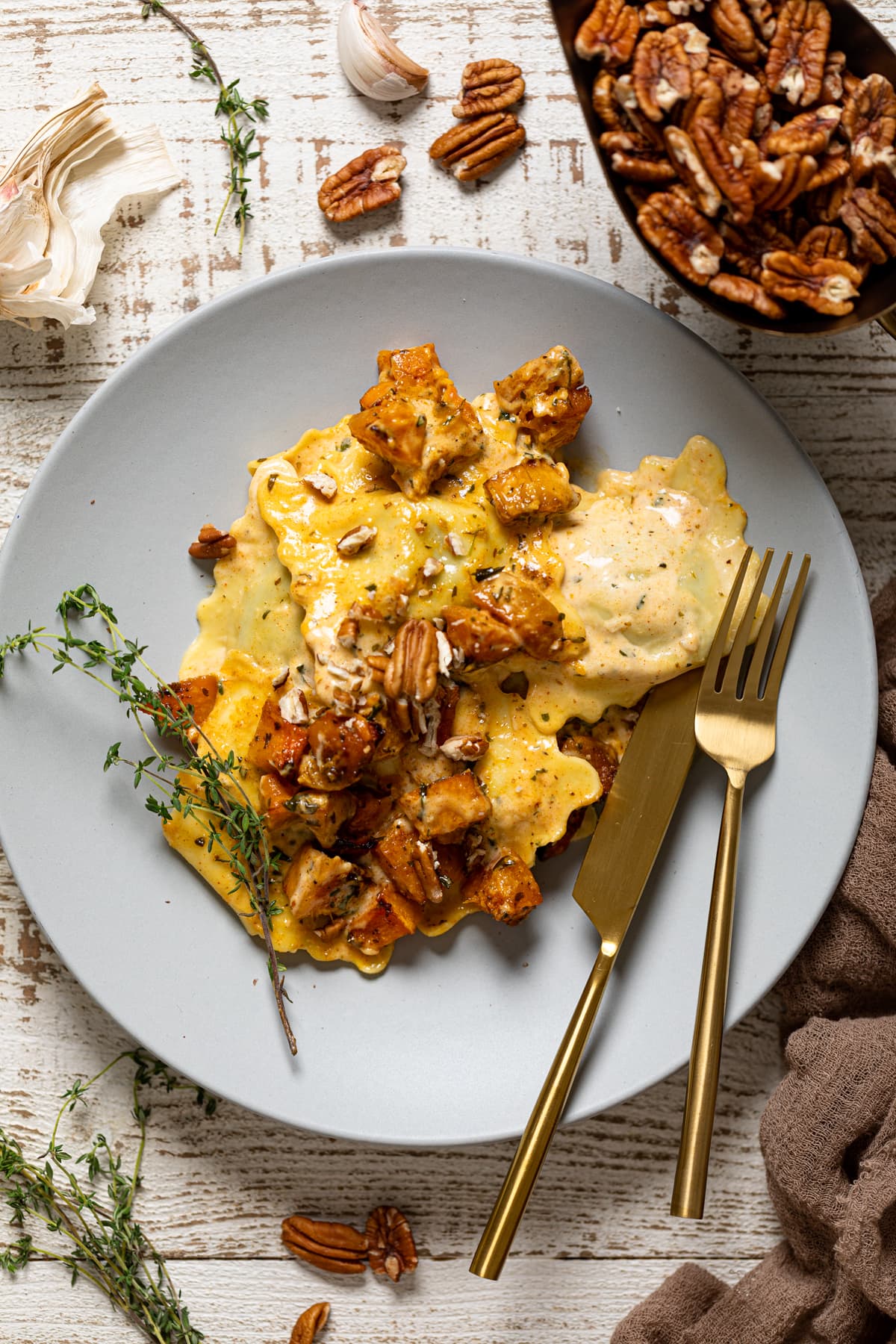 Why Roasted Butternut Squash Pasta?
Pasta is an all-time favorite for me, and I can't resist trying every pasta variation (big shoutout to my beloveds: Southern-Style Cajun Pasta with Pecan Breadcrumbs, Spicy Brown Butter Pumpkin Rigatoni, and Lemon Brown Butter Pasta), including this delightful Roasted Butternut Squash Pasta with Parmesan Garlic Sauce.
Let's be real, pasta is the ultimate go-to comfort food, whether it's a lazy weeknight or a relaxed weekend. And if you're on the hunt for more delicious weeknight meal ideas, just type 'weeknight meals' into my search bar – there's a world of yumminess waiting for you!
This pasta recipe is so full of creamy, cheesy savory goodness. The secret is a dynamite combination of squash, parmesan, and heavy cream. The sauce coats every nook and cranny of your pasta so every bite is flavor-packed and decadent.
Jump to: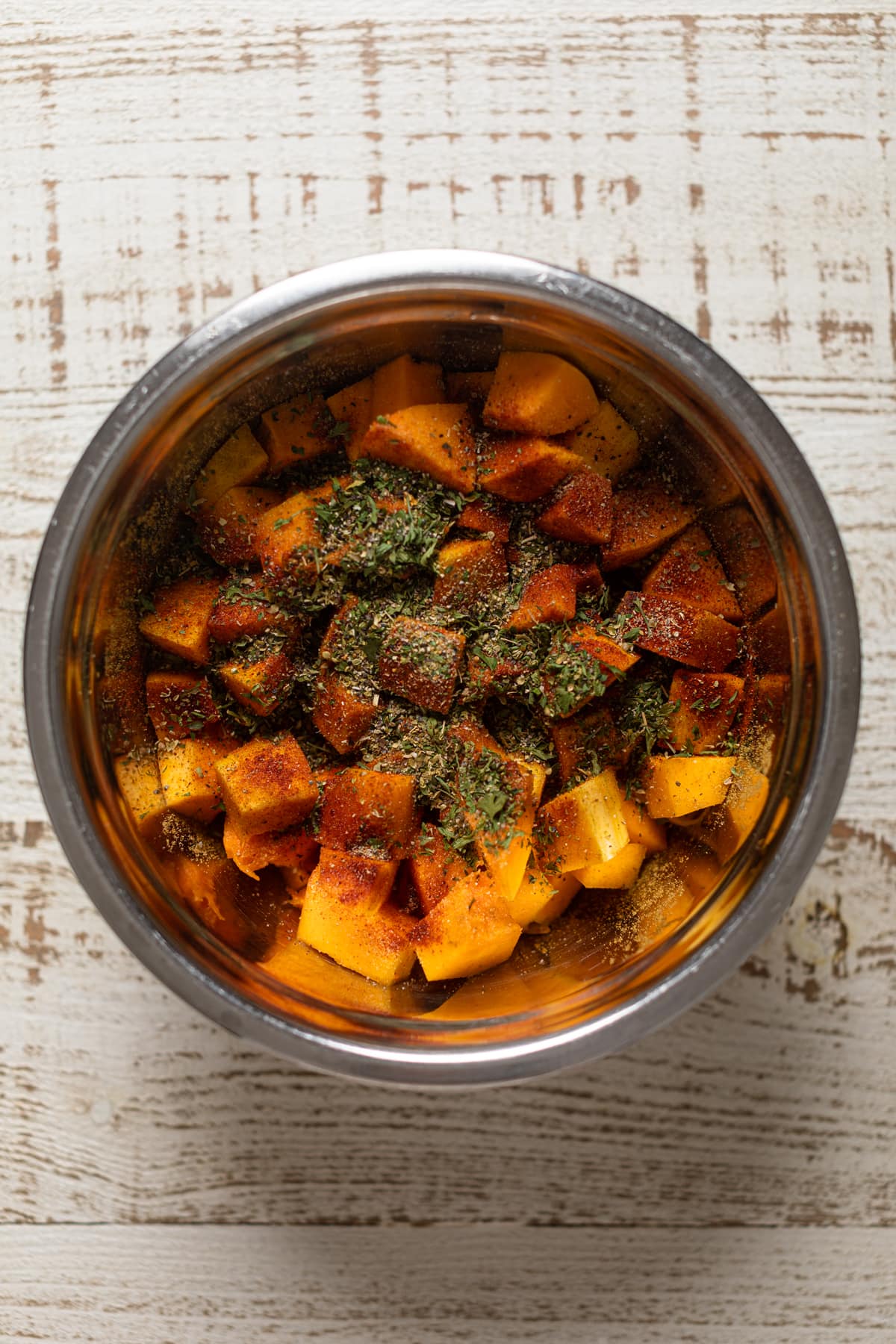 How To Make Roasted Butternut Squash Pasta
In this pasta recipe, you'll find just two essential components: the pasta itself and the heavenly butternut creamy, cheesy, and garlic-infused parmesan sauce.
Ingredients
Here's what you need to make this fast creamy pasta dinner recipe:
Organic spinach + cheese ravioli. (Or your favorite pasta or ravioli)
For the Roasted Butternut Squash:
Butternut Squash: Adds sweet, creamy richness.
Extra Virgin Olive Oil: Infuses a luscious, fruity undertone.
Dried Oregano: Imparts earthy, herby notes.
Dried Parsley: Offers mild, grassy freshness.
Dried Basil: Infuses sweet, aromatic hints.
Smoked Paprika: Adds smoky, savory depth.
Garlic Powder: Provides a subtle, umami punch.
For the Parmesan Garlic Sauce:
Unsalted Butter: Enhances richness and depth.
Garlic: Infuses aromatic, savory flavors.
Organic Heavy Cream: Provides velvety, creamy texture.
Chicken or Veggie Stock: Adds savory depth and moisture.
White Cooking Wine: Imparts a mild, fruity complexity.
Sea Salt + Black Pepper: Elevates overall seasoning.
Garlic Powder: Boosts garlic aroma and taste.
Dried Oregano: Introduces earthy, herby notes.
Dried or Fresh Parsley Leaves: Offer fresh, herbaceous accents.
Smoked Paprika: Adds a smoky, nuanced undertone.
Freshly Grated Parmesan Cheese: Delivers rich, cheesy indulgence.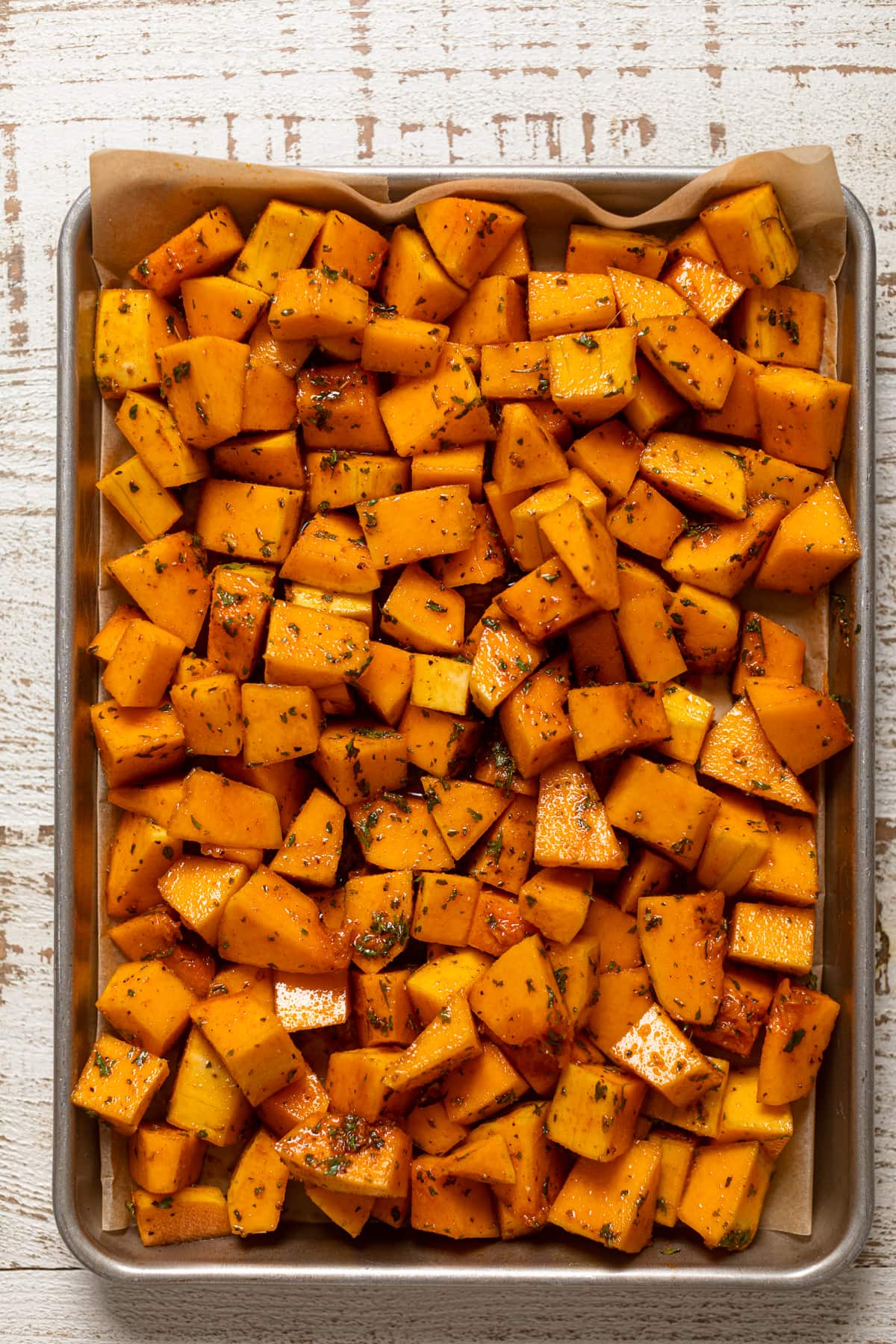 Choosing Your Perfect Pasta
You can use any type of pasta that you like in this recipe. That is what makes this Roasted Butternut Squash Pasta recipe so adaptable!
I enjoy eating ravioli because of the cheesy filling, which adds so much to any sauce that you pair it with. My personal favorite is the spinach-flavored ravioli because of the color and added nutrients.
Choose from any of these pasta varieties for this dish:
Tagliatelle
Orecchiette
Spirals
Tortellini
Angel hair
Bucatini
Shells
Penne
You can also use gluten-free pasta, whole-wheat pasta, or even zoodles for a low-carb option!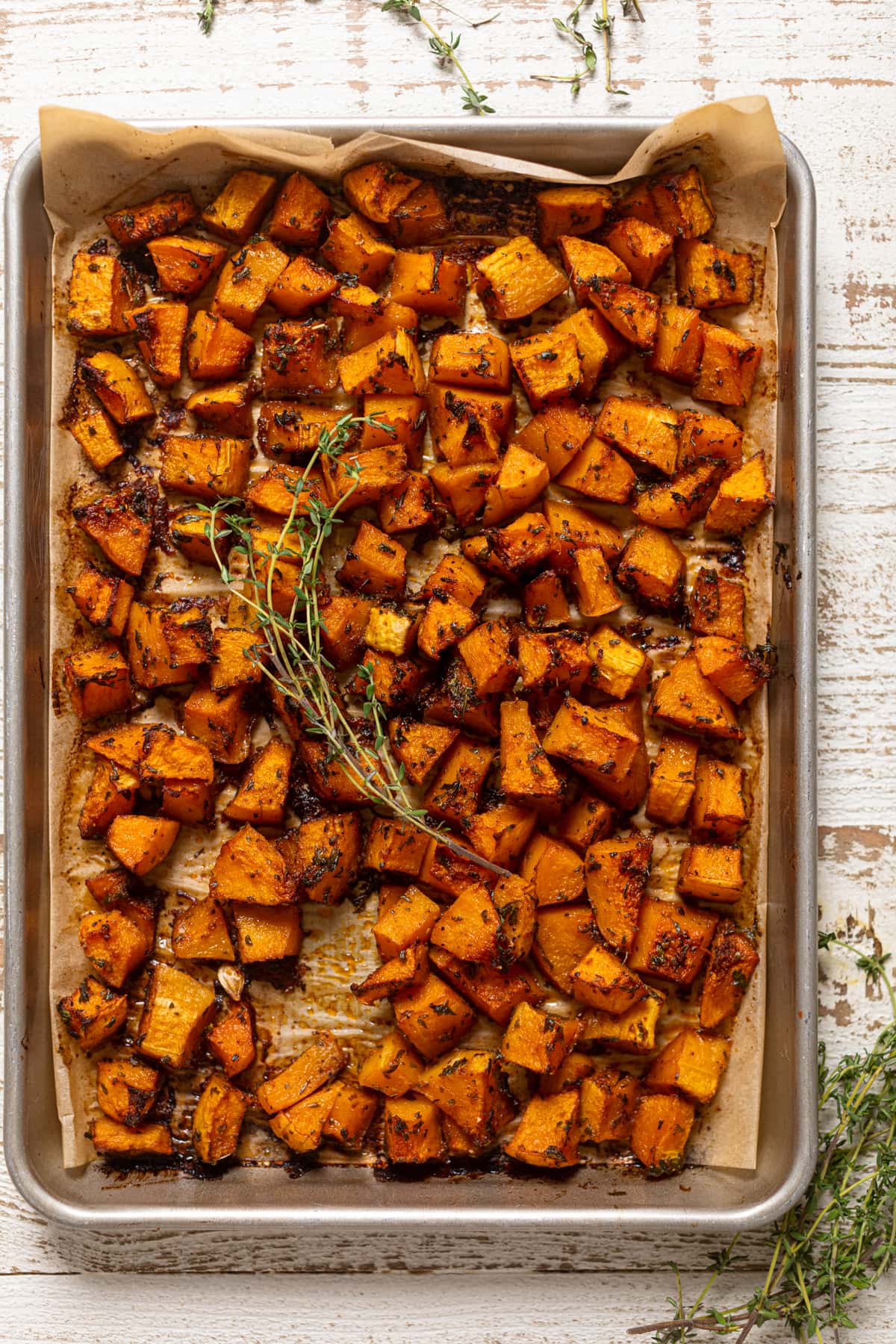 Why You'll LOVE This Roasted Butternut Squash Pasta
Bold flavors that will tantalize your taste buds.
A hearty filling vegetarian dish.
Easy weeknight meal--Simple preparation + minimal ingredients
Versatile and customizable
A crowd-pleasing combination that will have everyone coming back for seconds.
It's absolutely delicious----creamy + velvety!
It's meatless but still works for any eater.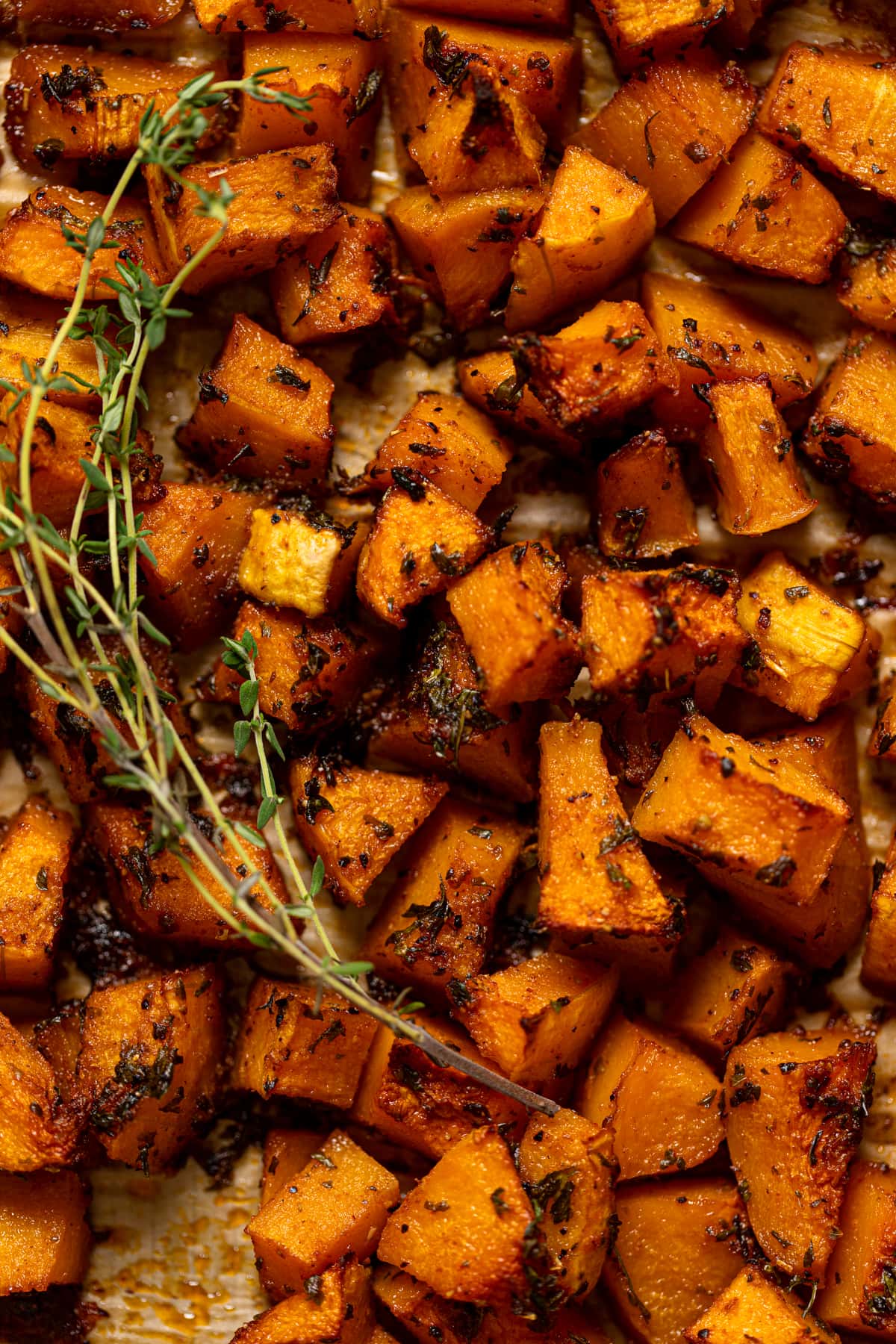 Topping Ideas for Roasted Butternut Squash Pasta
While I love this Roasted Butternut Squash Pasta dinner as-is, straight from the pan, you can dress it up with toppings if you like.
I usually add kale, but for extra spice, color and texture, you can try:
Chopped nuts, such as toasted hazelnuts or walnuts
Black olives
More parmesan cheese
If you discover a new favorite topping idea, be sure to let me know in the comments section below!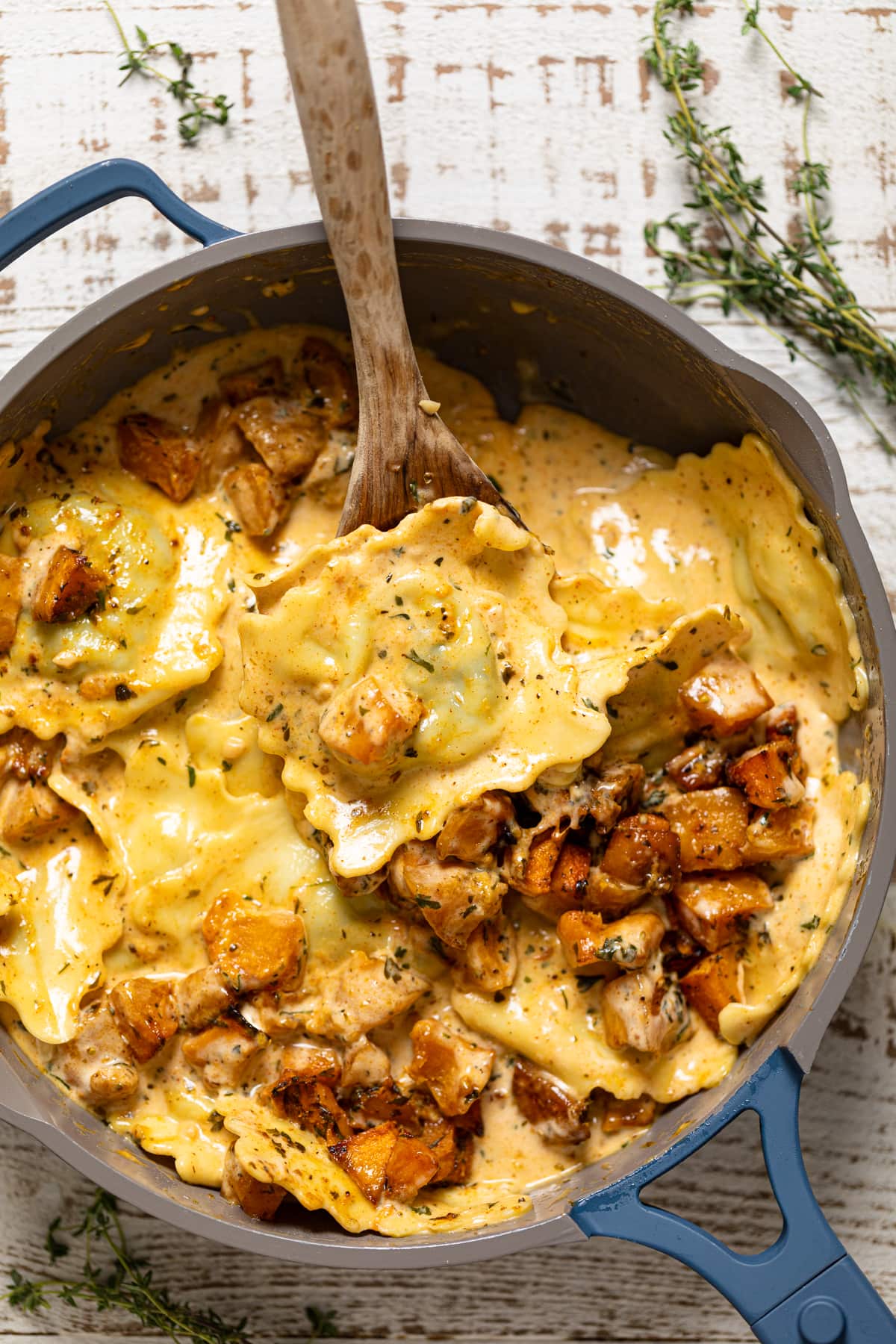 Adding Protein to Roasted Butternut Squash Pasta
If you'd like to add protein to this vegetarian pasta dish, it's easy to do!
Plant-based protein options:
Crispy or canned chickpeas or beans
Crispy seared or baked tofu cubes
Crumbled stir-fried seitan
Crumble vegan bacon on top
Sautéed cauliflower florets or broccoli
Sautéed asparagus, Brussels sprouts, etc.
You can also check out Awesome Meat Substitutes to Try This Year if you're new to plant-based life and want to experiment!
Non-vegan protein options: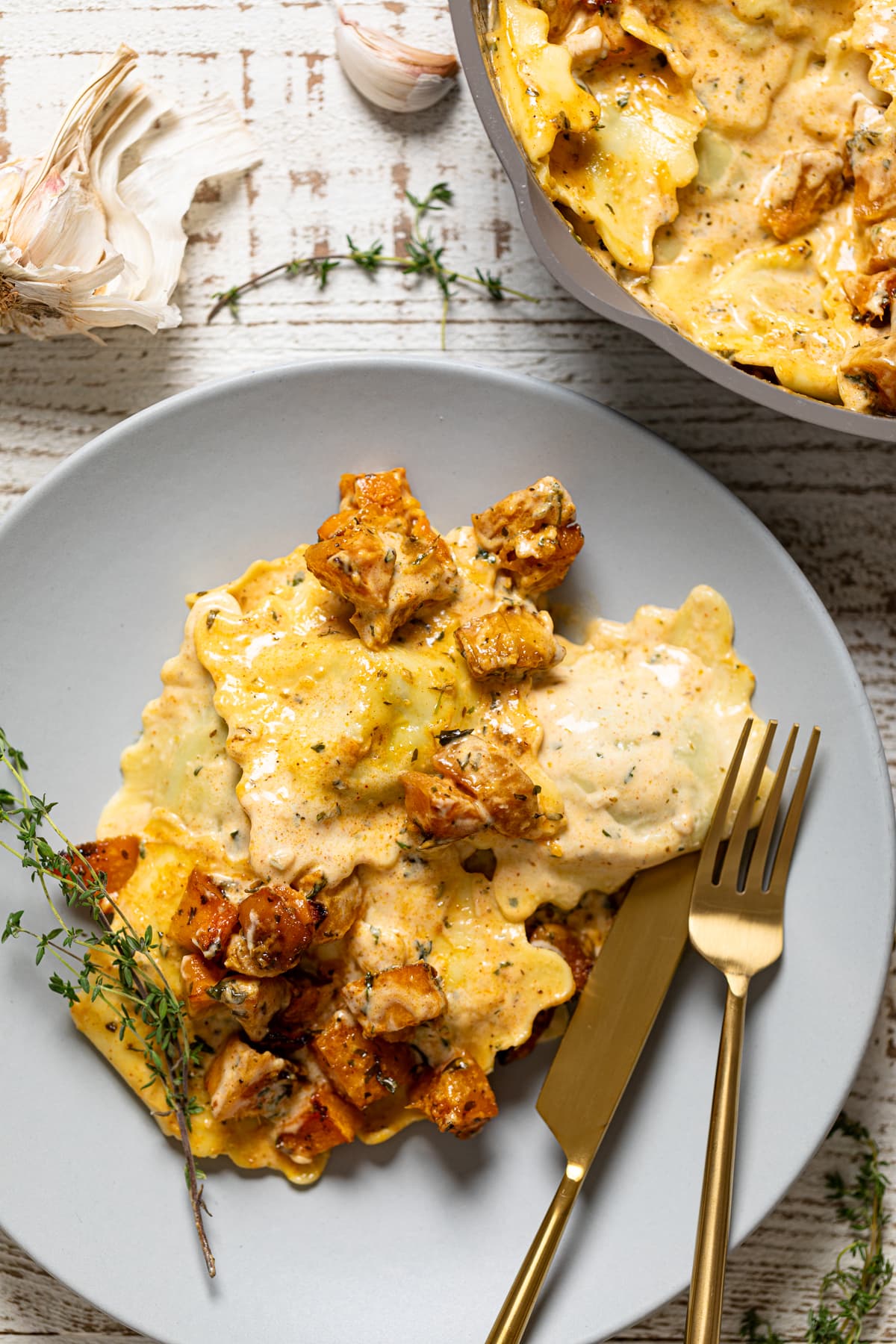 What Are Delicious Foods to Pair Roasted Butternut Squash Pasta With?
When it comes to serving this mouthwatering Roasted Butternut Squash Pasta there are some options that will truly elevate your meal. First off, don't forget to have some crusty bread on hand. I love this homemade Vegan Garlic Herb Kale Bread. Trust me; you'll want to dip it into that luscious, saucy goodness. If you want a little freshness, serve it with a salad on the side, like this Fall Harvest BBQ Chickpea Kale Salad or this Best Buffalo Chickpea Kale Salad. It's like a fresh burst of flavor that complements this easy weeknight dinner beautifully.

But here's the thing. This creamy Squash Pasta is so darn amazing that you can honestly enjoy it all by itself. Seriously, the creamy cheesy sauce + luscious squash sauce is everything! It's just bursting with flavor. So, feel free to dig in and savor every single bite. It's a dish that stands tall on its own!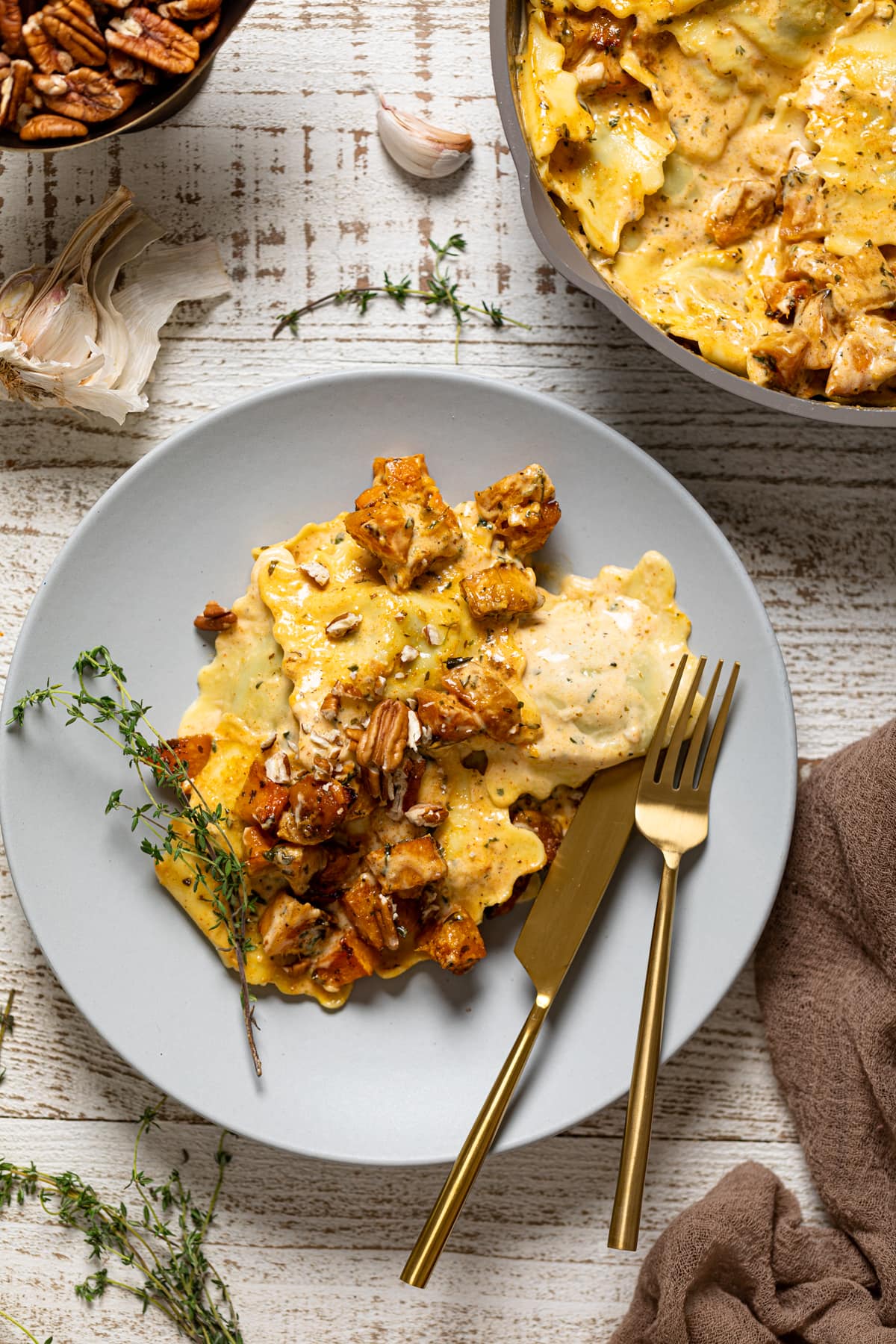 Can I Make Dairy-Free Roasted Butternut Squash Pasta?
Yes! To make this sauce dairy-free, simply use vegan butter instead of the regular butter. Then swap the cream with full-fat coconut milk or coconut cream. And use your favorite dairy-free shredded cheese or nutritional yeast instead of parmesan.
When it comes to most of my dairy-free pasta dishes, I usually use cashews as a base to making the entire dish creamy. However, with the squash flavored pasta, I didn't need to use cashews due to the squash acting as a creamy base when paired with canned coconut milk and veggie stock. Once you have the sauce simmering on the stovetop, the MOST IMPORTANT thing is to ensure that you whisk constantly. This prevents any clumping together and keeps everything smooth as the sauce thickens.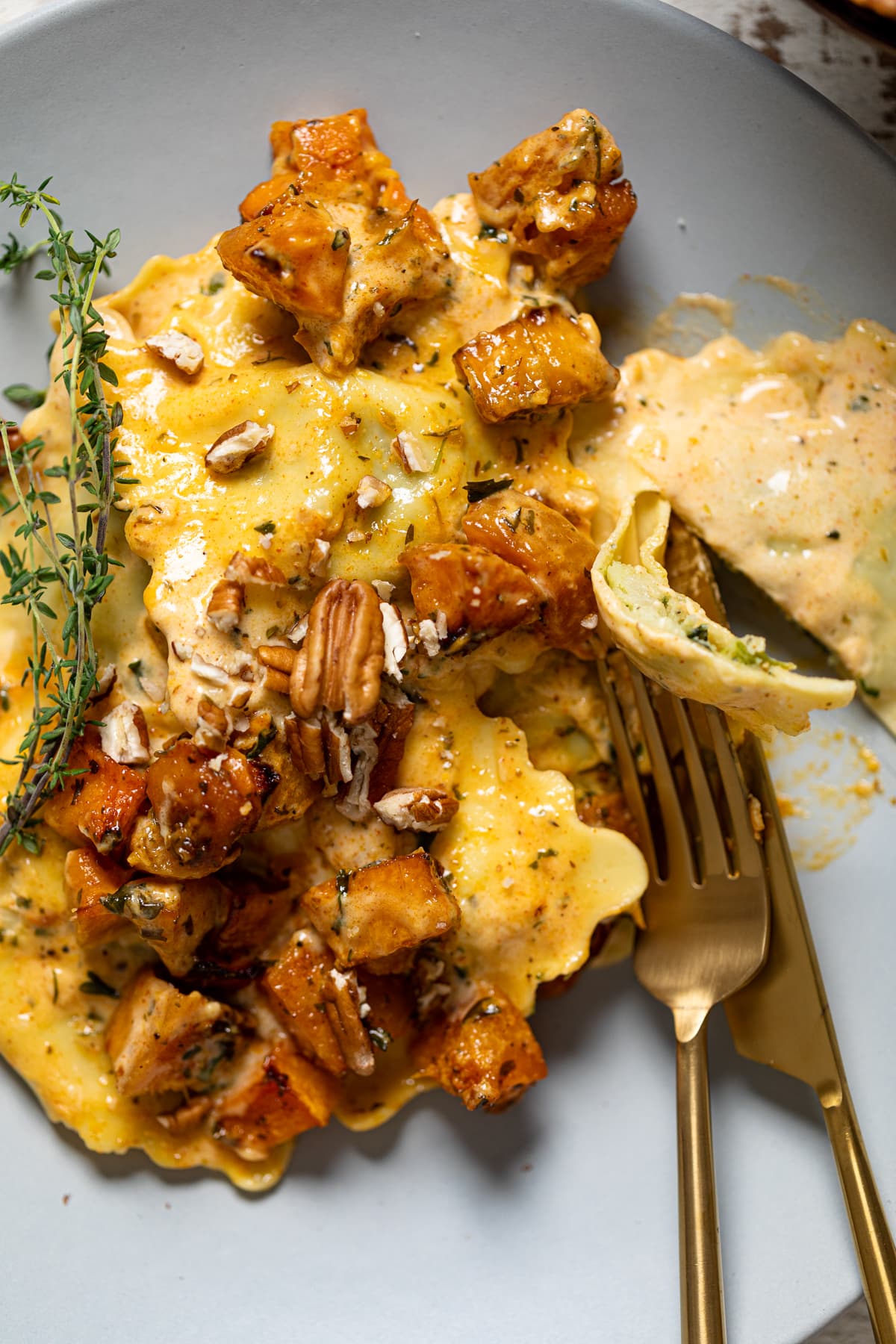 What White Wine is Best in Pasta?
I tend to use a lot of white cooking wine, which is easiest for me. However, I do occasionally add quality white wine to my dishes and I recommend using a dry white wine.
A dry white wine will add the right amount of acidity rather than sweetness, which will better compliment your dish like this Butternut squash pasta recipe. In general, any of the following dry white wines work great in this dish:
Pinot Grigio, Pinot Gris, Sauvignon Blanc, Pinot Blanc, and dry sparkling wines.
Butternut Squash Benefits
Butternut squash is not only delicious but also offers a range of health benefits:
Nutrient-Rich: It's packed with essential nutrients like vitamin A, vitamin C, and vitamin E, which support immune health, skin health, and overall well-being.
Fiber: It's a good source of dietary fiber, aiding in digestion and promoting a feeling of fullness, which can assist in weight management.
Antioxidants: Butternut squash contains antioxidants like beta-carotene, which can help protect your cells from damage caused by free radicals.
Heart Health: The potassium content can contribute to maintaining healthy blood pressure levels and heart function.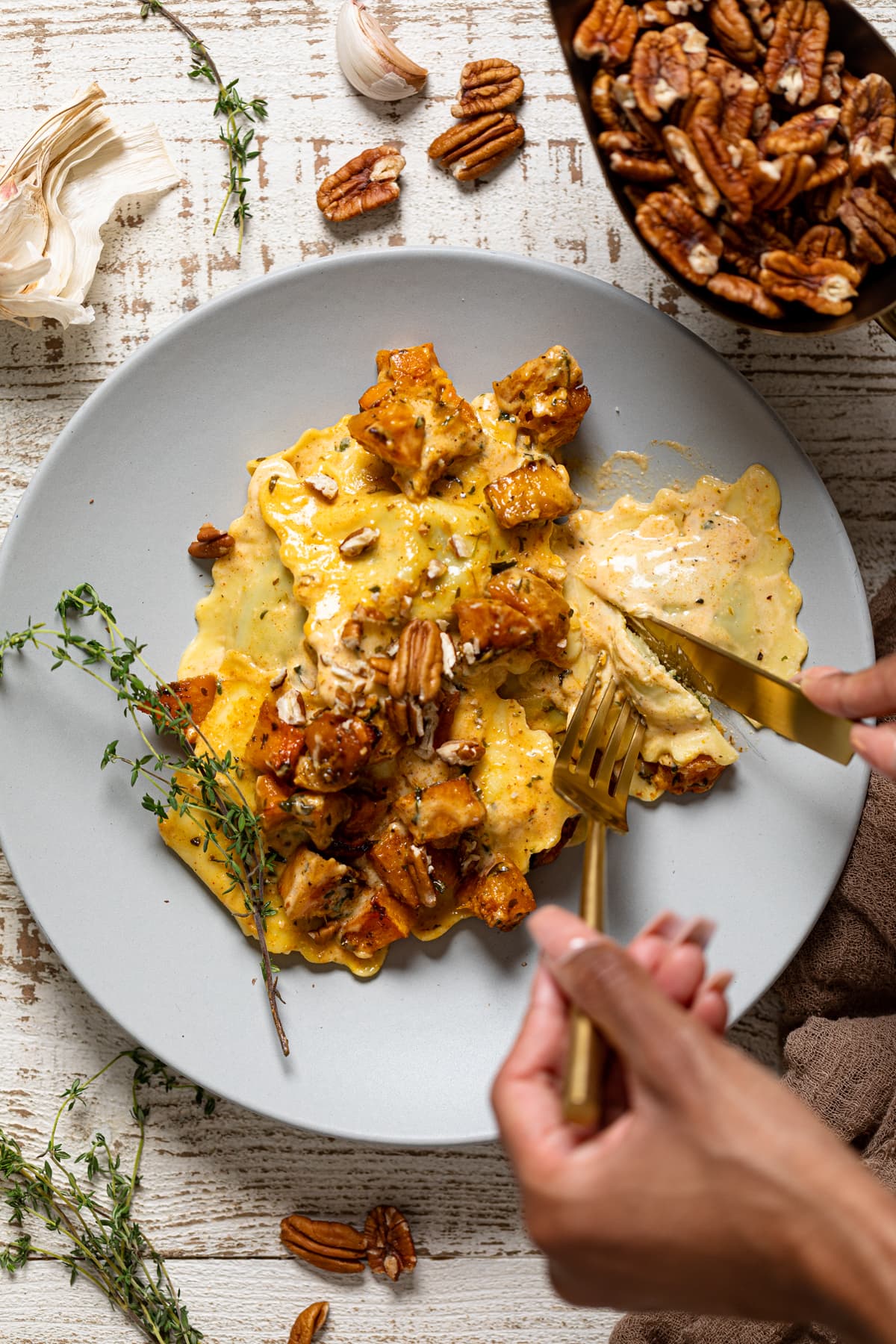 Roasted Butternut Squash Pasta Q + A's
How To Store Leftovers?
Any leftovers of this vegetarian pasta recipe can be kept in a tightly sealed container and refrigerated for up to 3-4 days.
Can I Make This Squash Pasta Gluten-free?
Yes! To make this dish GF, simply use Gluten-Free pasta and ensure that cream/milk is GF-friendly.
Can I use sweet potato instead of squash?
Absolutely! If you have no squash on hand you can use sweet potato as a substitute. Sweet potato has a similar creamy texture and a slightly sweet, earthy flavor that can work beautifully in this dish.
How do I roast butternut squash?
To roast butternut squash, peel and cube it, toss with olive oil, salt, and pepper, then roast in the oven at 400°F (200°C) for about 25-30 minutes or until it's tender and slightly caramelized.
What can I substitute for heavy cream if I want a lighter version?
You can use coconut milk or almond milk for a lighter, dairy-free option, or you can try Greek yogurt for a creamy texture with fewer calories.
Can I use frozen butternut squash instead of fresh?
Yes! While fresh butternut squash is preferred for its flavor and texture, you can use frozen butternut squash if it's more convenient. Just thaw it and roast as you would with fresh squash.
What's the best way to reheat leftovers?
Gently reheat leftovers on the stovetop or in the microwave, adding a splash of milk or broth to maintain the creamy consistency.
Can I use different types of cheese in the sauce?
Absolutely! While Parmesan cheese is traditional, you can experiment with other cheeses like Gruyère, Pecorino Romano, or even a blend for unique flavors.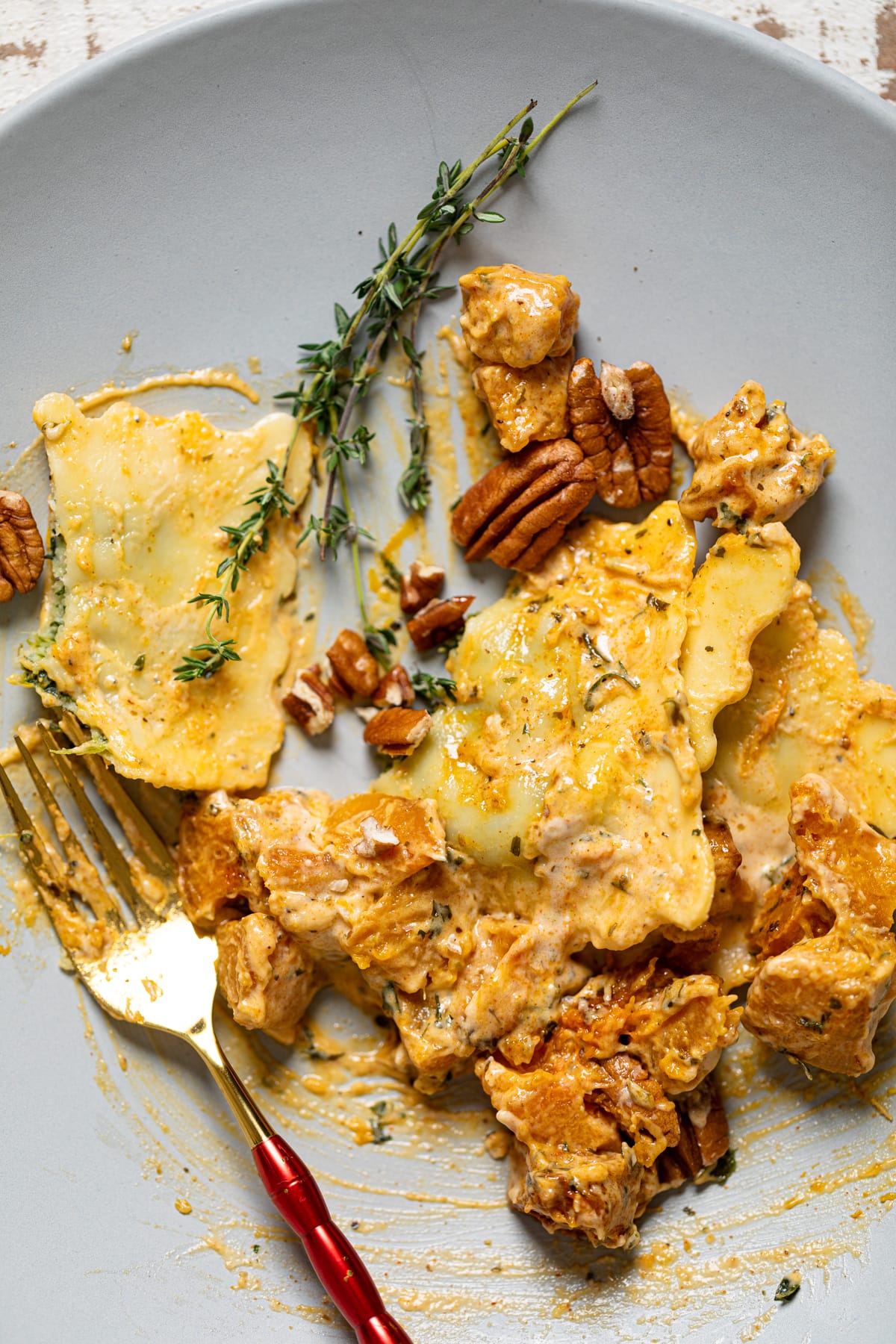 Other Weeknight Pasta Recipes You'll Love
This Roasted Butternut Squash Pasta w/ Parmesan Garlic Sauce is seriously epic, so try some other recipes like it!
MADE OUR RECIPE(S)?
If you choose to make this Roasted Butternut Squash Pasta w/ Parmesan Garlic Sauce or any other recipe from us, be sure to tag us on Instagram at #Orchidsandsweettea so that we can share the love, rate, comment below, + share!
ROASTED BUTTERNUT SQUASH:
PARMESAN GARLIC SAUCE:
1

tablespoon

unsalted butter, for cooking

4

garlic cloves, minced

1

cup

organic heavy cream + more if needed!

¼

cup

organic chicken or veggie stock, low-sodium

2

Tbsps

white cooking wine

1

teaspoon

sea salt + black pepper

1

teaspoon

dried or fresh parsley leaves

½

teaspoon

garlic powder

½

teaspoon

dried oregano

½

teaspoon

smoked paprika

1 ½

cups

freshly grated parmesan cheese
TO ROAST THE BUTTERNUT SQUASH:
Preheat the oven to 400 degrees Fahrenheit and prepare a baking sheet by lining them with parchment paper.

In a bowl, add the cubed butternut squash along with the olive oil and all seasonings, gently mixing everything together until veggies are fully coated.

Add the veggies unto the baking sheet (in a single layer) and and bake for 25-30 minutes or until butternut squash is charred and golden.
COOK THE PASTA:
Cook pasta according to packaging. NOTE: ravioli doesn't take a long time to cook, usually 4-5 minutes, depending on brand.
TO MAKE THE PARMESAN GARLIC SAUCE:
In a medium skillet over medium-high heat, add 1 tablespoon of butter until melted.

Add the garlic cloves and sauté for 1 minute or so, until fragrant. Add in the seasonings and stir until well combined.

Reduce the heat to medium-low and slowly add in the heavy cream, chicken/veggie stock, and white wine, stirring until combined. Let it slightly bubble for 1-2 minutes and then add in the grated parmesan, whisking until fully melted and sauce thickens, about 2-3 minutes. Add in about 2 cups of the roasted butternut squash, stirring until combined. NOTE: The sauce might turn a little close to the butternut squash color----that's fine!

When the ravioli is done, drain it and add it to the sauce, stirring until sauce fully coats + sticks to pasta. Serve immediately!

Bon Appetit!
STORAGE: Any leftovers can be kept in a tightly sealed container and refrigerated for up to 3-4 days.
PASTA: You can use long pastas like 

Pappardelle, Fettuccine, etc. however, I would recommend tossing with tongs to ensure that pasta is fully manageable and fully coated. Otherwise, other pastas such as Penne, Rigatoni, Paccheri, Orecchiette, etc. are perfect.

GREENS: To add a bit more flavor to this dish, you can always feel free to add in your favorite greens such as kale, spinach, broccolini, collards, or asparagus. 
Calories:
714
kcal
|
Carbohydrates:
55
g
|
Protein:
24
g
|
Fat:
46
g
|
Saturated Fat:
24
g
|
Polyunsaturated Fat:
2
g
|
Monounsaturated Fat:
11
g
|
Trans Fat:
0.1
g
|
Cholesterol:
138
mg
|
Sodium:
1635
mg
|
Potassium:
867
mg
|
Fiber:
6
g
|
Sugar:
8
g
|
Vitamin A:
21605
IU
|
Vitamin C:
41
mg
|
Calcium:
500
mg
|
Iron:
8
mg