This Cranberry Apple Cider Orange Sangria is a perfectly refreshing way to kick things off for the Fall + Holiday season. Packed with delicious apple cider flavor married together with oranges, cranberries, + lemon---this recipe is the right way to enjoy a cup of non-alcoholic sangria for a good cheers! But don't skip the alcohol, if preferred to spice things up a bit.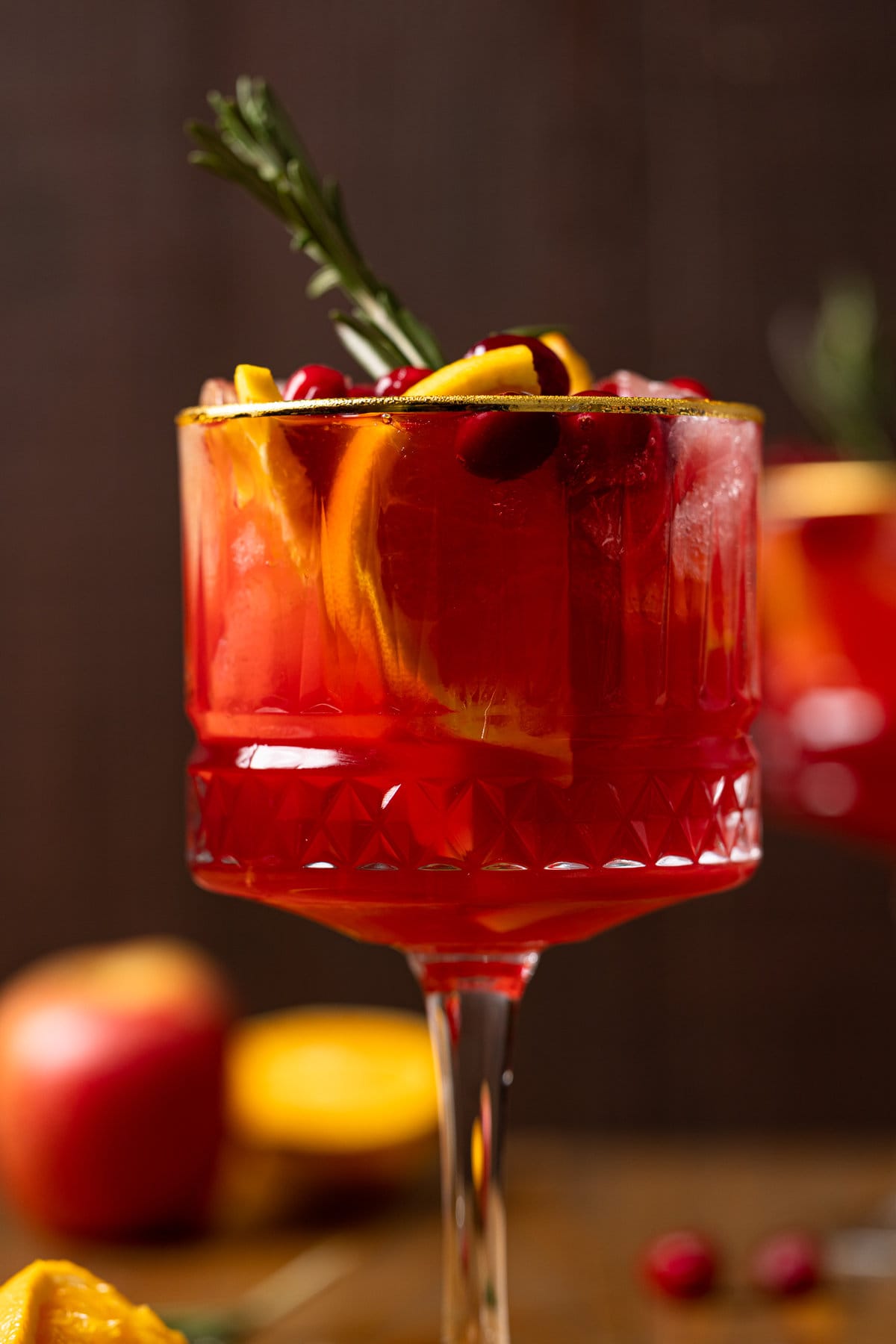 Disclaimer: This post contains affiliate links via Amazon for products that I wholeheartedly love.
It's crazy how close we are to Christmas, right? I can't believe that the countdown is coming to an end in just a little over a few short days. However, I couldn't let the holiday season pass without sharing this amazing Cranberry Apple Cider Orange Sangria with you all! It's such an easy recipe, but one of those drinks that's a must during this time of the year! My husband and son are so very much in love with this holiday mocktail and it's such a delicious drink without the fizz----but tastes great even with a bit of ginger beer topped or even alcohol if you want to keep things more traditional.
If you're into apple cider like most of the world, then you know that having anything with it is a guaranteed good time. Trust me, I've been using up those apples greatly and I've rounded up my top favorite ways to incorporate apples in the recipes below for you:
Apple Cheddar Sweet Potato Soup
Baked Vegan Apple Cider Donuts
Starbucks Copycat Apple Crisp Oatmilk Latte
Apple Cider Pumpkin Pancakes + Cranberries
Warm Vegan Apple Cinnamon Pancakes
How To Make Your Own Apple Cider
If you'd prefer to make your own batch of apple cider, no worries---I've got you covered! You can make your own apple cider easily in a slow cooker, which is the easiest way to do so without requiring your full undivided attention. Of course, you can slowly simmer everything over the stovetop if you don't own a slow cooker. 
Best Types of Apples for This Mocktail
Even though this Cranberry Apple Cider Orange Sangria is based on using Gala or Honeycrisp apples, you can also switch things up and add a slightly new flare in their flavor profile by adding any of the following apples for a bit more sweetness or tart:
Granny Smith
Fuji
Pink Lady
Golden Delicious
Braeburn
and more!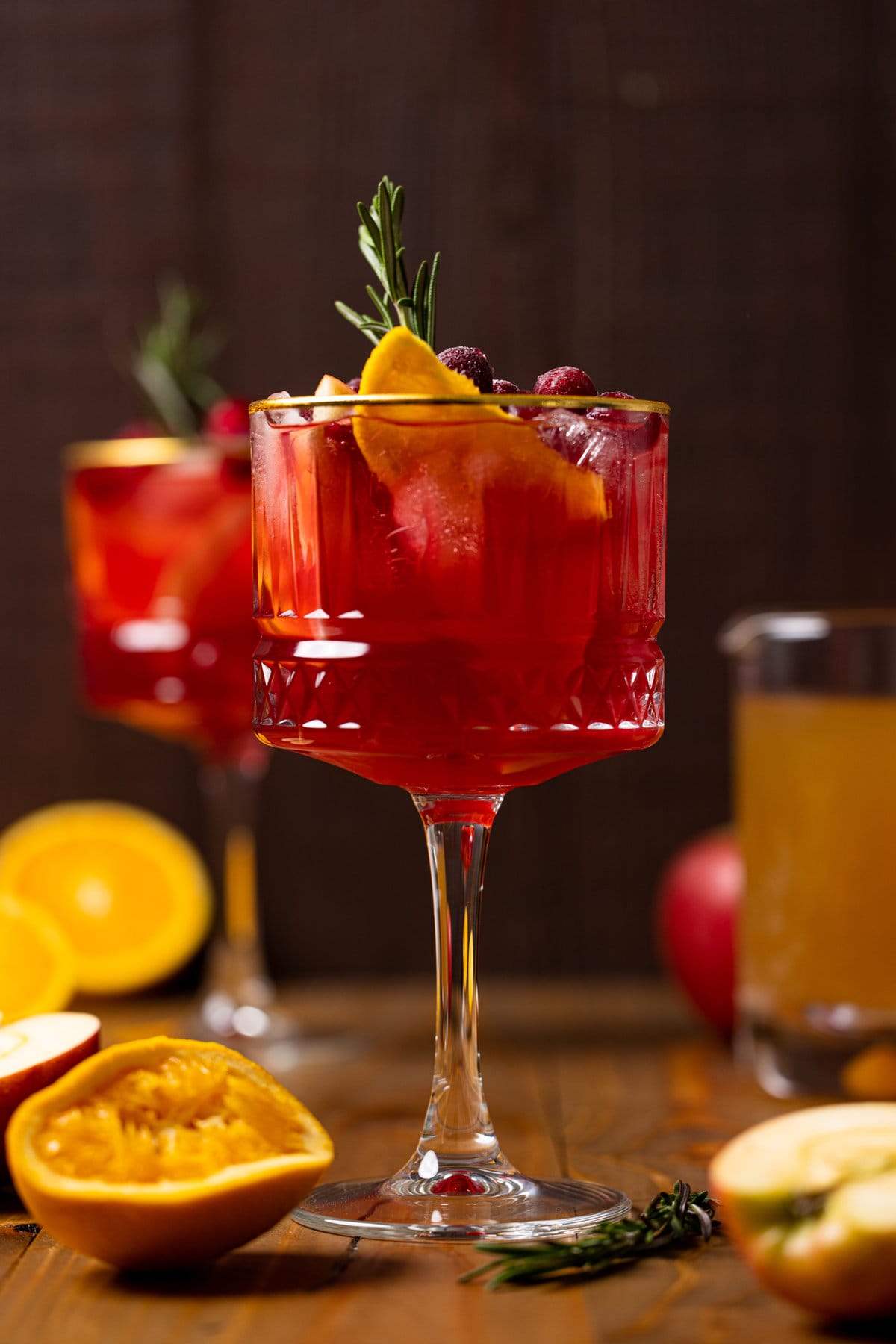 How to Make Cranberry Apple Cider Orange Sangria
INGREDIENTS
The main component in this simple Cranberry Apple Cider Orange Sangria recipe is the sweet apple cider flavor along with the tartness of cranberries from the homemade syrup and infusion of other ingredients. To make your mocktail, you'll use:
Apple. I love using a mix of Gala and Honeycrisp apples for a nice sweetness. You can also use a firm, tarter apple like Granny Smith for best results. 
Apple cider. This adds a burst of authentic apple cider flavor. You can make this on your own or purchase your fave quality brand.
Orange. I like to use a navel orange, but you could use any other kind of large, juicy citrus fruit. You'll also need the peels of an orange for the simple syrup.
Lemon. Use a big, juicy lemon to add a tart pop of flavor.
Cranberries. You can use fresh or frozen berries for the compote/topping. You'll also need water, cane sugar, and lemon juice.
Crushed or whole ice. The best highlight of this drink to keep things cold. Crush your ice or use a nice ice cub tray.
Cane sugar. I like to ensure that it's certified organic.
Water. For boiling and creating of the syrup.
Soda. You can use ginger ale or ginger beer to finish off the mocktails with some bubbles. 
How to Reduce Apple Cider for This Sangria
If you'd prefer to have a more concentrated apple cider taste within your Sangria mocktail, you can easily reduce your cider by following these steps:
Pour your apple cider in a saucepan, about 2 cups which we'll then reduce to ¾ cup. 
Turn on the heat to low and let it simmer for about 10 minutes, stirring occasionally. 
Once you hit the 10 minute mark, be sure to check on your apple cider every few minutes (4 minutes or so), stirring occasionally until your cider has reduced to the desired ¾ cup. 
Remove it from heat and allow it cool completely before continuing the recipe.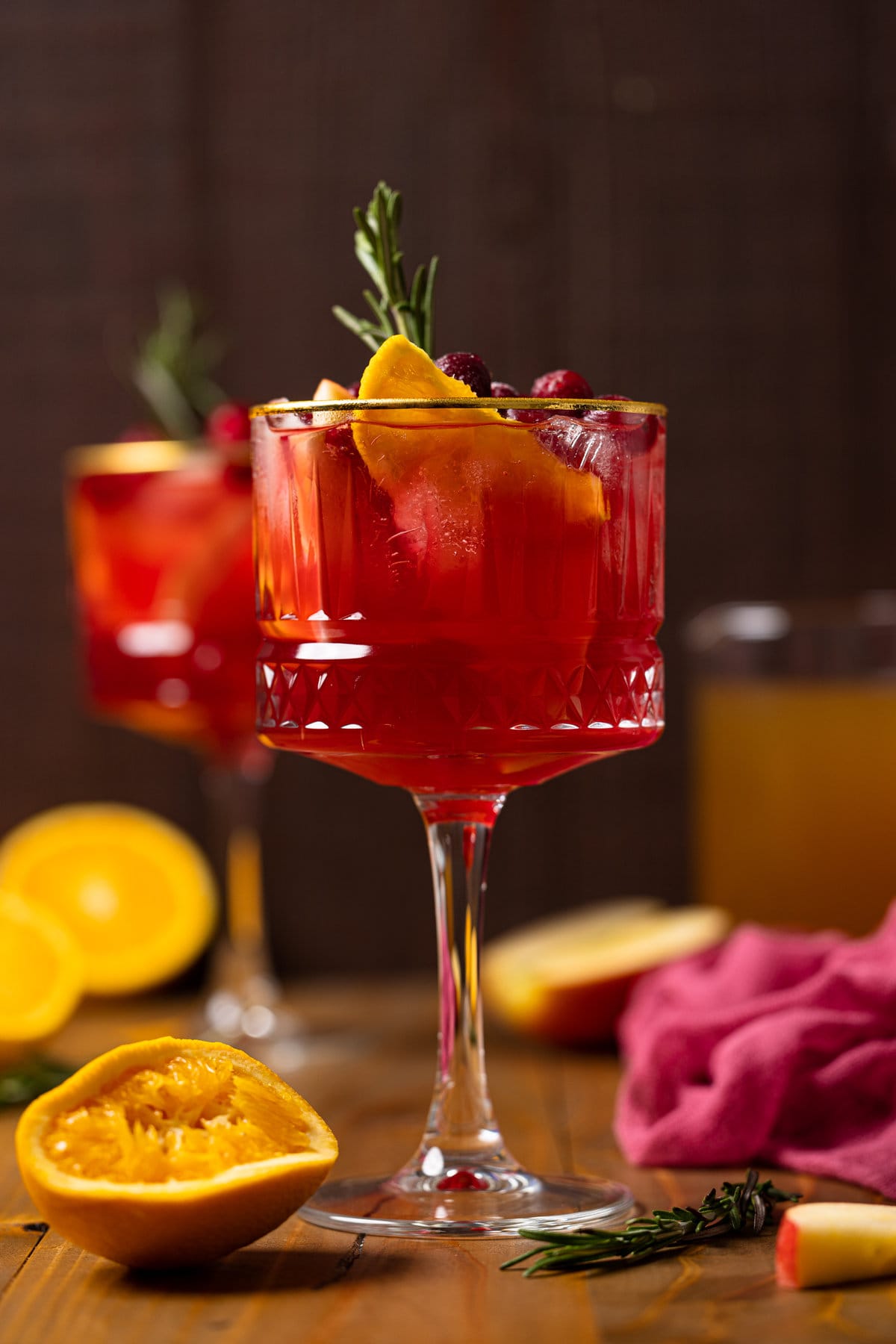 Adding Alcohol
If you'd like to serve this as a cocktail, you can add your favorite alcohol to the mixture. The best types of alcohols (just about 1 ounce or so) that work great with this sangria flavor is:
Gin
Rum
Champagne
Tequila
Whiskey
Vodka
Spruce Up Your Sangria with Lemonade Ice Cubes
Of course, you can always use regular ice cubes, however, if you're looking to take things up a notch with your Cranberry Apple Cider Orange Sangria, I recommend making lemonade ice cubes----which are SUPER EASY! The first thing you need to make for these tasty drinks are the lemonade ice cubes. You literally stir together the ingredients, pour it in your favorite ice cube tray, set it and forget it for a minimum of 3-4 hours (or overnight) until ice cubes are formed.
Then, you whip together the sangria mocktail ingredients and assemble. To see How to Make Lemonade Ice Cubes, see my Cranberry Lemon Spritzer with Lemonade Ice Cubes recipe!
Benefits of Fresh Lemon + Orange Juice
The lemons in this drink pack some important health benefits, including:
Vitamin C, for a strong immune system
Citric acid, which can help prevent blood disorders like anemia
Soluble fiber if you include some of the lemon pulp, which helps promote healthy digestion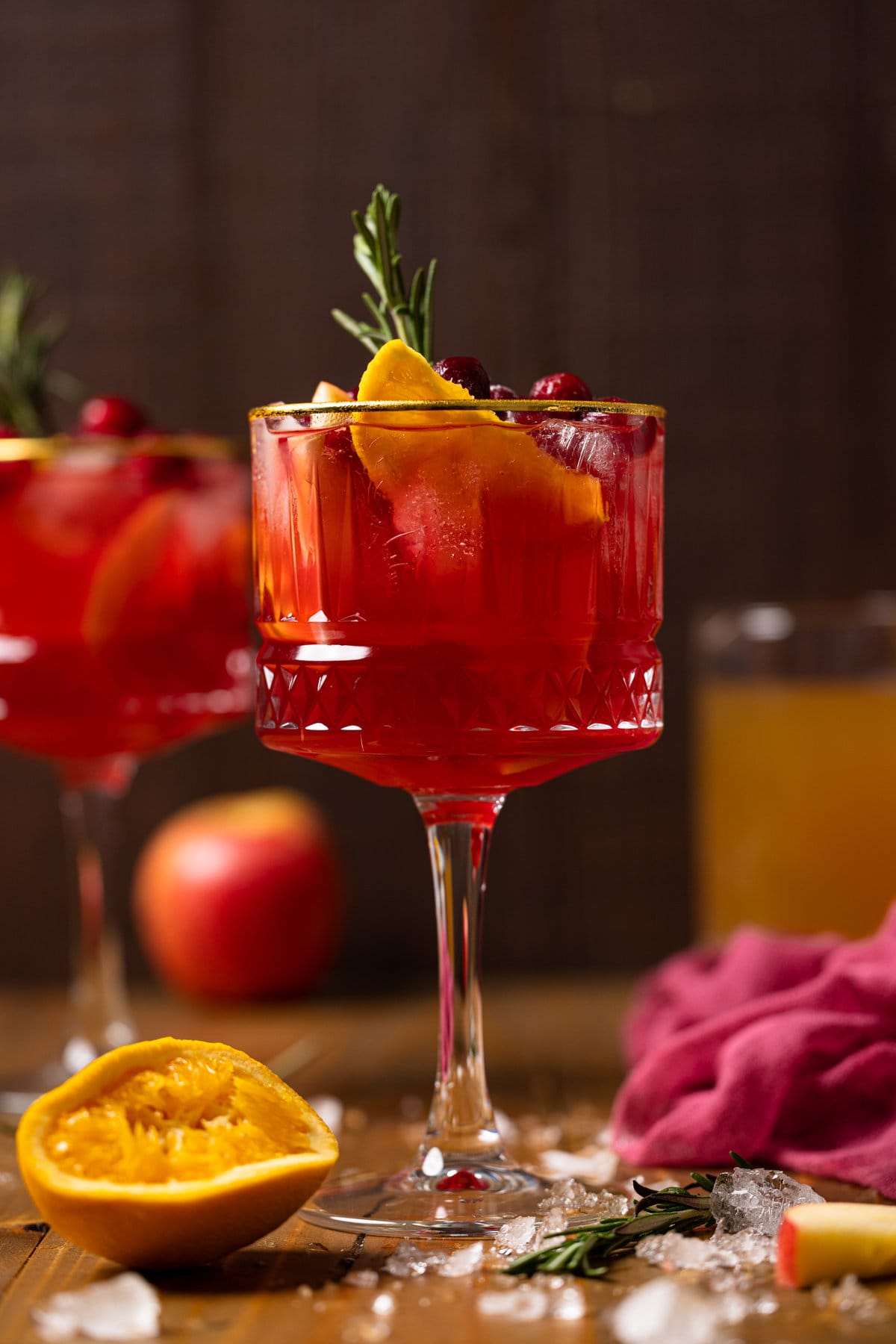 Doubling this Sangria Recipe
This recipe serves about four. But you'll probably want more Cranberry Apple Cider Orange Sangria, and I can't blame you! You can easily double or triple the recipe to serve a crowd.
Garnishes
I love filling my mocktail glasses with plenty of fresh fruit and herbs. It adds so much to the experience and tastes great too!
Try garnishing these Cranberry Apple Cider Orange Sangria with:
Whole cranberries
Sliced oranges
Sliced lemons
Sliced apples
Fresh rosemary. Thyme would also work well!
How To Store Leftover Cranberry Apple Cider Orange Sangria
For leftovers, tightly seal the top of pitcher with plastic wrap and keep refrigerated for up to 5 days for optimal freshness.
More Festive Drink Recipes
MADE OUR RECIPE(S)?
If you make this Cranberry Apple Cider Orange Sangria, tag @orchidsnsweettea_ on Instagram and hashtag it #orchidsandsweettea!
SANGRIA:
4

cups

apple cider, homemade or store-bought

2

oranges, freshly-squeezed

1

cup

whole cranberries, fresh or frozen

2

Tbsps

freshly-squeezed lemon juice

Cranberry Simple Syrup

Ice, crushed or cubes

Ginger beer, for topping

(optional)
GARNISH:
Orange slices

Apple slices
TO MAKE THE CRANBERRY SIMPLE SYRUP:
In a medium saucepan over medium-high heat, add the water, cranberries, sugar, and orange peels, stirring it together and bring to a boil for 1-2 minutes. Let it boil for another 3-4 minutes as cranberries should begin "popping" at this point. Remove from heat and let everything cool completely.
TO MAKE THE SANGRIA:
In a pitcher, add the apple cider, freshly-squeezed orange juice, cranberries, lemon juice, and cooled cranberry simple syrup, stirring everything together until combined. Add in sliced oranges and apples. NOTE: For best results, chill the sangria in the refrigerator for about 2 hours or so.

TO SERVE: Prepare your glass(es), add ice and pour sangria (including a bit of sliced fruit) until filled (unless using ginger beer as topping). NOTE: You can always top things off with ginger beer for a bit of fizz or alcohol, if desired.

Sip and Enjoy!
STORAGE: For leftovers, tightly seal the top of pitcher with plastic wrap and keep refrigerated for up to 5 days for optimal freshness.
SERVING SIZE: To make additional batches of sangria, simply double or triple ingredients, depending on need.
APPLES: Best apples to use for this latte are: Granny Smith, Gala, Honeycrisp, Fuji, etc.
ALCOHOL: If you'd like to keep this recipe dairy-free, but want to spruce things up with alcohol, feel free to add 1 ounce of rum, vodka, etc.
EQUIPMENT: Here, I've curated a list of drinkware and mocktail essentials that I use to achieve my favorite drinking experiences, especially with this Cranberry Apple Cider Orange Sangria. Everything from my fave glassware, cocktail shakers, ice cube trays, and more. SEE THEM HERE!
Calories:
247
kcal
|
Carbohydrates:
66
g
|
Protein:
1
g
|
Fat:
0.5
g
|
Saturated Fat:
0.1
g
|
Polyunsaturated Fat:
0.1
g
|
Monounsaturated Fat:
0.04
g
|
Sodium:
15
mg
|
Potassium:
413
mg
|
Fiber:
4
g
|
Sugar:
56
g
|
Vitamin A:
180
IU
|
Vitamin C:
47
mg
|
Calcium:
52
mg
|
Iron:
0.5
mg
Cranberry Apple Cider Orange Sangria.