You're sure to love this Brown Sugar Peach Mint Julep Mocktail, which is a twist to a classic bourbon cocktail without the alcohol. Made with an easy homemade brown sugar syrup, buttery + spice caramelized peaches, along with fresh mint leaves and a great alcohol alternative for a nice touch----these mocktails are the epitome of a great cheers no matter the occasion. Dairy-free + vegan options.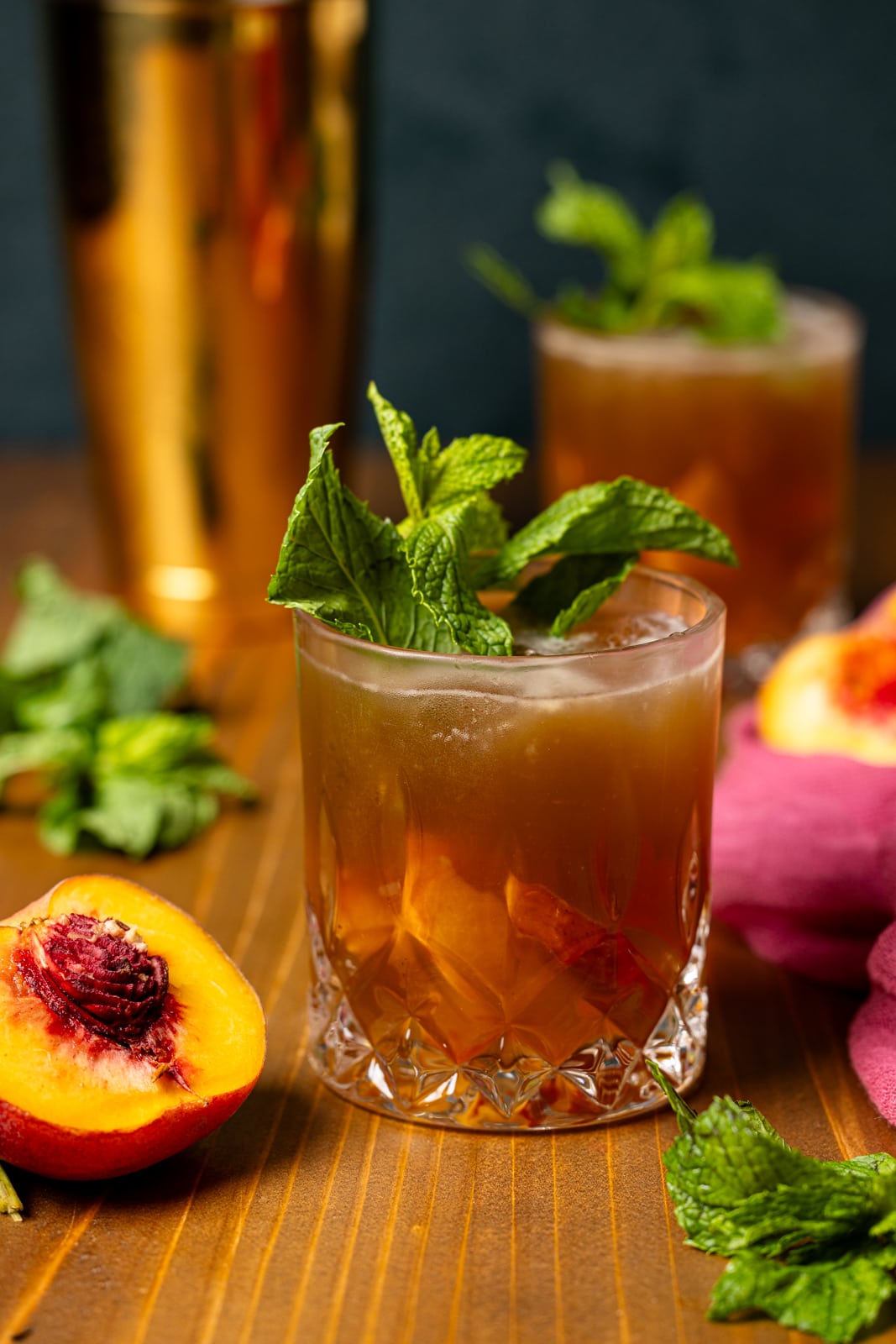 Disclaimer: This post contains affiliate links via Amazon for products that I wholeheartedly love and receive commission from.
As we exit summer in just a few short weeks, I wanted to share this delicious mocktail with you because it's the perfect combination of flavor and ease when it comes to making these Brown Sugar Peach Mint Julep Mocktails! This particular mint julep recipe is special because I got a chance to collab with my good friend, Tyra---who originally created the cocktail version (using bourbon) of this recipe and I chose to create a non-alcoholic version! Truly, I can guarantee that you're sure to love these mocktails, especially with the caramelized peaches. They are buttery with a hint of cinnamon for that warmth feeling in each sip. The best touch! Plus, this Vegan Peach Crisp Oatmeal Porridge is so comforting for breakfast and worth trying.
The best part about this mocktail recipe is that it fits perfectly for both Summer and Fall---so you can go from enjoying a nice sip at your Kentucky Durby event or nestling up at gathering during the cooler months. Simply add a few extra pinches of spices like cinnamon, nutmeg, and allspice for a bolder Fall-like feel. And if you're a lover of peaches, then you and your family are sure to be obsessed with this Easy Southern Peach Cobbler [with Canned Peaches], Southern Peach Iced Tea, Sticky Peach Chicken Wings, and Southern Peach Cobbler Cheesecake.
Jump to:
Why You'll Love This Mocktail Recipe
First and foremost, the flavors in this simple and easy Brown Sugar Peach Mint Julep Mocktail is enough to convince anyone, however, here are a few more reasons why you'll love this recipe:
It's Very Similar to the real 'feel' of a cocktail. Yes, while this mocktail doesn't have actual alcohol, I promise that it's just as complex in flavor, warming, and tasty as any cocktail----obviously with additional bold flavors from the peaches and a great alcohol alternative like Ritual Zero Proof's Whiskey Alternative (complete with oak, smoke, caramel, and comforting warmth).
It's super fun to make! I literally love the creation of the brown sugar syrup and the caramelization of the peaches. Such a sweet aroma as they boil!
You save money! This by far is one of my biggest reasons for making my own drinks at home (minus the last point to come). You definitely save more money purchasing the ingredients and making your own servings at home.
It's healthier. Most of all, this is my biggest plus! I love when I am able to know what ingredients I use whenever making drinks, cooking, or baking. Making my mocktails and drinks in general at home has definitely allowed me to switch to healthier, organic ingredients which is a win, win! Plus, you have the option of making things dairy-free + vegan.
What is a Mocktail?
So if you're sitting here thinking what is a mocktail? Let me explain. A mocktail is like a party in a glass, minus the hangover. It's a delicious and refreshing drink that's packed with all the flavor and complexity of a traditional cocktail but without any of the alcohol.
Whether you're a designated driver, a health-conscious human, or just someone who wants to enjoy a delicious drink without the buzz, mocktails are the perfect solution.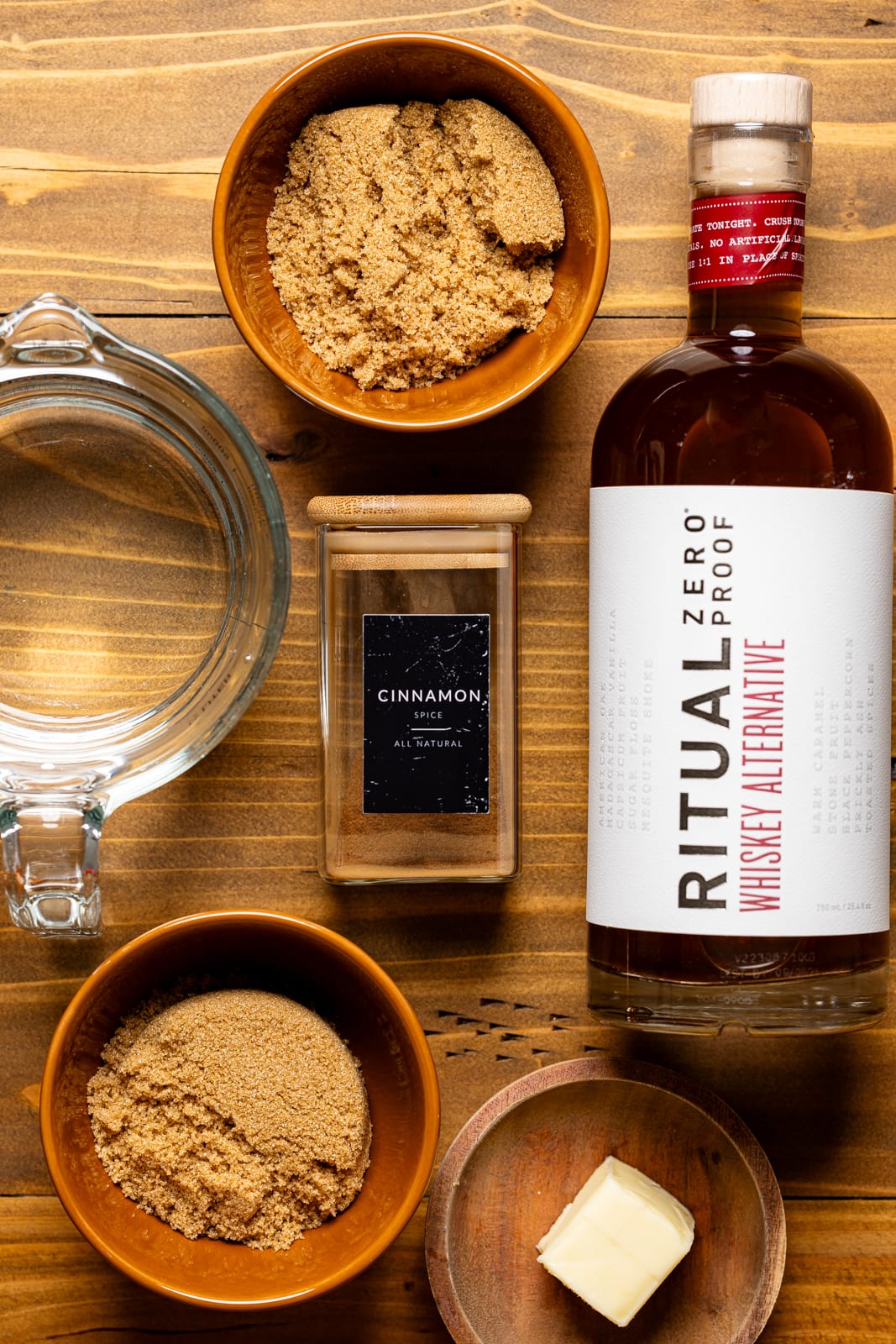 How to Make Brown Sugar Peach Mint Julep Mocktail
Once you see how easy it is to make your own Brown Sugar Peach Mint Julep Mocktail at home, you'll never not have one again. You'll save money for sure. But your drinks will also taste just how you like them. It's a win-win.
For this peach mint julep, you'll start with the boiling of the brown sugar syrup and letting that cool completely. Then you'll caramelize the sliced peaches over the stovetop until buttery and gooey, letting that cool completely as well. Lastly, you'll assemble your mocktail(s) and wallah!
The Ingredients
The main component in this simple peach mint julep mocktail recipe is the bold brown sugar flavor from the homemade syrup and infusion of other warming ingredients. To make your mocktail, you'll use:
Sliced peaches. You can use fresh or canned peaches, which means this is a year-round recipe! You'll want to slice your fresh peaches (with the skin on) for a nice "hold" when caramelized. For the canned peaches, you'll need to drain them thoroughly and pat dry to remove all excess moisture + juices.
Brown sugar. Ensure that it's organic for healthiest option. You can use either light or dark. You can substitute with brown coconut sugar for a healthier option.
Water. For boiling and creating of the syrup.
Spices. This adds a warming spice profile to this mocktail. You'll need cinnamon, but you can also add ¼ teaspoon of nutmeg and allspice for extra warmth.
Unsalted butter. I like to bake with unsalted butter, however, you can substitute with salted butter and omit the additional salt.
Fresh mint leaves. These leaves are the best addition to tie in the flavors like the classic drink. You can slightly crush them before garnishing your mocktails for a nice minty flare.
Alcohol alternative. I truly enjoy creating a true cocktail feel without the alcohol, therefore, I've been loving Ritual Zero Proof's alcohol alternatives. I used their Whiskey alliterative which adds a nice oak, smoke, caramel, and warmth decadence of actual whiskey.
Crushed or whole ice. The best highlight of this drink to keep things cold. Crush your ice or use a nice ice cub tray.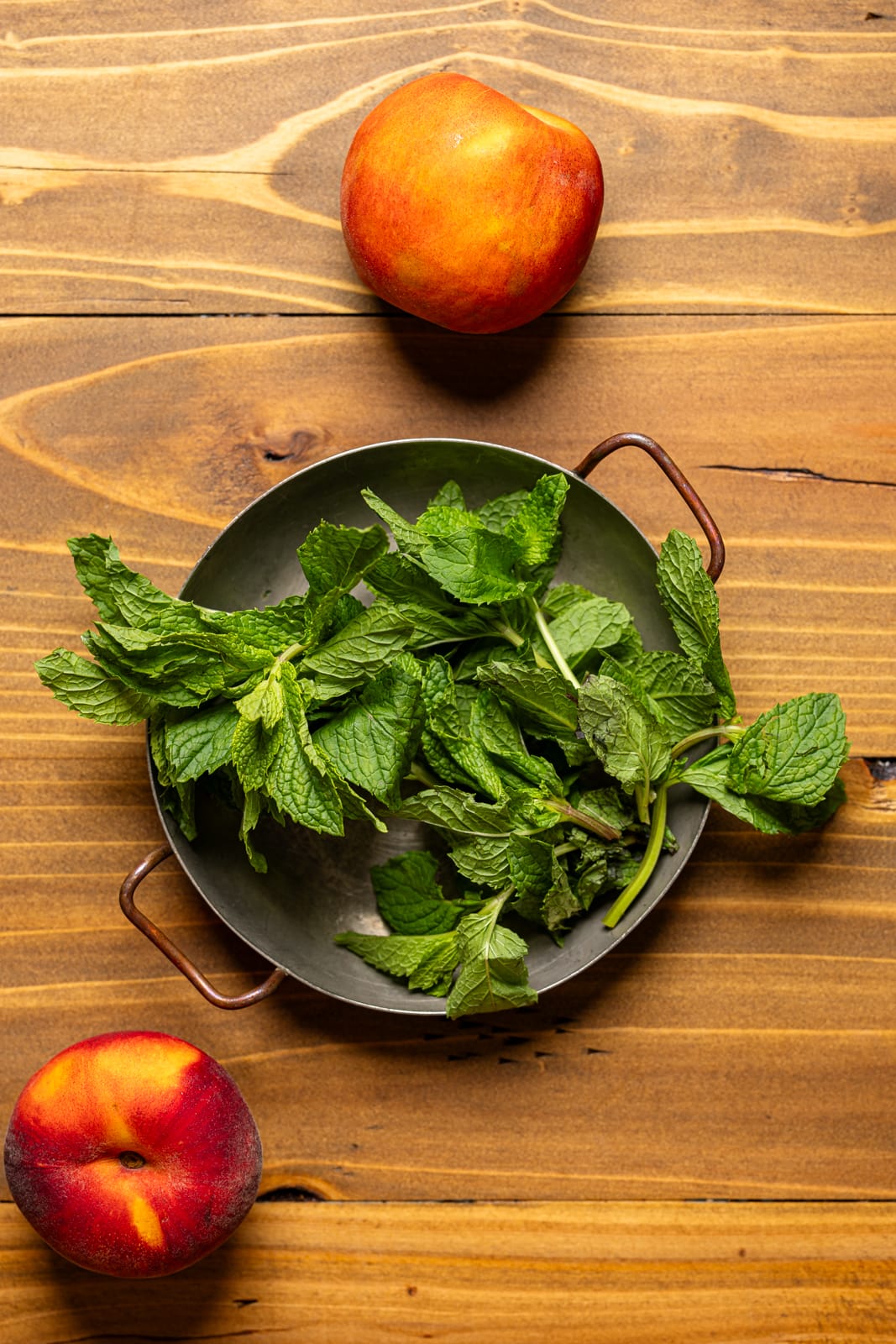 Making Caramelized Peaches + How to Use Them
The best part about this mocktail recipe is the inclusion of caramelized peaches. The peaches get gooey and caramelized on the stove so your drinks taste like dessert, but it's actually a warming sip!
You'll simply add the sliced peaches, butter, brown sugar, cinnamon, and salt together and cook until the peaches are tender and gooey in consistency.
The best part is that you can serve these caramelized peaches atop oatmeal, spread them on toast like jam, or as a nice topping for this Olive Oil Cake. They're also delicious spooned over ice cream, especially my No-Churn Vanilla Ice Cream (minus the sprinkles if desired).
How to Easily Peel Fresh Peaches
If you decide while making this mint julep mocktail that you'd prefer to peel the skins off your peaches----no worries! A great hack to do so is to gently lower a few peaches at a time (best to use a skimmer) into a pot of boiling water and leave them in fro 20-30 seconds before removing them and into an ice bath to stop the "cooking process". Then you should be able to peel them with no problem without the need for a knife or any tool.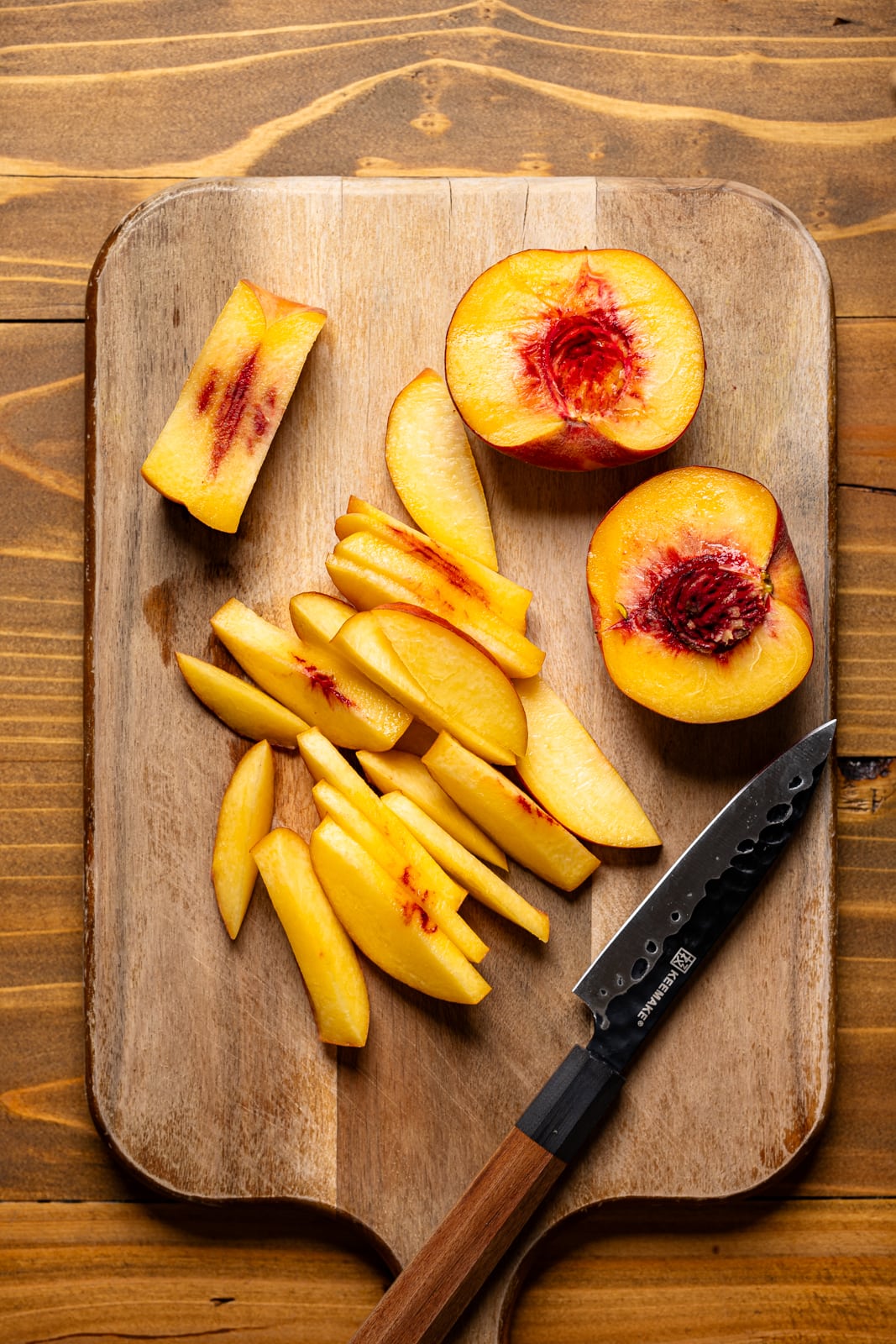 How to Make Clear Ice Cubes without a Clear Ice Cube Mold
One of the greatest phenomenons when it comes to ice cubes has been seeing super clear ice cubes from those clear ice cube systems or molds and wanting to try it, but not necessarily wanting to have a huge contraption in my freezer. Haha. Anyone else feel my pain? Whelp, no need to worry----I've done my research and tested it out a bit and have found some solutions to help those of us who don't have any fancy system to making clear ice cubes. Here are a few ways:
Tip #1: It's best to use water that is distilled or super filtered to avoid gasses and dissolved oxygen, which are the two things that cause our ice to "fog up" when frozen.
Tip #2: Boil your water and freeze your water hot. Again, much to my previous point, this removes any dissolved oxygen or gasses. Just be sure to carefully pour the hot water into your ice cube tray or mold-----preferably one made from materials that naturally insulates like silicone. Also, ensure that your tray lays FLAT while freezing.
Tip #3: Slow freeze your ice cubes. This should be done for about 24 hours, which allows any impurities to be forced out of the ice---resulting in much clearer ice.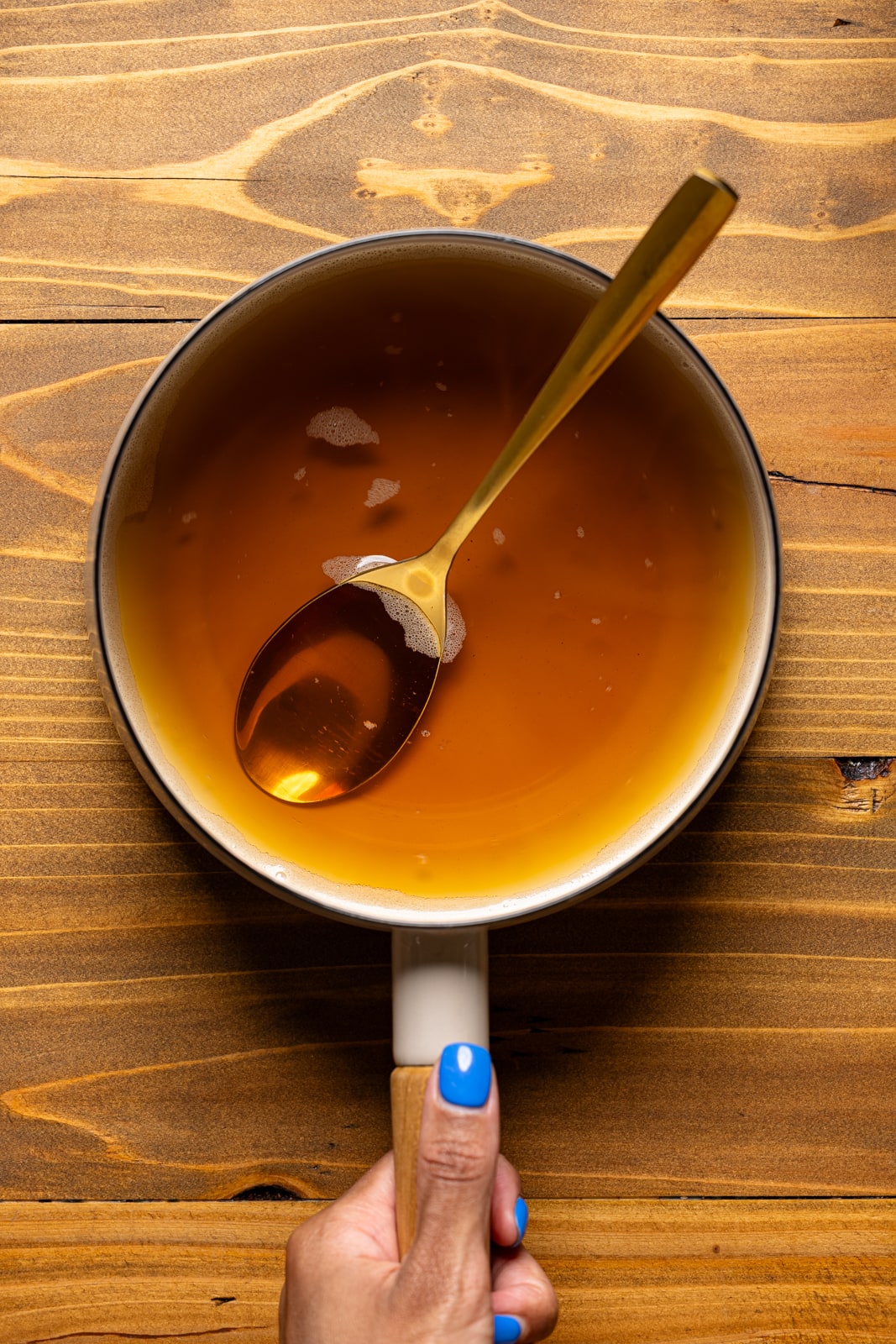 Are Mocktails Healthy?
Mocktails can be healthy, depending on the ingredients used. Fresh juices, herbal teas, and natural sweeteners like honey can provide vitamins, minerals, and antioxidants. However, mocktails made with high-calorie syrups, sodas, and artificial flavors can be less healthy. Y'all know my mocktail menu for Orchirds & Sweet Tea I like to keep it natural and healthy. Even with this Brown Sugar Peach Mint Julep Mocktail, you can sub the brown sugar with brown coconut sugar for a healthier twist or use maple syrup instead if you don't care about using brown sugar.
What to Pair with this Mocktail
OK, so if you're making these Brown Sugar Peach Mint Julep Mocktails and you're wondering what delicious foods you can easily pair with them, no worries! You can totally go for a similar flavor profile and pair with this Cinnamon Maple Peach Bread for a nice brunch or dessert moment. However, for dinner options to pair these with, you can enjoy the following: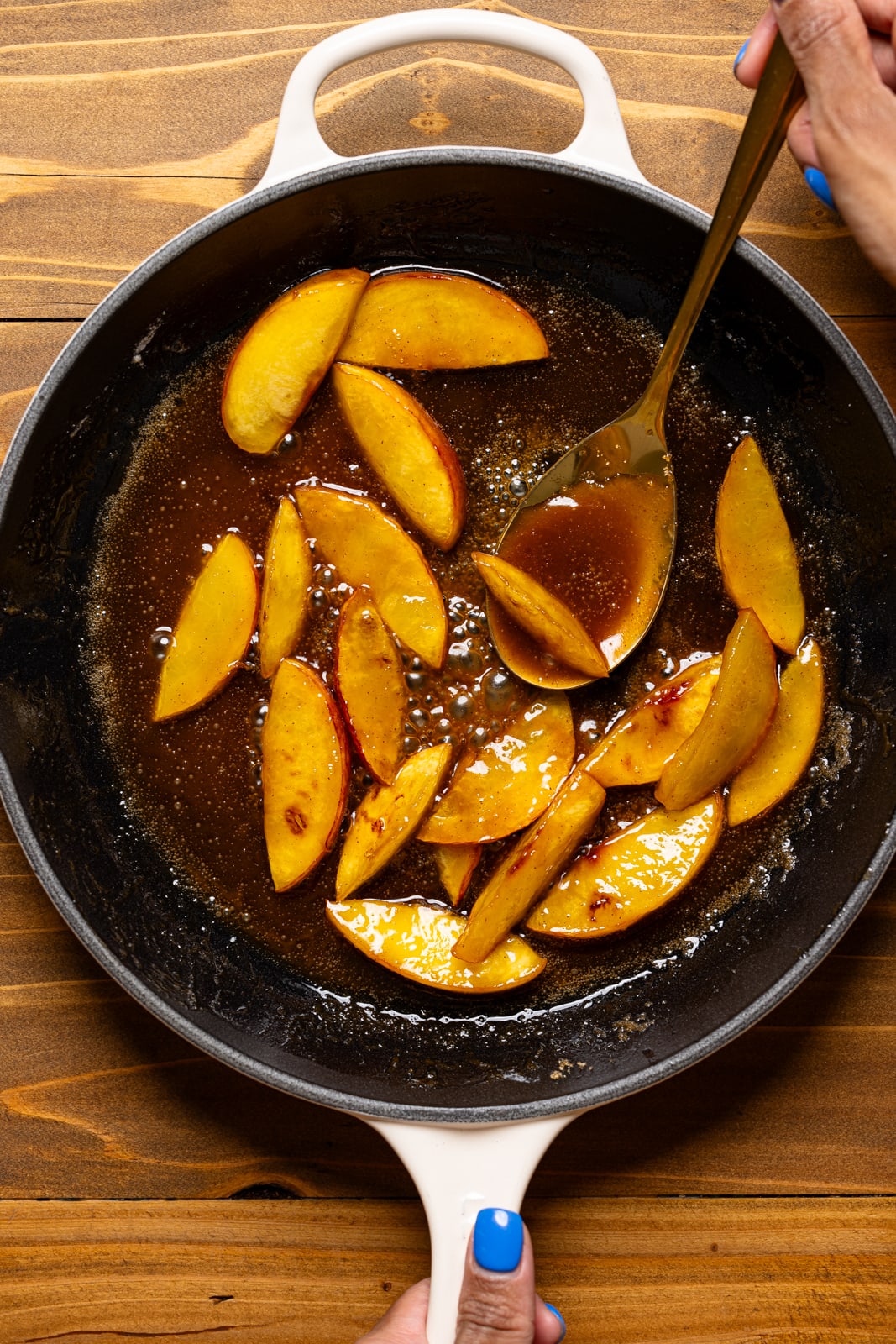 Common Q + A's for Brown Sugar Peach Mint Julep Mocktail
Can I make more mocktails?
Absolutely! This recipe makes 2 servings, however, to make additional mocktails, simply double or triple ingredients, depending on need.
Can I add alcohol?
Yes! If you'd like to spruce things up with alcohol, feel free to add 1 ounce of whiskey, rum, vodka, etc. Plus, you can also see the cocktail version of this recipe via IG Reels by my friend, Tyra who originally created this recipe.
How to reuse leftover brown sugar syrup after refrigerated?
Easy! Simply add the any leftover brown sugar syrup to your mocktail(s) since it's already chilled.
What can I do with leftover caramelized peaches?
I definitely try to avoid waste at all costs, therefore, I like to repurpose these caramelized peaches by adding them atop oatmeal, yogurt, pancakes, etc. SO good!
Can I make this peach mint julep ahead of time?
Of course! Simply make your brown sugar syrup the day before, let it cool completely, cover it tightly with plastic wrap or in a mason jar, and refrigerate overnight. You can also prep your peaches the day before by slicing them and squeezing a bit of lemon juice atop of them to avoid them from browning---then store in an airtight container and refrigerate. The best part about making these ahead of time is that they'll be completely chilled once ready to serve. Also, the ice cubes will be made in advance (crushed or whole) and ready to add to your assembled mocktails!
What other herbs & spices go well with peaches?
If you're thinking of adding an additional touch to these mocktails or to switch things up---you can totally mix and match the following herbs & spices:

allspice, cinnamon, cloves, vanilla, nutmeg, mint, basil, ginger, honey, tarragon, rosemary, and lemongrass.
What is the difference between a mint julep and a mojito?
Basically, both mint julep and mojito drinks are very similar. They both contain fresh mint and a simple syrup. however a mint julep doesn't have any citrus juice like a mojito does. Also, mint julep tends to use bourbon instead of rum or tequila.
How long does brown sugar syrup last?
If you keep this brown sugar syrup in the fridge tightly sealed, it will last a month! Keep it handy and add it to all your fave drinks!
Can I make this mocktail dairy-free or vegan?
Yup! To make this recipe entirely dairy-free or vegan, simply substitute the butter with vegan butter and ensure that the brown sugar is organic!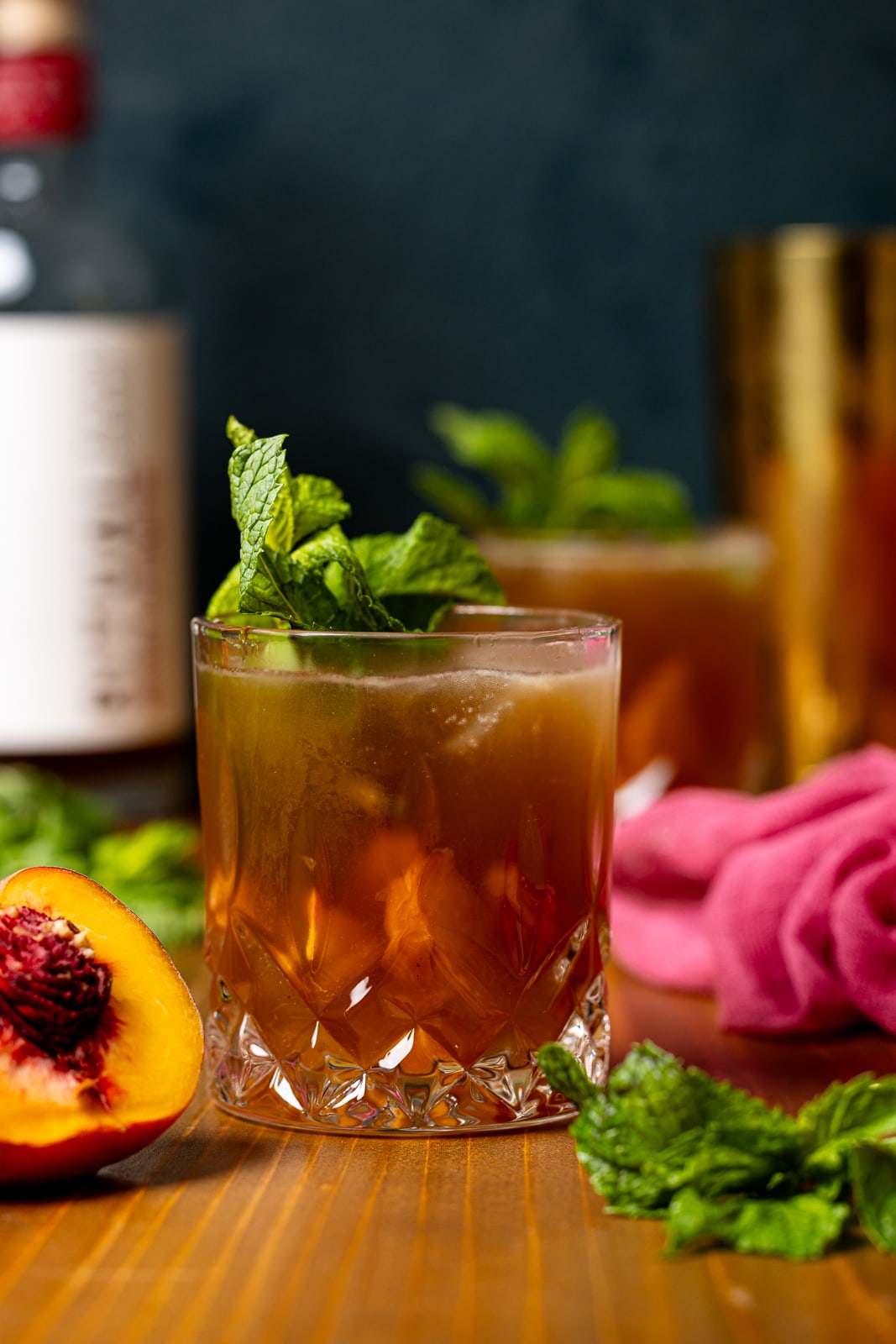 More Warming Mocktail Recipes
MADE OUR RECIPE(S)?
If you tried this Brown Sugar Peach Mint Julep Mocktail recipe or any other recipe on my website, please please leave a 🌟 star rating and let me know how you go in the 📝 comments below. I love hearing from you.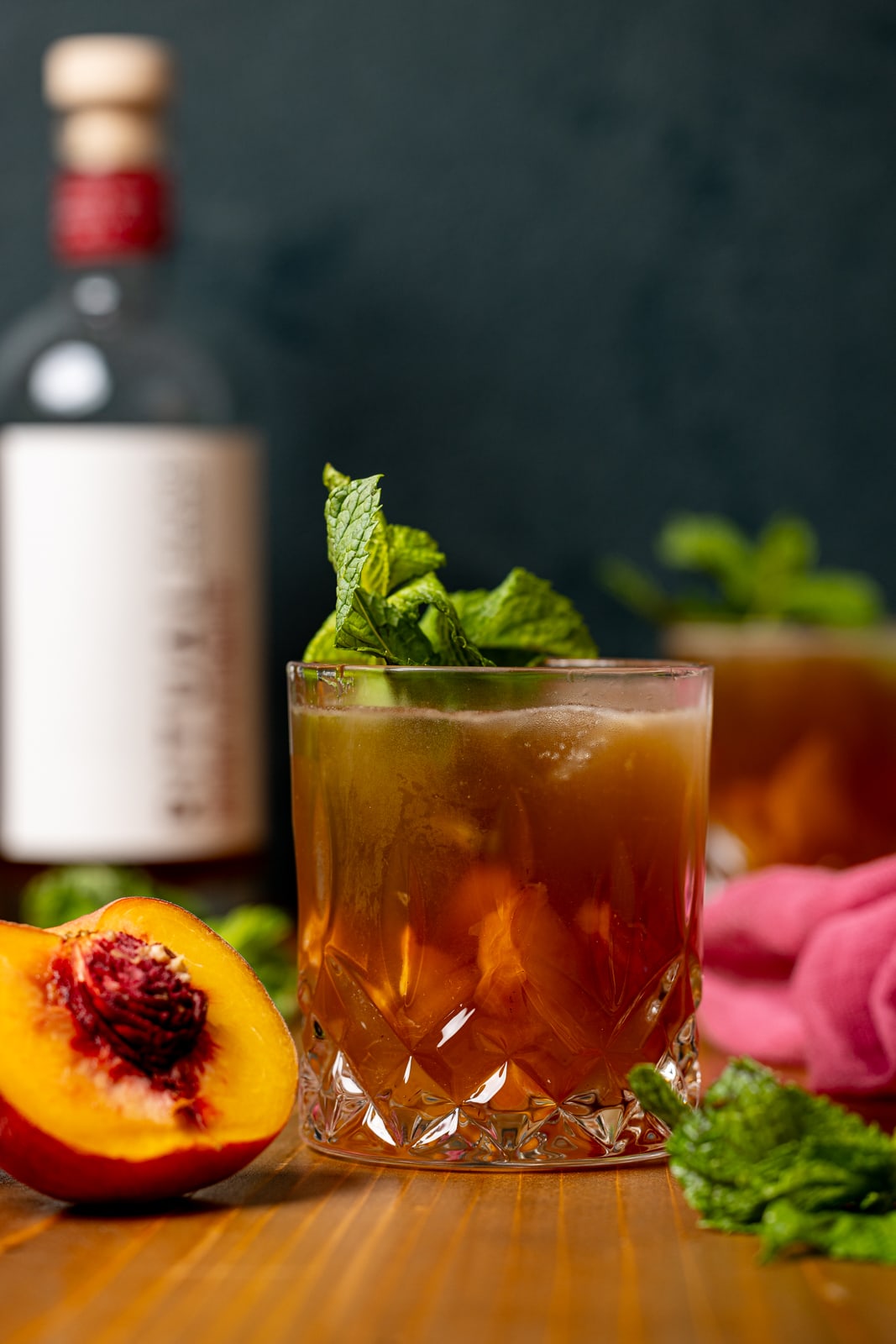 BROWN SUGAR SYRUP:
2

cups

filtered water

½

cup

organic brown sugar
CARAMELIZED PEACHES:
1

medium

fresh peach, sliced

(I like to keep the skin on)

2

Tbsps

unsalted butter

½

cup

organic brown sugar, light or dark

½

teaspoon

ground cinnamon

Pinch of

sea salt
MOCKTAILS:
2

cups

brown sugar syrup, cooled

Caramelized peaches, cooled

handful

fresh mint leaves

(You can slightly crush leaves for bold mint flavor once added to mocktails)

6

ozs.

Ritual Zero Proof Whiskey Alternative, divided

Crushed ice
TO MAKE THE BROWN SUGAR SYRUP:
In a saucepan over medium-high heat, add together the water and brown sugar (stirring them to combine) and bring to a boil, about 1-2 minutes.

Reduce the heat to low and simmer for another 1-2 minutes or so. Remove from heat and let it cool completely.
TO CARAMELIZE THE PEACHES:
In a medium (10-inch) skillet over medium-high heat, add the butter and heat until melted. Add the brown sugar, cinnamon and sea salt and stir until combined and everything begins to bubble a bit, about 1-2 minutes.

Add the sliced peaches and toss until well coated and cook for another 3-4 minutes, until tender and the sauce has thickened. Remove from heat and cool completely. NOTE: For more tender peaches, you can cook for an extra 4-5 minutes or so, but be sure to reduce the heat to medium-low.
ASSEMBLE THE MOCKTAIL(S):
For each mocktail, fill a good cocktail glass (11 oz. or so) halfway with crushed ice, spoon half the amount of caramelized peaches into glass followed by pour half the amount of the brown sugar syrup mixture and 3 oz. of the whiskey alternative. Top with fresh mint leaves and/or cinnamon sticks, if desired.

Sip and Enjoy!
SERVING SIZE: To make additional mocktails, simply double or triple ingredients, depending on need.
ALCOHOL: If you'd like to spruce things up with alcohol, feel free to add 1 ounce of whiskey, rum, vodka, etc.
FAQS: To see all Q + A's, see post above recipe, including for dairy-free + vegan options!
Calories:
311
kcal
|
Carbohydrates:
54
g
|
Protein:
0.2
g
|
Fat:
11
g
|
Saturated Fat:
7
g
|
Polyunsaturated Fat:
0.4
g
|
Monounsaturated Fat:
3
g
|
Trans Fat:
0.5
g
|
Cholesterol:
30
mg
|
Sodium:
29
mg
|
Potassium:
79
mg
|
Fiber:
0.3
g
|
Sugar:
53
g
|
Vitamin A:
351
IU
|
Vitamin C:
0.02
mg
|
Calcium:
61
mg
|
Iron:
0.4
mg