This Balsamic Strawberry Brioche French Toast pulls together all bold flavors as a great option for breakfast or brunch. This french toast is easy to make, thick, soft, fluffy, delicious, uses a handful of ingredients, and comes completely dairy-free. Fully laced with a decadent balsamic flavored topping, this french toast recipe will certainly be your family's next new staple for those early mornings, especially during the Spring + Summer months. Vegan + Gluten-free options.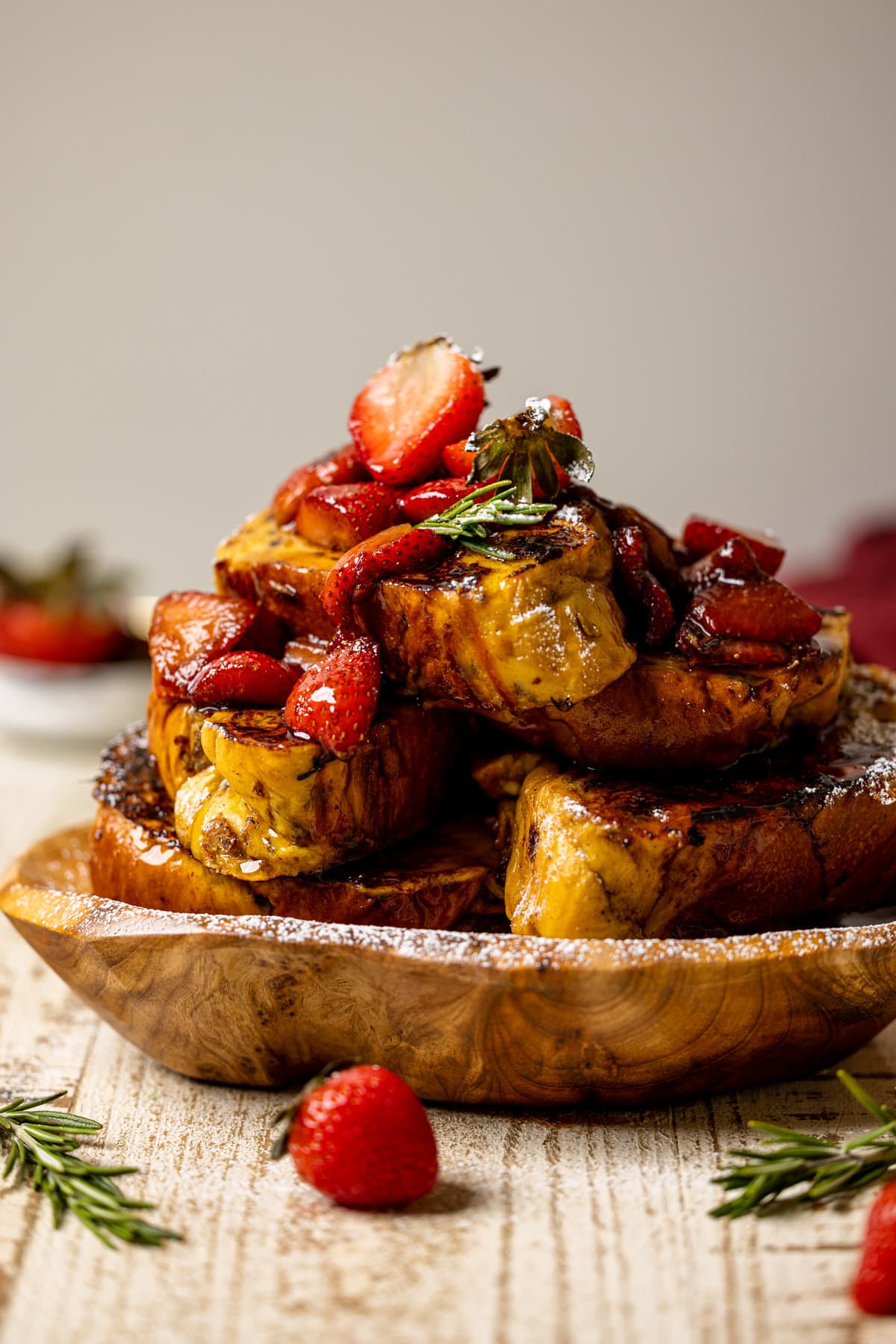 Disclaimer: This post contains affiliate links via Amazon for products that I wholeheartedly love.
OK, so I'm super ecstatic to be sharing this recipe because it's one that I've loved ever since first whipping it together in 2020 which is why I had to remake and reshoot everything to ensure that it's perfect! French toast is definitely in my top list of favorite breakfast or brunch dishes next to pancakes and waffles, of course! With the Spring season just around the corner, I couldn't resist sharing this thick + fluffy Balsamic Strawberry Brioche French Toast with you. It's SO good, ya'll and it's just as easy to whip together as regular french toast. I'm usually not one to delve into balsamic vinegar that often, but with this recipe, I'm swooning over the fact that I did because it just works, especially when paired with something naturally sweetened like fresh strawberries!
It definitely works as the perfect "pick-me-up" in the mornings or as a nice twist and switch up to regular french toast on any day of the week. Of course, if you're thinking of feeding a larger family or you just want something that requires a lot less work, then this Blueberry French Toast Casserole is the answer! Plus, this Maple Pecan Sweet Potato French Toast Casserole is an indulgent breakfast + brunch delight that captures the essence of festive flavors in every bite!
Whether you use challah, whole wheat, Brioche, or gluten-free bread, this french toast will be your favorite homemade brunch to date!
What to Expect with this Balsamic Strawberry Brioche French Toast?
A nice thickness.
Velvety texture. Soft. Tender.
Perfect balance between complex smokiness + sweetness.
A rich combination of flavor for the entire family.
Amazingly dairy-free with a great vegan option!
Warm.
Filling.
And just absolutely wholesome and perfect for the Spring + Summer weather.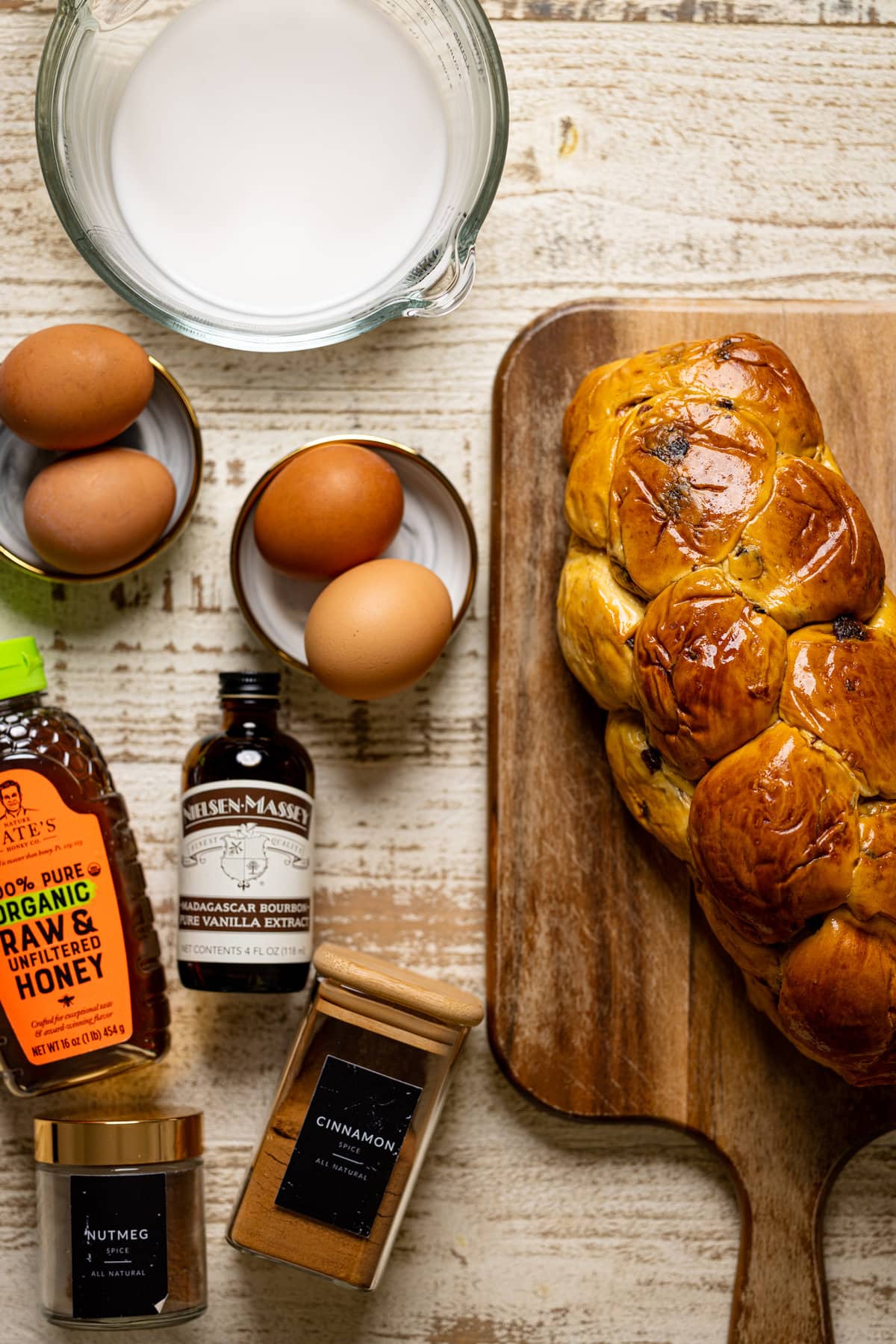 What is So Special About Balsamic Vinegar?
Balsamic vinegar is a deep brown vinegar that's made from unfermented grape juice, which makes it different from regular vinegar. Overall, balsamic vinegar is known for it's distinctive, bold, complex, and interesting flavors. In actuality, it has a rich, complex sweetness with notes of fig, molasses, cherry, chocolate or prune.
What Goes Well with Balsamic Vinegar?
If you're familiar with balsamic, then you're aware that this dark, concentrated, + intensely flavored vinegar can be extremely bold (and perhaps off-putting) if it's not paired correctly.
However, I am learning that pairing it with sweeter things like apples, pears, honey, strawberries, other berries, etc. can be the best choice for the perfect pairing---as seen with this scrumptious Balsamic Strawberry Brioche French Toast recipe! Also, surprisingly, it goes very well with fresh mozzarella, which could be used for pizzas, crostinis, salads, etc.
What Can I Use Balsamic Vinegar For?
Like many other vinegars, balsamic vinegar can be used for a lot of things like:
Salad dressing
Roasting (like veggies, etc.)
Reduction for grilled meats
As a topping for foods
As a steak or meat marinade
An ingredient in BBQ sauce
Drizzle for desserts (like ice cream, etc.)
Baked vs. Pan-Fried French Toast
Both baked and pan-fried French toast recipes are delicious, however, I prefer the one that takes less active cooking time, especially on the weekends where I'm extremely laid back.
Instead of frying your French toast in butter over the stove, try a baked version. It's easier to whip together, makes less mess (yes, to tossing everything together in one dish), makes a pretty decent batch for the entire family, and is basically "set it + forget it" vibes (hello, oven).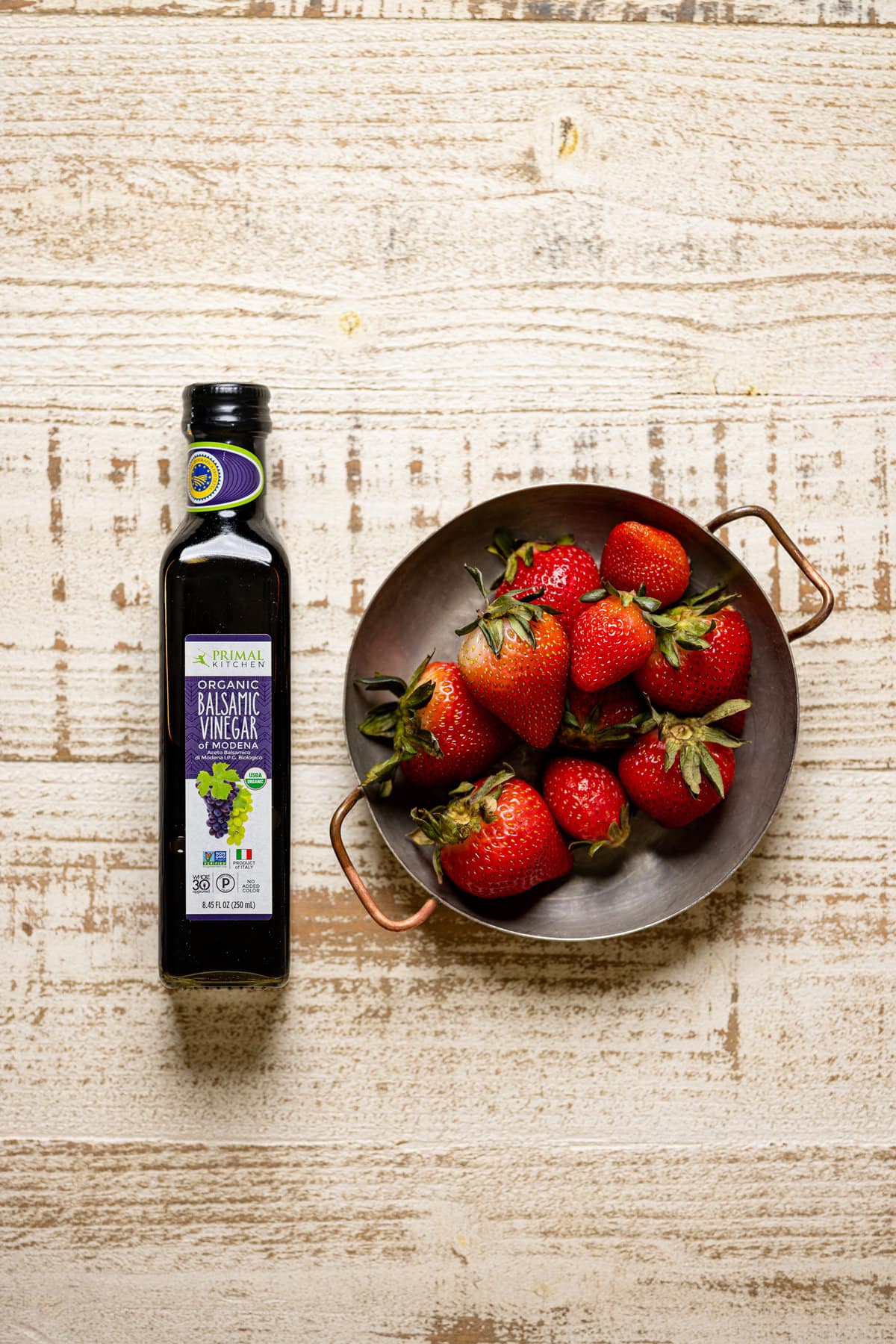 How to Make Balsamic Strawberry Brioche French Toast
The key to the best French toast is to use fluffy bread like brioche or challah, and bonus points if it's a day old and a bit stale. It soaks up the eggy custard even better this way. Now, if you know me personally, then you know that I enjoy a good breakfast if I do get around to eating it.
During the week on most days, I tend to grab something quick since I often have work. However, the weekends are my faves because I get a chance to whip together something intricate! This french toast is no different. Here's what you'll need:
INGREDIENTS
Bread. You can use challah, brioche or sourdough. I recommend using day-old bread so it can better soak up all that eggy deliciousness.
Almond milk. You can use any plant-based, or dairy-based milk you like. Just let it come to room temperature before adding to the French toast.
Vegan butter. For cooking.
Cinnamon + nutmeg. I love using a bit of this spice for a nice warm flavor.
Strawberries. The use of fresh organic strawberries with the stems cut off makes for a nice burst of fresh flavor. Plus, you need them for your additional topping.
Coconut whipped cream. Use either store-bought (my faves are from 

So Delicious Dairy-Free

) or homemade or yogurt.
Honey. I love using organic raw honey as a natural sweetener, however, you can sub with maple syrup.
Cane Sugar. I like to use organic sugar to make sure it's fully vegan.
Eggs. Again, it's best o use room temperature eggs for easy whisking. I like to use organic. For a vegan option,  you'll need 2 'flax eggs' or 'chia eggs'.
Maple syrup. I like this natural liquid sweeter, as it's not refined and vegan friendly. However, you can replace maple with agave, coconut sugar, or honey.
Vanilla. For added warming flavor.
Balsamic vinegar. For a complex sweetness that works perfectly with the strawberries. You can always sub with red wine vinegar, honey, or maple syrup for the topping.
What is the Best Bread to Use for French Toast?
For the best french toast, it's definitely all about the type of bread used. Traditionally, any bread (including regular sliced breads) can be used, but the following options truly make for the perfect bite + results in my opinion and it's always best to purchase an entire loaf and use slightly old bread:
Brioche
French baguette
Challah
Sourdough (Best for getting french toast with structure)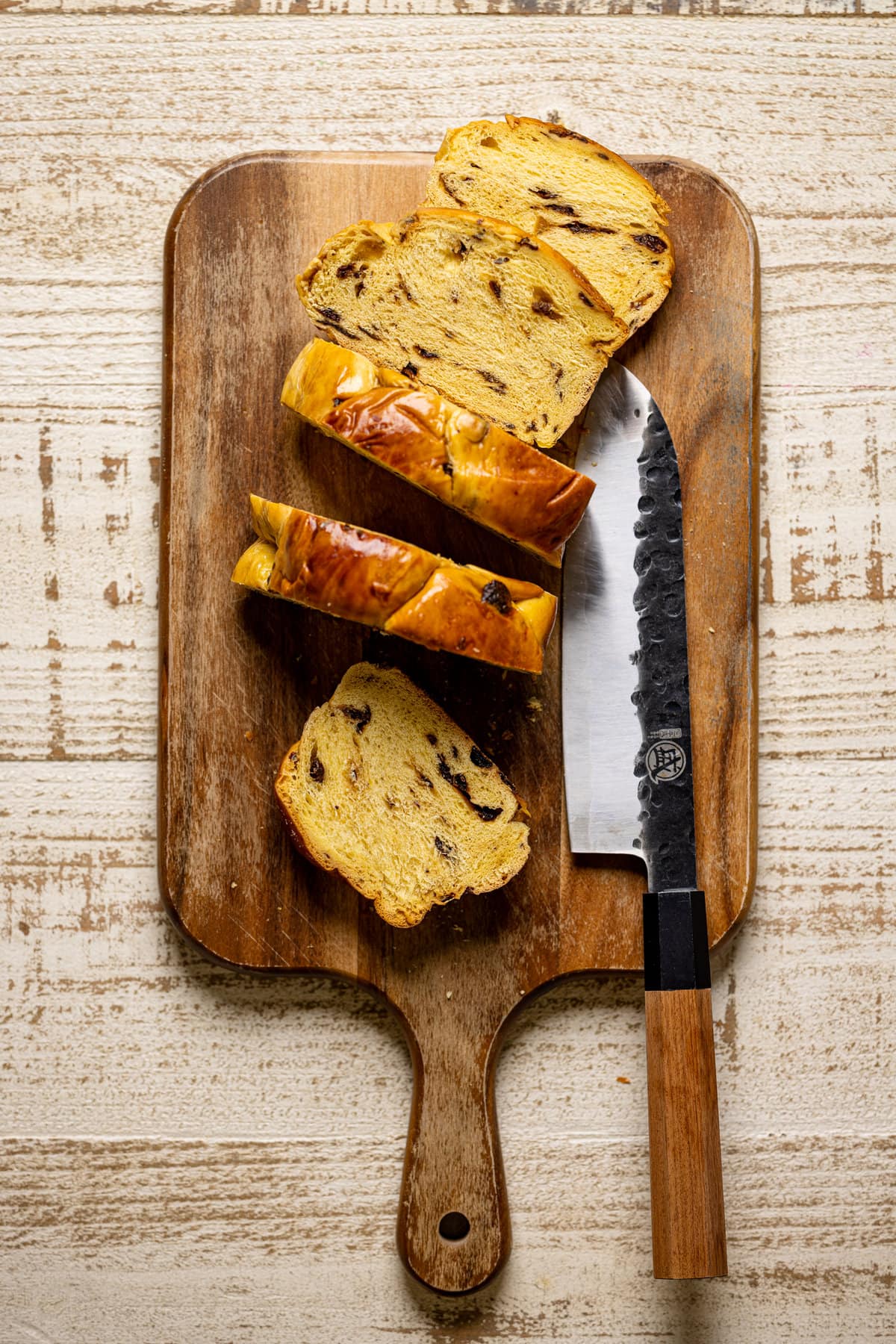 Tips For Making the Best French Toast
When it comes to making the perfect French Toast, I wasn't always a master at it. To be honest, I often ruined my toast pretty badly because it would stick to the pan and become this mush. Haha. Now that I've practiced a TON, I was able to learn a few tricks along the way which hopefully can help you when making this Balsamic Strawberry Brioche French Toast recipe:
Tip 1: The Bread Quality Matters.
One of my first mistakes was thinking that I could use any type of bread when it came to french toast. However, I was wrong. For the best, fluffy french toast, using the correct bread matters A LOT!
Personally, I've found that the following breads work perfectly: brioche, challah, french bread, etc. Basically, you want a bread that produces a dense crumb and that can hold up well in the custard.
Tip 2: Ingredients at Room Temp is King!
Yup. You definitely want to make sure that all of your ingredients (whether using eggs or not) are at room temperature and not cold. This ensures that your melted butter doesn't become grainy or hardened in the process and that the custard is smooth, which helps your french toast to cook nicely and remain smooth.
Tip 3: Soak it REAL GOOD!
The other important tip is to ensure that your bread slices are soaked nicely within the custard. This is why using quality bread every time matters. Getting a good soaked bread makes everything perfectly fried and less sticky for the frying mess!
Tip 4: Always use a non-stick pan + don't skip butter.
Yup. You read that right. To make my french toast perfect, especially vegan ones, I often fry them on a high-quality non-stick pan or griddle which creates an easy flip and slide right off the pan situation. In addition, always ensure that you use butter in between frying and remember----just a little goes a long way!
SHOP MY FAVORITE TOOLS FOR COOKING, ESPECIALLY FOR THIS FRENCH TOAST!
Here, I've curated a list of cooking + baking essentials that I use to achieve my favorite baked goods or cooked meals, especially with this Balsamic Strawberry Brioche French Toast. Everything from my fave baking sheet, skillet, food processor, high-powered blender, cooking utensils, and more. SEE THEM HERE!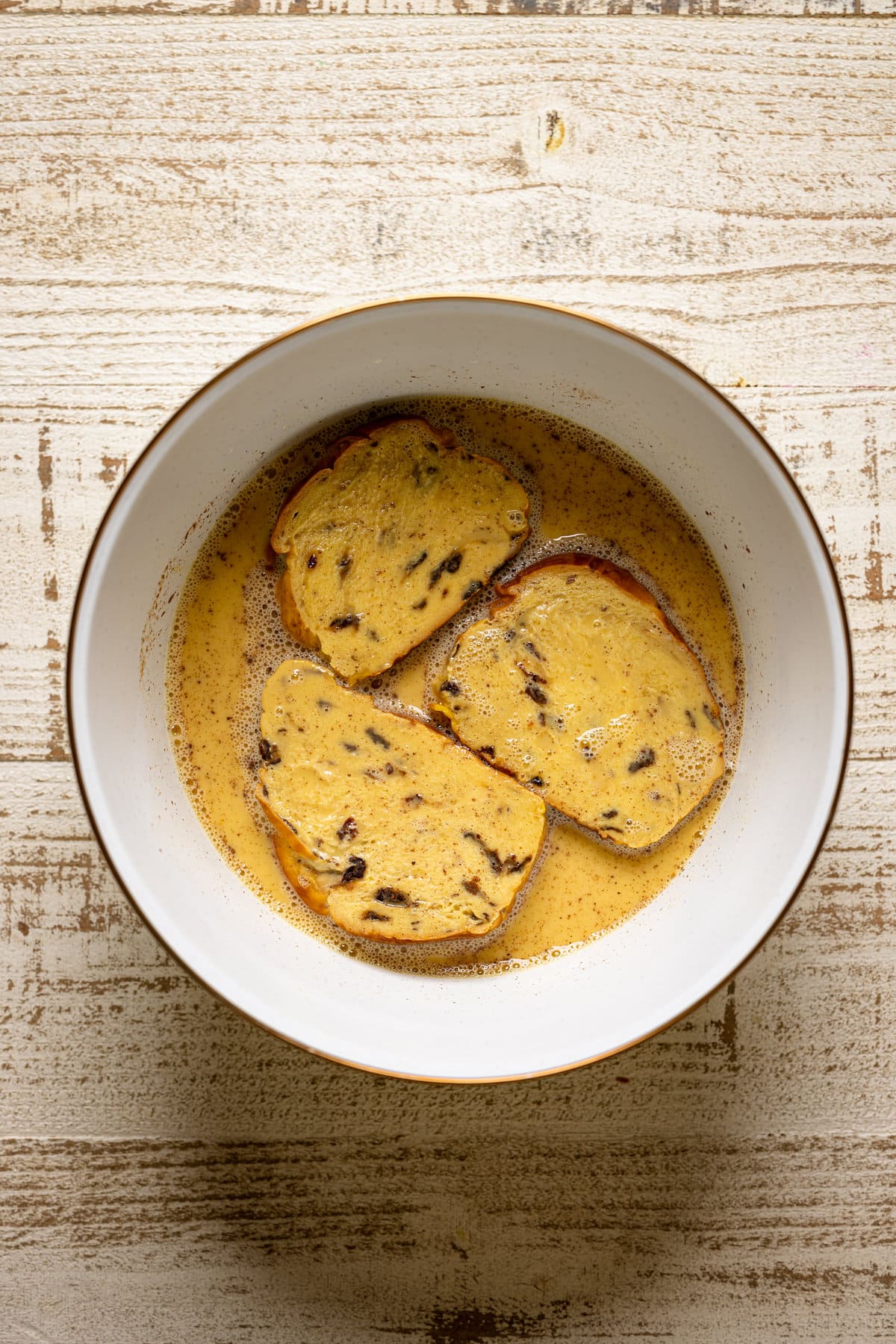 How To Make French Toast Not Soggy.
When it comes to frying your french toast, like I said---the soaking process is obviously an important. However, that can sometimes means that your french toast comes out soggy, which is a major No, No! But don't worry. The trick to avoiding soggy french toast is in two things: the type of bread used (really thin bread isn't your friend) + a nice slow cook! Yup----cooking it over a medium-low heat instead of high-heat ensures that the outside doesn't become golden + brown before the insides can cook through properly. So, keep things lower in setting and let it take it's time to cook through.
What is the Ratio of Eggs to Milk in French Toast?
Making the perfect french toast is all about the egg to milk ratio, believe it or not! In order to come out with a richly tender french toast, the best rule of thumb is ¼ cup of mil to 1 egg per two slice. Of course, things won't fall apart if you don't follow this, but it'll surely increase your chances of the best results. Another trick-----to avoid the "scrambled egg" taste, use only the egg yolks instead of the entire egg. Wallah!
How to Dry Bread for French Toast Hack.
OK, so if you're in a hurry or just feel for french toast, but your bead isn't day old or stale just yet, no worries! There's a hack that works that'll get you the results you need in the knick of time:
Quick option: Lay your slices of bread unto a baking sheet and bake in the oven at 300 degrees for 5-10 minutes until it "drys out".
Overnight option: Lay your slices of bread on a baking sheet or wire cooling rack overnight. Air will quickly dry out the surface of the bread.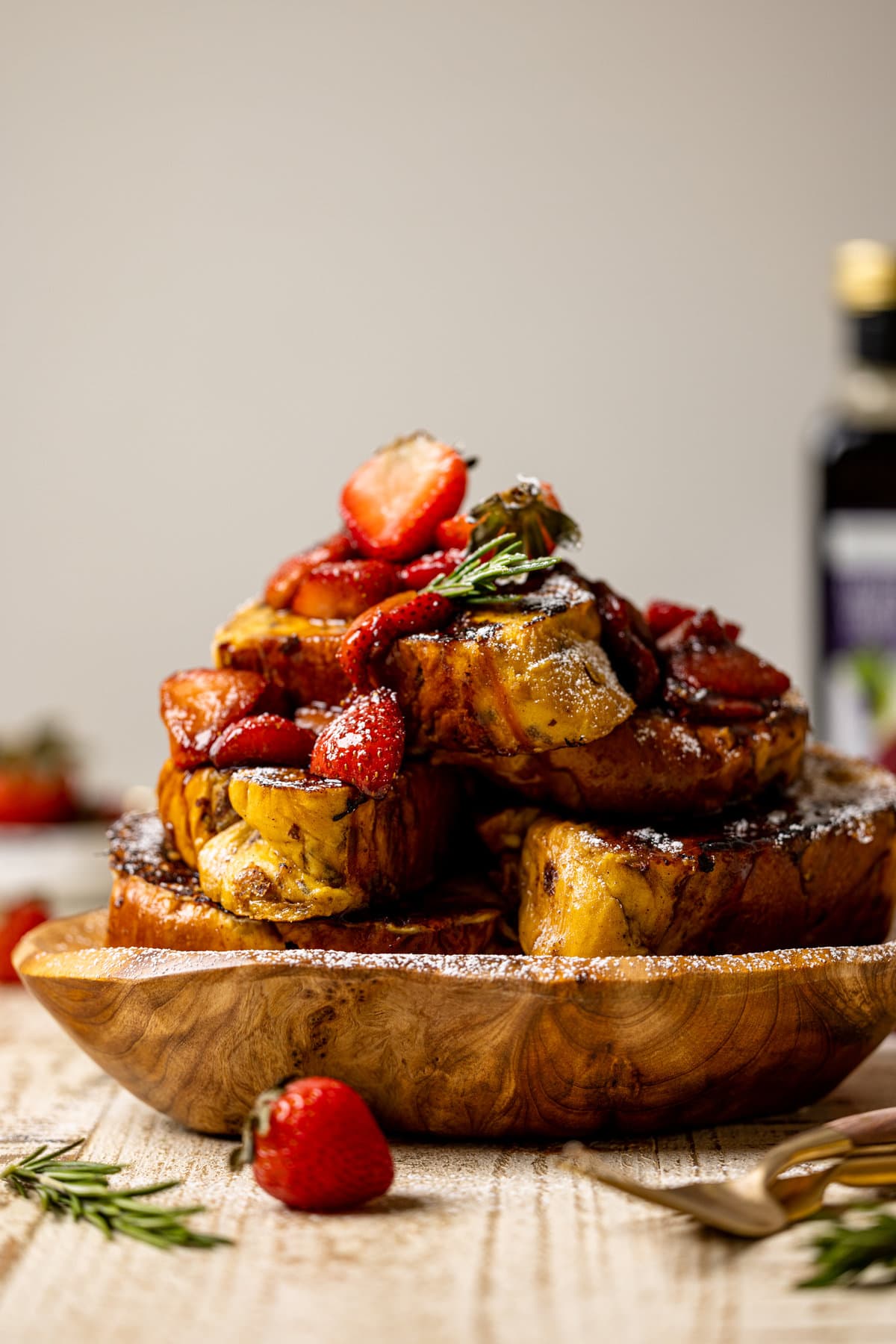 Fluffy Vegan + Gluten-Free Balsamic Strawberry Brioche French Toast
You can easily make this Balsamic Strawberry Brioche French Toast recipe vegan and/or gluten-free. To make gluten-free french toast, simply use your favorite gluten-free bread (remember, the fluffier, the better).
For a vegan version, follow these swaps:
Use vegan challah or ciabatta bread (regular brioche and challah loaves have eggs, butter and milk in them)
Use a vegan egg substitute, like Just Eggs or chia eggs
Cook the French toast in vegan butter
Top with coconut whipped cream instead
What Other Dairy-Free Milks Can I Use?
Absolutely! Everything in this Balsamic Strawberry Brioche French Toast is completely delish as is, but if you'd like to switch things up with the type of plant-based milk that you use-----that's totally fine! The world of plant-based milk is constantly expanding, it's hard to keep up! From the classics like cashew milk, sesame milk, soy milk, and almond milk, we now have delicious options like oat milk and even potato and quinoa milk.
My Fave Family Breakfast Recipes
MADE OUR RECIPE(S)?
If you make this Balsamic Strawberry Brioche French Toast or any other recipe from us, be sure to tag us on Instagram at #Orchidsandsweettea so that we can share the love, rate, comment below, + share!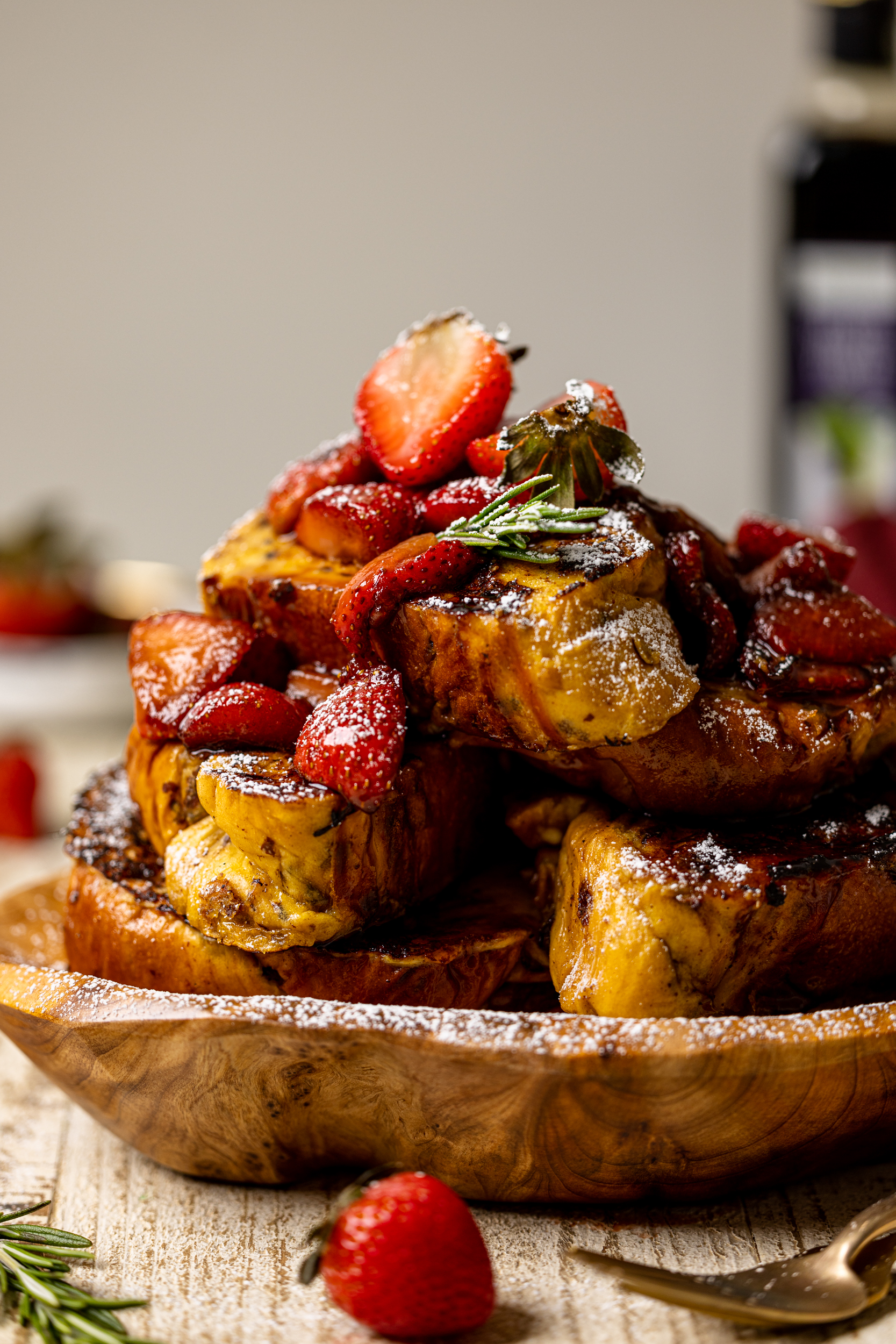 FRENCH TOAST:
1

loaf

challah, brioche, or sourdough bread; sliced

(Preferably a day old; See Notes for Vegan version)

1

cup

Almond milk, at room temp. 

(You can use your fave plant-based milk)

4

large

organic eggs, room temperature  

(For Vegan option, see Notes!)

1

teaspoon

vanilla extract

2-3

Tbsps

raw honey

(See Notes!)

1

teaspoon

ground cinnamon

½

teaspoon

ground nutmeg

vegan butter, for cooking
BALSAMIC STRAWBERRY TOPPING:
2-3

cups

fresh strawberries, de-stemmed + sliced

¼

cup

organic cane sugar

(See Notes!)

1

tablespoon

raw honey

2

Tbsps

balsamic vinegar, premium

1

teaspoon

vanilla extract

Pinch of

sea salt
OPTIONAL TOPPINGS:
Coconut whipped cream

Pure maple syrup, for drizzle

Fresh rosemary sprigs

Organic powdered sugar, sifted
TO MAKE THE FRENCH TOAST:
Whisk together all the ingredients (except for the bread and butter) into a large bowl and set aside so that everything marries together and activates, about 5 minutes.

Preheat griddle or large skillet over medium-low heat and add 1 tablespoon of butter, melting it.

Dip 1 slice of bread into the batter, soaking it in for a few seconds on each side. Place slice unto the heated griddle, cooking on each side for about 3-4 minutes until golden brown. Repeat until all french toast have been made.
TO MAKE THE BALSAMIC STRAWBERRY TOPPING:
In a saucepan, add together all ingredients over medium-high heat, stirring until combined. Once strawberries begin to soften and the sugar dissolves, continue gently stirring until mixture begins to thicken a bit, about 2-3 minutes. Remove from heat and let cool.
ASSEMBLY:
To serve—stack french toast atop each other, spoon a generous amount of balsamic strawberry topping, coconut whipped cream, drizzle with maple syrup, sifter powdered sugar, and/or toped with fresh rosemary sprigs, if desired.

Bon Appetit!
BREAD: Instead of brioche bread, you can also use vegan (if needed) challah or ciabatta bread or any other rustic bread. In most cases, day old bread works best!
WHAT PLANT-BASED MILKS ARE GOOD FOR THIS RECIPE? You can always use your fave or one of the following: Almond, coconut milk, homemade oat milk (froths/foams VERY WELL), homemade cashew milk, flax milk, potato milk, quinoa milk, etc.
VEGAN BRIOCHE: To make your own vegan brioche bread, see my latest recipe.
SWEETENER: Instead of honey, you can also use organic cane sugar, brown sugar, coconut sugar, or pure maple syrup as a substitute.
VEGAN OPTION: To make this French toast vegan, whisk together 1 tablespoon chia seeds and 3 Tbsps WARM water in a small bowl until combined and let it sit for 10 minutes until thickened completely. This makes 1 "Chia Egg". NOTE: For this recipe just use 2 "chia eggs" (that means 2 Tbsps chia seeds + 6 Tbsps WARM water).
GLUTEN-FREE OPTION: To make gluten-free french toast, simply use your favorite gluten-free bread (remember, the fluffier, the better).
Calories:
178
kcal
|
Carbohydrates:
27
g
|
Protein:
7
g
|
Fat:
6
g
|
Saturated Fat:
2
g
|
Polyunsaturated Fat:
1
g
|
Monounsaturated Fat:
2
g
|
Trans Fat:
0.02
g
|
Cholesterol:
186
mg
|
Sodium:
153
mg
|
Potassium:
87
mg
|
Fiber:
1
g
|
Sugar:
26
g
|
Vitamin A:
272
IU
|
Vitamin C:
0.1
mg
|
Calcium:
110
mg
|
Iron:
1
mg
Balsamic Strawberry Brioche French Toast.