This Apple Cider Vinegar Detox Lemonade is a quick, healthy option for a great detox or immune system boost with a tasty, refreshing element. Made from freshly-squeezed lemons, apple cider vinegar, raw honey, this lemonade is bursting with delicious flavors as well as amazing health benefits which include a boost in digestion, cleansing/detoxing properties, metabolic aide, and more. Vegan option available.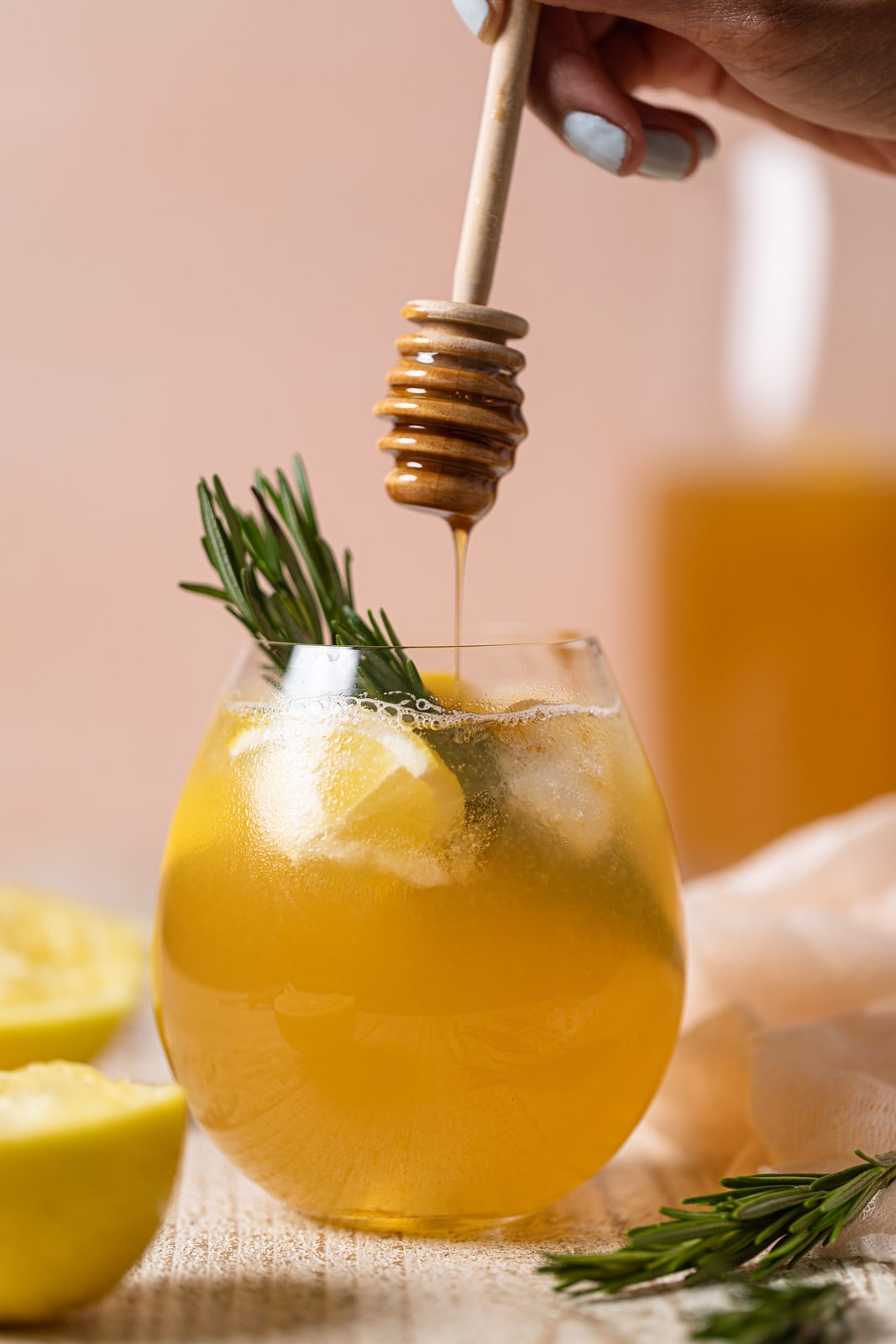 This Apple Cider Vinegar Detox Lemonade is an incredible way to boost your immune system and has honestly become one of my most favorite quick drinks to make these days!
Outside of anything fancy, when it comes to keeping my health in tact, I usually consume apple cider vinegar with honey which is such a powerful combo. To be honest, I love using natural remedies for my health and when it comes to keeping my body in tip top shape, I try to incorporate recipes like this one to best ensure that the body feels refreshed. Plus, this Detox Green Tea Shot Recipe is an awesome go-to for immune-boosting properties.
If you're in need of a few of my favorite natural remedies, check out my list of my 20 Go-To Immune Boosting Home Remedies. It's important to understand that simple everyday practices from exercise to sleep, eating healthy, hot steams, essential oils, and more; all play a role in strengthening your body's entire system.
Ingredients in Apple Cider Vinegar Detox Lemonade
It just takes a few fresh ingredients for this detox lemonade recipe:
8 cups filtered water or purified fresh water
6-7 lemons, freshly-squeezed
3 Tablespoons apple cider vinegar
1 cup raw honey
Fresh rosemary sprigs, for garnish
Lemon wedges, for garnish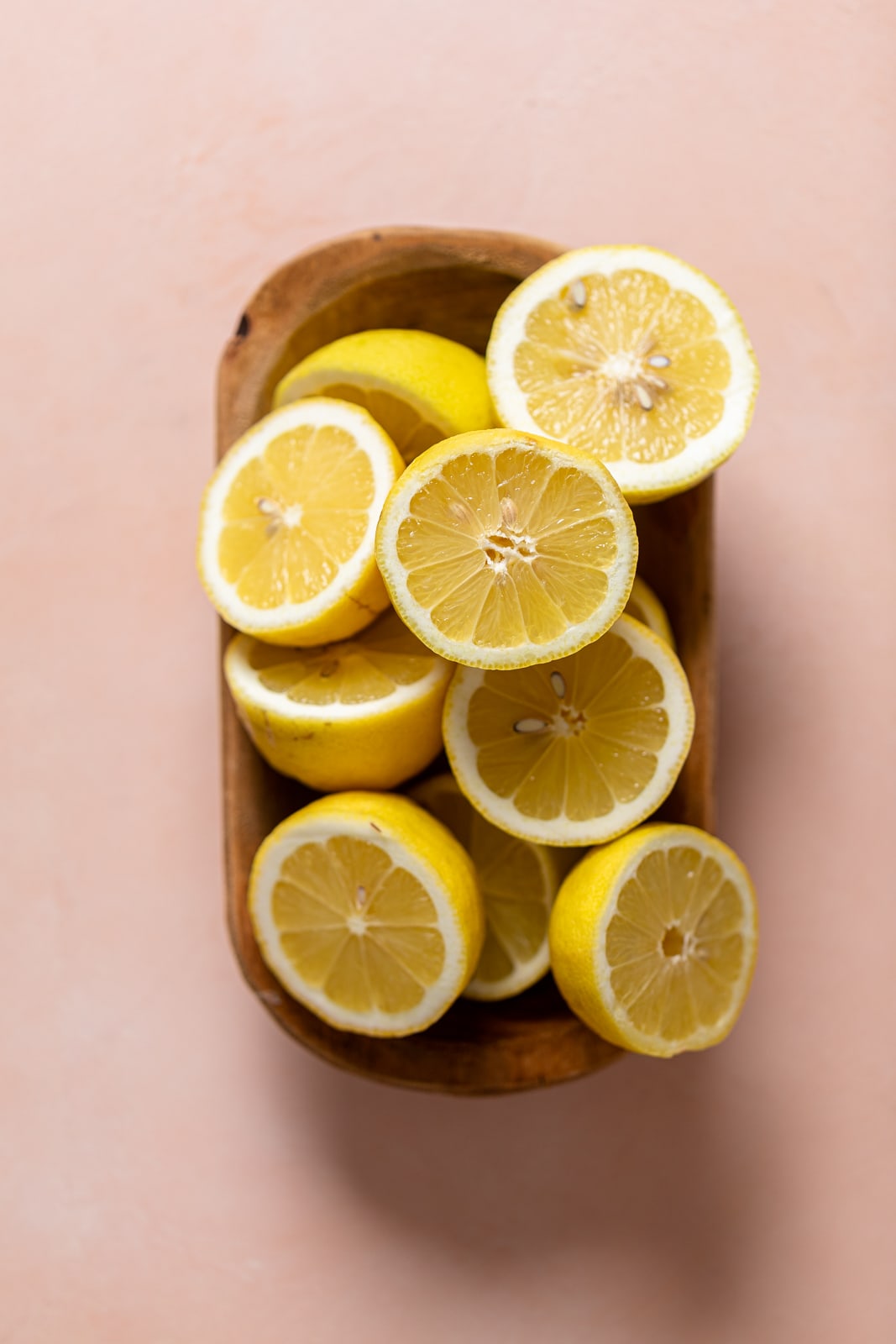 How to Make Apple Cider Vinegar Detox Lemonade
The first step to making this detoxifying drink is to make your freshly squeezed lemon juice. You'll need about 6 or 7 large, juicy organic lemons to produce enough juice for this drink.
I like to slice my lemons in halves, and squeeze out the juices through a strainer to prevent seeds from being included. However, you can also use a "squeezing tool" for greater ease if preferred. Once you have plenty of lemon juice, you can mix everything in a pitcher and it's ready to serve over cold ice!
Why Apple Cider Vinegar + Honey + Lemon Together?
Well, the short answer is that each ingredient has a ton of health benefits individually, therefore, putting them together adds more power! I delve further into their individual benefits throughout this post, but that's really my main reason for adding them together for this detox.
What is a Detox?
By dictionary definition, Detox is the psychological or medicinal removal of toxic substances from the human body. Therefore, detoxes like this one helps your body to reset and get rid of toxins. These toxins can be built up by many factors internally and externally) so that we can feel rejuvenated, improve our health, and help with weight loss.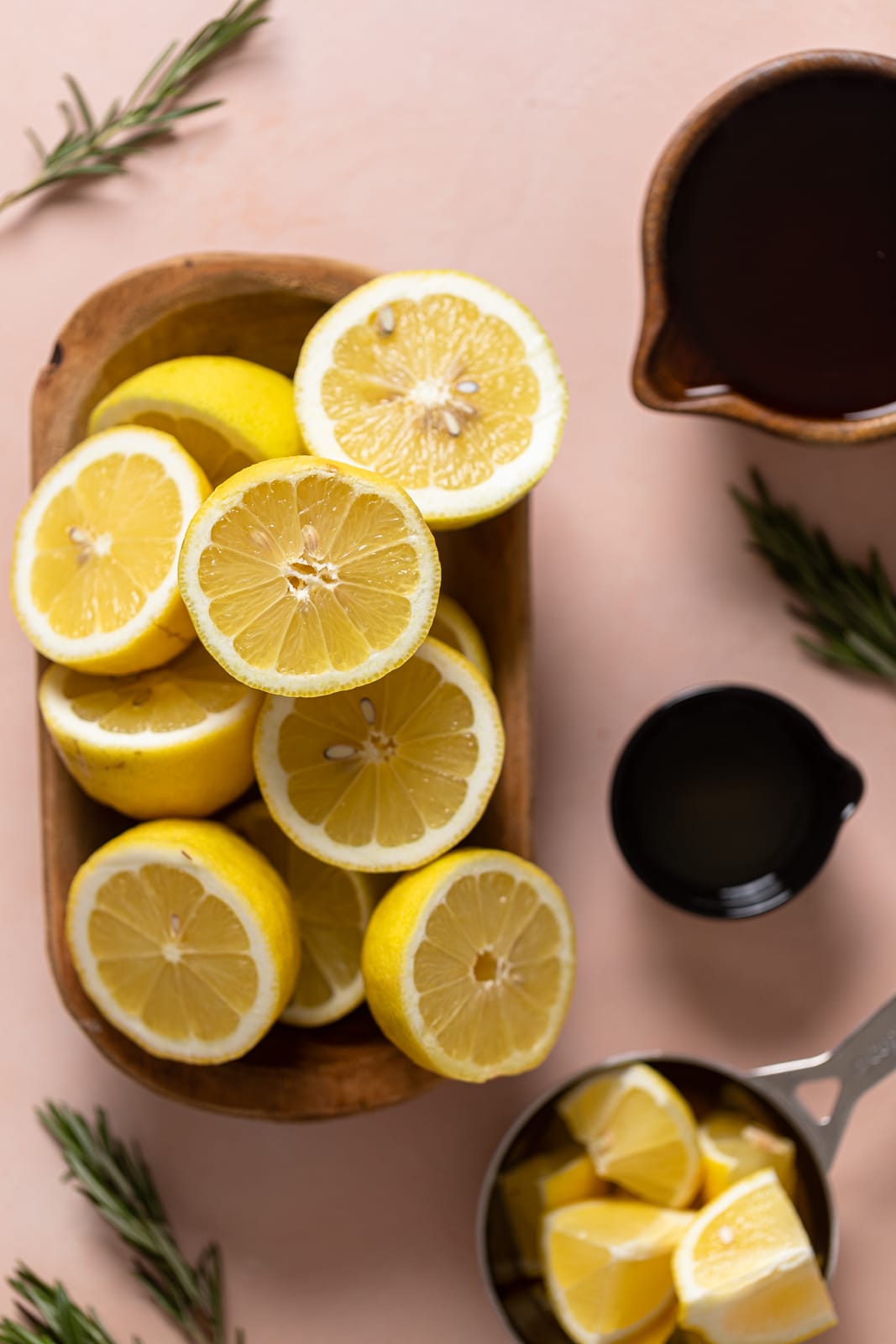 Other Great Ways to Detox
Despite the misconception, there are many ways to detox your whole body which don't always require making your own recipe of drinks and teas.
When it comes to natural home remedies, we often think that taking little steps won't eventually bring us to the major milestones that we hope for. However, truth is–every big milestone occurs after several mini steps. Therefore, 3 Detoxes That You Should Be Doing More Often discusses some of the mini steps that you can take to ensure that your goal to 'complete wellness' happens before the year ends.
How Powerful is Apple Cider Vinegar Really?
OK, so apple cider vinegar is one of my GO-TO, go-to's! Yes, I had to say that twice. Haha. But honestly, I'm in love with ACV for so many reasons, especially since it's one of the acids that I use for most of my vegan recipes, especially in banking.
However, when it comes using ACV as a natural remedy, I'm such a huge fan.
Just be sure to get the Organic unfiltered ACV with the mother---I get mine from Bragg. Why? Well, because ACV has some powerful properties and benefits which includes:
Helps to kill harmful bacteria
May help lower blood sugar levels + help with diabetes
Improves heart health
May boost skin health + more.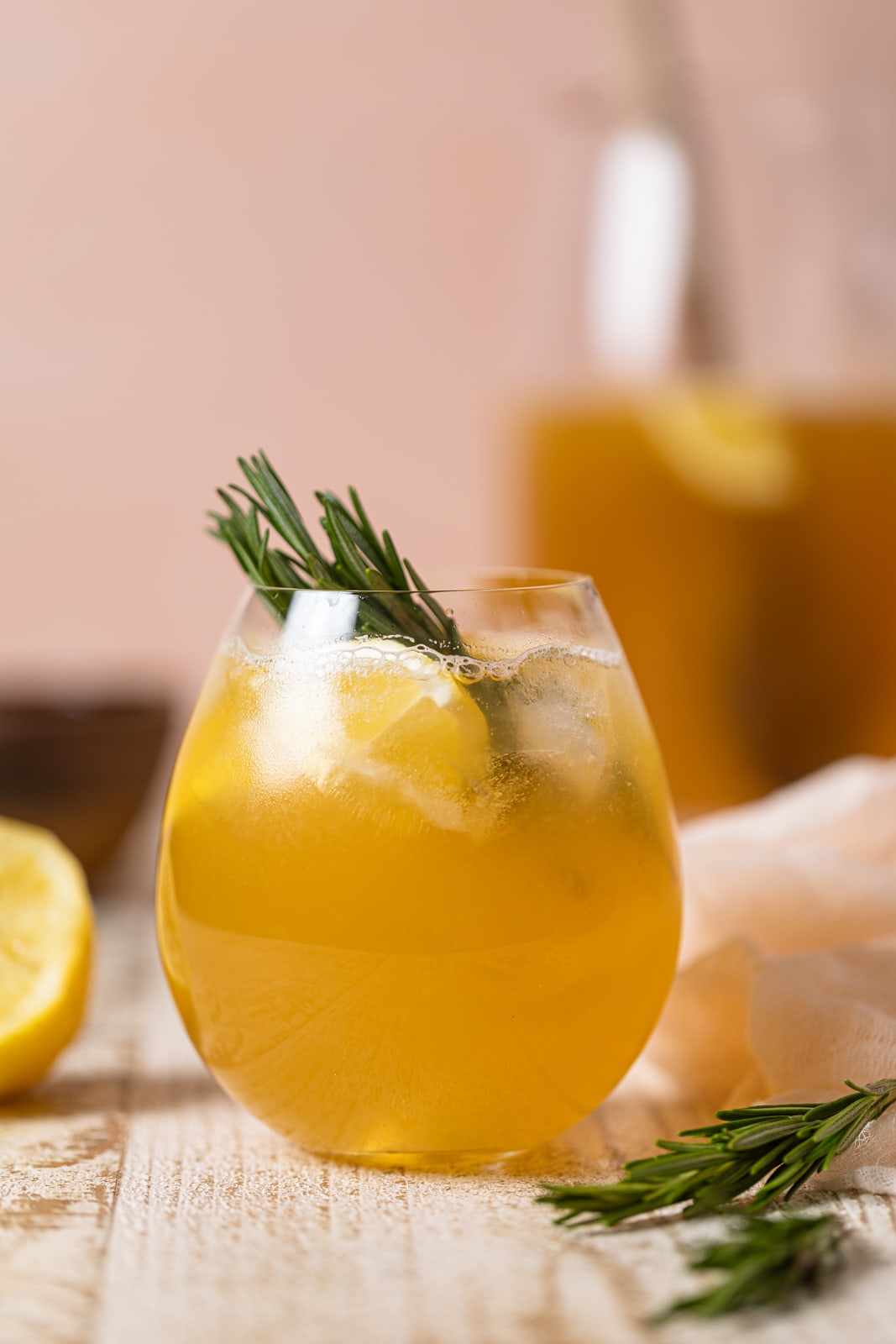 How Much Apple Cider Vinegar Should I Consume?
Of course, like many home remedies, ACV shouldn't be overused due to it's powerful nature. On average, consuming 1-2 tsps or 1-2 Tbsps per day mixed in a large glass of water is recommended, especially since it's super acidic.
Serving Suggestions
I like to keep this drink chilled in the fridge. To serve, pour glasses over ice and enjoy. And for a nice garnish, I like to decorate each glass with a juicy wedge of lemons and a sprig of rosemary.
Can I Serve this Detox Lemonade Hot or Cold?
Absolutely! You can always prepare this detox lemonade hot like a tea throughout the day by heating the mixture (per serving) in a pot or microwave until heated. Enjoy in your favorite mug. Of course, you can always serve this detox lemonade cold over crushed ice per the serving instructions.
Storage
You can store a pitcher of your Apple Cider Vinegar Detox Lemonade drink in the fridge for up to a week. Best if consumed within a few days.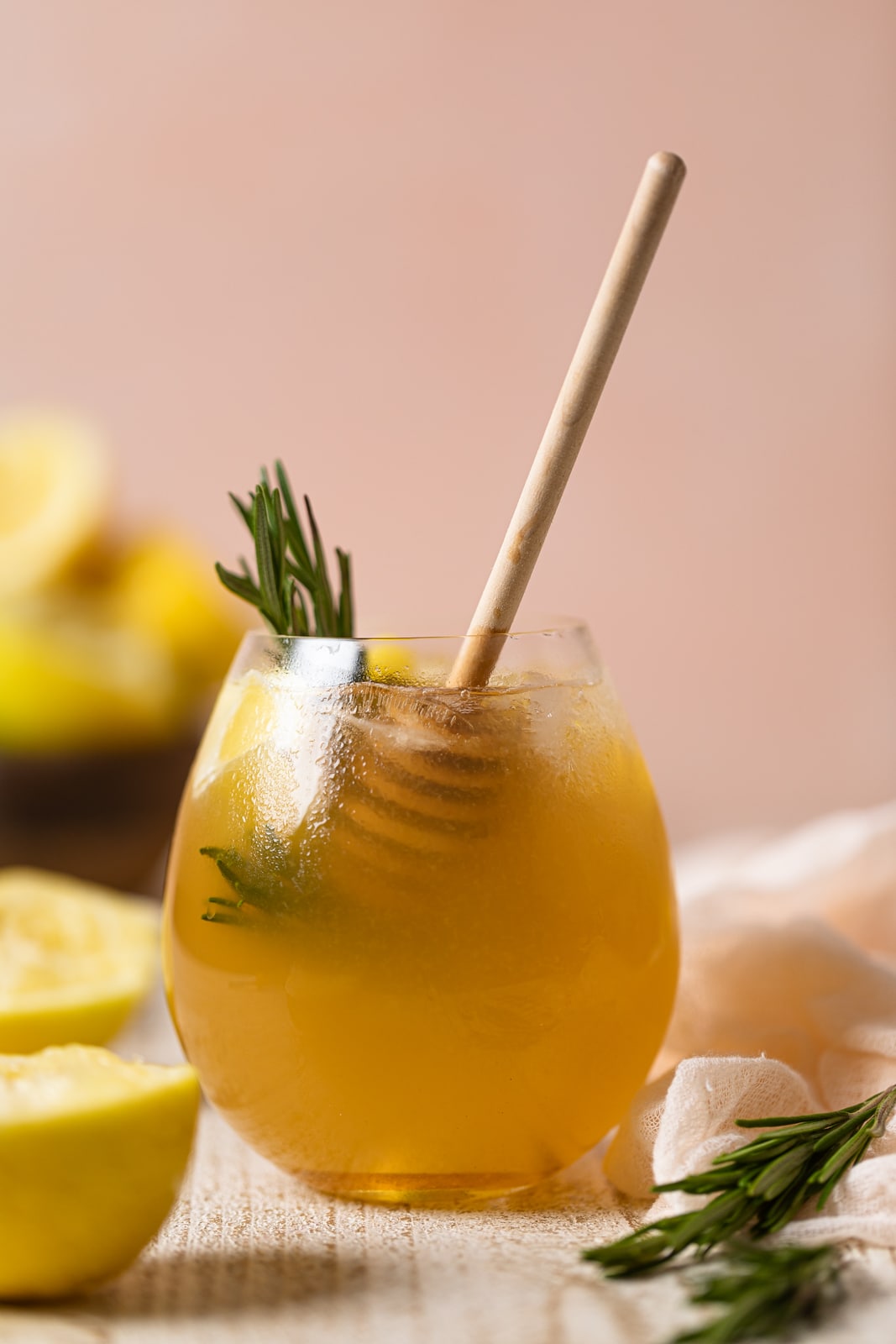 More Detox Drink Recipes
MADE OUR RECIPE(S)?
If you make this Apple Cider Vinegar Detox Lemonade or any other recipe from us, be sure to tag us on Instagram at #Orchidsandsweettea so that we can share the love!
DETOX LEMONADE:
8

cups

filtered water

6-7

large

lemons, freshly-squeezed

3

Tbsps

apple cider vinegar

1

cup

Raw honey

(See Notes!)
GARNISH:
Fresh rosemary sprigs

Lemon wedges

Crushed ice, optional
TO MAKE THE LEMONADE:
In a large pitcher, add the water, lemon juice, apple cider vinegar and honey, stirring everything together until combined and the honey has dissolved.

To serve—add crushed ice (if desired) into prepared glass(es), followed by lemonade and garnish with lemon wedges and rosemary sprigs, if desired.

In addition, you can always prepare this detox lemonade hot like a tea throughout the day by heating the mixture (per serving) in a pot or microwave until heated. Enjoy in your favorite mug.

Sip and enjoy!
STORAGE: Keep any leftovers in the refrigerator, tightly covered in your pitcher or in a sealed mason jar. Best if consumed within a few days.
SWEETENER: You can always use Agave or vegan 'honey', instead of raw honey for a vegan option. 
APPLE CIDER VINEGAR: Be sure to use organic, unfiltered ACV that includes "the mother" to benefit from the gut-friendly bacteria and probiotics.
Calories:
153
kcal
|
Carbohydrates:
43
g
|
Protein:
1
g
|
Fat:
0.2
g
|
Saturated Fat:
0.03
g
|
Polyunsaturated Fat:
0.1
g
|
Monounsaturated Fat:
0.01
g
|
Sodium:
15
mg
|
Potassium:
138
mg
|
Fiber:
2
g
|
Sugar:
37
g
|
Vitamin A:
18
IU
|
Vitamin C:
43
mg
|
Calcium:
31
mg
|
Iron:
1
mg