This Super Green Detox Smoothie is the best way to drink your breakfast with plenty of healthy immune-boosting greens at once. Made with only vegan ingredients: tart green apple, creamy avocado, hydrating cucumber, and even a hint of spice from jalapeño!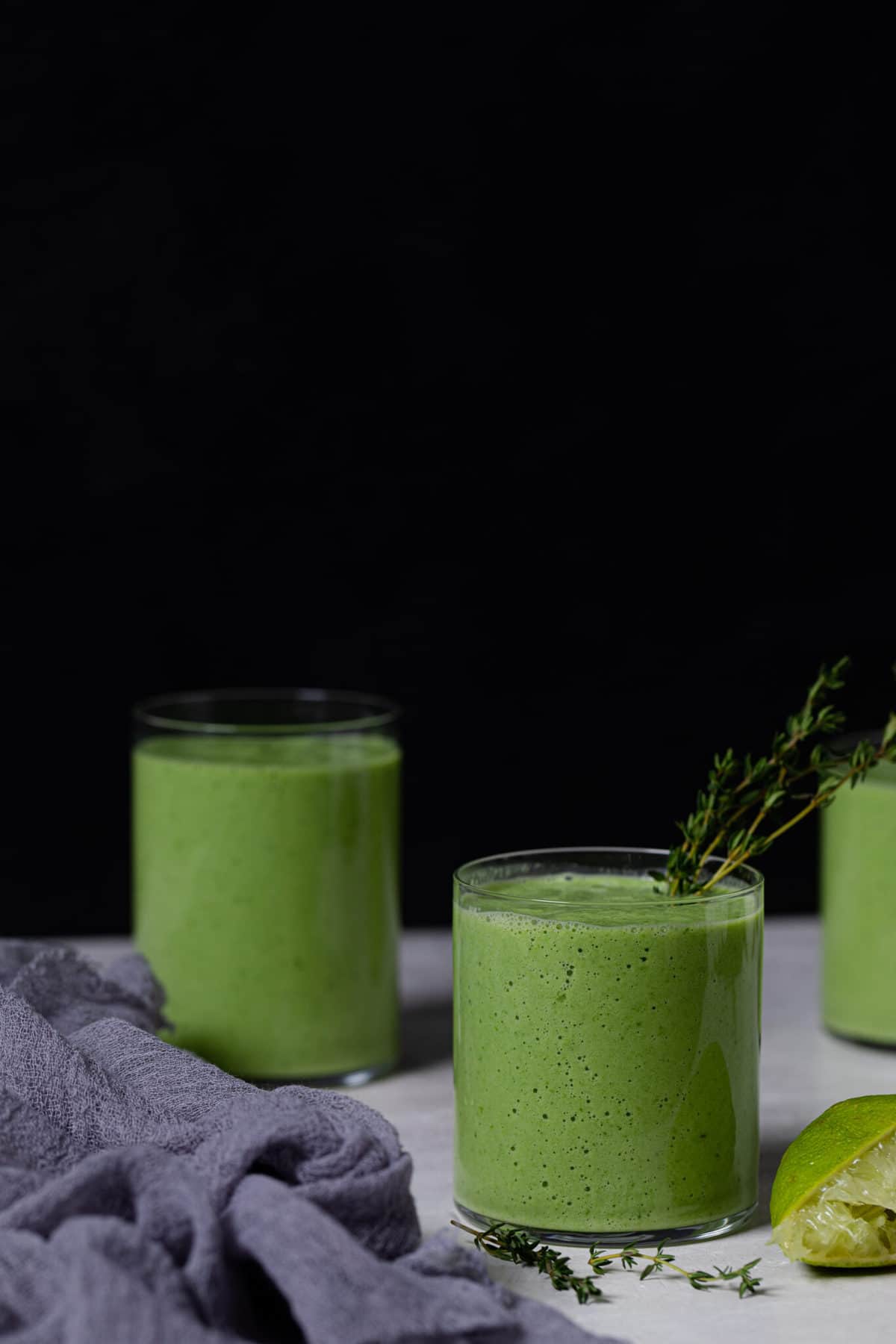 It's always a good idea to eat in a way that supports your immune system. Luckily, there are plenty of delicious ways to do just that. A few of my favorite ways to boost my immunity naturally are to stay well hydrated, eat a rainbow of colorful vegetables and fruits, and get plenty of greens. This Super Green Detox Smoothie is one of my favorite ways to check all of those boxes first thing in the morning. 
Personally, when it comes to breakfast (especially on weekdays), I like to reach for easy, fast grab-and-go recipes that keep me satisfied without slowing me down. That's why I love smoothies. they're the perfect opportunity to start my day on a healthy note with fiber, a variety of fruits and vegetables, and tons of essential nutrients. Plus, if you're always keeping smoothies on rotation in your house, then you'll love this Strawberry Mango Papaya Smoothie, Anti-Inflammatory Pineapple Citrus Smoothie, Chocolate Espresso Smoothie, and Blueberry Spinach Smoothie.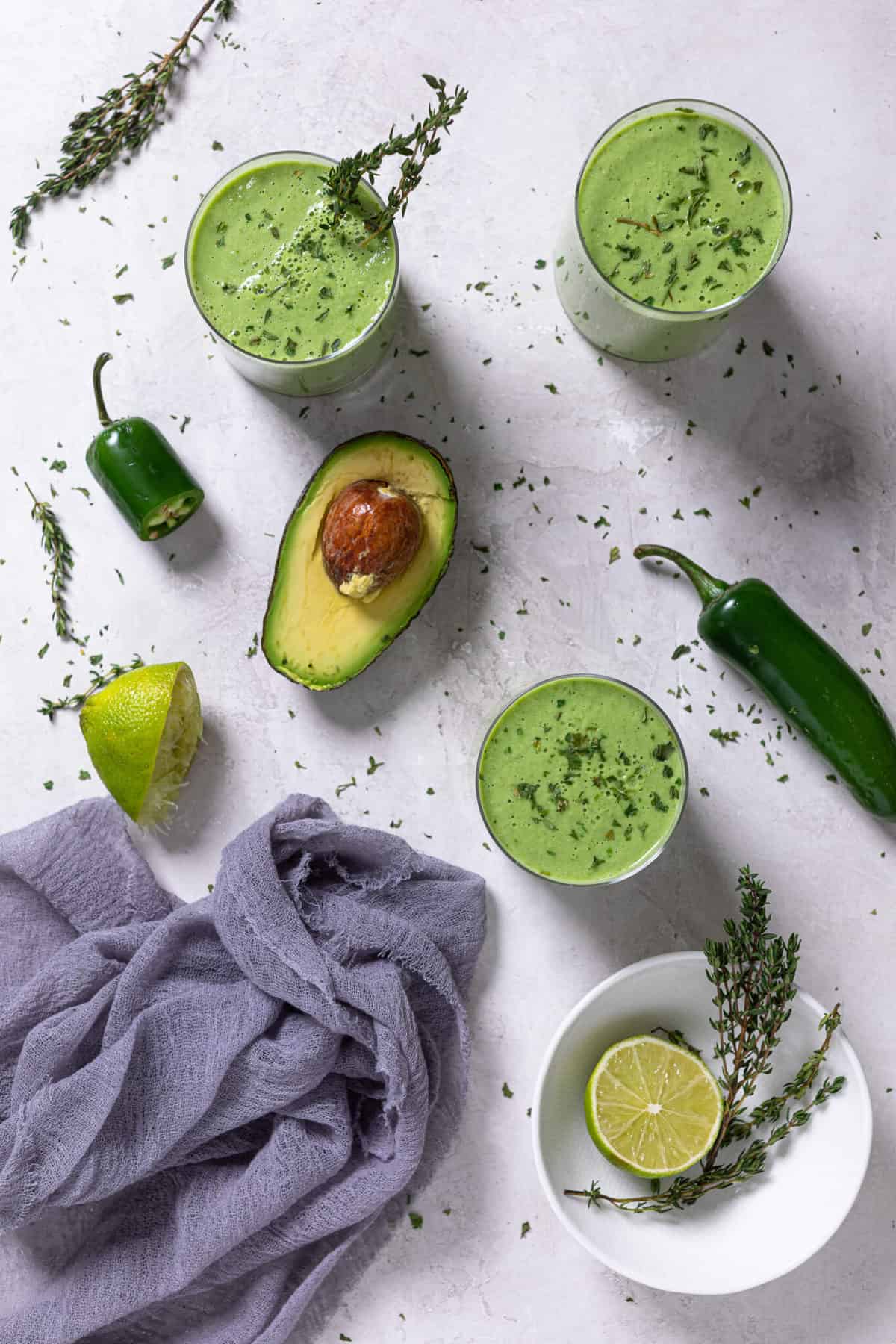 What is "Detoxing"?
By "detox", I don't mean a starvation diet or even a liquid-only diet. For me, detox means replacing my regular breakfast with a smoothie full of fiber and nutrients. 
I believe that detoxifying our bodies is a great way to remove the toxins that we encounter on a daily basis. And that's why the ingredients in this smoothie are carefully selected to support healthy digestion. 
When it comes to natural home remedies, we often think that taking little steps won't necessarily help us meet our major goals. However, no big changes happen overnight. That's why I've written about the 3 Detoxes That You Should Be Doing More Often. If you're interested in incorporating detoxes into your life more, I recommend reading about the small steps that you can take to meet your major health milestones.
My Other Favorite Detox Drinks
This Apple Cranberry Ginger Lemon Detox Juice has an addicting spicy ginger and cranberry flavor paired with tart lemon and green apples. It's great for detox or to boost your digestion and immune system. This recipe is completely plant-based, easy to make, and perfect for the Fall season. 
This Cucumber Ginger Lemon Detox Juice, features ginger and mint with bright lemon and refreshing cucumber. It's perfect for detoxing and is also fully vegan.
How to make Super Greens Detox Smoothies
If you're ready to give detox a try, start with this vibrant smoothie. All you need is a high-speed blender and the following all plant-based ingredients:
Spinach and kale. These pack a double-punch of leafy greens, packed with fiber, vitamins, and minerals to jump-start your digestion. 
Celery. Celery is naturally hydrating and won't overpower the flavor of your smoothie. 
Jalapeño. If you like a bit of spice, you'll love the subtle heat from jalapeño in your smoothie. If you don't like spice, of course, you can easily omit the pepper.
Cucumber. Cucumber is naturally full of water, which means it adds hydration and refreshment to every sip. 
Banana. Banans is naturally sweet and adds an extra creamy texture to the smoothie. Choose a ripe banana for the sweetest flavor.
Parsley. This might not be your typical smoothie ingredient, but it's a great way to add a delicious herbal note to breakfast. 
Almond Milk. You can substitute the almond milk with a different plant-based milk, such as coconut, cashew, or hemp milk. Choose unsweetened for the best nutrient profile. 
Pure Maple Syrup. This natural sugar has a lower glycemic index than refined sugar, and adds just the right amount of sweetness to this well-balanced detox drink. 
Green Apple. Green apple is naturally tart and full of antioxidants and fiber. This counts as your apple a day to keep the doctor away!
What's the Healthiest Sweetener for Detox Smoothies?
If you're looking for a healthy sweetener option that will add delicious flavor to your smoothie without causing a major sugar crash, see my list of The Best Healthy Sugar Alternatives + Substitutes.
It's is all about finding better ways to enjoy your favorite sweets without compromising a healthy lifestyle. For those who follow a vegetarian and/or vegan lifestyle, this lists offers a few great ideas to incorporate healthy sweeteners into your diet.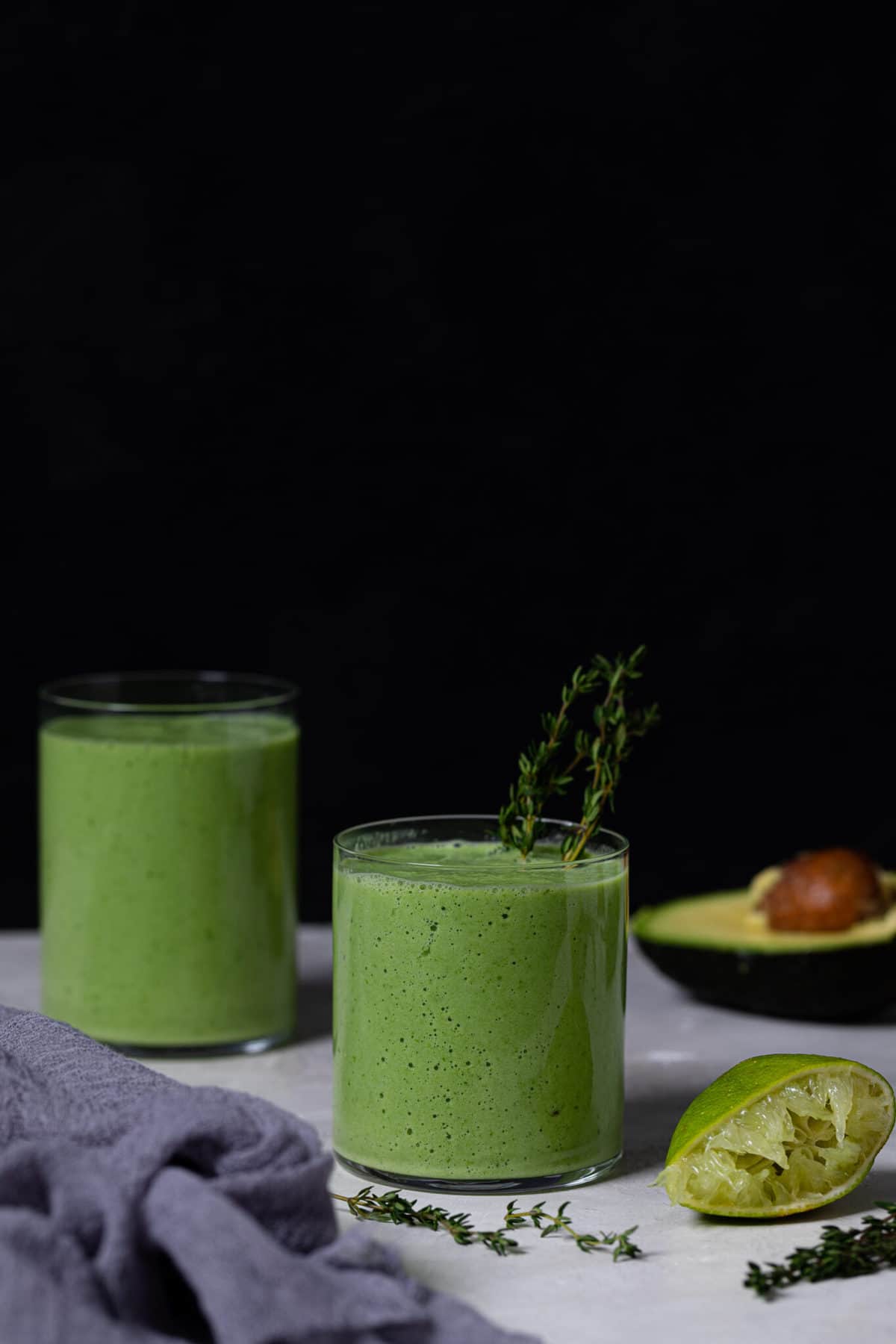 Health Benefits of Cucumbers
Did you know that cucumbers are actually fruits, not vegetables? They also offer some pretty impressive health benefits as well, such as:
High in nutrients, including fiber, protein, vitamins C + K, Magnesium, and more (make sure to eat the skin for maximum nutrition).
The antioxidants in cucumbers help flush out toxins.
Promotes hydration and can help meet your daily fluid needs—they're made up of 96% water!
May lower blood sugar levels.
Great for digestion!
Supplies skin-friendly minerals.
Revives the eyes—think spa day and cucumber slices on your eyes to reduce puffiness and under-eye bags.
Refreshes the mouth and heals diseased gums.
Keeps kidneys healthy!
Makes hair and nails stronger.
And the list goes on.
Are Apples Good for Detox?
Apples have a few great benefits when it comes to your health. 
In fact, Apples can actually aid neurological health, help prevent dementia, reduce your risk for stroke, lower bad cholesterol, reduce your risk of diabetes, help to ward off breast cancer, and help to fight obesity.
When it comes to daily nutrition, Apples contain vitamin C, B-complex vitamins, fiber, calcium, potassium, and phytonutrients (which helps to protect our bodies from free radicals).
Other Greens for Detox
There are hundreds of reasons to eat more vegetables. However, some veggies pack a greater nutritional punch than others. I curated a special list of my Top 12 Favorite Healthy Green Leafy Vegetables! Most of these are super popular while others are underutilized in many dishes. Lettuce Eat, Shall We?
More Healthy Smoothies Ideas
If you love this hydrating detox smoothie, try these other recipes for breakfast tomorrow: 
This Immune-Boosting Strawberry Banana Poppyseed Smoothie recipe is a delicious and simple way to enjoy a quick, easy breakfast while gaining awesome health benefits from these superfoods. 
This Banana Mango Raspberry 'Sunrise' Oats Smoothie is tropics in a glass. Full of fruity flavor, this smoothie is creamy, enjoyably thick, and super easy to make. It's whipped together in just 5 short minutes. A healthy way to start your day or even replace a meal.
Here's another healthy detox smoothie I made for the New Year. I believe in detoxifying your body every so often, especially with all the variety of things we tend to eat on a daily basis (good + bad). A little cleanse and "rest" for our digestive system does the body wonders, trust me! Many people drink Detox Smoothies by strictly eliminating calories and eating only foods and/or liquids that detoxify the body for a set amount of time. However, I drink detox smoothies for breakfast to help start the day off right and allow my body to do a refresh and reset!
MADE OUR RECIPE(S)?
If you tried this Super Green Detox Smoothie recipe or any other recipe on my website, please please leave a 🌟 star rating and let me know how you go in the 📝 comments below. I love hearing from you.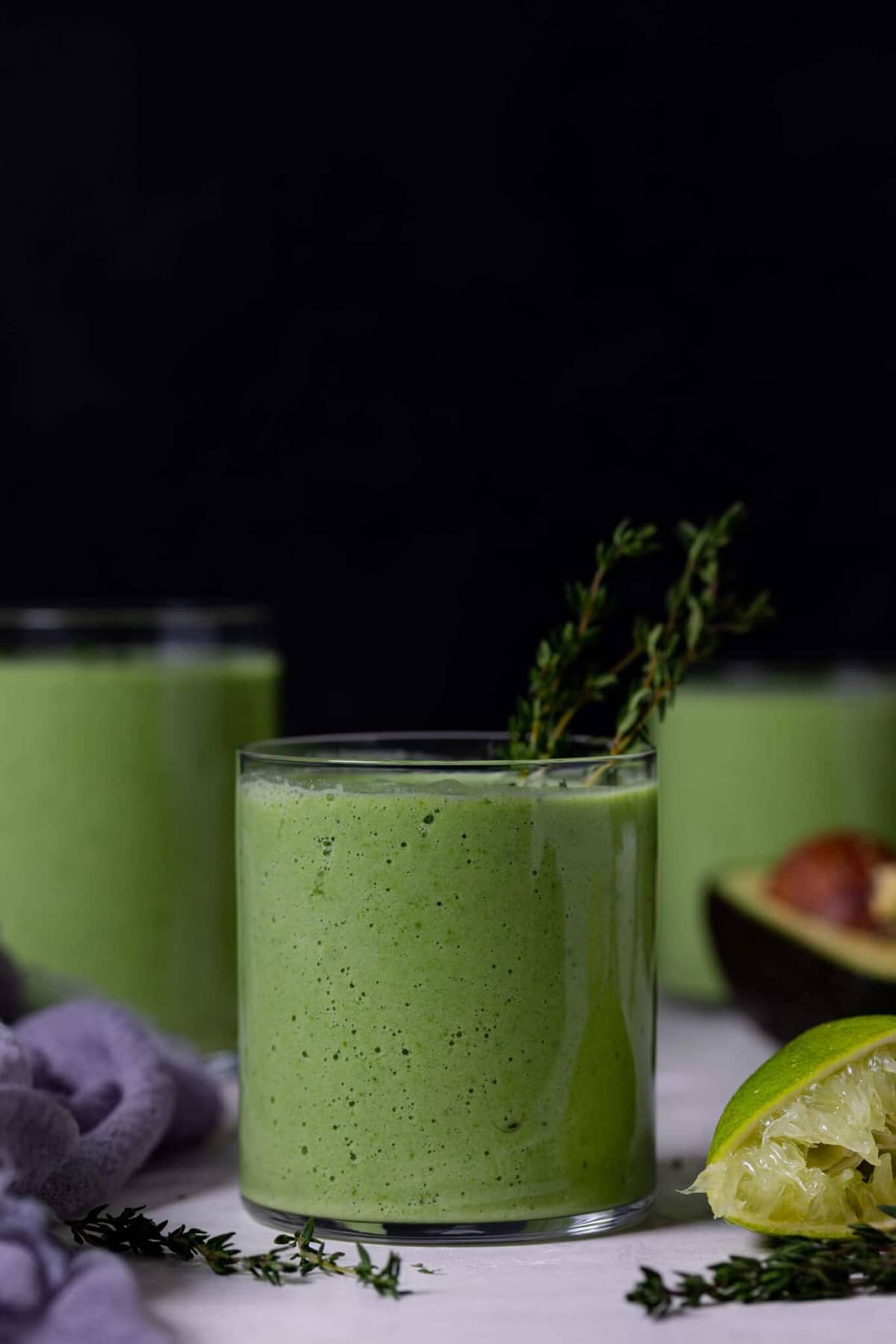 GREEN SMOOTHIE:
1

medium

granny smith apple, peeled + diced

½

avocado

1

medium

cucumber, peeled + chopped

1

celery stalk, chopped

2

cups

organic kale, de-stemmed + chopped

1

cup

organic spinach

handful of

fresh cilantro

½

jalapeño, diced

1

tablespoon

flaxseed meal

2

cups

Almond milk

(You can use your fave plant-based milk!)

4

Tbsps

Agave

(Add additional for a little more sweetness)

½

lime, juice
TO MAKE THE SMOOTHIE:
Add all ingredients to a high-powered blender (adding the liquids first, followed by the remaining) and blend until smooth.

To serve—grab a glass and pour smoothie into each and grabbing a straw. Store any leftovers in the refrigerator, tightly sealed or in a covered mason jar, ensuring that you drink it within the same day for best taste and consistency.

Sip and enjoy!
STORAGE: Keep any leftovers in the refrigerator, tightly covered for a day or so. Best when consumed right away.
SWEETENER: You can always use maple syrup, Vegan honey, or organic brown sugar as a substitute for Agave. For vegan honey—-Bee Free Honee, click link.
Calories:
177
kcal
|
Carbohydrates:
29
g
|
Protein:
3
g
|
Fat:
7
g
|
Saturated Fat:
1
g
|
Polyunsaturated Fat:
2
g
|
Monounsaturated Fat:
3
g
|
Sodium:
192
mg
|
Potassium:
424
mg
|
Fiber:
6
g
|
Sugar:
20
g
|
Vitamin A:
4173
IU
|
Vitamin C:
46
mg
|
Calcium:
261
mg
|
Iron:
1
mg