Here is everything you need to know to make the best Chocolate Oat Milk that's smooth and creamy, not slimy. This recipe is a little sweet, gluten-free and vegan.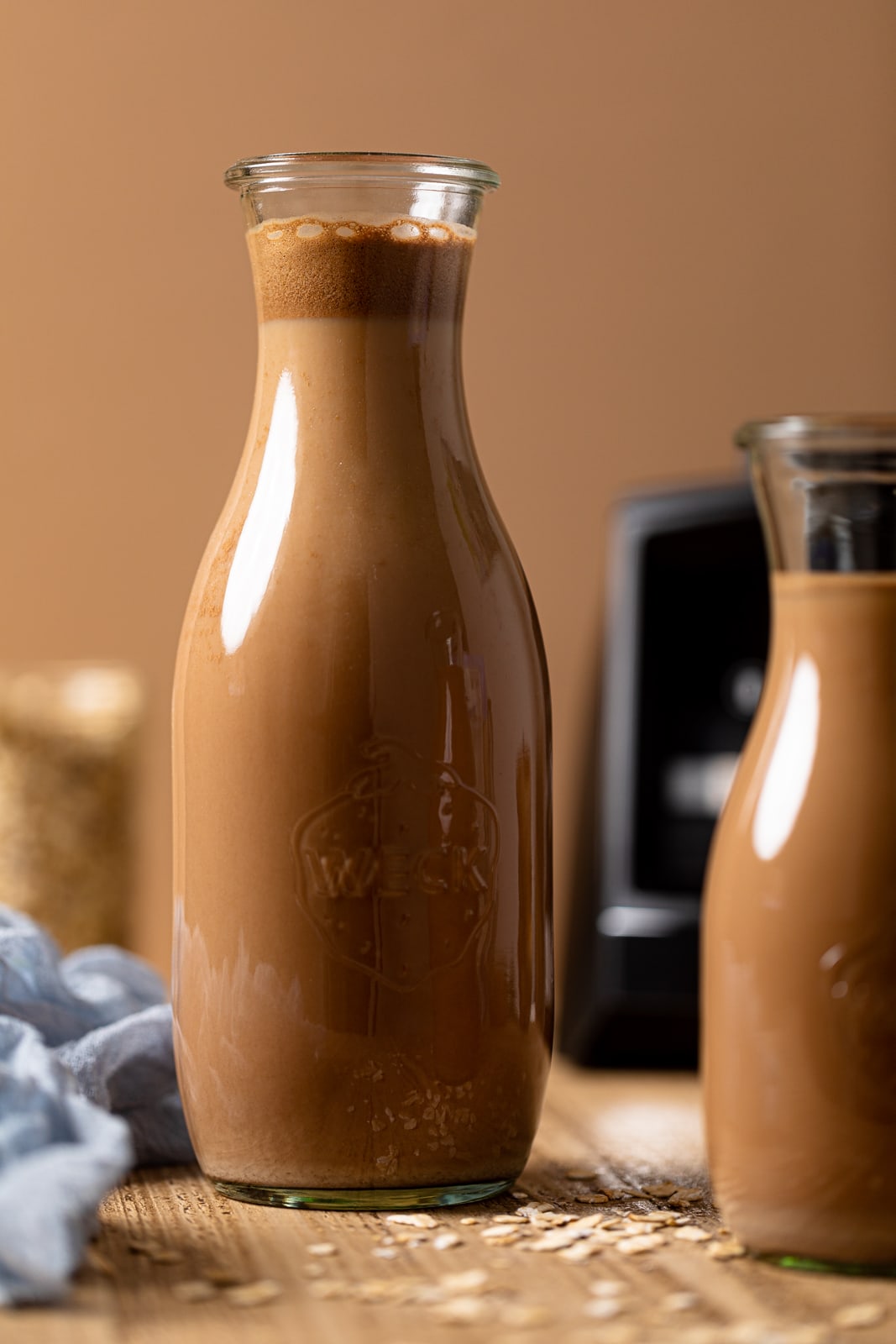 If you're trying to eat less or no dairy at all, it can get expensive to buy fresh bottles of nut milk all the time. However, making your own dairy-free milk at home is easier (and way cheaper) than you might think! Not to mention, you can ad your own fun flavors, such as chocolate! Plus, I have my Ultra Creamy Homemade Oat Milk which is the original flavor minus the chocolate----so be sure to check it out!
Here is everything you need to know to make the best chocolate oat milk at home with a blender and a cheesecloth.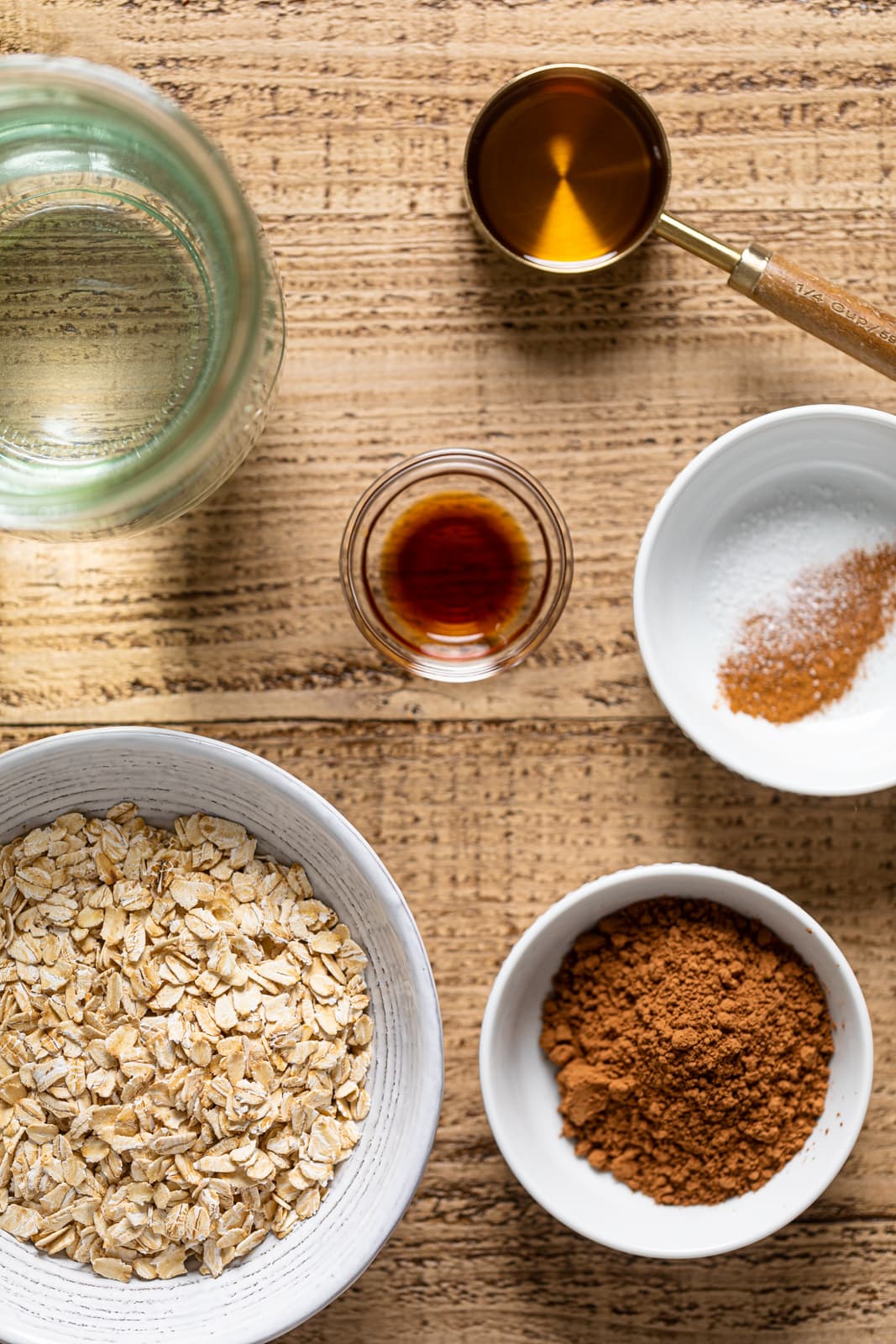 Ingredients for Chocolate Oat Milk
Here's what you need to make chocolate oat milk from scratch:
Rolled oats. Use gluten-free if necessary.
Filtered water. You can use filtered tap water or buy it from the store.
Agave. Feel free to use less for a less-sweet milk.
Vanilla. For a touch of added flavor.
Cocoa powder. You can also use organic unsweetened cacao powder.
Cinnamon. This adds a nice spice.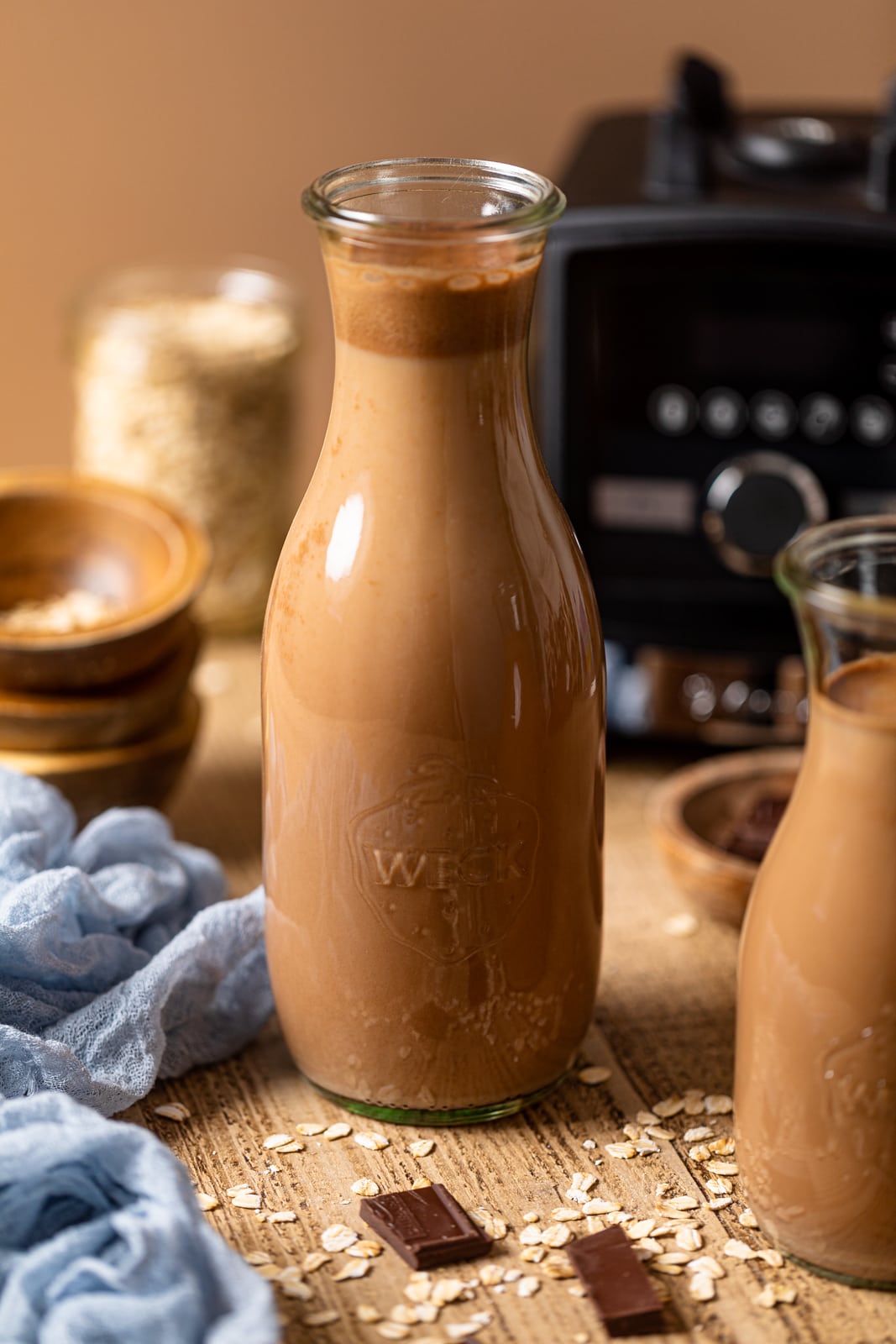 How to Make the Best Oat Milk
The first step to making oat milk is to soak the oats. This softens them up for the creamiest texture. Then, it's key to drain the oats very well and rinse them. This removes the excess starch on the outside of the oats, which can give your milk an odd, slimy texture.
Next, you'll put everything into a blender. A high-speed blender, such as a Vitamix, works best to really break everything down. Of course, you can do it with a regular blender, you may just need to blend a little longer. At this point, you can taste the milk and add extra sweetener or spices if you like.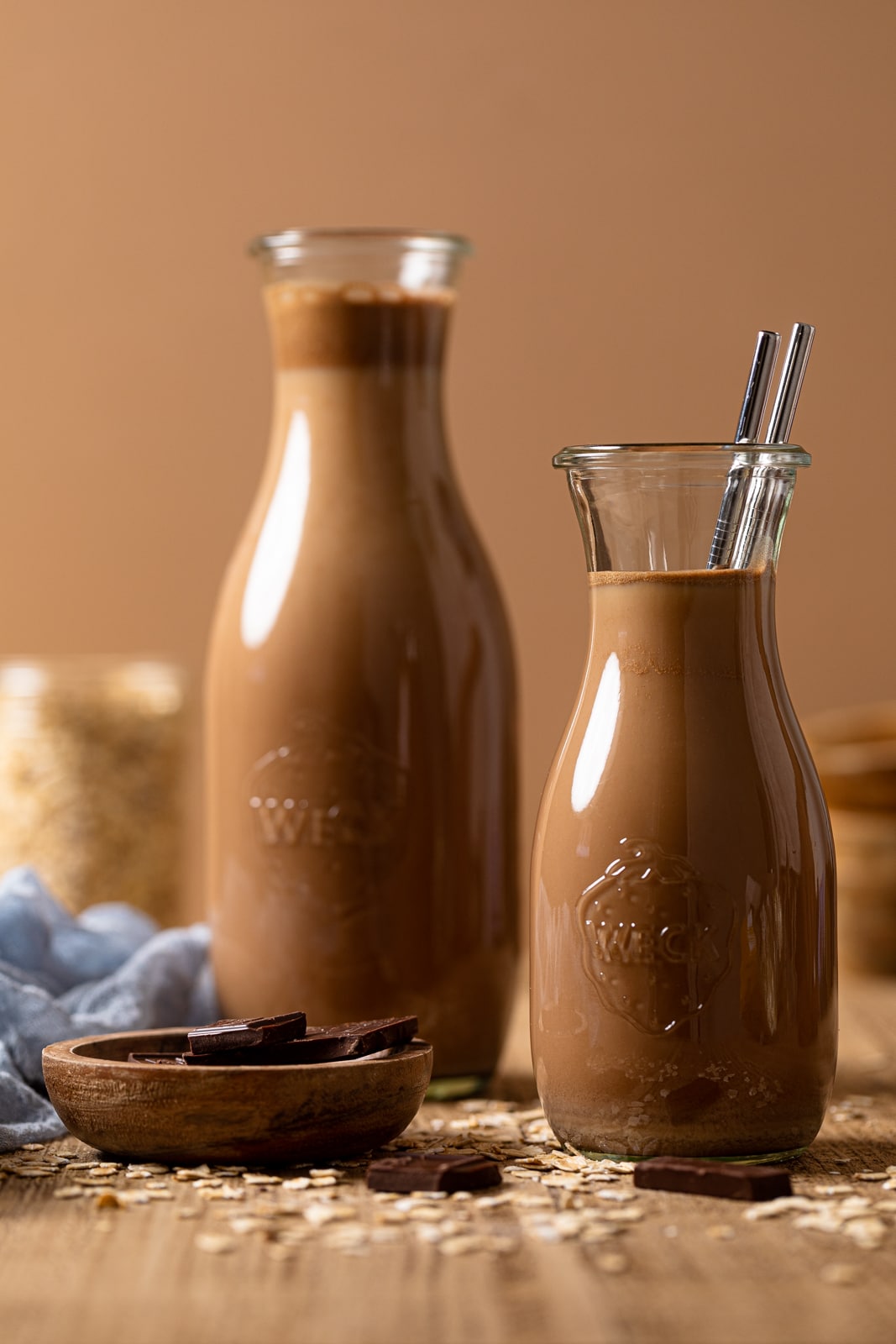 Finally, it's time to strain the milk. You'll need a cheesecloth or a nut milk bag to do this step. You can hang the bag over a bowl and let it drain for a while, then squeeze out as much liquid as possible. I like to blend the milk one more time before storing for the smoothest texture.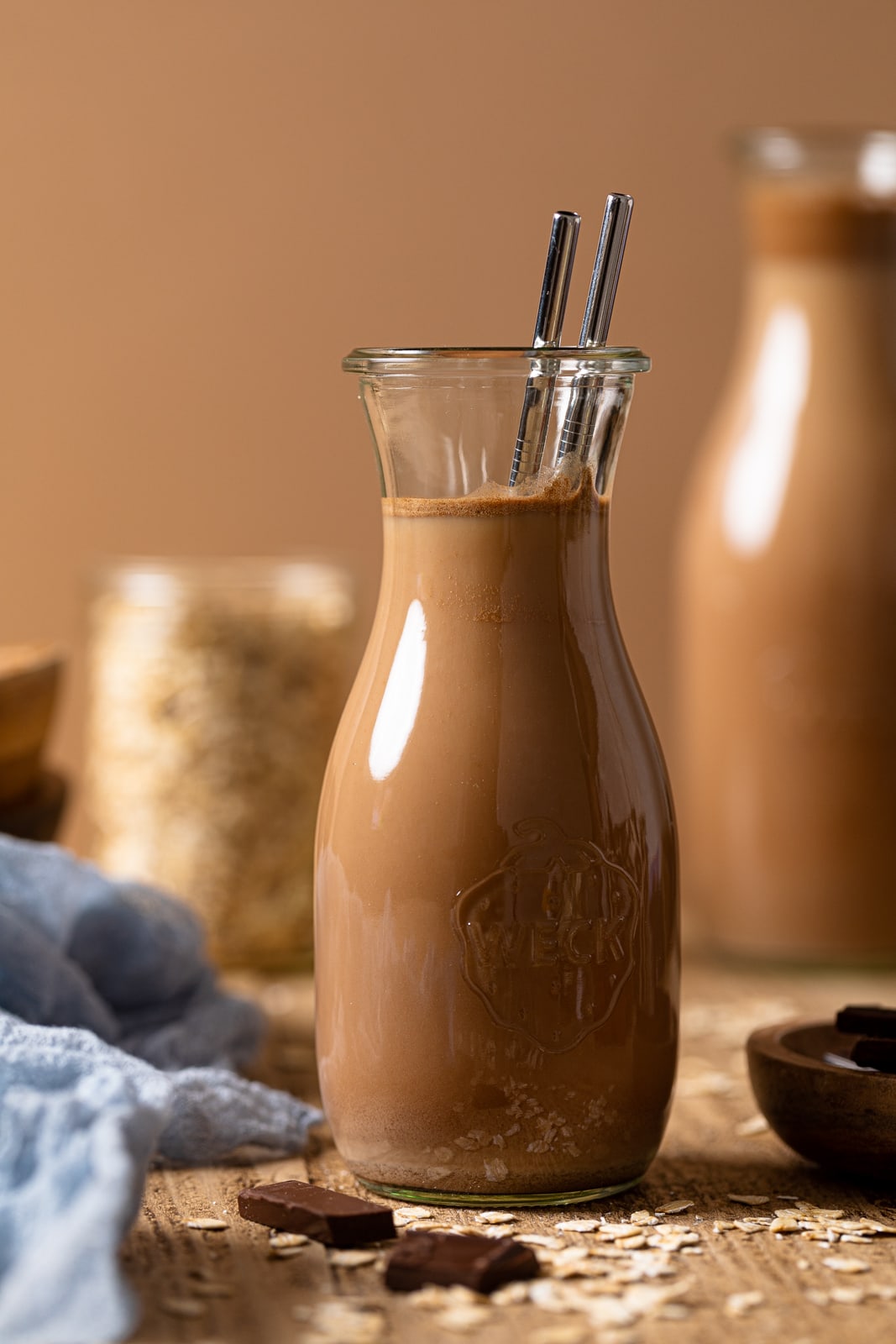 Other Flavoring Ideas
The fun part about making your own nut or oat milk is that you're in control of the flavor. Feel free to use a different sweetener or spice to make your milk. Here are some options to change things up:
Use almond extract instead of vanilla (or try both)
Use cardamom or pumpkin pie spice
Sweeten with agave, honey or maple syrup. You can also use soaked dates if you like
Add a dash of maca or another herb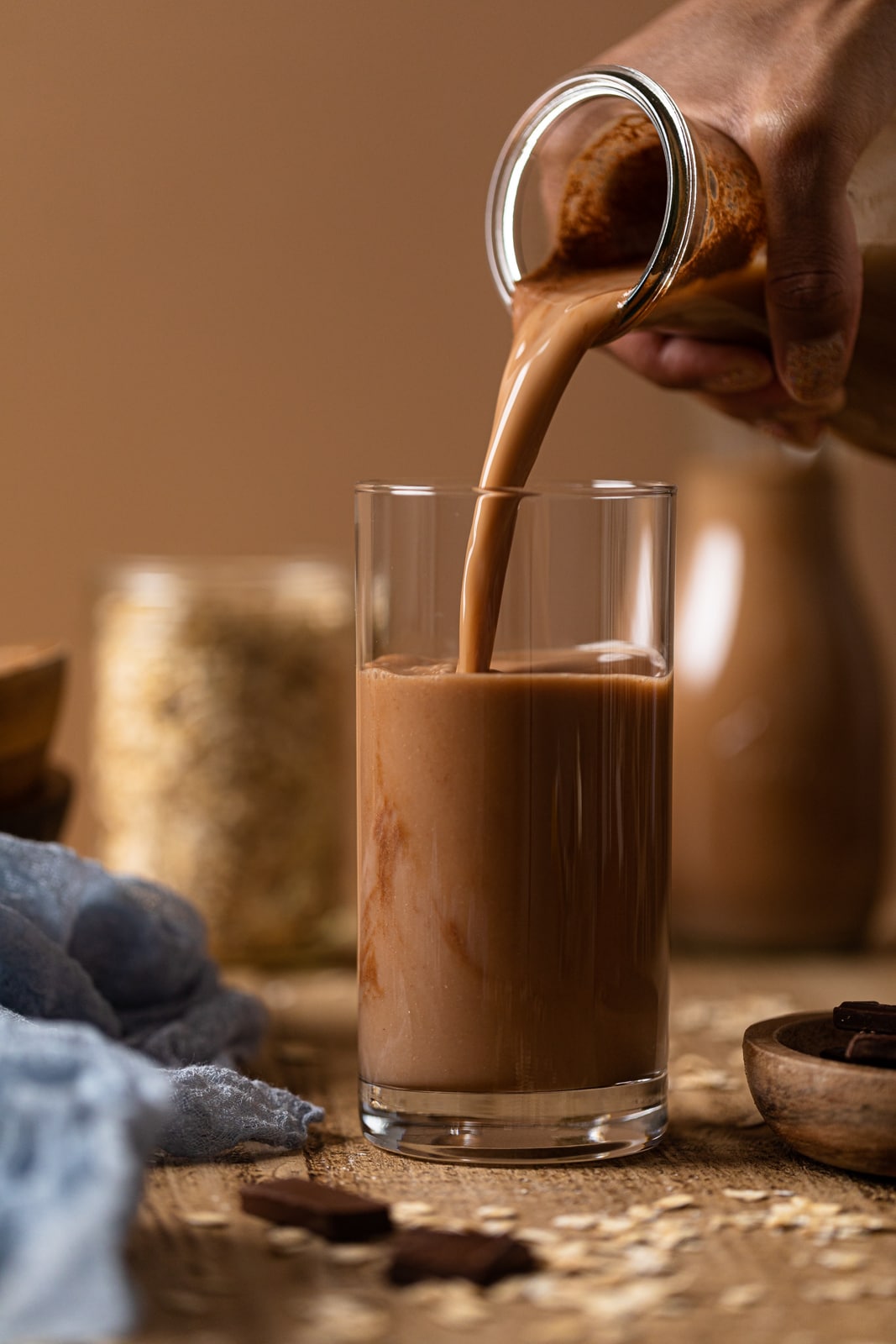 How Long Can I Store Homemade Oat Milk?
Store your chocolate oat milk in an airtight container or bottle. It will stay fresh for up to one week, but it's best within three days.
How to Use Oat Milk
Once you have a supply of frothy and creamy chocolate oat milk on hand, you can make so many tasty things! Of course, it's delicious on its own (kids love it too). Or, heat it and add extra cocoa for hot chocolate. You can also froth it up for your morning latte with a twist.
Oat milk is also great for making (no surprise!) oats! Try it in Simple Overnight Oats or Apple Cinnamon Oatmeal Porridge for an extra chocolate flavor.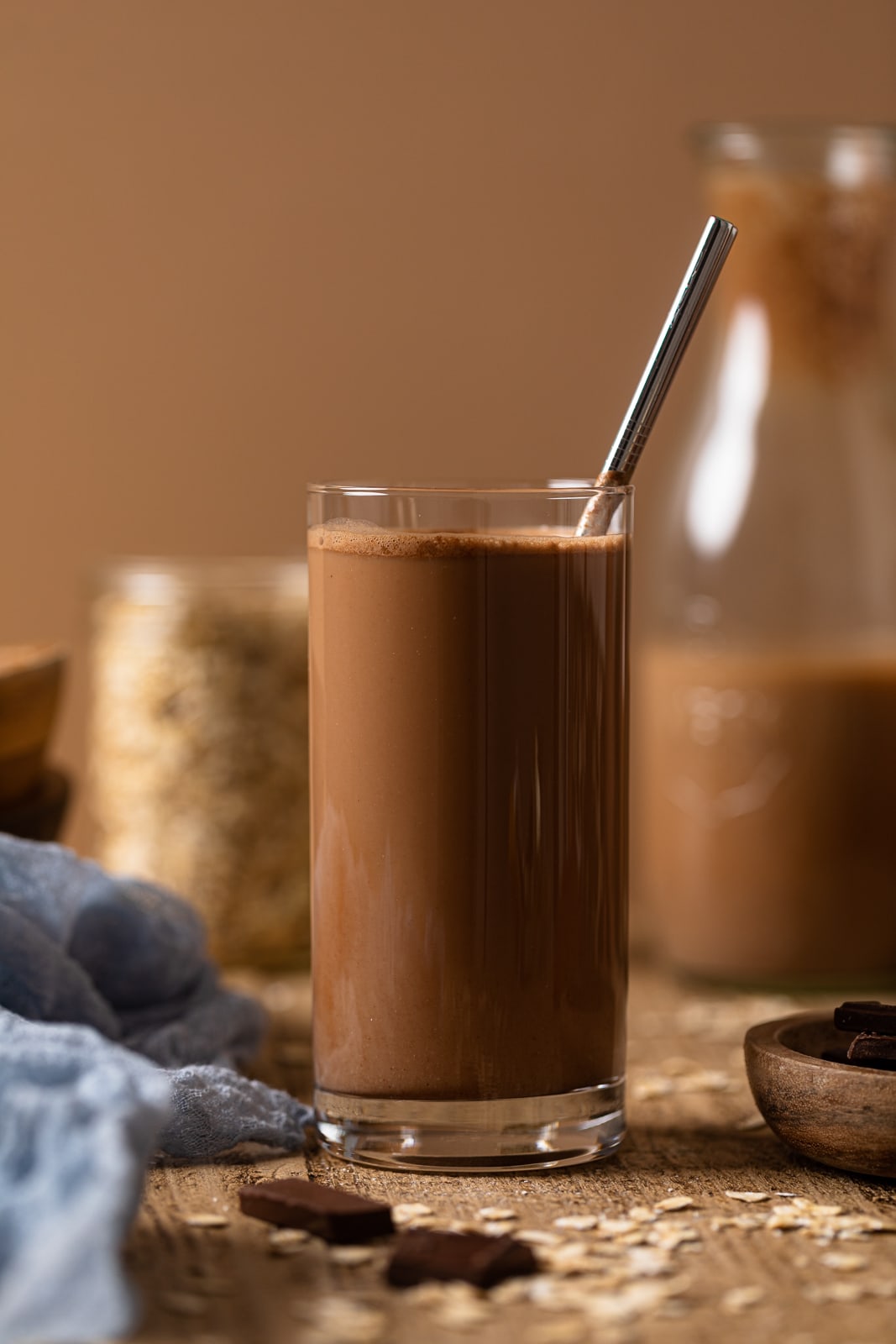 More Vegan Drink Recipes
MADE OUR RECIPE(S)?
If you make this Chocolate Oat Milk recipe, tag @orchidsnsweettea_ on Instagram and hashtag it #orchidsandsweettea
1

cup

rolled oats, gluten-free

(You can also use a non-GF version!)

5

cups

filtered water

1-2

Tbsps

Agave

(See Notes!)

1

teaspoon

vanilla extract

3

Tbsps

cocoa powder or organic cacao

½

teaspoon

ground cinnamon

Pinch of

sea salt
In a large bowl, add dry rolled oats along with 2 cups of fresh water and soak for 15-20 minutes. Once oats have swollen and softened, drain out water, rinse with more fresh water, and drain again and set aside. NOTE: Be sure to discard all drained water.

Next, add the soaked oats, 5 cups of water, Agave, vanilla, cinnamon, and salt to a high-powered blender and blend on medium-high speed for about 30-45 SECONDS. NOTE: Do not over-blend; Adjust sweetness as needed.

Once done, slowly strain (using a cheesecloth) milk into a bowl, squeezing the oatmeal pulp to ensure that all milk is extracted. NOTE: You may have to repeat this process until all oat milk has been fully strained by re-pouring milk on top of pulp to extract more milk, if needed.

Once all milk has been extracted, add the milk back to the blender and add the cocoa powder and blend again for 1 minute or until it's thick and creamy.

Refrigerate milk (best if tightly sealed/covered) for up to 1 week. Stir before serving, if needed.

Sip and Enjoy!
STORAGE: When properly stored in the refrigerator, oat milk lasts for up to 1 week, at best. Usually, I like to consume my batch within the first 2-3 days.
REMAINING OAT PULP: You can always repurpose leftover 'oat pulp' by covering it in the refrigerator and using it in overnight oats, smoothies, etc.
SERVING SIZE: To make more, simply double or triple the measurement of ingredients, depending on your desired amount. 
SWEETENER: If Agave isn't desired, you can use dates, pure maple syrup, or date syrup, instead as a sweetener.
USES: Regular Oat milk's creamy consistency makes it perfect in lattes, cappuccinos, smoothies, creamy soups, and baked goods. Can also be used as regular milk for cereal, etc.
Calories:
53
kcal
|
Carbohydrates:
10
g
|
Protein:
2
g
|
Fat:
1
g
|
Saturated Fat:
0.3
g
|
Polyunsaturated Fat:
0.2
g
|
Monounsaturated Fat:
0.3
g
|
Sodium:
9
mg
|
Potassium:
67
mg
|
Fiber:
2
g
|
Sugar:
2
g
|
Vitamin A:
0.4
IU
|
Vitamin C:
0.5
mg
|
Calcium:
13
mg
|
Iron:
1
mg
How To Make Chocolate Oat Milk (Non-slimy).