This Rum Raisin Bread is the sort of recipe that feels decadent and festive enough to make for holiday mornings but is also easy enough to whip up on a weekday. Made with bread flour, flaxseed, and warming spices, this vegan bread is incredibly fluffy and moist. it also happens to be refined sugar-free, dairy-free, and can be made nut-free if you use soy or oat milk.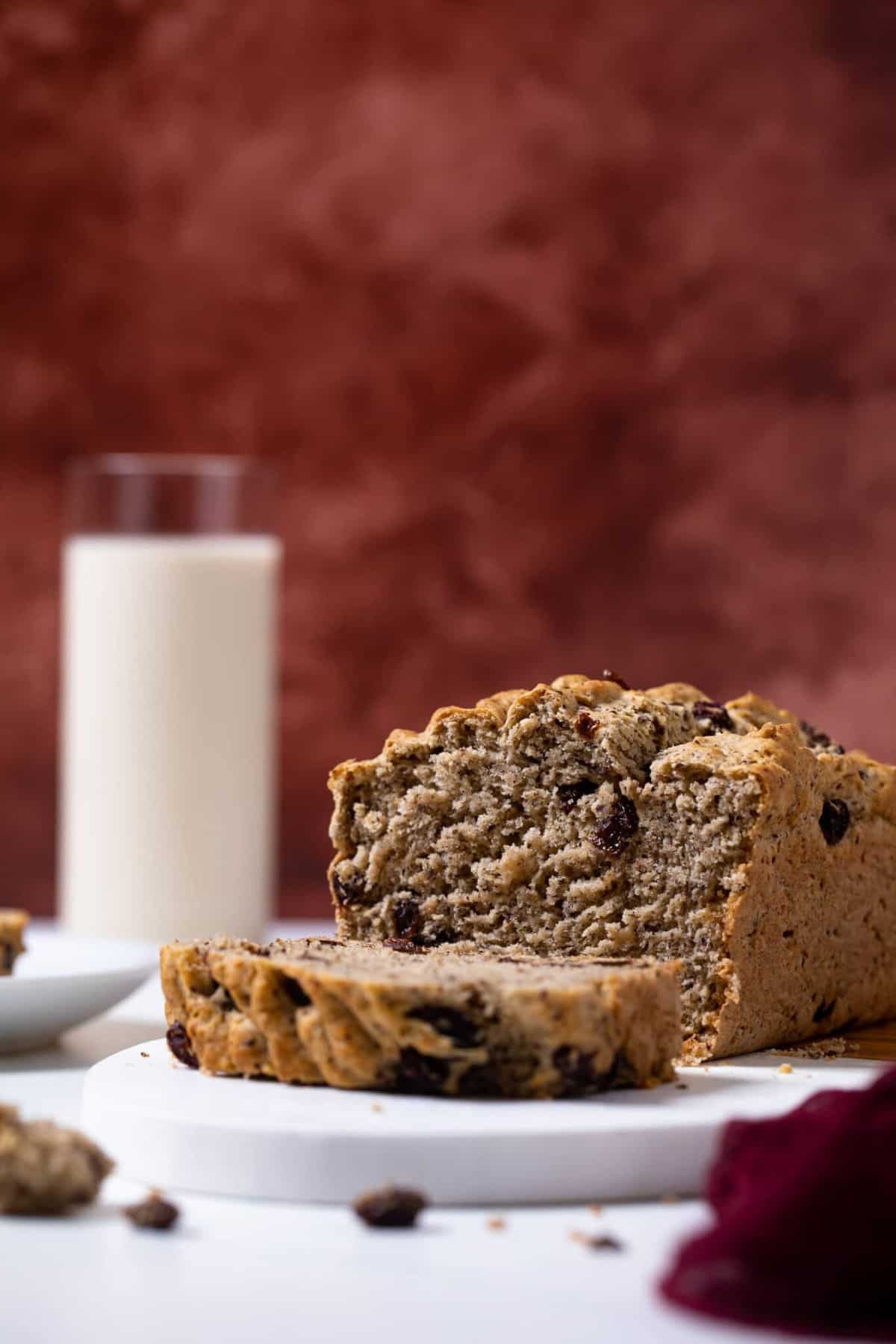 You can toast up slices of freshly baked Rum Raisin bread or wrap it up for a holiday gift! There's no wrong time to enjoy this delicious homemade Vegan Rum Raisin Bread (Jamaican-Inspired). 
To be honest, I had to test this recipe more times than I'd like to get it perfect. It was either way too moist or too dry before I landed on this perfect recipe that is tender, chewy and soft. all it needs is a pat of butter or a smear of cream cheese to make a totally satisfying breakfast.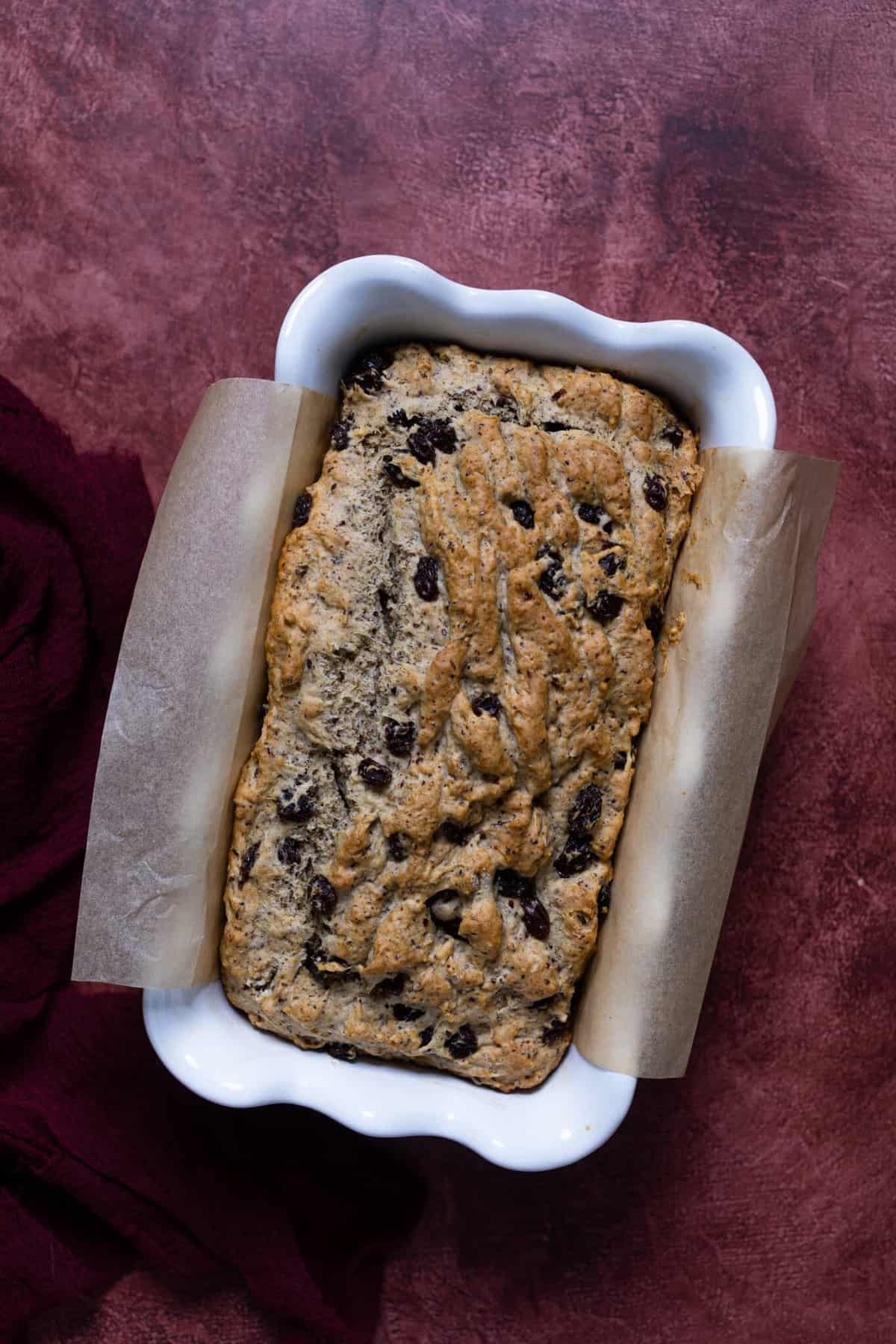 How to Make Vegan Rum Raisin Bread 
The flavors in the bread of cinnamon, allspice, and raisins are inspired by my Jamaican roots. A bit of rum extract always tastes like the islands to me.
Ingredients
Find the following ingredients to make this dairy-free bread recipe:
Bread flour. I use the organic bread flour from Bob's Red Mill. If you need gluten-free bread, see below for my recommended swaps. Other readers have had success making this recipe with regular all-purpose flour an even with whole wheat flour for extra fiber. 
Baking powder. this helps lighten the bread as it bakes. 
Flaxseed meal. Mixing flaxseed meal with warm water makes vegan "flax eggs" to replace eggs in most recipes. 
Ground cinnamon and allspice. These add just a hint of spiced flavor to the bread, it's not overwhelming but certainly delicious.
Vegan butter. Instead of vegan butter, you can use coconut oil or vegetable oil. 
Rum extract. Feel free to use real white rum instead of extract for the bread. 
Maple syrup or agave. You can also use a different liquid or powdered sweetener, depending on what you have at home. See the notes section below for my recommended swaps. 
Almond milk. Feel free to use any of your favorite plant-based milk alternatives. 
Raisins. Soaking the raisins helps them become plump and moist in the bread. I wanted the raisins to just melt in your mouth, so I soak them for 10-15 minutes in boiling water to soften them. In addition, the raisins become plumper, which means more raisins in ever bite!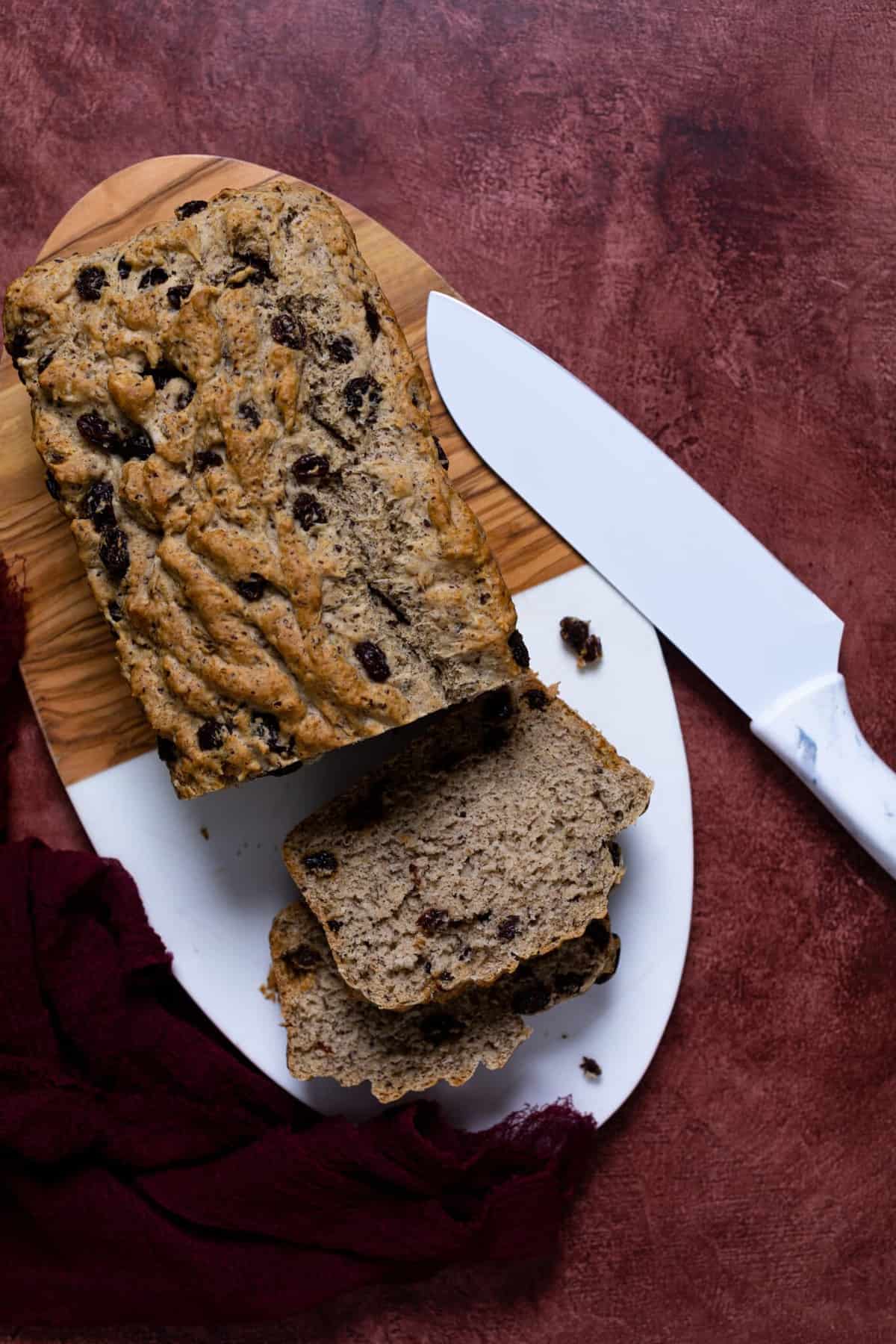 Gluten-Free Rum Raisin Bread
If you don't eat gluten, you can still enjoy this vegan bread recipe! Simply swap the flour with a gluten-free all-purpose flour blend. I recommend Bob's Red Mill's flour for this. 
If you find that the gluten-free bread dough is too runny, add more flour, ¼ cup at a time, until it's thick.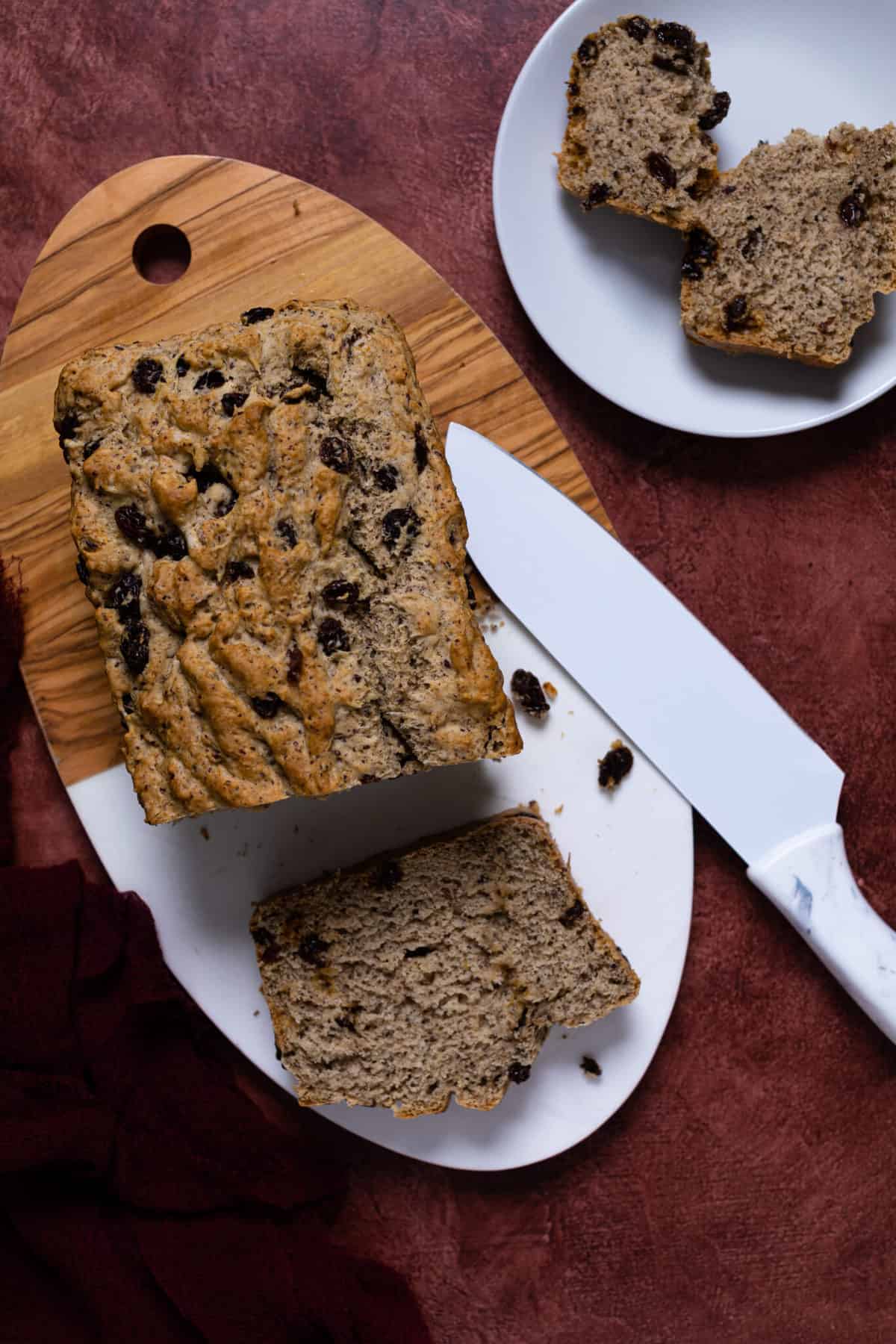 Nut-Free Version
You can even make this bread dairy-free, egg-free, gluten-free AND nut-free! Simply use a nut-free milk such as soy or oat milk. In addition, make sure your vegan butter is not made with coconut. Other than tat, the ingredients are naturally free of nuts and other allergens.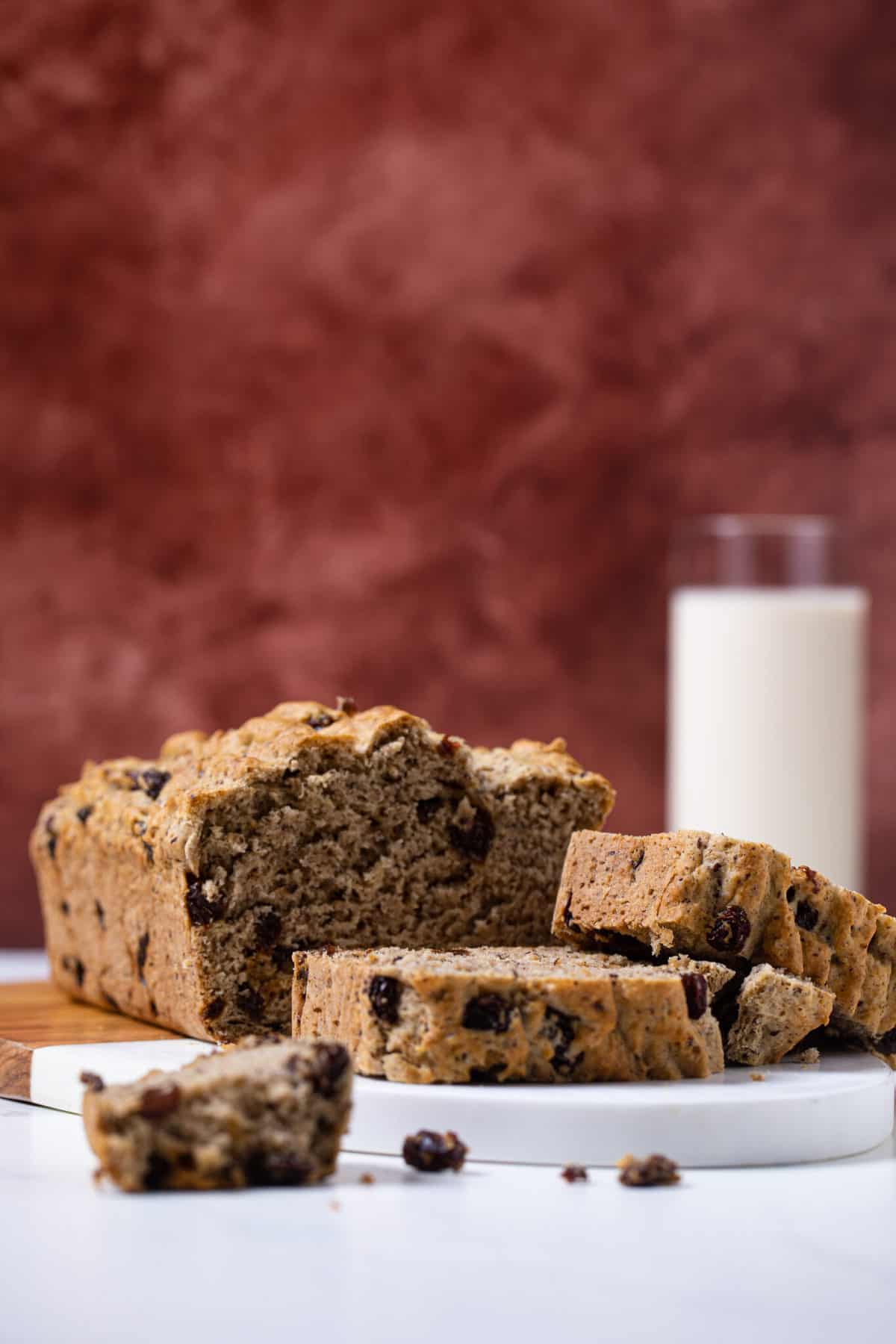 LOOKING FOR A HEALTHIER SWEETENER OPTION?
The Best Healthy Sugar Alternatives + Substitutes list is all about finding better ways to enjoy your favorite sweets without compromising your healthy lifestyle. For those who follow a vegetarian and/or vegan lifestyle, this lists offers a few great ideas to incorporate healthy sweeteners into your diet.
You can experiment with different healthy sweeteners in this bread recipe that fit your diet. One I'm loving right now is this bee-free honey that's fully vegan but works great for baking! 
How to Serve Healthy Cinnamon-Raisin Bread
This is my go-to treat when I'm creating a cinnamon roll in the morning but am trying to take the healthier route. You can slice it up for breakfast or enjoy it with a cup of tea for an afternoon pick-me-up. It's also fully kid-approved!
Do you Love Making Bread? Try These Recipes Next!
This Vegan Chia Seed Maple Banana Bread is super moist, tasty, packed with healthy nutrients including superfoods like Chia Seeds, and 100% delicious! It takes less than 10 minutes to whip together and makes for a great healthy alternative for a little sweetness in the morning for breakfast or even for dessert after dinner. All vegan ingredients, entirely kid-friendly, and a gluten-free option available.
This SunButter Chocolate Chip Quinoa Banana Bread is a healthy way to enjoy subtle sweet flavors of banana and chocolate chips, along with a good dose of protein from a versatile grain during any given morning or evening indulgence. Not only is it delicious, but it also showcases just how great tasting SunButter actually is. All vegan ingredients. 
Vegan Cinnamon Crunch Banana Bread that is perfectly sweet and moist, is balanced between tender and crunchy, and 100% delicious! It takes less than 10 minutes to whip together and makes for a great healthy alternative for a little sweetness in the morning for breakfast or even for dessert. Yum!
This Vegan Pumpkin Bread + Maple Frosting is super moist, fluffy, loaded with Fall spices, and 100% delicious! It takes less than 10 minutes to whip together and makes for a great healthy alternative for a little sweetness during the Fall season. All vegan ingredients, entirely kid-friendly, and a gluten-free option available.
This Almond-Cinnamon Crunch Blueberry Banana Bread is a fun balance between crunch and fluffiness. Best during breakfast, as a snack, or for dessert, this banana bread uses healthier ingredients which include a blend of whole wheat + all-purpose flour, toasted almond nuts, organic blueberries, coconut oil, and non-dairy milk.
MADE OUR RECIPE(S)?
If you choose to make this Vegan Homemade Cinnamon Raisin Bread or any other recipe from us, be sure to tag us on Instagram at #Orchidsandsweettea so that we can share the love!
Total Time:
1

hour
10

minutes
BREAD:
2

cups

organic Artisan bread flour

(See Notes!)

2

tsps

baking powder

2

Tbsps

flaxseed meal + 6 Tbsps WARM water!

(This creates '2 flax eggs')

1

tablespoon

ground cinnamon

½

teaspoon

allspice

pinch of

sea salt

4

Tbsps

vegan butter, melted

(See Notes!)

1

teaspoon

rum extract

(See Notes!)

¼

cup

Agave syrup or Maple syrup

¼

cup

Almond milk + 1 Tbsp!

(You can use your fave plant-based milk!)

1

cup

organic raisins, soaked
TO MAKE THE BREAD:
Preheat your oven to 375 degrees Fahrenheit and lightly grease a standard size loaf pan with vegan butter or coconut oil, then lining it with parchment paper (hanging on the sides).

In a small bowl, add the flaxseed meal and water together to a bowl, stirring and letting it set + thicken for 5 minutes; This makes the 'flax eggs'.

In a large bowl, whisk together the flour, baking powder, cinnamon, allspice, and salt until combined.

In a small bowl or standard 2-cup measuring cup, add the raisins and pour boiling water atop until completely covered. Let them sit for 5-10 minutes, until slightly softened and puffy. Drain + rinse and set aside.

Add the flax eggs, melted vegan butter, rum extract, Agave, and milk to the dry ingredients, stirring everything together using a rubber spatula until combined and moist, yet thick. NOTE: If too dry, add additional milk, 1 tablespoon at a time. Fold in raisins.

Scoop batter in the prepared loaf pan (evenly spreading it out) and bake it for 55-60 minutes, or until the centers come out clean once tested using a toothpick.

Once done, remove bread from oven and let it cool for 10-15 minutes before gently removing it from loaf pan to cool completely.

Bon Appetit!
STORAGE:Refrigerate leftover bread by tightly wrapping it in foil paper or keeping it fully covered in a cake stand—lasts up to a week. Can also be stored at room temperature for up to 2 days and if needed, it can be frozen for up to 3 months. Just ensure that your bread cools completely before placing it in the refrigerator or freezer (stored in a freezer safe ziplock).
SWEETENER: You can always use organic brown sugar, pure maple syrup, vegan honey, or date syrup, date syrup or nectar as a substitute for Agave syrup. For vegan honey—-Bee Free Honee, click link.
GLUTEN-FREE VERSION: To make this bread GF, I recommend using a GF Flour Blend (Bob's Red Mills has a great version!). NOTE: If the bread mixture is too 'thin + runny', simply add additional GF flour, ¼ cup at a time.
OIL: Instead of vegan butter, you can also use coconut oil or vegetable oil, if preferred.
RUM: You can feel free to use actual white rum in substitute for rum extract.
Calories:
256
kcal
|
Carbohydrates:
44
g
|
Protein:
5
g
|
Fat:
7
g
|
Saturated Fat:
1
g
|
Polyunsaturated Fat:
3
g
|
Monounsaturated Fat:
3
g
|
Trans Fat:
1
g
|
Sodium:
169
mg
|
Potassium:
208
mg
|
Fiber:
3
g
|
Sugar:
5
g
|
Vitamin A:
4
IU
|
Vitamin C:
2
mg
|
Calcium:
95
mg
|
Iron:
1
mg