This Creamy Vegan White Bean Soup recipe is the perfect comfort in a bowl situation. Filled with delicious herbs and spices, made from white beans, vegetable stock, full-fat coconut cream/milk, and chopped kale; this soup is quite the healthy, hearty meal and uses mostly pantry staple ingredients to get the job done. Super easy to make, all vegan + gluten-free.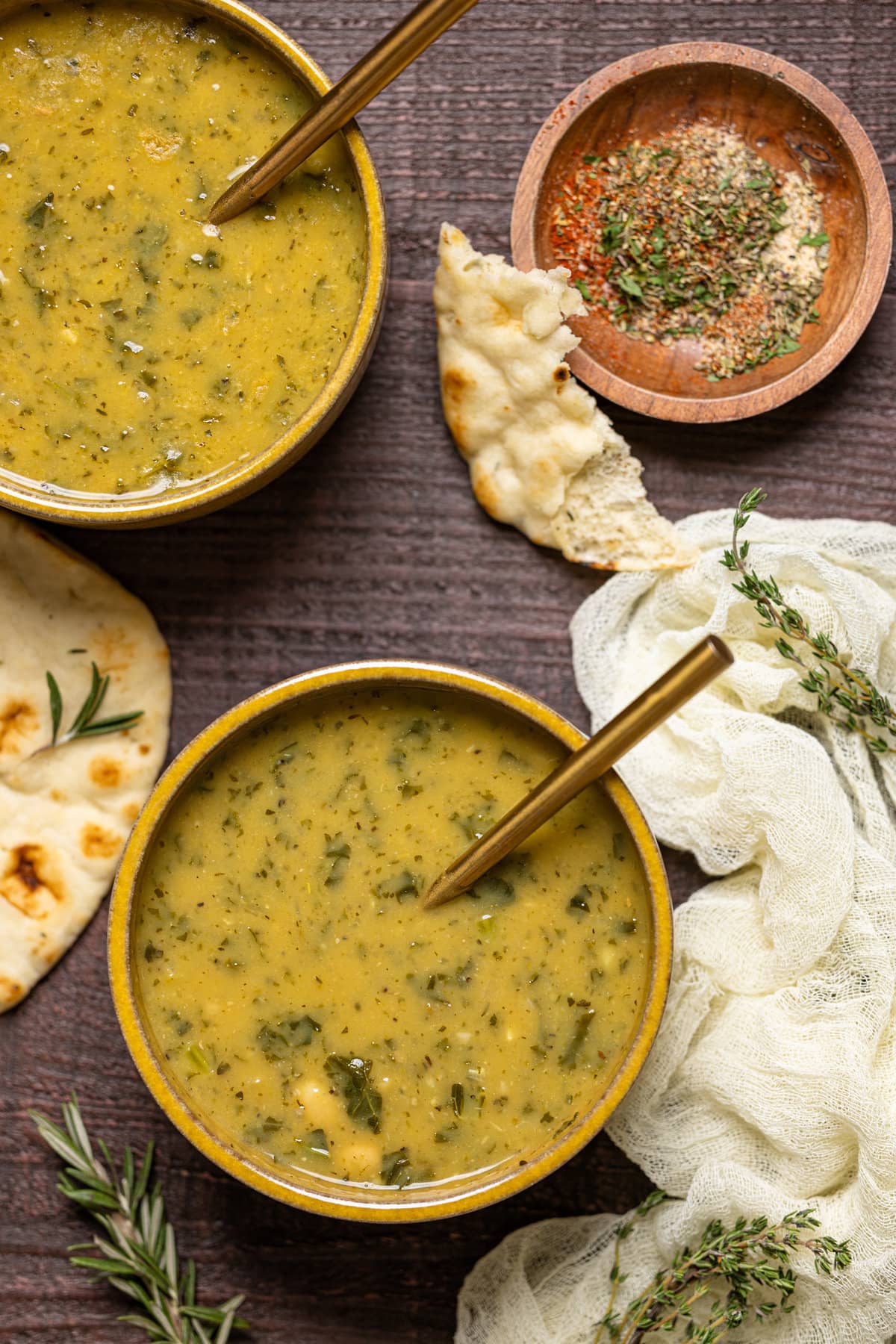 Disclaimer: This post contains affiliate links via Amazon for products that I wholeheartedly love.
Soup is certainly one of my favorite things to eat and especially during this chaotic time, soup is one of the easiest things to whip together using staples ingredients for the entire family. Plus, it definitely stretches for more than one day in some cases.
If you've been an avid reader of Orchids + Sweet Tea, then you're probably aware of this delicious soup options that are on our site. However, this White Bean Soup recipe in particular is SO CREAMY and SO GOOD! OMG! No lie!
But first, have you seen our latest article, Must-Have Pantry Staples + Essentials? If not, definitely check it out!
This list not only includes common items that are universal as it relates to meal planning and prepping, but we've compiled a short list of our healthy recipes that use a few of these ingredients for greater ease.
Lately, I've been asked for advice on keeping things interesting, especially when eating a plant-based or vegan diet. While I'm not a total Herbivore, my family and I make a commitment to eating most things that are Vegan.
To start, I'd recommend reading our latest article, How to Best Transition into a Plant-Based or Vegan Diet, which best explains how to keep your focus and continue on with eating healthy.
Secondly, my best advice for anyone is to EXPERIMENT, EXPERIMENT, EXPERIMENT!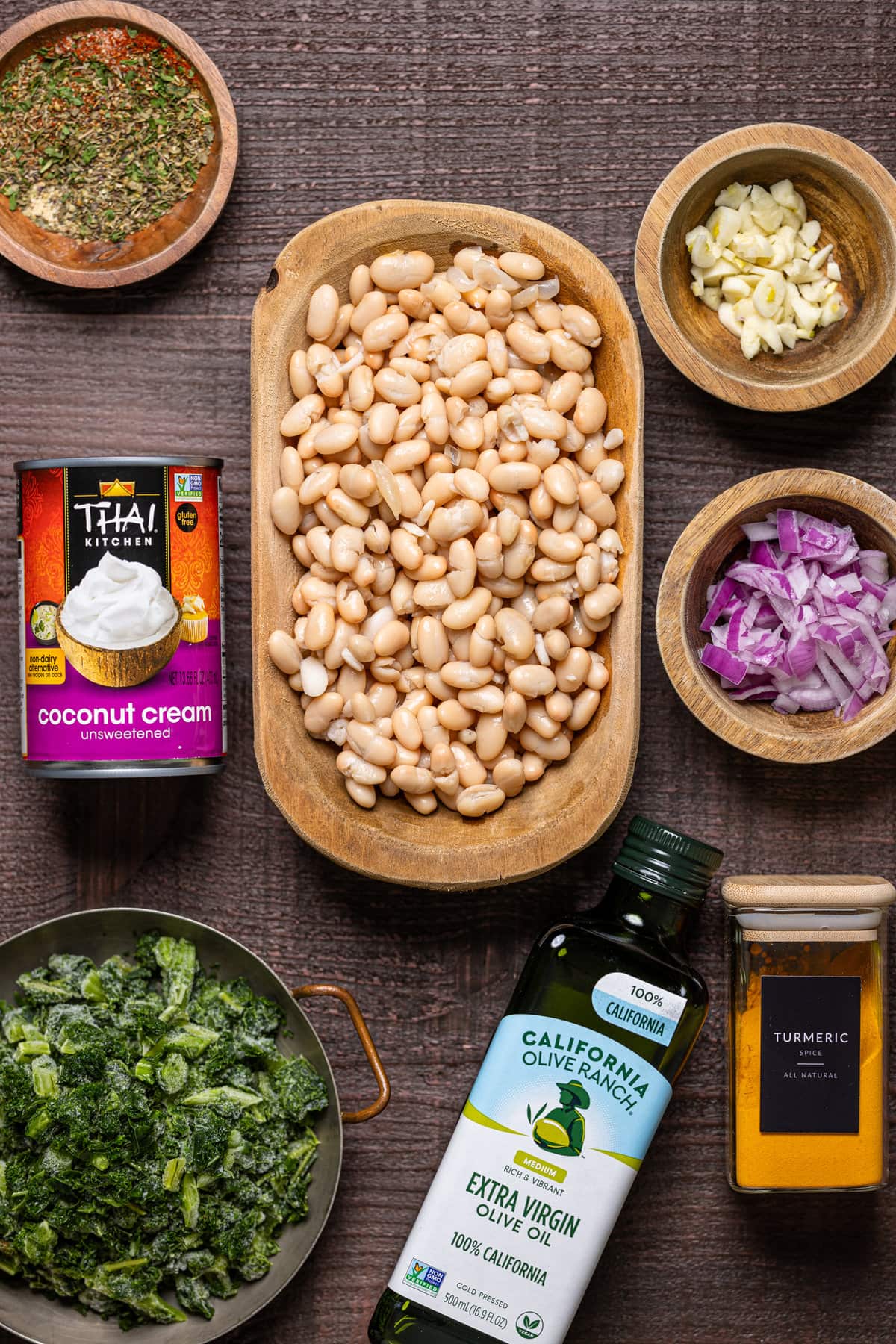 WHY YOU'LL LOVE THIS WHITE BEAN SOUP RECIPE?
It's super easy to make.
Done in just 30 minutes. Why hello, weeknight meal!
Only requires ONE pot + a hand-blender.
It's all Vegan + Plant-based.
Compiled from great tasting veggies—like white beans, kale, onions, garlic.
Did I mention that it's just TOO GOOD TO NOT GRAB A BOWL + ENJOY?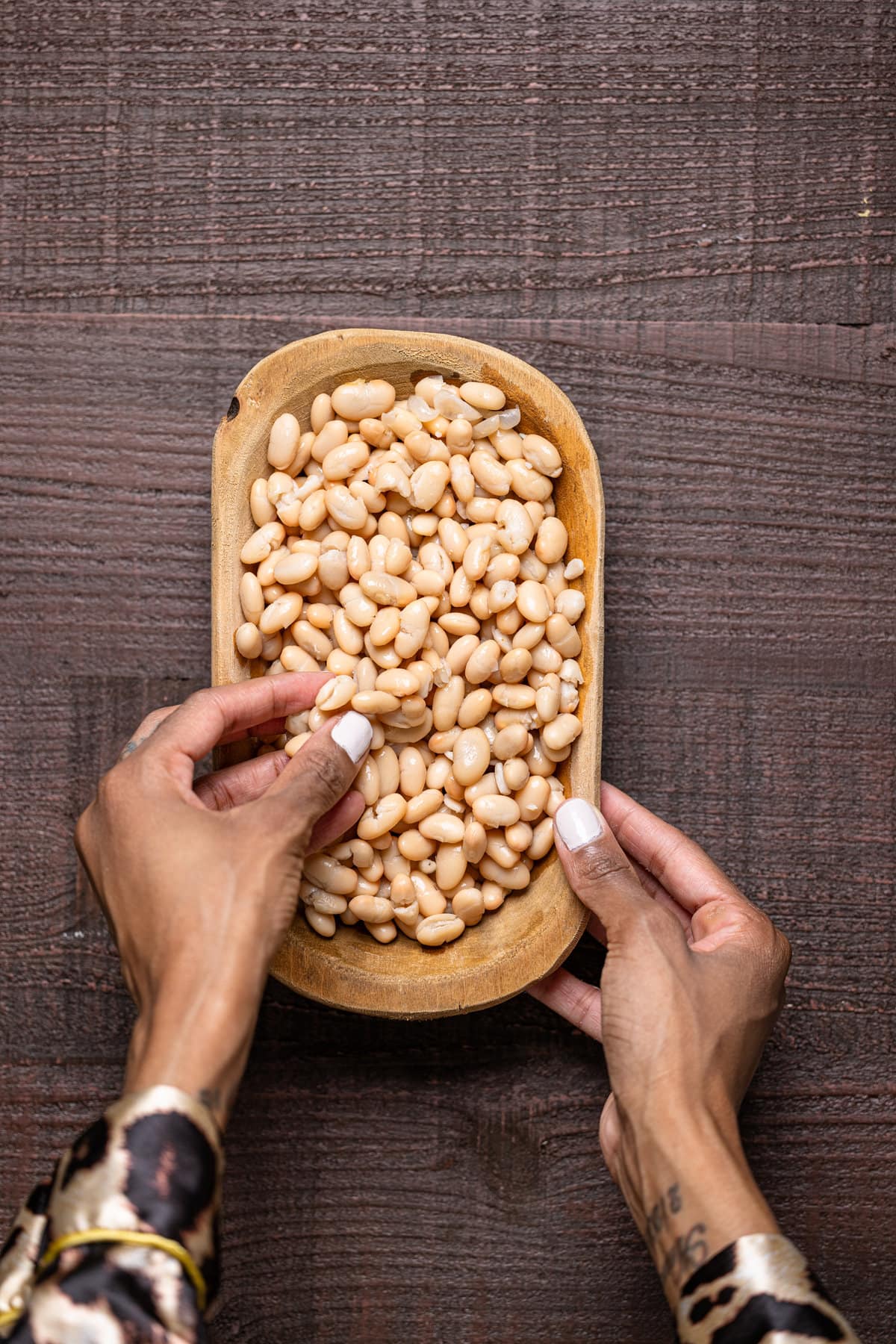 How to Make Vegan White Bean Soup
To make this white bean soup, you'll start by draining and rinsing those beans. Then you'll need a pot on the stove. The Half of the white beans along with the vegetable stock and sautéed veggies will be blended (using an immersion blender) until mostly smooth. Then the remaining ingredients go into the pot for the soup. Let it simmer a bit more and wallah!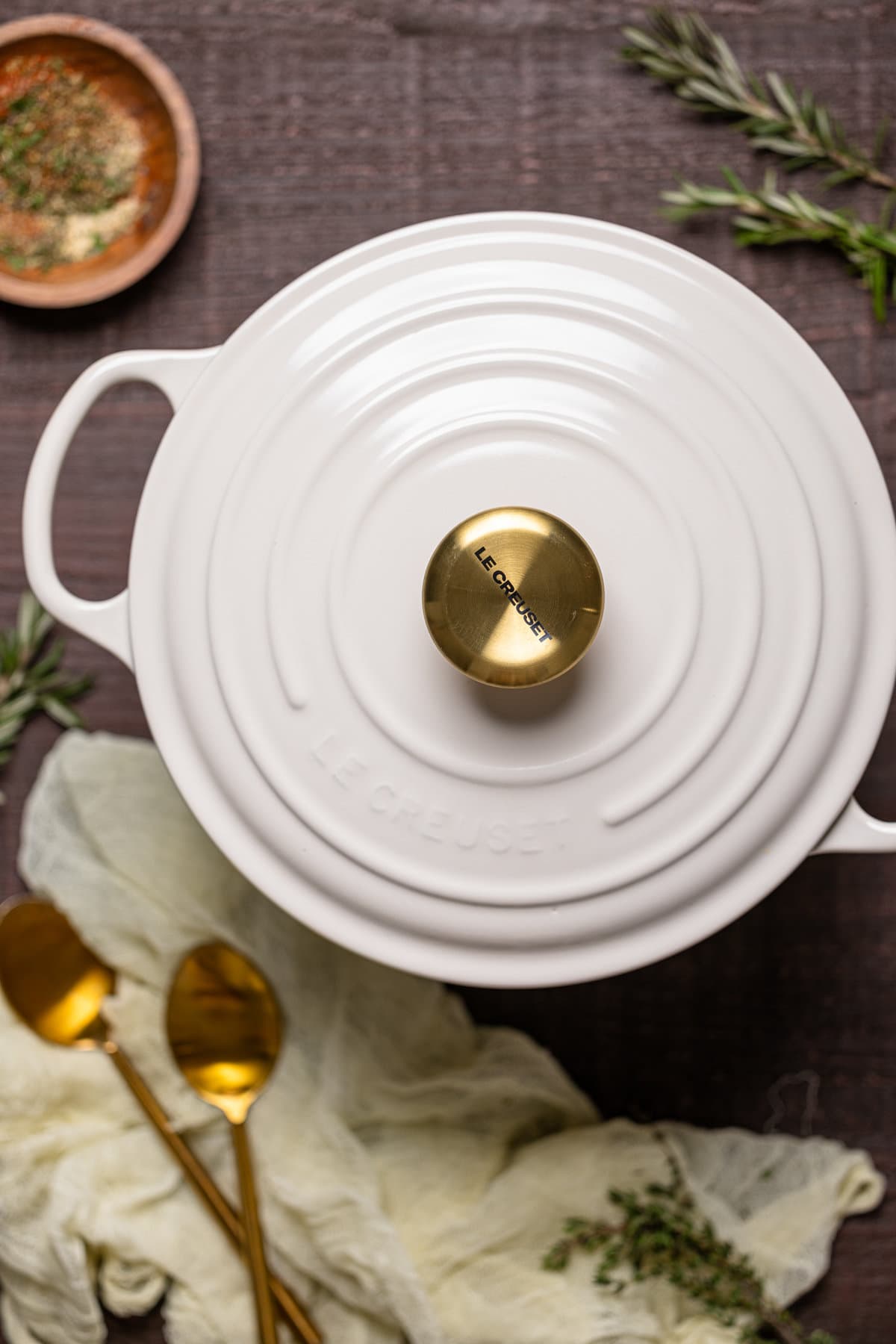 Ingredients for Creamy Vegan White Bean Soup
Here's what you need to make this vegan white bean soup at home:
Cannellini beans. I use two cans of beans, drained, and rinsed them.
Coconut Milk. You can use either full-fat canned coconut milk or cream.
Vegetable stock. Use store-bought low-sodium broth or make your own!
Olive oil. You can also use Grapeseed oil or coconut oil as well.
Red onion. Substitute with yellow or white if that's what you have.
Pesto. You can easily make your own or use a high-quality store-bought version.
Kale. Use fresh for best results, but frozen also works! Ensure that it's chopped.
Garlic. I prefer fresh, but you could substitute with ½ teaspoon garlic powder in a pinch.
Herbs + Seasonings – A great addition of flavor. Adds such savoriness from the salt, black pepper, garlic powder, parsley, basil, oregano, basil, and turmeric.
What White Wine is Best in White Bean Soup?
I tend to use a lot of white cooking wine, which is easiest for me. However, I do occasionally add quality white wine to my dishes and I recommend using a dry white wine.
A dry white wine will add the right amount of acidity rather than sweetness, which will better compliment your dish like this white bean soup. In general, any of the following dry white wines work great in this soup:
Pinot Grigio, Pinot Gris, Sauvignon Blanc, Pinot Blanc, and dry sparkling wines.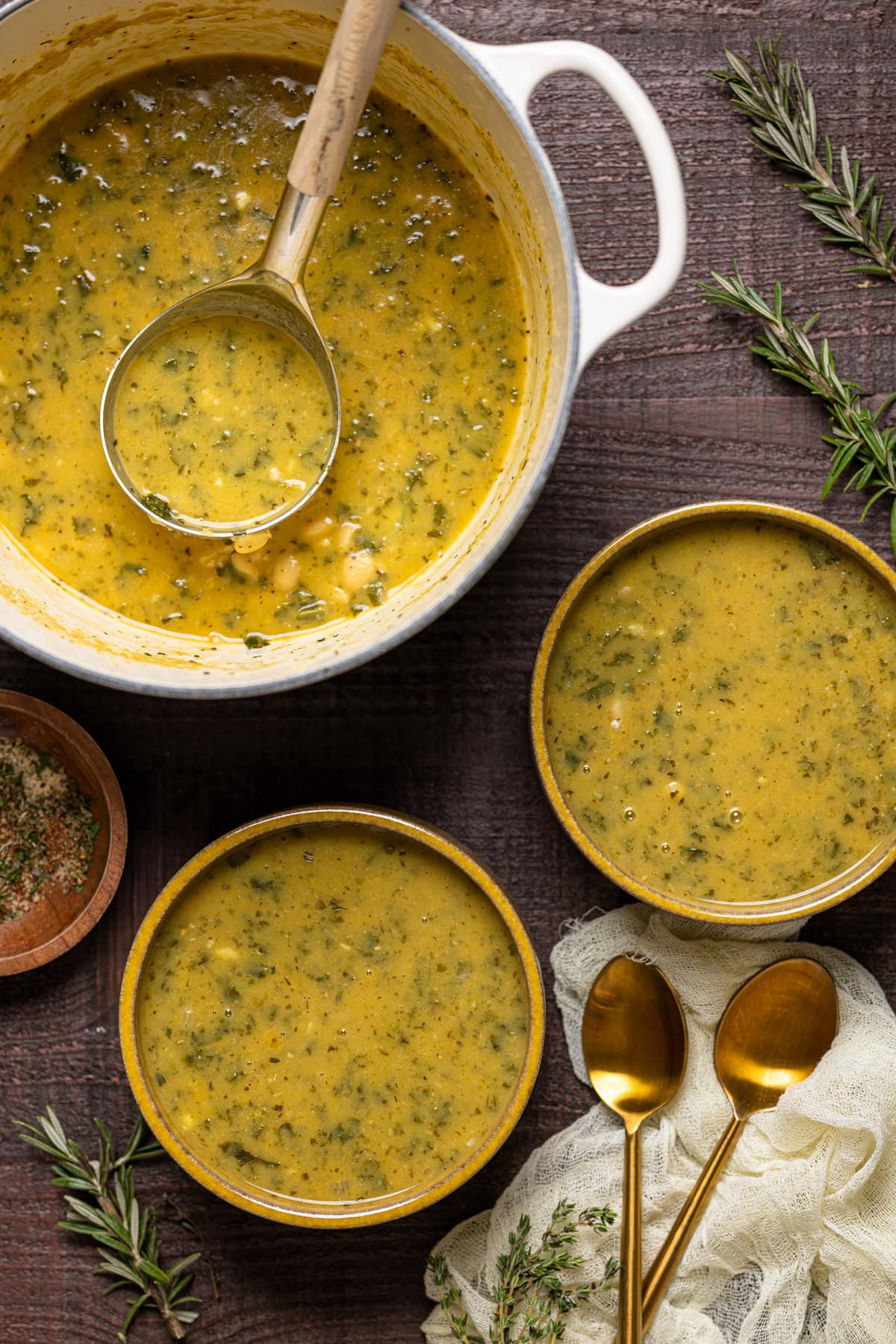 The Best White Beans to Use for this Soup
When it comes to this Creamy Vegan White Bean Soup recipe, I love using white beans like cannellini beans, however, there are actually 4 types of white beans that can be used:
Navy (Pea) Beans
Great Northern Beans
Cannellini Beans
Baby Lima Beans
Out of all of the beans, Navy (Pea) Beans are perfect for creamier dishes since they mash really well while cooked. While Northern Beans are bit bigger in size than Cannellini Beans, but they are neutral in that they take on any flavor of the dish they're added to.
Just know that any of these four types of beans are perfect for soups like this one.
How to Use Dried Beans in White Bean Soup
I love the convenience of using canned beans, especially during weeknights where time is limited. But if you have more time or would like to use dried beans, no worries!
Simply soak your beans overnight covered in water to help cut down on the cook time. For a quicker soak time, simply add your beans to water in a pot, bring to a boil, remove from heat and cover the pot to let the beans rest in the water for at least 1 hour.
Then on the day of, boil your beans in water for 60-180 minutes, depending on the type of bean and it's size. Smaller beans cook on the quicker end of this timeframe.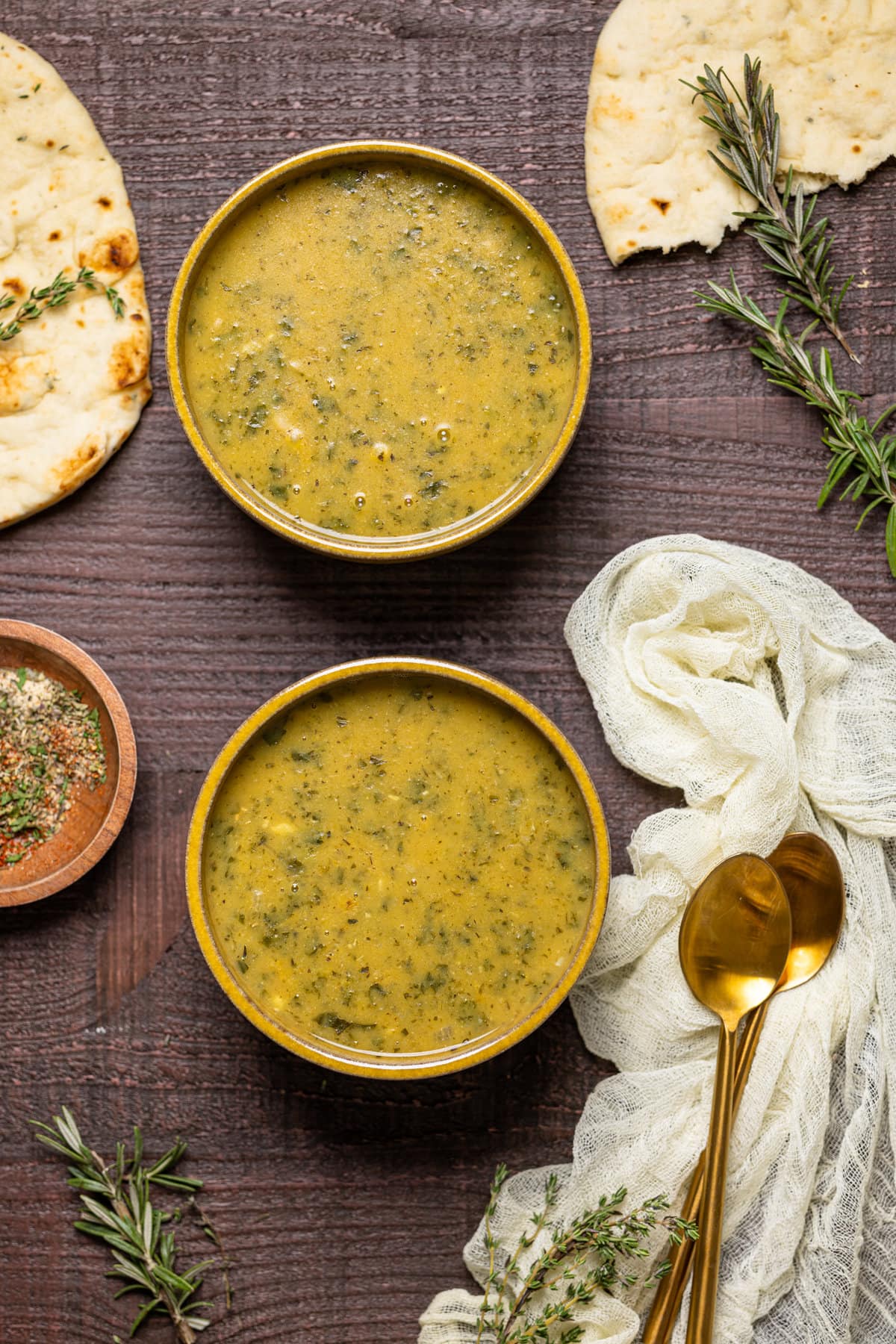 Serving Suggestions for This Creamy Vegan White Bean Soup
I like to add some extra texture to creamy soups like this one. Most people might enjoy this white bean soup with a side of bread, which is totally fine. But I wanted to share a few more ideas incase you make this soup more than once and want to switch things up!
Other topping ideas include:
Roasted broccolini
Crispy bacon (if you're not plant-based, of course)
Garlic bread
Nuts, such as pecans, hazelnuts or walnuts
Roasted chickpeas
How to Make Homemade Vegan Garlic Bread
Here's what you'll need:
1 loaf of French Bread, sliced
3-4 Tbsps vegan butter (melted)
1-2 Tbsps Extra virgin olive oil
2 tablespoon chopped parsley (can also use dried parsley)
pinch of sea salt
pinch of black pepper
1-2 Tbsps minced garlic
DIRECTIONS: Preheat oven to 400 degrees Fahrenheit and line a baking sheet with parchment paper. Place sliced French Bread onto baking sheet (spaced out evenly). In a bowl, add the olive oil, melted butter, minced garlic, salt, black pepper, and parsley, mixing together until combined. Add a drizzle of garlic mixture on each sliced bread. Once all breads are topped, place baking sheet in the oven and bake for 10-15, or until full crisp and golden. Remove from oven and enjoy.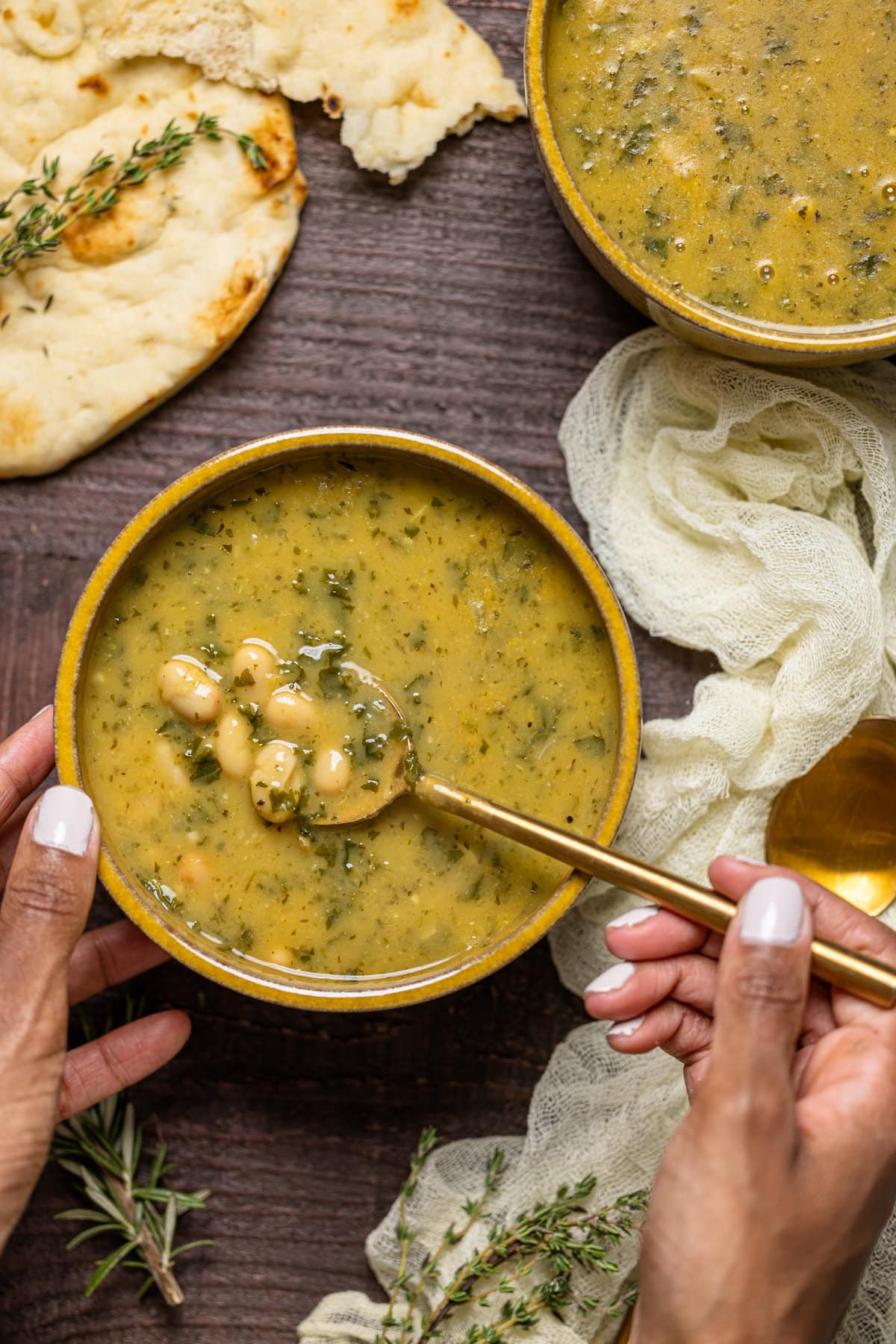 SHOP MY FAVORITE TOOLS FOR COOKING, ESPECIALLY FOR THIS SOUP!
Here, I've curated a list of cooking + baking essentials that I use to achieve my favorite baked goods or cooked meals, especially with this White Bean Soup. Everything from my fave baking sheet, liners, immersion hand-blender, mixing bowls, and more. SEE THEM HERE!
Ingredients for Easy Pesto
The secret ingredient in this white bean soup is the creamy and bright green pesto. Here's what you need to make it:
Basil. This leafy green has bold earthy flavor. You can also add in kale or spinach for a nice leafy green + herb balance.
Parsley. This leafy green adds extra bold earthy flavor---totally optional.
Walnuts. These are soft enough to blend easily into your pesto to make it fluffy and creamy.
Garlic. I recommend fresh---about 4 cloves will do!
Olive oil. A must in any great pesto.
Lemon juice. This helps preserve the bright green color and adds a bright note of citrus.
Parmesan cheese. This helps to give the sauce a "cheesy" flavor. However, for a dairy-free + vegan option, you can always use nutritional yeast instead.
Red pepper flakes. this is optional, but I like bit of heat.
Nut-Free Pesto
Traditionally, pesto contains nuts. However, you can substitute the walnuts in this recipe with sunflower seeds or pumpkin seeds for a nut-free version.
Storing Leftover Creamy Vegan White Bean Soup
Leftovers can be stored in a tightly sealed container in the refrigerator for 2-3 days, for optimal freshness. Can also be frozen for 4-6 months. To defrost, simply place soup in the refrigerator overnight or at room temperature before re-heating on the stove top to serve.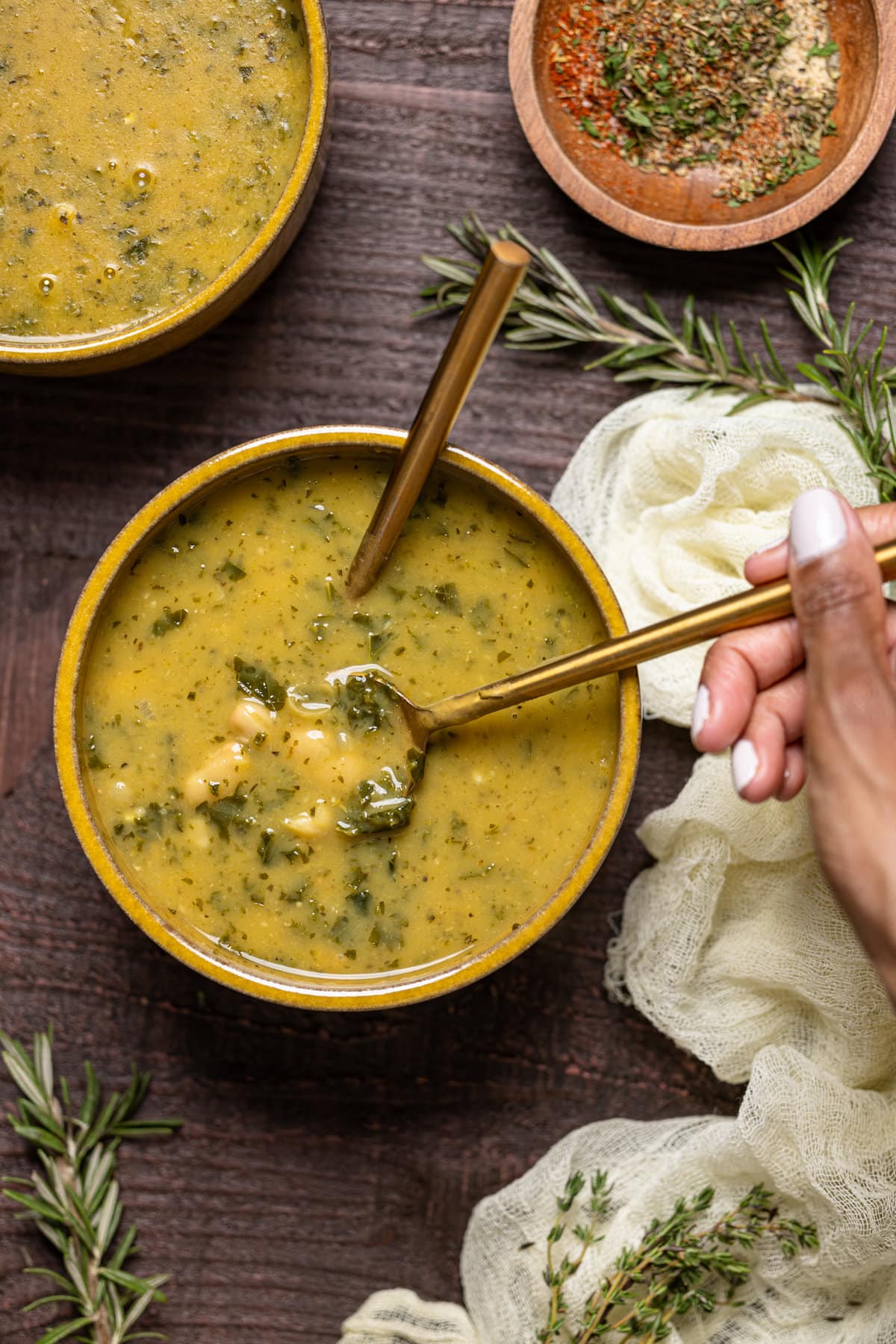 MADE OUR RECIPE(S)?
If you make this Creamy Vegan White Bean Soup, tag @orchidsnsweettea_ on Instagram and hashtag it #orchidsandsweettea!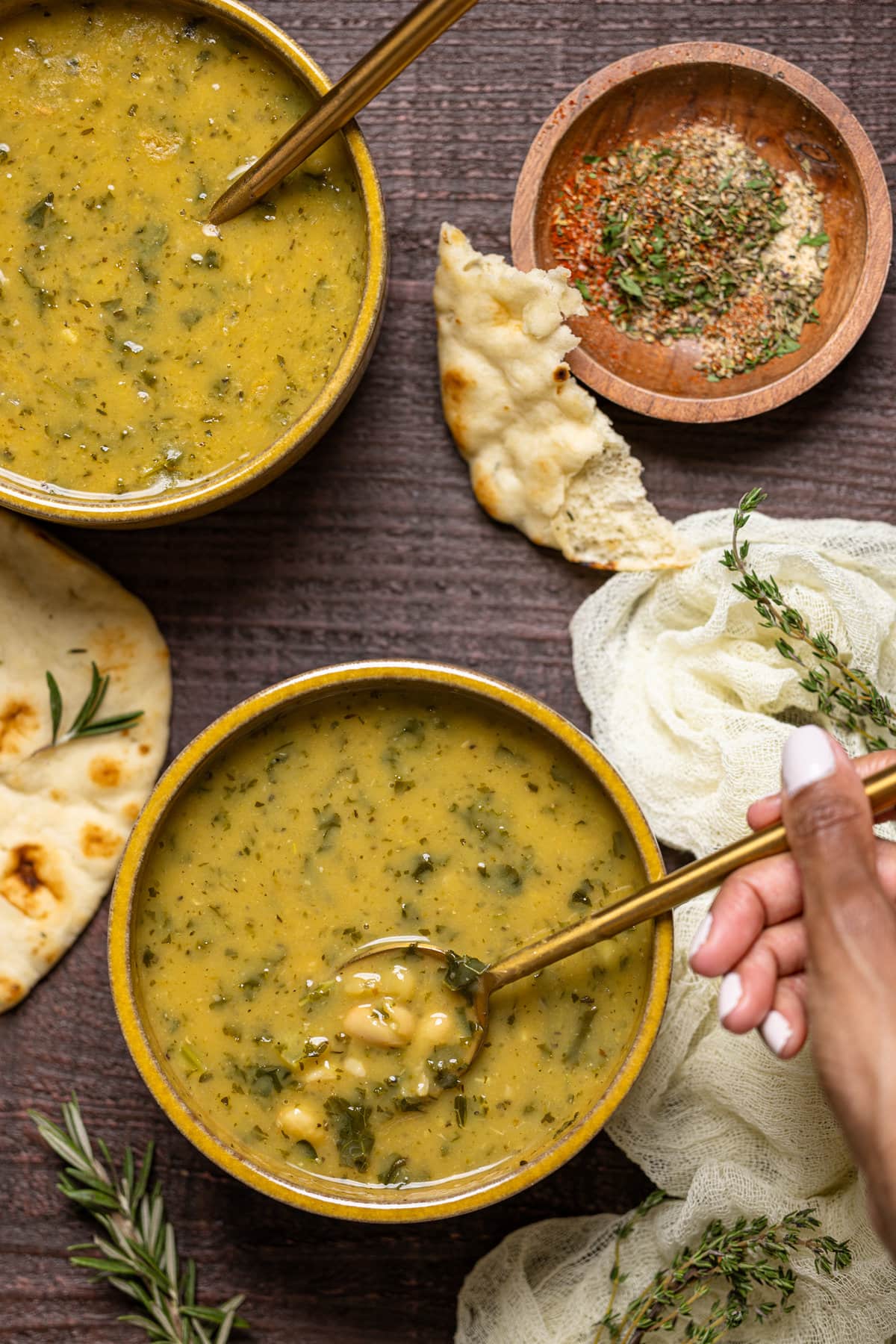 SOUP:
2

(15 oz.) cans

cannellini beans, drained, rinsed + divided

(You can also use Northern Beans or another white bean)

1

tablespoon

Extra virgin olive oil

½

red onion, chopped

(You can also use yellow onion)

4

garlic cloves, minced

4

cups

organic vegetable broth/stock

1

(14 oz.) can

full-fat coconut cream/milk

1

cup

kale, chopped

1

teaspoon

sea salt

1

teaspoon

black pepper

1

teaspoon

dried oregano

1

teaspoon

dried basil

1

teaspoon

dried parsley

1

tablespoon

pesto sauce, homemade or store-bought

(See Notes!)

1

teaspoon

freshly-squeezed lemon juice

½

teaspoon

turmeric powder

2

Tbsps

arrowroot starch + 4 Tbsps WARM water

(This is the thickening agent)
TO MAKE THE SOUP:
In a medium-sized dutch oven pot over medium high-heat, add the olive oil. Once heated, add the minced garlic and chopped onions, and sauté until translucent + fragrant, about 1-2 minutes. Add the pesto sauce, turmeric, salt, black pepper, oregano, basil, and parsley, stirring until combined.

Add in half the amount of rinsed white beans and 2 cups of veggie stock, stirring everything together until combined.

Let everything boil for 1-2 minutes and then reduce heat to low to allow a simmer. Carefully using a hand-blender (immersion blender)----blend the beans and veggies in the soup until fully broken down and until mostly smooth, about 2-3 minutes.

Add in the remaining 2 cups of veggie stock, coconut cream/milk, lemon juice, and chopped kale, stirring to combine. Let simmer for another 4-5 minutes.

NOTE: If the soup isn't thick to your liking, feel free to add in the arrowroot starch mixed with WARM water until "milky in color/consistency. Pour the mixture into the soup, stir, and let simmer for another 1-2 minutes.

At this point, the soup should be thickened as it continues to simmer.

Add in the remaining white beans, stir and let simmer for the final 2-3 minutes.

Remove from heat and serve immediately into prepared bowl(s), with a side of bread or naan bread, if desired.

Bon Appetit!
STORAGE: Leftovers can be stored in a tightly sealed container in the refrigerator for 2-3 days, for optimal freshness. Can also be frozen for 4-6 months. To defrost, simply place soup in the refrigerator overnight or at room temperature before re-heating on the stove top to serve.
GREENS: Instead of kale, you can use broccolini or spinach as substitutes.
TURMERIC: While adding turmeric is optional, it definitely has benefits: powerful medicinal properties, natural anti-inflammatory ingredient, increases antioxidant activity in the body, and more.
SPICES/HERBS: If desired, you can reduce the amounts slightly. Please know that this recipe is bold in spice/herb flavor, so feel free to adjust based on your tastebuds.
COCONUT CREAM: I love using canned coconut cream from Thai Kitchen, however, you can always use canned coconut milk as well and refrigerate it overnight to thicken and create more creaminess. 
Calories:
346
kcal
|
Carbohydrates:
57
g
|
Protein:
18
g
|
Fat:
6
g
|
Saturated Fat:
1
g
|
Polyunsaturated Fat:
1
g
|
Monounsaturated Fat:
3
g
|
Cholesterol:
0.3
mg
|
Sodium:
638
mg
|
Potassium:
1116
mg
|
Fiber:
13
g
|
Sugar:
3
g
|
Vitamin A:
1763
IU
|
Vitamin C:
18
mg
|
Calcium:
236
mg
|
Iron:
8
mg
Creamy Vegan White Bean Soup.