This Cheesy Asparagus Puff Pastry with Herb Honey recipe is all about simple sophistication! It looks fancy but comes together in a snap. Just imagine that golden, buttery crust hugging a creamy mozzarella and fresh asparagus filling drizzled with luscious herby honey. It's the ultimate treat, perfect for sharing with your loved ones as a snack or a crowd-pleasing appetizer. Dairy-free option.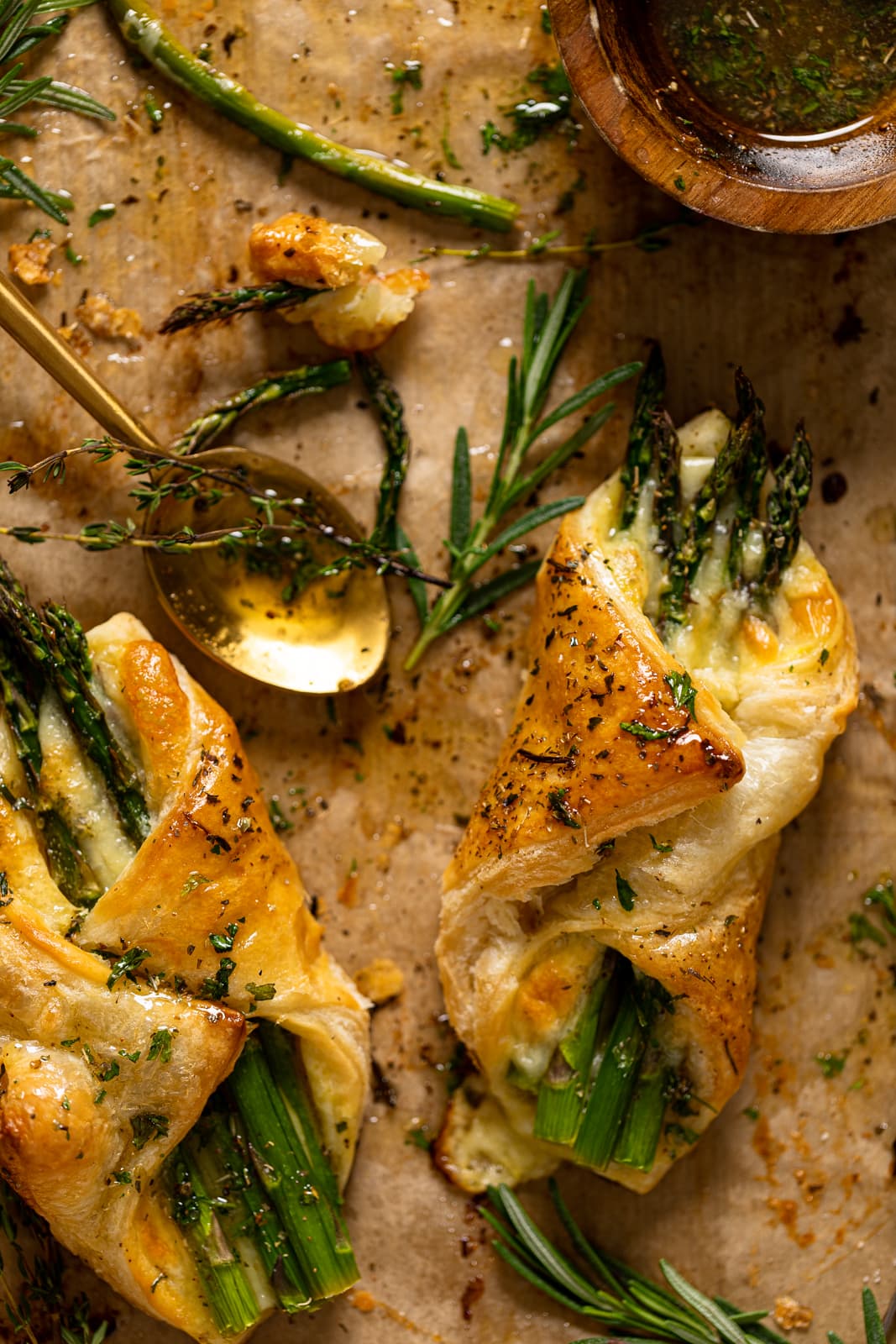 Why Cheesy Asparagus Puff Pastry with Herb Honey?
I'll be honest, puff pastry isn't a regular in my kitchen, but when things get busy, it's like my secret weapon. It's a real game-changer, and what's even better? It takes basic ingredients and transforms them into something totally delicious!

Asparagus, mozzarella, and puff pastry, all drizzled with herby honey – now that's the perfect blend of flavors! If you're a total fan of asparagus, then this Spring Vegetable Frittata is worth the try next! It's one of my fave ways to enjoy asparagus. But back to this puff pastry recipe --if you're looking to amp up the indulgence, don't hesitate to throw in some candied bacon or prosciutto for my non-vegetarian folk. This dish strikes the perfect balance between healthy, comforting, and refreshing, all wrapped up in one easy appetizer + snack recipe.
Jump to: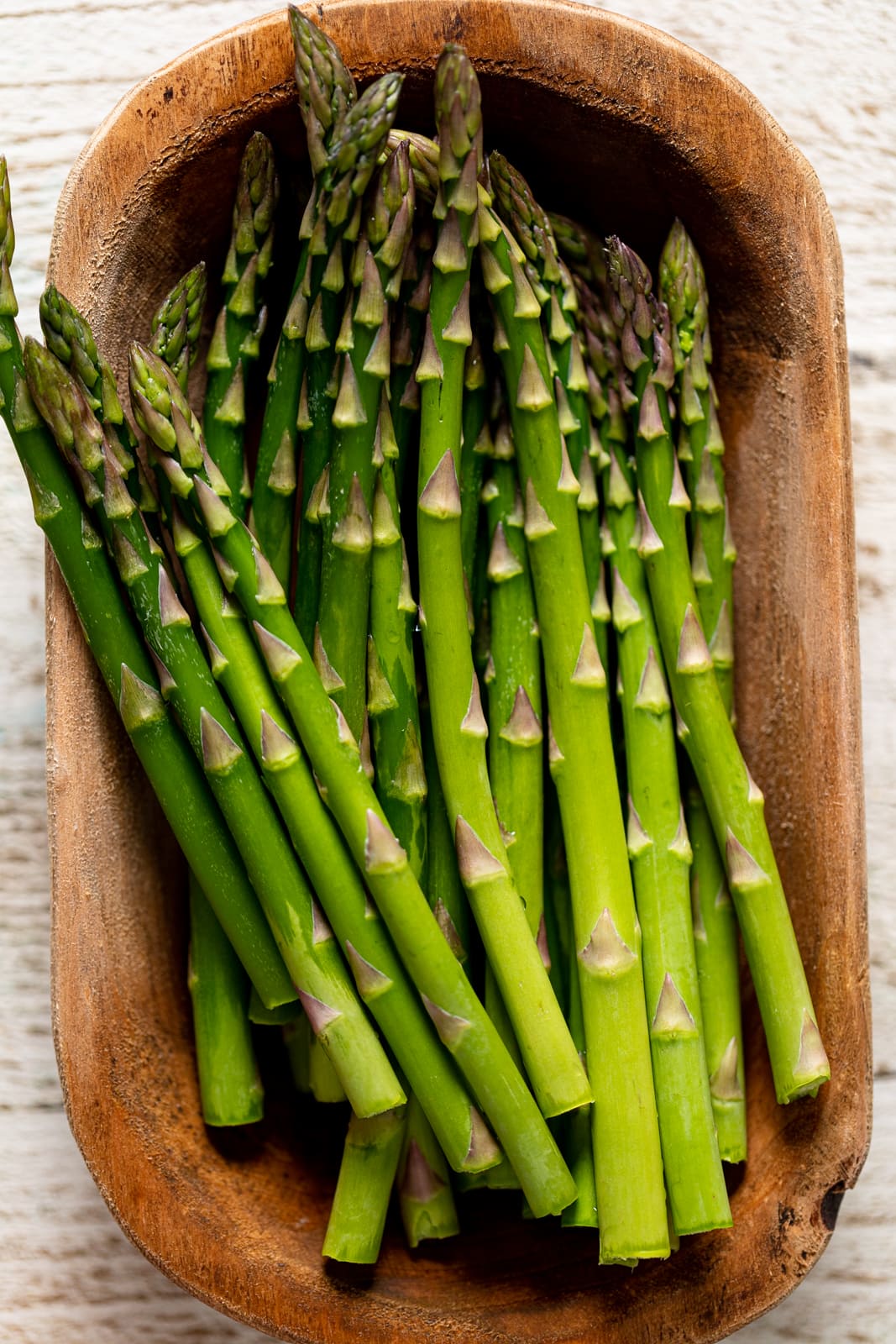 How to Make Asparagus and Mozzarella Puff Pastry
This quick appetizer asparagus recipe comes together quickly with the oven and a few short steps.
Ingredients
Here's what you need to know about some of the key ingredients in this roasted asparagus + mozzarella dish.
Puff pastry. Feel free to use any puff pastry that you have on hand. I love using an organic version.
Asparagus. To prepare the asparagus for cooking, gently bend the end of each spear. It should naturally snap about an inch or two from the bottom. You can discard this woody end and cook the fresher thinner portion of the stalk. If you're not a fan of asparagus, you can add roasted broccoli, Brussels sprouts, peas, or kale instead. Really any roasted veggie you love will work!
Honey. The sweet element that works perfectly with all of the savory flavors.
Herbs + Spices. I like to add extra kick of flavor by using herbs + spices such as oregano, parsley, basil, garlic powder, etc.
Mozzarella cheese. This adds delicious cheesy umami flavor to this entire recipe.
How To Make Herb Honey Sauce
In a saucepan over medium-high heat, add raw honey, butter and herbs and mix until combined and the sauce heats through and begins to boil. Remove from heat.
Once puff pastries are baked to perfection, remove from oven, drizzle herb honey sauce atop each pastry, and enjoy!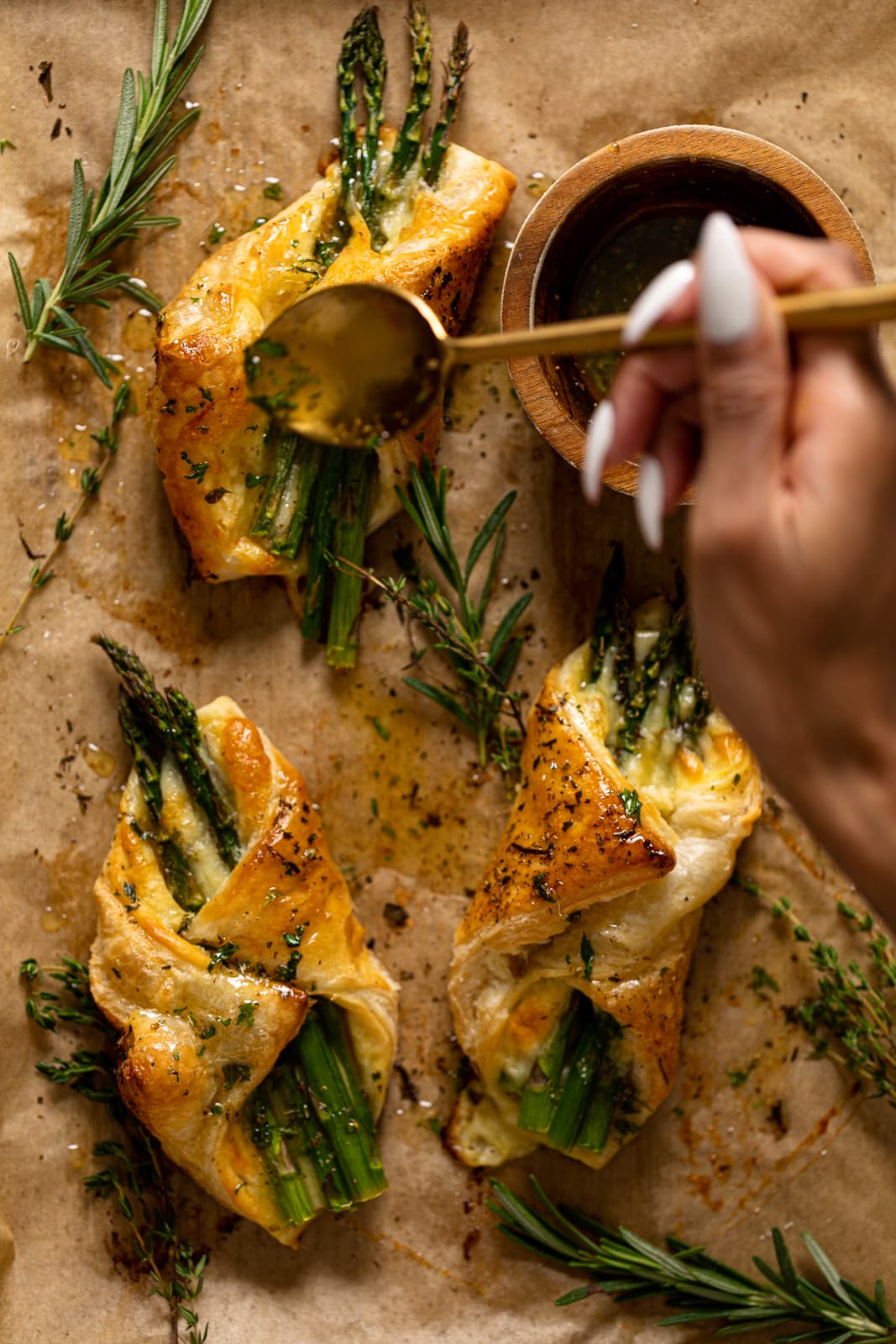 Why You'll Love This Cheesy Asparagus Recipe
Mouthwatering Flavor-- Cheesy, herby honey meld for an irresistible taste.
Quick, versatile, and ideal for any occasion.
Super easy to make + no crazy clean-up!
Perfect appetizer or snack option
Crispy + golden puff pastry goodness
Is Asparagus Healthy?
It certainly is! Asparagus is a nutritional powerhouse! It's packed with vitamins, antioxidants, and fiber. This tasty veggie supports digestion, heart health, and bone strength. Plus, it's low in calories and may help manage blood sugar.
Best Types of Cheese for This Asparagus + Puff Pastry Recipe
Even though this asparagus recipe is based on using mozzarella cheese, you can also switch things up and add a new flare in their flavor profile by adding any of the following:
Gruyère
Sharp or Mild Cheddar Cheese
Gouda
American cheese
Recipe Variations + Add-On Ideas
Okay, so the asparagus and mozzarella puff pastry is already a flavor explosion, but if you're feeling a bit fancy, I've got some deliciously creative ideas to take it up a notch!
Herb Variations + Seasonings:
Change up the herbs in the recipe; thyme, rosemary, or tarragon would also be delicious! Or try out my Homemade Lemon Pepper Seasoning if you love a little citrus! Also, I just know that this Homemade Pesto Sauce would be an amazing flavor addition!
Add Some Heat:
Spice it up with a sprinkle of red pepper flakes or a drizzle of hot sauce or instead of herbed honey you can try hot honey instead!
Combine asparagus with other roasted vegetables like herb roasted tomatoes , bell peppers, or mushrooms. Or layer on some caramelized onions for a rich, sweet flavor. For my non-vegetarian friends shredded chicken, prosciutto, or candied bacon would be a great flavorful pair with the asparagus!
Cheesy Asparagus Puff Pastry Q + A's
How To Store?
Store leftover puff pastry sheets (uncooked) in an airtight container in the refrigerator for up to 3 days or in the freezer for longer. Always remember that when thawing out the puff pastry from the freezer, be sure to do so in the refrigerator for about 2-3 hours.
Can I Freeze Them?
Absolutely! For longer storage–leftovers can be stored in the freezer. After they have baked and are completely cooled, simply place your puff pastry tarts onto a baking sheet (spaced apart) and freeze them for 2-3 hours. Once frozen, transfer them to a ziploc bag and reheat when ready to eat!
Can I make this recipe dairy-free?
Yes! To make these tarts entirely dairy-free, simply substitute the cheese for dairy-free shreds (Violife has a great option!) and ensure that the puff pastry brand used is dairy-free and melted vegan butter in place of the egg wash.
Can I use frozen asparagus instead of fresh?
Fresh asparagus is recommended for the best texture and flavor, but you can use frozen if that's what you have available just pat down excess moisture first!
What's the best way to reheat leftover Cheesy Asparagus Puff Pastry?
To maintain the pastry's crispness, it's best to reheat in an oven or toaster oven at a low temperature until warmed through.

More Deliciously Cheesy Recipes
MADE OUR RECIPE(S)?
If you make this Asparagus + Mozzarella Puff Pastry with Herb Honey, tag @orchidsnsweettea_ on Instagram and hashtag it #orchidsandsweettea!
1

(14 oz.) package

premium puff pastry sheets

1

bunch

organic asparagus, ends trimmed

1

tablespoon

Extra virgin olive oil

1

teaspoon

sea salt

1

teaspoon

black pepper

8

oz.

 fresh mozzarella cheese, sliced long-lengthwise

1

large

egg, beaten

(For the egg wash)
HERB HONEY SAUCE:
¼

cup

raw honey

2

Tbsps

unsalted butter

1

teaspoon

garlic powder

1

teaspoon

dried oregano

1

teaspoon

dried parsley

1

teaspoon

dried basil
TO MAKE THE PUFF PASTRY:
Preheat the oven to 375 degrees Fahrenheit and line a baking sheet with parchment paper.

In a bowl, add the asparagus, olive oil, salt, + black and toss together until fully coated.

Remove pastry sheets from packaging and roll out unto a floured surface. Cut the pieces into 8 squares total. Place the sliced mozzarella unto each square and top with a handful of asparagus (about 4-5 should fit). Take two sides of the pastry and fold up and over the asparagus until enclosed. Repeat until all squares are topped. NOTE: You can lightly brush both ends to ensure that they seal tightly, if preferred.

Place each prepared pastry unto the baking sheet, brush the tops with egg wash and bake for 20-25 minutes or until golden brown.
TO MAKE THE HERB HONEY SAUCE:
In a saucepan over medium-high heat, add together all ingredients and mix until combined and the sauce heats through and begins to boil. Remove from heat.

Once puff pastries are baked to perfection, remove from oven, drizzle herb honey sauce atop each pastry and enjoy!

Bon Appetit!
Calories:
181
kcal
|
Carbohydrates:
12
g
|
Protein:
9
g
|
Fat:
12
g
|
Saturated Fat:
6
g
|
Polyunsaturated Fat:
1
g
|
Monounsaturated Fat:
4
g
|
Trans Fat:
0.1
g
|
Cholesterol:
53
mg
|
Sodium:
480
mg
|
Potassium:
165
mg
|
Fiber:
1
g
|
Sugar:
10
g
|
Vitamin A:
745
IU
|
Vitamin C:
3
mg
|
Calcium:
170
mg
|
Iron:
2
mg
Asparagus + Mozzarella Puff Pastry with Herb Honey.