Making a delicious healthy dinner can be hard after a long day. But look no further----my favorite under 30-minute meal lately has been this Creamy Lemon Garlic Herb Tilapia, which is extremely flavorful, convenient, and fast! Made with Sea Cuisine's premium Garlic & Herb Tilapia, chopped kale, fresh garlic, lemon juice + slices, coconut milk, white wine, herbs + seasonings---with a side of basmati rice. This dish is the perfect thing for the entire family!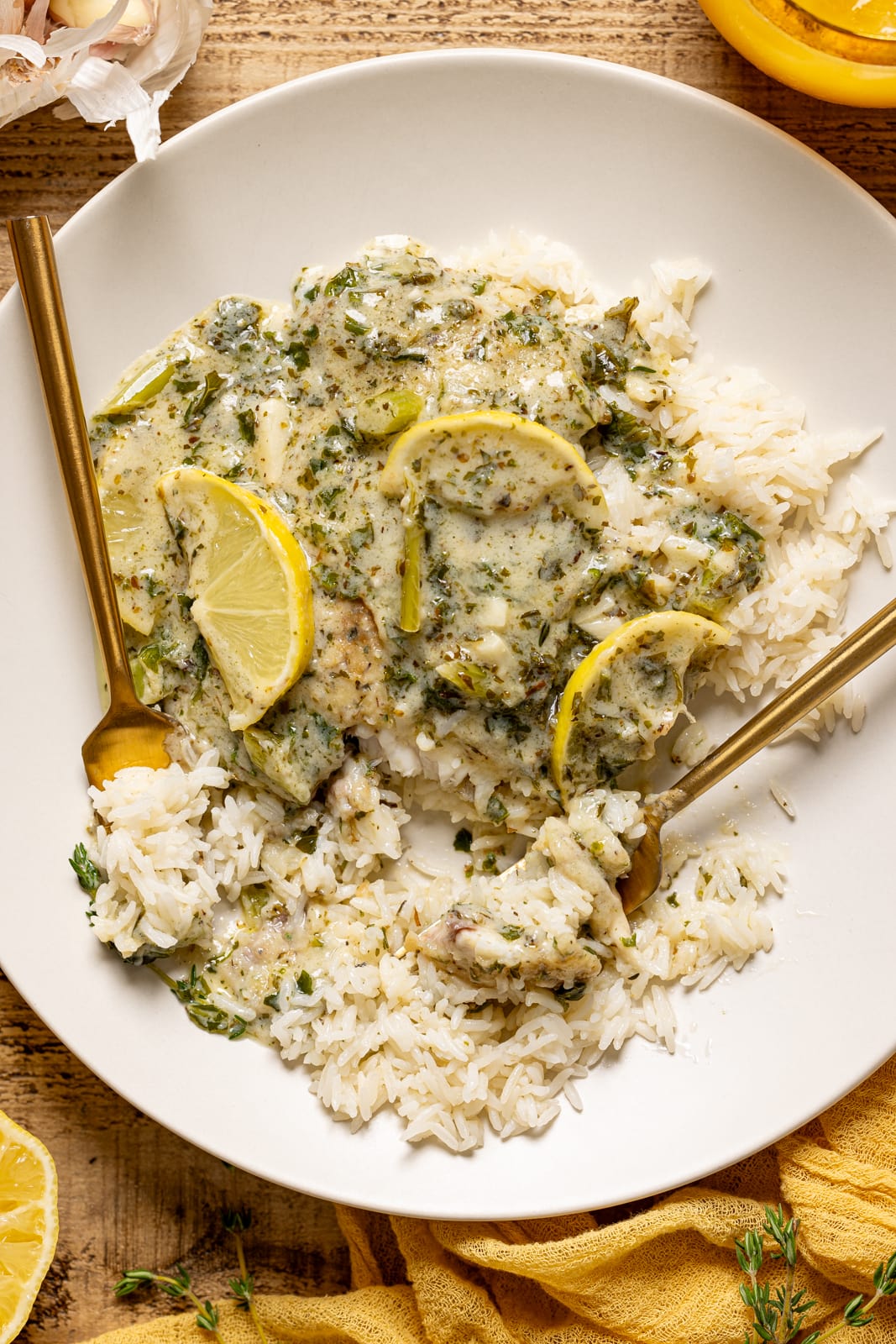 Hello, seafood lovers! This tilapia dish is truly one for the books. Do you ever want to switch things up for your weeknight meal without the hassle and long amount of time spent in the kitchen? Well, this Creamy Lemon Garlic Herb Tilapia with Basmati Rice is the exact recipe that will save you the time, the effort, and the disappointment from a not so tasty meal. Plus, the entire family will enjoy this one especially with a chef crafted level fish that works so beautifully with this creamy, lemon-y and herb infused sauce.
In my house, fish is one of those things that we enjoy, but on those busy days I sometime find myself forgetting to remove the fish from my freezer in time to let things thaw out. As a result, I find myself having to change my menu options to something that is more readily available, which can be disappointing sometimes. However, with Sea Cuisine's line of glazed, crusted, and rubbed seafood products like this Garlic & Herb Tilapia, it's super convenient and easy to take it straight from the freezer and searing both sides for a great char and a simple thoroughly cooked process. So, if this tilapia sounds like the perfect match for you, I highly recommend enjoying it with basmati rice (as I did in this recipe) or adding it to my Creamy Lemon Garlic Herb Kale Pasta or atop these Creamy Southern Cheese Grits.
Jump to:
What is the Garlic and Herb Sauce Made of?
When it comes to this creamy tilapia dish, I love combining freshly minced garlic with cream, butter or oil, stock, and herbs like garlic powder, parsley, oregano, basil, thyme, etc. You'll just need to simmer everything together after the initial sauté of garlic until smooth.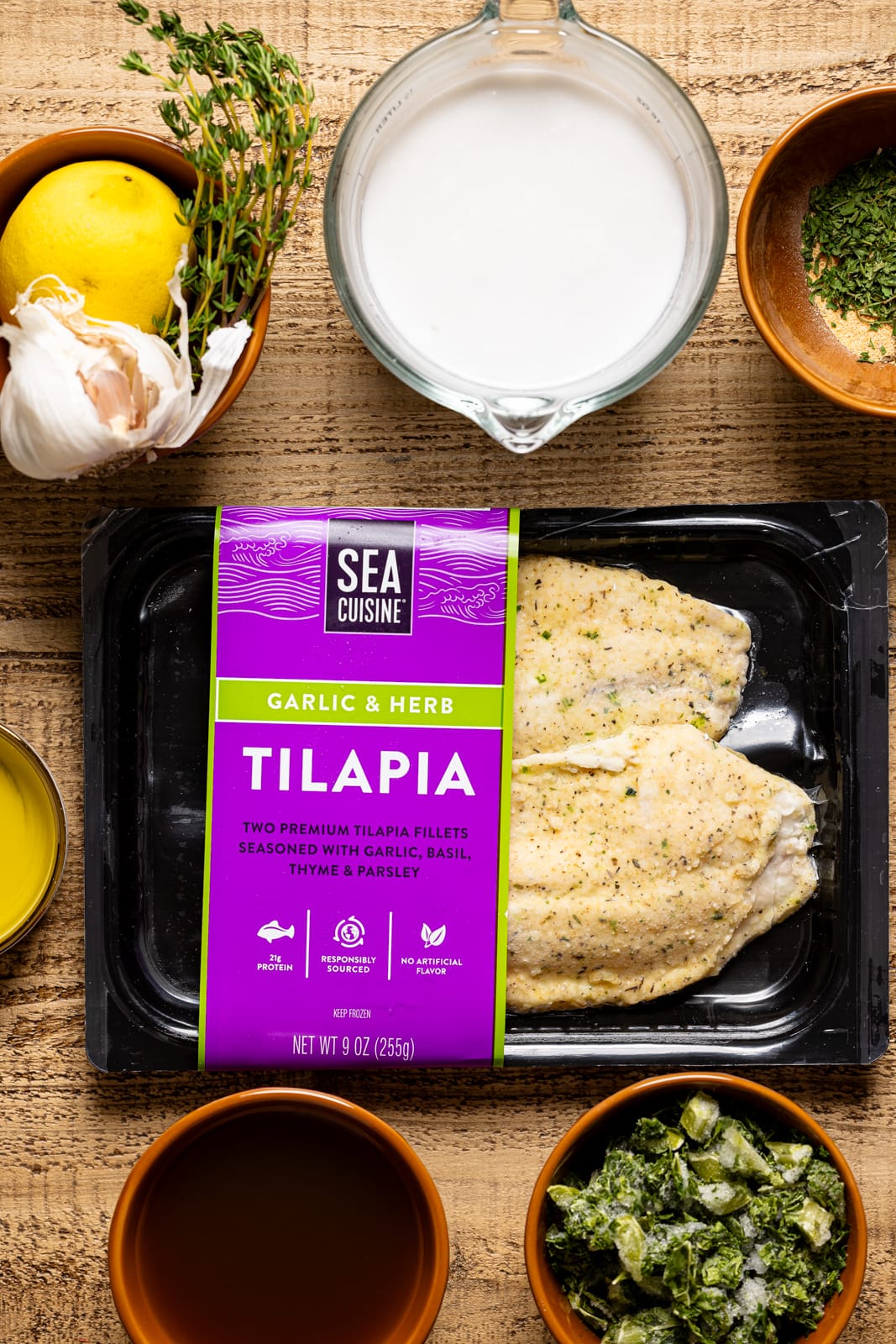 How to Make Creamy Lemon Garlic Herb Tilapia
Start making this recipe by searing both sides of the Sea Cuisine Garlic & Herb Tilapia straight from your freezer until thoroughly cooked. Please follow package cooking instructions. Then make the basmati rice. For the sauce, you'll begin by sautéing a few garlic cloves, and then adding in the seasoning, lemon juice, coconut milk, other ingredients, and parmesan, whisking until smooth. Then you add in the kale and seared tilapia to simmer a bit along with lemon slices. Wallah. Serve immediately with additional grated parmesan and the side of rice, if desired.
Ingredients in Creamy Lemon Garlic Herb Tilapia
Tilapia. I love this convenient and well-seasoned Garlic & Herb Tilapia by Sea Cuisine. It's got 21 grams serving of protein, is responsibly sourced, and includes no artificial flavors. They also have great salmon options for a nice substitute.
Seafood or vegetable stock. Use store-bought organic, low-sodium broth or make your own!
Coconut Milk. You can use either full-fat canned coconut milk or cream.
Olive oil. You can also use vegan butter or Grapeseed oil or coconut oil as well.
Garlic. I prefer fresh, but you could substitute with ½ teaspoon garlic powder in a pinch.
Herbs + Seasonings. A great addition of flavor. You'll need salt, black pepper, garlic powder, parsley, oregano, basil, thyme, + dill.
Parmesan cheese. I love using dairy-free parmesan which I freshly-grate for a nice creaminess in the sauce. You could also use high-quality dairy-free cheese shreds that tastes great.
White wine. Optional. Choose a dry wine that you like the taste of. You can also sub with additional seafood or veggie stock, if desired.
Kale. Use fresh for best results, but frozen also works! Ensure that it's chopped roughly.
Lemon juice + lemon slices. You can use store-bought or freshly-squeeze juice from an actual lemon. You'll also want to slice ½ lemon thin to add to sauce for a nice simmer and flavor.
Cornstarch. This acts as a great thickening agent for the sauce and usually needs to be mixed with water before adding it in. You can substitute with arrowroot, flour, tapioca flour, etc.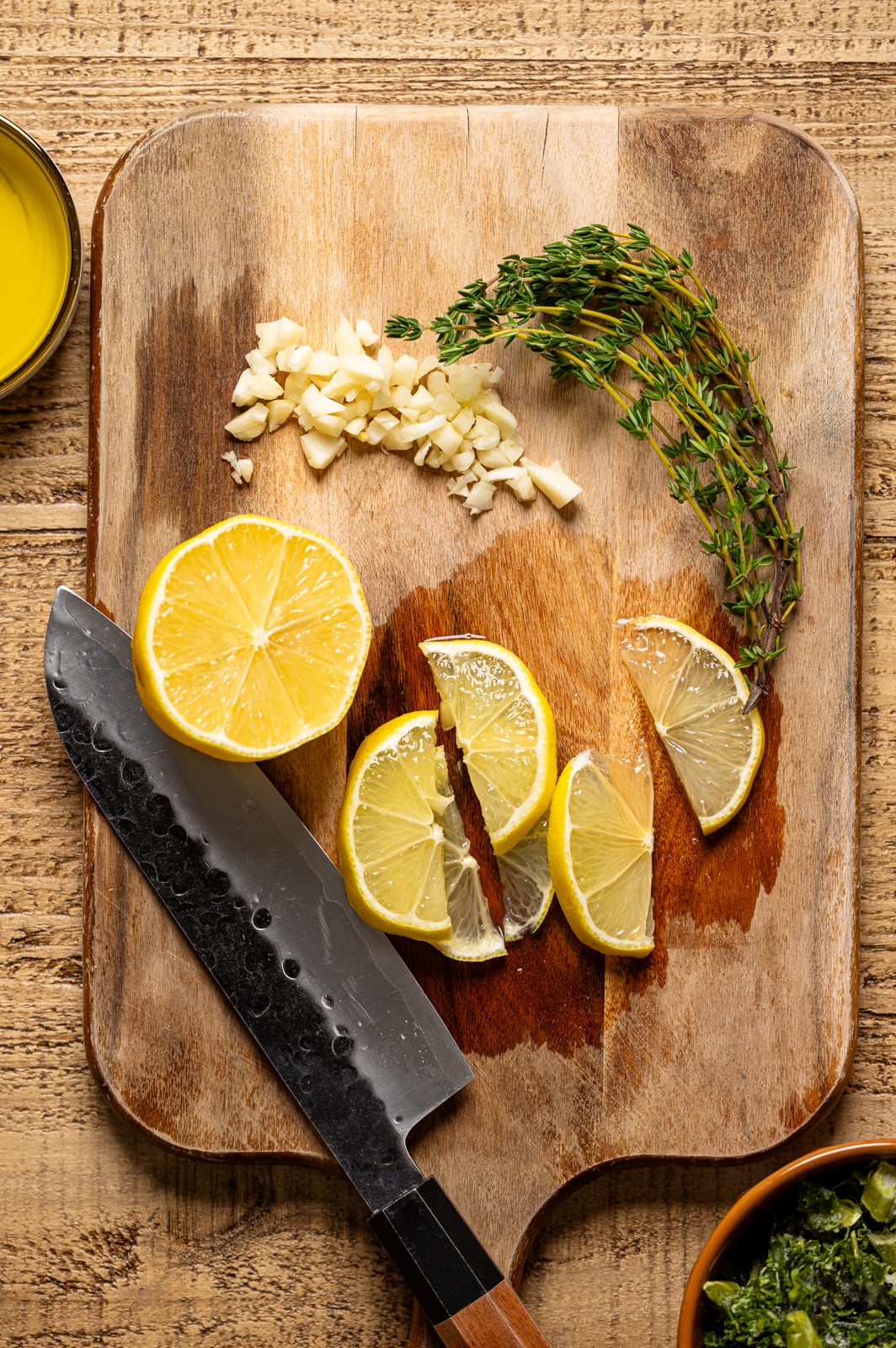 Why You'll Love This Tilapia Dish
Bold flavors—Savory flavors of each ingredient marry so well together!
Easy to make. Easy weeknight meal or quick lunch idea, yet restaurant-quality!
Garlic & Herb + Lemon is just so deliciously infused!
Uses simple, convenient ingredients.
Fun cooking activity for entire family.
And just absolutely perfect for any kind of weather, especially when paired with your favorite side.
Why Sea Cuisine?
Besides the convenience, restaurant quality, and ready to make ability for healthy meals for the busy cook, Sea Cuisine is a great choice for the following reasons:
Chef-Crafted Flavor: Their seafood recipes were originally created by chefs for chefs to serve in restaurants. Now you can bring these recipes into your kitchen and use them as inspiration for your own culinary creativity.
Responsibly Sourced: Their recipes begin with responsibly sourced seafood. By using responsible sourcing practices, they maintain strict criteria for their suppliers to make sure they are doing their part in the protection and viability of seafood globally.
Health Benefits of Seafood: The FDA recommends 2 servings of fish per week as part of a healthy eating pattern. Seafood supports brain health, heart health and overall wellness; nutrient-packed with vitamins and omega-3s.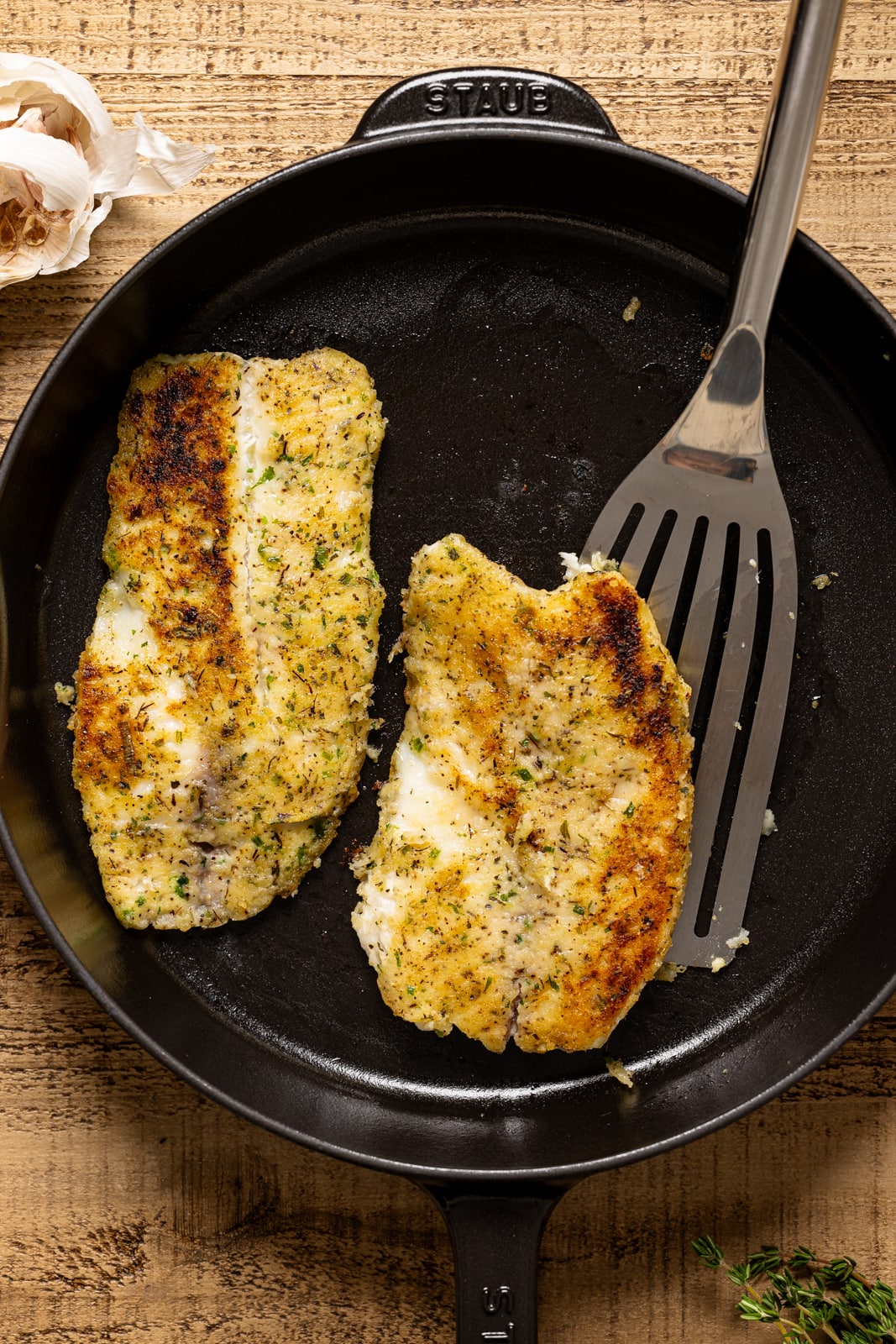 What Will Thicken the Sauce?
It's important to thicken your creamy sauce so it gets nice and velvety and smooth. Personally, I add just enough liquid to grated parmesan ratio, that doesn't really require a thickener. However, if you find that your sauce is too thin, I love using arrowroot starch (which is a great gluten-free option). However, if you don't have this on hand, using other subs like all-purpose flour, regular cornstarch, or tapioca flour work just fine.
Just be sure to always stir your thickener with warm water until it becomes a 'milky' liquid before adding it to the sauce OR you can add the dry thickener to your skillet with the seasonings, right before adding the liquids, whisking until smooth and thickened.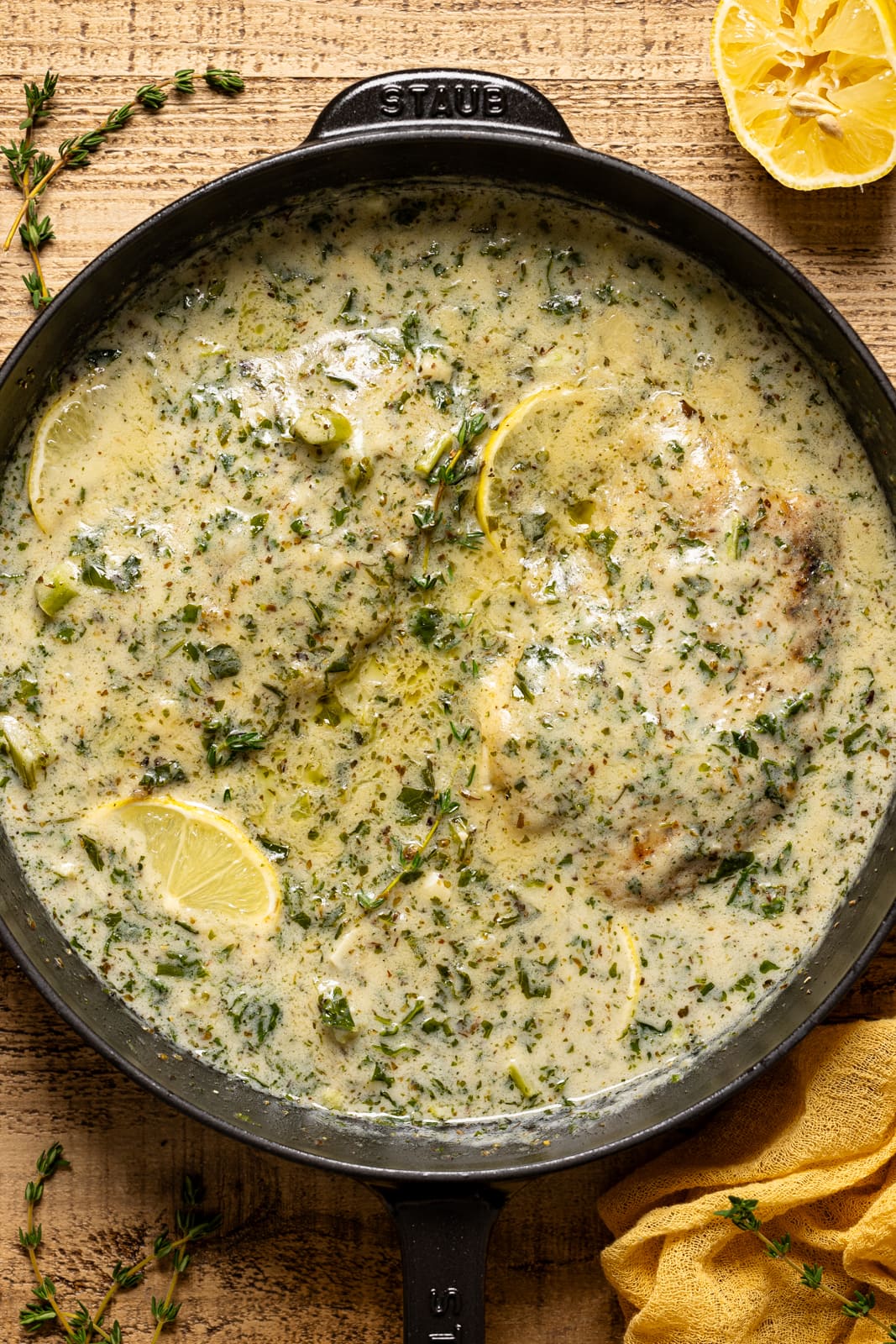 What Pairs Well with Tilapia?
OK, so if you aren't into wanting rice as a side for this Creamy Lemon Garlic Herb Tilapia or you simply make this dish more than once and want to switch things up, here are great options for pairing with tilapia:
Roasted veggies (Brussels sprouts, asparagus, broccoli, butternut squash, etc.)
Cauliflower rice
Pan fried zucchini
Corn-on-the-cob
How to Make Cauliflower Rice
The great thing is that making cauliflower rice is SUPER easy! Granted, if you're low on time and energy, you can always purchase cauliflower rice via your Amazon or other stores that sell great healthy options.
However, if you're into making it from scratch like I did, then look no further. This easy cauliflower rice recipe includes a handful of easy steps that will ensure that your rice comes out perfectly by simply using a food processor.
Start off by breaking up the cauliflower into florets and rinsing and then patting dry.
Next---add the florets to a food processor, pulsing a few times until fully broken up and minced into a "rice-like" consistency.
Lastly, you add the cauliflower to a skillet along with your seasoning and a few ingredients, and wallah!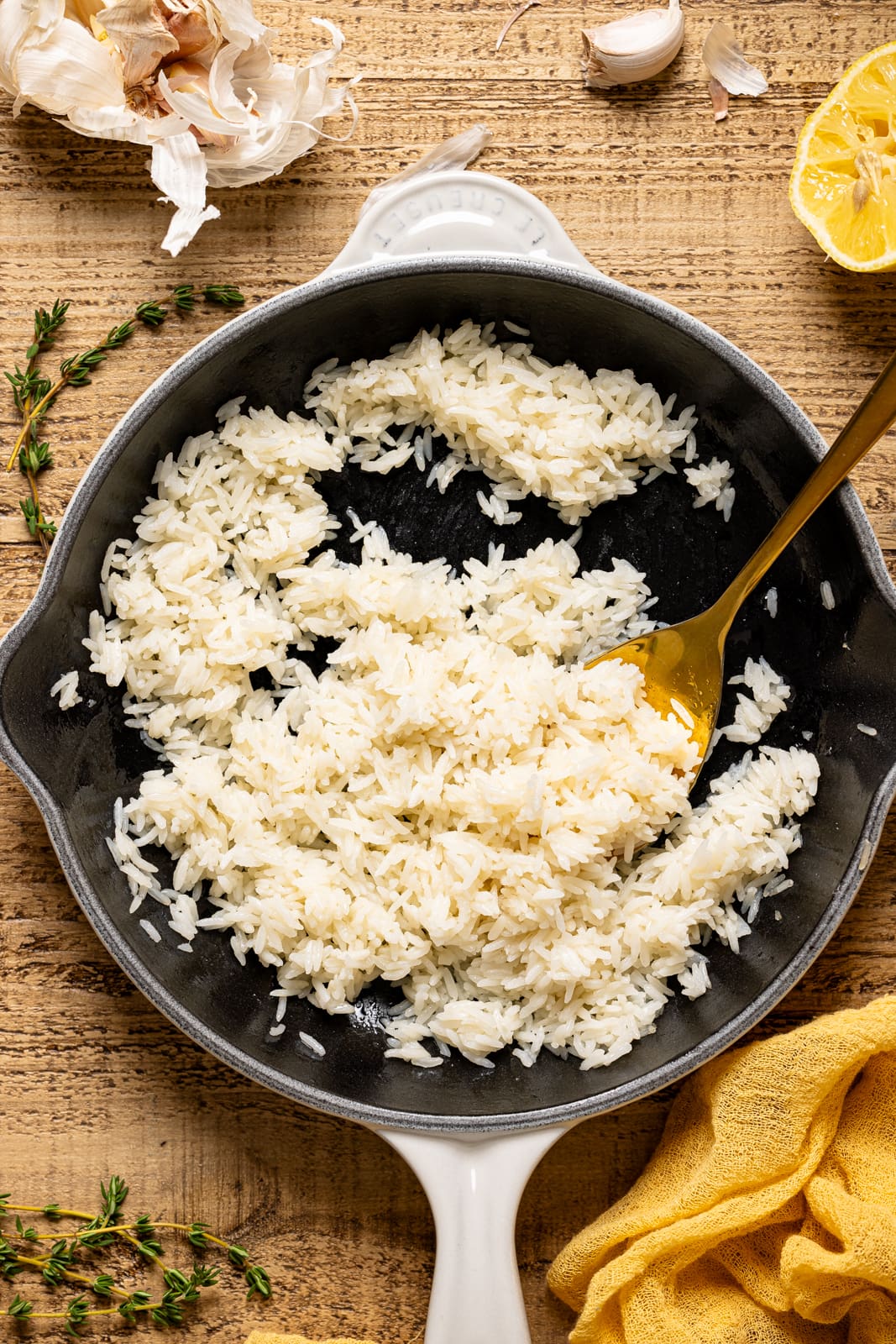 What White Wine is Best for this Creamy Sauce?
I tend to use a lot of white cooking wine, which is easiest for me. However, I do occasionally add quality white wine to my dishes and I recommend using a dry white wine.
A dry white wine will add the right amount of acidity rather than sweetness, which will better compliment your dish like this Creamy Tilapia. In general, any of the following dry white wines work great in this dish:
Pinot Grigio, Pinot Gris, Sauvignon Blanc, Pinot Blanc, and dry sparkling wines.
Common Q + A's for this Creamy Lemon Garlic Herb Tilapia
How to store leftovers?
Any leftovers can be kept in a tightly sealed container and refrigerated for up to 3-4 days.
Can I use something else besides olive oil?
Yes! You can also use vegan butter, coconut oil or grapeseed oil, instead of olive oil.
Can I use other greens besides kale?
Of course! To add a bit more flavor to this dish, you can always feel free to add in your favorite greens such as spinach, broccolini, collards, asparagus, etc.
Is garlic powder good instead of fresh garlic?
While I love adding garlic powder to the sauce of any dish, I usually do this in addition to fresh garlic which gives an explosion of flavor! However, short answer: granulated garlic does the trick too and works great if you don't like garlic pieces in your sauce.
Should I use lemon slices or lemon zest?
Honestly, it's totally up to you. I love adding lemon slices for extra bold flavor in my sauce, however, using 1 teaspoon of lemon zest should add a nice amount of lemony flavor as well!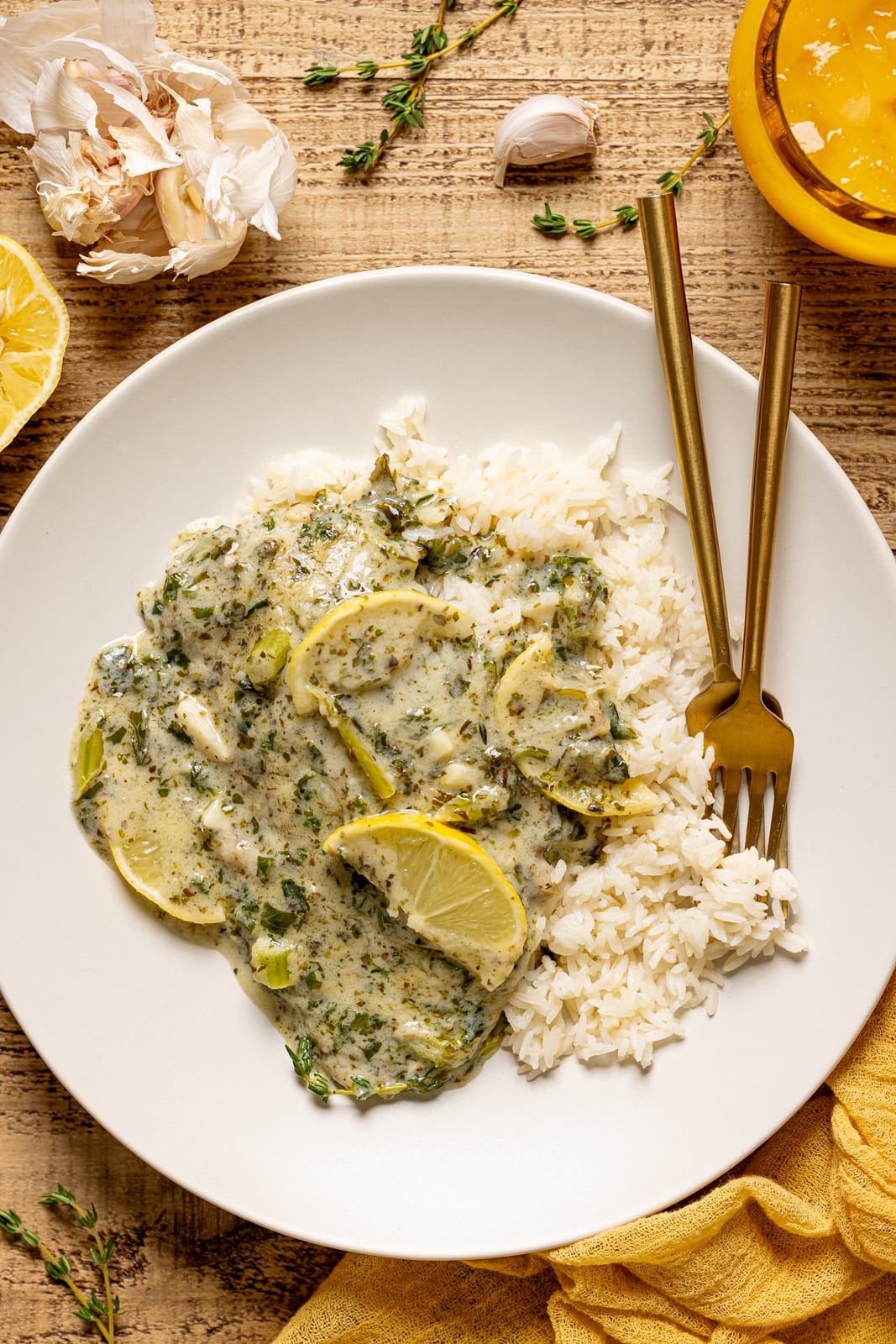 More Delicious Easy Weeknight Recipes to Try Next!
Now that you've fallen in love with the convenience and ease of this recipe, you'll want to check out these great meal options for the entire family:
MADE OUR RECIPE(S)?
If you tried this Creamy Lemon Garlic Herb Tilapia recipe or any other recipe on my website, please please leave a 🌟 star rating and let me know how you go in the 📝 comments below. I love hearing from you.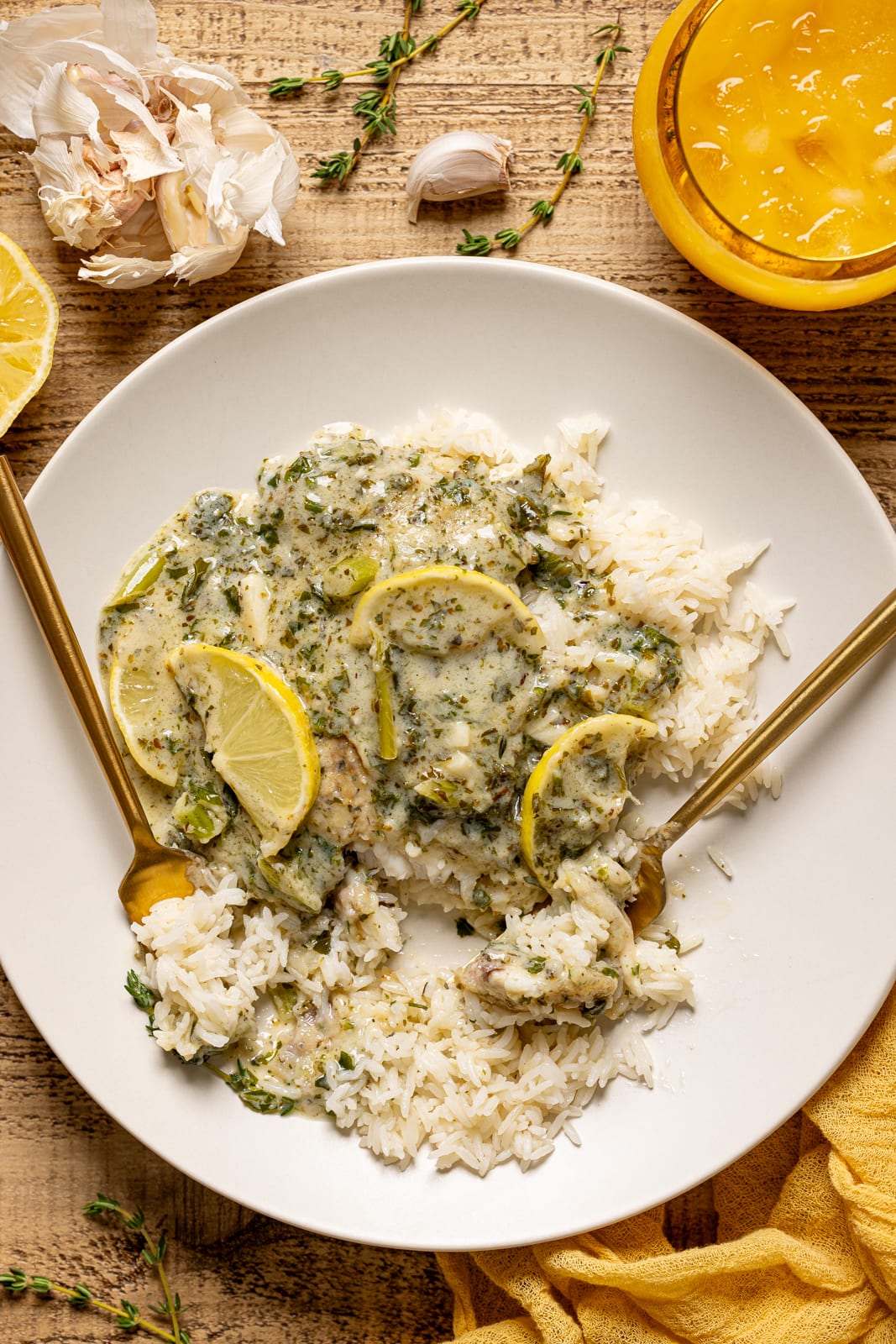 CREAMY SAUCE:
2

Tbsps

Extra virgin olive oil

4-6

garlic cloves, minced

1

(14 oz.) can

full-fat coconut cream/milk

½

cup

vegetable or seafood stock, organic

2

Tbsps

white cooking wine, optional

(You can sub with additional stock)

1

lemon, freshly-squeezed

1

tablespoon

cornstarch + 2 Tbsps water

1

cup

freshly-grated dairy-free parmesan cheese

1

cup

organic kale, chopped

½

lemon, sliced thin (seeds removed)
HERBS/SEASONINGS:
1

teaspoon

sea salt

1

teaspoon

black pepper

1

teaspoon

garlic powder

1

teaspoon

dried parsley

1

teaspoon

dried oregano

1

teaspoon

dried basil

1

teaspoon

dried thyme

1

teaspoon

dill
TO SEAR/DEFROST THE TILAPIA:
In a medium skillet over medium-high heat, add the two pieces of tilapia (straight from the freezer) and sear for 5 minutes before turning it over to it's opposite side to sear for another 5 minutes. Once each side becomes golden and the tilapia has defrosted, remove from the skillet and set aside on a plate.
TO MAKE THE CREAMY SAUCE:
In the same medium skillet over medium-high heat, add the olive oil. Once heated, add the garlic cloves and sauté for 1 minute or so, until fragrant.


Add the herbs +seasonings, stirring until combined.


Reduce the heat to medium-low and slowly add in the coconut cream/milk, stock, lemon juice, and white wine, stirring until combined. Let it slightly bubble for 1-2 minutes and then add in the freshly grated dairy-free parmesan, whisking until fully melted.To thicken the sauce, mix together the 1 tablespoon cornstarch + 2 Tbsps water in a bowl and slowly add to the sauce, whisking continuously until the sauce thickens, about 1-2 minutes. Add in the chopped kale and lemon slices, stirring until combined and let it simmer for 2-3 minutes, stirring frequently.


Reduce the heat to low and add in the set aside tilapia, ensuring that it is covered in the sauce and coated allowing everything to simmer for 5-10 minutes.

Remove from heat and serve immediately with a side of rice. Enjoy!


Bon Appetit!
STORAGE: Any leftovers can be kept in a tightly sealed container and refrigerated for up to 3-4 days.
SEA CUISINE TILAPIA: To learn more about Sea Cuisine's Garlic & Herb Tilapia + where to buy, simply visit their website!
OIL: You can also use vegan butter, coconut oil or grapeseed oil, instead of olive oil.
GREENS: To add a bit more flavor to this dish, you can always feel free to add in your favorite greens such as spinach, broccolini, collards, or asparagus.
Calories:
380
kcal
|
Carbohydrates:
56
g
|
Protein:
7
g
|
Fat:
15
g
|
Saturated Fat:
2
g
|
Polyunsaturated Fat:
2
g
|
Monounsaturated Fat:
10
g
|
Sodium:
1187
mg
|
Potassium:
335
mg
|
Fiber:
5
g
|
Sugar:
2
g
|
Vitamin A:
3409
IU
|
Vitamin C:
62
mg
|
Calcium:
170
mg
|
Iron:
3
mg