These are the best fully loaded Roasted Sweet Potato and Black Bean Tacos with cilantro-cashew dressing and pineapple-jalapeño salsa. Perfect for taco Tuesday or any night. 
Roasted Sweet Potato Black Bean Tacos-----If you're like me and love a taco night, then this recipe is for you. It's a vegan and gluten-free take that everyone can get behind. Each taco gets piled high with spicy, herby roasted sweet potatoes, protein-rich taco-spiced black beans, tangy pineapple salsa with a kick, and creamy dairy-free cilantro sauce.
You can't go wrong with a stack like that for dinner! Plus, everything can be made ahead of time and assembled in a few minutes if you're meal prepping.
Ingredients for Roasted Sweet Potato Black Bean Tacos
The secret to building major flavor in these tacos is to season your potatoes, beans, salsa and sauce well. Here's what I use to make the best roasted sweet potatoes for tacos:
Large sweet potatoes. I remove the peel, but you can leave it on if you like.
Oregano
Parsley
Basil
Paprika
Garlic powder
This blend of dried herbs, spices and seasonings is earthy, aromatic, a bit spicy and totally savory. However, if you prefer a different blend of dried herbs, feel free to use more or less of one or another. You could also swap in rosemary, cilantro, or marjoram. Make it your own!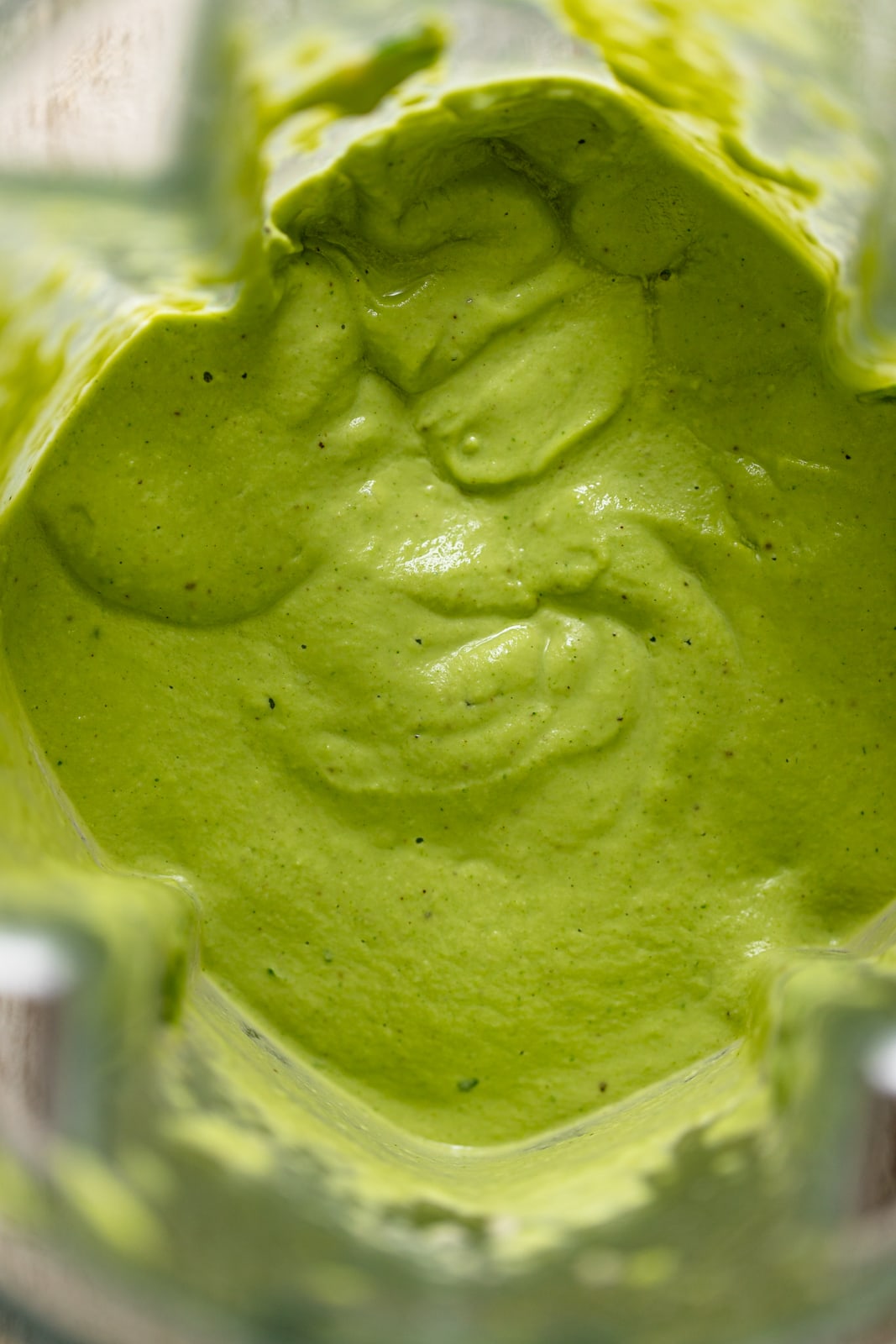 Beans for Roasted Sweet Potato Black Bean Tacos
For the sautéed black beans that add protein to these vegetarian sweet potato tacos, I use:
A can of black beans, though you could also use cooked dried beans
Oregano, paprika, garlic powder, and cumin
Again, feel free to mix and match the seasonings to suit your taste buds. A pre-mixed taco seasoning also works!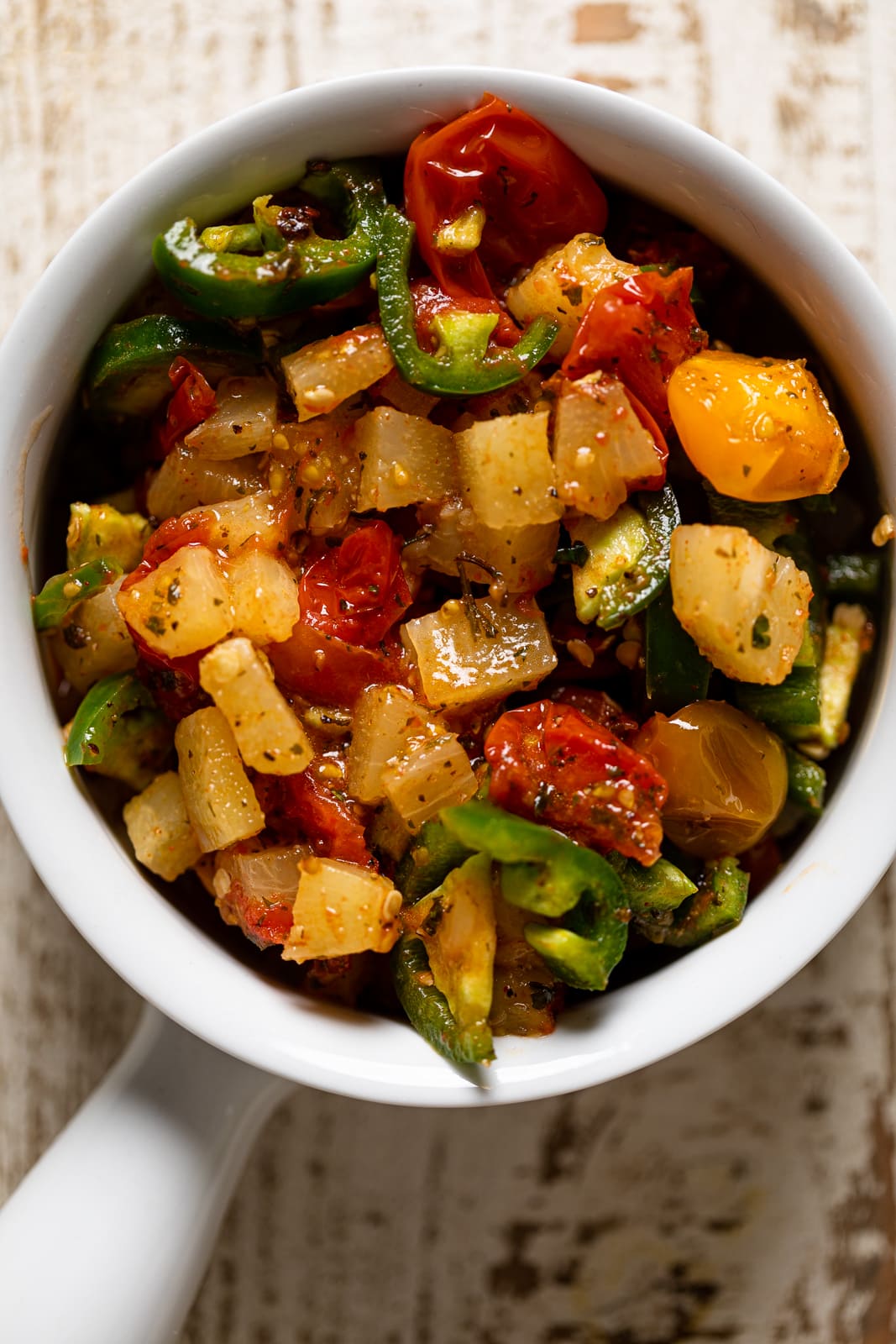 Cilantro Cashew Dressing for Tacos
I like to add a creamy factor to all of my tacos. In this case, it's a dairy-free sauce made with plenty of fresh herbs and soaked cashews. You'll need a high-speed blender for best results, but you can definitely make this in a regular blender (it just takes a few more minutes).
To season this creamy dressing, use fresh lemon juice, a bit of agave, and apple cider vinegar. You can also use honey if you're not vegan.
Pineapple-Jalapeño Salsa
For a kick of sweetness and heat, whip up a  simple fruity jalapeños salsa. This taco topping is made with:
Fresh pineapple
Fresh jalapeños (remove the seeds for less spicy)
Roasted herb tomatoes. See how to make them here, or use fresh diced tomatoes
Lime juice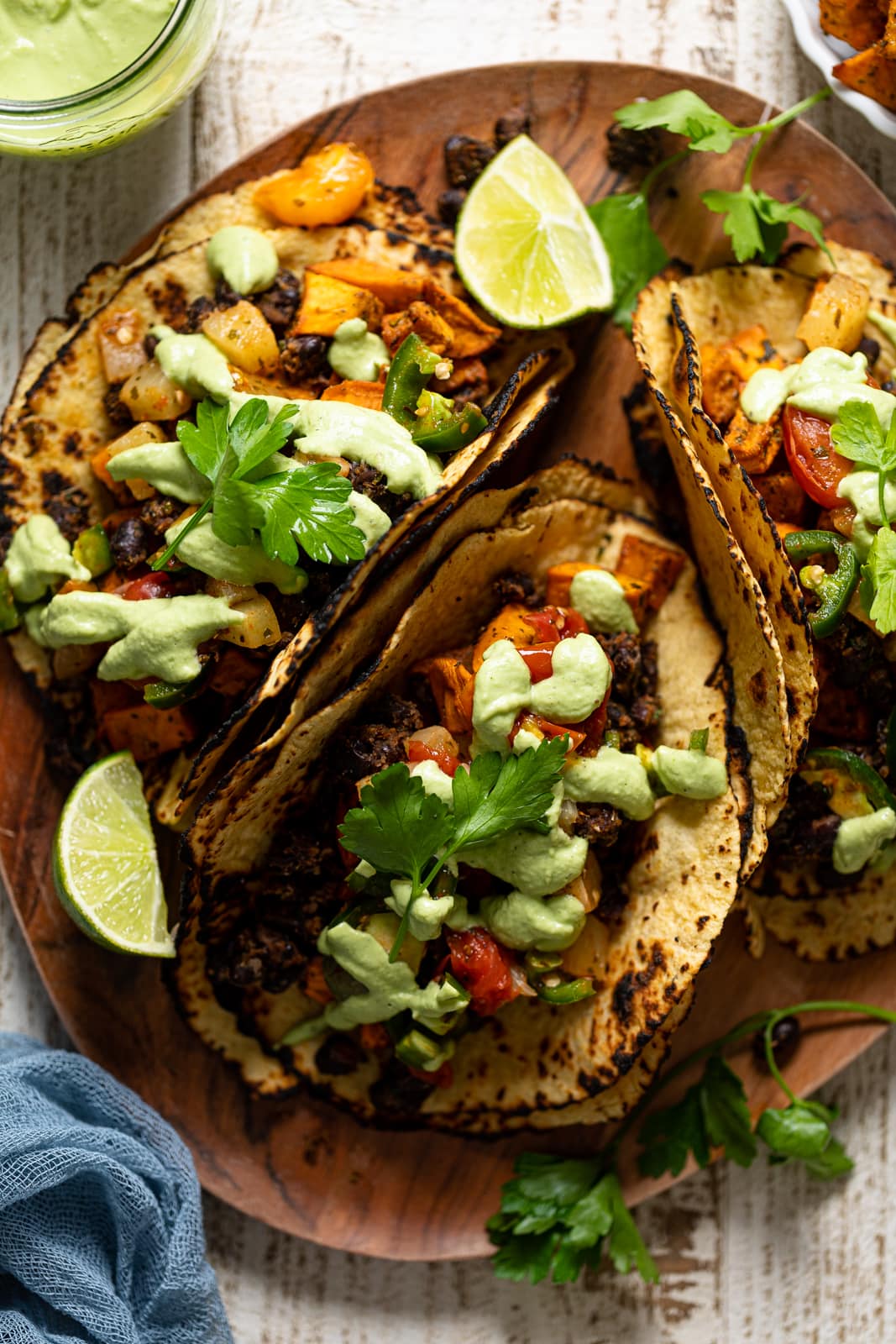 Storing Leftovers Sweet Potato Black Bean Tacos
Store leftover taco components in separate air-tight containers in the fridge for up to four days.
You can reheat the beans and roasted sweet potatoes in the microwave or in a skillet on the stove to make tacos for lunch the next day.
The salsa also makes a great topping for chips, grain bowls or salad! And you can use the cashew cilantro sauce on sandwiches, salads, or as a dip.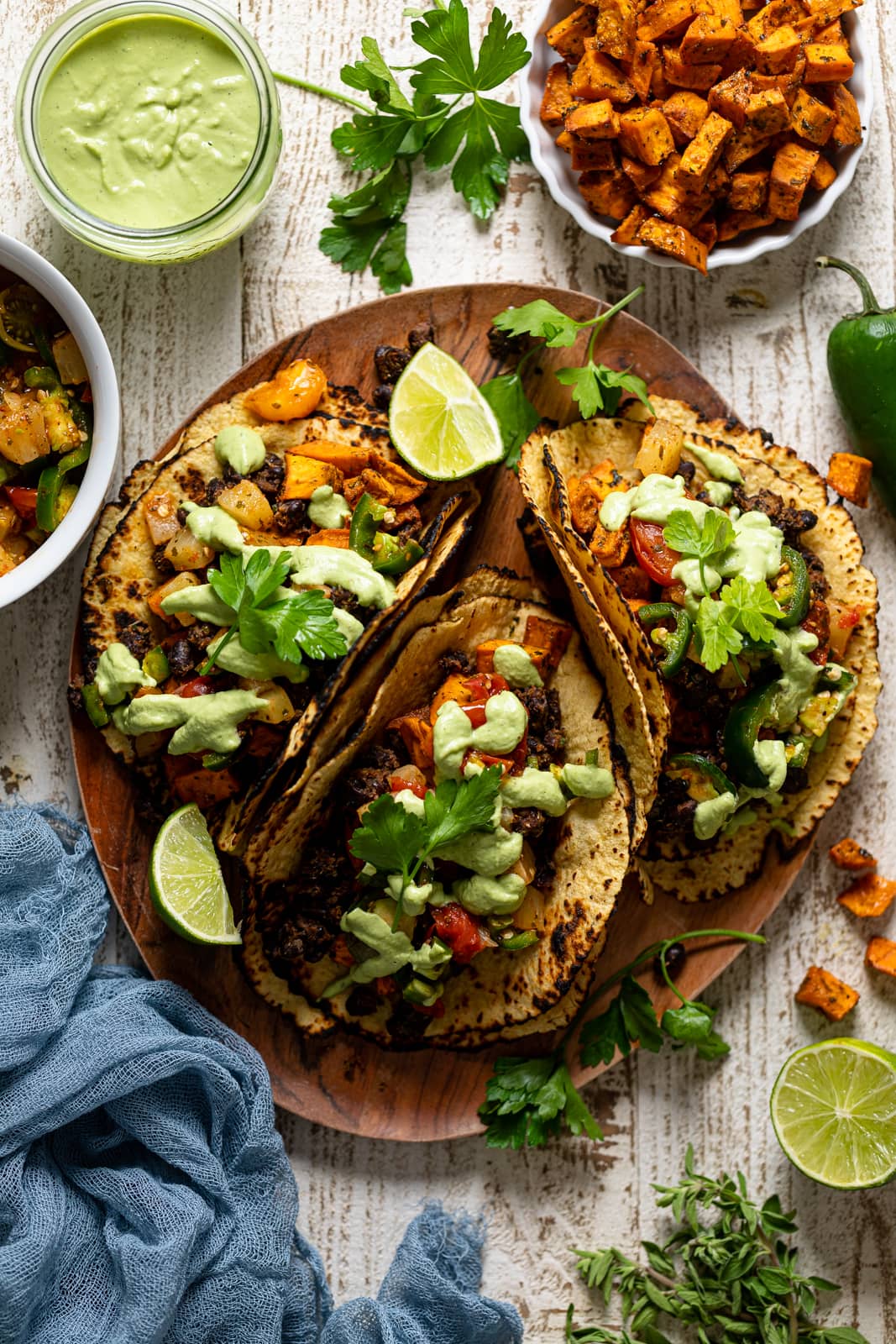 More Weeknight Taco Recipes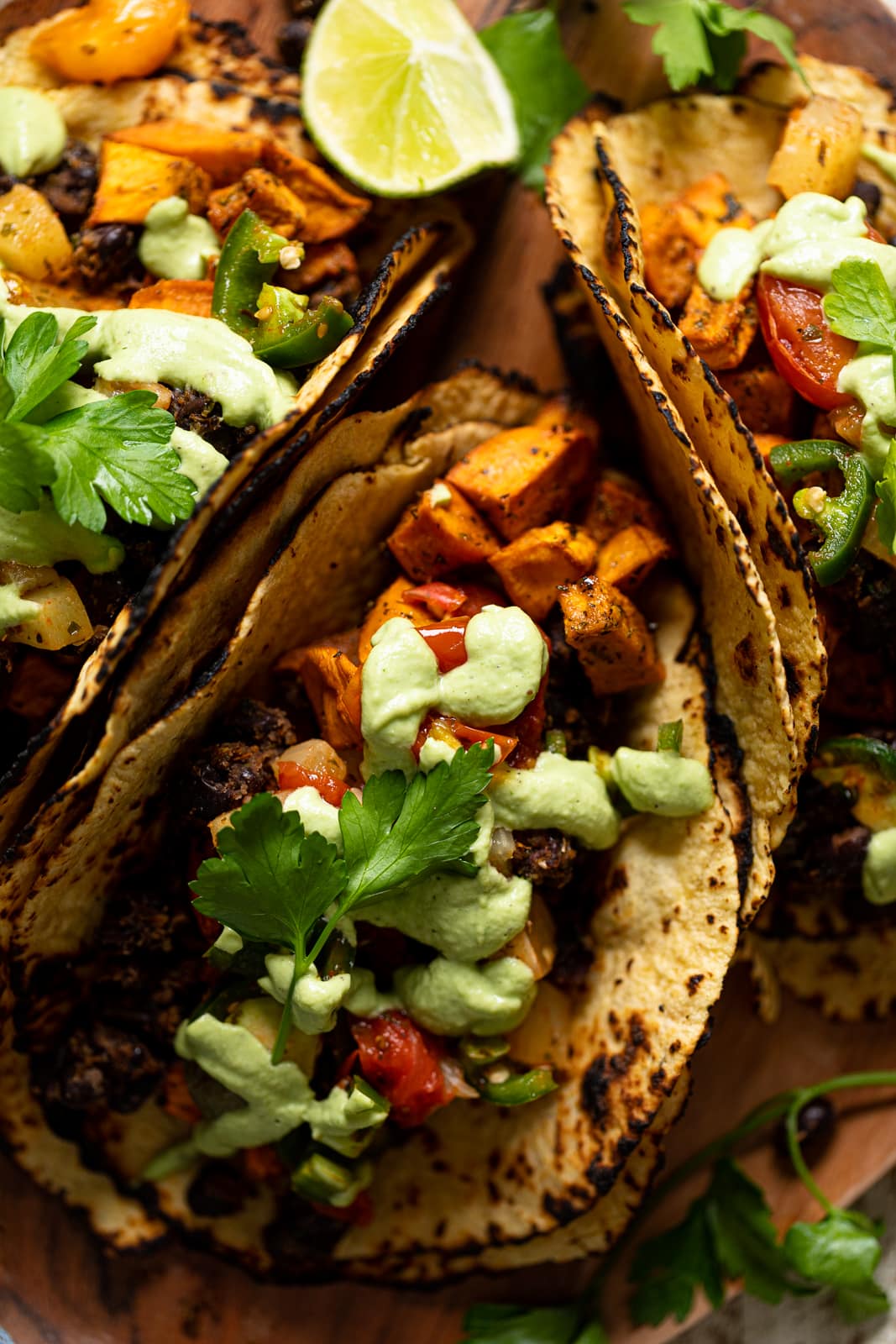 MADE OUR RECIPE(S)?
If you make these Roasted Sweet Potato and Black Bean Tacos, tag @orchidsnsweettea_ on Instagram and hashtag it #orchidsandsweettea
CILANTRO CASHEW DRESSING:
PINEAPPLE-JALAPENO SALSA:
2

cups

pineapple chunks

2

Jalapeños

1

cup

roasted herb tomatoes

1

teaspoon

freshly-squeezed lim juice

Pinch of

sea salt + black pepper, to taste
TO ROAST THE SWEET POTATOES:
Preheat the oven to 400 degrees Fahrenheit and prepare a baking sheet by lining them with parchment paper.

In a bowl, add the cubed sweet potatoes along with the olive oil and all seasonings, gently mixing everything together until veggies are fully coated.

Add the veggies unto the baking sheet (in a single layer) and and bake for 20-25 minutes or until sweet potato is charred and golden. Remove from oven.
TO SAUTE BLACK BEANS:
In a medium skillet over medium-high heat, add olive oil. Once heated, add the black beans, salt, pepper, garlic powder, oregano, smoked paprika, and cumin mixing together and cooking corn until it becomes tender, stirring occasionally, about 5-6 minutes. Remove from heat and let cool slightly.
TO MAKE THE CILANTRO CASHEW DRESSING:
Add all ingredients into a high-powdered blender (cashews first) and blend until sauce becomes creamy. NOTE: If needed, add a bit more lemon juice or water (1 tablespoon at a time), until desired consistency is met. Set aside.
TO MAKE THE PINEAPPLE-JALAPENO SALSA:
In a bowl, add together the pineapple chunks, chopped jalapeños, roasted tomatoes, lime juice, and salt + black, mixing everything together until combined.
CHAR OR WARM TORTILLAS:
To lightly toast taco tortillas, preheat oven on 350 degrees Fahrenheit and place tortillas directly on rack. Turn off oven once heated and let tortillas warm for 2 minutes. Remove from oven. For char on a stovetop, pop one of the tortillas unto a gas burner until you begin to see a little smoke. Remove tortilla to rotate it onto opposite side until it's lightly charred. Repeat until all tortillas are charred.
ASSEMBLE TACOS:
To assemble tacos, add 3-4 Tbsps of cubed sweet potatoes, atop a charred tortilla followed by: sautéed black beans, pineapple-jalapeño salsa, and the cilantro cashew dressing. Garnish with fresh cilantro, if desired. Repeat until desired amount of tacos are made.

Bon Appetit!
STORAGE: Place any leftover ingredients (separately) in a tightly sealed container in the refrigerator for up to 3-4 days.
MAKE AHEAD: All ingredients can be made and individually stored as meal prep (excluding tortillas) and assembled when ready to serve.
SOAKED CASHEWS: Add cashews to a bowl or measuring cup, cover with fresh cold water and cover with plastic wrap and let sit at room temp overnight. If soaking for 3-4 hours, add cashews to measuring cup and cover with boiling water instead.
Calories:
404
kcal
|
Carbohydrates:
61
g
|
Protein:
12
g
|
Fat:
15
g
|
Saturated Fat:
2
g
|
Polyunsaturated Fat:
2
g
|
Monounsaturated Fat:
9
g
|
Sodium:
589
mg
|
Potassium:
1028
mg
|
Fiber:
12
g
|
Sugar:
22
g
|
Vitamin A:
16692
IU
|
Vitamin C:
25
mg
|
Calcium:
115
mg
|
Iron:
5
mg
Roasted Sweet Potato Black Bean Tacos.