This delicious Jamaican Vegan Peanut Punch recipe is a healthier take on the delicious traditional Jamaican Peanut Punch, which includes bold flavors of Peanuts and Rum (optional) and is beautifully textured to create a smooth drinking experience. This Vegan version boasts it's creaminess, velvetiness, nuttiness, and generous play on warming spices and a hint of oats. The perfect drink to enjoy during family lunch or dinner or a great way to kick start your morning. Blender-free option!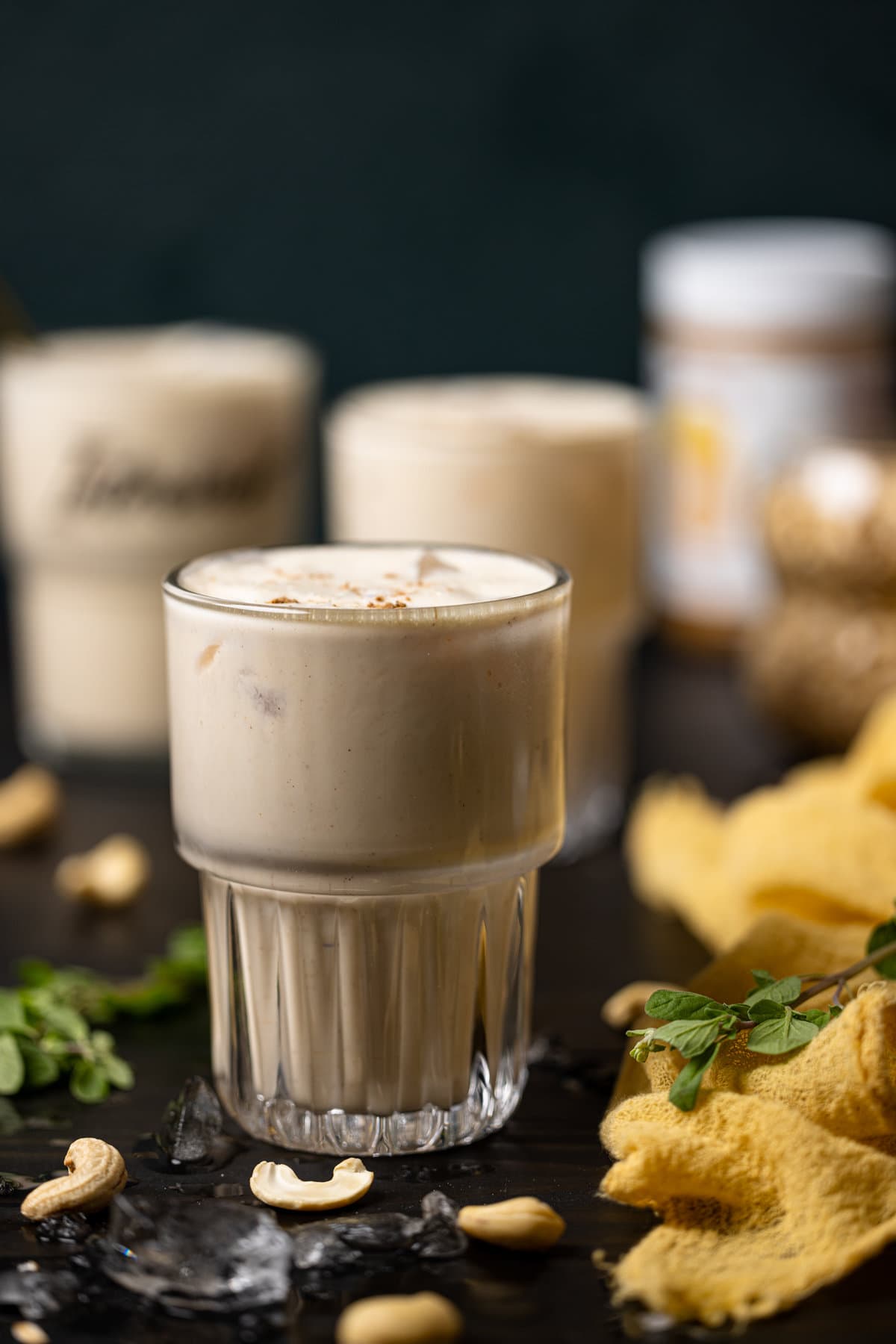 Disclaimer: This post contains affiliate links via Amazon for products that I wholeheartedly love.
When it comes to drinks in general, they truly have a special place in my heart. If you've been following Orchids + Sweet Tea for sometime, then you're aware of how excited I get whenever I am able to represent my Jamaican background in recipe form and this deliciously creamy Jamaican Vegan Peanut Punch is one of the ones that I have on repeat in our house. I literally make this and store leftovers in the refrigerator for my husband and I to enjoy and it's just as good!
I know that people enjoy more fruity drinks, however, so I highly recommend trying my Jamaican Me Happy Mocktail.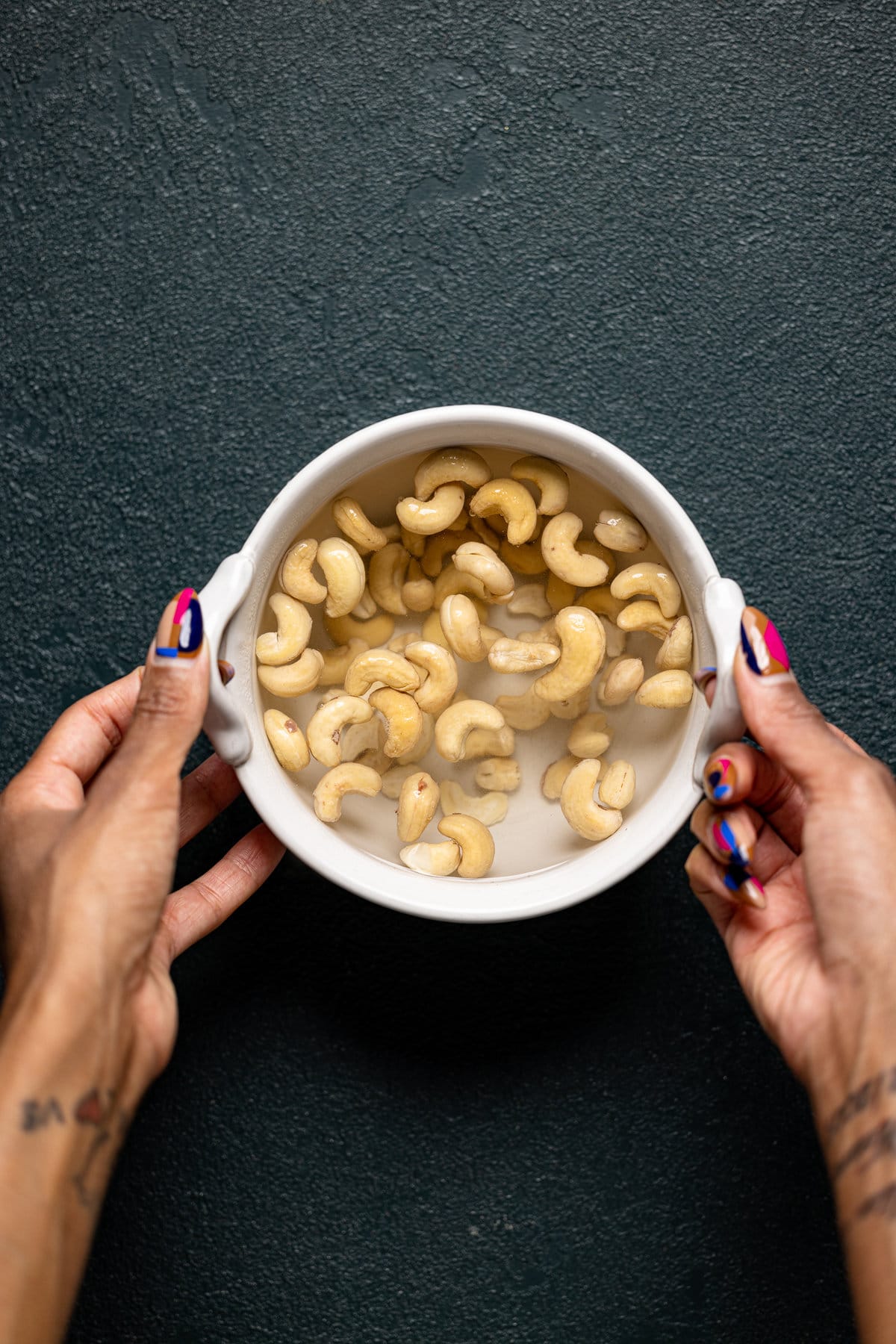 Why is Peanut Punch Good For Men?
OK, so in case you aren't too familiar with this drink, let's talk about it. As I mentioned previously, traditional peanut punch is considered "Jamaican Strong Back" for this main reason: it has it's advantages for men. There is a notion that this drink (when made traditionally) helps to enhance sexual performance, perhaps because it's said to increase testosterone levels. How? Mainly because of the health benefits of peanuts themselves, which include:
Vitamins + Minerals: i.e. Vitamin E which has antioxidant, Magnesium which is important for muscle function + energy production, and a host of other things.
Niacin: An excellent source of this important B Vitamin that helps to convert food into energy, aides in digestion, the nervous system, and helps with the skin.
Biotin: Contains an excellent source of biotin, which enormously helps with physiological well-being. 
Protein: Protein is essential for building and repairing body cells. 
Plus others: Healthful fats, Fiber, etc.
Why Use Peanut Butter in Peanut Punch?
Ok, now let's get back to this Peanut Punch! I love using Peanut Butter and have always been a HUGE fan since I was a kid growing up. Honestly, I can only eat chocolate (and truly enjoy it) when there's peanut butter involved. Anyone else can relate?
While traditional peanut punch contains raw peanuts, if for any reason you don't have any on hand and still want to enjoy this drink, substituting them with organic peanut butter works and gives you some of the health benefits as raw nuts would. 
So, of course, having this drink mostly made of peanut butter was a WIN, WIN for me! Haha. Because I love it so much, I chose to add a few extra dollops of peanut butter to create a thicker consistency. Rest assured, you don't need to do this unless you're a lover of this stuff like I am.
Usually, I enjoy using Justin's Peanut Butter, but on my recent trip to the Organic Market, I came across Earth Balance's Peanut Butter with Flaxseed and I had to give it a try! Thank goodness I did! It's so tasty! Plus, it comes loaded with Omega-3, Sweetened with Agave, 0 grams of trans fat, and a host of other things that makes it a great Vegan option!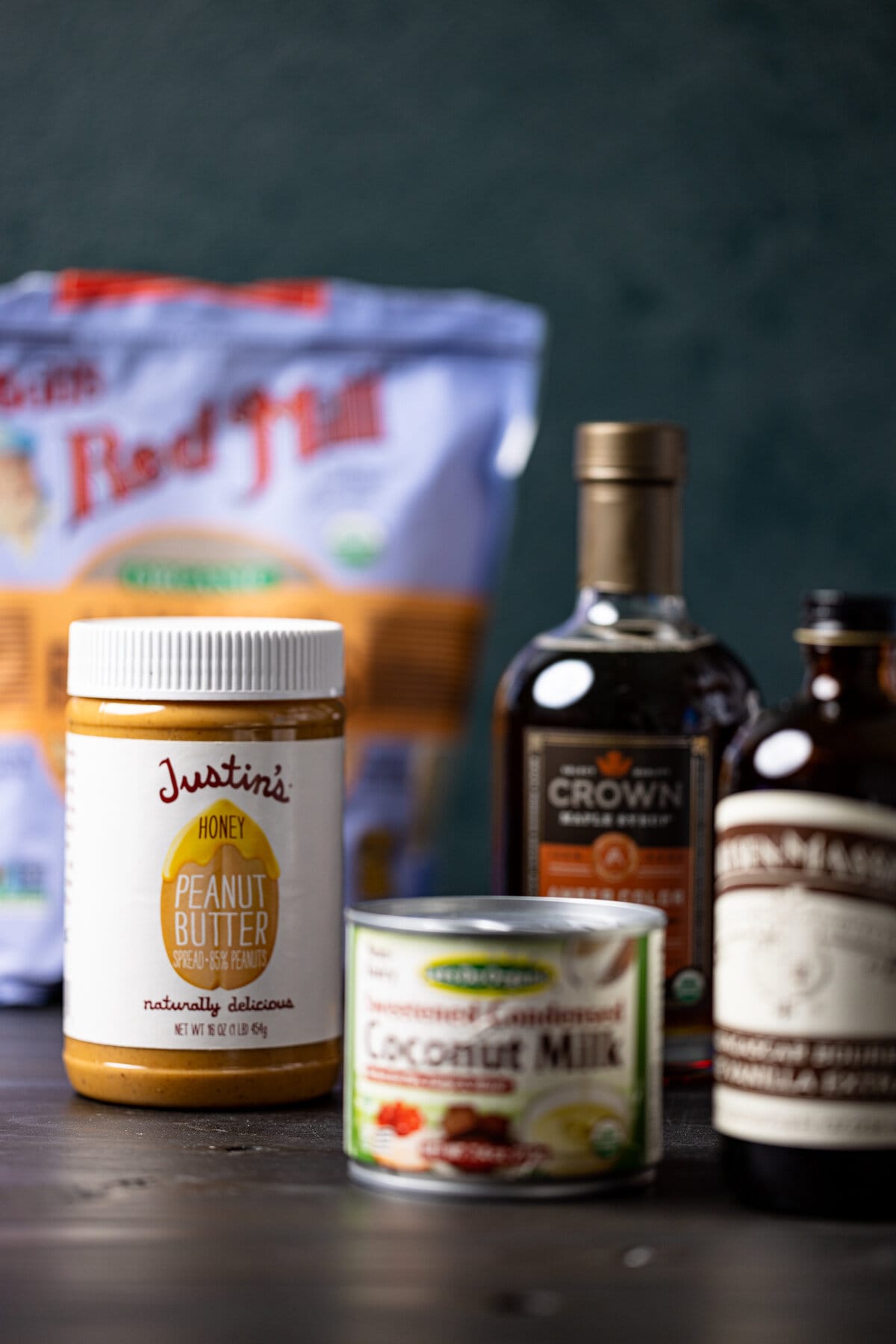 Ingredients for Jamaican Vegan Peanut Punch
Here's what you need to make this Jamaican Vegan Peanut Punch:
Raw Peanuts. You'll be using raw peanuts (with or without their shell). In a pinch or for preference, you can use organic peanut butter as I've done in this recipe! I love Justin's or Earth Balance.
Raw Cashews. You'll be soaking these overnight or quicker in a bowl of boiling water. Drain and rinse. NOTE: If using raw peanuts, you won't need the cashews.
Almond milk. Choose unsweetened. Feel free to use a different plant-based milk if you like. I recommend making easy

homemade almond milk (my recipe doesn't require soaking!)

Spices. For an extra hint of warming spice, I like to use cinnamon and nutmeg.
Vanilla extract. This complements the flavors.
Maple syrup. This sweetens the peanut punch. Best to get pure maple syrup which is organic and high-quality. You can totally omit this if preferred.
Condensed milk. For this recipe, I used dairy-free condensed milk by Let's Do....Organic. Such a nice creamy substitute.
Thick Cut Rolled Oats. The oats in this drink adds extra protein and body. Choose gluten-free if necessary. You can also use old fashioned if preferred. If preferred, you can substitute with flaxseed meal.
Alcohol (optional). If you'd like to keep things traditional, you can add Guinness Stout or White Rum for a little pizazz.
Coconut whipped cream. For a nice smoothness after every sip, I like to top with a light dollop coconut whipped cream sometimes. Make your own or use a store-bought version like So Delicious Dairy-Free.
Why Sweetened Condensed Milk is so important!
First, I must let you know that Sweetened Condensed Milk is a canned milk that has 60 percent of it's water content removed, making it thicker in consistency.
Also, it has 40-45% sugar, making it a great sugar substitute in recipes that use sugar. More importantly, condensed milk creates a caramelized flavor along with it's sweetness, which give the dishes that require it, a beautiful kick of flavor.
That being said---I generally love using the original Sweetened Condensed Milk like the Eagle Brand's version, however, in this recipe, I love using Edward's & Son's Let's Do Organic's dairy-free coconut version for vegan-friendly meals.
LOOKING FOR A HEALTHIER SWEETENER OPTION?
The Best Healthy Sugar Alternatives + Substitutes list is all about finding better ways to enjoy your favorite sweets without compromising your healthy lifestyle. For those who follow a vegetarian and/or vegan lifestyle, this lists offers a few great ideas to incorporate healthy sweeteners into your diet.
Cutting Down on Soak Time for Cashews
It is required that you soak your cashews for quite some time before blending. By soaking the cashews, you are softening them to prepare the nuts for blending. Without soaking your nuts, the nut milk would contain grit and a less pleasant texture. Soaking the nuts also creates a creamy texture that does not require straining the solids.
My preferred method of soaking my cashews is overnight at room temperature. I also cover the soaking container with plastic wrap so that everything stays really fresh. If you do not have all night or many hours to soak your cashews, you can instead use boiling water.
By using boiling water instead of room temperature, the nuts will soak much faster due to the presence of heat. Soak the nuts in the hot water for only 30 minutes before blending. While this is a great way of quickly soaking cashews, the overnight method produces the optimal texture and creaminess, in my opinion.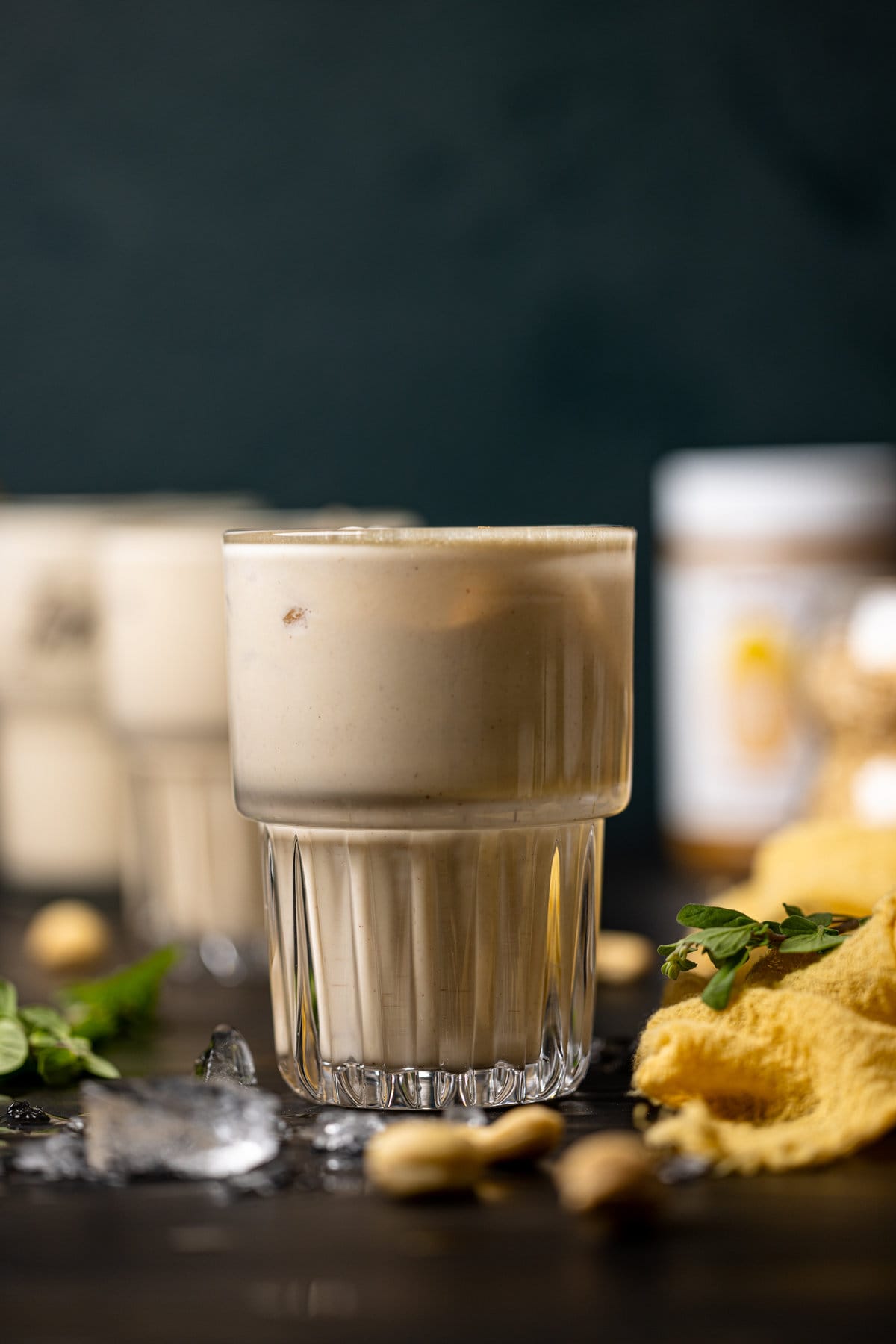 How to Make This Peanut Punch Without a Blender
If for any reason you aren't able to use a blender, you can still enjoy this delicious Jamaican Vegan Peanut Punch. Instead, you can use a hand-mixer and have a perfectly whipped peanut punch drink on hand.
To start, simply crush the raw peanuts (if using) or cashews a bit and add them in a deep bowl with the milk. Let them sit for 2-3 minutes so that they soften a bit more. Next, using an electric hand-mixer, whip on low-speed until nuts are blended in. Then add softened peanut butter (if using), vanilla, cinnamon, nutmeg, oats, maple syrup, and dairy-free condensed milk and whip again until smooth and combined.
Add your peanut punch to your fave glass(es), top with a dollop of coconut whipped cream (optional), a few pinches of cinnamon or nutmeg and wallah!
What Kind of Milk For Jamaican Vegan Peanut Punch
When it comes to vegan milk options, there are so many possibilities. From oat milk (which I use in this recipe) soy milk to nut milk to the newest trend, potato milk, you can find a delicious plant-based option you love. And what makes these milks even better? You can make them from scratch at home! All of these dairy-free milk recipes will work for this deliciously creamy Jamaican Vegan Peanut Punch recipe:
SHOP MY FAVORITE TOOLS FOR COOKING, ESPECIALLY FOR THIS DRINK!
Here, I've curated a list of cooking + baking essentials that I use to achieve my favorite baked goods or cooked meals, especially with this Jamaican Vegan Peanut Punch. Everything from my fave baking sheet, dutch ovens, wooden spoons, high-powered blender, and more. SEE THEM HERE!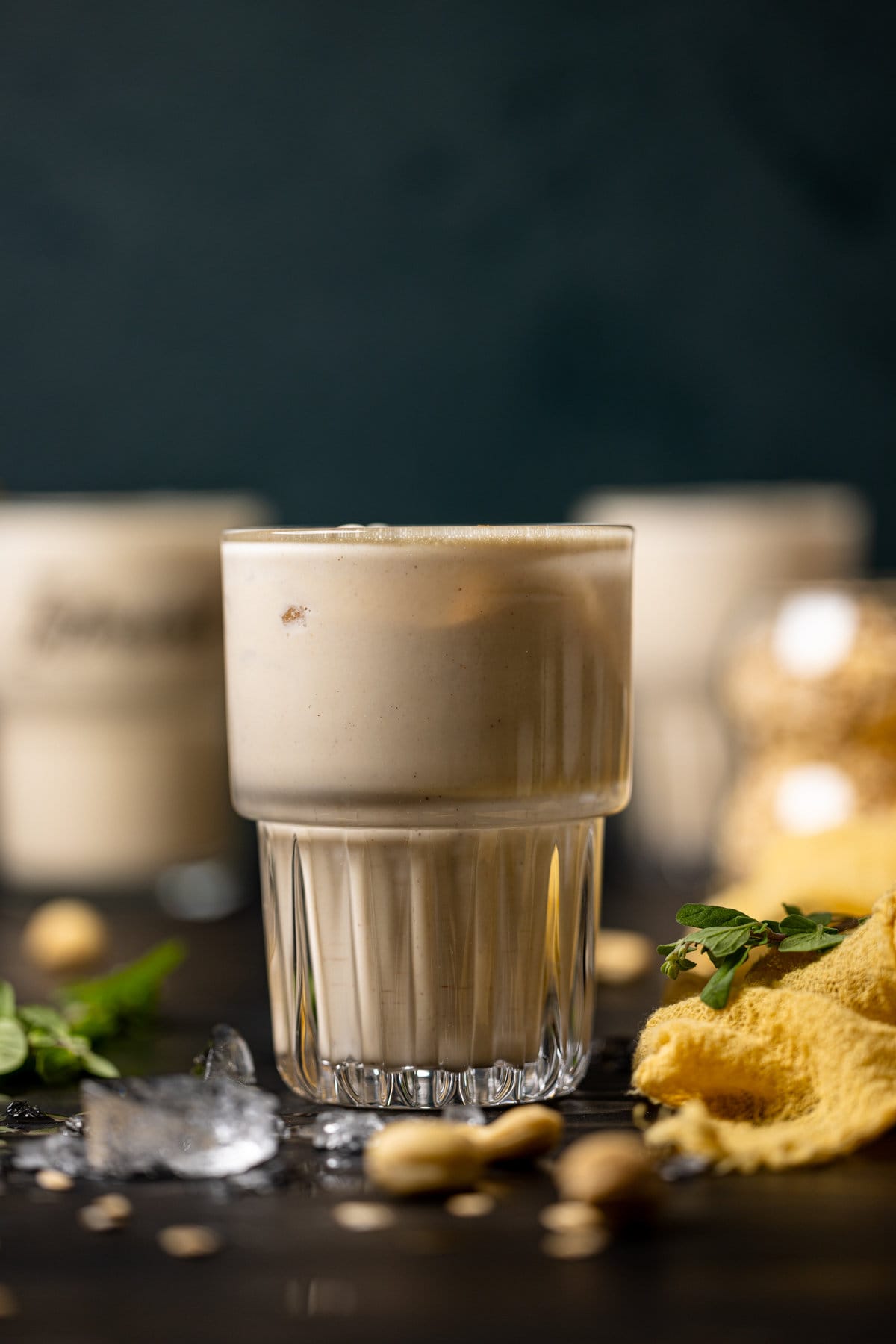 How To Store Leftover Jamaican Vegan Peanut Punch
When properly stored in the refrigerator in a tightly sealed jar, leftovers lasts for 3-4 days. NOTE: Ensure that you do not store leftover peanut punch with any ice as this will "water down" the drink greatly. Always only add ice when serving.
Awesome Peanut Butter-infused Recipes to Try!
If you're loving this Jamaican Vegan Peanut Punch, then you're sure to enjoy these other options as well:
MADE OUR RECIPE(S)?
If you make this Jamaican Vegan Peanut Punch, tag @orchidsnsweettea_ on Instagram and hashtag it #orchidsandsweettea!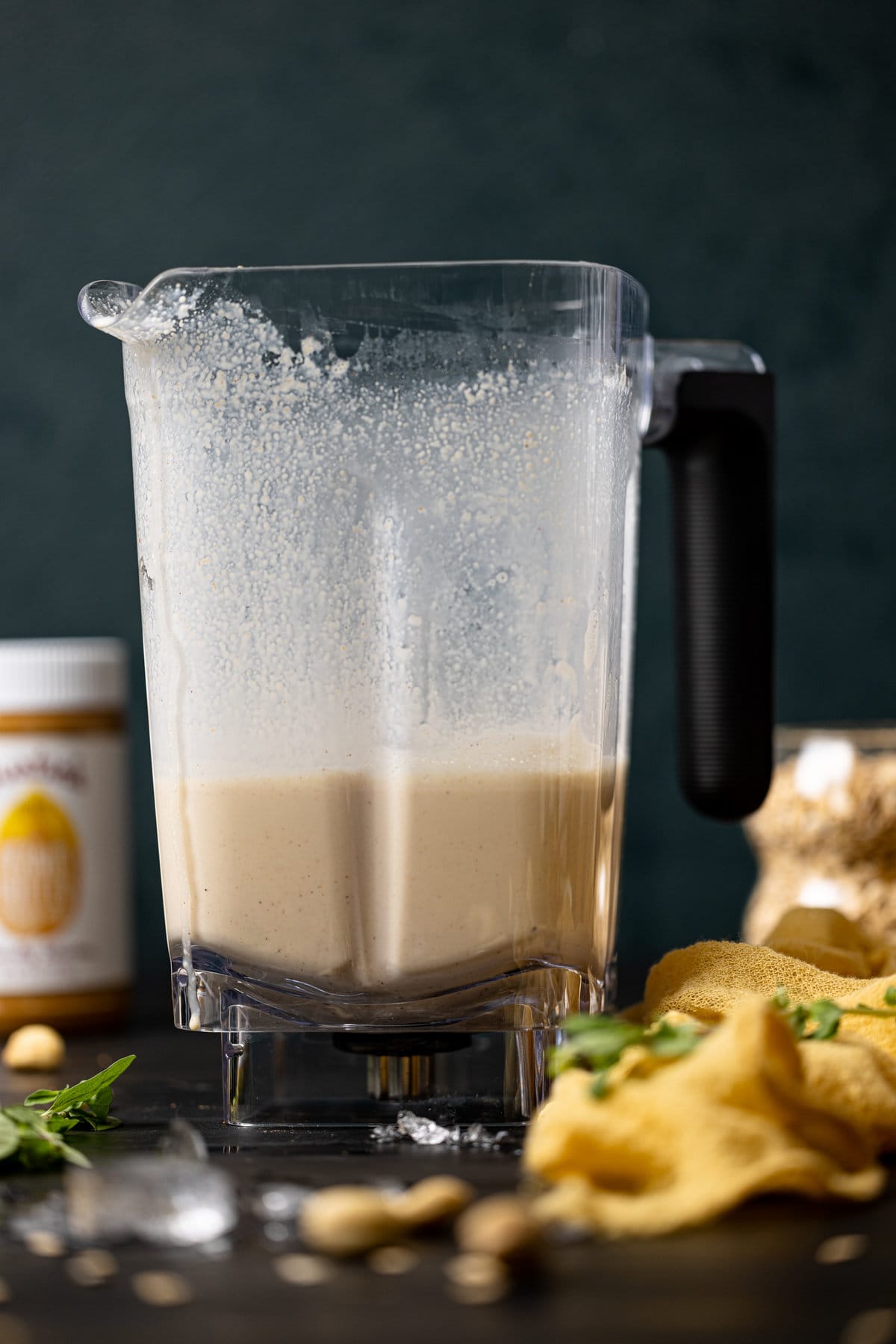 1

cup

organic peanut butter

(You can also sub with raw peanuts; just omit the cashews if using.)

½

cup

raw cashews, soaked overnight + drained

(See Notes!)

¼

cup

organic rolled oats

(You can sub with flaxseed meal also)

4

cups

Almond milk, unsweetend

(You can use your fave plant-based milk)

2

tsps

vanilla extract

½

teaspoon

ground cinnamon

¼

teaspoon

ground nutmeg

1

(7 oz.) can

dairy-free condensed milk

2-3

Tbsps

pure maple syrup

(See Notes!)

Alcohol, optional

(You can add Guinness Stout or White Rum, if desired)
Add the soaked + drained cashews, rolled oats, peanut butter, milk, vanilla, cinnamon, nutmeg, condensed milk, and maple syrup to a high-powered blender and blend on medium-high speed, until smooth, about 1-2 minutes. NOTE: Mixture should be mostly thin with a bit of creaminess. If needed, you can strain your drink (with a mesh strainer or cheesecloth) to avoid any "grainy" bits.

To serve, pour the peanut punch into prepared glass(es) over crushed ice. For extra deliciousness, feel free to top with a dollop of coconut whipped cream and a few sprinkles of cinnamon or nutmeg.

Sip and enjoy!
STORAGE: When properly stored in the refrigerator in a tightly sealed jar, leftovers lasts for 3-4 days.
ALCOHOL: If you'd like to keep this recipe amazing, but want to spruce things up with alcohol, feel free to add 1 ounce of rum, vodka, etc.
SOAKED CASHEWS: To best soak cashews, add 1 cup of cashews to a bowl or measuring cup and cover with cold water, sealing the top with plastic wrap and leaving it out (at room temp.) overnight. When ready to use, drain and rinse. If not able to soak overnight, simply cover cashews with boiling water and let sit for 30 minutes, drain, + rinse.
EQUIPMENT: Here, I've curated a list of drinkware and mocktail essentials that I use to achieve my favorite drinking experiences, especially with this Jamaican Vegan Peanut Punch. Everything from my fave glassware, cocktail shakers, ice cube trays, and more. SEE THEM HERE!
SWEETENER: Instead of maple syrup, you can use substitute sweeteners like honey or Meedjol dates, if preferred.
Calories:
528
kcal
|
Carbohydrates:
30
g
|
Protein:
18
g
|
Fat:
40
g
|
Saturated Fat:
8
g
|
Polyunsaturated Fat:
9
g
|
Monounsaturated Fat:
20
g
|
Cholesterol:
0.1
mg
|
Sodium:
280
mg
|
Potassium:
516
mg
|
Fiber:
4
g
|
Sugar:
14
g
|
Vitamin A:
2
IU
|
Vitamin C:
0.1
mg
|
Calcium:
55
mg
|
Iron:
2
mg
Jamaican Vegan Peanut Punch.