This Butternut Squash Stuffed Shells with Quinoa + Kale is the perfect weeknight meal for the entire family, with creamy ricotta and mozzarella cheese in a savory and herby tomato sauce baked until crisp and golden along with the meatiness of the quinoa, butternut squash, and kale.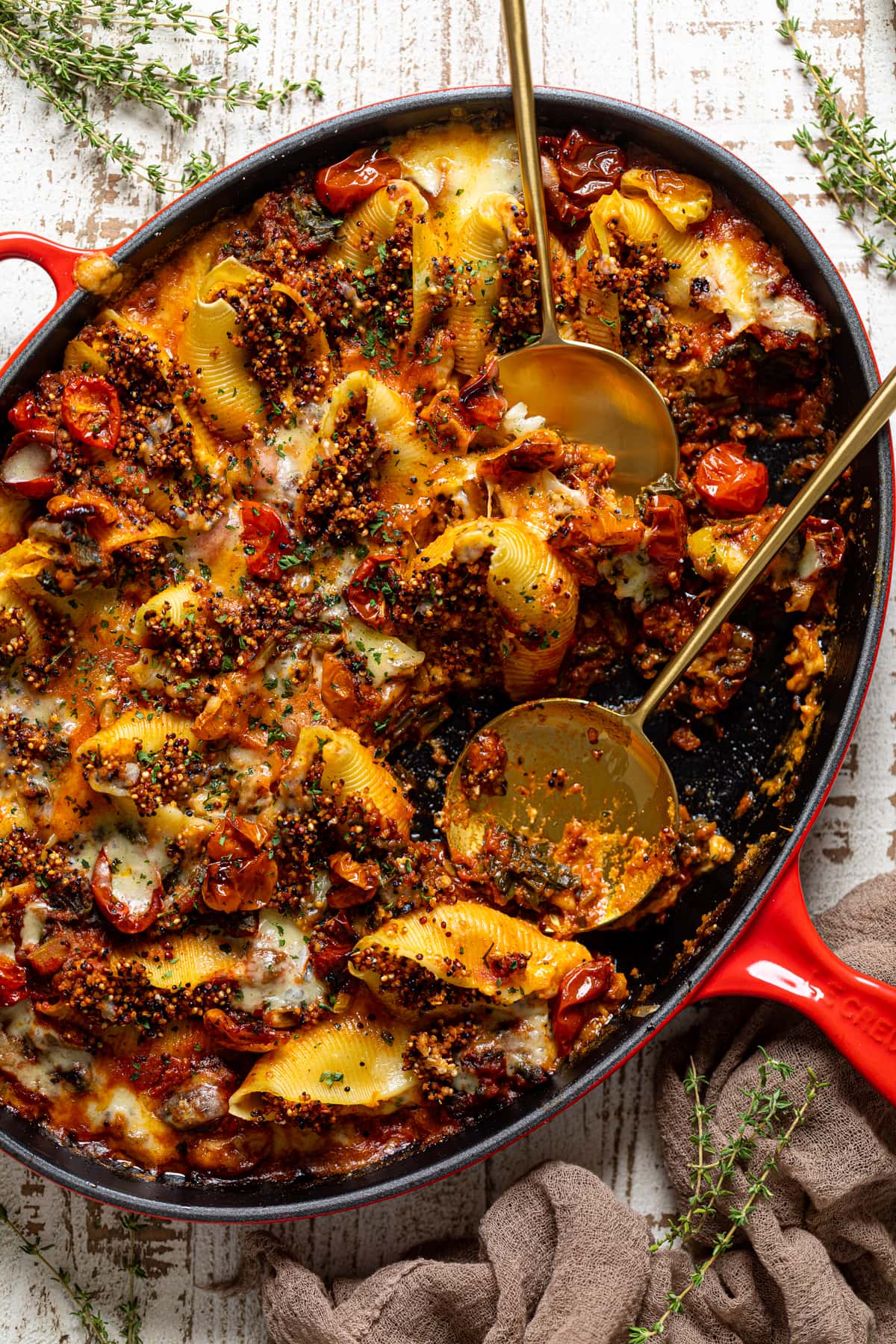 This dish is by far one of my faves during the winter months, especially. The flavor profile in this Butternut Squash Stuffed Shells with Quinoa + Kale recipe is EVERYTHING. That's thanks to the use of quinoa that comes cooked in a slightly spicy tomato sauce mixture and roasted butternut squash that is mashed to perfection. The kale adds a touch of green and a delicious bitter undertone to the otherwise deeply savory and salty dish full of cheese, tender pasta and herbs.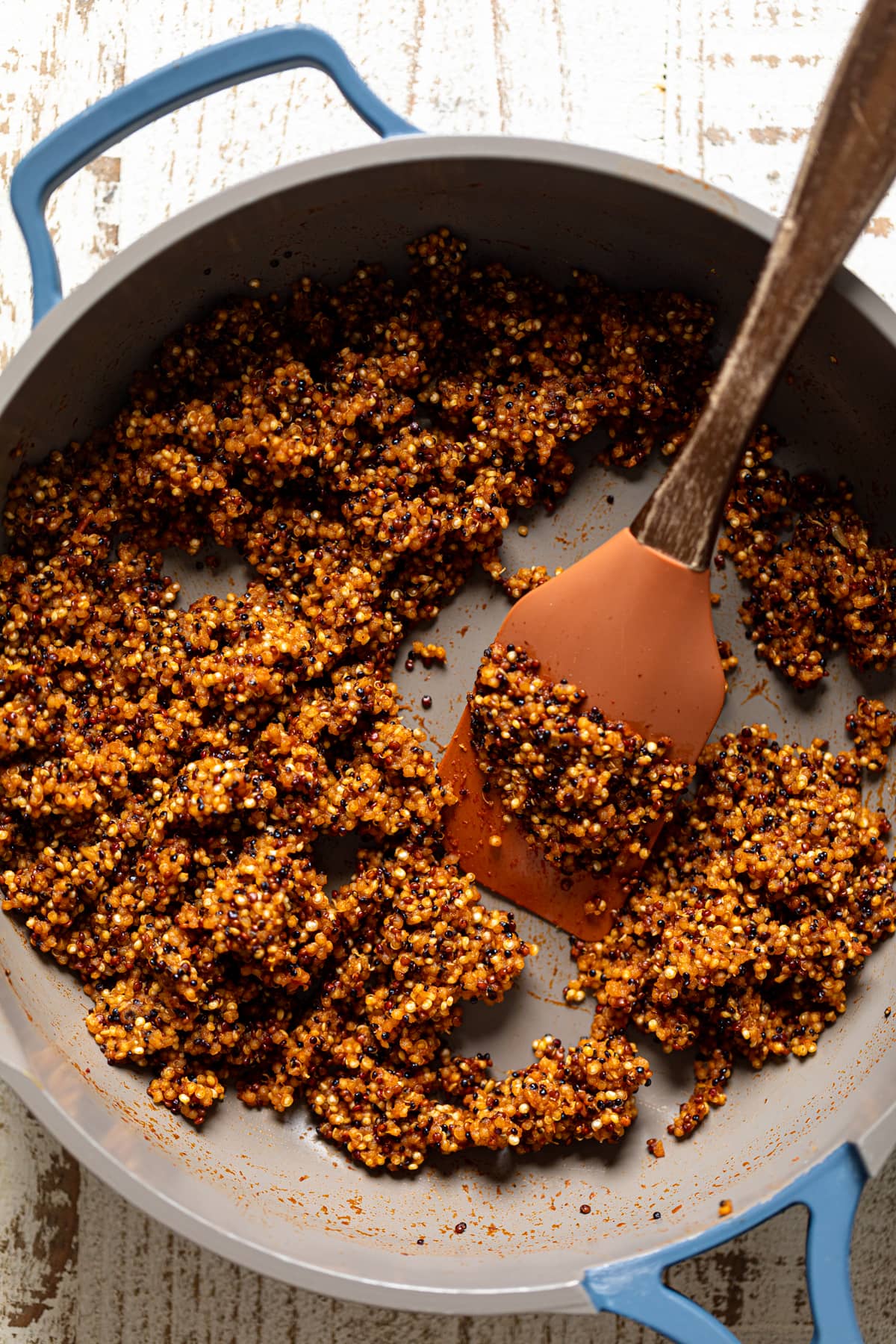 How to Make Butternut Squash Quinoa Stuffed Shells
To keep this recipe simple and straight forward, follow these steps:
Cook the pasta until just al dente (it should have some chew to it).
Whip together the ricotta-butternut squash filling until light and thoroughly mixed.
Layer everything into the baking dish and pop it into the oven!
After about 20 minutes, you'll have a complete dish with protein, starch, and veggies ---all in one.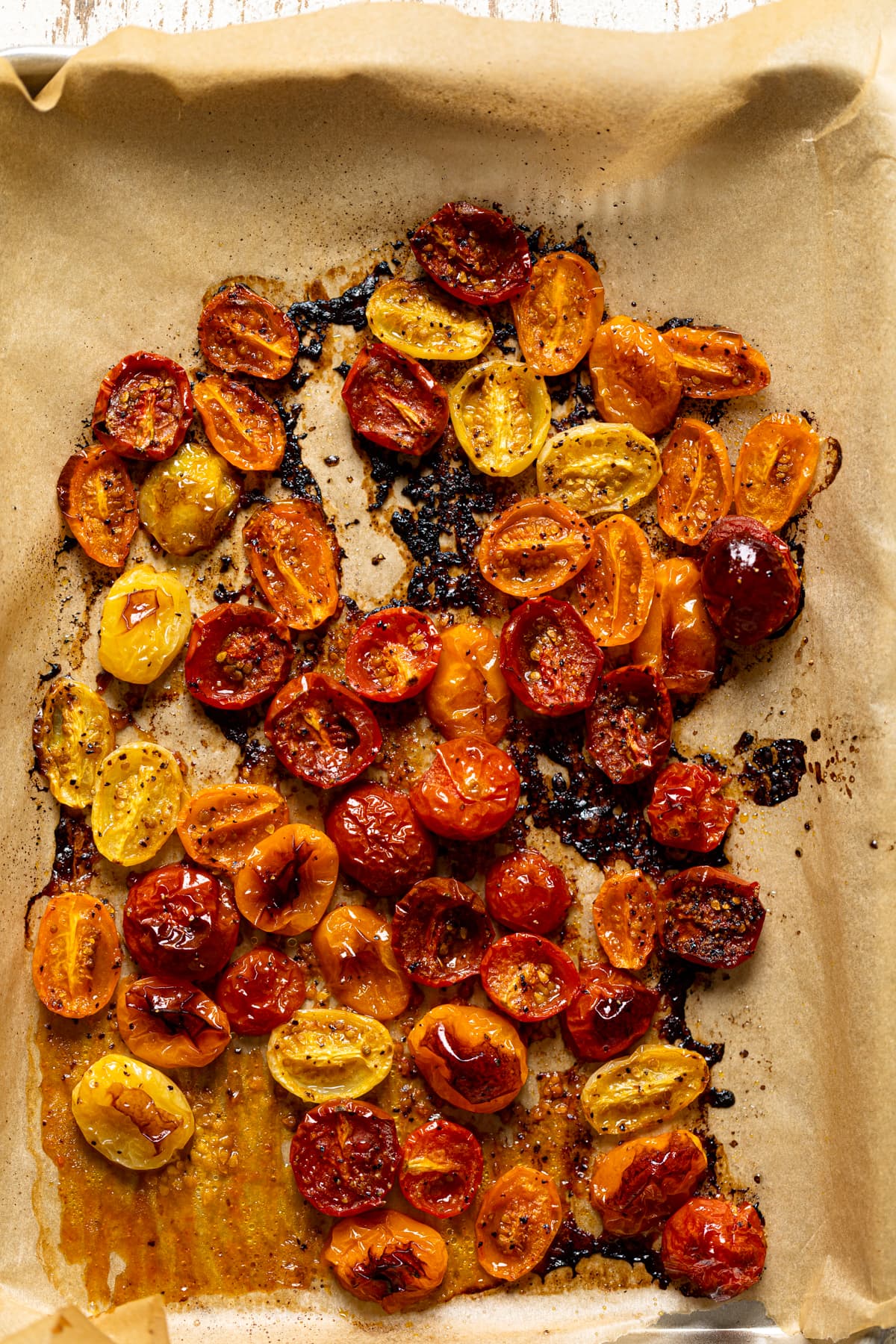 Personally, my favorite thing to do is roast veggies, especially tomatoes. There's just something about the chariness of the tomatoes and the fragrant taste that roasting brings out of them.
INGREDIENT NOTES
Here are a few things to keep in mind about the ingredients in this ricotta stuffed shell recipe with quinoa + kale:
Jumbo pasta shells. You can use regular or whole-wheat pasta for the recipe.
Tomato sauce. Choose your favorite simple store-bought tomato sauce or make your own with canned tomatoes.
Cooked quinoa. You can use either multi-colored or red quinoa for this recipe. I usually cook my quinoa in some sort of stock for extra flavor, however, this recipe adds a bit of tomato sauce in the mix for extra flavor!
Ricotta cheese. Whole milk ricotta will add more flavor and body to the stuffed shells. However, skim ricotta will also work!
Roasted tomatoes. I love roasting my tomatoes first so that they have more flavor and are a nice smooth texture when added to the pasta. You can see my

How to Roast Tomatoes

post for awesome insight and the process.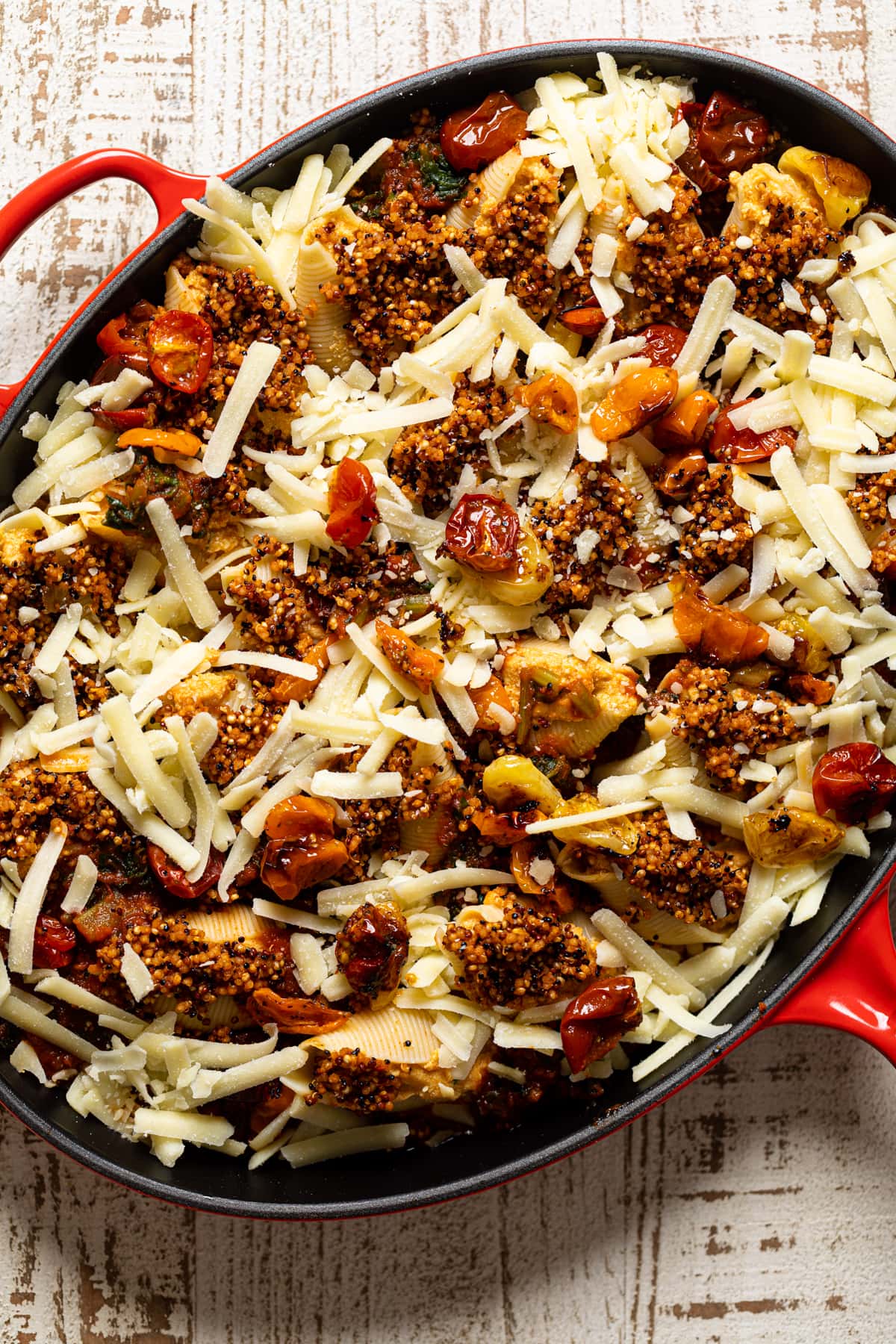 Can I Freeze Baked Stuffed Shells?
Yes! In fact, this chicken and ricotta stuffed shells recipe freezes beautifully.
Simply let the casserole cool fully, then transfer it to an airtight container or wrap it tightly in plastic wrap. Freeze for up to three months. When you're ready to serve, simply reheat in a 350°F oven until heated through. If you notice the shells drying out at all, cover the dish with tin foil while heating.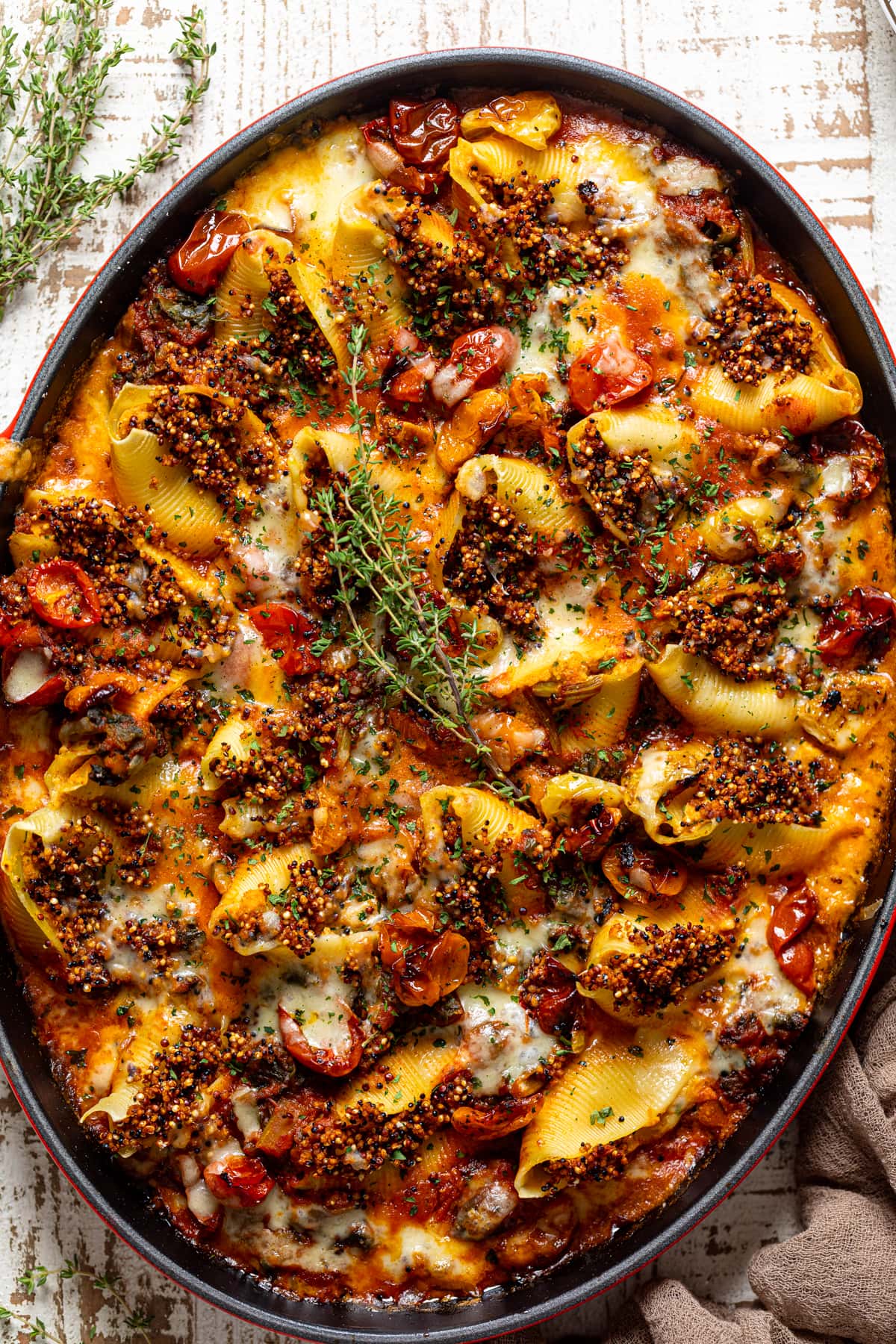 Gluten-Free Stuffed Shells
You can easily make this recipe gluten-free by using your favorite gluten-free stuffed jumbo shells.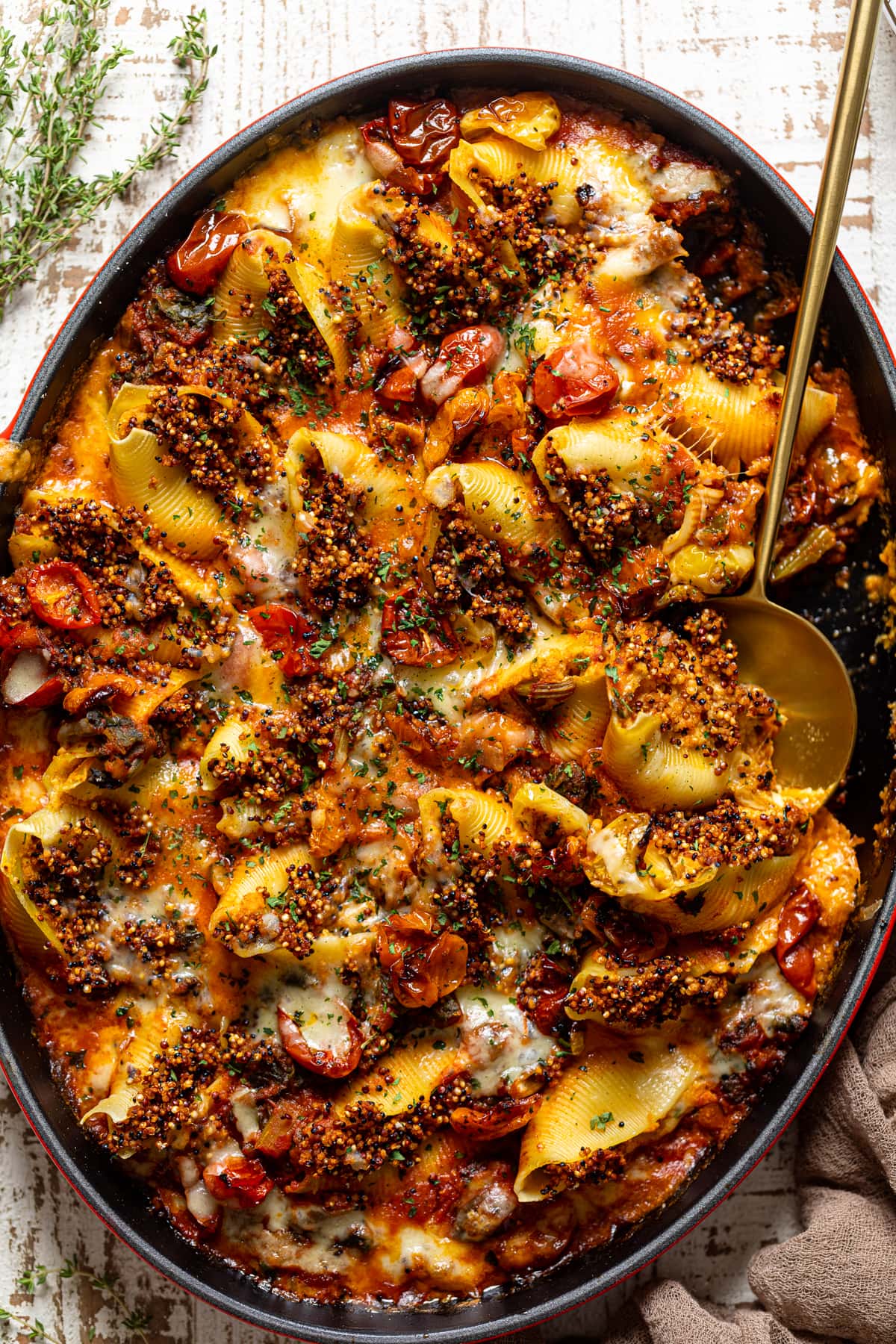 More Meatless Baked Dinner Recipes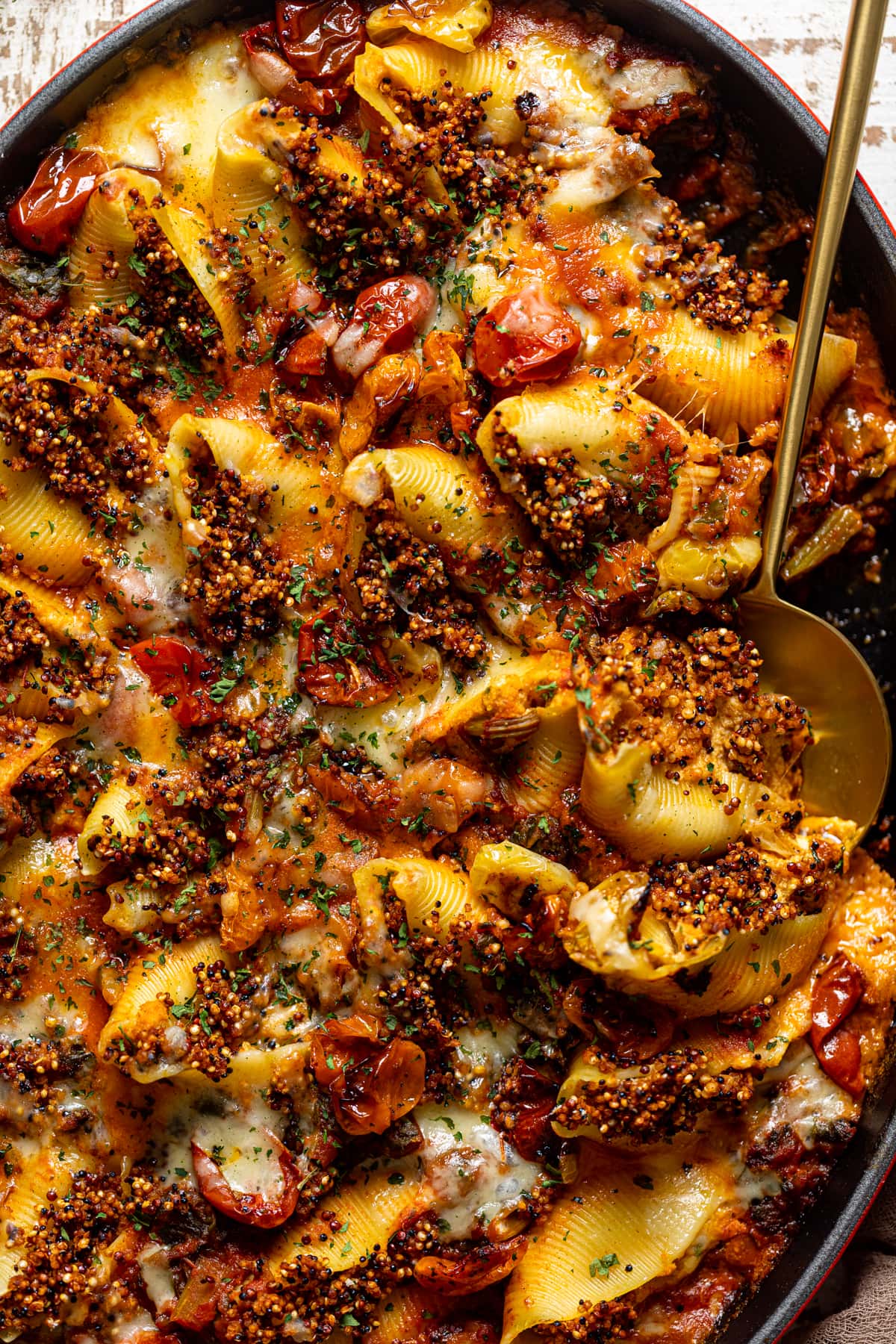 More Favorite Pasta Recipes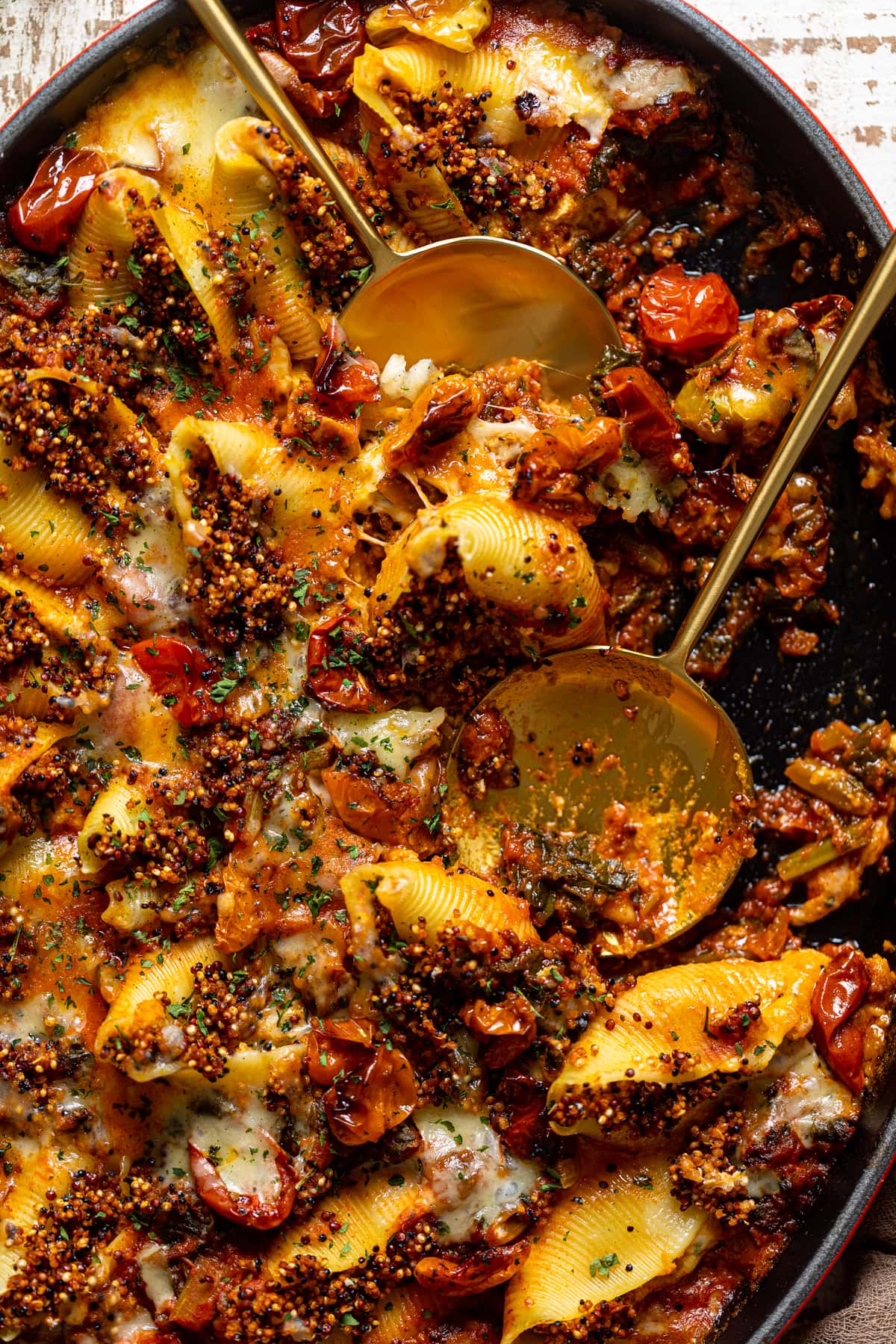 How to Make Herb Roasted Tomatoes
The key for this recipe is to start with great-quality tomatoes. Choose a mix of large and cherries, and several different colors if you can find them.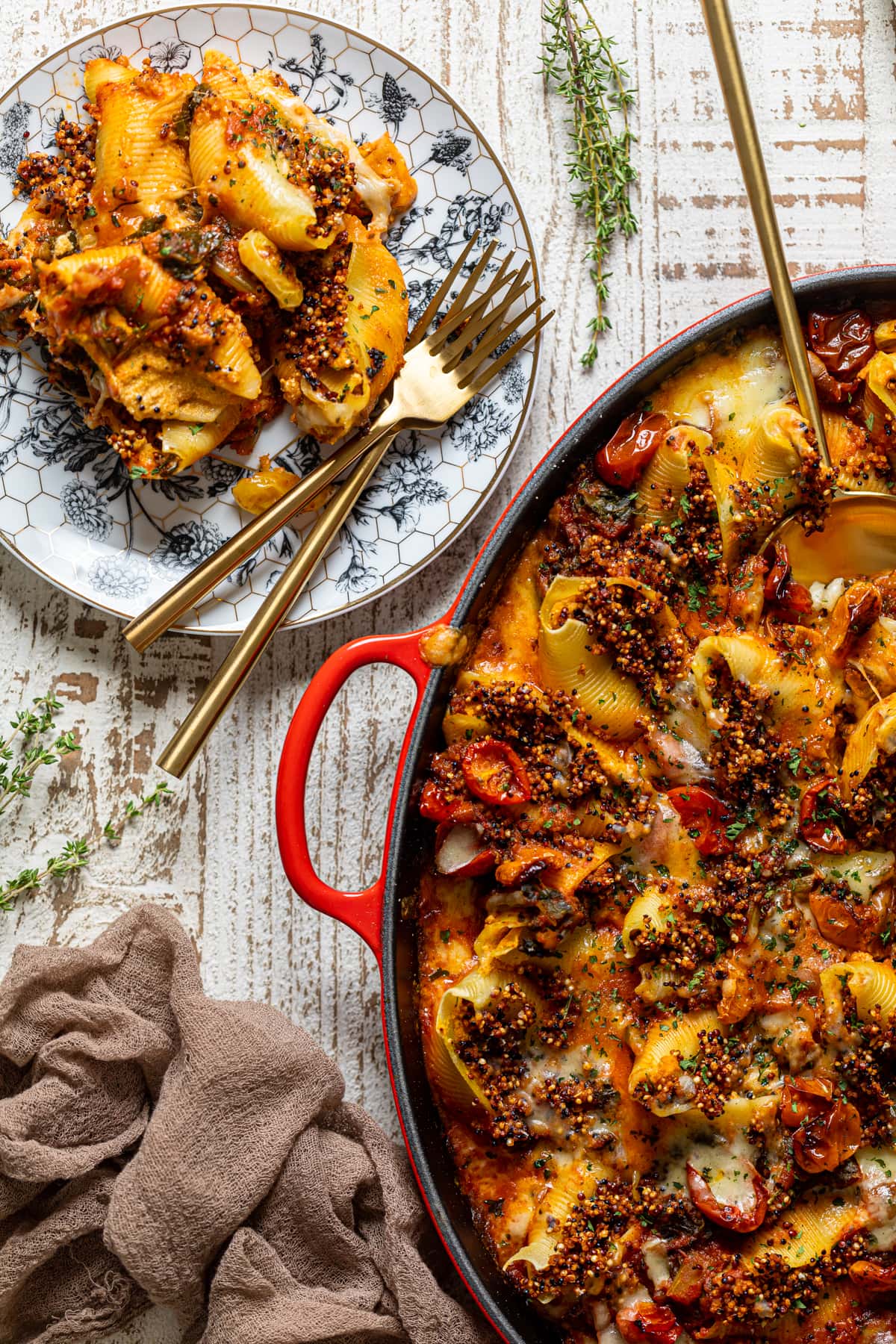 INGREDIENTS
Tomatoes. You can add as many tomatoes as will fit on your baking sheet.
Olive oil. Don't skimp on the oil! It helps concentrate the tomato flavor and makes a nice jammy texture. You can use these roasted tomatoes like a dressing or sauce.
Dried herbs. I like a mixture of Italian herbs like oregano, basil and parsley. But you can mix up the seasonings with other fresh or dried herbs. Thyme, rosemary, marjoram and tarragon are all delicious with tomatoes.
Spices. Likewise, feel free to play with different spices in your roasted tomatoes. I like paprika, garlic powder and a pinch of red pepper flakes for a slight kick.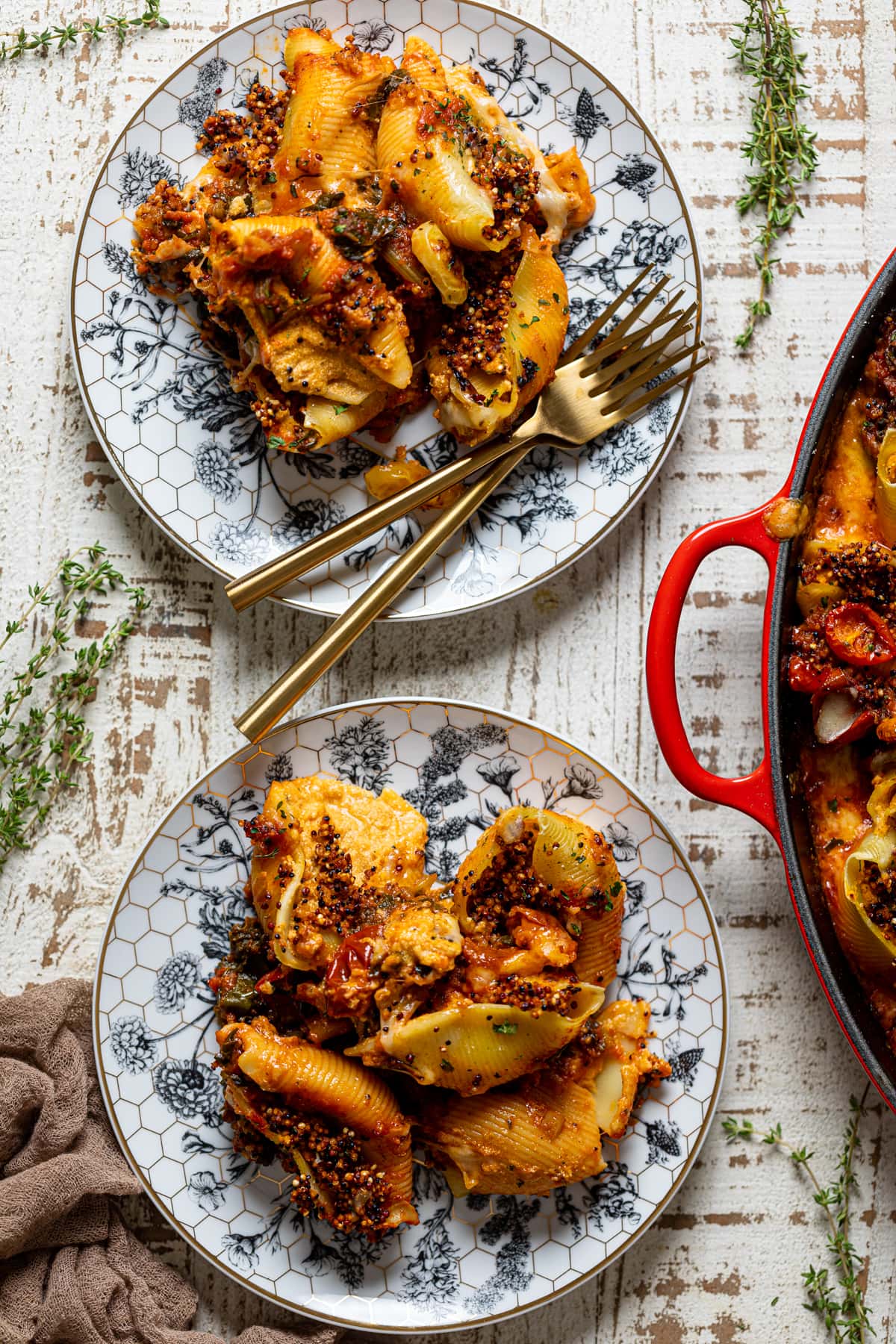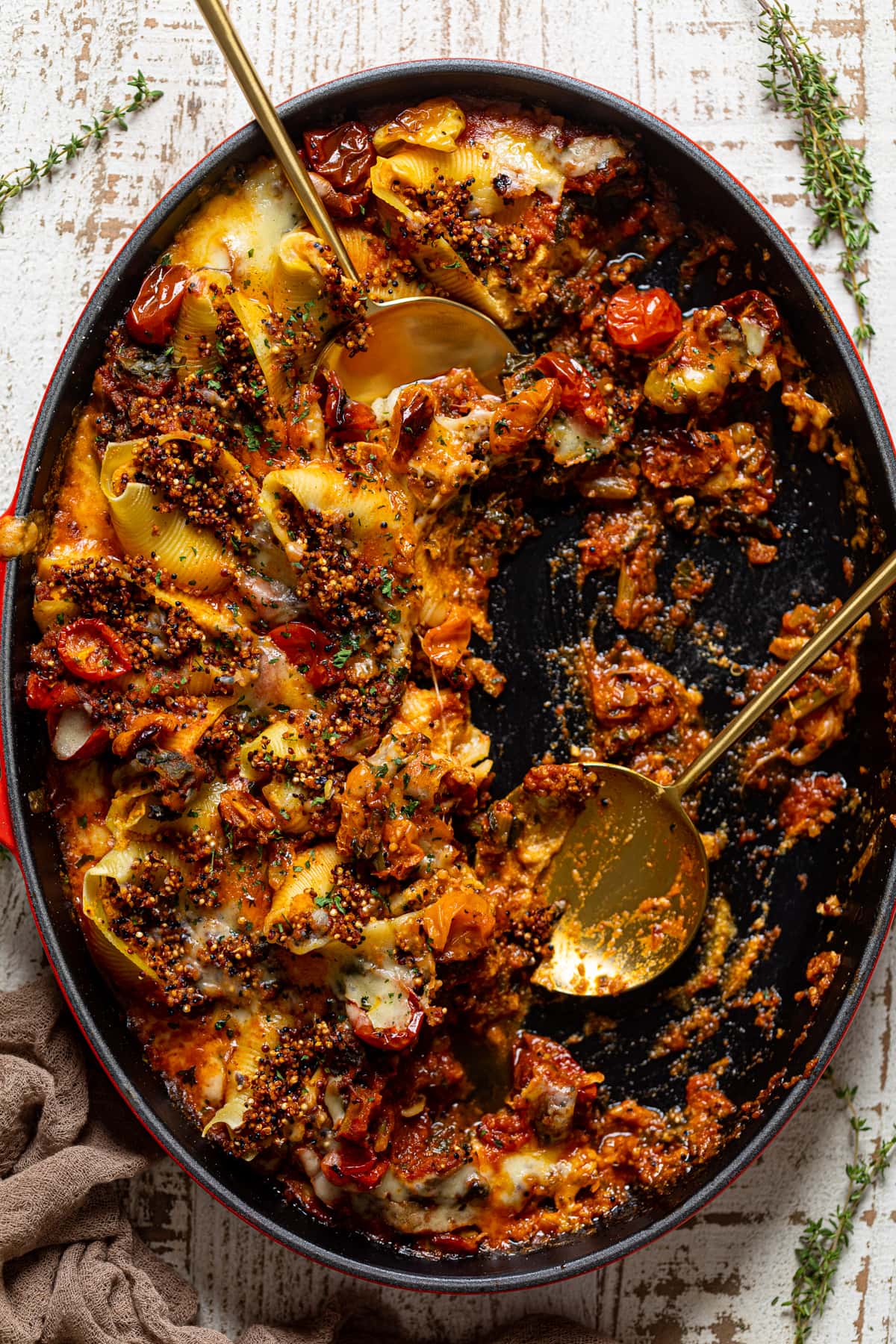 MADE OUR RECIPE(S)?
If you make this Butternut Squash Stuffed Shells with Quinoa + Kale or any other recipe from us, be sure to tag us on Instagram at #Orchidsandsweettea so that we can share the love!
Total Time:
1

hour
20

minutes
'MEATY' QUINOA:
1

cup

quinoa, red colored

1

tablespoon

Extra virgin olive oil

2

garlic cloves, minced

2

cups

organic vegetable stock

1

cup

organic tomato sauce

1

tablespoon

chilli powder

1

tablespoon

ground cumin

1

teaspoon

smoked paprika

1

teaspoon

sea salt

Pinch of

red pepper flakes
ROASTED BUTTERNUT SQUASH:
STUFFED SHELLS:
1

(12 oz.) box

jumbo shells

1

tablespoon

Extra virgin olive oil

4

cups

organic tomato sauce

2

cups

roasted tomatoes

1 ½

cups

ricotta cheese, part skim

(You can also use the whole milk version)

2

Tbsps

boiled pasta water

2

cups

shredded mozzarella cheese

1

cup

chopped kale, fresh or frozen

1

teaspoon

garlic powder

1

teaspoon

dried basil

1

teaspoon

sea salt + black pepper

1

teaspoon

smoked paprika

fresh parsley, for garnish
TO ROAST BUTTERNUT SQUASH:
Preheat the oven to 400 degrees Fahrenheit and prepare a baking sheet by lining them with parchment paper.

In a bowl, add the cubed butternut squash along with the olive oil and all seasonings, gently mixing everything together until veggies are fully coated.

Add the veggies unto the baking sheet (in a single layer) and and bake for 25-30 minutes or until butternut squash is charred and golden.
TO COOK THE QUINOA:
Begin by adding the veggie stock to a medium saucepan over medium-high heat until it begins to boil. Add in the quinoa, whisking continuously while boiling for 1-2 minutes. Reduce heat to bring to a simmer and add in the tomato sauce for 10-15 minutes, whisking every 3-4 minutes until fully cooked through, and water has dried, and the quinoa has thickened. Add in the garlic powder, cumin, chili powder, smoked paprika, red pepper flakes, and salt, stirring them in until combined.
COOK THE PASTA:
Begin by cooking jumbo shells according to the directions of the packaging, adding olive oil to the boiling water, (about 8-10 minutes for al-dente) and drain. Set aside 2 Tbsps of boiled pasta water for later.
ASSEMBLY:
Once done, remove the butternut squash from the oven and add 2 cups of butternut squash to a bowl, mashing until fully broken down and smooth with chunks.

In a large bowl, add together the ricotta cheese, mashed butternut squash, and 2 Tbsps boiled pasta water, stirring until cheese becomes smooth. Add in the garlic powder, basil, smoked paprika, sea salt, and black pepper, stirring until combined.

Prepare a 12-inch oven-safe skillet and pour half of the tomato sauce at the bottom of skillet, evenly spreading it out. Stuff each shell with 1-2 Tbsps of quinoa followed by ricotta mixture and arrange it in the skillet, stuffed side up. Repeat this until all shells are stuffed and lined side-by-side.

Sprinkle chopped kale atop shells and spoon the remaining half of tomato sauce atop kale and shells, followed by shredded mozzarella cheese and roasted tomatoes, until shells are mostly covered.

Bake stuffed shells until everything is fully warmed through and the cheese has melted on the tops, about 18-20 minutes.

Once done, remove from oven and let cool slightly before serving.

Bon Appetit!
STORAGE: Any leftovers can be kept in a tightly sealed container and refrigerated for up to 3-4 days.
MAKE AHEAD: Cook your pasta and let it cool completely before storing in an air-tight refrigerator for 3-5 days. In a bowl, combine your ricotta, seasonings, and mashed roasted butternut squash, and place in an air tight container to refrigerate overnight as well. Also, store cooked quinoa in a separate airtight container. On the day of, remove everything to room temp., about 10-15 minutes and continue assembly STEPS.
Calories:
552
kcal
|
Carbohydrates:
54
g
|
Protein:
24
g
|
Fat:
28
g
|
Saturated Fat:
12
g
|
Polyunsaturated Fat:
3
g
|
Monounsaturated Fat:
10
g
|
Cholesterol:
61
mg
|
Sodium:
2439
mg
|
Potassium:
1193
mg
|
Fiber:
10
g
|
Sugar:
14
g
|
Vitamin A:
16861
IU
|
Vitamin C:
46
mg
|
Calcium:
498
mg
|
Iron:
5
mg