The Best Thanksgiving Crostinis---AKA the ultimate crowd-pleaser. Picture this: A sliced French baguette loaded with homemade garlicky herb cream cheese, roasted pears, candied pecans, dried cranberries, fresh thyme, pumpkin seeds, and a generous sprinkle of candied bacon, all topped off with a sweet drizzle of raw honey. Totally versatile, totally customizable, and perfect for Thanksgiving or any holiday gathering & beyond. Your new go-to holiday app. Vegan, Vegetarian + Gluten-free option.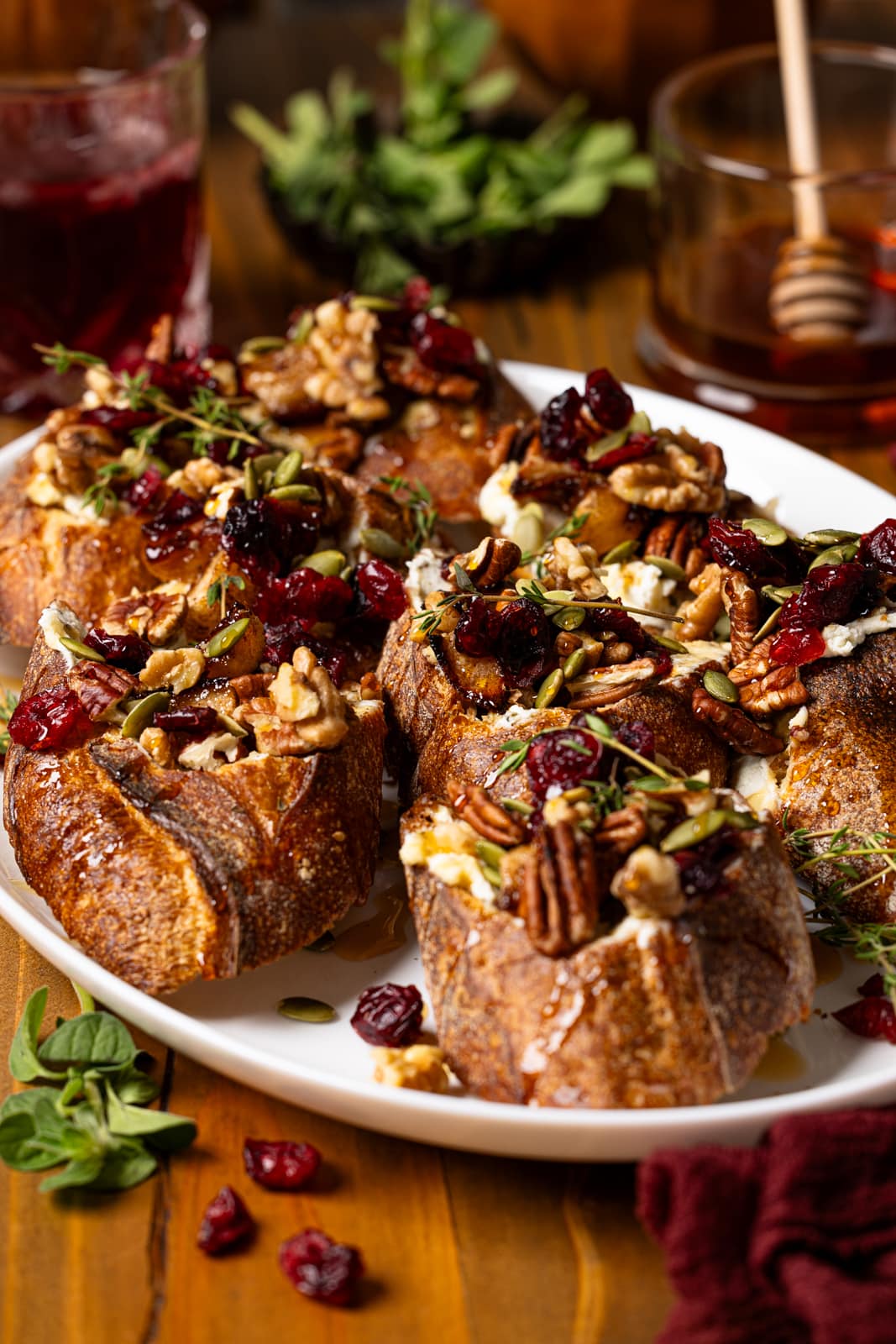 Why You Need These Thanksgiving Crostinis On Your Holiday Table!
I was in my kitchen the other day tinkering and recipe demoing all things Thanksgiving related and felt like I needed more holiday appetizers on Orchids + Sweet Tea---And that's how the Best Thanksgiving Crostinis recipe was born. Inspired by my Fall Harvest Apple Bacon Crostini and The Perfect Vegan Blueberry Crostinis, these bad boys are a flavor explosion and definitely make the most of all the seasonal produce! This Sautéed Lemon Garlic Herb Green Beans recipe is a simple, staple side dish that compliments any Thanksgiving table!
You've got options here—add some candied bacon for an extra wow factor, turning it into Thanksgiving on a baguette, OR skip the bacon and keep it vegetarian or even vegan by choosing dairy-free cream cheese. You can also opt for gluten-free bread. I designed this recipe to be versatile and adaptable, so you can make it just the way you like, depending on what's in your kitchen. Your crostini, your rules!
This holiday crostini recipe is not only super easy but also a blast to make (get the kids involved if you like), and incredibly adaptable for all diets. It's the perfect holiday appetizer that everyone will love—a true crowd-pleaser. Plus, they're just so fun to eat—handheld food for the win!
Jump to:
What Is A Crostini?
In essence, crostini are thin, crispy toasts that you may top with whatever you like. The word crostini is Italian for "little toasts" Crostini are often formed from a baguette or other similar bread, drizzled with oil, and baked until crisp. (See below on how to perfectly toast crostini)
They can be topped with cheese, cured meats, or a combination of several other items. These Best Thanksgiving Crostinis are the perfect example of the latter. Wonderful flavors of sweet and savory that blend so seamlessly.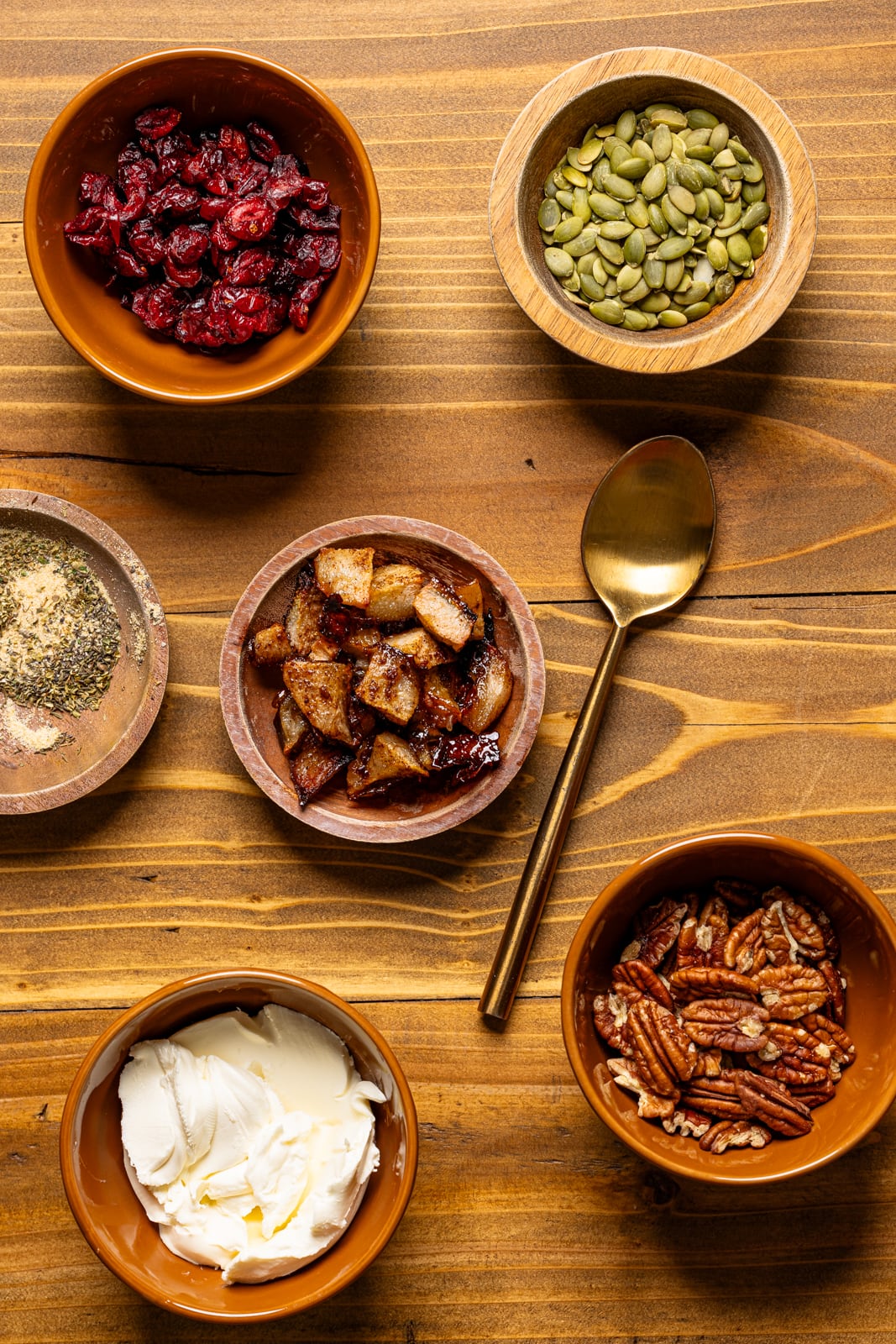 Ingredients
As I said, this crostinis recipe is quick and easy to make. You'll need
TOASTED BREAD:
Bread. Preferably a baguette it's the crispy base.
Salted butter, melted. (Or unsalted butter with a pinch of salt) Adds richness and buttery goodness. (Opt for a vegan salted butter like Miyokos for a vegan option)
Extra virgin olive oil: Enhances the overall richness.
Garlic powder: A subtle garlic flavor to the bread.
Dried oregano: Contributes a herbaceous and aromatic element.
ROASTED PEARS:
Medium pears: Brings natural sweetness and a soft, juicy texture.
Extra virgin olive oil: Helps in caramelization during roasting.
Organic brown sugar: Sweetens and caramelizes the pears.
Ground cinnamon: Introduces warmth and a sweet-spicy flavor.
Ground nutmeg: Adds a warm, nutty nuance.
Ground allspice: Enhances the overall spiced flavor profile.
GARLIC HERB CREAM CHEESE:
Organic cream cheese, softened: Forms a creamy and luscious base for spreading. Feel free to opt for a dairy-free cream cheese like Violife.
Garlic cloves, minced: Infuses a robust garlic flavor.
Sea salt: Seasoning agent that enhances the savory profile.
Dried oregano, dried basil, dried parsley, dried thyme: A blend of dried herbs that imparts a herby and aromatic quality.
Garlic powder: Reinforces the garlic flavor in the cream cheese!
Best Topping Ideas For Thanksgiving Crostinis
You have the freedom to mix and match ingredients for this crostinis recipe based on your preferences. If you prefer a vegetarian option, feel free to skip the candied bacon. Additionally, if there's an ingredient you're not fond of, you can easily substitute it with something else. The recipe is flexible!
Crostini Toppings
Candied pecans
Dried cranberries
Fresh thyme sprigs
Pumpkin seeds
Candied bacon
Drizzle of raw honey
Here, I've curated a list of baking essentials that I use to achieve my favorite baked goods, especially with these Thanksgiving Crostinis. Everything from my fave loaf pan, wooden spoons, parchment paper, and more. SEE THEM HERE!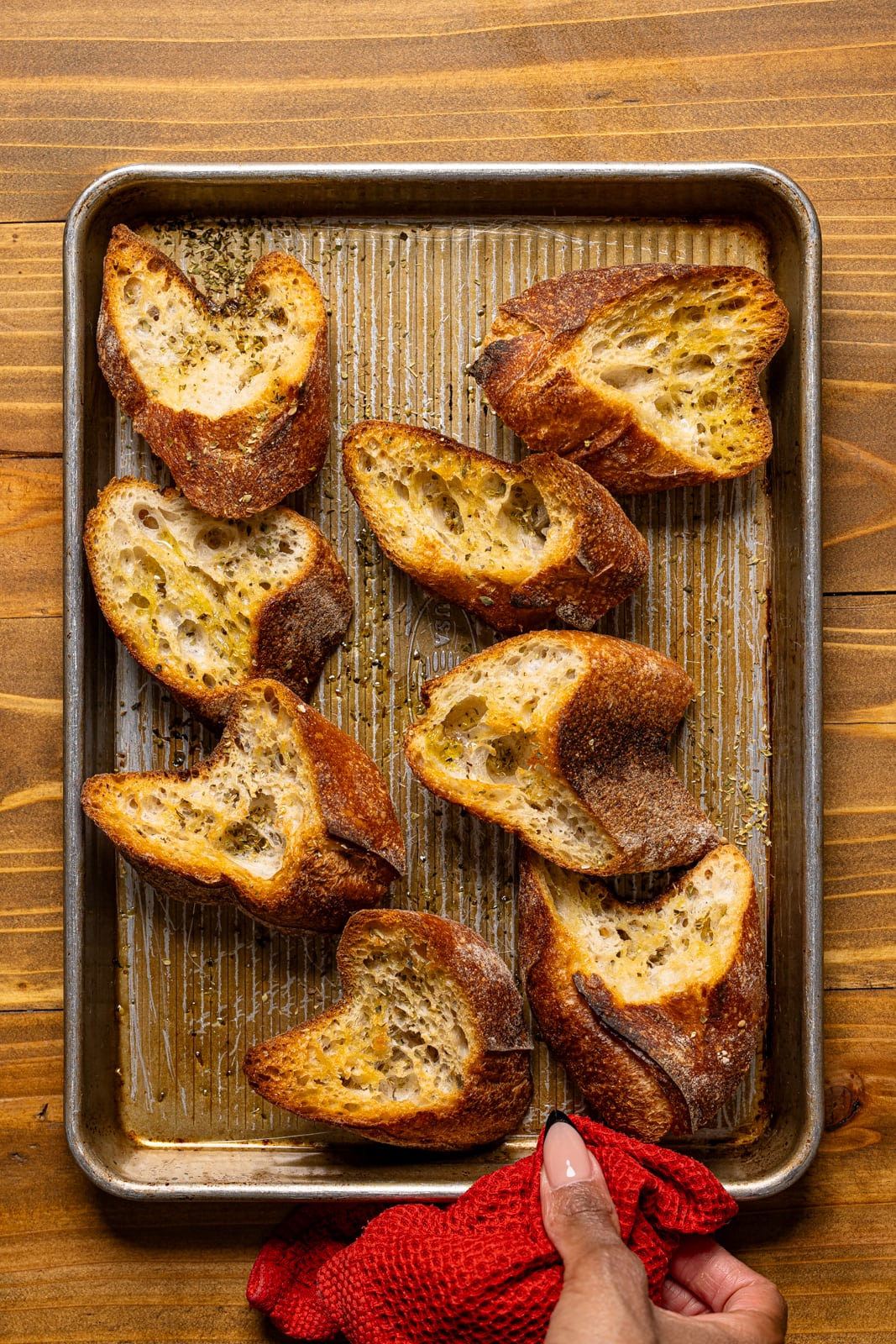 How to Perfectly Toast Crostini
Grab a sharp serrated knife and cut the bread into thin slices. I usually go for a bias cut to make sure each slice has plenty of room for all those delicious toppings!
Combine melted butter, olive oil, dried parsley, and garlic powder in a small bowl. Arrange baguette slices on a baking sheet, brush them with the mixture, and bake in the oven for 10-15 minutes until they turn golden brown and crisp at the edges. Volia!! you have perfectly golden breads!
What Bread Is Best For Crostinis?
The toast itself is pretty important in these Thanksgiving Crostini. You want something small enough to hold, tiny enough to eat in two bites, but sturdy enough to hold toppings--The ideal bread for crostinis is a crusty baguette or rustic bread like sourdough. What's great about crostini is that the bread doesn't necessarily have to be fresh. Since you'll be drying it out in the oven, even if it's a bit stale, it's no big deal.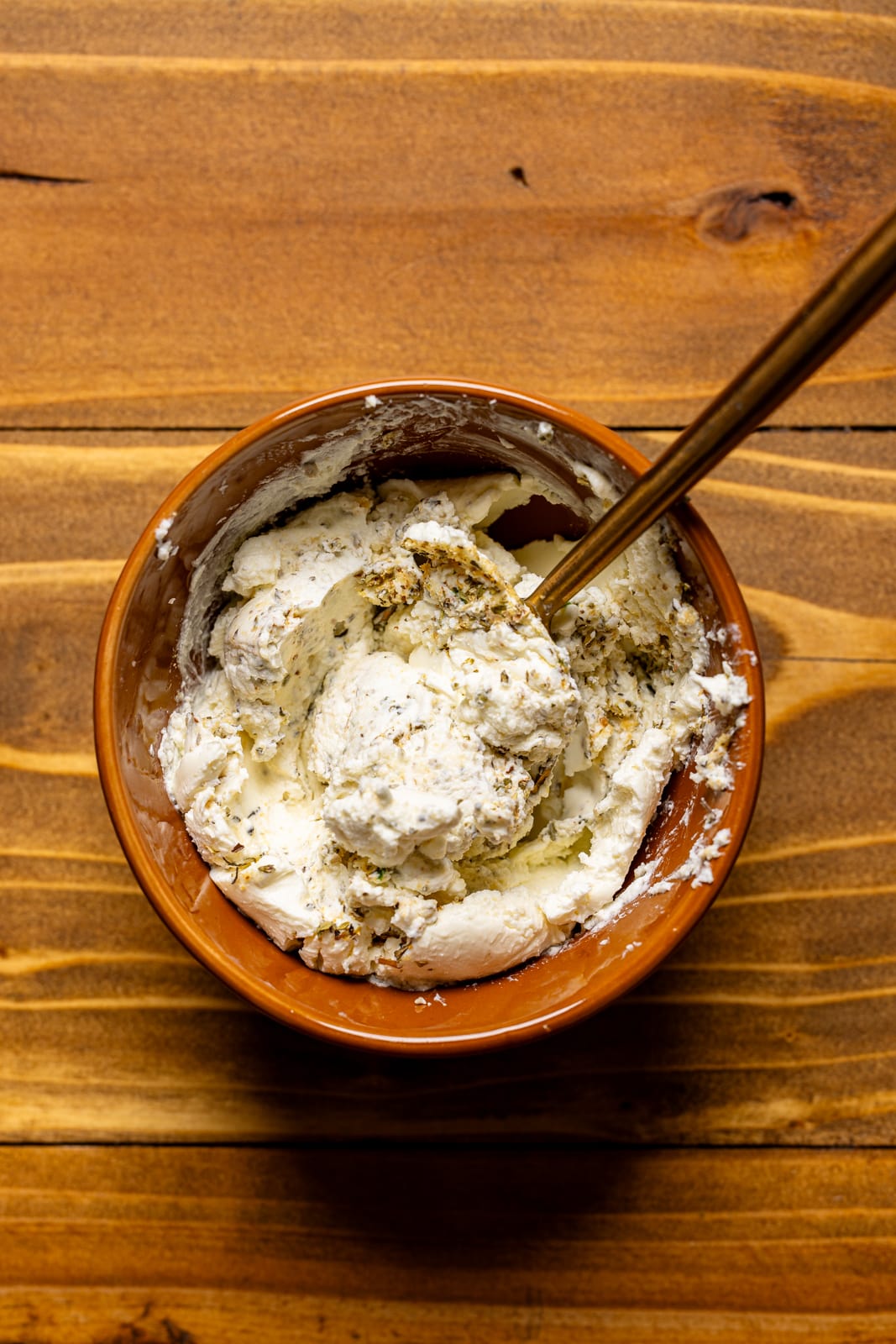 What You'll Love Most About This Crostini Recipe.
Super easy to whip together!
Perfect quick recipe for all our busy people out there.
So crunchy and fun to eat!
Loaded with delicious Fall/Winter flavors
A perfect dance between sweet + savory.
Makes for the perfect little bite for the entire family.
How Stop Crostinis From Becoming Soggy?
To prevent crostinis from becoming soggy, follow these tips:
Toast the bread properly---Ensure that the bread is toasted thoroughly in the oven. A crispier base will be more resistant to moisture.
Use day-old bread---If possible, use day-old bread that has slightly hardened. This will help the crostinis maintain their crispiness even after adding toppings.
Create a barrier: Spreading a layer of cream cheese on the bread before adding moist toppings. This can create a barrier and help prevent direct contact between the bread and moisture.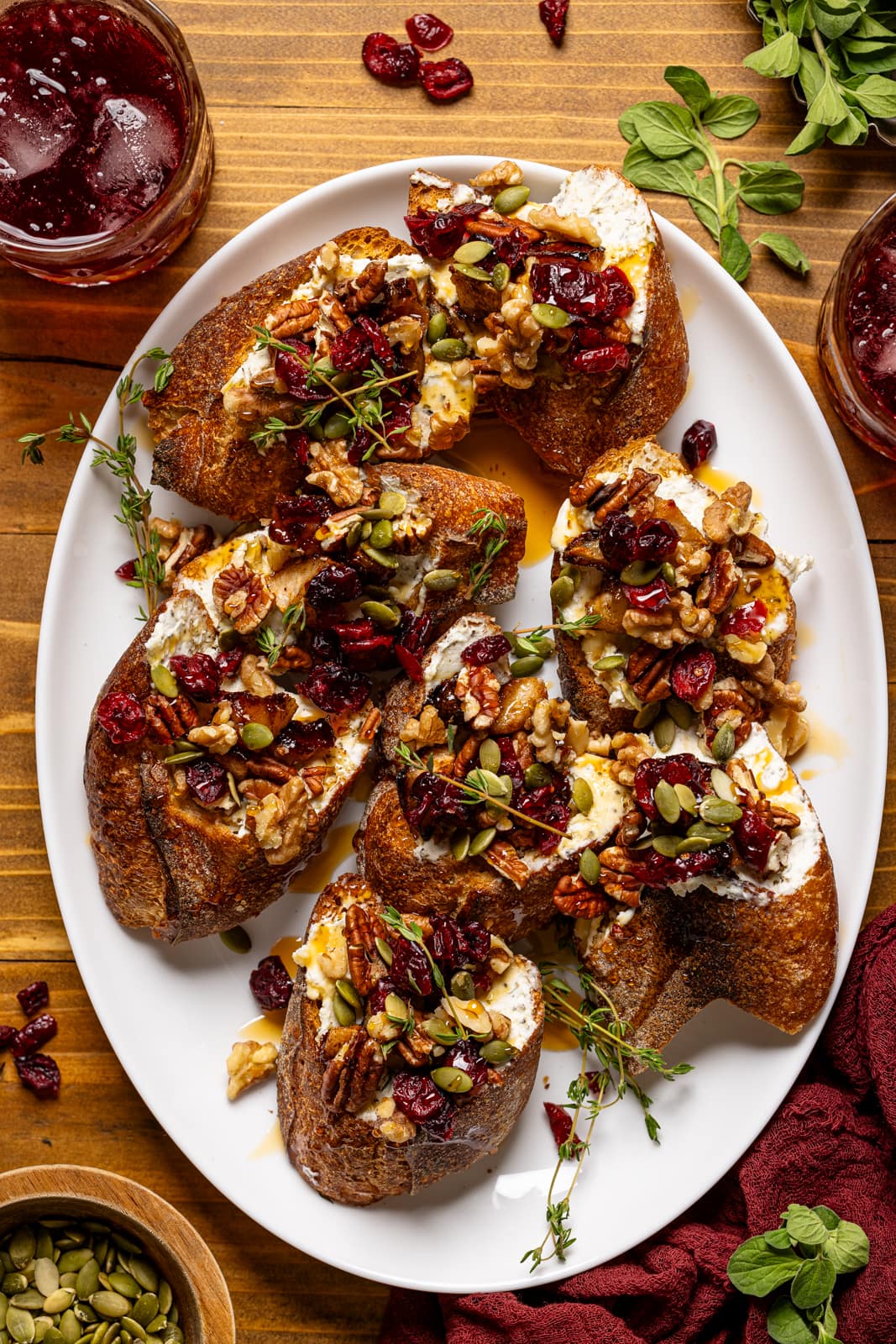 To Peel or To Not Peel Pears?
It is entirely up to you! I've made this recipe both ways and enjoy them both. I usually make this Crostini recipe for my family + freinds and my kids sometimes won't eat them with the skins on, so I peel them most of the time. I'm sure it goes without saying, but if you choose to leave the skins on, make sure to wash the pears thoroughly!
How Else to Use Roasted Pears
Breakfast bowls---Top your morning oatmeal, yogurt, or cereal. It adds natural sweetness and a burst of flavor to your breakfast.
Pancakes + waffles: Warm up the roasted fruit and use it to top your
pancakes, waffles, or french toast!
Ice cream sundae: Create a tempting ice cream sundae by scooping your favorite ice cream into a bowl (My current favorites are Maple Brown Butter Walnut Ice Cream and Butter Pecan Ice Cream) top it with the warm maple roasted fruits, and add a sprinkle of nuts or granola for crunch!
Stuffed pastries: Use roasted pears as a filling for pastries like turnovers or hand pies like these Apple Hand Pies.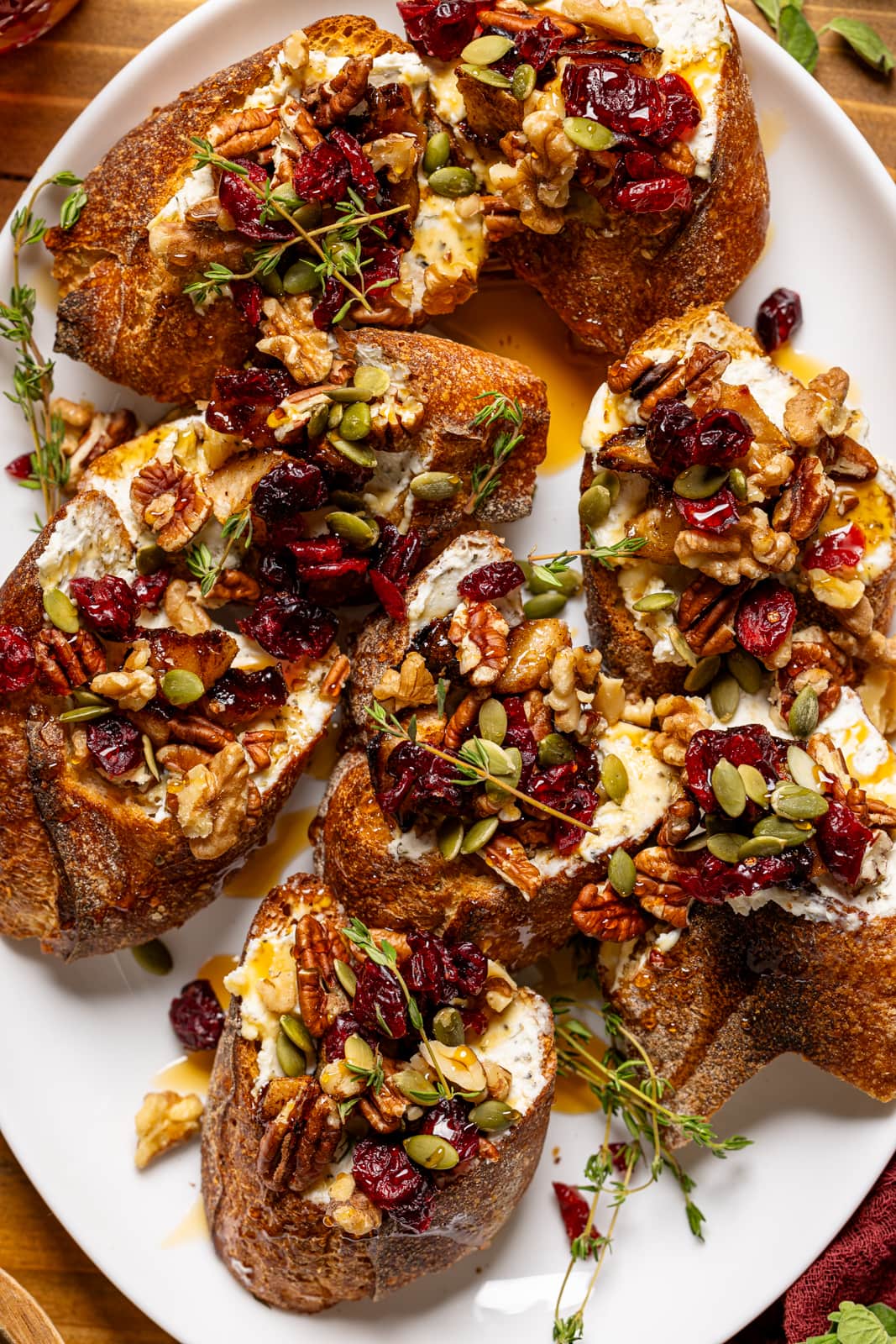 Crostinis Are Perfect For the Holidays!
Now that we're officially in Fall and heading into Winter soon I'm thinking about Thanksgiving which is super close. These crostinis are perfect for Thanksgiving and will definitely be a hit with guests.
Check out my Tips And Tricks To Hosting Thanksgiving. You'll not only learn some of my favorite vegan and non-vegan Thanksgiving recipes, but you'll also get my Thanksgiving planning guide and my streamlined Thanksgiving day schedule.
Common Q + A's About Thanksgiving Crostinis
How To Store Crostinis?
Crostini toppings can be stored in the refrigerator in an airtight container (separately) for up to 3 days; crostinis are best consumed within the same day once made.
Can I make this crostinis recipe gluten-free?
Absolutely! Simply use gluten-free bread or baguettes as a base for your crostinis.
How can I make this crostinis recipe vegan?
To create a vegan version of the crostinis, choose vegan butter or olive oil for the base. Substitute traditional cream cheese with a vegan, dairy-free alternative, and omit the candied bacon.
Can I prepare crostinis in advance?
Yes, but assemble them closer to serving time to maintain their crunch. Toast the bread and prepare toppings separately if possible.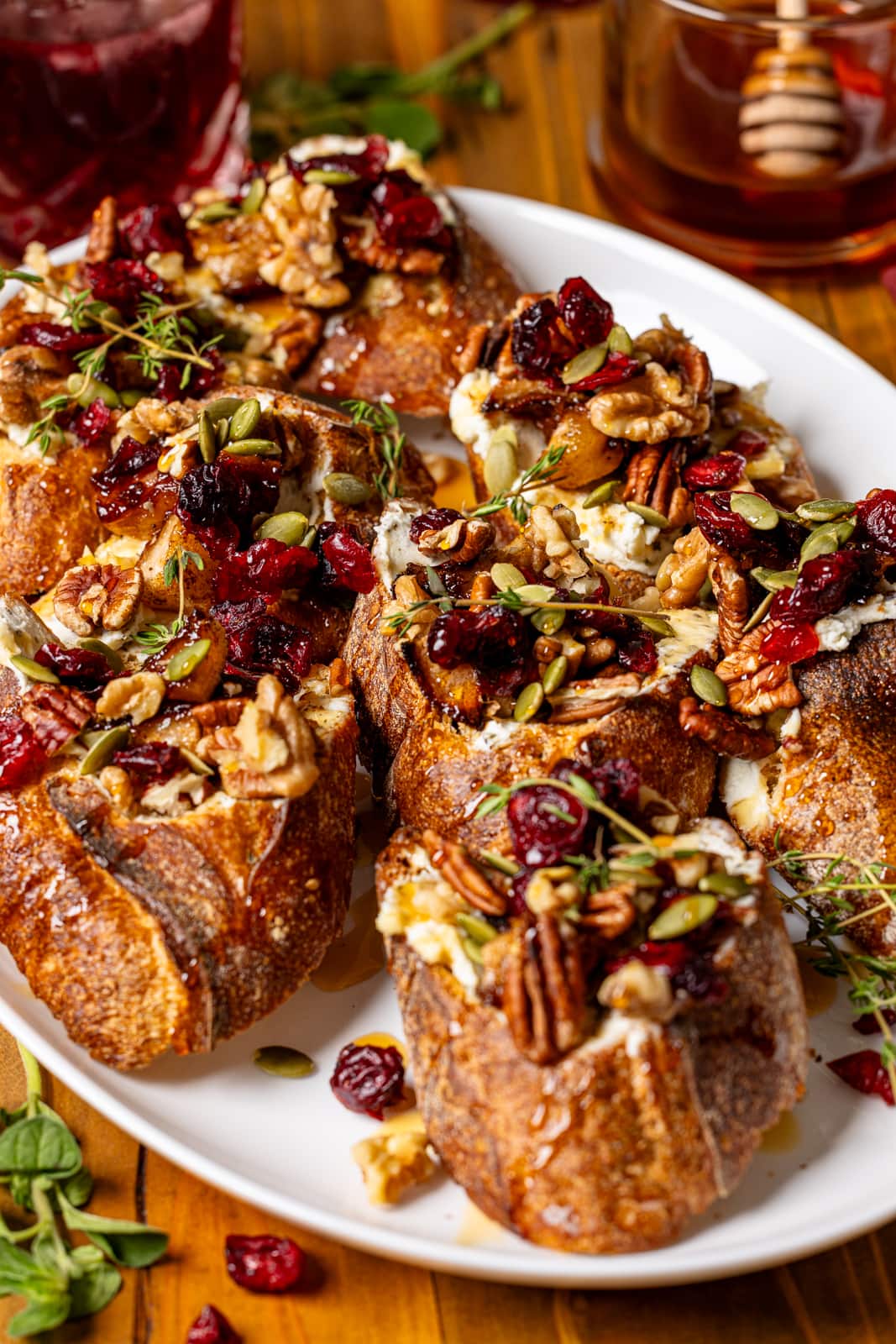 More Flavor-Packed Thanksgiving Recipes
If you loved this Thanksgiving Crostinis recipe and are searching for more festive recipes for your holiday table be sure to try these out next!
MADE OUR RECIPE(S)?
If you tried this Best Thanksgiving Crostinis recipe or any other recipe on my website, please please leave a 🌟 star rating and let me know how you go in the 📝 comments below. And don't forget to tag @orchidsnsweettea_ on Instagram and hashtag it #orchidsandsweettea! I love hearing from you!
TOASTED BREAD:
1

french baguette, sliced 1-inch thick

¼

cup

salted butter, melted

(You can also use unsalted butter; just add a pinch of salt)

2

Tbsps

Extra virgin olive oil

1

teaspoon

garlic powder

1

teaspoon

dried oregano
GARLIC HERB CREAM CHEESE:
OPTIONAL TOPPINGS:
Candied pecans

Dried cranberries

Fresh thyme sprigs

Pumpkin seeds

1

cup

Candied bacon, chopped

Drizzle of raw honey
TO TOAST THE BREAD:
In a small bowl, mix together the melted butter, olive oil, dried parsley, and garlic powder until combined.

Place slices of baguette flat unto your baking sheet and brush with mixture and bake them in the oven for 10-15 minutes, until golden brown and crisp around the edges.
TO MAKE THE GARLIC HERB CREAM CHEESE:
In a bowl, add the softened cream chese along with micned garlic, garlic powder, salt, oregano, basil, parsley, and thyme, stirring everything together until combined and a litte more space.
ASSEMBLY:
Once bread slices are toasted, remove them from oven, letting them cool for 1-2 minutes or until they are safe to handle.

Generously spread the garlic herb cream cheese unto each slice of bread followed by 1-2 Tbsps of the roasted pear, candied pecans, cranberries, pumpkin seeds, and sprinkles of chopped candied bacon. Garnish with fresh thyme sprigs and a drizzle of honey. Repeat until all crostinis are made.

Bon Appetit!
STORAGE: Crostini toppings can be stored in the refrigerator in an airtight container (separately) for up to 3 days; crostinis are best consumed within the same day once made.
CANDIED BACON: To make this delicious bacon, see my How to Make Candied Bacon recipe!
Calories:
133
kcal
|
Carbohydrates:
11
g
|
Protein:
3
g
|
Fat:
9
g
|
Saturated Fat:
3
g
|
Polyunsaturated Fat:
1
g
|
Monounsaturated Fat:
4
g
|
Cholesterol:
14
mg
|
Sodium:
288
mg
|
Potassium:
54
mg
|
Fiber:
1
g
|
Sugar:
3
g
|
Vitamin A:
198
IU
|
Vitamin C:
0.3
mg
|
Calcium:
42
mg
|
Iron:
1
mg