Serve this fruity apple cider-infused Festive Thanksgiving Punch Mocktail, full of warming fall spices, fresh apples and cranberries at your holiday gathering for a family-friendly drink that brings the cheer.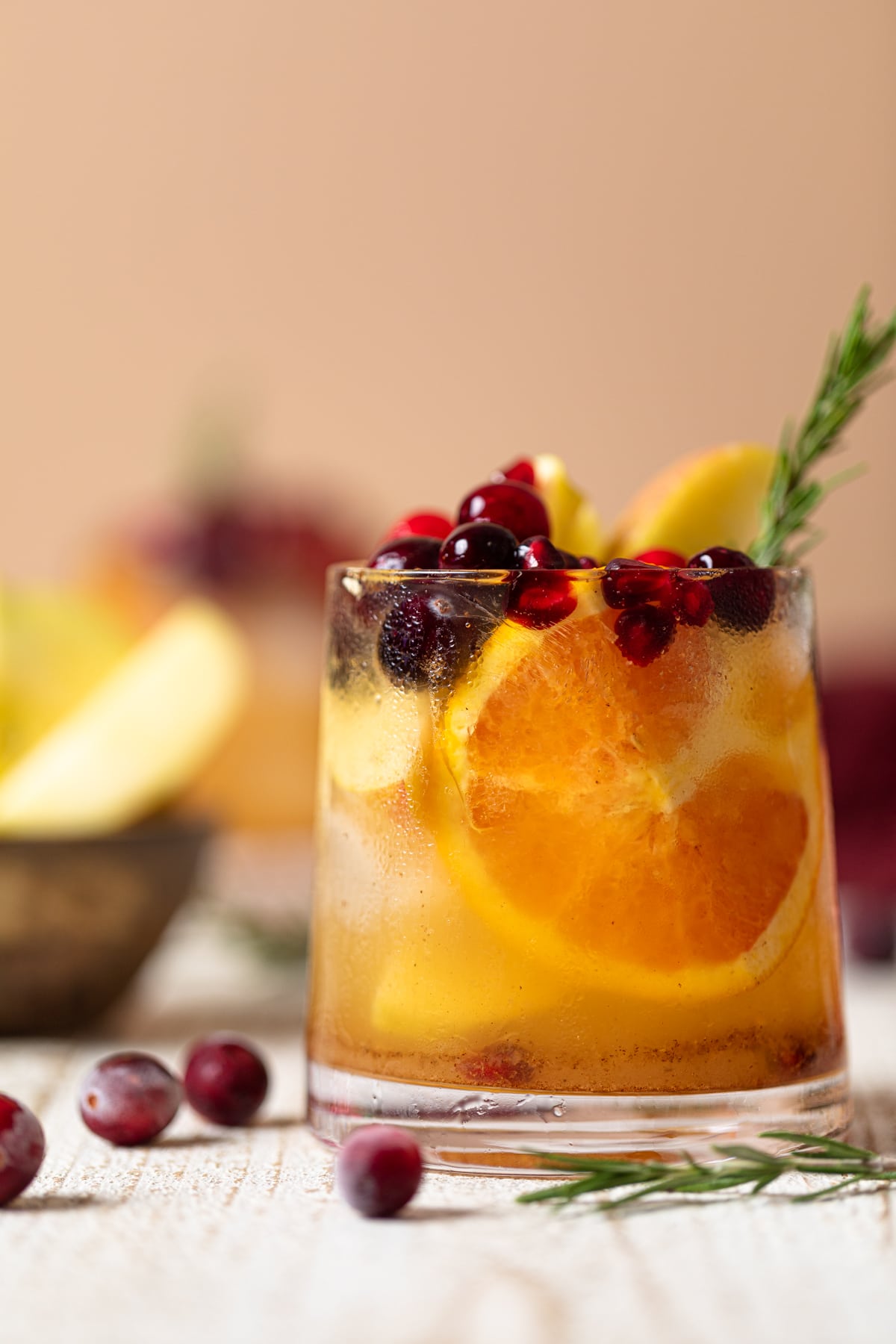 Sure, Thanksgiving is all about the food. From a crispy-skinned roast turkey to Vegan Maple Pumpkin Pie, there is a lot to eat and enjoy this holiday. But let's not forget about the drinks. Serving a big pitcher of fruity punch is my favorite way to make everyone feel festive. This Festive Thanksgiving Punch Mocktail has tons of seasonal flavor and is super fast and easy to make, so you can focus on what's in your oven and who's in your kitchen.
While I do have tons of mocktail recipes that you can try, especially this Vegan Caramel Eggnog which is perfect for the Holidays but is a bit more creamy and this Apple Cider Mocktail for a nice warm, cozy vibe when it comes to flavors. Of course, you can simply search my 'mocktails' category in the recipe index of my site for a lot more options that fit your tastebuds.
Why You'll Love This Thanksgiving Mocktail
First and foremost, the flavors in this simple and easy Festive Thanksgiving Punch Mocktail is enough to convince anyone, however, here are a few more reasons why you'll love this recipe:
It's Very Similar to the real 'feel' of a cocktail. Yes, while this mocktail doesn't have actual alcohol, I promise that it's just as complex in flavor, warming, and tasty as any cocktail----obviously with additional bold flavors from the pomegranate, apple cider, cranberries, citrus, and the nice fizz.
It's super fun to make! I literally love the creation of the mocktail and the shaking of all of the ingredients the cocktail shaker when you're ready to serve it out of the pitcher (if that's your thing).
You save money! This by far is one of my biggest reasons for making my own drinks at home (minus the last point to come). You definitely save more money purchasing the ingredients and making your own servings at home.
It's healthier. Most of all, this is my biggest plus! I love when I am able to know what ingredients I use whenever making drinks, cooking, or baking. 

Making my mocktails and drinks in general at home

 has definitely allowed me to switch to healthier, organic ingredients which is a win, win!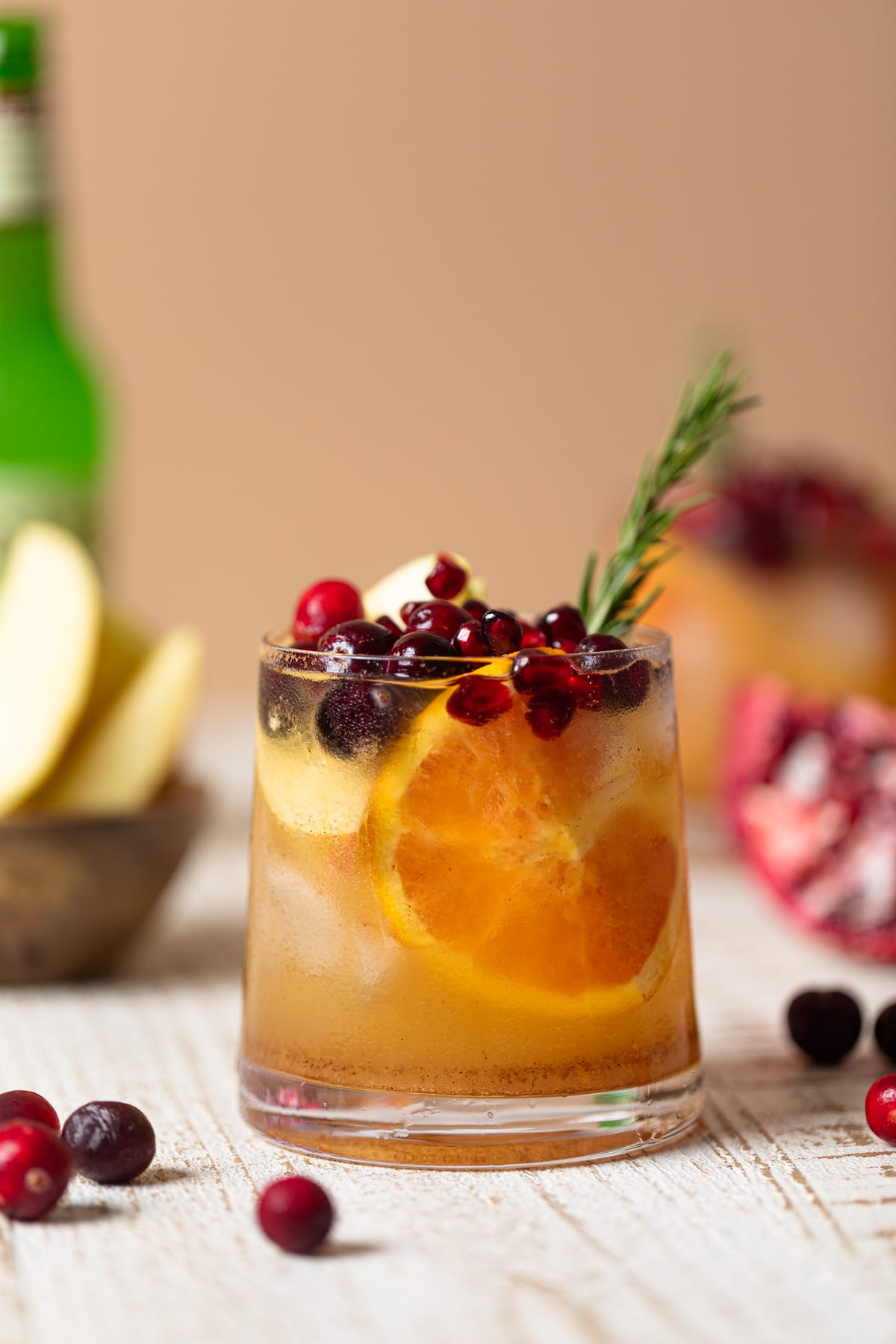 How to Make Thanksgiving Punch Mocktails
This mocktail is served chilled, so there's no cooking necessary. Which is a nice bonus on Thanksgiving, when every burner and oven rack can be taken by a side dish!
All you need to make this Thanksgiving punch is to gather the ingredients, mix and serve!
Ingredients for Thanksgiving Punch Mocktail
Here's what goes into this spiced punch:
Apple cider. You can use store-bought apple cider, or make your own!
Maple syrup. This is a vegan-friendly liquid sweetener that adds rich, fall favors to your punch.
Apples. I like to use one red (Gala) and one green (Granny Smith) to add tart and sweet flavors to the punch.
Orange juice. for best flavor, use freshly squeezed from a ripe orange.
Cranberries. You can use fresh or frozen berries.
Spices. I can't get enough of cinnamon, nutmeg, ginger, and allspice this time of year.
Pomegranate arils. These add beautiful jewel-like coo and pops of brightness to your drink.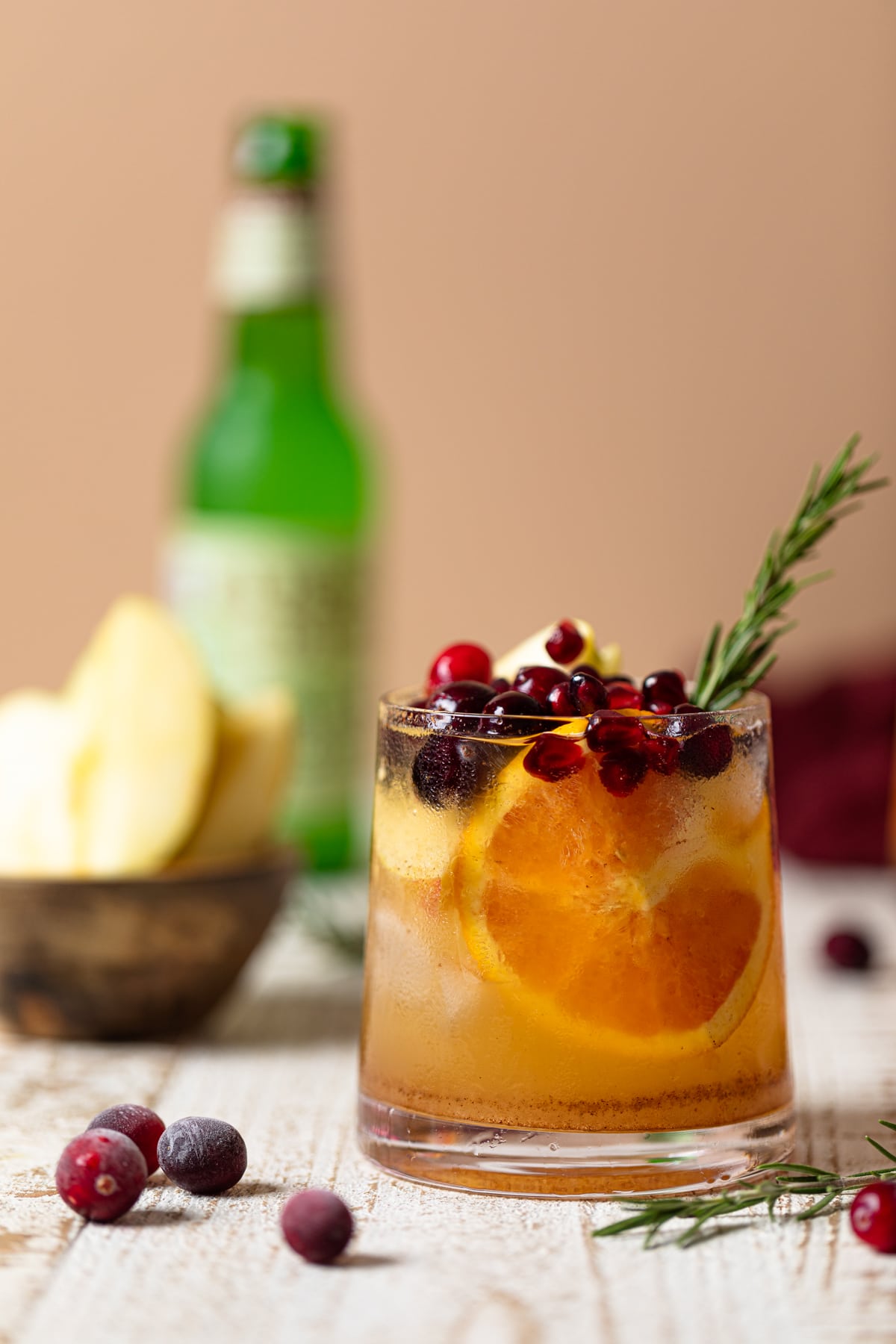 Spruce Up Your Mocktail with Lemonade Ice Cubes
Of course, you can always use regular ice cubes, however, if you're looking to take things up a notch with your Festive Thanksgiving Punch Mocktail, I recommend making lemonade ice cubes----which are SUPER EASY! The first thing you need to make for these tasty drinks are the lemonade ice cubes. You literally stir together the ingredients, pour it in your favorite ice cube tray, set it and forget it for a minimum of 3-4 hours (or overnight) until ice cubes are formed.
Then, you whip together the sangria mocktail ingredients and assemble. To see How to Make Lemonade Ice Cubes, see my Cranberry Lemon Spritzer with Lemonade Ice Cubes recipe!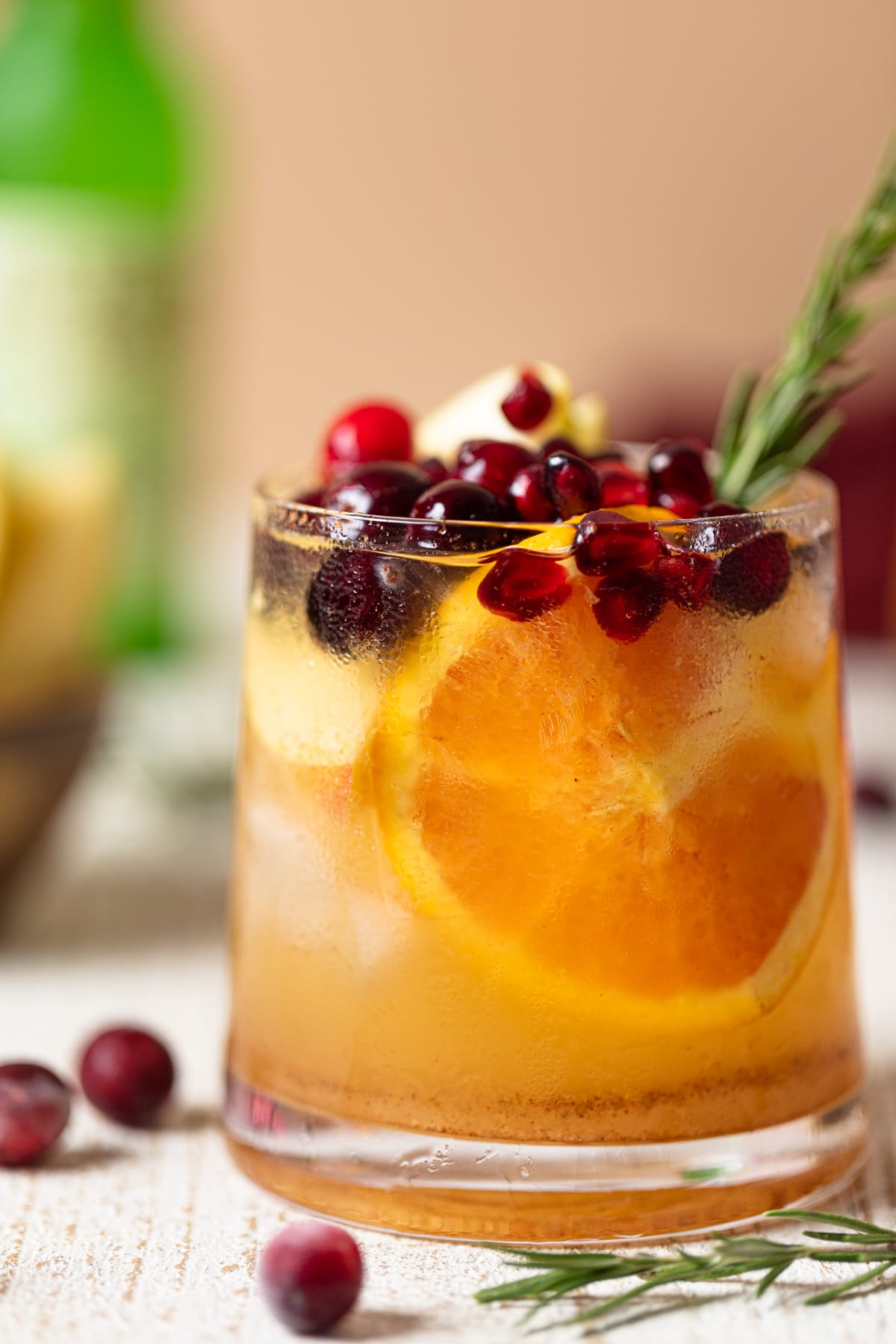 Garnishes for this Thanksgiving Mocktail
The decorations for this festive punch are the fun part! You can make them extra festive and fun with sliced and colorful fresh toppings like:
Fresh rosemary. Thyme would also work well!
Ginger beer to add fizz and extra sweetness
sliced apples (use a mixture of red and green)
Cranberries
Pomegranate seeds
Cinnamon sticks
Star anise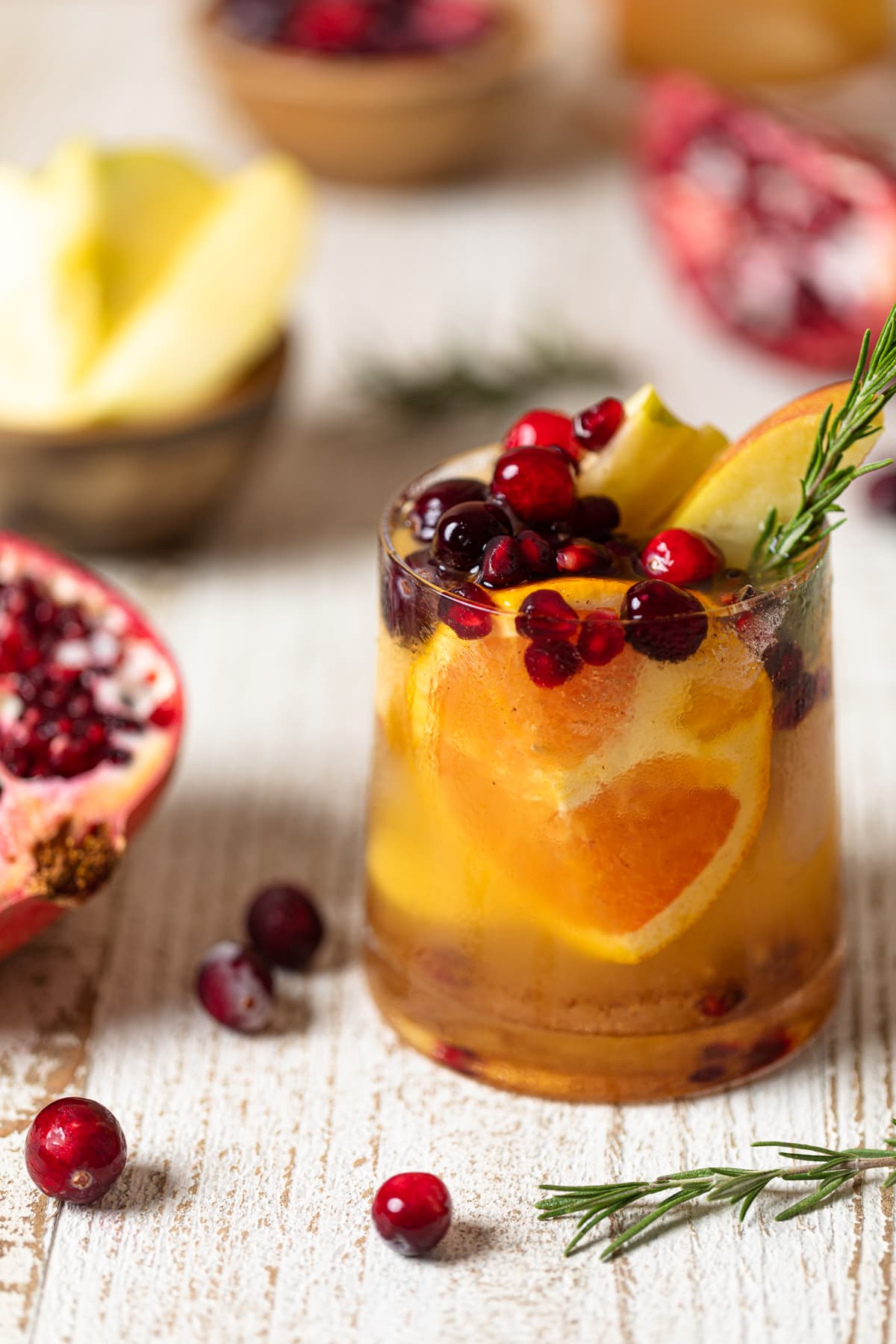 How To Make Your Own Apple Cider
If you'd prefer to make your own batch of apple cider, no worries---I've got you covered! You can make your own apple cider easily in a slow cooker, which is the easiest way to do so without requiring your full undivided attention. Of course, you can slowly simmer everything over the stovetop if you don't own a slow cooker.
Sweetener Options? Vegan-friendly?
Absolutely! I like to add a bit of natural sweetener to most things that I drink, including this Festive Thanksgiving Mocktail. Maple syrup is a great option because it's vegan and has antioxidants, much like honey which adds additional nutrients. However, you can try any healthy sweetener substitutions you like.
In fact, this post about The Best Healthy Sugar Alternatives + Substitutes is a great place to start! For example, you can use agave or maple syrup to sweeten your ice cubes in general when using other ingredients.
Doubling this Thanksgiving Mocktail Recipe
This recipe serves about two. But you'll probably want more Mocktails, and I can't blame you! You can easily double or triple the recipe to serve a crowd.
Adding Alcohol
If you'd like to serve this as a cocktail, you can add your favorite alcohol to the mixture. The best types of alcohols (just about 1 ounce or so) that work great with this apple cider-citrus-apple-ginger flavor combo is:
Gin
Rum
Champagne
Tequila
Whiskey
Vodka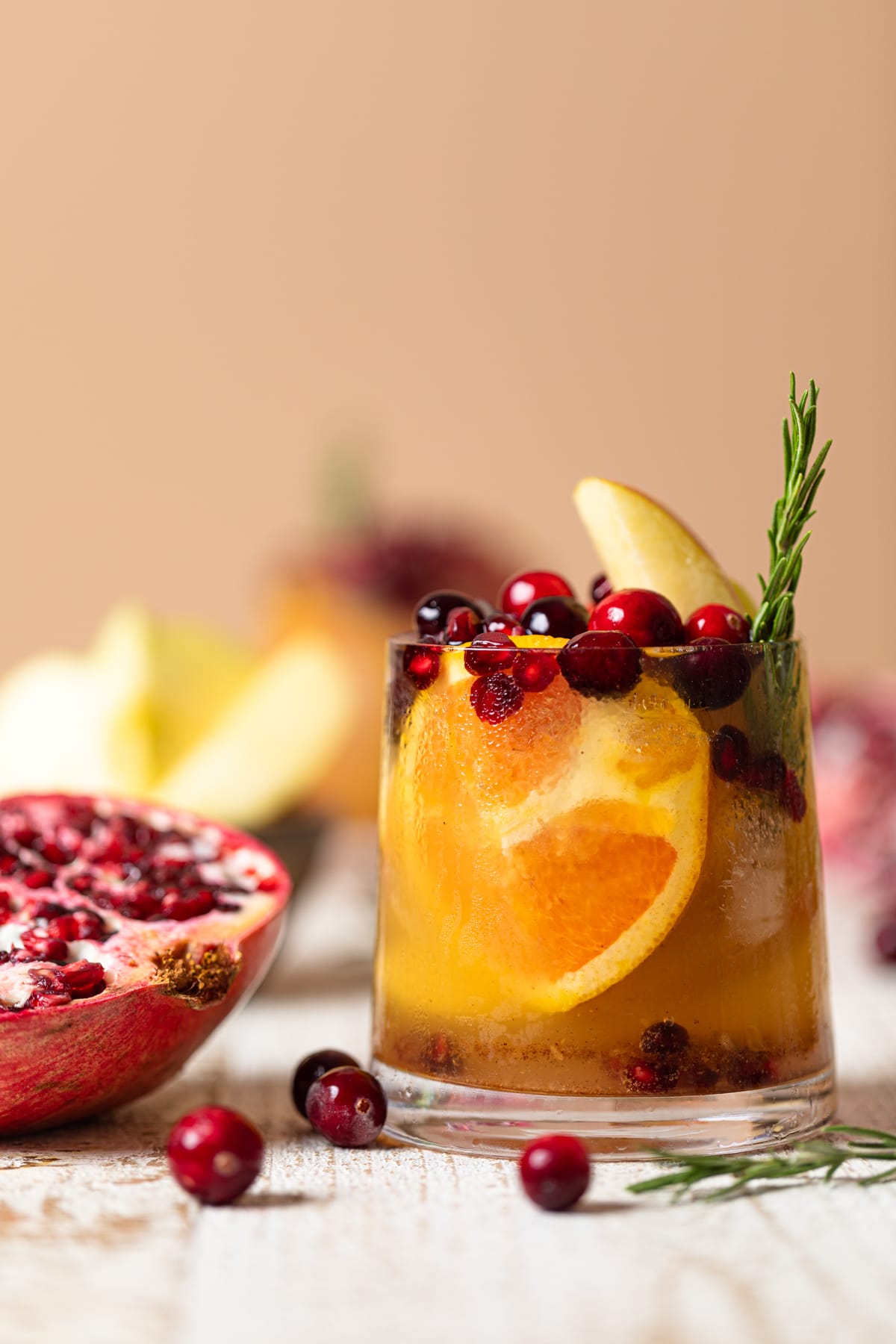 More Fall + Festive Mocktails to Try Next!
MADE OUR RECIPE(S)?
If you tried this Thanksgiving Punch Mocktail recipe or any other recipe on my website, please please leave a 🌟 star rating and let me know how you go in the 📝 comments below. I love hearing from you.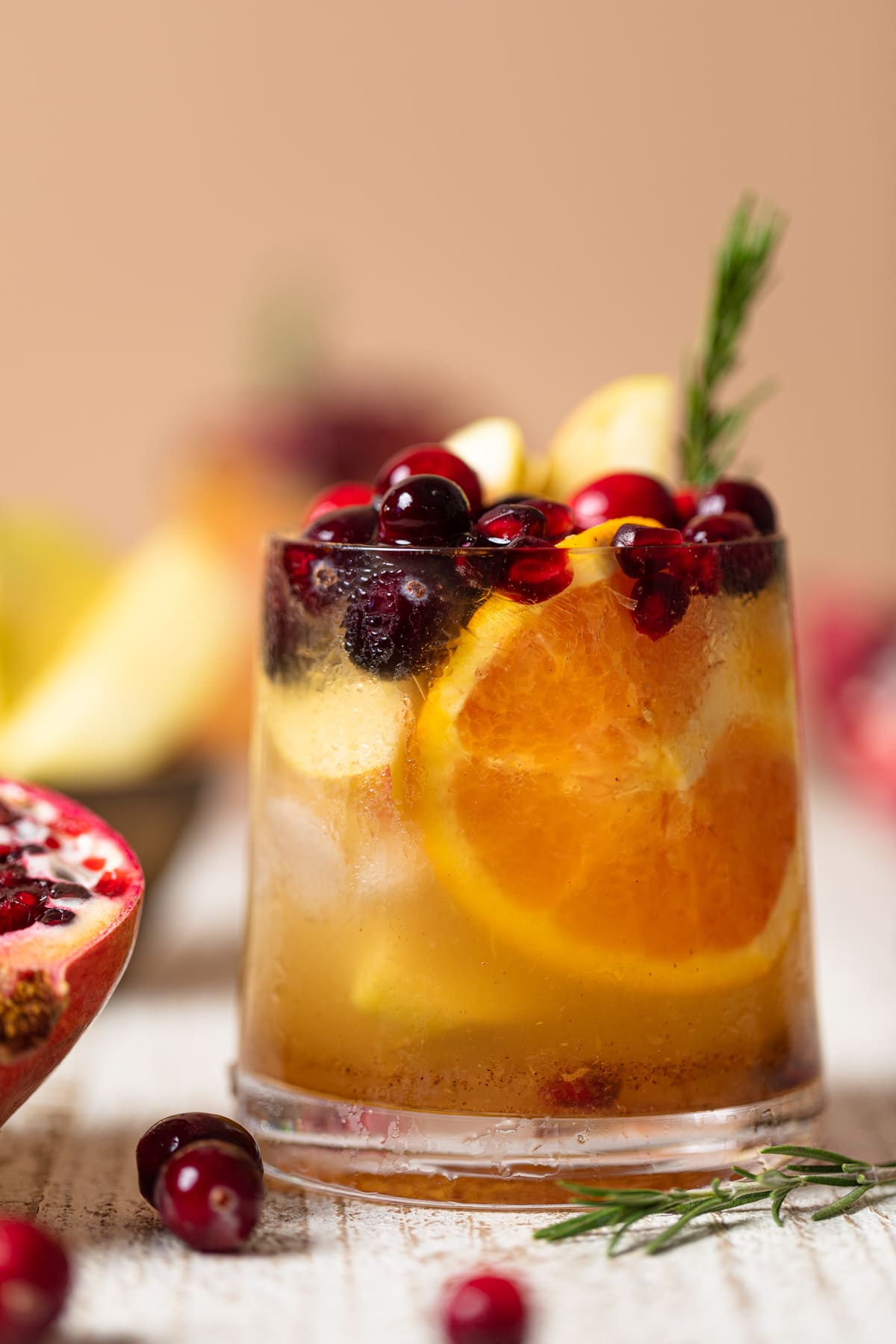 MOCKATILS:
4

cups

Apple cider, homemade or store-bought

(See Notes!)

¼

cup

pure maple syrup

1

Gala apple, sliced

1

Granny Smith apple, sliced

1

cup

freshly squeezed orange juice

1

cup

fresh or frozen cranberries

1

teaspoon

ground cinnamon

1

teaspoon

ground nutmeg

½

teaspoon

ground ginger

½

teaspoon

ground allspice

pomegranate arils

Ginger beer, for topping

(You can also use sparkling water or seltzer if preferred)
TO MAKE THE MOCKTAILS:
In a large pitcher, put together the apple cider, orange juice, maple syrup, sliced apples, cranberries, pomegranate arils, and spices until combined.

ASSEMBLY: For each drink, fill an 8-ounce glass halfway with crushed ice. Add ½ cup of the punch and garnish with sliced apples, cranberries, pomegranate arils, and a rosemary sprig. Top with ginger beer until the glass is filled.

Sip and Enjoy!
SWEETENER: Instead of maple syrup, you can substitute with Agave syrup or create a simply syrup using water and organic cane sugar.
APPLE CIDER: To make your own homemade version, follow my easy Apple Cider recipe.
Calories:
170
kcal
|
Carbohydrates:
42
g
|
Protein:
1
g
|
Fat:
1
g
|
Saturated Fat:
0.2
g
|
Polyunsaturated Fat:
0.1
g
|
Monounsaturated Fat:
0.04
g
|
Sodium:
9
mg
|
Potassium:
357
mg
|
Fiber:
3
g
|
Sugar:
34
g
|
Vitamin A:
129
IU
|
Vitamin C:
27
mg
|
Calcium:
42
mg
|
Iron:
0.5
mg