When it comes to ice cream, I'm a huge fan and this Maple Brown Butter Walnut Ice Cream is the one that I thoroughly enjoy, especially during the warmer months. Roasted walnuts, heavy whipping cream, brown butter, and sweetened condensed milk come together to create the easiest and most delicious ice cream that requires no special equipment and is not too sweet to pass up!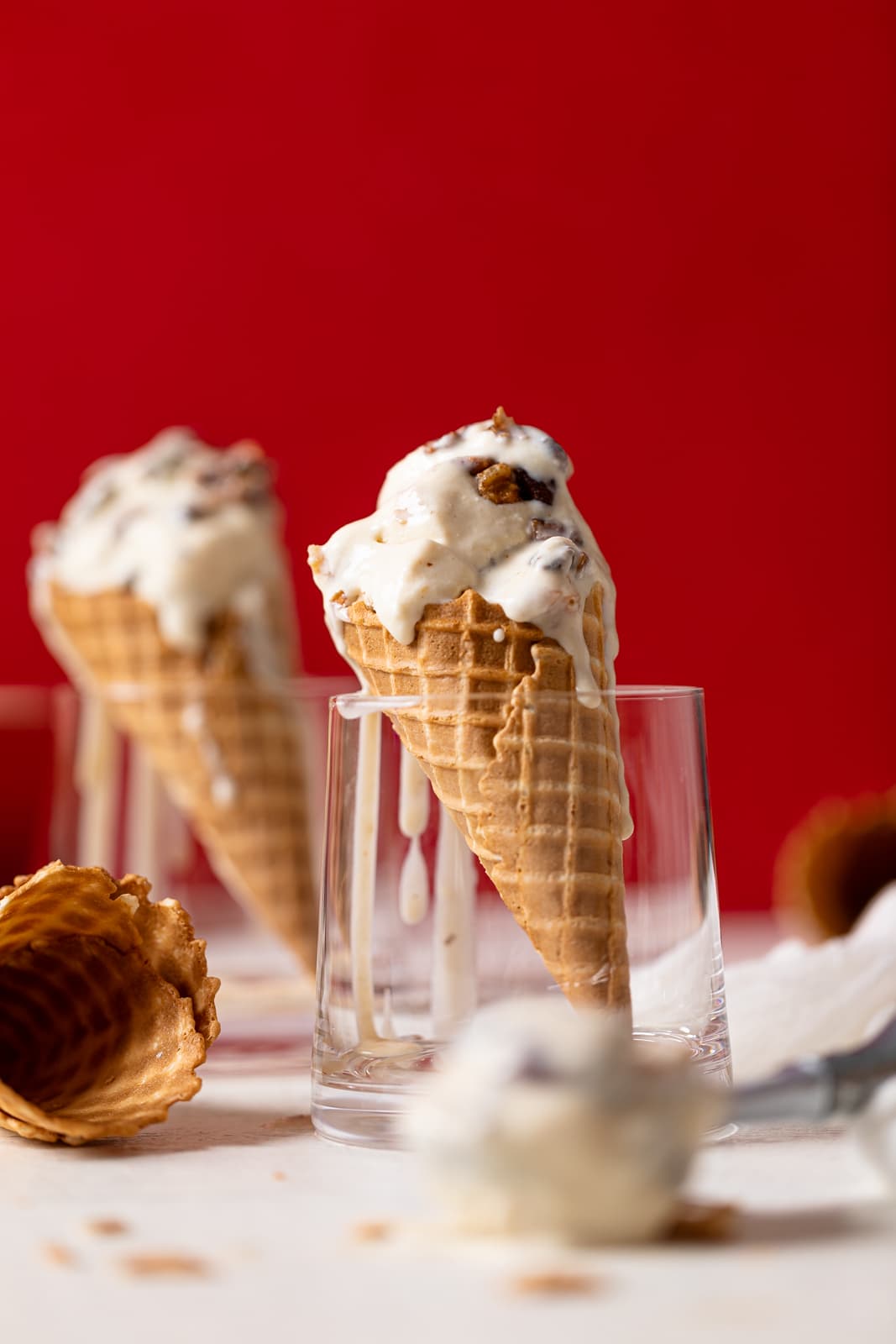 If you're a lover of ice cream, then you're sure to love this Maple Brown Butter Walnut Ice Cream. It's the perfect balance of bold flavors, especially from the toasted walnuts, brown butter, and maple highlights.
If you haven't made ice cream before, this is a perfect recipe to start with. It's a five-ingredient recipe that takes just 10 minutes to make (plus freezing time). Then you can add scoops to your favorite crunchy cones, with a few sprinkles of toasted walnuts to complete the experience. You'll be sol glad you did, and so will your family members!
Trust me, you'll be thanking me later for this frozen Maple Brown Butter Walnut Ice Cream treat.
SHOP MY FAVORITE TOOLS FOR BAKING, ESPECIALLY FOR THIS ICE CREAM!
Here, I've curated a list of baking essentials that I use to achieve my favorite baked goods, especially with this Maple Brown Butter Walnut Ice Cream. Everything from my fave large scoop, baking sheet, liners, and more. SEE THEM HERE!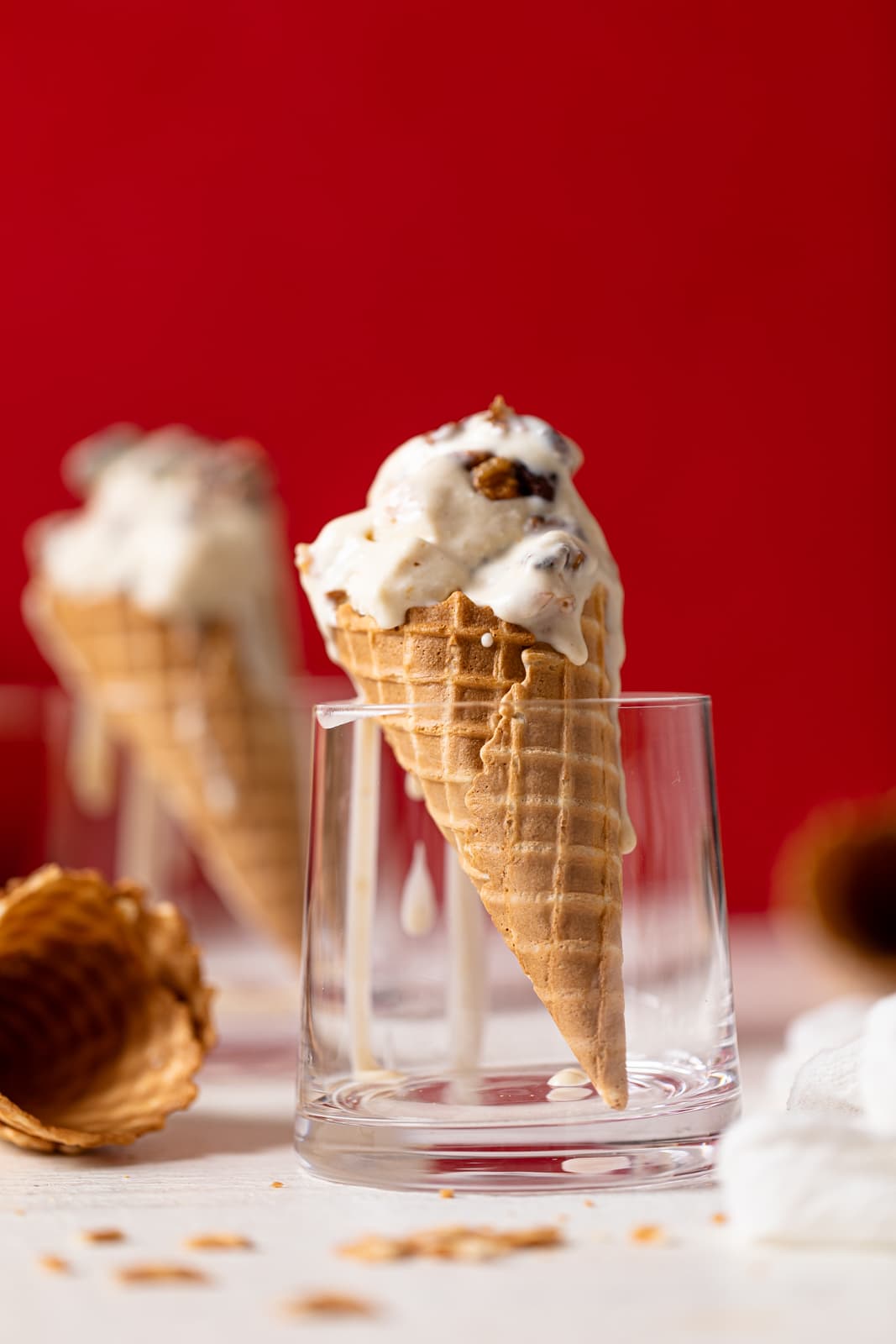 How to Make Maple Brown Butter Walnut Ice Cream
The base for this no-churn ice cream recipe is a maple brown butter cream with highlights of walnuts. You'll fold in toasted walnuts so you get a nice pattern of crunchy nuts throughout the maple brown butter base. It's amazing!
INGREDIENTS
Here is the simple list of ingredients to make maple brown butter walnut ice cream ASAP:
Heavy cream. Choose organic for the best flavor!
Sweetened condensed milk. I use low-fat sweetened condensed milk for my homemade ice cream recipe. It really enriches the texture and sweetens things up with just one simple ingredient.
Vanilla. Choose pure vanilla extract to highlight this classic ice cream flavor.
Maple syrup. Add a few tablespoons of maple flavor to compliment the savory flavors of brown butter in the ice cream. You can also substitute with honey or agave if you prefer.
Sea salt. Salt always helps to elevate the sweet flavors.
Unsalted butter. No need to have the butter at room temperature. You can take it right out the fridge if needed because you'll be melting it in a skillet until darkened and fragrant.
Walnuts. You should always toast your nuts for an elevated profile of flavor. It's so worth it!
Ice Cream Without a Machine?
Yes, you read that right! This No-Churn Ice Cream does not need to be churned or processed in any way for the ice cream to freeze. It does take a little technique to perfect the consistency, but it is so easy that anyone could do it!
If you take sweetened cream, flavor it, and freeze it you will be very disappointed. Unfortunately, ice cream needs air whipped into it, which is what most ice cream machines do as they freeze the base. Freezing cream will cause it to solidify and you will never be able to scoop it out.
Instead, I use heavy whipping cream and whip it to stiff peaks. Then, I fold it into sweetened condensed milk along with my other mix-ins to keep the mixture airy. This way, I get perfectly scoopable ice cream once it has hardened in the freezer.
Sugar is imperative for this step! I don't add any additional refined sugar to my ice cream recipe, as the sweetened condensed milk is sweet enough. The sugars in the mixture suspend within the ice cream, creating a soft texture. Without sugar, ice cream becomes hard, dry, and difficult to scoop.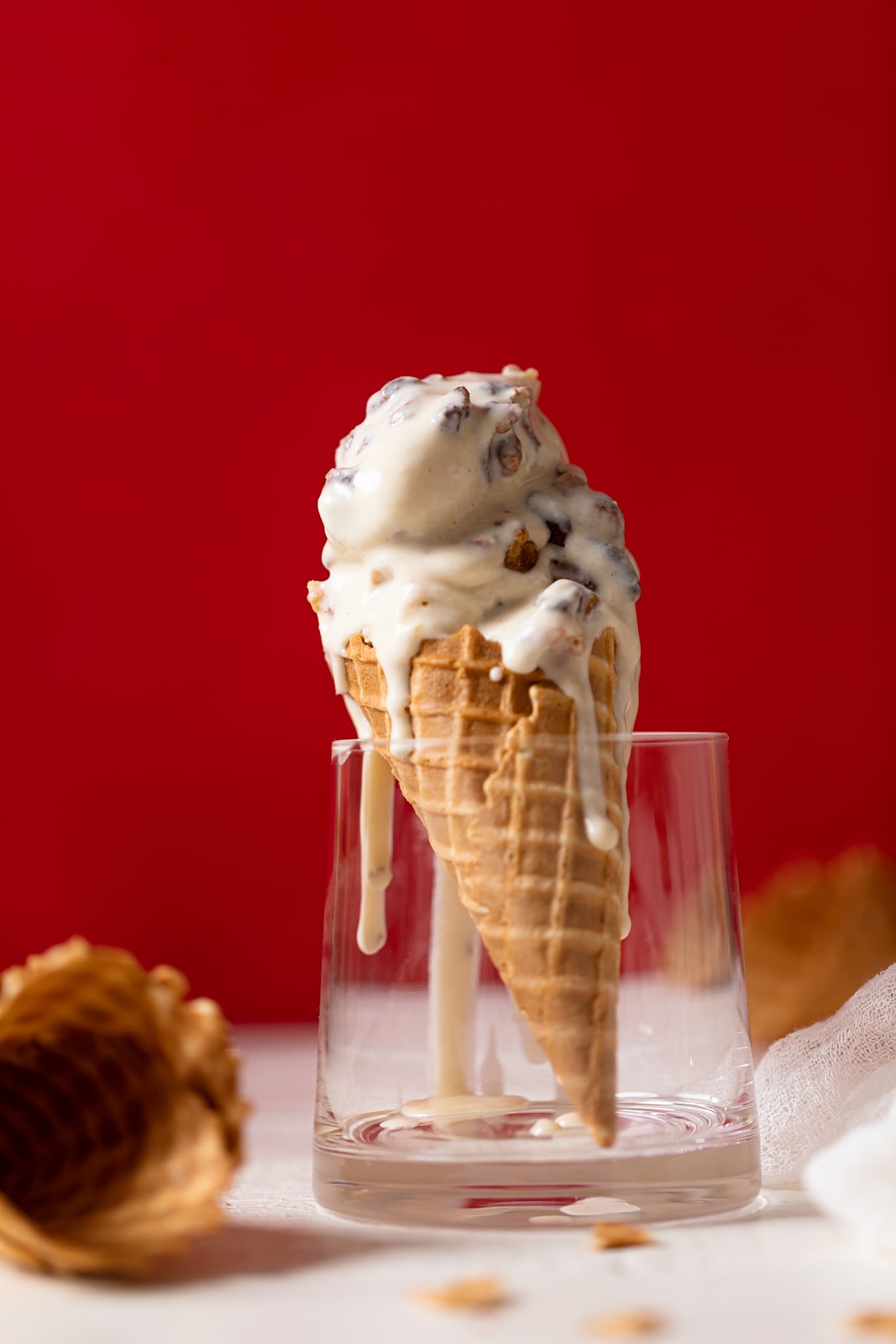 How to Brown Butter
Once you get the hang of browning butter, the process becomes second nature. At first, however, it might be a challenge to perfect the technique on your first try. Butter can burn quickly and easily, so you cannot step away during this process!
First, melt your butter in a skillet over medium to medium-low heat.
Once the butter has melted completely, allow it to begin bubbling. If the butter spatters, the heat source is too hot!
Allow the butter to cook for 3-4 minutes until you begin to see toasted bits at the bottom. This is the milk solids browning!
Once a rich brown color has been achieved and the butter smells nutty, it is ready. Remove the butter from the heat immediately.
Allow to cool and store in the fridge.
Storage of Maple Brown Butter Walnut Ice Cream
While you may find that this creamy no-churn maple brown butter ice cream disappears in a few hours out of the freezer, you can keep it for up to two weeks. Store in an airtight container in the freezer to prevent ice crystals.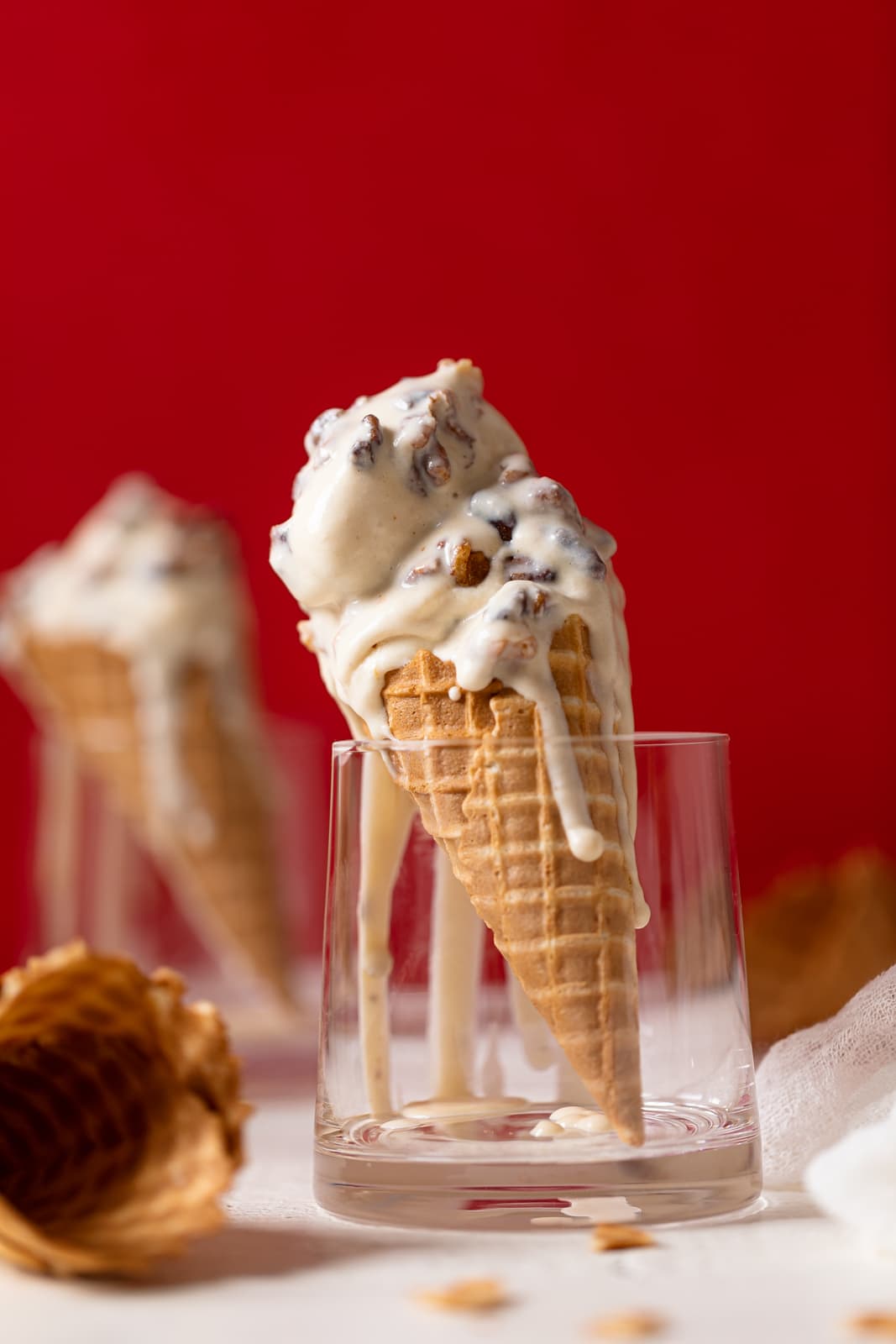 Ice Cream Recipes You'll Love!
If you love this Maple Brown Butter Walnut Ice Cream recipe, try these out during summer!
No-Churn Brownie Ice Cream
MADE OUR RECIPE(S)?
If you make this Maple Brown Butter Walnut Ice Cream, be sure to tag me on Instagram @orchidsandsweettea!
2

cups

organic heavy whipping cream

1

(14 oz). can

sweetened condensed milk, low-fat

2

cups

chopped walnuts, toasted

4

Tbsps

unsalted butter

3

Tbsps

pure maple syrup

1

teaspoon

vanilla extract

Pinch of

sea salt
TO MAKE THE BROWN BUTTER:
TO TOAST THE WALNUTS:
Preheat the oven to 400 degrees Fahrenheit and line a baking sheet with parchment paper. Place the chopped walnuts unto the baking sheet, ensuring that they are evenly spread out and toast them for 10 minutes, tossing them halfway to prevent browning on just one side.

Remove from oven and let them cool completely.
TO MAKE THE ICE CREAM:
In the bowl of an electric mixer on medium-high speed, whip together the heavy cream and vanilla until peaks form, before reducing speed to medium-low and continue mixing until stiff peaks form.

In a bowl, stir together the sweetened condensed milk, cooled brown butter, toasted walnuts, sea salt, and maple syrup, until fully combined.

Now, fold in the sweetened condensed milk mixture into the whipped cream and immediately pour everything into a 9x5 loaf pan (or small metal bowl) and freeze for 6 hours or overnight.

To serve, remove from the freezer and let it sit at room temperature for a couple of minutes to help it soften slightly before scooping. Enjoy.

Bon Appetit!
STORAGE: When kept in an air-tight container, ice cream lasts for about 2 weeks.
Calories:
621
kcal
|
Carbohydrates:
15
g
|
Protein:
8
g
|
Fat:
62
g
|
Saturated Fat:
25
g
|
Polyunsaturated Fat:
20
g
|
Monounsaturated Fat:
13
g
|
Trans Fat:
0.3
g
|
Cholesterol:
110
mg
|
Sodium:
24
mg
|
Potassium:
274
mg
|
Fiber:
3
g
|
Sugar:
10
g
|
Vitamin A:
1408
IU
|
Vitamin C:
1
mg
|
Calcium:
104
mg
|
Iron:
1
mg
Maple Brown Butter Walnut Ice Cream.