This recipe for Spicy One-Pot Jerk Chicken and Dumplings is comfort food at its finest. Tender, succulent chicken breasts, warming jerk seasoning, onion, carrots, bell peppers, and fluffy homemade dumplings make the perfect dinner for a chilly fall night. This meal will fill the house with all the homey, cozy aromas, it's a total flavor explosion in a pot! (Yes, just one pot, so say goodbye to a sink full of dishes!!)
Years ago, if you'd told me I'd be whipping up one-pot meals, I would have called you a liar. It's not that I had anything against them; they just weren't my cup of tea. Yet, tastes evolve throughout time, just as everything else does. So I made a couple of one-pot dinners like my One-Pot Creamy Lobster Orzo and One-Pot Chickpea White Beans and got really hooked on the idea because less dishes make for a happy household, right?
Chicken and dumplings are a classic Southern dish. It usually consists of juicy, delicious pulled chicken in a thick gravy topped with tender drop dumplings. It's truly comfort food in a bowl. I decided to turn this classic and crowd-pleasing recipe up a notch with a spicy jerk twist because why not?
My version of Spicy One-Pot Jerk Chicken and Dumplings has a bit of a kick from scotch bonnet peppers and jerk seasoning. Plus, I added tons of flavor to the buttery biscuits with dried herbs and a pinch of smoked paprika. The result is a totally unique dish that you and your family will love. As a bonus: it's a one-pot meal! Read: very little clean-up. This recipe is truly a win-win!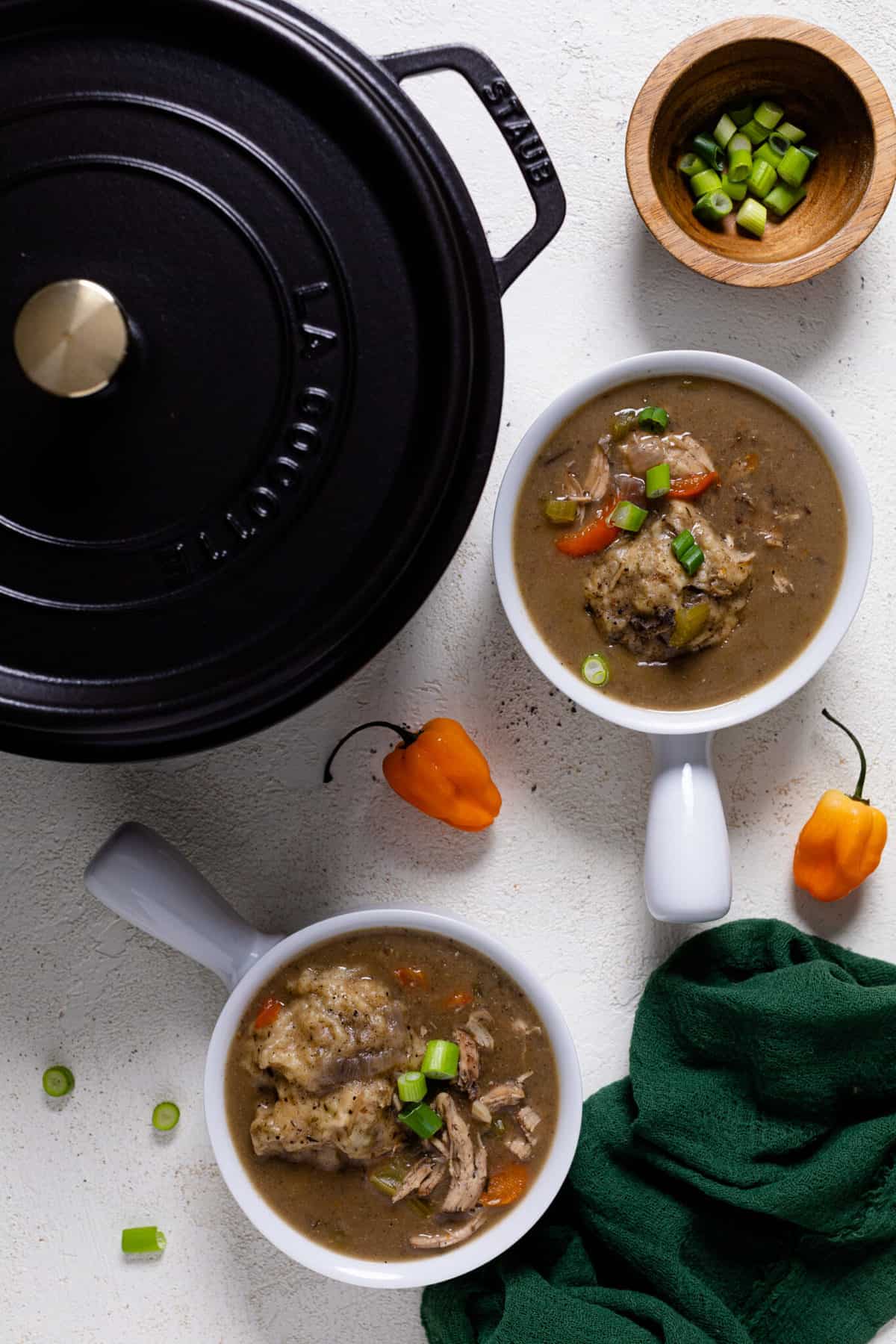 How to Make One-Pot Jerk Chicken and Dumplings
If this is your first time making One-Pot Jerk Chicken and Dumplings at home, you're in for a treat! This comforting dish is easier to make than you might think. Here's what you need to know to pull it off:
Jerk Chicken Stew Ingredients
For the chicken stew, you'll need the following ingredients:
Chicken breasts. Choose boneless-skinless chicken breasts for this recipe. They cook up and stay totally moist in the flavorful cooking liquid
Red pepper flakes. These add just a bit of spice and a pop of color to the stew.
Jerk seasoning. You can use store-bought jerk seasoning or see my homemade version below.
Extra-virgin olive oil. I recommend the organic oil from Primal Kitchen.
Garlic. Three cloves of garlic really enhance the flavor of the chicken stew.
Red onion. You can substitute red onion with another variety of onions if that's what you have on hand.
Carrots. Peel them first to remove any bitter flavor from the skin.
Red bell pepper. Red is the sweetest bell pepper variety, but you can use orange or yellow if you prefer.
Scotch bonnet peppers. Use less or omit the pepper altogether if you're sensitive to spice. This pepper is spicier than jalapeño but not as hot as Thai chili peppers.
Chicken stock. Use low sodium to control the saltiness of your stew.
Coconut milk or cream. If you use coconut milk, use full-fat for the most flavor and body.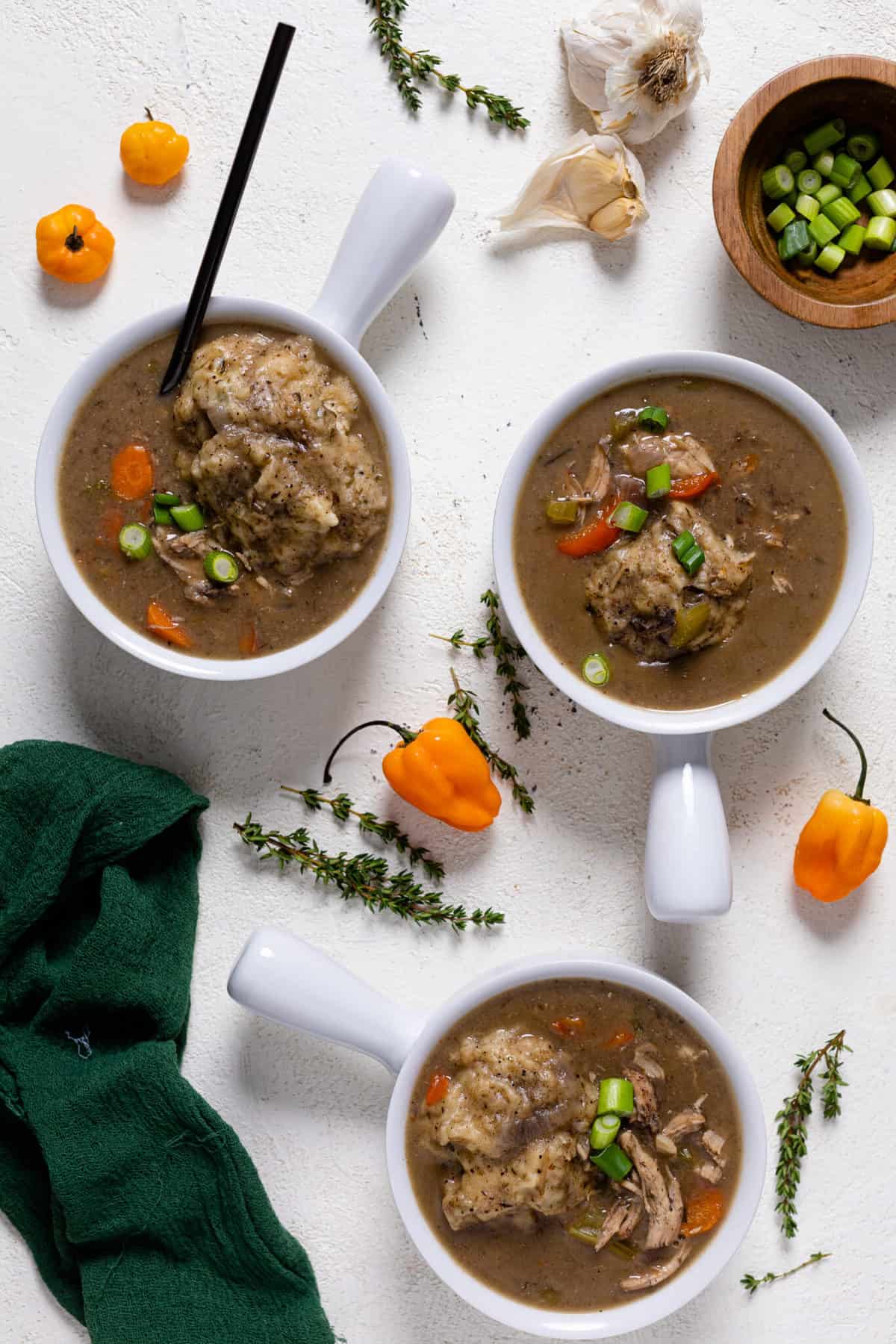 Herb Dumpling Ingredients
To make the easy herbed dumplings to top your jerk chicken stew, you'll need the following ingredients:
All-purpose flour. I recommend organic flour from Bob's Red Mill.
Baking powder. Check that yours is still fresh so your dumping rise nicely.
Dried thyme, parsley, and oregano. These enhance the dumplings with a delicious herby flavor and speckled appearance.
Smoked paprika. Just a pinch adds smokiness to the dumplings that nicely complement the jerk flavor in the chicken stew.
Almond milk + lemon juice. This is how you make tangy dairy-free buttermilk. You can use regular buttermilk if you're not dairy-free.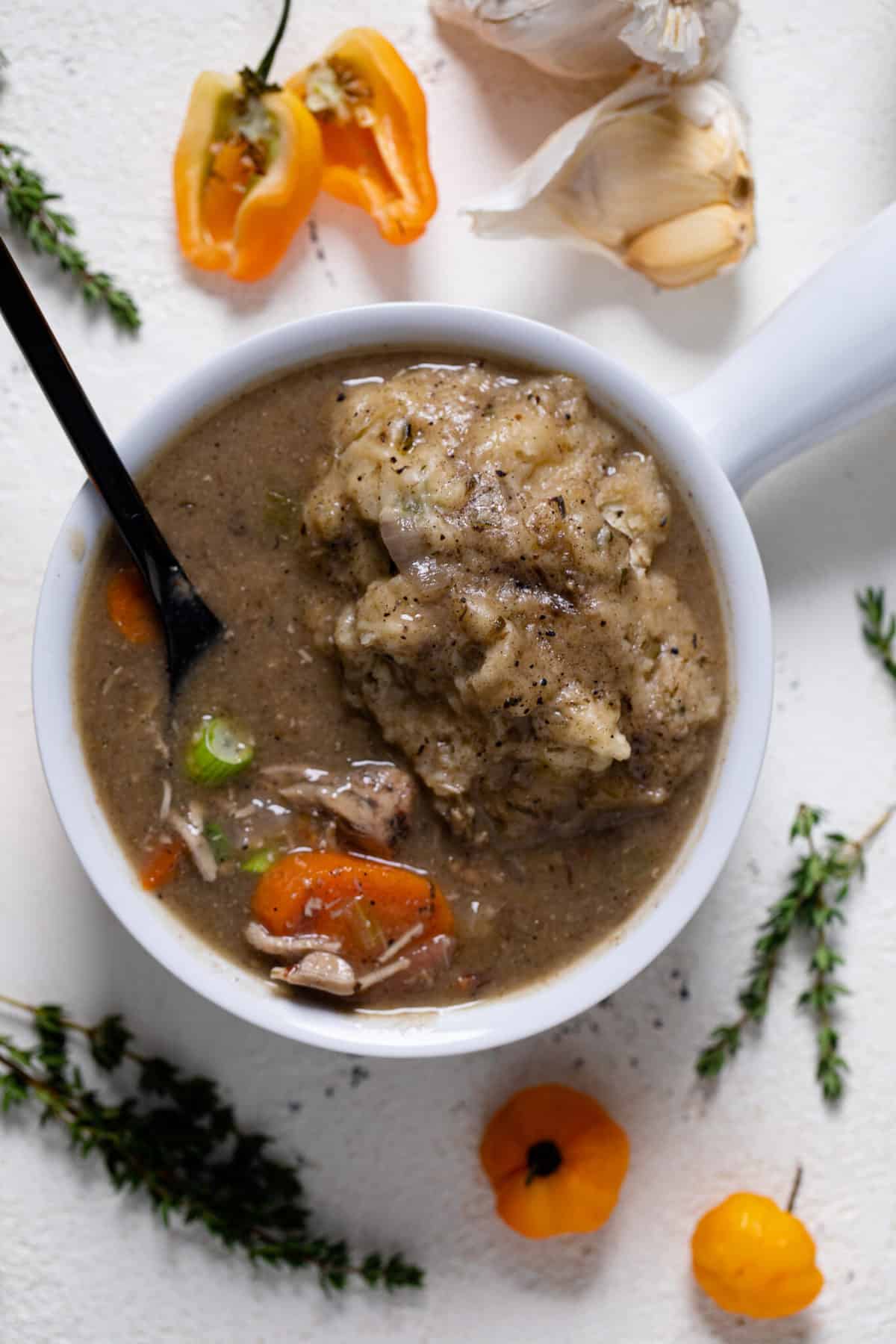 What is Jerk Seasoning?
Jerk seasoning is a flavorful spice blend from Jamaica. It has a uniquely complex flavor profile that's a bit nutty, a bit spicy, and full of rich umami flavors, which makes it especially tasty in this chicken and dumpling recipe.
Jerk seasoning is traditionally used as a dry rub on chicken, but I love spicing up all sorts of dishes with jerk flavor. If you love it as much as I do, be sure to try my Jerk Salmon Tacos + Avocado Cilantro Lime Sauce and Crispy Baked Jerk Potato Wedges next.
You can buy store-bought jerk seasoning for your chicken and dumplings, or you can make your own.
Homemade Jerk Seasoning
To blend up your own jerk seasoning for this stew, simply combine:
1 tablespoon onion powder
1 tablespoon garlic powder
2 tsps cayenne pepper
2 tsps salt + black pepper
2 tsps dried thyme
2 tsps brown sugar
1 teaspoon ground allspice
1 teaspoon dried parsley
1 teaspoon paprika
½ teaspoon red pepper flakes
½ teaspoon ground cinnamon
½ teaspoon ground nutmeg
½ teaspoon ground clove
¼ teaspoon ground cumin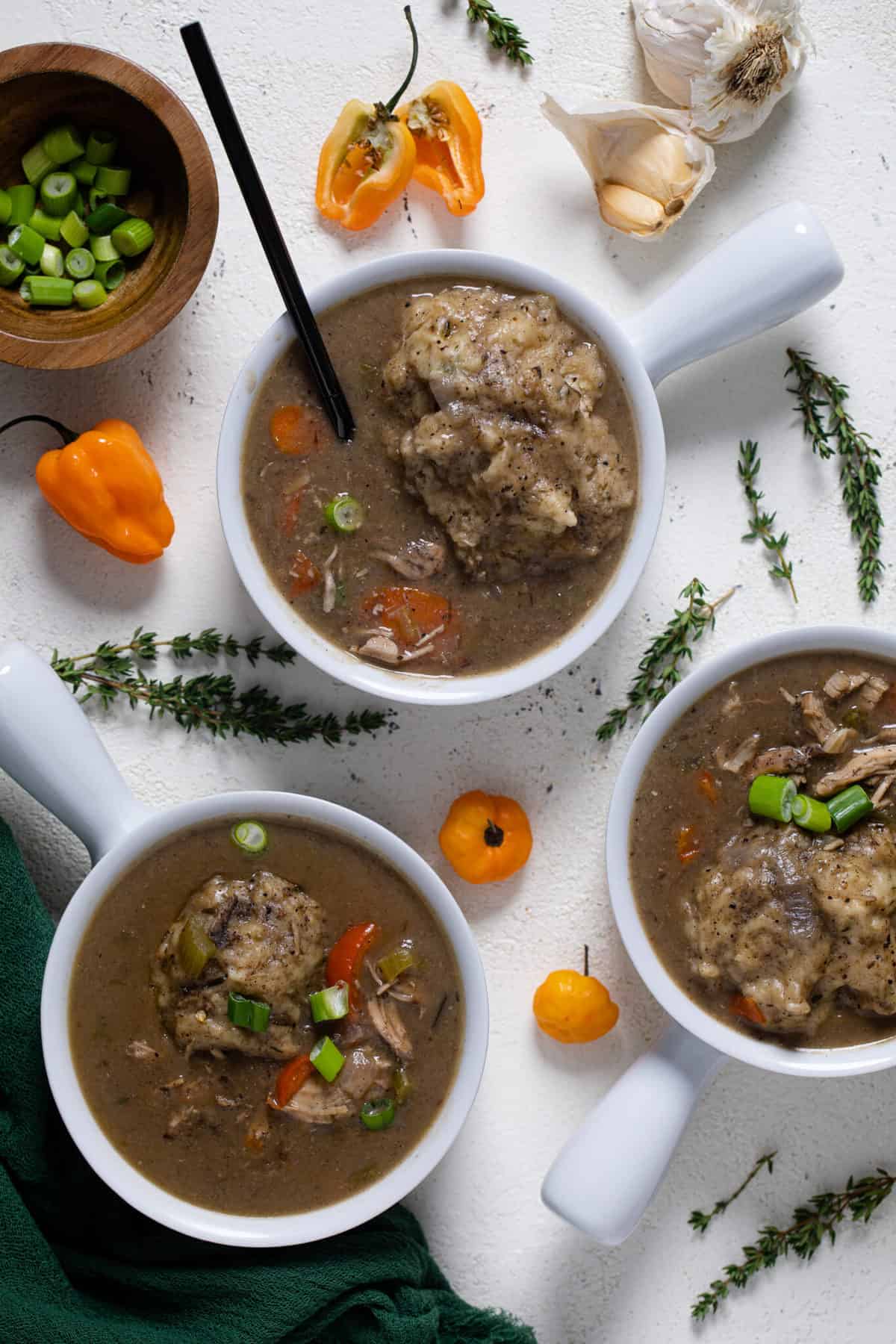 Jerk Seasoning Health Benefits
Boosts immune system
Anti-inflammatory properties
Aids digestion
High in vitamins that keep skin, nails, and hair healthy and strong!
So, if you're in the mood for island food and want to make an easy jerk dish for yourself or your family, know that every bite is good for your health.
Gluten-Free Option
You can make gluten-free dumplings for your jerk chicken stew by substituting the all-purpose flour with a gluten-free all-purpose flour blend.
Storing & Freezing Jerk Chicken and Dumplings
Store leftover jerk chicken and dumplings in a tightly sealed container in the refrigerator for up to 3 days for optimal freshness.
To freeze, keep the stew in an airtight container in the freezer for up to 6 months. To defrost, simply place soup in the refrigerator overnight or at room temperature before reheating on the stovetop to serve.
Storing Homemade Jerk Seasoning
Made a big batch for next time? Store the jerk seasoning in mason jars (or another airtight container) in a cool, dark place in the pantry to keep it fresh. This protects the spices from the sun, which would otherwise heat the jar and dilute the contents. Seasoning like this can be stored for up to three months without losing its flavor.
You can tell whether your spices are going bad by looking at their color. A loss of color intensity in your blend is a telltale sign that it's gone bad, and if that fails, give it the tried and tested 'sniff test'.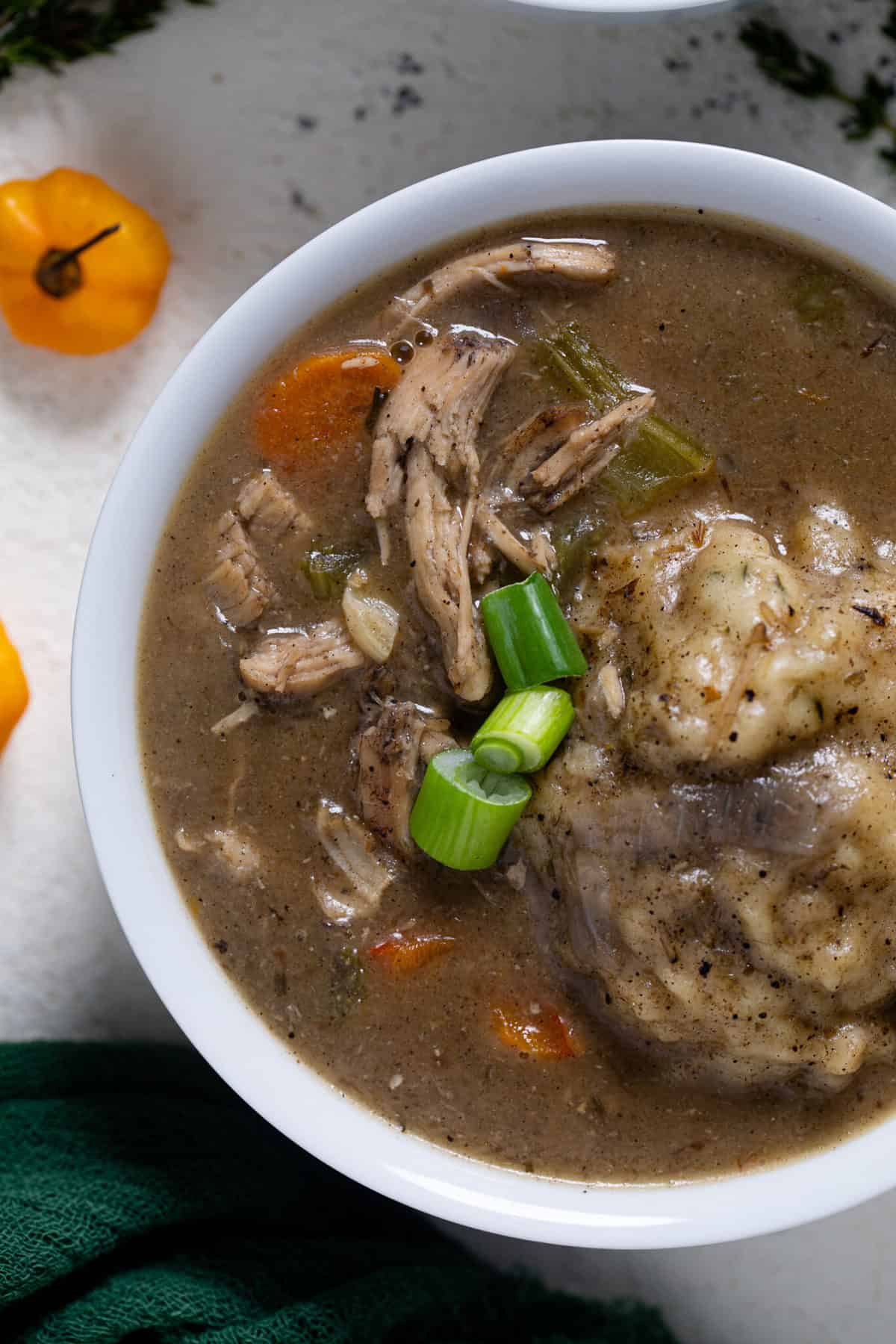 More Comforting Chicken Dinner Recipes
Finally, if you love this one-pot Jerk Chicken and Dumplings recipe, try these other hearty dishes next:
Total Time:
1

hour
5

minutes
2

medium

chicken breasts

sea salt + black pepper, to taste

1

teaspoon

red pepper flakes

2

Tbsps

jerk seasoning

(See Notes!)

2

Tbsps

extra virgin olive oil

(I use Primal Kitchen)

3

garlic cloves, minced

1

red onion, chopped

4

carrots, peeled + chopped

1

medium

red bell peppers, chopped

2

scotch bonnet peppers

(Also known as Habanero peppers)

4

cups

chicken stock, low-sodium

(I use Pacific Foods)

1

cup

full-fat coconut milk or cream

(I use Thai Kitchen)
Easy Herb Dumplings:
1 ½

cups

organic all-purpose flour

2

tsps

baking powder

½

teaspoon

sea salt, finely ground

1

tablespoon

dried thyme

1

teaspoon

dried parsley

1

teaspoon

dried oregano

pinch of

smoked paprika

1

cup

Almond milk + 1 teaspoon lemon juice

(This makes the dairy-free 'buttermilk')
Preheat your oven to 400 degrees Fahrenheit.

Start by rinsing your chicken breasts and lightly seasoning them with sea salt + black pepper. Add to a small baking sheet and bake for 30 minutes or until cooked through. Once done, remove from oven and shred both breasts using two forks, pulling them apart.

Add 1-2 Tbsps of olive oil to a large dutch oven pot over medium-high heat.

Once heated, add the onions, bell peppers, carrots, and garlic and Sauté for 1-2 minutes until translucent + fragrant and veggies are slightly tender. Add in jerk seasoning + red pepper flakes and stir until all veggies are coated.

Add the chicken broth, coconut milk, and shredded chicken, stirring until well combined and it begins to boil. Reduce heat, cover and let simmer.
For Easy Herb Dumplings:
In a medium bowl, whisk together the flour, baking powder, sea salt, thyme, oregano, smoked paprika, + parsley. Add 'buttermilk' and stir together until just combined.

Carefully, scoop 1 tablespoon of dumpling dough and lightly roll around in hand, dropping it into soup. Repeat until all dumplings are made. Lastly, add in scotch bonnet pepper (whole) for extra spicy flavor!

Cover soup again and let continue to simmer, about 10-15 minutes or until dumplings have swollen and cooked through.

Remove from heat and serve immediately into prepared bowl(s) and top with chopped green onions.

Bon Appetit!
STORAGE: Leftovers can be stored in a tightly sealed container in the refrigerator for up to 3 days, for optimal freshness. Can also be frozen for 4-6 months. To defrost, simply place soup in the refrigerator overnight or at room temperature before re-heating on the stove top to serve.
HOMEMADE JERK SEASONING: To make your own jerk seasoning, you'll need the following. Simply mix them together in a bowl and continue recipe: 1 tablespoon onion powder, 1 tablespoon garlic powder, 2 tsps cayenne pepper, 2 tsps salt + black pepper, 2 tsps dried thyme, 2 tsps brown sugar, 1 teaspoon ground allspice, 1 teaspoon dried parsley, 1 teaspoon paprika, ½ teaspoon red pepper flakes, ½ teaspoon ground cinnamon, ½ teaspoon ground nutmeg, ½ teaspoon ground clove, and ¼ teaspoon ground cumin.
Calories:
399
kcal
|
Carbohydrates:
37
g
|
Protein:
27
g
|
Fat:
17
g
|
Saturated Fat:
9
g
|
Polyunsaturated Fat:
2
g
|
Monounsaturated Fat:
5
g
|
Cholesterol:
49
mg
|
Sodium:
564
mg
|
Potassium:
683
mg
|
Fiber:
4
g
|
Sugar:
4
g
|
Vitamin A:
8380
IU
|
Vitamin C:
35
mg
|
Calcium:
205
mg
|
Iron:
6
mg
Spicy One-Pot Jerk Chicken and Dumplings.