This Vegan Chickpea + Broccoli Mashed Potato Bowl is a healthy option for a quick lunch or easy weeknight meal and comes packed with nutrients and works perfectly for meal prep. This bowl consists of a creamy garlicky mashed potatoes base, topped with well-seasoned roasted chickpea and broccoli. This meal is a great dairy-free + vegan staple for the entire family.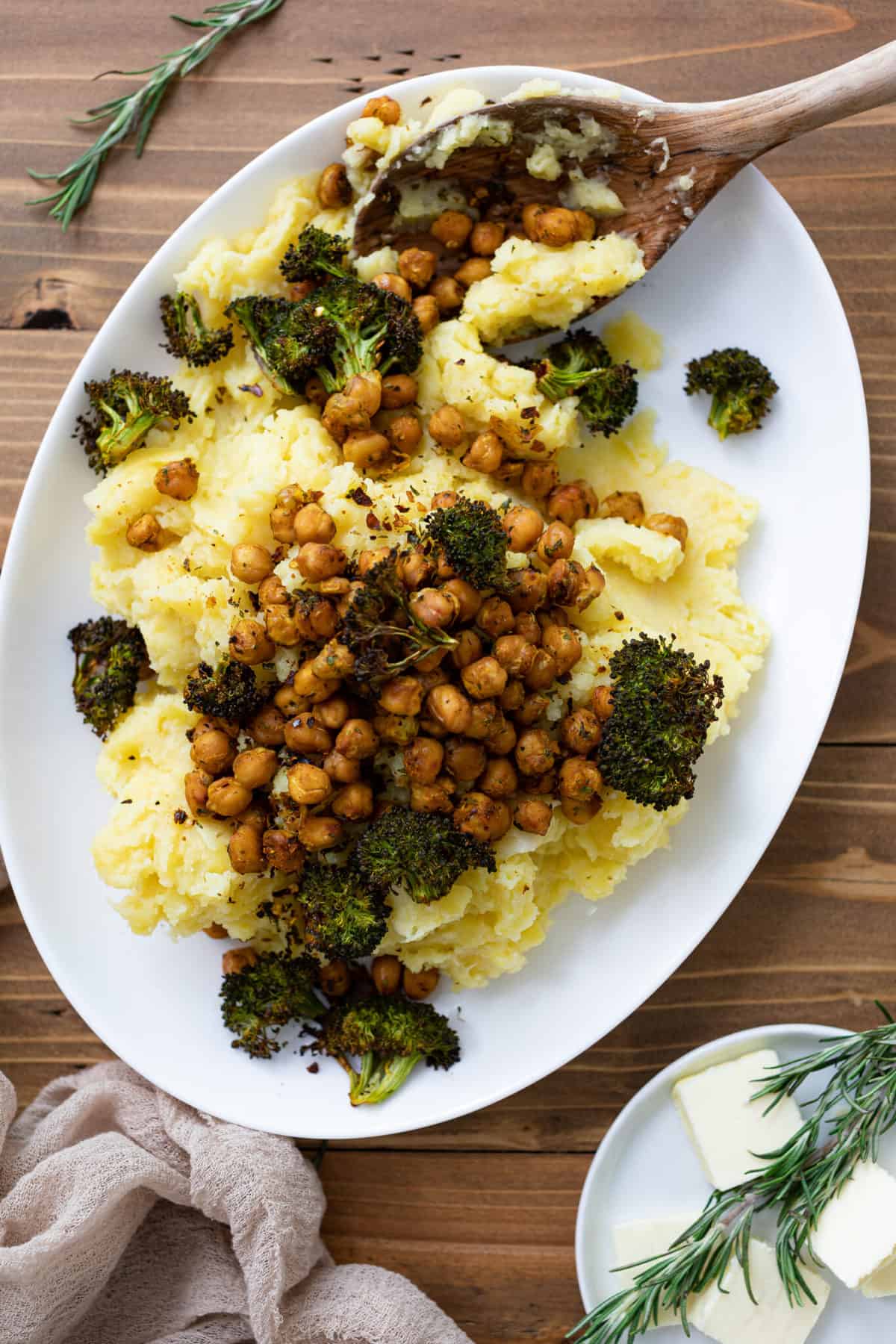 Vegan Chickpea + Broccoli Mashed Potato Bowl——-So, of course I had to share one of my favorite vegan dishes with you! This mashed potato bowl is oh so delicious, trust me.
Lately, I've been asked for advice on keeping things interesting, especially when eating a plant-based or vegan diet. While I'm not a total Herbivore, my family and I make a commitment to eating most things that are Vegan.
To start, I'd recommend reading our latest article, How to Best Transition into a Plant-Based or Vegan Diet, which best explains how to keep your focus and continue on with eating healthy.
Secondly, my best advice to anyone is EXPERIMENT, EXPERIMENT, EXPERIMENT! And yes, I had to type that in capital letters. Haha. Seriously, it's so important to try different ingredients and even different ways to make your favorite ones.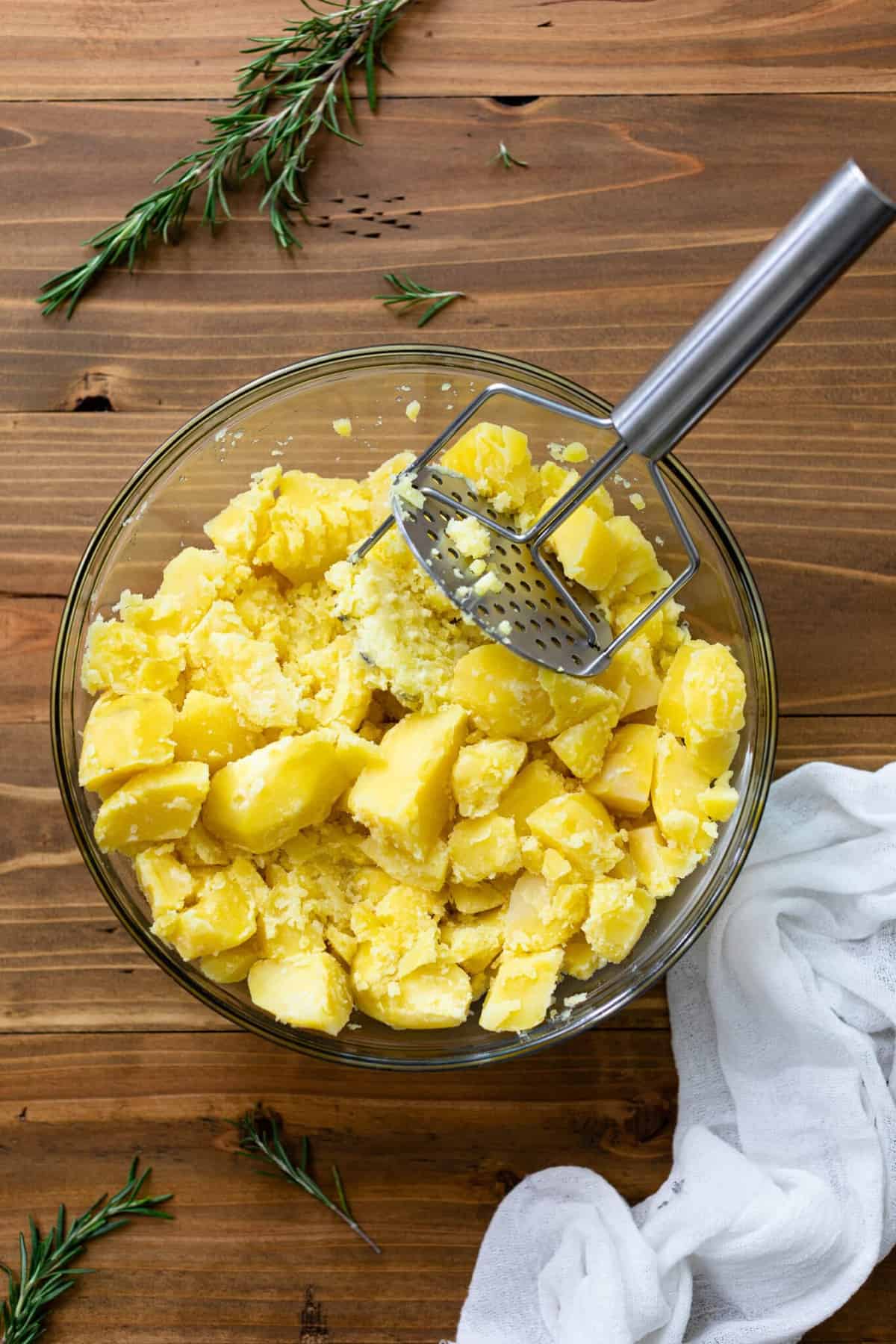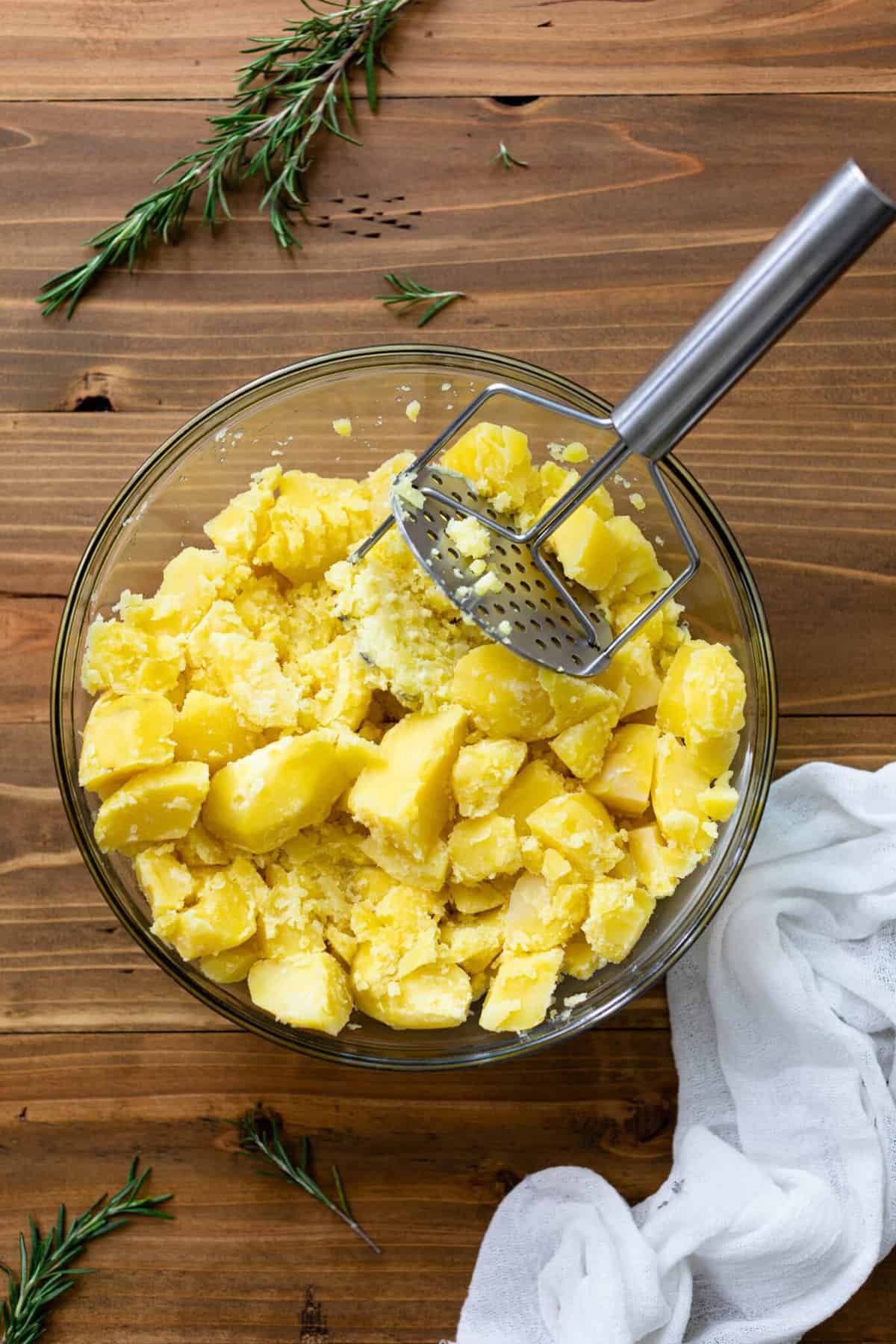 Granted, you won't always love everything that you try (I for one HATE dates and asparagus), however, you'll definitely stumble upon other great substitutes or you'll learn to mask the ones you hate with other favorites so that you don't even notice that you're eating it.
Overall, it's just about trials + errors. That simple.
When it comes to using chickpea, I'm a super fan! Not only is a can of chickpea extremely convenient and inexpensive, but chickpeas are such a universal ingredient. I couldn't tell you the amount of things that I've used chickpea in.
But don't worry—We've got you covered.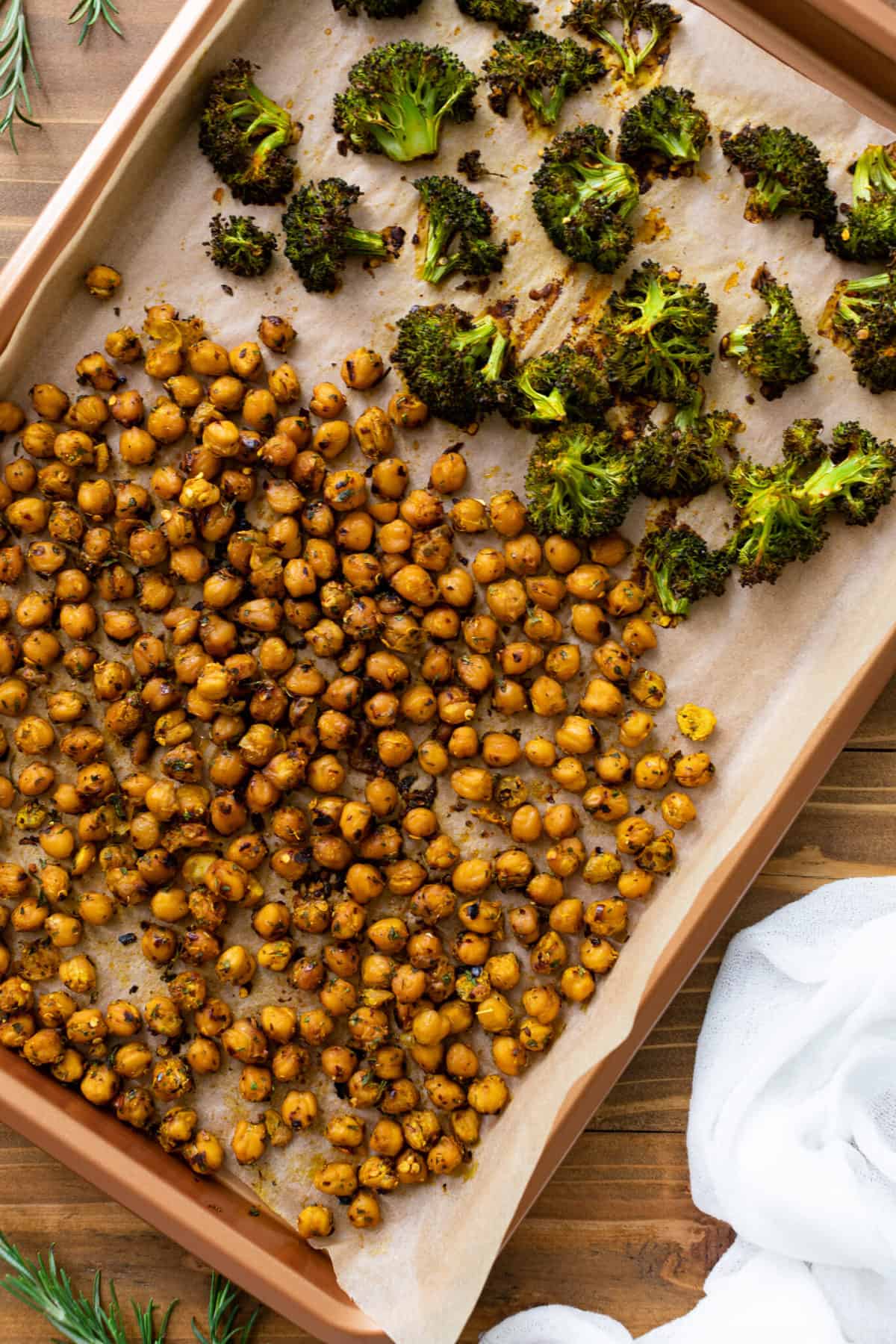 Here are a Few Tried + True Vegan recipes that You Can Start With:
This Homemade Vegan Chickpea Quinoa Meatball Subs recipe is truly something special and is the perfect rendition of the traditional New York Marinara Sub. Loaded with savory, spicy and sweet flavors, these 'meatball subs' made from only veggies are moist, flavorful, and tender; wrapped in a toasted pretzel hot dog bun and topped with melted vegan mozzarella.
This Savory Chickpea Quinoa Buddha Bowl is a healthy option for a quick lunch or dinner and comes packed with nutrients and works perfectly for meal prep. This bowl consists of quinoa, mashed sweet potatoes, carrots, broccolini, roasted chickpea, and drizzled with a creamy cashew sauce. This Buddha-styled meal is a great vegan + gluten-free staple for the entire family.
This Vegan Lemon Garlic Spaghetti + Meatballs recipe is the best easy and comforting skillet meal for the entire family. Loaded with savory flavor, these 'meatballs' made from veggies are moist, silky, and tender; and comes topped over gluten-free spaghetti coated in a delicious lemon garlic sauce. A vegan and gluten-free weeknight option.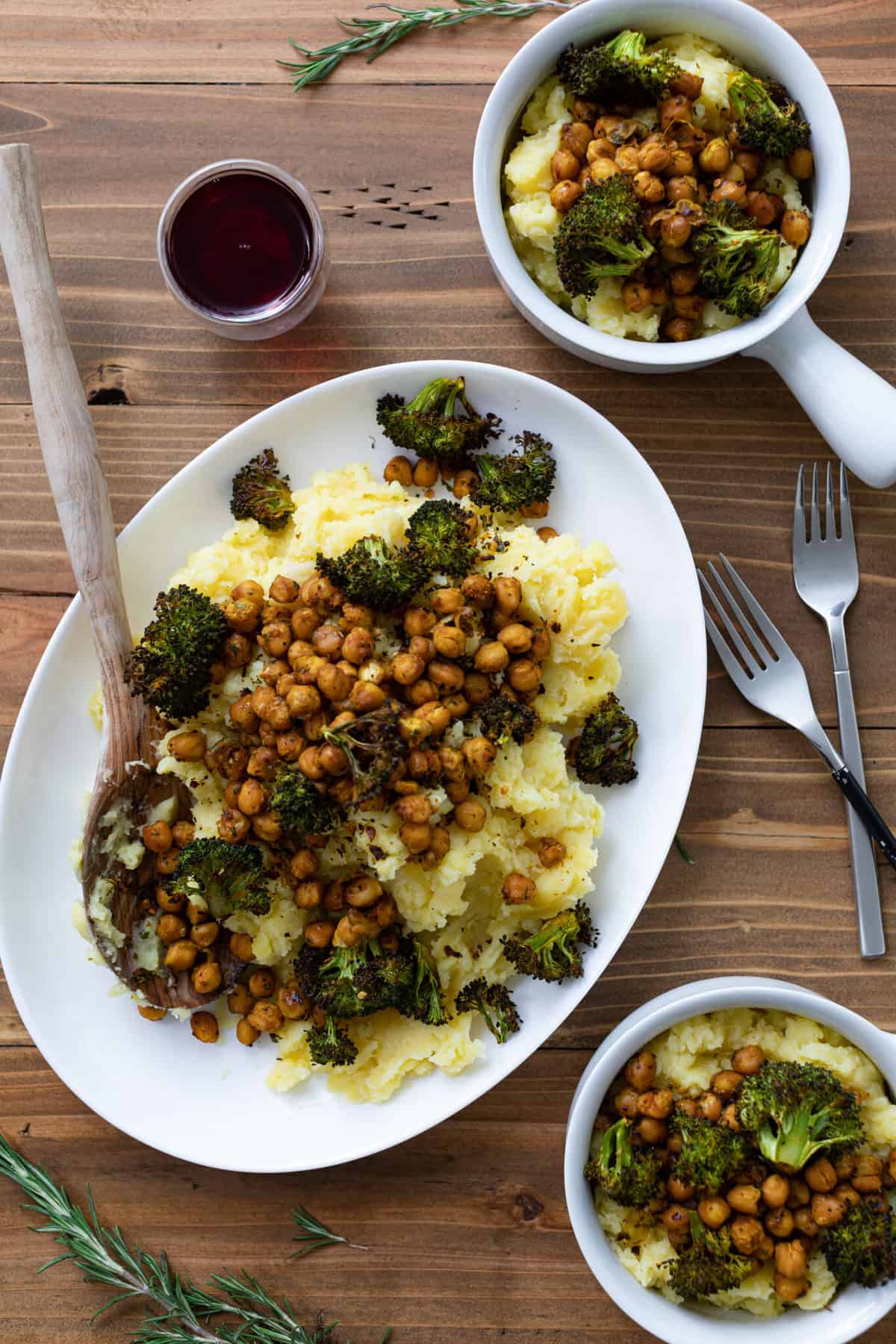 Why Chickpea? Any Health Benefits?
For those of you who aren't aware, another name for Chickpeas are Garbanzo Beans. Despite the most recent craze, chickpeas have been around for thousand of years and originate from the Middle East.
Chickpeas have such a great texture and nutty flavor, which allows them to successfully pair well with a lot of other ingredients, especially in vegan and/or vegetarian recipes.
When it comes to the health benefits of Chickpea, here a few awesome reasons why you should probably add this simple ingredient to your diet more often:
Packed with Nutrients + have a moderate amount of calories!
Rich in Plant-Based Proteins!
Support Blood Sugar Control.
Full of Fiber + might aide digestion.
May protect against Chronic Diseases (such as heart Disease, Cancer, Diabetes, etc.)
May Help keep your appetite under control (Think about how protein + fiber helps to slow down digestion, therefore keeping you full longer!).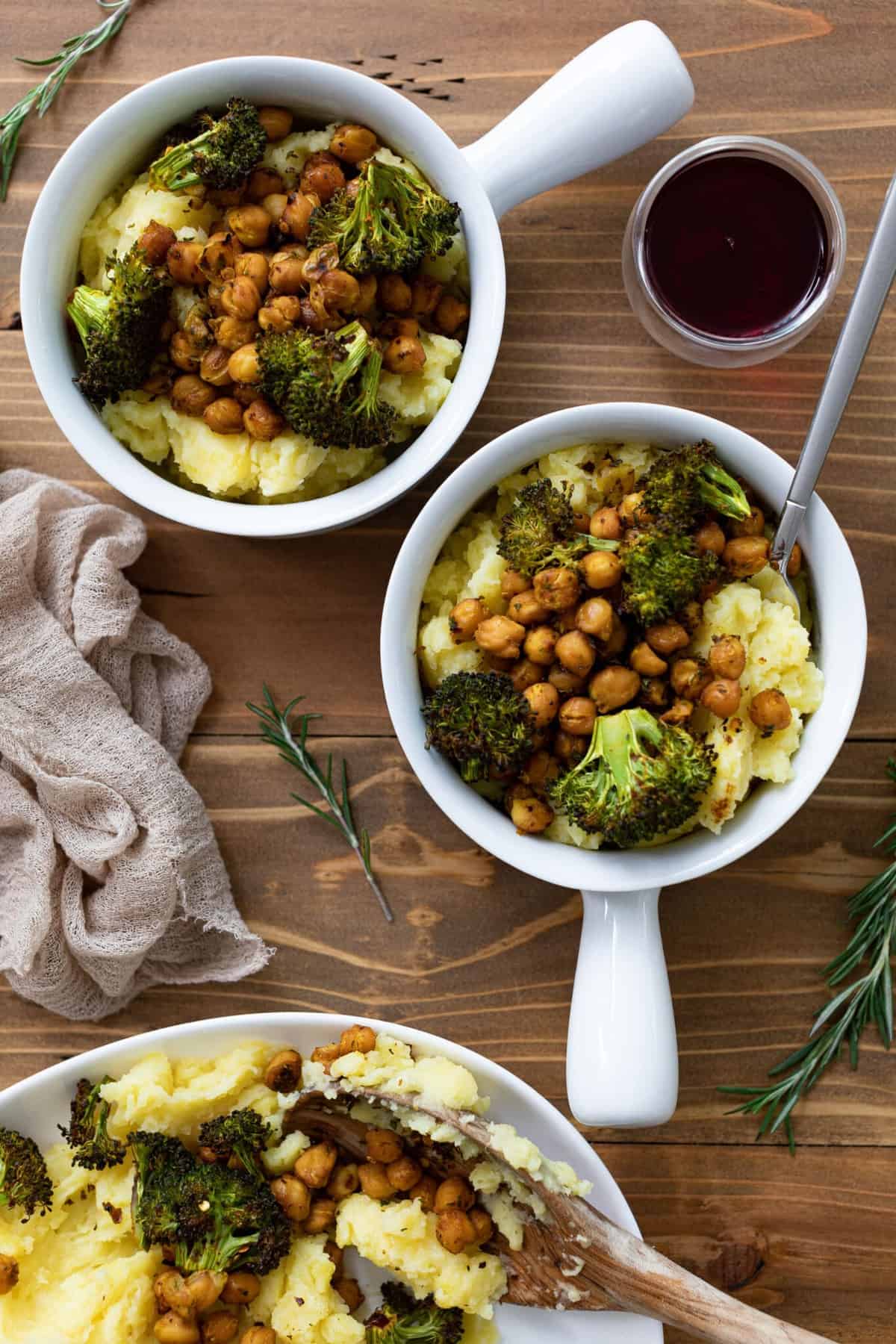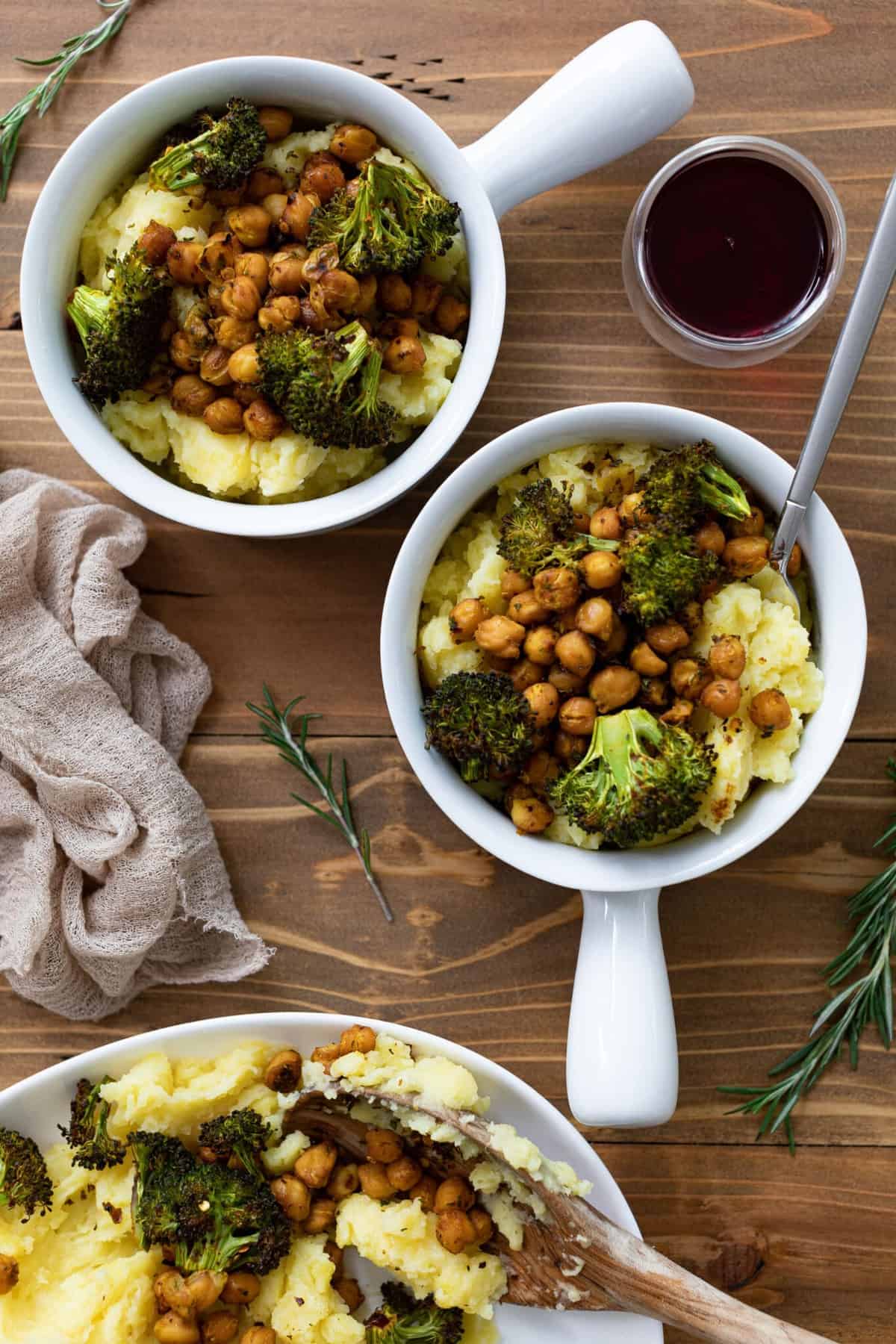 This Vegan Chickpea + Quinoa 'Meatballs' + Polenta recipe is truly something special. Loaded with savory, spicy and sweet flavors, these 'meatballs' made from veggies are moist, silky, and tender. This dish is the perfect meal for dinner for the family on any given day.
Of course, if you're looking for Breakfast, Sweets, + Dinner ideas that are Vegan, you can simply find them on our site.
What You'll Love Most About This Chickpea Broccoli Bowl.
Bold flavors—Savory + Spicy marry so well together!
Easy to make.
Chickpeas are just so delicious!
Uses simple ingredients.
Fully loaded and filling!!!
Easy weeknight meal option.
Completely meal-prep friendly!
Great vegetarian option for everyone!
Fun cooking activity for entire family.
And just absolutely wholesome and perfect for any kind of weather.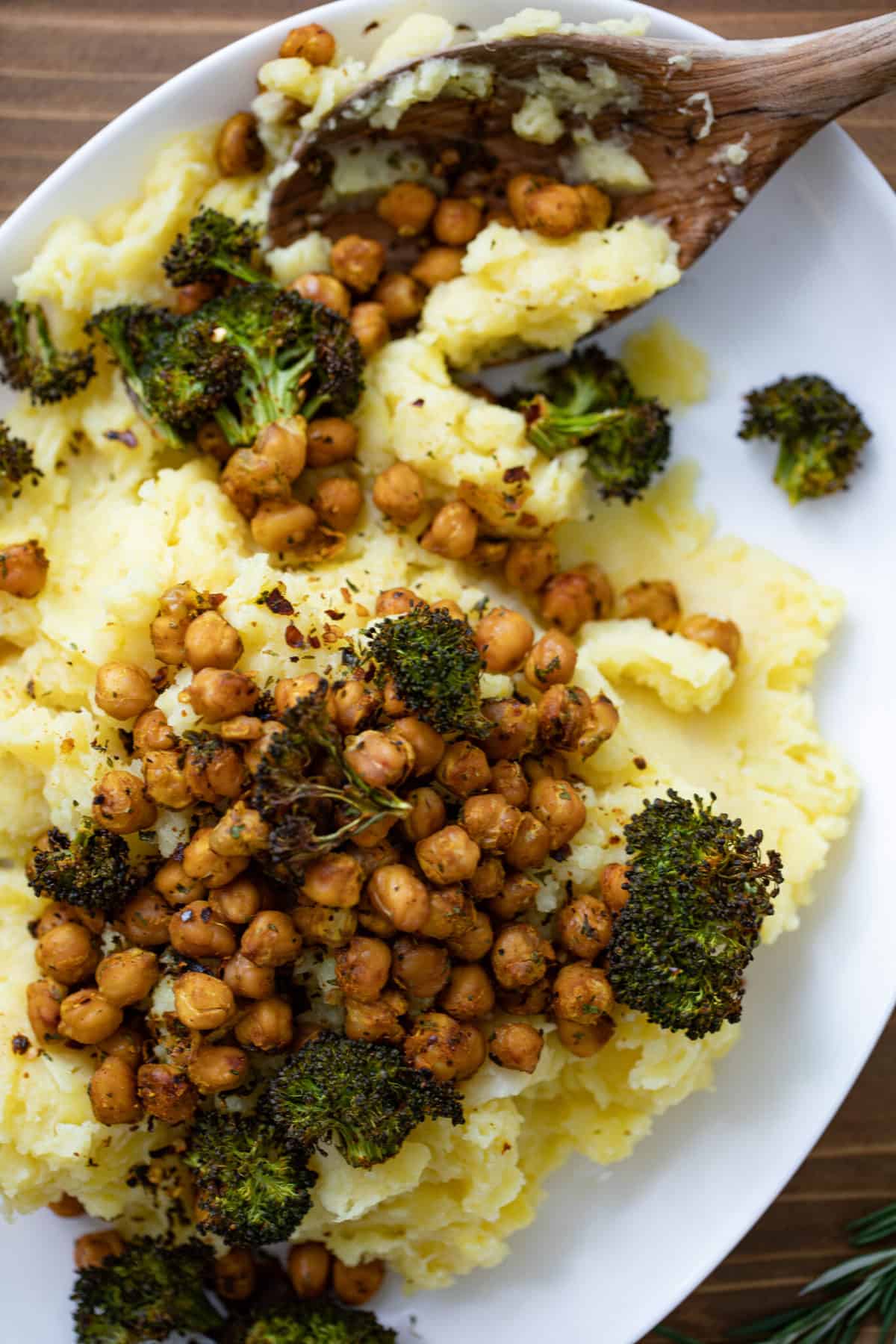 Roasted Chickpea + Broccoli:
1

(15 oz.) can

chickpeas, drained + rinsed

2

medium

broccoli heads, chopped in florets

1

Tbsp

Extra Virgin Olive Oil

(I use Primal Kitchen)

1

Tbsp

cajun seasoning

1

tsp

red pepper flakes

1

tsp

sea salt

1

tsp

black pepper

1/2

tsp

ground cumin

1

tsp

smoked paprika

1

Tbsp

dried parsley

pinch of

cayenne pepper
For Garlic Mashed Potatoes:
Preheat your oven to 400 degrees Fahrenheit.

Bring a large pot of water to a boil and add diced potatoes. Cook for about 30 minutes or so, until potatoes are soft + tender. NOTE: See Notes for Slow Cooker + No-Boil options.

In the meantime, prep your chickpea + broccoli.
For Roasted Chickpea + Broccoli:
Line a baking sheet with parchment paper. In a medium bowl, add chickpea, broccoli, and seasonings, stirring them together until well coated.

Add chickpea and broccoli to baking sheet and bake for 20-25 minutes, tossing them mid-way until golden brown and crisp. 

Remove from oven and set aside.

Once fully cooked, drain potatoes and add them to a large bowl, mashing them with a stainless steel potato masher (or fork) until fully broken down. NOTE: I also find it easier to add potatoes to the bowl of an electric mixer, which does wonders!

Once mashed, add milk, and vegan butter, stirring them together until potatoes become smooth and creamy.
Assembly:
To assemble, spoon mashed potatoes in your favorite bowl(s) and top with roasted chickpeas and broccoli. Garnish with dried parsley and red pepper flakes, if desired. Wallah.

Bon Appetit!
STORAGE: Leftovers can be kept in an air-tight container in the refrigerator for 3-4 days. Re-heat when ready to serve.
POTATOES: Instead of Yokun potatoes, you can also use baby red potatoes or russet potatoes.
MAKE AHEAD: All ingredients can be made and individually stored as meal prep and assembled + heated when ready to serve.
NO-BOIL MASHED POTATOES: To cook them alternatively without boiling---place red potatoes on a baking sheet (lined with parchment paper) and lightly dress them with olive oil. Bake in a 400 degree Fahrenheit oven for 25-30 minutes, until tender and knife goes through each potato smoothly. Once done, remove from oven and continue recipe.
SLOW COOKER OPTION (MASHED POTATOES): Just place the peeled + diced potatoes, veggie broth, and garlic powder into your slow cooker. Cook on high 3-4 hours or low 6-7 hours, stirring every hour or so or until tender. Then using a hand masher, mash potatoes until smooth and then stir in vegan butter and milk.
Vegan Chickpea + Broccoli Mashed Potato Bowl.