These Vegan Banana Pancakes are light, fluffy, and delicious. What better way to kick start your day than with a stack of pancakes and a few slices of fruit and some good ole' chocolate-infused peanut butter sauce. Oh and let's not forget a nice mug of tea or coffee to really kick things off. However, in the world of vegan, making pancakes aren't always as 'perfect' as their non-vegan counterparts, but these certainly do not disappoint. You won't even notice the difference. Gluten-free option available.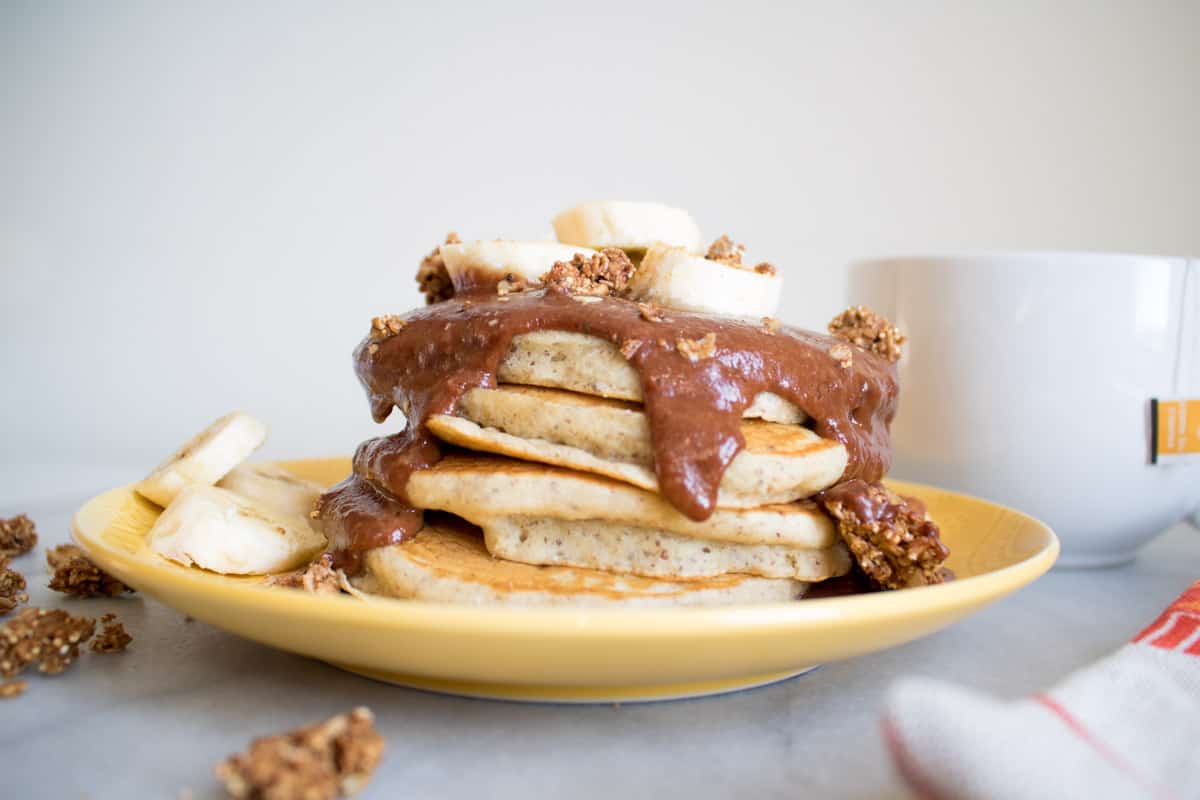 Ok, so it's actually 'Veganuary' and I'm not sure if you've been dedicated to following a no-meat diet for the entire month of January, but if you are, then here's a great recipe to try in addition to all the really great food you've already tried!
If not, then you can most certainly enjoy a nice breakfast which happens to be vegan. Haha!
Yes, so 'Veganuary' is a thing and it's a thing that started a few years ago. While many participants of the month-long challenge are doing so for health reasons, or as part of their January reset, the organization itself has other ideas.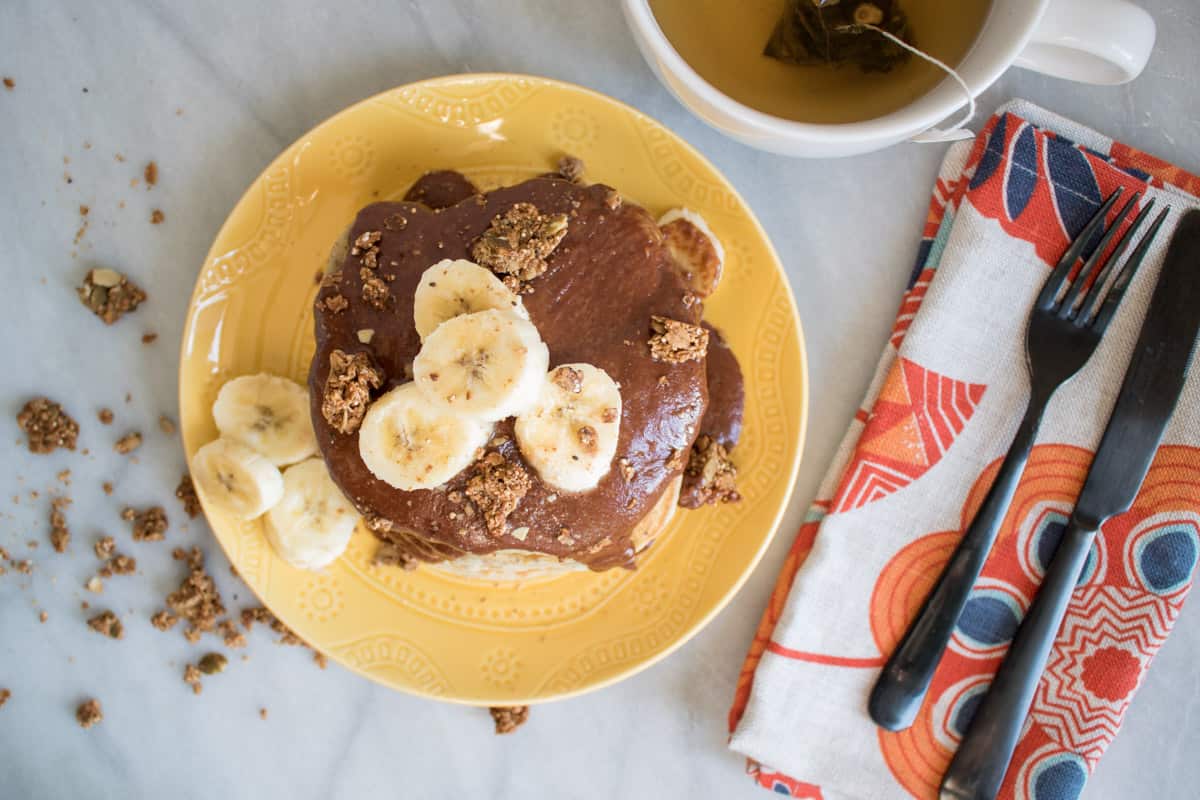 Veganuary is a nonprofit that began in 2014 with the mission of converting participants to lifelong veganism. Their belief is that a vegan diet can help preserve the environment and reduce impact on animals.
Therefore, this month is all about trying new foods, creating a strategy to eating a well-rounded diet, and if you decide to remain on the vegan diet, that's great! If not, that's great too!
Looking for some other great vegan breakfast recipes? 
These Easy Vegan Pumpkin Poppyseed Pancakes are melt-in-your-mouth pancakes that are super light, fluffy, and jam-packed with Fall spices. The use of pumpkin puree helps to make these pancakes tender and paired with a warm blend of pumpkin spice, this breakfast option is a sure crowd-pleaser. Naturally sweetened and whipped together in only 25 minutes—total.
This Superfood Overnight Oats: Maca, Cacao, + Chia Seeds recipe is a healthy satisfying and energizing option for the perfect grab-n-go breakfast. These Oats boasts their creaminess, thickness from the thickly cut oatmeal used, jam-packed nutrients from the superfoods, chocolatey-ness, and generous nutty flavor from the delicious Maca powder + Peanut butter; which all create quite the experience in just one jar. All vegan and Gluten-Free.
This Vegan Chia Seed Maple Banana Bread is super moist, tasty, packed with healthy nutrients including superfoods like Chia Seeds, and 100% delicious! It takes less than 10 minutes to whip together and makes for a great healthy alternative for a little sweetness in the morning for breakfast or even for dessert after dinner. All vegan ingredients, entirely kid-friendly, and a gluten-free option available.
These Homemade Vegan Apple-Cinnamon Pop Tarts are nothing short of flaky, naturally sweet, and bursting with comforting spice flavors, both inside + out and topped with a beautiful Maple frosting. Complete homage to the classic childhood favorite, these pop tarts are a sure crowd-pleaser, especially for Apple lovers. The perfect bite for breakfast, brunch, or a nice in between snack. All Vegan ingredients and easy to make. Gluten-Free Version available.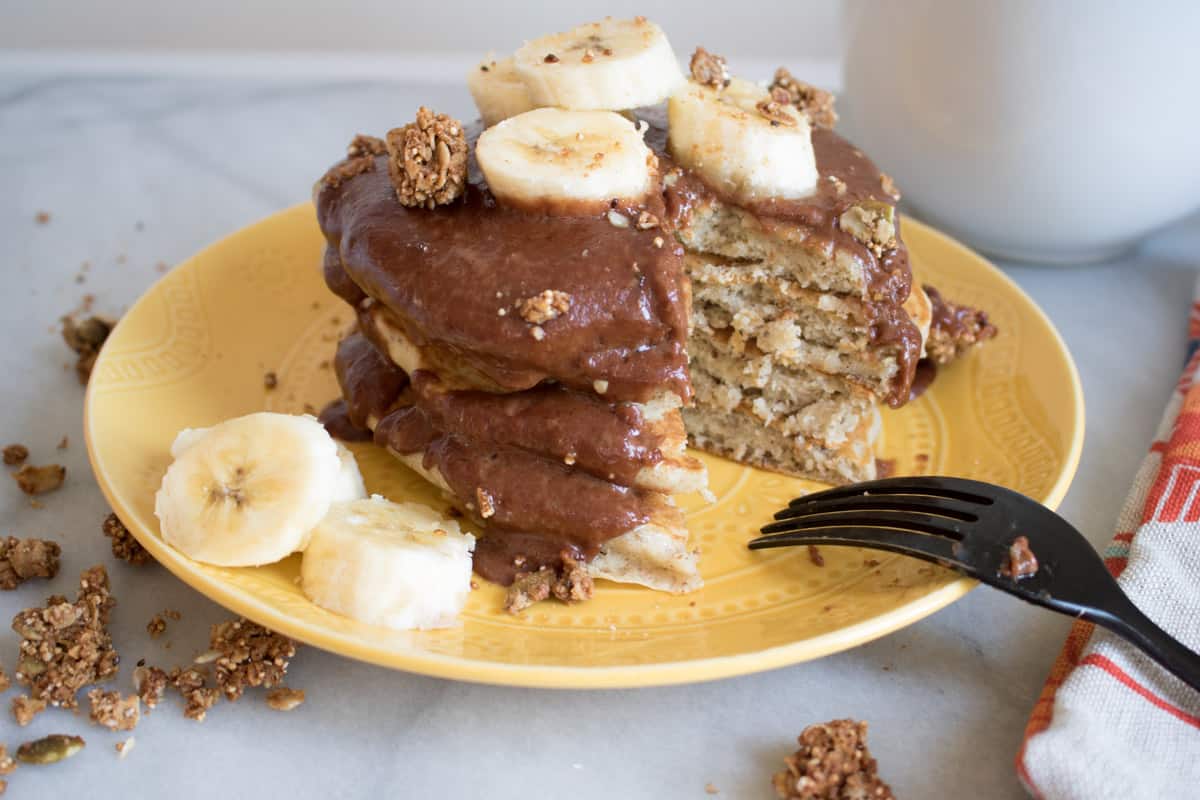 Anyway, back to these pancakes—–so, I'm not the best pancake maker in my house. To be honest, my husband makes the best pancakes.
For some reason, I can never get my pancakes to be perfectly golden brown without making it too dark or too under cooked. Haha. I don't know what it is, but I can't seem to create any 'pancake magic'.
However, I was so excited when I was able to perfect these lovelies! They were light, airy, and fluffy. You wouldn't guess that they were vegan!
In the vegan world, banana is often used as a binder, but I chose to use these bananas as flavor instead.
There's nothing like small hints of banana flavor for breakfast. More importantly, there's nothing like peanut butter + banana.
Yes, you read right! These two actually pair pretty well together. Plus, I wanted to add a nice thickness to the pancakes without the pancakes themselves being thick.
And wallah! Per usual, I used Justin's peanut butter and the rest was history.
Peanut Butter Sauce:
4 Tbsps peanut butter 
1/2 cup hot water
2 tsps maple syrup  
2 Tbsps vegan chocolate chips
In a bowl, simply whisk together the peanut butter, hot water, maple syrup, and chocolate until peanut butter is melted and everything is fully incorporated.
Depending on the Peanut Butter you're starting out, you might have to add more hot water to make it more liquified so that you can drizzle the top of your pancakes. Drizzle immediately.
Key Tricks to the Perfect Vegan Pancakes.
When it comes to cooking your pancakes, keeping the heat on low is the key. This ensures that your pancakes are fully cooked through without making the outsides dark before their time.
Double Check that your Leaveners aren't expired.
Ensuring that the leaveners that are used (baking powder, baking soda, etc) aren't expired and are completely fresh. This ensures that your pancakes rise at their best and are super fluffy as intended.
Once all ingredients are well combined after stirring with a spatula, no need to keep mixing. Remember, you want airy, fluffy pancakes—not chewy pancakes due to the gluten formulating from over-mixing.
I find that using a flat cast-iron griddle works the best when making pancakes. Unfortunately, a regular sauté pan isn't flat enough (slopped sides?) aren't friendly in making the perfect stack.
Oil the Base, Not Butter it!
I know. I'm one who loves using butter (Vegan butter for vegan recipes), but when making pancakes it's best to use some sort of oil (coconut, grapeseed, vegetable oil, etc) and whipping it lightly so that it isn't drenched. Wallah! No easy burns or anything.
Don't Flip Those Pancakes Just Yet!
I've been guilty of this in the past. No flipping those pancakes the moment a little crust forms on the bottom. Nope. Only flip to the opposite side once the bubbles have 'popped' and opened into holes, which means that all of the bottom is formed and OK to flip. Got it?
That's that. Follow these simple tricks and those pancakes on your table are sure to be perfect for everyone!
MADE OUR RECIPE(S)?
If you choose to make these Vegan Banana Pancakes + Peanut Butter Sauce or any other recipe from us, be sure to tag us on Instagram at #Orchidsandsweettea so that we can share the love, rate, comment below, + share!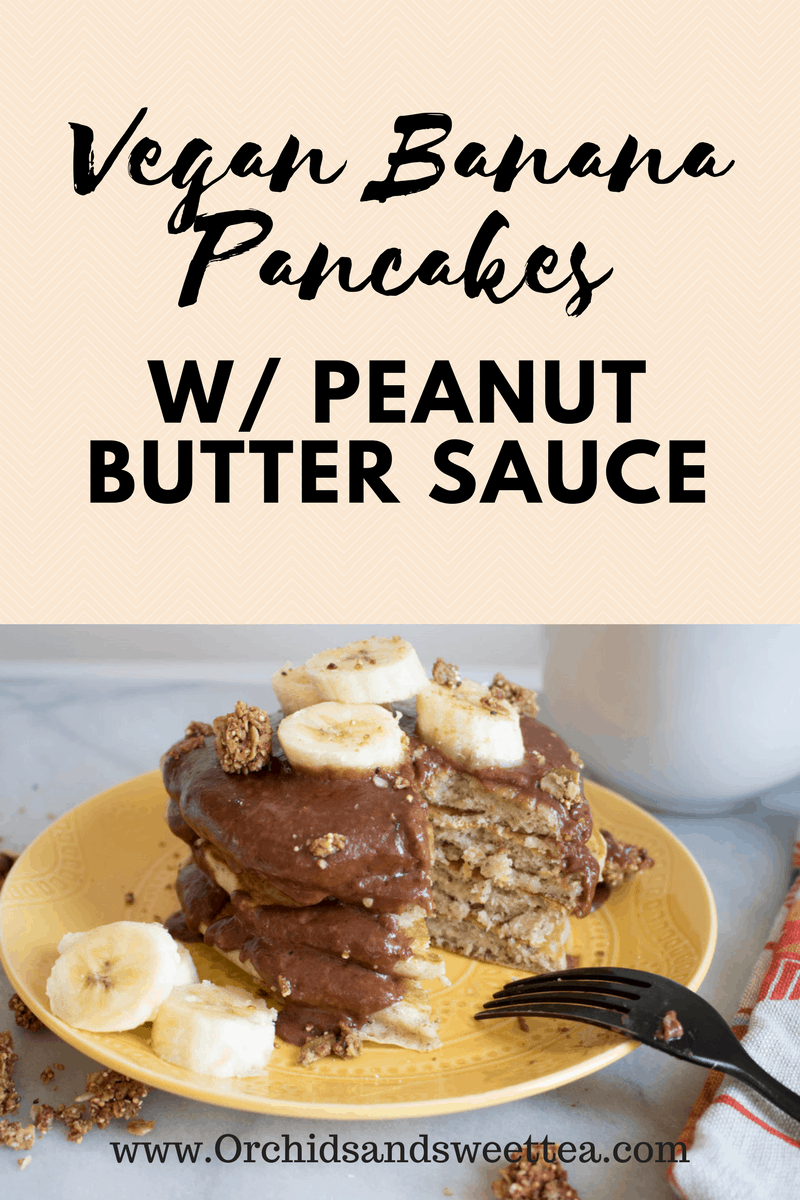 2

cups

Organic all-purpose flour

(I use Bob's Red Mill)

2

tsps

baking powder

1/2

tsp

baking soda

1/2

tsp

sea salt

1

tsp

ground cinnamon

1/2

tsp

ground nutmeg

2

Tbsps

ground flaxseed meal

2

cups

coconut milk

(You can use your fave plant-based milk; Plus 2 Tbsps!)

1-2

Tbsps

pure maple syrup

(See Notes!)

1

Tbsp

apple cider vinegar

2

Tbsps

vegetable oil

(See Notes!)

2

medium

bananas, mashed
In a large bowl, mix together the dry ingredients.

In a separate bowl, add the coconut milk (or your favorite non-dairy milk) and apple cider vinegar to create 'buttermilk', let sit for 5-10 minutes.

Add vegetable oil and mix together until combined.

Now, slowly mix in the wet ingredients into the dry ingredients until well combined. **NOTE: ensure that your batter isn't too thick or too thin.**

Next, warm a skillet over medium-high heat for 1-2 minutes. Then, using a paper towel, add vegetable oil and grease the bottom of the pan.

Add batter (about 1/4 cup) to the skillet and once bubbles begin to form (about 1-2 minutes), flip pancakes on opposite side and cook for another 2 minutes or so, until golden brown.

Once done, remove pancake from pan and repeat process until batter is used. **NOTE: Always lightly grease pan (as previously done) before adding next batch to avoid pancakes from burning too fast or sticking.**

To serve, top your stack of pancakes with peanut butter sauce, sliced bananas, and granola. Add a bit of maple syrup if desired.

Bon Appetit!
GLUTEN-FREE VERSION: To make these pancakes GF, I recommend using a GF Flour Blend (Bob's Red Mills has a great version!). **NOTE: If the batter is too 'thin + runny', simply add additional GF flour, 1/4 cup at a time.**
SWEETENER: If you choose to opt out of pure maple syrup, you can always substitute with Agave as well.
OIL: Instead of vegetable oil, you can also use Coconut oil, if preferred.
Who's ready to enjoy these Vegan Banana Pancakes w/ Peanut Butter Sauce?