This Spicy Cajun Shrimp, Kale + Cauliflower Rice recipe is the perfect one-pot meal for the entire family. Completely packed with bold, spicy cajun flavor, this recipe includes a tender "rice-like" cauliflower base and comes topped with colossal well-seasoned shrimp and tender tomatoes, that will leave you having more than just a few bites! One pot meal, completely easy to make, ready in as little as 30 minutes--with its quick and easy preparation, it's the perfect choice for a stress-free and delicious weeknight dinner! Completely Gluten-free + Dairy-free option.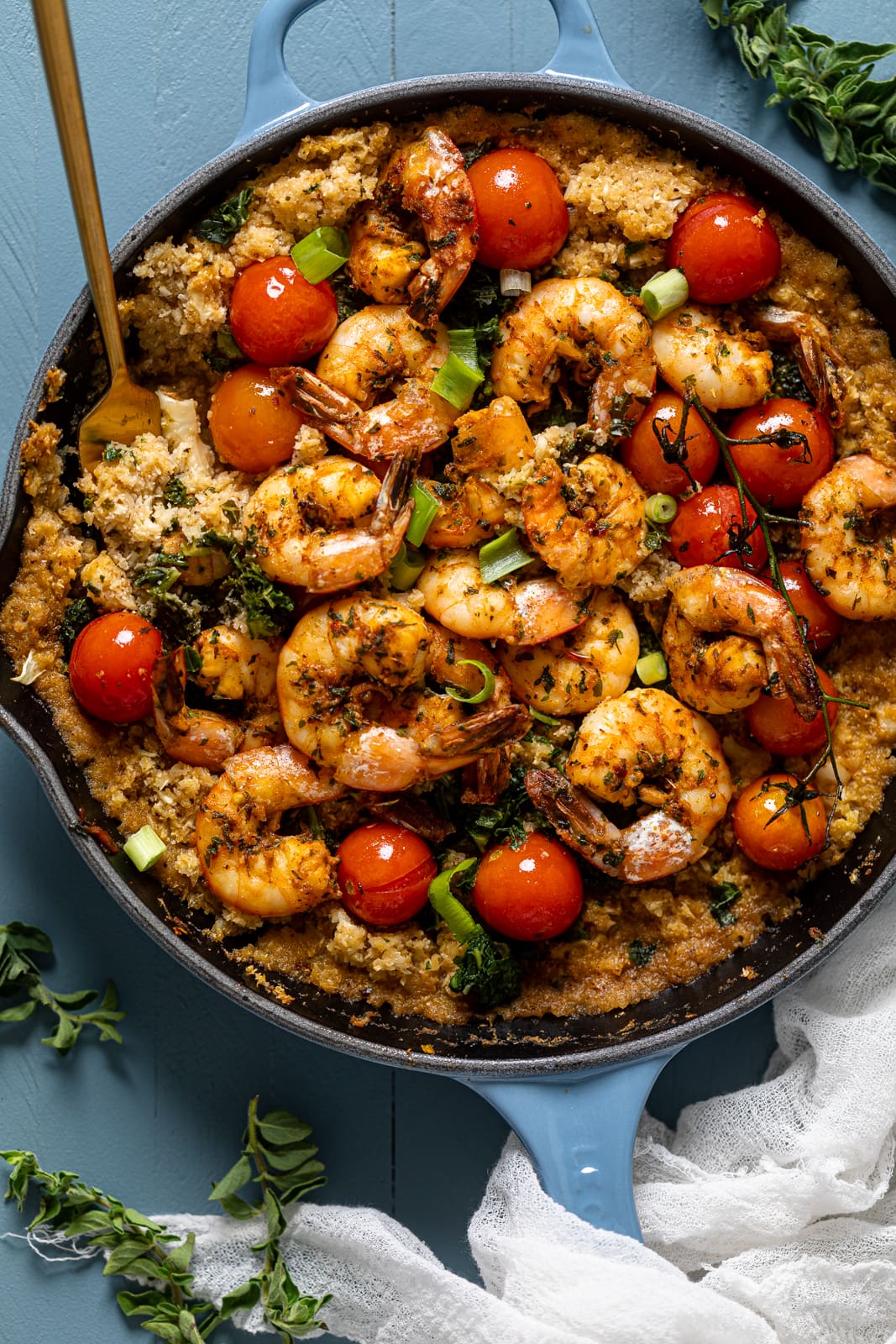 Why Spicy Cajun Shrimp + Cauliflower Rice?
I'm so excited to share this Spicy Cajun Shrimp, Kale + Cauliflower Rice recipe. Seafood lovers, this one's for you—it's an absolute favorite in my house whenever we're not indulging in our plant-based delights! The cauliflower rice recipe adds a nutritious twist to this flavorful cajun seafood dish, making it a guilt-free delight.
The beauty of this recipe lies in its simplicity. With just a handful of ingredients and easy steps, this dish is the perfect weeknight dinner option when you crave a satisfying meal without the fuss. That's why I created the "Weeknight Meals" category—to bring you delightful options that effortlessly combine convenience and deliciousness. Trust me; this crowd-pleaser won't disappoint. But if cauliflower rice isn't your thing, don't worry—I've got you covered with other seafood recipes like Healthy Weeknight Shrimp Fried Rice, One-Pot Creamy Lobster and Orzo, or this Honey Garlic Shrimp with Broccoli that might suit your taste perfectly!

Plus, if you're a lover of cajun flavors, then you'll thoroughly enjoy this One Skillet Creamy Cajun Chicken Orzo, Cajun Veggie Pumpkin Pizza, Creamy Cajun Pumpkin Tortellini Soup, and Spicy Southern Shrimp + Grits!
Jump to: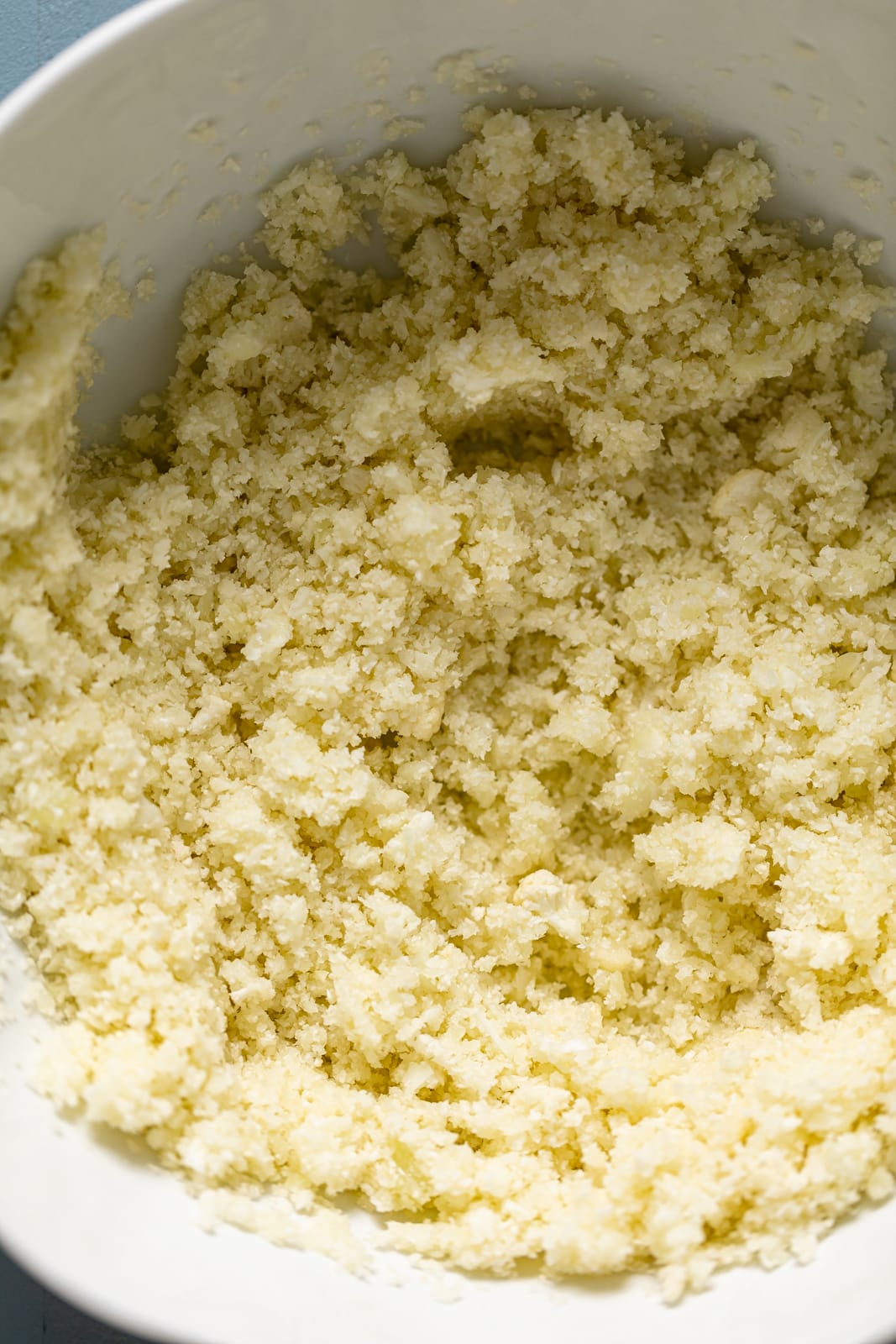 How to Make Spicy Cajun Shrimp+ Cauliflower Rice
To start this Cajun Shrimp recipe, first, create your own Cajun seasoning. Then, prepare the cauliflower rice and mix it with sauteed juicy shrimp and delectable kale, its ready in just 30 minutes!
Here's what you will need for this recipe-
Ingredients
CAULIFLOWER RICE:
Cauliflower: The superstar of this dish! It's like magic how it transforms into a rice-like texture
Garlic: Adds depth of flavor and enhances the overall taste.
Veggie Stock: Infuses moisture and brings extra savory notes.
Hot Sauce: Adds a spicy kick for those who love heat.
Cajun Seasoning: Signature blend for a rich and bold taste.
Freshly-squeezed Lemon Juice: Brightens up the dish and adds a hint of acidity.
SHRIMP + OTHERS:
Wild-Caught Colossal Shrimp: Succulent + protein-rich juicy goodness!
Cajun Seasoning: Coats the shrimp with irresistible flavor. Make your own homemade seasoning blend.
Dried Parsley: Enhances visual appeal and brings mild herby notes.
Kale: Nutrient-packed leafy green, adding a healthy twist.
Unsalted Butter: Adds richness and depth to the cooking process.
Cherry Tomatoes: Bursting with sweetness and vibrant colors. Try my Herb roasted tomatoes for an extra burst of umami flavor.
Extra Virgin Olive Oil: Drizzled for a smooth and flavorful finish.
What is Cajun Seasoning?
Cajun seasoning is a flavorful spice blend originating from Louisiana's Cajun culture-- Known for its smoky, spicy, and herbaceous taste. Beyond Louisiana, it's a beloved spice mix used globally, perfect for adding a taste of the South to dishes! This is a spice blend you'll want to keep on hand to season everything from Cajun Sweet Potato Grits + Chickpea to Cajun Veggie Pumpkin Pizza. The ingredients are simple and you probably already have them at home. 
CAJUN SEASONING BLEND
To make your cajun shrimp recipe seasoning, combine:
Garlic powder
Italian seasoning
Smoked paprika
Sea salt
Black pepper
Cayenne
Dried thyme
Onion powder
Together, these herbs and spices strike the perfect balance of savory and fresh with a bit of smoky heat.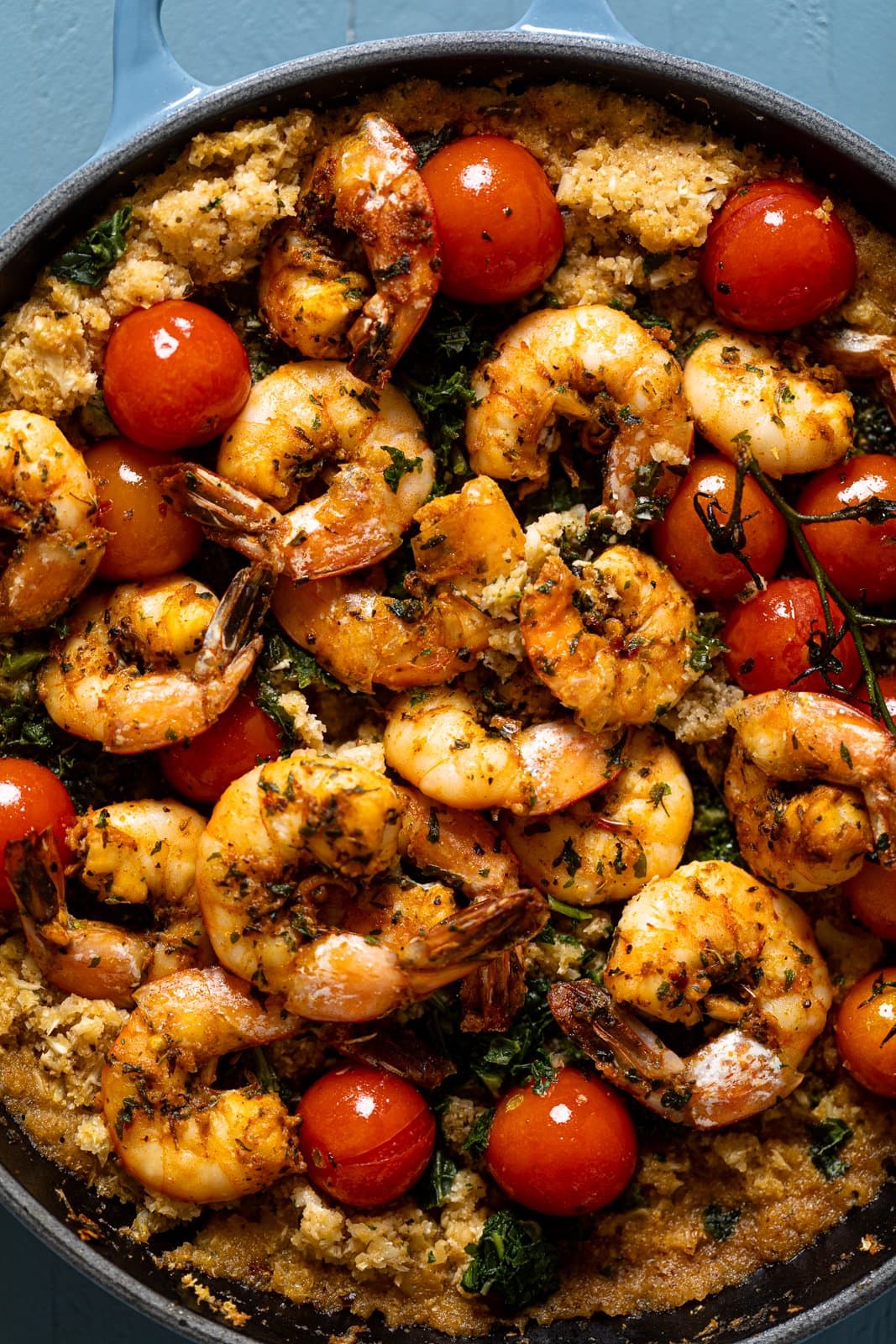 How to Make Cauliflower Rice
The great thing is that making cauliflower rice is SUPER easy! Granted, if you're low on time and energy, you can always purchase cauliflower rice via your Amazon or other stores that sell great healthy options.
However, if you're into making it from scratch like I did, then look no further. This easy cauliflower rice recipe includes a handful of easy steps that will ensure that your rice comes out perfectly by simply using a food processor.
Start off by breaking up the cauliflower into florets and rinsing and then patting dry.
Next---add the florets to a food processor, pulsing a few times until fully broken up and minced into a "rice-like" consistency.
Lastly, you add the cauliflower to a skillet along with your seasoning and a few ingredients, and wallah!
3 Tips For The Perfect Cauliflower Rice
Go for freshness: Opt for a firm and vibrant cauliflower head without any discoloration or soft spots. Fresh cauliflower ensures better flavor and texture in your rice.
Be mindful with the food processor: Pulse the cauliflower florets until they resemble rice-like grains for consistent results. Try not to under or over-blend.
Cook with care: Achieve the perfect texture by cooking the cauliflower rice just until it's tender, but still has a slight bite. Overcooking can lead to mushiness, so keep an eye on it! Sautéing the cauliflower rice not only infuses it with flavor but also helps to reduce excess moisture.
Benefits of Cauliflower
Cauliflower is a true nutritional powerhouse, offering a myriad of benefits that will make you fall in love with this versatile veggie. Here's why cauliflower deserves a place on your plate and weeknight dinner rotation:
Packed with essential vitamins and minerals, including vitamin C, vitamin K, and folate, to boost your immune system and support overall health.
Rich in fiber, aiding digestion and promoting a happy gut.
Low in calories and carbs, making it a great option for weight management and low-carb diets.
Contains antioxidants that help fight inflammation and protect your cells from damage.
Versatile in the kitchen, allowing you to experiment with various recipes and swap it for higher-calorie ingredients.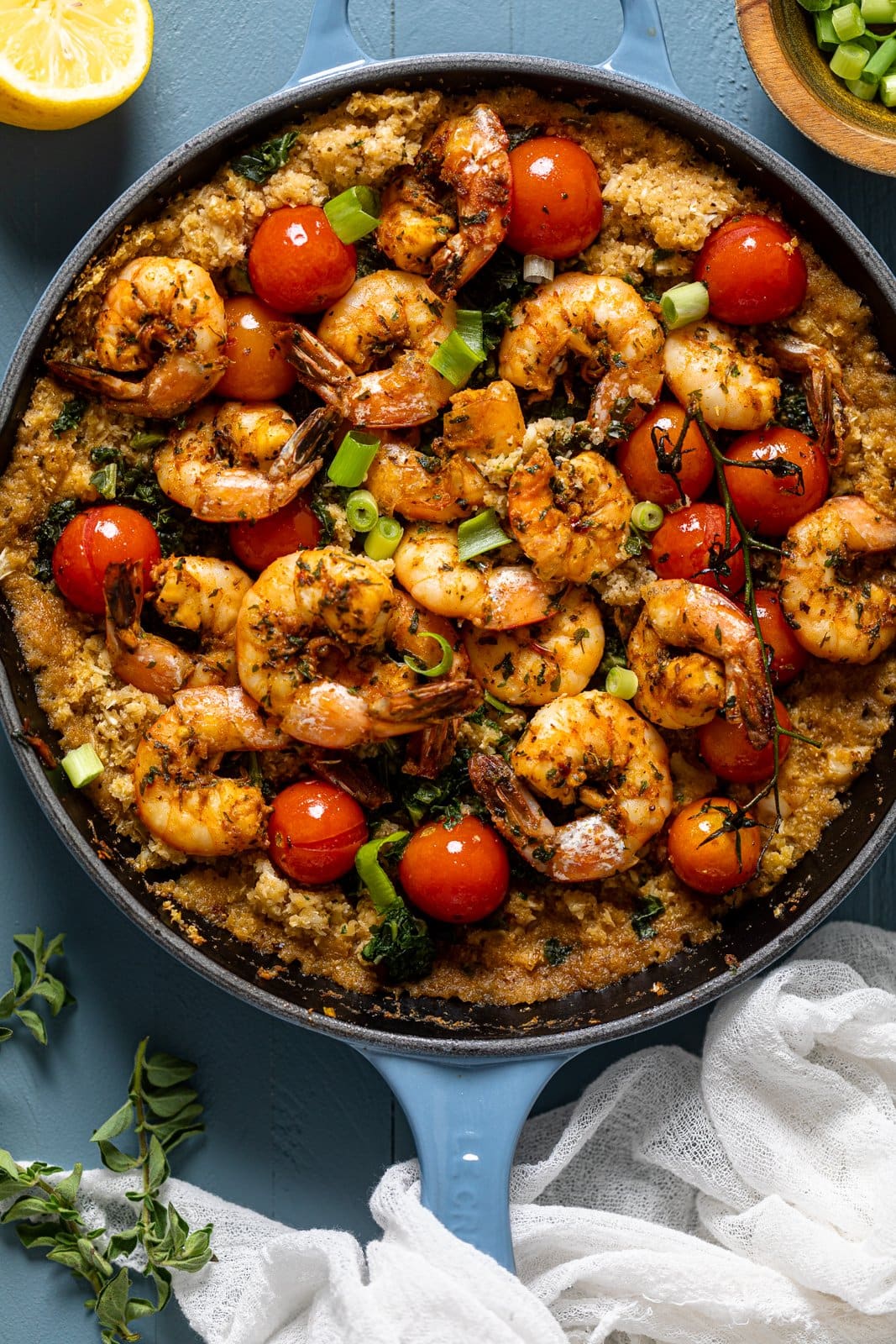 What Type Of Shirmp Is Best?
When selecting shrimp for this recipe, I suggest going for extra large or large shrimp. These sizes strike a balance between being substantial enough to provide a satisfying bite and not too overwhelming.
While it may sound counterintuitive, using frozen and thawed, shrimp can actually be advantageous. Opting for frozen shrimp allows you to have more control over the quality and timing of your meal preparation. It's like having a secret stash of deliciousness in your freezer, ready to be transformed into a scrumptious meal whenever you desire an easy weeknight dinner.
Why You Will LOVE This Shrimp, Kale + Cauliflower Rice
Loaded with tasty + vibrant flavors
It's full of protein + low carb!
Quick + easy weeknight dinner option.
Nutrient-packed + satisfying combination.
Versatile & customizable to your taste.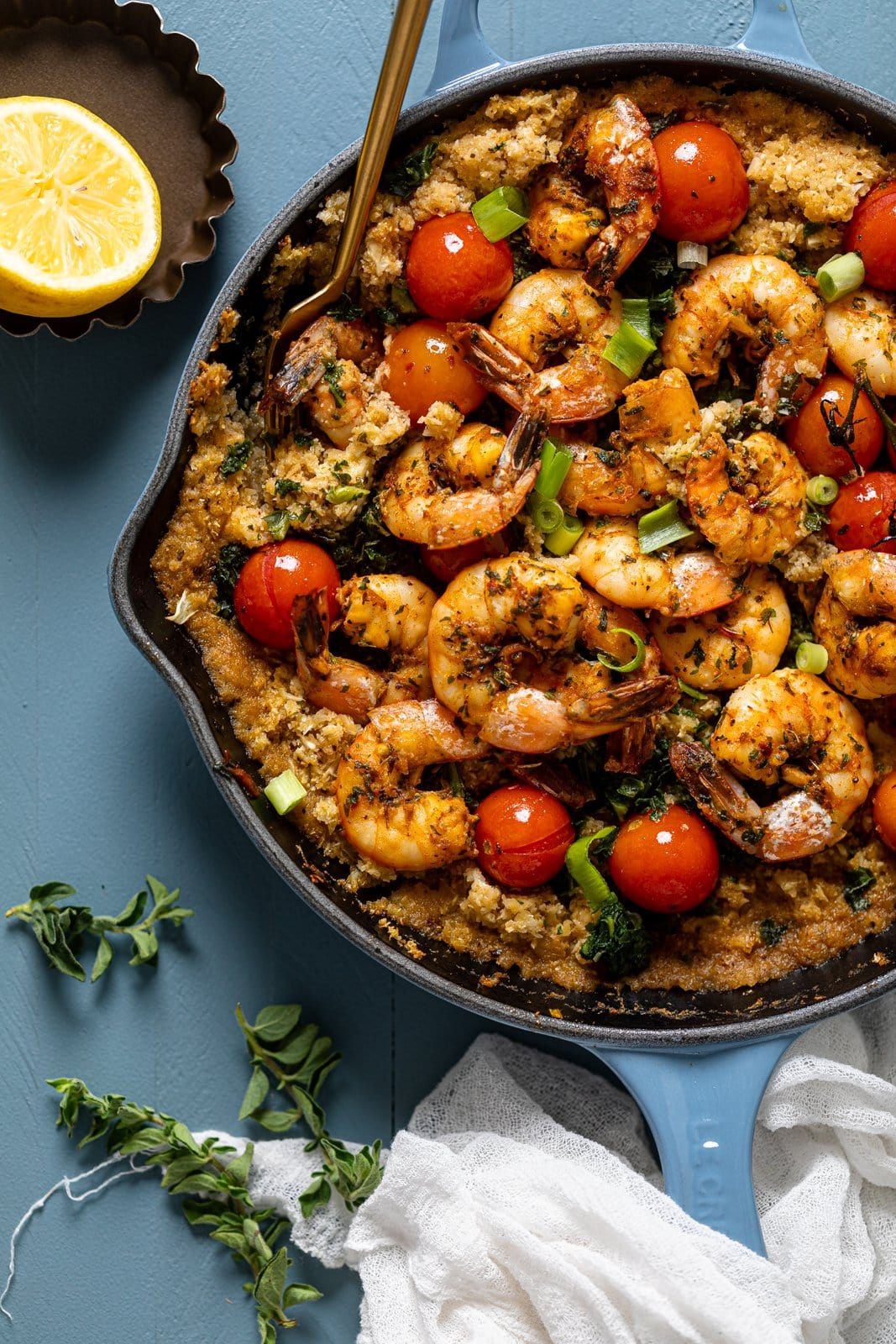 Shrimp, Kale + Cauliflower Rice Q + A's
How To Store Shrimp, Kale + Cauliflower Rice?
Cauliflower rice is at its best when it's hot and soft. However, you can store leftovers in an airtight container in the fridge for up to four days. To serve, reheat the cauliflower rice on the stove or in the microwave in 30-second intervals until softened. If necessary, add a dash of more milk, cream, or water to help loosen it up. You can store leftover shrimp in an airtight container for 3 to 4 days.
Can I Add Extra Greens?
Of course! If you want to add different greens you certainly can. Spinach or Collard greens make great additions. Also, roasted broccolini is one of my faves to add. Check out my article, Our Top 12 Favorite Healthy Green Leafy Vegetables for more ideas!
Is Cauliflower, Shrimp + Kale a healthy option?
Yes, it's a healthy choice to add to your weeknight dinner rotation as it's low-carb, gluten-free, and packed with essential nutrients from shrimp, kale, and cauliflower.
Can I Make This Dish Dariy-free?
Yes! Simply opt for vegan butter I love using the brand Earth Balance.
Is This Dish Gluten-free?
Yes! Just be sure to double-check any store-brought ingredients such as veggie stock or store-brought Cajun seasoning.
Can I Adjust The Spice Level?
Absolutely! You can easily adjust the spice level of this to suit your taste preferences. If you prefer a milder flavor, reduce or omit spicy ingredients like hot sauce. On the other hand, if you enjoy more heat, you can increase the amount of spicy seasonings or add additional hot spices like cayenne pepper or sliced chili peppers. Customizing the spice level allows you to make the dish as mild or as fiery as you like.
More Seafood Recipes To Try Next!
MADE OUR RECIPE(S)?
If you make this Spicy Cajun Shrimp, Kale + Cauliflower Rice, be sure to tag me on Instagram @orchidsandsweettea!
CAULIFLOWER RICE:
2

head of

Cauliflower, chopped in medium chunks + rinsed

4

garlic cloves, minced

½

cup

veggie stock

1

tablespoon

hot sauce

2-3

Tbsps

cajun seasoning, homemade or store-bought

1

teaspoon

freshly-squeezed lemon juice
SHRIMP + OTHERS:
2

lbs.

wild-caught Colossal shrimp

1-2

Tbsps

cajun seasoning, homemade or store-bought

(See Notes)

1

tablespoon

dried parsley

2

cups

kale, de-stemmed + chopped

2

Tbsps

unsalted butter, for cooking

2

cups

cherry tomatoes, whole or halved

1

tablespoon

Extra virgin olive oil, for drizzle
TO MAKE CAULIFLOWER RICE:
Once you've broken cauliflower head into florets and rinsed and patted them dry, add florets to a food processor. Pulse a few times until cauliflower is broken down/minced into a "rice-like" consistency. Set aside.
SAUTEE THE SHRIMP:
In a medium 10-inch skillet over medium-high heat, add 2 Tbsps of butter until melted. Add in the minced garlic to sauté frequently about 1-2 minutes until fragrant. Next, add in the shrimp (seasoned w/ cajun seasoning + parsley) and cook on both sides (about 3-4 minutes), until pink and cook through. Remove shrimp from the skillet unto a plate and set aside.
ASSEMBLY:
Preheat your oven to 400 degrees Fahrenheit.

In the same skillet (with juices from shrimp + all), add riced cauliflower and mix everything together. Next, add seasonings, lemon juice, and hot sauce and stir again. Cook for 2-3 minutes until cauliflower rice has fully soaked in everything is becomes tender. Add in the kale, tomatoes, and shrimp ensuring that they are spread out evenly.

Drizzle everything lightly with Extra Virgin Olive Oil and place skillet directly in oven to bake for 8-10 minutes, until the kale has wilted and the tomatoes have become slightly tender.

Remove from oven and serve immediately. Garnish with dried parsley and extra hot sauce, if desired.

Bon Appetit!
STORAGE: Leftovers can be kept in an air-tight container in the refrigerator for 3-4 days. Re-heat when ready to serve.
SPICES/HERBS: If desired, you can reduce the amounts slightly. Please know that this recipe is bold in flavor, so feel free to adjust based on your tastebuds.
Calories:
322
kcal
|
Carbohydrates:
9
g
|
Protein:
48
g
|
Fat:
12
g
|
Saturated Fat:
5
g
|
Polyunsaturated Fat:
2
g
|
Monounsaturated Fat:
4
g
|
Trans Fat:
0.2
g
|
Cholesterol:
380
mg
|
Sodium:
507
mg
|
Potassium:
1032
mg
|
Fiber:
4
g
|
Sugar:
3
g
|
Vitamin A:
6550
IU
|
Vitamin C:
53
mg
|
Calcium:
264
mg
|
Iron:
4
mg