This warming Caramel Oatmeal Apple Upside Down Cake recipe merges a wonderfully soft + moist spiced apple cake with impeccably tender apples, all infused with the richness of delicious brown butter and a layer of indulgent caramel. It's the ultimate cozy, hassle-free fall bake that's slightly dense yet maintains a soft, deliciously flavorful texture. This cake is super easy to make + a great way to use up any extra apples you've got sitting around. Gluten-free + Dairy-free Option.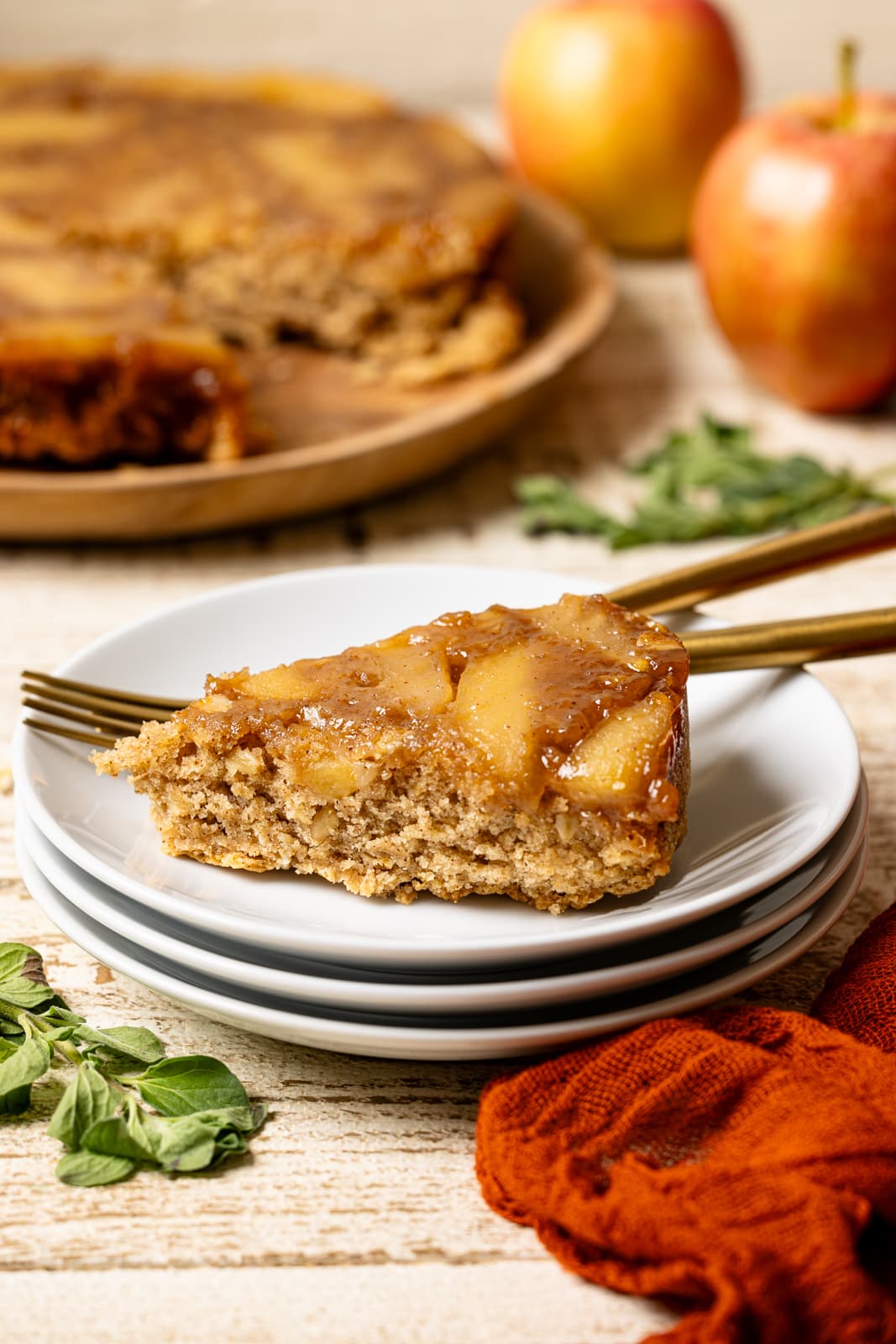 Let's make Thanksgiving cakes more of a thing...No shade on pies—I love them too! But this Caramel Oatmeal Apple Upside Down Cake embodies Fall + Thanksgiving without the pie crust fuss. By pairing a fluffy cinnamon-spiced cake (the base is inspired by my Apple Oatmeal Sheet Cake recipe) with luscious caramelized apples, it's like having two desserts in a single bite.
If you're anything like me, and you've got a sweet tooth for cakes (or, let's be real, just devouring them!), and especially if you enjoy a fruity twist, then you've gotta try my 1-Layer Banana Biscoff Cake + Jamaican Pineapple Upside Down Cake recipe next. And while you're at it, don't miss my post on Best Cake Flavors for Any Occasion. It's a sweet journey worth taking!
This cake? It's a masterpiece—just the right sweetness, density, and softness, all wrapped up in caramel + brown butter magic. And that caramelized apple topping once you flip it? Absolute drool material! But the best part? It's the perfect dessert for any occasion—Thanksgiving, holiday bashes, or simply a snug evening in.
Jump to:
Why You Will LOVE This Caramel Oatmeal Apple Upside-Down Cake
Ready in just under 1 hour & WORTH THE WAIT.
Melt-in-your-mouth soft + moist!
Irresistible caramelized apple topping-- It's pure bliss.
Warm and comforting with every bite.
Makes for the perfect sweet treat for the entire family + ideal for holiday festivities!
Is This Apple Upside-Down Cake Beginner Friendly?
Absolutely! No baking experience? No problem! You can still create an impressive and delicious upside-down cake that will wow your guests. If you've ever been intimidated to flip a homemade cake before, join the club. It's a great cake to start with! Don't worry; I'll guide you through it! Whether you're a seasoned baker or a beginner, this cake is sure to impress and bring some sweetness to your day!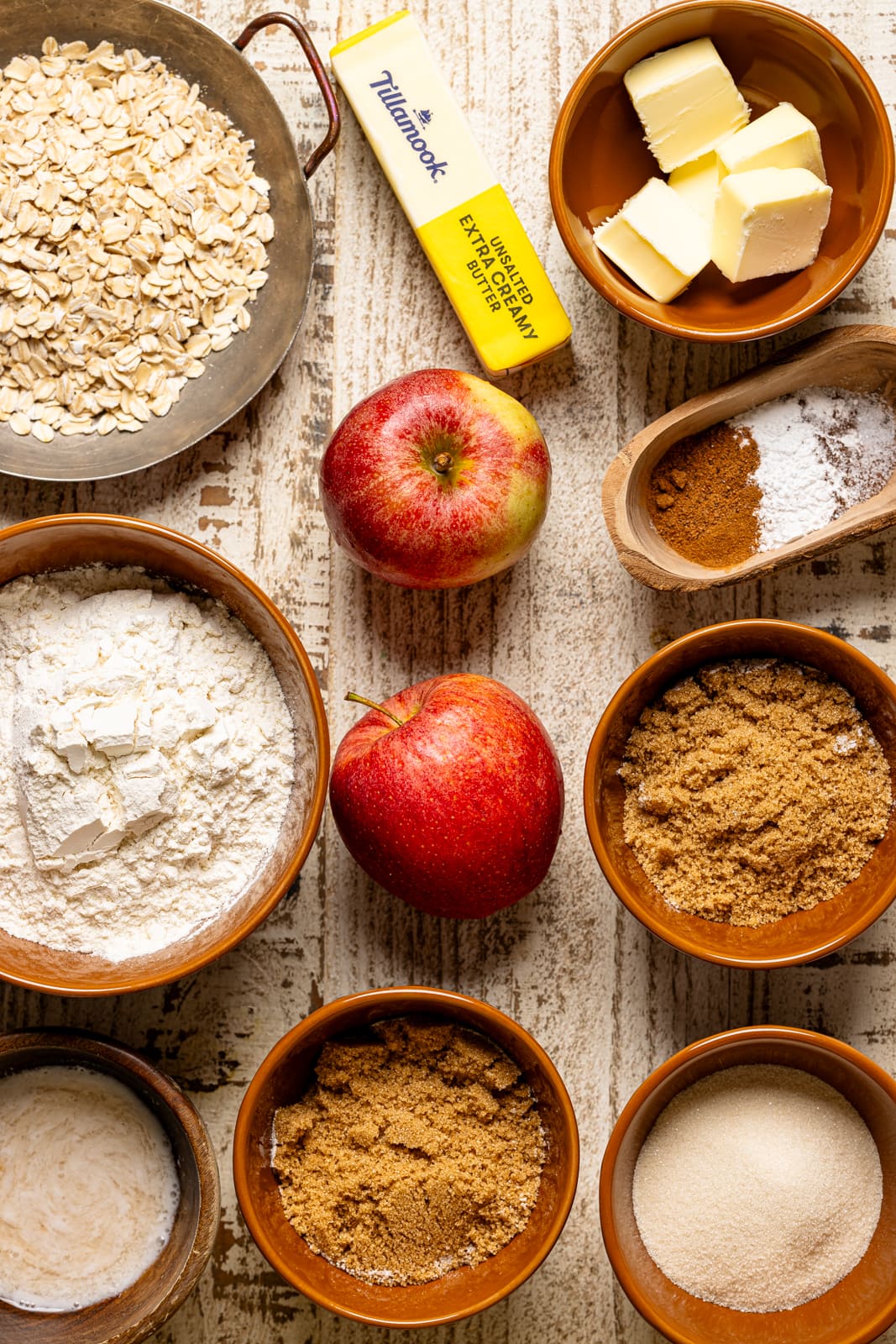 How To Make Caramel Oatmeal Apple Upside Down Cake + Brown Butter
First things first, we kick things off with making the brown butter (I'll share all the delicious details on how to brown butter below). Then, onto crafting that oh-so-tempting caramelized apple topping, which sits snugly at the bottom before the big flip. After that, we dive into creating the cake batter itself, and then it's time to let the oven work its magic, baking it to pure perfection.
Ingredients
OATMEAL CAKE:
Organic all-purpose flour: I use all-purpose organic flour from Bob's Red Mill.
Unsalted butter: Adds richness and moisture to the cake.
Rolled oats, organic: Offers texture and a subtle nutty flavor.
Baking powder: Helps the cake rise by creating air bubbles in the batter.
Ground cinnamon: Infuses warm, aromatic flavors into the cake.
Ground nutmeg: Adds a hint of nuttiness and warmth.
Ground allspice: Contributes a complex, warm flavor with hints of clove and cinnamon.
Sea salt: Enhances overall flavors by balancing sweetness.
Organic cane sugar: Provides sweetness to the cake batter.
Organic brown sugar: Offers a deeper, caramel-like flavor and moistness.
Vanilla extract: Adds depth and enhances other flavors in the cake.
Almond milk: Provides moisture to the batter. Learn how to make almond milk from scratch!
Apple cider vinegar: Reacts with baking powder to help the cake rise and adds a subtle tanginess.
TOPPING:
Gala apples, peeled + sliced thin: Adds fruity sweetness and texture to the top of the cake.
Unsalted butter: Combines with brown sugar to create a rich, caramelized apple topping.
Organic brown sugar: Sweetens the topping and aids in caramelization.
Vanilla extract: Enhances the overall flavor profile.
Ground cinnamon: Infuses the apple topping with warm, aromatic notes.
How To Brown Butter
In a medium 10-inch skillet or saucepan over medium-high heat, melt the butter. Reduce the heat to medium-low and stir occasionally and let it cook for 6-8 minutes, until the entire butter becomes fragrant and darker (amber looking). Set aside and let it cool completely! It's that easy!
SHOP MY FAVORITE BAKEWARE ITEMS AND ACCESSORIES!
Here, I've curated a list of bakeware essentials that I use to achieve my favorite baking treats, especially with this Caramel Oatmeal Apple Upside Down Cake. Everything from my fave baking sheets, parchment paper, mixing bowls, and more. SEE THEM HERE!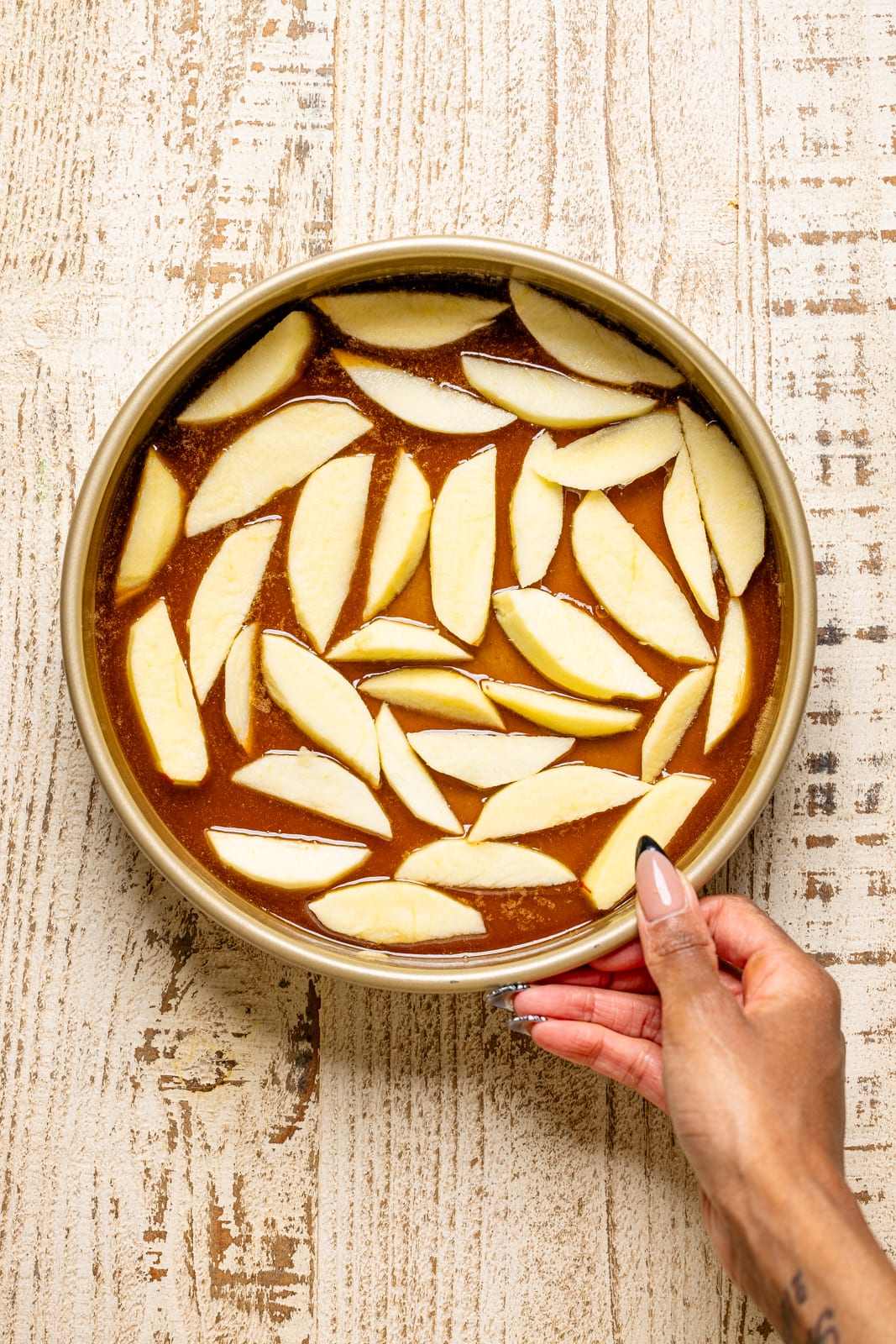 How To Flip Your Caramel Oatmeal Apple Upside-Down Cake Perfectly
Here are a few tips to make sure your apple dessert turns out perfectly every time-
Loosen edges carefully. Run a knife around the edges of the cake to ensure it's detached from the sides of the pan before flipping.
Skip using parchment paper. When you spray the cake pan with non-stick spray, you give that luscious caramelized brown sugar the chance to work its magic. It'll cling lovingly to the apple slices, creating a stunning topping.
Chill before the flip. Once you've baked that heavenly caramel apple dessert creation, let it cool for around 10 minutes before you unleash the grand flip. This little break ensures that the cake settles, making the flip a breeze.
The Big Cake Flip
Okay now here's the fun part:
Prep the plate--- Place a plate or cake stand on top of the pan with the cake, making sure it covers the entire opening.
Take a deep breath--- Gather your courage and take a moment to mentally prepare for the big flip.
Go for the flip--- With a swift and confident motion, hold the plate firmly against the pan and flip them both over together.
Be patient--- Give the cake a few seconds to work its magic. Watch in anticipation as the heavenly brown sugar and pineapple slices gracefully cascade down.
Remove the pan---Carefully lift the cake pan away, leaving the stunning apple topping exposed for all to admire.
Take a moment to appreciate your perfectly flipped apple upside-down cake—a true work of art!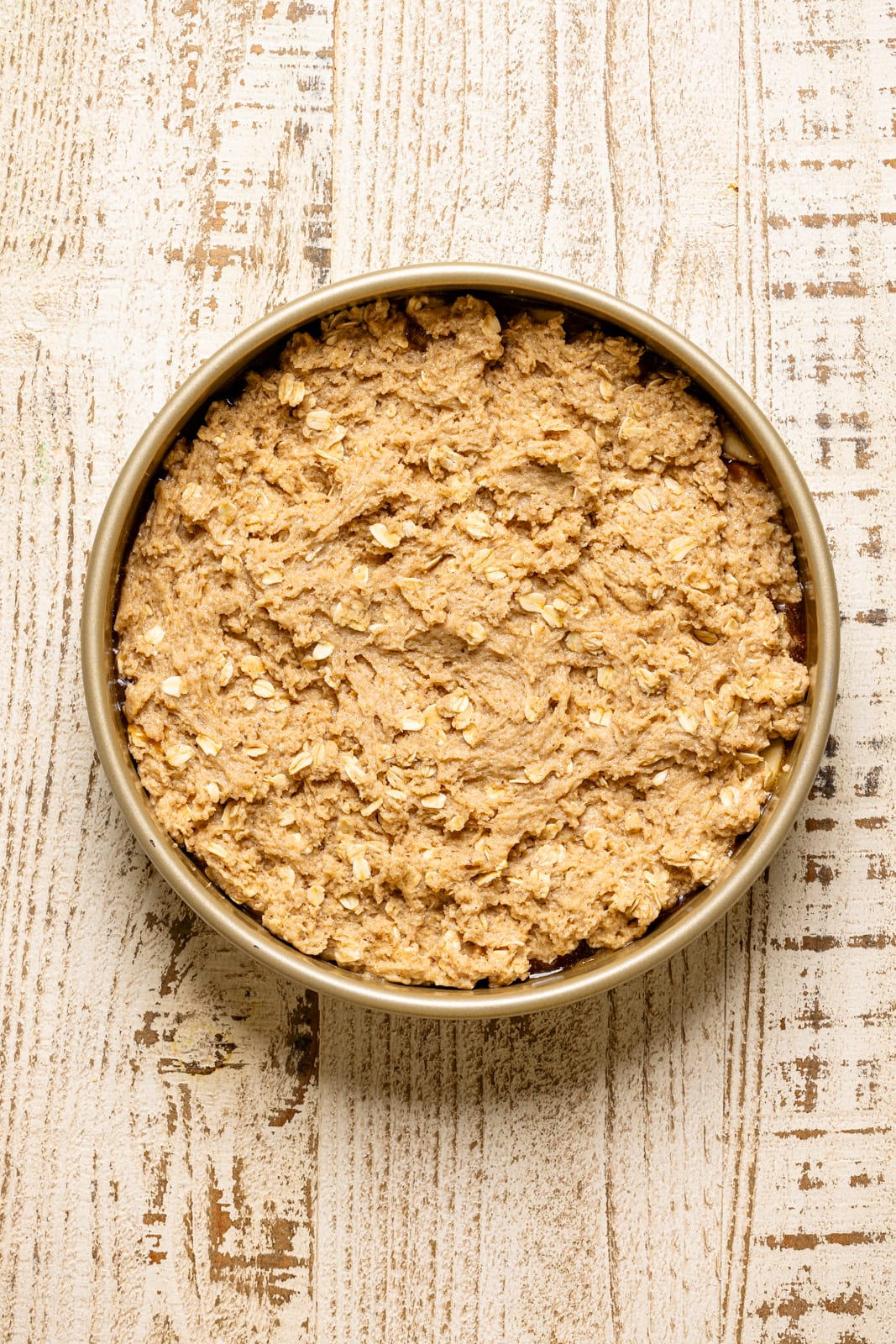 Tips For Making The PERFECT Apple Upside-Down Cake
Tip #1:
One thing that I've learned about baking a cake is having the right tools. As a basic—-you should have a cake stand (preferably one that has a turnstile table), spatulas (big + small), piping bags + tips, correct baking pans, and parchment paper.
Tip #2:
One of the essential ingredient combos for a light, silky cake texture is baking soda/baking powder and acid ingredient. When acid and baking soda/baking powder reacts, it creates bubbles and helps to create a nice rise for your baked goods, leaving an airy texture.
Tip #3:
One of my latest tricks to a perfect cake has been to ensure that ALL of my dry ingredients are sifted. Trust me, ya'll—-this works! Making all the dry ingredients fully sifted makes things airy, as you've guessed it and allows everything to combine faster.
Tip #4:
Never Over-mix! When creating a cake, it's so important to add the dry ingredients and wet ingredients alternately and as soon as everything is combined very well, THAT'S IT! Over-mixing creates a more dense cake.
Best Types of Apples For This Upside-Down Cake
Even though this caramel apple oatmeal cake is based on using Gala apples you can also switch things up and add a slightly new flare to their flavor profile by adding any of the following for a bit more sweetness or tartness:
APPLES
Granny Smith
Honeycrisp
Fuji
Pink Lady
Golden Delicious
Braeburn
and more!
To Peel or To Not Peel Apples + Pears?
It is entirely up to you! I've made this recipe both ways and enjoy them both. I usually make this upside-down apple cake for my family, and my kid sometimes won't eat it with the skins on, so I peel them most of the time. I'm sure it goes without saying, but if you choose to leave the skins on, make sure to wash the apples thoroughly!
Perfect Occasions For A Slice Of Caramel Oatmeal Apple Upside-Down Cake
These events are a great excuse to eat cake!
Birthdays
Anniversaries
Barbecues
Potlucks
Kids Sleepovers
Holiday Gatherings
Graduations
Baby Showers
Dinner Parties
Actually, any time is a good time for cake, right? Bake away for a little weekday pep-up!
Can I Use Another Plant-Based Milk for Apple Upside Down Cake?
Yes, you can use any dairy-free milk you like to make this Apple Upside Down Cake recipe. Here are some easy recipes to make your own milk that is cheaper and so easy to whip up!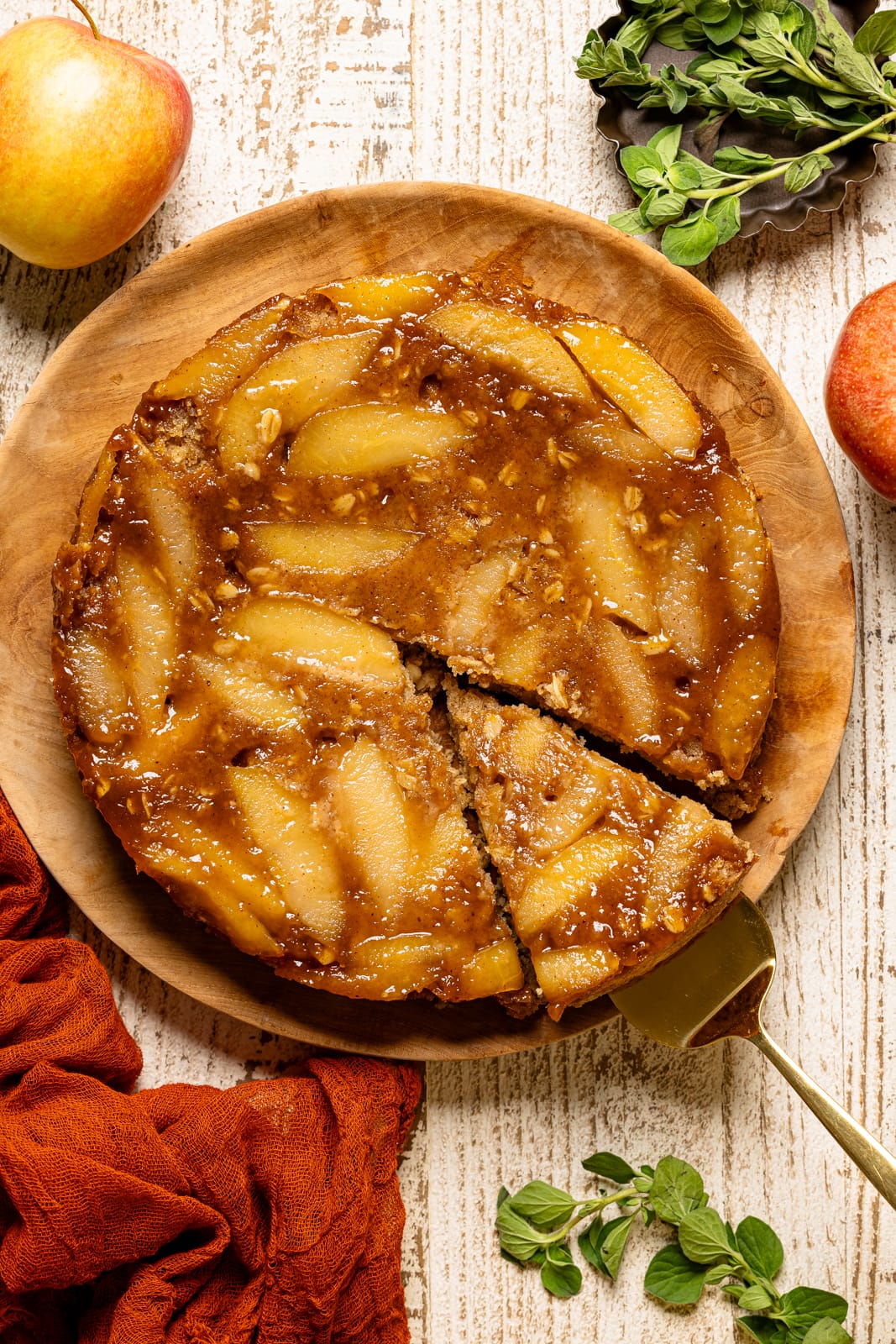 How To Serve Caramel Oatmeal Apple Upside-Down Cake?
This sweet treat has a place at brunch, tea time, and of course dessert! But it doesn't stop there.
Here are a few more creative ideas on how to enjoy this Apple Upside-Down Cake:
Classic slice--- Cut a generous slice of the cake and savor every bite. The caramelized topping + brown butter with the texture of oats make each forkful so delicious.
Warm + fresh--- Enjoy a slice while it's still warm from the oven. The caramel apple top and dense, moist interior make for a heavenly combination. Top it with homemade ice cream-- my favorites are No-Churn Vanilla Ice Cream or No-Churn Butter Pecan Ice Cream for some nutty goodness.
Pair with a beverage--- Upside down cake pairs beautifully with a hot drink like this Easy Warm Apple Chai Latte or Golden Chai Latte
Brunch goodness--- Serve this cake as a sweet addition to your brunch spread. It pairs wonderfully with fresh fruit and a side of whipped cream.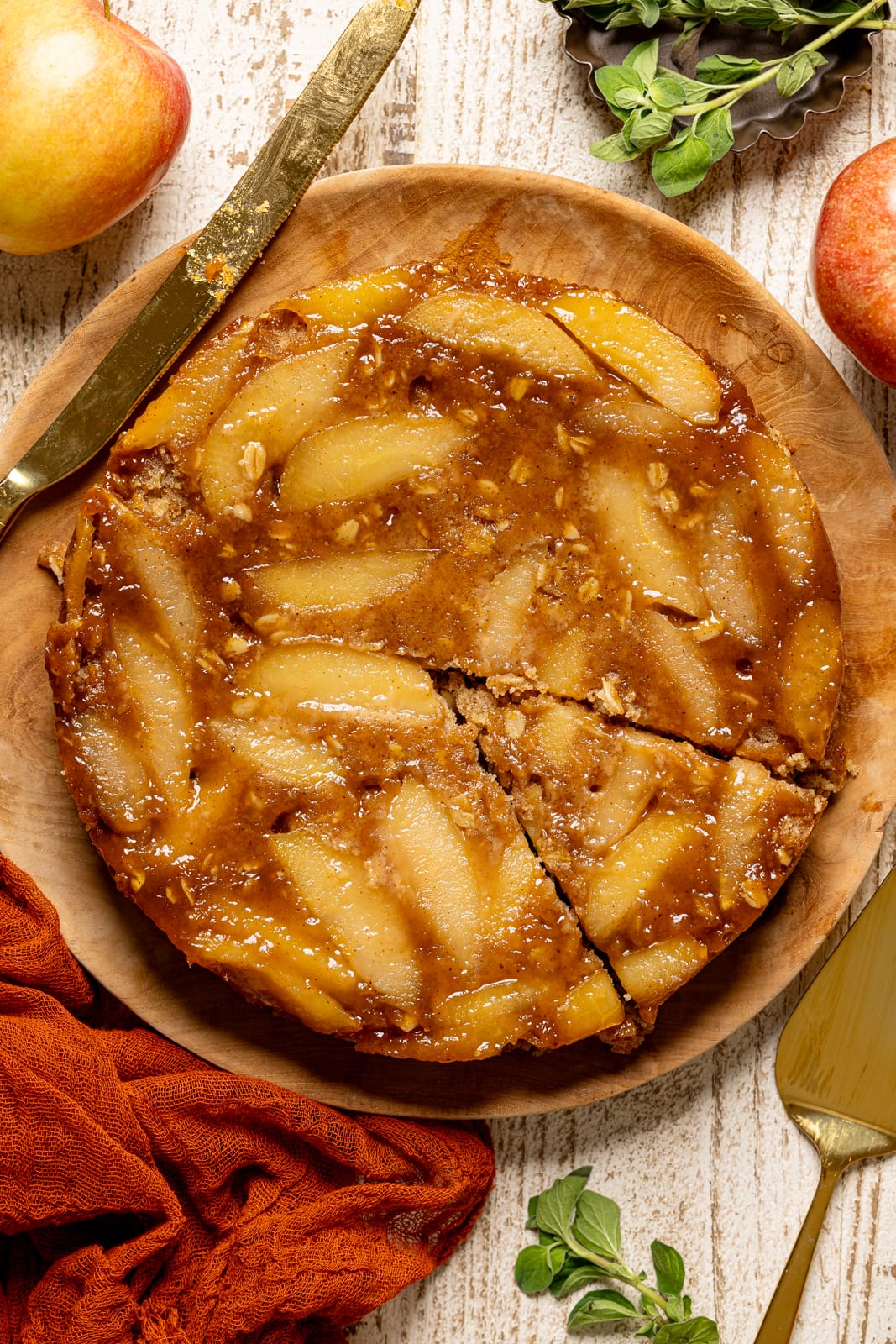 Cake Flour vs. All-Purpose Flour
When it comes to the main ingredient of this entire Caramel Oatmeal Apple Upside Down Cake recipe—-the flour, I enjoy using Bob's Red Mill Unbleached White All-Purpose Flour, which is ideal for all kinds of baking, including this one.
However, I do occasionally use Super-Fine Cake Flour which adds a nice airiness and fluffiness to your cakes as well.
Caramel Oatmeal Apple Upside Down Cake Q + A's
How To Make This Apple Upside-Down Cake Gluten Free?
To make this cake entirely gluten-free, simply substitute the flour with a great Gluten-Free flour option like Bob's Red Mill's GF 1-to-1 baking flour or All-purpose flour. If using any other flour, ensure that it has Xanthan Gum included or add 1 teaspoon in with any flour that doesn't. For the remaining ingredients, just make sure that they are GF-friendly and you use arrowroot starch which is very GF-friendly.
Why Didn't My Upside Down Cake Come Out Of The Pan Clean?
This issue can occur for TWO reasons: the first being that you didn't allow the cake to cool enough before removing it. I always recommend letting it cool for at least 15-20 minutes before removing it and letting it cool completely on a cooling rack. Secondly, the issue could be that the pan wasn't greased well. I like to grease + add cake pan parchment paper to the bottom.
How to Store This Caramel Oatmeal Apple Cake
Keep cake leftovers stored for up to 4-5 days in the fridge. Keep it in an airtight container to keep the cake from drying out. You can also freeze the cake tightly wrapped in plastic wrap for up to 3 months. Before serving, defrost the cake on the counter.
Can I make this apple cake recipe ahead of time?
Absolutely! You can always bake this cake the night or day before and let it cool, tightly wrap it, and refrigerate until ready to use. When ready to serve, let cake sit at room temperature for 30 minutes to an hour, whip together the glaze, add your favorite topping, and serve each slice!
How Do I know when it's down baking?
Insert a toothpick into the center of the cake; if it comes out clean or with a few moist crumbs, the cake is ready. Avoid overbaking to maintain its moistness.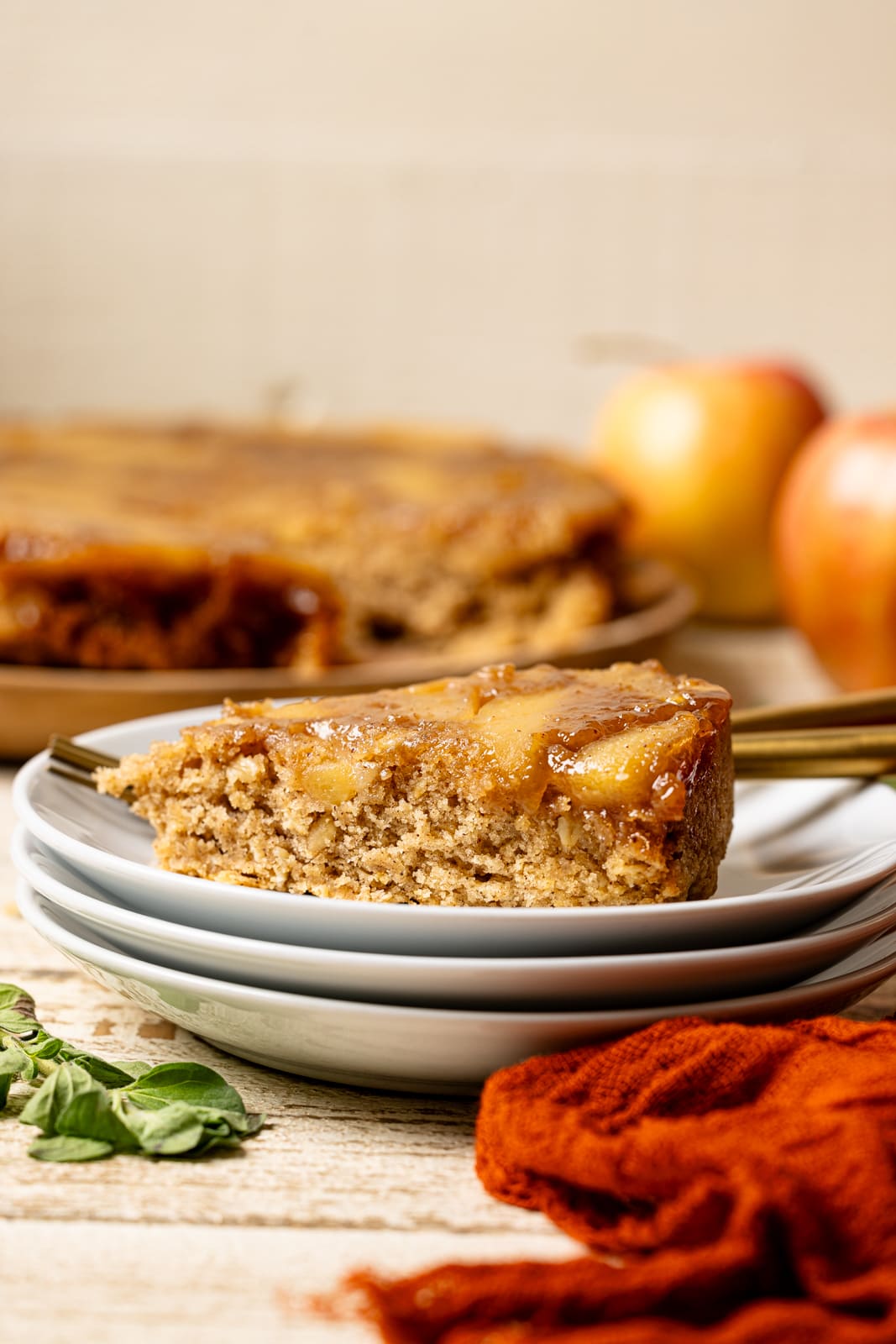 Love Cake? Try These Sweet Creations Next!
If you loved this Upside Down Cake recipe then you have to try these delicious cake recipes next!
MADE OUR RECIPE(S)?
If you tried this Caramel Oatmeal Apple Upside Down Cake with Brown Butter recipe or any other other recipe on my website, please please leave a 🌟 star rating and let me know how you go in the 📝 comments below. And don't forget to tag @orchidsnsweettea_ on Instagram and hashtag it #orchidsandsweettea! I love hearing from you!
OATMEAL CAKE:
1 ½

cups

organic all-purpose flour

½

cup

unsalted butter

½

cup

rolled oats, organic

2

tsps

baking powder

1

teaspoon

ground cinnamon

½

teaspoon

ground nutmeg

¼

teaspoon

ground allspice

½

teaspoon

sea salt

½

cup

organic cane sugar

½

cup

organic brown sugar

1

teaspoon

vanilla extract

¼

cup

Almond milk + 2 Tbsps, at room temp.

1

teaspoon

apple cider vinegar
TO MAKE THE BROWN BUTTER:
TO MAKE THE CARAMELIZED TOPPING:
In a medium 10-inch skillet over medium-high heat, add the butter and let it melt. Reduce heat to low and add the brown sugar, vanilla, and cinnamon whisking until sugar dissolves and the mixture becomes brown in color, about 3-4 minutes.

Preheat the oven to 350 degrees Fahrenheit and lightly grease (w/ olive oil or spray) a 9-inch round cake pan. At the bottom of the pan, arrange the apple slices until fully covering the base of the pan.

Pour the caramelized topping mixture atop the arranged apple slices in the pan, evenly covering everything. Set aside.
TO MAKE THE CAKE:
In a bowl, whisk together the flour, oats, baking powder, cinnamon, nutmeg, allspice, and sea salt until combined. Set aside.

In a bowl, add the cooled brown butter and both sugars, beating them together using a hand-mixer (on high-speed), until wet and combined, about 1-2 minutes. Reduce the speed and add in the vanilla, milk, and the apple cider vinegar followed by the dry ingredients, mixing everything together until well combined and smooth, about 1-2 minutes. NOTE: DO NOT over-mix!
ASSEMBLE + BAKE:
Pour the cake batter into prepared pan atop the topping mixture, spreading everything around for a perfect evenness.

Bake for 30-35 minutes, or until the center of the cake comes out clean when tested with a toothpick or butter knife.
REMOVE + COOL:
Once done, remove the cake from the oven and let cool for about 10-15 minutes before carefully lifting it from the pan and unto a serving platter or plate.

Slice and enjoy it warm with your favorite scoop of ice cream or by itself.

Bon Appetit!
STORAGE: Keep cake leftovers stored for up to 4 days in the fridge. Keep it in an airtight container to keep the cake from drying out. You can also freeze the cake tightly wrapped in plastic wrap for up to 3 months. Before serving, defrost the cake on the counter.
FLOUR: You can also use cake flour in place of all-purpose flour for a fluffier texture. 
Calories:
413
kcal
|
Carbohydrates:
58
g
|
Protein:
3
g
|
Fat:
20
g
|
Saturated Fat:
13
g
|
Polyunsaturated Fat:
1
g
|
Monounsaturated Fat:
5
g
|
Trans Fat:
1
g
|
Cholesterol:
53
mg
|
Sodium:
262
mg
|
Potassium:
76
mg
|
Fiber:
1
g
|
Sugar:
39
g
|
Vitamin A:
619
IU
|
Vitamin C:
0.04
mg
|
Calcium:
96
mg
|
Iron:
1
mg