This Southern Strawberry Iced Sweet Tea is a refreshing home-brewed sweet tea made from black tea and a simple strawberry syrup and boasts of great hints of lemon, strawberry, and a whole lot of sweetness—just like they like it down south! The perfect drink for the sunniest of days regardless of the season!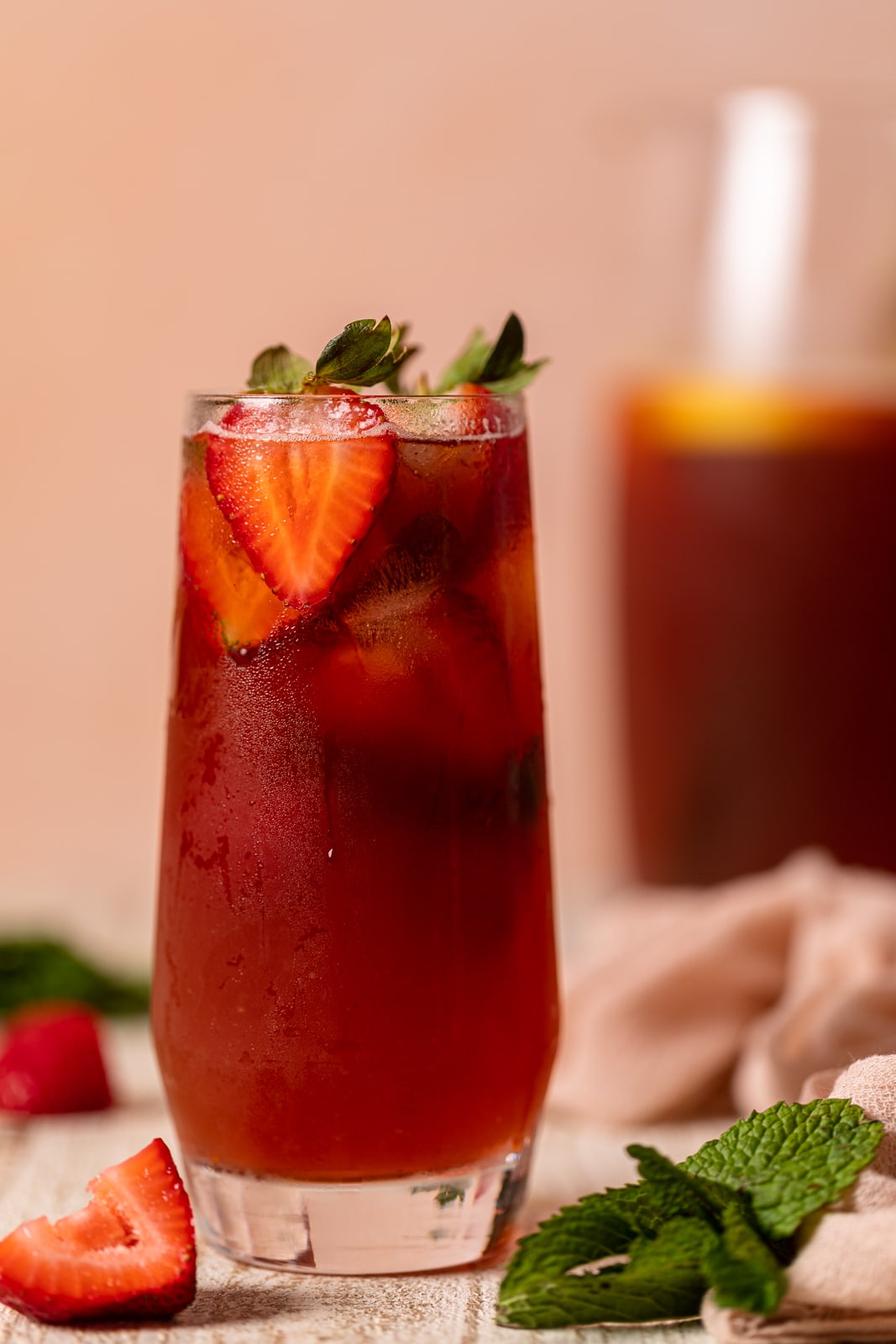 I can't tell you how thrilled I am to have FINALLY have made this Southern Strawberry Iced Sweet Tea. It's been such a long time coming since I've been meaning to add this recipe to the blog because it's one of my favorite forms of sweet tea.
Lovers of strawberry will definitely drink this one right up and I promise that this sweet tea will be a new family fave all Summer long!
You know that I'm a Southern girl at heart (born + raised), so this cup of goodness brings back so many great memories and fun in the sun moments. For those of you that are in the South, I do hope that this recipe makes you proud—much like this Traditional Southern Iced Sweet Tea! Haha.
While traditionally, sweet tea consists of Lipton tea bags, I chose to use another organic version, which tastes just as great. But, if you'd prefer to keep things traditional, you can always enjoy Lipton's newest line of organic black tea bags.
Why Sweet Tea? What is Sweet Tea?
Much like Lemonade (for many people), this sweet tea is the epitome of a Spring, Summer, Fall, or Winter—– an all around MUST HAVE in the south. Yes, ya'll—it's that serious!
For those of you who aren't familiar, Sweet Tea is not just sugar and water with a tea bag. I know. CRAZY! There's a specific process that has to happen:
Steep (the longer, the stronger the flavor).
Mix in sugar (or alternative sweetener) for a complete dissolve.
Add to pitcher, add lemons for added taste, and CHILL COMPLETELY before serving it with ice.
Add your favorite liquor or bourbon for a bit of pizazz (Adults-only)!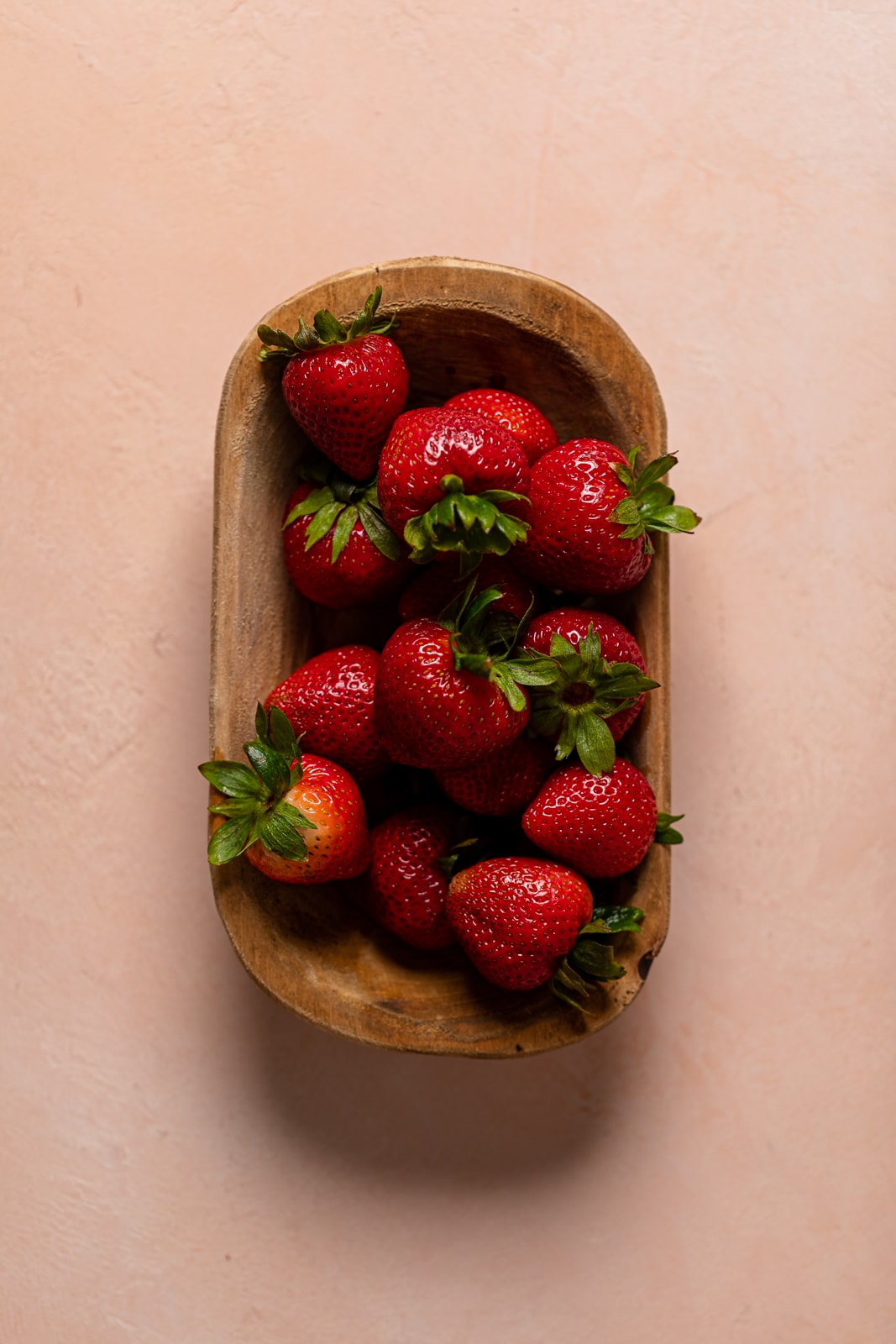 Plus, sweet tea is always best served completely COLD which is why adding crushed ice to the pitcher can be a great option or chilling it prior to serving is always best!
Why Add Baking Soda to Sweet Tea?
OK, so I know that this must be a shocker, but yes—you do add baking soda to sweet tea. Why? Whelp, although it seems super weird to do so, adding baking soda to your sweet tea prevents it from getting cloudy and bitter. If you've ever tried leaving your leftover sweet tea in the refrigerator for a few days, only to find out that after a day or so, it's bitter and not as enjoyable—-then know that adding a small amount of baking soda does the trick!
In addition, just know that baking soda has health benefits as well, so it won't harm you! For one, baking soda is great for helping with indigestion and acid reflux. Also, it's great for keeping your mouth healthy among other benefits. So, the next time you add a pinch of baking soda to your sweet tea, just know that you're not adding something harmful to this glass of goodness!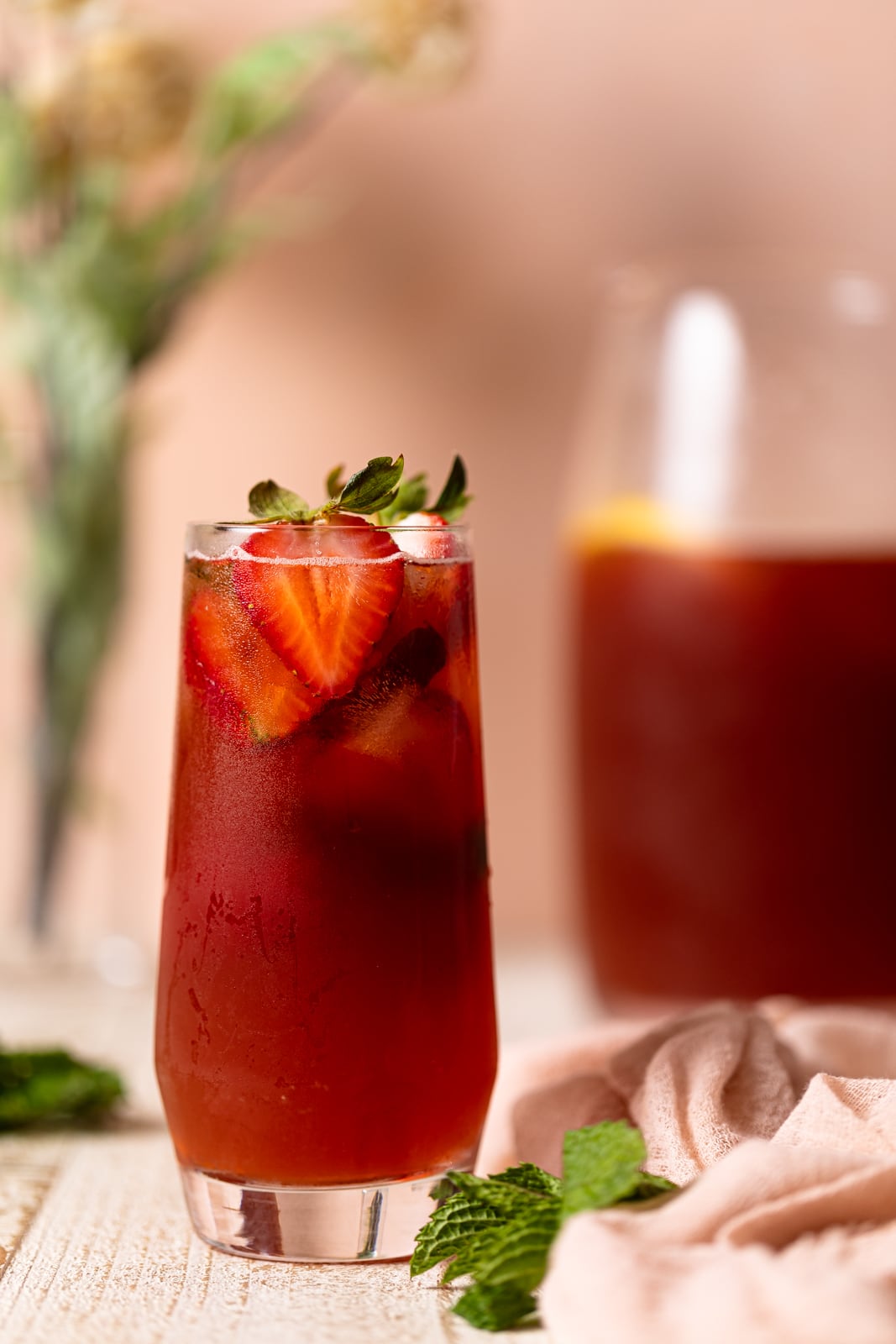 Ingredients in Southern Strawberry Iced Sweet Tea
For the Simple Strawberry Syrup:
2-3 cups strawberries sliced (fresh or frozen)
2 cups water
1 cup organic cane sugar
1 tsp freshly-squeezed lemon juice
For the Sweet Tea:
3 cups water, for boiling
8-10 black tea bags, organic
1 gallon filtered water
2 Tbsps freshly-squeezed lemon juice
1 cup Agave or maple syrup
1/4 tsp baking soda
Sliced strawberries
Lemon slices
Crushed ice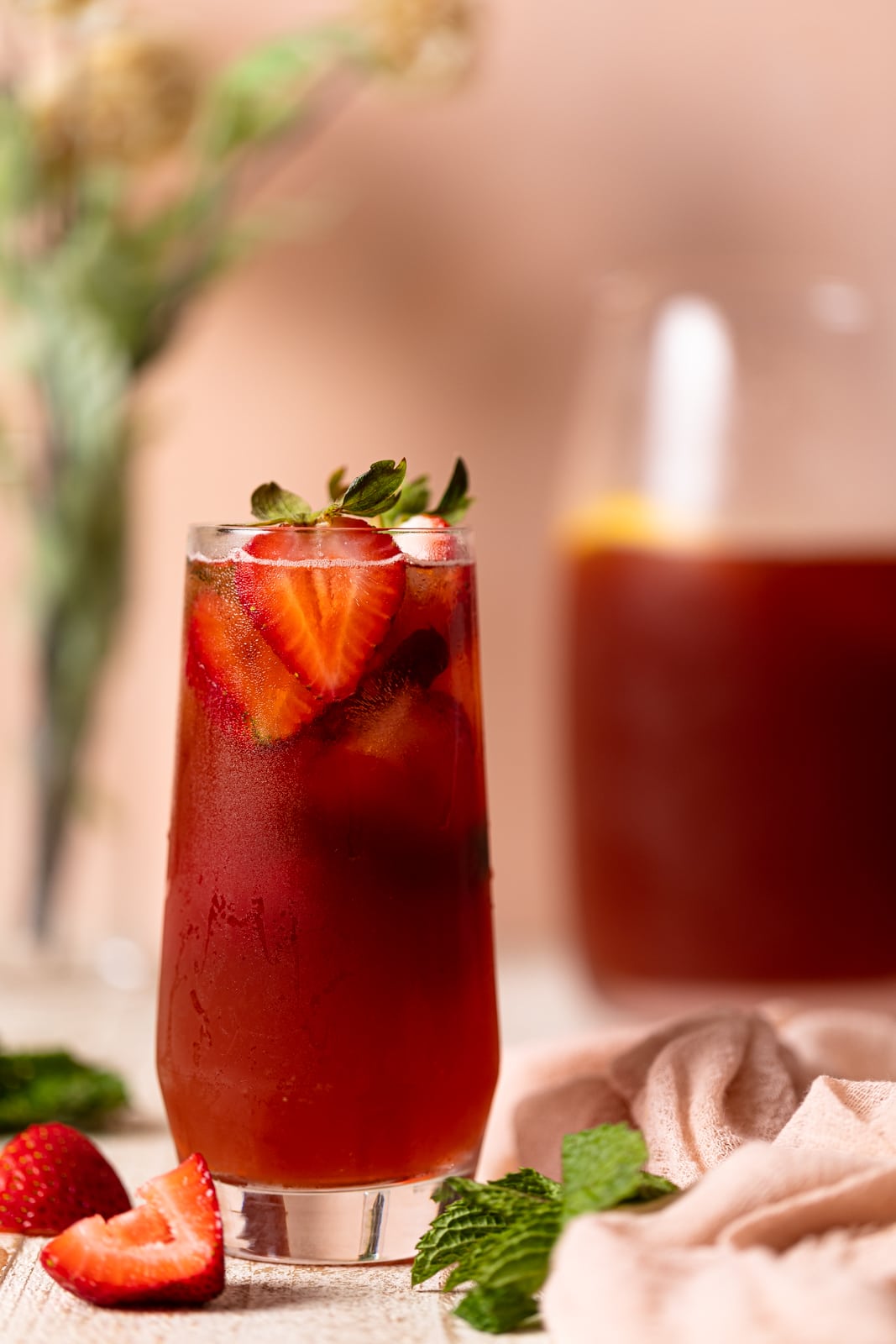 How Much Sugar for 1 Gallon of Sweet Tea?
Yes, so the major question here is—-what about all of that sugar—how much do I need to add for optimal sweetness? Firstly, I'll start by saying, there are plenty of sugar substitutes that can work for this recipe without compromising taste!
To start, you can use organic brown sugar or organic cane sugar instead of regular white sugar to keep things healthier. Also, you can substitute sugar for stevia or allulose for an even healthier option. While I haven't tried this recipe with maple syrup (because I believe that the overall taste would change), I do think that using Agave works as a great option as well.
Overall, I start out with 1 cup of sweetener and then add additional to taste depending on how "fresh" tasting the sweet tea is after adding the steeped black tea mixture and simple strawberry syrup—-usually no more than an additional 1/2 cup.
Health Benefits of Strawberries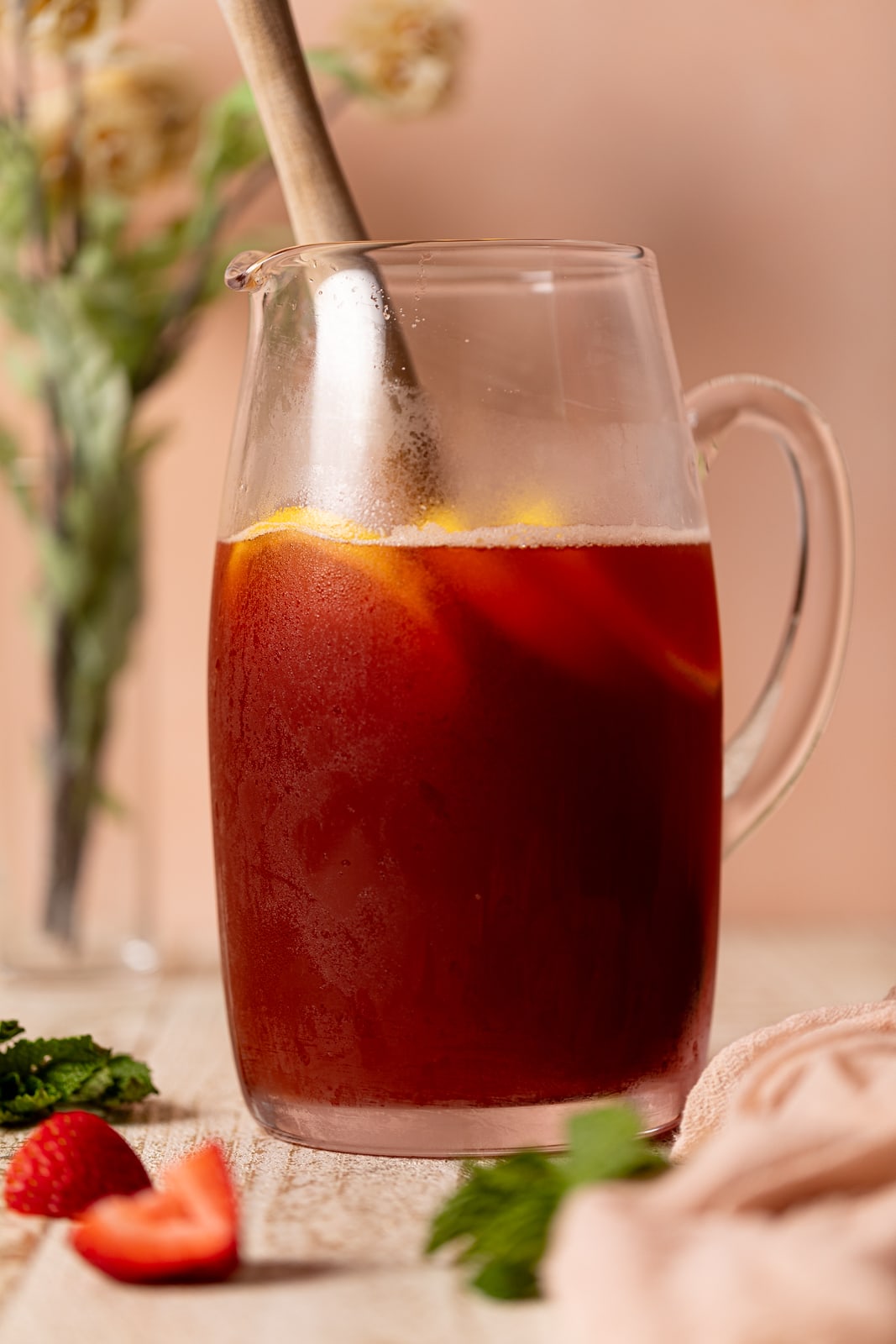 Best Sweet Tea Store-bought Brand.
When searching for a big box of Lipton tea bags, I did notice that there were a ton of options available these days when it comes to flavor. They even have the Southern Sweet Tea mix, which makes things a lot easier for those who may not have want to make it from scratch or just need a quick fix without the time.
But if you're looking for ready-made sweet teas that are the best, I've found that Milo's Sweet Tea is a great option that has been around for a long time. In addition, Sweet Leaf teas are really great as well.
Turning Sweet Tea into an Adult Beverage
If you'd like to make this fruity sweet tea a boozy cocktail-like sweet tea, go for it! You can add a shot of clear liquor, like tequila or vodka in each glass of ice. Then pour in the sweet tea and serve! Or you can add it completely to the entire pitch of sweet tea, if desired.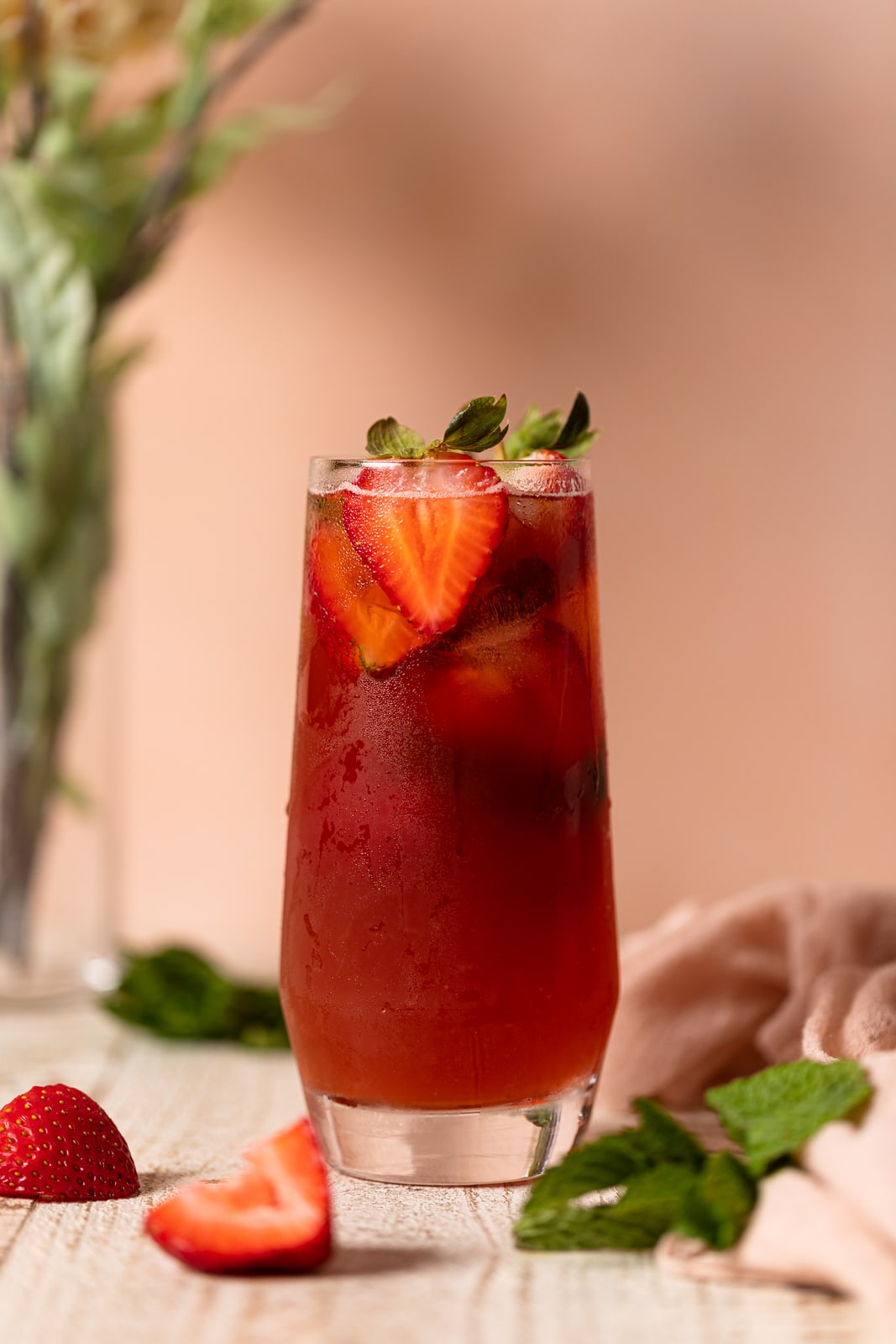 MORE SOUTHERN RECIPES TO TRY!
MADE OUR RECIPE(S)?
If you make this Southern Strawberry Iced Sweet Tea, tag @orchidsnsweettea_ on Instagram and hashtag it #orchidsandsweettea
STRAWBERRY SIMPLE SYRUP:
2-3

cups

fresh or frozen strawberries, sliced

2

cups

water

1

cup

organic cane sugar

1

tsp

freshly-squeezed lemon juice
SWEET TEA:
3

cups

water, for boiling

8-10

black tea bags, organic

(You can use 6-7 for less black tea strength)

1

gallon

filtered water

2

Tbsps

freshly-squeezed lemon juice

1

cup

Agave or maple syrup

(Add more for extra sweetness if preferred)

1/4

tsp

baking soda, optional

(See Notes!)

Sliced strawberries, for garnish

2

Lemon slices

Crushed ice
MAKE THE SIMPLE STRAWBERRY SYRUP:
In a saucepan, add together all ingredients over medium-high heat, stirring until combined. Once strawberries begin to soften, continue stirring until mixture begins to thicken a bit, about 5-6 minutes. Remove from heat and let cool completely.
BOIL + STEEP THE TEA:
Add 3 cups of water to a saucepan over high heat and bringing it to a boil. Add the tea bags to the boiling water and let it continue to boil for another 1-2 minutes. Turn off heat and let tea bags continue to steep for 15-20 minutes. NOTE: The longer that the tea bags steep, the stronger the flavor. You can let them steep up to 30 minutes before it begins to get bitter.

Meanwhile, add in the Agave or maple syrup and stir until fully combined and dissolved. Let the tea mixture cool completely, about 1 hour or so.
ASSEMBLY:
In a large pitcher, gallon of water, add steeped tea mixture (discarding of the tea bags), strawberry syrup (straining out the strawberry pieces), lemon slices, baking soda, and crush ice and refrigerate immediately to keep it cold until ready to serve. NOTE: It's best to have the sweet tea sit in the refrigerator for about 30 minutes or so.

Once sweet tea has chilled considerably, serve by pouring the sweet tea into prepared glass(es) and adding a slice or two of lemon and strawberries, if desired.
STORAGE: Keep any leftovers in the refrigerator, tightly covered in your pitcher or in a sealed mason jar (for smaller leftover amounts). Best if consumed within a few days.
SWEETENER: Traditionally, sweet tea is made with brown sugar, however, you can always use organic cane sugar, allulose, and stevia, instead of brown sugar.
BAKING SODA: Adding baking soda to your sweet tea prevents it from getting cloudy and bitter. If you've ever tried leaving your leftover sweet tea in the refrigerator for a few days, only to find out that after a day or so, it's bitter and not as enjoyable----then know that adding a small amount of baking soda does the trick!
Southern Strawberry Iced Sweet Tea (without Brown Sugar).