This Apple Cinnamon Oatmeal Porridge is the ultimate healthy + hearty breakfast recipe. Each bowl is topped with warm caramelized apples and takes less than 15 minutes to make. A fully gluten-free recipe, Vegan option available!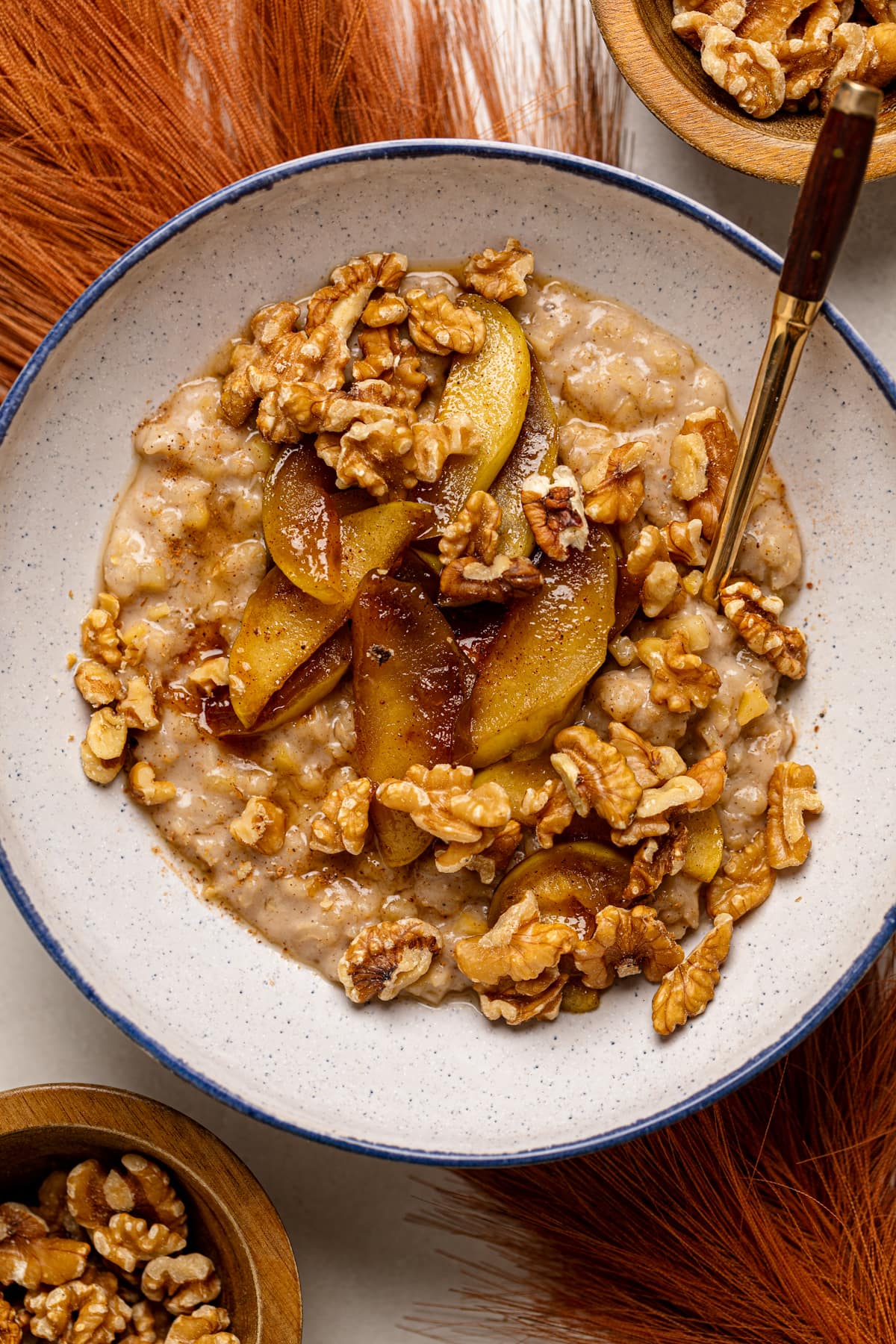 A few years ago, this recipe became my go-to breakfast whenever anyone in the family starts to feel sick. Oatmeal is an incredibly nutritious food, packed with essential nutrients like iron, magnesium, phosphorous, folate, and zinc. Not to mention dietary fiber and antioxidants!
And while all of those health benefits are important, this recipe for oatmeal goes way beyond just being good for you. It tastes like apple pie in a bowl, thanks to melted caramelized apples, crunchy walnuts and plenty of cinnamon spice. If you love Warm Vegan Apple Cinnamon Pancakes, you're going to go crazy for this easy gluten free breakfast!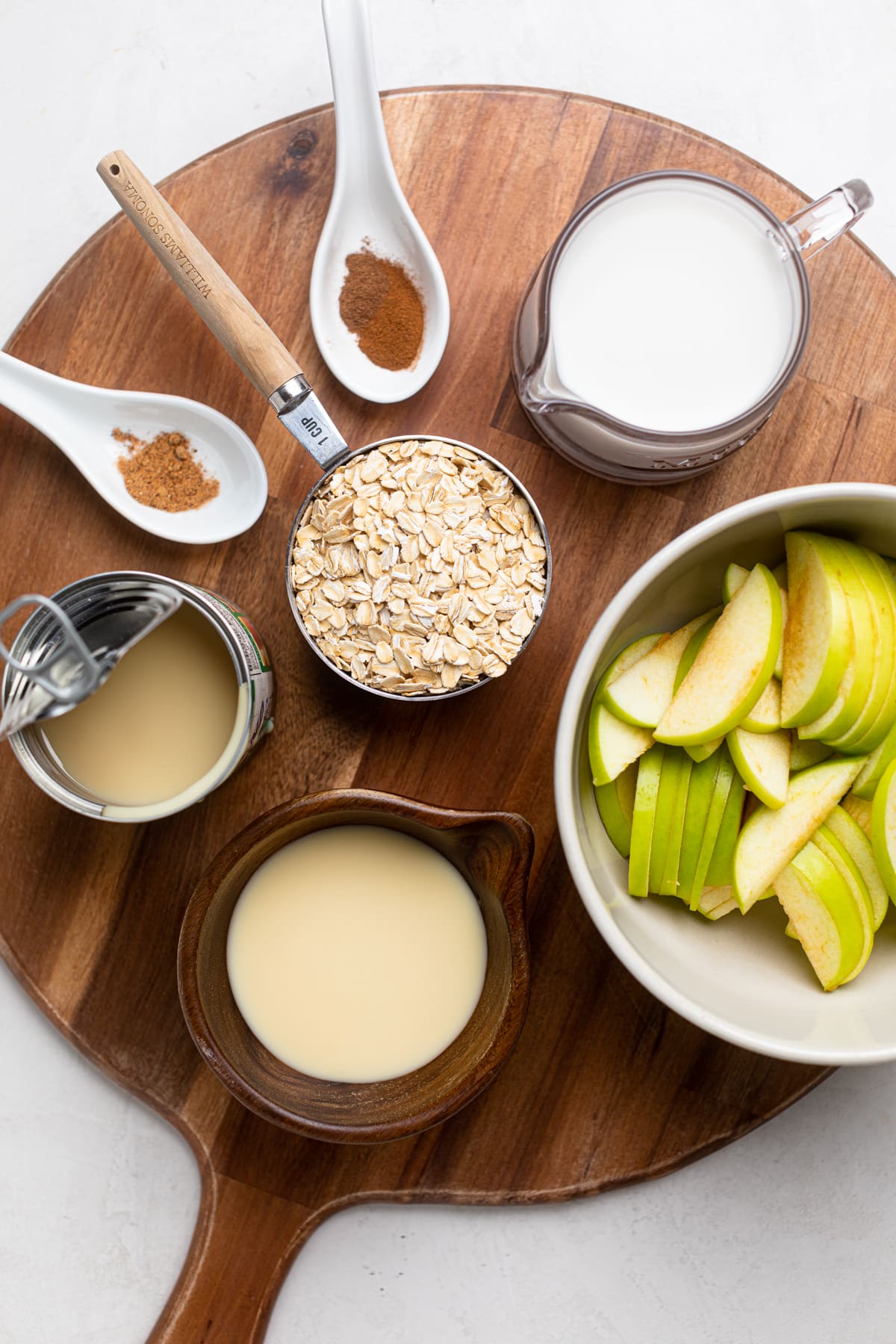 How to Make Caramelized Apple Cinnamon Oatmeal
there are a few key ingredients in this warm porridge recipe that you may not usually use in your morning oatmeal. these make this bowl better for you and even tastier.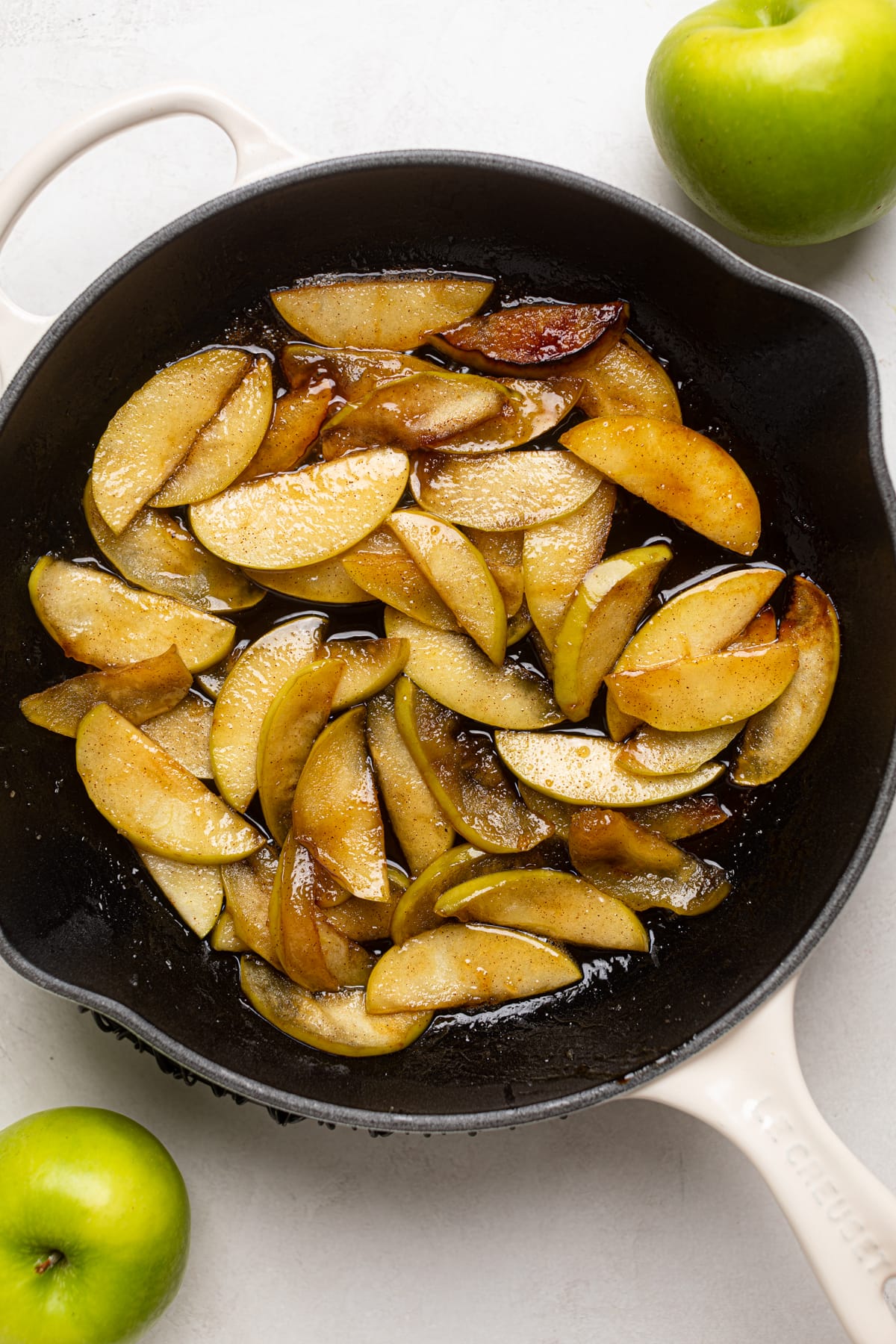 Ingredients
Here's the list of ingredients to make caramel apple porridge for breakfast today:
Thick Cut Rolled Oats. Choose gluten-free if necessary. 
Almond Milk. You can use any kind of plant-based milk you like. Coconut, oat or cashew will all be great. 
Fall Spices. We're talking cinnamon, nutmeg and cloves. 
Chia Seeds. These add tons of healthy fats and fiber, plus they make your oatmeal extra creamy. 
Apples. Any kind of apple will work. Tart apples will be less sweet. 
Maple Syrup. For that ultra-caramelized flavor. You could also use honey if you're not vegan. 
Nuts. Use walnuts, pecans, hazelnuts or your favorite kind!
Brown Sugar. I like to use organic sugar to make sure it's fully vegan.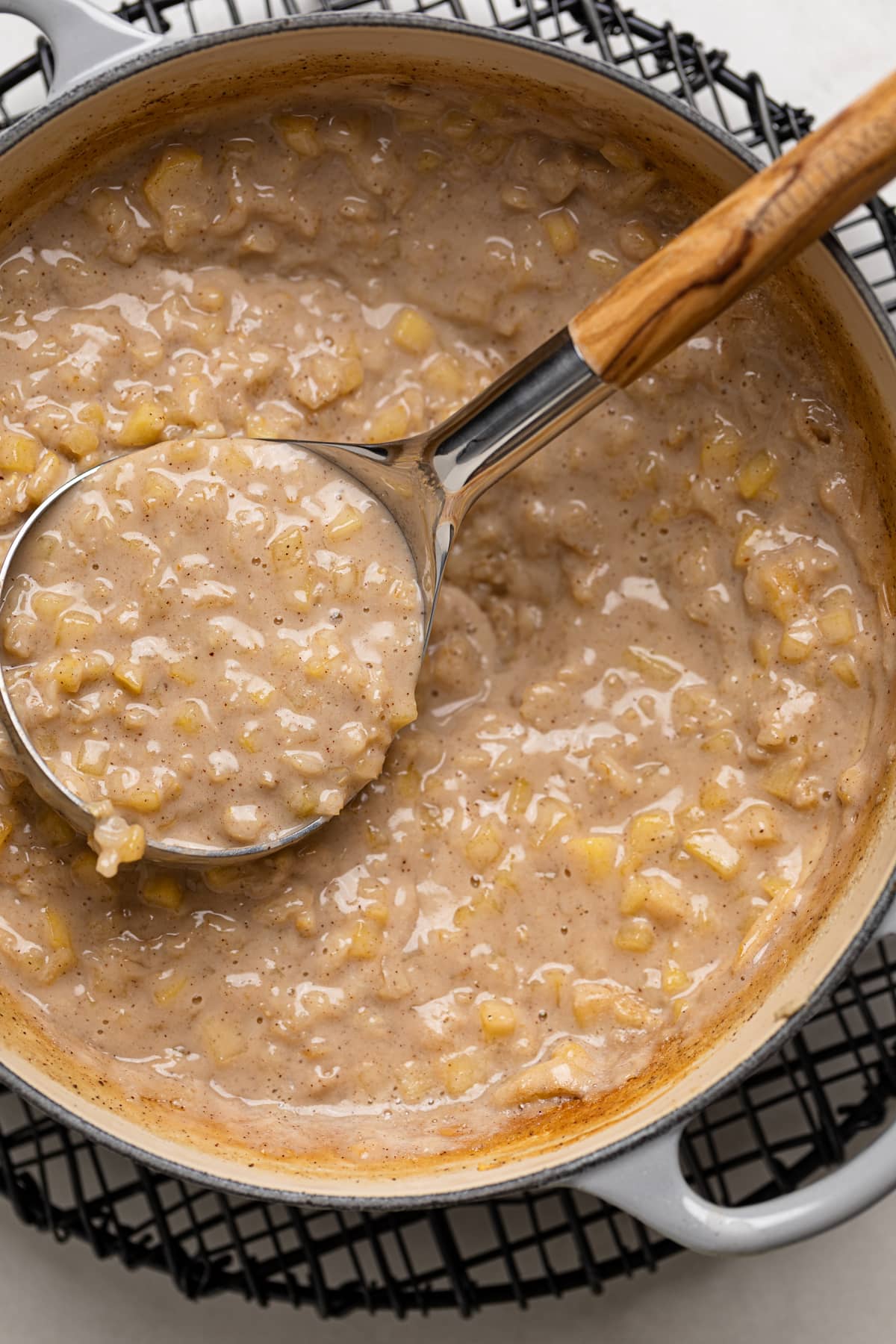 Looking for a Healthier Sweetener Option?
The Best Healthy Sugar Alternatives + Substitutes list is all about finding better ways to enjoy your favorite sweets without compromising your healthy lifestyle. For those who follow a vegetarian and/or vegan lifestyle, this lists offers a few great ideas to incorporate healthy sweeteners into your diet.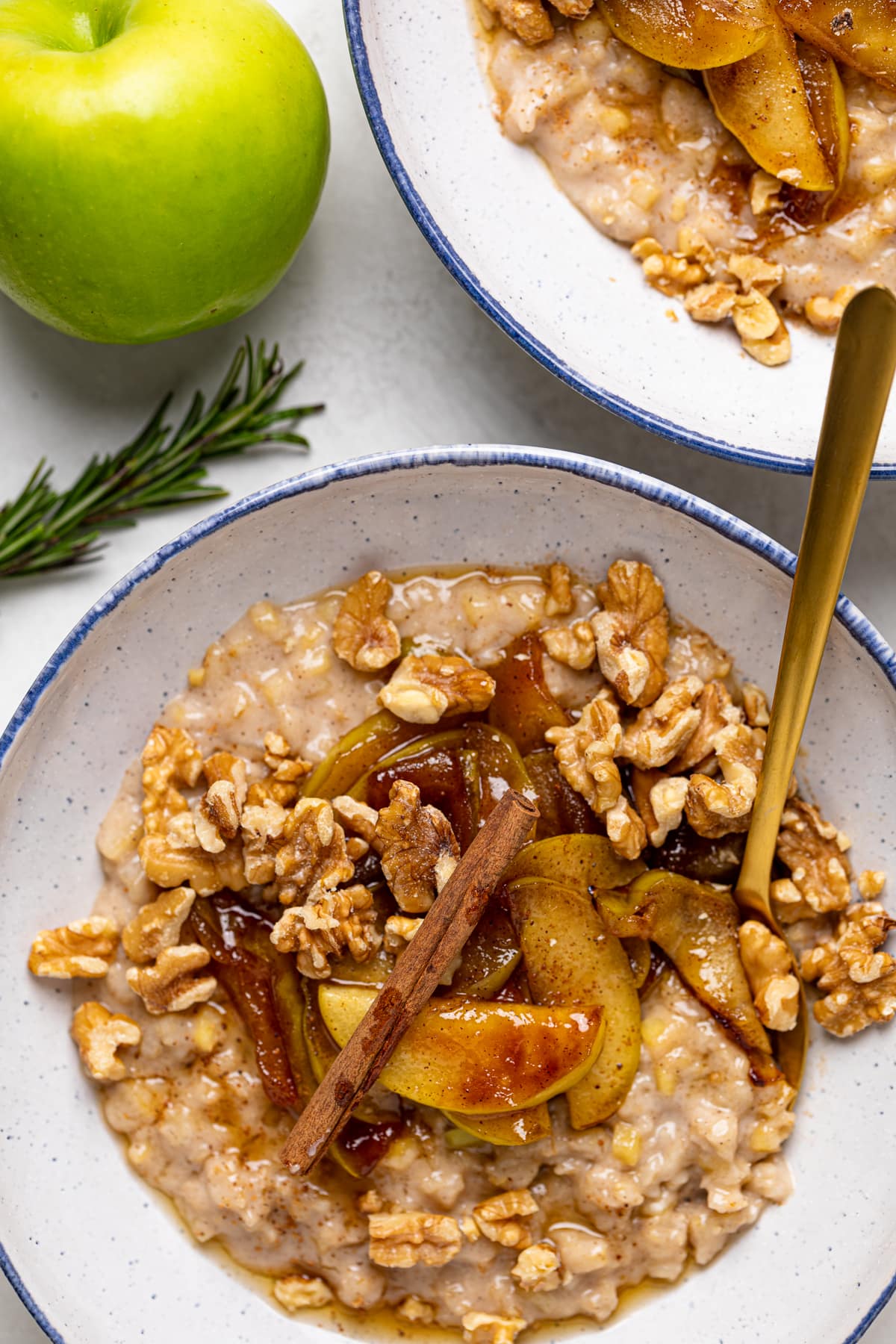 Why Add Chia Seeds to Oatmeal
Chia seeds are one of my favorite superfoods to cook with. They are rich in fiber, vegetarian protein, and heart-healthy fats.
Research shows that eating nuts and seeds like chia can help protect reduce the risk of heart disease.
While some nuts and seeds are dense in calories, chia seeds have very few calories. That's why I love adding a sprinkle to my oatmeal, or even smoothies.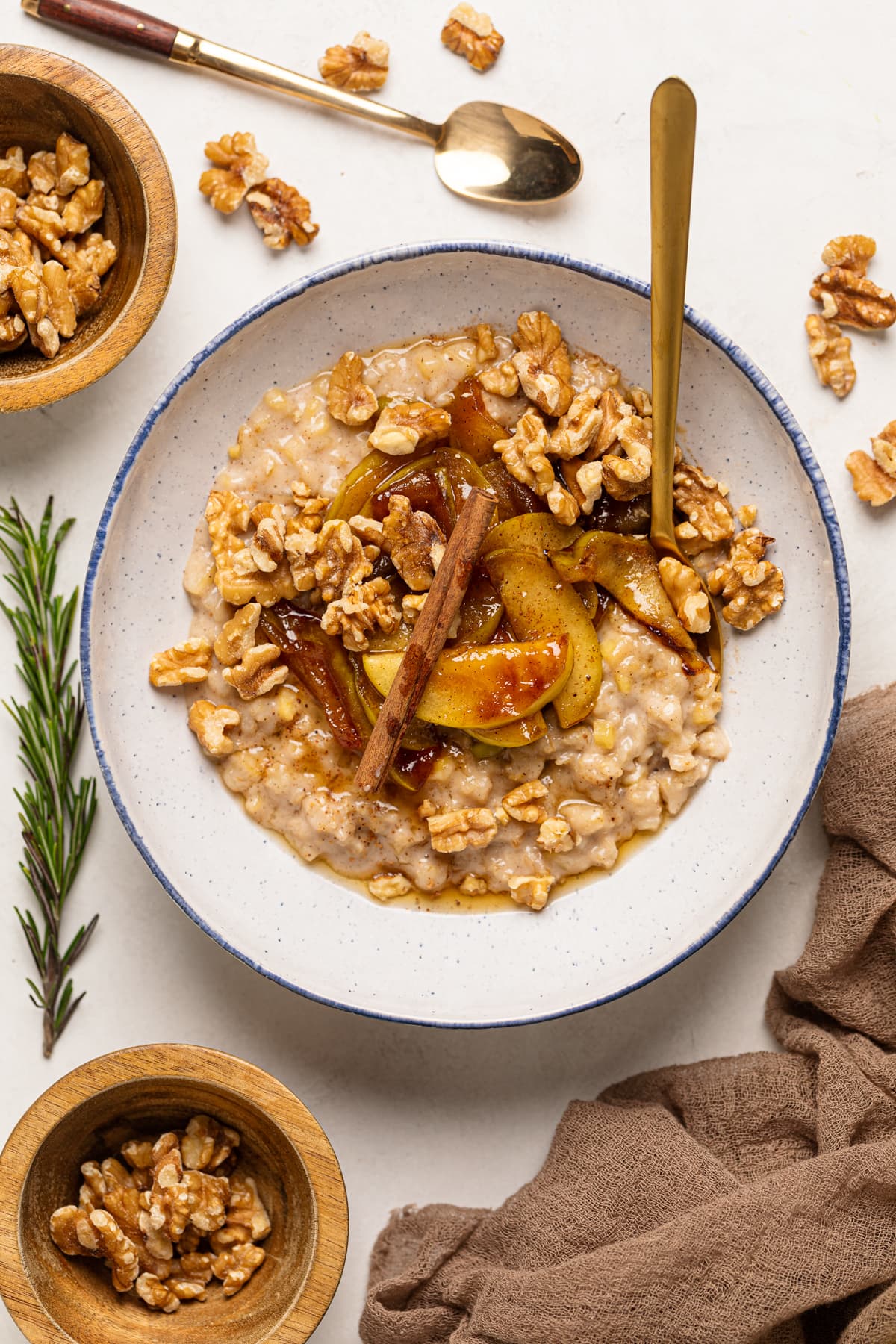 Making Caramelized Apples for Oatmeal
The best part about this creamy oatmeal bowl is the topping. Apples get gooey and caramelized on the stove so your breakfast tastes like dessert, but it's actually healthy!
You can serve these caramelized apples on oatmeal, or spread them on toast like jam. They're also delicious spooned over ice cream, especially my No-Churn Caramel Cone Ice Cream.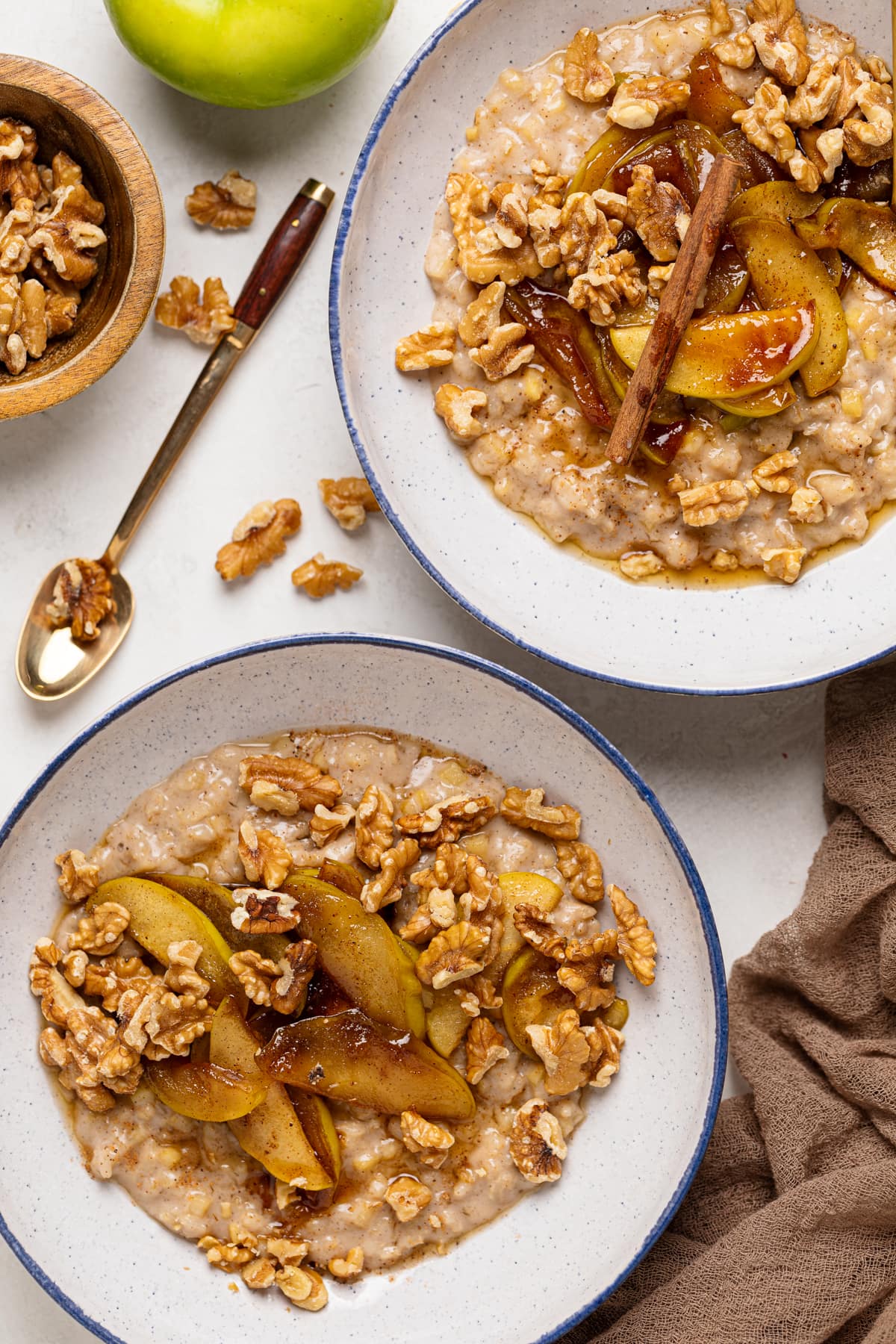 If you have leftover caramelized apples, store them in the fridge in an airtight container for up to five days. You can bet they won't last that long though!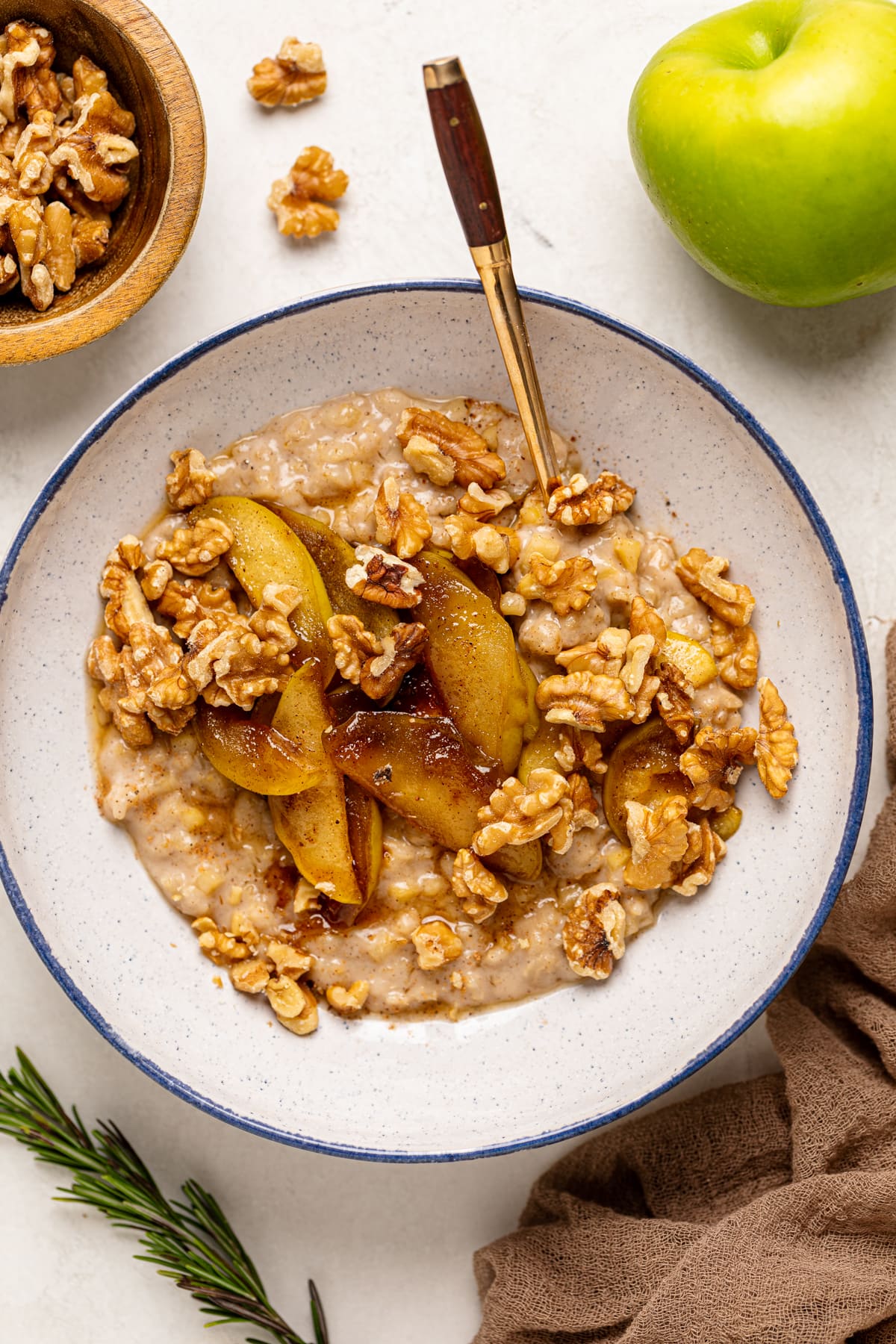 Health Benefits of Oats
Oats are another superfood that's great to start your day with. Rolled oats like the ones used in this recipe, are a healthy source of complex carbs, fiber (the soluble kind!), protein, and fat. In addition, they are loaded with important vitamins, minerals, and antioxidants.
Other great benefits of oats, according to studies:
They can help lower cholesterol.
Helps regulate blood sugar levels to avoid crashes and spikes
May help with losing weight.
Helps to relieve constipation.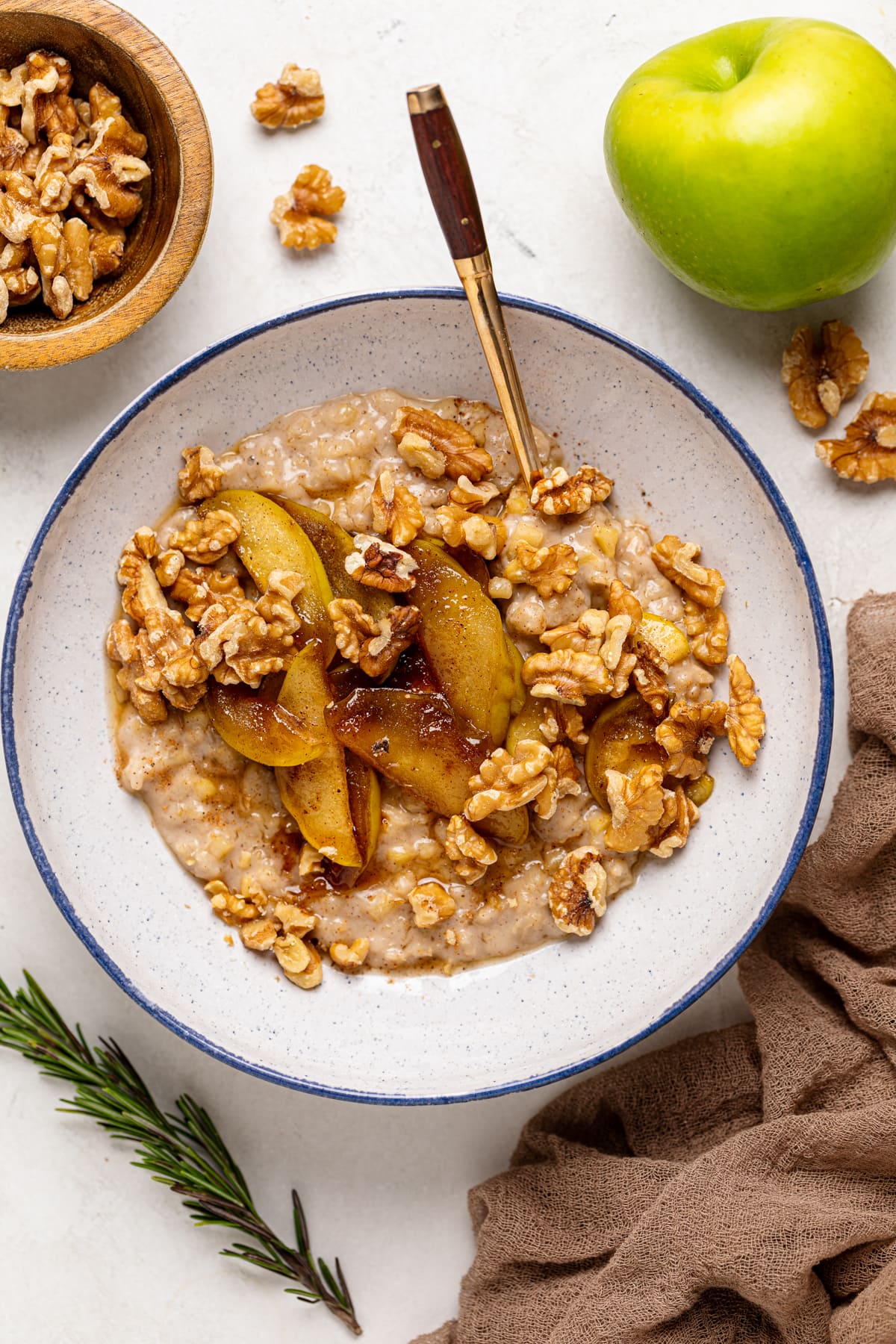 More Healthy Oatmeal Recipes
Breakfast Peanut Butter Banana Chia Seeds Oats have added protein from peanut butter, but you can use any nut butter you like!
Healthy Cranberry Orange Oats with Pistachios are packed with bold flavor and nutrients. This oatmeal is a sure way to get your tastebuds dancing and your tummy full for a few hours before needing another bite to eat.
 Flourless Vegan Banana Oats Waffles are made right in a blender. These Gluten-Free waffles are naturally sweetened, fluffy, thick, airy, and full of flavor. The perfect breakfast or brunch dish with the perfect taste for your mornings!
Fluffy Vegan Oatmeal Whole Wheat Pancakes are completely fluffy and oil-free and are truly irresistible.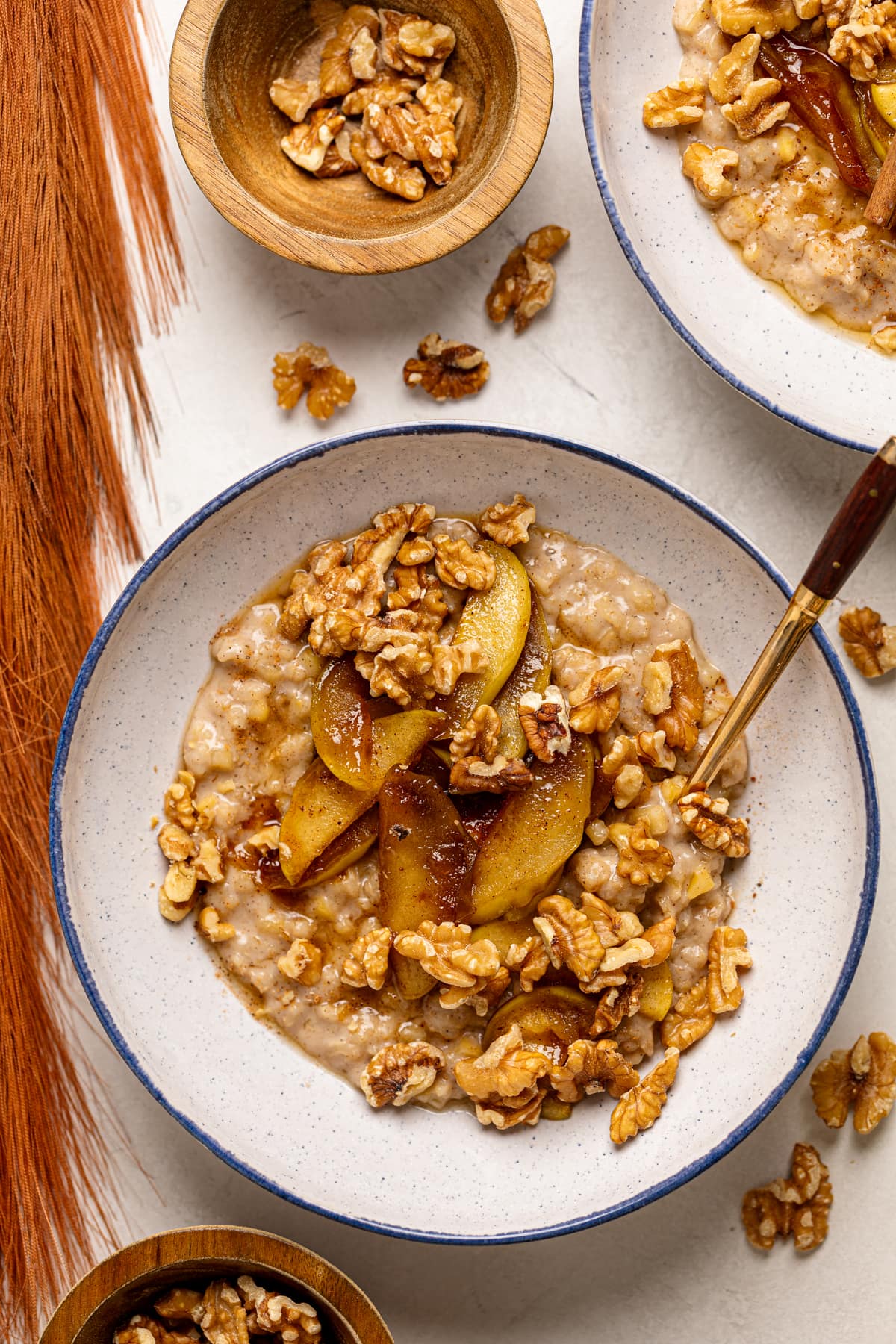 MADE OUR RECIPE(S)?
If you make these Cinnamon Apple Oatmeal Porridge or any other recipe from us, be sure to tag us on Instagram at #Orchidsandsweettea so that we can share the love!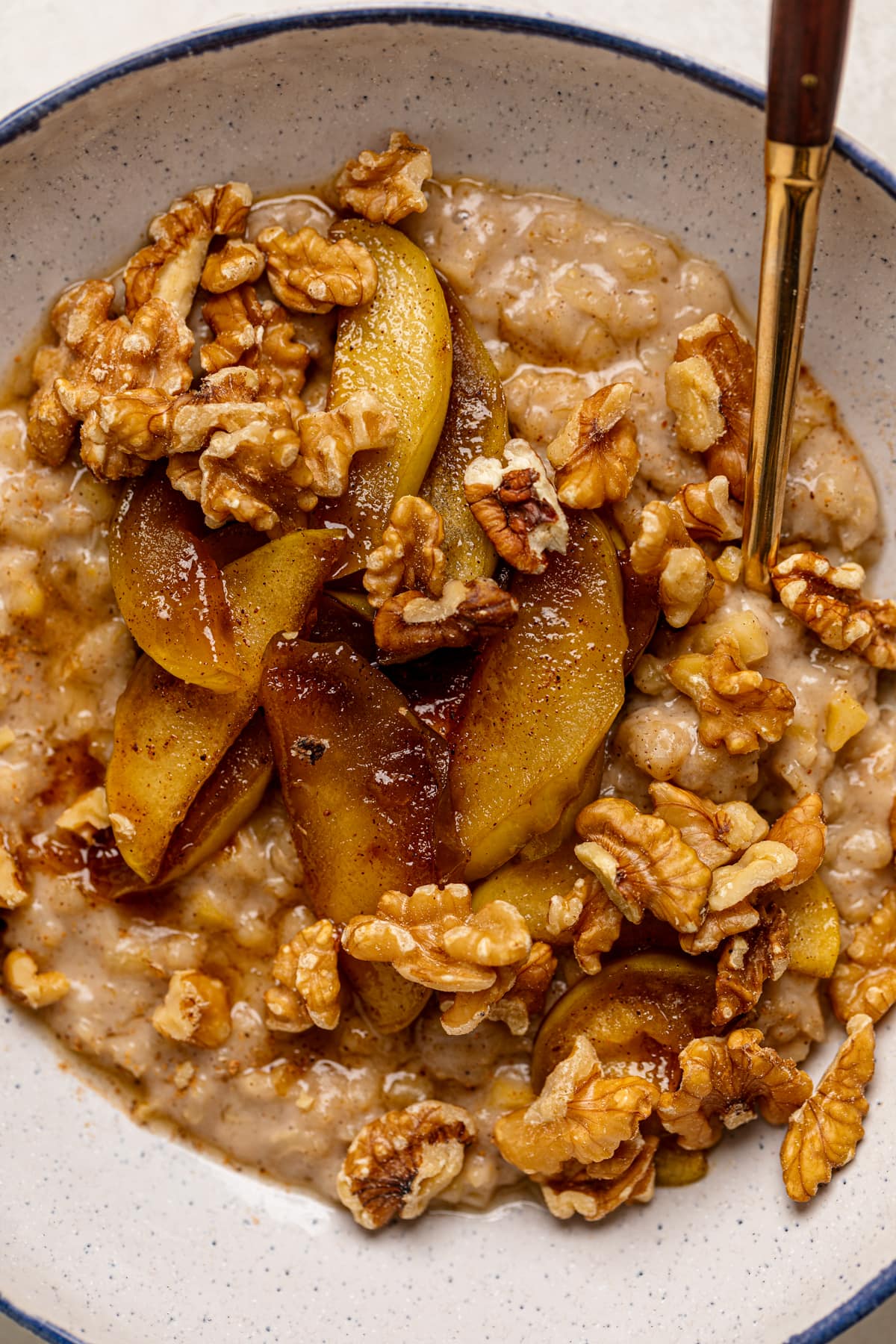 OATMEAL:
1

cup

thick-cut Rolled oats, GF

1

medium

Granny smith apple, peeled + diced

4

cups

Almond milk

(You can use your fave plant-based milk!)

½

cup

condensed milk

¼

cup

pure maple syrup

1

tablespoon

ground cinnamon

1

teaspoon

gorund nutmeg

½

teaspoon

ground allspice

Pinch of

sea salt
TO MAKE OATMEAL:
Add oats, diced apples, milk, cinnamon, nutmeg, allspice, and sea salt to a medium saucepan over medium-high heat, stirring until everything is combined. Bring to a boil, then reduce heat to low so that everything simmers for 8-10 minutes, stirring occasionally.

Once done, oats should thicken and become swollen + fluffy and creamy with half the the liquid still remaining. Stir in the condensed milk + maple syrup and let simmer for an additional 1-2 minutes before removing it from heat.
CARAMELIZED APPLES:
In a medium skillet over medium-high heat, add the butter and heat until melted. Add the brown sugar, cinnamon and sea salt and stir until combined and everything begins to bubble a bit, about 2-3 minutes.

Add the sliced apples and toss until well coated and cook for 8-10 minutes, until tender and the sauce has thickened. Remove from heat.

To serve, portion oatmeal into serving bowl(s) and top with caramelized apples, toasted nuts, and a light drizzle of maple syrup, if desired.

Bon Appetit!
STORAGE: Can be stored in the refrigerator for up to 5 days. Perfect for meal prep for the week!
OVERNIGHT OPTION: Simply add all oatmeal ingredients to a bowl and mix together until combined. Tightly cover bowl with plastic wrap and refrigerate overnight (or at least 8 hours). Once ready to serve, make Caramelized Apples and top overnight oats and enjoy.
TOASTED NUTS: Add chopped walnuts/pecans to a baking sheet and toasting them in the oven (400 degrees Fahrenheit) for 5-10 minutes, tossing them halfway to avoid browning on one side.
SWEETENER: Instead of maple syrup, you can simply use Agave to oatmeal as a sweetener.
VEGAN OPTION: Omit condensed milk and substitute with canned full-fat coconut milk/cream instead and unsalted butter with vegan butter.
Calories:
1001
kcal
|
Carbohydrates:
182
g
|
Protein:
15
g
|
Fat:
27
g
|
Saturated Fat:
12
g
|
Polyunsaturated Fat:
5
g
|
Monounsaturated Fat:
9
g
|
Trans Fat:
0.5
g
|
Cholesterol:
56
mg
|
Sodium:
773
mg
|
Potassium:
823
mg
|
Fiber:
13
g
|
Sugar:
139
g
|
Vitamin A:
671
IU
|
Vitamin C:
11
mg
|
Calcium:
997
mg
|
Iron:
3
mg