These Easy No-Bake Peanut Butter Balls Recipe are a super easy, quick way to enjoy a healthy snack or to kick start your mornings. These balls are an awesome option for naturally boosting energy, increasing fiber in take, a good source of protein and packed with healthy nutrients that are great for post work-outs as well. Naturally sweetened and boasts of bold peanut butter flavor. Completely Gluten-Free. Vegan option.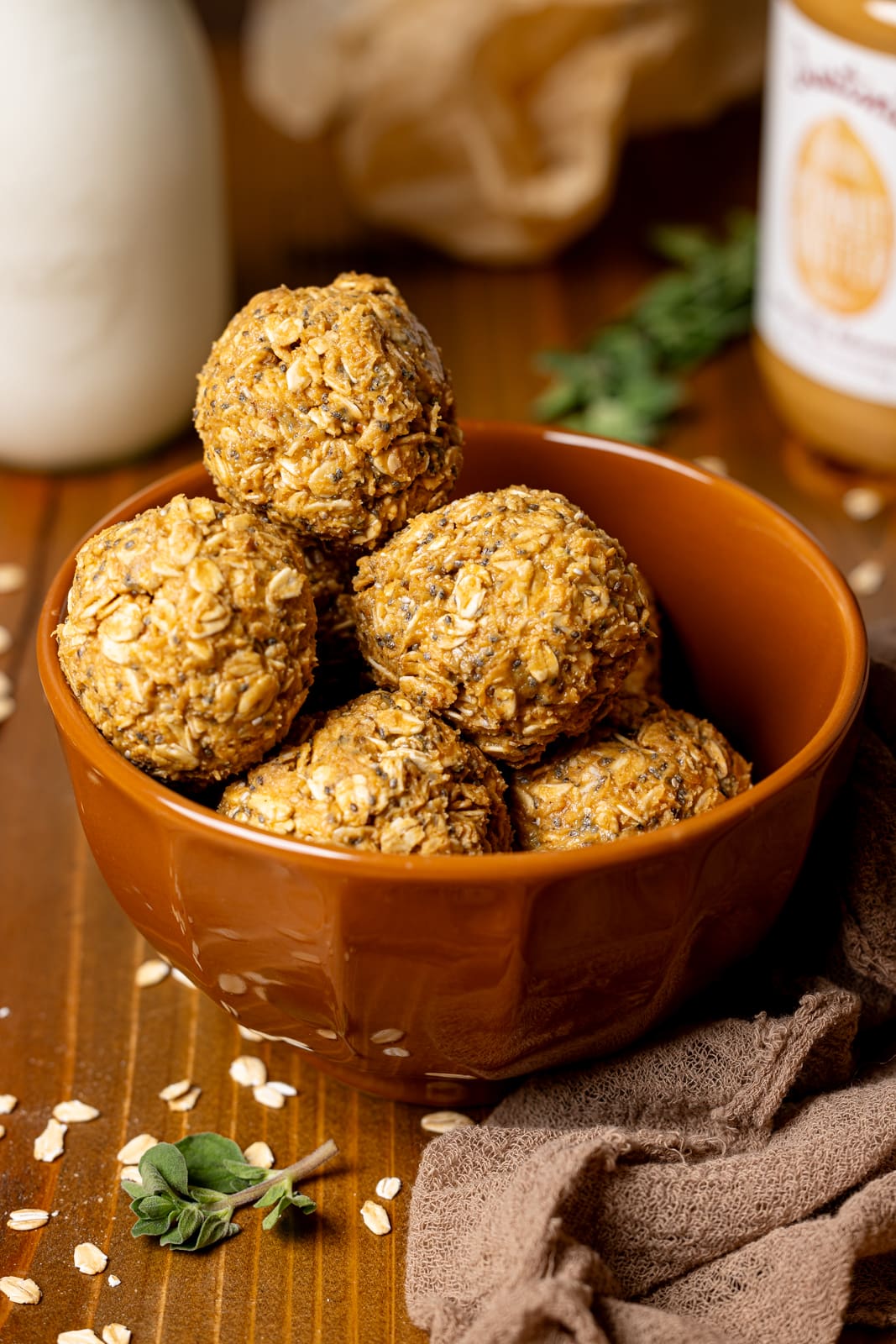 With everything happening in our current time, I've been so busy with running things in the house, that I've been posting recipes a little less these days. Honestly, I've found that many of my previous easy recipes are perfect for many of you today, especially with limited ingredients like pantry staples. These Easy No-Bake Peanut Butter Balls Recipe have become my favorite snack or easy go-to breakfast with a nice cup of tea or coffee on busier or lazy days.
Much like these No-Bake Chocolate Peanut Butter Protein Balls, you can always mix & match your ingredients or make the necessary substitutions if preferred. I love to keep some of my recipes open to interpretation as it relates to your own personal taste bud preferences and demands. Of course, if you're a lover of peanut butter, then you'll enjoy this PB Banana Pudding, Banana Peanut Butter Overnight Oats, No-Churn Peanut Butter Oreo Ice Cream, Vegan Peanut Butter Pecan Milkshake, and Jamaican Vegan Peanut Punch.
Jump to:
What Is A Energy Bite/Ball?
These Easy No-Bake Peanut Butter Balls are protein-packed and don't disappoint at all. OK, so some of you might be wondering what an Energy Ball/Bite is anyway, right?
To break this down, an Energy Bite or Ball is basically a protein-packed ball of goodness that often consists of old-fashioned or rolled oats, some sort of nutty butter (peanut butter, almond butter, that sort of thing!), and some type of seeds. That's the basis. Everything else is pretty customizable and can be added or not based on your tastebud's preference.
These little balls of goodness can be made in under 10-15 minutes and require only a short refrigeration time to ensure that they remain solid. Also, because these little sweet treats are no-bake and include a lot of raw healthy plant-based ingredients, you can store them for a few days (up to 2 weeks) which makes for a great long-term treat. All in all, these are a win, win in my opinion!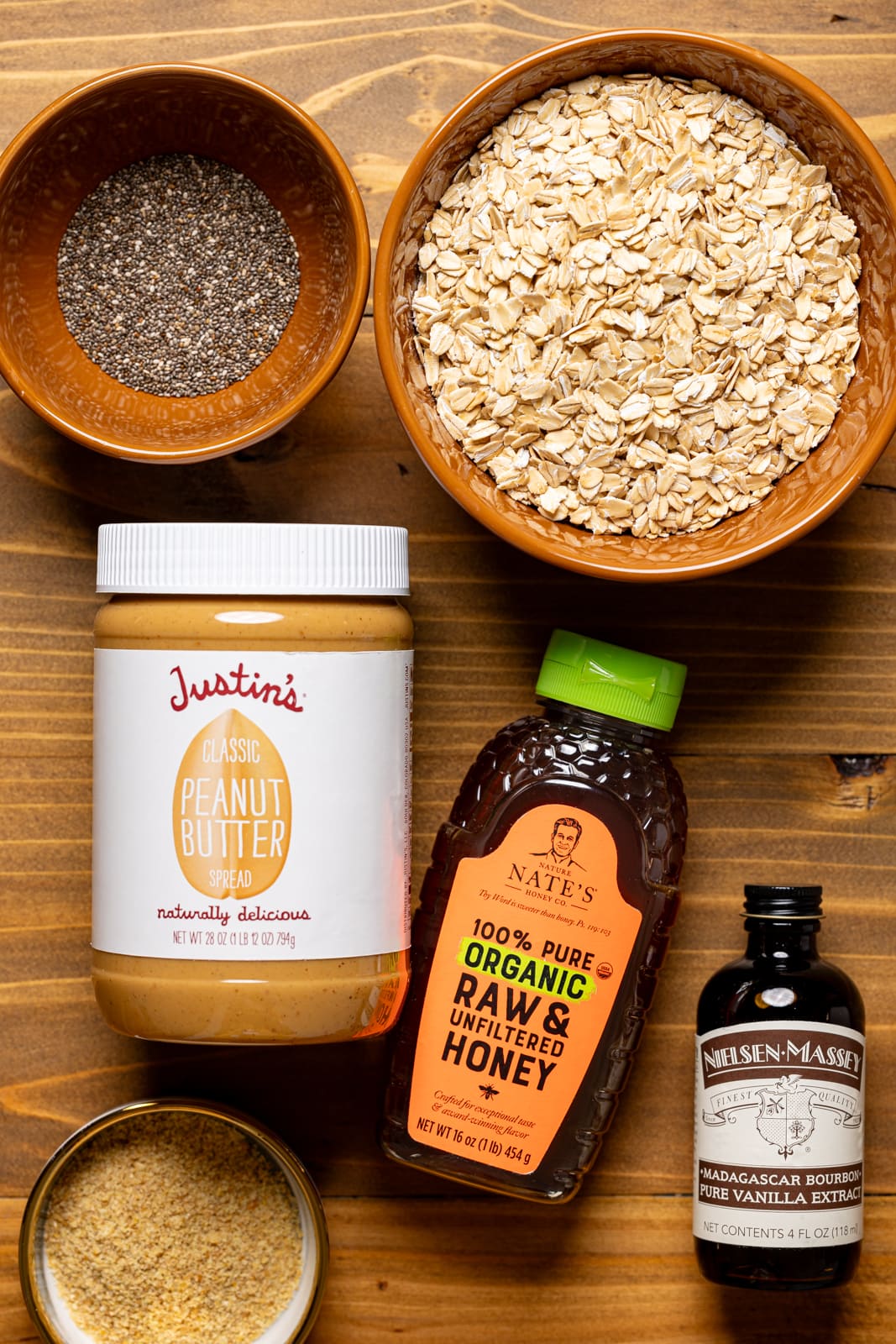 Also, because these little sweet treats are no-bake and include a lot of raw healthy ingredients, you can store them for a few days (up to 2 weeks) which makes for a great long-term treat and PERFECT FOR MEAL PREP! All in all, these are a win, win in my opinion!
How to Make Easy No-Bake Peanut Butter Balls Recipe
While these peanut butter balls seem pretty fancy, they're super easy to make as I've mentioned before. It's literally all about mixing together the ingredients in a bowl, rolling them into the perfect size balls, adding them unto a baking sheet, refrigerating until hardened, and wallah! All done!
Usually, I enjoy using Justin's Peanut Butter, but on my recent trip to the Organic Market, I came across Earth Balance's Peanut Butter with Flaxseed and I had to give it a try! Thank goodness I did! It's so tasty! Plus, it comes loaded with Omega-3, Sweetened with Agave, 0 grams of trans fat, and a host of other things that makes it a great Vegan option!
The Ingredients
The ingredients for these peanut butter balls are simple and easy to find. Here's what you need:
Thick Cut Rolled Oats. The oats in these balls are the main star. I love using thick-cut rolled oats for a nice bite, however, you can always use old-fashioned, regular rolled oats, or steel cut oats. Just ensure that the oats are gluten-free!
Peanut Butter. You'll be using organic peanut butter as I've done in this recipe! I love Justin's or Earth Balance. Just ensure that it's gluten-free!
Vanilla extract. Use a dash of pure vanilla to optimize the flavor.
Cinnamon. For a dose of warmth that works great with the peanut butter flavor.
Raw Organic Honey. This is a great natural sweetener, however, for a vegan option---you can sub with pure maple syrup or date syrup.
Flaxseed meal. I love adding extra nutrients to these balls. This has high omega-3 fatty acids, rich in fiber, and has so many health benefits.
Chia seeds. These are packed with fiber and healthy fats to keep you satisfied.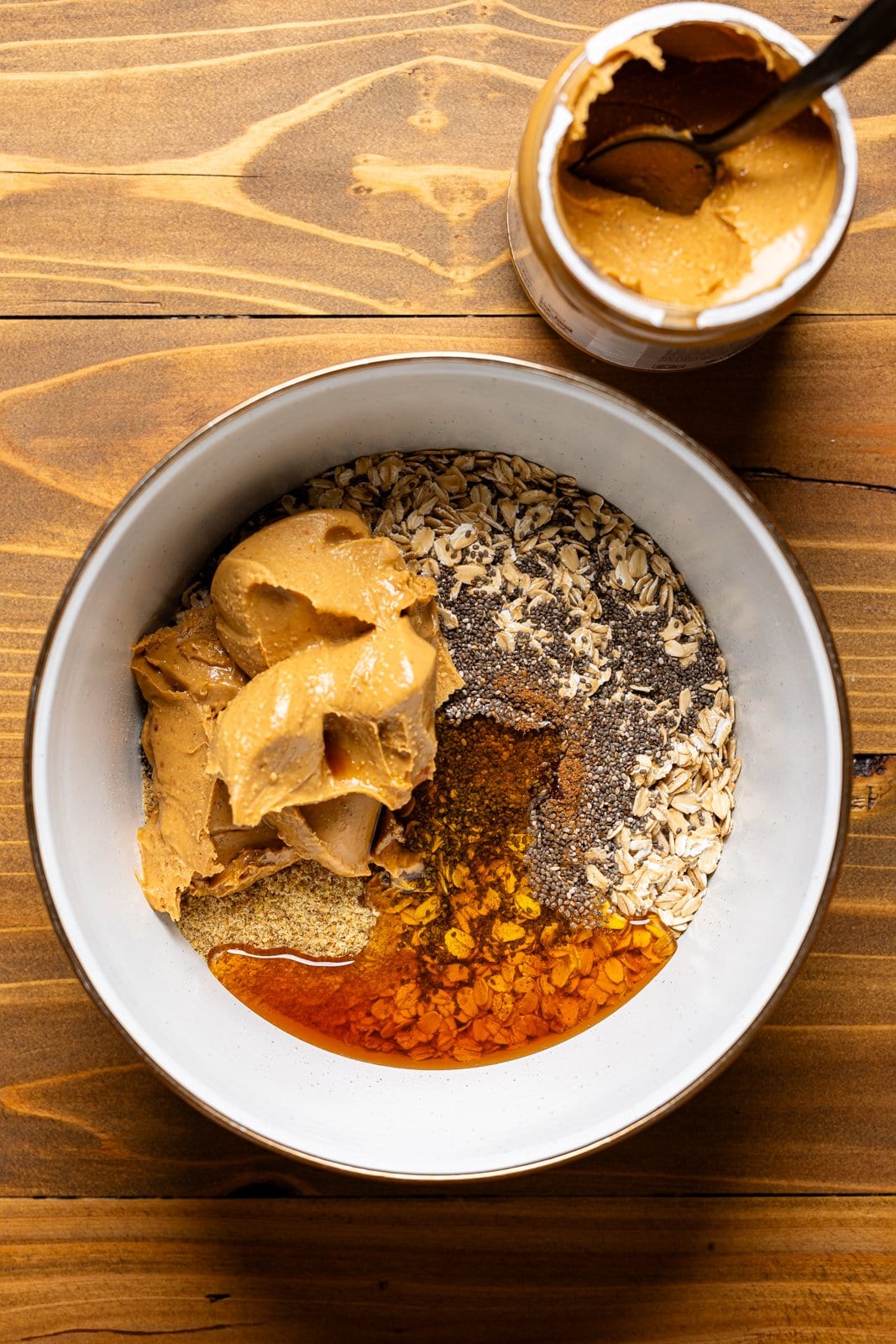 These energy bites are so good, they should come with a warning! They're:
Tender and chewy.
Packed peanut buttery flavor!
Naturally sweet.
Wholesome and nutritious!
Very kid-friendly (See Recipe Notes for Nut-Free Butters).
Completely Gluten-Free with a vegan option.
Seriously, seriously delicious......
Whether you're running a race, on your way to work, going on a hike, heading off on a road trip or have little ones on the verge of hanger- these Easy No-Bake Peanut Butter Balls are the perfect snacks to keep you fueled and satisfied along the way.
Health Benefits of Oats
Oats are another superfood that's great to start your day with. Rolled oats like the ones used in this recipe, are a healthy source of complex carbs, fiber (the soluble kind!), protein, and fat. In addition, they are loaded with important vitamins, minerals, and antioxidants.
Other great benefits of oats, according to studies:
They can help lower cholesterol.
Helps regulate blood sugar levels to avoid crashes and spikes
May help with losing weight.
Helps to relieve constipation.
Ideas for Different Variations
If you make these balls more than once or you just want to switch things up a bit, please feel free to get creative with any of the following variations:
Make energy bars: Press the mixture firmly into a parchment-lined baking pan, chill, and then slice into energy bars (instead of rolling the mixture into energy balls).
Use a different nut or seed butter: Try almond butter, cashew butter, sunflower seed butter, or any other nut/seed butter that you love in place of peanut butter.
Add more ingredients: Sometimes you might want an extra bite or flavor instead of just peanut butter, so you can totally spruce things up by adding: chocolate (chopped or chips), raisins, dried cranberries, trail mix, other dried fruit, etc.
Add spices: For some extra flavor, add a pinch of ground nutmeg or pumpkin pie spice to your energy balls.
Don't be afraid to get creative and experiment with different flavors and ingredients until you find your perfect combination.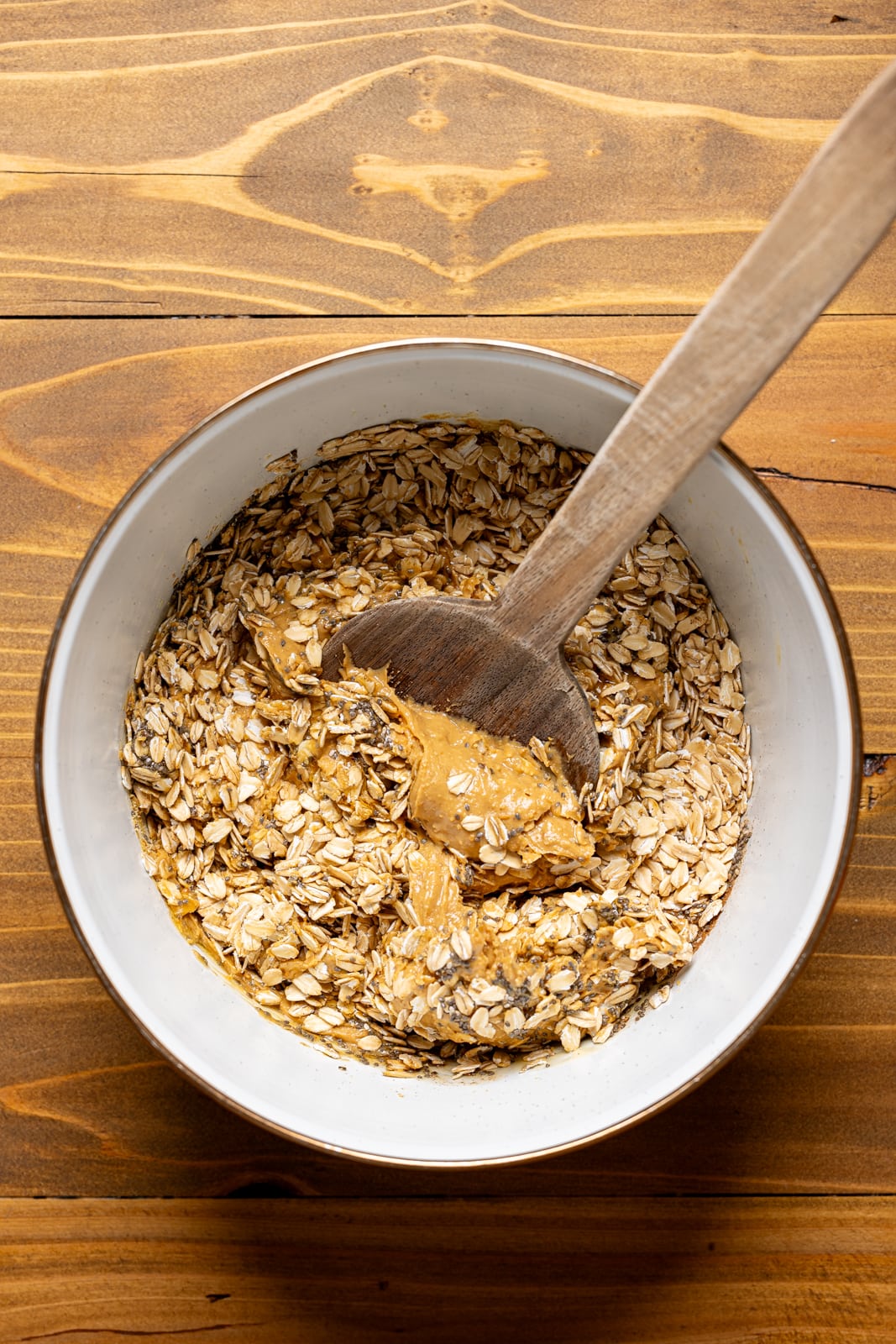 Tips For The Perfect No Bake Peanut Butter Balls
Are you ready to make the perfect batch of peanut butter balls? Here are some tips that can help you create a delicious and nutritious snack:
USE INGREDIENTS YOU LOVE.
Choose ingredients that you enjoy and that make you feel good if you want to switch things up besides solely peanut butter. Whether it's natural nut butter, organic protein powders, or fresh fruit, selecting ingredients that you love can make the whole process more enjoyable.
TAKE YOUR TIME.
Making peanut butter balls can be a relaxing and mindful activity, so take your time and enjoy the process. Turn on some music or a podcast, and take breaks to savor the flavors and textures as you mix and roll the ingredients together. A little but of extra time and love now means you can save time later with this quick snack you can grab on the go.
ADJUST TO YOUR TASTE.
Don't be afraid to adjust the ingredients to your taste. If you like your peanut butter balls sweeter, add a little more honey or maple syrup. If you prefer a more savory flavor, try adding some spices like cinnamon or cardamom.
INVOLVE YOUR LOVED ONES.
Making peanut butter balls can be a great way to involve your family or friends in the kitchen. Kids especially love rolling the mixture into balls and can even help you select the ingredients.
STORE IN REUSABLE CONTAINERS.
To make your peanut butter balls more eco-friendly, store them in reusable containers like glass jars or silicone bags. Not only is it better for the environment, but it also makes your snacks more portable and convenient.
REFRIGERATION IS KEY!
When it comes to making Energy Balls, it's super important to refrigerate them slightly (for a few minutes) before rolling the dough AND then chilling them again after. Through trial and error, I've found that rolling them as soon as the dough is made makes things far more messy, especially after the 3rd or 4th ball (think—dough melting or not cooperating into a perfect ball).
USING A THICKER SWEETENER DEFINITELY HELPS!
While most people use honey as a sweetener, I found that using maple or dates works so much better. Remember, a great 'binder' creates a better outcome. Granted, using honey is just fine if preferred.
By using these tips, you can make peanut butter balls that are not only nutritious and delicious but also a fun and enjoyable activity to do alone or with your family!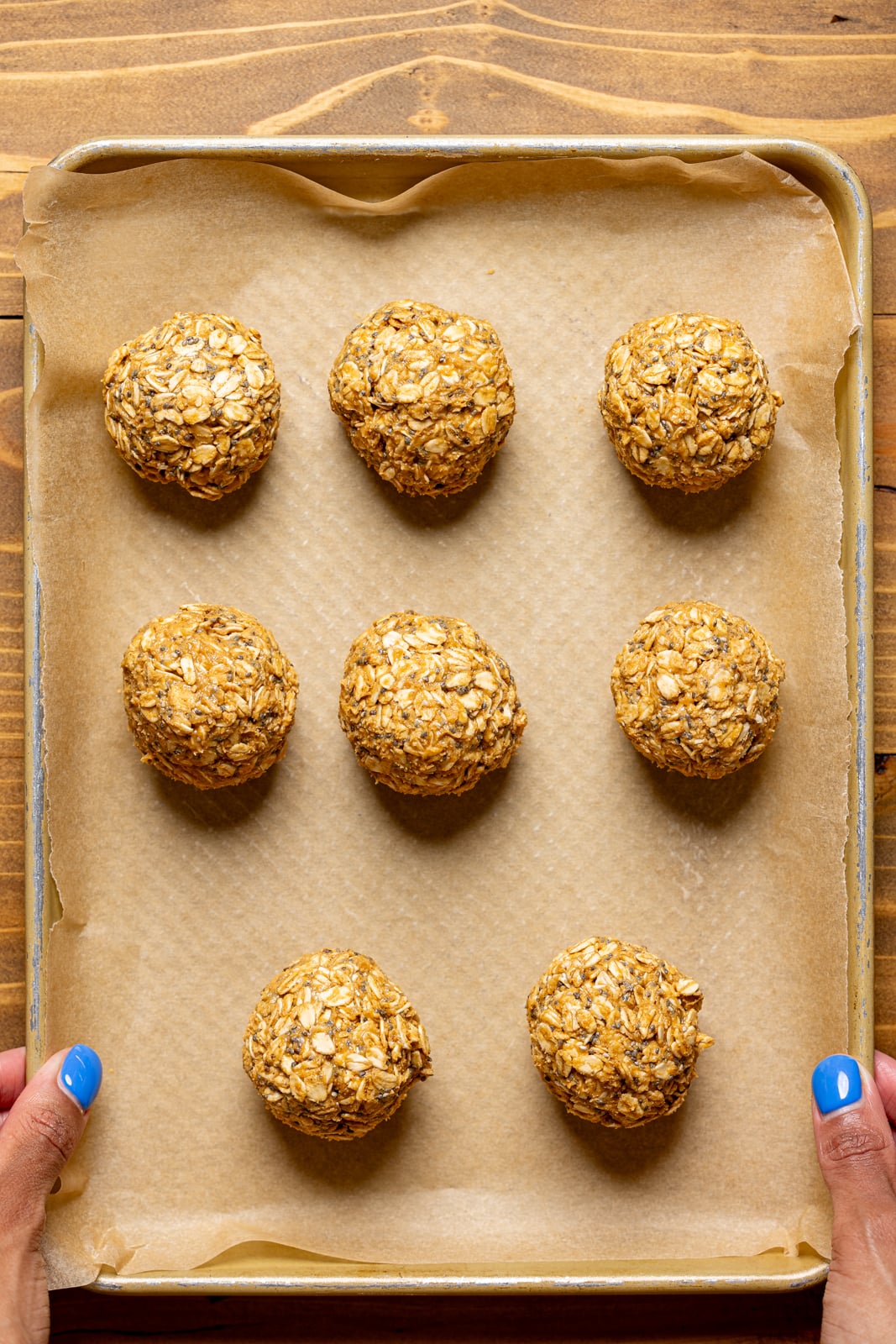 LOOKING FOR A HEALTHIER SWEETENER OPTION?
The Best Healthy Sugar Alternatives + Substitutes list is all about finding better ways to enjoy your favorite sweets without compromising your healthy lifestyle. For those who follow a vegetarian and/or vegan lifestyle, this lists offers a few great ideas to incorporate healthy sweeteners into your diet.
Common Q + S's for this Peanut Butter Ball Recipe
How long do these peanut butter balls last?
Peanut Butter Balls can be kept refrigerated (tightly sealed in a container) for up 2 weeks or freeze for up to 3 months. 
Can I use an allergy-free or other nut butter besides peanut butter?
Absolutely! Instead of using peanut butter, you can also substitute with Almond Butter, Sunflower Seed Butter, Tahini, Soynut Butter, Pecan Butter, Hazelnut Butter, or Granola Butter.
Can I make these energy balls vegan?
Yes! To make these protein balls vegan-friendly, simply substitute the honey with pure maple syrup, date syrup, etc. and ensure that the peanut butter is vegan-friendly.
Should protein balls be refrigerated?
Absolutely! For optimal freshness and to keep these balls in tact in form, it's best to refrigerate them. Unfortunately, if left at room temperature, these protein balls can dry out.
How many energy balls can you eat a day?
Honestly, since each ball is under 100 calories, it's safe to eat 2-3 peanut butter balls for a well-balanced snack and satisfying bite.
Is peanut butter good for you?
Yes! Peanut butter is loaded with so many good, health-promoting nutrients, including vitamin E, magnesium, iron, selenium and vitamin B6.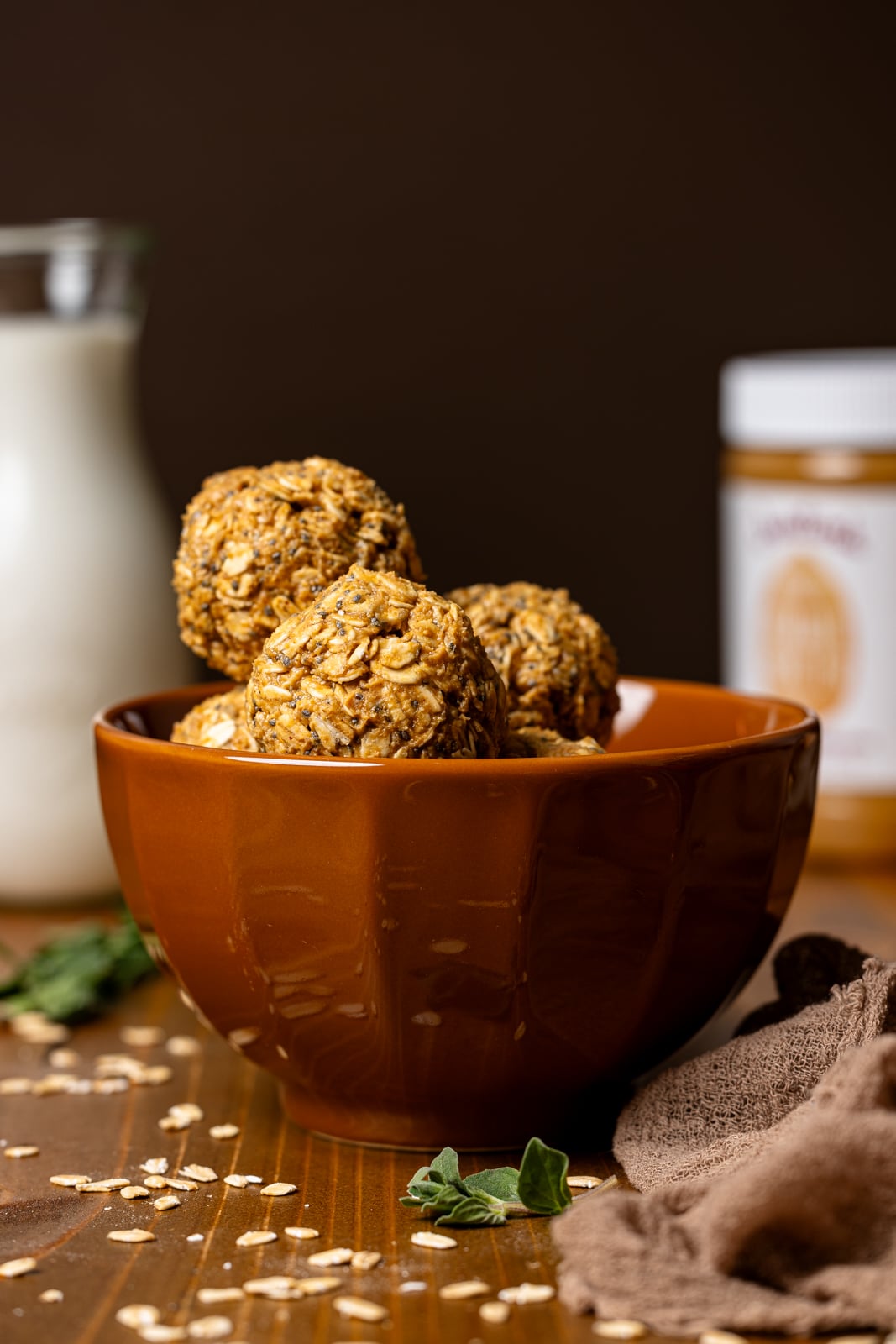 More Delicious Snacks Recipes for the Family!
MADE OUR RECIPE(S)?
If you tried this Easy No-Bake Peanut Butter Balls Recipe or any other recipe on my website, please please leave a 🌟 star rating and let me know how you go in the 📝 comments below. I love hearing from you.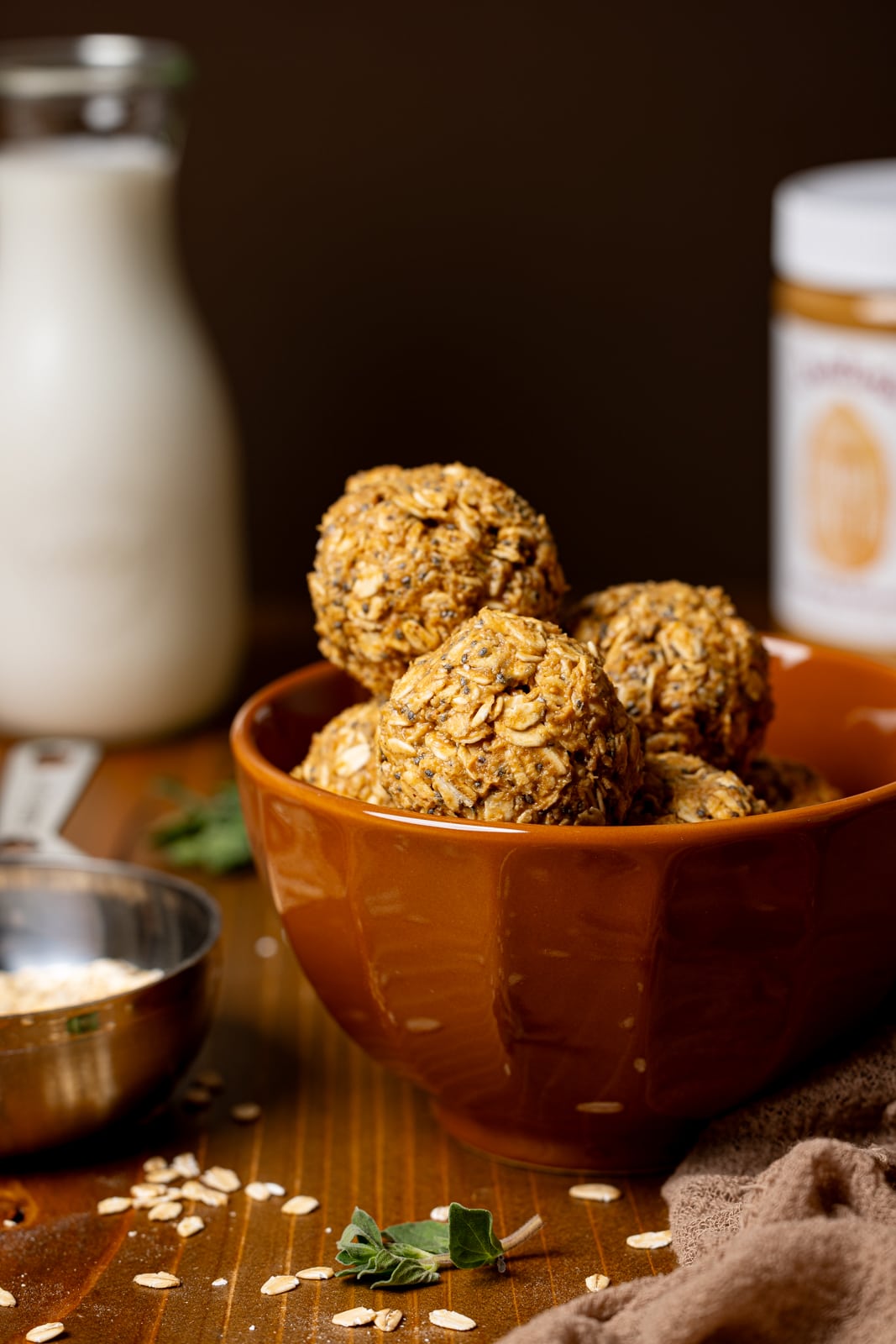 ENERGY BALLS:
2

cups

organic Rolled Oats, gluten-free

1

cup

organic Peanut Butter, gluten-free

2

Tbsps

organic chia seeds

1

tablespoon

ground flaxseed meal

Pinch of

ground cinnamon

Pinch of

sea salt

1

teaspoon

vanilla extract

½

cup

raw organic honey

(You can also sub with pure maple syrup, if desired)
MIX TOGETHER THE INGREDIENTS:
In a bowl, add all ingredients and mix together using a spoon or spatula to ensure that all ingredients are combined.

Using a spoon, scoop mixture (about 2 Tbsps) and using both hands—roll into a small ball. Repeat until all mixture is made. NOTE: Place each peanut butter ball unto a baking sheet (can be lined with parchment) side by side to help them keep their form.

NOTE: You can make them jumbo like shown in my pictures by scooping about 3 Tbsps each.
CHILL BALLS:
Now, refrigerate peanut butter balls to help them harden and "set", about 20-30 minutes.

Removed from refrigerator and enjoy!

Bon Appetit!
STORAGE: Can be kept refrigerated (covered) for up 2 weeks.
NUT BUTTER: Instead of using peanut butter, you can also substitute with Almond Butter, Sunflower Seed Butter, Tahini, Soynut Butter, Pecan Butter, Hazelnut Butter, or Granola Butter.
VEGAN OPTION: To make these protein balls vegan-friendly, simply substitute the honey with pure maple syrup, date syrup, etc. and ensure that the peanut butter is vegan-friendly.
Calories:
98
kcal
|
Carbohydrates:
15
g
|
Protein:
3
g
|
Fat:
3
g
|
Saturated Fat:
0.4
g
|
Polyunsaturated Fat:
1
g
|
Monounsaturated Fat:
1
g
|
Trans Fat:
0.004
g
|
Sodium:
2
mg
|
Potassium:
93
mg
|
Fiber:
3
g
|
Sugar:
0.3
g
|
Vitamin A:
2
IU
|
Vitamin C:
0.1
mg
|
Calcium:
32
mg
|
Iron:
1
mg