Get ready to take your snacking to the next level with our mouthwatering Crispy Cajun Chicken Wings! These bad boys are baked to perfection, coated in a homemade Cajun seasoning with a kick of garlic. Learn the secrets to achieving the crispiest wings that will have everyone coming back for more! These crispy chicken wings are a family favorite, packing plenty of spice + delightful dipping sauce options! Air-fryer + Gluten-free option.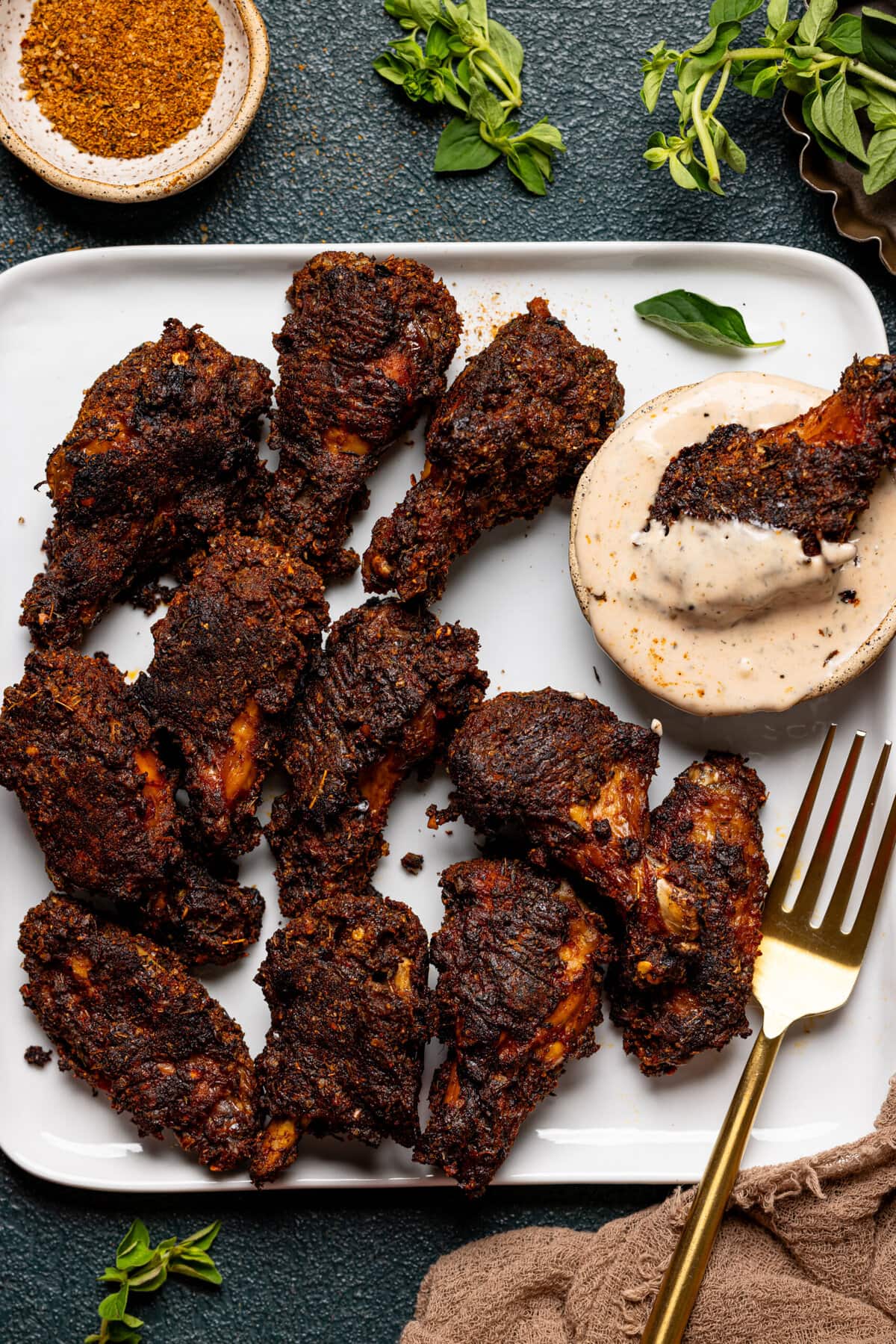 These Crispy Cajun Chicken Wings Are Finger-licking Delicious!
You've heard it from me before, and here it is again--- The quickest way to my heart is through a chicken wing. I'm always experimenting with new flavors and cooking methods for these delicious bites, and you can find all my wing recipes on Orchids + Sweet Tea. And now, presenting my latest love, these extra Crispy Cajun Chicken Wings, they'll have you doing a happy dance and coming back for seconds!
If you're a fan of chicken wings in general, then you must try these Baked Jamaican Jerk Chicken Wings, Sticky Gochujang Chicken Wings, and even these Lemon Pepper Cauliflower Wings and Crispy Buffalo Cauliflower Wings/Bites for all of my meatless-loving peeps!
Succulent + juicy, with that perfect touch of spice, it's hard to believe that oven-baked wings can be this delicious. They stay tender on the inside and beautifully crispy on the outside, thanks to a few simple tweaks. The best part? If you're not the biggest wing fan, you can use whole pieces of chicken with this recipe, making it a win-win for everyone.
Jump to:
What is Cajun Seasoning?
Cajun seasoning is a distinctive spice blend hailing from the American South, particularly Louisiana, known for its bold and spicy flavor profile with a hint of smokiness. Essentially, Cajun spices can elevate the taste of any dish that could use a little heat and depth of flavor.
What Are The Two Types of Wings?
When it comes to wings, there are two types: Drums (a.k.a. drumettes) and flats (a.k.a. wingettes). The drums actually look like miniature chicken legs and have one single bone in the middle surrounded by meat, whereas the flats are "flat" and contain two smaller bones that runs the length of the wing.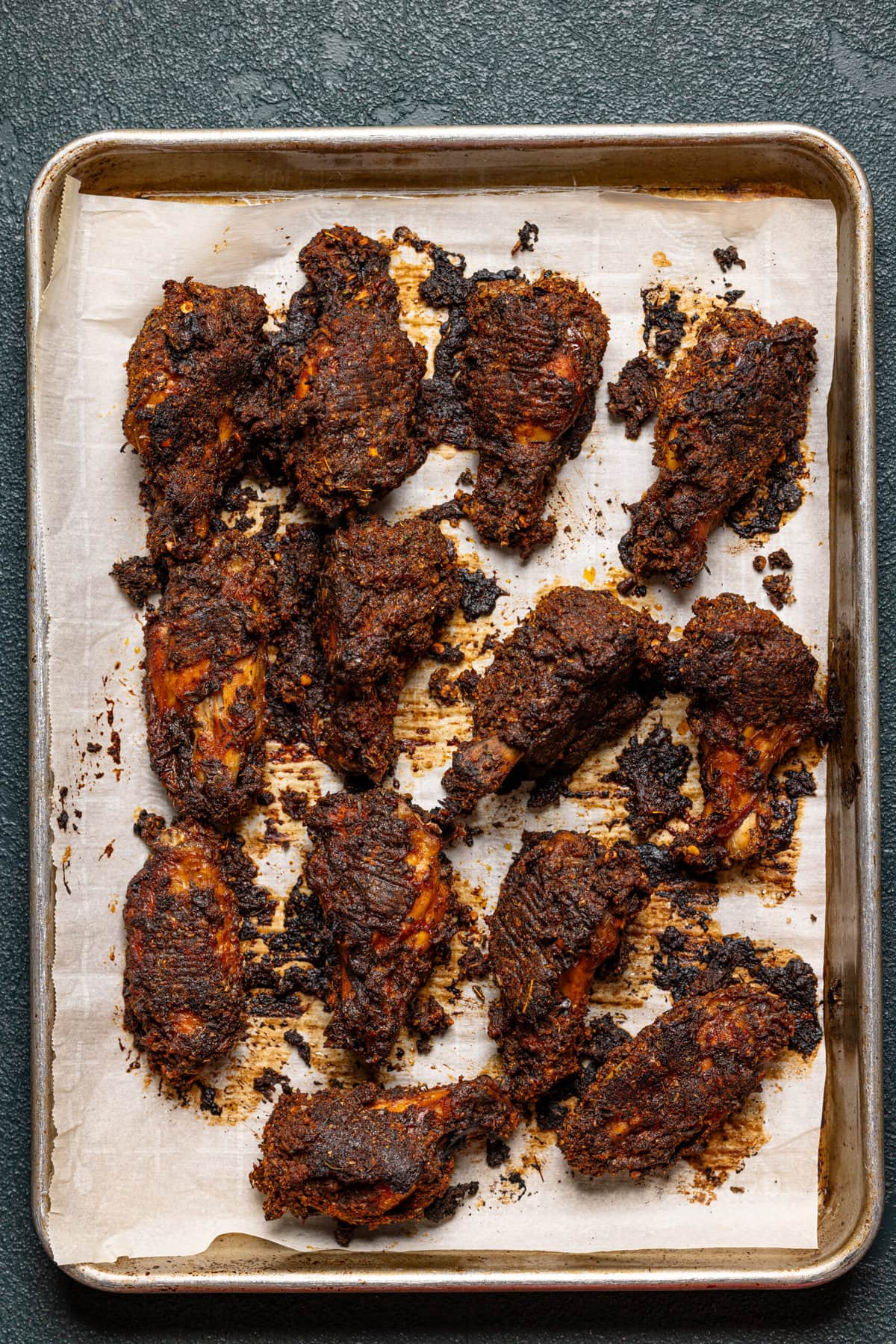 How to Make the Crispiest Cajun Chicken Wings
In just three simple steps, you'll have those crispy wings you've been craving. First, we marinate; then, we coat; and finally, we bake! And these wings do not disappoint. I talk more about tips for making these wings nice and crispy, but let's talk about this cajun coating thanks to my Homemade Cajun Seasoning.
Ingredients
CHICKEN WINGS:
Organic chicken wings, disjointed: The star of the show, providing the juicy and meaty base for your crispy wings.
Cornstarch: It's the secret ingredient that adds the extra crispiness to the wings by creating a crunchy coating when baked.
Smoked paprika: Infuses a smoky and slightly sweet flavor.
Dried parsley: Brings a subtle herby note to the mix.
Homemade Cajun Seasoning: Adds the spicy kick, along with a blend of various spices that bring that classic Cajun flavor to your wings.
Garlic powder: Provides a savory garlic punch.
How To Make Homemade Cajun Seasoning
This cajun seasoning recipe is as simple as mixing all your spices together and takes just 5 minutes! Here are the simple ingredients that you will need for this recipe -
Ingredients
Garlic Powder: Adds a savory kick.
Italian Seasoning: Contributes a blend of dried herbs for complexity.
Smoked Paprika: Infuses a smoky undertone.
Sea Salt: Enhances overall flavor.
Black Pepper: Provides a pungent, spicy element.
Cayenne Pepper: Introduces fiery heat.
Dried Thyme: Offers an earthy, aromatic note.
Onion Powder: Imparts a subtle, sweet onion flavor.
Do I Use Cornstarch or Flour for Crispy Chicken?
OK, so this is one of the hot debates as it relates to which one creates the crispier chicken or chicken wings. While cornstarch does add an extra layer of crispiness to your chicken, using flour still works too if you don't have any cornstarch on hand!
But to be honest, the best-kept secret is the combination of both cornstarch and flour, which creates the crispiest results. Of course, if you're looking to make this fried chicken recipe gluten-free, then substitute the cornstarch or flour with arrowroot starch or a great gf all-purpose flour.
Here, I've curated a list of baking essentials that I use to achieve my favorite baked goods, especially with these Cajun Wings. Everything from my fave loaf pan, wooden spoons, parchment paper, and more. SEE THEM HERE!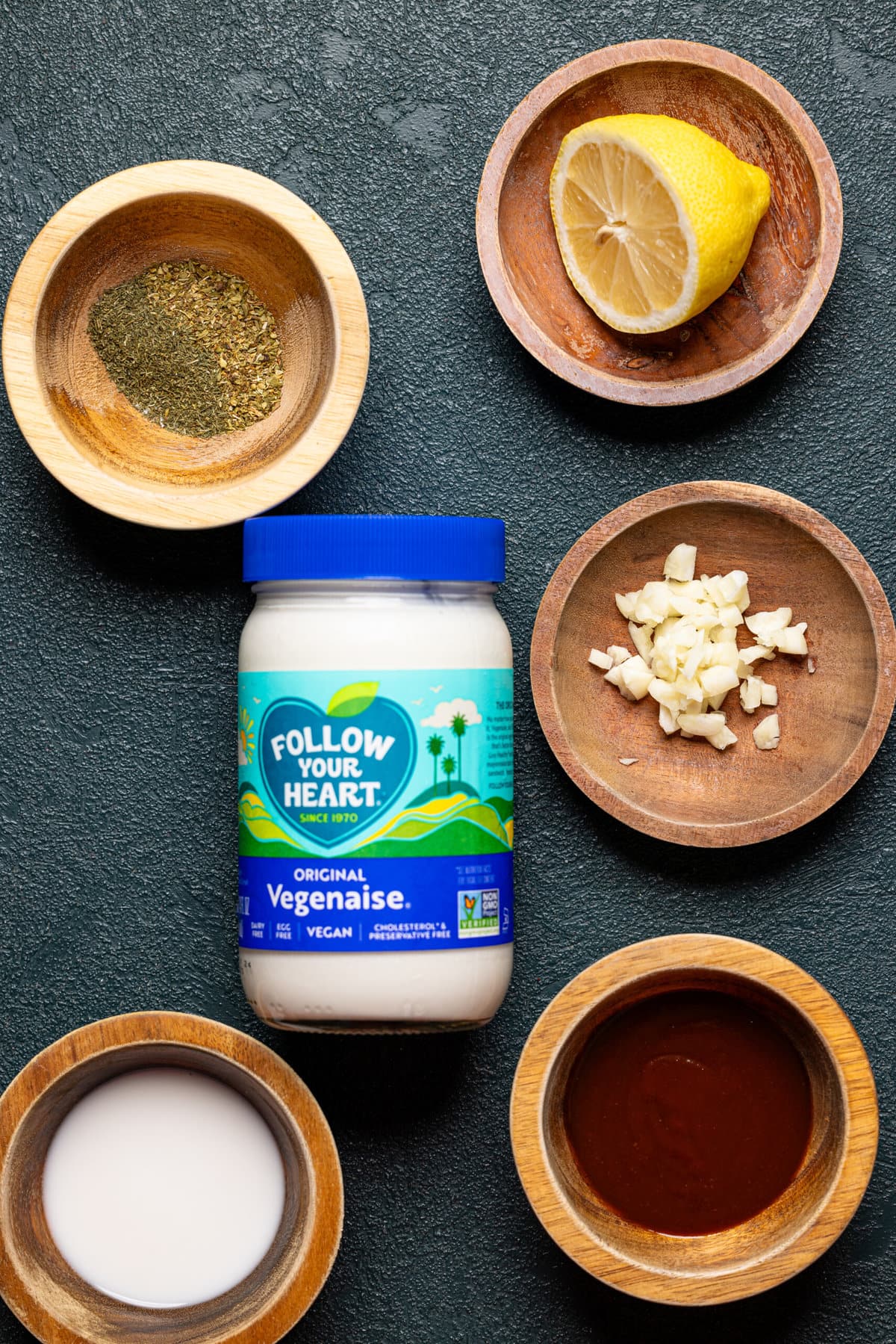 How to Prep + Season Wings
Baking these chicken wings are generally an easy process—in total just 45 minutes. You first start by cleaning and washing your chicken pieces to ensure that they are clean and ready to be seasoned. I like to wash my chicken wings with both vinegar and lemon to help keep things clean and sanitized.
Once your chicken wings are clean, then it's time to pat them dry and season them! I'm all about seasoning every "layer" of my food, therefore, the chicken gets direct seasonings. Let everything marinate for 10-15 minutes or 1-2 days (or overnight tightly wrapped in the refrigerator) for the best results.
Do You Bake or Fry Cajun Chicken Wings?
Of course, both methods of making these Cajun chicken wings are effective. However, if you're wondering whether you'd be able to also make these wings in an air-fryer—-then yes!
To make your crispy chicken wings in an air fryer, it's very similar to doing it the oven. The only difference would be the cook time and adding them to a basket versus a baking sheet. Once you've seasoned and dusted your chicken wings, add them to your air fryer basket, spray with cooking oil, and cook them at 360 degrees for 10-15 minutes. NOTE: You might want to spray your basket with cooking oil to ensure that your chicken doesn't stick to it during cooking.
As you know, this recipe is for baked wings and honestly, they're just as crispy as using them in the air fryer--- so the choice is yours!
Why You Will LOVE These Baked Cajun Chicken Wings!
Versatile snack, appetizer, or side option.
Boasts of a great dairy-free + gluten-free option.
Spicy + bold flavor combo.
The perfect crispiness on the outside + juiciness on the inside!
Addictively tasty + irresistible for the entire family.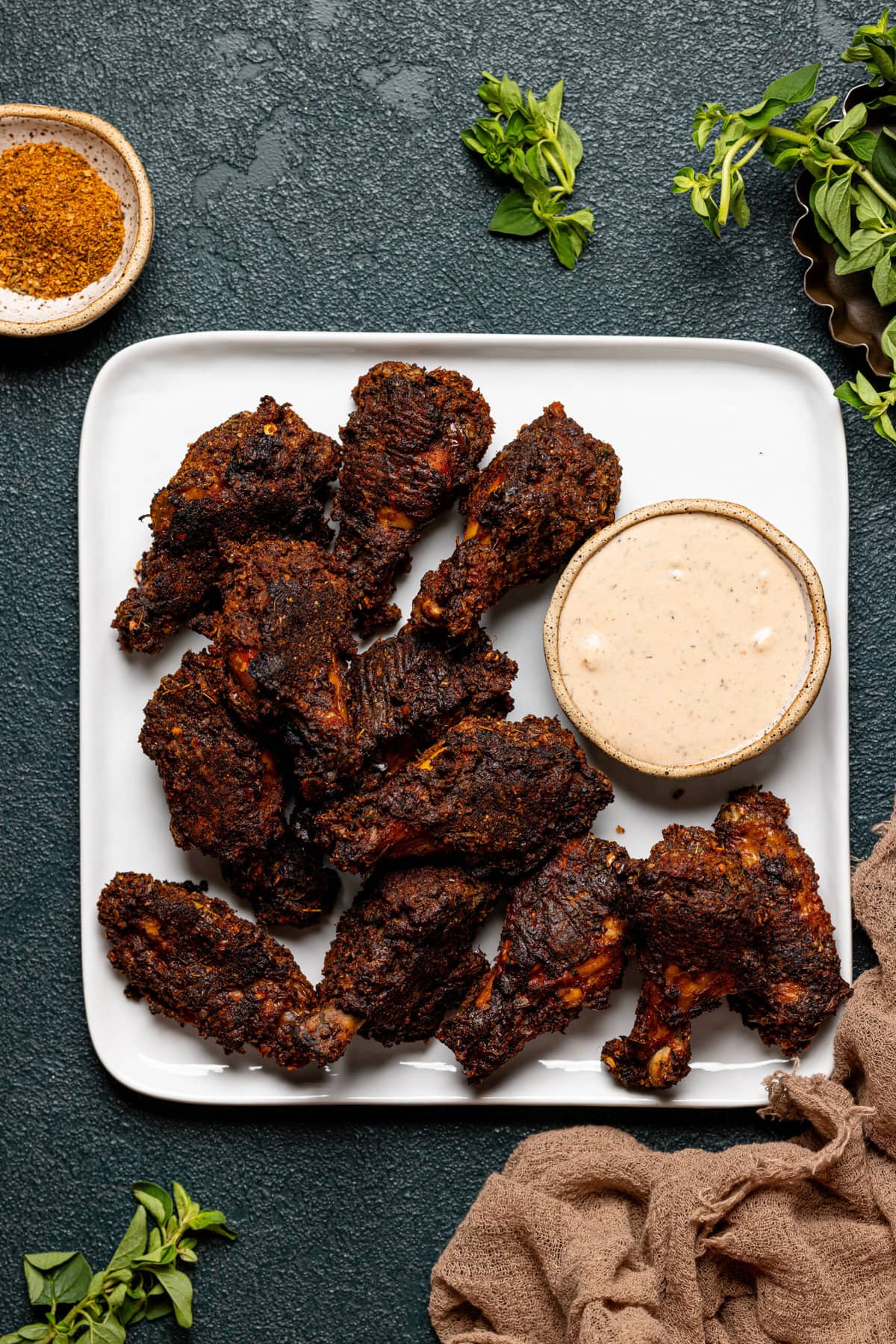 Tips + Tricks to The Crispiest Cajun Chicken Wings
To make sure your wings get as crispy as possible without needing an actual "coating", follow these simple tips:
After rinsing your wings, be sure to pat dry completely until they are as dry as possible before marinating them.
Make sure each wing has plenty of space on the baking sheet or baking dish. The airflow helps things crisp up.
When using a baking sheet, add a wire rack atop the parchment paper so that wings can crisp up nicely on all sides.
Broiling your wings for about 5 minutes or so helps to get them nice and crispy without burning.
What Dips Go Well With Cajun Chicken Wings?
This cajun chicken wings recipe is full of flavor all on their own. But who doesn't love to dunk and dip?
Serve your wings with any (or all) of these tasty condiments: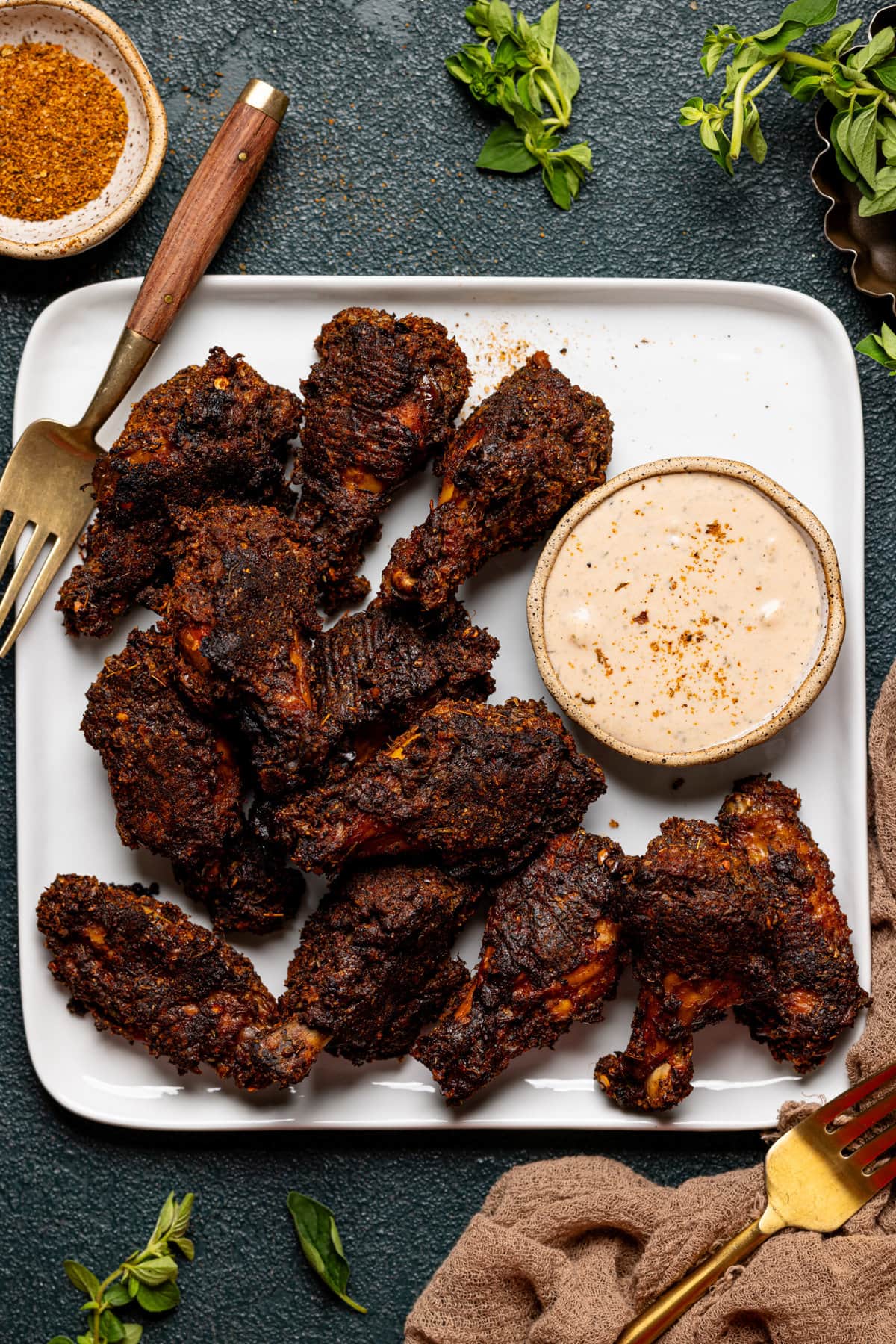 What to Serve With Spicy Cajun Chicken Wings
They're just perfect with anything, and I know that I might be biased because of my absolute LOVE for chicken wings as a whole. Haha. Although these wings make for the perfect handheld appetizer, I also love making these wings during the week along with my favorites like-

Grain/buddha bowls: Create a delicious Buddha bowl with all your favorite grains and vegetables, like this Fall Harvest Farro Bowl or this Healthy Pesto Buddha Bowl
Salads: Pair with a refreshing salad like Roasted Cauliflower Green Goddess Salad or Fall Harvest BBQ Chickpea Kale Salad for a light and vibrant accompaniment.
Loaded fries: Create a more indulgent treat by serving the wings with a side of loaded cheesy fries or sweet potato wedges. Try these BBQ Quinoa Taco Fries and Learn How To Make THE BEST crispy seasoned French fries
Coleslaw: Balance the heat with a side of creamy coleslaw, offering a delightful contrast of textures and flavors.
Garlic bread: Elevate your wing experience with a plate of steaming hot garlic bread like this Cheesy Kale Garlic Bread or this Homemade Texas Toast Garlic Bread, perfect for soaking up the delicious orange sauce.
Rice or quinoa: Consider serving the spicy wings with a side of basmati rice, brown rice or this Vegan Quinoa Fried Rice to absorb the flavors and provide a fulfilling base.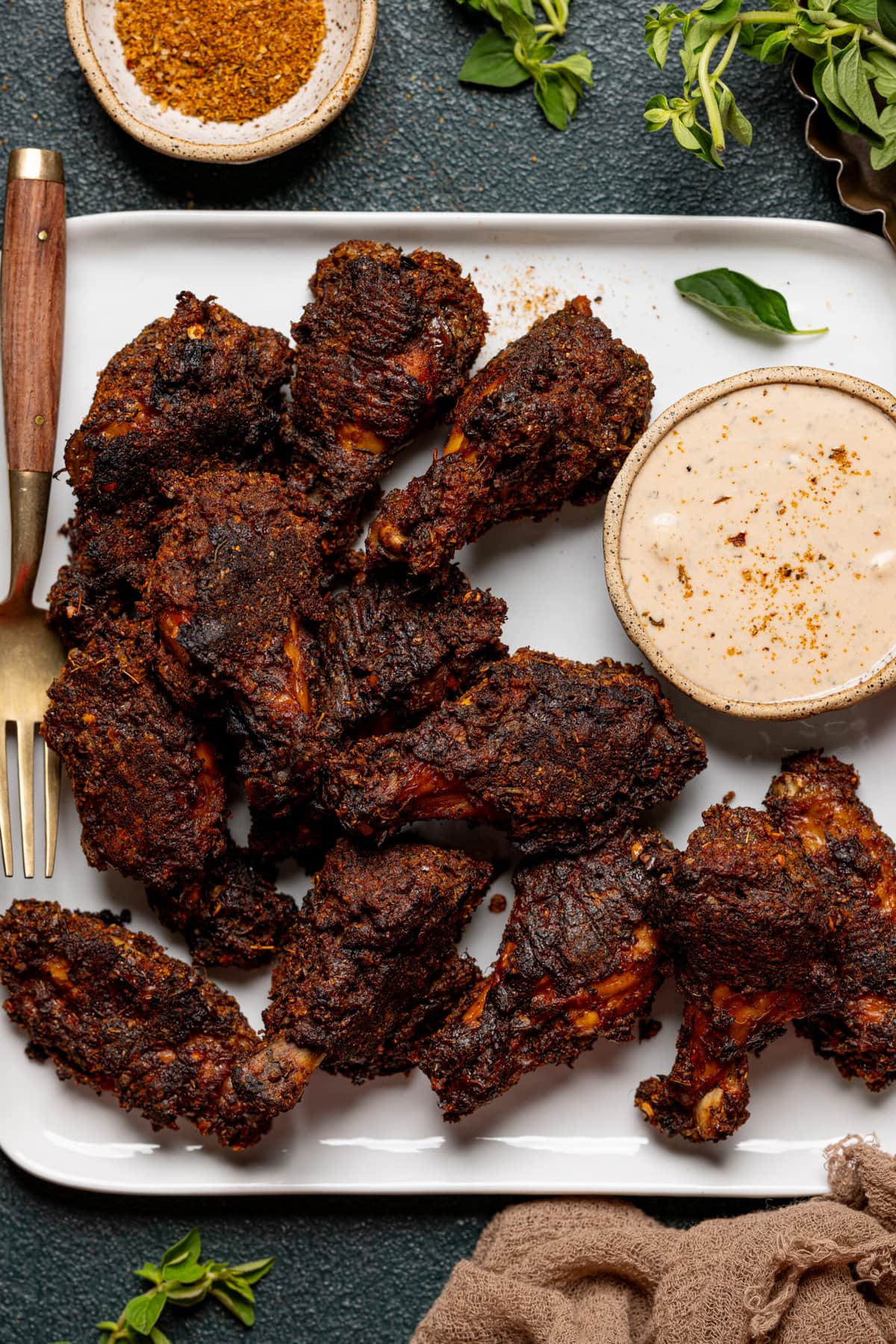 Common Q + A's for Crispy Cajun Chicken Wings
How do you store + reheat these cajun wings?
Any leftovers can be kept in a tightly sealed container and refrigerated for up to 3-4 days. Reheat in the oven at 375 degrees Fahrenheit or microwave when ready to serve.
Can I make these wings gluten-free?
Of course! To make these wings GF, just ensure that all the ingredients are GF-friendly-- the best alternative to cornstarch is arrowroot starch or GF flour like Bob's Red Mill. 
Are these wings really spicy?
While they do have a spicy kick, the heat level can be adjusted to suit individual preferences. You can control the spiciness by reducing the amount of cajun seasoning used.
Why are my cajun wings not crispy?
After cleaning and rinsing your wings, if the chicken isn't dry by patting them dry then the chicken wings won't crisp up. As mentioned in my tips section of the post, using a baking sheet with a wire rack is key.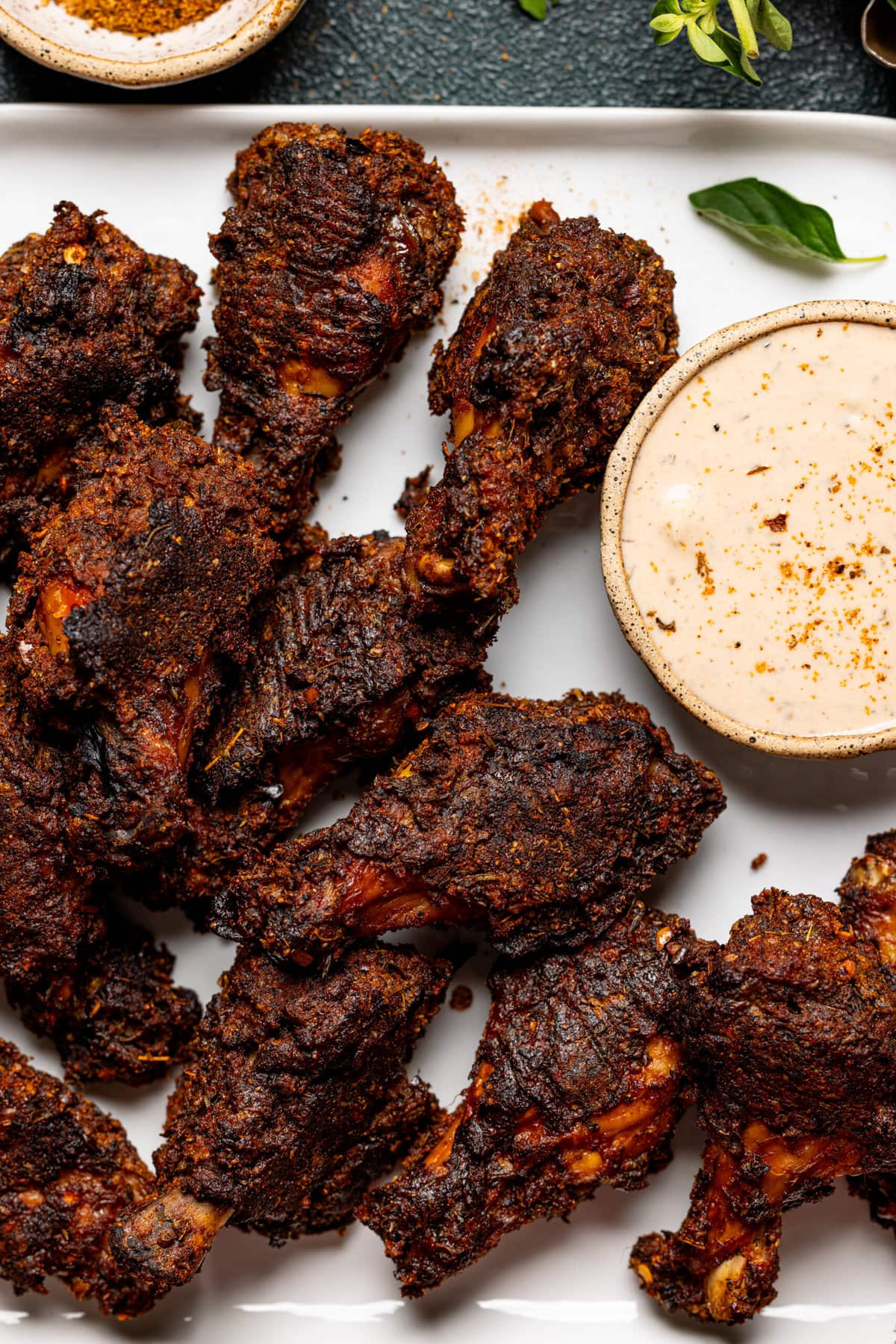 More Appetizers + Handheld Recipes to Try Next!
Now that you're on a snacking kick with this Crispy Cajun Chicken Wings recipe, give these recipes that your entire family will love a try next.
MADE OUR RECIPE(S)?
If you tried this Crispy Cajun Chicken Wings recipe or any other recipe on my website, please please leave a 🌟 star rating and let me know how you go in the 📝 comments below. And don't forget to tag @orchidsnsweettea_ on Instagram and hashtag it #orchidsandsweettea! I love hearing from you!
HOMEMADE CAJUN SEASONING:
¼

cup

Homemade Cajun Seasoning
MARINATE THE CHICKEN WINGS:
In a large bowl, add your freshly cleaned + rinsed chicken wings along with the 1 teaspoon of cajun seasoning, smoked paprika, parsley, garlic powder, and cornstarch, mixing everything together until chicken is fully coated. Let it sit for 10-15 minutes. NOTE: For best results, it's best to marinate chicken overnight in the refrigerator or for up to 2 days.

Preheat the oven to 400 degrees Fahrenheit and line a baking sheet with parchment paper and a wire rack for the best crispy results. NOTE: be sure to generously spray the wire rack to ensure that wings don't stick.
COAT THE CHICKEN:
In a bowl or on a plate, add the remaining cajun seasoning, spreading it out a bit. With each wing, roll it in the seasoning, coating both sides and laying it unto the prepared baking sheet. Repeat unto all wings are coated and are laid side by side.
STORAGE: Any leftovers can be kept in a tightly sealed container and refrigerated for up to 3-4 days. Reheat in the oven at 375 degrees Fahrenheit or microwave when ready to serve.
GLUTEN-FREE OPTION: To make these wings GF, just ensure that all sauce ingredients are GF-friendly and the best alternative to all-purpose flour is cornstarch or arrowroot starch or Gf flour. 
TIPS FOR CRISPY WINGS: See the post for all tips for making the most crispiest chicken wings.
Calories:
442
kcal
|
Carbohydrates:
5
g
|
Protein:
35
g
|
Fat:
30
g
|
Saturated Fat:
8
g
|
Polyunsaturated Fat:
6
g
|
Monounsaturated Fat:
12
g
|
Trans Fat:
0.4
g
|
Cholesterol:
146
mg
|
Sodium:
139
mg
|
Potassium:
306
mg
|
Fiber:
0.2
g
|
Sugar:
0.04
g
|
Vitamin A:
442
IU
|
Vitamin C:
1
mg
|
Calcium:
24
mg
|
Iron:
2
mg