Get ready to shake things up on your mocktail menu with the delicious and indulgent Espresso Martini without Kahlua [Mocktail]! This easy mocktail recipe is a coffee lover's dream come true, with a rich and creamy texture that's entirely dairy-free.
Unlike the traditional version, this mocktail recipe has no Kahlua but instead uses a nice substitute, making it a perfect choice for those looking for a dairy-free mocktail. Its the perfect balance between sweet, mild, and absolutely toasty in aroma. Trust me when I say this is one of the best mocktails out there. Add it to your mocktail menu and grab your shaker to tantalize your taste buds. Caffeine-free option.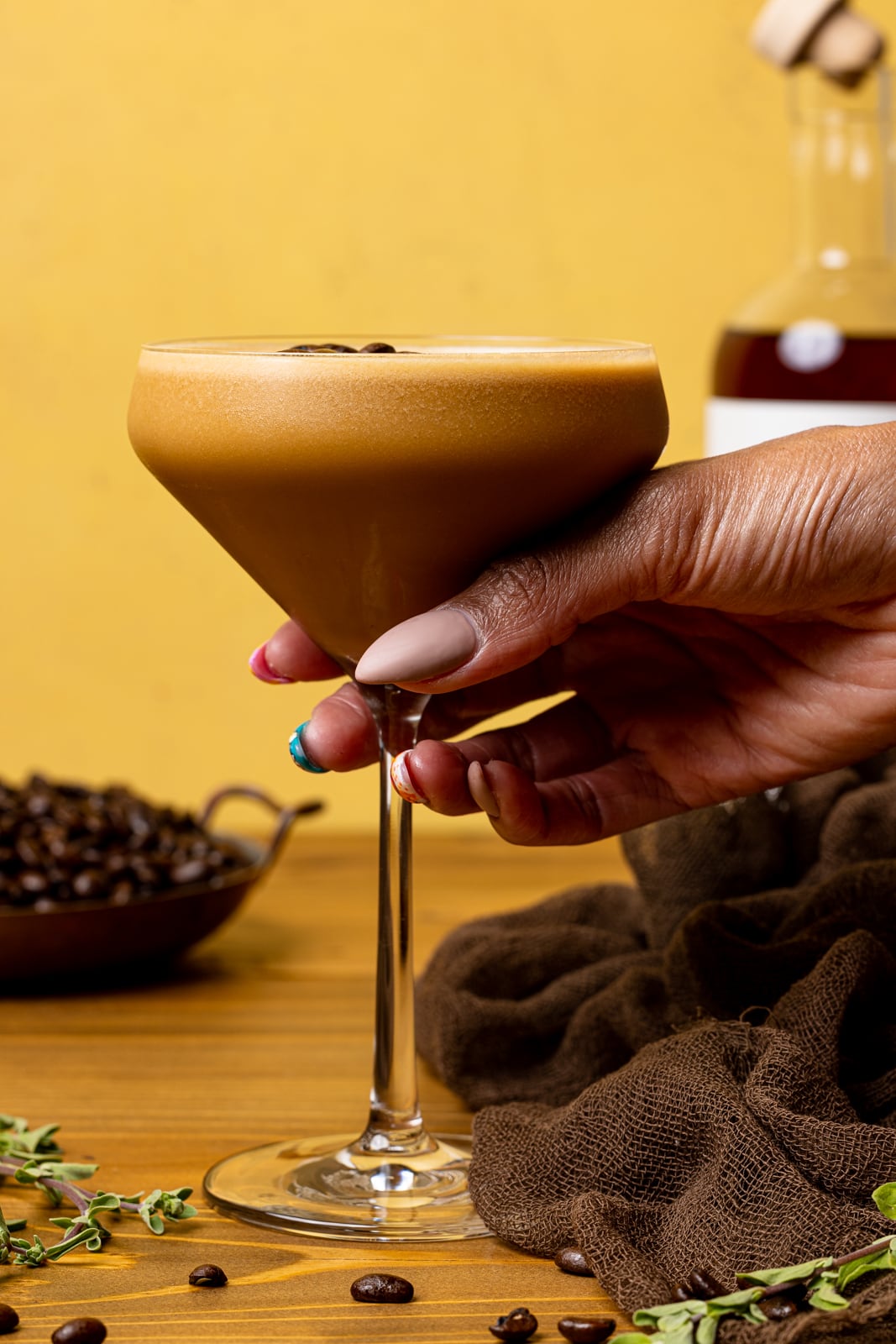 Disclaimer: This post contains affiliate links via Amazon for products that I wholeheartedly love and receive commission from.
Why Vegan Espresso Martini Mocktail?
Honestly, I don't know where to begin with the Espresso Martini. It's literally one of my favorite ways to enjoy caffeine besides in the form of a latte. If you're not new to Orchids + Sweet Tea, then you know that I enjoy turning classic cocktails into great mocktail options and this martini is no exception. That's why I'm excited to share with you my recipe for the Best Espresso Martini without Kahlua [Mocktail], a perfect addition to any cocktail menu or vegan mocktail collection! Plus, this Brown Sugar Peach Mint Julep Mocktail is such a refreshing twist on a classic also!
And if you're looking for more delicious creamy coffee-inspired mocktails to add to your repertoire, be sure to check out my Iced Brown Sugar Shaken Espresso or my personal favorite Caramel Oat Latte Mocktail. OR if you're feeling fruity I've created an Apple Caramel Espresso Martini that is truly unique in flavor!

With these mocktail recipes, you'll be able to create an impressive mocktail menu that's sure to satisfy all your guests.
What is an Espresso Martini made of?
When it comes to a traditional espresso martini, it consists of three main things: vodka, espresso, + a coffee liqueur. That simple. Overall, it is strong, sweet, rich in flavor, and smooth, which explains why it's become so popular in the recent years!
What is a Dirty Espresso Martini?
Similar to this martini, however dirty espresso martinis consists of 1 part chai-infused vodka, 1 part espresso coffee, and 1 part Kahlua. You still have to shake everything together in a cocktail shaker and strain. If you'd like a mocktail version, I recommend trying my Dirty Chai Espresso Martini [Mocktail].
Jump to:
Kahlua Substitute Ingredients
The tangy flavor in this mocktail comes from a homemade Kahlua substitute. And guess what? You only need is 3 simple ingredients (plus water) to make it, plus it reminds you of the real thing minus the "buzz".
Brown sugar. I use organic to make sure it's vegan
Instant coffee. Espresso powder also works.
Condensed milk. For this recipe, I used dairy-free condensed milk by Let's Do....Organic. Such a nice creamy substitute.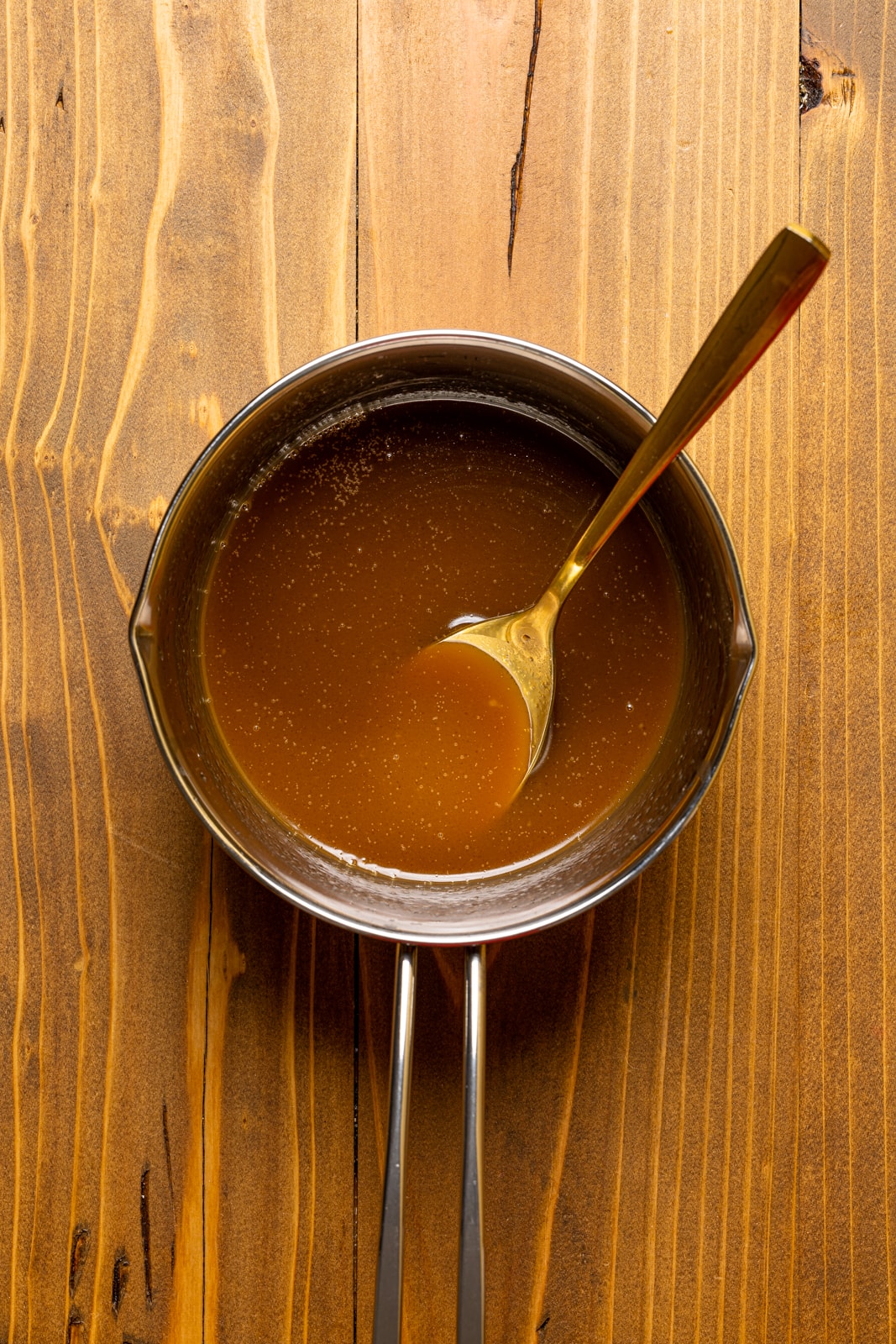 Espresso Martini Ingredients (Without Dairy or Alcohol)
The ingredients to flavor this vegan mocktail martini is super simple and can be adjusted based on sweetness preference. Here's what you need to make them:
Khalua substitute. I recommend using instant coffee if you don't want to include any form of espresso in this drink.
Vanilla. Balances the richness of coffee.
Espresso. For a sweeter, milder taste than espresso or strong coffee, you can use cold brew. However, I love the medium dark roast flavor of organic espresso beans form Allegro coffee. It's the perfect layered flavor of dark chocolate and caramel.
Alcohol alternative. I truly enjoy creating a true cocktail feel without the alcohol, therefore, I've been loving Ritual Zero Proof's alcohol alternatives. I used their Rum alliterative which adds a nice warm vanilla, toasted spice, and smooth decadence of actual rum. You can also enjoy this with their Tequila alternative. If preferred, you can totally omit this and add a bit of dairy-free milk for some "body" (about ¼ cup or so).
Crushed ice. You'll only need ice for shaking your cocktail shaker. This helps to create a nice cool, smooth feel.
Whole coffee beans. Definitely the signature garnish for espresso martinis.
How to Make Espresso Martini with No Kahlua
Once you see how easy it is to make your own Best Espresso Martini without Kahlua [Mocktail] at home, you'll never not have one again. You'll save money for sure. But your drinks will also taste just how you like them. It's a win-win.
This Espresso Martini Mocktail recipe comes together in a saucepan on the stove for your Kahlua substitute. You'll stir together the ingredients, bring to a boil for 1-2 minutes, and then remove it from heat to cool. In the meantime, make your freshly-brewed espresso or coffee (I'm so obsessed with my Breville machine these days) and let everything cool completely for a nice smooth taste.
Finally, you'll shake everything together, strain into your glass(es), garnish the martinis with your favorites (or keep it traditional with the coffee beans) and wallah! Sip and enjoy!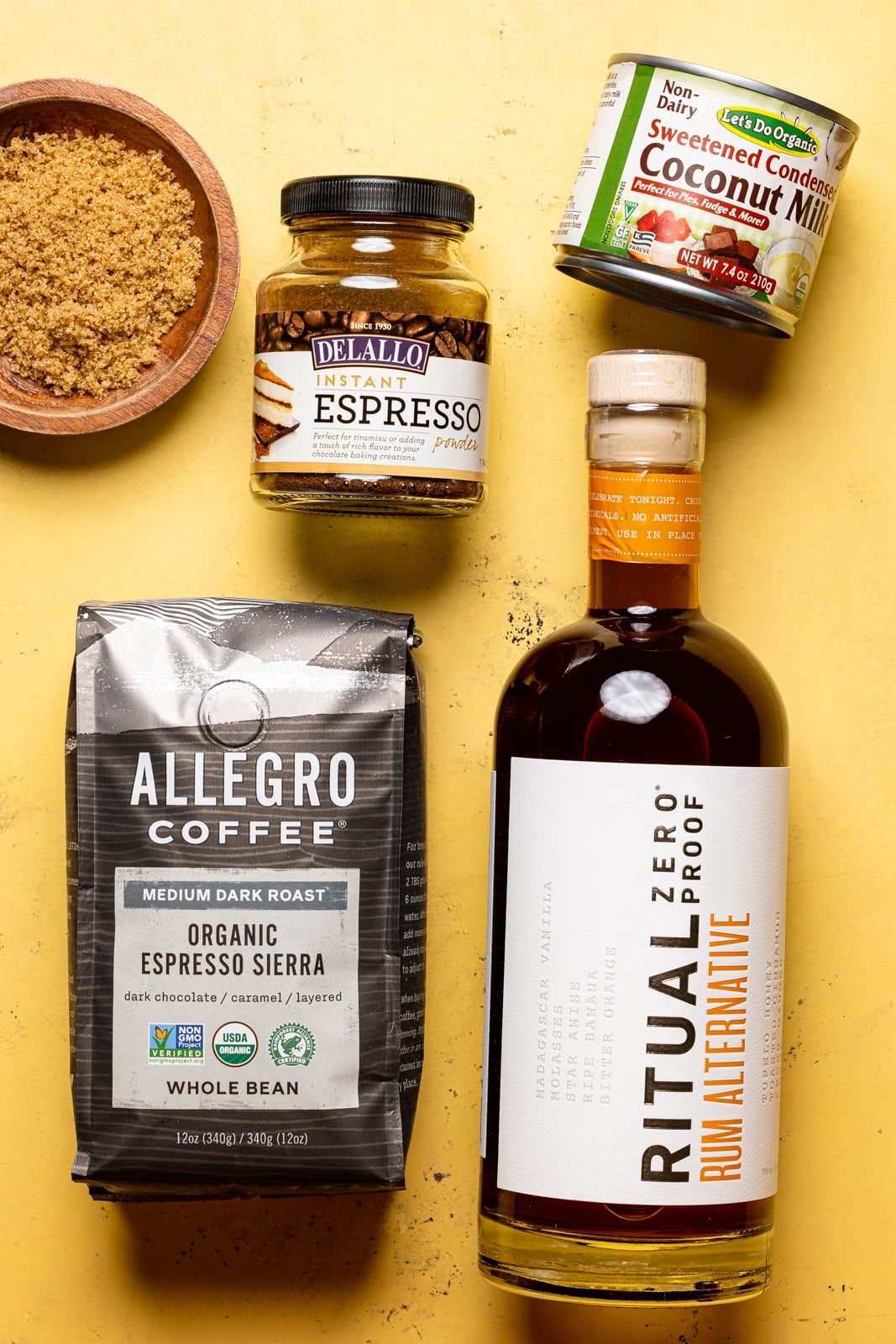 What is A Mocktail?
So if you're sitting here thinking what is a mocktail? Let me explain. A mocktail is like a party in a glass, minus the hangover. It's a delicious and refreshing drink that's packed with all the flavor and complexity of a traditional cocktail but without any of the alcohol.
Whether you're a designated driver, a health-conscious human, or just someone who wants to enjoy a delicious drink without the buzz, mocktails are the perfect solution.
Best Tips for Making the Perfect Martini
Making this Vegan Espresso Martini Mocktail right is super easy to achieve, especially when you follow these tips that I can guarantee will help you get it right:
Cool your coffee completely so that you can have a chill drink.
Be sure to shake or stir the ingredients together very well to ensure that everything is smooth you can have a nice foam on top if desired.
If you'd like foam on top, be sure to pour the martini mixture into your glass swiftly.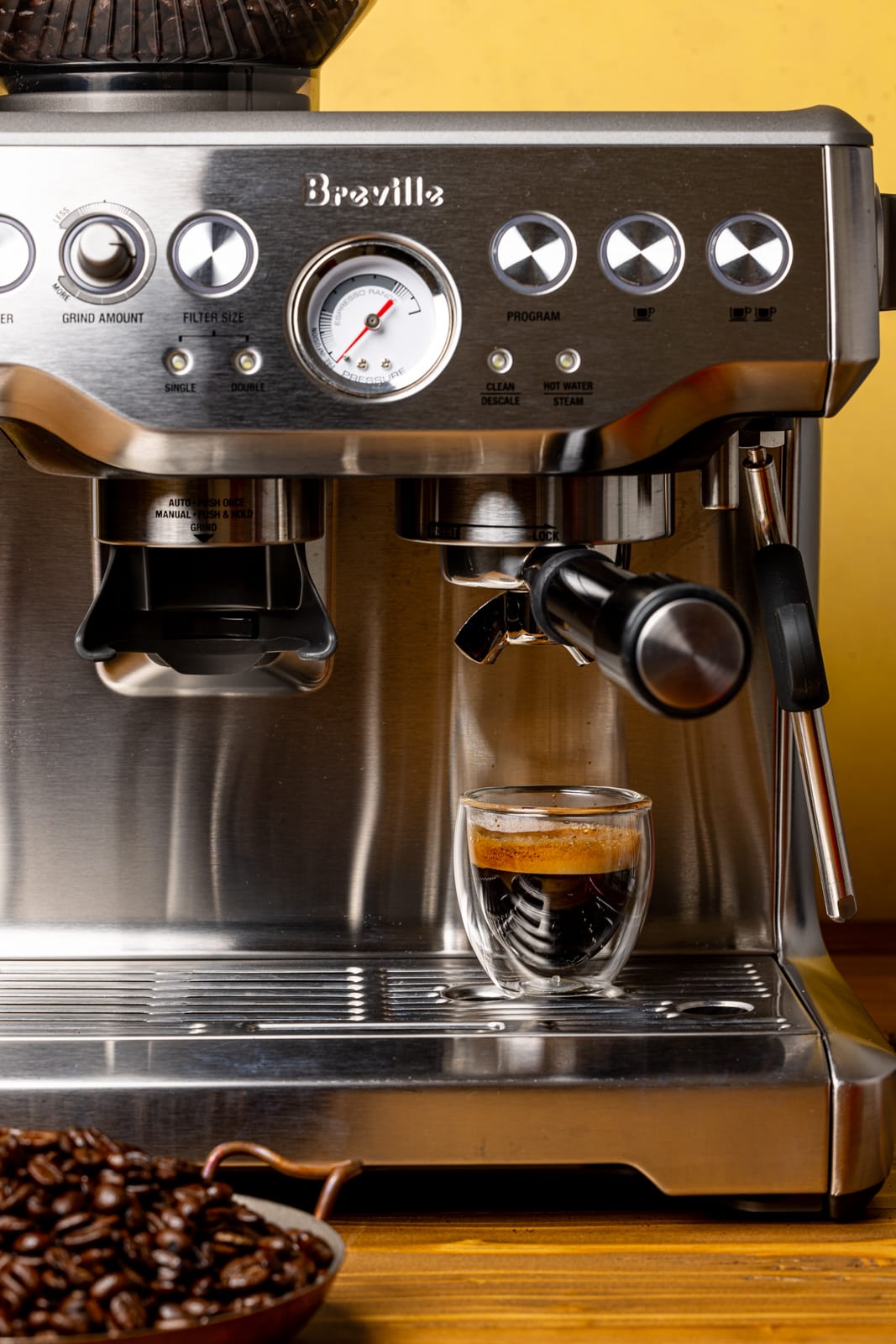 Why You'll Love This Alcohol-Free Espresso Martini Mocktail
Creamy dairy-free goodness
Rich, indulgent coffee flavor
Perfect balance of sweetness
Easy to make at home
Aromatic and toasty aroma
Great addition to any mocktail menu with a cocktail feel
Vegan Espresso Martini Garnishes Ideas
This espresso martini mocktail is sure to be a show-stopper, therefore, understanding how to best spruce them up for a special occasion is important. Before serving, you can dress them up even more with festive toppings like:
Coconut whipped cream. You can use regular dairy whipped cream if you aren't concerned with it being dairy-free.
Cinnamon stick. A stick of two of cinnamon adds a nice kick of flavor and makes for a simple garnish.
Shaved chocolate. These add a dramatic touch, and I love using my vegetable peeler for fancy chocolate shavings.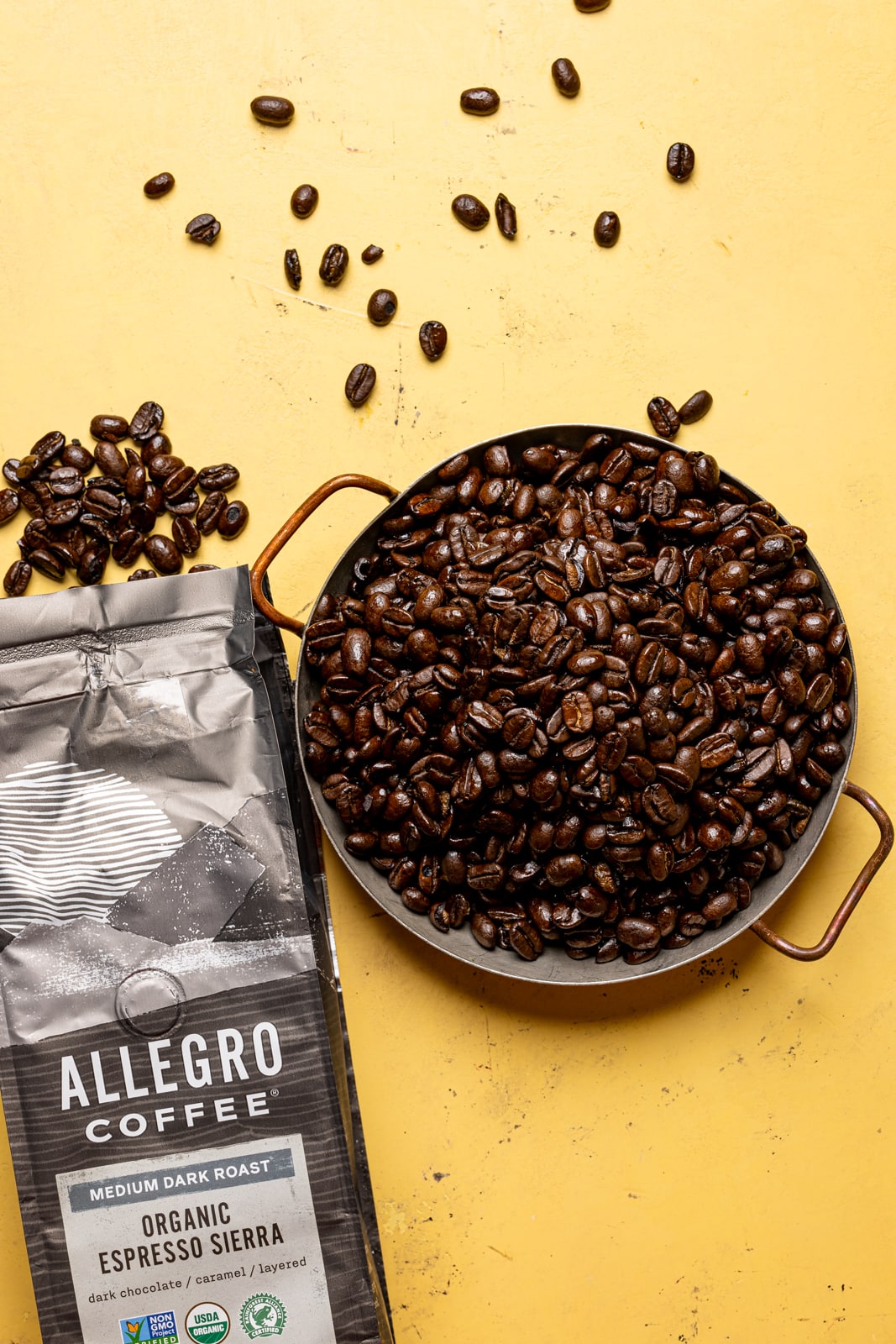 What Makes an Espresso Martini Frothy?
To create that nice foam on top of your espresso martini, it's super important to always use freshly-brewed espresso coffee, which naturally has a foam. In addition, ensuring that you shake everything together vigorously in your cocktail shaker is the second trick to getting this beautiful finish.
However, if you'd like to achieve the beautiful foam in other ways, here are a few things you can do:
Use egg whites. Yes! You can totally add an egg white to your cocktail shaker when you're ready to shake things up and this should create a nice frothy look/feel. This is perfect if you don't care about your martini being vegan-friendly.
Cocktail foams. Apparently, they sell cocktail foams in little bottles online for a nice finish as an alternative to using egg whites. Simply add a drop or two to the top of your martini once you've shaken everything together and wallah!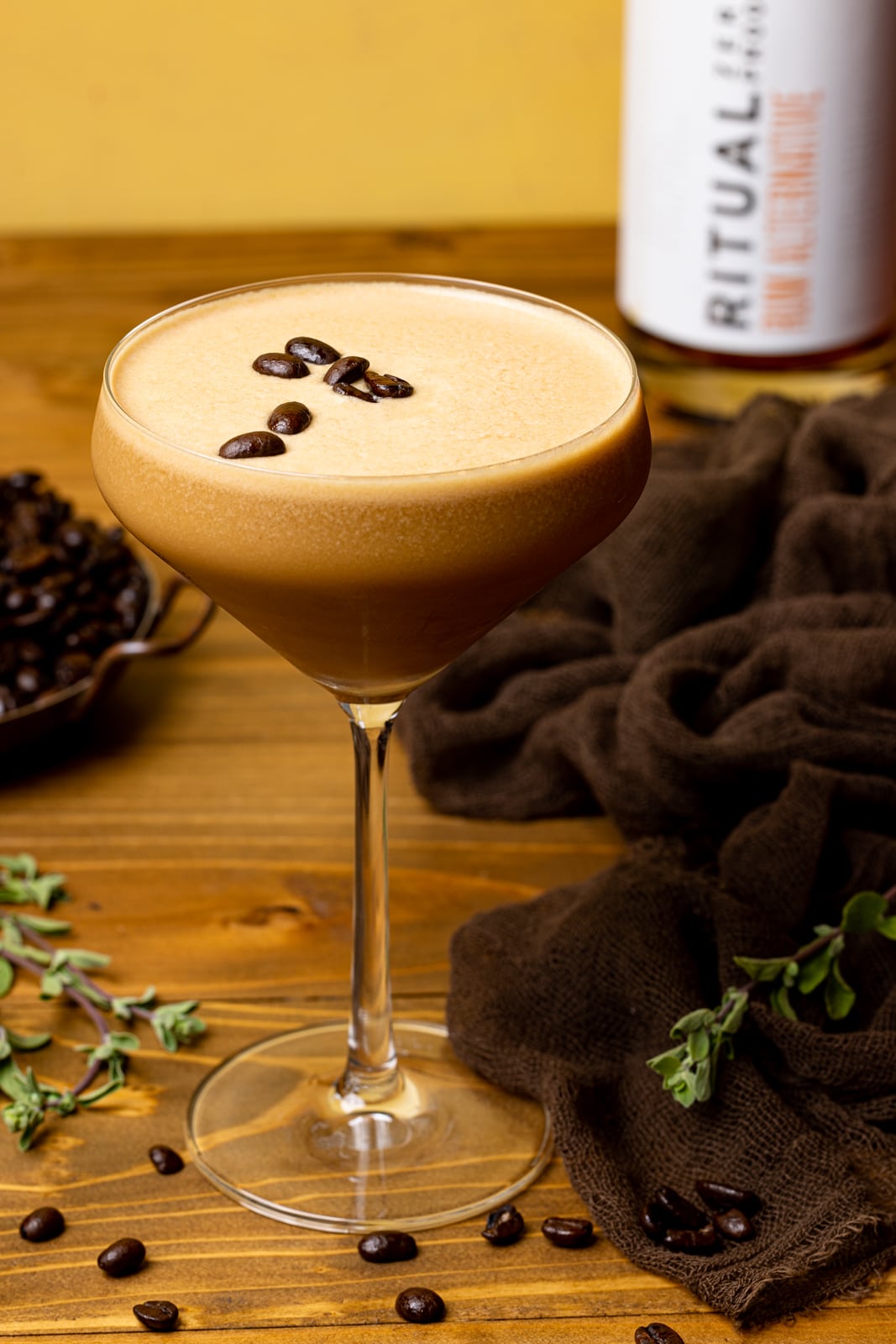 Vegan Espresso Martini Mocktail Q + A's
What is the white stuff on Espresso Martini?
That's the foam! Honestly, I love having the foam because it creates such a smooth, light feel to the entire martini. To ensure that you achieve the foam correctly, be sure to shake your ingredients together well so that the natural oils in the coffee combines with the air bubbles and produces that nice finish.
Can I Add Alcohol to this dairy-free mocktail?
If you'd like to serve this as a cocktail, you can add 1 ounce of tequila, rum, vodka or gin to each glass as well as the coffee liqueur known as Kahlua.
Can I Make This Caffeine-Free?
Yes of course. You can always use decaf coffee instead, you will still get the same amazing flavor without the buzz of sometimes unwanted energy!
Can I Make This Vegan Mocktail ahead of time?
Absolutely! A few hours ahead of time, combine the ingredients in a large jug or pitcher (without ice) and chill until needed. Once ready to use, add mixture in a cocktail shaker with ice, then strain into glass(es).
Why Do You put three beans in an Espresso Martini?
Surprisingly, it is said that the popular gesture of placing three espresso beans atop your martinis as garnish represents: health, wealth, + happiness. So, cheers!
Why is my Espresso Martini not creamy?
The main reasoning, could be that you you didn't shake your cocktail shaker enough, therefore, not much air got into the drink. As a result, make sure that you vigorously shake for at least 20 seconds for a nice texture. Lastly, if you don't use freshly-brewed espresso, you won't get that frothy top that you desire.
Is Kahlua or Bailey's better for Espresso Martinis?
While it's traditional to use Kahlua in your espresso martini, Bailey's actually can add a nice creaminess and can also be added together for a nice kick!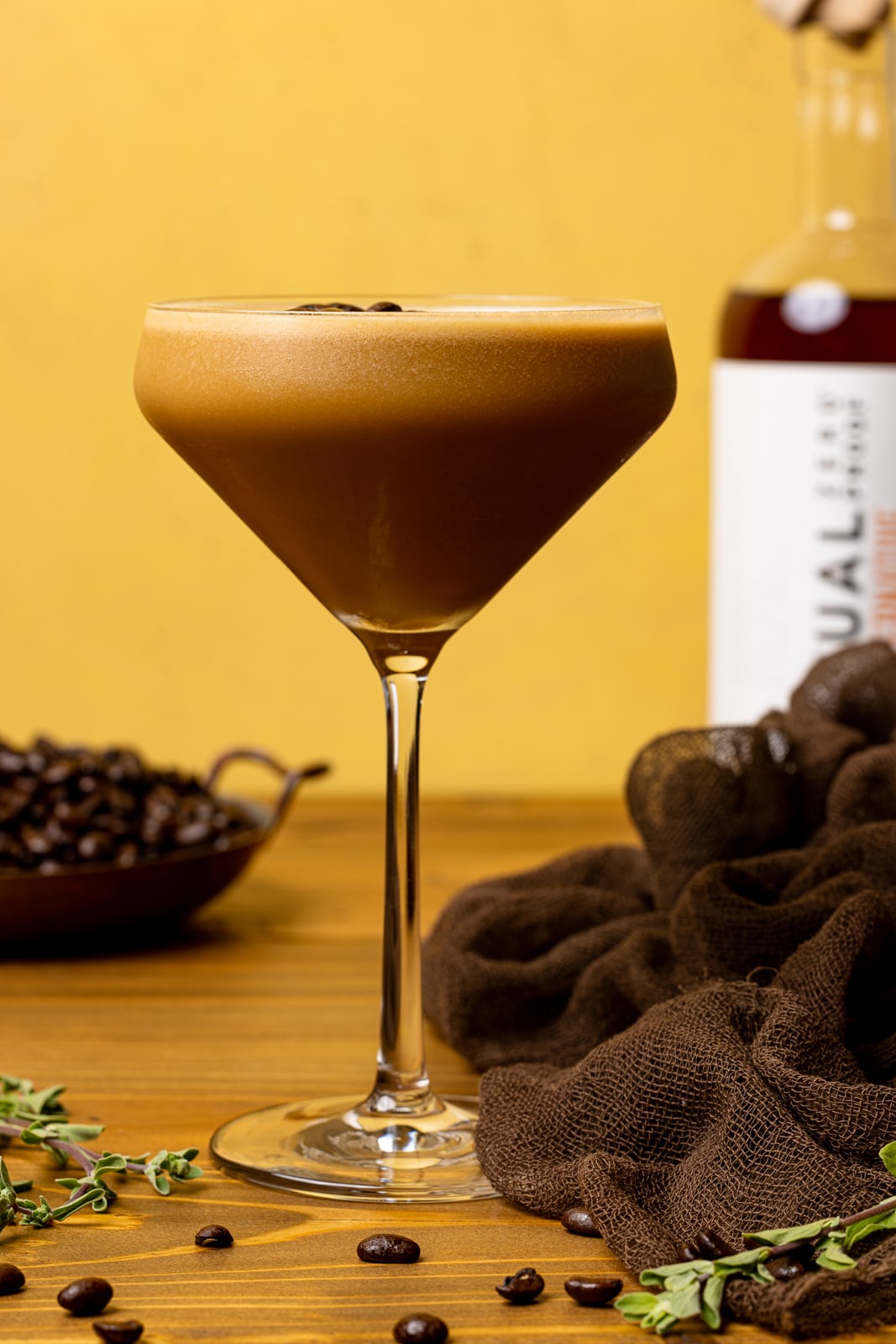 More Decadent Drink Recipes
Once you've mastered this Vegan Espresso Martini Mocktail, these other homemade sips should be next on your list:
MADE OUR RECIPE(S)?
If you tried this Best Espresso Martini without Kahlua [Mocktail] or any other recipe on my website, please please leave a 🌟 star rating and let me know how you go in the 📝 comments below. I love hearing from you.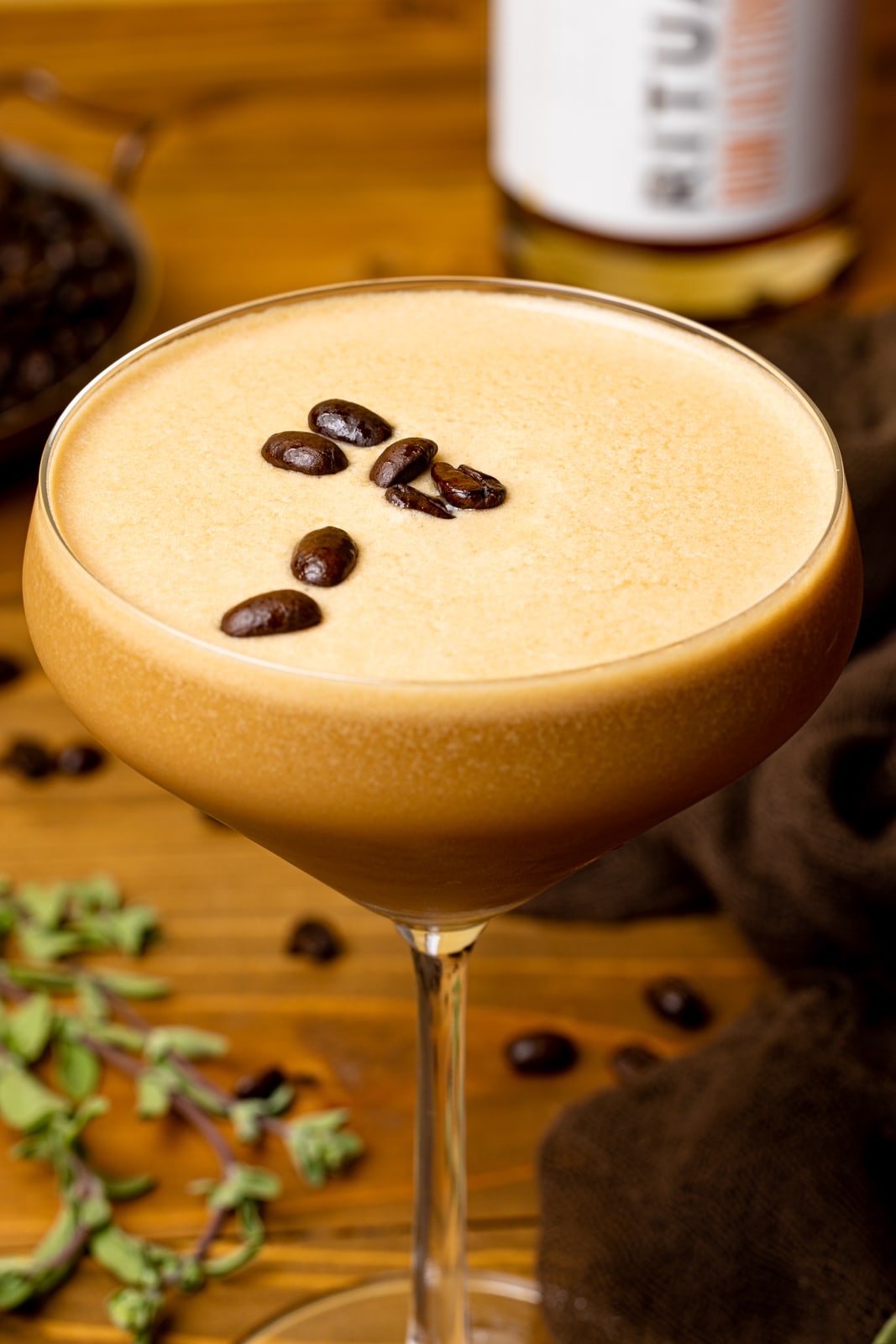 KAHLUA SUBSTITUTE:
¼

cup

filtered water

2

Tbsps

organic brown sugar

1

teaspoon

instant coffee or espresso powder

1

(7.4 oz) can

dairy-free condensed milk
MARTINI:
1

ounce

freshly-brewed espresso, cooled

1

ounce

Kahlua substitute

1

ounce

Ritual Zero Proof Rum Alternative

(You can totally omit this and add ¼ cup on dairy-free milk, if preferred)

Crushed ice
TO MAKE THE KAHLUA SUBSTITUTE:
In a saucepan over medium-high heat, add the water, espresso powder, and brown sugar, stirring until sugar and powder has dissolved completely, about 1-2 minutes. Remove from heat and whisk in the dairy-free condensed milk until smooth and creamy. Let it cool.
TO MAKE THE MARTINI:
Add all of the martini ingredients together in a cocktail shaker (including the cooled Kahlua sub), shaking vigorously until combined and foamy.

Assemble the martini: Using a cocktail (or regular) strainer, strain the espresso martini into your favorite cocktail or martini glass and top with 3 whole coffee beans, if desired. NOTE: You can also top your martini with your fave garnish ideas!

Sip and Enjoy!
SERVING: To make additional martinis, simply double or triple ingredients, depending on need.
KAHLUA: Kahlúa coffee liqueur is one of the main ingredients in many of the world's favorite cocktails. Therefore, to make this recipe non-alcoholic----I created a great simple syrup substitute.
ALCOHOL: If you'd like to keep this recipe dairy-free, but want to spruce things up with alcohol, feel free to add 1 ounce of rum, vodka, etc.
FAQs: To see all Q + A's, see post!
Calories:
98
kcal
|
Carbohydrates:
25
g
|
Protein:
0.2
g
|
Fat:
0.1
g
|
Saturated Fat:
0.1
g
|
Monounsaturated Fat:
0.02
g
|
Cholesterol:
0.3
mg
|
Sodium:
11
mg
|
Potassium:
71
mg
|
Sugar:
24
g
|
Vitamin A:
3
IU
|
Vitamin C:
0.03
mg
|
Calcium:
26
mg
|
Iron:
0.2
mg