Ditch the canned cranberry sauce and savor the deliciousness of this classic homemade Perfect Apple Cranberry Sauce recipe. It combines cranberries, apples, and a zesty orange twist to create a dreamy balance of fruity, tangy, and citrusy flavors! The perfect match for your Thanksgiving festive feast, whether it's turkey or a plant-based roast! And it comes together in just under 10 minutes! Vegan + Gluten-free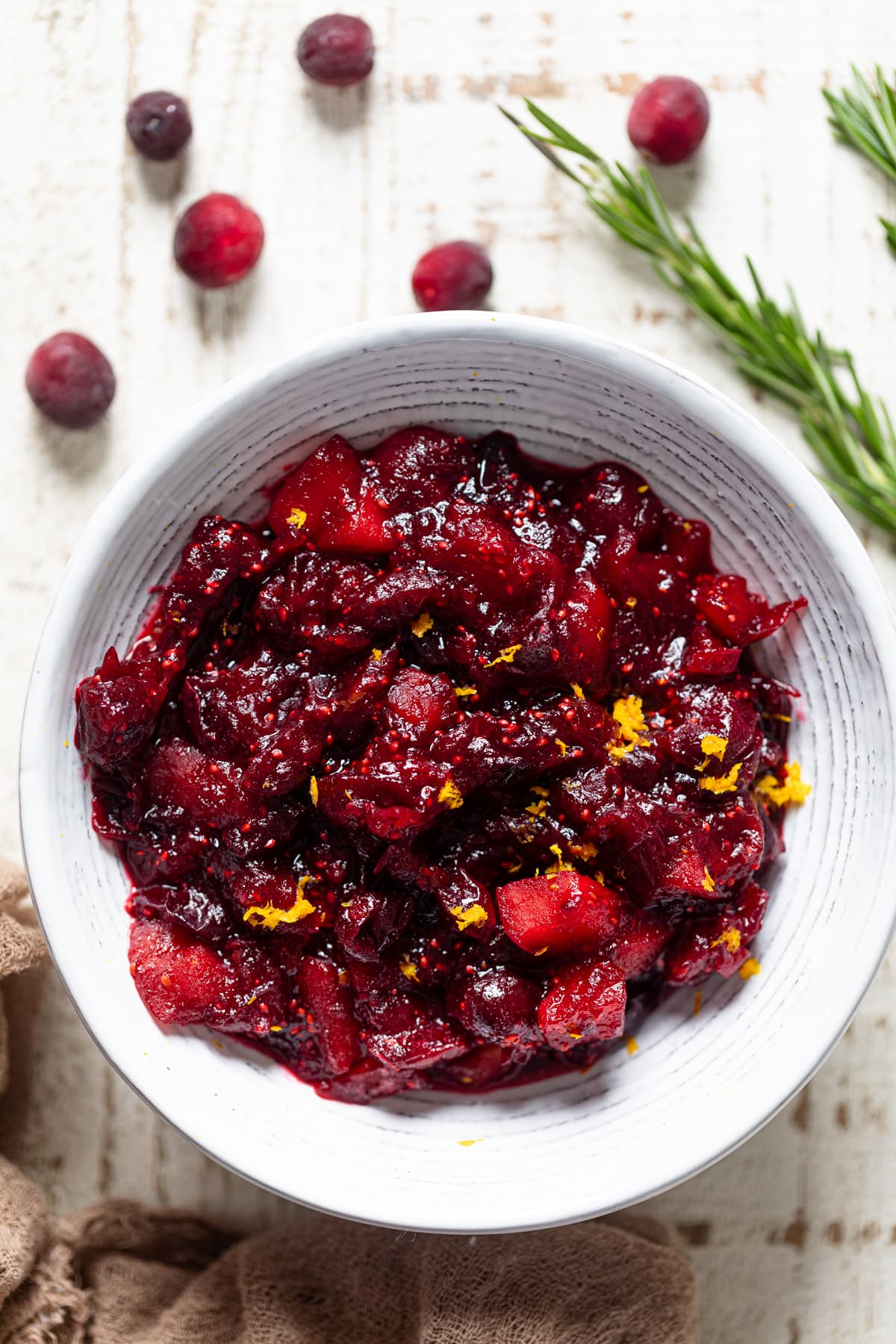 What Makes This The PERFECT Apple Cranberry Sauce?
With all of the rich dishes on the Thanksgiving table, cranberry sauce is necessary to break up savoriness. Cranberries and apples are in season and perfectly ripe, so I like to use them during Autumn as much as I can--Hence all my fall apple + cranberry recipes. I'm talking about Vegan Apple Cranberry Crumble Pie, Cranberry Apple Cider Orange Sangria, and this drool-worthy Vegan Apple Cranberry Crisp
Anyhow, that's why I make this sweet and tart mixture, which becomes The Perfect Apple Cranberry Sauce! To me, this is the perfect sauce to accompany any savory dishes such as stuffing, crispy smashed potatoes, or southern collard greens. You'll make this fast and simple sauce every year forward!
This delightful sauce is ready in under 15 minutes, boasts amazing flavors that harmonize flawlessly with your holiday spread, and its vibrant blend of cranberries, apples, and orange zest creates a zesty and sweet symphony that elevates your Thanksgiving or festive meal to perfection.
Jump to: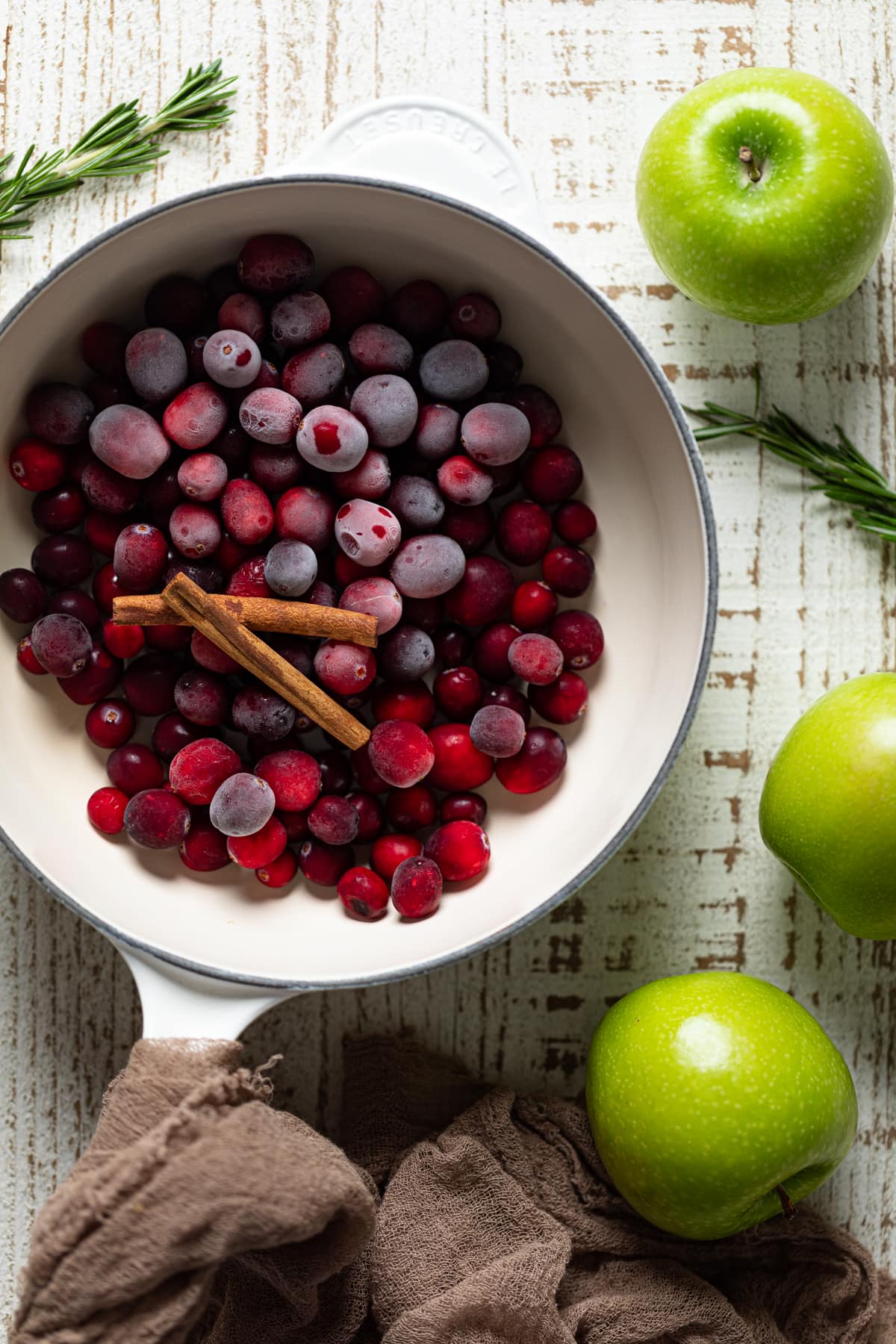 How To Make The Perfect Apple Cranberry Sauce
In a saucepan, throw all the delicious ingredients together, crank up the heat, and give it a stir until it starts to bubble – about 1-2 minutes. Then, let those cranberries do a little pop-and-burst dance while you simmer for 6-7 minutes until it's all thick and cranberries are tender.
Now, off the heat, let the sauce cool completely. For that extra zest, sprinkle some orange magic on top if you're feeling fancy!
Ingredients
You only need a few ingredients to make THE BEST homemade Cranberry Sauce-
Whole Cranberries: These provide a delightful tartness and beautiful ruby-red color to the sauce.
Granny Smith Apple: Peeled and diced, this apple variety adds a hint of sweetness and a pleasant texture to the sauce.
Organic Cane Sugar: Sweetens the sauce naturally and balances the tartness of the cranberries.
Ground Cinnamon: Infuses a warm, comforting spice flavor that pairs wonderfully with the fruits.
Filtered Water: Helps create the right consistency and allows the flavors to meld together.
Pure Maple Syrup: Enhances the sweetness with its rich, natural flavor, adding depth to the sauce.
Vanilla Extract: Adds a touch of aromatic vanilla essence, elevating the overall taste.
Freshly-Squeezed Orange Juice: Provides a citrusy zing and brightens up the sauce with its vibrant notes.
Why Is Cranberry Sauce SO Perfect With Thanksgiving Turkey?
Cranberries are absolutely perfect with turkey. Sort of like lemons and chicken. Something about the flavors, they're just made for each other. Which is why the sauce is so good to spread over turkey in your leftover turkey sandwiches.
Here are a few reasons why they go so well together -
Balances Flavors--Cranberry sauce's tartness complements the savory taste of roasted turkey, creating a harmonious flavor balance.
Texture Contrast-- The sauce's gel-like texture contrasts with the turkey's tenderness, adding variety to each bite.
Holiday Tradition-- It's a Thanksgiving tradition y'all, enhancing the festive spirit + table decor.
Versatile-- Cranberry sauce complements not only turkey but also other Thanksgiving sides!
Why You Will LOVE This Apple Cranberry Sauce Recipe
Bursting with sweet + tart flavors
The perfect complement to holiday meals
Ready in under 15 minutes
Uses fresh seasonal ingredients
Customizable with various add-ins!
So versatile for different occasions
Why Add Apples + Oranges To Cranberry Sauce?
Combining Fall Fruits
When multiple fruits are in season, why not combine them at their peak freshness? If you have some farm-fresh apples, they add the perfect natural sweetness to cranberry sauce.
Granny smith apples are both tart and sweet, which is why I love them for cranberry sauce. They also keep their shape well when cooked, so you will still see chunks of tender apple within the sauce.
To top it all off, I also like to add some fresh orange juice to the sauce and orange zest once the sauce has completely cooled. You will find orange zest or juice in a variety of fall dishes. These three fruits combine to make a complex, sweet, and tart cranberry sauce that is second to none!
Have pears in the house? Throw one in! Have lemon instead of orange? No problem! This Perfect Apple Cranberry Sauce is very delicious and forgiving, so be sure to use the best ingredients or whatever you have in the house.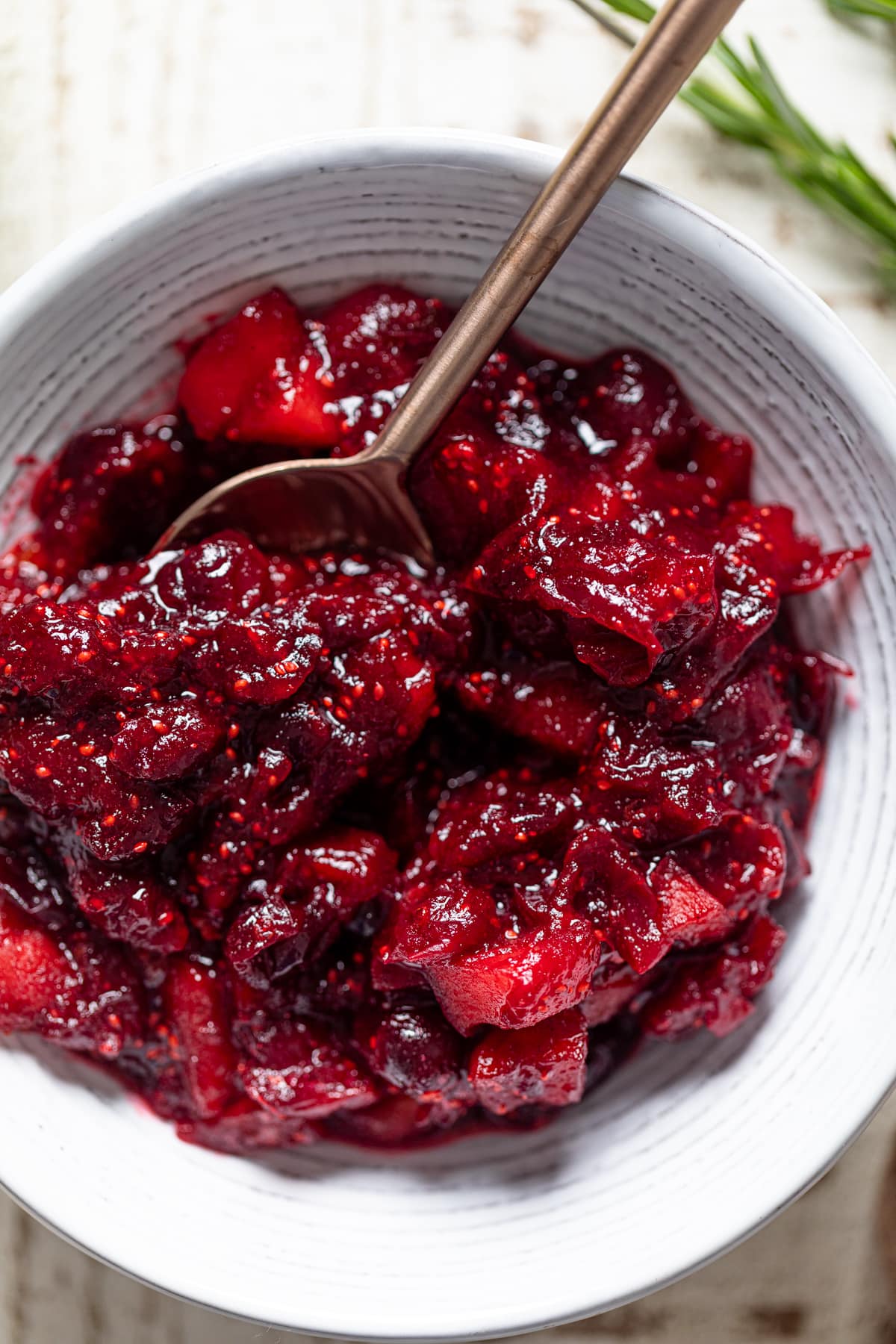 Uses for Cranberry Apple Sauce
Of course, homemade cranberry sauce is a must-have at the Thanksgiving table, but it's incredibly versatile too. Here are some creative ways to use up leftover cranberry sauce:
How Do I Thicken Cranberry Sauce?
Homemade cranberry sauce has a magical way of naturally thickening as it simmers on the stove. The liquid reduces, and the sauce gradually thickens to perfection. If you're in a hurry or want extra thickness, you can opt for a quick trick: mix a little cornstarch with water and stir it in. Just remember, as the sauce cools, it will continue to thicken, so no need to fret about the perfect consistency!
What Else Can I Add To This Homemade Cranberry Sauce Recipe?
Cranberry sauce is versatile and can be customized to your liking. Here are some more ideas to elevate your cranberry sauce:
Ginger: Freshly grated ginger can add a delightful spiciness.
Nuts: Pecans, almonds or walnuts for extra crunch.
Cloves: Whole or ground cloves can impart a warm, aromatic essence.
Fresh Herbs: Experiment with herbs like rosemary or thyme for a savory note.
Dried Fruits: Raisins, apricots or cherries for extra flavor and texture!
Cranberry Benefits
Cranberry sauce isn't just a flavorful addition to your holiday spread-- it also packs some health benefits. These little red berries are bursting with antioxidants, especially vitamin C, which can give your immune system a boost when you need it most during the colder months. Plus, cranberries contain compounds that may promote urinary tract health. So, indulge in the delightful taste of cranberry sauce, knowing it brings both flavor and potential health perks to your holiday table.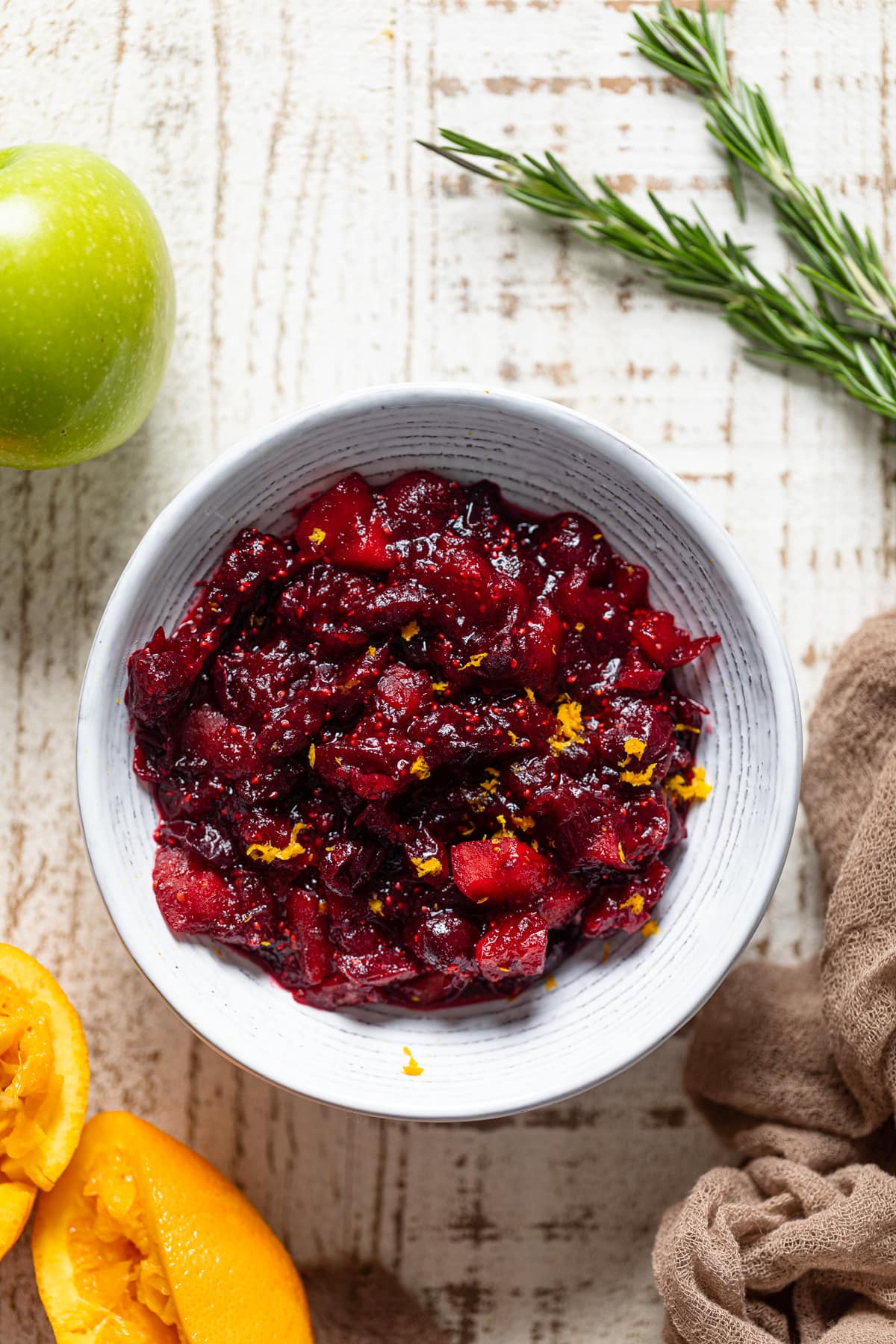 The Perfect Apple Cranberry Sauce Q + A's
How To Store This Cranberry Sauce Recipe?
Leftover sauce can be stored in a tightly sealed glass or container in the refrigerator for 10-14 days.

Can I freeze homemade apple cranberry sauce?
Yes! To freeze, pour the cooled sauce into a freezer-safe bag and store for up to 3 months.
Can I make this homemade cranberry sauce recipe ahead of time?
Absolutely! You can make this sauce a day or two in advance and store it in the refrigerator. In fact, it often tastes even better after the flavors have had time to meld.
Can I use frozen cranberries for this recipe?
Yes, you can use frozen cranberries instead of fresh ones. Just be sure to adjust the cooking time slightly, as frozen cranberries may take a bit longer to burst and soften.
Other Festive Holiday Recipes You'll Love
Adorn your Thanksgiving table with some of these other amazing dishes!
Made Our Recipe(s)?
If you tried The Perfect Apple Cranberry Sauce recipe or any other recipe on my website, please please leave a 🌟 star rating and let me know how you go in the 📝 comments below. I love hearing from you.
SAUCE:
2

cups

whole cranberries, fresh or frozen

1

Granny Smith apple, peeled + diced

½

cup

organic cane sugar

½

teaspoon

ground cinnamon

¼

cup

filtered water + 2 Tbsps!

2

Tbsps

pure maple syrup

1

teaspoon

vanilla extract

2

Tbsps

freshly-squeezed orange juice
TO MAKE THE CRANBERRY SAUCE:
In a saucepan, add together all ingredients over medium-high heat, stirring until combined and the mixture begins to boil, about 1-2 minutes. Once cranberries begin to pop/burst, reduce to a simmer and continue to cook for about 6-7 minutes or until the sauce is thick and the cranberries are broken and tender.

Once done, remove heat and allow sauce to cool completely before serving. Garnish with orange zest, if desired.

Bon Appetit!
STORAGE: Leftover sauce can be stored in a tightly sealed glass or container in the refrigerator for 10-14 days. To freeze, pour the cooled sauce into a freezer-safe bag and store for up to 3 months.
Calories:
164
kcal
|
Carbohydrates:
45
g
|
Protein:
0.4
g
|
Fat:
0.2
g
|
Saturated Fat:
0.02
g
|
Polyunsaturated Fat:
0.1
g
|
Monounsaturated Fat:
0.02
g
|
Sodium:
3
mg
|
Potassium:
139
mg
|
Fiber:
3
g
|
Sugar:
39
g
|
Vitamin A:
72
IU
|
Vitamin C:
13
mg
|
Calcium:
22
mg
|
Iron:
0.2
mg