How To Build a Vegan Brunch Charcuterie Board-----this easy brunch board includes a variety of delicious options such as waffles, berries (strawberries, blackberries, blueberries), citrus (oranges + grapefruit), walnuts, granola, coconut yogurt, grapes, and vegan cheese.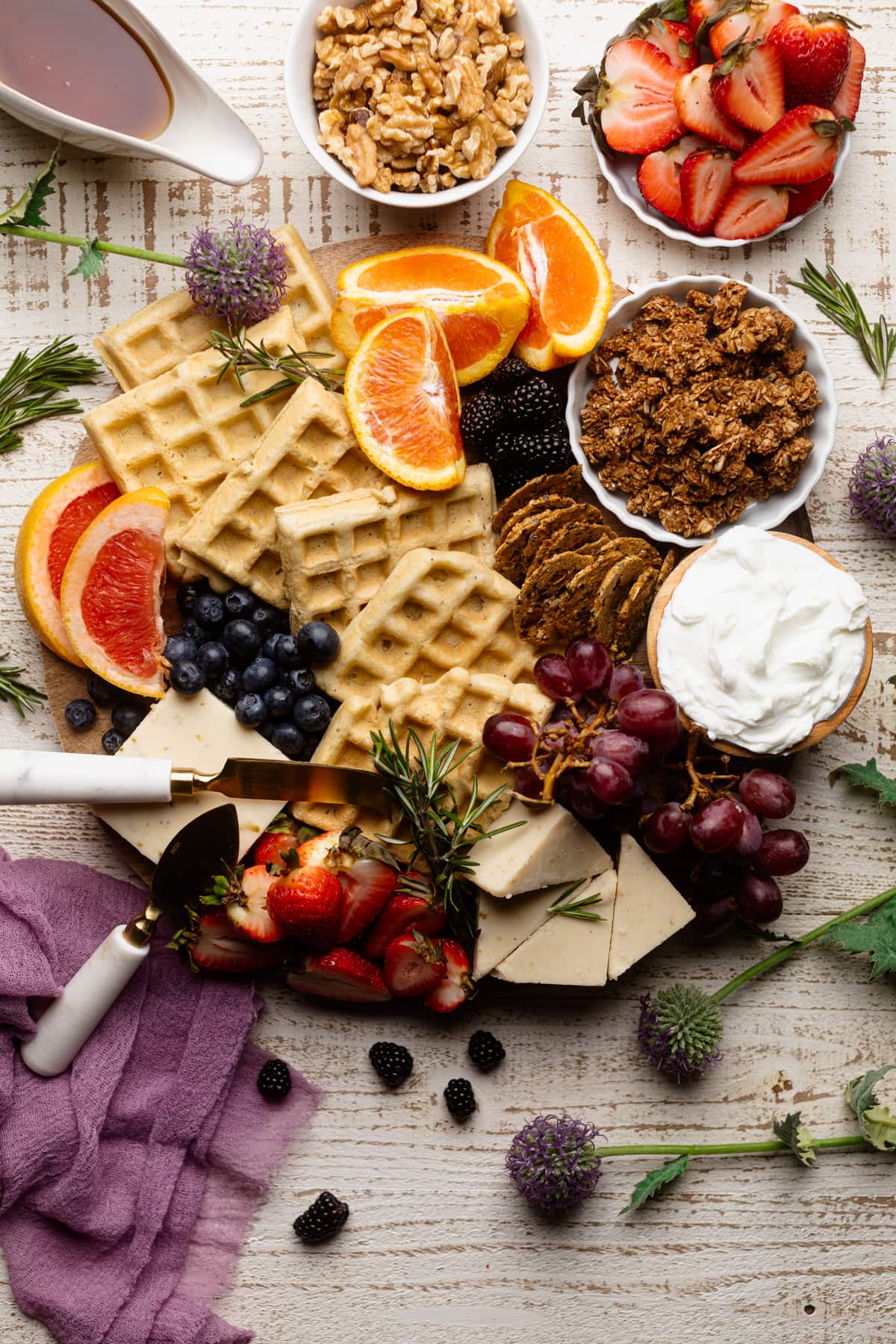 This post contains affiliate links.
What is a Charcuterie Board
Basically, a Charcuterie Board is a delicious spread that includes a variety of ingredients all towered unto a board or your favorite platter or serving plate. It's like having a roundup of handheld foods that your guest can enjoy. My favorite part about doing cheese and Charcuterie Boards is that it's entirely DIY and totally up to you when it comes to the ingredients that you choose to add.
How To Build a Vegan Brunch Charcuterie Board
When it comes this board in particular, I wanted to create a beautiful brunch board because who doesn't love brunch, right? Haha. Plus, I love the idea of adding both snack-like ingredients in with brunch-like ingredients such as waffles, etc.
I don't know about you, but I love making brunch dishes on the weekends since I often have less work to do and it's a time where my family and I try to spend as much quality time as possible. Whenever I make boards like these, it definitely is well received since there are so many options to chose from which leaves your taste buds satisfied with whichever combination you chose.
Overall, to build your favorite vegan charcuterie board, you'll need to first pick out your favorite cutting board, platter, or serving plate that you'd like to use as the base. In my personal opinion, dark wood boards work best and are the prettiest. Then, you would need to figure out the vegan ingredients you'd like to use followed by cheese board accessories such as knives, etc.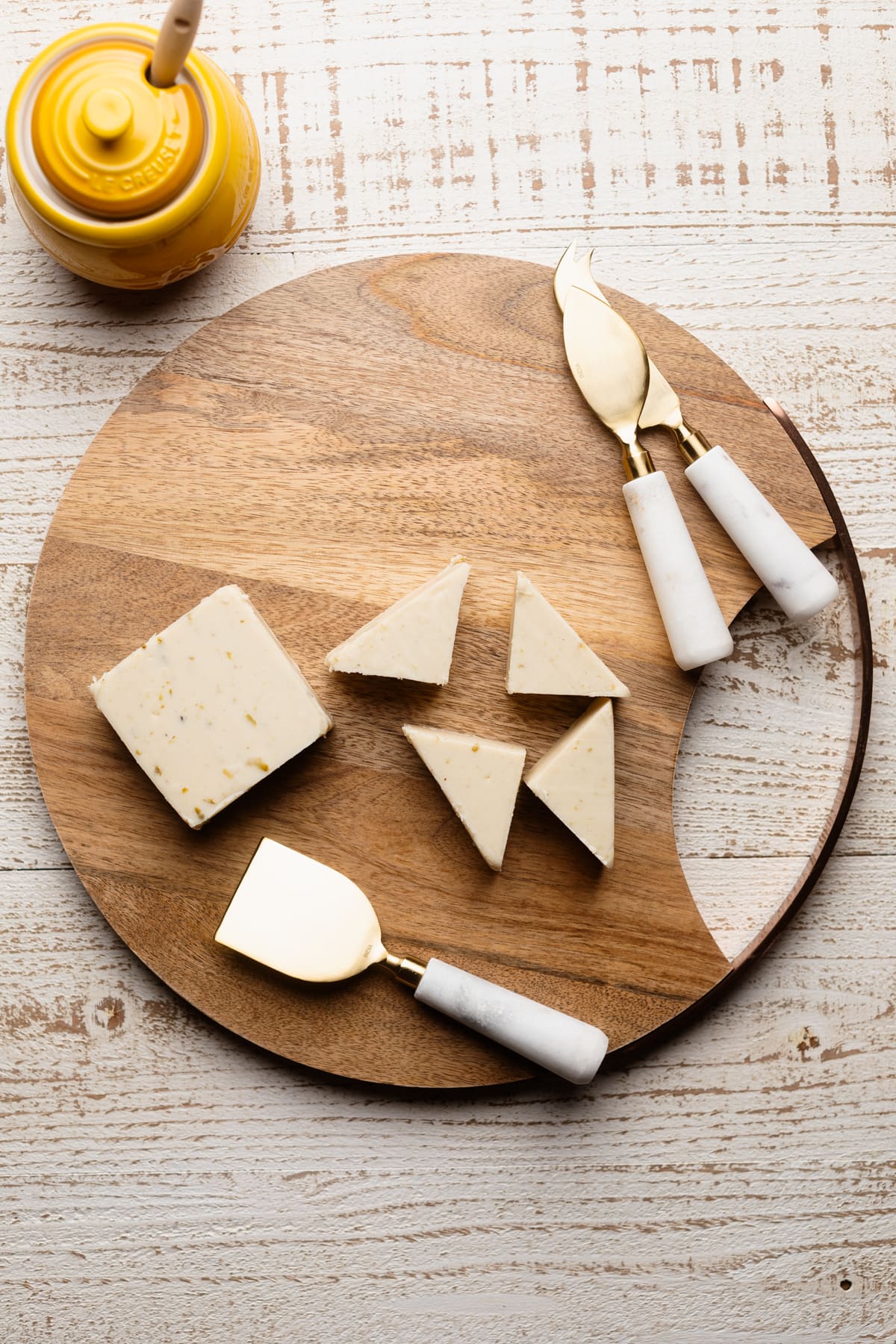 Figure Out Your Base
As I've mentioned, knowing your base is important. I love using beautiful large wooden cutting boards, however, you can also use any of the following:
Baking or Cookie Sheet
Serving Platter or Plate
Start with the Cheese
First things first-----the cheese. Personally, I love using bricks of vegan cheeses which are from brands such as Miyoko's and Daiya's and Field Roast. You can choose your favorite flavor or variation and slice them and/or add them as a whole brick onto the board.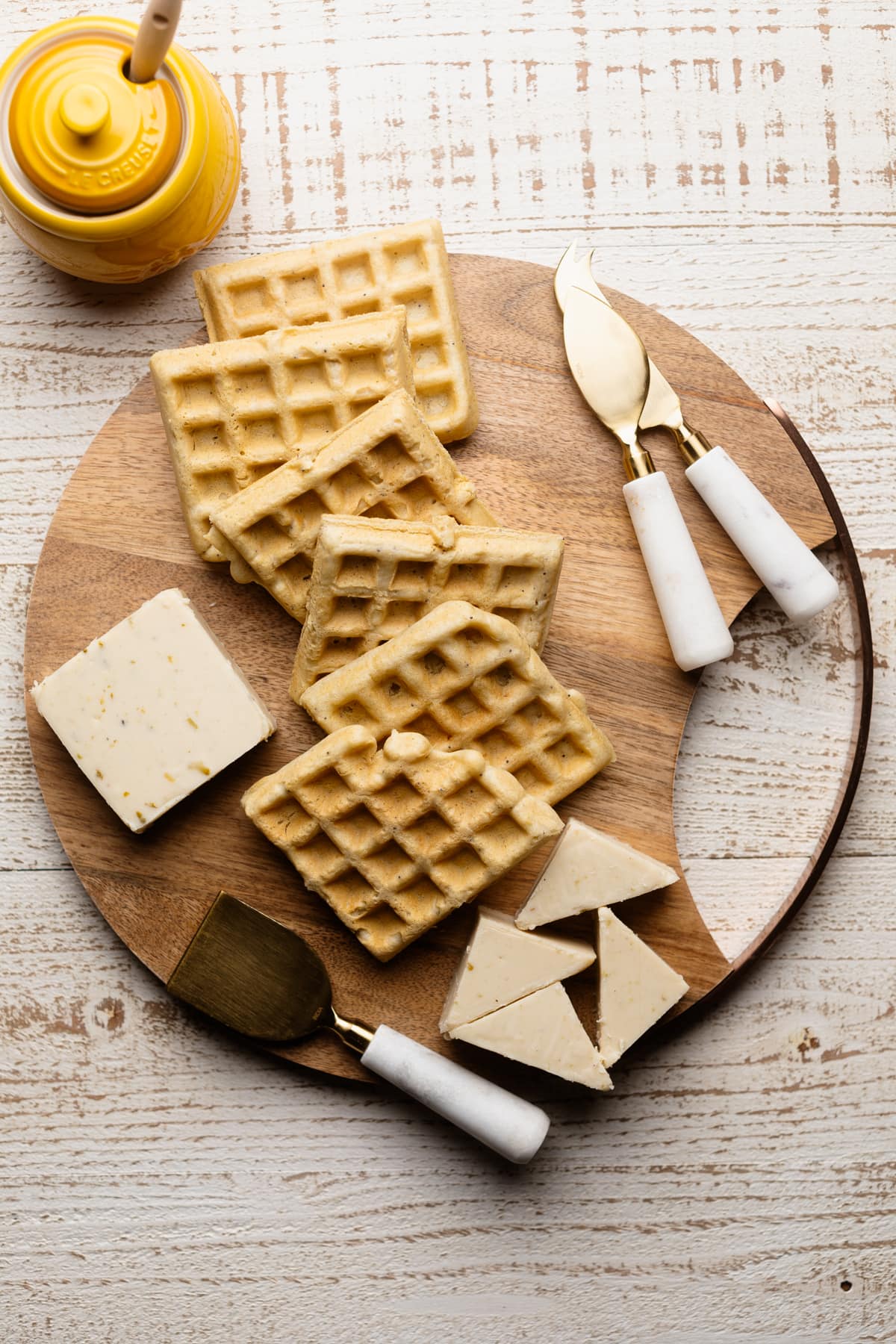 What Ingredients to Put on your Brunch Board
Add your main vegan-friendly brunch foods and stack them on or style them on nicely. I chose to use waffles, however, you can always use other great brunch foods like bagels, pancakes, french toast, pastries, etc. Once you've styled those ingredients unto the board, then begin adding your fruit (citrus, berries, and so forth).
Need vegan brunch food ideas for your board? Try these:
Double Chocolate Muffins
Balsamic Strawberry Brioche French Toast
Flourless Sweet Potato Oat Waffles
Blueberry Whole Wheat Pancakes
Vegan Cinnamon Belgian Waffles
Glazed Donut Holes w/ Sprinkles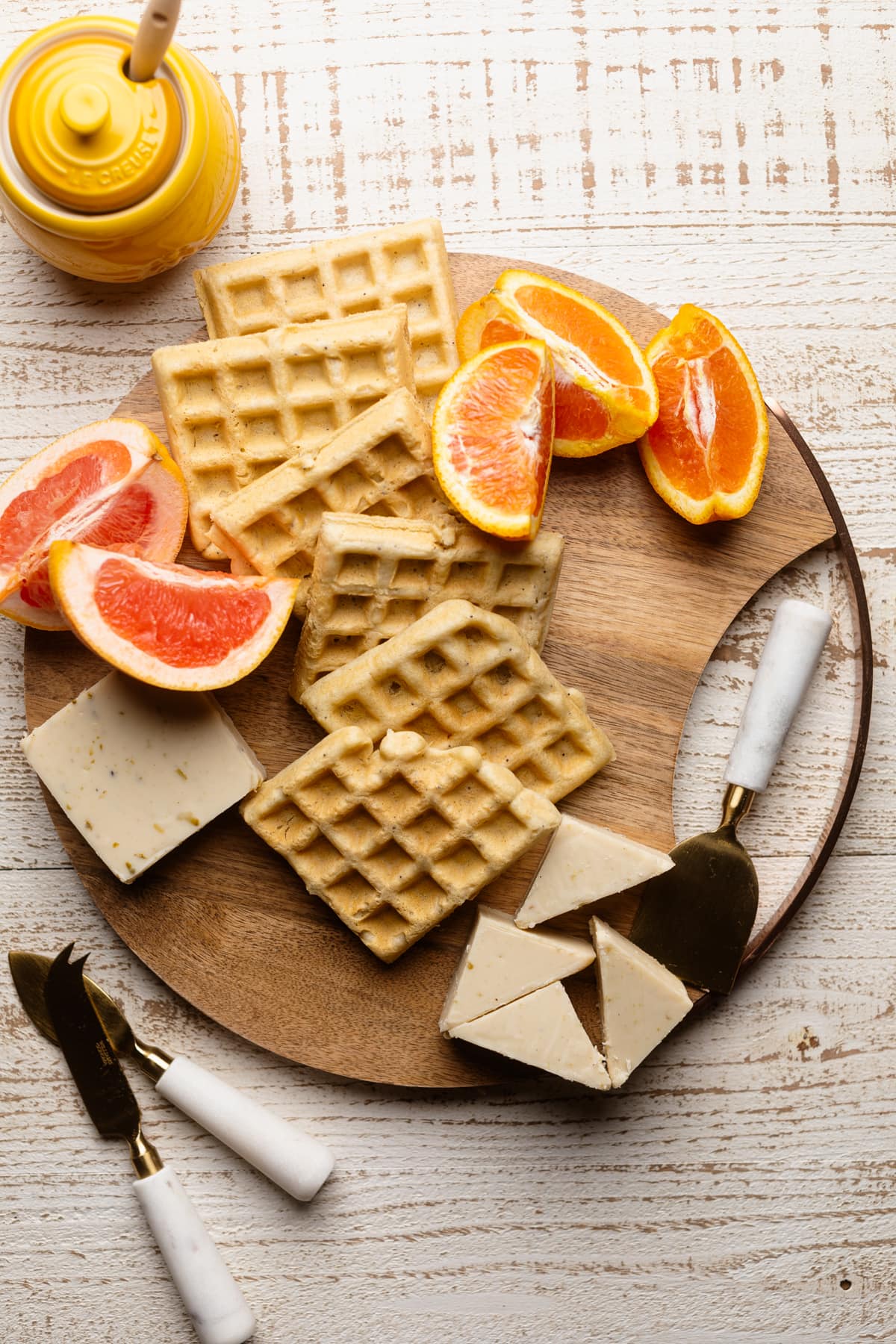 Of course, you can always search our site for "Vegan breakfast" recipes.
Other Ingredients to add to your Brunch Charcuterie Board
Besides the star of the board ingredients such as your brunch food choice, you can add other things to compliment your board such as nuts, granola, dairy-free yogurt, vegan-friendly crackers, and so on. Gather your favorite mini plates and bowls to add certain ingredients in.
Pick Your Theme
As you're filling in your ingredients for your Charcuterie board, be sure to pick the perfect theme and "feel" that you hope to bring. let your props and other accessories tie in with that theme so that everything becomes a compliment. Understand the colors needed for your theme----whether it's bright colors and Springy/Summery or more darker, bold colors for the Fall/Winter; understand which direction that you'd like to take this.
Once decided, be sure to add things like flowers, plant leaves, fresh herbs (rosemary, thyme, sage, etc.), cheese knives/accessories, cloth napkins----you name it. This all brings the complete look together.
My Favorite Places to Purchase Accessories/Props for my Board
There are a ton of places to purchase your board accessories and other props as I've mentioned above, however, my top favorite places to buy my accessories include:
Williams Sonoma
Crate & Barrel
Sur La Table
Anthropologie
Amazon
West Elm
Target
Homegoods + more.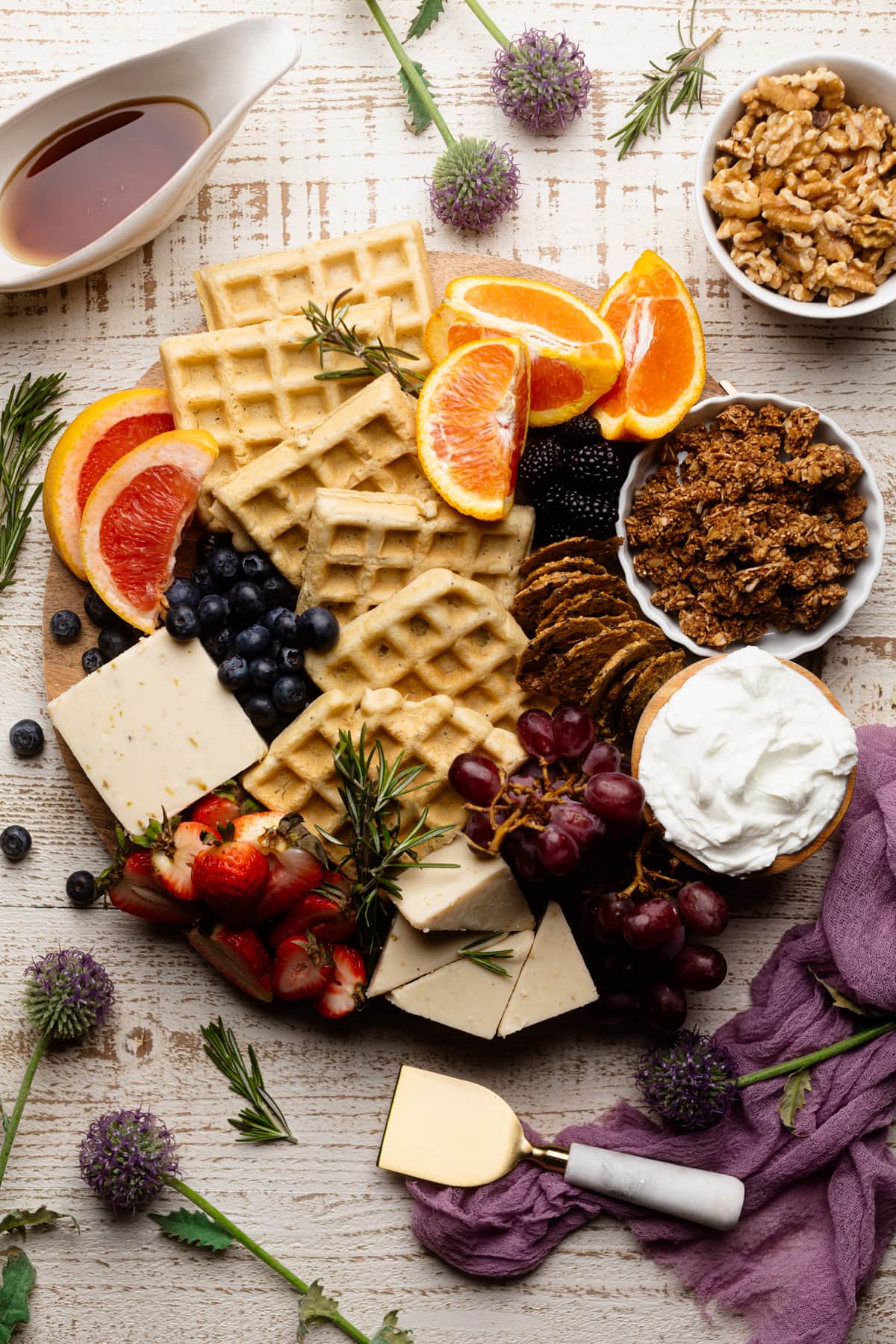 Need Help with Creating a Vegan Gathering?
This article on How to Host the Perfect Vegan Friendsgiving comes in handy for many events and occasions besides Thanksgiving or Friendsgiving. It's all about creating simple ways to make this moment the most memorable. In this article, you'll better understand the importance of budgeting, creating a list, having a vision foe your decor, and more.
Can You Make a Vegan Charcuterie Board in Advance?
Absolutely! First start with your main brunch foods (like waffles, pancakes, etc.) and once made and cooled, freeze them so that they are stored fresh for whenever you are ready to use them. To serve, just pop them in the oven and add them to your board.
Secondly, prep all of your fruit by peeling (if required), slicing, and chopping them up and storing them in individual containers and/or storage bags.
As for other ingredients such as the granola, dairy-free yogurt, etc. simply have them set to the side and ready to be shared out once you're ready to assemble your board since they are super easy to get ready.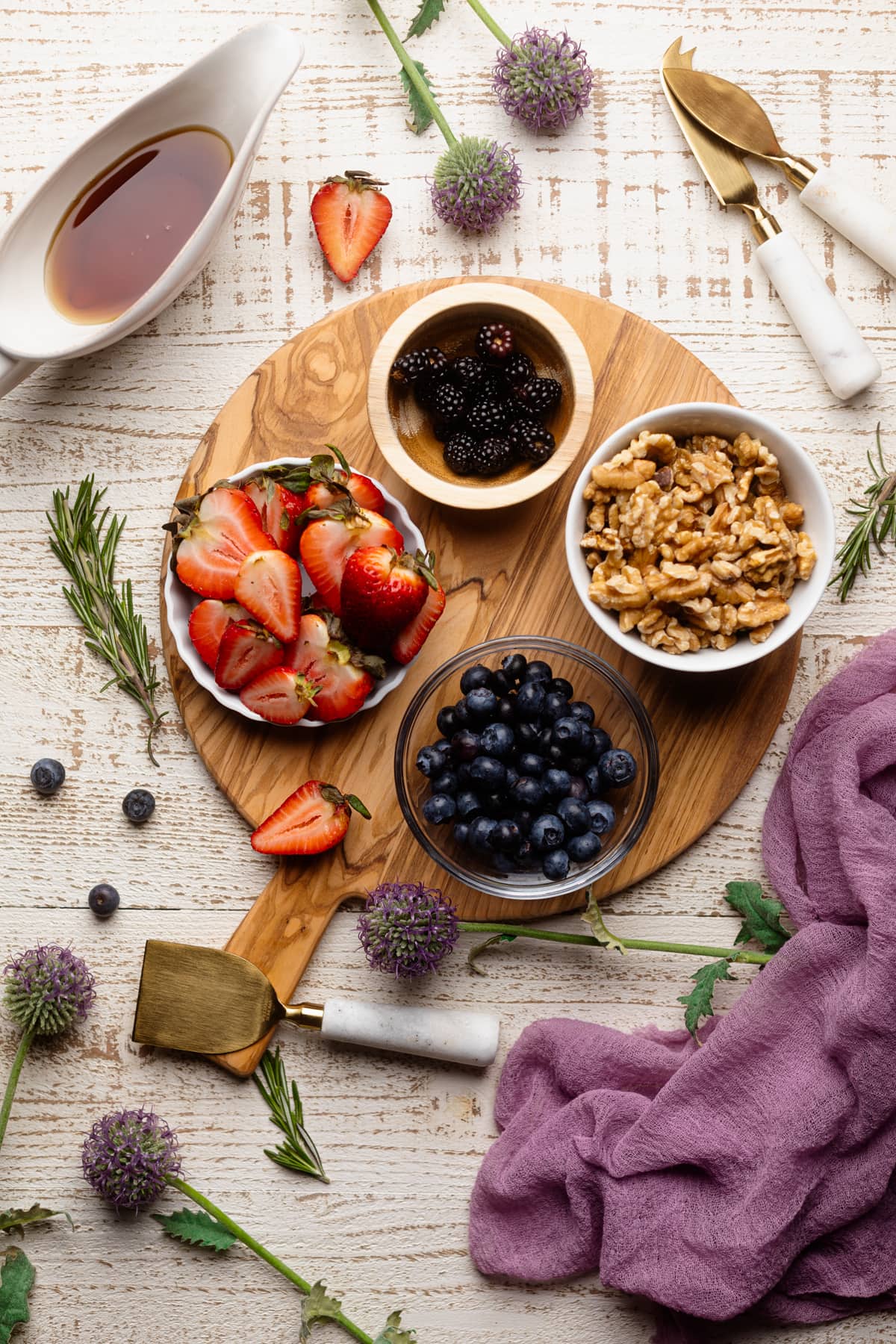 What Can I Serve Along with my Charcuterie Board
Although we have a ton of food options when it comes to our Charcuterie Board, don't forget about the drinks! You can always make your favorite mimosa or cocktail or even serve your brunch items with tea or coffee. Personally, however, I love a good mocktail and have included a few great recipes that would fit perfectly with your board:
Blood Orange Strawberry Mocktail
Citrus Honey Lime Mint Mocktail
Strawberry Pomegranate Mocktail
Sparkling Cranberry Orange Ginger Mocktail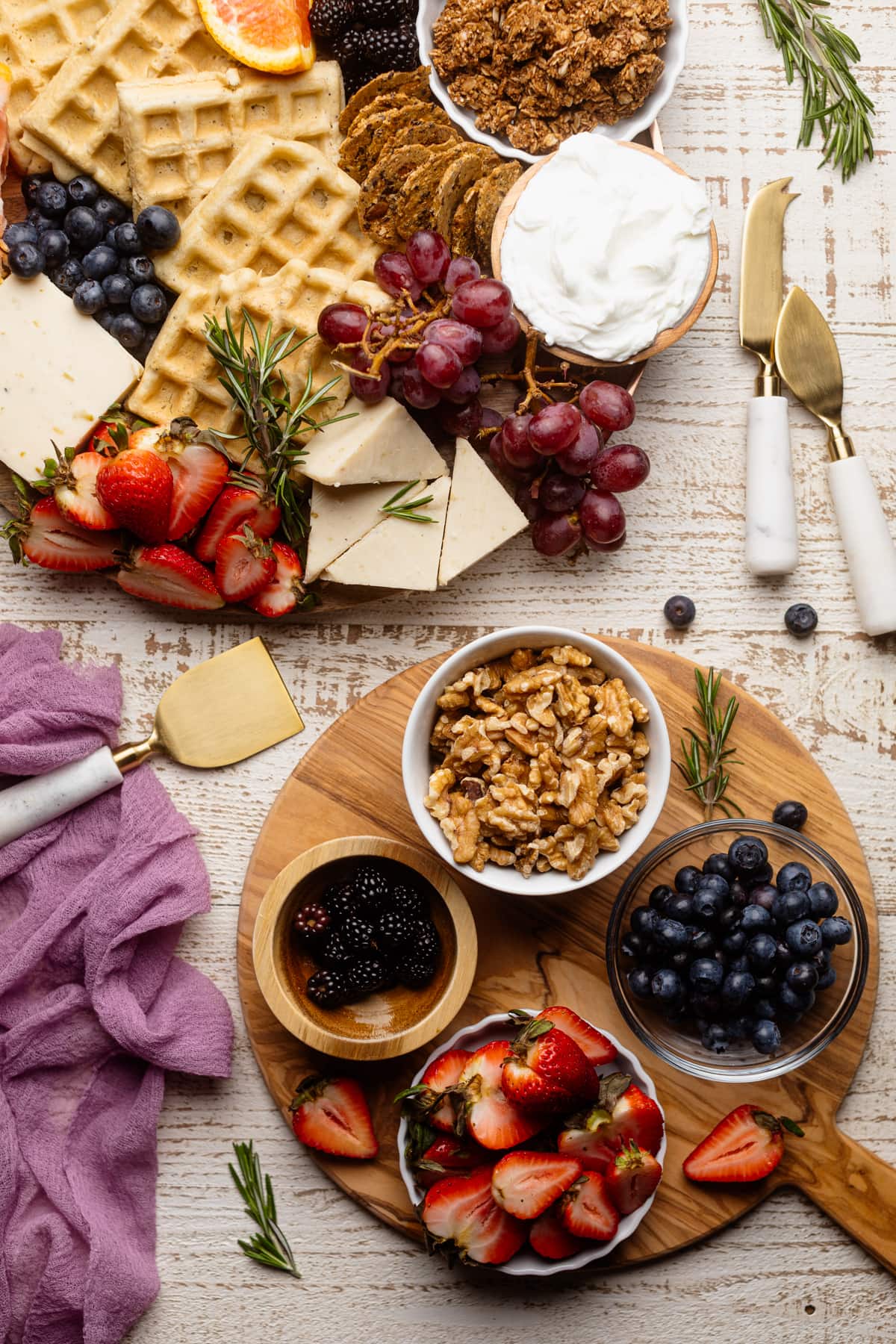 Serves:
1
Charcuterie Board
BREAKFAST ITEMS:
waffles

(See Post for recipes)

pancakes

(See Post for recipes)

Donuts

(See Post for recipes)

Bagels

Scones
'CHEESE':
Vegan Creamery 'Cheese' Brick, sliced or whole

(I love using Miyoko's, Daiya, etc.)
FRUITS:
strawberries, halved

blueberries

blackberries

grapes, purple or green

oranges, sliced

grapefruit, sliced
OTHER INGREDIENTS:
dairy-free yogurt

granola

(See Post for recipe)

multi-grain crackers

nuts (walnuts, pecans, almonds, etc.)

fruit jam or preserve

Fresh herbs (rosemary, thyme, sage, etc.)
Place the vegan cheese unto a wooden cutting board or serving platter. Add your brunch item (waffles, pancakes, etc) unto the same board.

Add your other ingredients such as the dairy-free yogurt, granola, etc into small bowls and add unto board. Arrange the sliced fruit around brunch items, cheese and bowl----filling in any areas tightly to make the board packed and complete.

Top with fresh herbs or flowers and add any additional decor (napkins, cheese knives, honey dippers, etc) to the mix to create the right "feel".
TIPS + BOARD IDEAS: To see tips and other ideas for assembling the perfect board, be sure to check out the information within the post! MAKE AHEAD: You can always prep + and make your ingredients ahead of time. be sure to check out the post for details.
How To Build a Vegan Brunch Charcuterie Board.