This decadent Dairy-Free Peanut Butter Chocolate Milkshake recipe is the perfect healthier sweet indulgence with bold cacao flavor and a creamy dairy-free peanut butter base topped with velvety coconut whipped cream. This easy-to-make frosty drink is kid- and adult-approved.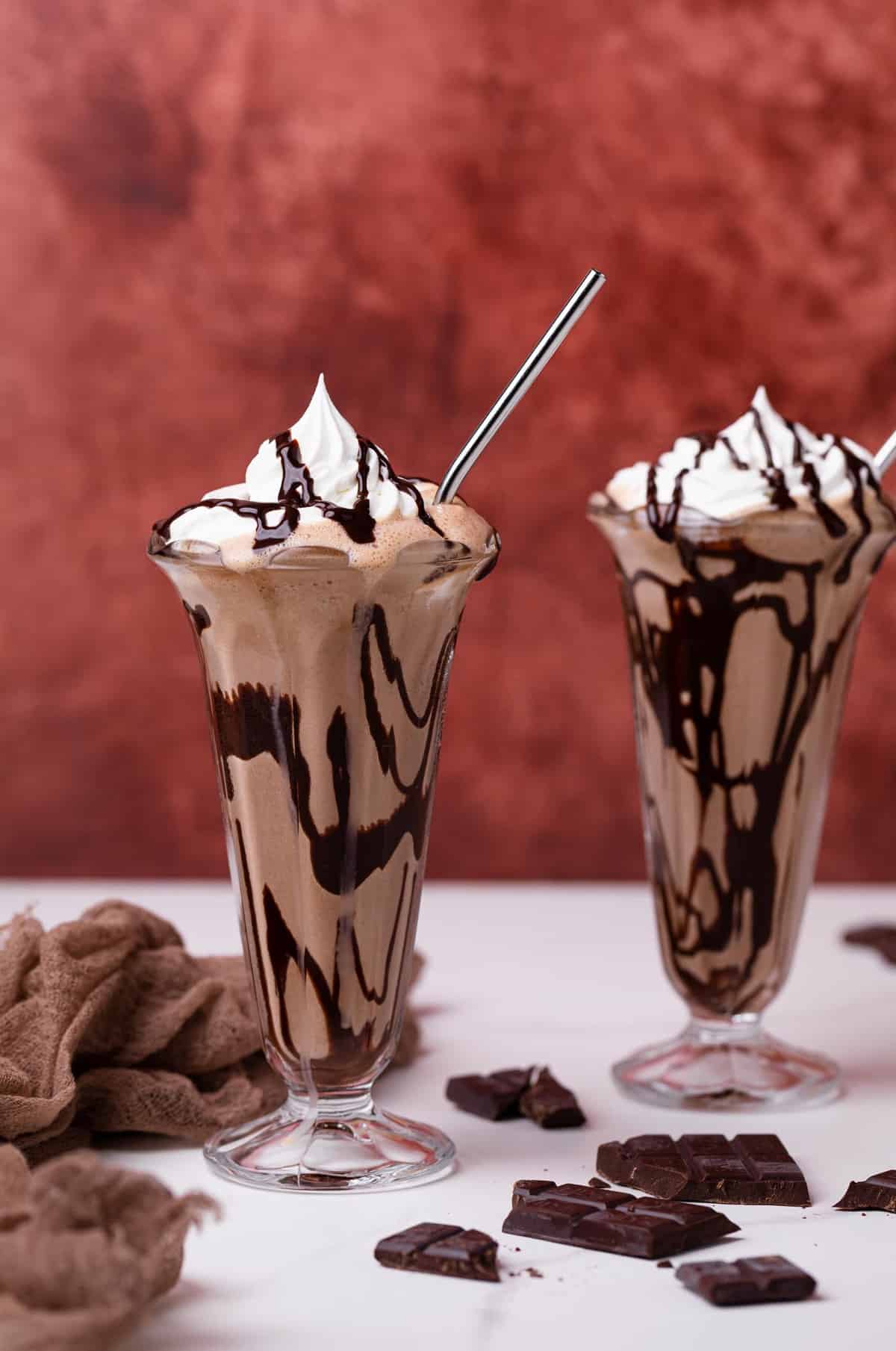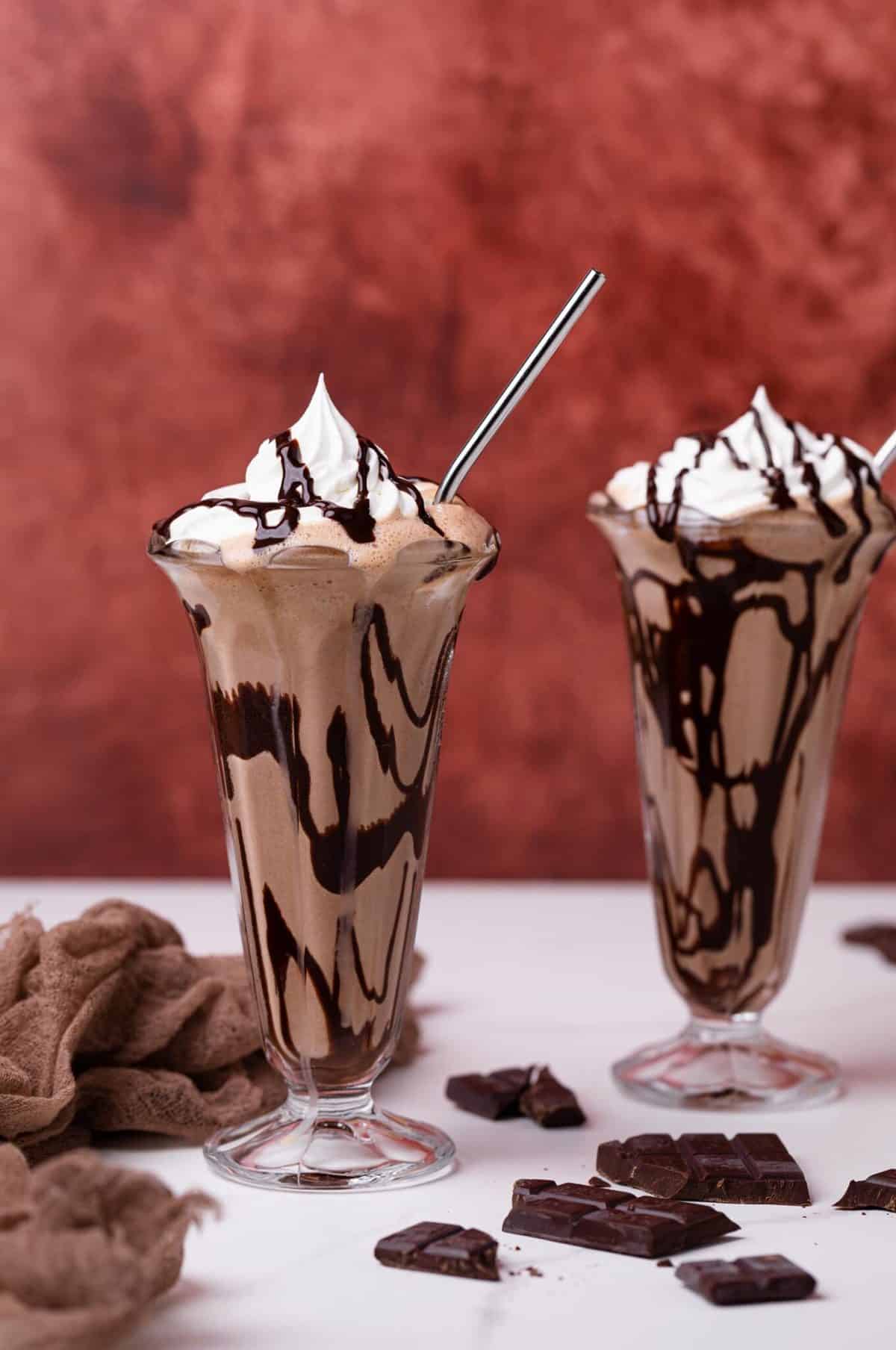 I never used to order milkshakes at ice cream places. In fact, I never really thought these drinkable ice cream shakes were all that satisfying (I'm an ice cream cone with rainbow sprinkles kind of girl). However, ever since I tried making my own milkshakes, I fell in love and this Dairy-Free Peanut Butter Chocolate Milkshake doesn't disappoint! Try this Vanilla Cashew Protein Shake next!
I love being able to choose my personal favorite ice cream as the base to the drink. My go-to ice cream brands are Van Leeuwen, Haagen Dazs, and So Delicious Dairy-Free.
Secondly, I love making homemade milkshakes because I can fully customize the flavor, sweetness and mix-ins. It's also so easy to make my favorite classic milkshake flavors, like peanut butter chocolate, totally dairy-free and vegan.
Jump to: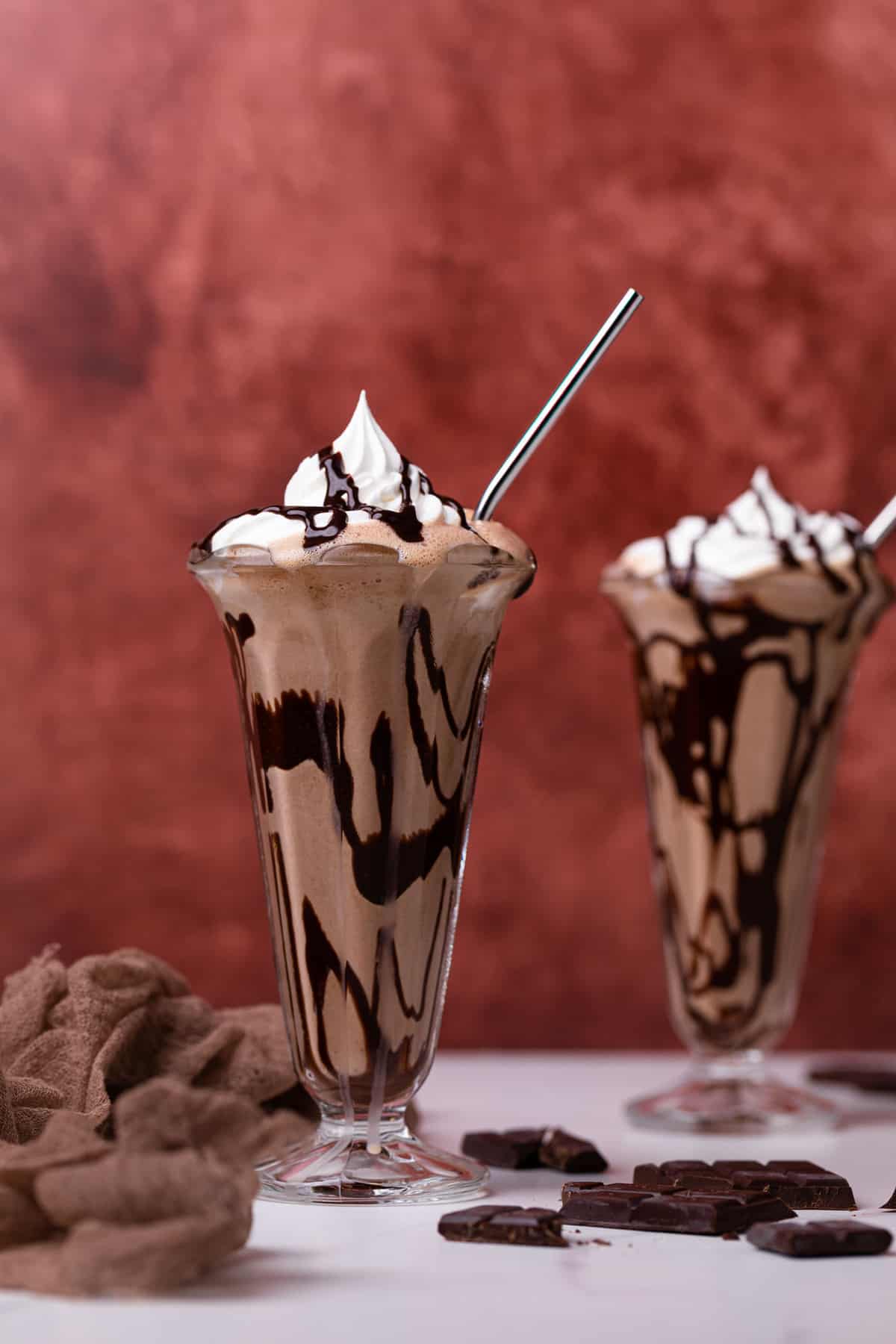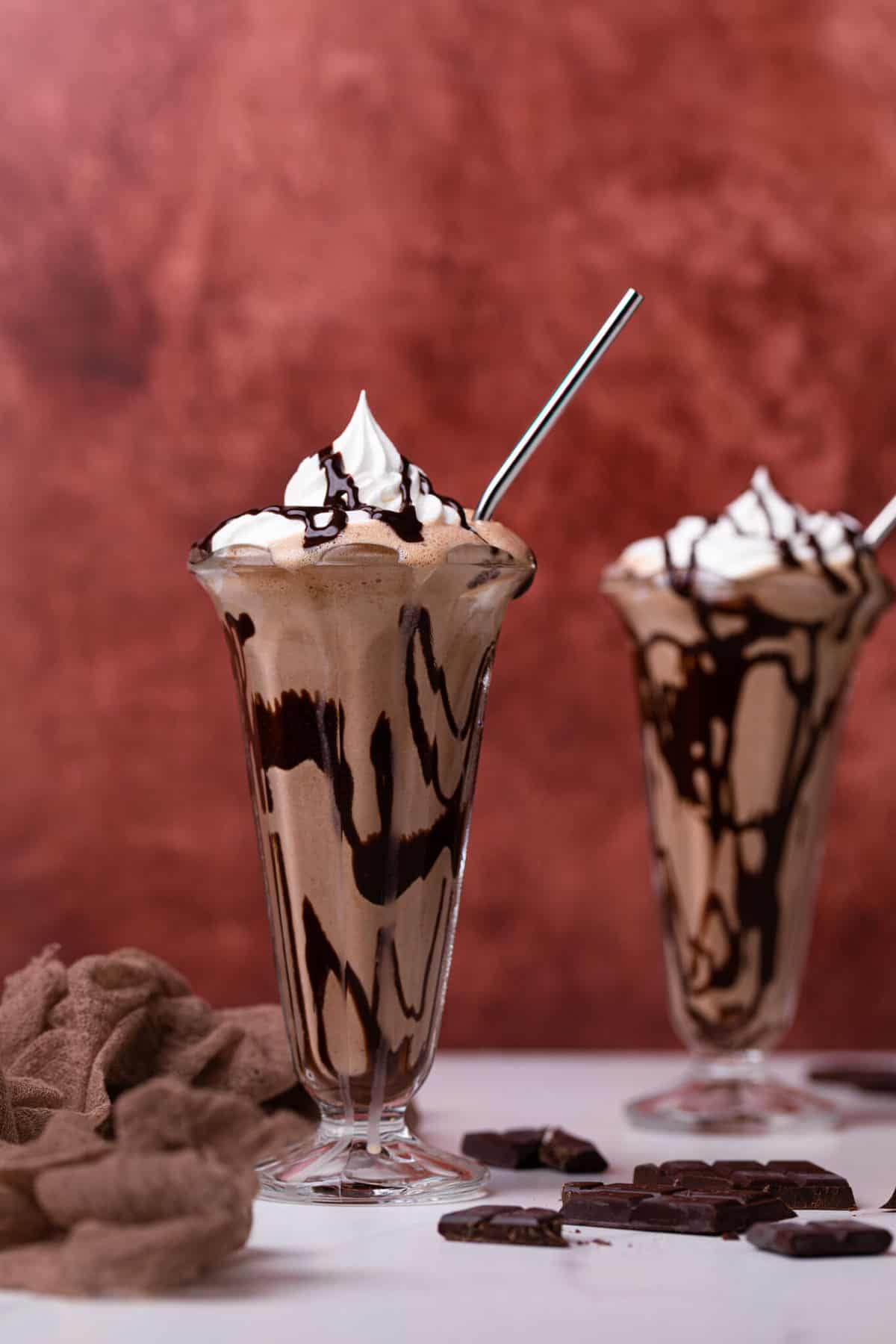 If you're on board with the homemade milkshake train like me, you'll love these other popular Orchids + Sweet Tea recipes:
This 5-Ingredient Strawberry Cheesecake Milkshake recipe is a sweet treat with, yes, just 5 ingredients! The flavor will remind you of a velvety slice of cheesecake with a Graham cracker crumble and fresh strawberry compote to top things off.
This Very Vanilla Cashew Milk Milkshake recipe is the perfect drinkable vegan treat to satisfy your biggest sweet tooth.
This Dairy-Free Chocolate Chip Cookie Milkshake recipe is completely decadent. It's also super to make with only a handful of ingredients and tastes like a freshly baked cookie. What could be better?
This Vegan Peanut Butter + Pecan Milkshake is a real gem. Every sip is full of peanut butter creaminess with a double-thick, ultra-smooth texture.
This fabulous 
Salted Caramel Chunky Milkshake
is incredibly velvety, smothered with caramel sauce with small chocolate chunks. I like to call this milkshake recipe "heaven in a glass".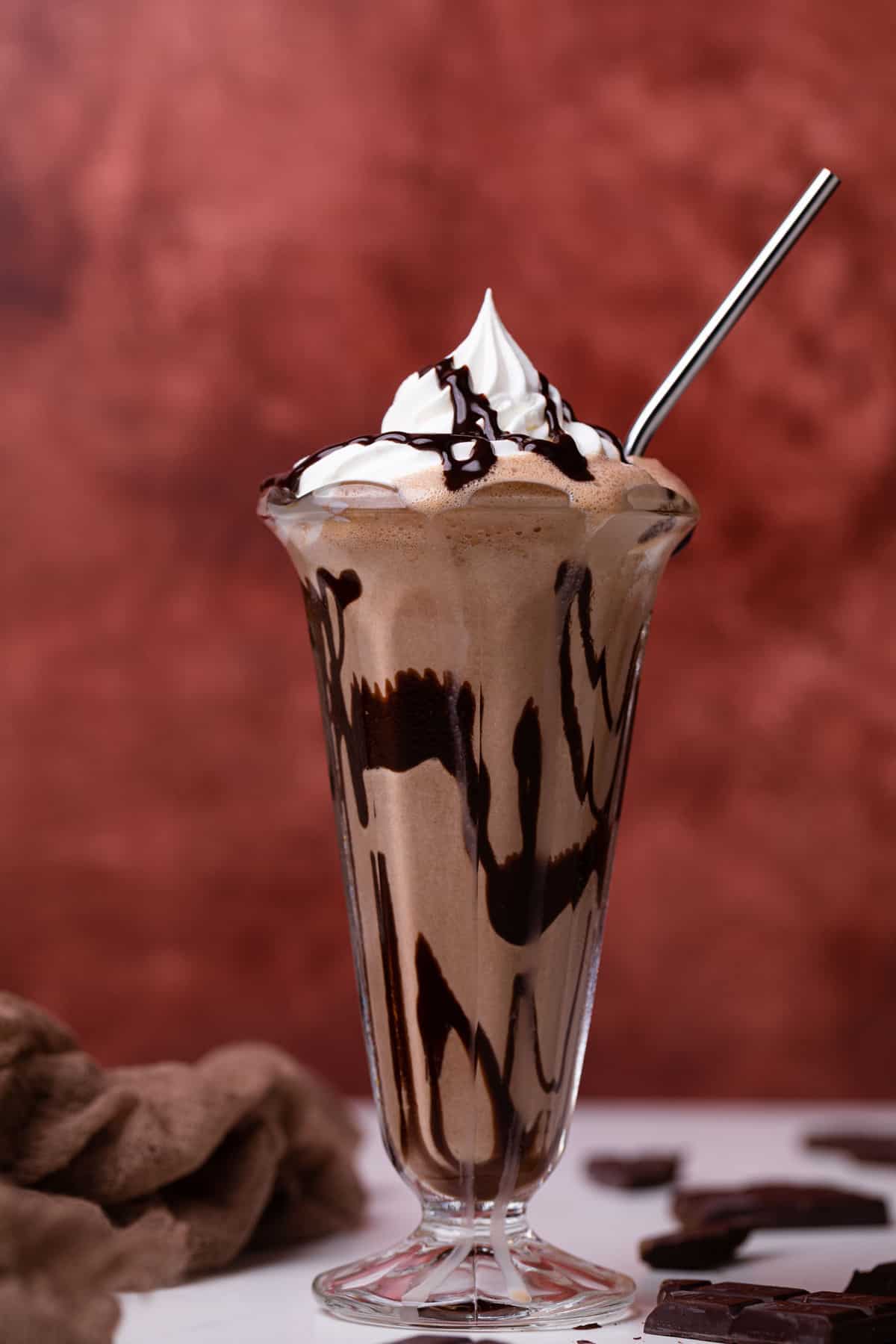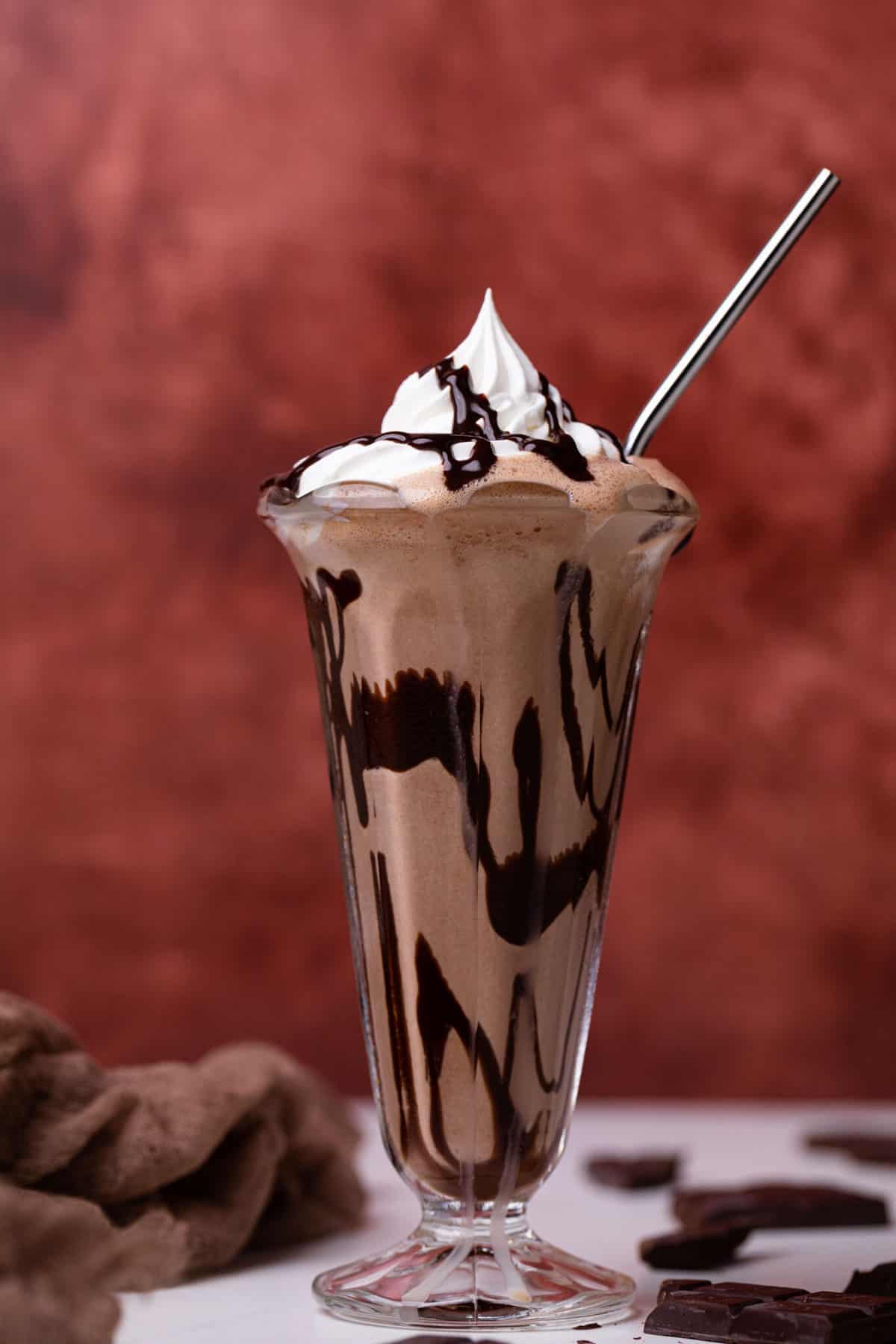 How to Make Vegan Peanut Butter Chocolate Milkshakes
I originally made this recipe for Valentine's Day. However, it's just as welcome the rest of the year! And it's always quick to throw together with three ingredients:
Dairy-free peanut butter ice cream. I love cashew-based ice cream for this milkshake because of its super creamy texture.
Almond milk. You can use another plant-based milk, such as oat, cashew, hemp or soy milk if you like.
Vegan chocolate chips. These will melt down into a silky-smooth chocolate sauce to swirl into your peanut butter milkshake. Dark chocolate chips are usually naturally dairy-free.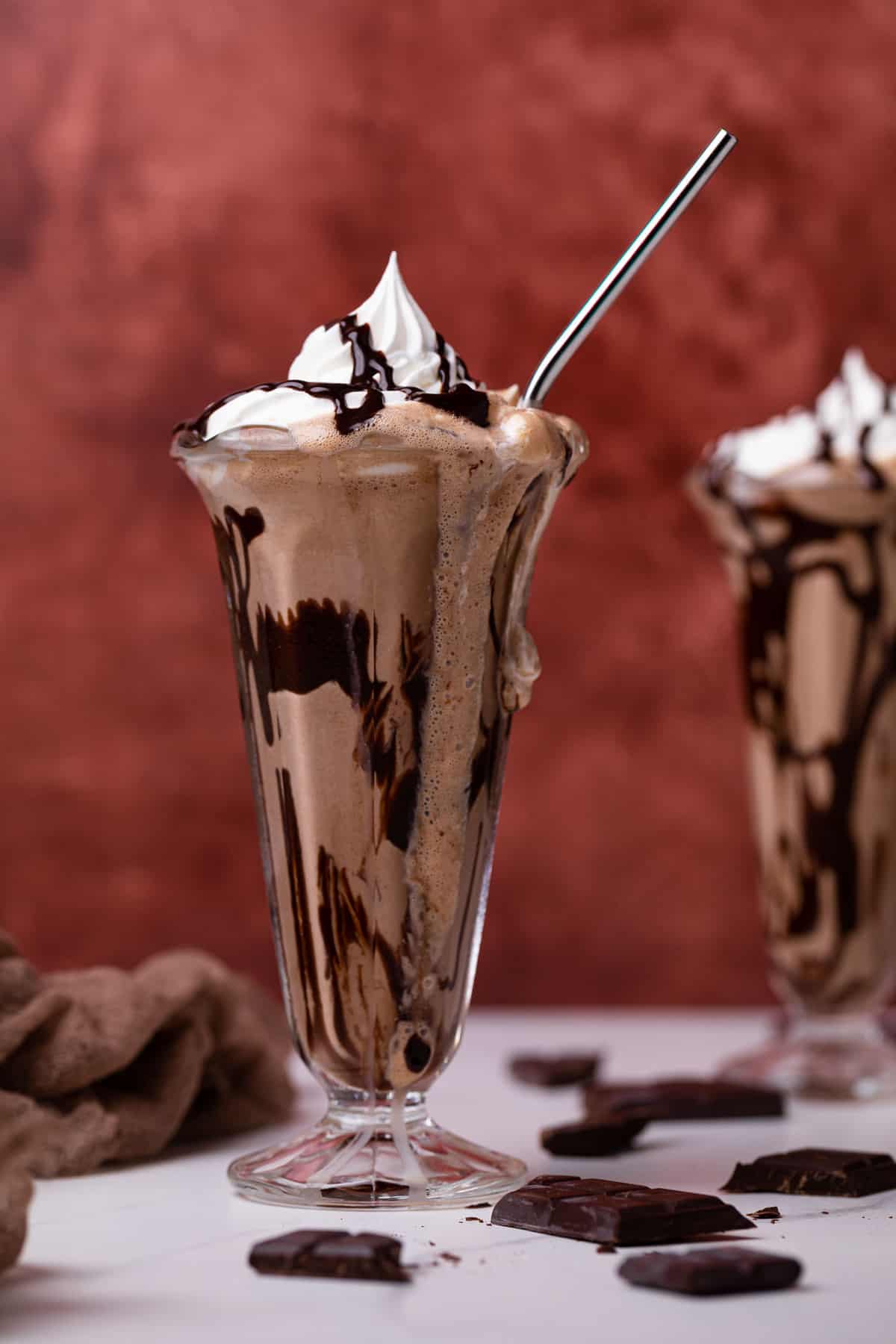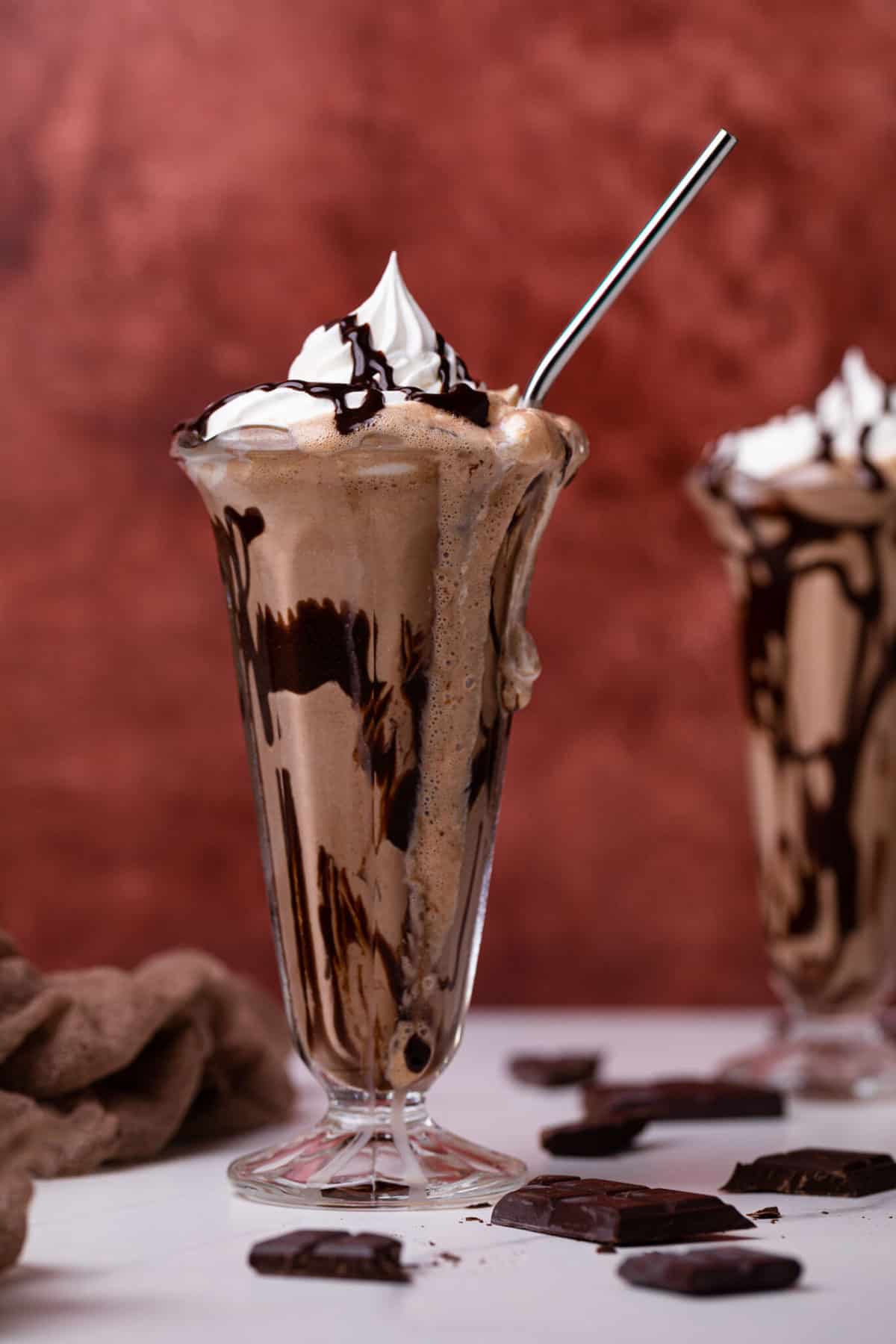 Cacao vs. Cocoa
Let's talk about cacao for a second. Did you know that cacao and cocoa are actually the same things?I was totally confused about this for a long time and assumed that cacao was healthier than cocoa. However, you can actually use them interchangeably in recipes. 
Chocolate is made from cacao beans (or seeds). It's said that companies that use the term 'cacao' are referring to the beans, pods, or ground-up version of the beans. However, the term cocoa is often referred to as the powdered version (which is formed after the fat is pressed out of the bean).
Of course, there's a whole process that happens to turn cacao beans into the chocolate bars we know and love and you can find out more about that here.
The main difference between cacao and cocoa is the fat content. Because cocoa powder is made by pressing out the fat and natural oils from the beans, it's lighter and has fewer calories and grams of fat than raw cacao. Both versions of chocolate are high in antioxidants, which is good enough for me to call it health food!
So of course, it's always best to go with a brand of cacao that contains those nutrients. I personally love Navitas Organics' Cacao, which is high in health benefits and totally delicious! 
Topping Ideas Dairy-Free Peanut Butter Milkshakes
Back to this decadent vegan treat, after you've blended your frosting ice cream shakes in a blender, it's time to serve them up! I recommend popping your milkshake glasses in the fridge or freezer for a few minutes before serving. This will keep your drink smooth, not melty, the entire time you get to enjoy it. 
To top off each teat, I recommend a generous scoop or squirt of vegan CocoWhip and an extra drizzle of chocolate sauce. You can also make your own coconut whip! You can also add crunch with cacao nibs, peanuts or chocolate sprinkles.
MADE OUR RECIPE(S)?
If you choose to make this Best Decadent Dairy-Free Chocolate Milkshake recipe or any other recipe from us, be sure to tag us on Instagram at #Orchidsandsweettea so that we can share the love, rate, comment below, + share!
4

cups

Dairy-Free peanut butter flavored ice cream

1

cup

Almond milk + 2-3 Tbsps

(You can use your favorite plant-based milk)

1

cup

vegan chocolate chips
Optional Toppings:
Cocowhip!

Melted vegan chocolate
STORAGE: Best if consumed right away. If not, ensure that milkshake is stored in an air-tight container or mason jar and kept in the freezer. To thaw out, remove milkshake from freezer and place in the refrigerator for 30-40 minutes for a creamy consistency.
PLANT-BASED MILK: I love using Almond milk, however, you can use your own personal favorite—Coconut, Oat, Soy, etc.
COCO-WHIP!: You can purchase So Delicious' Coco-Whip topping or make it homemade. 
Calories:
1039
kcal
|
Carbohydrates:
133
g
|
Protein:
22
g
|
Fat:
54
g
|
Saturated Fat:
31
g
|
Polyunsaturated Fat:
1
g
|
Monounsaturated Fat:
7
g
|
Cholesterol:
85
mg
|
Sodium:
378
mg
|
Potassium:
517
mg
|
Fiber:
9
g
|
Sugar:
117
g
|
Vitamin A:
1292
IU
|
Vitamin C:
4
mg
|
Calcium:
750
mg
|
Iron:
9
mg