Elevate your pasta night with the best Braised Steak Ragu with Pappardelle pasta—a truly comforting and flavor-packed meal. This easy beef ragu recipe features tender marinated steak, a rich beef and tomato sauce, and a generous sprinkle of grated Parmesan on top. Prepare to indulge in a delicious and hassle-free cozy weeknight dinner that will satisfy your cravings for a hearty ragu pasta. Gluten-free + Dairy-free option.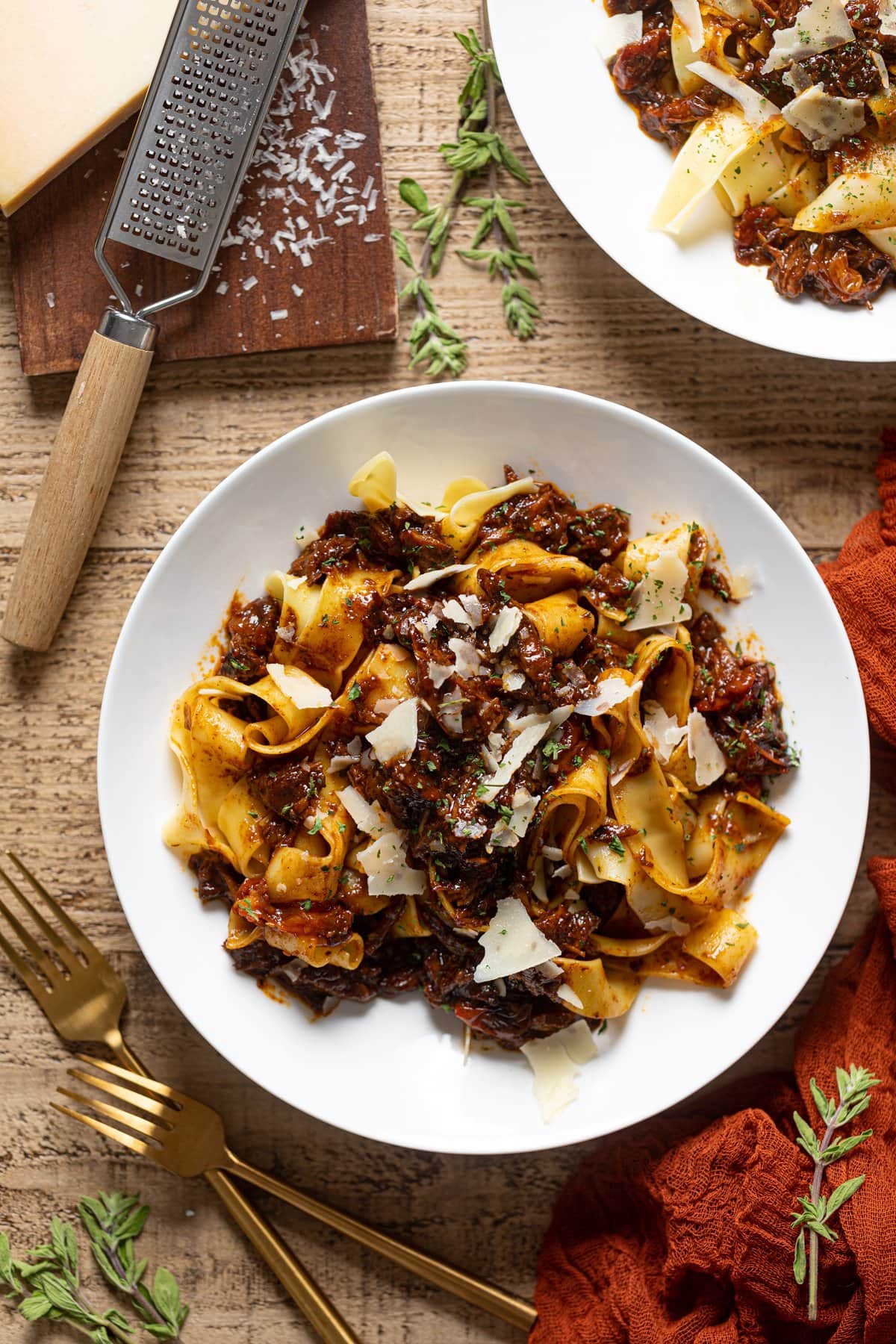 Why Braised Steak Ragu With Pappardelle?
I love a family pasta night! And digging into this piping hot plate of ragu pasta with its hearty meat sauce on a chilly night is a total treat. This braised steak beef ragu recipe checks all of the boxes. It's infused with tons of flavor, has juicy fall-apart tender pieces of meat, and just the right amount of sauce to coat long, springy pasta. On the side, serve your ragu with Easy Fluffy Vegan Brioche Bread or Vegan Garlic Naan Bread as the sauce is amazing to dip into + a sprinkle of parmesan cheese on top.
Jump to:
Cooking with Dutch Ovens
My Dutch oven is one of my most treasured kitchen tools. Every cook, from novice to expert, should have a heavy-bottomed Dutch oven in their arsenal! They make so many different types of dishes and really come in handy. This easy beef ragu recipe, Braised Apple BBQ Ribs + Potatoes, Butternut Squash Sweet Potato Shepherd's Pie, and Easy Chicken Pot Pie are just a few of my go-to Dutch oven recipes.
What is a Dutch Oven?
A Dutch oven is a thick-walled pot with a tight-fitting lid, perfect for making soups, stews, and curries! Both the lid and pot are heat-proof and typically oven-safe, depending on the brand. That means Dutch ovens can make almost any dish.. including desserts like this Dutch Apple Pie!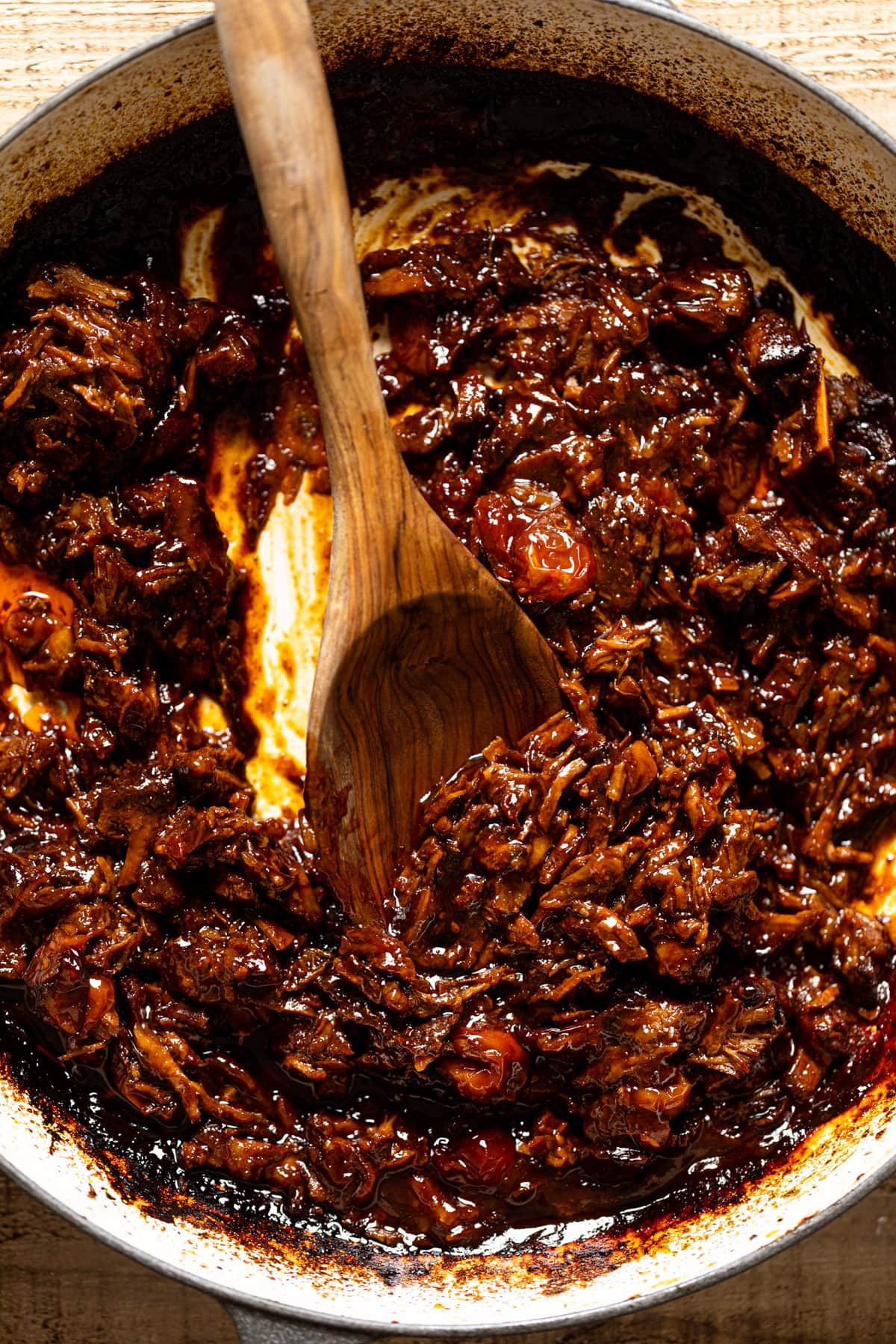 What is a Ragù?
Ragù originated in Italy. It is a slow-cooked meat sauce made with a combination of meats, aromatic vegetables, tomatoes, and other flavorful ingredients. AKA..Get ready for a flavor explosion, my food-loving friends! Ragù is where meaty magic happens. Picture this beef dancing in a tomato-based sauce, slow-cooked with aromatic herbs. It's a saucy party that creates a rich, irresistible delight. Whether you're drenching pasta or building lasagna towers, ragù brings a playful punch to every bite.
What is Pappardelle?
Picture wide, flat ribbons of pasta that provide a delightful mouthful in every bite. They are like the red carpet of noodles, making any sauce feel like a VIP. Pappardelle's broad surface area allows it to carry robust and chunky sauces effortlessly, ensuring each forkful is a satisfying and flavorful experience. Sounds delicious right?
But don't worry if you can't find Pappardelle. Here are a few other options-
Tagliatelle: Think of it as the charming cousin of pappardelle. Wide and ready to soak up all that saucy goodness.
Fettuccine: Slightly narrower than pappardelle but still brings that satisfyingly wide noodle experience.
Wide Egg Noodles: A wildcard option that adds a touch of whimsy to your dish. They may not have the exact shape, but they can still handle sauciness like a champ.
Spaghetti: Ah, the beloved classic! While spaghetti may not be as wide as pappardelle, its long, slender shape is a perfect vessel for any sauce you desire and is readily available!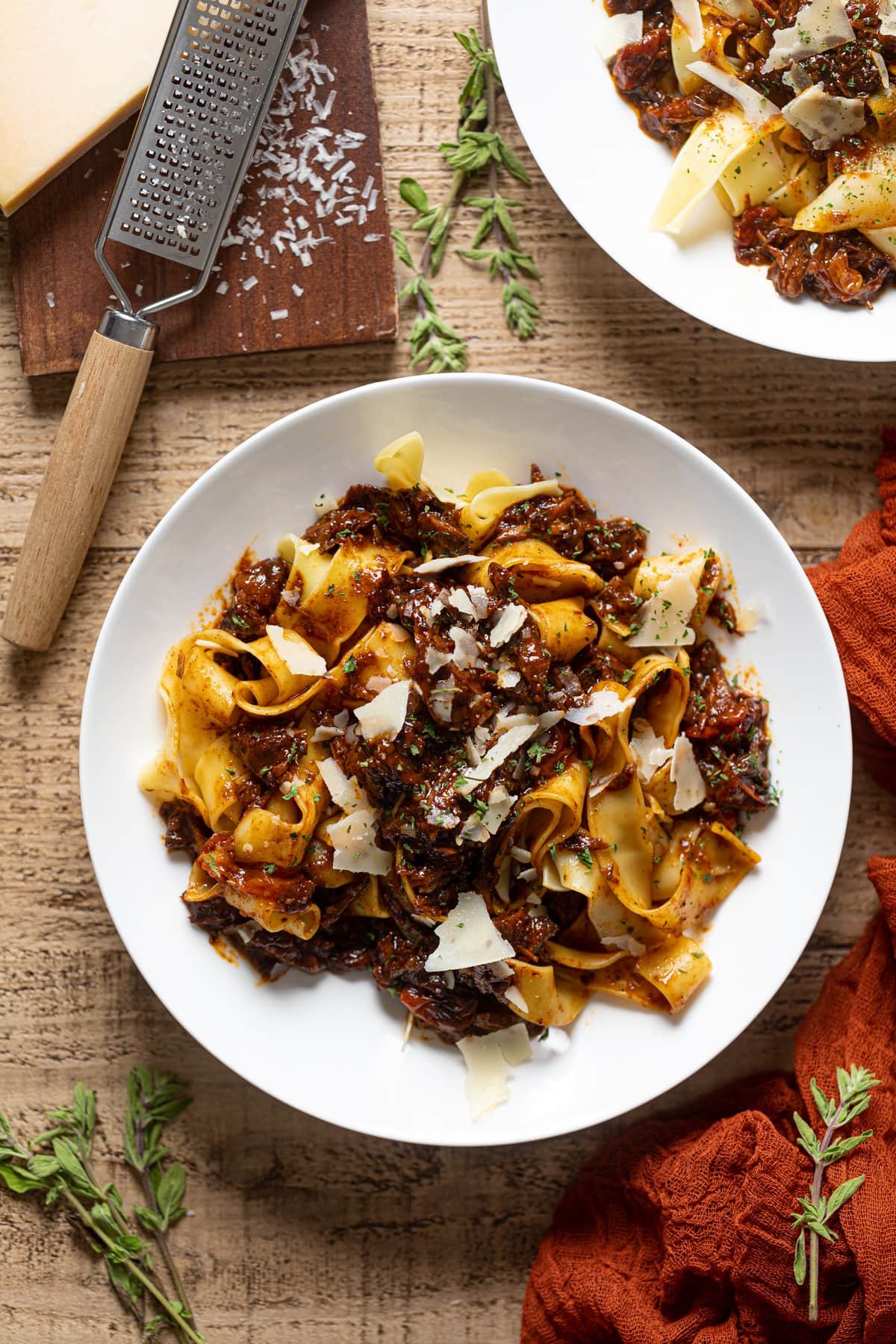 Marinade for Braised Steak Ragu
The first step in making this hearty pasta sauce is to marinate the steak. I like to choose a nice thick bone-in ribeye, T-bone, or porterhouse steak to enrich this sauce. Then, you'll need the following marinade ingredients to infuse the steak with flavor: garlic and onion powder, smoked paprika, dried parsley, A1 steak sauce, and dry red wine.
These spices and seasonings will help tenderize the meat and seep into the meat to add tons of flavor. A thick steak like this can withstand a long marinade up to overnight. Then, before you start cooking, let the meat come to room temperature for 30 to 45 minutes.
How to Make Steak Ragu
Once the steak is nicely marinated, you're ready to make the sauce. You'll need:
Butter. Use unsalted so you can better manage the seasoning of your sauce.
Carrots. Peel your carrots to remove any dirt on the outside.
Fresh garlic
BBQ sauce. Choose a high-quality BBQ sauce that's not too sweet. Or make your own using this delicious recipe.
Dry red wine. This is optional but recommended for the richest flavor.
Beef stock. Use low-sodium stock or make your own!
Herb-roasted tomatoes. You can make your own using this recipe or use store-bought canned tomatoes.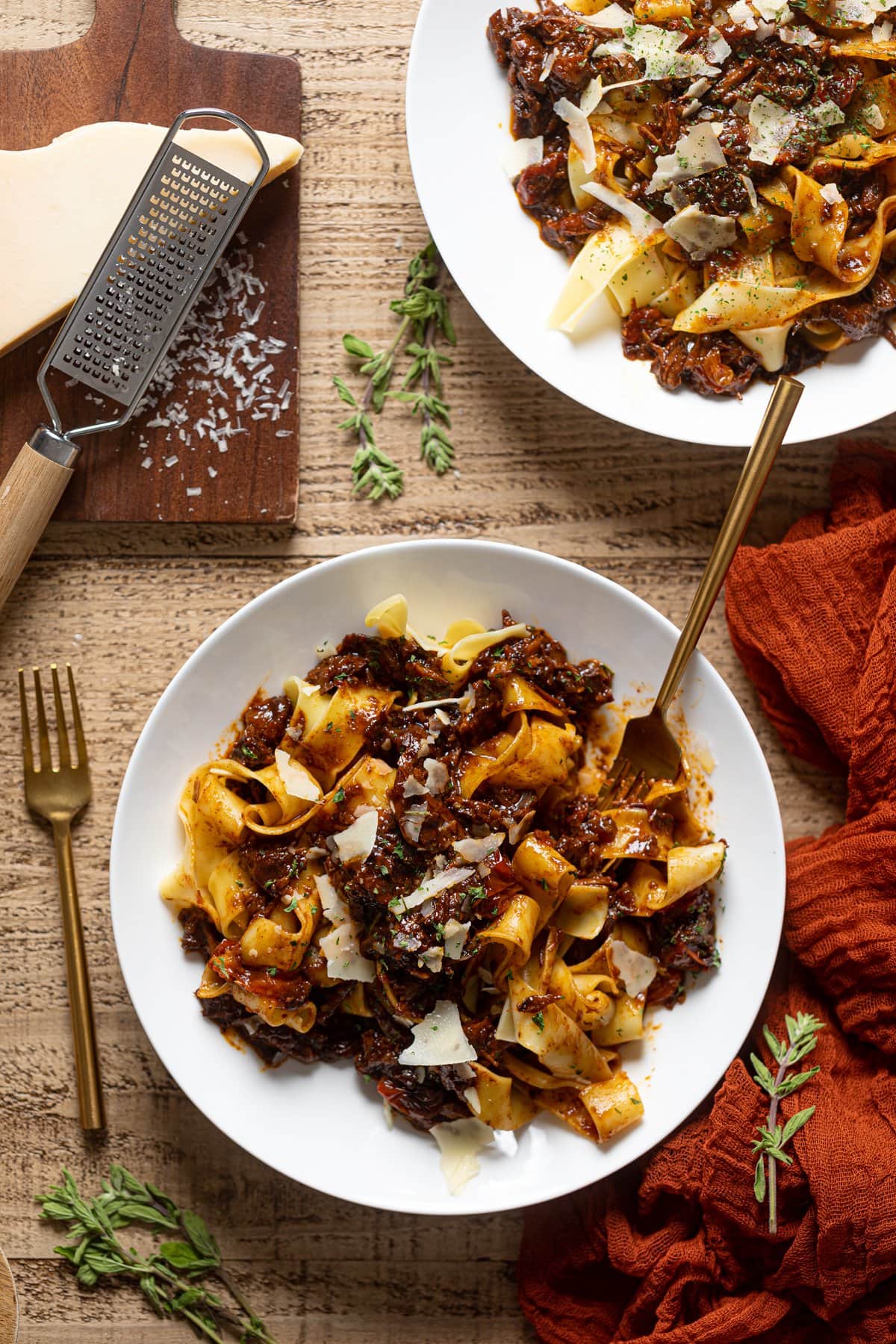 What To Serve This Beef Ragu Alongside
When it comes to serving this mouthwatering beef ragu, there are some options that will truly elevate your meal. First off, don't forget to have some crusty bread on hand. I love this homemade Vegan Garlic Herb Kale Bread. Trust me; you'll want to dip it into that luscious, saucy goodness. If you want a little freshness, serve it with a salad on the side, like this Roasted Cauliflower Green Goddess Salad. It's like a fresh burst of flavor that complements the dish beautifully.

But here's the thing. This beef ragu is so darn amazing that you can honestly enjoy it all by itself. Seriously, the slow-cooked meat, the aromatic sauce + thick luscious Pappardelle—everything is just bursting with flavor. So, feel free to dig in and savor every single bite. It's a dish that stands tall on its own!
Why You Will LOVE This Braised Steak Ragu
Tender, melt-in-your-mouth steak
Flavor-packed tomato sauce
Comforting and cozy
Versatile and crowd-pleasing
Pasta lover's dream-- Hello, pasta night!
It's simply downright delicious!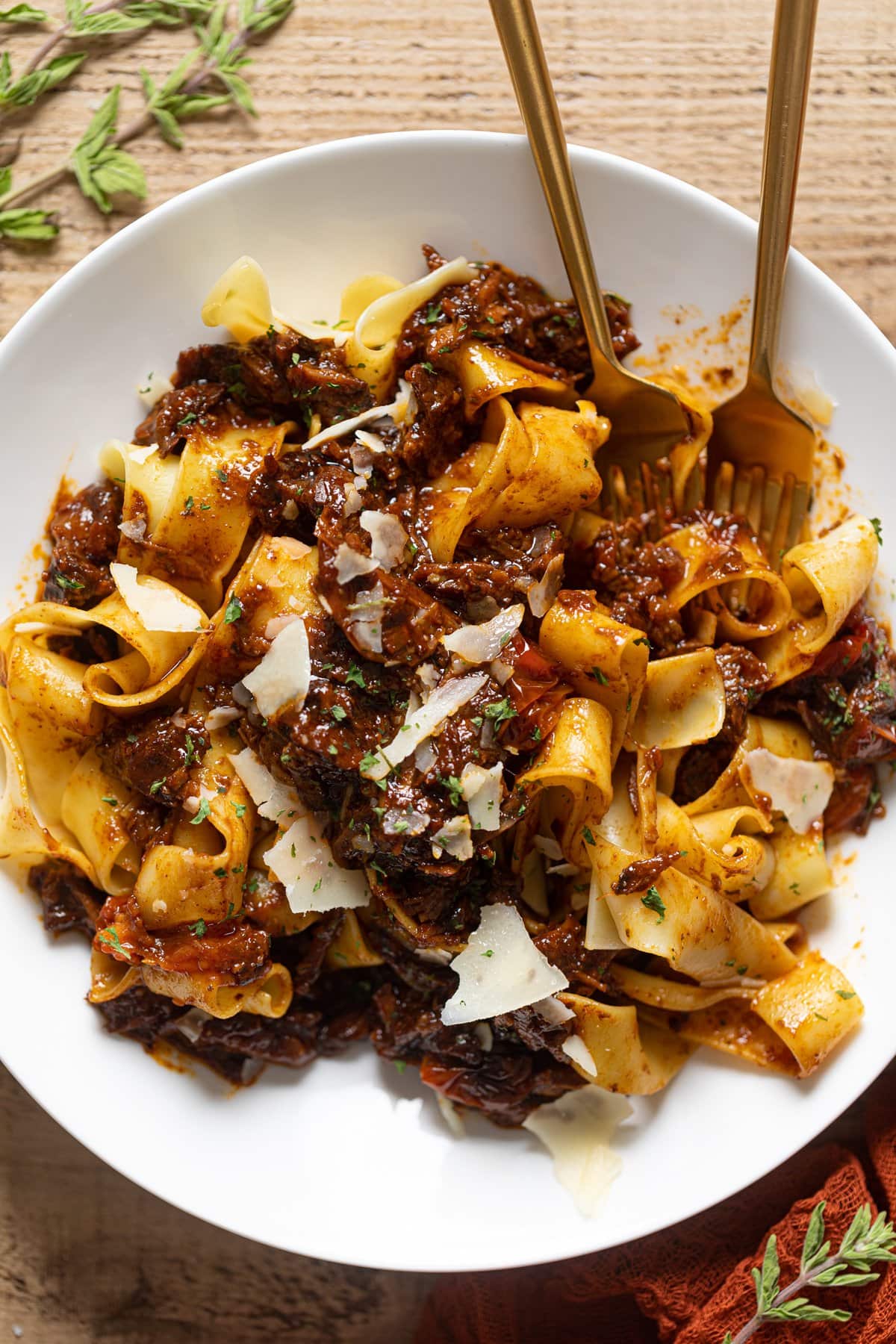 Braised Steak Ragu with Pappardelle Q + A's
How to Store Beef Ragu?
If you have leftover steak ragu sauce, store it in an airtight container in the fridge for up to four days. You can also freeze the sauce (separately from the pasta) for up to six months. To serve, defrost the sauce in the fridge overnight, then reheat it on the stove or in the microwave.
Can I Make This Easy Beef Ragu Recipe Ahead of Time?
Absolutely! In fact, braised dishes like steak ragu often taste even better when made in advance. The flavors have more time to develop and meld together. You can prepare the ragu a day or two ahead, refrigerate it, and gently reheat it when ready to serve.
Can I Make This Braised Steak Ragu Gluten-free?
Yes, simply just swap out the Pappardelle pasta with a Gluten-free pasta of your choice!
How Can I Make This Ragu Pasta Dairy-free?
To make this beef ragu recipe dairy-free, simply use dairy-free butter and either skip the parmesan on top or use a dairy-free alternative like this Just Like Parmesan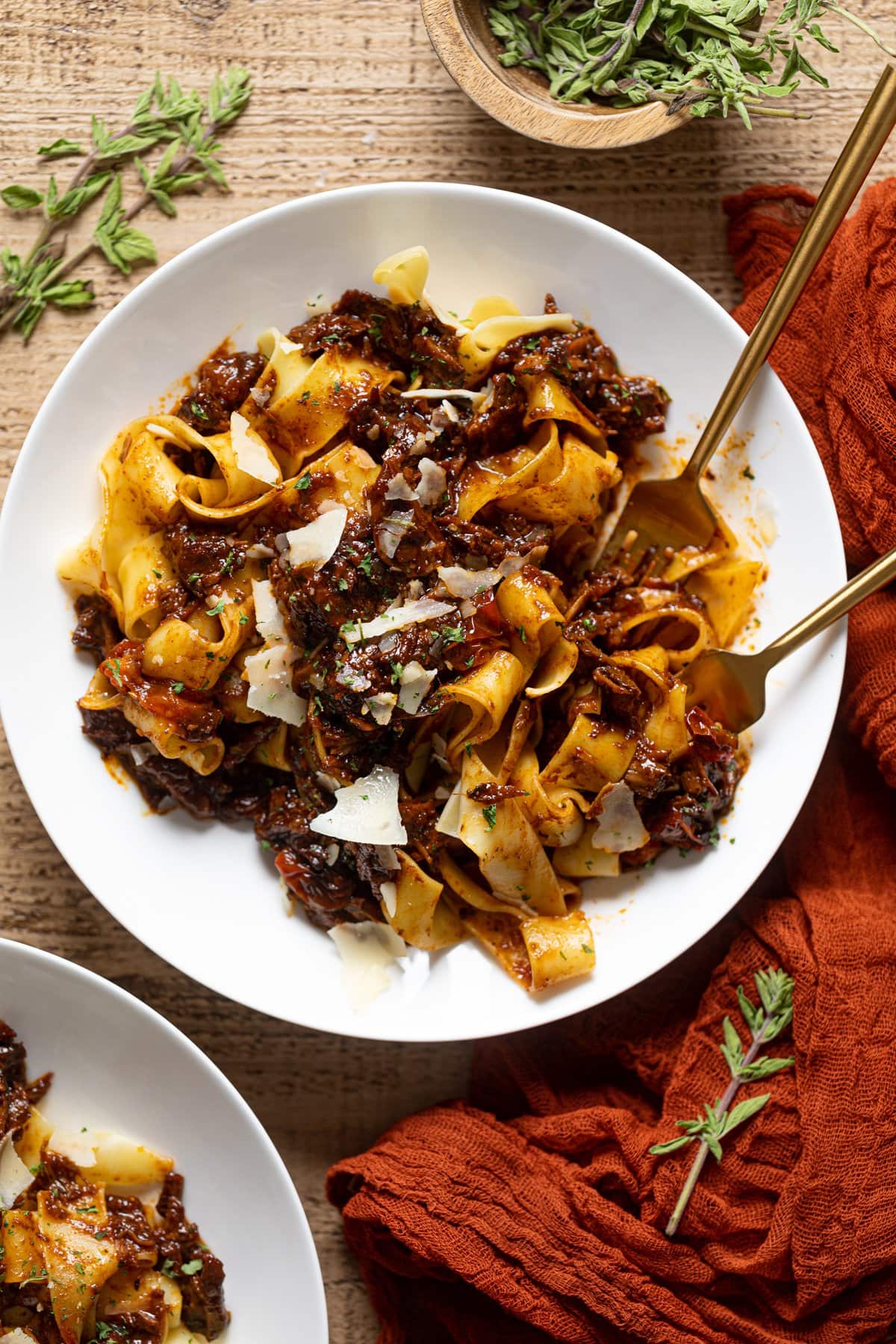 Cozy Weeknight Pasta Recipes
MADE OUR RECIPE(S)?
If you make this Braised Steak Ragu, tag @orchidsnsweettea_ on Instagram and hashtag it #orchidsandsweettea
Cook Time:
3

hours
15

minutes
Total Time:
3

hours
35

minutes
SAUCE:
4

Tbsps

unsalted butter

2

Tbsps

Extra virgin olive oil

2

medium

carrots, peeled + chopped

4

garlic cloves, minced

1

cup

premium BBQ sauce

½

cup

dry red wine, optional

1

cup

beef stock, low-sodium

2

cups

herb roasted tomatoes

sea salt + black pepper, to taste
MARINATE THE STEAK:
Clean the steak, rinse, and add all of the marinade ingredients together in a large ziplock and refrigerate for at least 8 hours or overnight for the best results. Once ready to use, remove from the fridge and let sit at room temperature for 30-45 minutes.
SEAR THE STEAK:
In a large 12-inch cast iron skillet over medium-high heat, add the butter and let it melt. Add the garlic and sauté until fragrant. Place both steaks flat on the surface of the skillet and allow the side to sear until slightly charred, about 4-5 minutes. Flip the steaks unto their opposite sides and sear for another 4-5 minutes. Remove from heat.
ADD SAUCE + BRAISE:
Preheat the oven to 375 degrees Fahrenheit.

In a bowl, add together the BBQ sauce, red wine, beef stock, and season with salt + black pepper, mixing everything together.

Add the steak, chopped carrots, roasted tomatoes, and BBQ sauce in a large dutch oven, stirring everything together.

Add the Dutch oven to the preheated oven, cooking everything for 2/12 to 3 hours, stirring slightly every 30 minutes to ensure that meat isn't sticking to pot or burning. NOTE: If the sauce drys out too quickly, add an additional 1 cup of beef stock (you can do this twice if needed) and stir to combine. As it continues to cook, it will thicken and create more "sauce".
COOK THE PASTA:
At this point, cook pasta according to packaging. NOTE: Pappardelle pasta doesn't take a long time to cook, usually 8-10 minutes (however, you should cook at 6-8 minutes or so—'al dente').

Once the steaks have become extremely tender along with the veggies, remove everything from the oven, "shred" the meat apart using two forks until they resemble "pull-pork", and serve immediately atop cooked pasta and garnish with freshly-grated parmesan.

Bon Appetit!
STORAGE: Any leftovers can be kept in a tightly sealed container and refrigerated for up to 3-4 days.
HOMEMADE BBQ SAUCE: To make your own BBQ sauce, see my recipe for BBQ Cauliflower Wings.
STORAGE (BBQ SAUCE): Store leftovers in an airtight container and refrigerate for up to 2 weeks.
PASTA: You can use other long pastas like

Fettuccine, etc. however, I would recommend tossing with tongs to ensure that pasta is fully manageable and fully coated. Otherwise, other pastas such as Penne, Rigatoni, etc. are perfect.
Calories:
765
kcal
|
Carbohydrates:
46
g
|
Protein:
38
g
|
Fat:
43
g
|
Saturated Fat:
19
g
|
Polyunsaturated Fat:
2
g
|
Monounsaturated Fat:
20
g
|
Trans Fat:
0.5
g
|
Cholesterol:
134
mg
|
Sodium:
1993
mg
|
Potassium:
925
mg
|
Fiber:
3
g
|
Sugar:
30
g
|
Vitamin A:
6444
IU
|
Vitamin C:
7
mg
|
Calcium:
108
mg
|
Iron:
5
mg