This isn't your typical hand pie or pastry. These Spicy Jamaican Beef Patties come wrapped in a buttery, flaky crust, tender + moist beef filling coupled with the many authentic Jamaican spices-----creating a complete burst in flavor and real heat!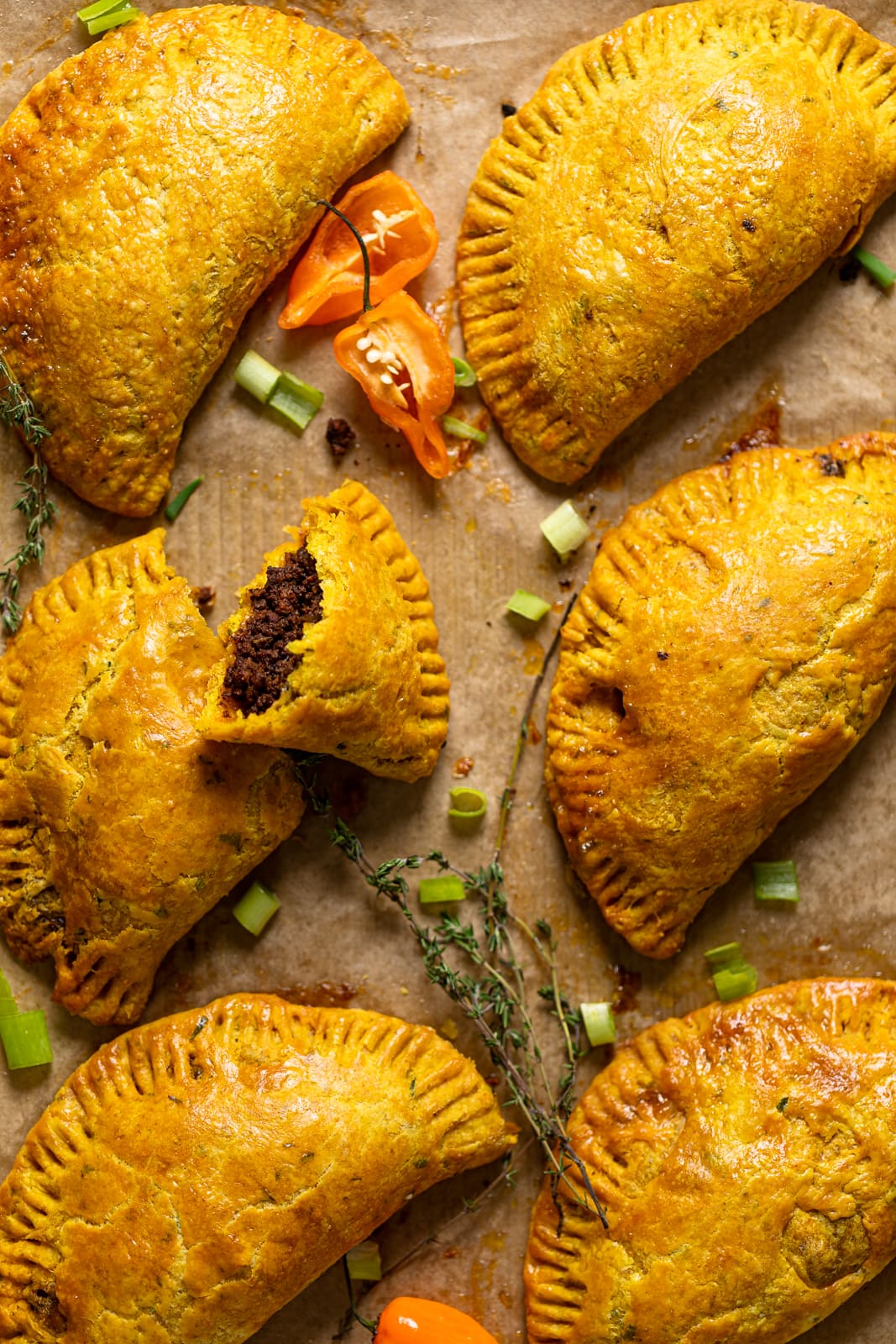 When it comes to making your own pastry, whether it be for a patty, pie, hand pie, turnover, etc.---it can feel intimidating for those who aren't natural bakers!
However, after much practice, I've learned that the trick to a flaky crust and pastry is the butter (both grated + cubed) and ensuring that the water/milk is SUPER COLD! Everything else works together perfectly after that main (and most important) step. There's nothing as delicious as homemade Flaky Jamaican Curry Chickpea Kale Veggie Patties---especially when they're achieved in just a few simple steps.
Usually, my recipes are inspired from my Southern roots, which as you may know, comes with a lot of flavor! However, this recipe stems more closely with the other part of my heritage---Jamaica! Growing up, I had the best of both worlds---Southern food (living in Florida) and Jamaican food, which came naturally for the people in my family, since most of them were born and raised there. Starting in my pre-teen years, Jamaican food became a larger staple in our household and since then, it's been one of the biggest reasons why I LOVE SPICE so much! Haha. Plus, my grandfather was a HUGE lover of spice and literally ate scotch bonnet peppers raw with his chicken. I know, that's pretty crazy! I'm not there yet!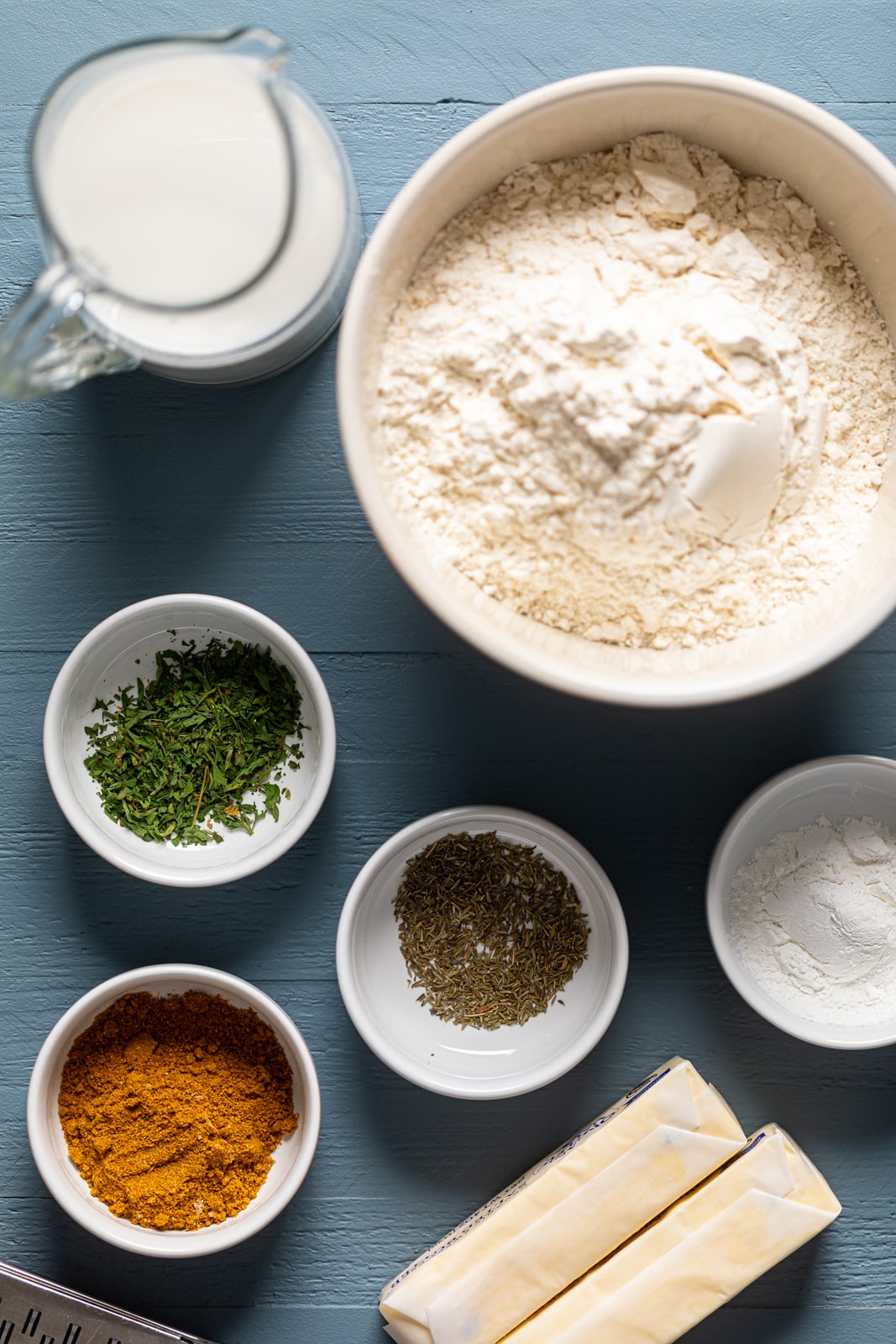 Don't worry---if you're not a meat eater or just prefer not eating meat, I created these Spicy Jamaican Vegan Patties which come loaded with veggies and it's INSANELY GOOD!
The Secret to Super Flaky Spicy Jamaican Beef Patties
As you can see, I'm no stranger to homemade patties, pop tarts, or pastries of any sort. Because I've made them so many times, I feel like I have completely perfected the recipe. Here's my secret to a super flaky Jamaican beef patty:
GRATE + CUBE THE BUTTER!
Yes---I know. You might be wondering why I've stated this but it works. Since we'll be using 2 sticks in this recipe, I simply grate 1 stick of butter and cube the other. Honestly, I think that the variation in the butter pieces helps some to melt faster and settle more in the dough, which creates a beautiful flakiness like no other.
To take it a step further, you can add the cubed butter to the dry ingredients and blend it into "peas-like" pieces--leaving out the grated butter for now. Then after the dough has chilled and you've begun rolling it out until a floured surface, simply add the grated butter in, fold a few times and then roll it out. This creates butter in more than one layer which creates a heavenly crust too.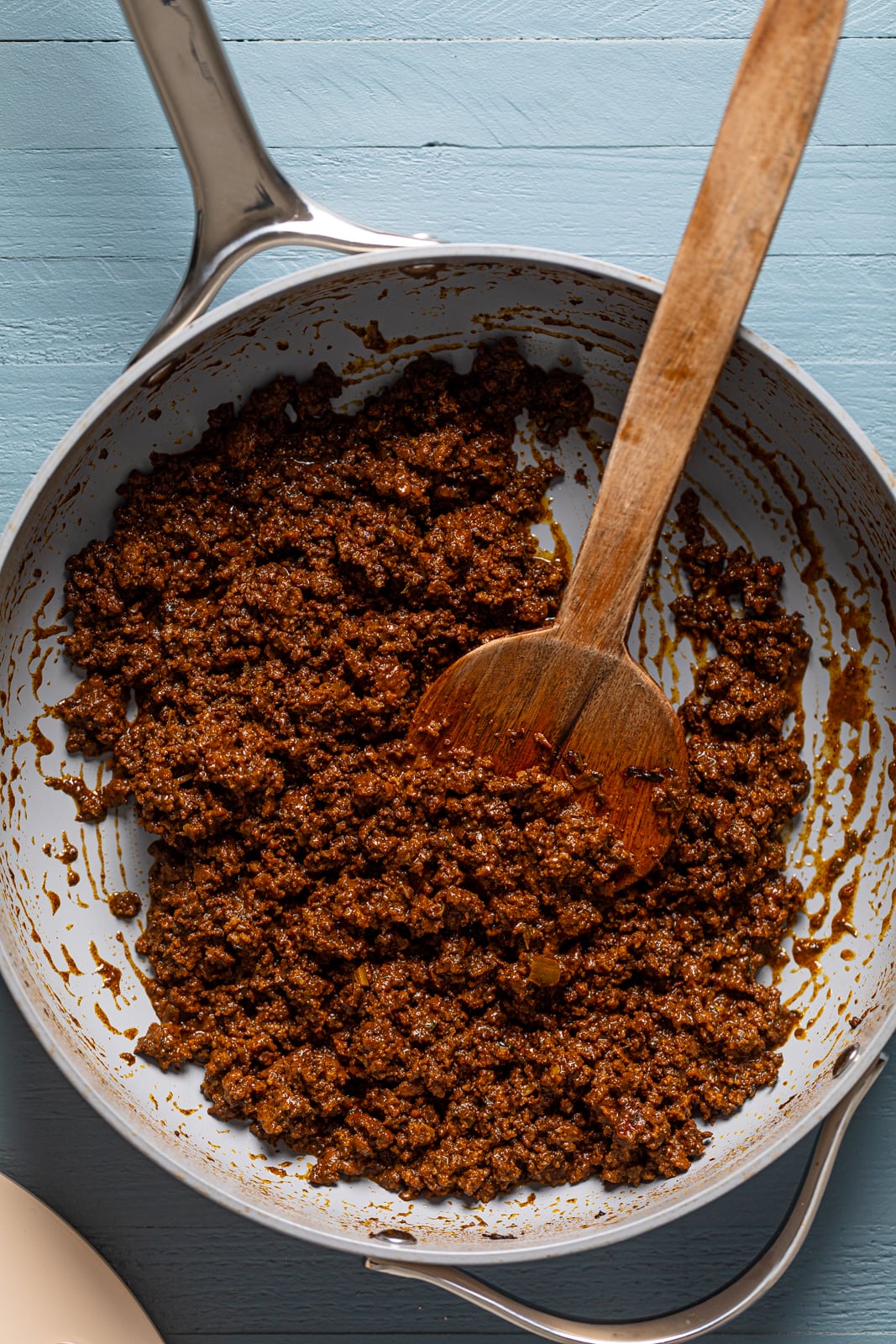 Ingredients in Spicy Jamaican Beef Patty
CRUST:
2 ½ cups organic all-purpose flour
1 tablespoon baking powder
1 tablespoon curry powder
½ teaspoon ground turmeric
1 tsp dried parsley
½ tsp dried thyme
1 cup salted butter, COLD + cubed (also grated)
1 cup Almond milk, Very COLD + 2 Tbsps!
Storage Suggestions
Store leftover beef patties in an airtight container at room temperature for up to 3 days. You and serve slices at room temperature or warm them in the microwave for 30 seconds to a minute.
You can also freeze the hand pies for up to three months. When you want to serve it, defrost the pastry on the counter for a few hours to come to room temperature.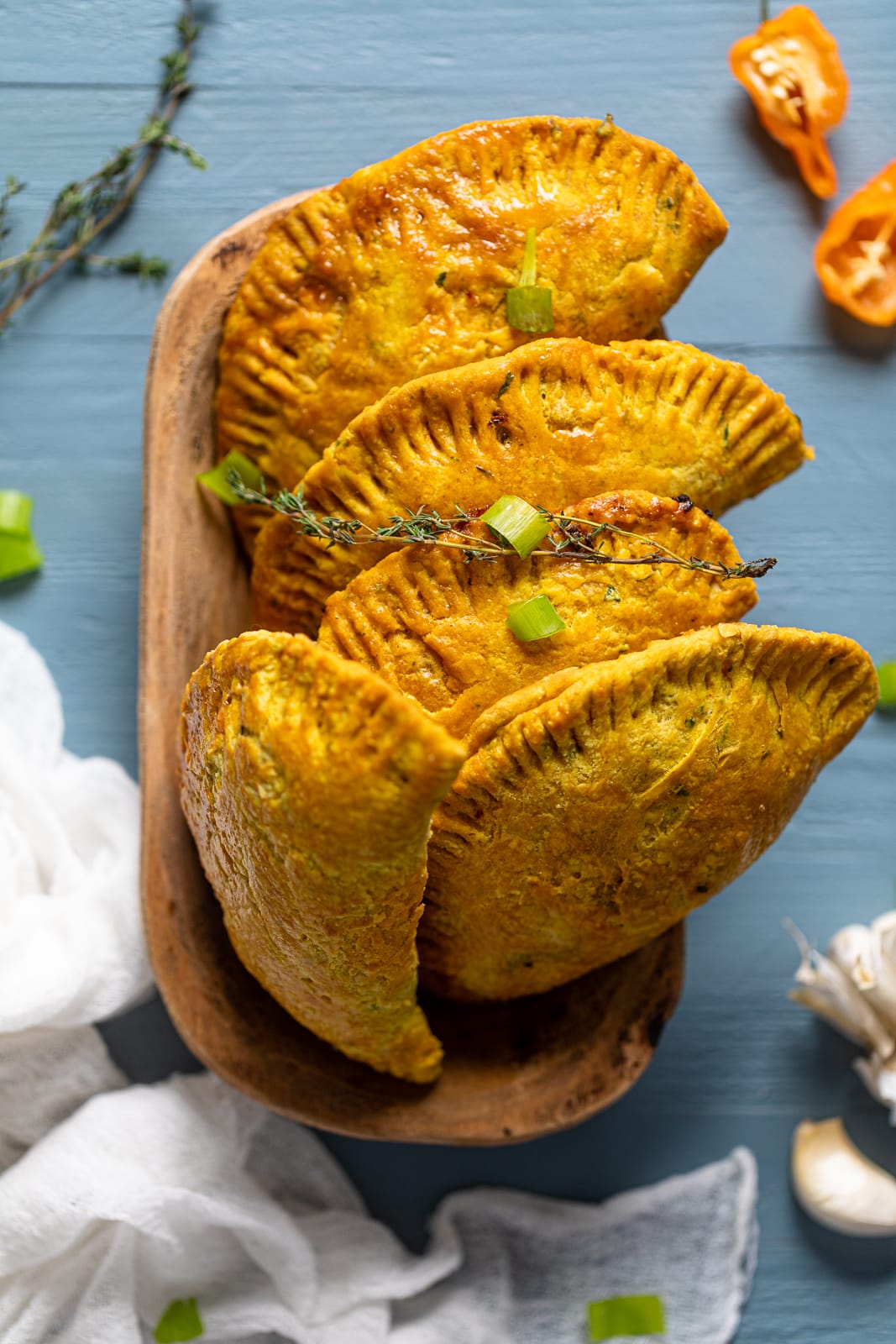 10 Ingredients to Keep Handy When Making Jamaican Dishes
I share my top 10 ingredients that are a must-have for making Jamaican dishes. These ingredients do not necessarily need to be gluten or dairy-free, but they are incredibly important in creating authentic and flavorful Jamaican dishes.
Jamaican Herbs That You Should Always Keep On Hand + Remedies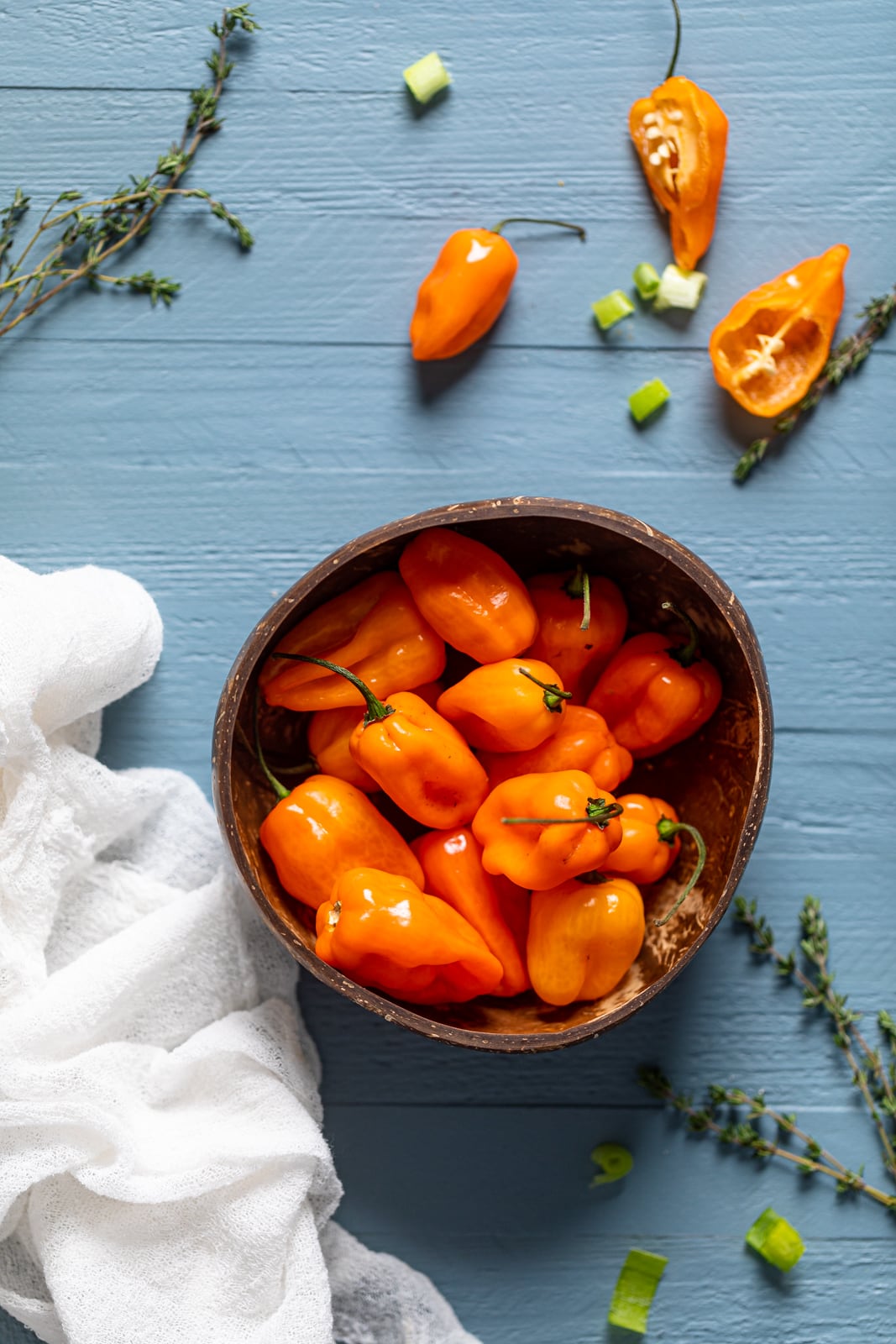 Other Jamaican Recipes That I Love
Love these Spicy Jamaican Beef Patties and want more Jamaican cuisine? Here are some of my faves!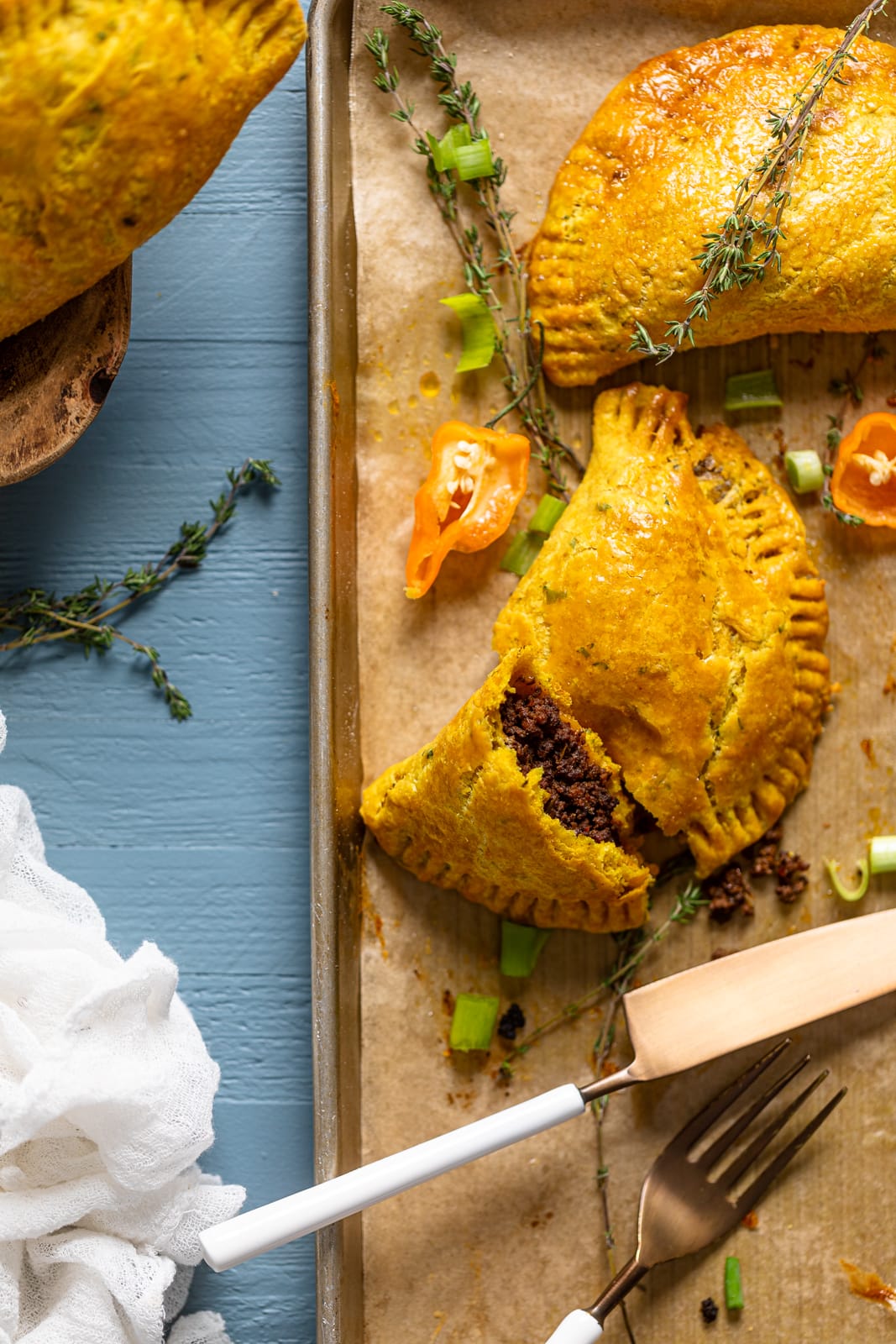 MADE OUR RECIPE(S)?
If you choose to make these Spicy Jamaican Beef Patties or any other recipe from us, be sure to tag us on Instagram at #Orchidsandsweettea so that we can share the love, rate, comment below, + share!
Total Time:
1

hour
10

minutes
CRUST:
2 ½

cups

organic all-purpose flour

1

tablespoon

baking powder

1

tablespoon

curry powder

(For authenticity, it's great to use Jamaican curry)

½

teaspoon

turmeric powder

1

teaspoon

dried parsley

½

teaspoon

dried thyme

1

cup

salted butter, cubed + grated

(See Notes!)

1

cup

unsweetened Almond milk, VERY cold + 2 Tbsps!

(You can use whole milk or your favorite plant-based milk!)
BEEF FILLING:
1

lb.

organic grass-fed ground beef

2

Tbsps

Extra virgin olive oil

1

scallion, chopped

(aka "green onions")

2

scotch bonnet peppers, minced

(You can also use habanero peppers; reduce amount to lessen spiciness)

2

garlic cloves, minced

1

cup

organic beef stock + ¼ cup

(Reduce a bit for less gravy)

½

teaspoon

ginger powder

(You can use freshly minced ginger root also)

2-3

fresh thyme sprigs

1

teaspoon

sea salt

1

teaspoon

black pepper

1

teaspoon

garlic powder

1

teaspoon

onion powder

1

teaspoon

smoked paprika

1

teaspoon

Flavo Riz, optional

(You can substitute with all-purpose seasoning!)

1

tablespoon

soy sauce

1

tablespoon

browning

(I love using the Grace brand)

1

tablespoon

Jamaican hot sauce, optional

(You can also use your favorite hot pepper sauce)

½

teaspoon

beef bouillon base

(optional)

Pinch of

red pepper flakes
TO MAKE THE CRUST:
In a large bowl, add the flour, baking powder, curry powder, turmeric, parsley, and thyme, whisking them all together until combined.

Add the cubed + grated butter and using a pastry blender, blend butter into dry ingredients until the mixture becomes "peas-like" and crumbly.

Pour the cold milk mixture and stir (working it together with one hand) until the dry ingredients are moistened. NOTE: If the ingredients feels a little too dry, add 1 tablespoon of cold milk at a time, until it's moistened BUT not too wet!

Now, shape the dough into a ball and wrap it in plastic wrap and flatten it slightly and chill for at least 1 hour. NOTE: The dough will look rather light yellow in color. It will darken and become golden once baked.
MAKE THE FILLING:
In a bowl, add the ground beef along with the seasonings: salt, black pepper, onion powder, Flavo riz (or all-purpose seasoning), smoked paprika, garlic powder, ginger powder, and red pepper flakes, mixing everything together until meat is coated in seasonings.

In a medium skillet over medium-high heat, add the oil. Once heated, add the minced garlic and scotch bonnet pepper until fragrant and translucent. Add the seasoned ground beef and stir until the meat begins to change color a bit. Continue to stir (and breakdown the meat with a wooden spoon) to ensure that it cooke through well and becomes small pieces. Reduce the heat and let it simmer for 5-6 minutes.

Add in the soy sauce, beef bouillon, hot sauce, browning, beef stock, and thyme sprigs, and let the meat continue to simmer for another 20-25 minutes or until the beef is cooked through fully and brown in color (both inside and out).

NOTE: If the beef dries out quickly, add ¼ cup of additional beef stock and 1 tablespoon of flour to create a thick-like sauce for the filling.

Remove beef from heat and let it cool completely.
ASSEMBLY:
Preheat the oven to 400 degrees Fahrenheit and line a baking sheet with parchment paper.

Once chilled, remove the dough from the refrigerator and place on a lightly floured surface, rolling it out into a large rectangle (about 3 mm thick). Cut into medium circles (I use a small saucepan cover or a large biscuit cutter---for a smaller patties), until all dough it used.

On one half of the circular dough, lightly brush egg wash to ensure that they close together best! On the other half of the dough, add 2 Tbsps of the beef filling and carefully bend the egg wash half over the side with the beef filling (creating a half moon shape). Gently press the edges down and using a fork, carefully "crimp" around the edges and place patty onto the baking sheet. Repeat until all patties are made.

Lightly brush all the patties with remaining egg wash and bake in the oven 20-25 minutes, until golden brown and the crust looks crispy.

Once done, remove from the oven and let them cool for a few minutes (10 minutes or so).

Bon Appetit!
STORAGE: Leftover patties can be stored in an airtight container for up to 3 days. To serve warm, heat in the microwave, or flat in a toaster oven. 
FREEZE: For longer storage–the patties can be stored in the freezer. After they have baked and are completely cooled, simply place your patties onto a baking sheet (spaced apart) and freeze them for 2-3 hours. Once frozen, transfer them to a zip loc bag and reheat when ready to eat! 
TURMERIC: While adding turmeric is optional, it definitely has benefits: powerful medicinal properties, natural anti-inflammatory ingredient, increases antioxidant activity in the body, and more.
FOOD PROCESSOR FOR CRUST: If using a food processor to incorporate milk to flour/butter mixture, ONLY ADD ¼ cup of milk AT A TIME to your dough, keeping it on "pulse" to avoid the dough from breaking down too much and it becoming "watery". With this method, you may not need the entire 1 cup of almond milk.
GRATED + CUBED BUTTER: To create a beautifully crumbly and flaky crust, I suggest grating 1 stick of butter and cutting the second stick into cubes. To grate your butter, add the 1 stick to a freezer for 15 minutes. Remove from freezer and using a grater, grate into pieces. 
SALTED VS. UNSALTED BUTTER: You can always substitute the salted butter with unsalted butter. When doing so, just add ½ teaspoon salt to dry ingredients for crust.
Calories:
698
kcal
|
Carbohydrates:
45
g
|
Protein:
21
g
|
Fat:
48
g
|
Saturated Fat:
25
g
|
Polyunsaturated Fat:
3
g
|
Monounsaturated Fat:
17
g
|
Trans Fat:
2
g
|
Cholesterol:
133
mg
|
Sodium:
1260
mg
|
Potassium:
418
mg
|
Fiber:
3
g
|
Sugar:
1
g
|
Vitamin A:
1258
IU
|
Vitamin C:
10
mg
|
Calcium:
232
mg
|
Iron:
6
mg
Spicy Jamaican Beef Patties.