This Easy Vegan Broccoli Alfredo Pasta is the perfect easy weekday meal for Meatless Monday. If you want a delicious family-friendly meal that you can get on the table fast, alfredo pasta is it! Think creamy dairy-free Alfredo sauce made from cauliflower and cashews mixed alongside some hearty pasta. Toss in crisp-tender healthy broccoli for a well-rounded dinner. Ready in only 30 minutes! This vegan take on this traditional pasta dish is a delicious and guilt-free way to satisfy all your pasta cravings. Vegan, Dairy-free, Egg-free! Gluten-free Option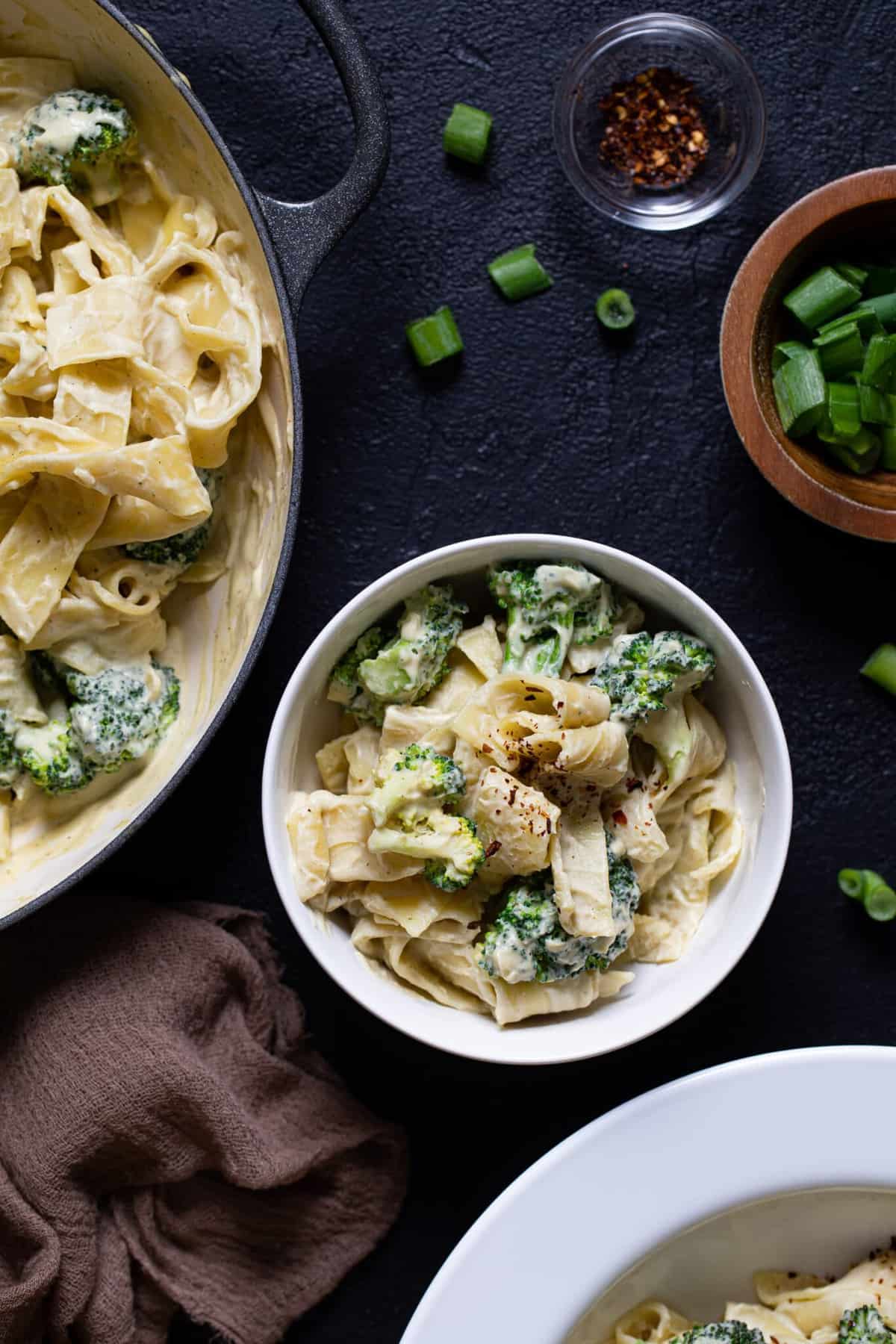 I think it's safe to say almost EVERYONE loves Alfredo... It's certainly one of my favorite pasta sauces. I'm truly obsessed. I especially love the Shrimp Alfredo from Red Lobster! Alfredo sauce is a classic Italian sauce known for how luscious and smooth it is. And let's be honest.. The abundance of parmesan cheese makes it hard to resist.
But y'all know I've been trying to eat less dairy, So I decided it was time to make my own vegan alfredo sauce that's every bit as creamy, satisfying, and flavorful as the dairy-based version. So my dairy-free plant-based folks get ready, this Easy Vegan Broccoli Alfredo Pasta will blow your socks off.
Can You Even Make Alfredo Sauce Without Cheese?
Alfredo sauce is traditionally made with heavy cream and lots of parmesan cheese. Obviously, this is not ideal for those who avoid dairy, but the flavors are hard to beat.
Fortunately, you can make Alfredo sauce without using any milk products by making a few simple ingredient substitutions. It only takes a little know-how and the right mix of substitutes.
More Dairy-free Creamy Pasta Ideas
One Pot Creamy Vegan Tuscan Kale Pasta - This recipe is a delicious weeknight meal option for everyone. Packed with bold, savory flavors. Your entire family is sure to love this meatless option! Super easy to make and complete in under 30 minutes.
Creamy Jamaican Rasta Pasta - Make a simple and comforting one-pot dinner that comes enriched with spicy jerk flavors, bell peppers, and a thick, cheesy sauce--much like the traditional version.
Sweet Potato Pasta Skillet - This vegan Pasta recipe features thick rigatoni noodles, silky-smooth sweet potato-coconut cream sauce, and cheesy flavors without any dairy! Make the creamiest vegan rigatoni with a bit of spice for dinner. All dairy-free and vegan ingredients.
Ultimate Vegan Mac + Cheese -When it comes to this recipe, it is by far more than a fork full of goodness! Super creamy, 'cheesy', and loaded with flavor, this 'Mac + Cheese" is made from organic shells, savory seasonings, nutritional yeast, and cashews soaked overnight (which makes the cream cheese base). A beautiful twist on a classic dish that is sure to be a staple in your household. Completely vegan. Gluten-Free + Nut-Free options.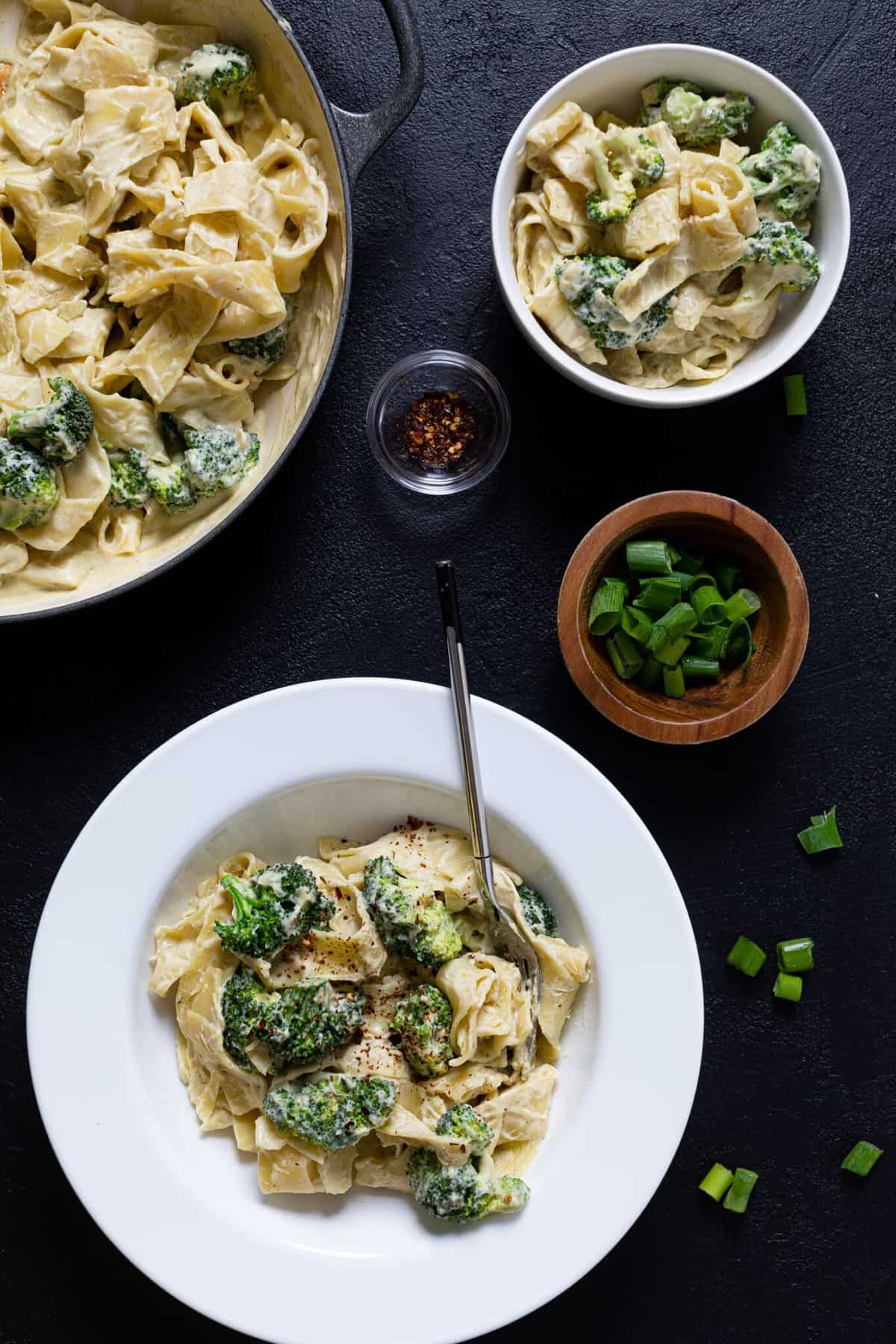 Why you will LOVE this Creamy Vegan Alfredo Pasta.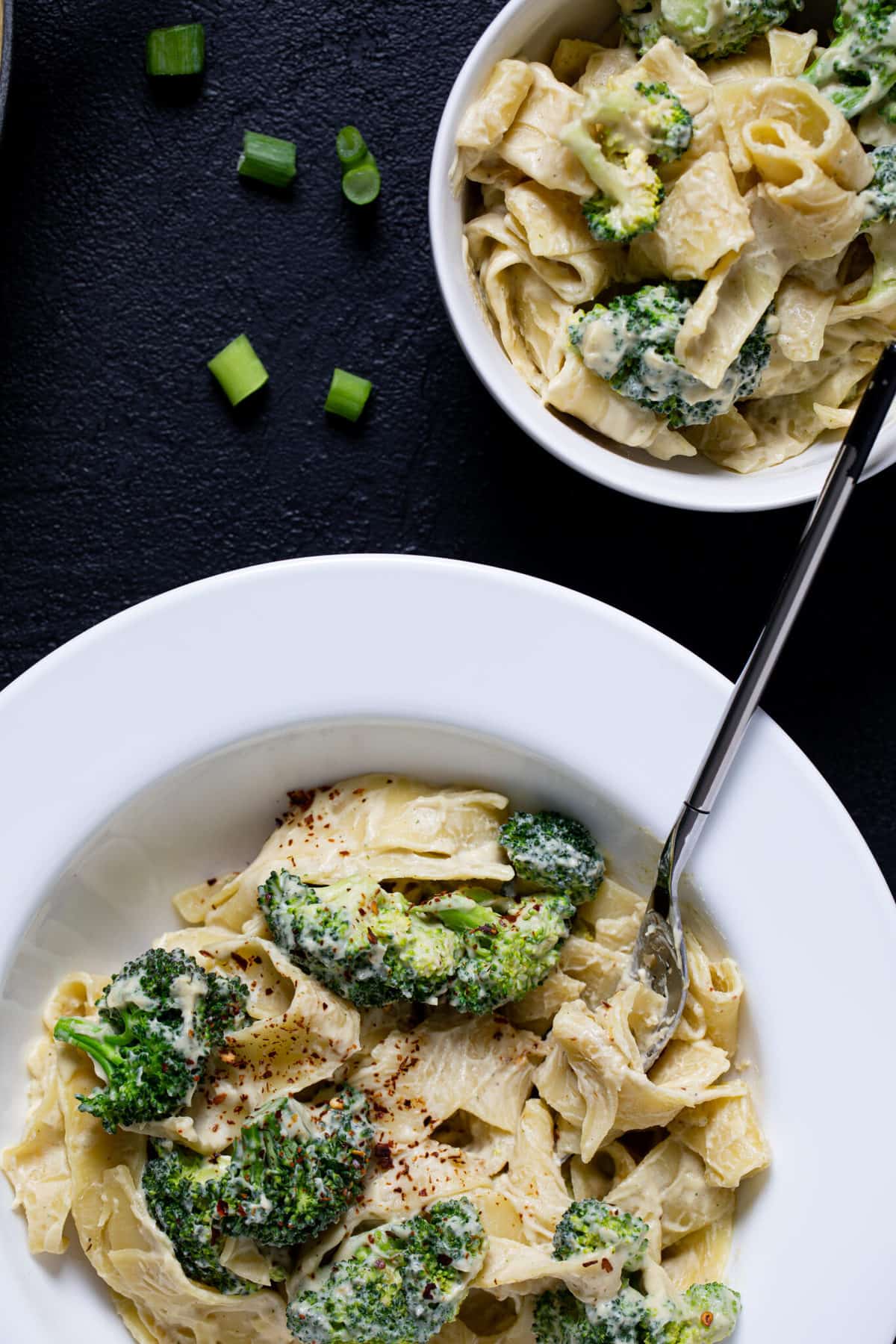 Ingredients for Vegan Creamy Sauce.
You don't need any fancy ingredients to pull off this fast plant-based dinner. In addition to your favorite pasta (I recommend pappardelle) and any cheesy toppings you may like, you'll need:
1 head cauliflower. It should weigh about 1 pound.
Raw cashews. Soak the nuts overnight in a bowl with enough water to fully submerge the cashews. Leave it out overnight for the best results. If you're in a time crunch, you can use boiling water and soak for 3 to 4 hours. Soaking the nuts allows them to whip up into the fluffiest, creamiest texture to coat your pasta.
Vegetable broth. Choose low-sodium broth to manage the salt level in this dish.
Garlic cloves. Because every good alfredo recipe needs a boost of garlic!
Smoked paprika. This adds just a hint of smokiness and spice to the sauce.
Nutritional yeast. A must-have vegan pantry item to add super cheesy umami flavor without any dairy.
Unsweetened almond milk. You can use another unsweetened plant-based milk if you prefer, such as coconut, soy, or cashew. Oat milk may be a little too sweet for this sauce.
Lemon juice. This brings the sauce to life with bright, citrusy freshness.
WHAT IS THE DEAL WITH NUTRITIONAL YEAST?
Nooch, or deactivated yeast, has a pleasantly cheesy flavor that makes it an excellent substitute for the real thing.
Especially if you're trying to avoid dairy.
If you haven't heard already, nutritional yeast AKA NOOCH is the best thing since sliced bread. Love the flavor of cheese but want to eat less of it or cut it out completely? NOOCH is here to save the day. I seriously use this on so many vegan and plant-based recipes!
Try it by:
Adding nutritional yeast to soups and stews as a nutritious thickening agent.
Processing equal parts of nutritional yeast and walnuts for a cheese-like non-dairy parmesan!
Dressing up a baked potato with roasted garlic, nutritional yeast, and a sprinkle of sea salt and cracked pepper.
Creating plant-based creamy cheese sauces
Sprinkling nutritional yeast on popcorn with vegan butter for a handful of heavenly cheesiness!
Nutritional yeast will be your best friend. It's a great source of protein---the elusive B-12 vitamin that vegans need, as well as folate, thiamine, riboflavin, niacin, selenium, and zinc. Nutritional yeast deserves a top spot in the superfood hall of fame, in my opinion.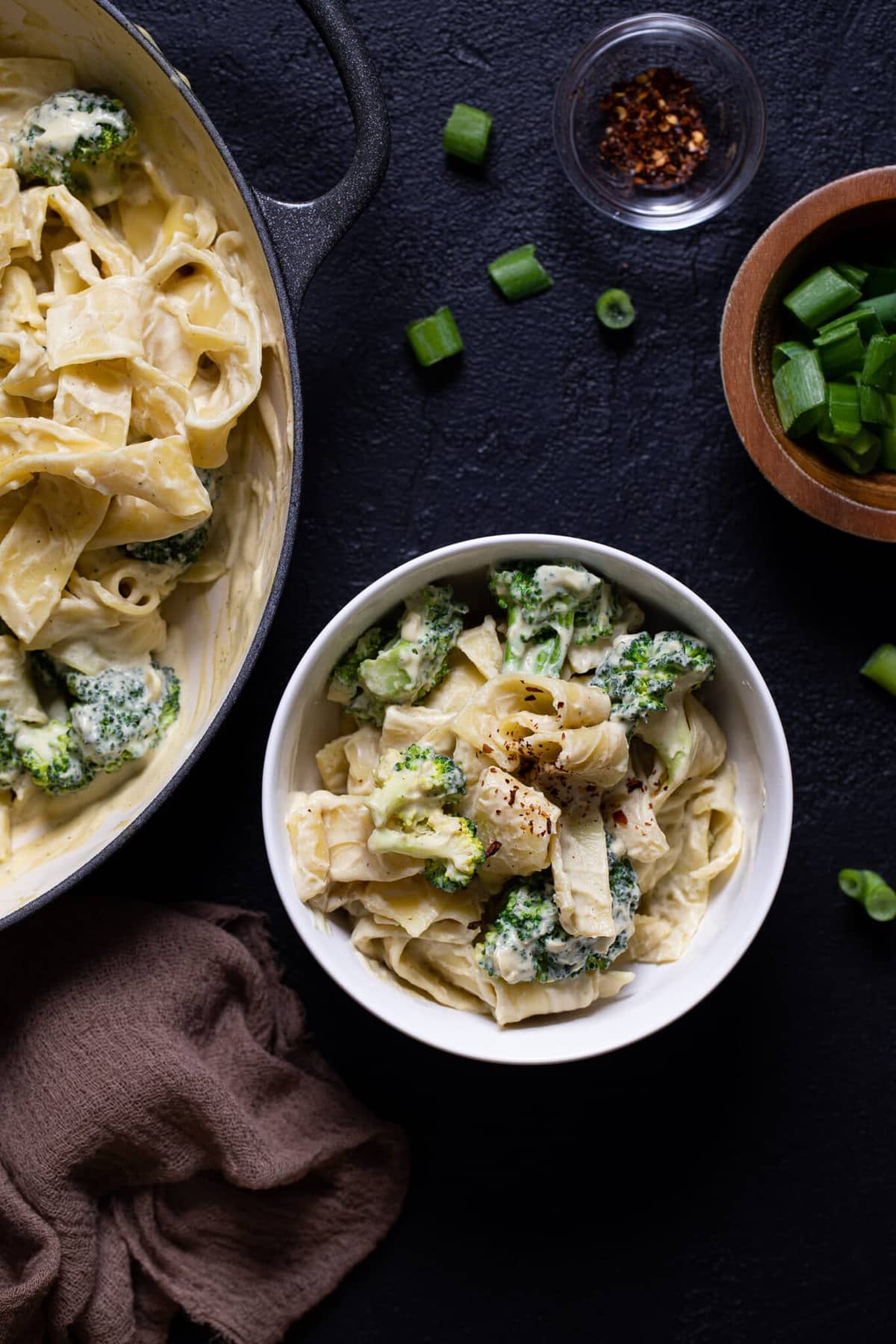 Adding Extra Protein to this Creamy Pasta
If you'd like to add protein to this pasta dish, it's easy to do, regardless of your diet!
Plant-based protein options:
Crispy or canned chickpeas or beans
Crispy seared or baked tofu cubes
Tempeh
Crumbled stir-fried seitan
Vegan bacon on top
More sautéed cauliflower florets or broccoli
You can also check out Awesome Meat Substitutes to Try This Year if you're new to plant-based life and want to experiment!
Non-vegan protein options:
Chicken (breast sliced)
Shrimp
Lobster
Beef
Fish (fried, jerked, grilled, etc.)
etc.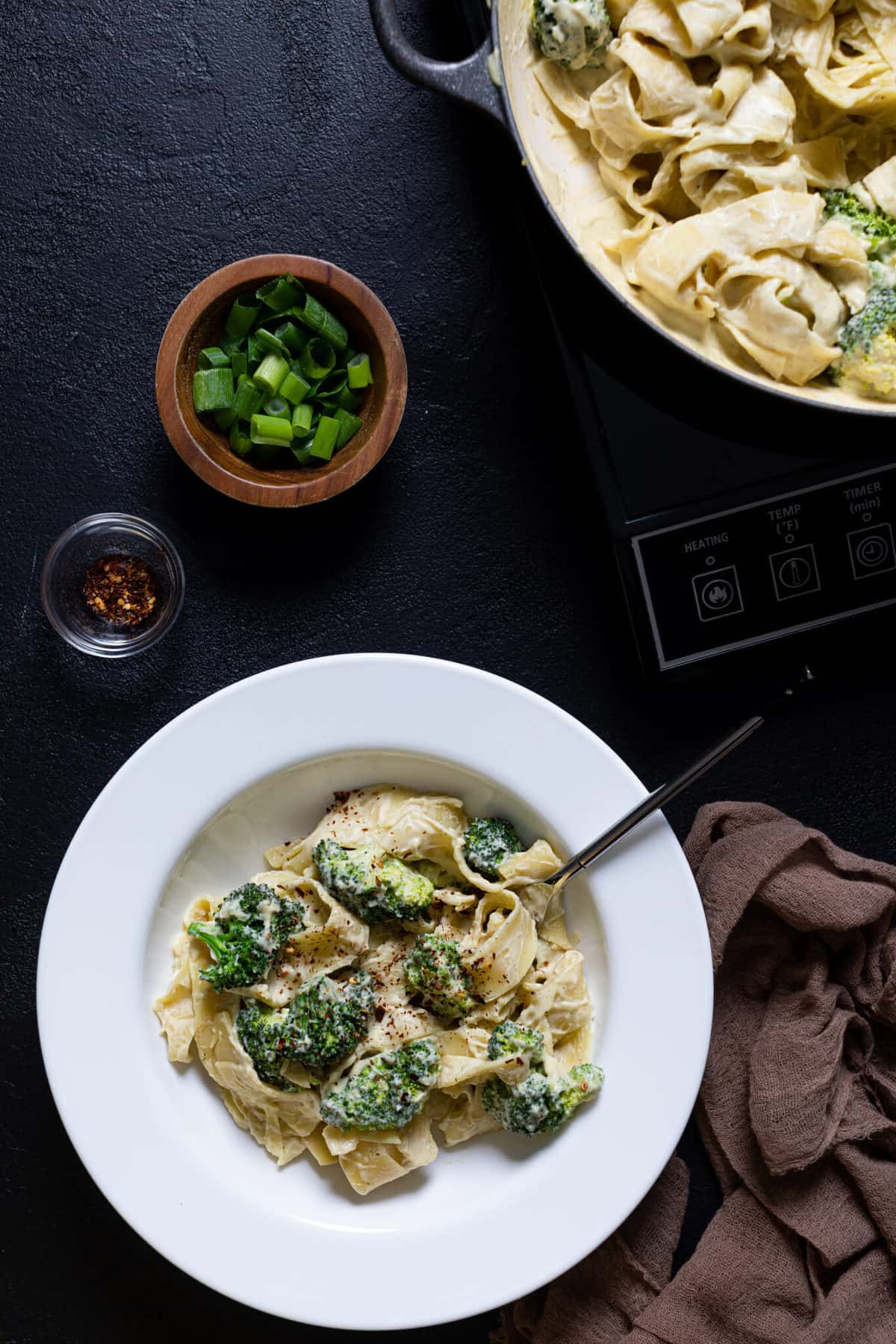 Easy Vegan Broccoli Alfredo Pasta Q+As
CAN I MAKE IT GLUTEN-FREE?
Yes, you can use any gluten-free pasta you want. Every other ingredient is gluten-free by nature. Feel free to experiment with different types of pasta, such as lentil or chickpea pasta. You can substitute another shape of pasta for the fettuccine, but this will deviate from the classic.
CAN I MAKE THIS KID-FRIENDLY?
I recommend blending your broccoli into the creamy sauce if you have a picky eater on your hands!
HOW TO STORE VEGAN ALFREDO PASTA?
This pasta is best enjoyed right away, fresh out of the skillet. However, you can also store it for a quick, healthy lunch the next day. Cool the pasta and pack it into an airtight container. Enjoy within four days.
The noodles and cooked broccoli won't freeze and defrost well. However, you can freeze the cauliflower-cashew alfredo in an airtight container for up to three months. Then, when you're ready to serve, simply thaw the sauce until it releases from the container then reheat it on the stove. If it's thicker than you'd like, add more broth or dairy-free milk to reach your desired consistency. 
CAN I ADD OTHER VEGGIES?
Of course! You can easily customize this healthy dinner recipe if you're not a fan of (or are simply out) of broccoli. Many of our Favorite Healthy Green Leafy Vegetables work well in this pasta. Any greens like kale, mustard greens, Swiss chard, bok choy, or cabbage are tasty, vitamin-rich additions to your dinner. You can also add sautéed mushrooms, carrots, onions, bell peppers, or leeks to add crunch, color, flavor, and nutrition to this recipe. 
I CANT EAT NUTS, IS THERE A CASHEW ALTERNATIVE?
If you can't have nuts you can either add extra cauliflower or sunflower seeds!
Delicious Foods to Pair this Pasta With?
I can't lie, if I'm doing a yummy comfort food pasta night I go all out... This often means homemade garlic bread or my personal fave Vegan Garlic Naan Bread, however, you can also spruce things up with many other options such as:
A refreshing green salad
Sautéed Greens
Freshly toasted bread
Or eat the pasta as is, it is THAT good.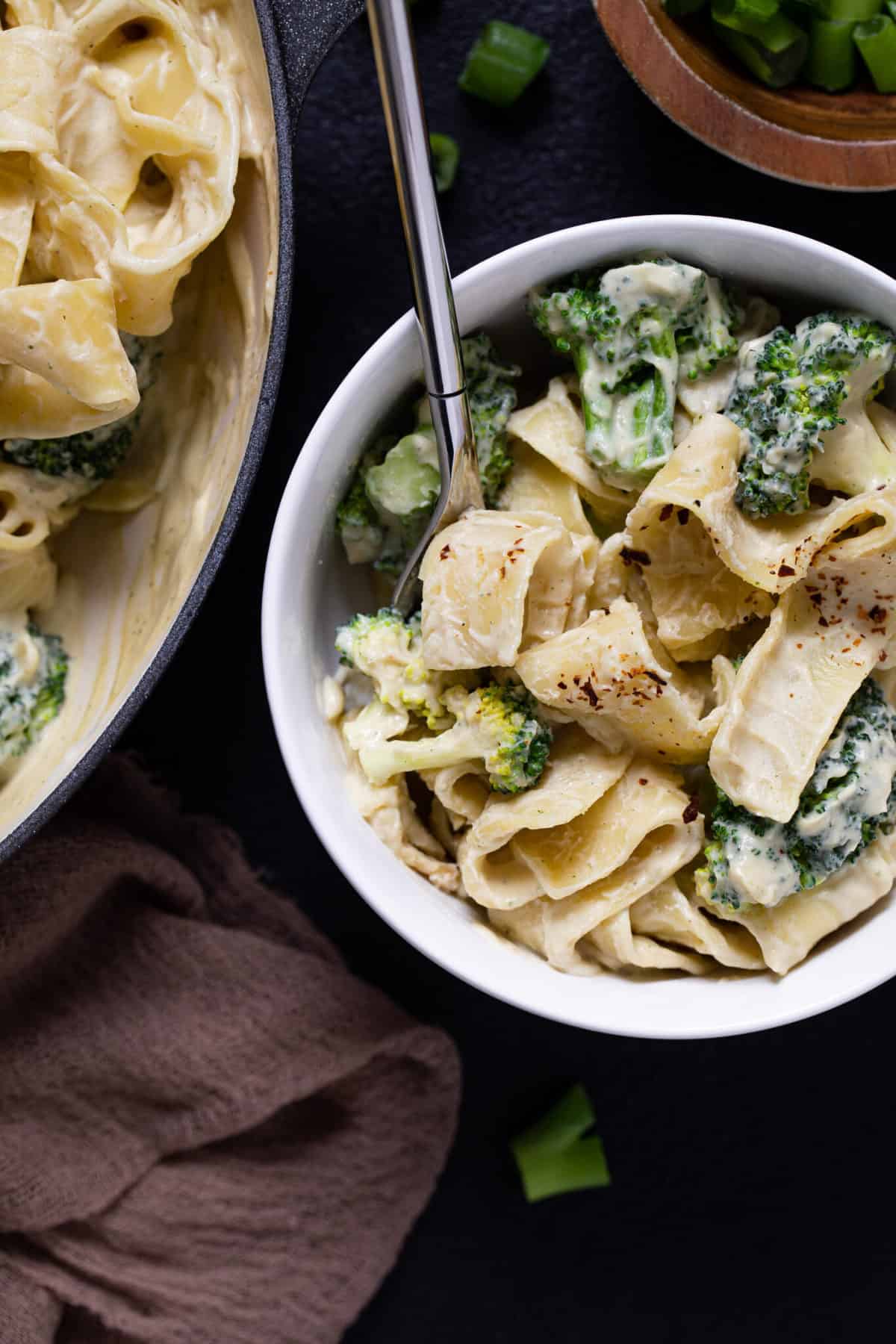 When it comes to vegan recipes, there's no need to be overwhelmed! It's easier than you think to make a dish that's plant-based without sacrificing flavor, texture, or satiety. Of course, if you do find yourself stuck, then I'm here to help with my Vegan Archives section of the blog. Check out my My Favorite Vegan Sauces to Spice up any Meal!
SHOP MY FAVORITE TOOLS FOR COOKING, ESPECIALLY FOR THIS PASTA!
Here, I've curated a list of cooking + baking essentials that I use to achieve my favorite baked goods or cooked meals, especially with this Easy Vegan Broccoli Alfredo Pasta. Everything from my fave baking sheet, parchment paper, food processor, high-powered blender, skillets, and more. SEE THEM HERE!
More Meatless Pasta Dinner Ideas
MADE OUR RECIPE(S)?
If you choose to make this Easy Vegan Broccoli Alfredo Pasta recipe or any other recipe from us, be sure to tag us on Instagram at #Orchidsandsweettea so that we can share the love!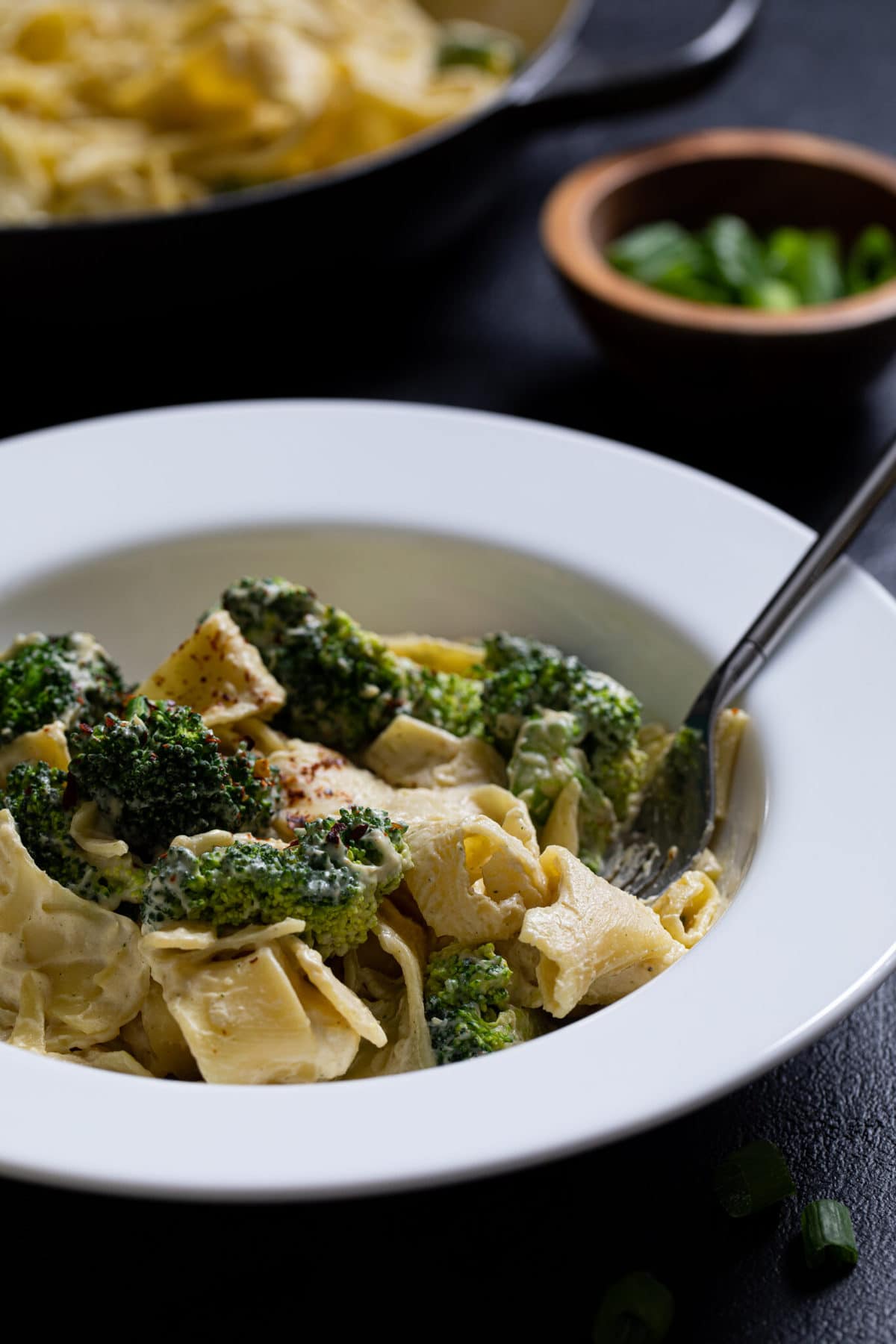 VEGAN ALFREDO SAUCE:
1

head

organic cauliflower, chopped into florets

(You'll only need a medium-sized cauliflower; About 2-3 cups of florets)

½

cup

raw cashews, soaked + drained

(See Notes!)

1

tablespoon

Extra virgin olive oil

4

garlic cloves, minced

2-3

Tbsps

nutritional yeast

1

teaspoon

sea salt

1

teaspoon

black pepper

½

teaspoon

smoked paprika

1

tablespoon

freshly-squeezed lemon juice

2

cups

organic vegetable stock/broth

1

(14 oz.) can

full-fat coconut cream/milk

(See Notes!)
OPTIONAL GARNISH:
Red pepper flakes, sprinkles

Nutritional yeast, sprinkles
TO ROAST THE BROCCOLI:
Begin by preheating the oven to 400 degrees Fahrenheit and preparing a baking sheet with parchment paper.

Add the broccoli florets unto the prepared baking sheet and drizzle with olive oil followed by: salt, black pepper, garlic powder, oregano, basil, and thyme, stirring until combined. Arrange in a single layer.

Bake until the broccoli becomes slightly charred with a bit of crunch, about 10-15 minutes. Once done, remove from the oven and let cool.
COOK THE PASTA:
Cook pasta according to packaging. NOTE: Pappardelle or Tagliatelle cooks about the same time as other pastas, usually 7-10 minutes, depending on brand.
COOK THE CAULIFLOWER:
In a medium dutch oven over medium-high heat, add the vegetable stock and cauliflower florets and let it boil. Stir and reduce the heat to low and simmer for 5-6 minutes or until the cauliflower is tender and cooked through. Remove from heat and let cool for a few minutes.
BLEND THE INGREDIENTS:
In a high-powered blender, add the cooled cauliflower (with the remaining veggie stock) followed by the soaked cashews, and lemon juice. Blend everything until ingredients are completely broken down and everything is smooth, about 2-3 minutes. NOTE: If needed, add another ½ cup of veggie stock if the sauce is too thick and not smooth.
TO MAKE THE VEGAN ALFREDO SAUCE:
In a medium deep skillet over medium-high heat, add the olive oil and add garlic and sauté for a minute or so until fragrant. Add the salt, black pepper, smoked paprika, and nutritional yeast, stirring until combined. Add the blended sauce ingredients along with with coconut cream/milk, stirring until combined and smooth.

When the pasta is done, drain it and add it to the sauce, tossing until sauce fully coats + sticks to pasta. Add in the roasted broccoli and stir again to combine. Serve immediately!
STORAGE: Any leftovers can be kept in a tightly sealed container and refrigerated for up to 3-4 days.
OIL: You can also use coconut oil or grapeseed oil, instead of olive oil.
PASTA: You can use long pastas like 

Pappardelle, Fettuccine, etc. however, I would recommend tossing with tongs to ensure that pasta is fully manageable and fully coated. Otherwise, other pastas such as Penne, Rigatoni, Paccheri, Orecchiette, etc. are perfect.

SOAKED CASHEWS: To best soak cashews, add ½ cup of cashews to a bowl or measuring cup and cover with cold water, sealing the top with plastic wrap and leaving it out (at room temp.) overnight. When ready to use, drain and rinse. If not able to soak overnight, simply cover cashews with boiling water and let sit for 30 minutes, drain, + rinse.
NUT-FREE OPTION: If you're allergic to nuts or just don't want to add them to your alfredo sauce, that's totally fine. Simple omit the cashews when blending and substitute with 4-5 cups of a high-quality dairy-free cheese shreds during the cooking of the sauce. Continue with the steps for cooking the sauce over the stovetop and add in the cheese shreds, whisking until everything becomes nice and creamy.
Calories:
216
kcal
|
Carbohydrates:
11
g
|
Protein:
5
g
|
Fat:
18
g
|
Saturated Fat:
3
g
|
Polyunsaturated Fat:
2
g
|
Monounsaturated Fat:
12
g
|
Sodium:
1637
mg
|
Potassium:
241
mg
|
Fiber:
2
g
|
Sugar:
2
g
|
Vitamin A:
399
IU
|
Vitamin C:
3
mg
|
Calcium:
36
mg
|
Iron:
2
mg
Easy Vegan Broccoli Alfredo Pasta.