This Creamy Spiced Orange Cheesecake is the perfect Fall-inspired dessert. Is there anything more beautiful than a slice of creamy, delicious cheesecake? Okay, we'll just wait here. See? A cheesecake, especially one baked from scratch, is a thing of beauty.
This cheesecake comes completely with a thick, tasty Pecan + Graham Cracker crust, followed by a velvety orange-infused cheesecake filling and a scrumptious caramelized spiced orange spice topping. You can't have a family gathering or special occasion during this season without this dessert recipe. It's guaranteed to go down an absolute treat!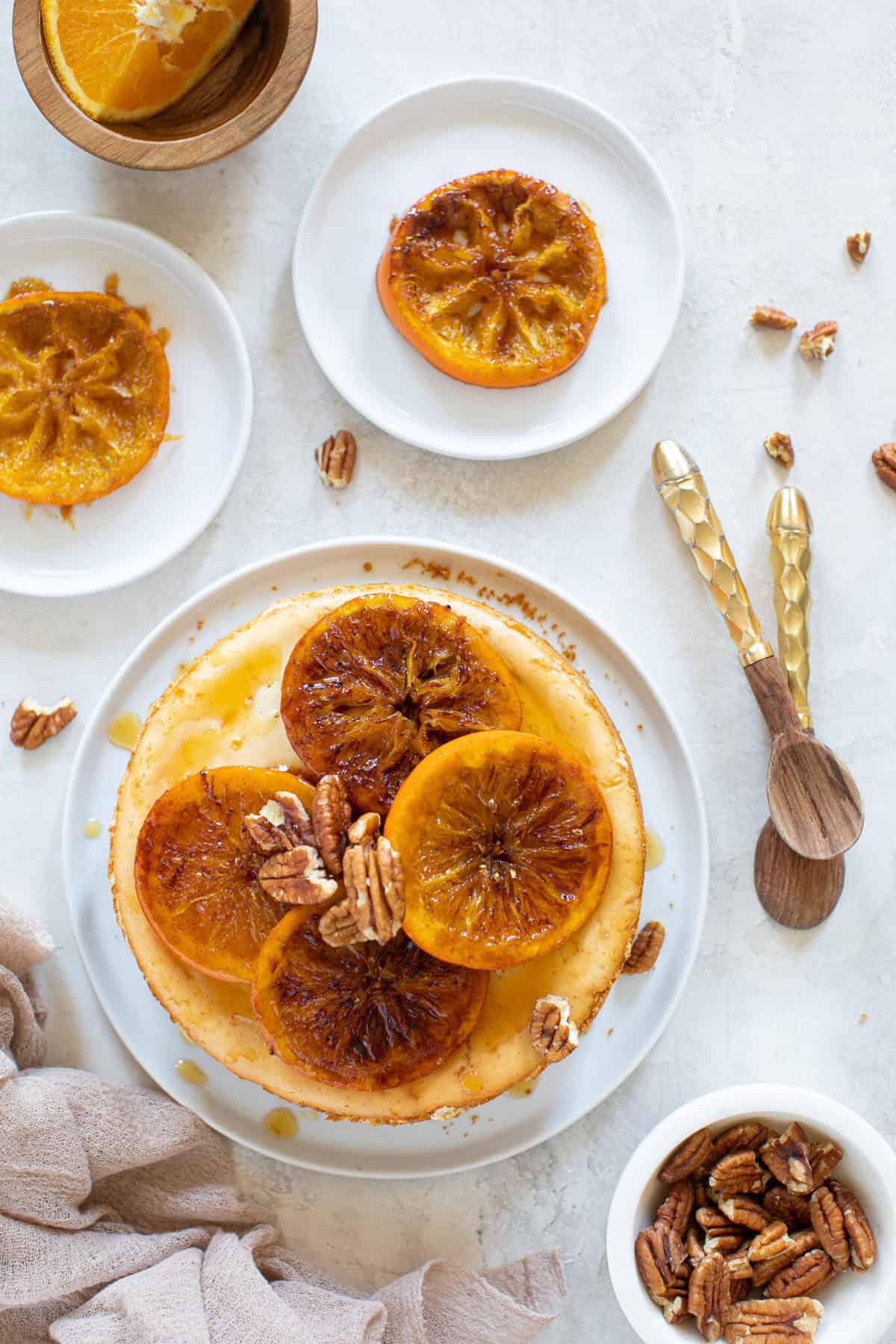 Creamy Spiced Orange Cheesecake. All I can say is YUM. If you know me then you know that I absolutely LOVE cheesecake! I mean, I'm so obsessed if you search 'cheesecake' on Orchards + Sweet Tea you will find some of my all-time favs like this Mango Cheesecake with Chocolate Graham Cracker Crust or this Spiced Chai Cheesecake + Gingersnap Crust recipe!
Cheesecake was actually one of the first desserts I ever mastered. Crazy, right? I know. Interestingly enough, it became easier and easier to master with time, although I often used a store-bought crust and canned toppings. Haha. Don't judge I am only human!
ORANGE-Y GOODNESS
I don't know about you, but oranges have been such an under-utilized ingredient for me. Granted, I tend to use oranges in a smoothie, as juice, or something of that realm. However, I haven't experimented much with them until the last year or so! It's such a tasty tangy flavor that I can't get enough of, hence all the orange-infused recipes!
Baked Sticky Orange Cauliflower + Quinoa - This recipe is a deliciously healthy option for the entire family. At first glance, these beauties truly remind you of classic orange chicken (and trust me, they taste just as good, if not better!). However, they aren't! Just know that your taste buds won't be able to tell the difference either!
Fluffy Homemade Orange Cinnamon Rolls - These are almost better than their Classic counterparts–--seriously! Each roll boasts of its bigness, fluffiness, tenderness, and they come smothered in a rich, but light orange-flavored cream cheese frosting. These cinnamon rolls are sure to be your newest favorite sweet treat
Spicy Orange Chicken Wings - These spicy and wings are the perfect handheld food for any occasion! Made extra-crispy, just-spicy-enough with a homemade orange sauce that has a delicious hot sauce-honey flavor and a nicely juicy center. The perfect appetizer or main meat that can be served with your favorite sides.
Citrus Olive Oil Bundt Cake - This citrusy cake has a zippy flavor and a moist, dense texture. This recipe makes a deliciously airy cake with a rich, moist texture and an amazing and bold orange flavor. Perfect for a bake sale or brunch or just a good dessert.
Crispy Baked Orange Cauliflower Bites - These are a delicious, healthier version of orange chicken. They're ultra crispy and smothered in a sticky sweet orange sauce and topped with sesame seeds. Super easy to make in under 45 minutes. All vegan ingredients and an easy gluten-free option.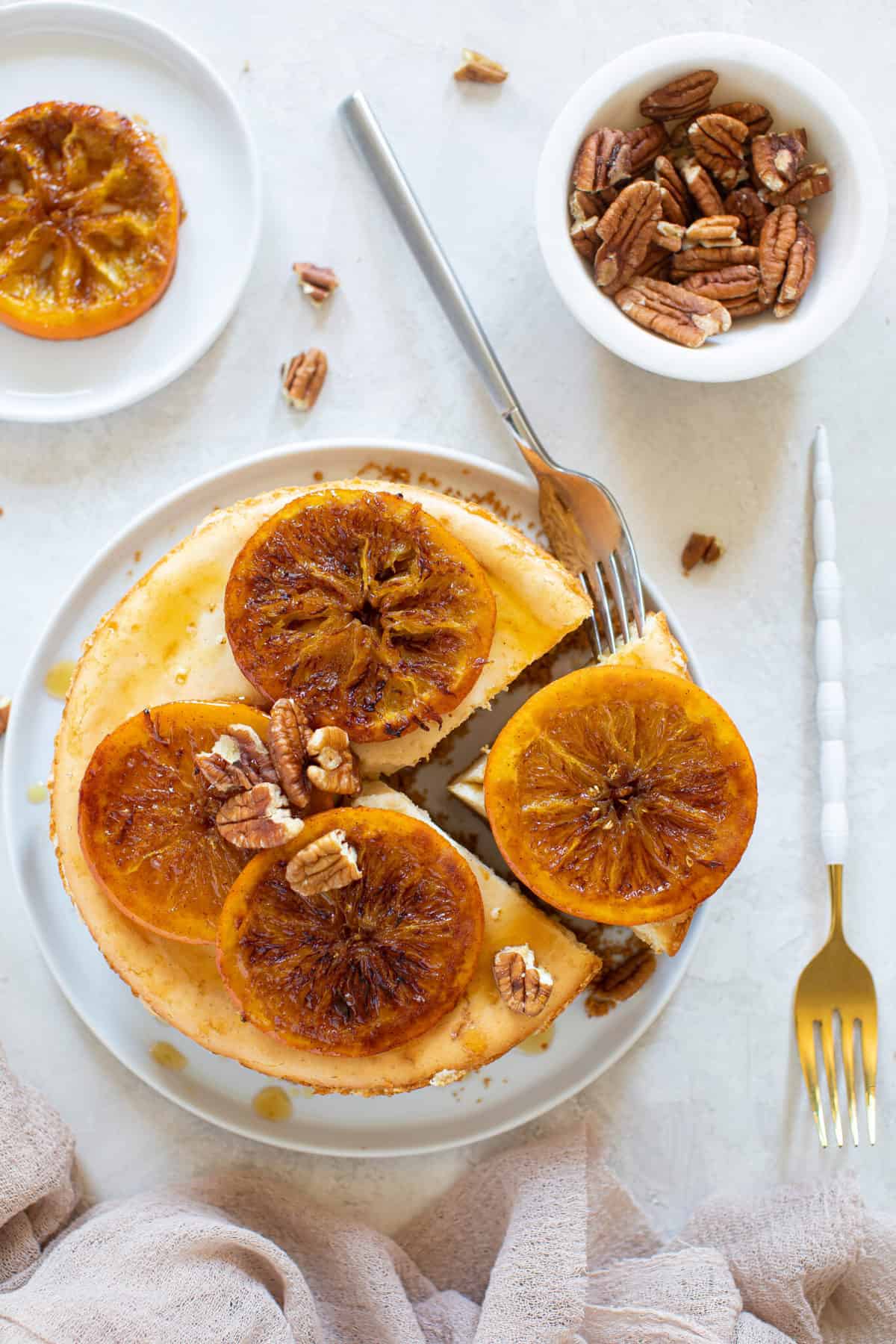 Now that I enjoy making my cheesecakes from scratch, I must say that every bite means something!
Not only does it mean that it's so much more delicious, BUT it means that you truly are able to evolve into something that you never thought you could, once you keep trying and cultivating your skills.
If you've been an avid reader of Orchids + Sweet Tea, then you're probably already aware of how this love even began.
Mini Backstory to My Love For Cheesecake.
Moving to NYC at the age of 13 was such a huge transition (in more ways than one), but more importantly, the food was a major transition.
Fast forward to a year or two later, when I first introduced to my first real slice of Cheesecake and never putting down a fork whenever I see one close enough to grab a bite. Haha. Yup. My obsession is that real!
Don't believe me? Scroll down for a few delicious cheesecake recipes!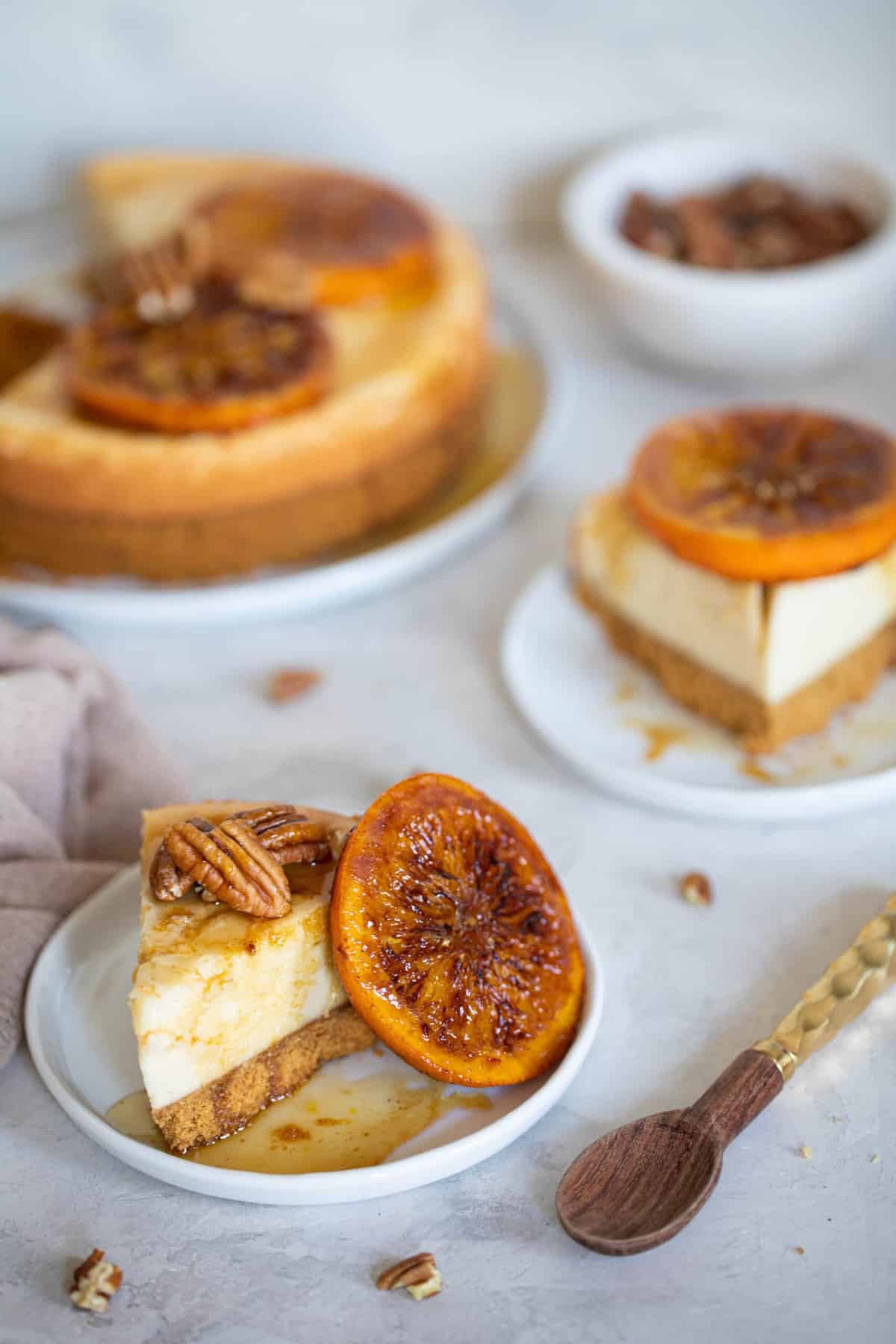 Love Cheesecake? These Recipes are WINNERS!
These Delicious Pecan Pie Cheesecake Bites are one of my faves! They are an awesome rendition of traditional Southern pecan pie except for the velvety texture of cheesecake.
Oh and then there are these Southerner's Banana Pudding Cheesecake Bites, which of course pays a great homage to the ultimate dessert that I grew up eating ALL the time—- Banana pudding!
This 
Caramel Apple Spice Cheesecake
is the perfect Fall-inspired dessert with every bite. This cheesecake comes completely based with a thick tasty Pecans + Graham Cracker crust, a velvety delicious caramel cheesecake filling and a scrumptious caramelized apple spice glaze on top.
These Pumpkin Cheesecake Bites + Pecan Crust are the ultimate dessert recipe. Not only are these little bites the perfect size, but they come fully packed with a beautifully tasty Pecans + Graham Cracker crust, velvety pumpkin + spice flavored filling, and topped with light whipped cream + toasted pecans. Perfect for any day, family gathering, special occasion, or season.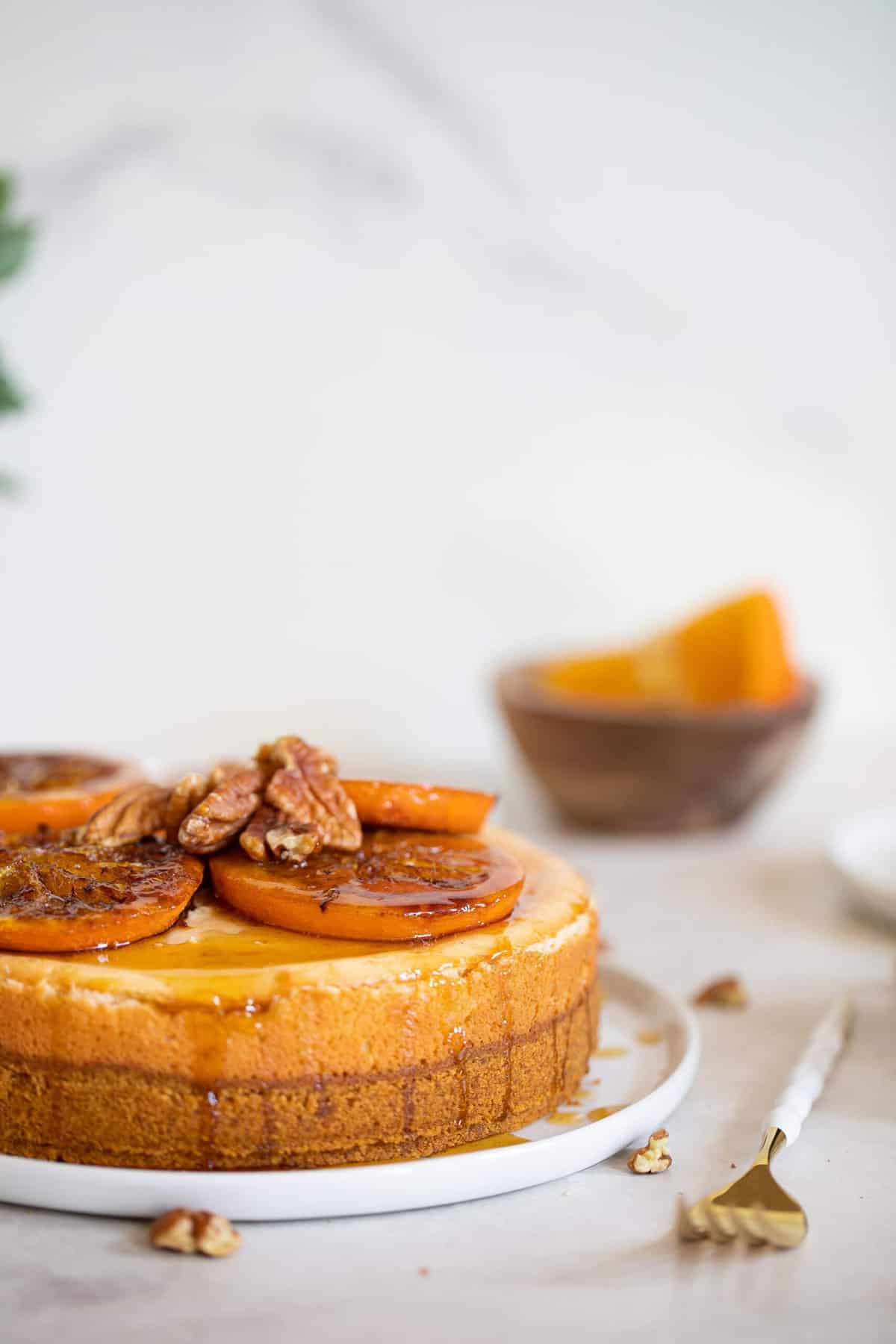 What You'll Love Most About this Cheesecake.
It's super easy to make.
Rich & decadent
Done in under 1 hour.
Only requires ONE baking dish—a Cheesecake Baking Pan allows for an easy slip-out!
The epitome of DELICIOUS.
Super velvety and smooth.
Jam-packed with Fall Spices!
Those caramelized oranges are EVERYTHING!
Did I mention that it's just TOO GOOD TO PASS UP!?
Zesty Health Benefits
If you like citrus fruits, then you've undoubtedly had your fill of oranges. Whether that's in a juice or just a little in baking! Either way, there are some amazing benefits that come from our zippy zesty friend, the lovable orange!
High in fiber
Packed with Vitamin C - AKA one of the most well-known and well-researched antioxidants!
A good source of potassium which can support heart health
High in folate, which supports the brain and nervous system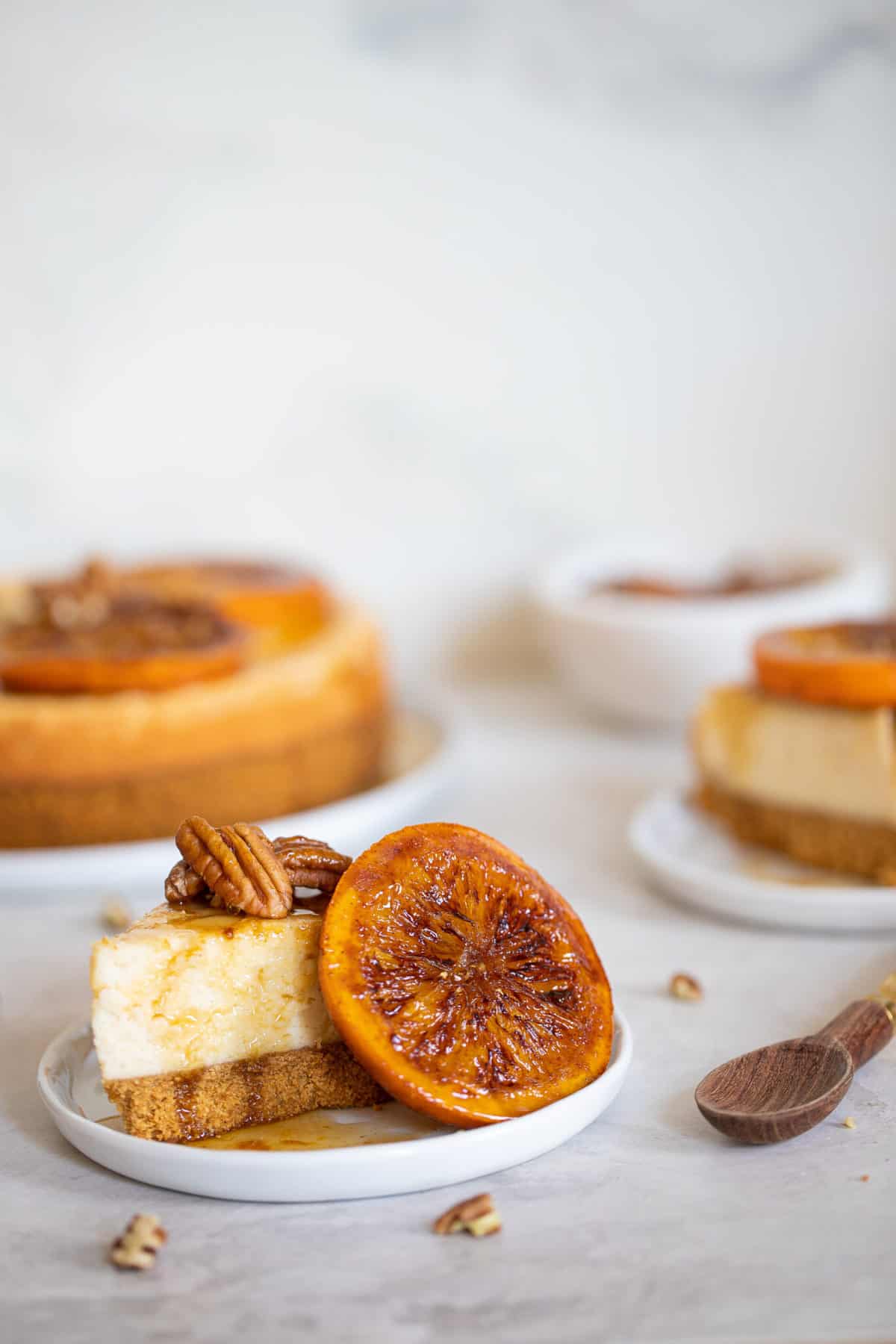 SPECIAL TIPS FOR MAKING THE PERFECT CHEESECAKE.
Avoid Those Lumps!
Always, ALWAYS soften your cream cheese at room temperature for a minimum of 30 minutes to ensure that it can be fully smooth when you beat it in an electric mixer.
Combine Carefully + Slowly.
Be sure to add in the eggs ONE AT A TIME and always keep the mixer's speed on low to avoid over-mixing. A light mix always does the trick!
Use the Right Pan.
I find that using the correct baking pan helps to make a great cheesecake as well. I like using the traditional cheesecake pans that pop out at the bottom for whole cheesecakes. When making cheesecake bites, I prefer lining the pan with cupcake liners for ease.
Always Add a Water Bath.
I like to add a small pot of water on the lower rack of the oven while I bake my cheesecakes, cakes, cupcakes, etc. However, you can always add your cheesecake pan within another pan that has a small amount of water as your bath. Either way, it keeps in the proper moisture and helps everything to bake nicely.
Keep the Opening of the Oven Door at a Minimum.
Yup, that's right. No quick peeking every few minutes. Every time that the oven door is open, it causes your cheesecakes to inflate from the sudden shift in temperature. That's why it's imperative to end the baking of your cheesecakes by turning off the oven and cracking open the oven door slightly for a few minutes before removing them out of it entirely.
Do the Wobble, Wobble Test!
When checking to see if your cheesecake is done, always do the jiggle test to ensure that it only jiggles slightly in the middle. Don't worry—while it cools, the trapped heat will continue to cook the center nicely.
Cool, Cool, and COOL!
Lastly, be sure that your cheesecake is FULLY cooled before covered. This avoids condensation form forming and that not so great wetness that happens on the tops when covered before cooled.
Once fully cooled at room temperature, you're free to refrigerate it for an hour (uncovered) and then you can place foil or plastic wrap over it after that.
How To Store Creamy Spiced Orange Cheesecake
Store the leftover cheesecake in an airtight container in the fridge for up to 5 days. You can also freeze the cheesecake for up to three months. Defrost the cake overnight in the fridge before serving.
Bite-Sized Cheesecake Anyone?
You can turn this cheesecake into cute bite-sized mini cakes. Simply use a muffin tin to assemble and bake the cake. It will make about 2 dozen cheesecake bites. You will need to reduce the baking time because the cakes are smaller, so check on things after about 20 minutes.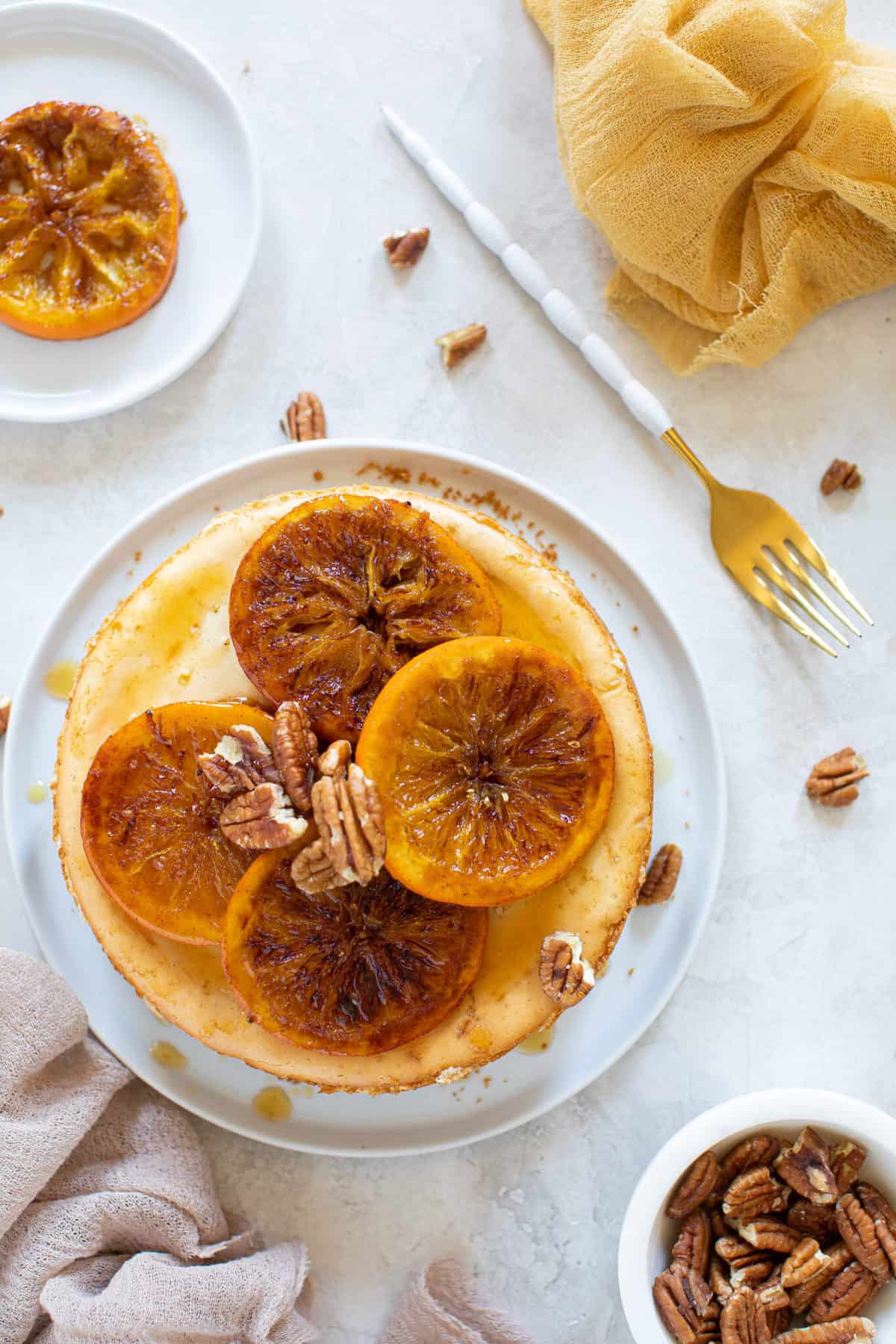 More Creamy Cheesecake Recipes To Enjoy
MADE OUR RECIPE(S)?
If you choose to make this Creamy Spiced Orange Cheesecake recipe or any other recipe from us, be sure to tag us on Instagram at #Orchidsandsweettea so that we can share the love!
PECAN GRAHAM CRACKER CRUST:
2

cups

Graham crackers, chopped

(About 12-14 Graham Crackers)

1

cup

toasted pecan

(Add more if desired; just reduce Graham Crackers amount; See Notes!)

3

Tbsps

organic brown sugar

(I use Sugar in the Raw)

1

teaspoon

ground cinnamon

4-5

Tbsps

unsalted butter, melted
CHEESECAKE + FILLING:
2

(8 oz.) packages

organic cream cheese, softened at room temp.

(I use Organic Valley)

½

cup

juice of an orange

(That's 1 medium Orange!)

¾

cup

organic pure cane sugar

(I use Wholesome Sweets)

4

Tbsps

organic all-purpose flour

(I use Bob's Red Mill)

2

tsps

vanilla extract

2

large

Organic Valley eggs, room temp.

3

Tbsps

low-fat sour cream

¼

teaspoon

sea salt

1

teaspoon

ground cinnamon
SPICED CARAMELIZED ORANGES:
PECAN GRAHAM CRACKER CRUST:
Preheat oven to 350 degrees Fahrenheit and prepare a 7 or 8-inch cheesecake pan by lightly greasing it with butter.

Grind the pecans + graham crackers, until almost finely ground (it's OK to leave a few medium chunks, if your'e a lover a little crunch!). Combine the Pecan-Graham cracker mixture, cinnamon, pure cane sugar and melted butter in a small bowl and mix with a spatula until well incorporated.

Add the mixture into the prepared pan and press down into the bottom with your fingers (focusing on the middle) to ensure that it's perfectly covering the bottom and sides (like a deep well).

Bake the crust for about 5 minutes and then remove from oven and allow it to cool until you're ready to use.
CHEESECAKE + FILLING:
In the bowl of an electric mixer, mix together on low speed: the cream cheese, pure cane sugar, and flour until combined. Be sure to scrape the sides and bottom of the bowl if needed.

Next, add the vanilla extract and the first egg and beat slowly until mostly combined. Then add the remaining egg and mix until well combined, still mixing everything on low speed. Now, add the sour cream, orange juice, and spices, and continue mixing.

Change mixer attachment to a whisk and beat on medium-high speed for 1-2 minutes or so until completely smooth and lump-free. NOTE: DO NOT OVER-MIX. Be sure to stop once the batter becomes smooth.

Pour the batter into the prepared pan until ¾ filled. **NOTE: Leaving a bit of room at the top prevents the cheesecake from spilling over while baking.**

Bake the cheesecake for 35-40 minutes (until center comes out mostly clean when tested with a toothpick or knife), then turn off the oven and allow it to sit in the oven for another 5 minutes with the oven door halfway open to avoid cheesecake from deflating. **NOTE: When baking, I always prepare a medium pot with water and add it to the oven as well, to keep cheesecake temperature even and to add moisture.**
SPICED CARAMELIZED ORANGES:
In a large skillet of medium-high heat, add the butter and heat until melted. Add brown sugar, spices, and sea salt and stir until well combined and 'bubbly'.

Add the sliced oranges and toss until well coated and cook for 8-10 minutes, until tender and the sauce has thickened. **NOTE: Be sure to turn over the orange slices onto their opposite sides every 2 minutes or so to avoid burning.**

Remove cheesecake from the oven and allow it to continue to cool for another 15-20 minutes, before putting them in the refrigerator for at least an hour. Once cooled, top with Caramelized oranges, toasted pecans (optional), and enjoy.

Bon Appetit!
STORAGE: Leftover Cheesecake can be stored (tightly wrapped) in the refrigerator for up to 5 days. For best results, keep cheesecake in the freezer until the night before you're ready to serve. Defrost by refrigerating.
TOASTED PECANS: Add chopped pecans to a baking sheet and toasting them in the oven (400 degrees Fahrenheit) for 5-10 minutes, tossing them halfway to avoid browning on one side.
Calories:
479
kcal
|
Carbohydrates:
61
g
|
Protein:
14
g
|
Fat:
22
g
|
Saturated Fat:
8
g
|
Polyunsaturated Fat:
3
g
|
Monounsaturated Fat:
9
g
|
Trans Fat:
0.4
g
|
Cholesterol:
77
mg
|
Sodium:
644
mg
|
Potassium:
394
mg
|
Fiber:
3
g
|
Sugar:
41
g
|
Vitamin A:
501
IU
|
Vitamin C:
29
mg
|
Calcium:
274
mg
|
Iron:
2
mg