Hands down, this Vegan Banana Cake + Cinnamon Browned Butter Buttercream is the best you'll ever have! Not only is it completely moist + fluffy, but it's rich in flavor and comes loaded with banana + nut flavors + warm spices, that when paired with this airy vegan browned butter-cinnamon infused buttercream, it's absolutely irresistible. A dessert that your entire family will love. Gluten-free option available.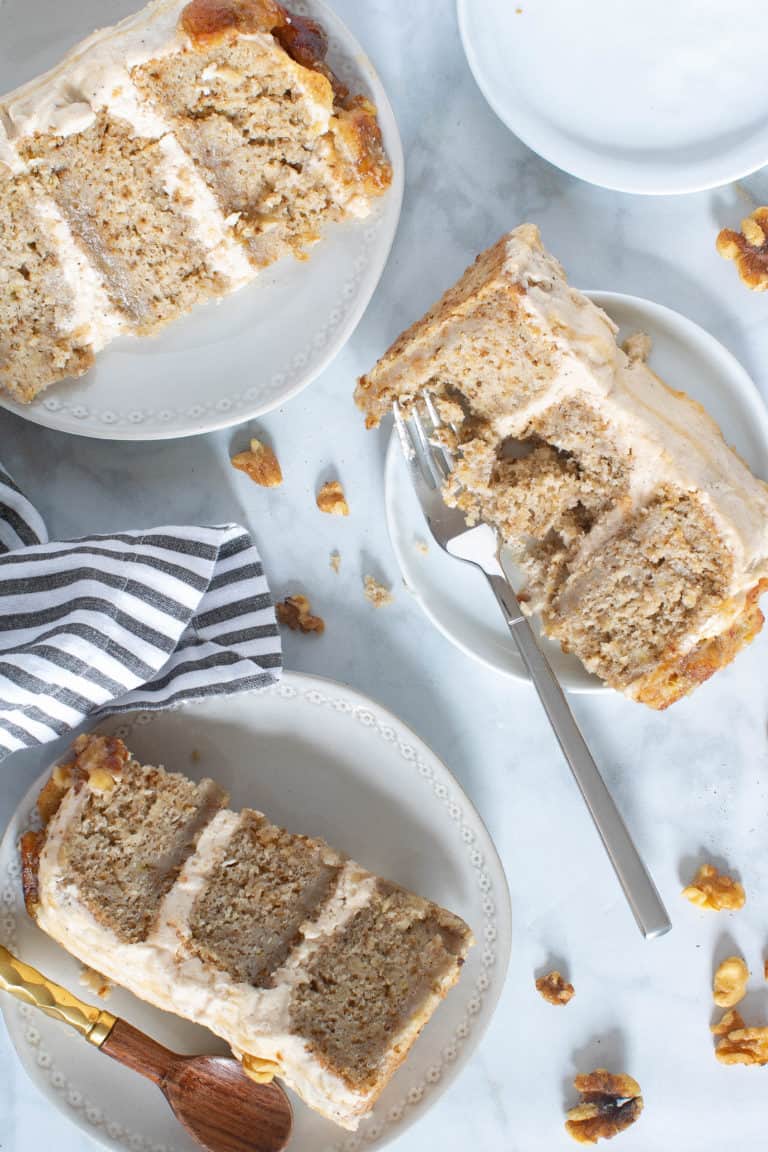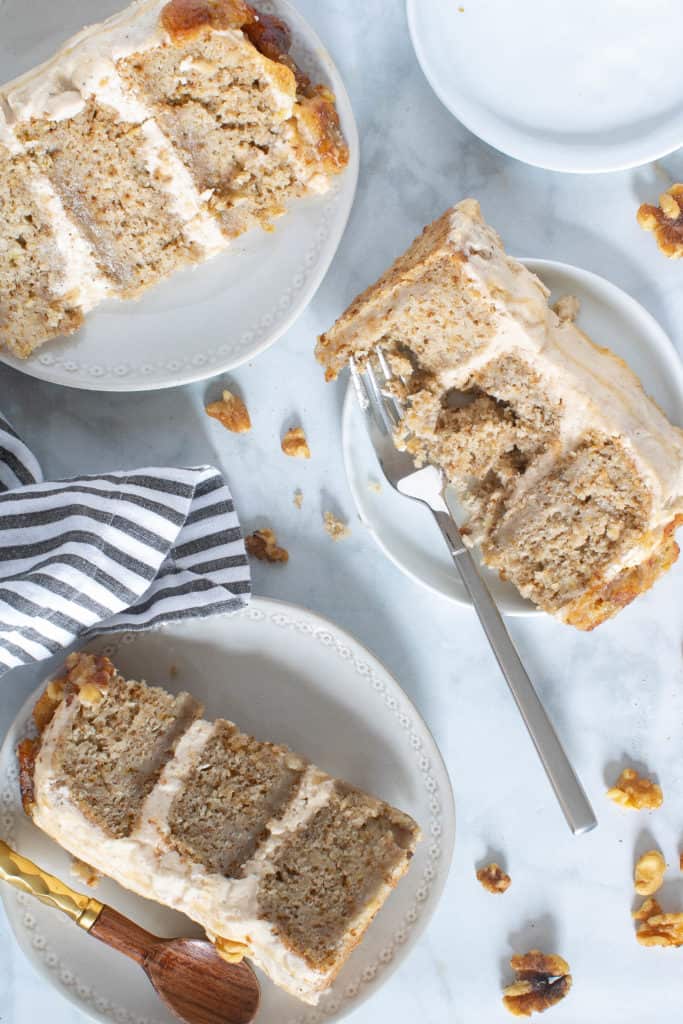 I love anything banana. And while I haven't had banana cake (to this magnitude anyway), I've enjoyed my ultimate childhood fave — Classic Southern Banana Pudding.
Of course, I have since made a newer version of this coveted banana pudding by pairing it with my other first love—peanut butter and created the ultimate sweet treat…….Delicious PB Banana Pudding
I know. At first glance, you might think that it could never go together. BUT, they go together! Haha.
Anyway, when it comes banana flavor, you can find quite a few recipes on Orchids + Sweet Tea that highlights this delicious fruit.
Lover of Banana? Try These Recipes.
These Flourless Vegan Banana Oats Waffles are everything that one's heart desires. Made right in a blender, these Gluten-Free waffles are naturally sweetened, fluffy, thick, airy, and full of flavor. 
This Easy Peanut Butter Banana Oats Smoothie recipe is a delicious and simple way to enjoy a quick, easy breakfast while gaining awesome health benefits from the simple ingredients that marry so well together, creating a powerful kick of flavor.
This Vegan Chia Seed Maple Banana Bread is super moist, tasty, packed with healthy nutrients including superfoods like Chia Seeds, and 100% delicious!
This Banana Peanut Butter Overnight Oats recipe is a healthy way to kick start your day and is beautifully textured. 
These Vegan + Gluten-Free Strawberry Banana Breakfast Muffins are the ultimate healthy punch to kickstart your morning!
Of course, when you type for the word 'banana' on our site's search, you'll find an array of recipes!
OK, now let's talk about one of the real reasons I decided to make this! It's for a roundup for Black History Month, which features a few awesome Black Food Bloggers.
Don't worry, you'll see links to their recipes further below.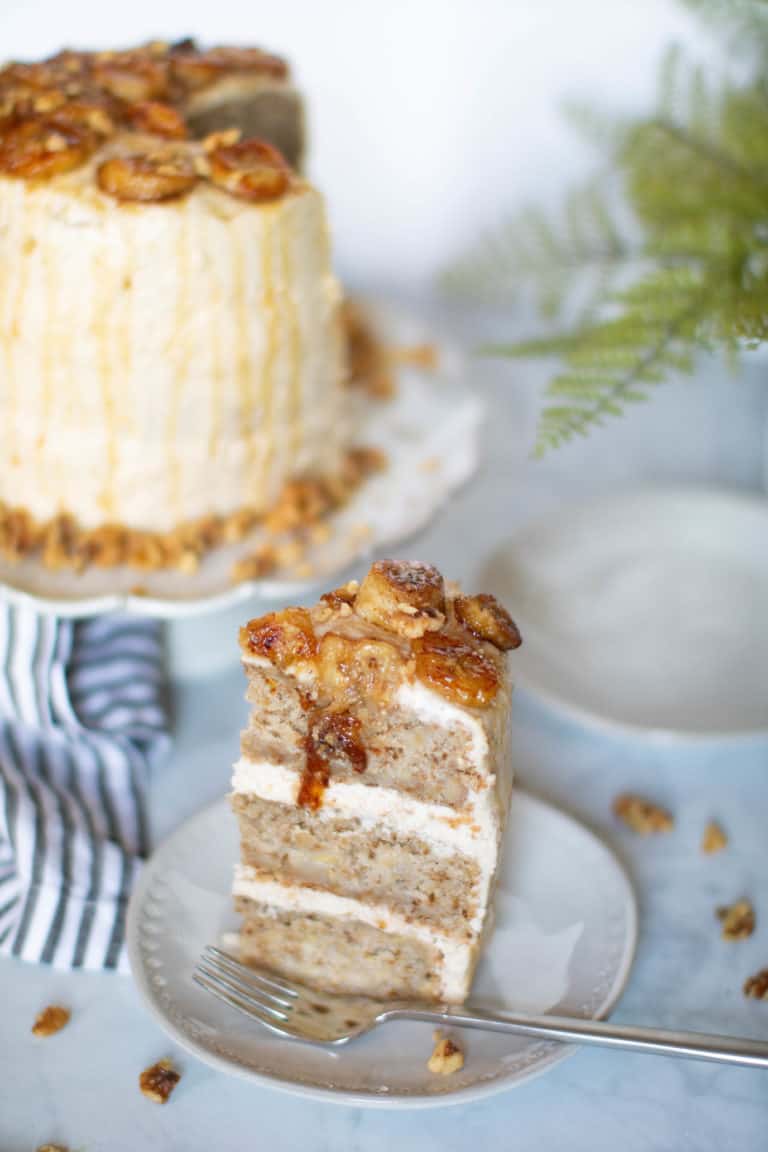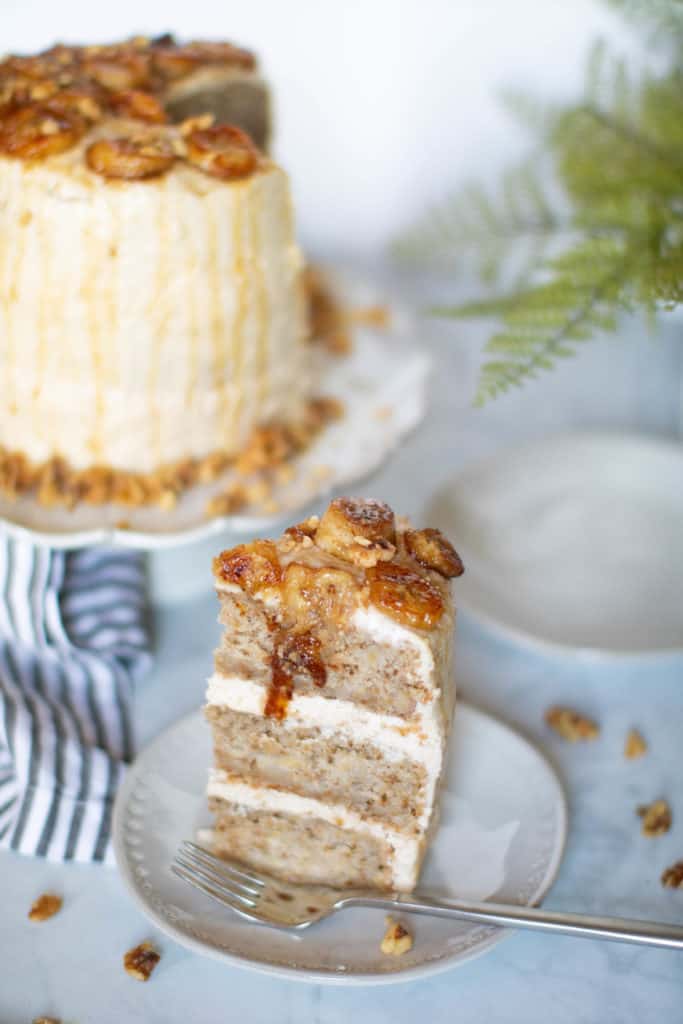 What is Black History Month About?
This is the month (February) where we all get a chance to celebrate the trailblazers and pioneers who fought tirelessly to keep us all united and strong throughout our country!
So many great names and faces who have added such value to our society and the way that we now live and enjoy our lives, especially within the Black Community.
Martin Luther King Jr., Harriet Tubman, Rosa Parks, Malcom X, Maya Angelou, Muhammad Ali, Alice Coachman, Shirley Chisholm, Dorothy Height, Jesse Owens, Ethel Waters, and so much more.
Regardless of the many events that are happening in our country today, I remain devoted in honoring those who fought (and who continue to fight) to build our community and prove that even the most positive minds (whether in large numbers or small numbers) can/will rise.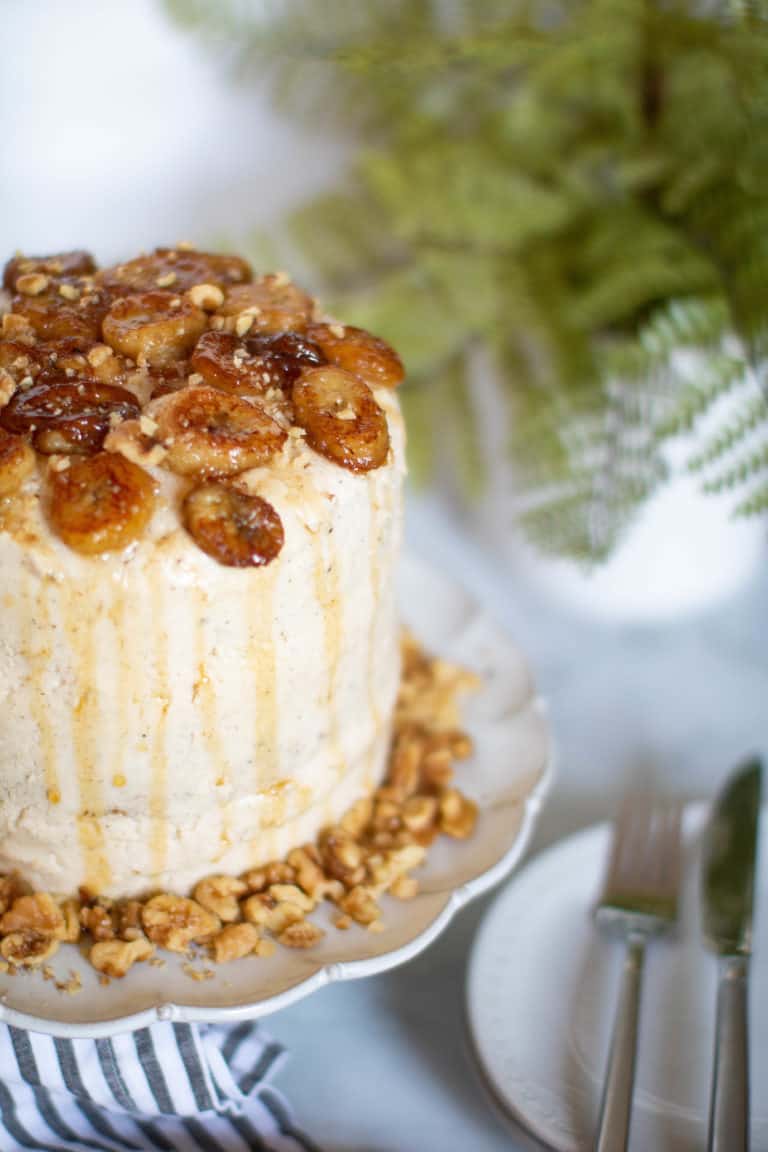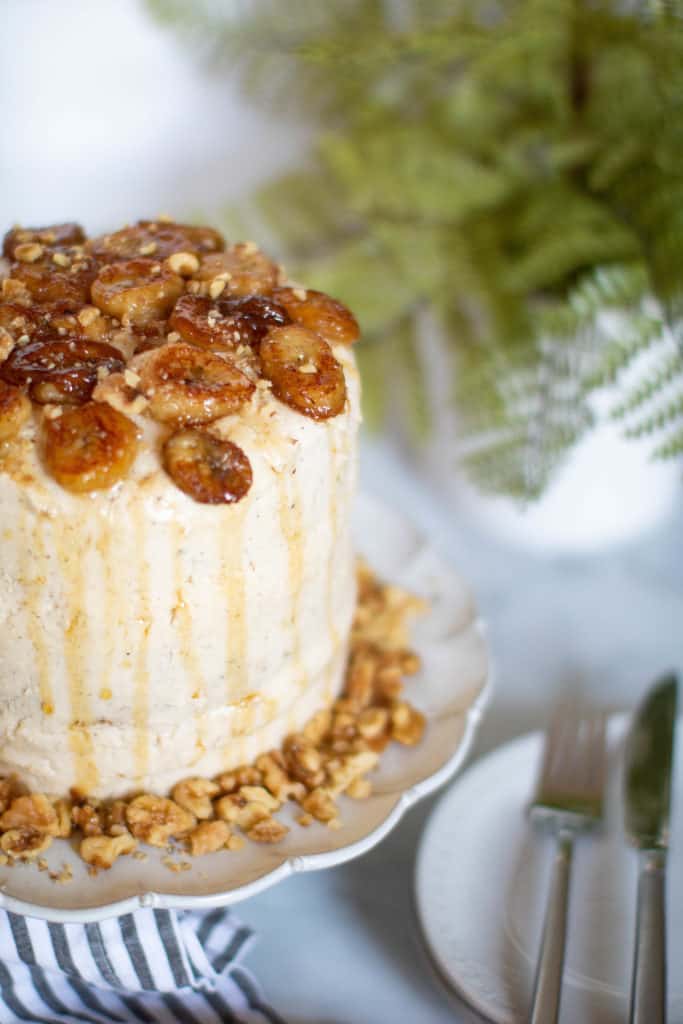 More importantly, to kick things off ahead of Black History Month, I am honored to have been chosen to be a part of the 2020 BHM Potluck (Black History Month Potluck).
Believe me when I tell you, Ya'll—there a lot of different flavors, food styles, and everything in between to choose from! BUT one things in common—SOUL FOOD inspired!
There's something for everyone. You won't want to miss out on these delicious Entrees, Sides, and Desserts; all of which are vegetarian or vegan.
As you've already guessed, I'm bringing this Vegan Banana Cake + Browned Butter Buttercream to the Potluck this year! #BHMPotluck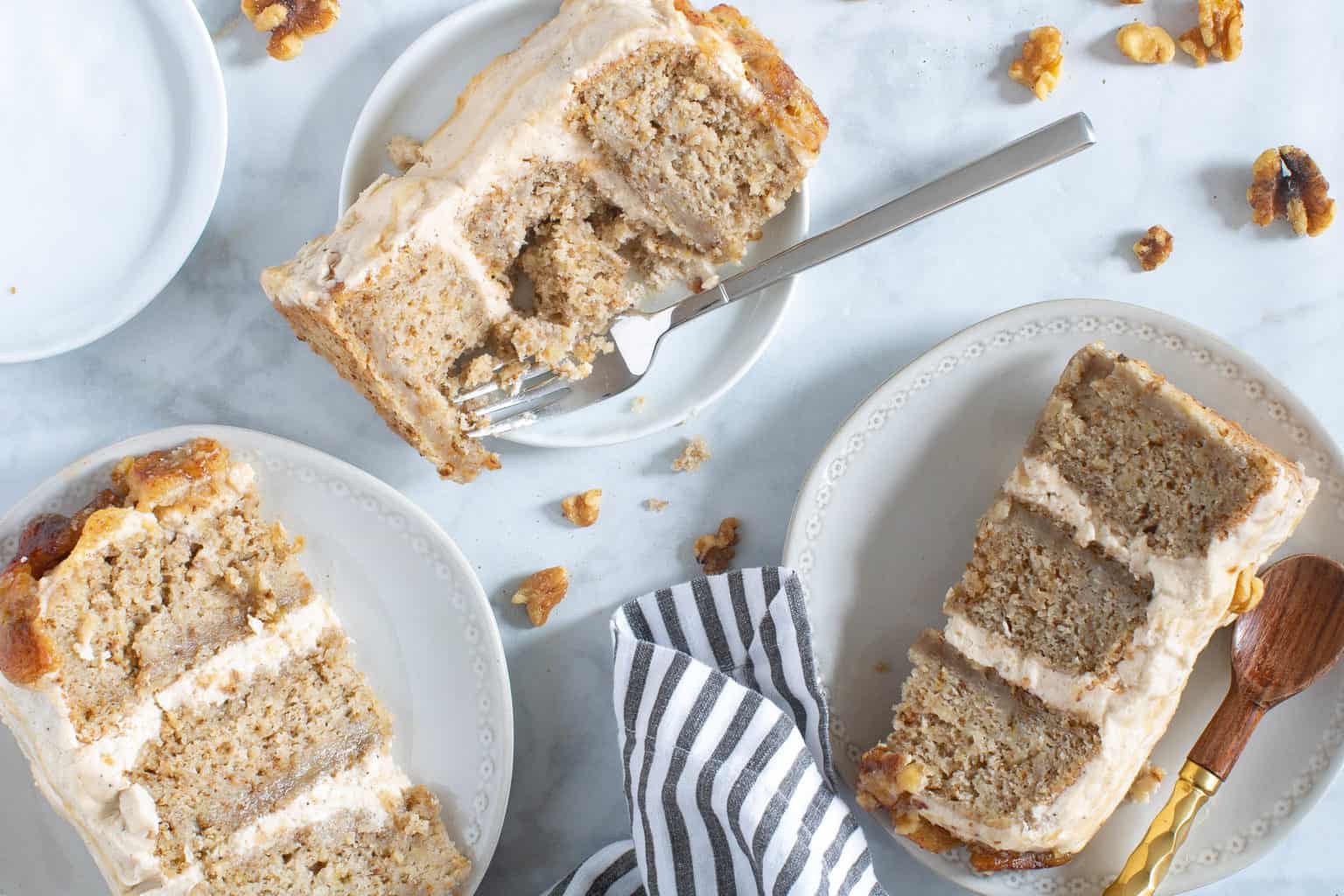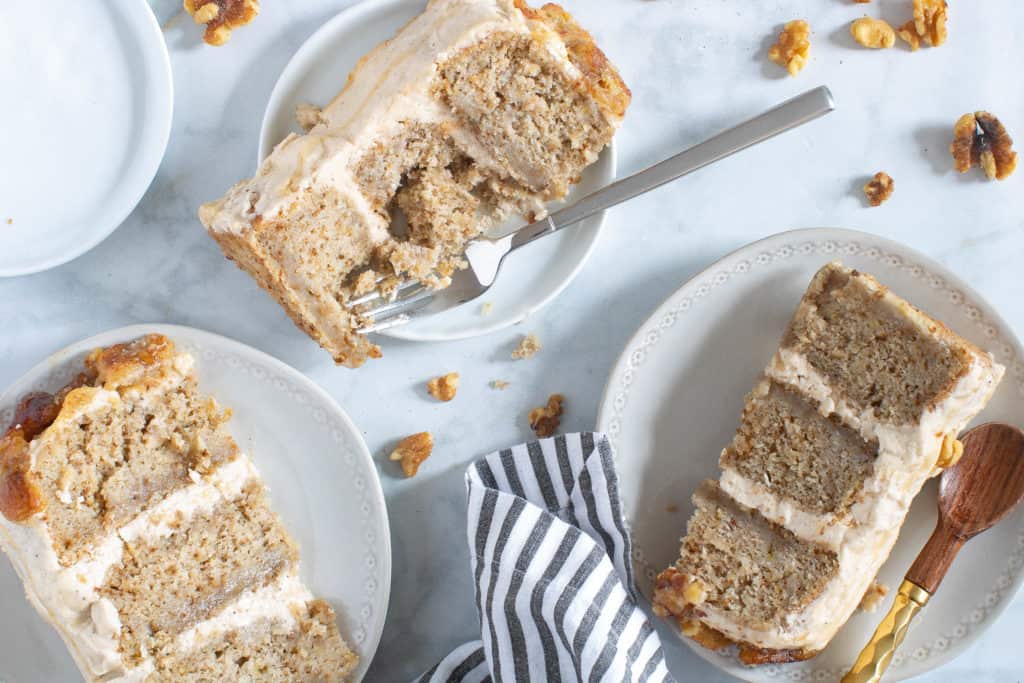 WHAT YOU'LL LOVE MOST ABOUT THIS CAKE?
It's super fluffy and moist.
Bold banana + nut flavor + spices (cinnamon, nutmeg, ginger, and allspice).
Warm and comforting in every bite.
Melt in your mouth goodness!
Can be made as a traditional 2-layer cake or cupcakes. Your choice!
Not too sweet, but perfectly sweet at the same time.
That Browned Butter Buttercream is EVERYTHING.
Absolutely delicious!
MADE OUR RECIPE(S)?
If you choose to make this Vegan Banana Cake + Cinnamon Browned Butter Buttercream recipe or any other recipe from us, be sure to tag us on Instagram at #Orchidsandsweettea so that we can share the love!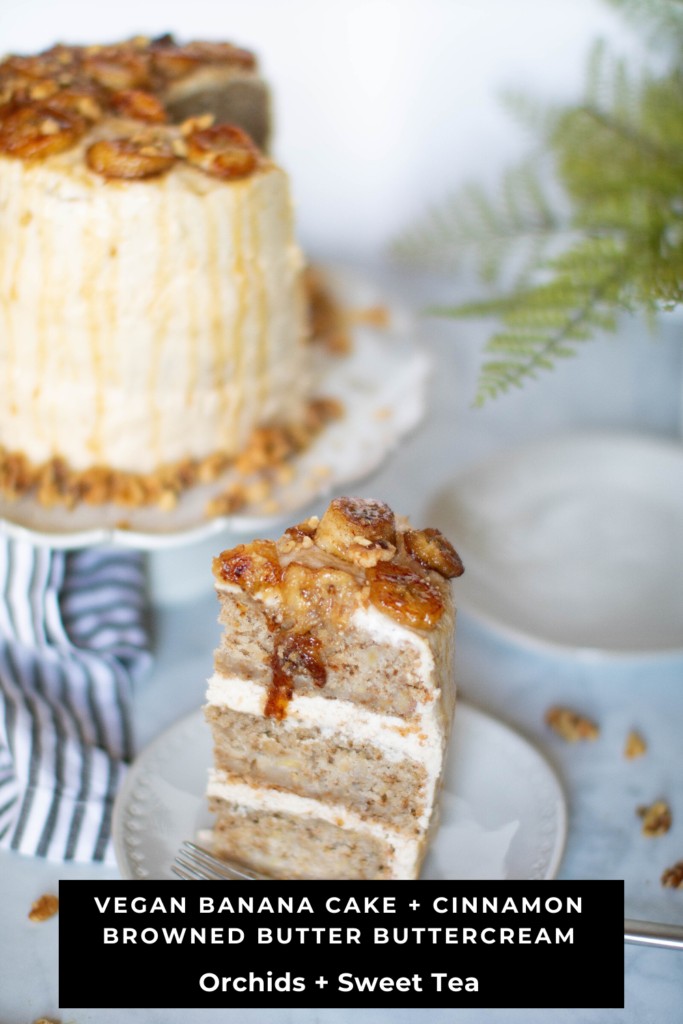 BLACK HISTORY MONTH VIRTUAL POTLUCK
(27 RECIPES FROM THE BEST BLACK FOOD BLOGGERS FROM AROUND THE GLOBE):
Beautiful Eats & Things | Honey Herb Roasted Sweet Potatoes | vegetarian
D.M.R. Fine Foods |Vegetarian Chili | vegetarian
Dash of Jazz |Vegan Buttermilk Biscuits with Spiced Pear Compote | vegan
Dish it with Tisha | Mushroom and Okra Po' Boy |vegetarian
Domestic Dee |Dirty Rice |vegan
Food Fidelity |Vegan Curry Cauliflower | vegan
Kenneth Temple |Wakanda Cake | vegan
Marisa Moore Nutrition |Spicy Black-Eyed Pea Fritters | vegan
Meiko and the Dish | Cajun Shrooms & Grits | vegetarian
Rosalynn Daniels | Vegan Bread Pudding | vegan
Savory Thoughts | Haitian Black Rice (Diri Djon Djon) | vegan
The Hungry Hutch | Vegetarian Southern-Style Collard Greens | Vegan
Whisk it Real Gud | Vegan Jollof Rice | vegan
A Little Food | Southern Sweet Fried Corn | vegan
AGirlCalledAdri | Pound Cake | vegetarian
Baum Ass Foods | Slow Cooked Black-eyed Peas + Greens | vegan
Collards Are the Old Kale | Red Beans and Tri-Color Quinoa | vegetarian
FoodLoveTog | Black-Eyed Pea Hummus | vegetarian
Her Mise En Place | Rice Pudding | vegetarian
Kalisha Blair | Yeasted Cornmeal Dinner Rolls | vegetarian
Kenya Rae | Sweet potato Biscuits | vegetarian
On Ty's Plate | Collard Greens Salad with Orange Vinaigrette | vegetarian
Orchids + Sweet Tea | Banana Cake + Cinnamon Browned Butter Buttercream | vegan
Razzle Dazzle Life | Roasted Garlic White Veggie Lasagna | vegetarian
Sweet Tea and Thyme Sweet Potato Casserole with Brown Sugar Topping | vegetarian
Orchids + Sweet Tea | Southerner's Banana Pudding Cheesecake Bites | vegetarian
Marisa Moore Nutrition | Crispy Roasted Okra with Peanut Sauce | vegan
Kenneth Temple | Vegan File Gumbo | vegan
Meiko and the Dish | Sweet Potato Pancakes | vegetarian
Vegan Banana Cake:
1

cup

organic all purpose flour

(I use Bob's Red Mill; See Notes!)

1/2

cup

Super fine cake flour

(I use Bob's Red Mill; See Notes!)

1 1/2

tsps

baking powder

1/2

tsp

baking soda

1

tsp

ground cinnamon

(I use McCormick)

1/2

tsp

nutmeg

1/4

tsp

ground ginger

1/8

tsp

allspice

1/2

tsp

sea salt

3/4

cup

organic pure cane sugar

(I use Wholesome Sweets)

1

cup

Almond milk

(I use Califia Farms; You can use your fave plant-based milk)

1

Tbsp

Apple Cider Vinegar

1/4

cup

vegetable oil 

(See Notes!)

1

tsp

vanilla extract

1 1/2

Medium

ripe bananas, mashed

1/2

cup

walnuts, ground

(See Notes!)
Cinnamon Browned Butter Buttercream:
1/4

cup

vegan butter spread + 4 Tbsps!

(I use Earth's Balance)

1/4

cup

organic vegetable shortening

(I use Spectrum)

3-4

cups

organic powered sugar, sifted

1

tsp

vanilla extract

1

Tbsp

Almond milk

(I use Califia Farms; You can use your fave plant-based milk)

1

tsp

ground cinnamon

(I use McCormick)
Other:
chopped walnuts

caramelized bananas

(See Notes!)
Begin by preheating your oven to 350 degrees Fahrenheit. Lightly grease (with vegan butter) AND line with parchment paper the following cake pans: THREE 6-inch round cake pans or TWO 8-inch cake pans.

In a medium bowl, whisk together the Almond milk and Apple Cider Vinegar. Set aside for 5-10 minutes.

In a large bowl, whisk together the flours, baking soda, baking powder, sugar, cinnamon, nutmeg, ginger, all spice, and sea salt. Set aside.

In the bowl of an electric mixer (attached with a whisk), add the Milk-ACV mixture along with the mashed bananas, oil and vanilla. Mix for a minute or two before turning off the mixer and changing the attachment to a paddle.

On low speed, add in the dry ingredients to the wet ingredients and continue to mix until well incorporated and batter is smooth, about 3-4 minutes. Fold in ground walnuts.

Pour batter evenly into prepared pans, spreading everything around for a perfect roundness.

Bake for 30-35 minutes, until the center of the cakes come out clean using a toothpick.

Once done, remove cakes from the oven and let cool completely. **NOTE: I often let my cakes cool for 30 minutes or until them are very cool when touched and then place them in the refrigerator to cool completely for another hour or so; this makes icing easier.**
Cinnamon Browned Butter Buttercream:
In the meantime, using a saucepan on medium-high heat, melt 4 Tbsps of the butter, stirring occasionally and letting it cook for 3-4 minutes, until dark bits begin to form and the entire butter becomes fragrant and darker.

Once done, remove from heat and let cool for a few minutes before refrigerating it so that it is MOSTLY cooled, about 10 minutes.

In the bowl of an electric mixer (attached with a paddle), beat the browned butter, remaining butter, vanilla and shortening on high speed until well combined, about 1 minute. Turning the mixer on low, add 1/2 the powered sugar and cinnamon (which should be whisked together in a bowl), and 1 Tbsp of Almond milk, mixing them together until well combined. Add the remaining powered sugar mixture and mix until well combined. **NOTE: If the buttercream is too thick, add additional milk (1 Tsp at a time); if it's too thin, add additional powered sugar (1 Tbsp at a time). Wallah!
Assembly:
Using a large knife (or cake slicer), slice a thin layer of cake off the tops of each cake to create a flat surface.

Place first cake layer on your cake stand and evenly cover the top with buttercream. Now, top with 2nd layer and evenly cover the top with buttercream. **NOTE: Repeat another step if using 3-layers.**

Once fully layered, add remaining buttercream atop cake and spread it over the tops and sides of cake, evenly and thinly. **NOTE: Adding a thin layer of buttercream around cake and chilling it for 30 minutes to 1 hour before adding remaining buttercream does the trick for an easier frosting of cake; this called a 'crumb coat'; to add a thicker layer of buttercream on cake, simply make the buttercream recipe TWICE and apply full buttercream to the tops and sides.**

Once fully frosted, chill the cake for 5 minutes to ensure that buttercream sets. Top with caramelized bananas, if desired. Slice and enjoy!

Bon Appetit!
FLOUR: If you don't have cake flour, you can always just use all-purpose flour entirely instead. 
LAYERS: For THREE 6-inch layer cake, just DOUBLE the ingredient measurements; for THREE 8-inch layer cake or TWO 9-inch layer cake, just TRIPLE the ingredient measurements.
STORAGE: Keep cake tightly wrapped using plastic wrap and refrigerated for about 1 week.
GF OPTION: If you want to make this cake Gluten-Free, you can simply substitute flours with Bob's Red Mill's 1-to-1 Baking Flour. Just add an additional 3/4 cup or so if needed; To use other GF flours such as coconut, almond, etc. just be sure to add 1 tsp of Xanthan gum. 
CUPCAKES: This recipe yields about 30 cupcakes. Simply bake for 18-20 minutes instead, until centers come out clean.
OIL: Instead of vegetable oil, you can also use Coconut oil, if preferred.
CARAMELIZED BANANAS: In a saucepan over medium-high heat, add 2 Tbsps of vegan butter and let melt. Add sliced bananas (2 medium bananas) and let cook until browned, about 2-3 minutes. Turn bananas over to opposite side and let cook and brown. Add in 2 Tbsps of maple syrup and 1/2 tsp of vanilla and gently stir in. Let bubble for 20-30 seconds before removing everything from heat. Let fully cool before topping on cake.
WALNUTS: In a food processor, add walnuts and process until fully broke down into tiny bits. If larger chunks are preferred, feel free to lightly pulse.
Vegan Banana Cake + Cinnamon Browned Butter Buttercream.