Sometimes you're just craving a healthy, jam-packed salad for lunch or dinner and this Roasted Cauliflower Green Goddess Salad recipe is just the thing that you'll need! Enjoy the beautiful green color of this salad as well as the flavor and nutrients with a variety of ingredients like red + green kale, roasted corn, broccolini, blackened cauliflower, cucumbers, avocado, jalapeños, etc. Entirely dairy-free, vegan, + gluten-free. Make ahead option.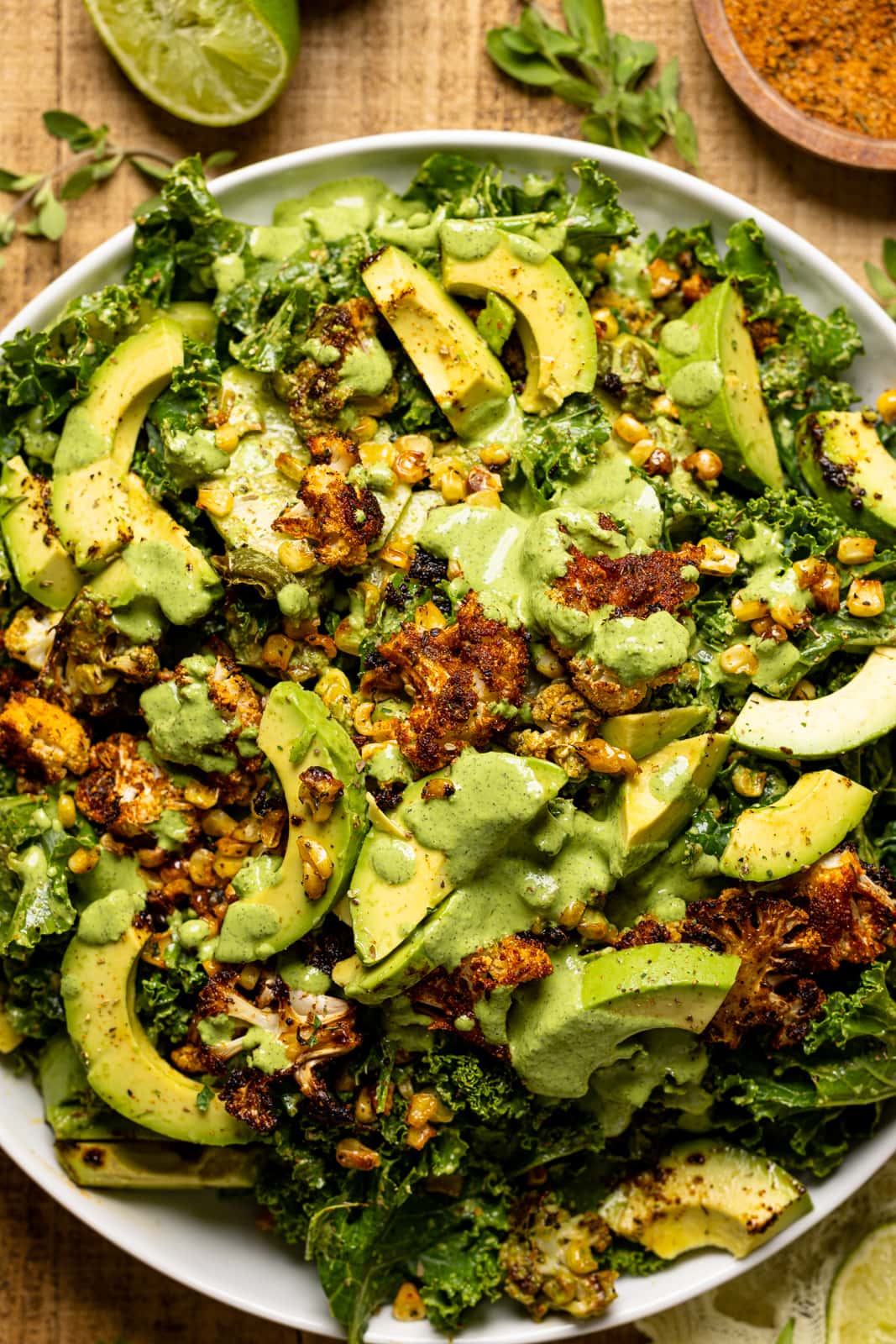 Disclaimer: This post contains affiliate links via Amazon for products that I wholeheartedly love and receive commission from.
Salads have become one of my favorite things to eat lately. I seriously never thought that I would be into salads this much, but after experimenting delicious ingredient options I'm hooked. This Roasted Cauliflower Green Goddess Salad recipe is definitely one for the books and it has so much amazing flavor, especially the very well coveted green goddess flavor like the one at Panera Bread.
Usually, I love a good chicken salad like this Chicken Caesar Salad with Cornbread Croutons, however, you will certainly enjoy the "meatiness" of these roasted cauliflowers which are coated in a savory blackened seasoning. And if you're into salads, then you'll love this Spicy Chipotle Sweet Potato Chopped Salad, Fall Harvest BBQ Chickpea Kale Salad, Ultimate Summer BBQ Chopped Kale Salad, Easy Loaded Corn Salad, and Baked Jamaican Jerk Chicken Salad.
The most amazing part of this salad is that it's entirely meatless, vegan, gluten-free, and dairy-free which makes it perfect for the entire family. Of course, you can mix and match ingredients to meet the need for all of the eaters in your family and you don't have to use just kale as your base and instead add your favorite greens like lettuce, arugula, collard greens, spinach, you name it.
What is a Green Goddess Salad?
Basically, this green goddess salad is an easy recipe that includes kale, roasted veggies, cucumber, avocado, and jalapeños, drenched in a delicious homemade green goddess dressing. The beautiful green color of this salad is what give it it's famous name and while there are many variations like Baked by Melissa's Green Goddess Cabbage Salad, this recipe is a great option that you're sure to love!
Jump to: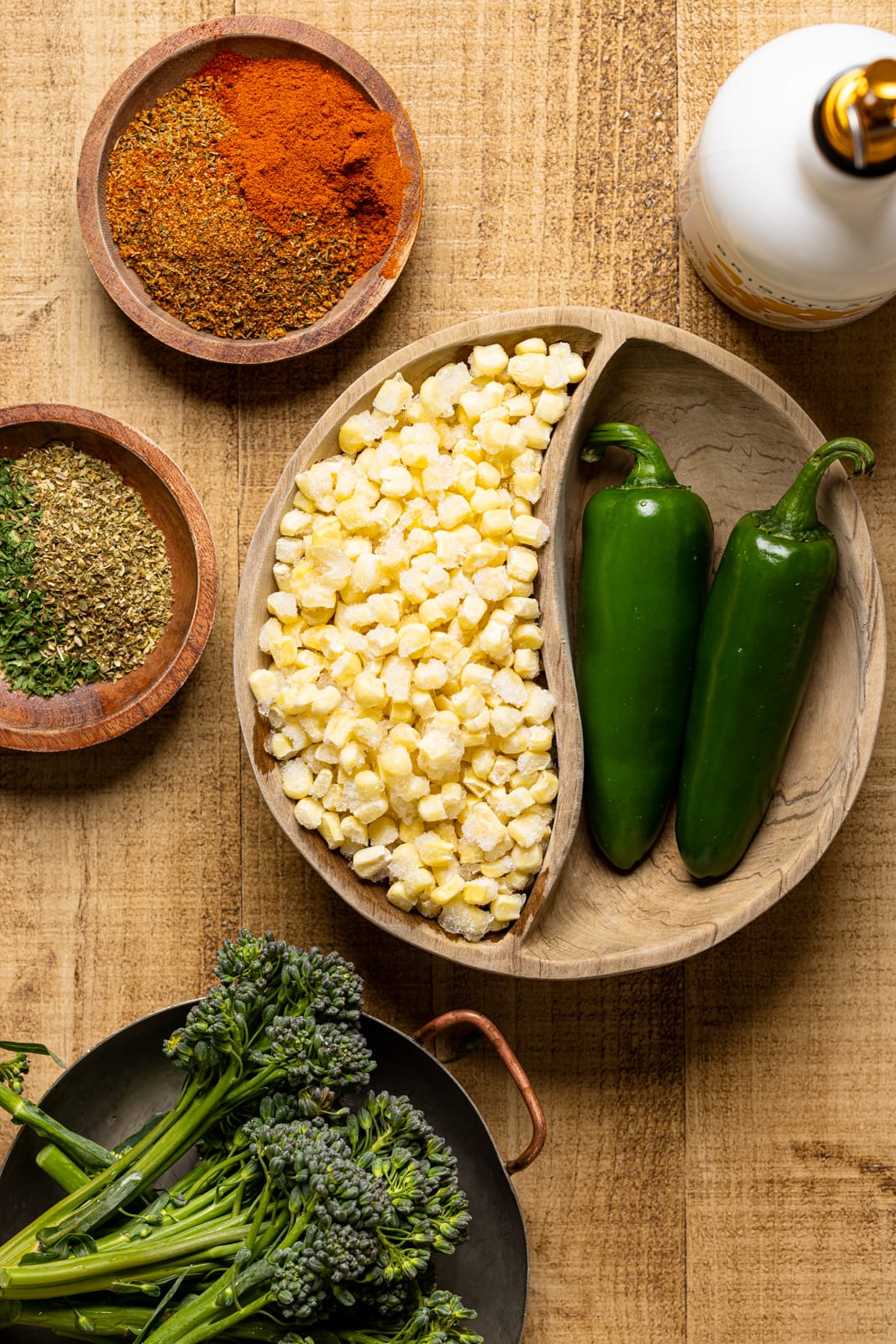 What Does Green Goddess Salad taste like?
Overall, the taste of this green goddess salad is one that is ultra fresh, herby, bright with a hint of spiciness and tanginess. The inclusion of roasted veggies adds a nice charred and savory taste as well.
What Does Green Goddess Dressing contain?
Typically, green goddess dressing contains mayonnaise, sour cream, garlic, fresh herbs, chives, anchovy, and lemon. My dairy-free green goddess dressing has added flavor which include vegan mayo, jalapeños, garlic, kale, basil, plant-based milk, lemon, and an array of seasonings for a nice tie in.
How To Make Roasted Cauliflower Green Goddess Salad
The incredible thing about this green goddess salad recipe is that most of the ingredients are household staples. Plus, it's easy to mix and match ingredients with whatever you have on hand, so there's no need to make an extra trip to the store. To start, you'll want to roast your veggies (broccolini, corn, and cauliflower) until charred and tender. In the meantime, you can chop and massage your kale using a bit of olive oil or lemon juice and chop the remaining ingredients.
Then you'll prepare your green goddess dressing and store it in the fridge until ready to be used. Once the veggies are charred, assemble the salad, drizzle or toss in dressing and enjoy!
Ingredients for Salad
The ingredients for this multi-seasonal salad are simple and easy to customize based on what's in your kitchen:
Olive oil. Use a nice high-quality extra-virgin olive oil to roast the veggies and massage the kale. You can substitute with avocado oil, grapeseed oil, etc.
Herbs + seasonings. I use staple spices like salt, black pepper and smoked paprika.
Blackened seasoning. You can use a store-bought version or make your own blend easily.
Cauliflower. Choose a medium or large head to make enough florets.
Corn. I like to use sweet corn either yellow or white and you can use fresh or frozen. Also, you can use corn cobs and cut them into small 1-inch pieces for great texture.
Broccolini. I love using broccoli or broccolini. You'll be roasting them to perfection before adding them to the salad.
Kale. Be sure to chop your kale leaves well into bite-sized pieces. No one likes feeling like they have to chew for 5 minutes to get through a tough leaf of kale! If you prefer a different leafy green, you can use spinach, romaine, butter lettuce, or another favorite salad base. For an extra touch, I chose to roast my kale for a nice crisp!
Jalapeños. I like the extra spicy flavor.
Cucumber. You'll need to peel + chop.
Avocado. I like to use Haas avocados and chop them into chunks. You can also use them to make guacamole as a topping.
Green goddess dressing. Use your favorite homemade or store-bought dressing to bring this salad to life, however, my favorite Homemade Green Goddess Dressing adds a great bold flavor.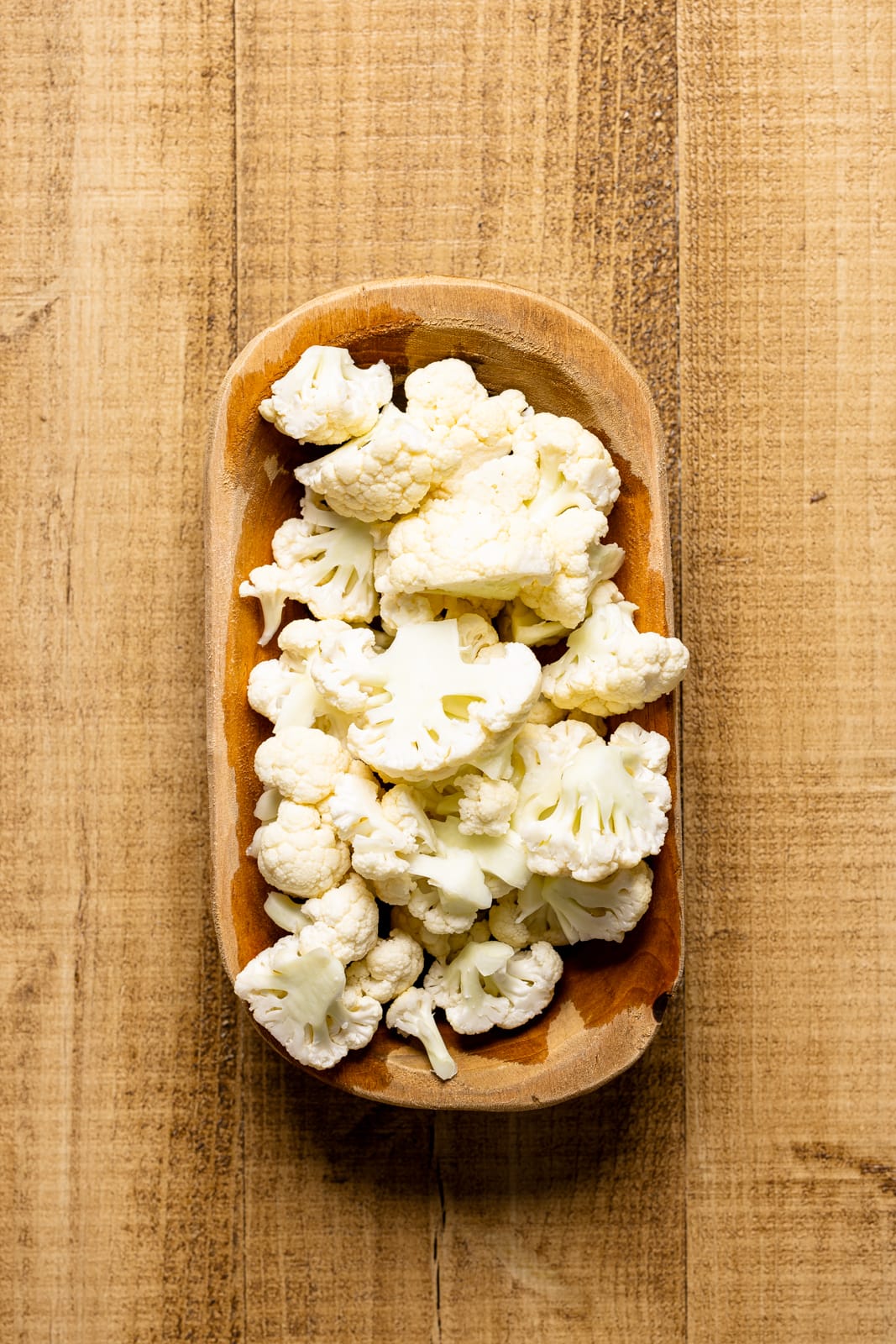 Why and How to Massage Kale
When it comes to massaging kale, it's usually recommended because kale is known for being tough and fibrous, which makes it sometimes hard to chew and digest. However, massaging the kale softens it a great deal and helps the flavors to be more pronounced which works hand in hand with the other ingredients.
My easy method to massage kale is to add the de-stemmed and chopped kale to a large bowl and then drizzling it with 1-2 tsps of lemon juice or Extra virgin olive oil and using your clean hands, rubbing the leaves together gently for about 2-3 minutes. They should look glossy and slightly reduced in volume when massaging is achieved.
Can I Add More Veggies to this Salad?
Definitely! This is a great recipe to mix and match the ingredients/toppings. For added nutrients, fiber, and color, add your favorite veggies.
You can add roasted brussels sprouts, bell peppers, asparagus, green peas, roasted herb tomatoes, mushrooms, or leafy greens (kale, spinach, collard greens). All will be delicious! See further down for more great options.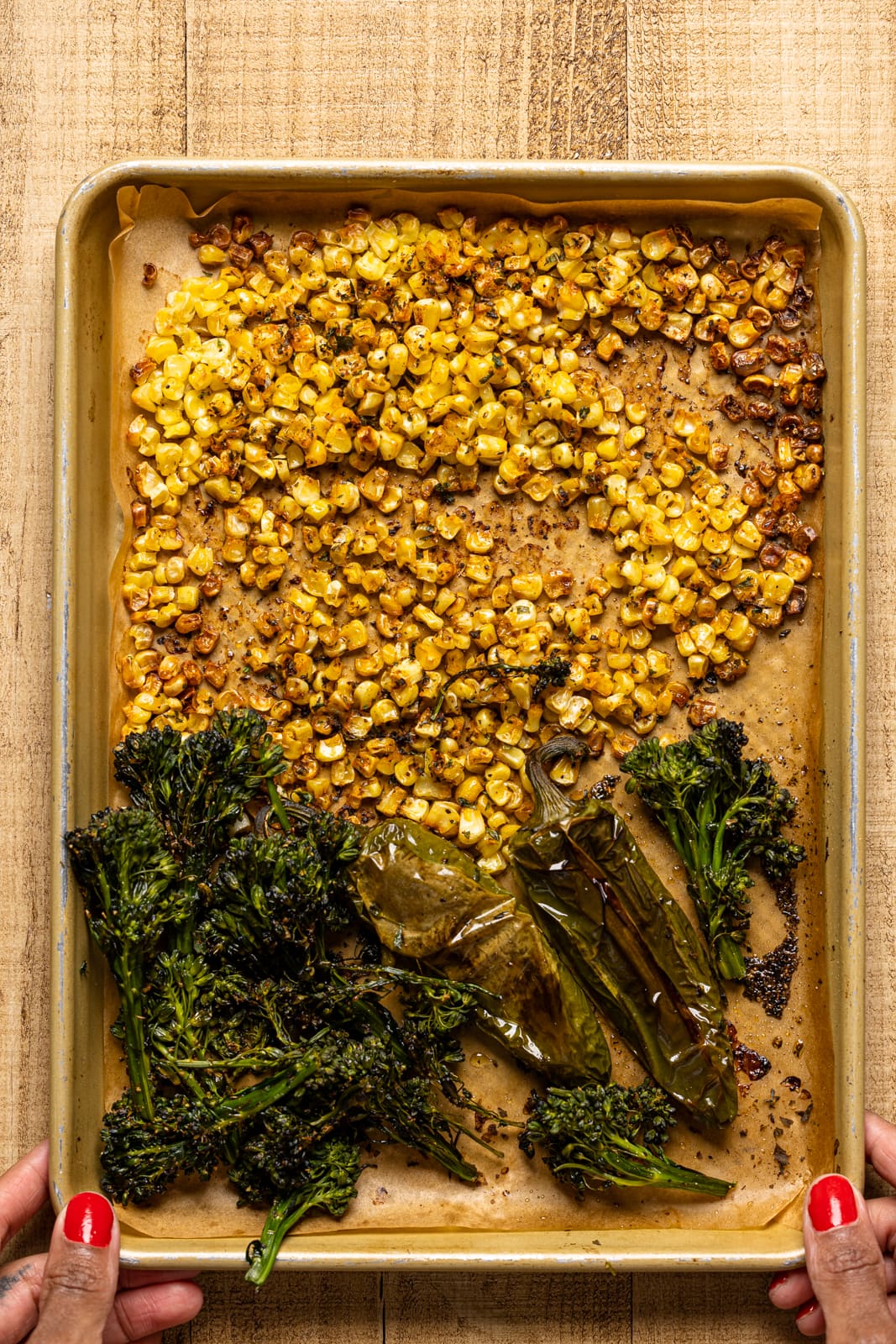 What Can Be Used in Place of Kale in this Green Goddess Salad?
Although, kale is the most common veggie that I love to use as my salad base, you can definitely use other greens such as romaine lettuce, spinach, collard greens, bokchoy, etc. for a nice twist! When it comes to vegetables, there are so many benefits as we all know. While some veggies pack a greater punch when it comes to nutrients, we've curated a special list of our Our Top 12 Favorite Healthy Green Leafy Vegetables! Most of these are super popular while others are under utilized in many dishes. Lettuce Eat, Shall We?
What Are Good Ingredients to Add to a Salad?
If you want to take this already delicious green goddess salad to the next level, have fun tossing in your favorite salad toppers. I especially love the following ingredients with the kale and spicy green goddess flavors in this recipe:
Beans + legumes (i.e. chickpeas, black beans, kidney beans, etc.)
Other greens (i.e. spinach, lettuce, mixed greens, arugula, mustard greens, etc.)
Chicken, shrimp, steak, and salmon (if you're a meat eater)
Vegan meatballs or vegan chick'n
Bacon, chopped
Tofu, mushrooms, tempeh, etc. (Great meat alternatives)
Nuts + seeds
Croutons, baked tortilla, or pita chips
Cheese, either dairy or plant-based (feta cheese would be especially nice in this salad)
Grains like farro, quinoa, couscous, etc.
Boiled or poached eggs
Shredded carrots
Edamame, peas, etc.
Roasted veggies (i.e. asparagus, potatoes, sweet potatoes, zucchini, butternut squash, etc.)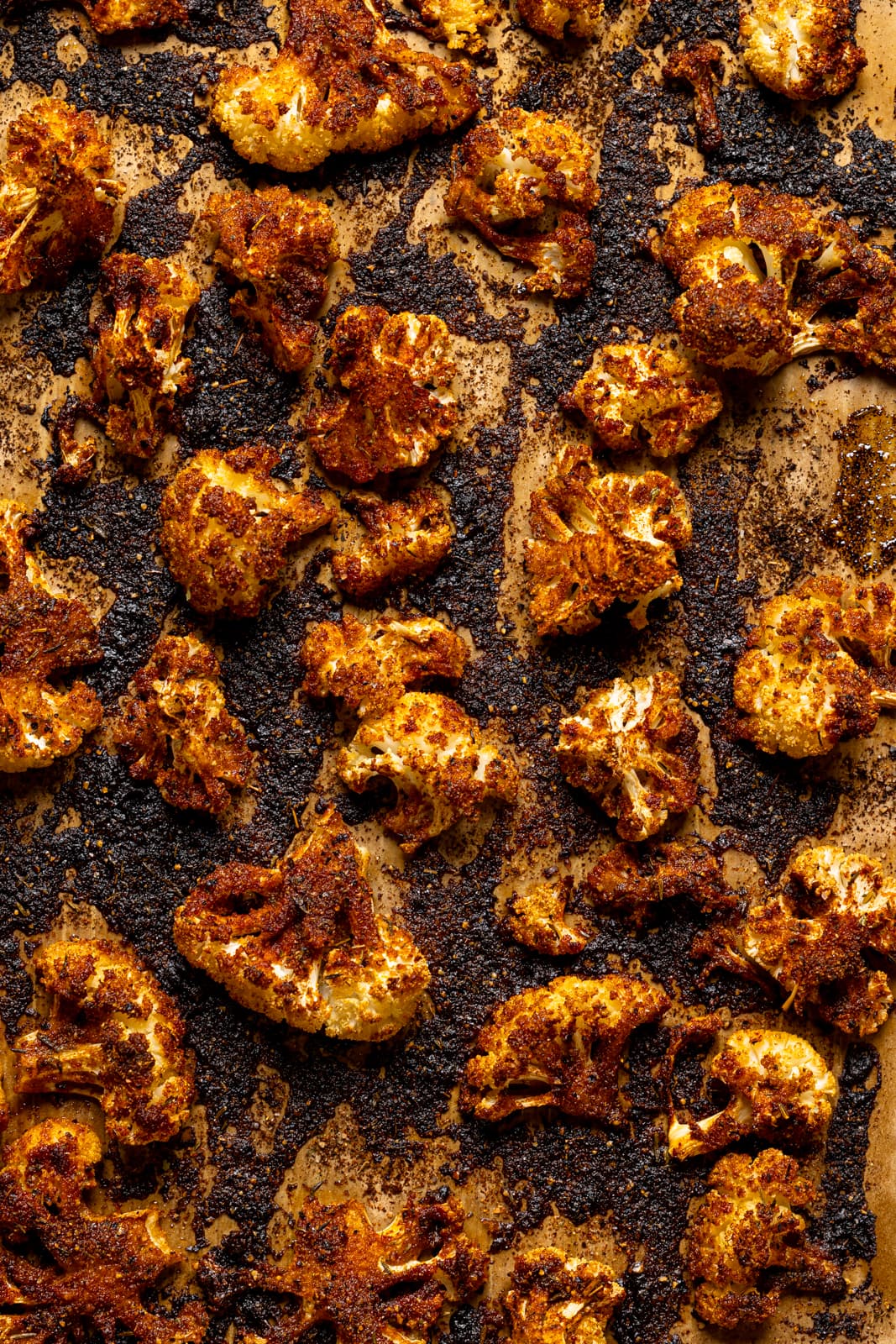 Homemade Blackened Seasoning Blend
Sure, you can find pre-made seasoning blends at the grocery store. But there's nothing like the fresh, customized flavor you get by making your own blend. The herbs and spices in the Blackened spice mix for this recipe are inspired by my love for bold flavor, rather similar to cajun seasoning (except that blackened seasoning isn't as spicy).
You can Store the seasoning blend in an airtight container at room temperature for up to 6 months as you would your regular ones. Use it on anything from simple roasted vegetables to salad dressing to herb oil for dipping bread or other meats/meat alternatives.
What You'll Need:
Smoked paprika
Onion powder
Garlic powder
Dried thyme
Dried oregano
Cayenne pepper
Salt
Black pepper
Brown sugar
NOTE: For the smoked paprika, you'll use about 1 Tbsp, while you'll need ½ teaspoon for the cayenne pepper, and 1 teaspoon for everything else.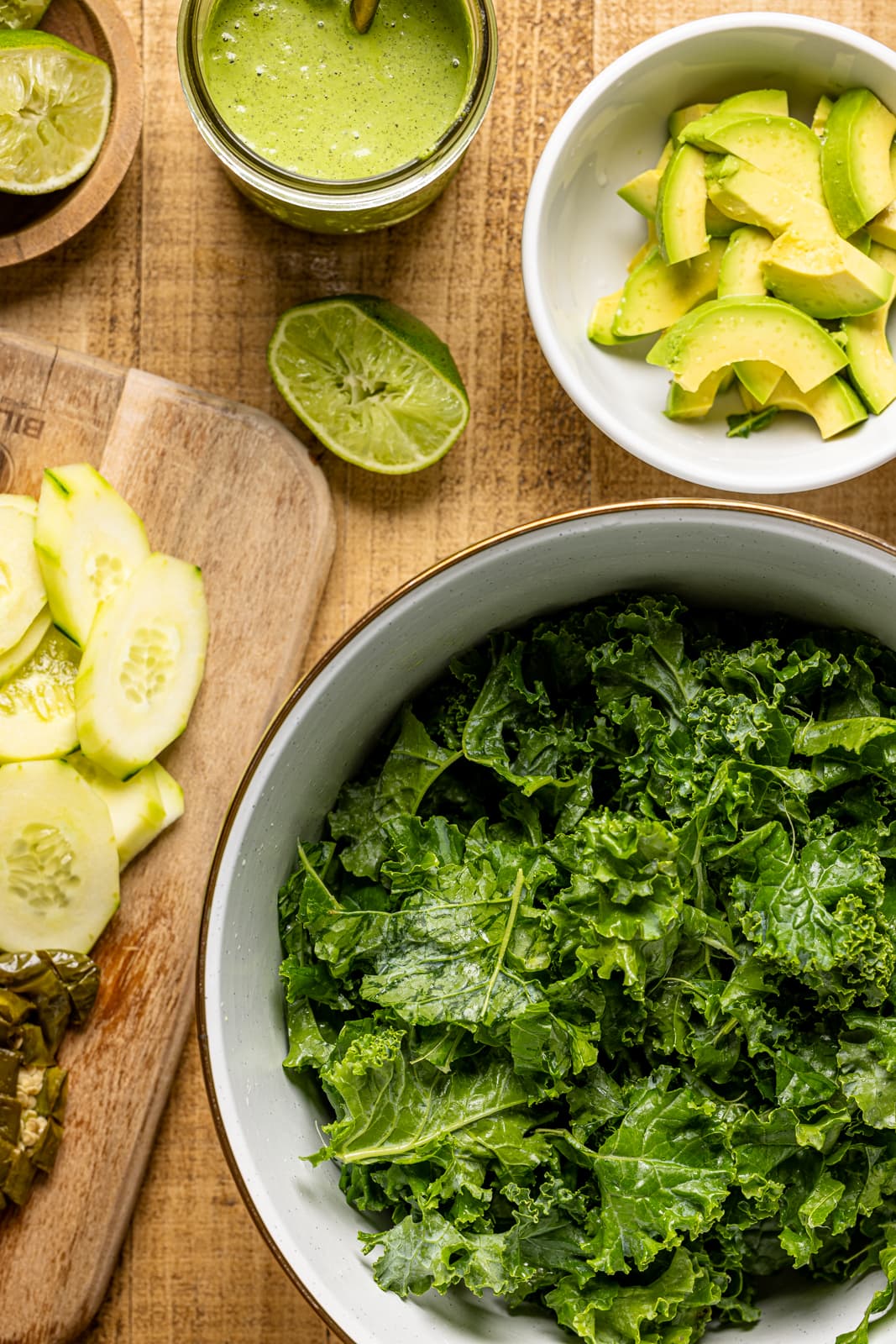 How to Make Homemade Croutons
This Green Goddess Salad is easy to throw together, but if you'd love additional texture + crunch croutons are a great addition! While you might think that it's so hard to make----I'm here to show you just how easy it is, using the following ingredients:
Rustic bread, cubed into ¾ inches
Extra Virgin Olive Oil
Italian seasoning
Garlic powder
Dried parsley
Salt + Black pepper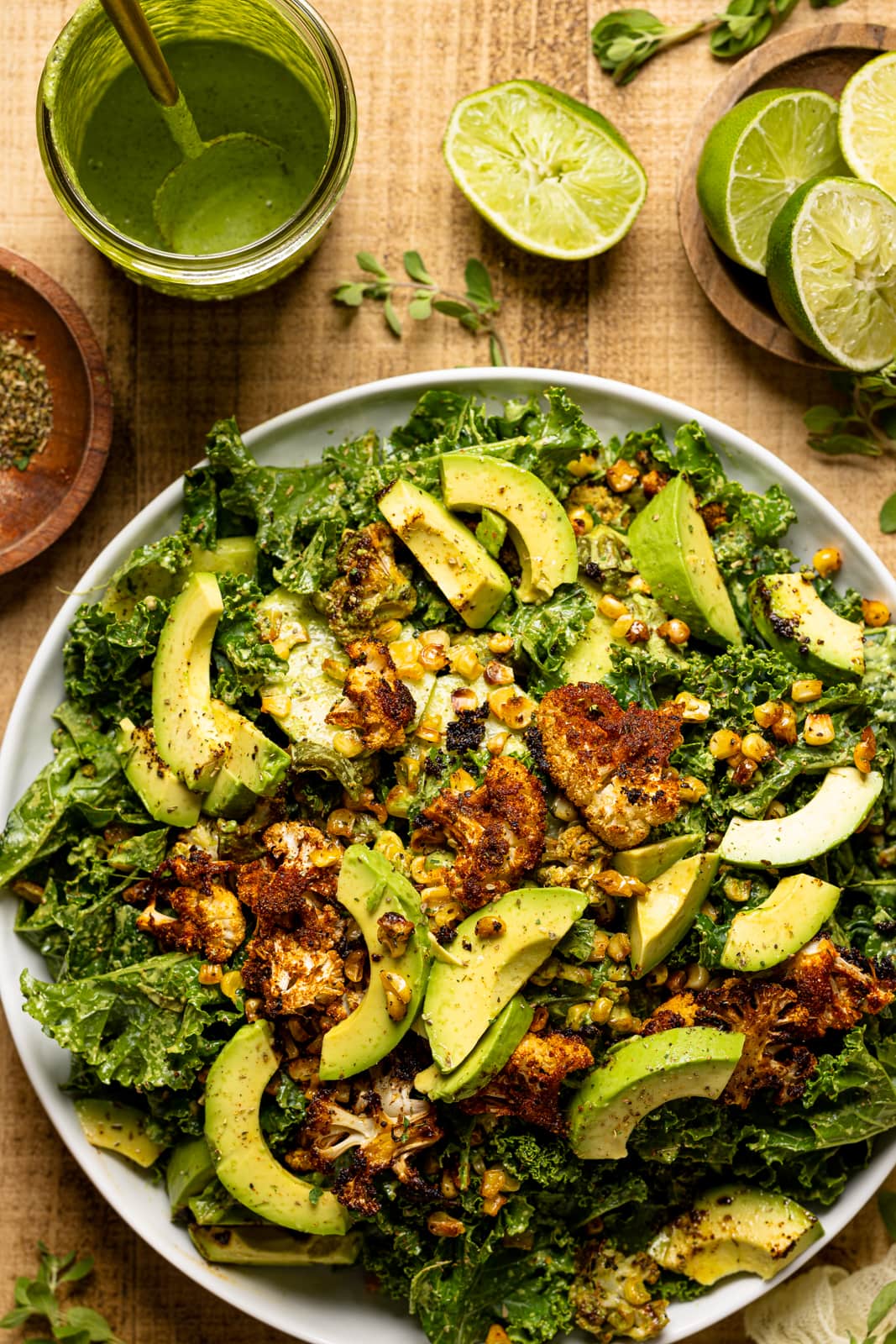 What to Eat with Green Goddess Salad
You can enjoy this Roasted Cauliflower Green Goddess Salad on its own as a nice lunch or dinner. Of course, a side of bread or simple side dish of wings, roasted veggies, etc. works! Or, if you'd like to add additional protein to round out your meal, add crispy tofu or nuts to keep things plant-based. If you're not vegetarian or vegan, you can add seared salmon, chicken, or another meat.
If you're offering this salad as a side dish, I personally love it paired with a hearty and warming entree like Creamy Garlic Chicken Gnocchi Soup, Creamy Lemon Broccoli Tortellini Soup, Roasted Carrot Soup + Cheesy Croutons, Creamy Roasted Garlic Tomato Soup or Easy Roasted Butternut Squash Soup.
For a hearty bite, I enjoy this salad with the following meals also: Hubby's Date Night Vodka Ravioli [without the Vodka], Southern Hot Honey Fried Chicken, Creamy Jamaican Rasta Pasta, Crispy Buffalo Cauliflower Wings/Bites, The Best Vegan Meat Sauce + Gnocchi , or Creamy Tuscan 'Marry Me' Chicken.
How to Make Chopped Salad with a Food Processor
For greater ease, you can easily make this green goddess salad a chopped salad by chopping your ingredients in a food processor for the perfect bite. I suggest first starting with solely the kale leaves once they are de-stemmed. Add them to your food processor and pulse for a few seconds before they are too minced. Then remove those chopped greens and place them into a bowl and work your way through the other ingredients (all processed separately).
Once all ingredients are chopped, add them together in a bowl and continue recipe.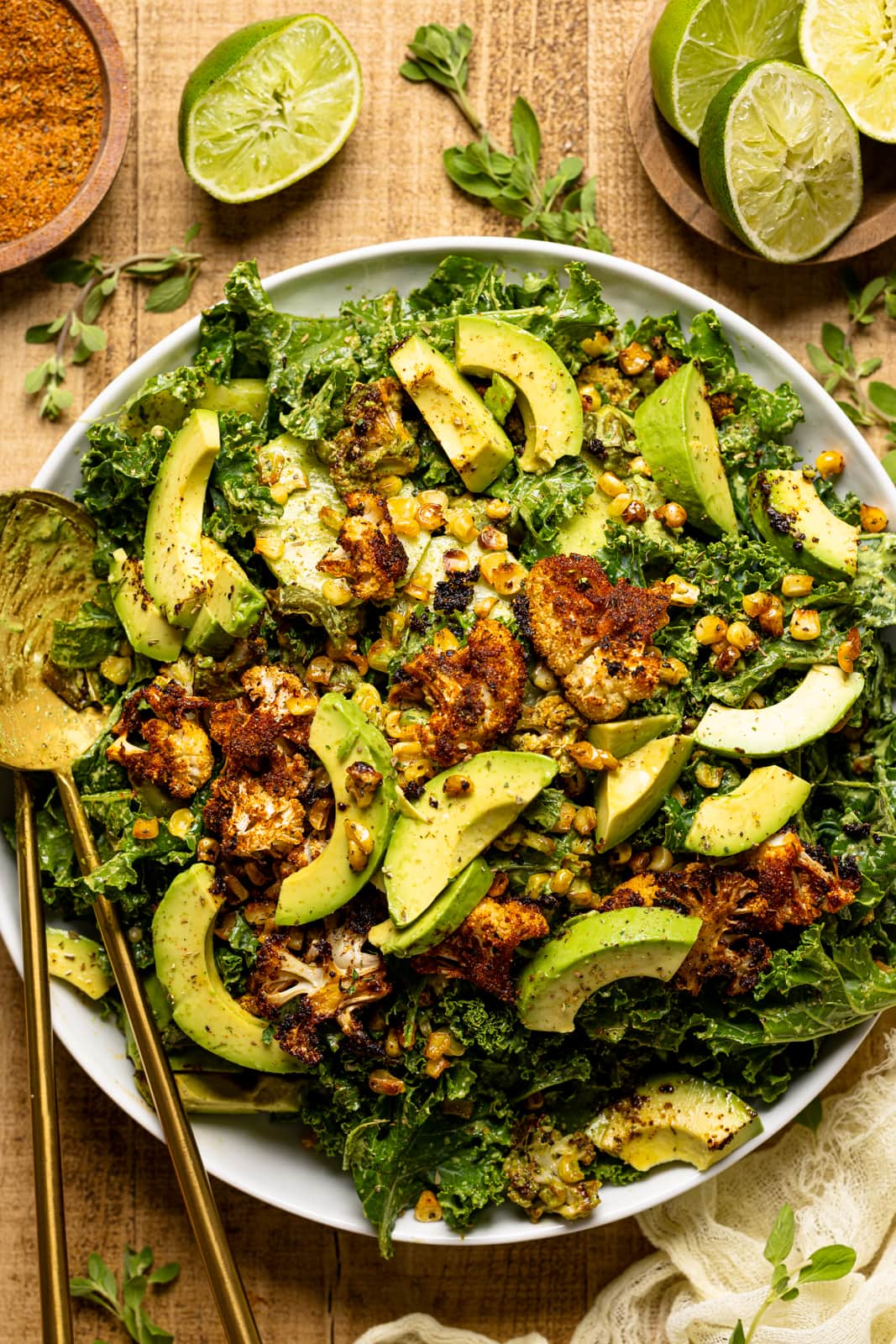 Common Q + A's for this Roasted Cauliflower Green Goddess Salad
Can I Make this Green Goddess Salad Ahead of Time?
Absolutely! The roasted corn, broccolini, cauliflower and chopped veggies can be made up to 2 days beforehand and stored in an airtight container and refrigerated. The dressing can be made and refrigerated in a separate airtight container. The kale can be chopped up to 30 minutes before serving.
How Long does this Green Goddess Salad last?
Leftovers can be refrigerated in an airtight container for up to 3 days, depending on the ingredients. Always determine the ingredients in your salad and keep it no longer than the shelf life of your fastest-spoiling ingredient.
What's in Panera Bread's Green Goddess salad? Is this similar?
Basically, Panera Bread's version of green goddess salad includes pickled red onions, hard boiled eggs, chopped bacon, green goddess dressing, avocado, tomatoes, arugula, romaine, and kale.

While my green goddess recipe isn't similar to Panera Bread's version, as I've mentioned in the post, you can totally mix and match and add ingredients to this salad to make it best fit your taste buds! See "Good Ingredients to Add to a Salad" section for ideas.
Is Green Goddess good for you?
Like many other dressings (store-bought), there will be high levels of sodium and other ingredients that aren't the best! However, the great thing about making it homemade like in this recipe is that you have more control over the quality of ingredients and since it's dairy-free and vegan, it's a lot healthier than store-bought.
Which green salad is good for health?
Honestly, any salad that includes more healthier ingredients, especially greens like spinach, kale, romaine, watercress, and arugula are great options because they contain rich amount of Vitamins A, C, + K as well as other nutrients.
Why is iceberg lettuce not nutritious?
According to research, iceberg lettuce has a high water content, which causes it to not be as rich in nutrients as other types of lettuce.
What is the difference between goddess and Green Goddess dressing?
While at first glance you might assume that both are the same----they're not! Green goddess dressing is a creamier dressing that contains an array of herbs while Goddess dressing is more tahini-based with lemon and tangy flavors.
How long is Green Goddess Dressing good for?
Once the dressing it added to your favorite mason jar or tightly sealed container, you can refrigerate it for 3-4 days for optimal freshness. At most, up to 5 days!
Other Family-friendly Recipes You'll Love!
Fans of this Roasted Cauliflower Green Goddess Salad will also love these recipes too!
MADE OUR RECIPE(S)?
If you tried this Roasted Cauliflower Green Goddess Salad or any other recipe on my website, please please leave a 🌟 star rating and let me know how you go in the 📝 comments below. I love hearing from you.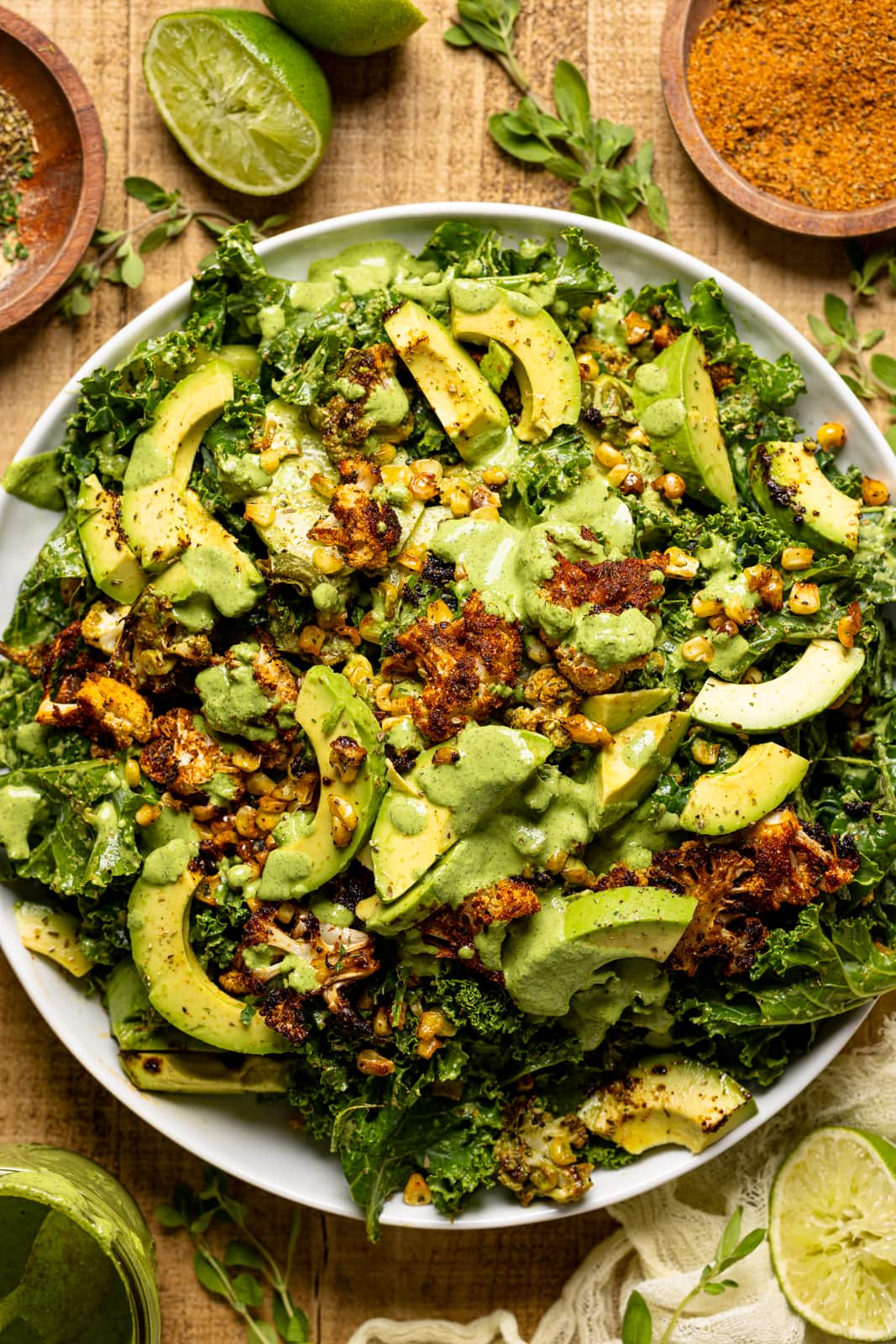 ROASTED BLACKENED CAULIFLOWER:
1

head

organic cauliflower, cut into florets

2

Tbsps

Extra virgin olive oil

1

tablespoon

blackened seasoning, homemade or store-bought

(See Post for details)

1

tablespoon

pure maple syrup

1

teaspoon

smoked paprika
SALAD:
2

bunches

organic kale, de-stemmed + roughly chopped 

(You can use green or red or both)

2

jalapeños, chopped

1

organic cucumber, peeled + sliced

1

Haas avocado, peeled, pitted, + chopped
Begin by preheating the oven to 400 degrees Fahrenheit and prepare two separate baking sheets by lining them with parchment paper.
TO MAKE THE BLACKENED CAULIFLOWER:
In a bowl, add the cauliflower florets, olive oil, blackened seasoning, smoked paprika, and maple syrup, mixing everything together until cauliflower are coated.

Add coated cauliflower unto one of the prepared baking sheets and set it aside.
TO MAKE THE ROASTED VEGGIES:
On the other prepared baking sheet, add the corn and broccolini, coating them with olive oil, salt, and black pepper.

Add both baking sheets to the preheated oven and let everything roast for 20-25 minutes or until veggies are charred and golden. Remove from oven and let cool slightly.
TO MAKE THE GREEN GODDESS DRESSING:
CHOP + MASSAGE KALE:
Strip the leaves from 2 large bunches kale and discard the stems if you haven't already. Roughly chop the leaves and add them to a large bowl. Drizzle about 1-2 tsps of lemon juice or olive oil atop chopped kale and using clean hands, rub together the kale gently for about 2-3 minutes to soften the leaves and help to infuse the 'flavors' of the kale.
ASSEMBLE THE SALAD:
In a large serving plate or salad bowl, add the chopped kale followed by the roasted corn, broccolini, chopped cucumber, chopped jalapeños, roasted blackened cauliflower, and sliced avocado.

To serve, add the salad to your favorite bowl(s), drizzle with green goddess dressing, and additional favorite toppings like grated parmesan, croutons, etc. if desired.

Bon Appetit!
STORAGE: Leftovers can be refrigerated in an airtight container for up to 3 days, depending on the ingredients. Always determine the ingredients in your salad and keep it no longer than the shelf life of your fastest-spoiling ingredient.
MAKE AHEAD: The roasted corn, broccolini, cauliflower and chopped veggies can be made up to 2 days beforehand and stored in an airtight container and refrigerated. The dressing can be made and refrigerated in a separate airtight container. The kale can be chopped up to 30 minutes before serving.
HERB ROASTED TOMATOES: To see the recipe, tap this link.
GREENS: If preferred, you can always add greens like Lettuce, Arugula, Mustard Greens, Spinach or Collard Greens to this pasta dish for added flavor. 
Calories:
165
kcal
|
Carbohydrates:
7
g
|
Protein:
2
g
|
Fat:
15
g
|
Saturated Fat:
2
g
|
Polyunsaturated Fat:
2
g
|
Monounsaturated Fat:
10
g
|
Sodium:
617
mg
|
Potassium:
273
mg
|
Fiber:
3
g
|
Sugar:
4
g
|
Vitamin A:
6818
IU
|
Vitamin C:
69
mg
|
Calcium:
175
mg
|
Iron:
1
mg