This Meatless Baked Ziti with Ricotta + Mozzarella is a classic recipe for the entire family! Packed with bold, savory flavors, this recipe is the perfect vegetarian option that is made with creamy ricotta, roasted herb tomatoes, chunks of kales, and topped with well-seasoned tomato sauce, and generous amounts of Mozzarella cheese. Make ahead + Gluten-Free options available.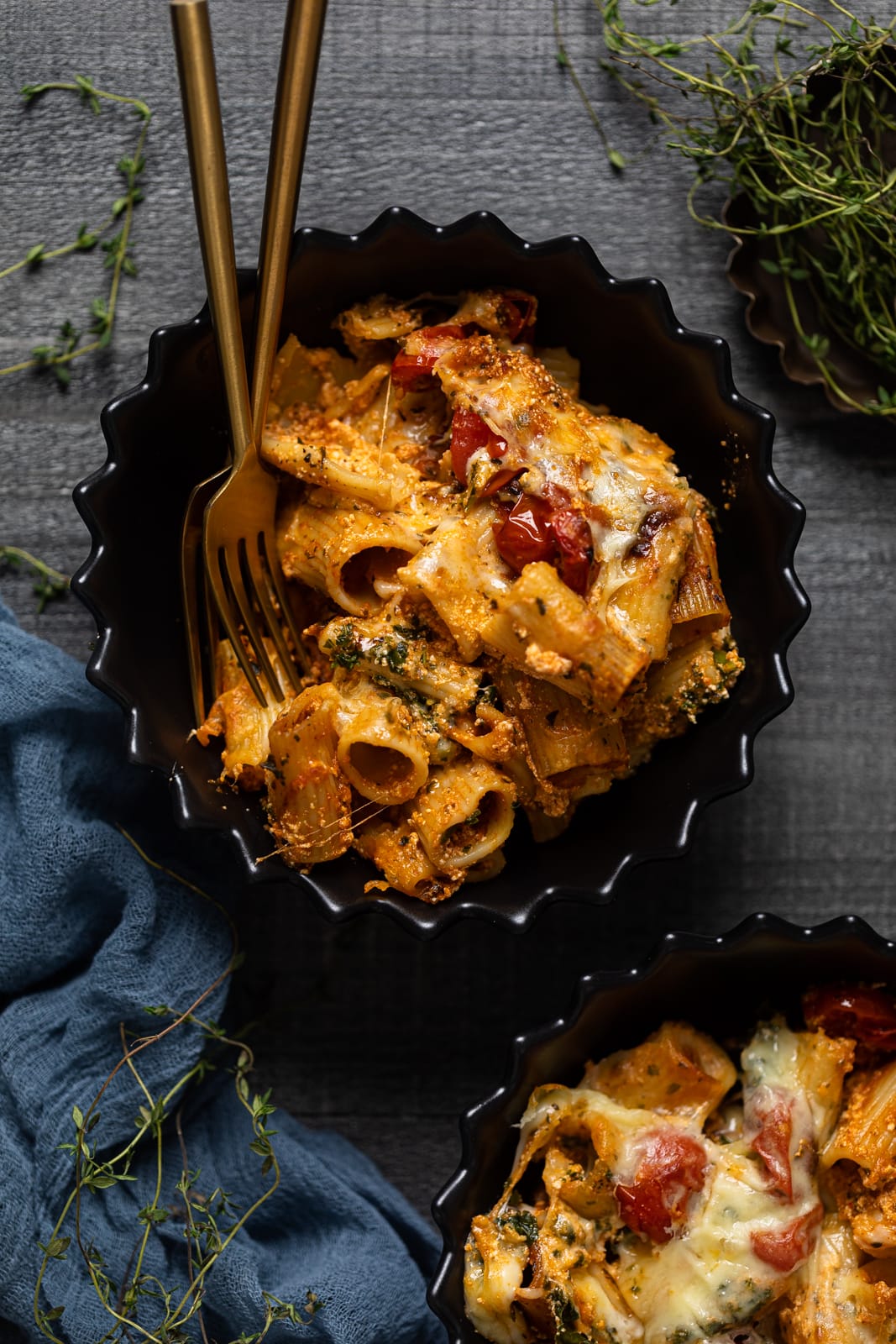 Meatless Baked Ziti with Ricotta + Mozzarella-------I love past dishes, especially pasta bakes. Honestly, they are the perfect lazy meals for during week or on weekends.
This meatless baked ziti is truly something delicious. This vegetarian option pasta bake is truly amazing. Nothing short of flavor and it's even perfect once reheated!
So, these quick, easy meals come in real handy, especially on those days!
Of course, you can always search 'weeknight meals' on our site for more deliciousness.
How to Make Meatless Baked Ziti with Ricotta + Mozzarella
Start making this recipe by roasting your tomatoes. This recipe for herb-roasted tomatoes produces the best-tasting, most concentrated roasted tomatoes. They have a thick, jammy texture that creates a sauce all on their own in addition to the delicious tomato filling/sauce.
Next, cook the ziti or rigatoni according to package instructions. And while the pasta cooks, you can make the simple garlic and tomato sauce on the stove.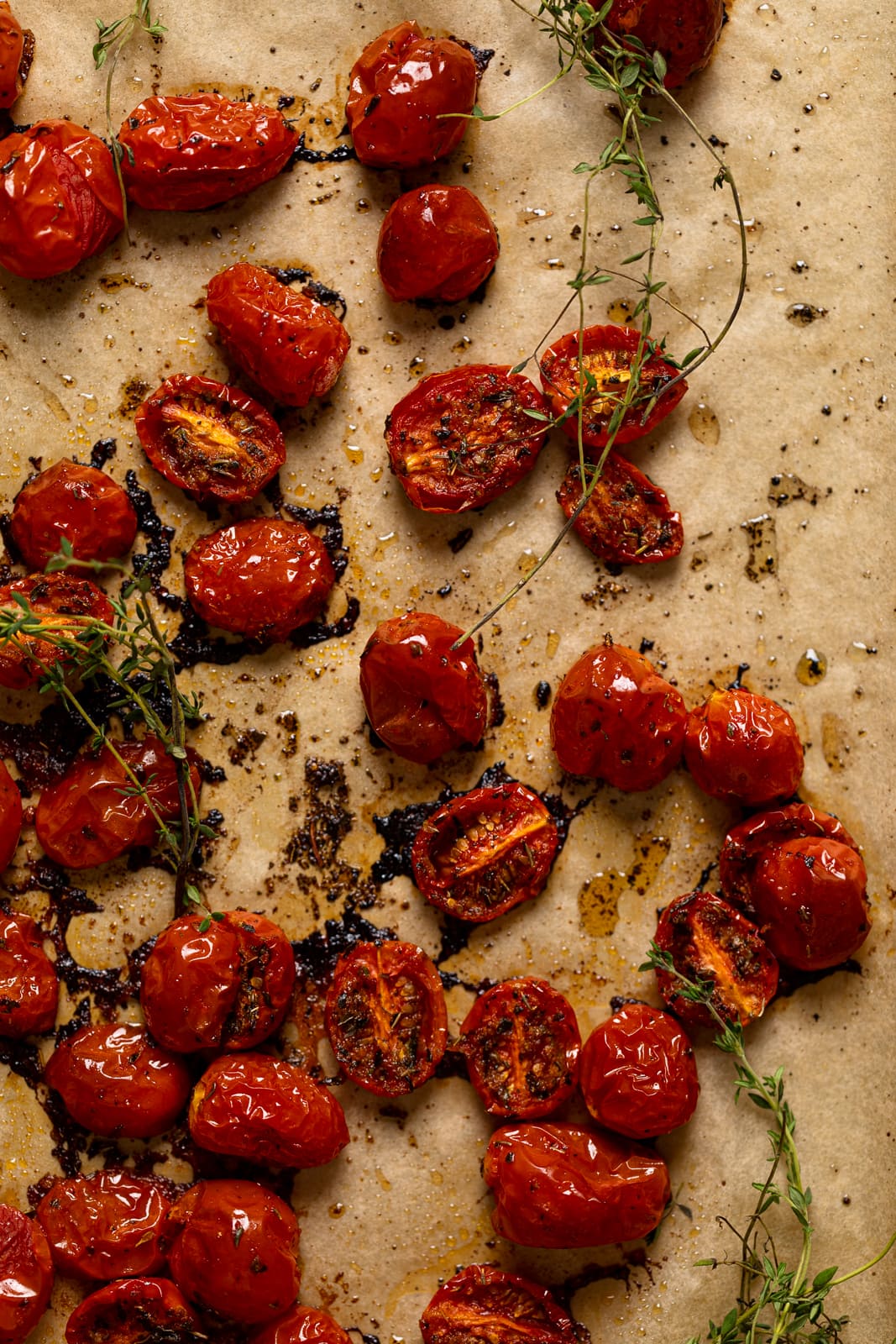 5 REASONS WHY YOU'LL LOVE THIS BAKED ZITI PASTA!
It's absolutely delicious----creamy + velvety!
Super easy to make and quick (plus, no crazy clean-up! Can we say–Everything in a skillet?)
Loaded with Cheesy flavors, velvety ricotta, + chunks of tomatoes and kale.
Full of flavor + well seasoned! (The best reason!)
Perfect for any time of day—Dinner, Lunch, Breakfast (if that's your thing), whatever!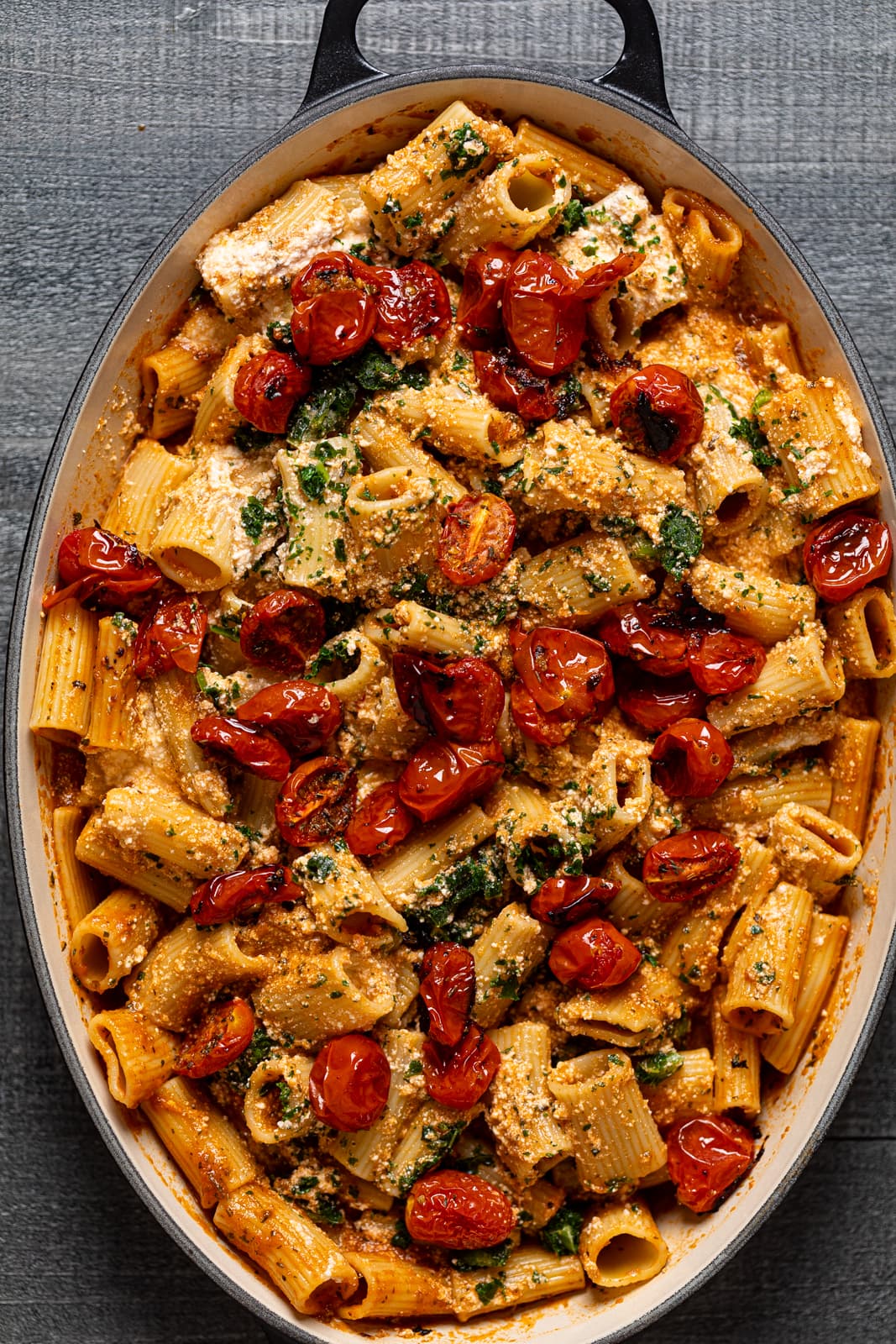 Ingredients For This Meatless Baked Ziti with Ricotta + Mozzarella
Dried Ziti Pasta – This is the traditional pasta used, however, you can always substitute with rigatoni pasta for an extra bite
Mozzarella Cheese – Makes things nice + creamy; plus, adds such rich cheesy flavor
Roasted tomatoes – Adds great texture and extra tomato-y flavor to dish
Kale – Adds great earthy flavor to everything
Herbs + Seasonings – A great addition of flavor. Adds such savoriness nice + a beautiful kick of spice
Tomato Sauce – Can be homemade or store-bought. Always add seasoning to enhance the taste
Ricotta Cheese – Adds such a creaminess to everything
Veggie Stock– Helps to add extra flavor and creaminess
Olive Oil – Used for cooking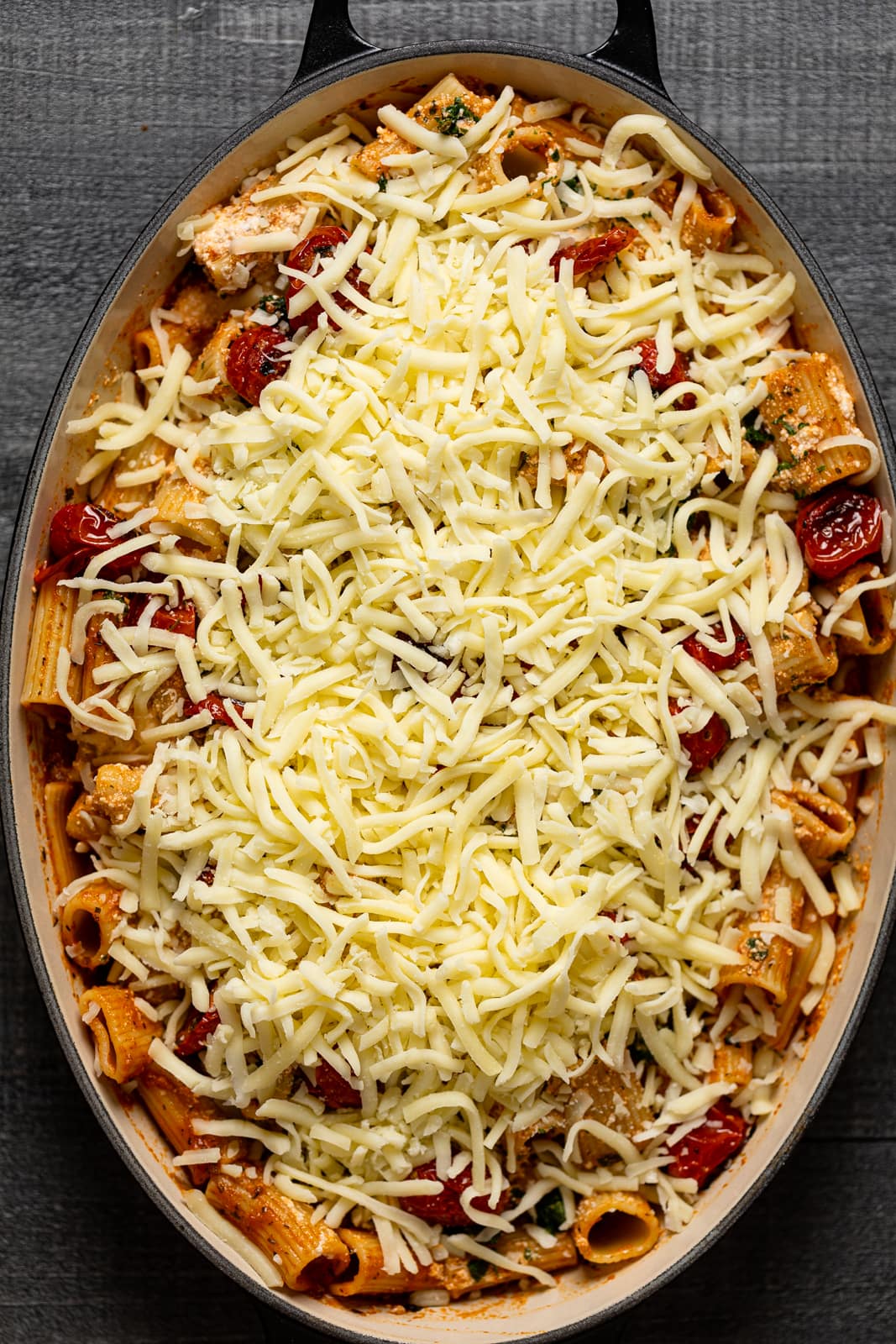 SERCRET TO A CREAMY FILLING?
The ricotta mixture. Simple!
In order to ensure that your filling for the pasta bake is smooth and creamy, you must ensure that your ricotta mixture is nice in velvety.
Since ricotta cheese usually comes out a bit thick, the trick to the ultimate creaminess is in mixing in a bit of the boiled pasta water. Yup. You've read right.
A few Tbsps of boiled pasta water loosens things up nicely and creates a nice smooth texture. So, once you fold in the parmesan and any other ingredients (i.e. kale or spinach), you're good to go!
Since we're on the topic of pasta—-I figured that you would really love the following Vegan + Vegetarian options below.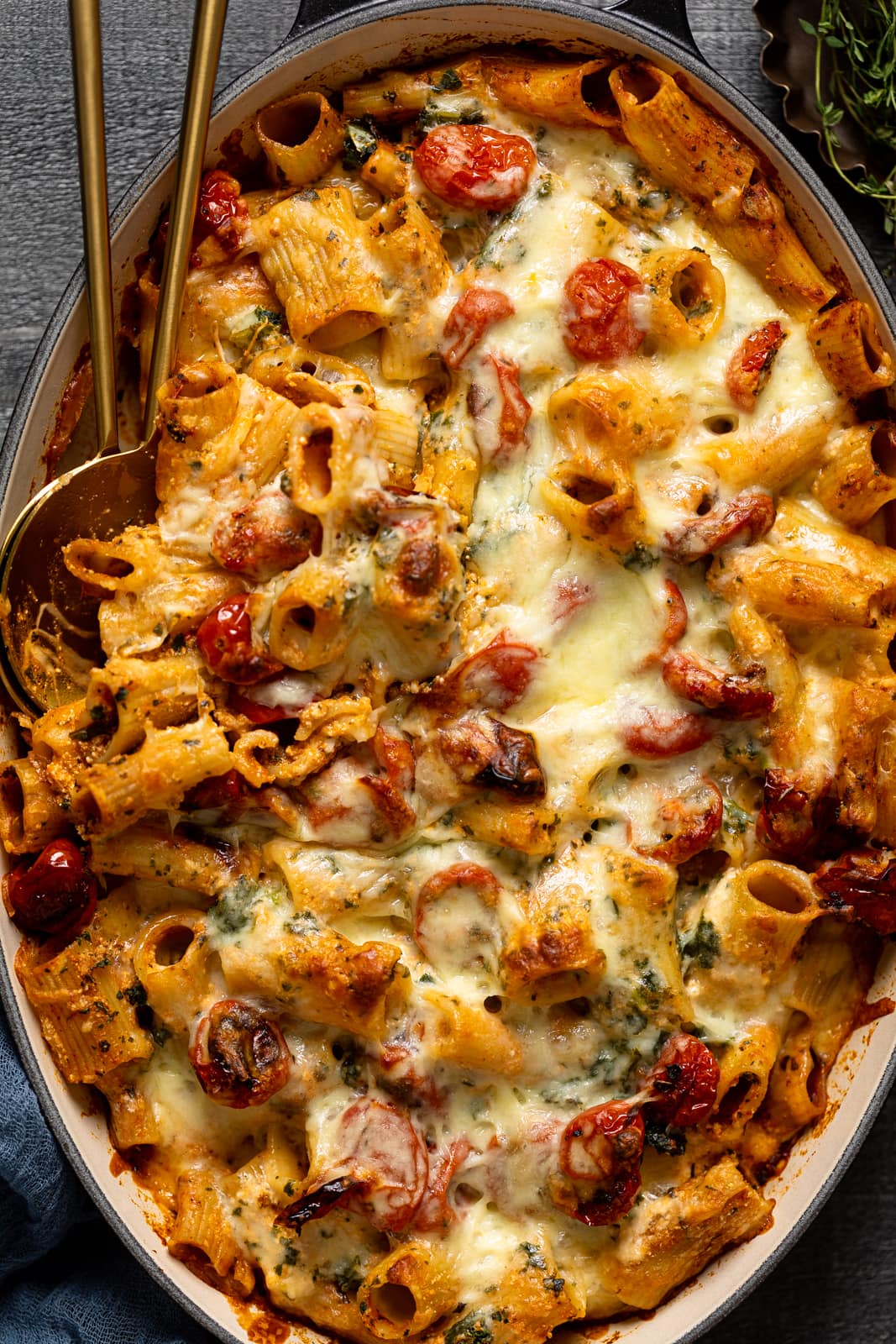 How to Make Herb Roasted Tomatoes
The key for this recipe is to start with great-quality tomatoes. Choose a mix of large and cherries, and several different colors if you can find them.
INGREDIENTS
Tomatoes. You can add as many tomatoes as will fit on your baking sheet.
Olive oil. Don't skimp on the oil! It helps concentrate the tomato flavor and makes a nice jammy texture. You can use these roasted tomatoes like a dressing or sauce.
Dried herbs. I like a mixture of Italian herbs like oregano, basil and parsley. But you can mix up the seasonings with other fresh or dried herbs. Thyme, rosemary, marjoram and tarragon are all delicious with tomatoes.
Spices. Likewise, feel free to play with different spices in your roasted tomatoes. I like paprika, garlic powder and a pinch of red pepper flakes for a slight kick.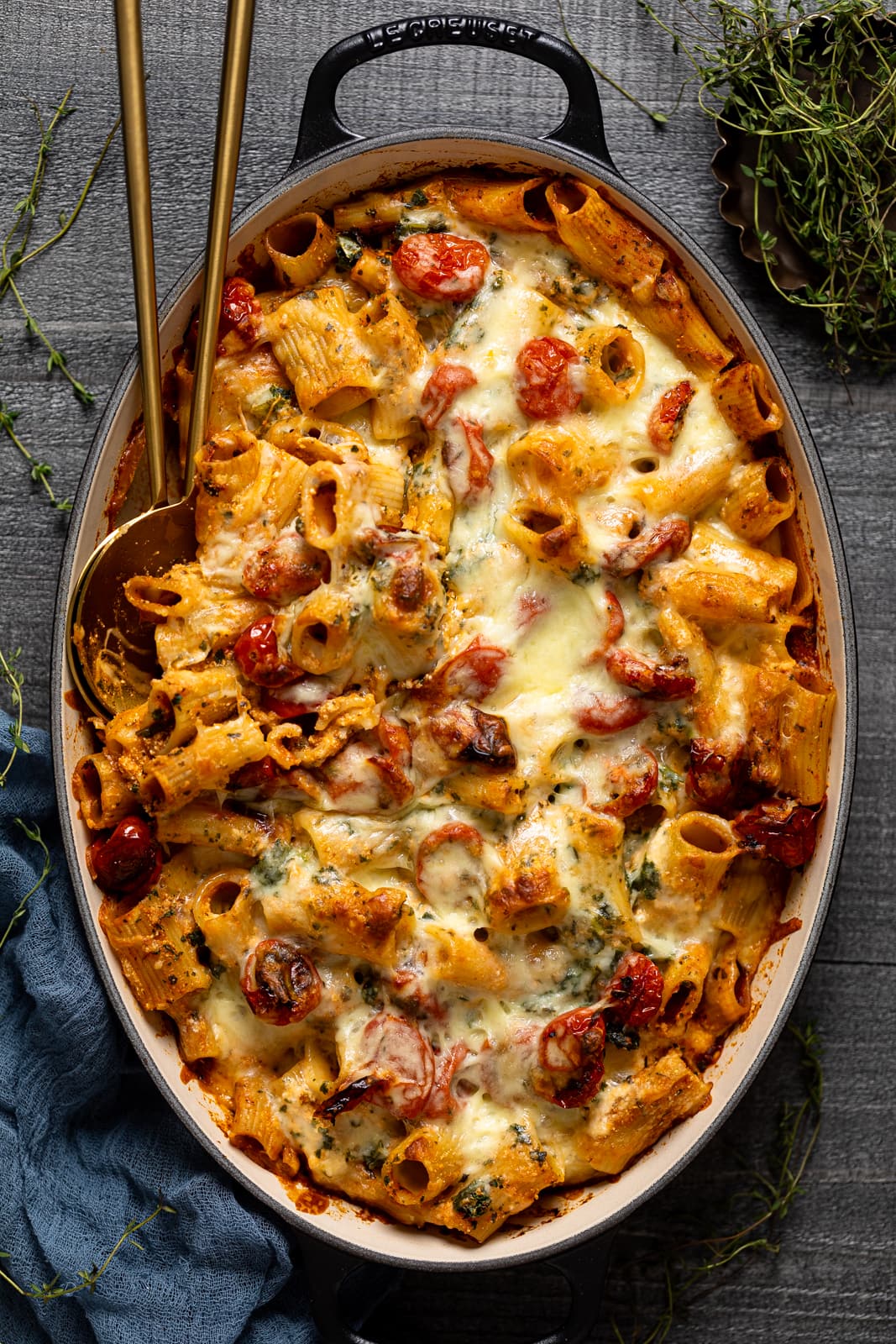 How To Make Your Sauce More Flavorful?
It's all about the seasoning! Whether you choose to make your tomato sauce from scratch or use a store-bought version, adding seasoning to your sauce is KEY! Adding flavor to the base of your sauce with garlic and seasonings will add more depth to your pasta bake and allow everything else to marry together well.
Just let it all simmer together and slowly bubble as the seasonings infuse deeply.
Begin by cooking ziti pasta according to the directions of the packaging (about 8-10 minutes) and drain (leaving aside 2-3 Tbsps of pasta water for later).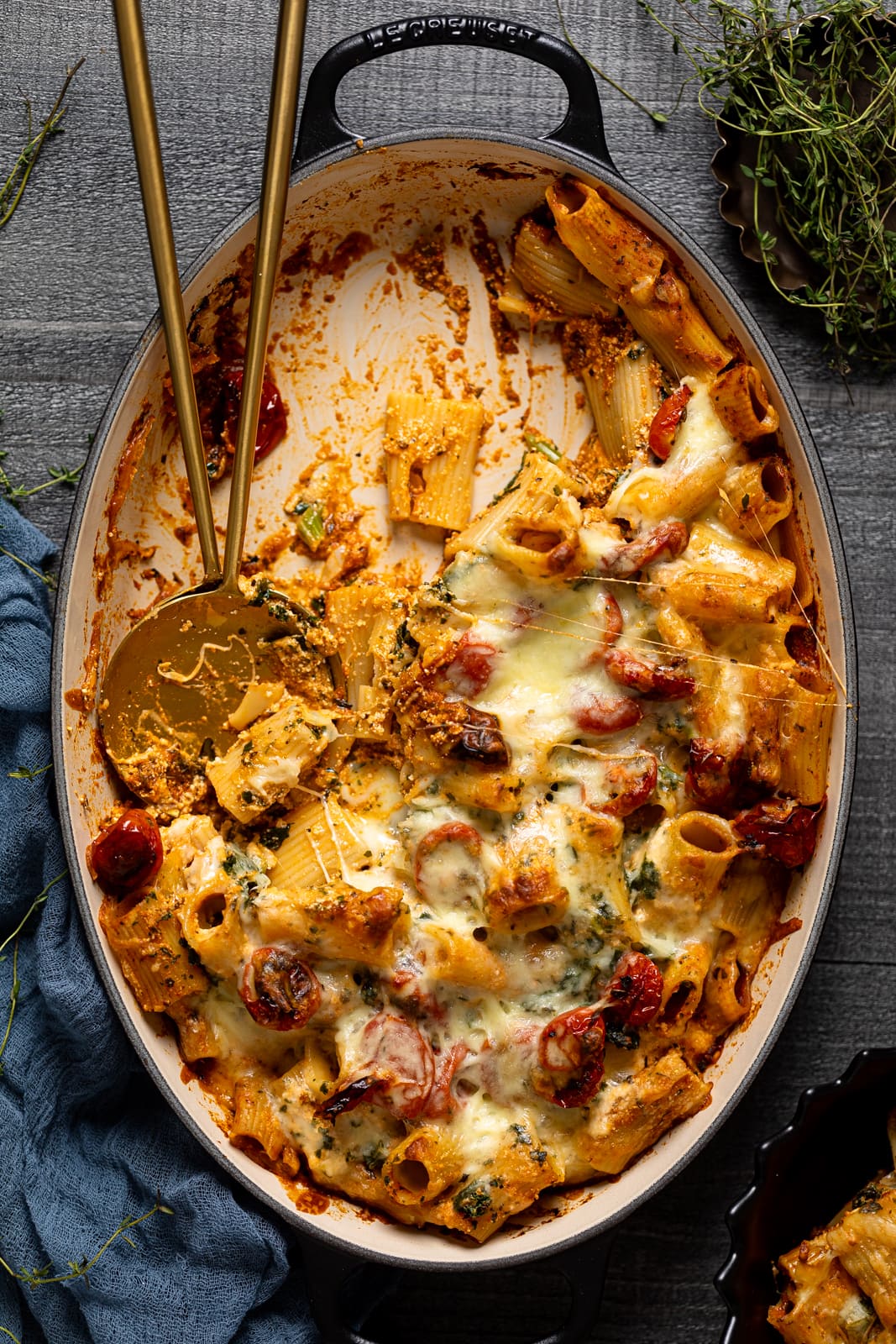 Baked Ziti Made in a Few Easy Steps.
Preheat oven to 400 degrees Fahrenheit.
Roast the tomatoes.
Lightly grease a standard baking dish.
Mix together ricotta cheese, a bit of pasta water, + kale until combined.
In a pot on medium-high heat, add oil (1 Tbsp) and add the tomato sauce.
Add veggie stock, stir. Add seasonings and herbs (including garlic cloves), stir.
Let sauce bubble for 2-3 minutes.
Remove from heat.
Add drained pasta, stir.
Add a bit of the tomato sauce to the base of the baking dish.
Add pasta to dish and stir in ricotta cheese. Spread evenly. Sprinkle a nice layer of mozzarella cheese and then roasted tomatoes.
Top with remaining mozzarella cheese.
Loosely cover with foil.
Bake for 20-25 minutes.
Remove foil paper and bake for another 10-15 minutes.
Remove from oven and serve!
Bon Appetit!
My Top Fave Meatless Comfort Food Recipes
MADE OUR RECIPE(S)?
If you make these Meatless Baked Ziti with Ricotta + Mozzarella, be sure to tag me on Instagram @orchidsandsweettea!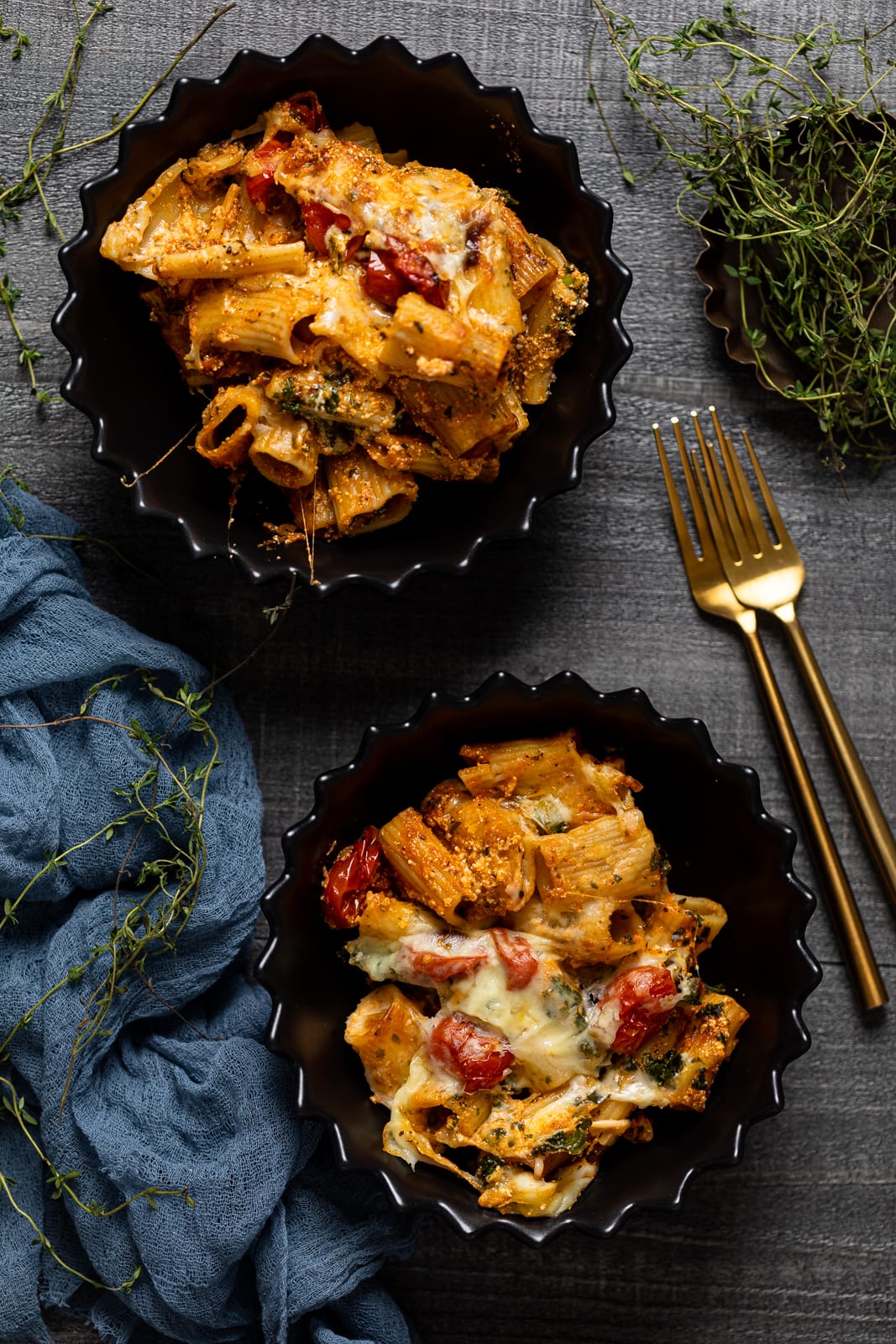 1

(16 oz.) box

Ziti or Rigatoni pasta, organic

1

tablespoon

Extra Virgin Olive Oil + 1 tablespoon for cooking

4

cups

shredded organic mozzarella cheese

2

cups

organic ricotta cheese

2

cups

Roasted herb tomatoes

2

cups

chopped kale, fresh or frozen
FILLING/TOMATO SAUCE:
2

cups

organic tomato sauce

¼

cup

organic vegetable stock

3

garlic cloves, minced

1

teaspoon

sea salt + black pepper

1

teaspoon

dried basil

1

teaspoon

dried oregano

1

teaspoon

smoked paprika

pinch of

red papper flakes

1

teaspoon

dried parsley

½

teaspoon

garlic powder

Pinch of

cayenne pepper
Preheat oven to 400 degrees Fahrenheit and lightly grease a standard baking dish----about 9x13.
BOIL THE PASTA:
Cook pasta according to packaging. NOTE: ziti or rigatoni pasta doesn't take a long time to cook, usually 10-13 minutes. NOTE: I always add 1 tablespoon of olive oil to the boiling water to prevent pasta from sticking together.

Meanwhile, in a bowl add ricotta cheese and a few Tbsps (2-3 at most) of pasta water and stir using a spatula until smooth. Fold in the kale.
COOK THE TOMATO SAUCE:
In a large 12-inch skillet, add the olive oil and add minced garlic sauté frequently about 1-2 minutes until translucent and fragrant.

Add the tomato sauce, veggie stock, salt, black pepper, oregano, smoked paprika, garlic powder, parsley, red pepper flakes, and cayenne pepper, stirring everything together until combined. Bring it to a boil and then reduce the heat to low, allowing it to simmer in the sauce for 3-4 minutes. Remove from heat.

Add drained cooked pasta and gently stir until everything is combined and pasta is covered with sauce.
ASSEMBLY:
In the baking dish, add in the pasta (covered in tomato sauce), spreading it evenly. Spoon on the ricotta cheese mixture and stir until combined. Sprinkle a nice layer of mozzarella cheese atop pasta followed by roasted tomatoes. Then a final layer of mozzarella cheese until the entire pasta is covered.

Loosely cover with foil and bake for 20-25 minutes. Remove foil paper and bake for another 10-15 minutes or so, until cheese has fully melted and the top is browned slightly.

Remove from oven and serve with your favorite salad or bread.

Bon Appetit!
STORAGE: Any leftovers can be kept in a tightly sealed container and refrigerated for up to 3-4 days. To re-heat, simply heat in the oven for the best results or microwave for a minute or two until heated through. 
GLUTEN-FREE: To make this dish GF, simply use Gluten-Free pasta and ensure that other ingredients are GF-friendly. 
MAKE AHEAD: Cook your pasta and let it cool completely before storing in an air-tight refrigerator for 3-5 days. In a bowl, combine your ricotta, parmesan, and kale and place in an air tight container to refrigerate overnight as well. Follow steps to cook tomato sauce and after STEP 4, remove sauce from heat, let cool and store in the fridge the day before. On the day of, remove everything to room temp., about 15-20 minutes and continue assembly STEPS.
Calories:
737
kcal
|
Carbohydrates:
73
g
|
Protein:
39
g
|
Fat:
32
g
|
Saturated Fat:
17
g
|
Polyunsaturated Fat:
2
g
|
Monounsaturated Fat:
10
g
|
Cholesterol:
101
mg
|
Sodium:
1244
mg
|
Potassium:
785
mg
|
Fiber:
7
g
|
Sugar:
10
g
|
Vitamin A:
3717
IU
|
Vitamin C:
31
mg
|
Calcium:
673
mg
|
Iron:
4
mg
Meatless Baked Ziti with Ricotta + Mozzarella.