DIY Homeschool Room Ideas For a Small Space. When it comes to creating a learning space within a multi-use room, it can appear to be an impossible job. However, this articles shares a few hacks for best utilizing your small space as well as a list of homeschool activities, furniture ideas, and more for the best DIY learning space for the school year and beyond.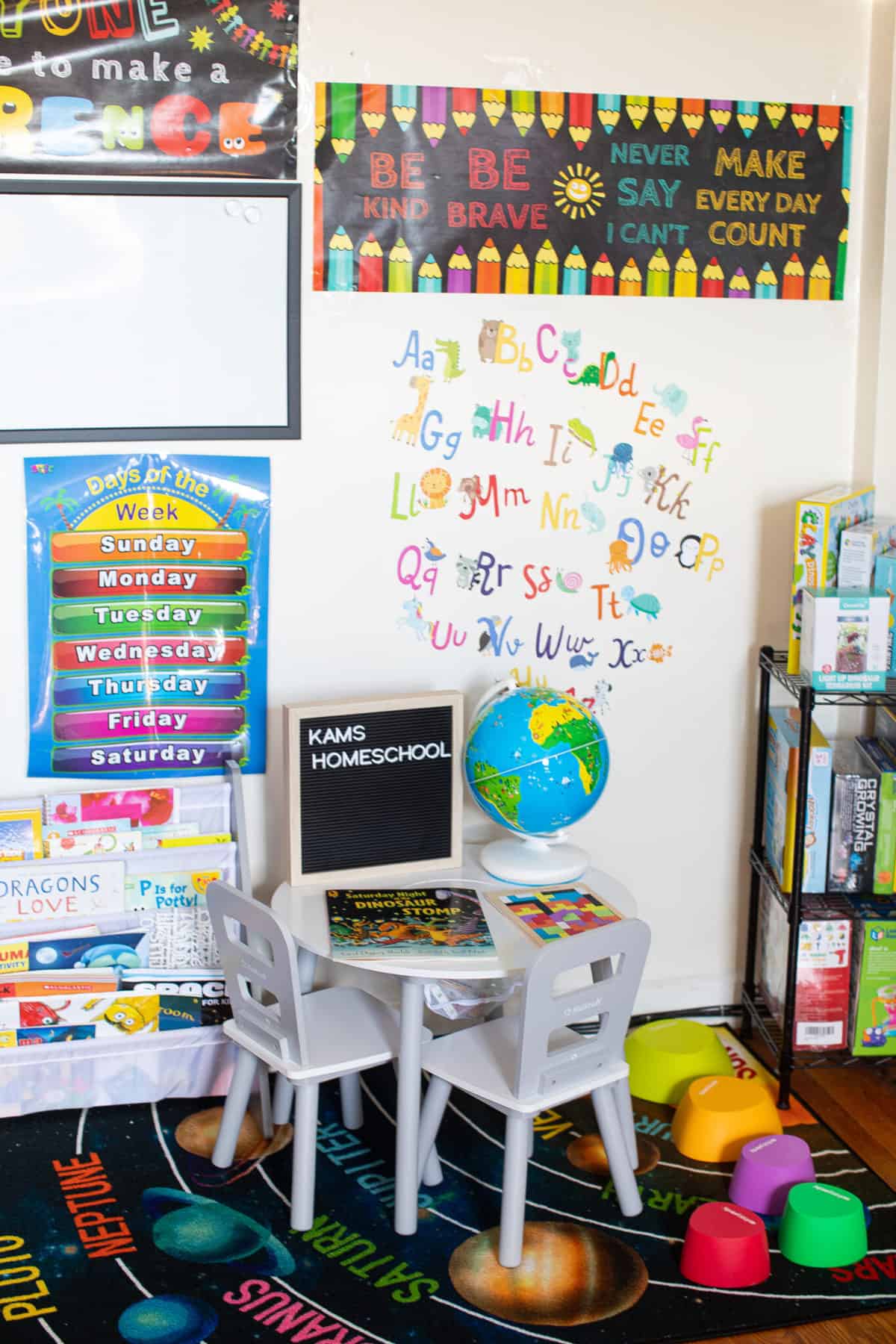 DIY Homeschool Room Ideas For a Small Space.
I chose to create this fun DIY project due to the recent changes in the way our kids now learn because of the state of the World currently. For many of us, our kids will be homeschooled on a full-time basis or at least part-time while many schools chose to do half and half learning styles.
Personally, my choice has always been to homeschool my son, however, creating an entire learning space wasn't on the forefront of my to-do list until recently. Why? Well, because I realize that kids need a designated space to learn and stay focused, much like when they are in a classroom. Plus, it allows our kids to feel motivated to want to learn because they have a personalized space JUST FOR THEM. Haha.
If you're like me, then having an apartment in a city like NYC, then you know that space is limited to some capacity. Granted, I am truly grateful for the large space that my apartment has (I've moved things around a billion times in all rooms), however, it isn't as spacious as a multi-story house for example, so understanding how to best structure everything without feeling clutter is important.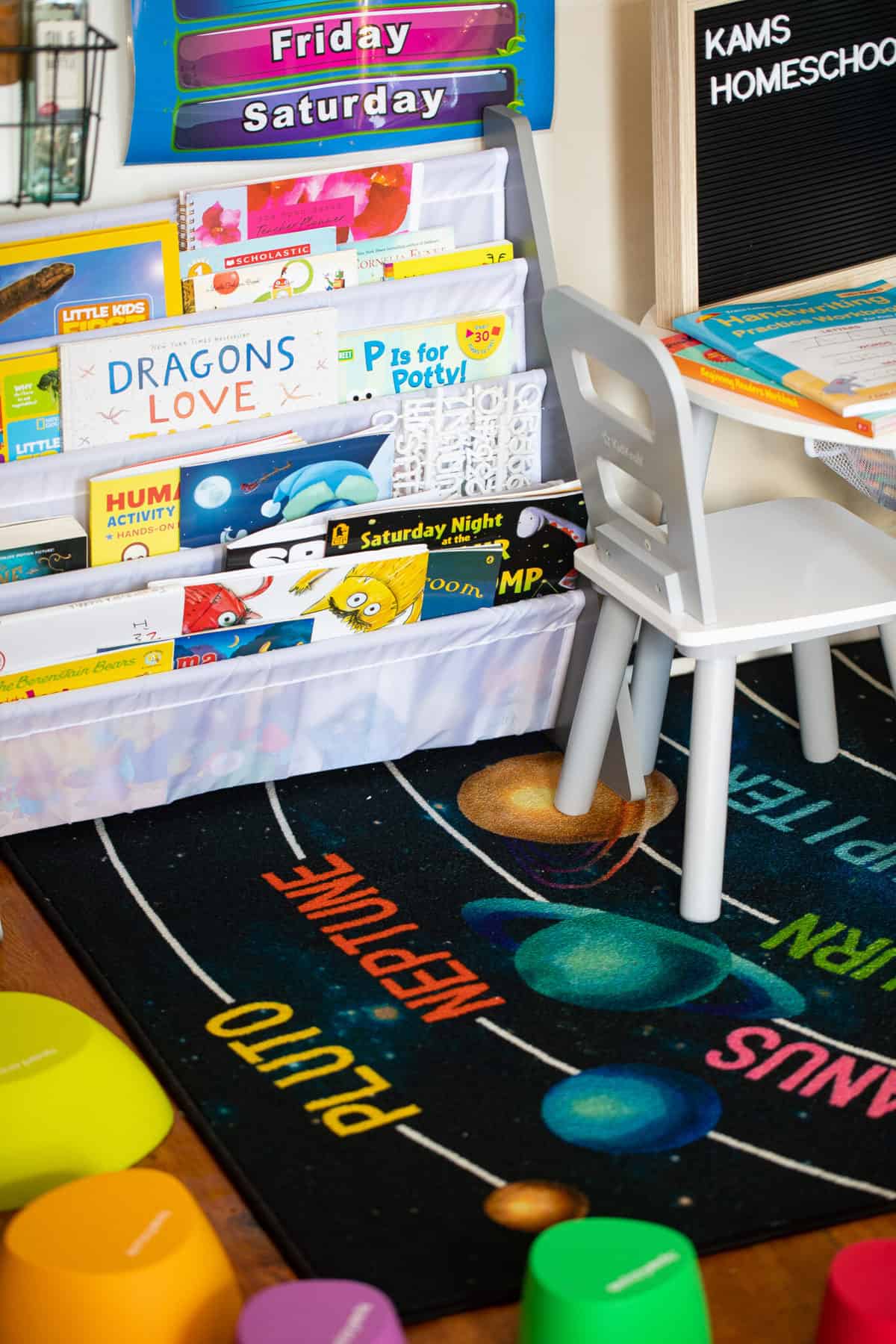 If you've been an avid follower of Orchids + Sweet Tea beyond the recipes, then you're aware of my LOVE for Interior Design and obsession with decorating any space. It's been a hobby of mine for years (ever since High School to be exact) and I've had Family members and Friends reach out to me for my opinion on decorating their spaces.
Honestly, if I wasn't a Recipe Developer + Food Stylist then Interior Design would be my dream job now. Hey, who knows? Maybe I'll still give it a try in the future.
OK, so back to this article. I love fun DIY projects like this one and if you're into the same thing then these Best Toddler Approved Fun Things for Halloween list would be perfect for you and your family this season.
In other Back-to-School news, these Hacks on How I Get My Toddler to Love a Healthy Lunch is a must read also!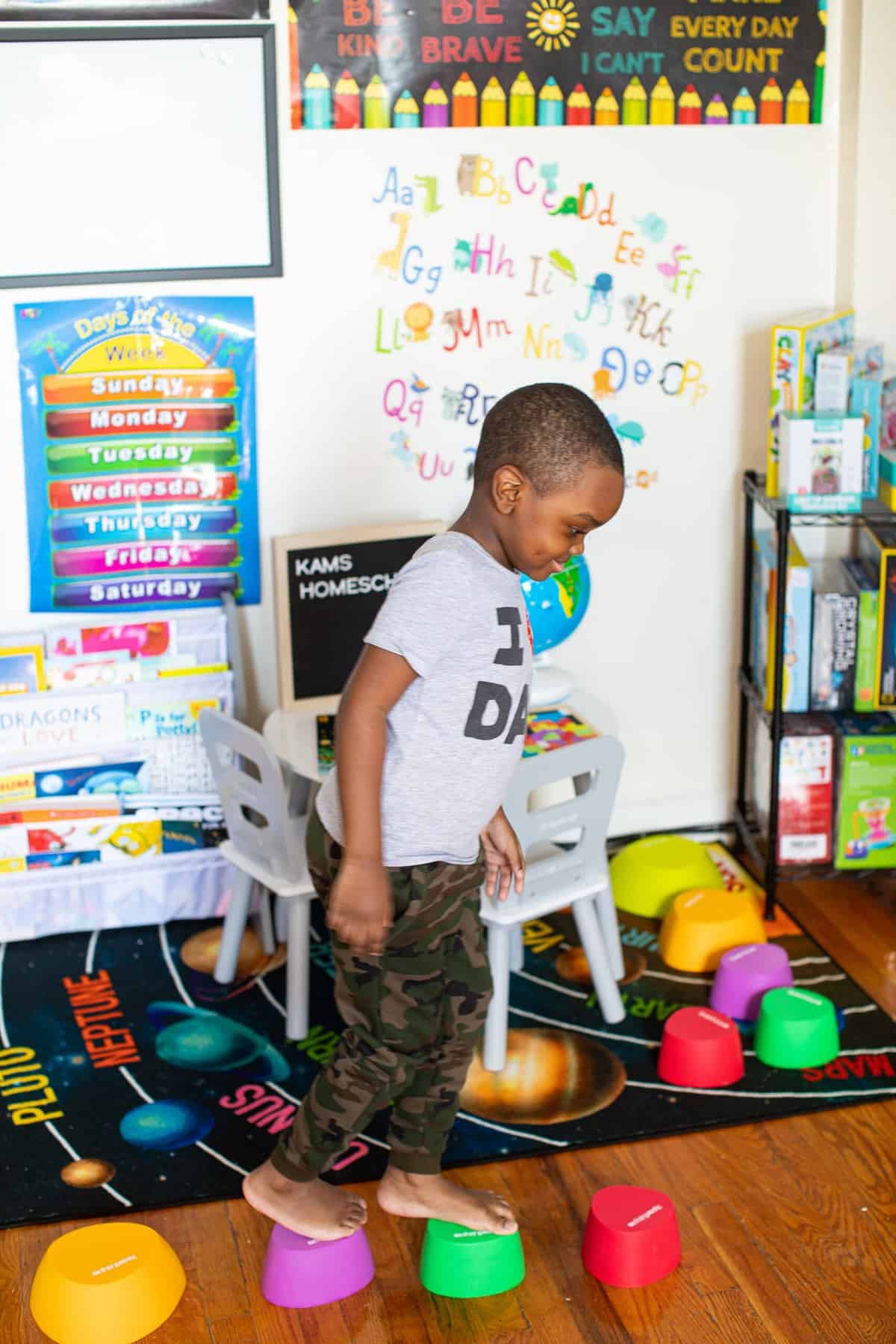 Before I get into the breakdown of things that I purchased along with links (for your ease), I've created a few tips + tricks for ensuring that you create the best DIY Learning Space regardless of the furniture or things that you buy.
4 Tried + True Hacks for Creating the Perfect Area in a Small Space:
#1: It's all about the Storage Accessories + Upward Vertical.
When it comes to a small space, it honestly doesn't matter what room you're trying to organize or decorate---space will obviously be limited. However, I'm a huge believer in the upward vertical way of storing things which not only allows for you to organize everything, but it also creates a beautifully aesthetic look for small spaces without the clutter. For this, I love using wire shelves that have multiple tiers, bookcase shelves, and mountable things such as boards, wall decals, shelves, etc.
#2: Coverage Matters.
Another overlooked feature is ensuring that things are covered. This just means that rooms or spaces that don't have a door or some sort of thing keeping things out, should be divided and covered with a curtain or other textile. In addition, having boxes with a lid or baskets that are deep or are covered when loose objects are inside, also helps to create a feeling of less clutter or tightness. It's all about adding depth to a room which makes it appear bigger.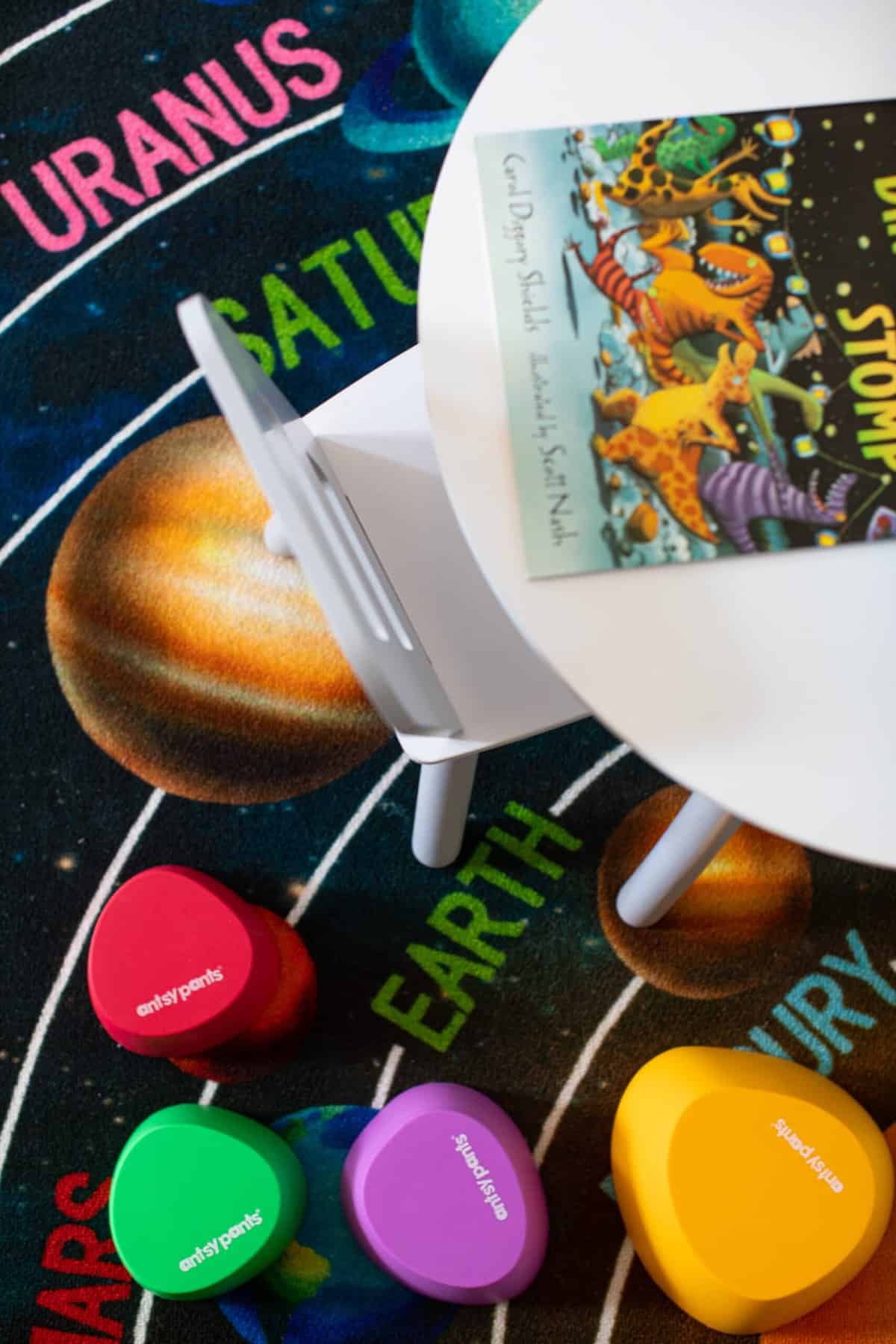 #3: If One Room has Multi-Use, Always Pick Right.
Let's face it, some of us don't have the space to have one designated room for one specific thing. Therefore, like me, you might have your living room be the living space, learning space, and if you're lucky----your workspace. Can you tell that my living room is a triple threat? Haha.
So, it's so important that you have the right furniture and organizing storage to allow each duty of your space to flow seamlessly without feeling overwhelming because of the many different things inside of it. Even if you chose to have a rug for your main area of the living near your couch, but want to have a different rug for the other area, choosing the right sizes of both rugs matters and allows you to feel like you're in a different room in just a few steps without feeling crazy. This same rule of thumb goes for any furniture, etc.
#4: Out with the Old, In with the New!
Yes, that's right. Sometimes creating the perfect mini spaces in one small space requires that you de-clutter and throw away a few things that might not be working. So many things change on a quarterly and yearly basis that even organizing and storage tools + accessories are no longer the way that they use to be. Most companies understand the dilemma of organizing, therefore, they're creating better ways to store things without the clutter. It's OK if some of your old things don't make it. There are affordable things that will be newly acceptable and work better for you in the end.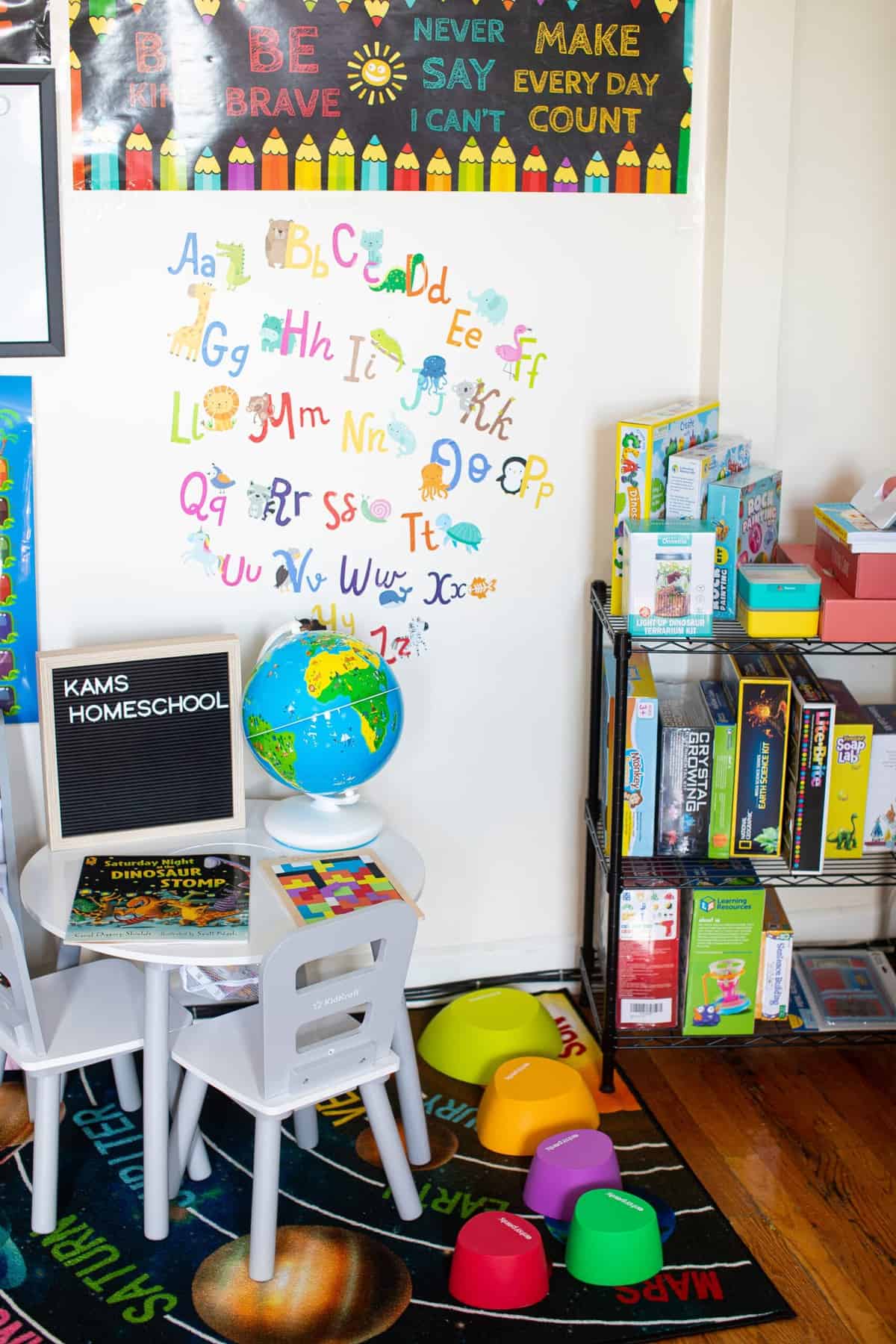 Now that we've gotten the major hacks out of the way, I can now talk about the things that I purchased for my son's learning area. Honestly, I love getting a lot of my DIY and Home Decor items from Target and while I did get a few of these things from them, I mostly found learning activities and pieces from Amazon.
Fave Books for a Preschooler.
Bob Books, Set 1: Beginning Readers
Bob Books, Set 2: Advancing Beginners 
My First BOB Books: Pre-Reading Skills
Saturday Night at the Dinosaur Stomp by Carol Shields
The Pirate Pig by Cornelia Funke
Room on the Broom by Julia Donaldson
The One and Only Ivan by Katherine Applegate
I'm NOT just a Scribble by Diane Alber
Awesome STEM Activities.
National Geographic Earth Science Kit
IQ Builder | Top Blocks Game Kit
ThinkFun Gravity Maze Marble Run Game
RAINBOW TOYFROG Straw Constructor 
National Geographic Glowing Marble Run
Magnetic Tiles Building Blocks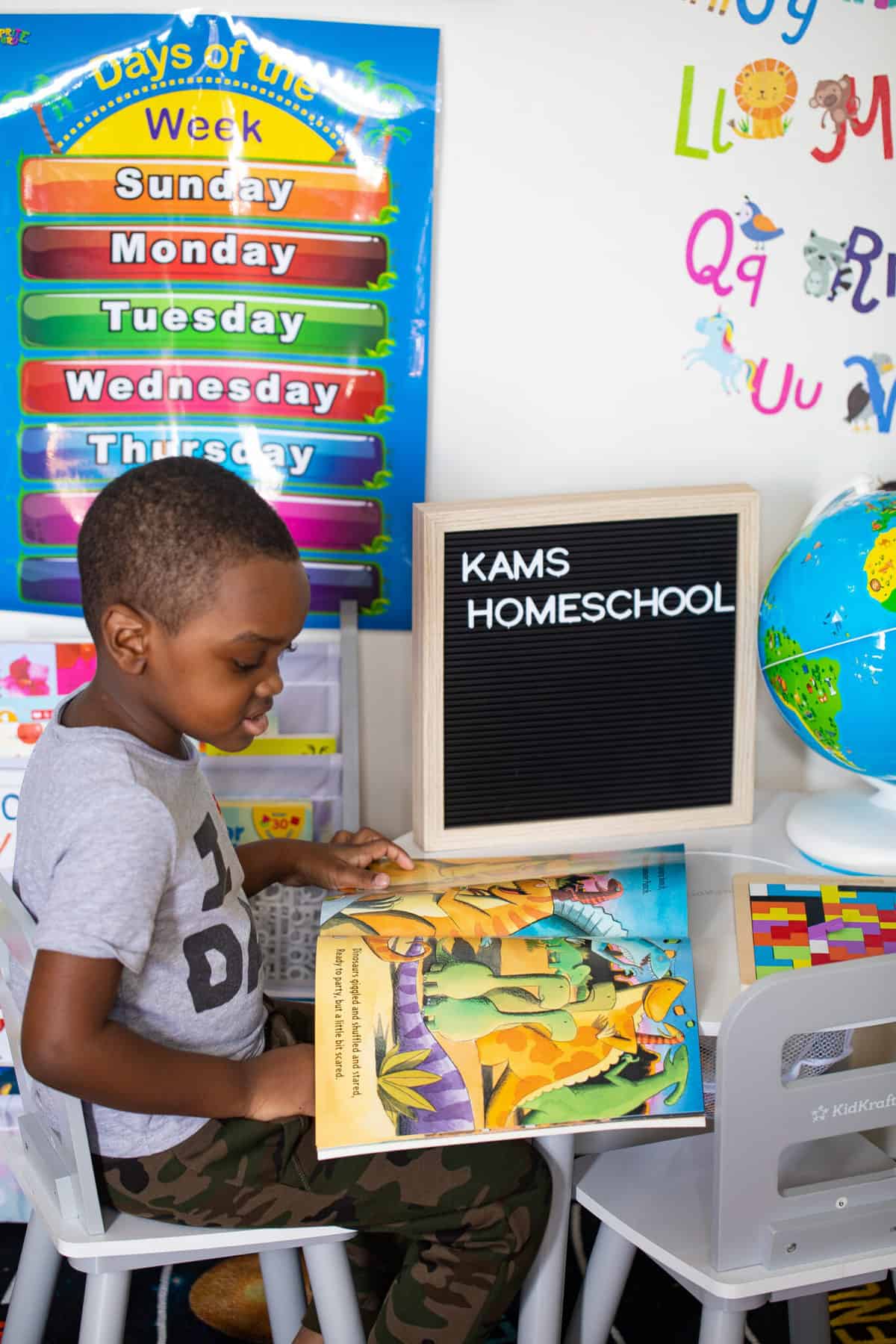 Fun Artsy + Hands On Activities. 
Dinosaur Fairy Garden in a Jar Light Up Terrarium Kit
Kids Science Experiment Kit with Lab Coat
Learning Resources Beaker Creatures Alien Experiment Lab
Creativity for Kids Create with Clay Dinosaurs
Shifu Orboot Interactive Globe
Dino Soap Making Kit for Kids - Dinosaur Science Kits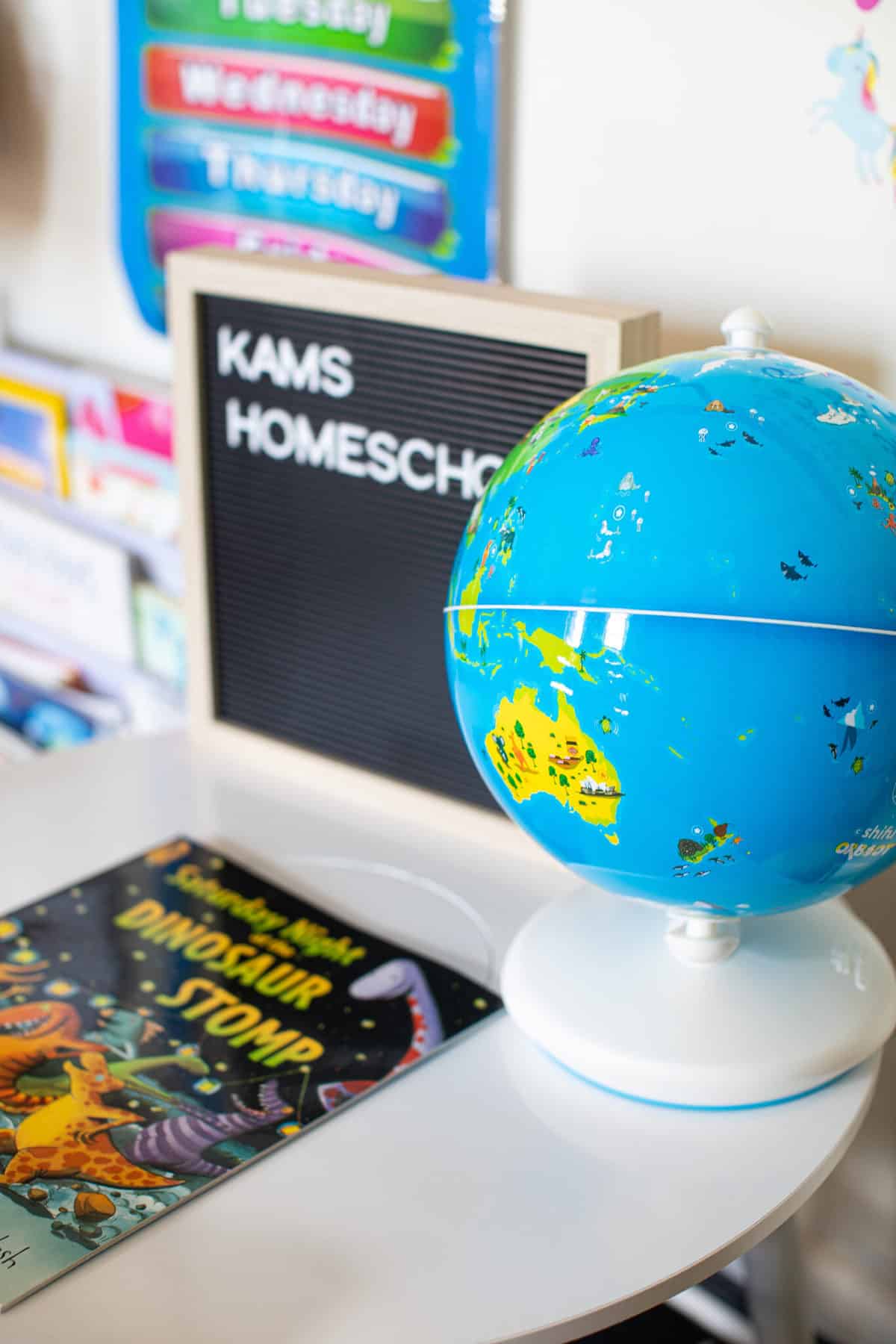 Furniture, Accessories, + Exercise.
Antsy Pants Stepping Stones
Antsy Pants Tumbling Mats
Furnish My Place Solar System 3' x 5' Area Rug
3-Shelf Adjustable Heavy Duty Shelving Unit
KidKraft Round Table + Chair Set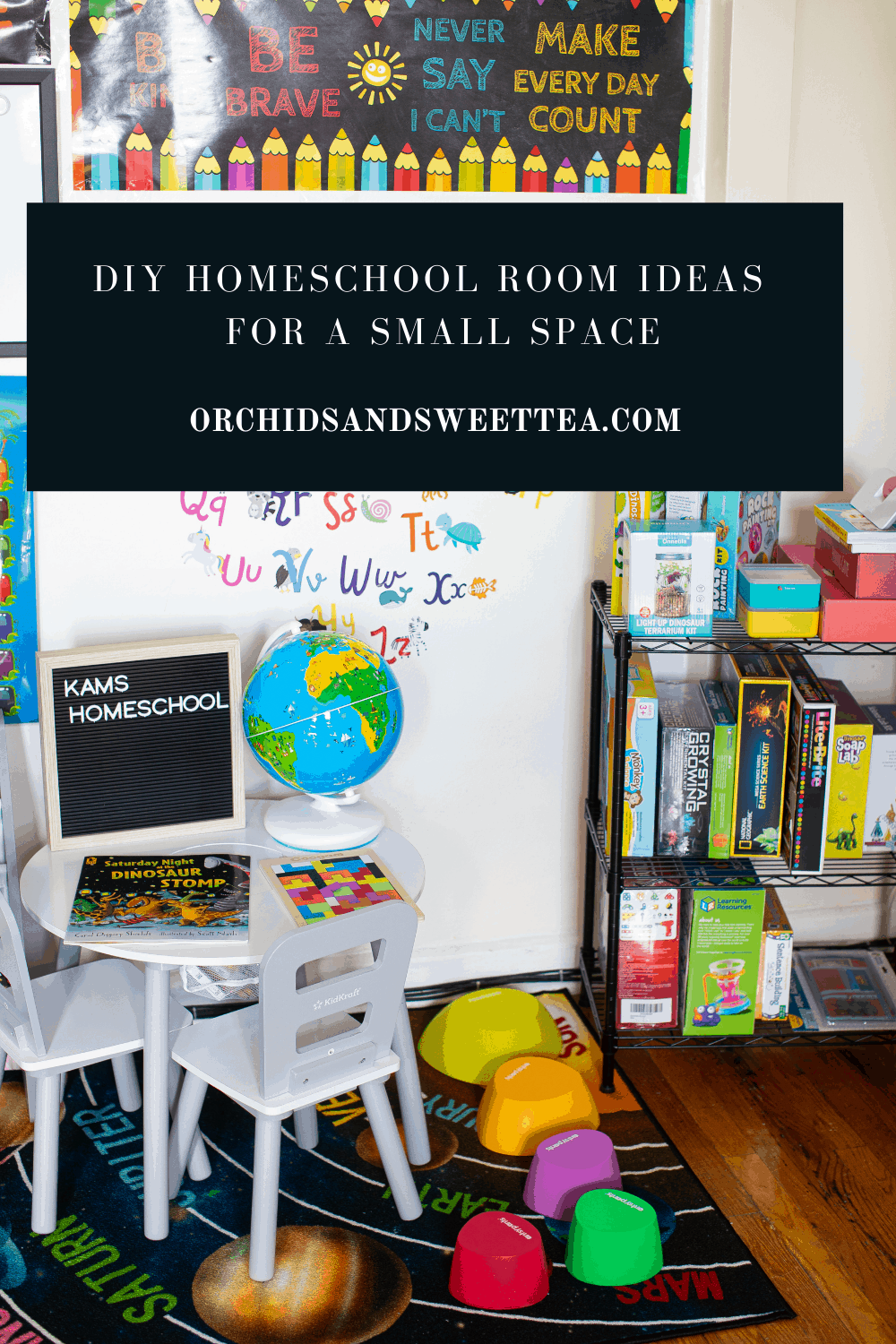 Of course, there are so many other activities and accessories that you can purchase for your child's learning, especially depending on the level and grade that they're on.
In addition, while limiting screen time, I'm a huge fan of Apple's iPad and the many learning apps that are readily available for learning as well since we are in the technology period and children as young as my son are already very equipped to such technology.
Most importantly, it's all about giving your child a variety of things to do and learn, while allowing them to choose some of their daily learning activities.
Personally, I love using everyday ways of life as learning tools, such as baking (which teaches great math and creation), fixtures around the house, small household chores (such as dish washing, helping with laundry), cleaning up the living room, and soon---caring for a pet (he's got a few pet types in mind that we're winding down). Regardless of whether you chose to homeschool prior to everything that's going on or whether it forced you to consider e-learning; understand that it's all about taking things one day at time, being patient, and knowing that learning looks different for everyone.
I Hear and I Forgot. I See and I Remember. I Do and I Understand. - Confucius
DIY Homeschool Room Ideas For a Small Space.