These Cheap Halloween Decorations + Game Ideas for Kids are great ways to incorporate easy, fun spooky activities for the entire family. Although Halloween might look a bit different this year, creating a memorable experience for your little one(s) still remains key! Everything from a DIY Trick-or-Treat table to inexpensive costumes to fun game ideas.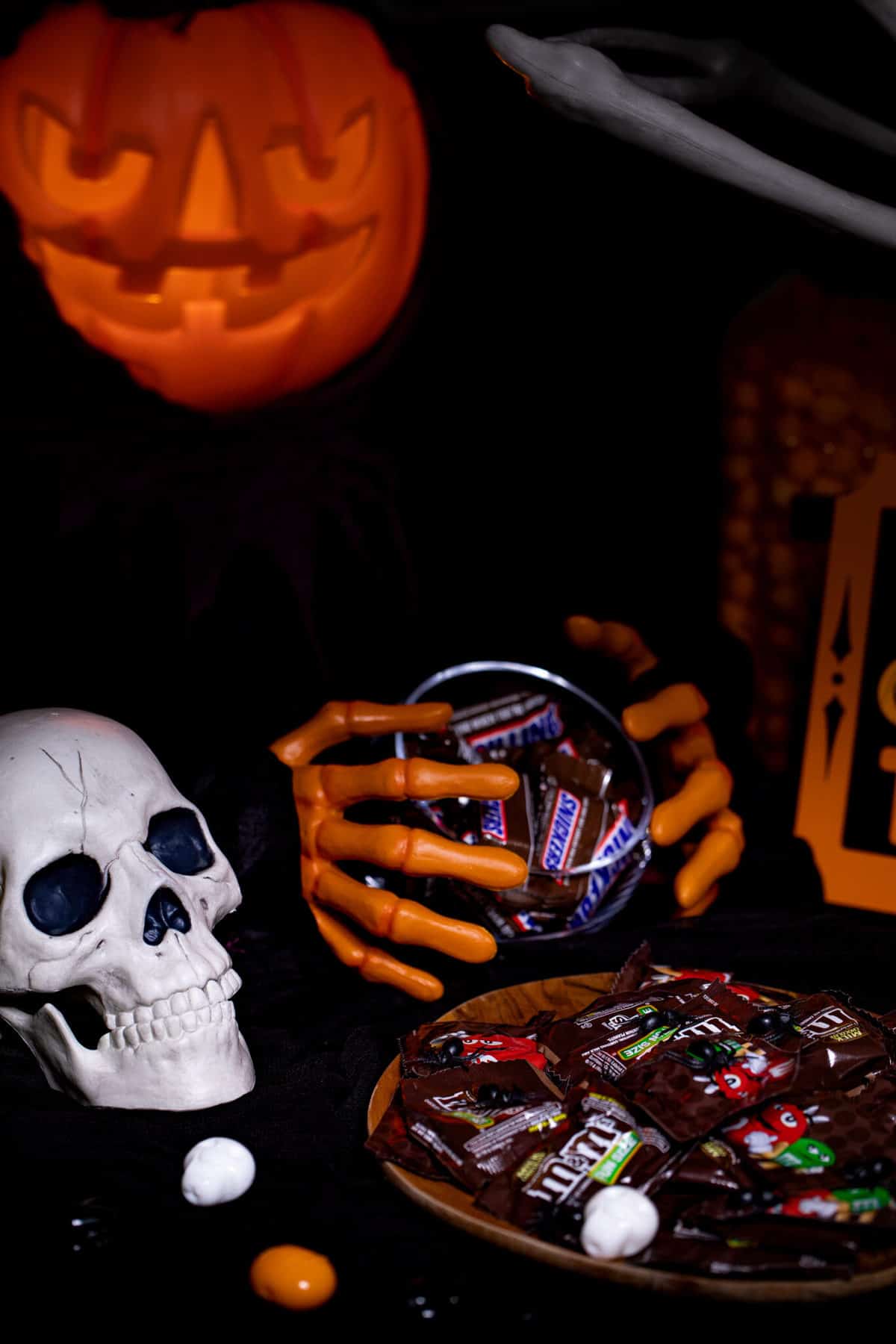 This post contains affiliate links via affiliate advertising programs.
Cheap Halloween Decorations + Game Ideas for Kids.
With this year's Halloween looking a bit different and possibly not including door to door trick-or-treating and mini parties, there are still many ways to have fun and enjoy the memories that often come with dressing up in your favorite character.
Now that my son has gained his own desires to participate in Halloween affairs this year, I wanted to share a few easy, cheap ideas for creating a fun experience for everyone. Interestingly enough, I even found a few amazing ideas from HGTV.
Whether you choose to add decor outdoors or indoors, these awesome ideas will ensure that you create the best spooky experience.
Easy DIY Decor Ideas.
Add those Pumpkins, Lanterns, and Scary Bats. 
Whether you choose to decorate your porch or living room, utilizing those scary looking pumpkin, lanterns, bats, skeletons, or skulls always make for the perfect spooky experience. Personally, I enjoy purchasing inexpensive decor from Target or Amazon, which offer an array of choices.
For great examples of DIY decor ideas as well as arts + crafts (which I later mention), I recommend checking out this article on 50+ Halloween Crafts for Kids.
Create some DIY Spiders.
If you're looking to do something together with the kids, then I recommend making DIY spiders. All you need are a few simple tools: foam balls, black spray paint, wooden rounds, toothpicks, paint brushes, hot glue gun, and fuzzy bump pipe cleaners.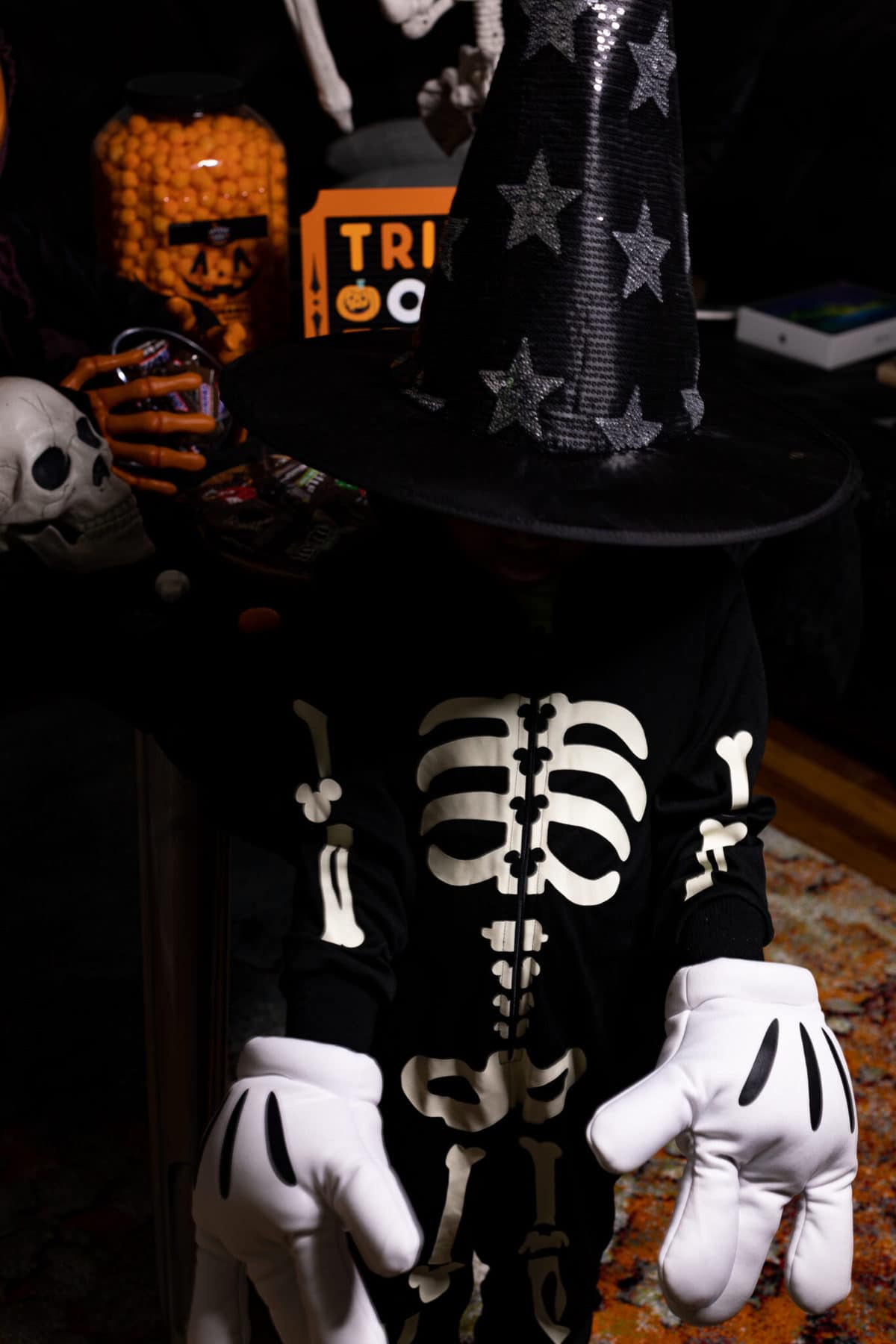 Create your own Trick-or-Treat Table.
Since actual door to door trick-or-treating won't be a thing for many of us this year, creating a mini trick-or-treat table is the perfect way to still have your little ones enjoying the thrill of collecting candy and sweet treats! Personally, I enjoy adding family favorite candies such as butterfinger, snickers, M&M's, as well as non-sweets like cheeseballs, mini pizza wheels, Chex Mixes, goldfish crackers, etc.
Honestly, purchasing large bags from your local big box store such as Target, Walmart, or online via Amazon is super easy to carry out this great little experience.
In addition, you'll just need an inexpensive foldable table (i.e. a card table of some sort) and black tablecloth, if you don't already have one and wallah!
Simply gather your little one's candy bucket and they can make their way around the table, picking and choosing whichever are their faves!
Make fun DIY Arts + Crafts.
In prior years, my little guy has had a real ball painting pumpkins and making candied apples. This is a great way to open up your little one's creative mind and for them to showcase their inner art skills. It can definitely get a bit messy, but there's nothing that a large sheet or blanket, a few wipes, and a bit of water can't solve. Plus, you can fit more advanced DIY projects into the process once you've mastered the easier stuff.
You can always use this moment to make spider paper plates, perhaps ghost figures, witch hats, spooky noodles, you name it.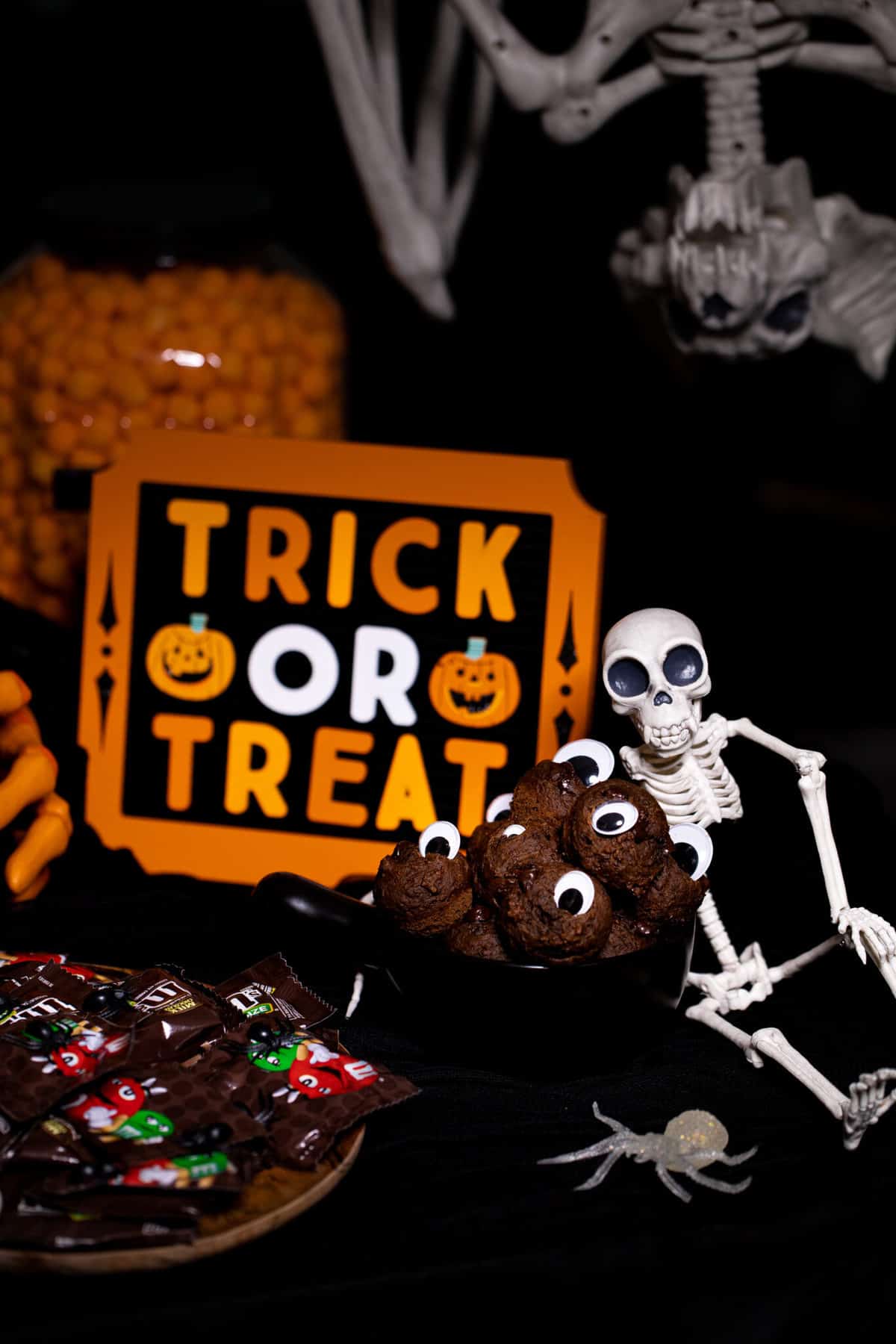 Choose the right Color Palatte that works for you!
Honestly, when it comes to decor, you can create the experience that you chose to. While Halloween is all about the spooky and gory-feel, you can make things classy and non-spooky if you chose to!
Simply know which color scheme you'd prefer to incorporate and purchase little accessories that fit into that. For Halloween, you can choose to use whites, greys, blacks, oranges, reds, and even dark browns. Just look for amazing inspiration via Pinterest (my favorite place) and create away!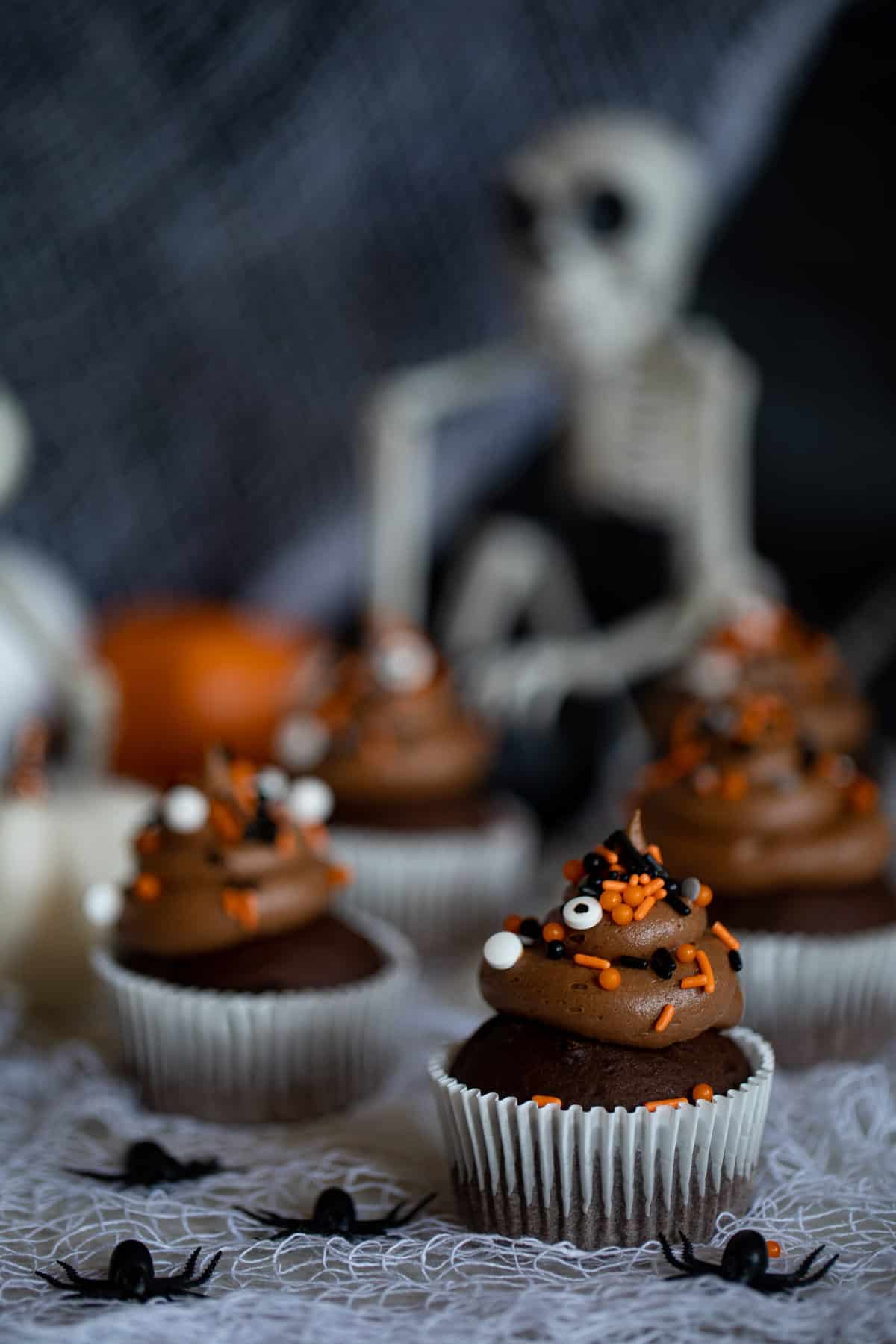 Delicious Homemade Sweet Treat Ideas.
Halloween is all about the candy, however, these Easy Spooky Double Chocolate Cupcakes will leave your sweet tooth fully satisfied this October and year-round, if you're looking to indulge beyond this season. Perfectly soft + fluffy, decadent, and full of chocolatey flavor, these cupcakes are an easy, fun treat to make with the entire family. Gluten-Free option.
Turn these Easy Extra Fudgy Vegan Brownies into fun circle eye ball brownies as shown below and stick a few crafty eyeballs into them for extra spook! These beauties are sure to melt-in-your-mouth and are made entirely with all vegan ingredients. You'll whip them up in no time and they are definitely a killer sweet treat to add to your list of must-bakes for the entire family!
These Classic Halloween Graveyard Cheesecake Bites are a take on the most iconic spookiest time of the year—-Halloween. Based with a 'dirt-like' Chocolate Graham Cracker crust, filled with a velvety dark purple 'midnight spooky' cheesecake, and topped with a black-spider web swirl; while being surrounded by skulls, eyeballs, and grim-like pumpkins; these cheesecake bites are the perfect Halloween treat for the entire family!
Of course, you can keep things non-traditional by making childhood favorites that are decadent and a sure crowd-pleaser such as these Decadent Dairy-Free Chocolate Milkshakes, Oversized Crinkled Chocolate Chip Butterscotch Cookies, Mini Chocolate Chip + Chia Seed Energy Muffins, or Chunky Vegan Chocolate Chip + Pretzel Cookies.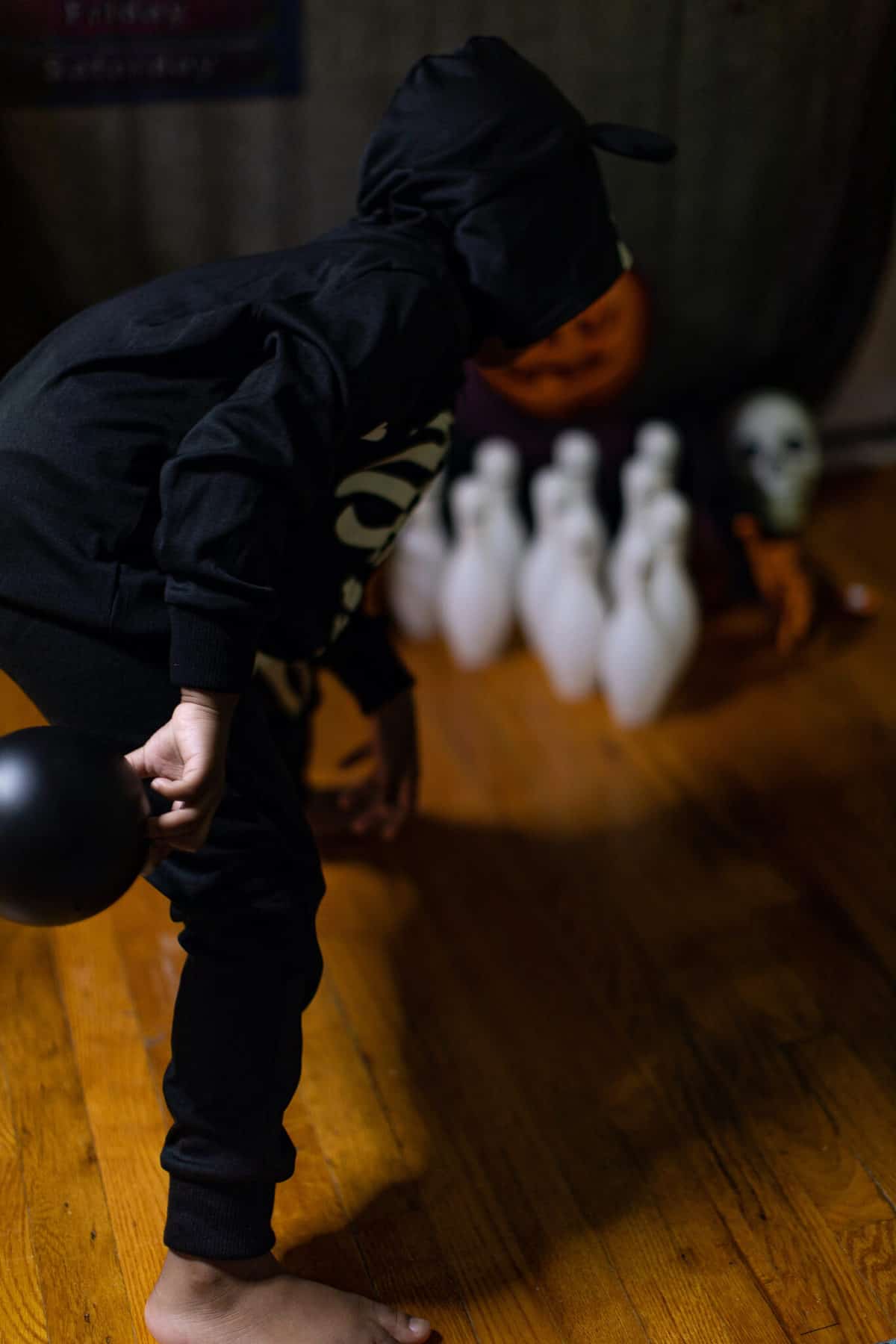 Fun Halloween Games for the Entire Family.
This year, I found a few fun games that really created a great engaging experience for everyone, including my little guy. While you can include the classic family games such as Jenga, Hungry Hippo, Candy Land, Connect Four, etc.; purchasing Halloween specific games makes for an even better experience, especially when you have all of the decor in place.
Here's my list of favorite fun Halloween Games that were so easy and fun:
Pin the Spider on the Web Game
Melissa & Doug Monster Bowling
Mummy Bowling Game
Amazing Halloween Costumes: Store-bought or DIY.
This year, my son wanted to be a skeleton and I found the perfect Mickey Mouse Skeleton costume for under $50 at Target. Growing up, he's always loved Mickey Mouse (and he still does), therefore, fusing the two together only felt perfect. His costume came with the full skeleton bodysuit and Mickey gloves, however, I chose to purchase a witch hat to create a full costume experience.
If you're looking for something cheaper or simply want to make your own costume, these DIY options are great:
Smarty Pants Costume: Put on a pair of jeans, attach candies to them, pair with a simple shirt and fashion little glasses and wallah!
Bat Costume: Simply find an all-black outfit, cut half of a black umbrella and hot glue it to the arms of your kid's sweater to create 'wings'.
Cloud + Rain Costume: All you'll need are a ton of construction paper, a cardboard box, and umbrella.
'Men in Black' Costume: Gather matching black suits, a white dress shirt, dark shades, and a tie and you have yourself an easy Men in Black look.
Ghost Costume: Simply get a large white sheet, cut a few holes in it for the eyes, and wallah!
Cool as a Cucumber Costume: For a funny, simple look, find a few shades of green outfit pieces and perhaps cucumber shades or a shirt and you kid will be a walking cucumber.
For other awesome DIY costume ideas, you can find a list via Good HouseKeeping.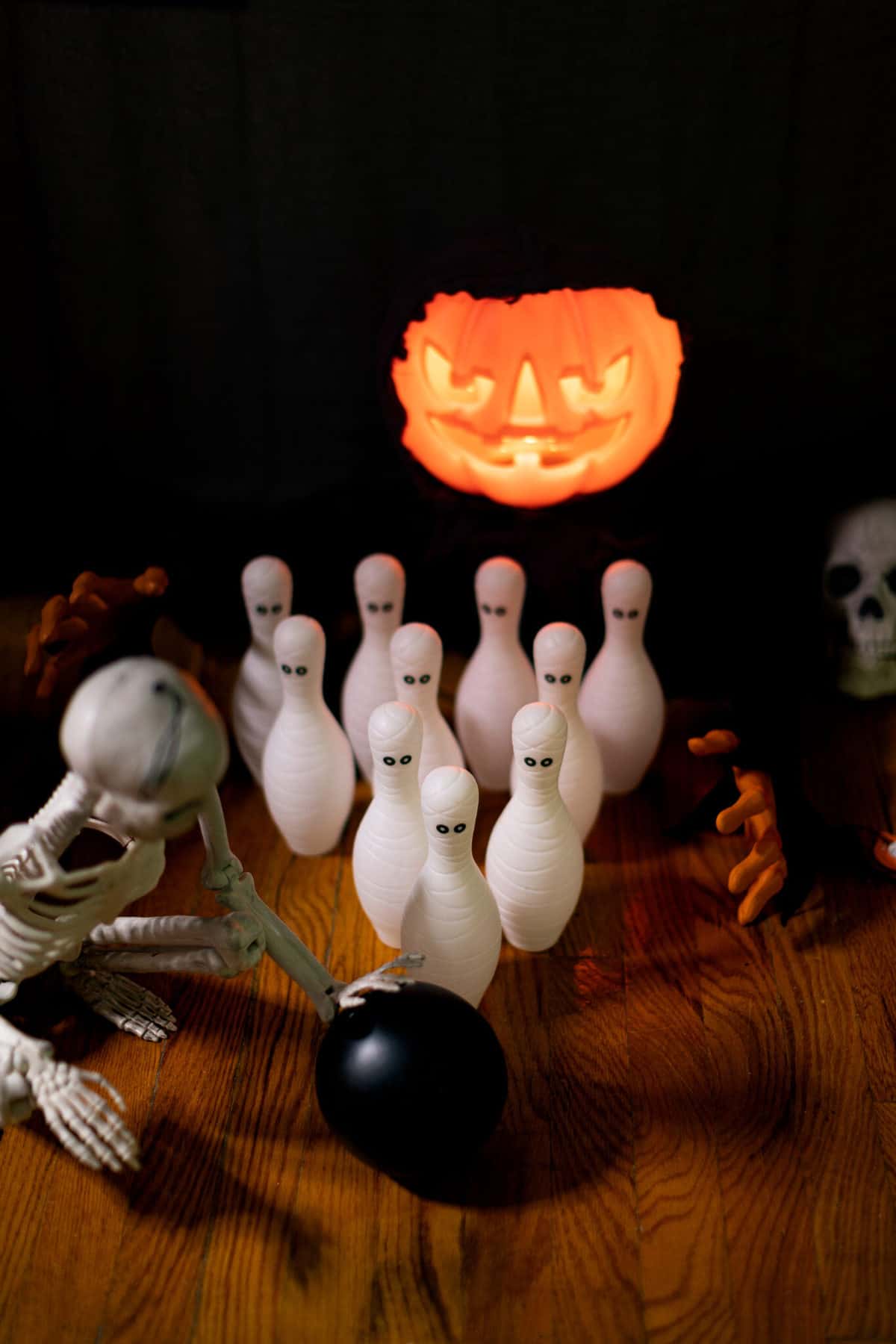 Whether you choose to keep things the same or create a fun experience at home for Halloween this year, these ideas will help make things not only easy, but as inexpensive as possible.
Ready, set, Boo!!!
Cheap Halloween Decorations + Game Ideas for Kids.