Halloween is all about the candy, however, these Easy Spooky Double Chocolate Cupcakes will leave your sweet tooth fully satisfied this October and year-round, if you're looking to indulge beyond this season. Perfectly soft + fluffy, decadent, and full of chocolatey flavor, these cupcakes are an easy, fun treat to make with the entire family. Gluten-Free option.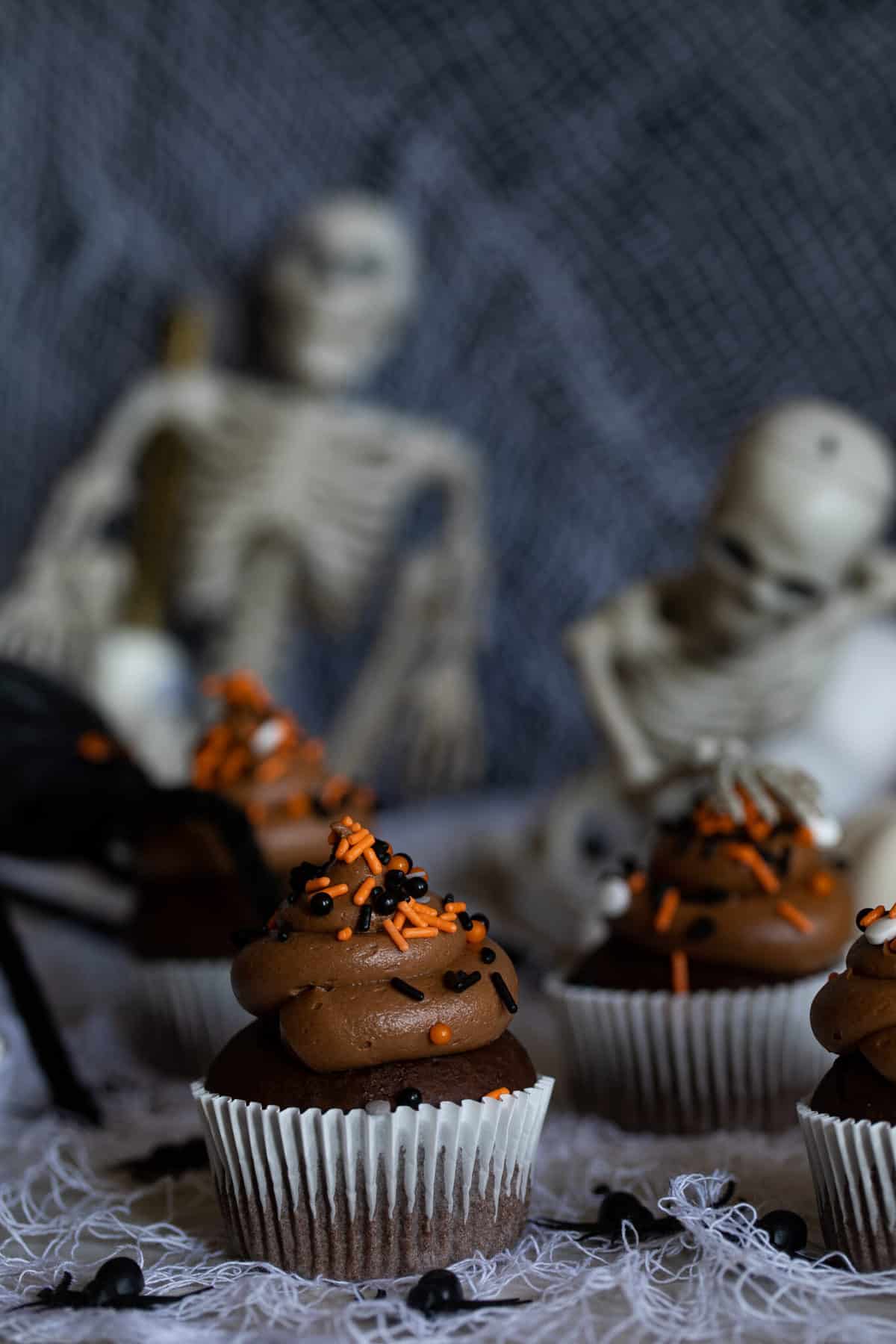 It's all about ghosts, zombies, witches, monsters, pumpkins, and anything spooky and almost unbearably terrifying! That's Halloween for ya!
For this rendition of spooky, I kept things so simple by getting most of my props from Target—my absolute favorite place! In addition, I kept things themed in color—-as you can see, there's a ton of black, gray, white, orange—-all colors geared towards the spooky feel.
While I don't celebrate Halloween in it's entirety, my little guy has been intrigued with the dressing up process and of course, creating delicious sweet treats since we're not into eating candy--like these Chocolate Cupcakes.
This year, after talking to my girl, Britt from The Banana Diaries, I became inspired to create a Halloween post and wallah! Thanks, Britt. Haha!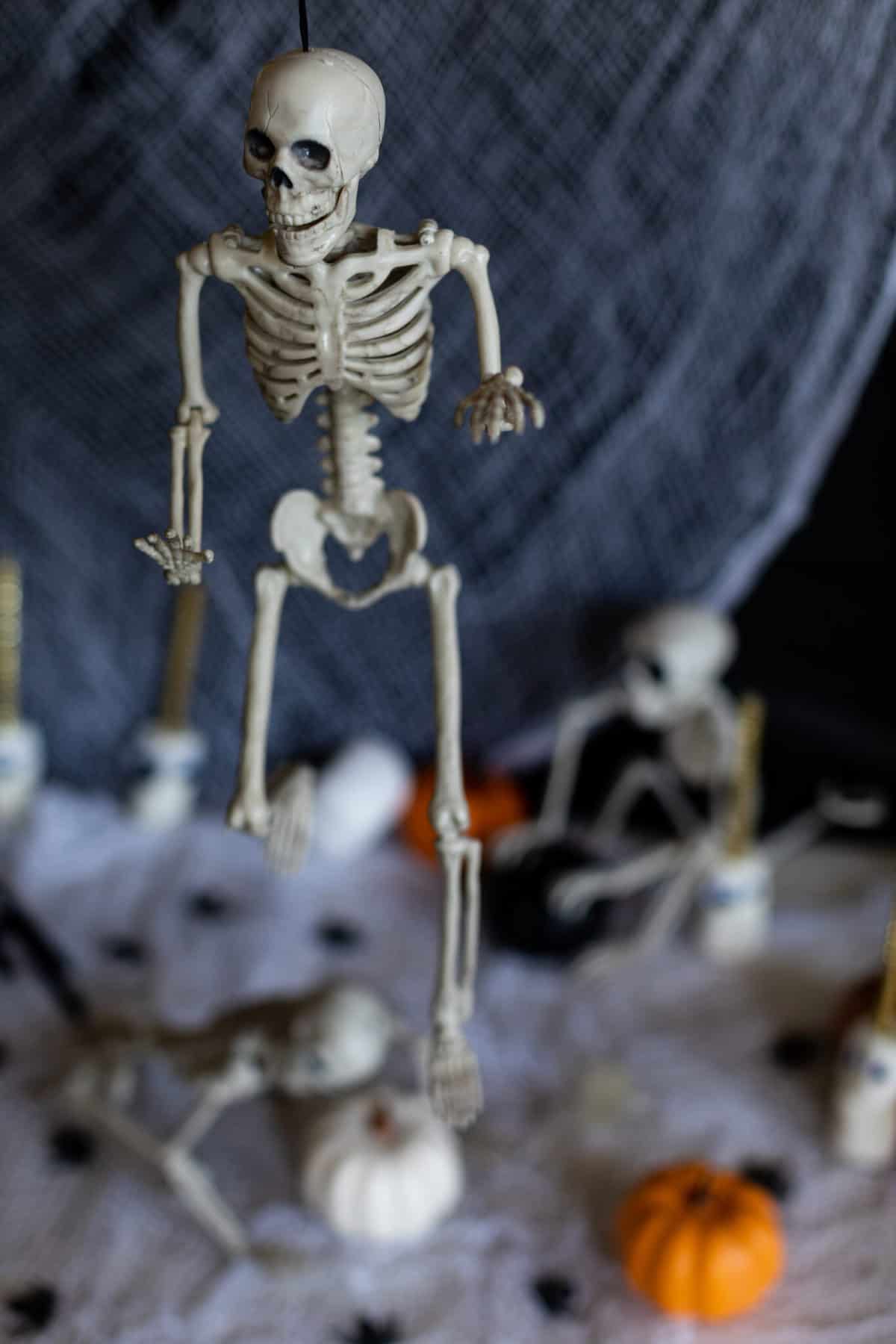 OK, so if you've been an avid reader of Orchids + Sweet Tea, then you've probably enjoyed last year's Halloween post----Classic Halloween Graveyard Cheesecake Bites. They were absolutely easy to make and super fun.
When it comes to these cupcakes, I wanted to create a recipe that is so delicious and could be made evergreen throughout the year regardless of the time of year. Of course, chocolate is such a classic flavor, who wouldn't want to indulge in decadent chocolate cupcakes?
Just keep things simple without all of the decor or create a new experience with Holiday props, etc. It's really just up to you.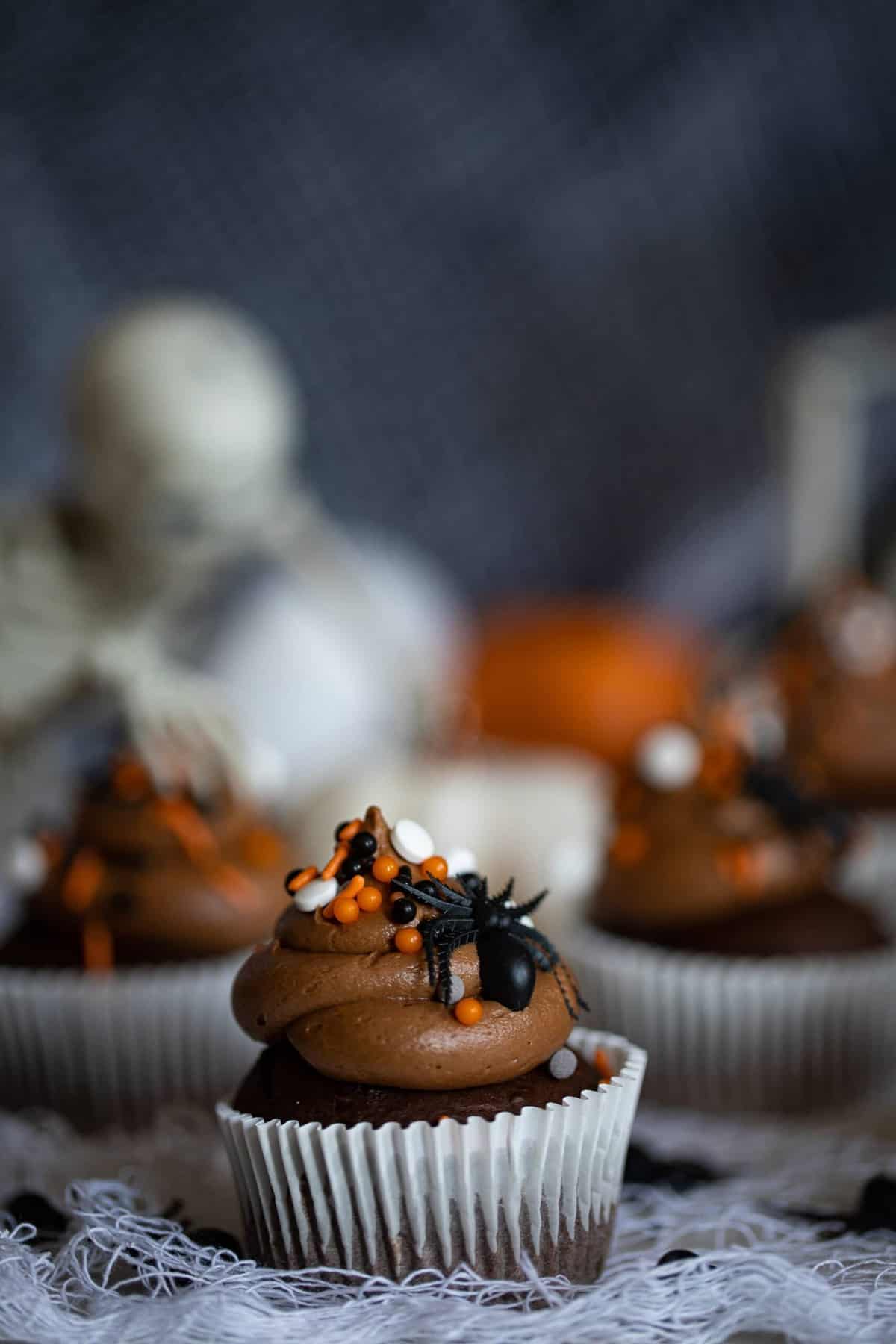 To keep things healthier, I chose to make the cupcakes themselves vegan and I used cacao powder, which has been my fave for chocolate treats!
However, the buttercream isn't vegan, but it's totally whipped, soft, + fluffy. To see how I make it in full action, check out my latest YouTube video for my Super Easy Whipped Chocolate Buttercream Frosting.
What You'll Need For the Chocolate Frosting.
Organic Powdered Sugar– I love sifting my powdered sugar to ensure that my frosting is perfectly whipped and lump-free
Cacao Powder – My favorite way to incorporate that rich chocolatey flavor. Such a great healthier option, however, using regular cocoa powder works too
Unsalted Butter – Creates a rich buttery flavor and adds the necessary fats for a nicely textured frosting
Vanilla – Always adds a nice hint of flavor to anything sweet
Almond Milk– The wet ingredient needed to create the ultimate smooth frosting. You can always substitute with your favorite plant-based milk or use organic heavy cream
Sea Salt – Believe it or not, salt allows the sweetness in desserts to really power through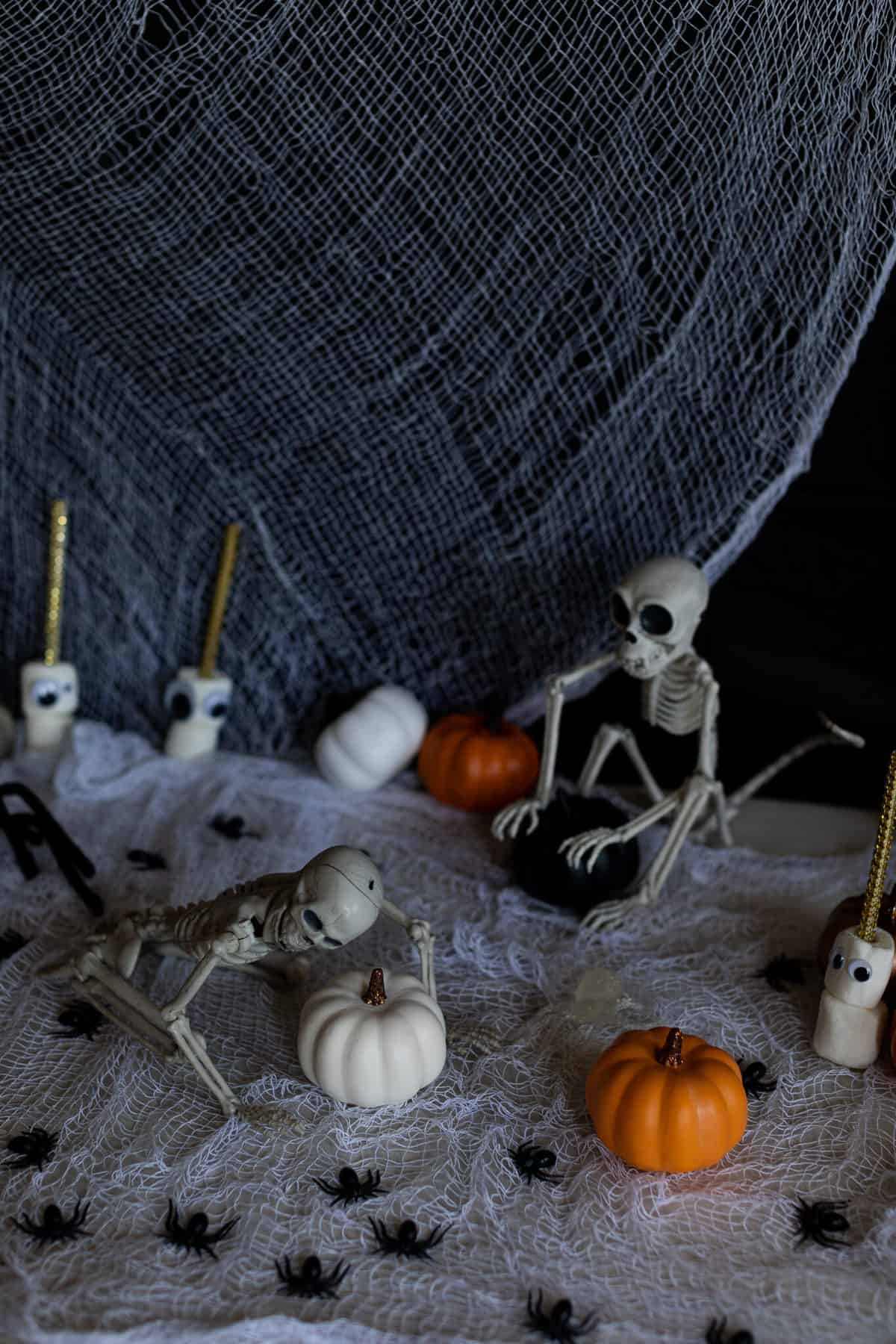 Great Ideas for Halloween That Are Kid-Friendly?
Bake Spooky Sweet Treats.
Carve and/or Paint a Pumpkin.
Make Other Fun Crafts.
Visit Halloween 'Haunted' Houses.
Create a DIY Costume.
And so much more!
To read more about each idea, see our past article on Best Toddler Approved Fun Things for Halloween.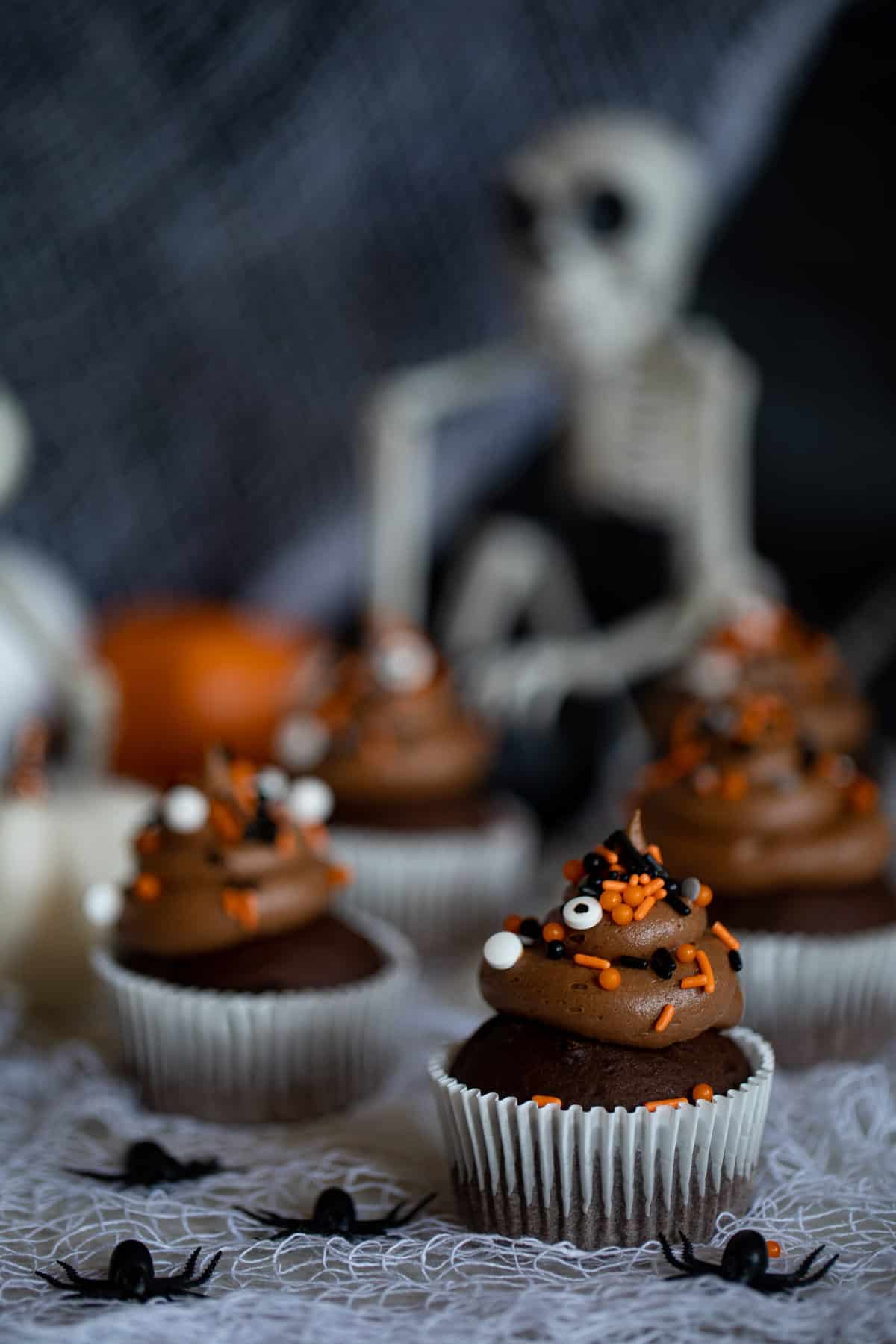 What is Cacao Really? Cacao vs. Cocoa
OK, so can we talk about Cacao for a sec? Did you know that Cacao AND Cocoa are the same thing?
I know. Insane. I was totally confused about this for a long time and honestly assumed that once was healthier than the other. However, it's come to be determined that they are just used interchangeably.
Chocolate is actually made from Cacao beans (or seeds). It's said that companies who use the term 'Cacao' are referring to the beans, pods, or ground up version of the beans. However, the term Cocoa is often referred to as the powdered version of it all (which is formed after the fat is pressed out of the bean). Of course there's a whole process that happens and you can find out more about that here.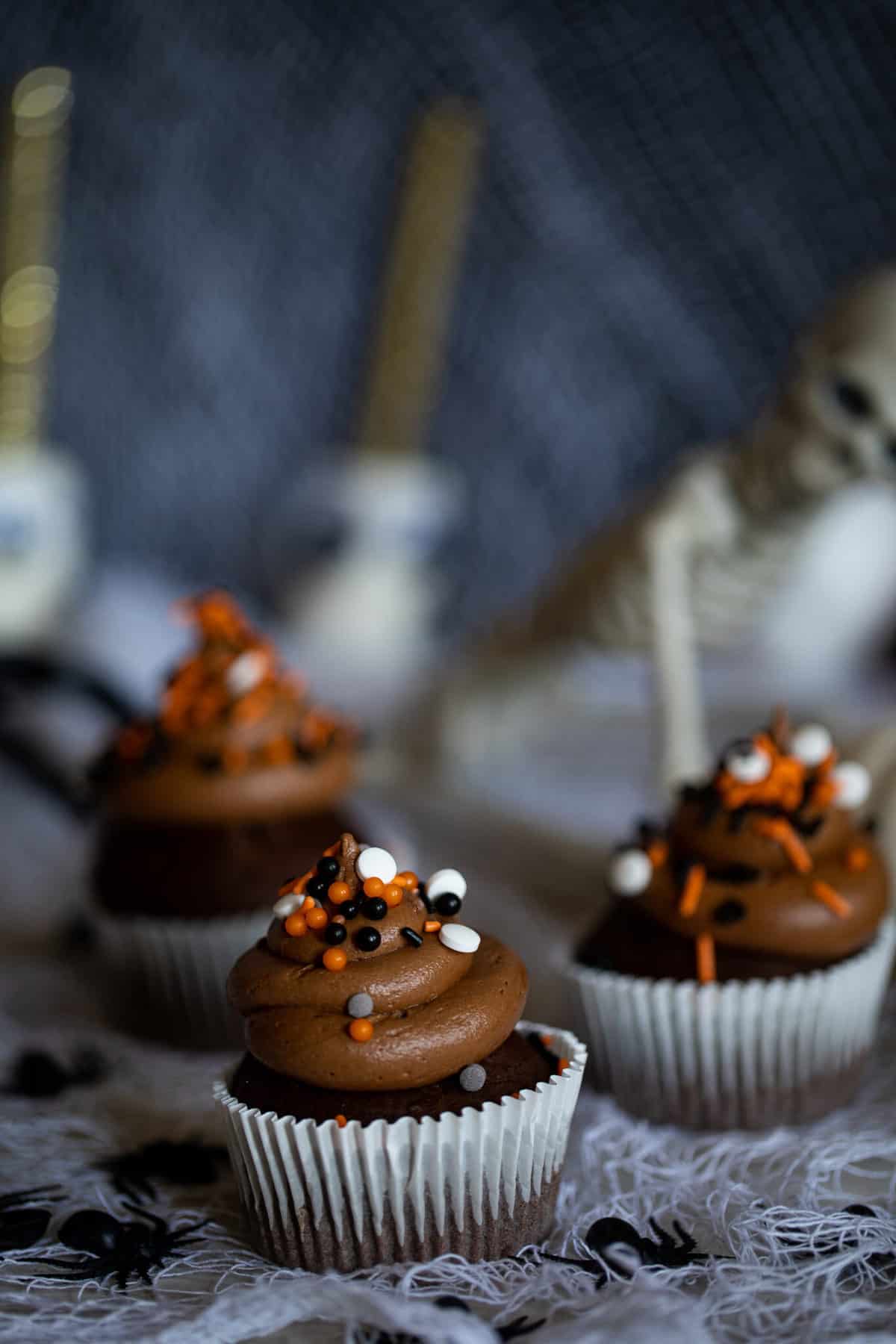 Honestly, when it comes to creating the perfect Halloween themed cupcakes, I enjoy looking at major inspiration for ideas. I recently found Delish's list of 30+ Easy Halloween Cupcake Ideas and they really have some awesome treats!
TIPS TO MAKING PERFECT CHOCOLATE CUPCAKES:
#1: YES, THE KIND OF FLOUR MATTERS!
To come out with a soft, moist cupcake, I've noticed that mixing All-Purpose Flour + Cake Flour, really does justice!
#2: DON'T OVER FILL!
Yes! This has been my trial and error moment when it comes to baking! I tend to fill my batter with most recipes to the brim, but I've recently gotten into the habit of pacing myself!
Over-filling makes a huge mess later and doesn't allow your baked goods to come put perfectly, especially with cupcakes. So, filling it ¾ths of the way is key!
#3: START HIGH, THEN END LOW!
One other pet peeve of mine when baking is when you're ultra confident at the amazingness of your batter (the taste and aroma is there), yet after it bakes—-it becomes flat or sunk in once it touches air. The solution? Start by baking the cupcakes at a higher temp for the first 5 mins (maybe 400 degrees Fahrenheit) then lowering it to the standard 350 degrees Fahrenheit.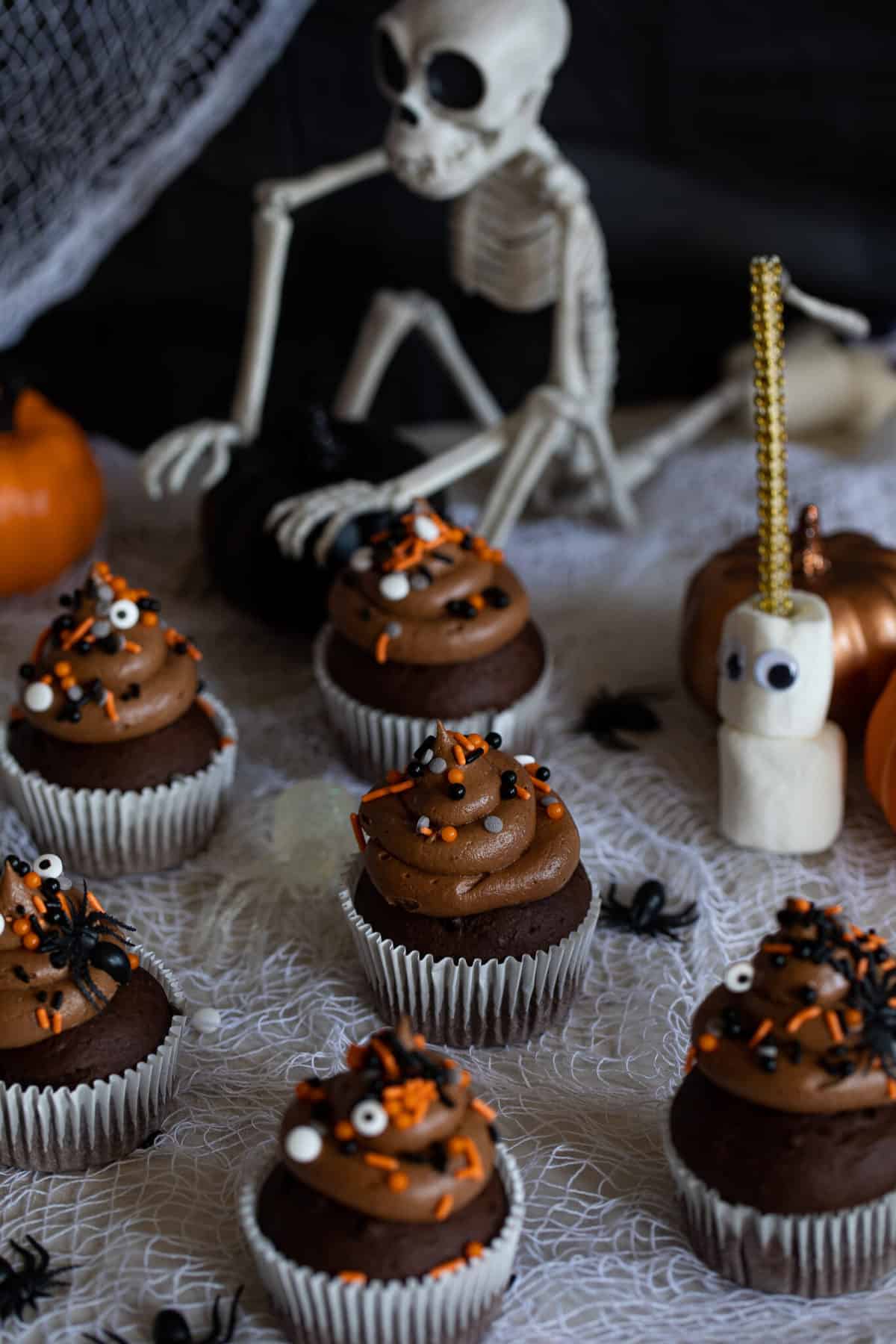 #4: ALWAYS KEEP THINGS FRESH!
I know that this is a common mistake, especially for those of us who aren't daily bakers. Ensure that your ingredients (flours, etc.) are fresh and haven't been sitting there for months improperly sealed, etc.
Also, ensure that your leaveners (baking power + baking soda) are fresh. This is super important and often is the culprit in flatter baked goods.
#5: DOUBLE PROTECTION IS BETTER THAN ONE!
While using cupcake liners are a huge lifesaver when making it easier to remove your cupcakes after they are ready, ensuring that you not only use high quality liners, but that you also lightly spray the inside of your liners with a cooking spray HELPS A TON! Don't you just hate when your cupcake inevitably gets stuck on one of those cupcake liners?
#6: WHEN IN DOUBT, THROW THEM OUT. Haha.
Last but not least, always ensure that your batter is JUST RIGHT. With cupcakes, your batter should be slightly thick and not extremely watery. This allows them to come out fluffy and not too wet.
Therefore, always slowly add in the wet ingredients (while mixing) to ensure that your batter isn't too crazy liquid-y to the point that it looks like your scooping up milk. When it doubt, throw it out and start again. Trust me, it's best that way!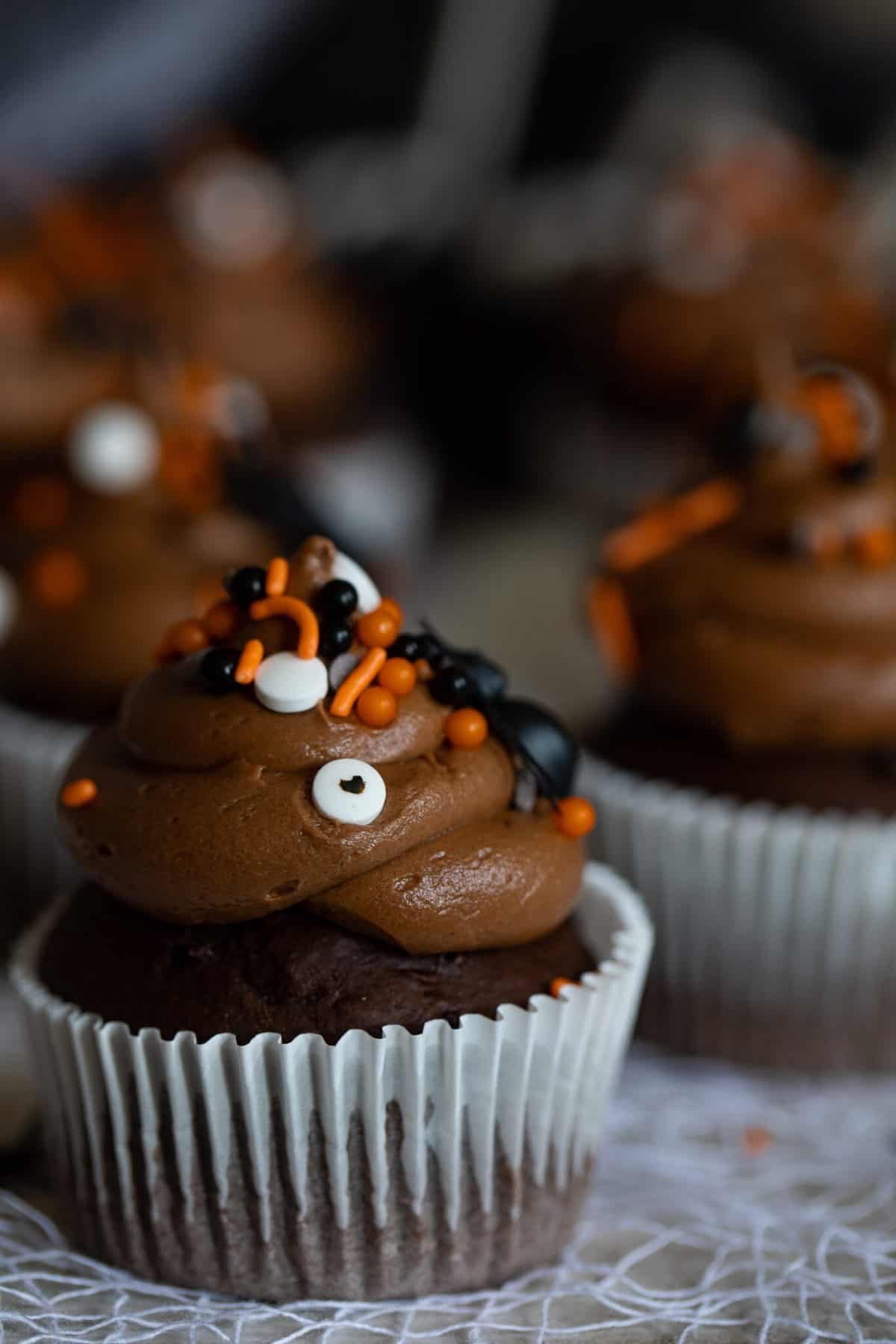 Delicious Cupcake Recipes to Try!
MADE OUR RECIPE(S)?
If you make these Easy Spooky Double Chocolate Cupcakes, tag @orchidsnsweettea_ on Instagram and hashtag it #orchidsandsweettea!
Vegan Chocolate Cupcakes:
1

cup

organic all purpose flour

(I use Bob's Red Mill; See Notes!)

½

cup

Super fine cake flour

(I use Bob's Red Mill; See Notes!)

6

Tbsps

Cacao Powder

(I use Navitas Organics)

1 ½

tsps

baking powder

½

teaspoon

baking soda

1

teaspoon

sea salt

4

Tbsps

Agave

(I use Wholesome Sweets; See Notes!)

½

cup

organic pure cane sugar

(I use Wholesome Sweets)

1

cup

Almond milk

(You can use your fave plant-based milk)

1

tablespoon

Apple Cider Vinegar

¼

cup

vegan butter, melted

(See Notes!)

1

teaspoon

vanilla extract
Easy Whipped Chocolate Buttercream Frosting:
4-5

cups

organic powdered sugar, sifted

⅓

cup

Cacao Powder

1

cup

unsalted butter, softened at room temp.

pinch of

sea salt

1

teaspoon

vanilla extract

¼

cup

Almond milk

(You can use your fave plant-based milk)
Vegan Chocolate Cupcakes:
Begin by preheating your oven to 350 degrees Fahrenheit. Line your cupcake pan with liners.

In a medium bowl, whisk together the Almond milk and Apple Cider Vinegar. Set aside for 5-10 minutes.

In a large bowl, whisk together the flours, Cacao powder, baking soda, baking powder, sugar, and sea salt. Set aside.

In the bowl of an electric mixer (attached with a whisk), add the Milk-ACV mixture and add the melted butter, Agave, and vanilla. Mix for a minute or two before turning off the mixer and changing the attachment to a paddle.

On low speed, add in the dry ingredients to the wet ingredients and continue to mix until well incorporated and batter is smooth, about 3-4 minutes.

Scoop the batter into each cupcake liner (¾ full) and bake at 400 degrees Fahrenheit for the FIRST 5 minutes. Then reduce temperature to 350 degrees Fahrenheit and continue baking for another 14-17 minutes or until a toothpick comes out clean in the center.

Once done, turn off oven and keep cupcakes inside with the oven door slightly open for about 2 minutes before taking them out.

Let them cool COMPLETELY before frosting.
Easy Whipped Chocolate Buttercream Frosting:
In a large bowl, add the powdered sugar and unsalted butter together, beating until it looks 'peas-like'. Beat in the cacao powder, salt, vanilla, and milk until buttercream is creamy and fluffy.

**NOTE: If buttercream is too 'runny', add additional powdered sugar (1 Tbsps at a time); if too thick, add additional milk (1 tablespoon at a time).**

Add buttercream to a piping bag and pie onto cooled cupcakes. If desired, decorate your cupcakes with Halloween themed sprinkles and accessories.

Bon Appetit!
STORAGE: Best kept if stored in an air-tight container in the refrigerator for up to 7 days (unfrosted) and 3-4 days when frosted. Also, can be frozen for up to 6 months when unfrosted and thawed.
FLOUR: If you don't have cake flour, you can always just use all-purpose flour entirely instead. 
OIL: Instead of using vegan butter, you can substitute with vegetable oil or Coconut oil, if preferred.
GLUTEN-FREE VERSION: To make these cupcakes GF, I recommend using a GF Flour Blend (Bob's Red Mills has a great version!). **NOTE: If the cupcake mixture is too 'thin + runny', simply add additional GF flour, ¼ cup at a time.**
SWEETENER: If you choose to opt out of Agave, you can always substitute with maple syrup or pure can sugar as well.
PLANT-BASED BUTTERMILK:Add 1 cup of Almond milk (or your fave plant-based milk) + 1 tablespoon lemon juice (instead of ACV) and let sit for 10 minutes, until it slightly thickens.
MAKE AHEAD:You can always bake these cupcakes the night or day before and let them cool, tightly wrap, and refrigerate until ready to use. The buttercream frosting can also be made prior and tightly wrapped and stored in the fridge as well. When ready to serve, let cake sit at room temperature for 30 minutes to an hour, frost, and enjoy!
Calories:
291
kcal
|
Carbohydrates:
70
g
|
Protein:
3
g
|
Fat:
20
g
|
Saturated Fat:
11
g
|
Polyunsaturated Fat:
2
g
|
Monounsaturated Fat:
6
g
|
Trans Fat:
1
g
|
Cholesterol:
41
mg
|
Sodium:
359
mg
|
Potassium:
101
mg
|
Fiber:
2
g
|
Sugar:
13
g
|
Vitamin A:
473
IU
|
Vitamin C:
1
mg
|
Calcium:
74
mg
|
Iron:
1
mg
Easy Spooky Double Chocolate Cupcakes.