This Creamy Jamaican-Inspired Vegan Carrot Juice recipe is a healthy take on the delicious traditional Jamaican Carrot Juice which includes bold flavors and is beautifully textured. This Vegan Carrot Juice boasts it's creaminess, thickness, and generous play on spices and freshly grated carrot flavor along with a secret thickener that brings it to life—-cashews. The perfect drink to enjoy with your entire family. All vegan ingredients. Gluten-free.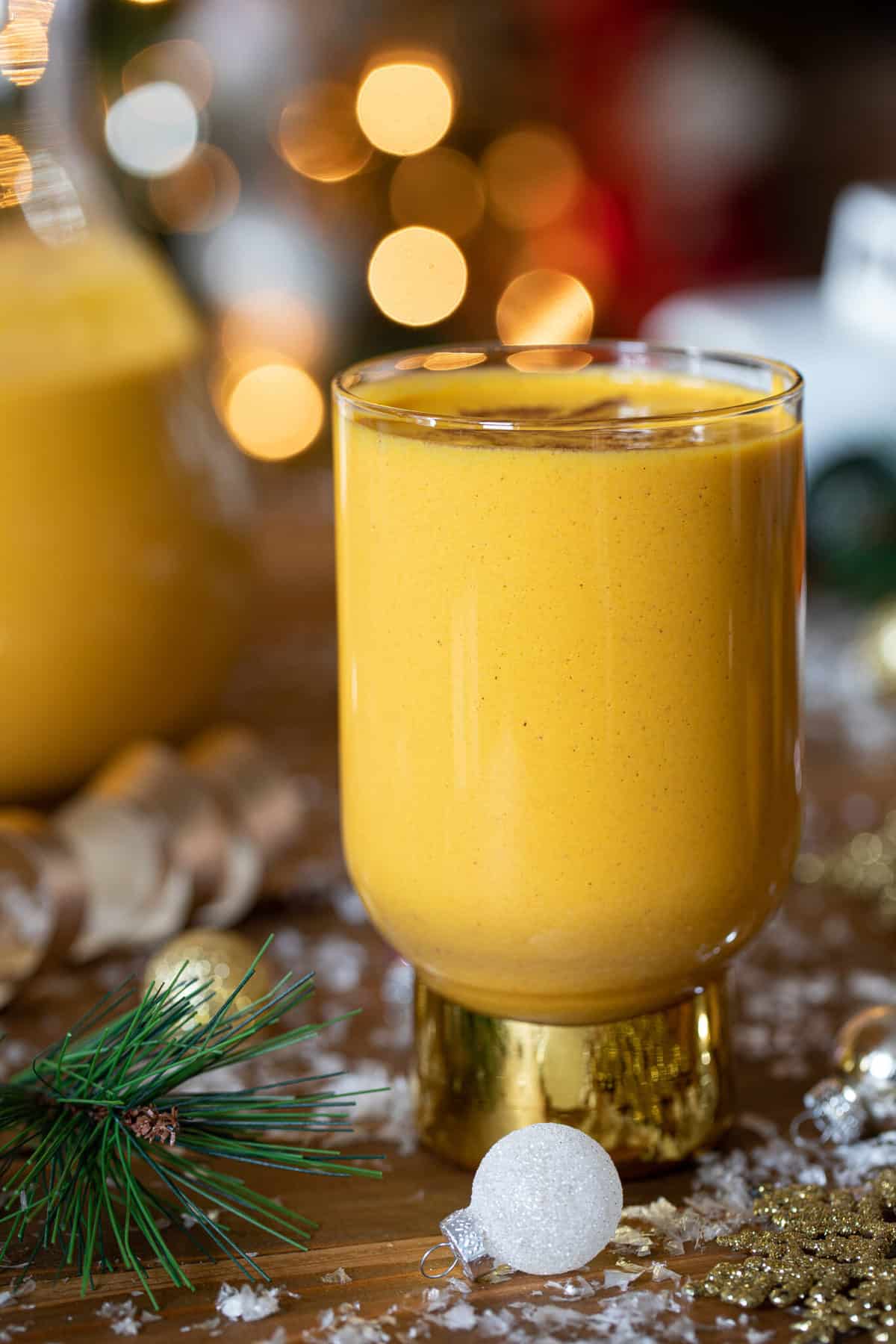 When it comes to paying homage to my Jamaican roots, I truly get excited to create healthier versions of the foods I grew up eating all the time. This Creamy Jamaican-Inspired Vegan Carrot Juice is one of the most common staples with any Jamaican household and is often enjoyed during Sunday meals each week!
While some recipes are just better in their traditional version, many can be greatly transformed into Vegan recipes that would leave you feeling like, "is this really vegan"?
How to Make this Carrot Juice Super Creamy.
When it comes to traditional Jamaican Carrot Juice, the creaminess is often created by the Irish Moss and Guinness and Condensed Milk that is added to the mix. However, since most of those ingredients aren't vegan-friendly in their essence, therefore, using cashews as the creaminess factor is the secret sauce to it all.
Yes, that's right—-cashews. If I'm honest, I use cashews A LOT in my recipes, especially in my vegan recipes. When soaked and blended, it adds a nice creamy texture to anything. It did the same for this carrot juice.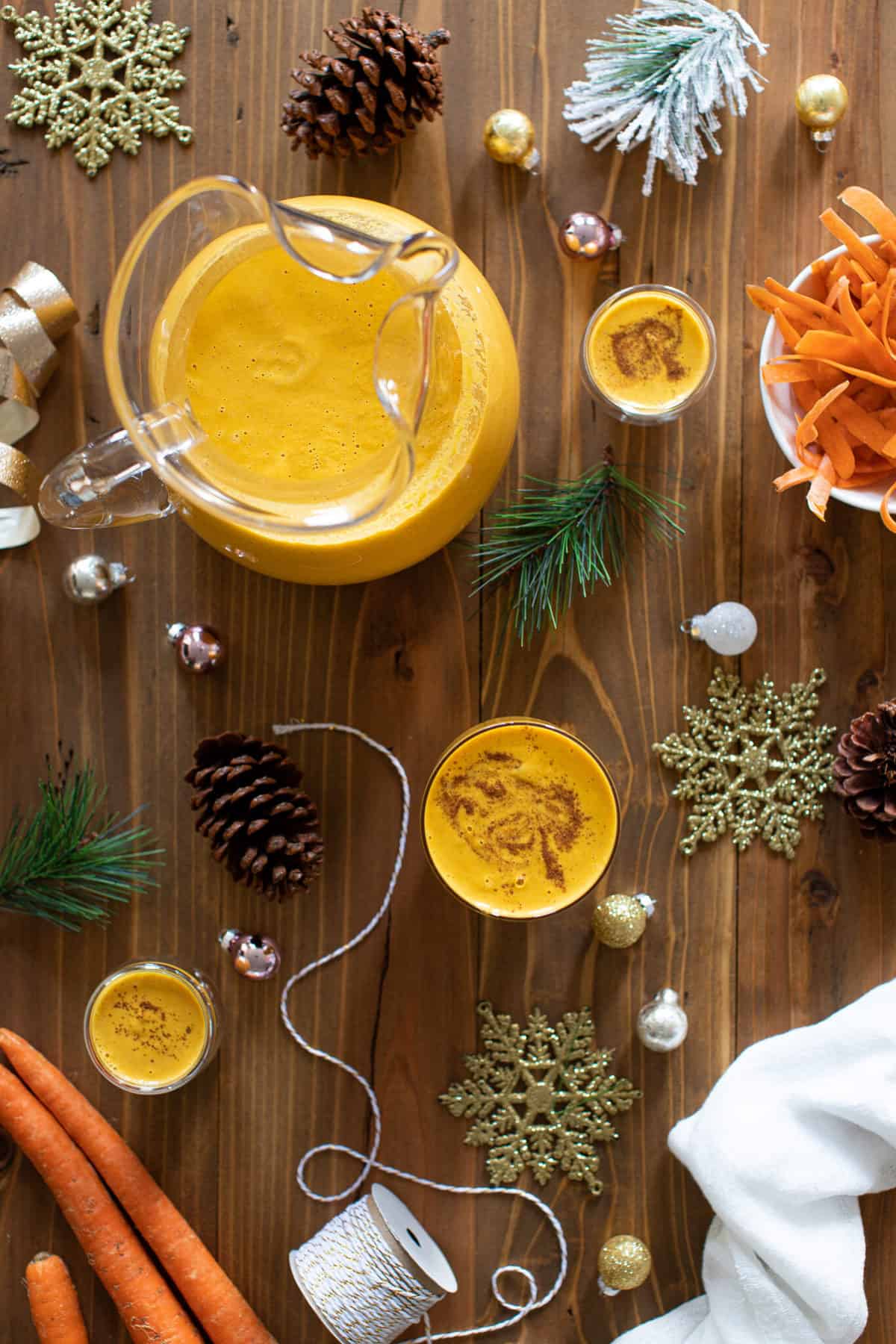 If you've been an avid reader of Orchids + Sweet Tea, then you know that I've been tossing in a few Drink recipes here and there, however, my mission is to create more healthy options for those of you who enjoy a good glass of something refreshing.
While I've enjoyed making Milkshakes (especially during the Summer), I do pride myself in making flavorful drinks that have a ton of nutritional value.
Awesome Vegan Drinks to Try this Season.
Creamy Homemade Vegan Eggnog
Citrus Honey Lime Mint Mocktail
Banana Mango Raspberry 'Sunrise' Oats Smoothie
Cucumber Ginger Lemon Detox Juice
Natural Homemade Lemon Ginger Ale
Vegan Chai Tea Latte with Turmeric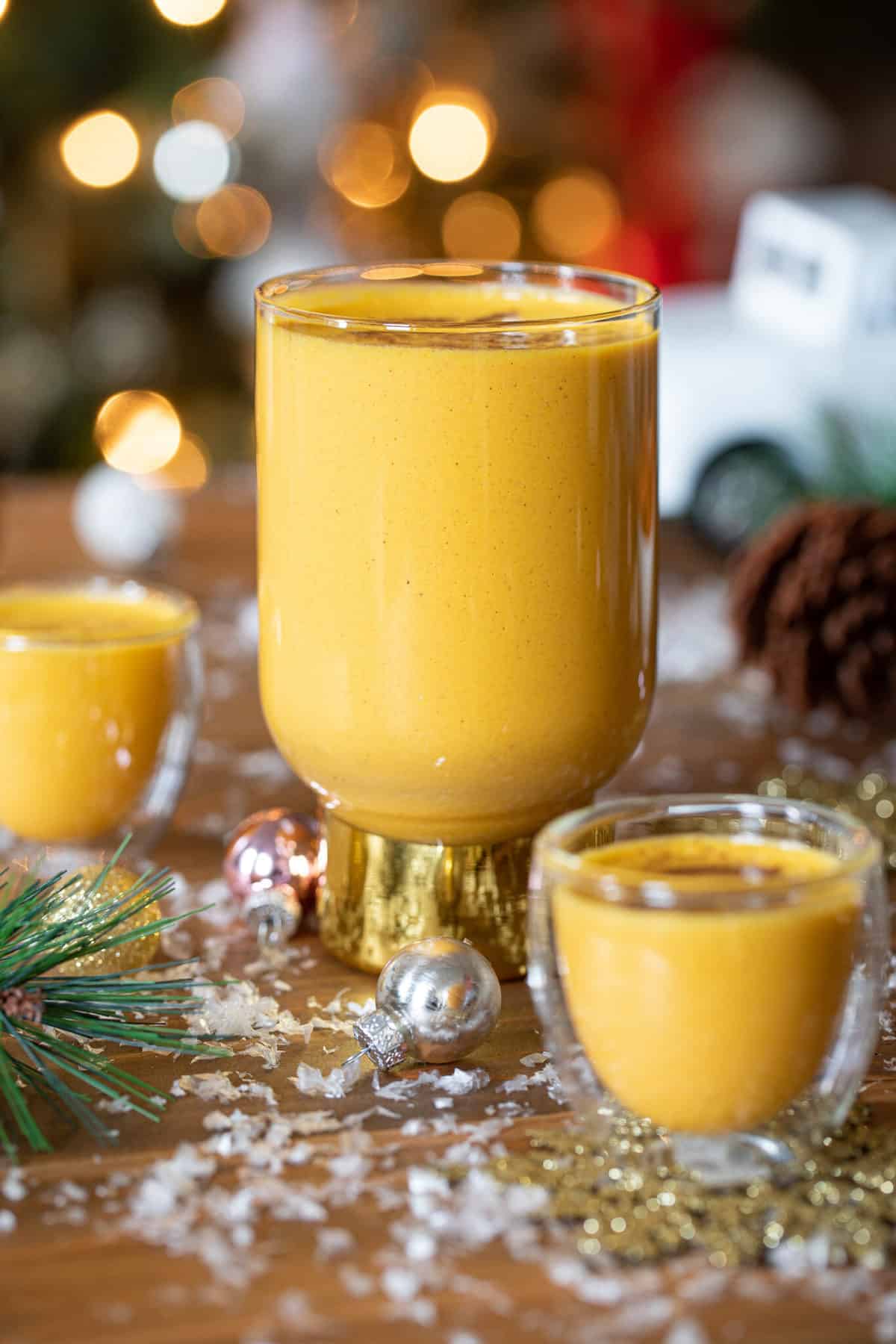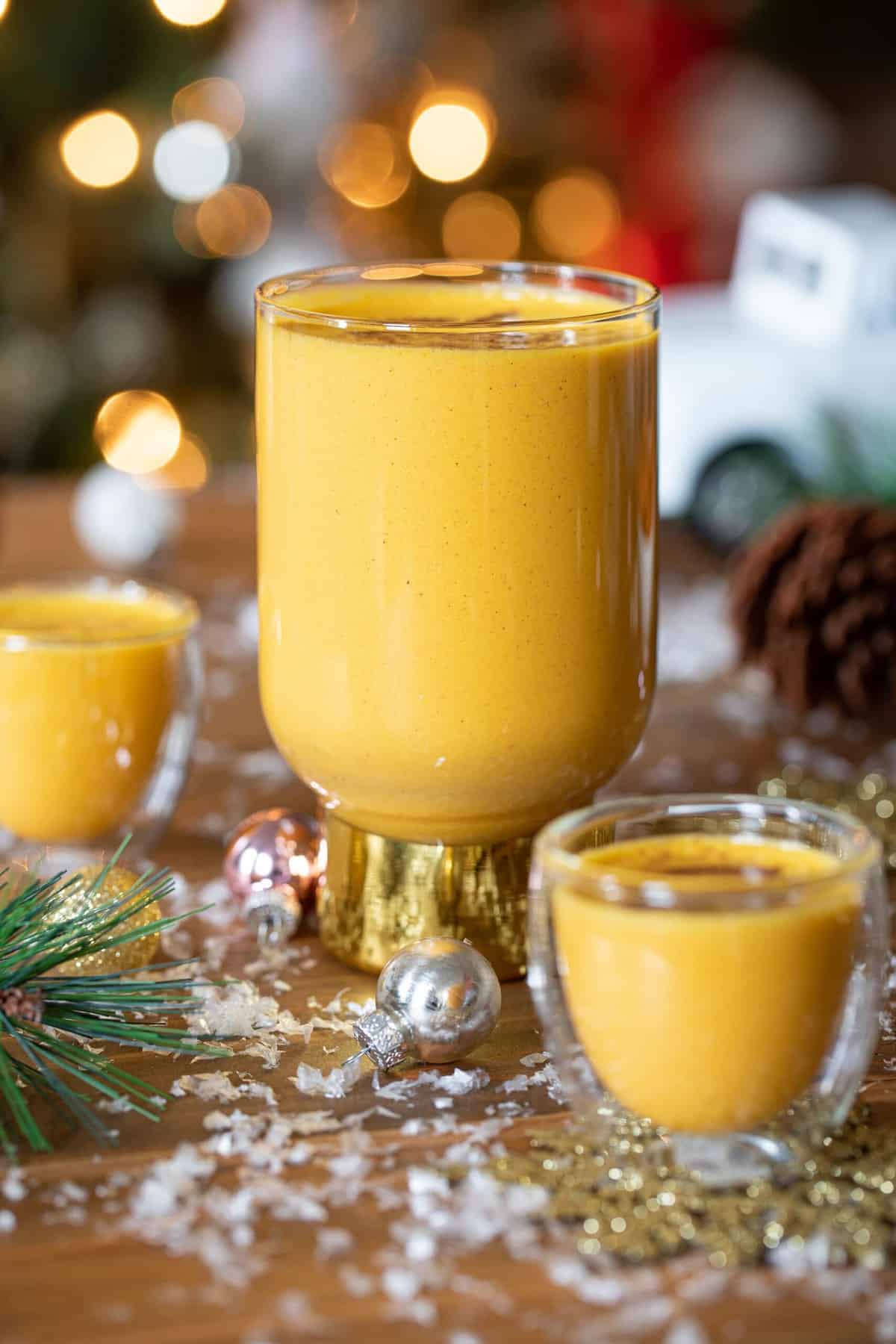 Why Carrots Anyway? Health Benefits?
More importantly, did you know that carrots are super beneficial? They are awesome sources of beta-carotene, fiber, Vitamin-K, Potassium, and antioxidants.
In addition, if you're someone who is thinking about making 'weight loss' one of your New Year goals, then carrots are just the thing for you!
They are weight-loss friendly and have been linked to reduce cholesterol and of course as most of are aware—THEY REALLY DO IMPROVE EYE HEALTH!
Among other great benefits, carrots also help to lower Blood Sugar levels and are great sources of fiber as previously mentioned, and feed the good bacteria in our guts, which aides better digestion.
LOOKING FOR A HEALTHIER SWEETENER OPTION?
The Best Healthy Sugar Alternatives + Substitutes list is all about finding better ways to enjoy your favorite sweets without compromising your healthy lifestyle. For those who follow a vegetarian and/or vegan lifestyle, this lists offers a few great ideas to incorporate healthy sweeteners into your diet.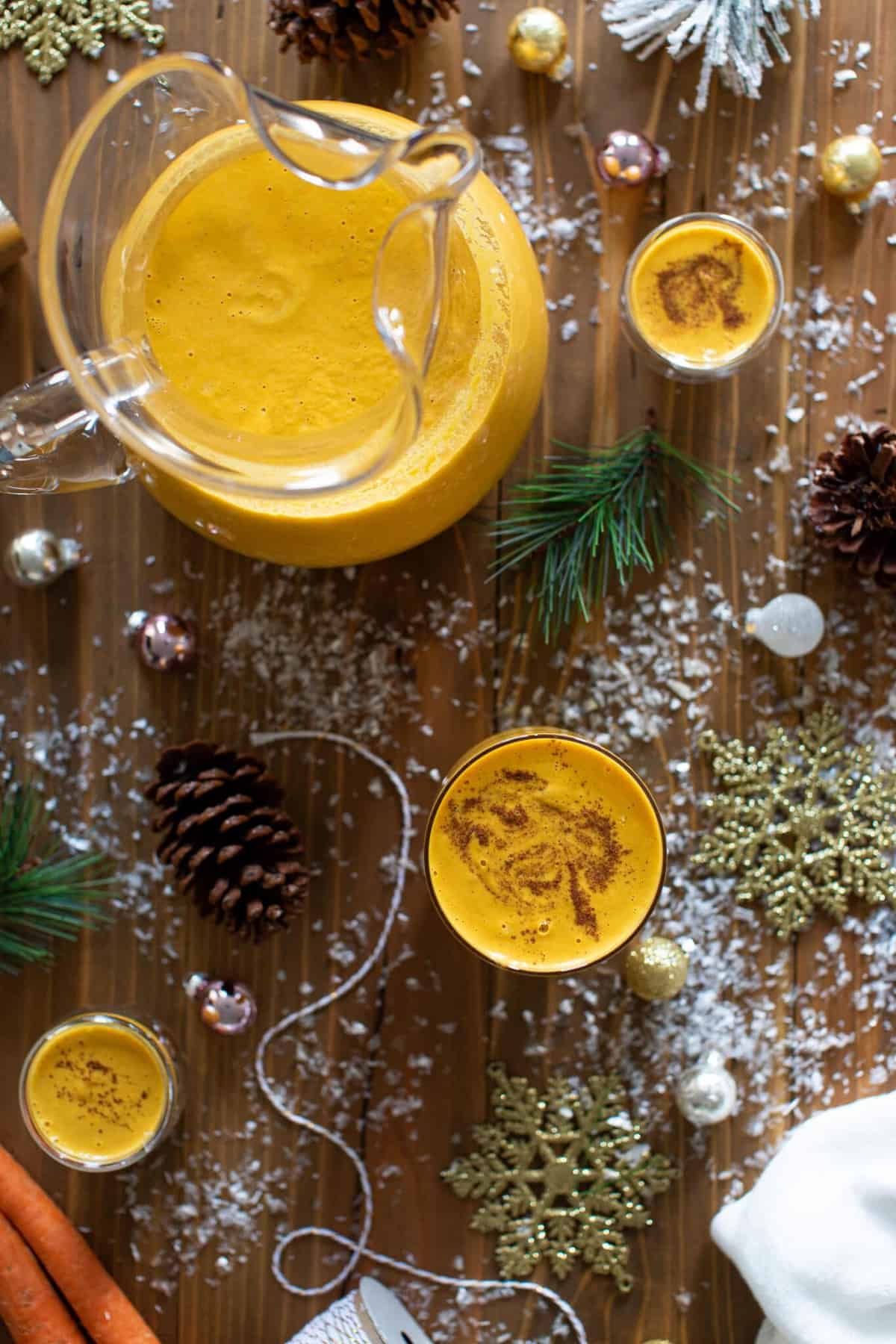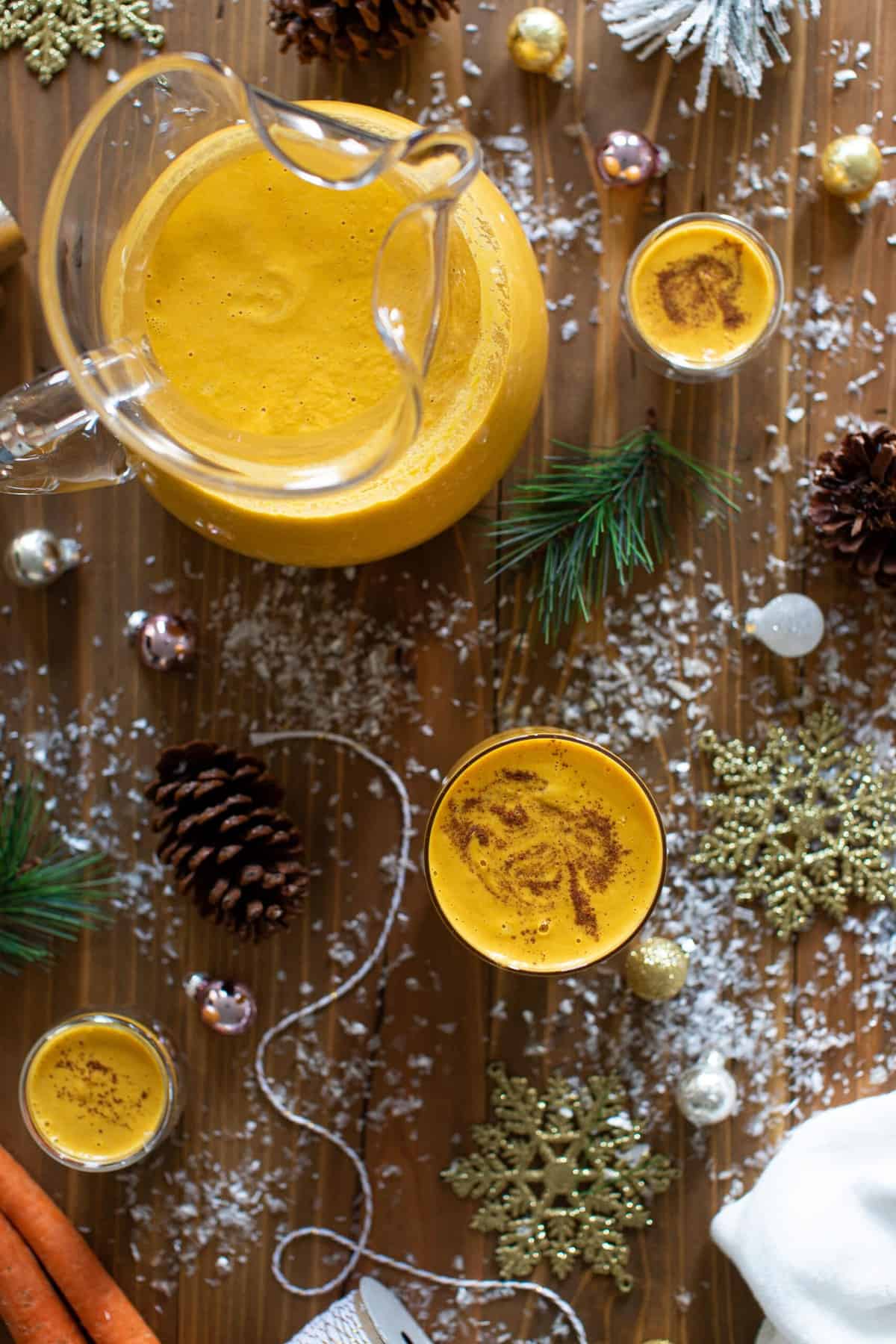 5 Reasons Why You'll Love This Carrot Juice!
It's Vegan + GF
Super easy to make and quick (plus, no crazy clean-up! Can we say–Everything in one blender?)
Bold spice + rum (optional) flavors adds a beautiful taste to the cooler months
Full of carrot flavor + so creamy! (The best reason!)
Perfect for any day or season!
Common FAQs for Carrot Juice.
How Do I Store Leftovers? Can I Freeze It?
OK, so like most other drinks, you can store leftover Carrot Juice in an airtight jar or covered jug for up to 3-4 days. When it comes to freezing, you can store it in an airtight jar or container for up to 3 months. Once ready to use, simply thaw it out overnight in the refrigerator and enjoy.
Is it Necessary to Soak Cashews?
Yes! To ensure that cashews are soft enough to fully blend and create the desired creaminess, it's super important to soak them. If you aren't able to soak them overnight, you can do a fast soak: simply cover cashews with boiling water and let sit for 30 minutes, drain, + rinse.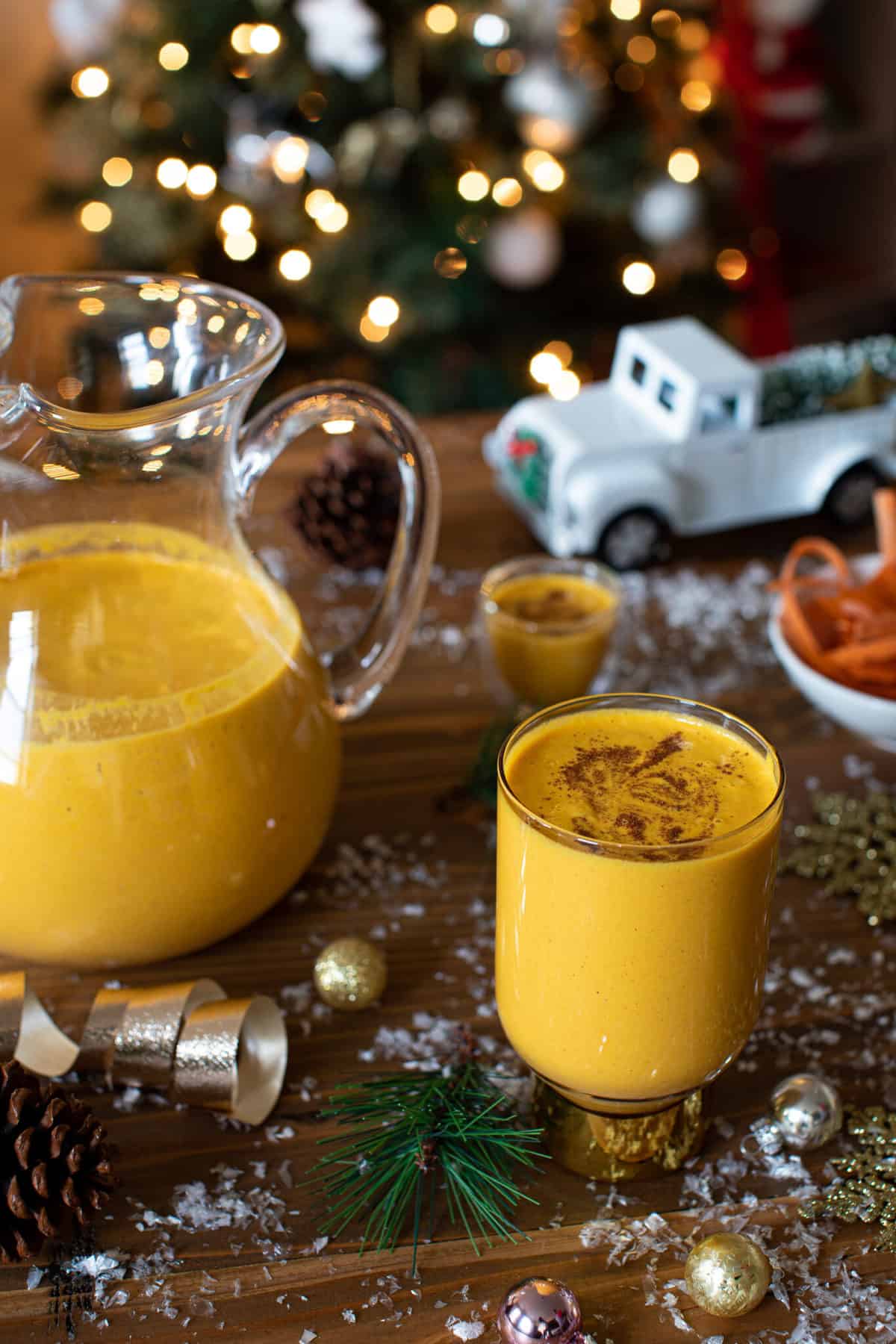 Can I Add Additional Ingredients?
Absolutely! You can add additional spices such as turmeric for added health benefits. In addition, you can either use actual alcohol or rum for a buzz or Holiday gathering feel. To sweeten, you can choose to add dates for a healthier option, if preferred.
Can I Use Something Else to Make this Creamy?
Yes! If you aren't into cashews or are allergic to nuts in general, you can always make this carrot juice thick + creamy by using canned coconut cream. I love using the Thai Kitchen brand. If using the canned coconut milk, be sure to refrigerate overnight to make it thick.
Need Other Amazing Jamaican-Inspired Dishes?
This Best Homemade Jamaican Jerk Chicken Pizza is one of the best versions of taking a traditional staple—-jerk chicken and using it to re-create something phenomenal. It comes based in a spicy-sweet BBQ jerk sauce and loaded with mozzarella cheese, bell peppers, onions, kale, jerk chicken, and scotch bonnet pepper (for an extra kick of heat).
This isn't your typical Jamaican patty. In fact, it doesn't include 'actual beef'., rather it's turkey meat with "beef bouillon" which allows it to taste like beef. Wrapped in a buttery, flaky crust, the moist "beef" inside coupled with the many spices, bursts with flavor and heat! Cut into medium round circles and baked to pure perfection in just 25 minutes, you have yourself a newly invented Spicy Jamaican Mini Beef Patty.
This Creamy Jamaican Cornmeal Porridge recipe is a healthier take on the delicious traditional Jamaican Cornmeal Porridge which includes boldly sweet flavor and is beautifully textured. This version of porridge boasts it's creaminess, thickness from the thickly cut cornmeal used, and a generous play on spices and freshly topped berries and toasted pecans, which all create quite the experience in just one bowl.
This Spicy Vegan Jamaican Stew Peas recipe is a great homage to the traditional popular Jamaican dish. Made with a flavorful coconut milk base and seasoned with traditional Caribbean spices, this bowl of goodness comes packed with red kidney beans, sweet potatoes, bell peppers, red onions, dumplings, and a kick of heat for those who enjoy a bit of spiciness. Served with brown or basmati rice.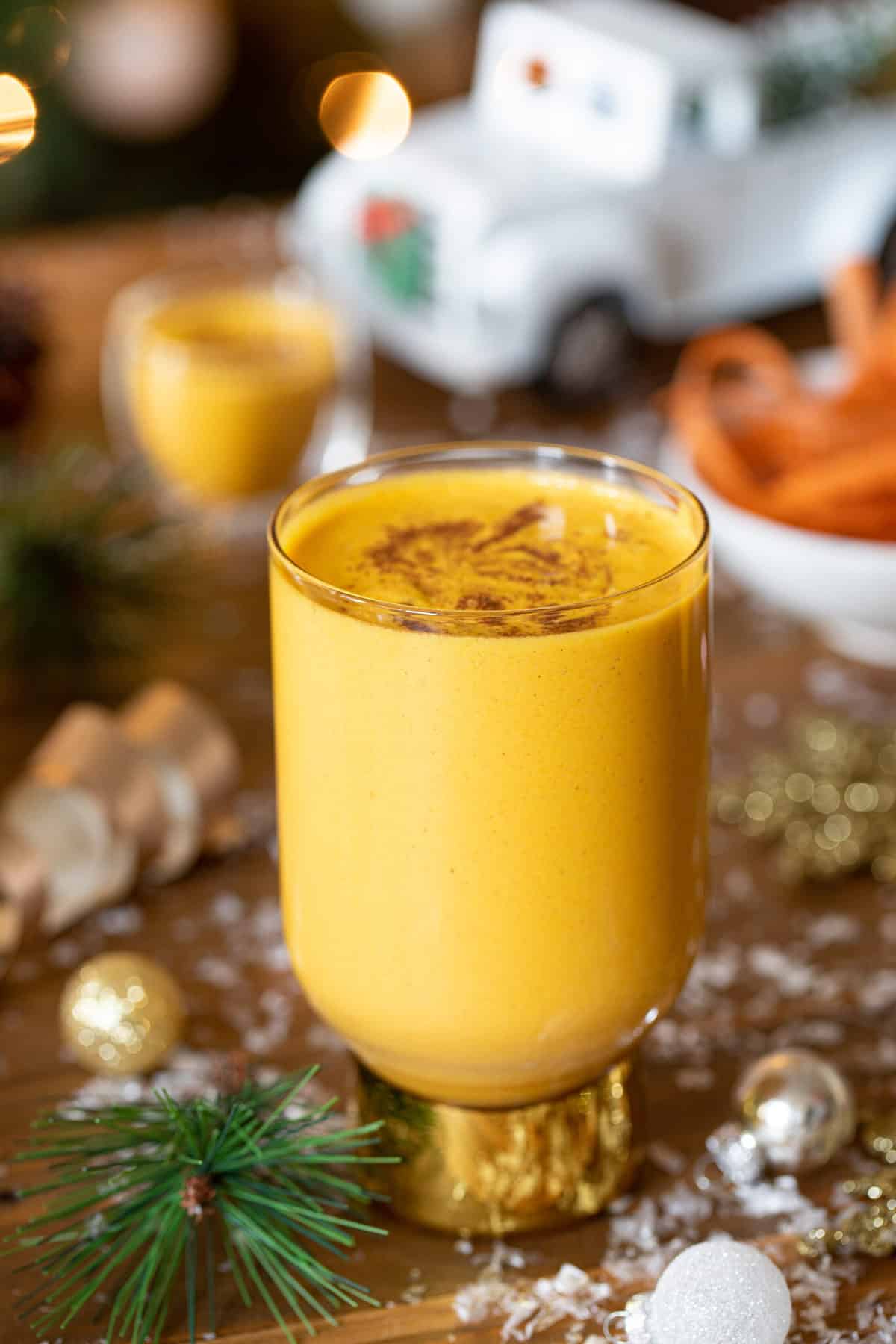 2

lbs.

Organic carrots, peeled + diced

1 1/2

cups

Raw cashews, soaked overnight

(See Notes!)

1

medium

ginger root, peeled + chopped

5-6

cups

fresh water

1/2

cup

Agave

(You can also use Maple Syrup or Dates)

1

tsp

vanilla extract

1

Tbsp

ground cinnamon

1

tsp

ground nutmeg

1/4

tsp

ground all-spice

1

tsp

rum extract, optional
Start by peeling and chopping carrots into medium chunks, rinsing them off afterwards and setting them aside. Do the same for the ginger and set aside as well.

Next, add carrots and ginger to a blender (high-powered) along with 5 cups of fresh water. Blend for 4-5 minutes until carrots have blended entirely. Add cashews and 1-1/2 cups of fresh water, blending until nice and creamy. **NOTE: If still too thick, add an additional 1/4 cup of water**

Once done, slowly strain carrot juice into a pitcher, squeezing the carrot pulp to ensure that all juices are extracted. **NOTE: You may have to repeat this process until all carrot juice has been fully strained.**

Add vanilla extract, cinnamon, nutmeg, rum extract (optional), Agave, and allspice and stir until well incorporated.

Refrigerate for at least an hour or serve over ice.

Sip and enjoy!
STORAGE: Keep leftover Carrot Juice refrigerated + covered for 2-3 days for optimal freshness. SOAKED CASHEWS:To best soak cashews, add 1 cup of cashews to a bowl or measuring cup and cover with cold water, sealing the top with plastic wrap and leaving it out (at room temp.) overnight. When ready to use, drain and rinse. If not able to soak overnight, simply cover cashews with boiling water and let sit for 30 minutes, drain, + rinse. FAQ: To see common FAQS about this carrot juice, double check within the post.