Satisfy your sweet tooth with the ultimate dessert experience - Classic Southern Banana Pudding. This delicious recipe features layers of silky whipped sweetened condensed milk, sliced fresh bananas, and crispy vanilla wafers, all topped off with a generous serving of homemade whipped cream.
The combination of flavors and textures creates a truly irresistible dessert that's perfect for any occasion. Whether you're hosting a dinner party or simply looking for a comforting treat, this banana pudding recipe is sure to impress. Get ready to experience the ultimate in Southern comfort food-- your taste buds will thank you!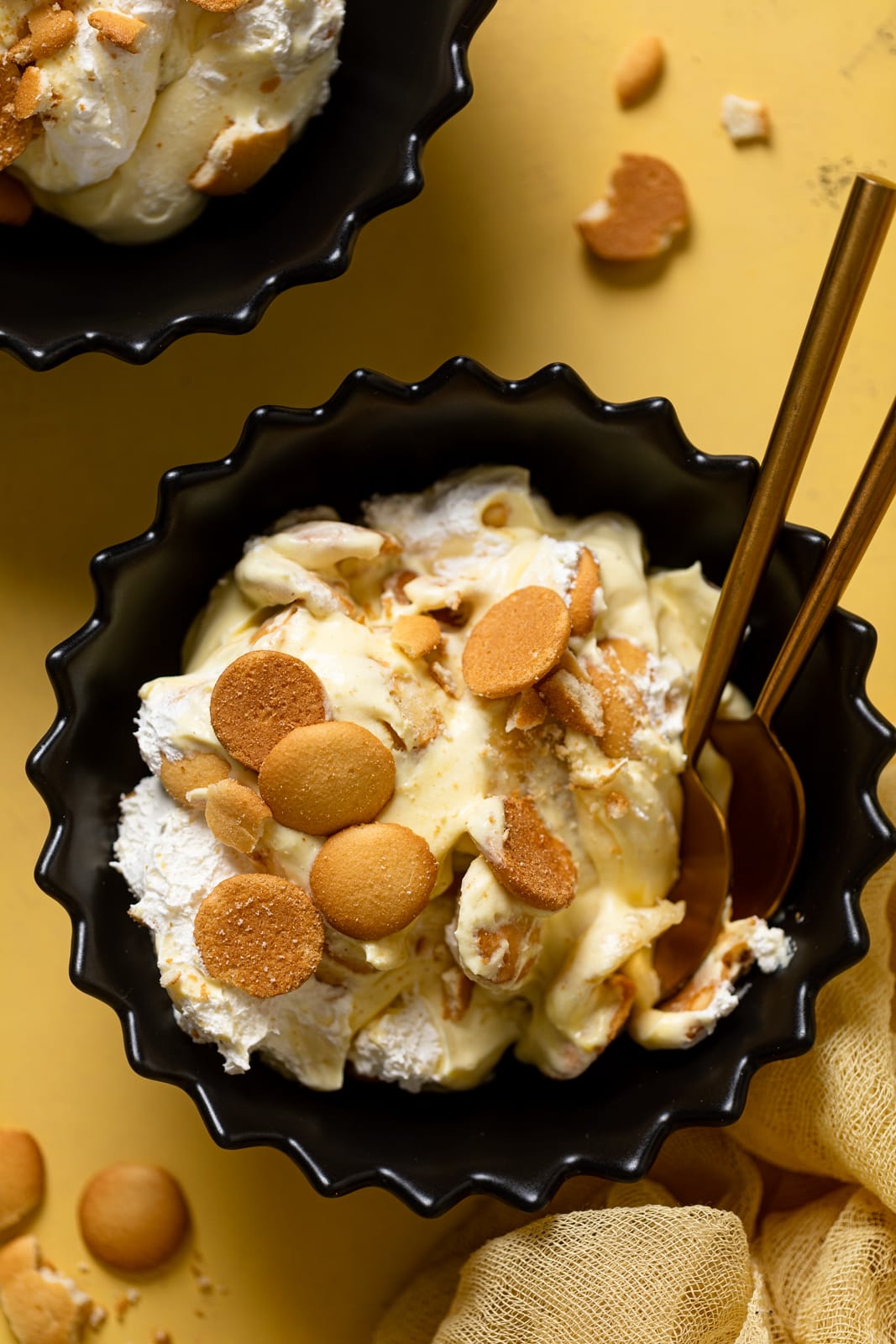 If you're a true Southerner, you know what I mean when I say "banana pudding." This Classic Southern Banana Pudding is a staple in any Southern household, and the taste and texture are pure nostalgia it's enough to make anyone feel warm and fuzzy inside. My Grandma's Baked Southern Banana Pudding is the one thing that I enjoyed heavily as a child, but this no-bake version is my go-to these days!
To me, banana pudding is all about love. It's always shared among loved ones. For many families, this is a foundational dessert. Hence why I have so many pudding desserts on Orchids + Sweet Tea. Need some food inspiration? Look no further than our lineup of 21 Soul-Satisfying Southern Comfort Food Recipes.
My Fave Pudding Recipes with a Twist!
Best Biscoff Banana Pudding with Caramel - This is one of those desserts that is a sure crowd-pleaser. It's made with whipped sweetened condensed milk, a deliciously smooth cookie butter vanilla pudding, and layered with organic vanilla wafers, Biscoff cookies, fresh bananas, and whipped cream. Meet your new favorite dessert! A complete sweet indulge! Pure joy!
Deconstructed Vegan Sweet Potato Bread Pudding - This is a great breakfast, brunch, or dessert recipe for a crowd, jam-packed with flavors and spices that come inspired by Jamaican bread pudding flavors. This deconstructed bread pudding has amazing potential for any eater! All dairy-free and vegan ingredients.
Delicious Peanut Butter Banana Pudding - A twist on a Southern-style dessert with a light, creamy texture, banana chunks, crispy vanilla wafers, and gooey peanut butter.
Banana Pudding Cheesecake Bites - These are the best remix to famous Southern banana pudding. A spiced Nilla wafer cookie and Graham Cracker crust holds up tangy banana cream cheese filling and a light-as-air whipped cream topping. Totally mouthwatering.
Jump to: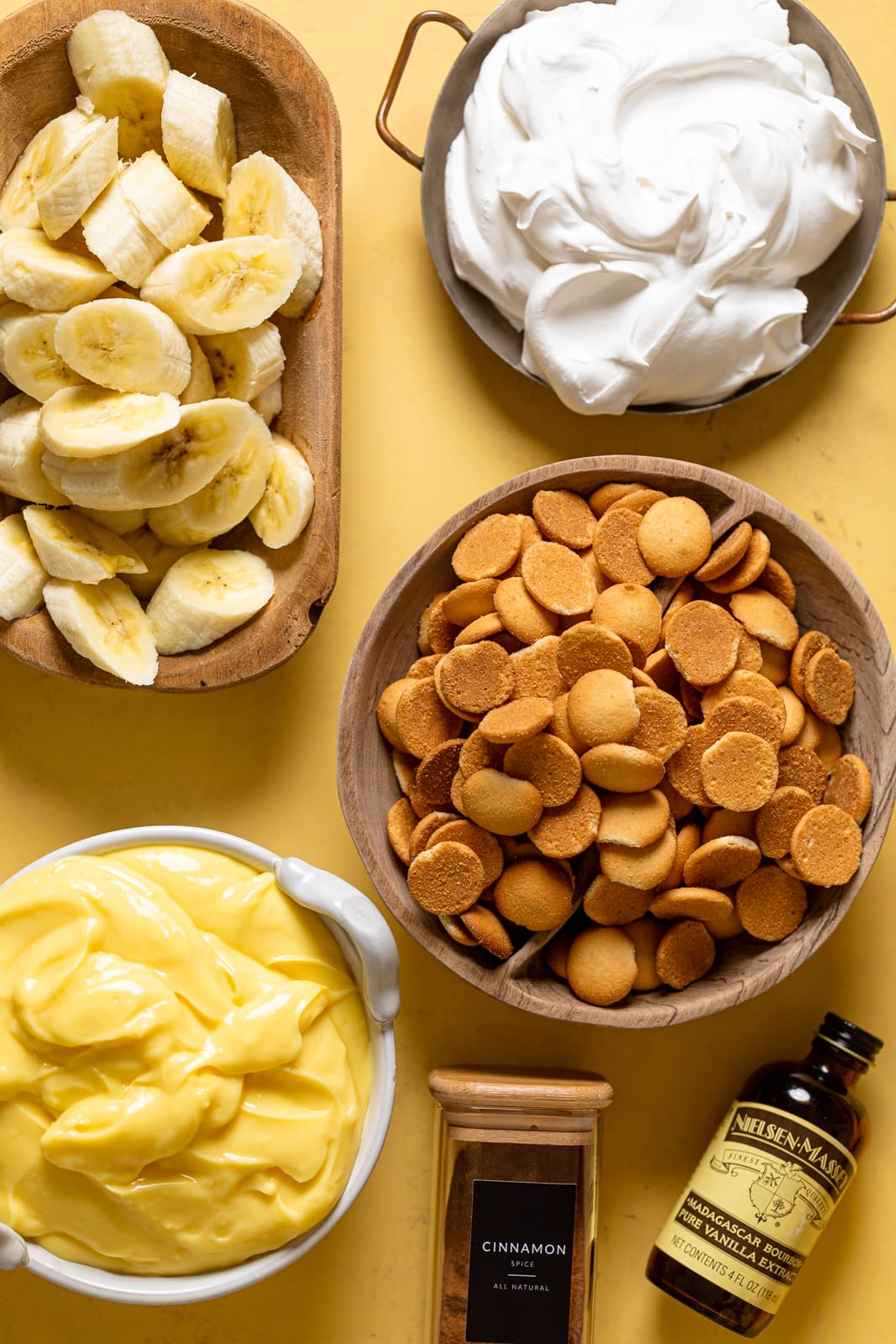 Get ready to indulge in a dessert that's sure to satisfy your sweet tooth cravings! My easy Classic Southern Banana Pudding is not your average banana pudding. This recipe is a delectable blend of traditional flavors with a modern twist that will transport your taste buds to dessert heaven.
Inspired by the famous banana pudding from Magnolia Bakery, my version also incorporates my Grandma's secret recipe. Each bite is a heavenly symphony of flavors and textures that will leave you wanting more.
How to Make Banana Pudding
Looking to add a bit of sweetness to your family time in the kitchen? Then why not try out this amazing no-bake banana pudding recipe? It's so easy to make that even your little ones can join in on the fun and help you layer the dessert.
One of the best things about this recipe is that you don't need any fancy kitchen gadgets or special skills to make it. All you need is an electric stand-mixer or hand-mixer and a boxed pudding mix- ---which makes it totally fool-proof. It's the perfect recipe for busy families who want to enjoy a delicious dessert without spending hours in the kitchen
Ingredients for Banana Pudding
Here's what you need to throw together this 20-minute Classic Banana Pudding dessert:
Bananas. You'll need 3-4, depending on the size. Make sure they're soft and ripe for the sweetest flavor.
Ice cold water. It's important to use cold water to get the right consistency in your pudding.
Sweetened condensed milk. I use low-fat for this pudding. It adds plenty of richness and sweetness with a wonderfully thick texture.
Heavy cream to make whipped cream. You can also use softened Cool Whip.
Vanilla wafers or Gingersnap or Chessmen cookies for a more Southern twist.
Vanilla extract. Make sure you're using the real stuff, not imitation!
Vanilla pudding mix for the easiest pudding you'll ever make.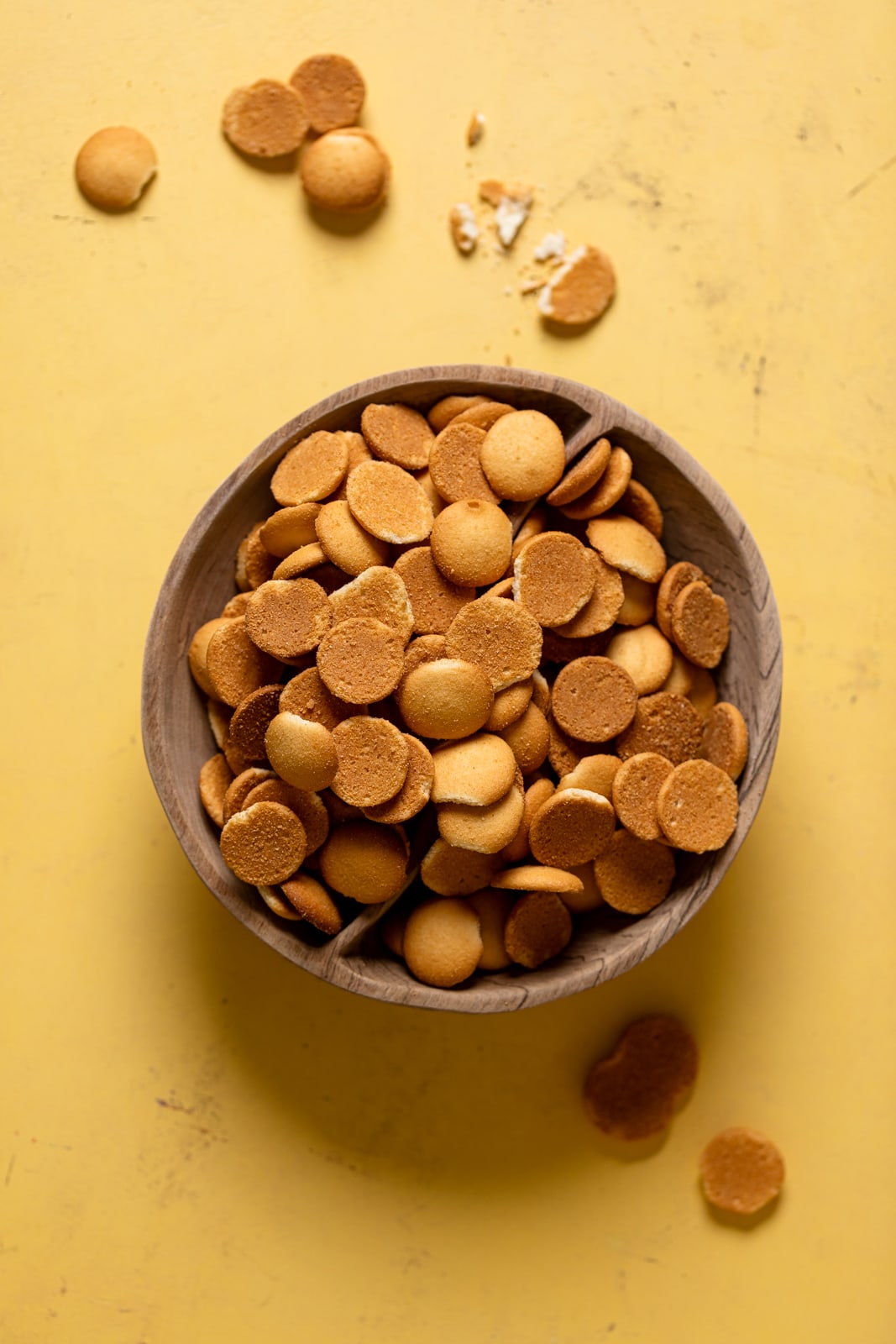 How to Make Banana Pudding from Scratch?
To make Banana Pudding entirely from scratch, you'll need to have THREE components ready:
Homemade vanilla pudding
3-4 bananas, sliced
Whipped cream or meringue (if you're feeling fancy)
First, you'll start by making your homemade vanilla pudding over the stovetop and whisking in the butter and vanilla, and then it's on to assembling your banana pudding: starting with a layer of vanilla wafer cookies, followed by banana slices, vanilla pudding, and whipped cream. Repeat until all ingredients are used, then add crushed cookies at the very top.
Then place plastic wrap atop everything (lightly pressing it in so that the wrap touches the top of the pudding) and place it in the refrigerator to chill.
Let everything chill for at least 4 hours, but know that it always tastes even more delicious the next day---once the flavors really "set in".
Ingredients for Homemade Vanilla Pudding
To make your own vanilla pudding instead of buying a store-bought version, here's what you'll need:
3 cups milk (whole milk is best)
3 egg yolks
2-3 Tablespoons cornstarch or arrowroot
½ cup organic cane sugar
1 Tablespoon unsalted butter
1 teaspoon vanilla extract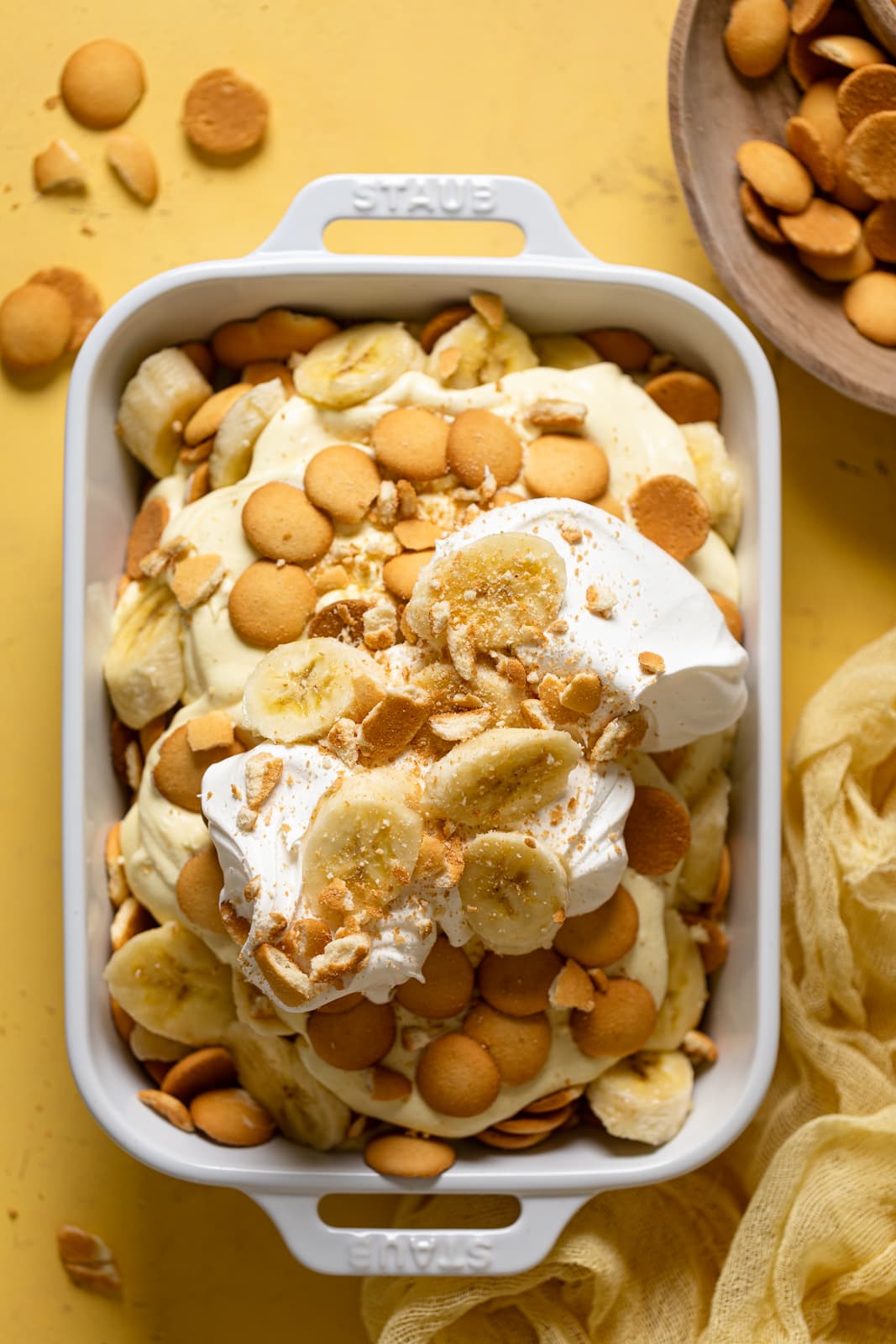 Baked Banana Pudding vs. No-Bake Banana Pudding
OK, so maybe you didn't know that there are two types of banana pudding recipes. A true classic Southern traditional banana pudding is baked with a beautiful meringue and everything is married together well! And then there's a no-bake EASY version, which is this simple Banana Pudding recipe that I'm sharing.
For the baked version of banana pudding, you'll make your homemade pudding per usual, layer everything, and then whip together an easy meringue using egg whites which will be fluffy and cloudy and is used as the "topping" of your banana pudding.
Then you bake everything for a few minutes until the meringue is browned and remove it, let it cool, and then serve.
Assembling Layered Banana Pudding
I recommend serving this banana pudding in a glass bowl. If you have a trifle bowl with a stand, even better!
Once your pudding is made and chilled, you're ready to assemble. Here's how to do it:
Start with a layer of cookies on the bottom.
Add a layer of sliced bananas.
Spread on some of the pudding.
Repeat!
In the end: Top with a few dollops of whipped cream + crushed cookies.
For garnish on top, add more cookies, plain whipped cream and finally a last drizzle of peanut butter. Then chill the fully assembled dessert for 2 to 3 hours. For the best flavor and texture, chill the dish overnight.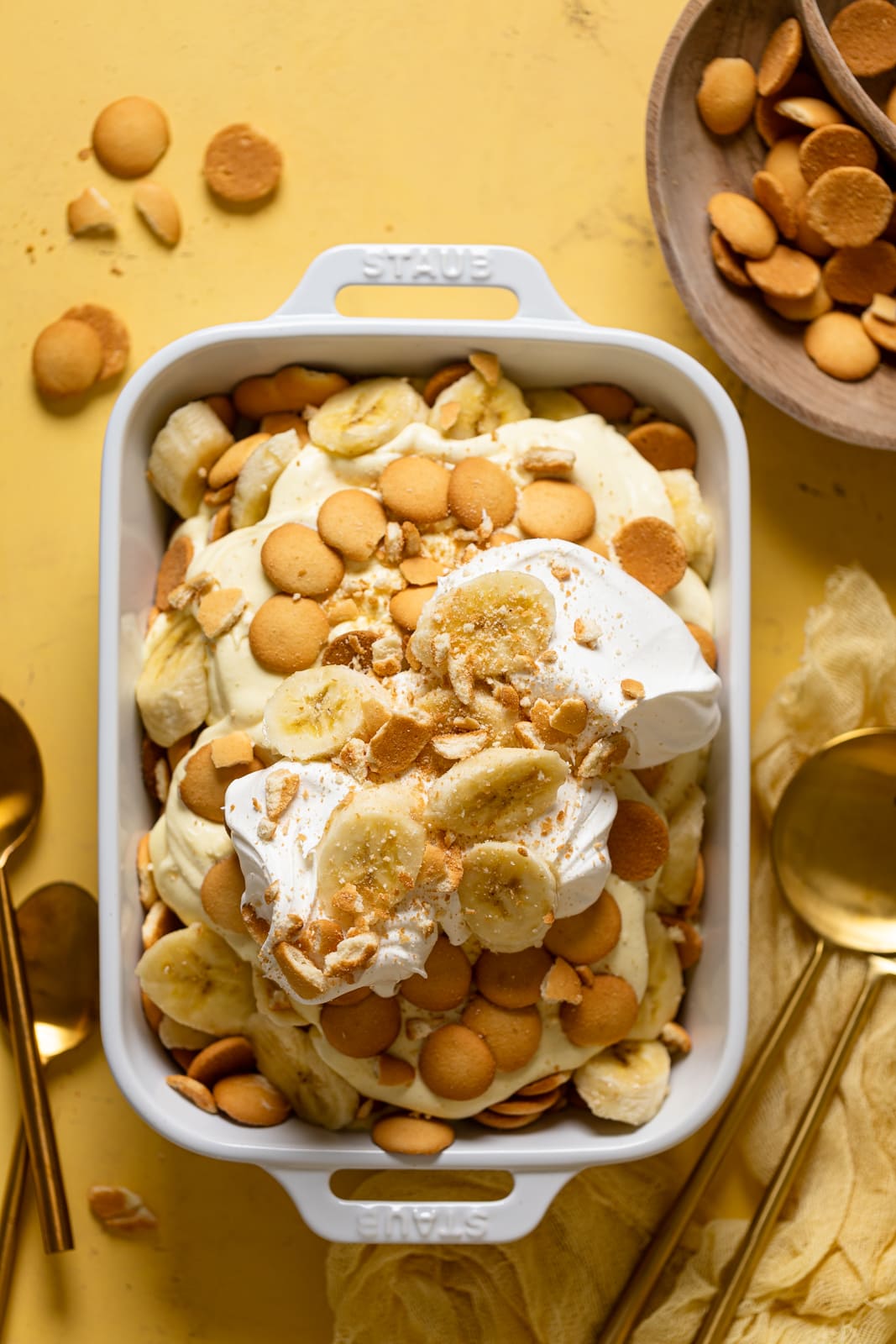 Tips To Make THE BEST Banana Pudding
Use ripe bananas for the best flavor and texture
Chill the pudding in the refrigerator for at least 2 hours, or overnight, to allow the flavors to meld together.
If you want a crunchier texture, sprinkle some chopped nuts or crumbled cookies on top of the whipped cream.
Use a clear glass dish to showcase the beautiful layers of the pudding.
Get creative and experiment with different flavor variations, such as adding chocolate or caramel sauce, or using different types of cookies AKA try Best Biscoff Banana Pudding with Caramel
Have fun and enjoy the process! Making banana pudding is a great activity to do with friends and family, and the end result is a delicious dessert that everyone will love
Use a spatula to spread the whipped cream evenly over the top layer of the pudding. You can use homemade whipped cream or store-bought. Cool Whip will work fine, just use it at fridge temperature, not frozen.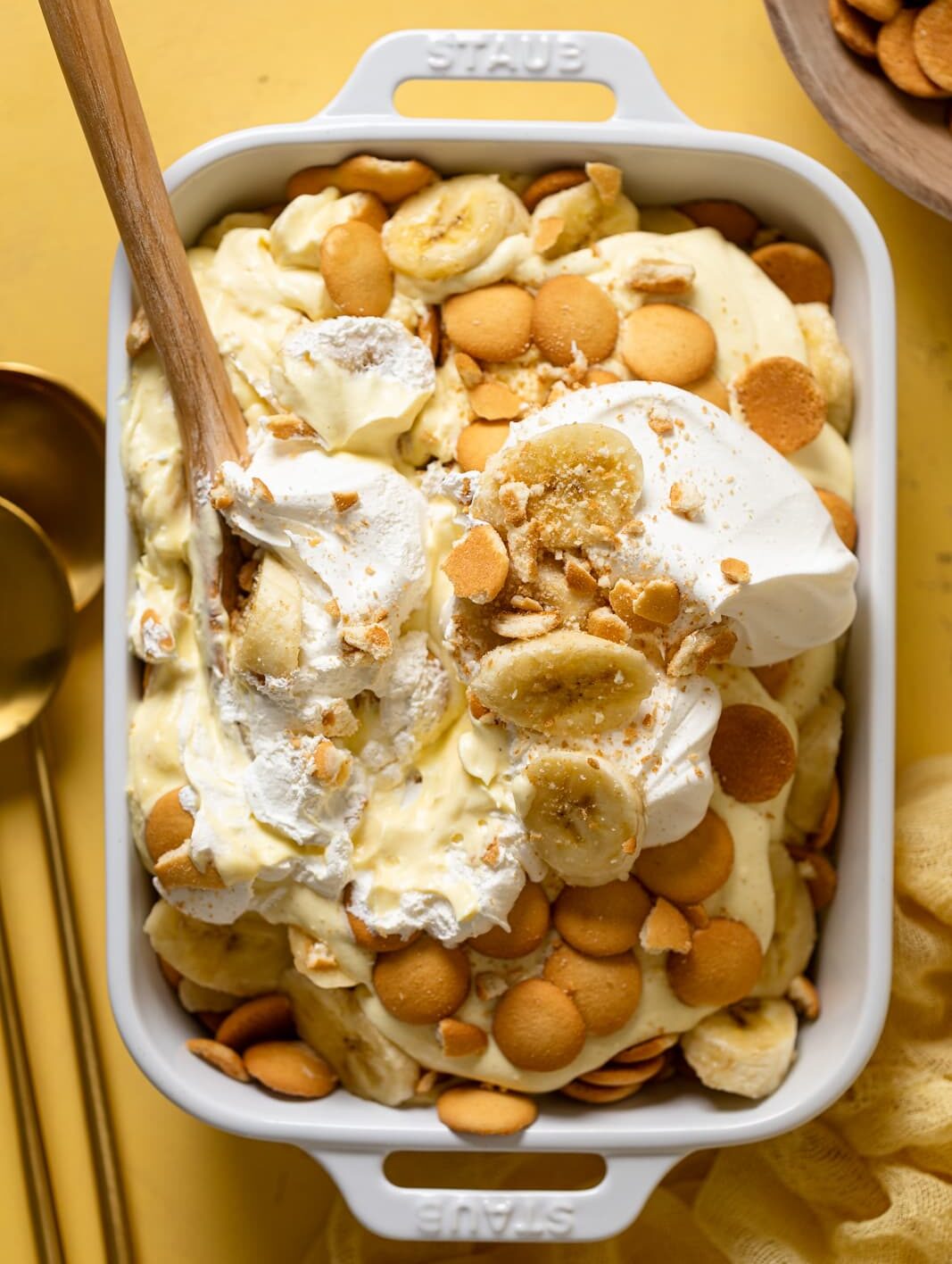 Topping Ideas for Banana Pudding
Looking for some delicious and creative topping ideas for your banana pudding? Here are some ideas -
Whipped cream - A classic and simple topping that adds a creamy and sweet flavor to the pudding.
Toasted coconut - Adds a bit of crunch and a tropical twist to the dessert.
Crushed graham crackers - A tasty and simple option that adds a bit of texture to the pudding.
Chopped nuts - Pecans or walnuts are a great addition for a nutty and crunchy flavor.
Chocolate chips - Add a bit of chocolatey goodness to your banana pudding.
Caramel sauce - Drizzle some caramel sauce over the top of the pudding for a sweet and indulgent treat.
Fresh berries - Strawberries, blueberries, or raspberries can add a burst of freshness and a pop of color to the dessert.
Sliced bananas - Garnish the top of the pudding with a few extra slices of banana for an extra boost of banana flavor.
Marshmallows - Add some mini marshmallows on top of the pudding and then torch them to create a delicious toasted marshmallow flavor
Classic Southern Banana Pudding Q + A's
How Long Does Banana Pudding Last?
Store leftover banana pudding in the fridge for 2 to 3 days. The cookies will continue to get soggy, so the texture of the entire dish will change the longer it's left in the fridge past those amount of days. 
Can I Make Single-Serving Puddings?
Yes! If you prefer to make individual servings of dessert, you can layer the cookies, banana slices, and pudding in small glass mason jars for a cute and portable dessert. Because who doesn't love an easy dessert on the go?
Is Banana Pudding an Icebox Cake? 
Technically, classic banana pudding is an icebox cake. An icebox cake is an unbaked dessert that usually includes cookies and a cream filling. The ingredients are layered together in a pan and chilled in the refrigerator overnight. As the cake sits in the fridge, the cookies soften from the moisture of the cream filling. While the cream loses moisture, it thickens and solidifies. The result is a cake-like texture when you serve the chilled cake the next day.
Can I Use Frozen Bananas For Banana Pudding?
While it's not recommended to use frozen bananas for banana pudding, you can use them if you thaw them completely first. Frozen bananas tend to be mushy and may not hold their shape well, so it's best to use fresh, ripe bananas for the best texture and flavor.
How To Stop Bananas from Turning Brown?
Prevent banana slices from turning brown in the banana pudding by treating them with citrus juice like lemon or orange juice. This trick helps prevent the oxidation that causes the unappealing brown tint, especially if you plan to assemble the dessert the day before.
Why is Banana Pudding so popular in the South?
Basically, the short answer is that Nabisco (the makers of Vanilla wafers) had great marketing efforts since it's often associated with this delicious dessert, which resulted in greater popularity.
Can you eat Banana Pudding hot or cold?
Absolutely! You can enjoy banana pudding warm once you make the baked banana pudding version like my Grandma's Baked Southern Banana Pudding. However, I don't recommend warming or eating the no-bake version hot!
What is a substitute for for Nilla wafers in banana pudding?
When it comes to substituting the Nilla wafer cookies, you can always use other traditional cookies like Chessmen cookies, Gingersnap, Graham crackers, and even switch things up with Biscoff cookies.
Can you use evaporated milk instead of regular milk in pudding?
Yes! You can definitely substitute a can of evaporated milk for regular milk in your pudding for a nice creamy, velvety texture.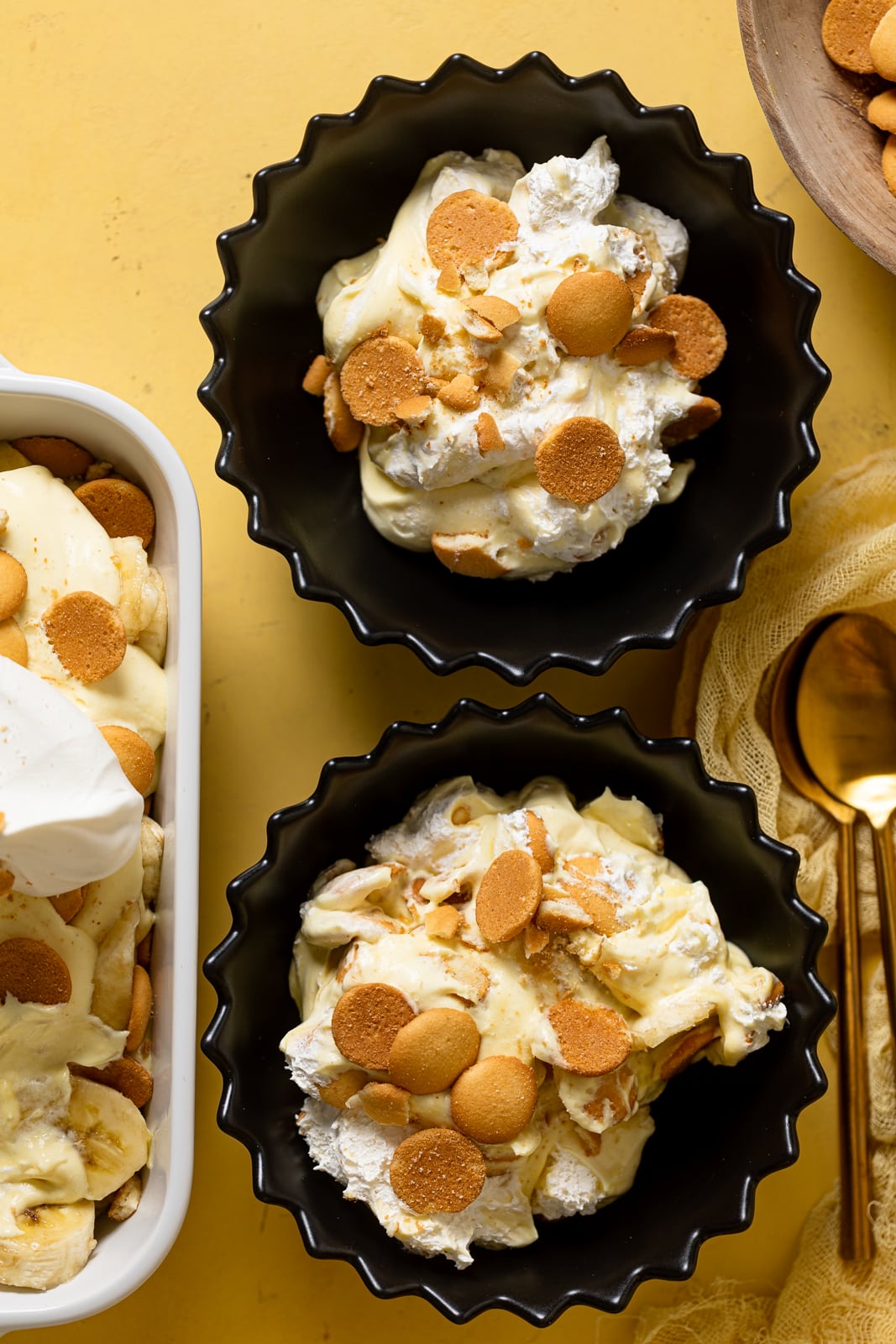 Best Ways to Use Ripe Bananas
Got a bunch of ripe bananas sitting on your counter? Don't throw them away! Instead, turn them into delicious treats with these creative and tasty banana recipes. From classic banana bread to unique desserts, there's something for everyone to enjoy.
Bananas are a staple in my home, and I usually go through all of them every week, but every now and again, we will have a few extra bananas that are overripe and on the verge of going bad. Here are the best ways to use those ripe bananas -- get ready to satisfy your sweet tooth!
More Sweet Treat Recipes
If you love this Classic Southern Banana Pudding dessert, try these desserts next!
MADE OUR RECIPE(S)?
If you tried this Classic Southern Banana Pudding or any other recipe on my website, please please leave a 🌟 star rating and let me know how you go in the 📝 comments below. I love hearing from you.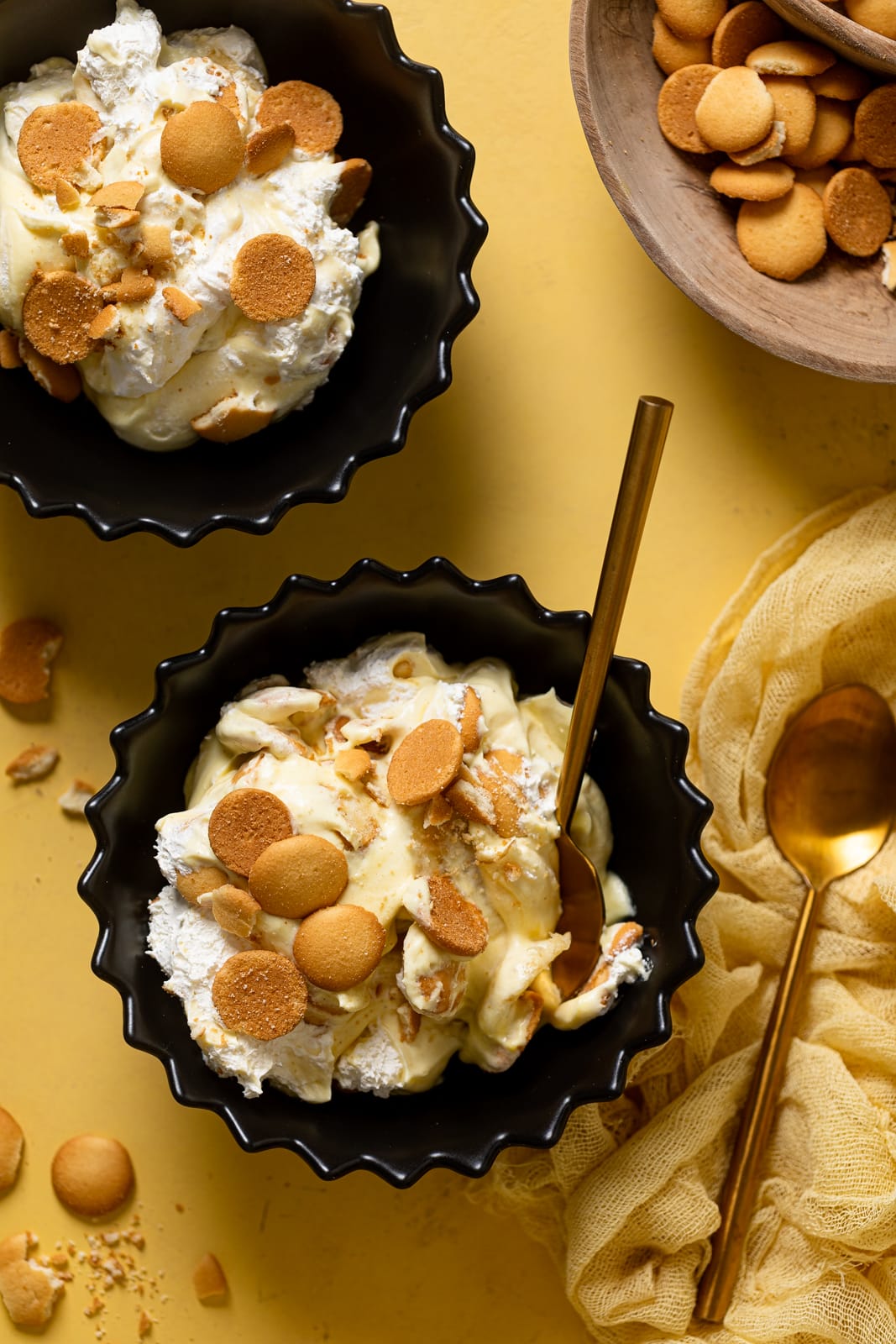 4

organic bananas, sliced

1

(11 oz.) box

Nilla wafer Cookies

(Save a small amount for crushing for the topping, if desired)

1

(3 oz.) box

vanilla instant pudding mix

(I like to use the Jell-O brand; If using the small standard 1 oz. box, be sure to purchase 3 of those!; SEE NOTES!)

1

(14 oz.) can

sweetened condensed milk

3-4

cups

VERY COLD filtered water

1

teaspoon

vanilla extract

1

(8 oz.) container

Whipped Cream, store-bought or homemade

(You can use Cool Whip or See Notes!)

Pinch of

ground cinnamon, optional

Pinch of

sea salt
TOPPINGS:
Whipped Cream, store-bought or homemade

(You can use Cool Whip or See Notes!)

Crushed Nilla wafer cookies
In the bowl of an electric stand-mixer (using the whisk attachment), mix together the ice cold water (start with 3 cups and work to 4 cups if needed based on the consistency of pudding), vanilla pudding mix, and sweetened condensed milk until thick, about 10 minutes on medium-high speed. NOTE: The mixture should look like pudding. NOTE: If using a hand-mixer instead, you may need an EXTRA BOX of vanilla pudding to ensure that the consistency is creamy and not too 'watery'.

Finally, add in vanilla extract, cinnamon, salt and mix for another minute or so.

Gently fold in the homemade whipped cream (or Cool Whip) into the pudding mixture using a spatula until, well incorporated.

In a trifle bowl (or your favorite dish), layer cookies, sliced bananas, and pudding mixture; repeat layering until all ingredients have been used.

Garnish top with a few dollops of whipped cream and vanilla wafers (crushed) and Refrigerate for at least 4 hours before serving. Best if chilled overnight.

Bon Appetit!
STORAGE: Store leftover banana pudding in the fridge for 2 to 3 days. The cookies will continue to get soggy, so the texture of the entire dish will change the longer it's left in the fridge past those amount of days. 
HOMEMADE WHIPPED CREAM: In the bowl of an electric mixer on medium-high speed, whip the heavy cream (3-4 cups), using the whisk attachment for 4-5 minutes, until fluffy peaks begin to form. **NOTE: When it begins to thicken after the first 2-3 minutes, gradually add in 1 tablespoon vanilla extract and a pinch of sea salt.** Once fully fluffy, remove from mixer bowl and continue recipe. 
HOMEMADE VANILLA PUDDING: See post for notes and ingredients.
BOX OF VANILLA PUDDING: I HIGHLY recommend using an electric stand-mixer for making the pudding, however, if you're using a hand-mixer, be sure that the water is EXTREMELY COLD + You may need to add an EXTRA BOX of vanilla pudding so that it forms to a creamy consistency and not 'watery'.
Calories:
214
kcal
|
Carbohydrates:
41
g
|
Protein:
5
g
|
Fat:
5
g
|
Saturated Fat:
3
g
|
Polyunsaturated Fat:
0.2
g
|
Monounsaturated Fat:
1
g
|
Cholesterol:
17
mg
|
Sodium:
69
mg
|
Potassium:
396
mg
|
Fiber:
2
g
|
Sugar:
34
g
|
Vitamin A:
170
IU
|
Vitamin C:
6
mg
|
Calcium:
146
mg
|
Iron:
0.2
mg