Best Ways to Use Those Ripe Bananas plus Awesome Recipes to Try?---Today, we're going to be talking about the best way to use those ripe bananas sitting in your kitchen. If you have browsed the recipes on my blog, you'll quickly notice that I absolutely love baking with bananas!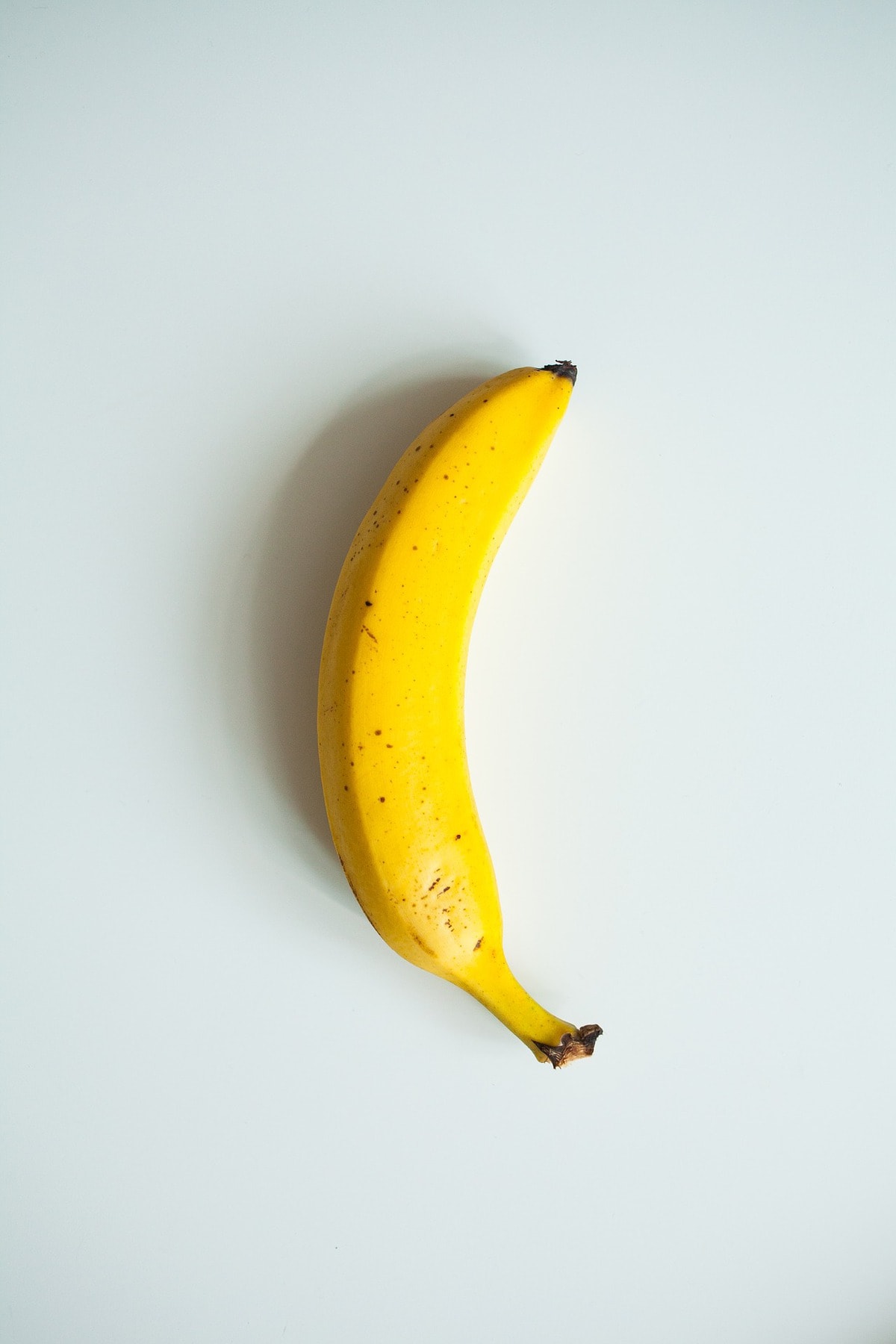 Why Bananas and What are the Benefits?
In addition to being a great snack food, bananas contain several essential nutrients that help in digestion, heart health, and even weight loss. Bananas are high in fiber and have a healthy portion of antioxidants. Bananas are high in potassium and can help prevent a myriad of medical conditions such as heart disease, diabetes, high blood pressure, and even asthma!
Bananas consist almost exclusively of water and carbohydrates, with approximately 24 grams of net carbs per serving. Bananas have very little protein and virtually no fat content. As bananas ripen, the carbs change from starch-resistant carbs to the glucose, fructose, and sucrose sugars in ripe or yellow bananas.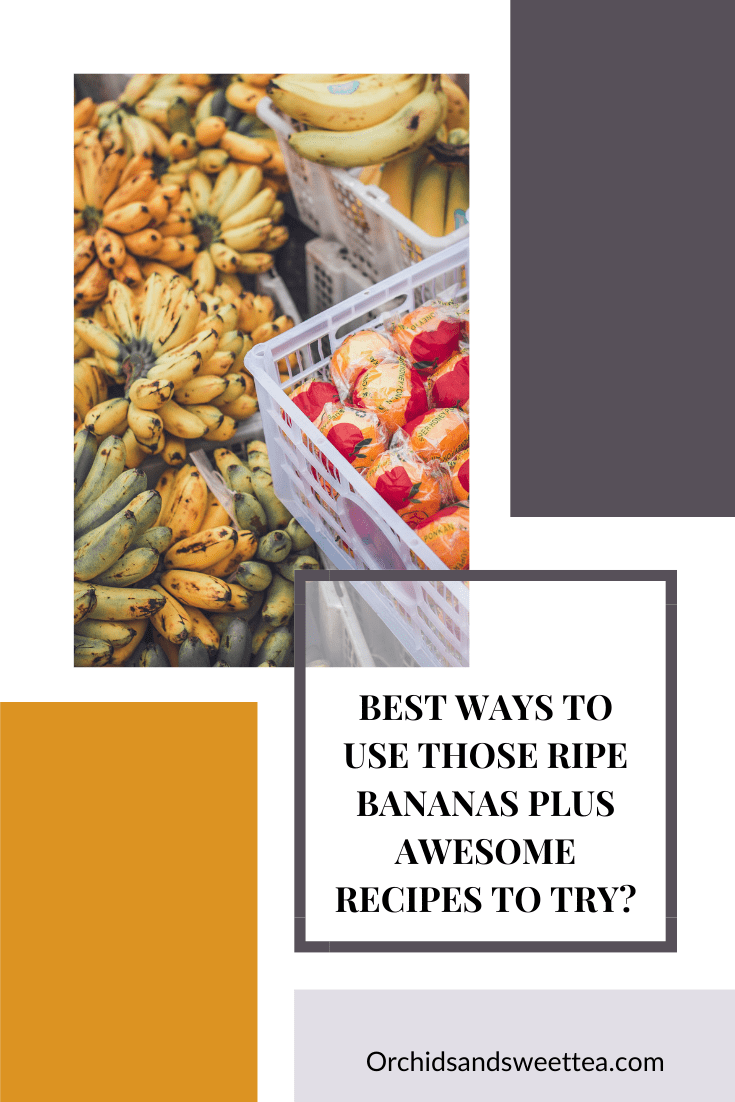 Did you know that bananas contain a specific type of amino acid that helps preserve memories and boost your mood? That, combined with their fantastic work helping to combat digestive issues, make bananas a great daily choice to help boost your body's overall function. 
Best Ways to Use Those Ripe Bananas in an Awesome Recipes
Here are some of my favorite recipes using ripe bananas for almost any meal. From desserts to breakfast, bananas are a fantastic way to add flavor to your everyday meals.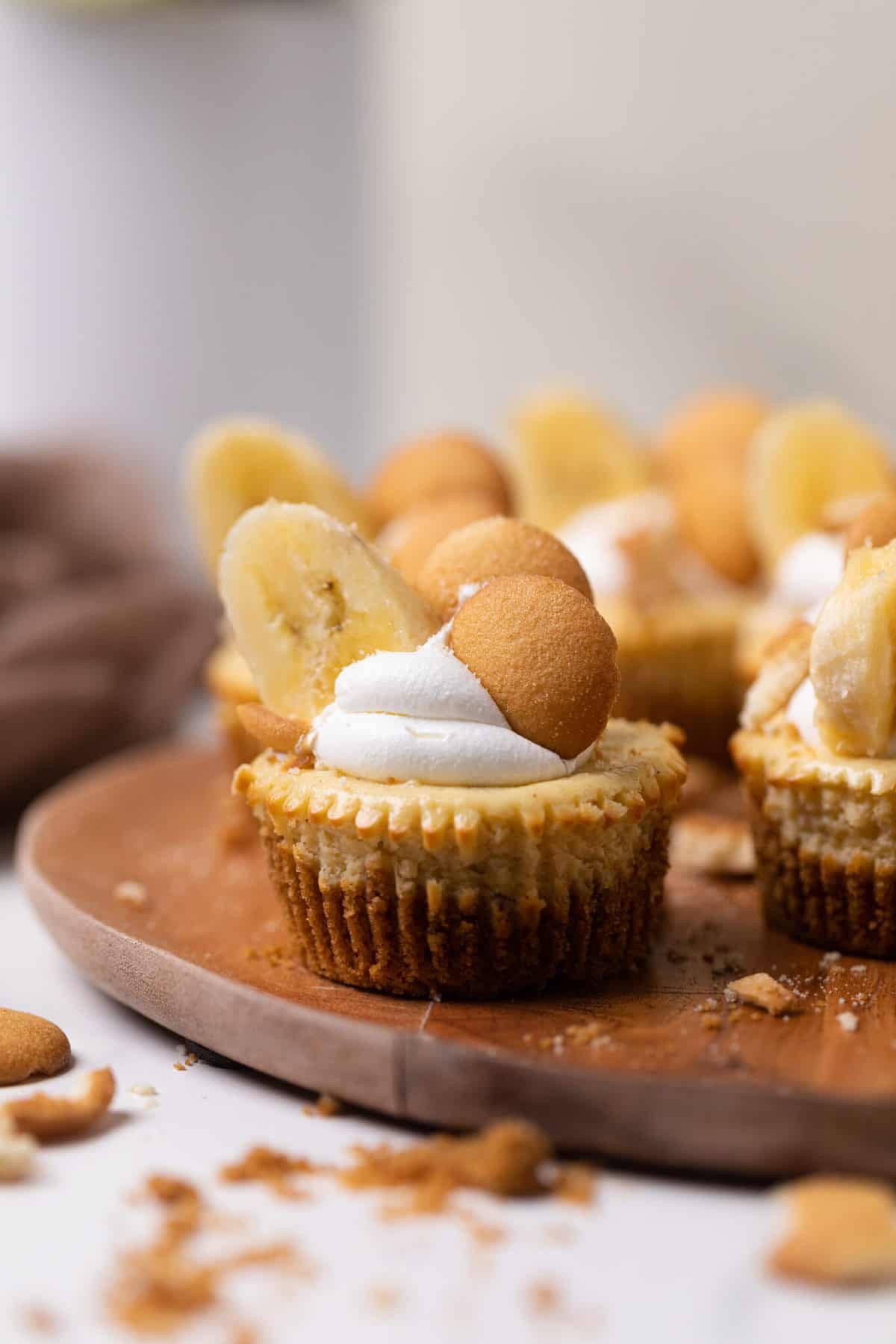 These bites are one of my favorite recipes from the South----After all, I am a Florida girl at heart. I absolutely love banana pudding, but since cutting down on the amount of dairy I eat, I haven't been able to indulge in my favorite dessert as often as I would like. 
It's a spin on my grandmother's classic banana pudding recipe, and it's pretty different from the typical instant pudding recipe you might find. This is a great, kid-friendly recipe, and the whole family can have fun preparing the no-bake crust and mixing up the banana cheesecake filling. But don't forget about my no-compromise topping - homemade whipped cream!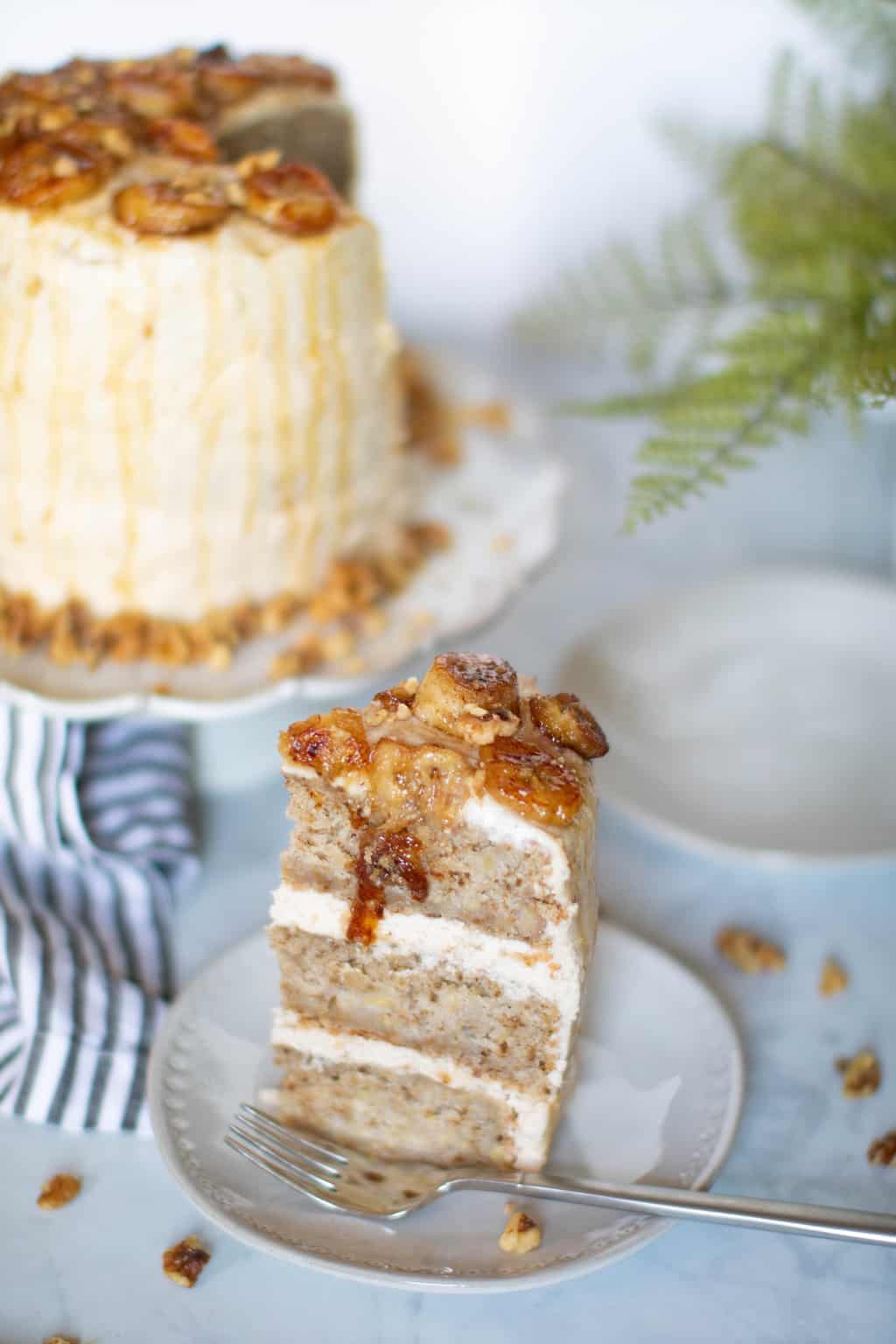 Not to brag, but I am quite certain this is the BEST vegan banana cake that you will ever have. This recipe is entirely vegan and is moist and fluffy with tons of rich banana and nut flavors. This is one of my favorite fall baking recipes, and the cinnamon-infused buttercream is incredibly versatile for all sorts of different treats. This recipe can be made into a traditional two-layer banana cake or even cupcakes for a shareable snack for the entire family. 
The trick to this recipe is to get the perfect consistency for the buttercream. If it is too thick, add more milk, a small teaspoon amount at a time. If the buttercream is too thin, add one tablespoon of additional powdered sugar. Blend until the perfect consistency!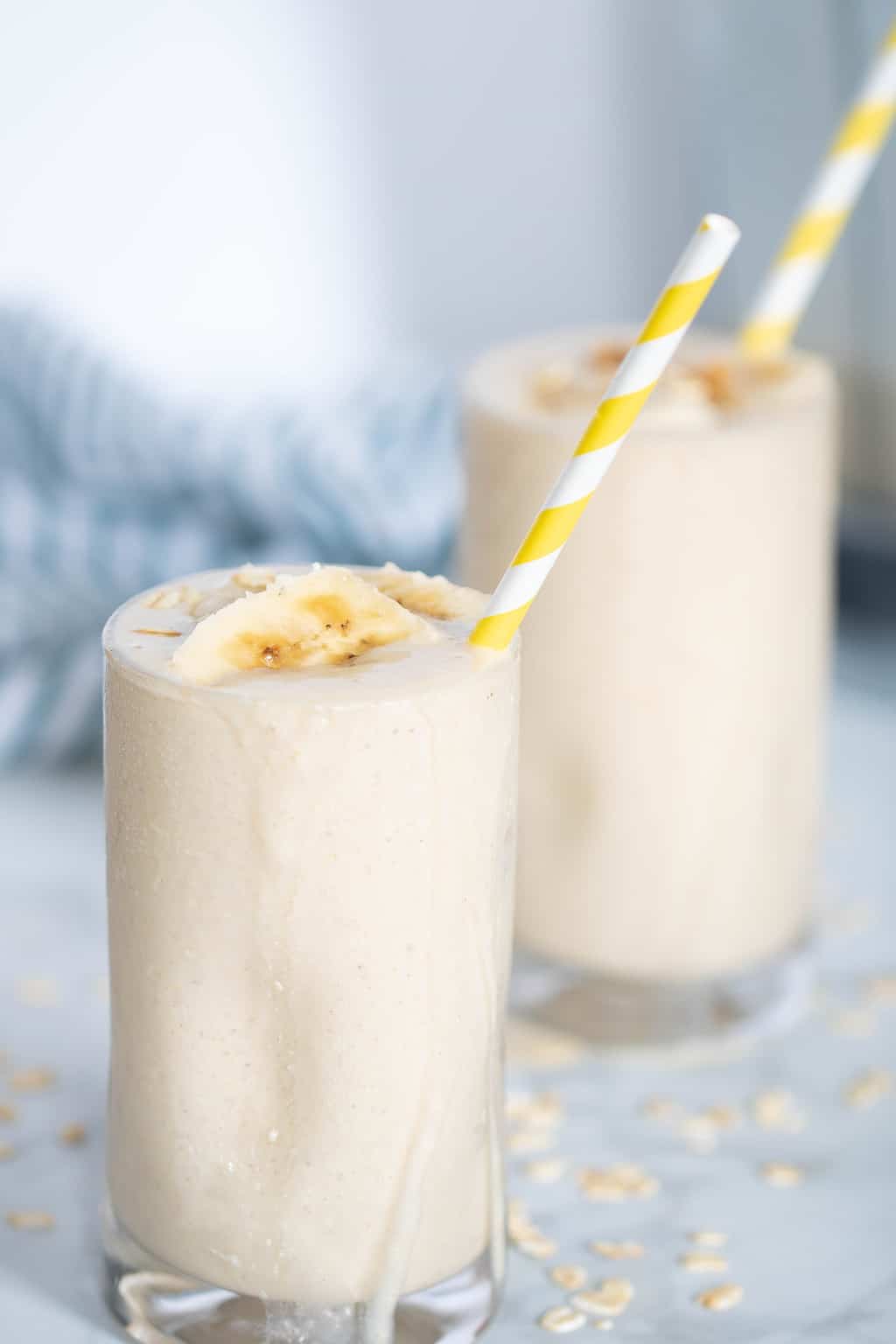 Tell me a more magical combo than peanut butter and bananas? I'll wait! 
Such a super easy-to-make peanut butter and banana oat smoothie that is the perfect way to get a little extra protein in your morning without eating a heavy breakfast. It's entirely vegan and can be made nut and gluten-free if that is your preference. 
Pro-tip for saving those bananas for smoothies on the go: cut up your ripe banana into bite-size chunks and lay flat on a cookie sheet. Pop the cookie sheet into the freezer until bananas are frozen, then store in an airtight container for future use in any type of breakfast smoothie. Freezing the bananas on the cookie sheet helps prevent them from sticking together in a giant banana mess!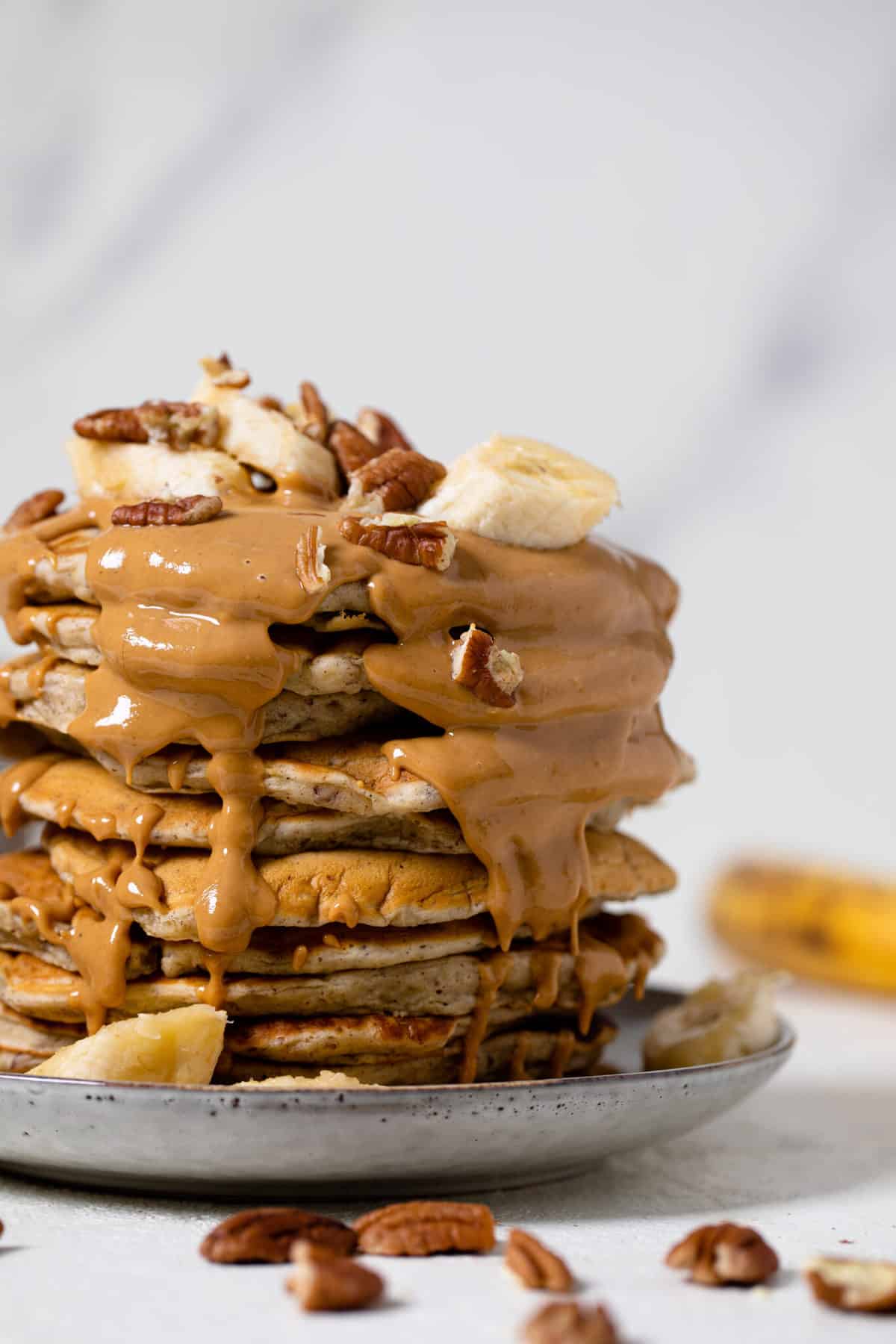 Vegan pancakes are an absolute staple in my house! Paired with this creamy peanut butter sauce, this breakfast is one of my faves for weekends or those slower weekday mornings we seem to be having nowadays. Starting your day off with pancakes always makes it feel like a special occasion, but with these naturally sweet, light, and fluffy pancakes, you never have to worry about getting the proper nutrients in your breakfast. 
It is best to use bananas that are as ripe as possible for the sweetest flavor before going completely brown. And don't forget about adding cinnamon and nutmeg to this recipe. The flavors really help to bring this whole dish together! 
If you don't like peanut butter or have an allergy, sub out the peanut butter sauce for any other pancake topping that your heart desires!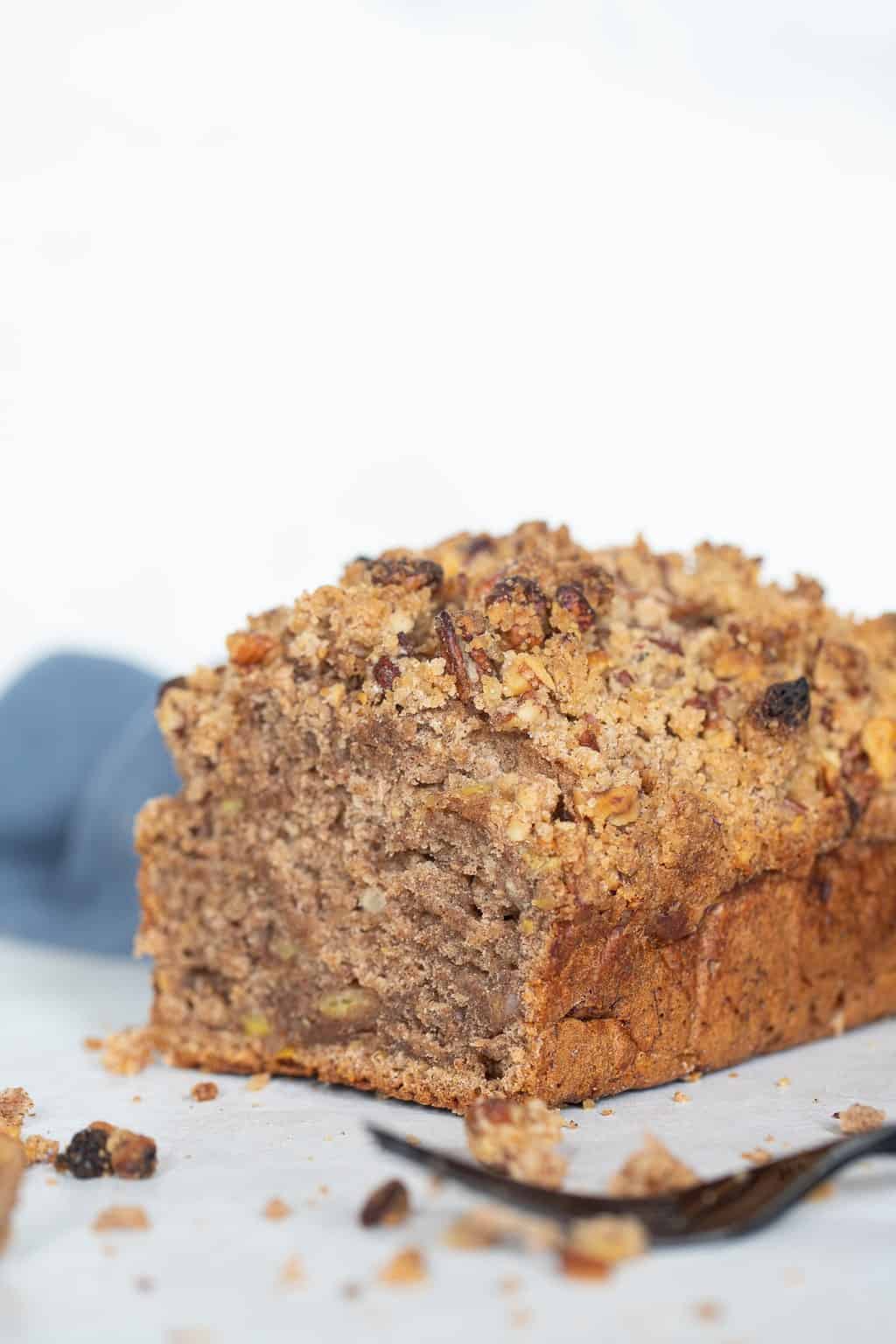 Vegan cinnamon crunch banana bread is a different spin on classic banana bread and cakes. With a mighty crunch and more diverse flavors, this bread is a favorite breakfast on the go for my kids. This recipe takes less than ten minutes to whip up, and it is packed with nutty flavors, protein, and nutrients. Entirely vegan and can be made gluten-free and even oil-free - amazing!
My favorite thing about this recipe is the quick prep. It's easy and only requires one bowl so you can forget about the dishes! This bread goes great with a morning cup of coffee or even as an after-dinner dessert. I often freeze this bread to use later and always keep some on hand for a quick, healthy alternative to granola bars.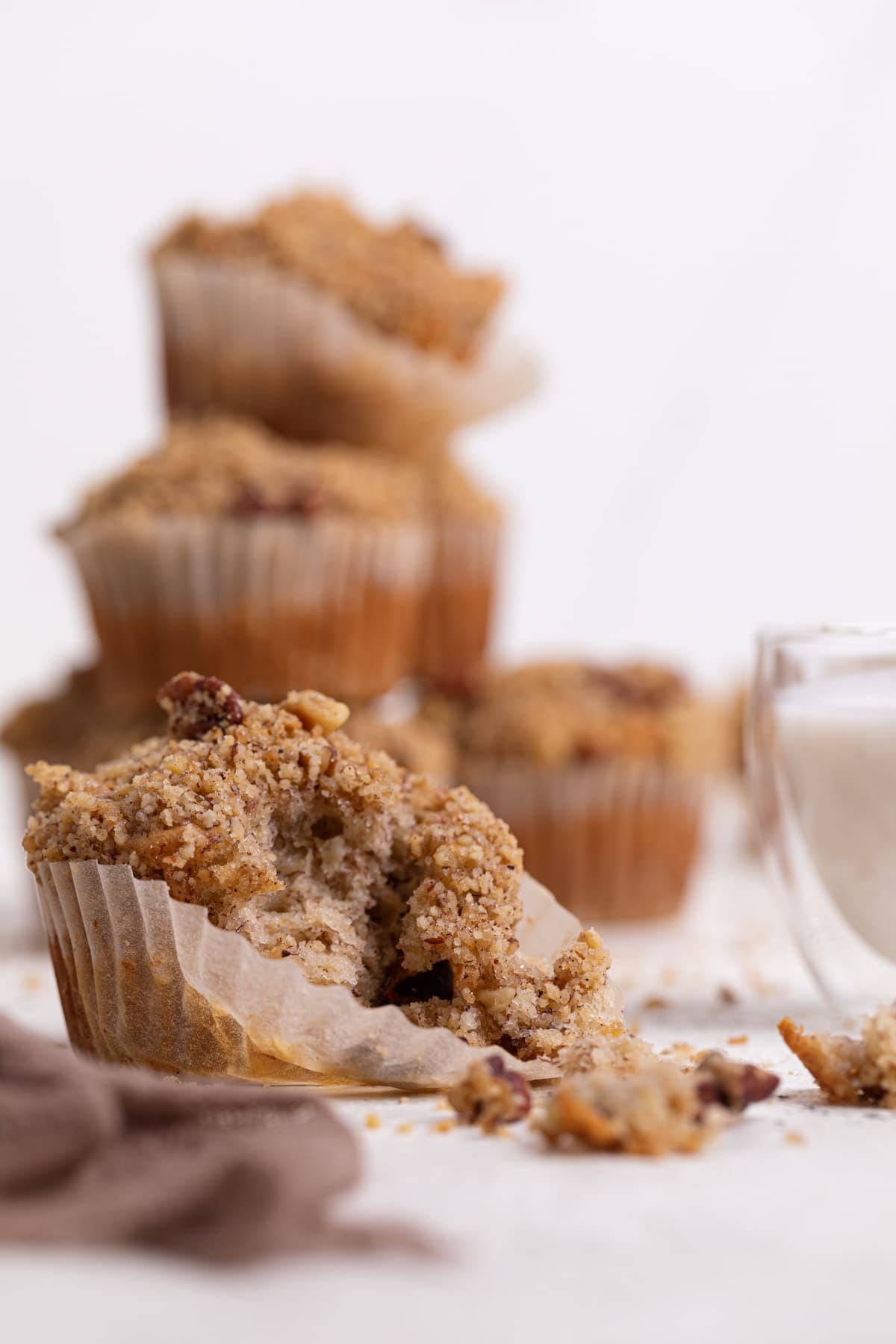 Let's be honest, any and all muffin flavors are pretty darn awesome. But for me, this one really takes the cake! Many people are intimidated by the idea of making vegan muffins, but this recipe will show you how easy this whole process really is! These Vegan Banana Muffins with Cinnamon Streusel are the comforting home-baked treat to satisfy your sweet tooth in a dairy-free and egg-free fashion.
The prep time for this recipe is only about 10 minutes and doesn't require any fancy ingredients, just one good ole' mixing bowl!Whatever you do, do not leave out the sweet, buttery streusel topping on these muffins. It's easy to put together and you'll be so glad you did it! To make the crumble topping, simply blend together flour, brown sugar, nuts, and spices. Sprinkle each muffin generously with your topping before baking. Then, as they bake, the crumble will firm up and become a deliciously sweet, crisp coating on each muffin. Easy!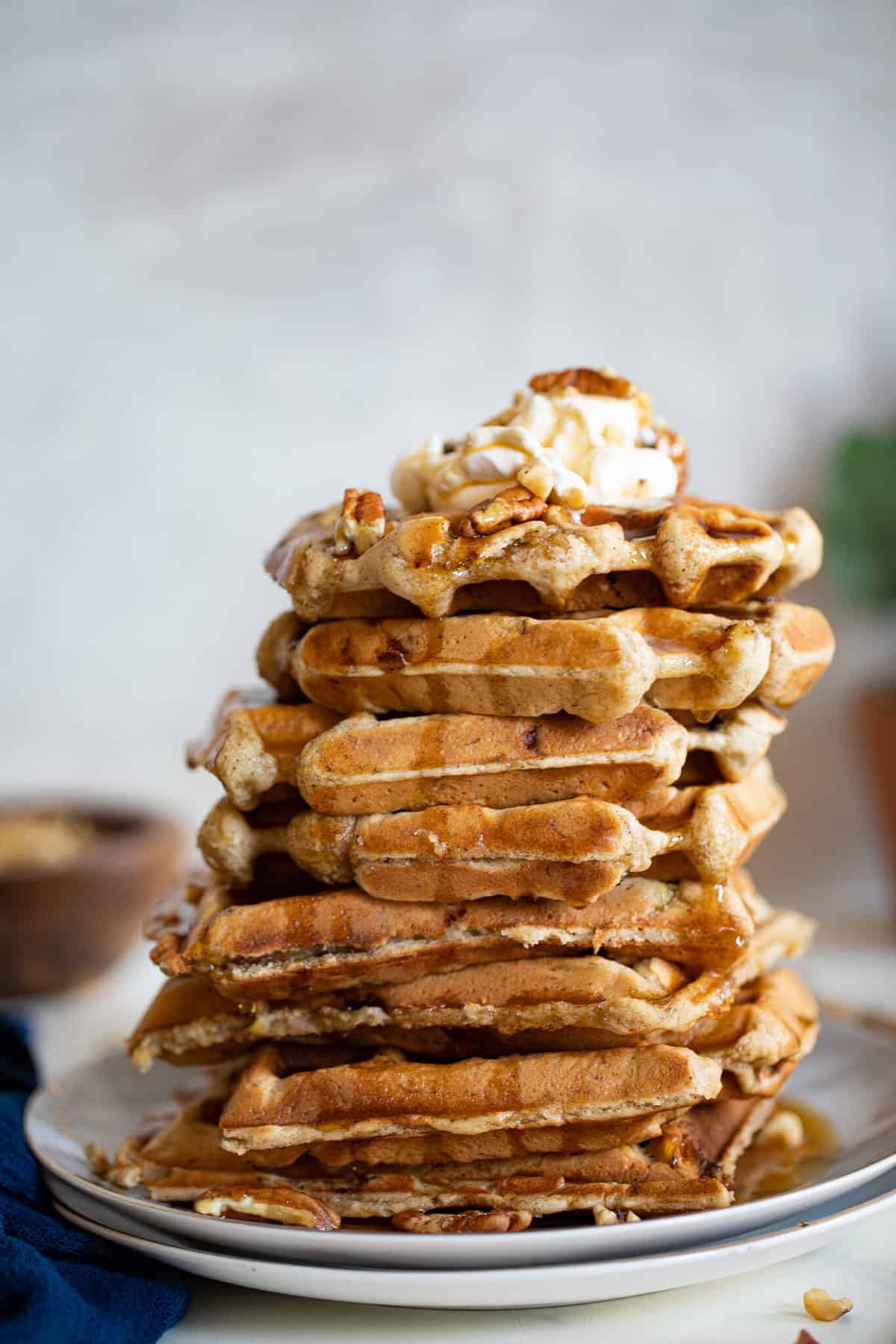 On weekends, waffles are an absolute necessity in my kitchen. These maple brown butter banana waffles are a great way to mix up flavors and spice up your breakfast with warm, fall-inspired spices like cinnamon and nutmeg. Brown butter is a traditional southern classic and really helps bring a powerful flavor punch to any dish. This dish is entirely vegan and can be made gluten-free or oil-free, depending only on your preference. 
In making these waffles, my best piece of advice is to practice patience with your waffle iron. Way too many times, I have gotten antsy and opened the iron too soon, absolutely destroying my perfectly formed, almost-cooked waffle. Letting your waffle cook thoroughly in the waffle iron (without opening it to check a million times) will help to preserve the moisture that creates that crispy outer layer. Worth the wait if you ask me!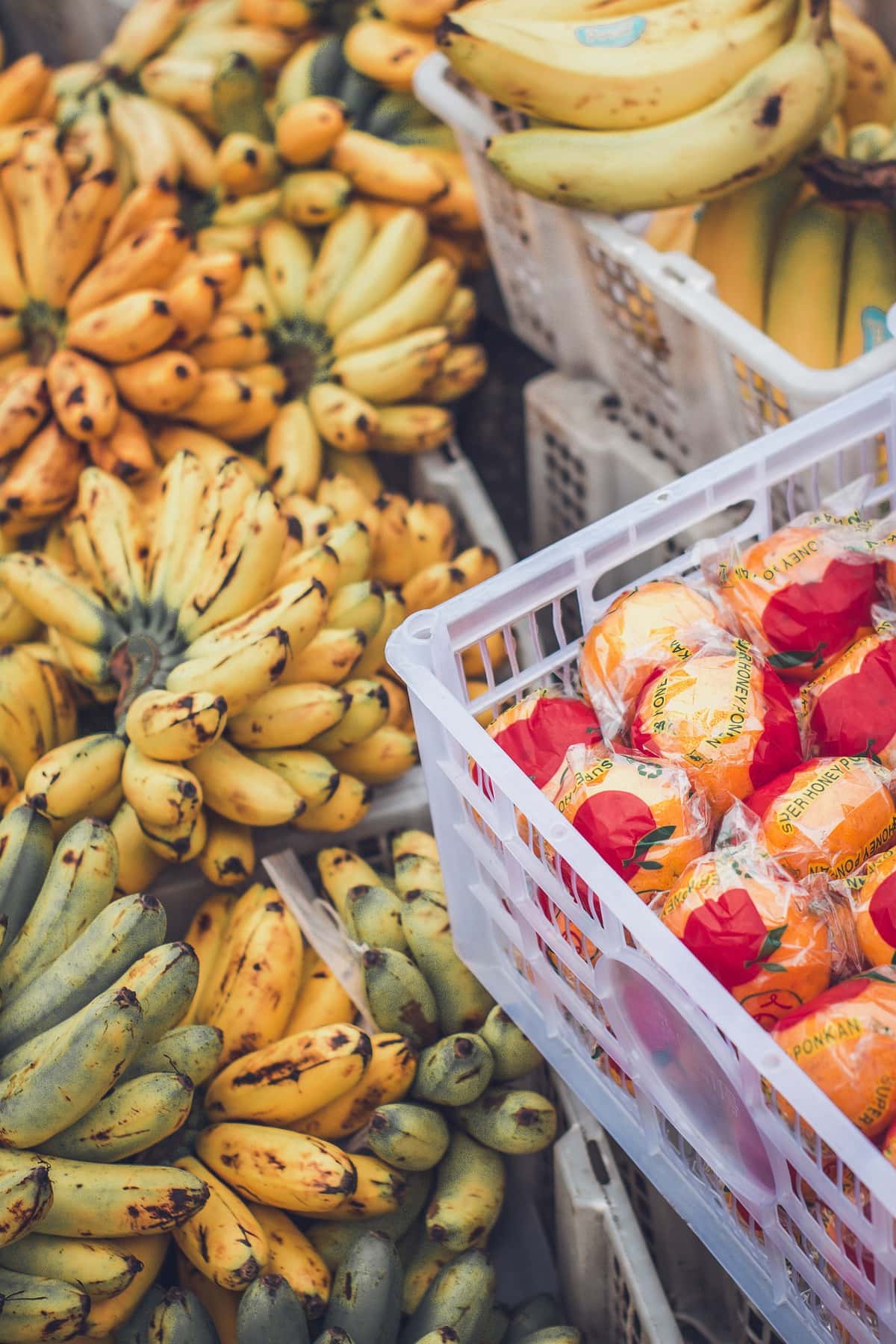 What are your favorite ways to use ripe bananas in your kitchen? Let me know in the comments below!