These Spiced Chickpea Stuffed Sweet Potatoes are the perfect plant-based vegan weeknight dinner option, offering a delightful blend of wholesome goodness and satisfying flavors. Packed with fiber and plant-based protein, these stuffed sweet potatoes are not only delicious but also a nutritious choice for the whole family. With just the right amount of spice, they bring a delightful twist to your dinner table while ensuring a healthy and fulfilling meal, ready in under an hour. Meal Prep Friendly, Vegan + Gluten-free.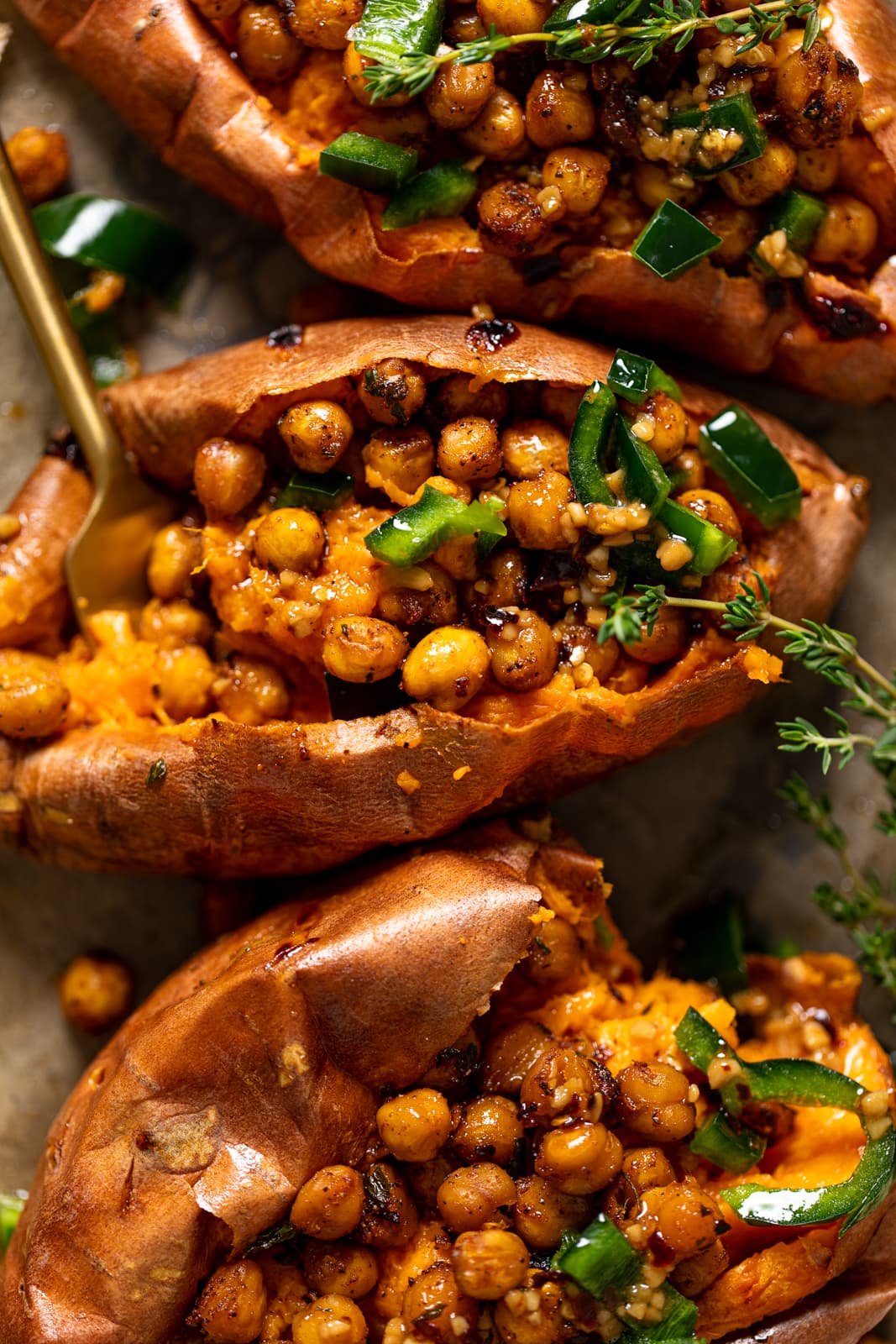 What Makes These Spiced Chickpea Stuffed Sweet Potatoes SO Good?
When it comes to my vegan recipes, I always ensure that FLAVOR is the main focus. Picture this: tender, roasted sweet potatoes stuffed with hearty chickpeas that have been jazzed up with some serious spices. It's like a flavor explosion that'll leave you wondering why you haven't tried this combo sooner--A total winner when it comes to plant-based meals.
Let's talk chickpeas – those little guys are like the superheroes of the plant-based world. They've got the protein, the fiber, the vitamins – they're basically the whole package! That's why you will often find me using them in my vegan + plant-based meals like Spicy Butter Chickpeas-- My family seriously loves having this on the weekly rotation and this Vegan Chickpea Curry Bowl or my personal favorite, Sheet Pan Roasted Garlic Buffalo Chickpea Pizza!

This Spiced Chickpea Stuffed Sweet Potatoes is the perfect weeknight meal, especially if you are plant-based or trying to experiment more with vegetarian meals! This meal is perfectly spiced, full of plant-based protein + nutrients, and has amazing texture + flavor! The best part? It's ready in under 1 hour (and the oven does most of the work for you!) Oh, AND trust me---You're going to love the chili garlic butter sauce! And yes, you can eat it on way more than just stuffed sweet potatoes!
Jump to: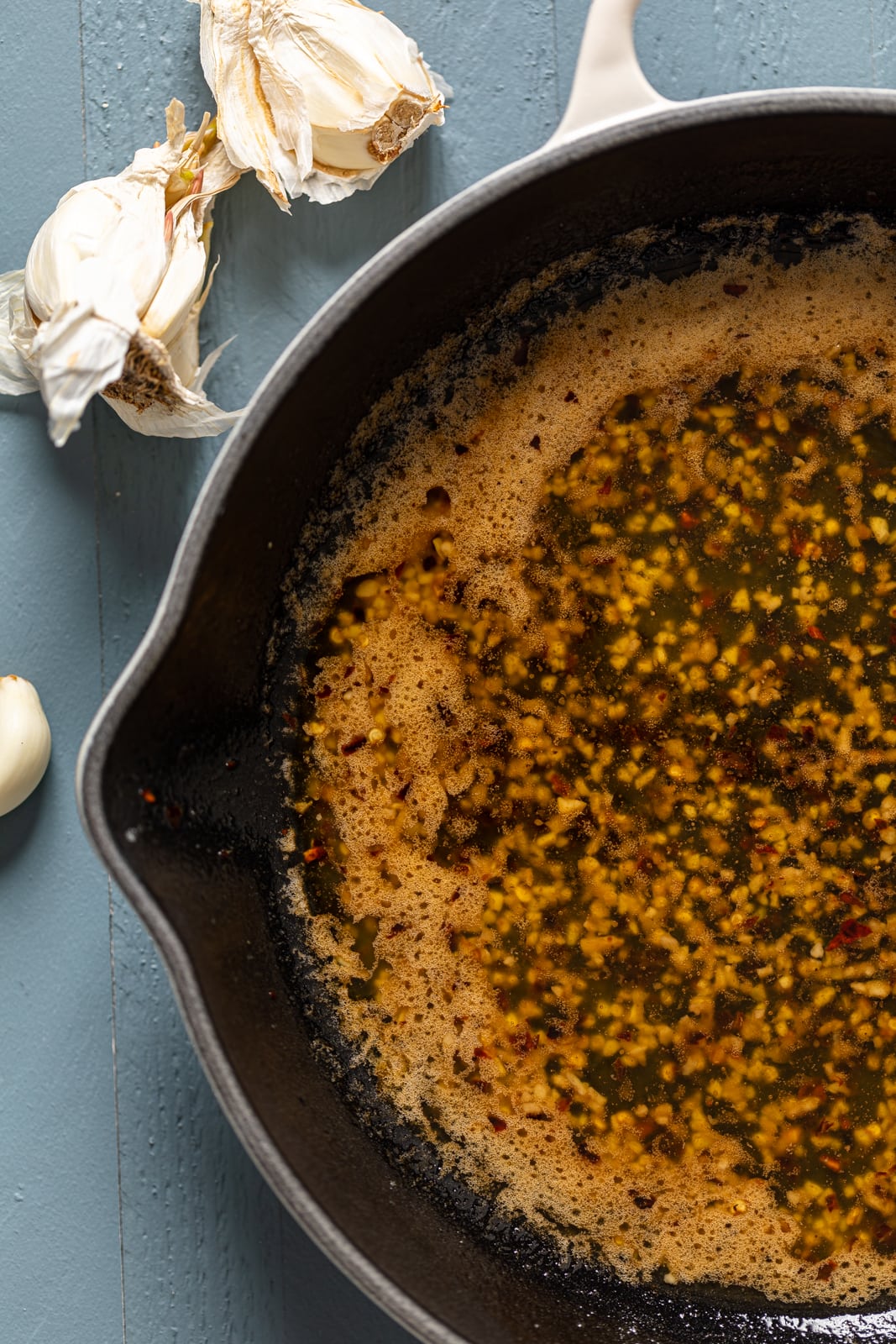 Ingredients for Chickpea Stuffed Sweet Potatoes
The three components of this vegan weeknight dinner recipe are the roasted chickpeas, the roasted sweet potatoes, and the delicious chili garlic butter sauce.
Here's what you need to make crispy spiced chickpeas:
Chickpeas. Remove as much moisture from the chickpeas as possible for the crispiest texture.
Olive oil. You can also use avocado oil if you prefer.
Spices. I use a blend of smoked paprika, garlic powder, dried parsley, cumin, and red pepper flakes to get a nice smoky, spicy and herby flavor on my roasted chickpeas.
For the Chili Garlic Butter, you'll need:
Vegan butter. You can use any brand you like. I love Earth Balance.
Garlic cloves. Fresh is best here!
Red pepper flakes for some heat.
Soy sauce. If necessary, make sure your soy sauce is gluten-free.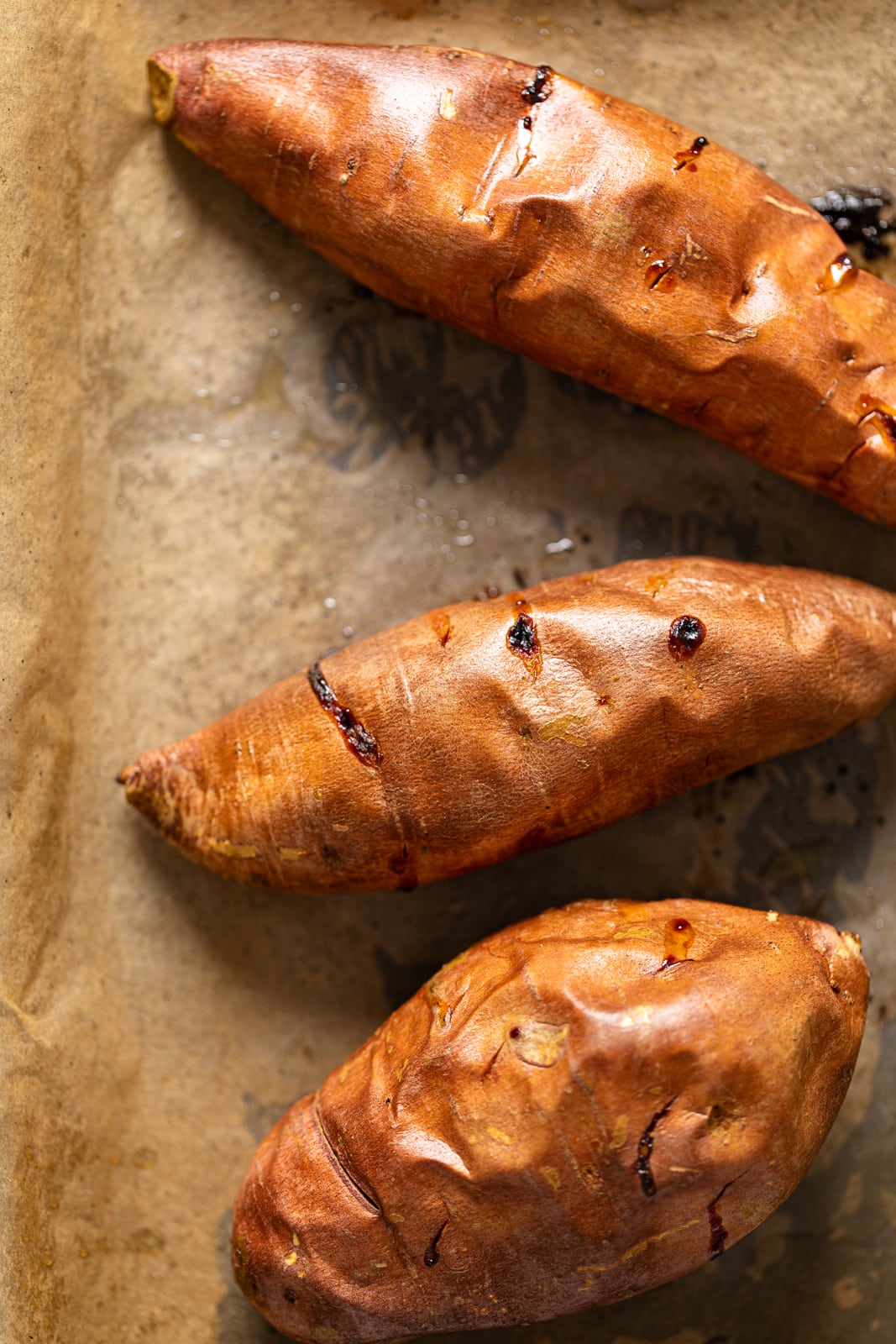 Why You'll Love These Spiced Chickpea Stuffed Sweet Potatoes
Bursting with vibrant + flavorful spices.
Easy weeknight dinner
Hearty chickpeas provide a satisfying texture.
Quick + easy vegan recipe for busy days.
Versatile & customizable to suit your taste.
Perfect for a cozy and comforting meal.
Meal-prep friendly!
Delightfully satisfying for vegans and non-vegans alike.
What Are Chickpeas?
For those of you who aren't aware, another name for Chickpeas is Garbanzo Beans. They have been around for thousands of years and originate from the Middle East. Chickpeas have such a great texture and nutty flavor, which allows them to successfully pair well with a lot of other ingredients, especially in vegan and/or vegetarian recipes.
Chickpea Health Benefits
When it comes to the health benefits of Chickpeas, here are a few awesome reasons why you should probably add this simple ingredient to your diet more often:
Packed with Nutrients + have a moderate amount of calories!
Rich in Plant-Based Proteins!
Support Blood Sugar Control.
Full of Fiber + might aid digestion.
May protect against Chronic Diseases (such as heart Disease, Cancer, Diabetes, etc.)
May Help keep your appetite under control (Think about how protein + fiber helps to slow down digestion, therefore keeping you full longer!).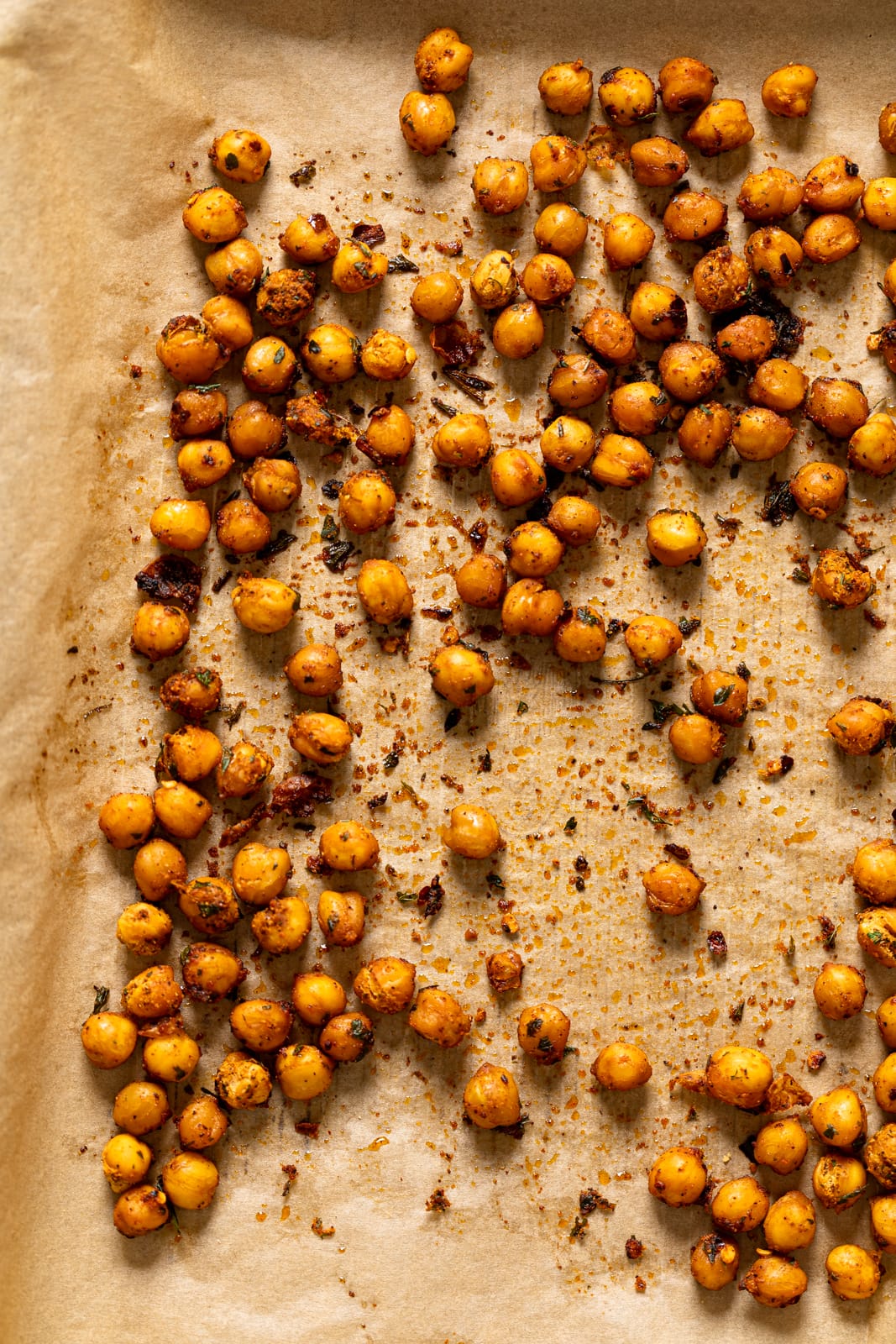 Meal Prep Stuffed Sweet Potatoes
This recipe is great for vegan meal prep! You can make the roasted sweet potatoes and spiced chickpeas and store them in an airtight container for up to four days. When you're ready to eat, simply pop them into the oven or microwave to heat.
Health Benefits of Sweet Potatoes
Ending your day with a serving of sweet potatoes is more than just delicious. These root veggies are also great for your health. Some important health benefits of sweet potatoes include:
Improved digestion. They actually contain more fiber than regular potatoes! Sweet potatoes are also a great source of magnesium, which helps aid digestion.
Boost Your Immune System. Sweet potatoes are rich in beta-carotene (a major antioxidant). This fuels your immune system to help protect your body against illness and foreign invaders. You'll also find plenty of vitamin C and B-complex, iron, and phosphorus in these tubers.
Treat Stomach Ulcers. Sweet Potatoes can help soothe and repair the stomach and intestines. The immune-boosting vitamins also help cure stomach ulcers. In addition, the dietary fiber helps prevent constipation and acid formation.
SHOP MY FAVORITE TOOLS FOR COOKING, ESPECIALLY FOR THIS POTATO DISH!
Here, I've curated a list of cooking + baking essentials that I use to achieve my favorite baked goods or cooked meals, especially with this Stuffed Sweet Potato recipe. Everything from my fave baking sheet, parchment paper, cast iron skillets, electric mixers, bench scrapers, and more. SEE THEM HERE!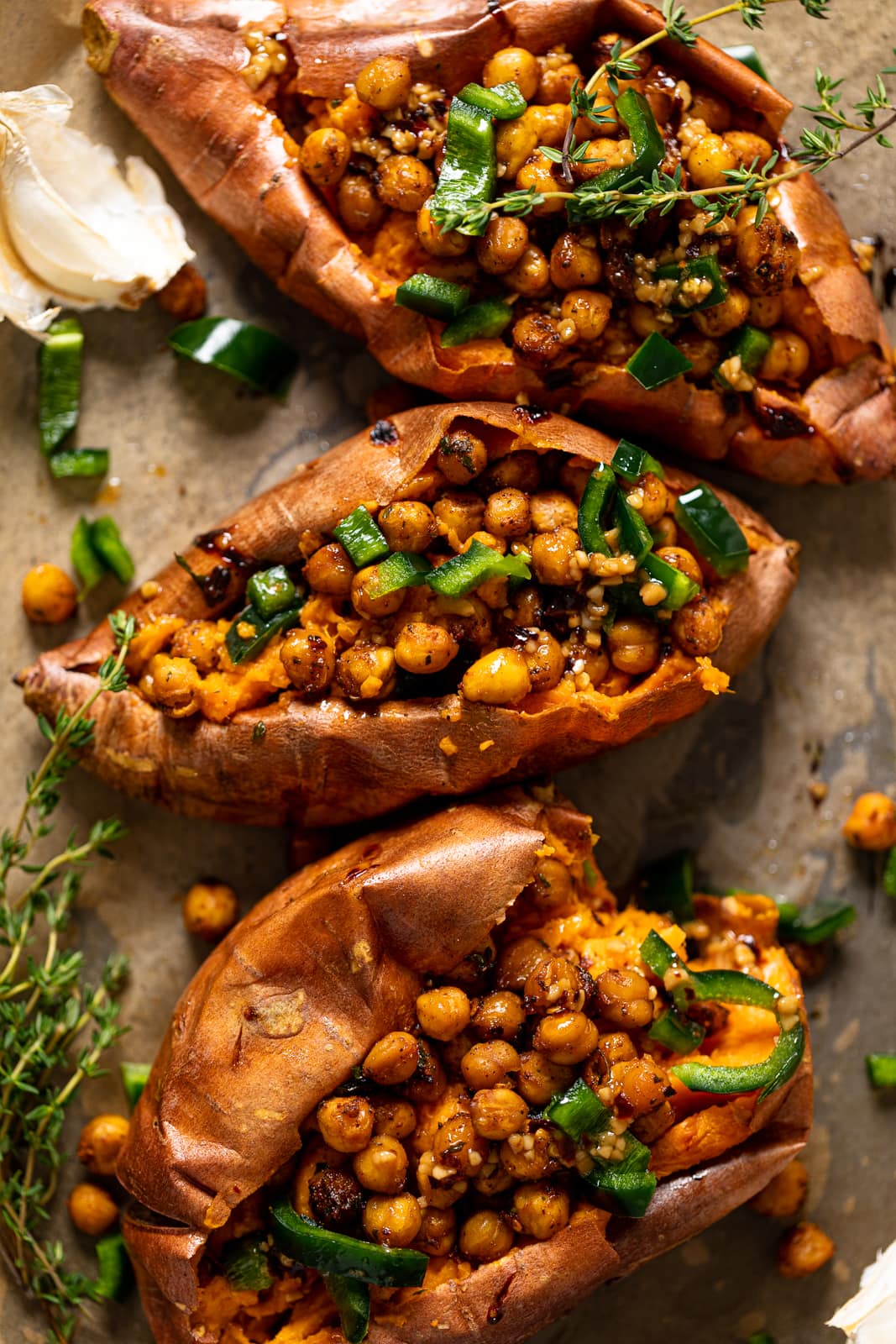 Can I Add More Veggies?
Definitely! This is a great vegan meal or weeknight dinner recipe to mix and match the toppings. For added nutrients, fiber, and color, add your favorite veggies.
You can add roasted cauliflower, broccoli, bell peppers, mushrooms, or leafy greens. All will be delicious with this stuffed sweet potato recipe! And you can roast the veggies alongside the sweet potatoes and chickpeas so everything is ready at the same time. And fewer dishes!
Adding Different Proteins
If you'd like to add a different or additional protein to this vegan weeknight dinner, it's easy to do!
Plant-based protein options:
Crispy or canned beans (i.e. black beans, kidney beans, cannellini beans, etc.)
Crispy seared or baked tofu cubes
Crumbled stir-fried seitan
Tempeh
Vegan bacon
Non-vegan protein options: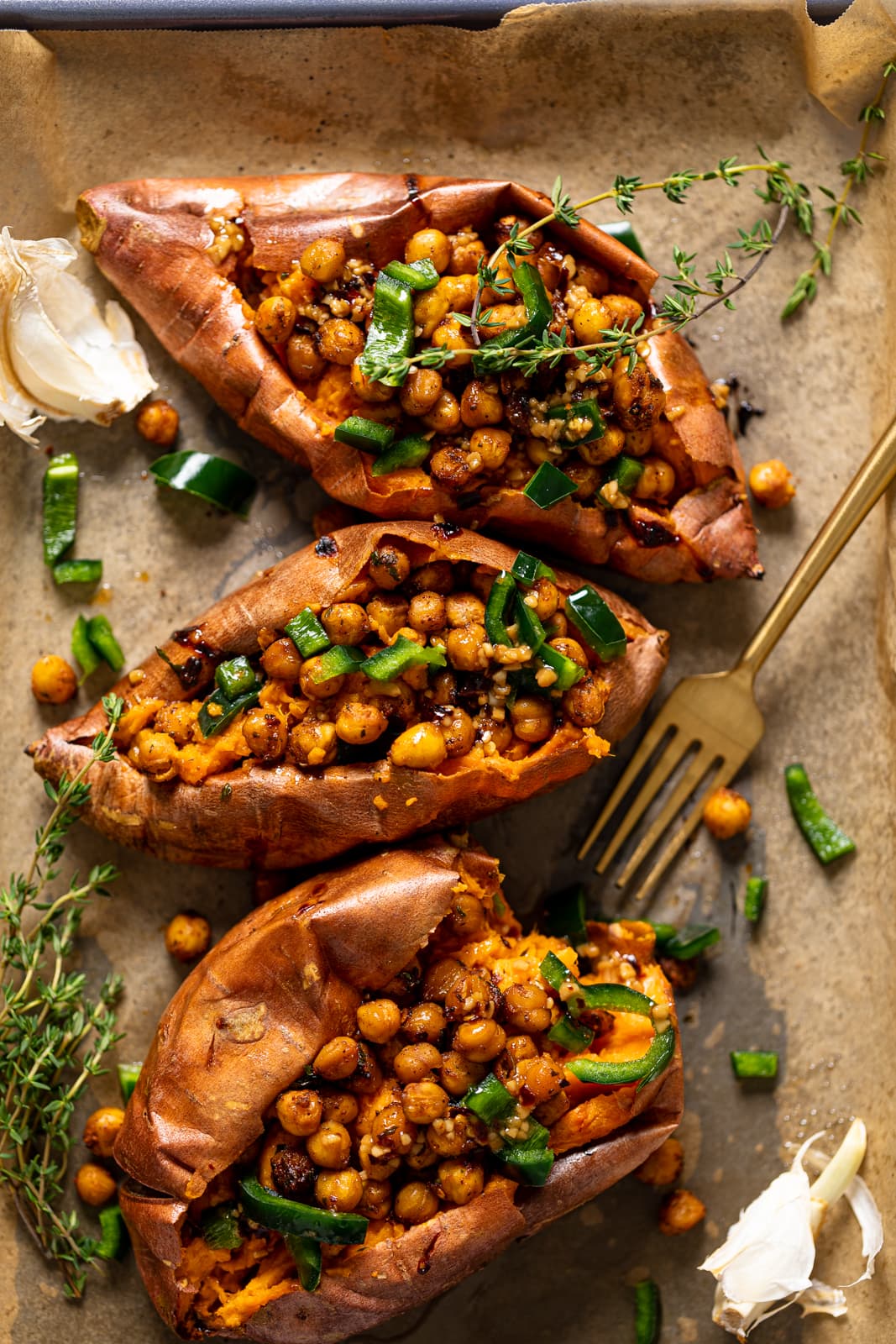 Spiced Chickpea Stuffed Sweet Potatoes Q + A's
Can I use canned chickpeas for this recipe?
Yes, canned chickpeas work perfectly fine for this stuffed sweet potato recipe. Just make sure to drain and rinse them before roasting!
How spicy is the chili garlic butter sauce?
The spiciness can be adjusted based on your preference. Add more or less chili garlic sauce to control the heat.
Can I make a non-spicy version for kids?
Absolutely! Simply reduce or omit the spicy elements like chili powder or chili garlic sauce for a kid-friendly version.
How to store Spiced Chickpea Stuffed Sweet Potatoes?
Leftovers can be kept in an air-tight container in the refrigerator for 3-4 days. Re-heat when ready to serve.
Is this stuffed sweet potato recipe gluten-free?
Yes! As long as you use tamari or gluten-free soy sauce, this meal is totally vegan and gluten-free. It's also nut-free!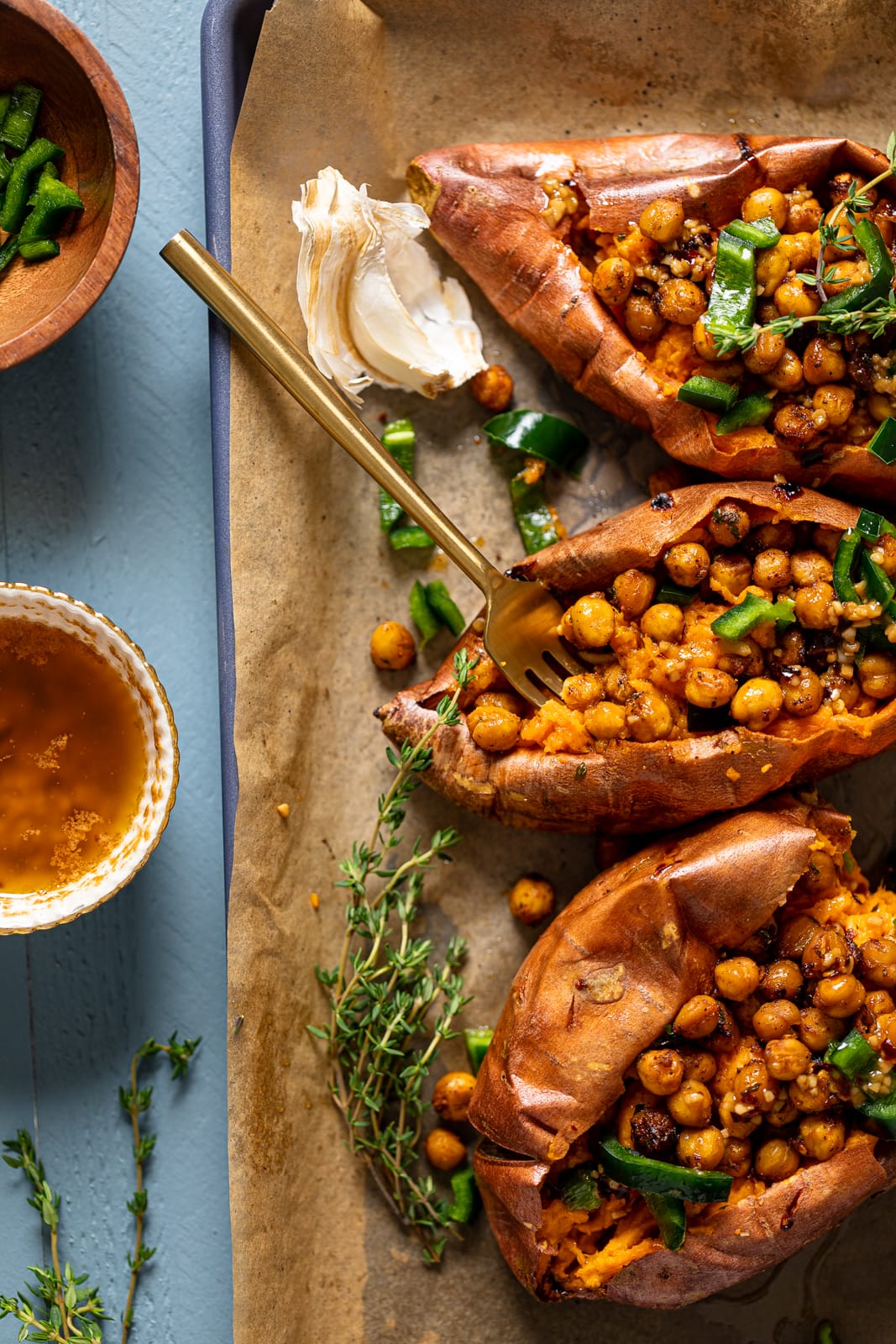 More Vegan Dinner Ideas
If you are a fan of these stuffed sweet potatoes, try these delicious vegan weeknight dinner options next:
MADE OUR RECIPE(S)?
If you make this Spiced Chickpea Stuffed Sweet Potatoes recipe, be sure to tag me on Instagram @orchidsandsweettea!
CHILI GARLIC BUTTER:
½

cup

vegan butter

6

garlic cloves, minced

1 ½

tsps

red pepper flakes

¼

cup

vegan soy sauce
TO ROAST SWEET POTATOES:
Preheat the oven to 400 degrees Fahrenheit and line a baking sheet with parchment paper or foil. Lightly coat each potato with olive oil, placing them unto prepared baking sheet. Bake for 35-40 minutes or until tender and juices begin to bubble outside of skin. Remove from oven, let cool for 10-15 minutes before carefully slicing them open (without cutting all the way down to the bottoms). Using a fork, lightly fluff the insides sweet potato until somewhat "mashed". Set aside.
TO ROAST THE CHICKPEAS:
Line a baking sheet with parchment paper. In a medium bowl, add chickpea, olive oil, and 2 Tbsps of cajun seasoning, stirring them together until well coated.

Add chickpeas to the prepared baking sheet and bake for 20-25 minutes, tossing them mid-way until golden brown and crisp. 
TO MAKE THE CHILI GARLIC BUTTER:
In a saucepan over medium-high heat, add all ingredients and stir until butter has completely melted. Let boil for 1-2 minutes before removing from heat.
ASSEMBLY:
To serve, add each roasted sweet potato unto a platter (or individual plates) and top with spoonfuls of roasted chickpea and drizzles of chili garlic butter.

Bon Appétit!
STORAGE: Leftovers can be kept in an air-tight container in the refrigerator for 3-4 days. Re-heat when ready to serve. ADDITIONAL TOPPINGS: For extra pizzaz, you can add your favorite veggies/ingredients to the mix such as: kale, spinach, collard greens, broccoli, tomatoes, green peas, etc.
Calories:
599
kcal
|
Carbohydrates:
72
g
|
Protein:
8
g
|
Fat:
32
g
|
Saturated Fat:
6
g
|
Polyunsaturated Fat:
8
g
|
Monounsaturated Fat:
18
g
|
Trans Fat:
4
g
|
Sodium:
1766
mg
|
Potassium:
1244
mg
|
Fiber:
11
g
|
Sugar:
15
g
|
Vitamin A:
48710
IU
|
Vitamin C:
10
mg
|
Calcium:
122
mg
|
Iron:
3
mg
Spiced Chickpea Stuffed Sweet Potatoes.