The Best Homemade Vodka Pizza features a flavorful fluffy crust, richly roasted red peppers, cheesy mozzarella, and an oh-so-creamy vodka sauce that is to die for. A total winner for family pizza night that will make you want to skip ever opting for takeaway pizza again!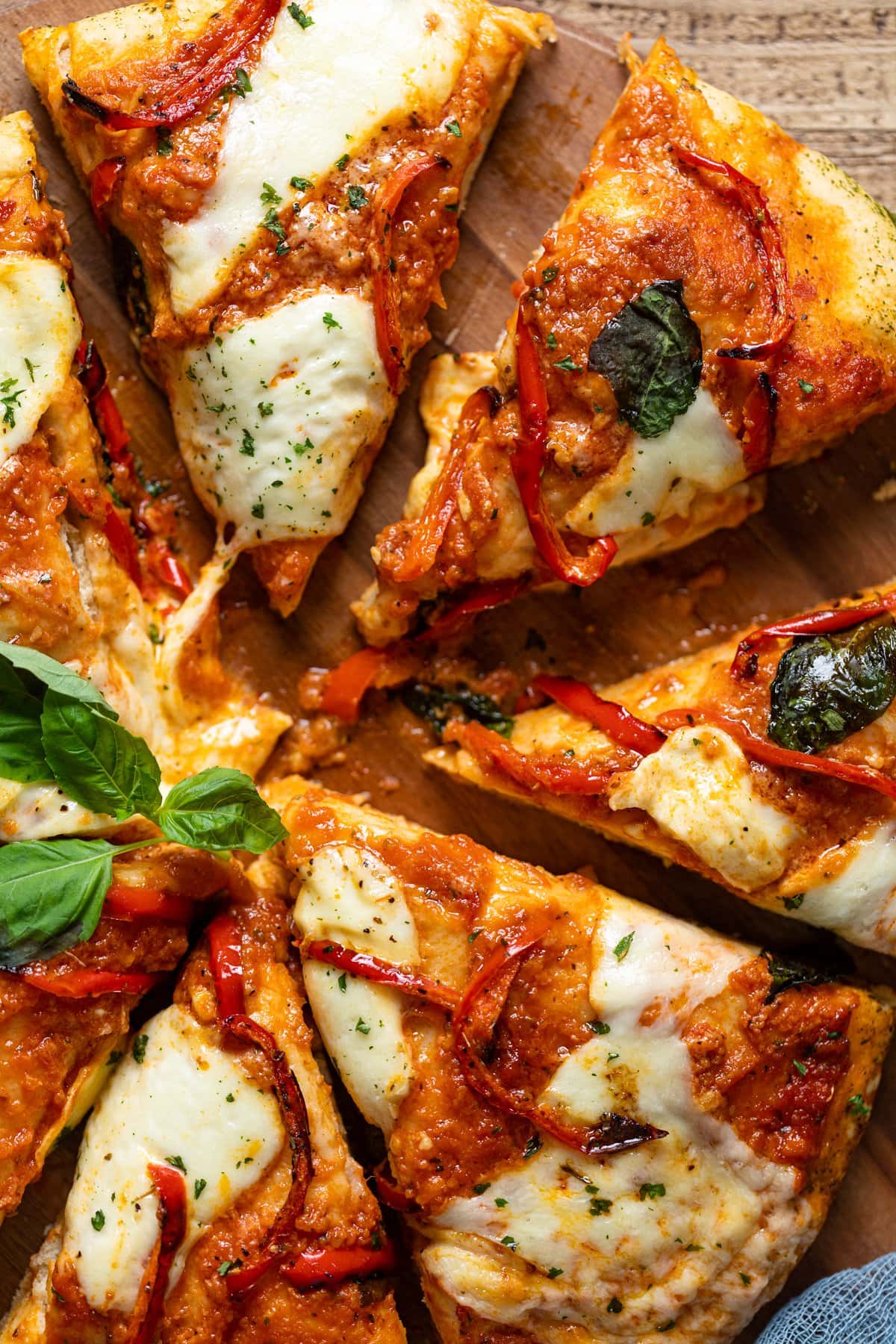 In my search for the best homemade pizza recipe, I have created a fun, delicious, and unique pizza! It's a spin on toppings traditionally found in vodka pasta, but it's perfectly played out in this Best Homemade Vodka Pizza! This homemade pizza is topped with gooey, melted mozzarella with sweet roasted bell peppers and a creamy vodka sauce. And best of all, the entire recipe (including a homemade crust) takes less than an hour to get on the table and gobble up! Because is there anything better than pizza night?
This pizza fits both bills of being comforting + delicious, and then some. It's packed with deeply rich and savory flavors from roasted red peppers and a fragrant herb + seasoning blend. If you aren't restricted to only meatless options, then you can spruce things up by adding chicken breasts, salmon, shrimp, lobster, etc. and I can guarantee that you won't be disappointed. It's truly up to you! Plus, if you're a lover of vodka sauce in general, then you'll thoroughly enjoy this Hubby's Date Night Vodka Ravioli and Spicy Cajun Vodka Pasta Without Vodka. And for a little side dish idea for this pizza, this Cheesy Kale Garlic Bread is an over-the-top option for something special together!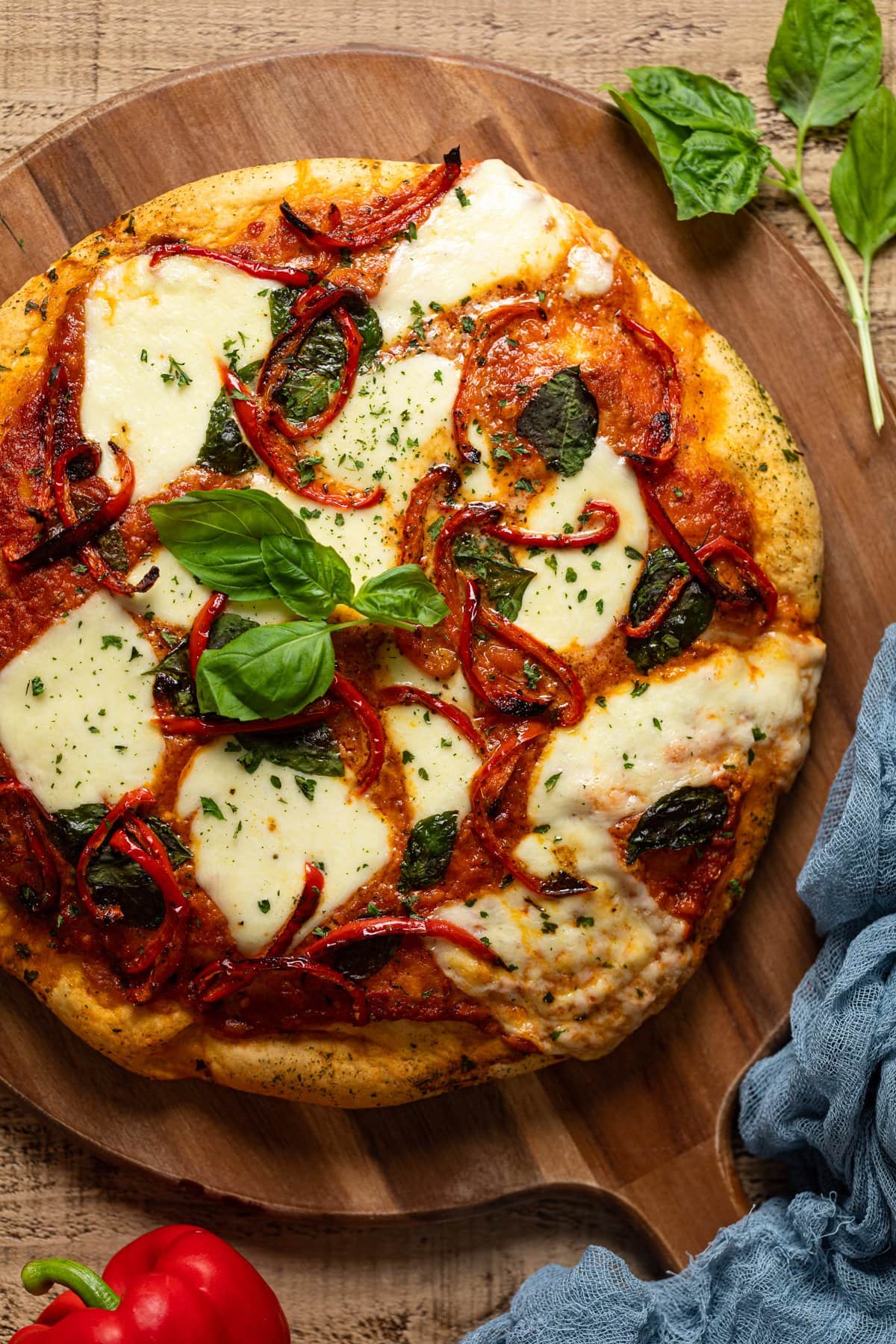 Ingredients for Homemade Pizza Crust
For the best pizza, make your own crust! It's easier than you might think, and my recipe takes just a few ingredients and little time to rise. Plus, the dough is seasoned for added flavor!
Here's what you need:
All-purpose flour. I use organic flour. If you want to make gluten-free pizza dough, check out the notes section below the recipe!
Raw honey. All of the sugar will be consumed by the yeast in the dough.
Yeast. Use rapid-rise or instant yeast for dough that rises quickly.
Grapeseed oil. This is a neutral oil, but you could also use olive oil.
Oregano and smoked paprika. For added flavor and spice.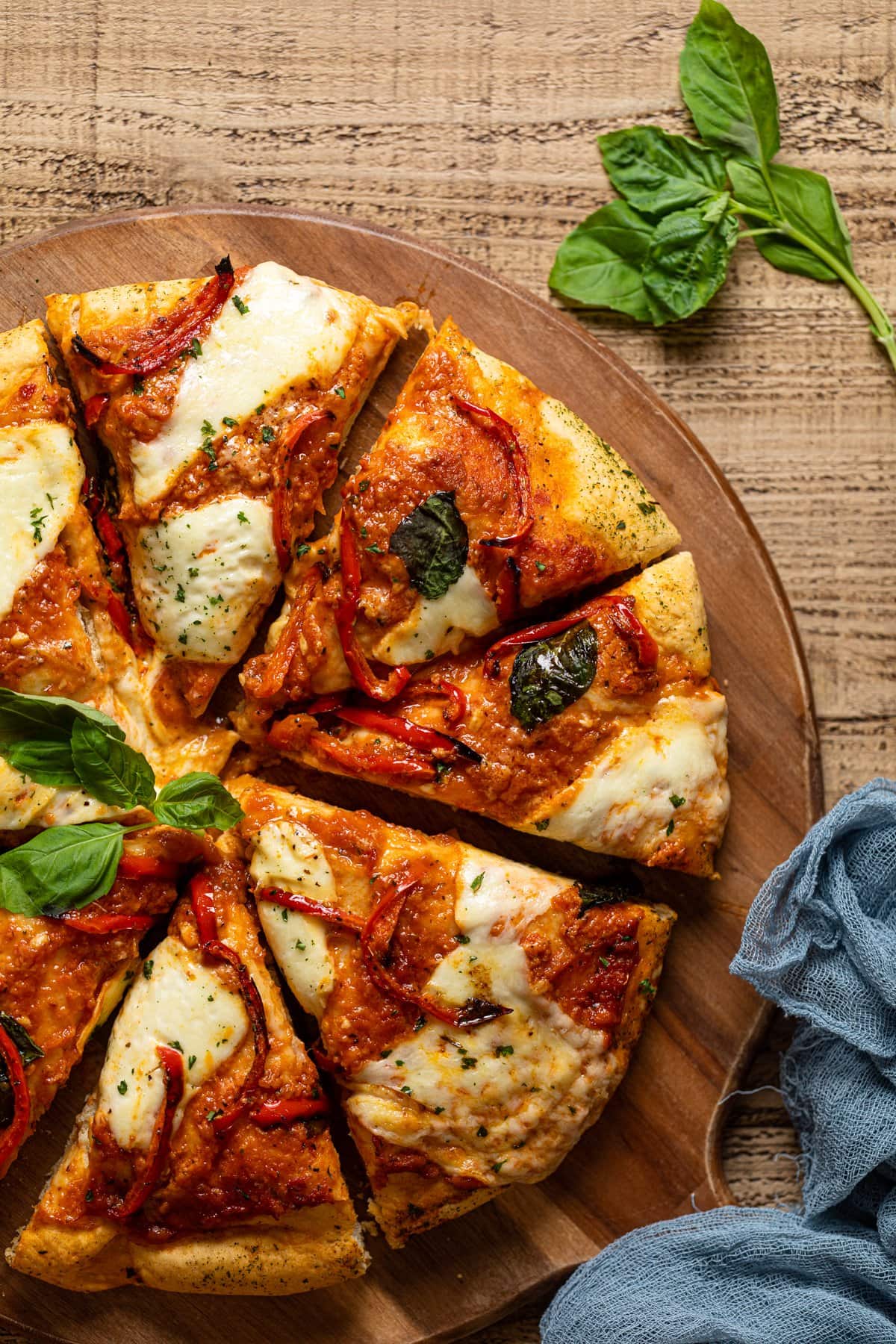 Deliciously Roasted Red Peppers for Pizza
The topping for this vodka pizza is sweet, smoky roasted red peppers. I like to season mine with garlic powder, dried oregano, dried basil, and dried parsley. These Italian herbs together add a complex, herby, and earthy flavor to the pizza. And bell peppers become so sweet and silky-smooth to add depth to your pizza.
In a pinch, make this the best homemade pizza even easier by using jarred roasted red peppers!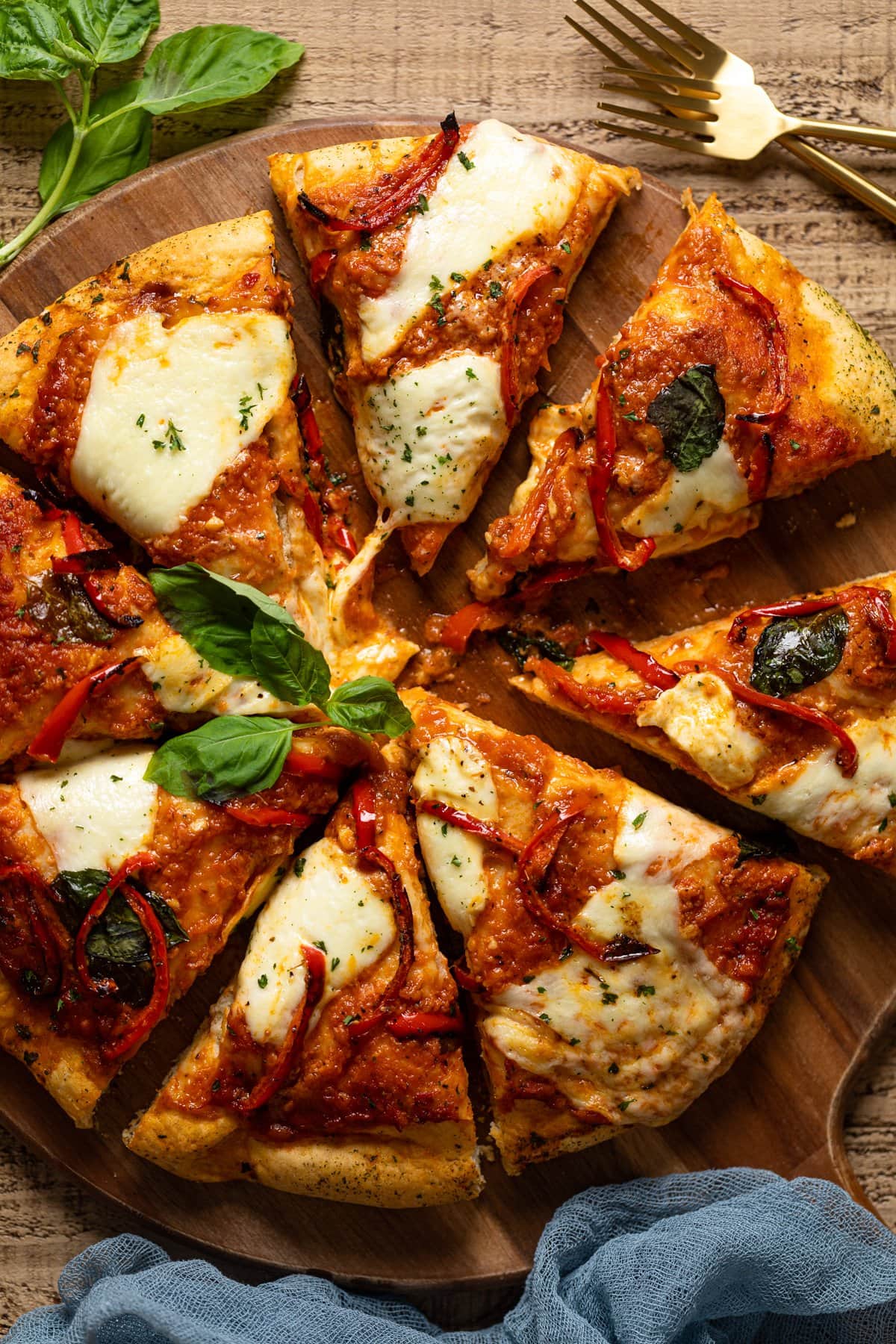 Pizza Toppings
To round things out, I use mozzarella cheese, vodka sauce, and finally, basil leaves. If you like parmesan, asiago, or another cheese, feel free to use it! You could also top this pizza with oregano fresh out of the oven. Feel free to personalize it to suit your favorite flavors. 
Homemade Pizza Storage Suggestions
Store leftover pizza in an airtight container in the fridge for up to three days. You can always enjoy it cold (Confession... I actually LOVE cold pizza). The flavors seem to marinate and taste even better the next day. But if you are not on the cold pizza bandwagon, then you can always reheat it on a griddle or in the oven to serve. 
Why You'll Love This Pizza Recipe
It's a SUPER EASY from-scratch dough recipe that will leave you with a fool-proof fluffy and crunchy crust.

The recipe serves 8 people, so there's plenty of pizza for the whole crew to enjoy! 

Sweet and smokey flavors from the roasted red pepper take the flavor to the next level.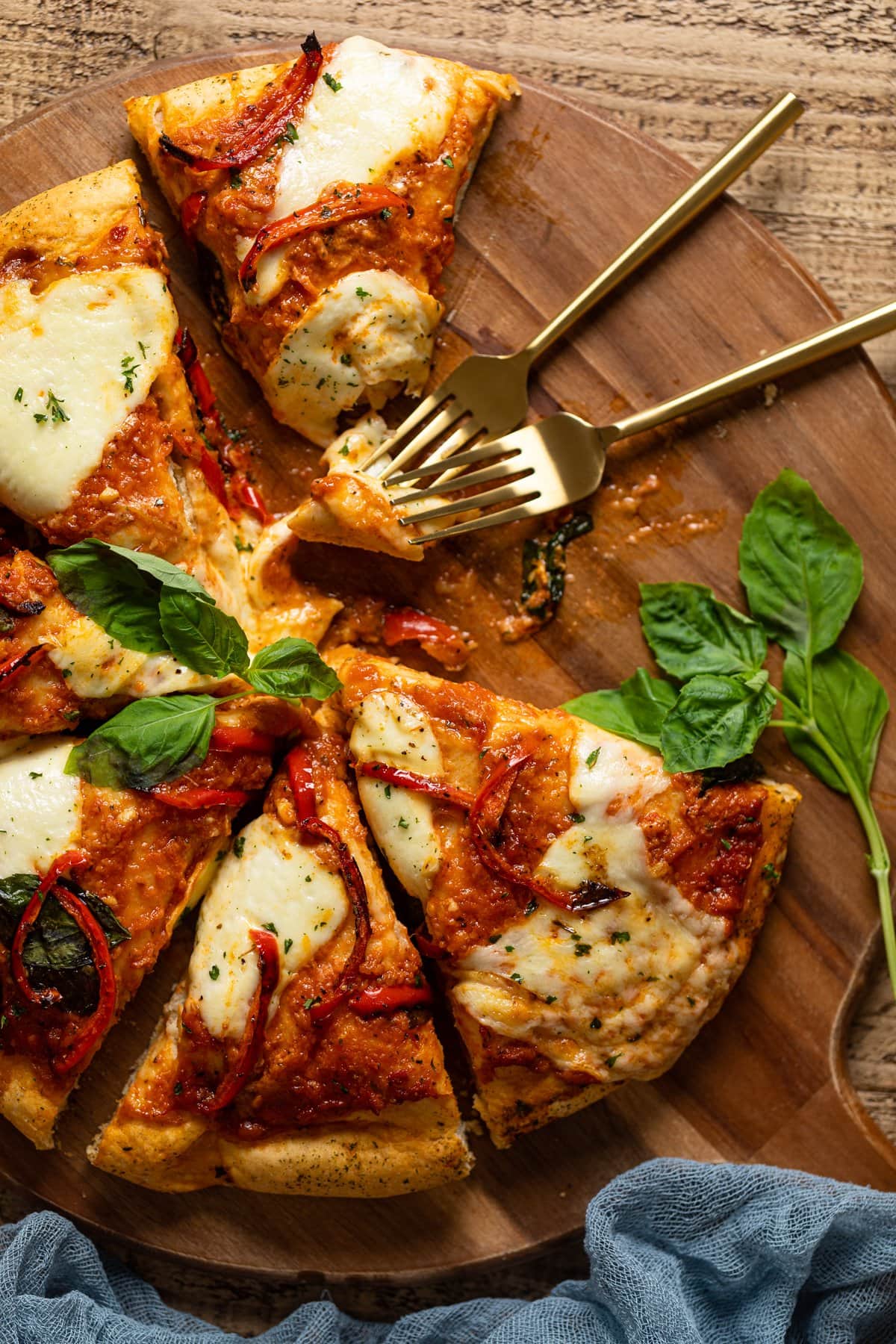 What Does Vodka Sauce Have In It?
This oh-so-yummy artisan Italian-inspired homemade sauce has smooth tomato, heavy cream, vodka, and Italian herbs that are used to create the sauce (which gives the sauce its distinct orange color) 
What Does Vodka Sauce Taste Like? 
Vodka sauce is rich, creamy, and has a mouthwatering flavor. The tomato is a tad acidic despite the cream. The vodka adds the perfect balance of sourness to the dish. The sauce cooks over a low flame, blending and combining with the vodka. The tomatoes caramelize and become jammy in the meantime, ready to be spread on your homemade pizza!
Can You Get Drunk off Vodka Sauce?
Don't worry. You won't get a buzz from eating the best homemade vodka pizza. Okay, so yes, technically, the sauce contains vodka, but it is impossible to become intoxicated from it. The alcohol is released into the liquid during cooking. As a result, there is barely any alcohol left in the dish, but you might still be able to taste the vodka a little! 
More Delicious Homemade Pizza Recipes
Get inspired to keep meat-free Mondays (or any days) cracking with these unique homemade vegetarian pizzas recipes! Trust me, your tastebuds are going to be so happy and satisfied come pizza night!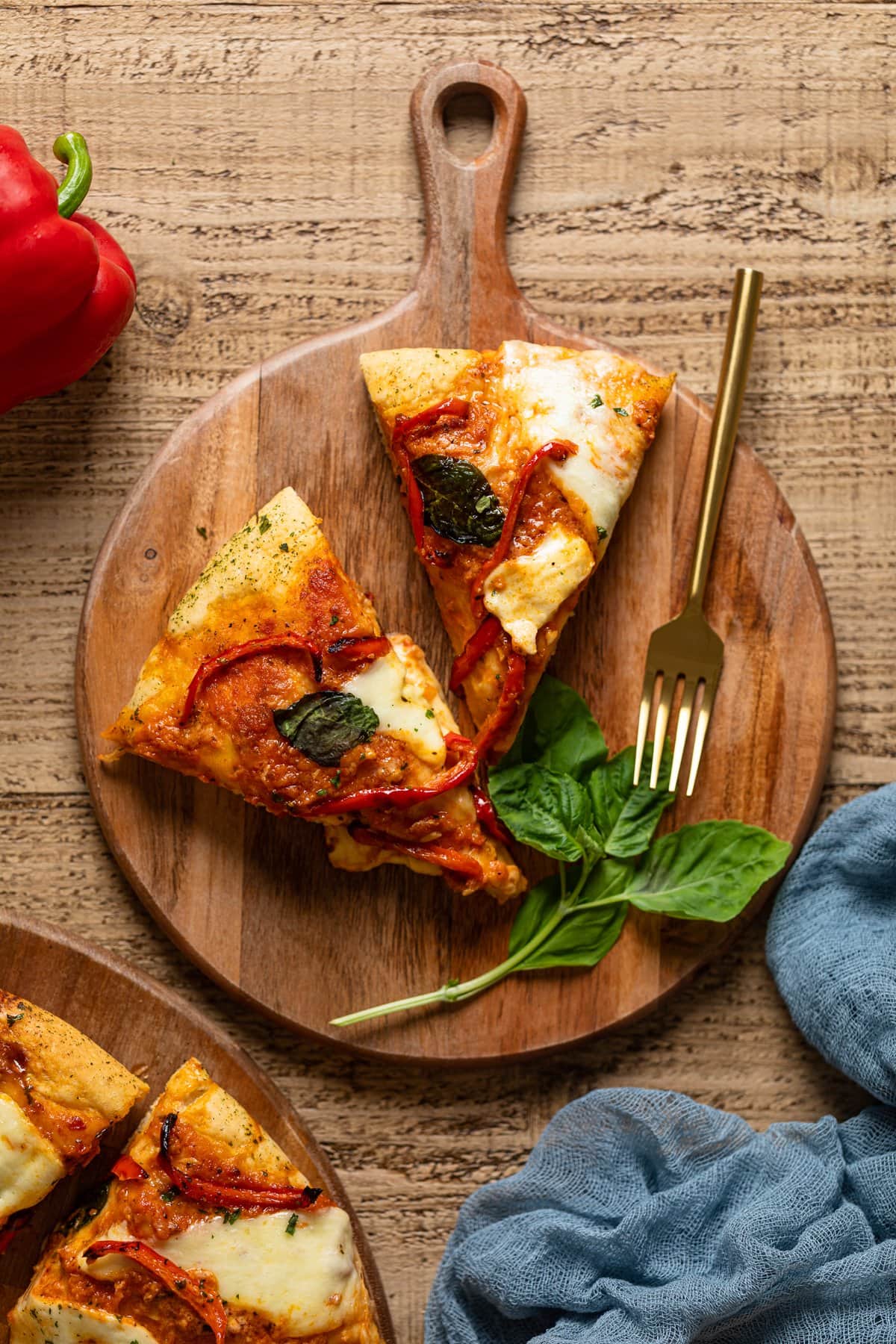 MADE OUR RECIPE(S)?
If you make this Homemade Vodka Pizza, tag @orchidsnsweettea_ on Instagram and hashtag it #orchidsandsweettea
PIZZA CRUST:
2 ¾

cups

organic all-purpose flour

(See Notes for GF option!)

1

cup

WARM fresh water

1

tablespoon

raw honey

1

packet

rapid-rise yeast

(That's 2 ¼ tsps!)

1

tablespoon

Grapeseed oil

1

teaspoon

dried oregano

½

teaspoon

smoked paprika
ROASTED RED PEPPERS:
1

medium

Red bell pepper, sliced thin

1

tablespoon

Extra virgin olive oil

1

teaspoon

sea salt + black pepper, each

1

teaspoon

garlic powder

1

teaspoon

dried oregano

1

teaspoon

dried basil

1

tablespoon

dried parsley
ROAST THE RED PEPPERS:
Preheat your oven to 400 degrees Fahrenheit and prepare a large baking sheet by lining it with parchment paper.

Add the sliced red peppers unto the baking sheet (in a single layer) and drizzle with olive oil and season with seasonings (salt, black pepper, garlic powder, oregano, basil, and parsley) and bake for 25-30 minutes or until tomatoes are charred, wilted, and tender. Remove and let cool slightly.
PIZZA CRUST:
In the bowl of an electric mixer (with a dough hook attachment), mix together the warm water, honey, grapeseed oil, and yeast (you might need to use a whisk to ensure that everything combines together well). Let is sit for at least 5 minutes, until yeast begins to activate and foam.

Slowly add the flour, dried oregano, and smoked paprika (on low speed!), until fully incorporated and a soft dough is formed. NOTE: if dough is too sticky, add ½ cup of additional flour at a time)

Now, increase the speed to medium-high and knead the dough for about 5 minutes in the mixer.

Once done, add the dough onto a floured surface and slightly roll out the dough until it's flat enough to form a flat circle the rest of the way with your hands, about 11 inches in diameter. Lightly grease your pizza pan with extra virgin olive oil and place dough on one end of pan, evenly pressing it and flattening it out to fit the entire pan. Gently use your finger to stretch dough until pan is fully covered and gently pinch the edges of the dough together to form the crust.
ASSEMBLY:
Preheat the oven to 475 degrees Fahrenheit and place top rack into the middle of oven. NOTE: be sure to use a great pizza pan to ensure that your crust is crispy and not soggy.

Spoon a generous amount of the vodka sauce over the top of the crust until evenly coated.

Generously sprinkle on the mozzarella until crust is fully covered in the middle, leaving a bit of crust for the edges. Add the roasted red peppers a top the cheese.

Lightly brush the tops of the edge of the crust with 1 tablespoon of olive oil to ensure that it becomes a nice golden brown.

Transfer the pizza pie to the hot oven and bake for 15-20 minutes or so, until the mozzarella has melted (and becomes bubbly) and the crust is crispy and golden brown.

Once done, allow pizza to rest/cool for a few minutes (about 2-3 minutes) so that the mozzarella sets before cutting into generous slices, using a pizza cutter. Add a few fresh basil leaves as garnish, if desired.

Bon Appetit!
PIZZA CRUST: For a crispy pizza (especially on the bottom), I suggest using a pizza pan with holes to allow the crust to bake through nicely. I used the AirBake Pizza Pan, which can be found at Target!
STORAGE: Leftover pizza is best kept tightly wrapped in foil paper, refrigerated for 3-4 days for optimal freshness.
GLUTEN-FREE CRUST: To make your pizza crust GF, see my Easy GF Pizza Crust recipe.
OPTIONAL TOPPING: Instead of the red peppers, you can always add roasted herb tomatoes as a topping.
Calories:
213
kcal
|
Carbohydrates:
39
g
|
Protein:
6
g
|
Fat:
4
g
|
Saturated Fat:
1
g
|
Polyunsaturated Fat:
2
g
|
Monounsaturated Fat:
2
g
|
Sodium:
441
mg
|
Potassium:
202
mg
|
Fiber:
3
g
|
Sugar:
4
g
|
Vitamin A:
675
IU
|
Vitamin C:
22
mg
|
Calcium:
28
mg
|
Iron:
3
mg
Homemade Vodka Pizza.