When the crisp fall air arrives, I can't help but crave a heartwarming, comforting easy fall dinner + dessert that embraces me like a cozy sweater and warms the soul. If you're ever in search of the perfect recipe for those chilly evenings, you're in luck! I've gathered a lineup of our most beloved 30 Best Warm + Cozy Fall Recipes both sweet + savory that strike the perfect balance between comforting and convenient. Loaded with plenty of dairy-free, gluten-free & vegan options for everyone!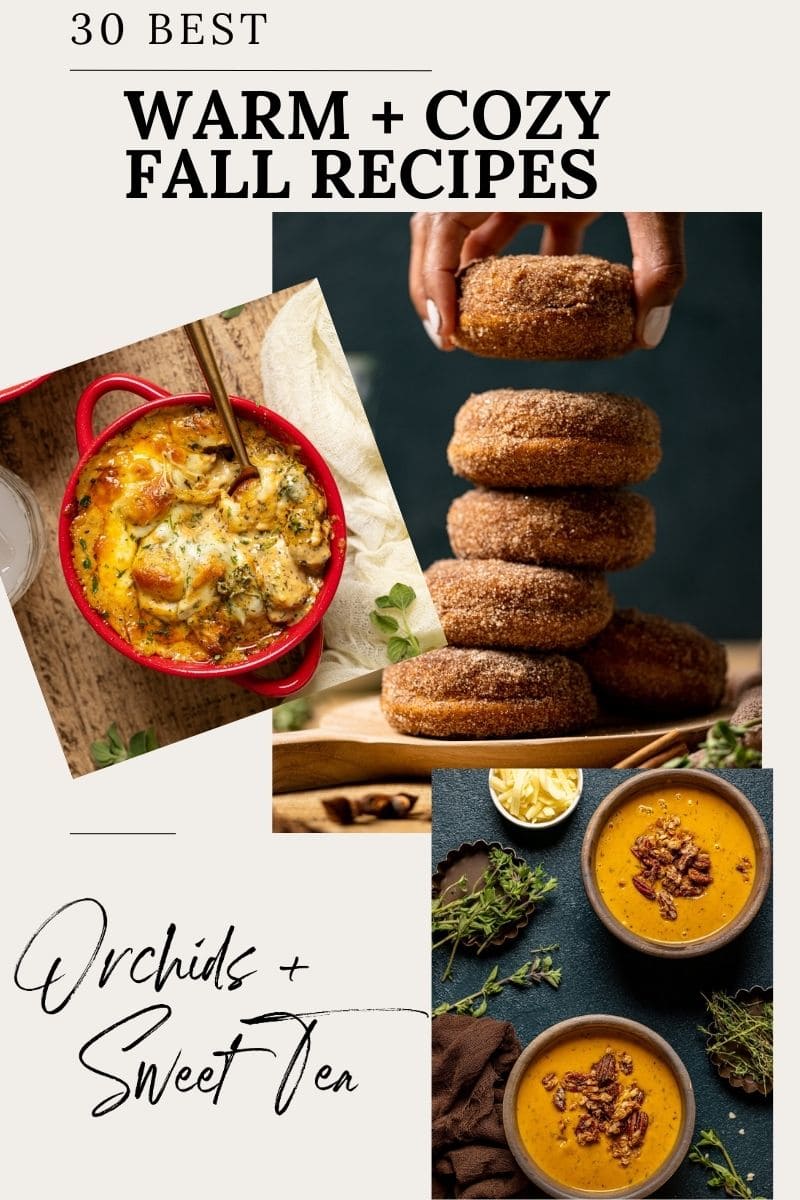 Fall Recipe Roundup
Y'all, after all these years I have finally decided to include more recipe roundup posts on Orchids + Sweet Tea, and what better place to start than with a fall recipe roundup AKA the top 30 Best Warm + Cozy Fall Recipes? I have selected some all-time tried-and-true classics + reader-favorites from years past that remain the most popular along with some new fresh recipes from last year that we all LOVED (Hello Creamy Tuscan 'Marry Me' Chicken I'm talking to you)
After all the picnics, beach days, and BBQs of summer, I've got to admit—I get more than a little excited to get back in my kitchen and really cook. Once fall rolls around and it gets a little chilly outside, I'm all about warming soups, filling curries, comforting casseroles, creamy pastas, sheet-pan dinners, and easy one-pot wonders!
And let's not overlook the fact that I believe we can all come to a unanimous decision that fall unofficially holds the title of the baking season, right? So, I've gone ahead and included some recipes for my fellow sweet tooths, from mouthwatering cookies, and donuts to pies with a dash of irresistible pumpkin spice goodness!

Jump to:
Folks this list of the 30 Best Warm + Cozy Fall Recipes is about to bring some serious warm and fuzzy vibes to your life and give you a dose of fall recipe inspiration! So, get ready to savor the flavors of the season and indulge in the goodness of fall. Don't even get me started on all the glorious fall produce (hint: my pumpkin obsession knows no bounds)!
30 Best Warm + Cozy Fall Recipes
Picture this:
Easy fall dinner one-pot wonders that practically cook themselves, creamy pasta dishes that'll make your taste buds do a happy dance, and all the warm and cozy comfort food your heart desires. It's like a hug in every bite!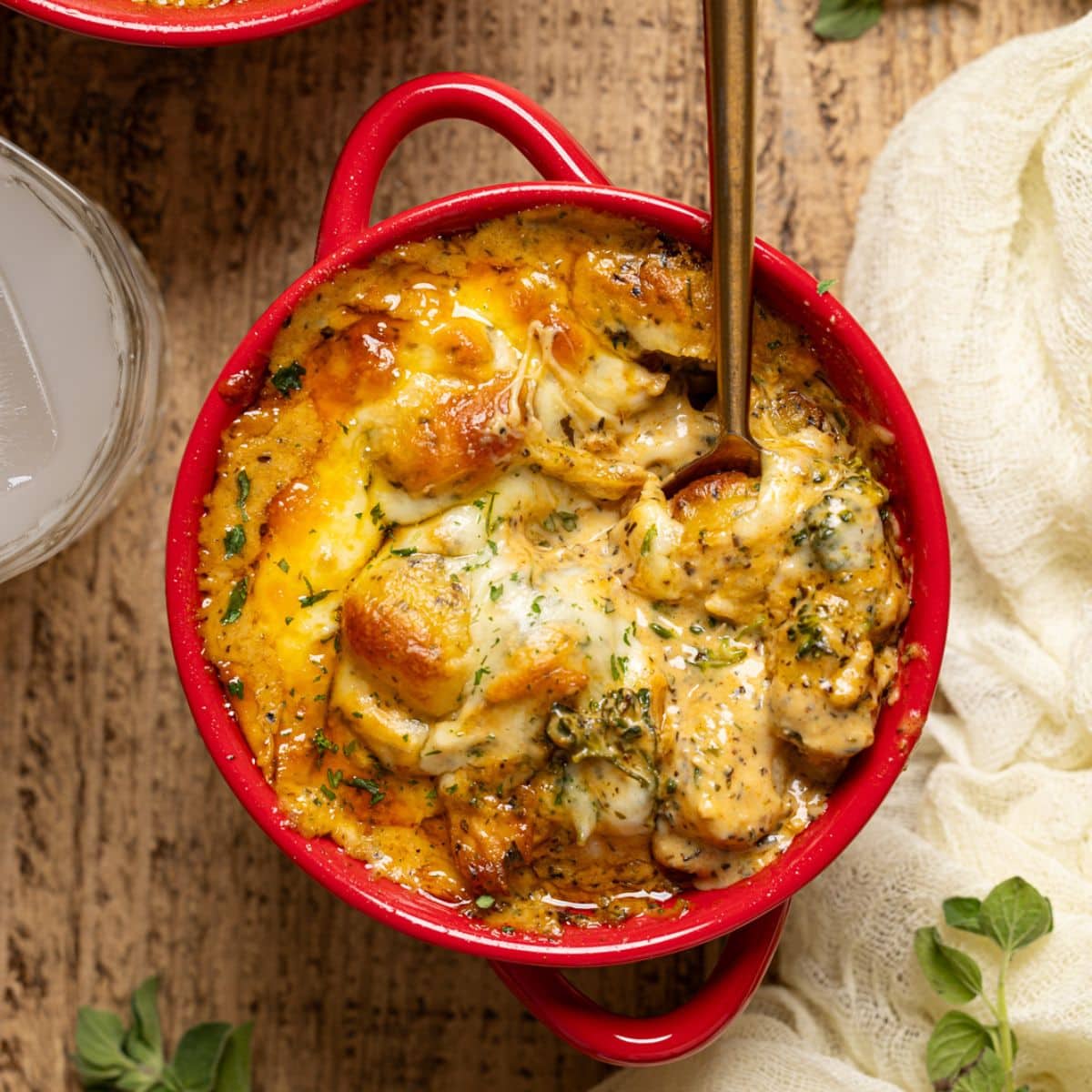 Discover the magic of this oven-baked Garlic Chicken Broccoli Gnocchi Recipe. This dish is an easy, one-pot kind of meal that serves for the entire family. Incredible garlicky and herb flavors matched with beautifully shredded chicken and broccoli for a nice bite! Meatless, Dairy-Free, Gluten-Free, + Make ahead options.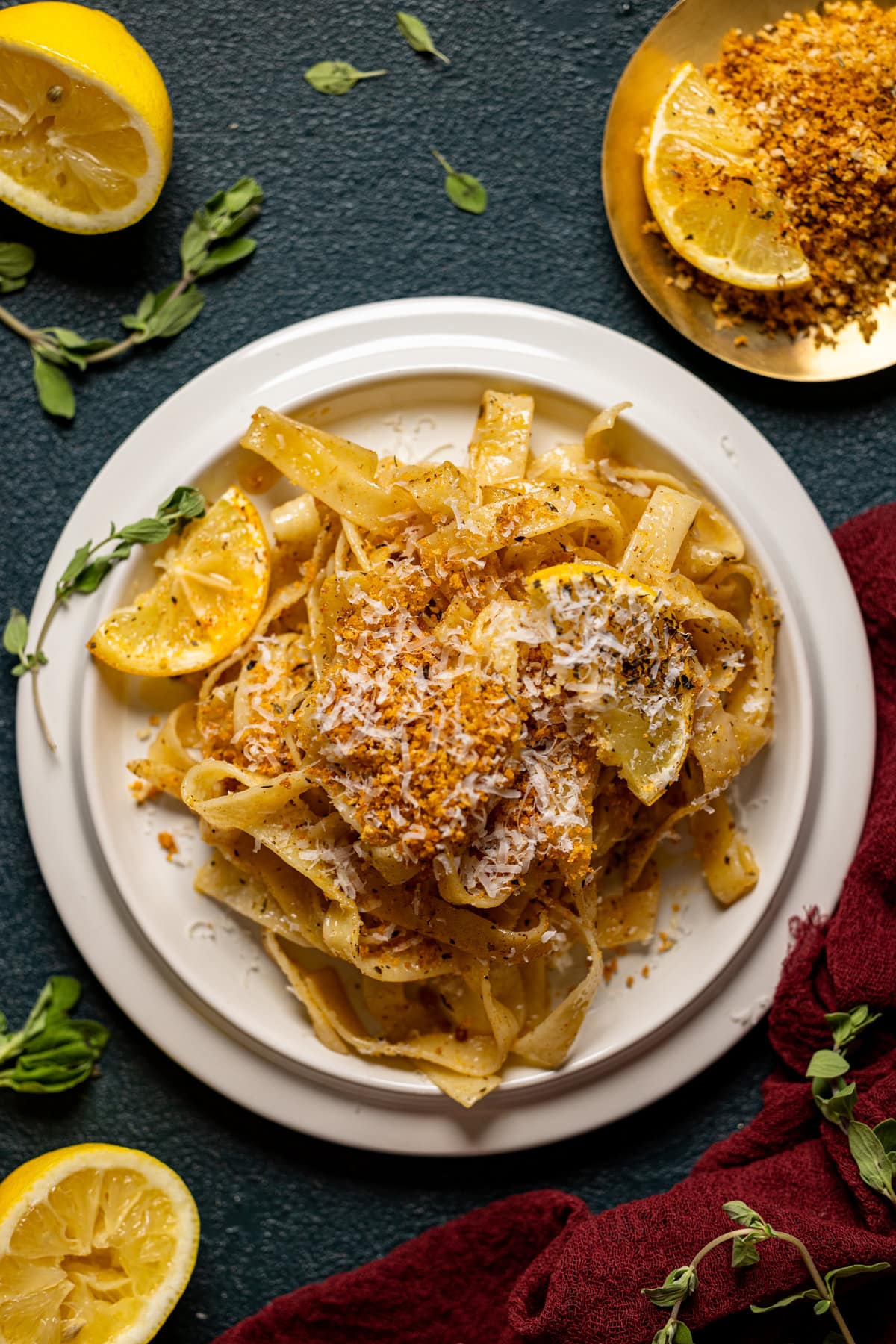 This simple + easy Lemon Brown Butter pasta dinner has a bright and savory lemon brown-butter sauce and crunchy lemon-herb breadcrumb topping that truly makes this one an easy fall dinner hit for the entire family! Vegan + Gluten-free option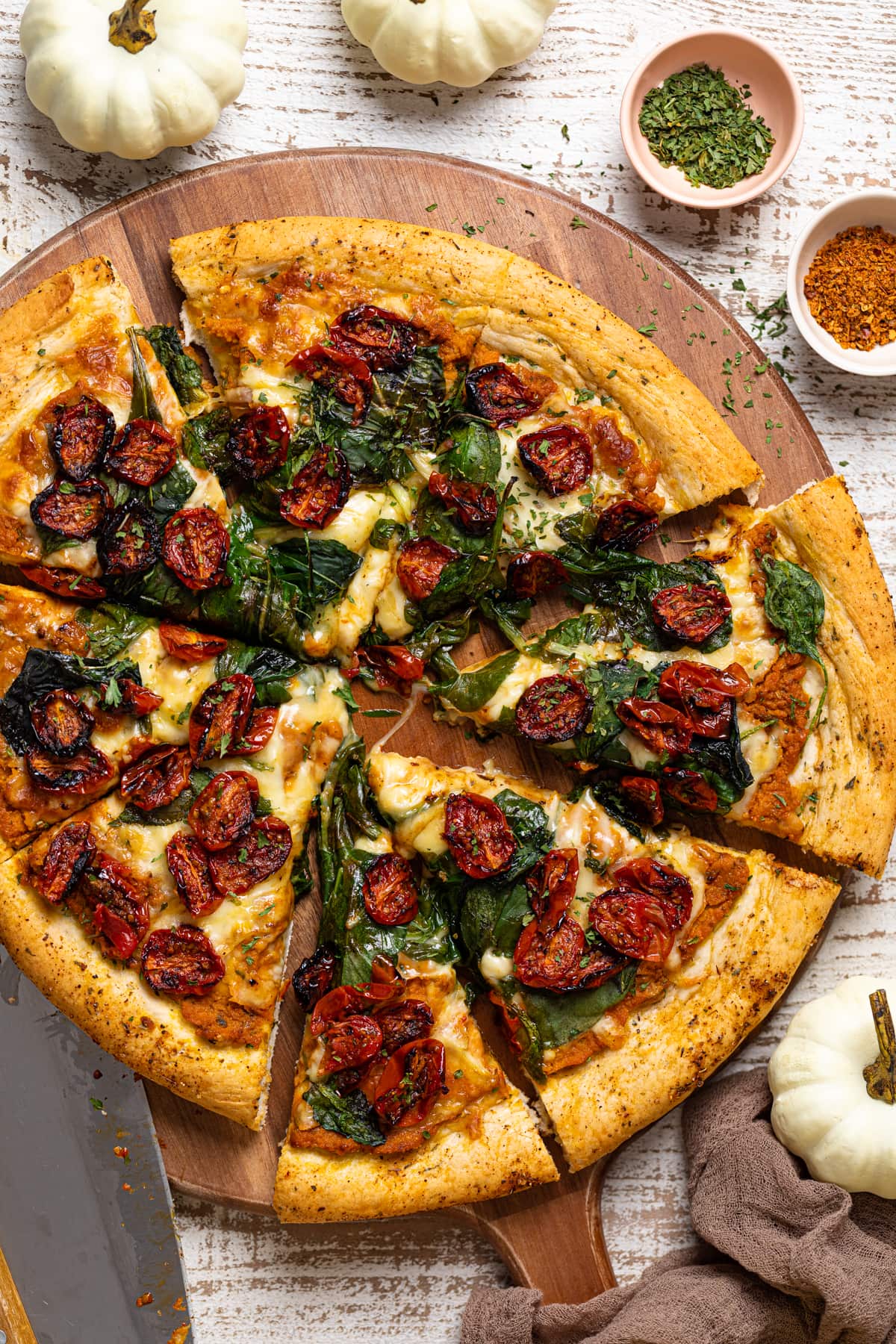 This Cajun Veggie Pumpkin Pizza is loaded with spicy pumpkin sauce, roasted colorful vegetables, and a fluffy homemade crust. An ideal upgrade for family pizza night! Gluten-free option. Try my Homemade Cajun Seasoning-- Bursting with bold + savory flavors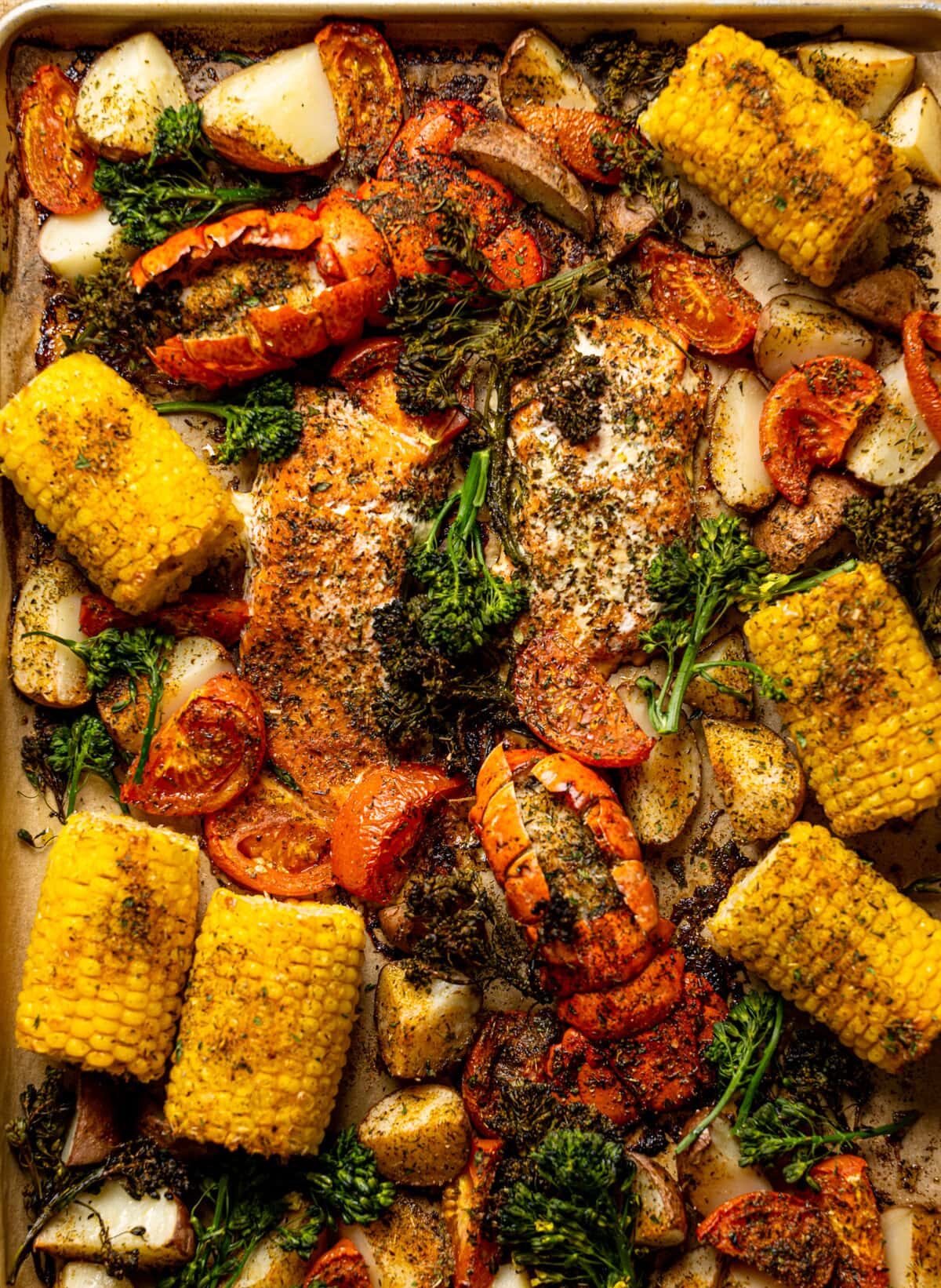 This Sheet Pan Garlic Herb Salmon, Lobster, + Veggies recipe is the perfect easy weeknight meal for the entire family! Everything is jam-packed with bold flavor and packed with heart-healthy Omega-3 fats and lean protein. This flavorful dish will be a hit in your house and you'll love how simple it is to prepare and clean up afterward. Dairy-Free option.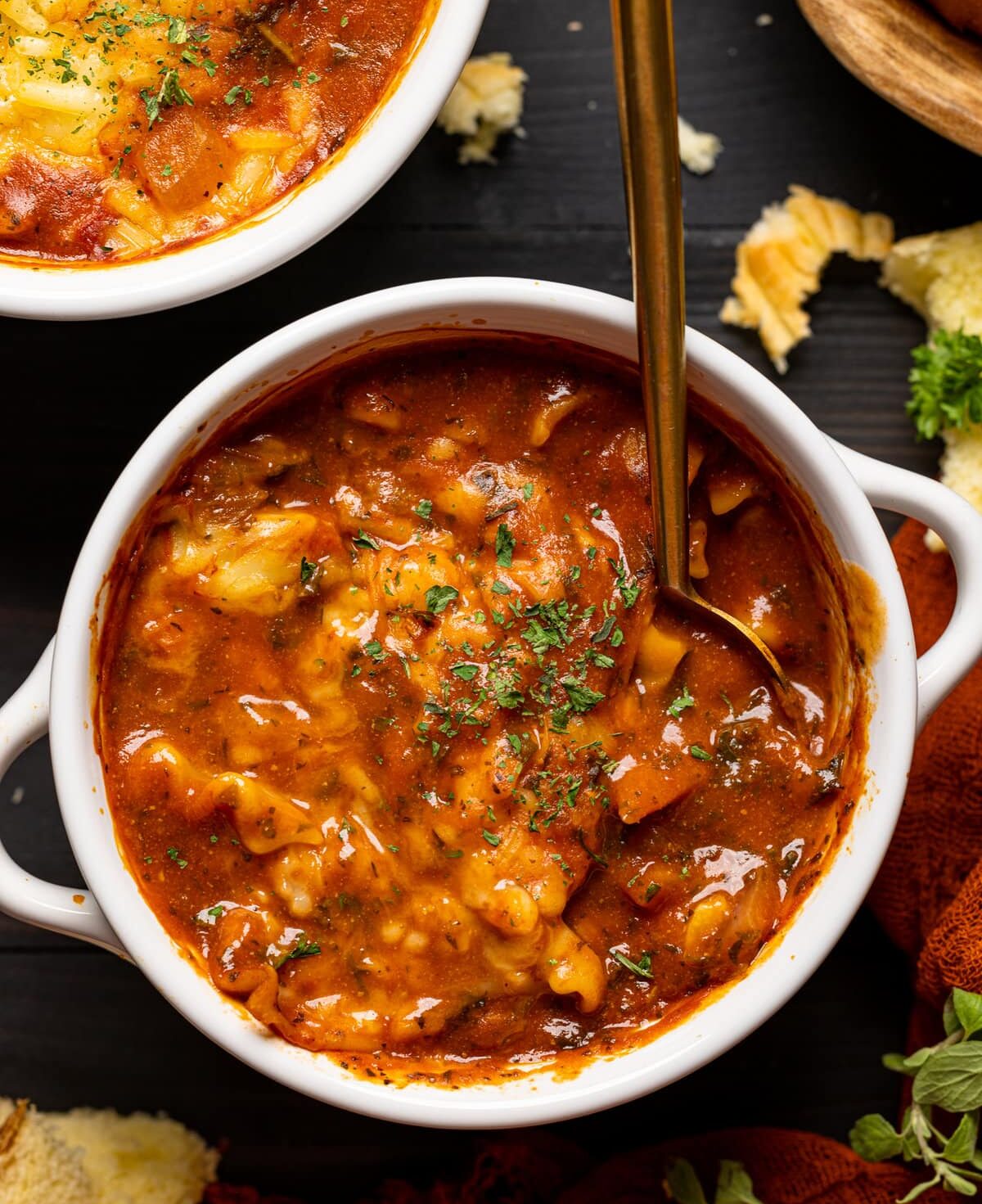 This Delicious Vegan Lasagna Soup is sure to keep you warm and comforted throughout the cooler months of the year and you're guaranteed to be satisfied. A great weeknight option or weekend addition, this soup boasts major flavor. Entirely Dairy-free + Vegan. Gluten-Free + Slow Cooker options.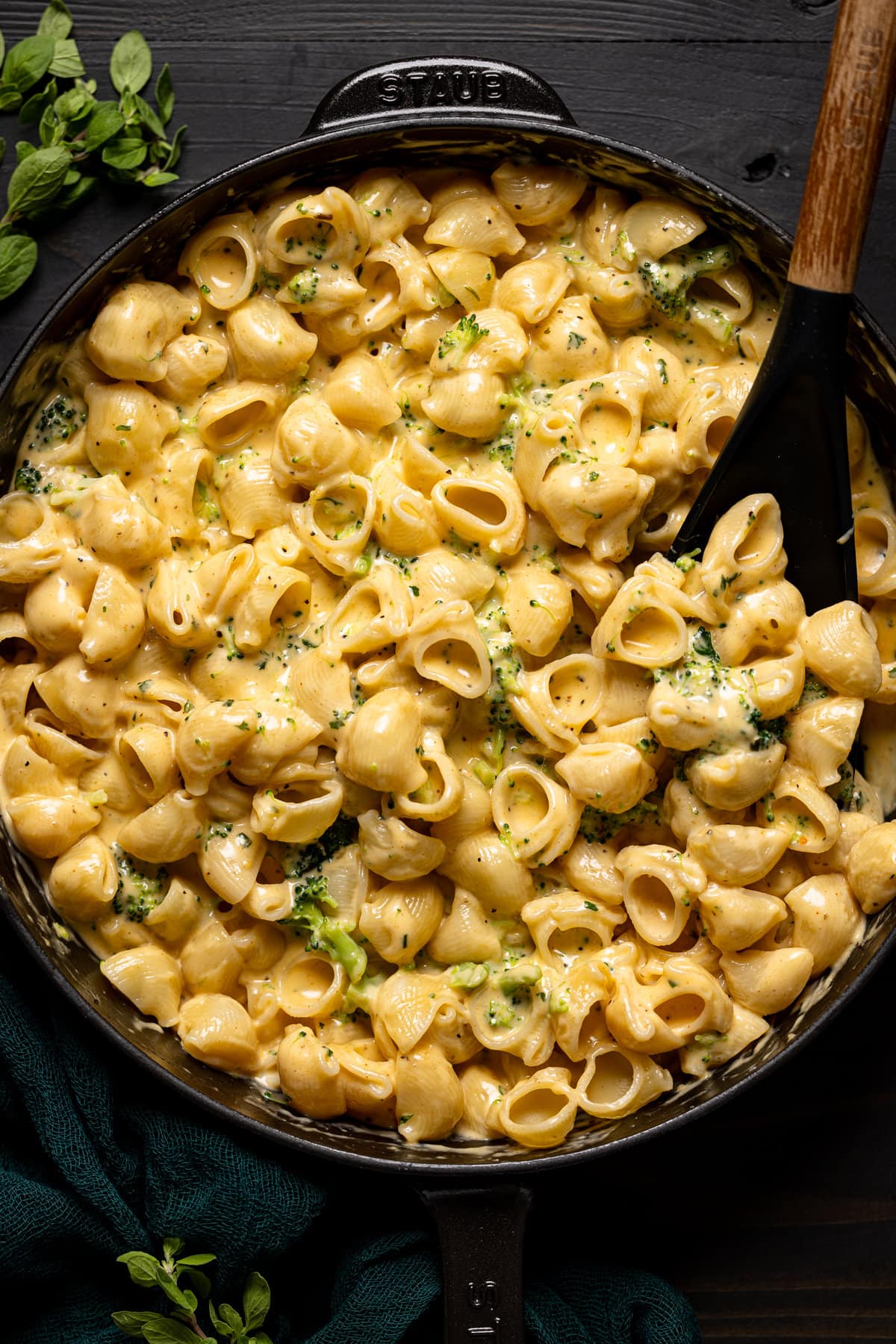 Make the best Copycat Velveeta Broccoli Mac and Cheese that's creamy, delicious, and has hints of herby flavors. A true family favorite---comfort food at its best! It doesn't get much better than this easy fall dinner with all the cheesy goodness we know and love. Vegan + Gluten-Free options.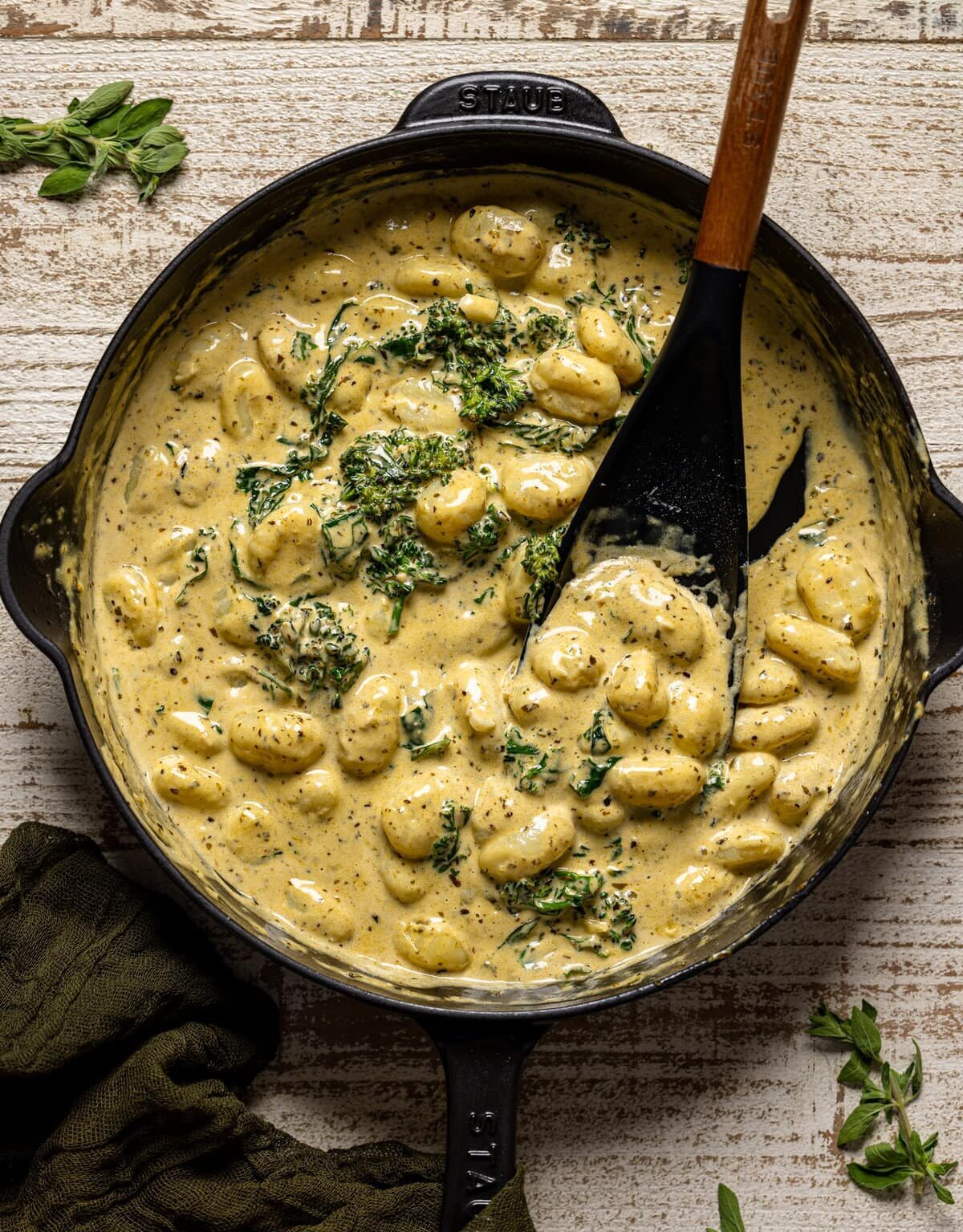 This Creamy Lemon Pesto Gnocchi with Broccoli is sure to keep you comforted and satisfied throughout any season and it's guaranteed to be a hit. This creamy dish boasts of its major flavor factor and comes loaded with tender, soft potato gnocchi, a hint of garlic flavor, and major lemon-y + pesto vibes. Try my Homemade Pesto Sauce for extra flavor. Vegan + Gluten-Free options.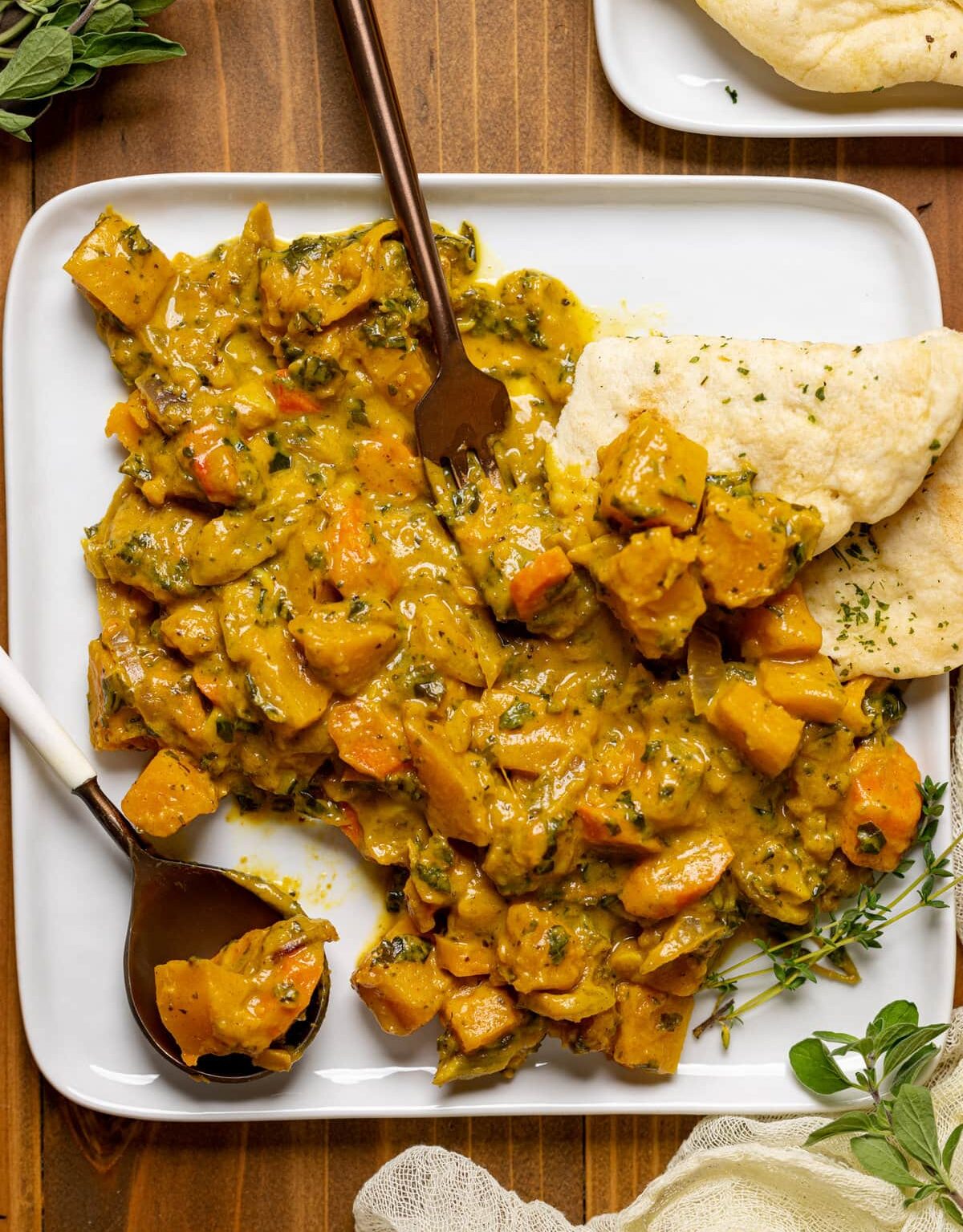 This Vegan Pumpkin Curry Butternut Squash is the perfect easy weeknight meal that brings on all the comfort! Ready in no time, this flavorful pumpkin-curry dish comes with delicious vegan garlic naan bread. A killer combo, indeed! Coconut milk-free option.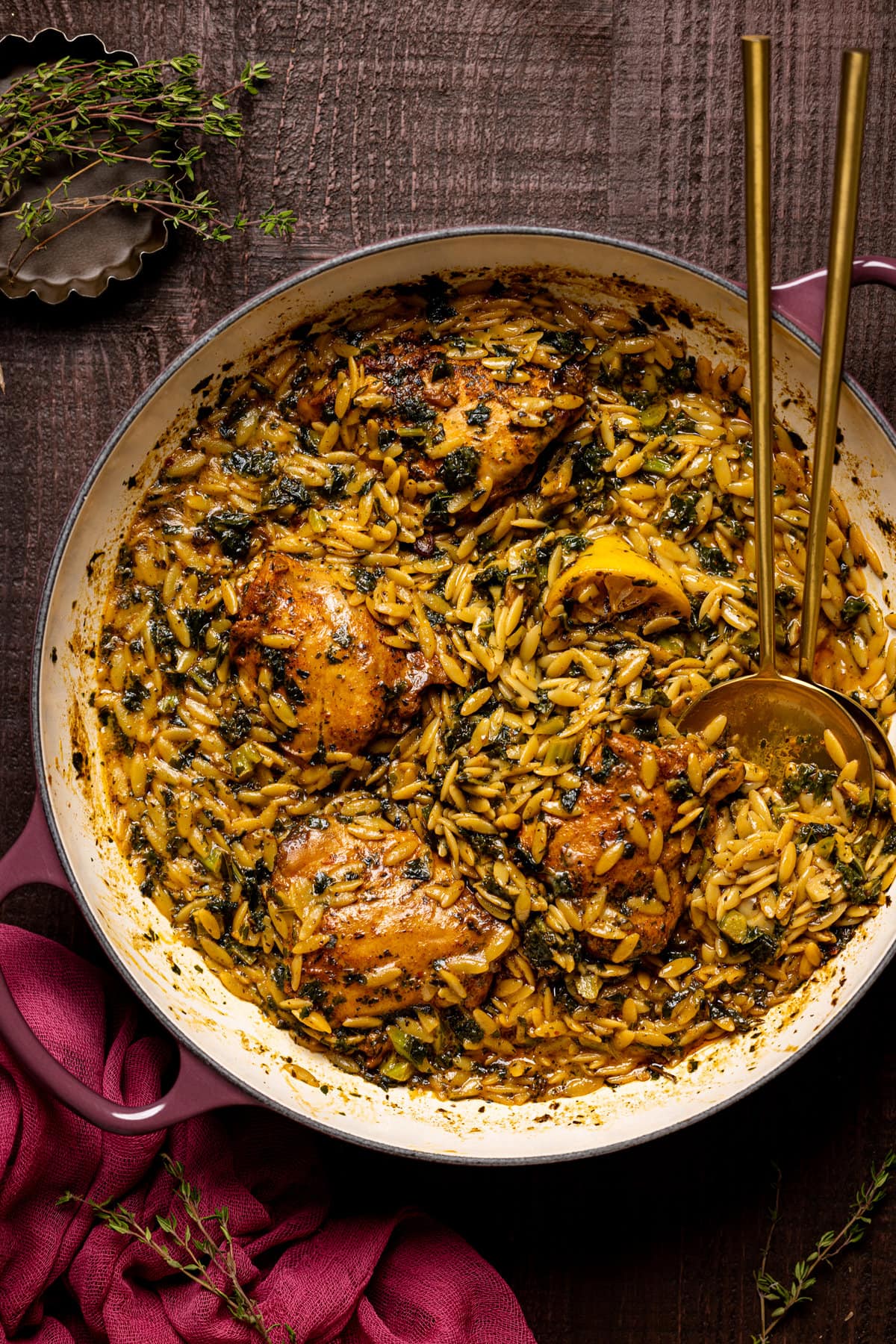 Indulge in the flavors of this One Skillet Creamy Cajun Chicken Orzo---a guaranteed family staple! Using homemade cajun seasoning this decadent chicken dish comes together in a flash, making it perfect for a weeknight meal. Plus, you only need one skillet! Dairy-free option.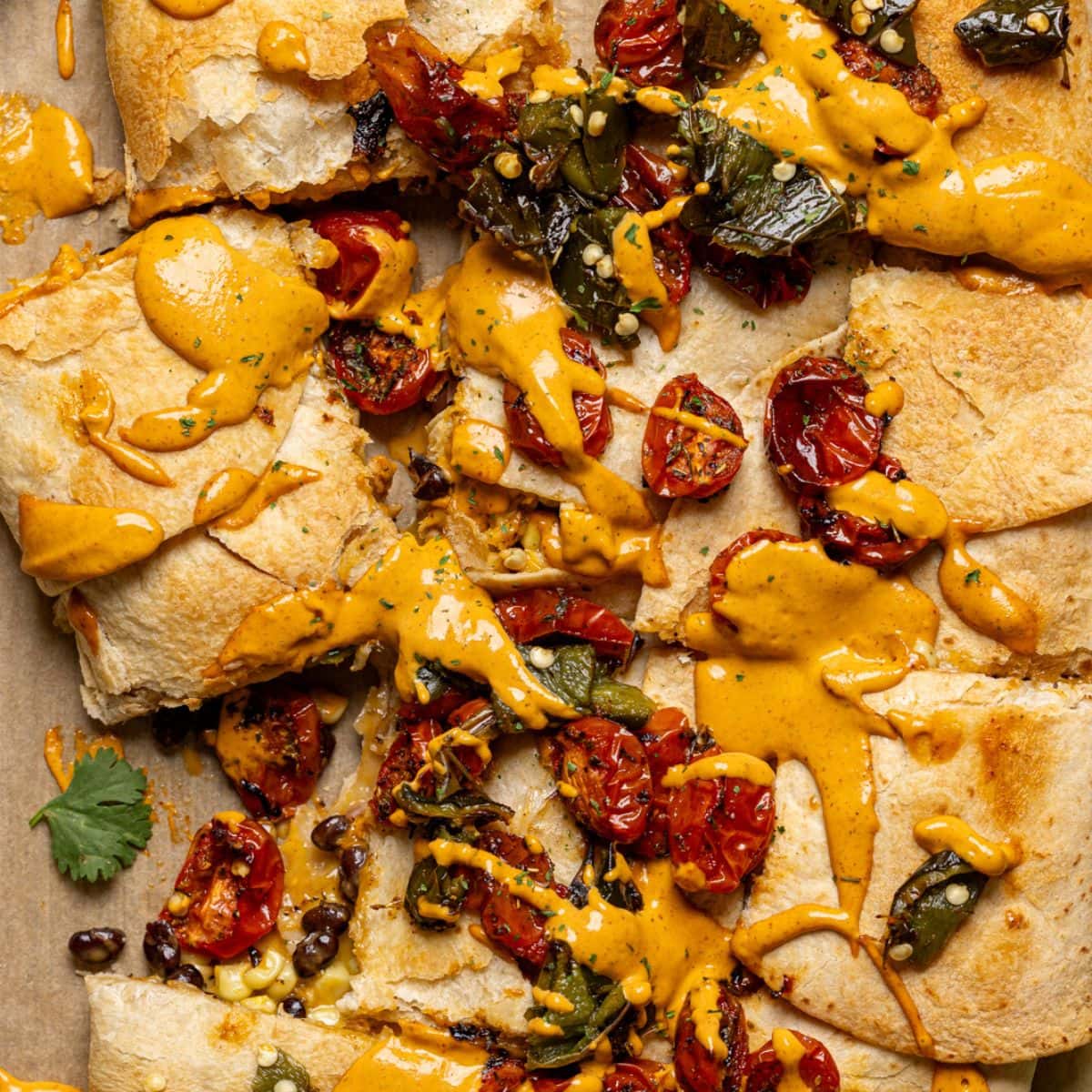 Spruce up your next family meal with this giant Chipotle Chicken Sheet Pan Quesadilla! It's the most delicious way you'll ever enjoy a quesadilla! Made with a delicious homemade dairy-free chipotle sauce/dressing, cooked chicken shredded to perfection, seasoned sautéed black beans + veggies, layer of nacho cheese sauce. Perfect for taco Tuesday or any evening rather---for the entire family. All dairy-free. Meatless + Gluten-free options.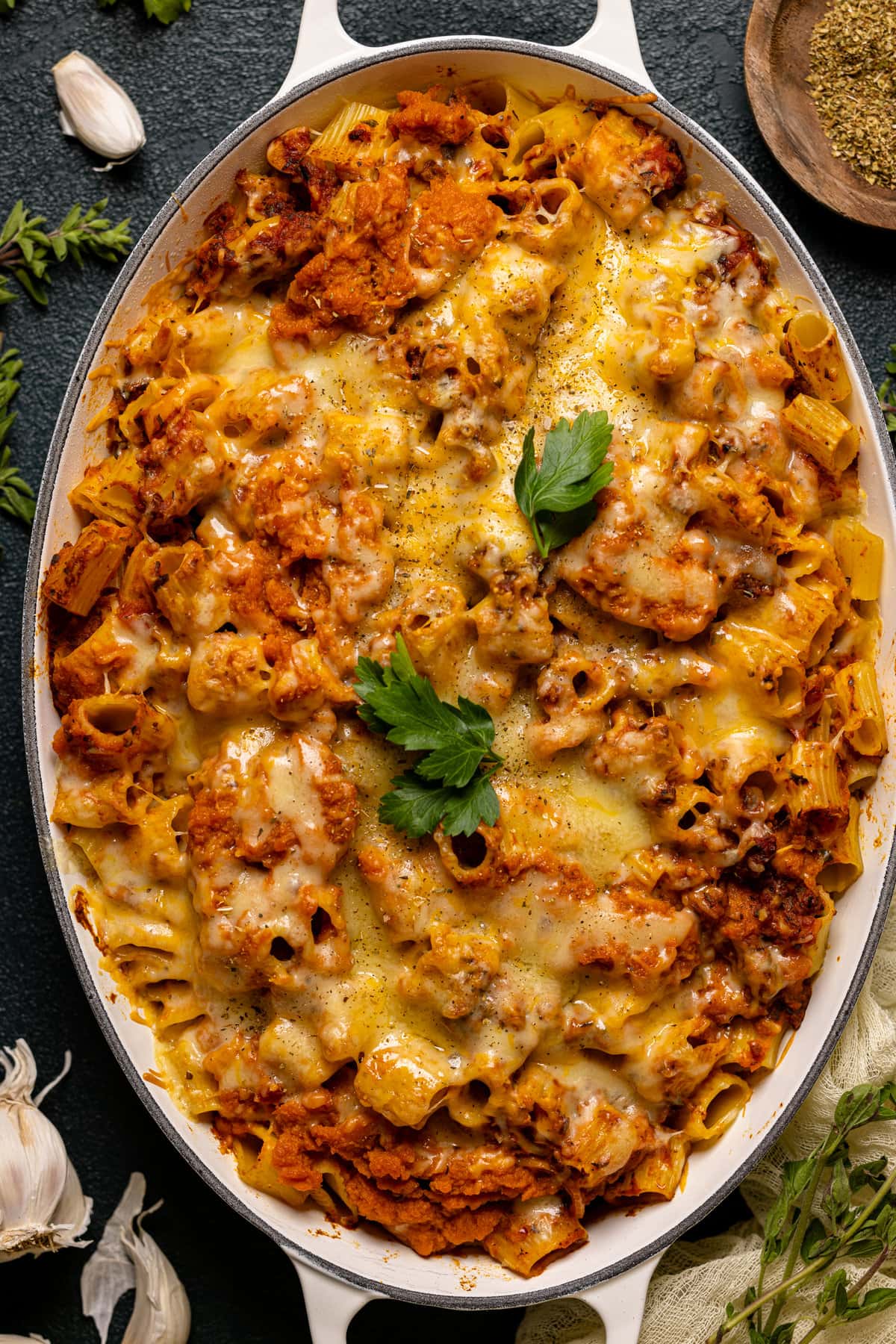 This Spicy Pumpkin Pasta Bake is loaded with pumpkin puree, plant-based meat crumbles, and gooey melted mozzarella or sharp cheddar. The best comfort food to indulge in all Fall season long. It's a fast family-friendly pasta dinner for any weeknight. Gluten-Free option.
This Spicy Butter Chickpeas recipe is the perfect easy fall dinner that brings on all the comfort and flavor like the traditional butter chicken! Ready in no time, this rich and savory butter-curry dish comes with a creamy curry infused with spices, a mix of chickpea + Northern beans for a hearty bite. A killer combo, indeed! Dairy-free, Vegan, + Coconut milk-free options.
This ultra-creamy Apple Cheddar Sweet Potato Soup is made with savory roasted sweet potatoes, apples, fresh herbs + spices, vegetable stock, and heavy cream for a fully velvety eating experience-----a true easy fall dinner soup season favorite for the entire family. Vegan + Gluten-free options.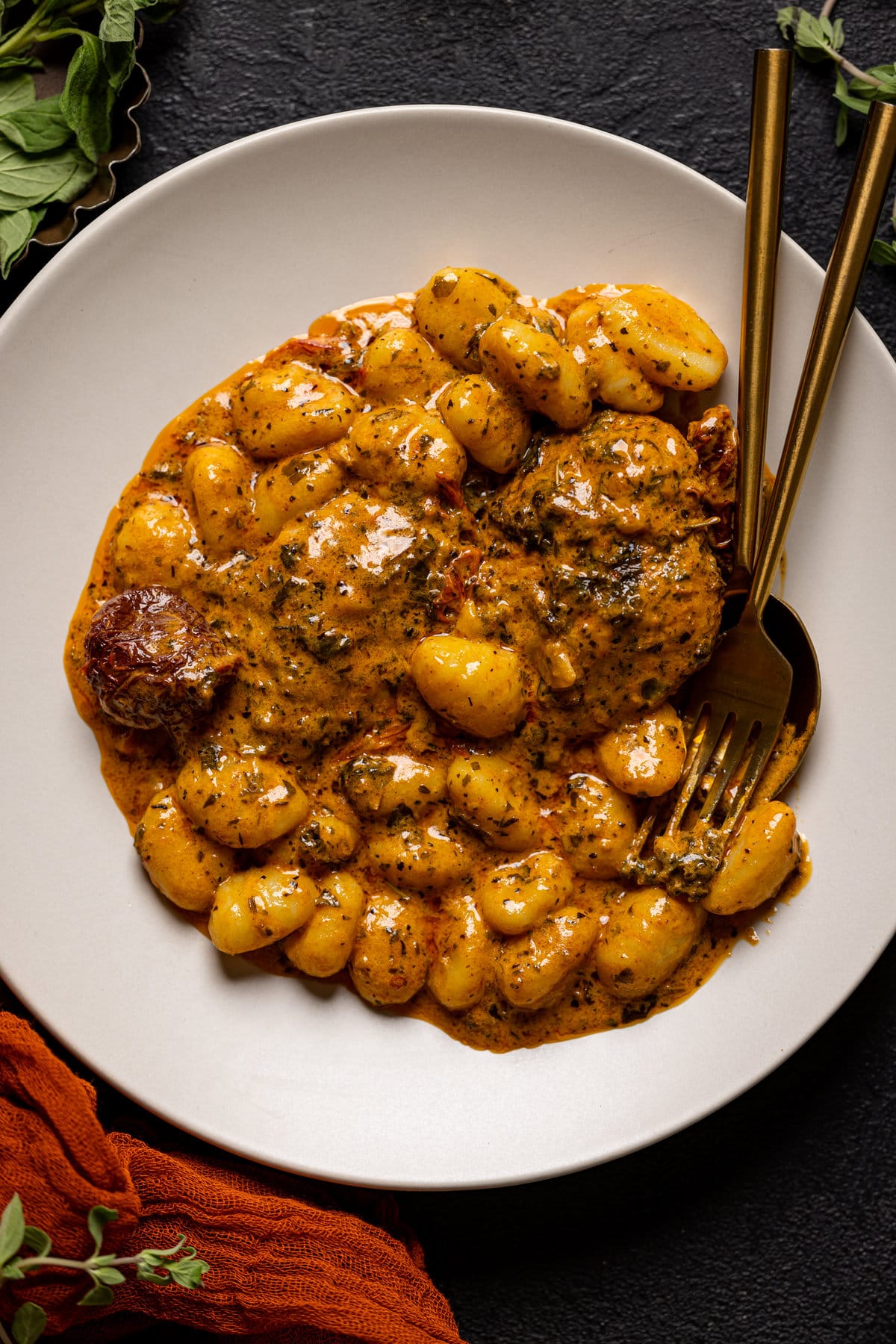 Relish in the flavors of major Tuscan flavors with my Creamy Tuscan 'Marry Me' Chicken recipe! This decadent chicken dish comes together in a flash, making it perfect for an easy fall dinner weeknight meal. Even the kids will love this creamy chicken! Dairy-free + Vegan options.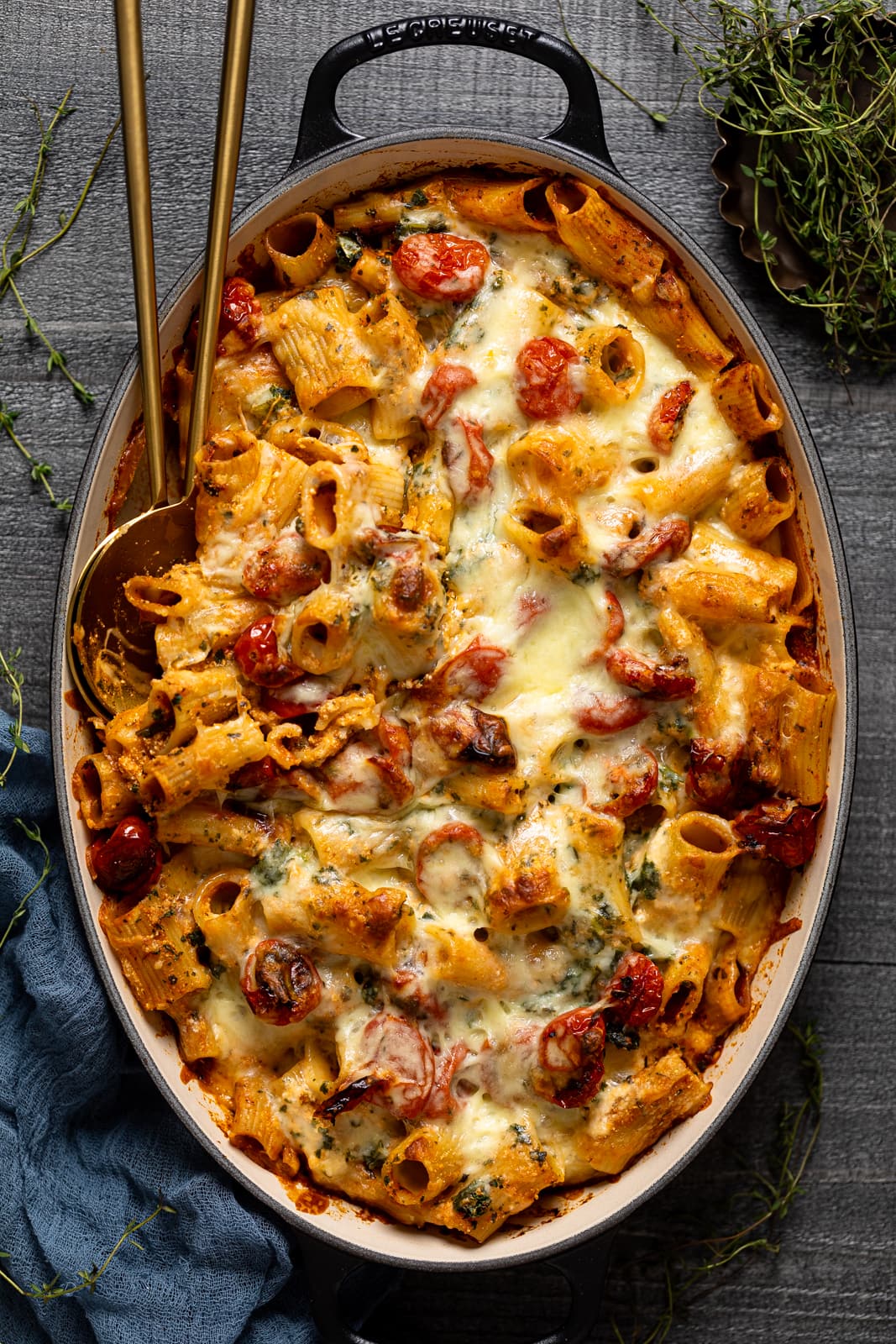 This Meatless Baked Ziti with Ricotta and Mozzarella is packed with bold, savory flavors, This vegetarian pasta bake is a classic recipe that's perfect for the whole family. With creamy ricotta, roasted herb tomatoes, chunks of kale, and a well-seasoned tomato sauce, all topped with melty Mozzarella cheese. It's a simple yet satisfying easy fall dinner that everyone will love! Make ahead + Gluten-Free option.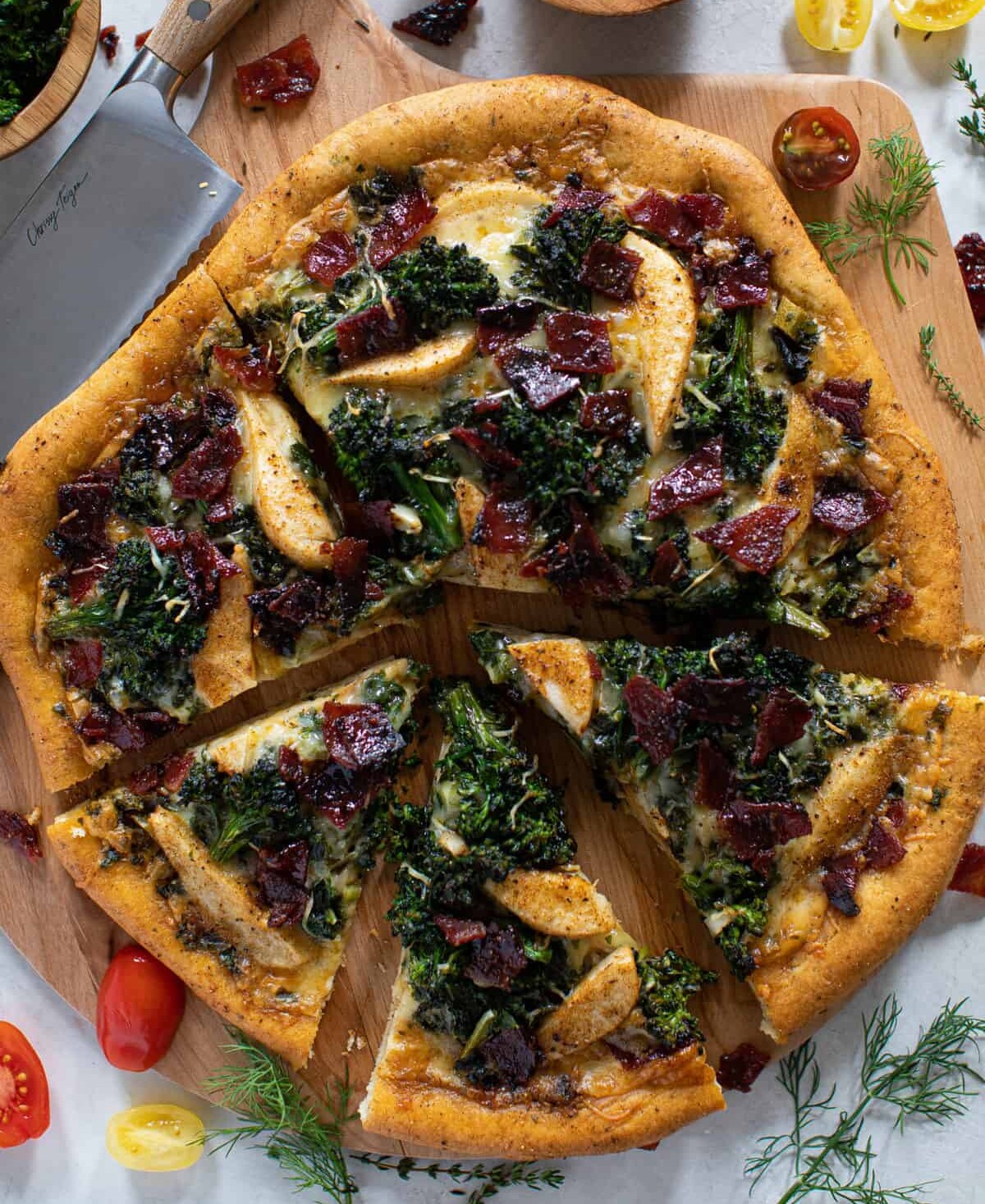 This easy Fall Harvest Pizza with Apples, Candied Bacon, Broccolini, + Kale is absolutely the most perfect family-friendly easy fall dinner recipe! Making pizza at home is a great way to bond with loved ones bringing everyone together to enjoy the doughy, crispy goodness that is pizza.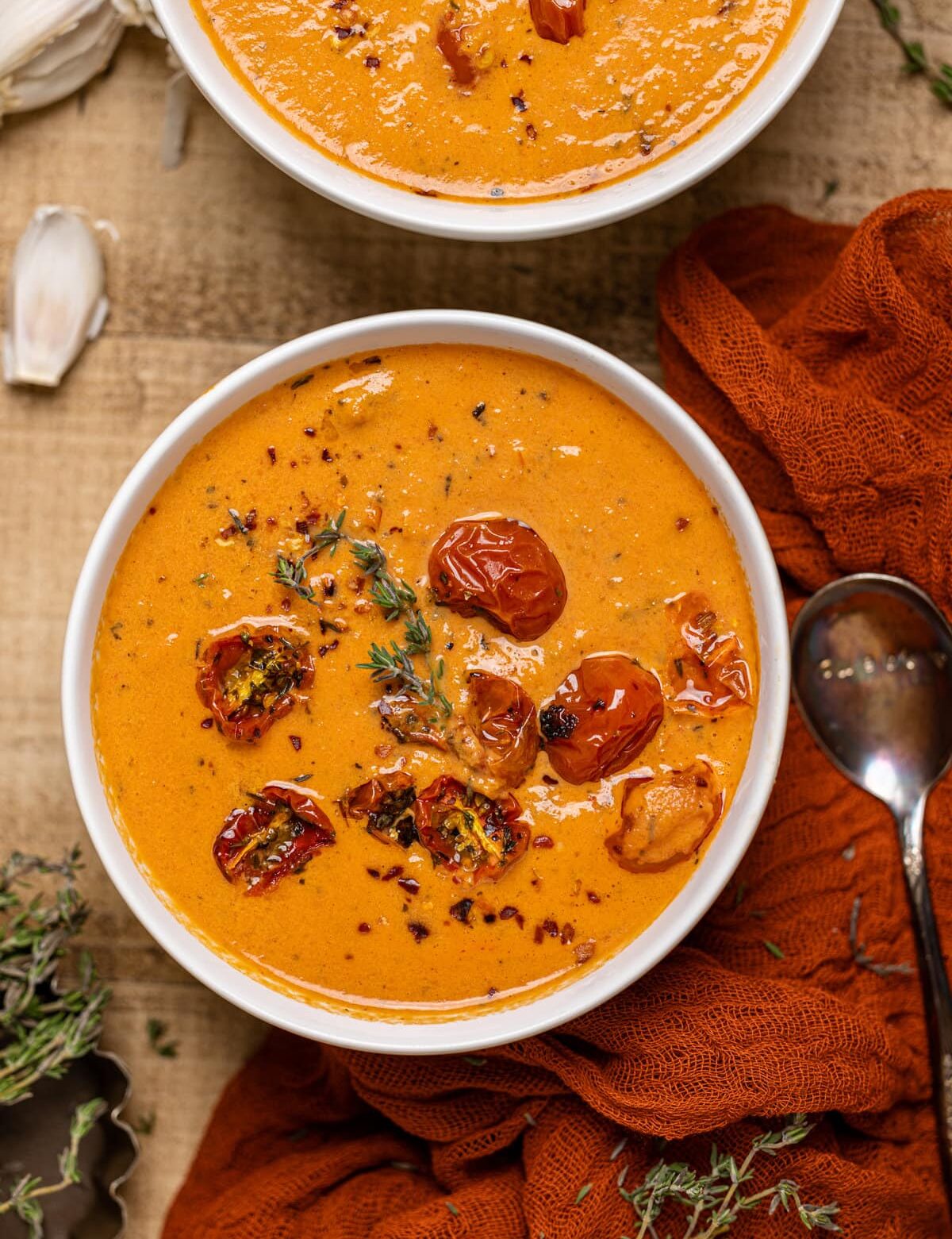 This Creamy Roasted Garlic Tomato Soup recipe is a great rendition of a classic soup that is often enjoyed during the cooler months. Made from herb-roasted tomatoes, roasted garlic, vegetable stock, heavy cream, and an array of herbs + seasonings, this soup is one that the whole family will love. Serve with a side of grilled cheese or enjoy it alone. Whip together in less than 1 hour. Vegan option.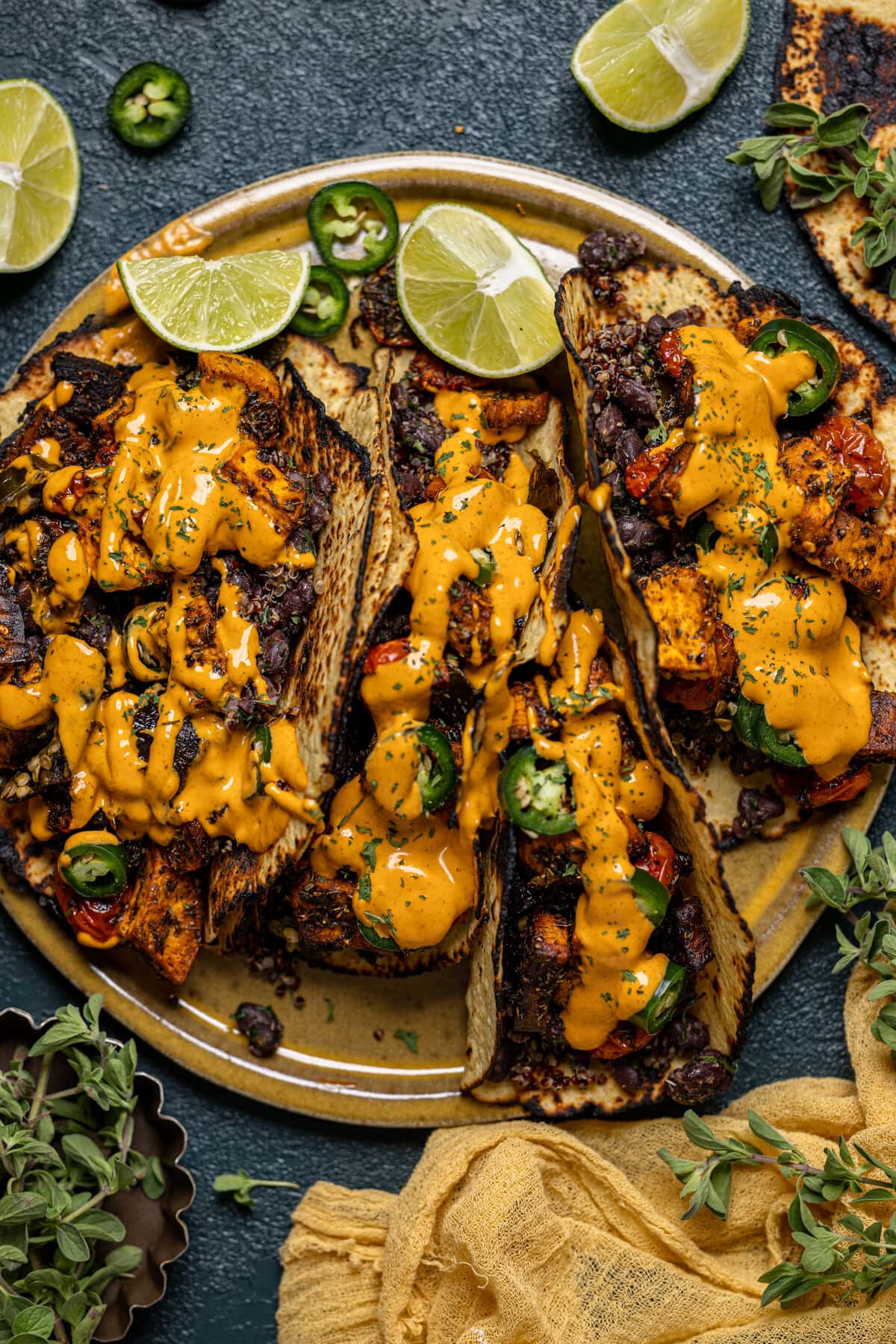 These are the best fully loaded Chipotle Sweet Potato Quinoa Tacos made with a delicious homemade chipotle sauce/dressing, roasted sweet potatoes, poblano peppers, tomatoes, black beans, cooked quinoa, and jalapeños. Perfect for taco Tuesday or any night. All plant-based and dairy-free. Gluten-free option.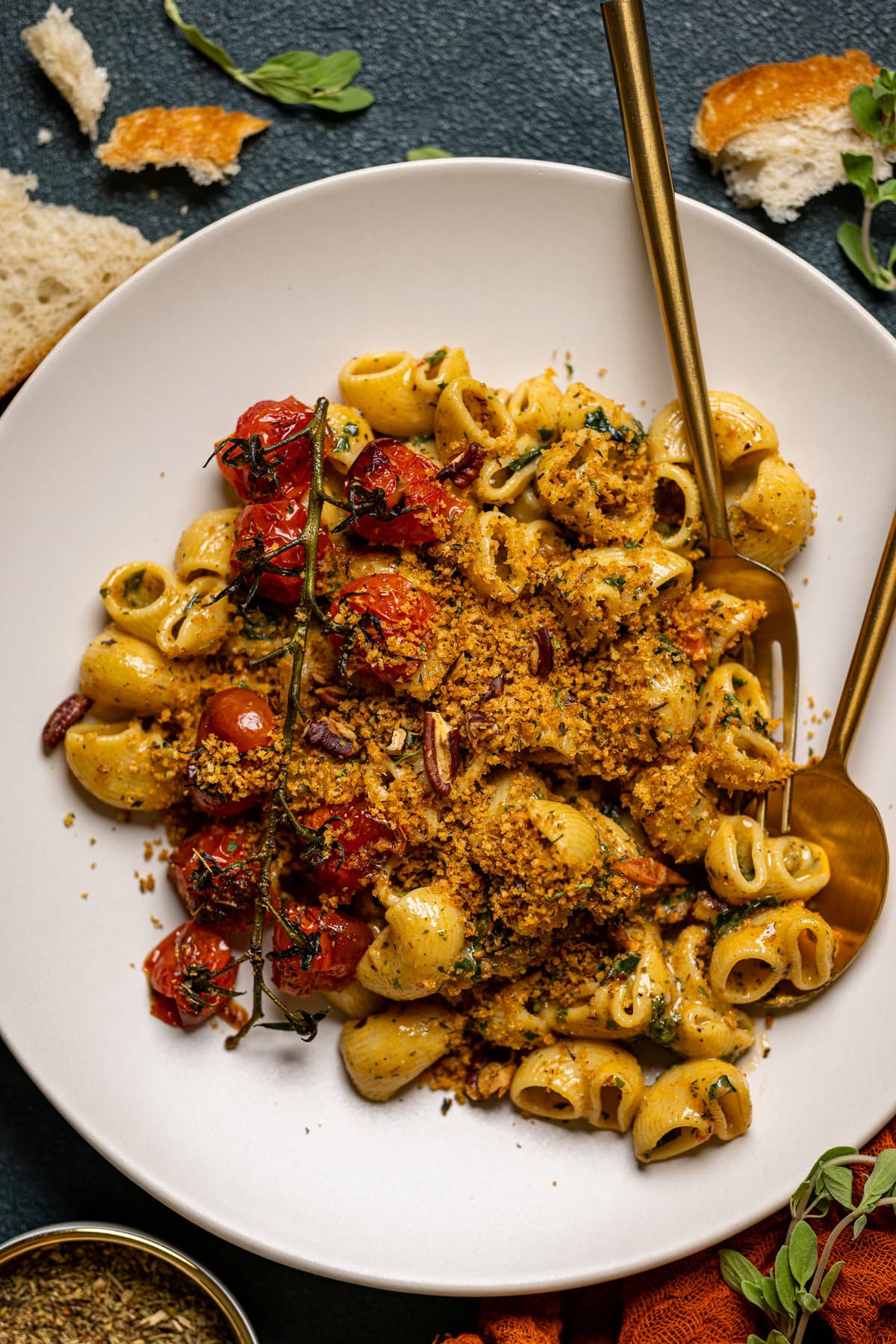 This Vegan Southern-style Cajun Pasta is topped with buttery pecan breadcrumbs and a creamy dairy-free + vegan cajun-infused parmesan sauce. And easy fall dinner that is a family-friendly meal for any night of the week. Gluten-free + Nut-free options.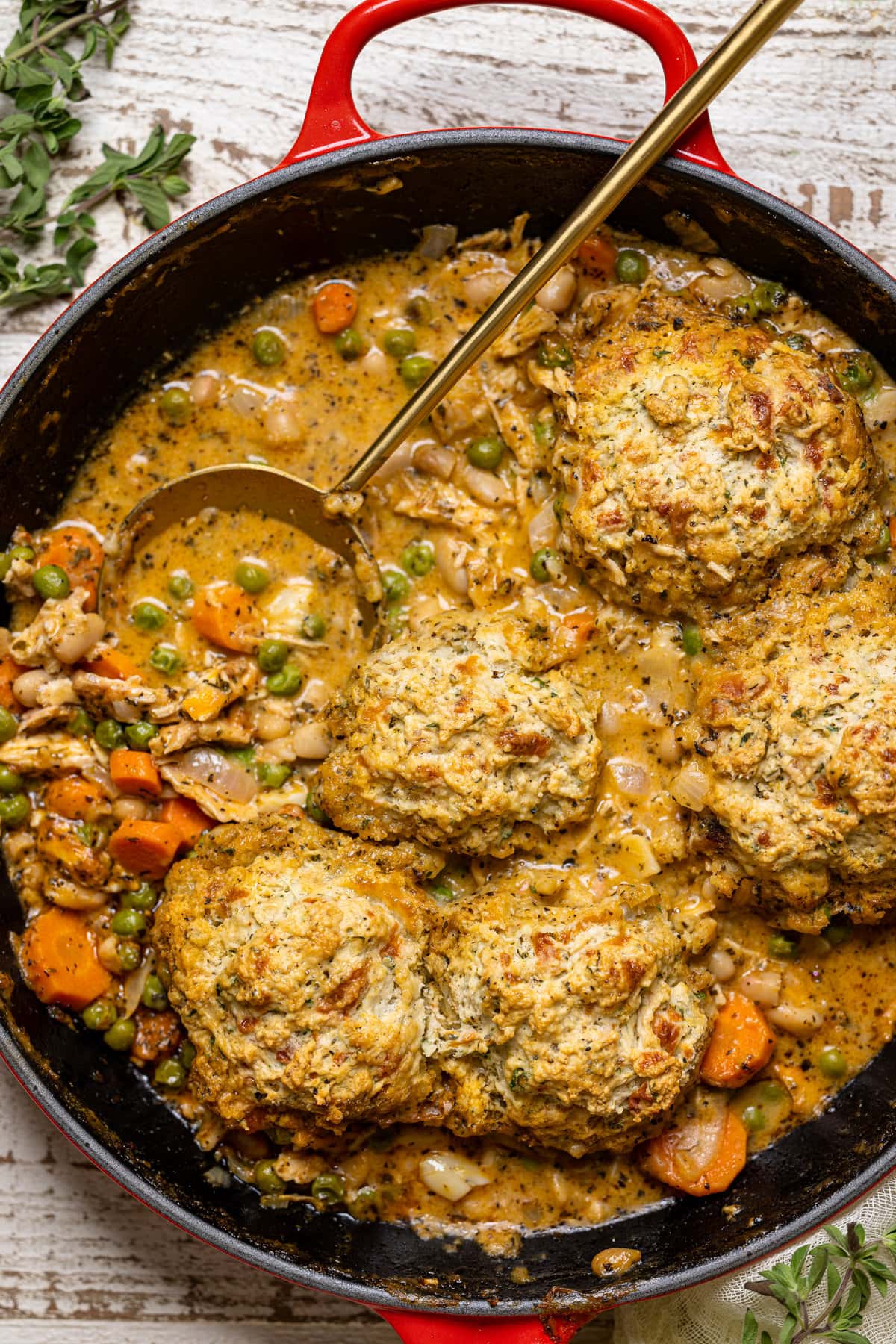 Discover the ultimate comfort food with this Easy Chicken Pot Pie with Cheddar Herb Biscuits recipe. Experience the timeless childhood favorite of a classic chicken pot pie with a twist! The real magic lies in the flaky cheddar herb biscuits on top, offering a perfect blend of flakiness and cheesy goodness. It's bound to become a new favorite weeknight dinner in your household. Vegan + Gluten-Free options.
Best Fall Dessert Recipe Inspiration
Alright, my fellow dessert enthusiasts, it's time to embark on a sweet journey through my top reader-favorite fall dessert recipes. These goodies are like a warm hug for your taste buds, and they're guaranteed to make your autumn a little sweeter. So, grab a fork (or a spoon, or just your fingers – no judgment here), and let's indulge in some irresistible fall dessert inspiration!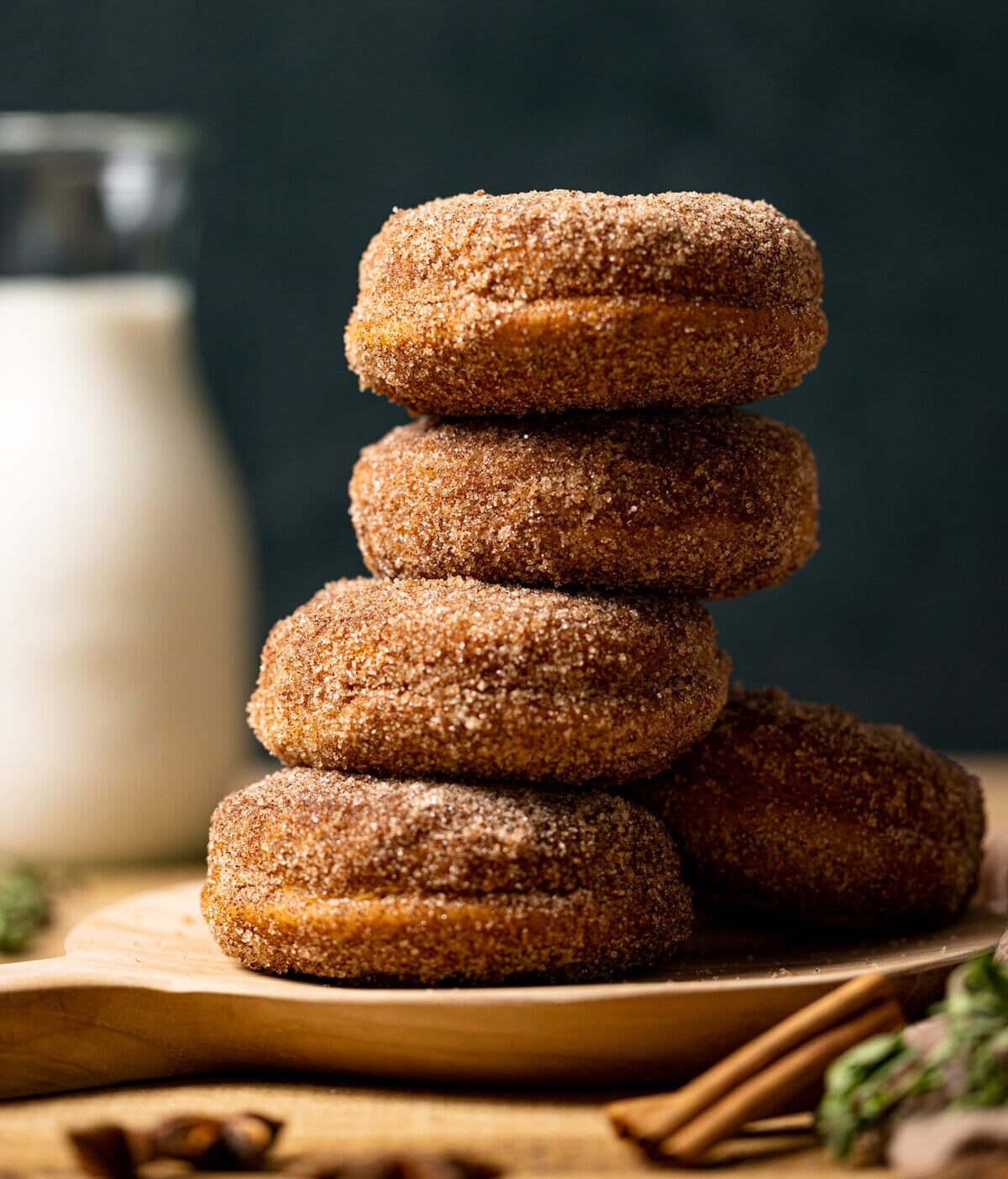 These Baked Vegan Apple Cider Donuts are the ultimate Fall-baking sweet treat that everyone loves! They are super fluffy, soft, and moist, and are a delicious addition that comes loaded with apple pie flavor married together with warm Fall spices and baked to perfection. Gluten-Free option.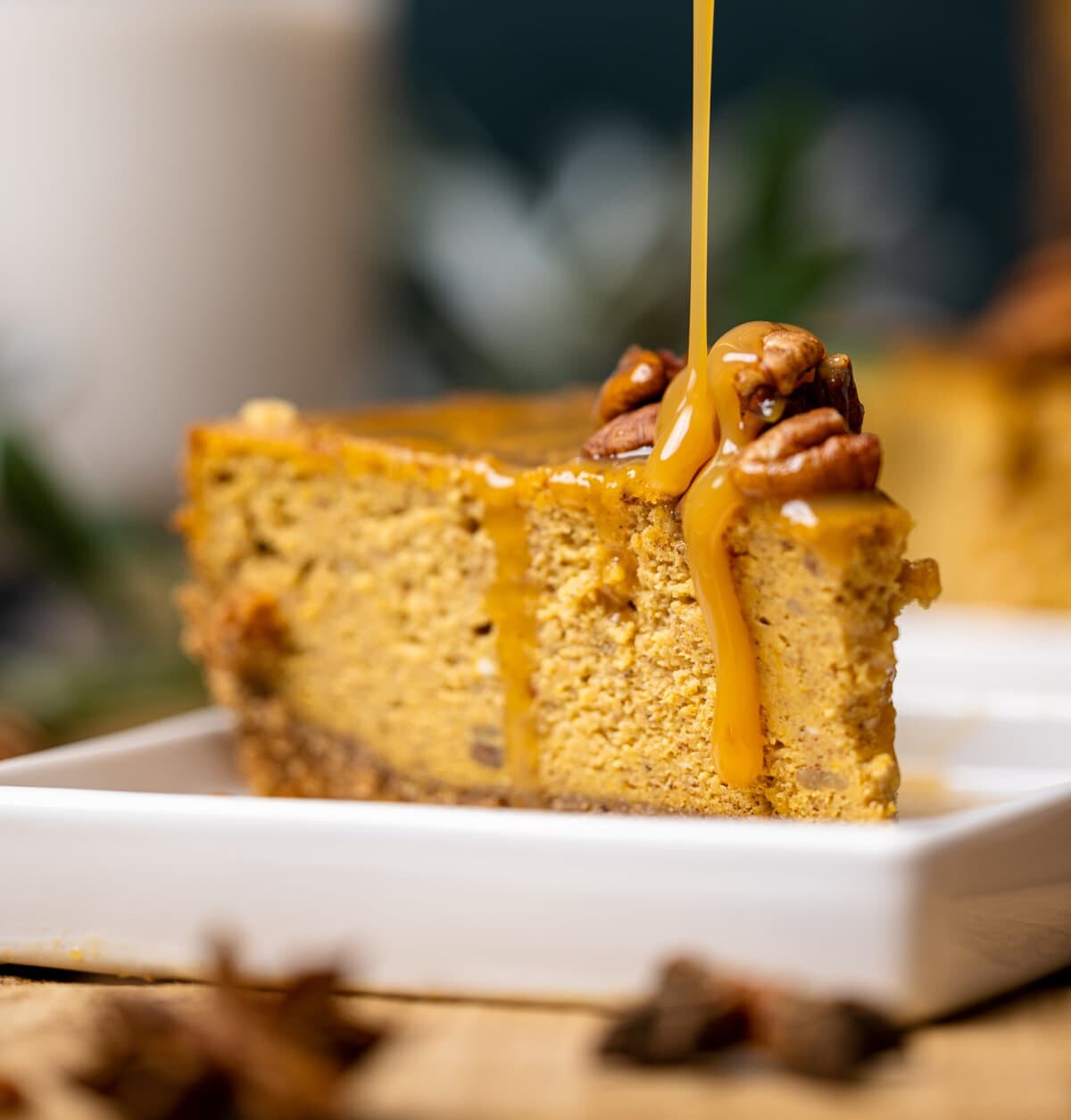 This Caramel Pumpkin Cheesecake + Pecan Crust is the ultimate dessert that comes inspired by The Cheesecake Factory's original Pumpkin Cheesecake. A buttery pecan-graham cracker crust, creamy pumpkin + warm spices cheesecake filling, and a drool-worthy homemade caramel sauce makes the perfect combination of textures and flavors. A true family staple!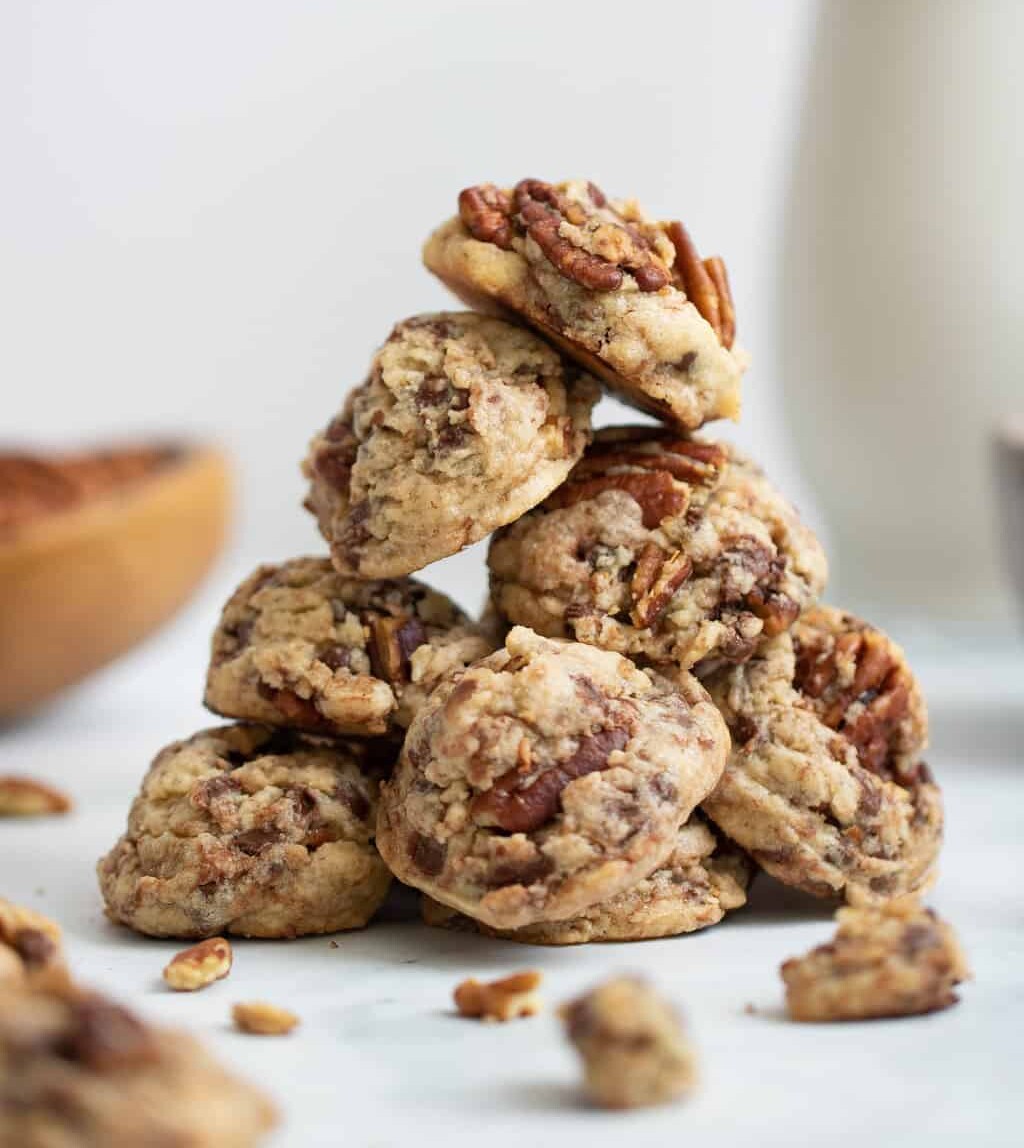 Indulge in nostalgia with Grandma's Chocolate Chip Pecan Cookies recipe—a timeless treat that combines the comforting flavors of melted gooey chocolate and toasted nutty pecans in every delightful soft + chewy bite. Gluten-free option.
Salted Caramel Apple Crisp —the epitome of warm, sweet, rich in warm Fall spices, and absolutely creamy and smooth. Based with tender cooked apples, well coated in a homemade salted caramel and creamy sauce and Fall spices; this crisp comes topped with a crunchy sugar-oat topping and is a guaranteed staple in your house this season. Gluten-free option available.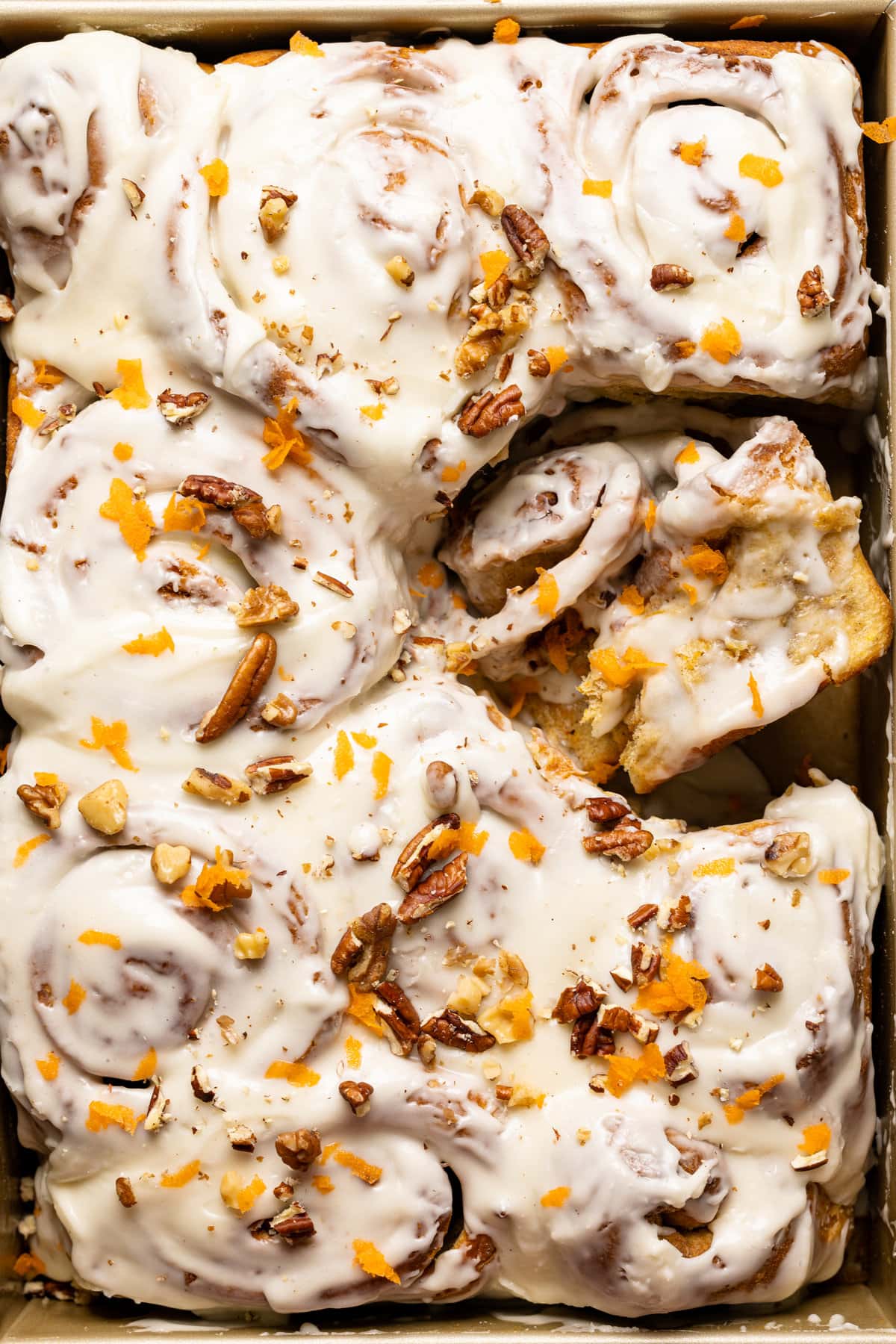 These Southern-Style Carrot Cake Cinnamon Rolls are the perfect addition to your baking list. Fluffy cloud-like cinnamon rolls meet the classic deliciously Southern spiced carrot cake, a match made in oven-heaven. Overnight, Vegan, + Gluten-free options available.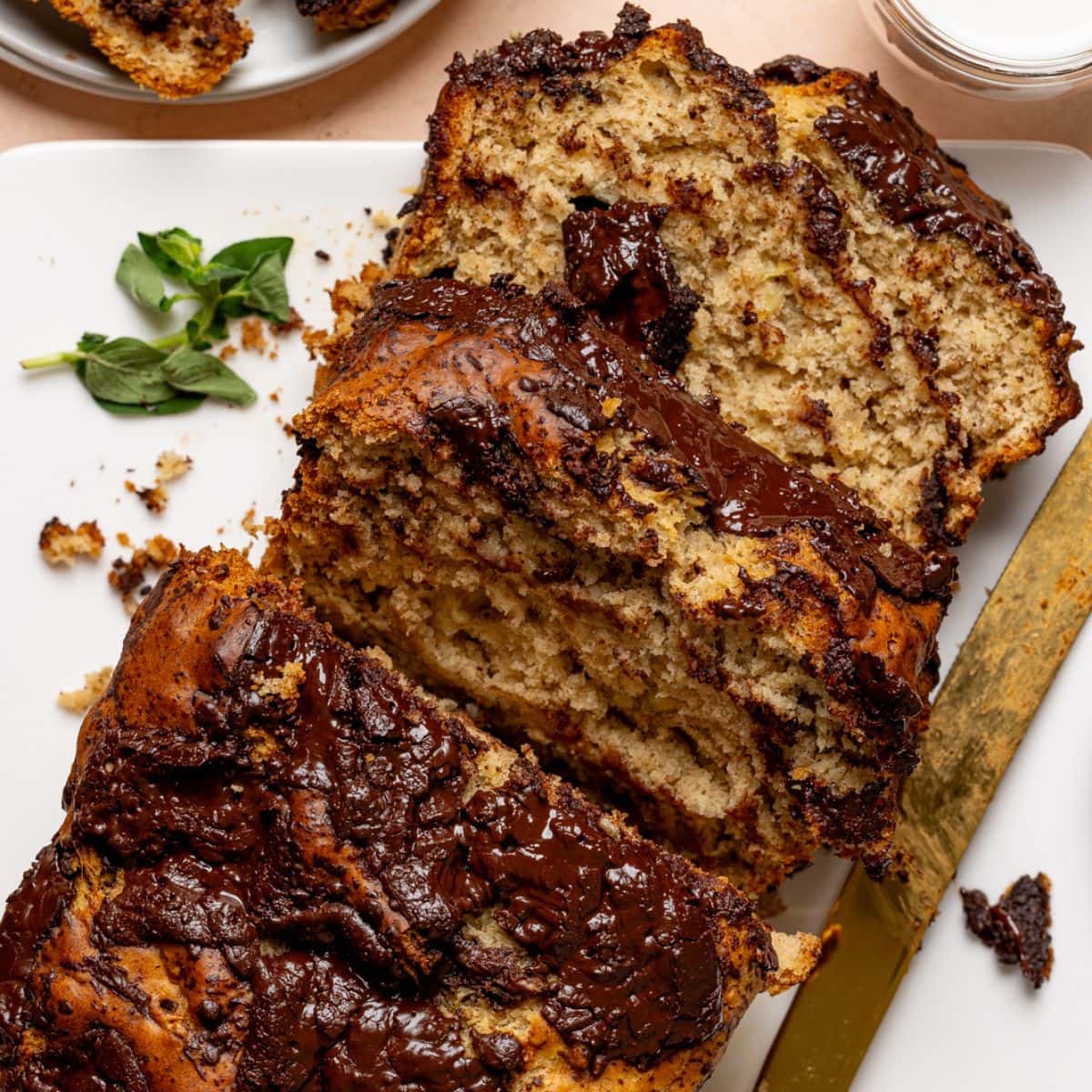 Get ready to savor the goodness of this moist and tender Maple Chocolate Chip Banana Bread—a delightful blend of rich flavors with gooey pieces of chocolate melting throughout. Enjoy it for breakfast, as a snack, or as a comforting dessert—this chocolate banana bread is sure to become a beloved treat in your home. Gluten-free option.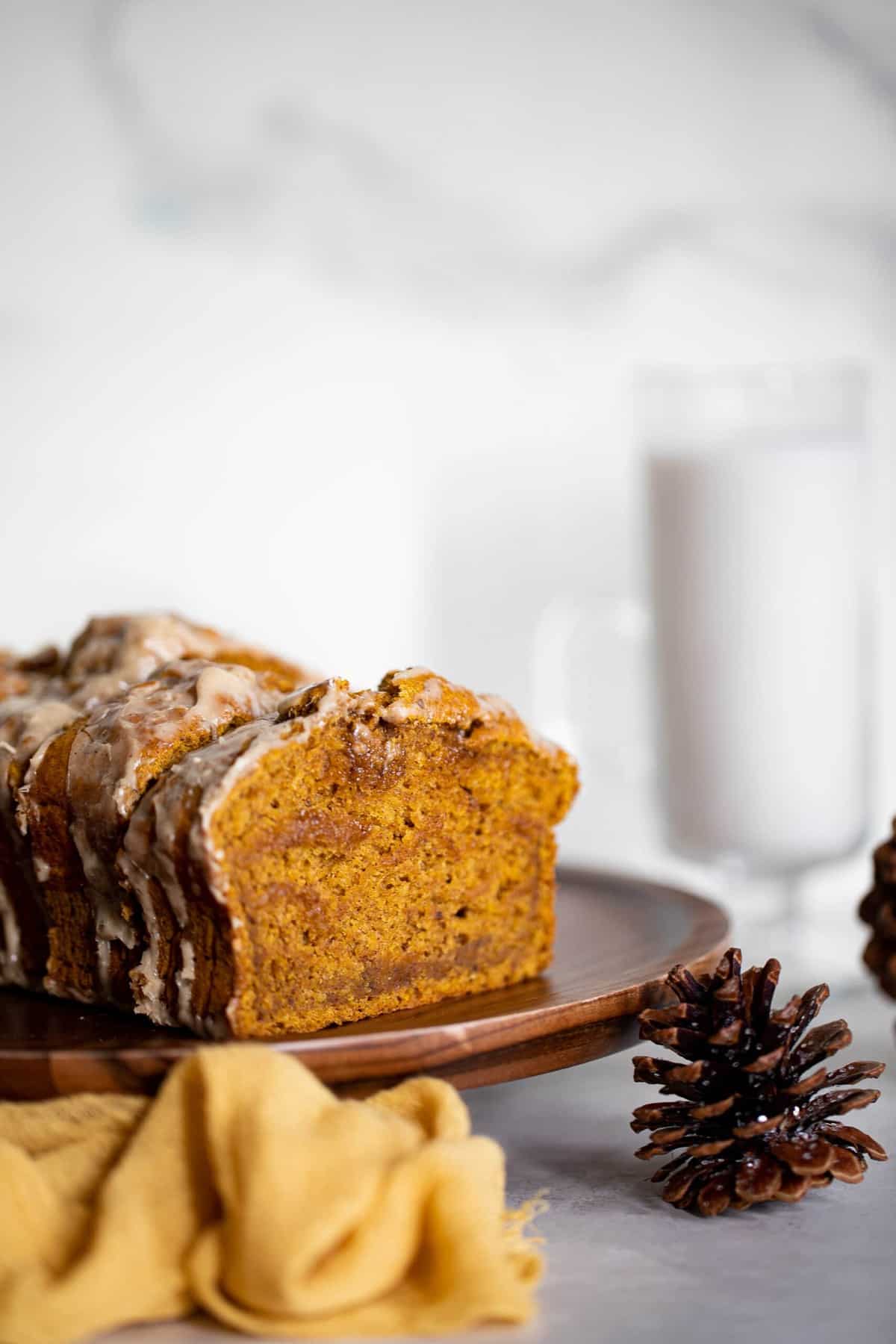 The Best Vegan Pumpkin Bread + Maple Chai Frosting is super moist, fluffy, loaded with warm Fall spices (pumpkin spice + chai), and 100% delicious! It takes less than 10 minutes to whip together and makes for a great vegan and dairy-free healthy alternative for a little sweetness during the Fall dessert season. Completely plant-based + entirely kid-friendly. Gluten-free option.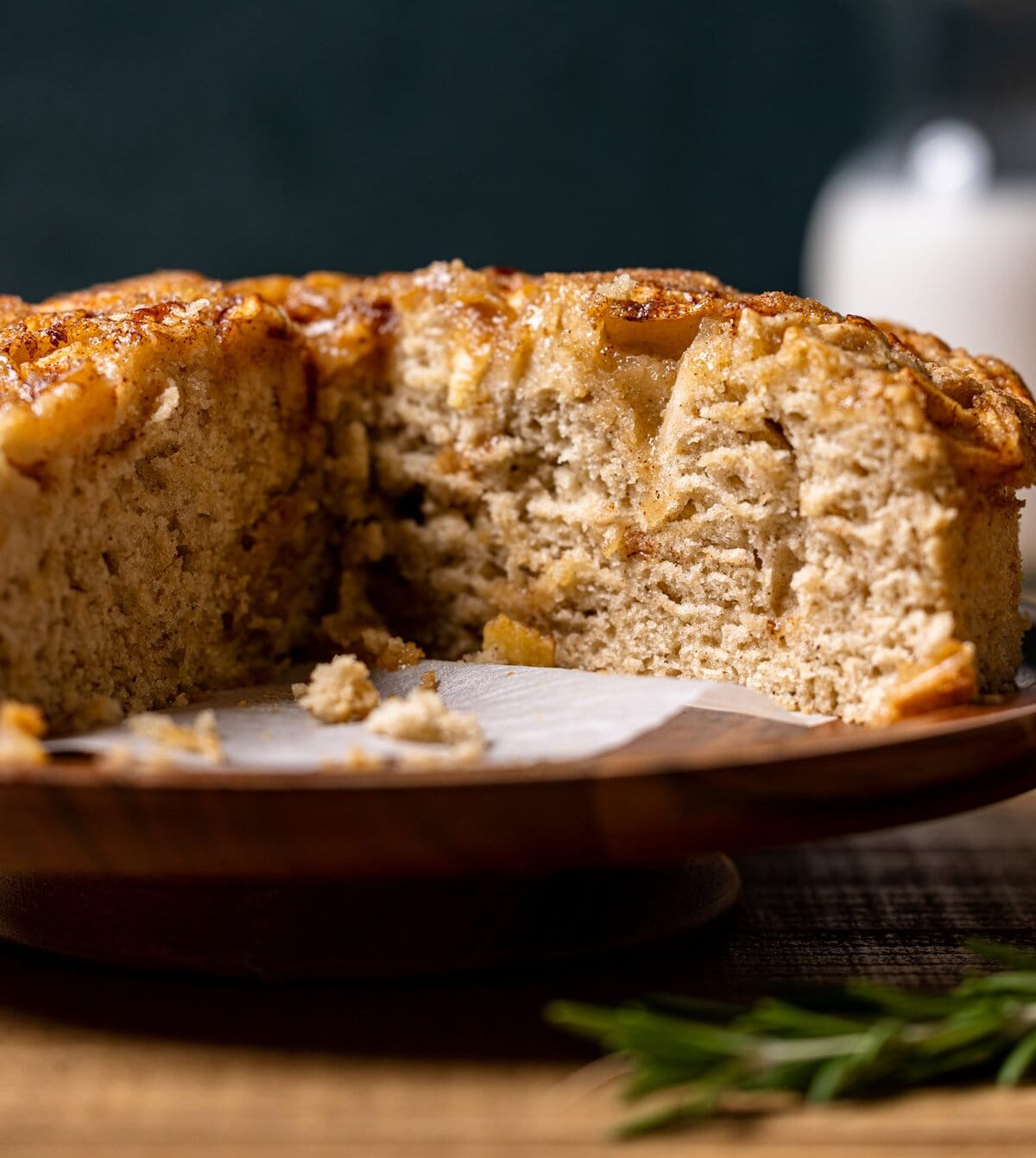 This moist and soft Apple Cinnamon Olive Oil Cake is the best + easy sweet treat for breakfast, brunch, or dessert or an afternoon pick-me-up with elevated flavors of the Fall season. Made with a fluffy, dense base and covered with a perfectly sweet + crunchy topping, this cake is sure to be a new family-favorite. All dairy-free and vegan ingredients. Gluten-free option.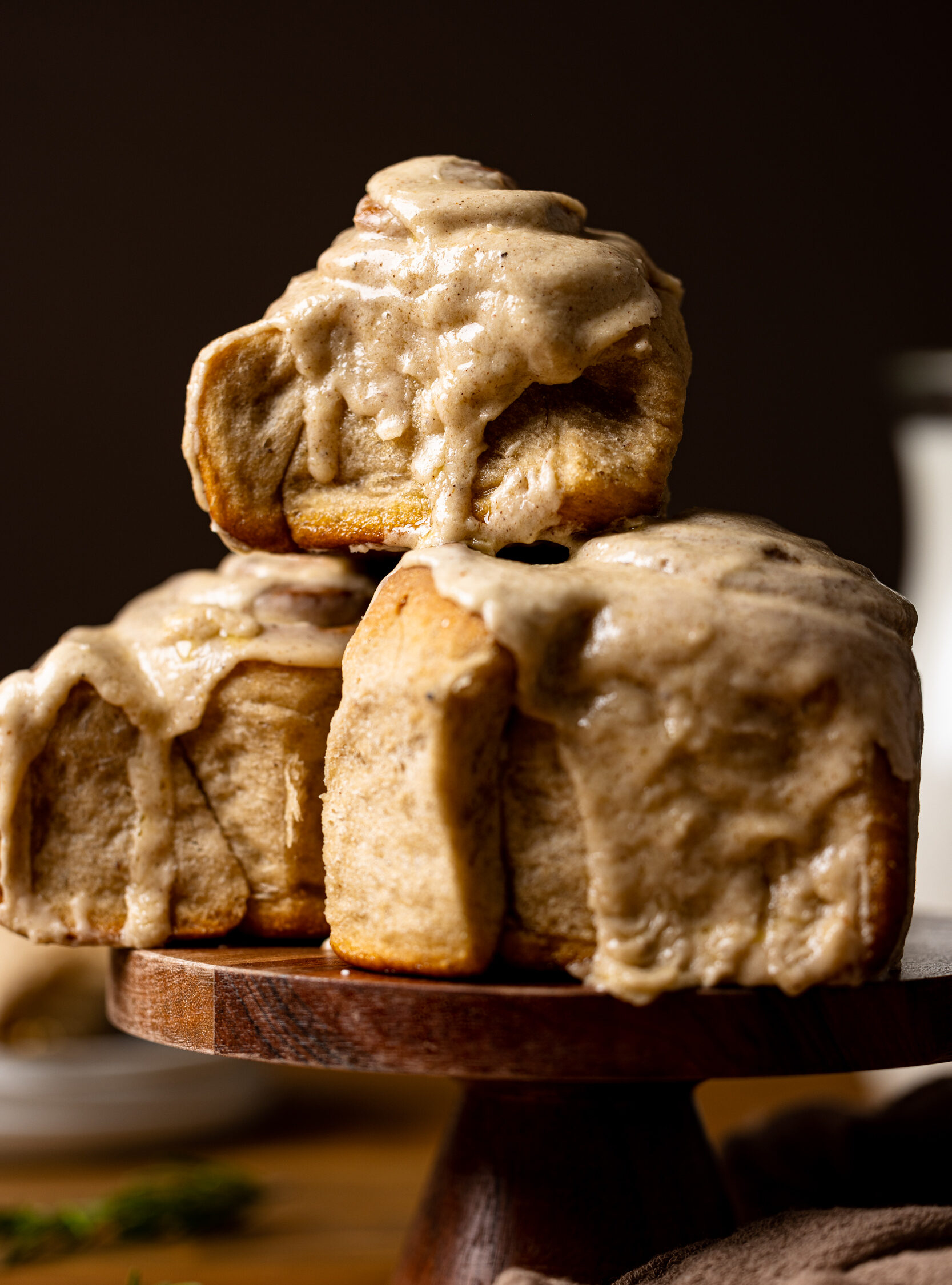 These Vegan Chai Latte Cinnamon Rolls are something right on point for the Fall dessert season. They are absolutely fluffy, soft, thick, perfectly sweet, and surely does just melt in your mouth with every bite. Not being your typical Cinnamon Roll, this recipe is infused and topped with a mouth-watering chai latte glaze that will leave you 'Cinnamon Roll obsessed'. 100% homemade and filled with pure goodness! Overnight + Gluten-Free options.
This velvety and delicious Southern Maple Sweet Potato Casserole is staple as far as fall desserts go. Based with soft, chunky peeks of roasted sweet potatoes, maple syrup, brown sugar, raisins, spices, and marshmallows and topped with a crunchy maple-pecan topping; this casserole is a sure fall dessert crowd-pleaser. Vegan + Make Ahead options.
Best Fall Recipes Cooking Tips
Embrace Seasonal Produce:
Take advantage of fall's bounty by incorporating seasonal ingredients like apples, pumpkins, squash, sweet potatoes, and hearty greens into your dishes. These ingredients are not only delicious but also budget-friendly during their peak season.
Experiment with Spices:
Fall is synonymous with warming spices like cinnamon, nutmeg, cloves, and ginger. Don't be afraid to use these spices to add depth and warmth to your dishes, whether it's in soups, pies, or roasted vegetables!
Slow Cooker and Instant Pot:
These kitchen appliances are your best friends in the fall. They allow you to create delicious, fuss-free meals like braised meats, hearty soups, and stews with minimal effort. Check out my favorite cooking essentials HERE!
Best Fall Recipes Roundup!
Well, y'all, that's a wrap for my fall recipe roundup! With so many tasty options to explore, I hope you'll find something new to try or rediscover an old favorite. May your kitchen be filled with the warm, cozy aromas that only fall recipes can bring. Cheers to delicious eats and happy times in the kitchen!
New Mouthwatering Fall Recipes To Try Next!
MADE OUR RECIPE(S)?
If you tried any of the 30 Best Warm + Cozy Fall Recipes from this list or any other recipe on my website, please please leave a 🌟 star rating and let me know how you go in the 📝 comments below or tag me on Instagram @Orchidsnsweettea_. I love hearing from you.