Indulge in the magic of Grandma's Chocolate Chip Pecan Cookies recipe– The epitome of perfection! With a delightful softness that melts in your mouth, they'll transport you back to the cherished flavors of your grandma's famous cookies, blending nostalgia and pure yumminess. These cookies are a family favorite, featuring the satisfying crunch of nutty pecans and the irresistible gooeyness of melty chocolate. These dairy-free cookies make for a great sweet treat for the whole family, a guaranteed adult + child pleaser! Gluten-free option.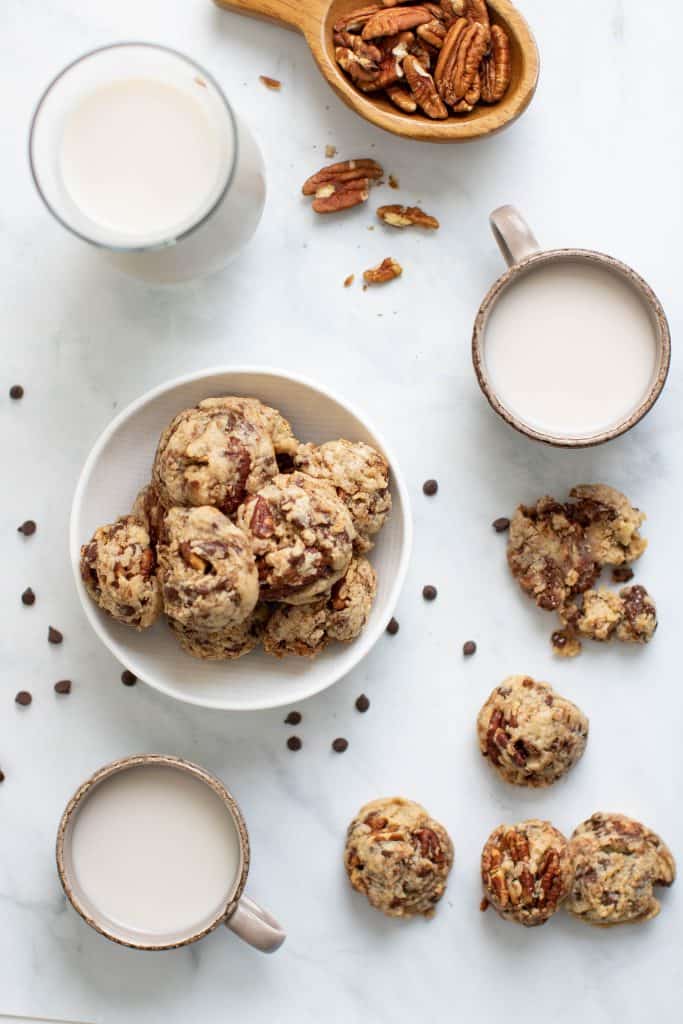 What Makes Grandma's Cookies So Good?
Can anything truly beat the joy of a freshly baked batch of Grandma's Chocolate Chip Pecan Cookies? I doubt it. And guess what? These delights are straight from Grandma's treasured recipe collection – The same buttery, crispy cookies that used to warm my heart as a child. The twist? I've recreated them to be completely dairy-free, so now everyone can enjoy that same comforting goodness.
It's probably no surprise, but I have a real soft spot for cookie recipes, and let's be honest, who can resist the classic charm of chocolate chip cookies? Especially with a cozy pecan twist on the classic. Hence why I have so many other pecan cookie recipes like Chewy Brown Butter Pecan Cookies, Jumbo Chocolate Stuffed Butter Pecan Cookies and Espresso Rye Pecan Chocolate Chip Cookies. There is just something about that nutty crunch that takes them to a whole new level. Trust me, these recipes are absolute game-changers for cookie lovers!
Grandma's cookie recipe is your go-to for any occasion --it has just the right amount of sweetness, chunkiness, softness and includes a ton of pecan + chocolate flavor, and is altogether easy to make—using simple ingredients. It's a win, win situation—believe me! A flavor that's beyond mouthwatering – even better than Grandma's. They're like a baking secret for beginners, fool-proof and incredibly delicious.
Jump to: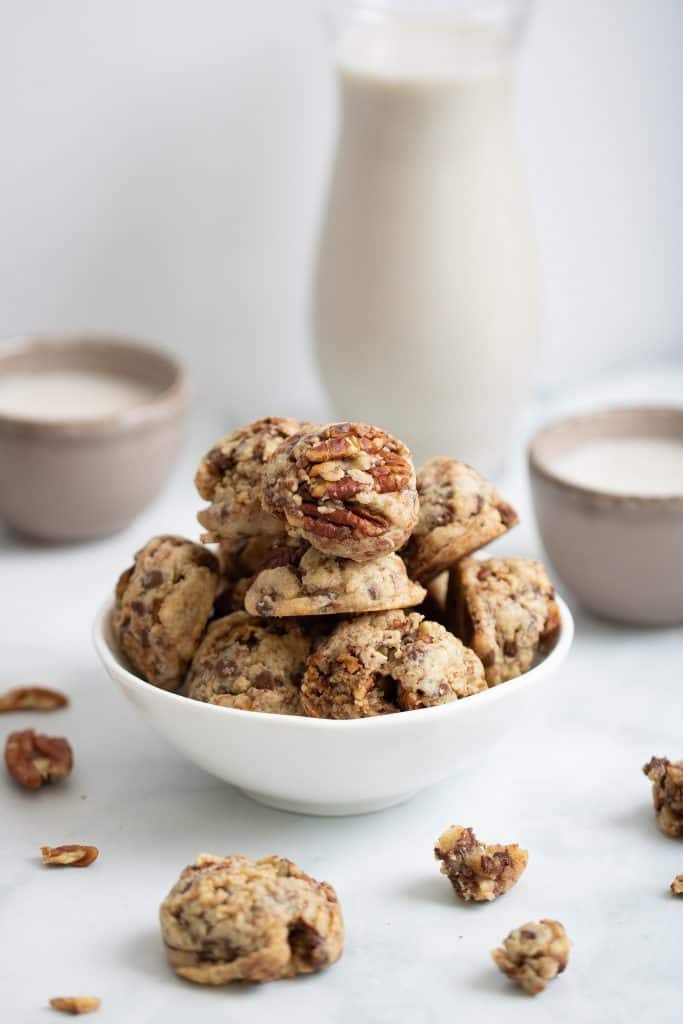 How to Make Grandma's Chocolate Chip Pecan Cookies
Grandma's Cookies take just 20 minutes to whip up (minus chill time). You'll need a few important ingredients to achieve the thick, chewy texture perfectly, chill them for at least 1 hour for the best structure/texture, then bake them to perfection!
Ingredients
Organic all-purpose flour: Natural, chemical-free, and enhances the overall flavor.
Baking soda: Leavening agent creates a soft, chewy texture.
Arrowroot starch: Adding this can really help lighten up the texture of these cookies.
Sea salt: Balances sweetness and adds depth to cookies.
Vegan butter: Richness, smooth texture, lets flavors shine for your dairy-free cookies!
Organic pure cane sugar: Natural sweetener with wholesome taste.
Organic brown sugar: Adds moisture and a gentle caramel undertone.
Organic vegetable shortening: Adds more moisture.
Organic egg: Binder contributes to tenderness.
Vanilla extract: Warm, aromatic flavor that complements butterscotch.
Vegan chocolate chips or chopped chocolate: Decadent, sweet burst of flavor.
Toasted chopped pecans: A delightful nutty flavor and crunch!
How To Toast Pecans
Toasting pecans is super easy and it works for any type of nuts! Preheat the oven to 400 degrees Fahrenheit and line a baking sheet with parchment paper. Place the chopped pecans unto the baking sheet, ensuring that they are evenly spread out and toast them for 10 minutes, tossing them halfway to prevent browning on just one side. Allow the toasted pecans to cool completely before using them in your recipe. They'll continue to crisp up as they cool down.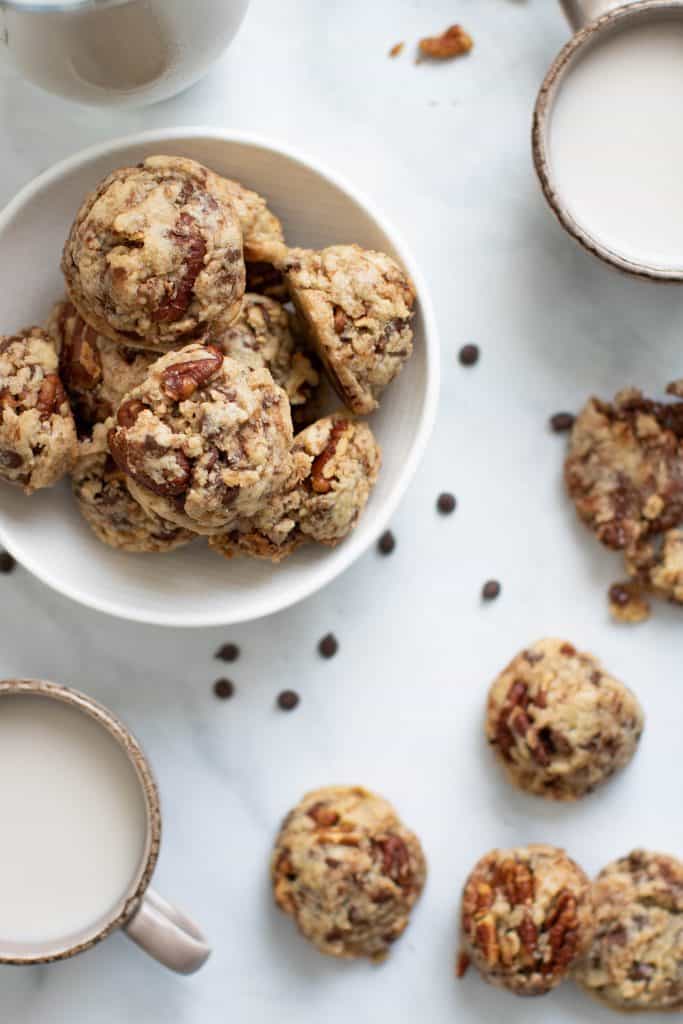 Why You Will LOVE Grandma's Cookies
Super soft + chewy inside.
Crisp & crunchy outside.
Minimal ingredients
The ABSOLUTE most delicious dairy-free cookies!
Melts in your mouth.
Loaded with melty chocolatey flavor.
Delicious with EVERY. SINGLE. BITE.
The Secret to Making the Best Cookies
Baking thr best dairy-free cookies is kind of like a science, however, I've gathered a very tips that have helped me master them over the years -
Tip 1: Soften Your Vegan Butter.
This is a must! In the past, I never understood how important this step was, but I've now realized that it is. I like to let my butter sit out for at least 1-2 hours so that it's the softest it can get without melting. If you forget to leave your butter out, I sometimes add hot water to a glass, pour it out, and then add the butter to that heated glass for a few minutes and it works!
Tip 2: Cream the Butter.
Yet another step that I often overlooked, however, creaming your butter with a mixer until pale and fluffy, helps to make the most softest dairy-free cookies ever!
Tip 3: Always, Always Use Parchment Paper!
I can't stress this enough. Lining your baking sheet with parchment makes things seamless and avoids your cookies from browning too quickly and sticking to the pan.
Tip 4: Add in the Flour in batches.
We might think that dumping in all the dry ingredients to the wet ingredients at once might seem right, but it's not the best thing to do. I definitely recommend adding in the flour/dry ingredients in increments, mixing as you add to create a nicely combined batter without having to over-mix.
Tip 5: Fold in Chocolate Chips + Pecans.
Never use a mixer when adding in the chocolate chips + pecans to this cookie recipe. Simply fold in chips by hand a few times and you're done! Careful not to overmix!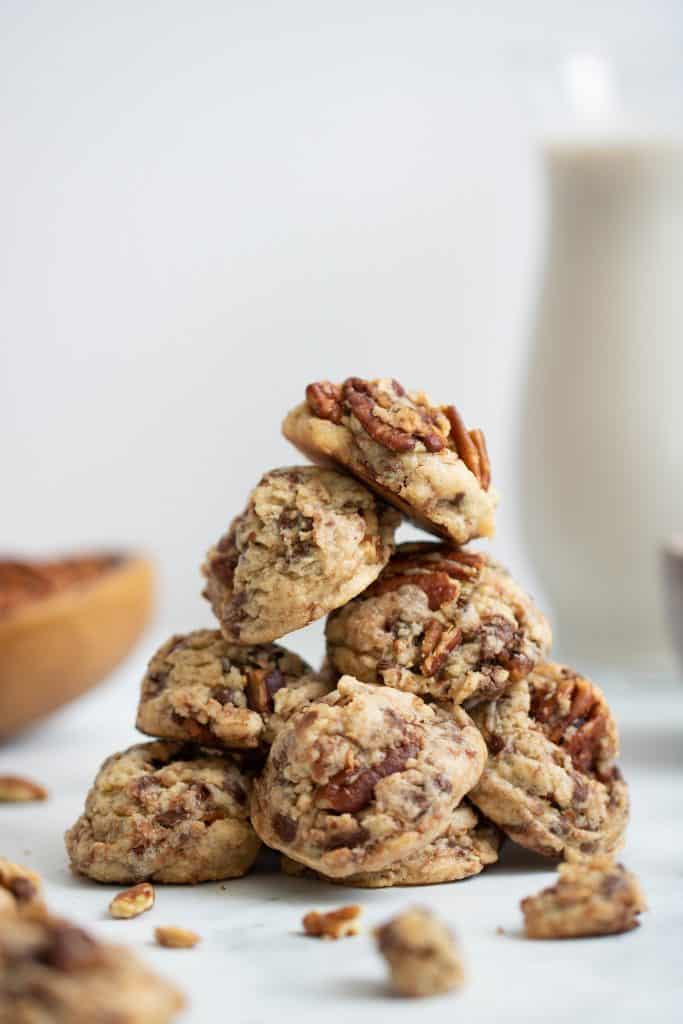 What is the Banging Process?
The trick with how beautiful these pecan cookies look is in the banging. While this process is optional (and you prefer chunky, dome-like cookies), I definitely like doing it a bit to flatten them and have them spread out a bit more.
The banging process.
During the baking process, you have to bang the baking sheet with your cookies a few times before they are fully baked.
Therefore, the "crinkling" comes as a result of the center of the cookies falling inward, pushing the rest of it outward. I know, it sounds pretty crazy, but it's so cool!
Combining this "crinkling" process with the flavor combo of butterscotch is like Heaven on Earth with each bite.
WHO CREATED THIS BANGING METHOD, EXACTLY?
I originally saw the "crinkled" cookie recipe about 2-3 years ago in the New York Times, which was originally by Sarah Keiffer, a baker and blogger of The Vanilla Bean Blog.

SHOP MY FAVORITE TOOLS FOR BAKING, ESPECIALLY FOR THESE COOKIES!
Here, I've curated a list of baking essentials that I use to achieve my favorite baked goods, especially with Grandma's Chocolate Chip Pecan Cookies . Everything from my fave large scoop, baking sheet, liners, and more. SEE THEM HERE!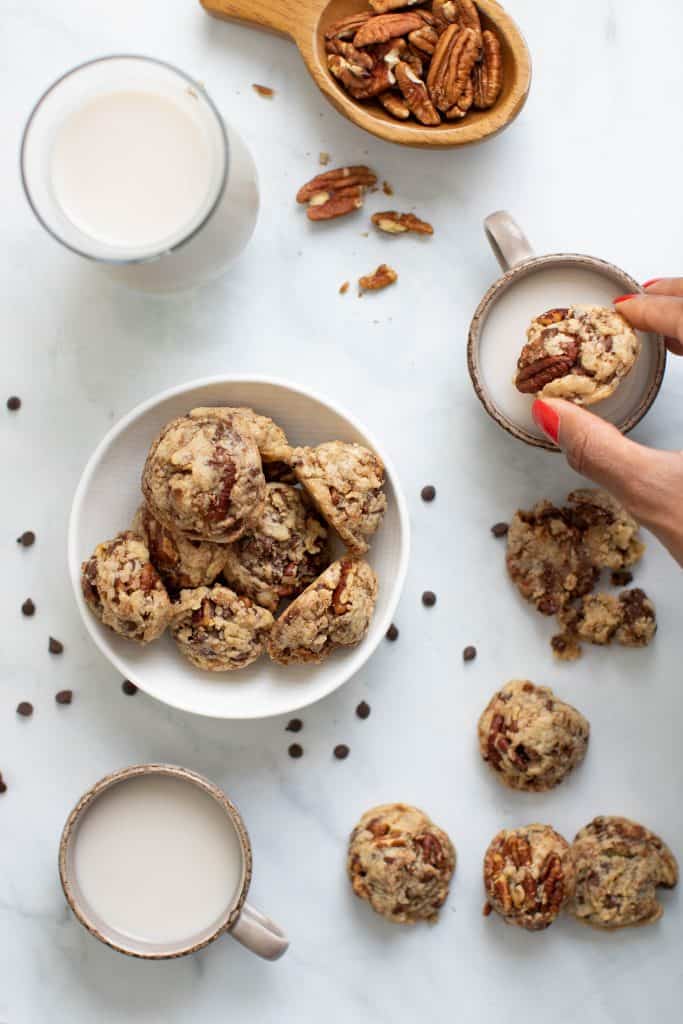 How to Serve Grandma's Chocolate Chip Pecan Cookies
I personally think fresh and warm is always the absolute best-- not to mention the delicious smell wafting through the house. They are also AMAZING with ice cream, either in a bowl or as an ice cream sandwich. Try with No-Churn Butter Pecan Ice Cream for an extra hit of pecan goodness. These are also perfect with a warm cozy drink like Creamy Homemade Caramel Hot Chocolate for the ultimate indulgence!
Why Do I Need To Chill My Cookie Dough
OK, so when it comes to making Grandma's Chocolate Chip Pecan Cookies or any cookie rather, chilling your dough or not chilling it makes a difference in the results of the actual cookie once it's baked! Here are the benefits -
Better texture
The #1 reason why you should chill your dough is to prevent your cookies from spreading too much---which results in a thinner, more crispy cookie. If you want a chewy on the outside soft on the inside cookie then chilling is key!
More Flavor
Chilled cookie dough creates more flavor (and a more beautiful color) based on it becoming more hydrated----- This happens from the dry ingredients gaining moisture from the wet ingredients.
So, if you're thinking of chilling your dough, you can do so in as little as 30 minutes and as much as 2hours (the best results).
Grandma's Chocolate Chip Pecan Cookies Recipe Q + A's
How to store leftover pecan cookies?
Once properly stored in an air-tight container, cookies last for 3-4 days at room temperature or in the refrigerator for a little longer. Reheat slightly (a few seconds) in the oven, toaster oven, or microwave when ready to serve.
Can I freeze these cookies?
Absolutely! You can also freeze your cookie dough (once formed into a ball) so that you can store them longer and bake as needed.
How many dairy-free cookies does this recipe make?
This recipe makes 2 dozen cookies, which is about 24. To make more cookies, simply double or triple the amount of ingredients!
Can I make gluten-free pecan cookies?
Absolutely! You can substitute the all-purpose flour with GF all-purpose flour or 1:1 gluten-free flour if you're avoiding gluten. I love using Bob's Red Mill 1-1
Can I Make A Bigger Batch?
Sure! To make more dairy-free cookies, simply double or triple the amount of ingredients
More Mouthwatering Cookie Recipes
MADE OUR RECIPE(S)?
If you choose to make these Grandma's Chocolate Chip Pecan Cookies or any other recipe from us, be sure to tag us on Instagram at #Orchidsandsweettea so that we can share the love!
COOKIES:
2

cups

organic all-purpose flour

(See Notes!)

2

tsps

arrowroot starch

1

teaspoon

baking soda

½

teaspoon

sea salt

Pinch of

ground cinnamon

¾

cup

organic brown sugar

(See Notes!)

¼

cup

organic cane sugar

(See Notes!)

½

cup

vegan butter, softened at room temperature

¼

cup

organic vegetable shortening

1

large

egg, at room temperature

2

tsps

vanilla extract

1

cup

mini vegan chocolate chips or chopped chocolate

½

cup

chopped pecans, toasted
TOAST THE PECANS:
To toast pecans is super easy and it works for any type of nuts! Preheat the oven to 400 degrees Fahrenheit and line a baking sheet with parchment paper. Place the chopped pecans unto the baking sheet, ensuring that they are evenly spread out and toast them for 10 minutes, tossing them halfway to prevent browning on just one side.
TO MAKE THE COOKIE DOUGH:
Line two baking sheets with parchment paper. Set aside.

In a medium bowl, whisk together the organic all-purpose flour, baking soda, arrowroot starch, cinnamon, and sea salt and set aside.

In the bowl of your electric stand-mixer (w/ a paddle attachment), beat together the softened butter, shortening, and both sugars until fluffy and creamy, beating on medium speed, about 2-3 minutes. Keeping the mixer's speed on medium, add the egg and vanilla extract. Be sure to scrape the bottom and sides, if needed.

Reducing to low-speed, add the dry ingredients and continue mixing until combined, about another 1-2 minutes or so.

Next, add in the vegan chocolate chips and gently fold them in using a rubber spatula, until fully incorporated into the batter, about 10-20 seconds. Add cooled chopped toasted pecans and fold them in also. Be careful not to over-mix. NOTE: The batter should be slightly thick.
CHILL COOKIE DOUGH:
Once done, cover the bowl with plastic wrap and refrigerate for 1 hour or freeze for 30 minutes.

Once chilled, remove cookie dough from the refrigerator and allow it to sit at room temperature for about 10 minutes to soften a bit for scooping. Then, form cookie dough balls (using a 1 tablespoon sized cookie dough scooper or spoon), and line them up on each prepared baking sheet, about 1-inch apart. NOTE: I placed 10-12 cookie dough balls on each baking sheet to leave enough space in between each one.

Preheat the oven to 350 degrees Fahrenheit.
BAKE THE COOKIES:
Place cookies in oven and bake for 10-12 minutes or until golden brown at the edges. NOTE: Be sure to place unused cookie dough back in the refrigerator to chill until ready to use again.

Remove cookies from oven and let cool on the baking sheet before letting them cool completely on a cooling rack. NOTE: cookies will still look soft, but that's OK! They'll harden more once fully cooled.

Repeat same steps with each round of cookies until batter is completely used.

Bon Appetit!
STORAGE: Leftover cookies can be stored in a tightly covered container for up to 1 week or refrigerated for slightly longer freshness; Cookie dough can remain refrigerated for 2-3 days; Already Baked cookies can be frozen for up to 3 months.
FLOUR: To make things even healthier and for a slight twist, you can add ½ cup of oatmeal flour to 1 ½  cups of All-purpose flour instead of full amount.
REDUCED SUGAR: To make cookies less sweet, simply reduce brown sugar amount to ½ cup and cane sugar amount to 2 Tbsps.
LARGER BATCHES: To make more cookies, simply double or triple the amount of ingredients!
COOKIE SIZE: This recipe makes smaller (mini-sized) cookies, however, for standard sized cookies, this would make about 1 dozen (12 cookies).
Calories:
138
kcal
|
Carbohydrates:
17
g
|
Protein:
1
g
|
Fat:
7
g
|
Saturated Fat:
1
g
|
Polyunsaturated Fat:
2
g
|
Monounsaturated Fat:
3
g
|
Trans Fat:
1
g
|
Sodium:
125
mg
|
Potassium:
31
mg
|
Fiber:
0.5
g
|
Sugar:
9
g
|
Vitamin A:
1
IU
|
Vitamin C:
0.02
mg
|
Calcium:
9
mg
|
Iron:
1
mg