This Vegan Baked Cinnamon Caramel Apples recipe is the perfect dessert for the entire family and any time of year. Perfectly tender halved apples, stuffed with a crispy oats + spices topping and generously drenched in vegan caramel sauce. Every bite is breath-taking and full of warmth.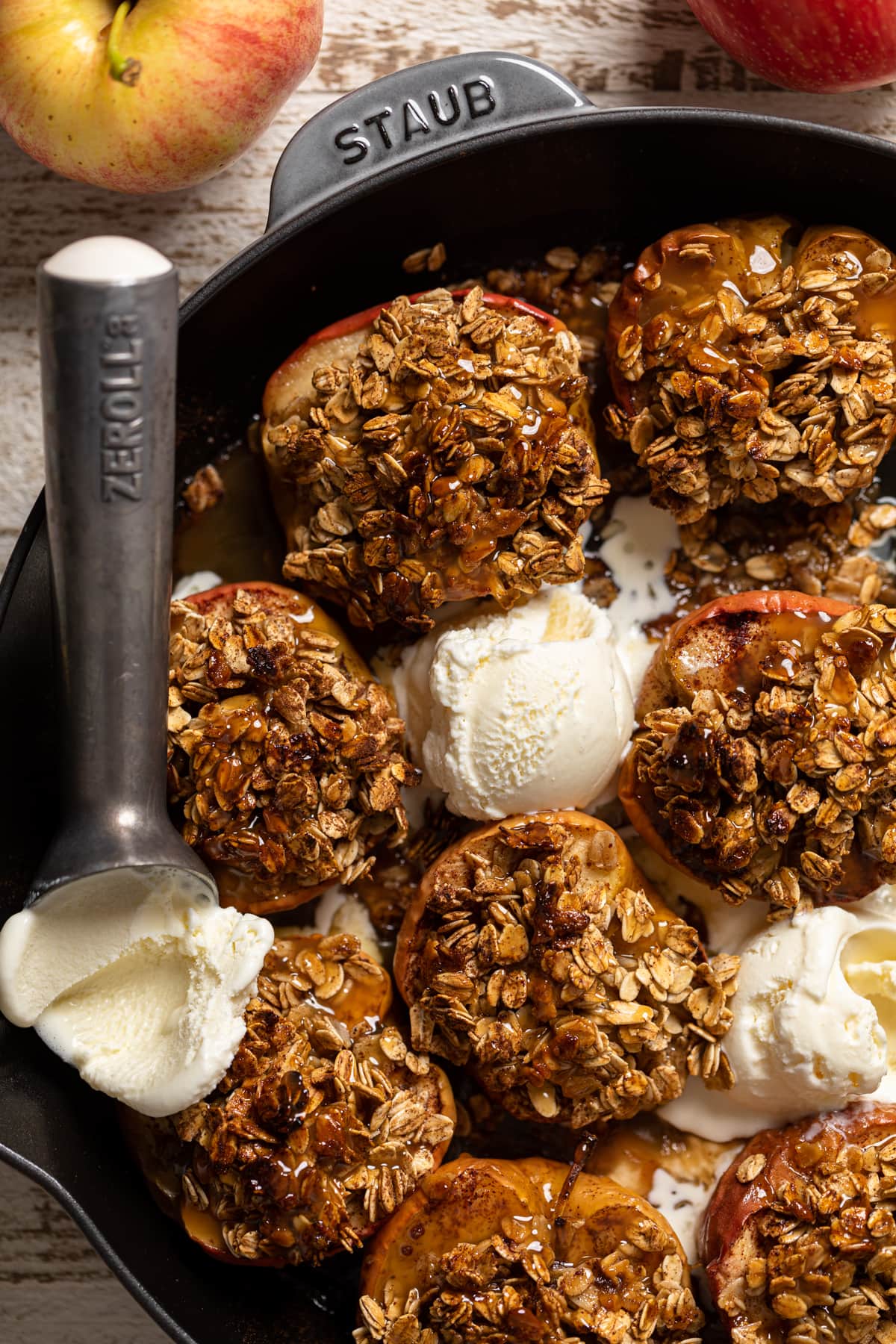 Disclaimer: This post contains affiliate links via Amazon for products that I wholeheartedly love.
This Vegan Baked Cinnamon Caramel Apples recipe has been one that I've been dying to share with you all. It's one of the very few recipes that I made in 2019, which still haven't been shared, so here it is. FINALLY. Haha. Also, It's almost like enjoying a nice cup of freshly made Apple Cider.
If you've been an avid follower of Orchids + Sweet Tea, then you've seen the other similar recipes like this one. Crisps are such a Southern staple much like Cobbler, and while I don't have a ton of recipes that showcase both dessert types, the ones that I do have are AMAZING and a must-try.
These baked apples are such an easy, delicious, and healthier way to enjoy a sweet treat during the cooler months. If you have a ton of apples from apple picking, then this recipe is an awesome way to use up those apples. Plus, I have these really great apple recipes on the blog to help you continue your love for a good apple recipe:
Fall Harvest Apple Bacon Crostini
Apple Cinnamon Oatmeal Porridge
Apple Cheddar Sweet Potato Soup
Either way, you're sure to satisfy those tastebuds!
How to Make Vegan Baked Cinnamon Caramel Apples
I love creating foods and sweets with a healthy twist without compromising flavor. If you've tried some of my other work, you'll know that I'm always rooting for real, organic stuff as ingredients. I'm also always trying to come up with dairy-free, gluten-free, and vegan versions of your favorite recipes! These Vegan Baked Cinnamon Caramel Apples are no different.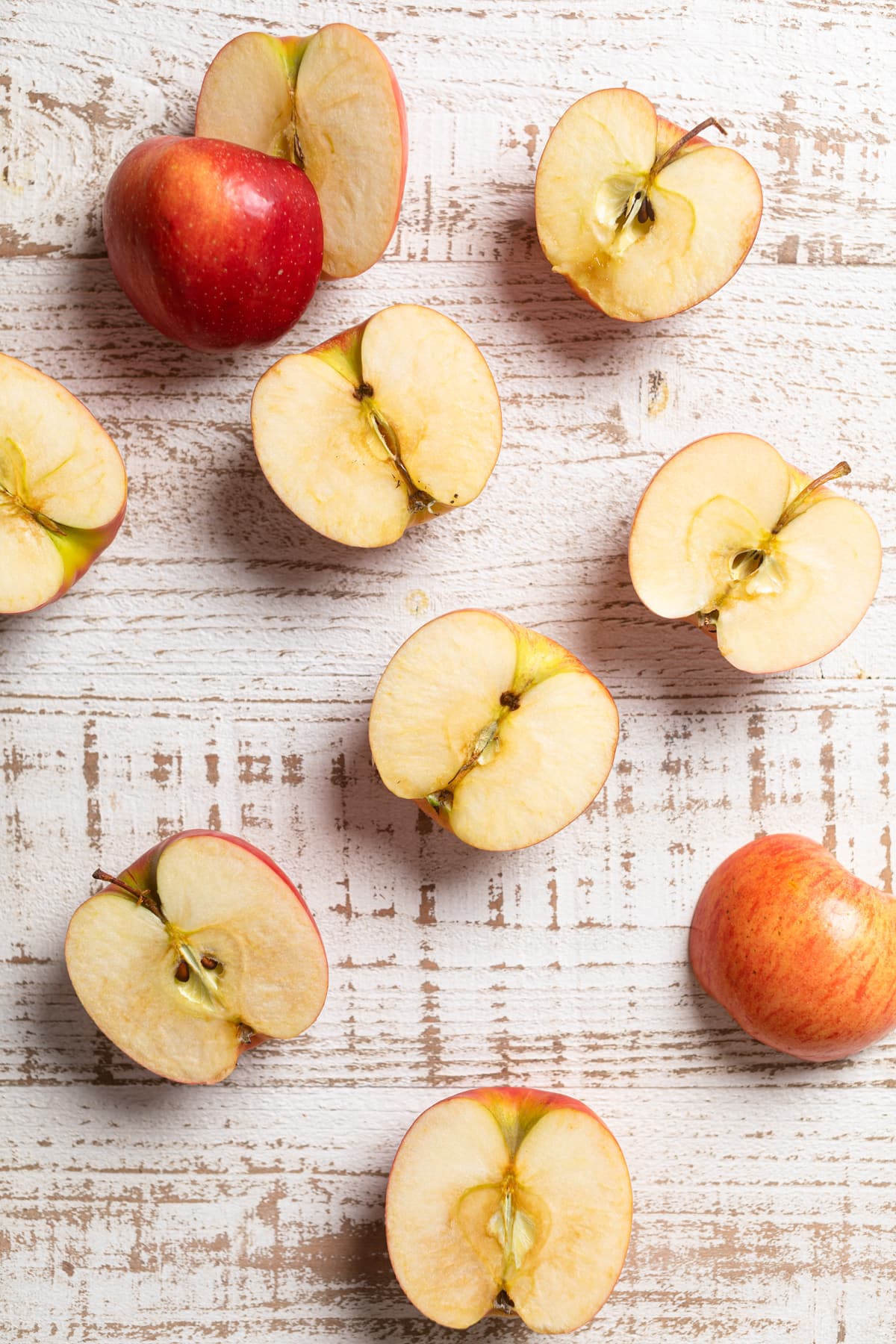 INGREDIENT NOTES
Things you need to know about some of the key ingredients in this salted caramel apple crisp.
Apples. I love using Gala or Honeycrisp apples for best results.
Spices (Cinnamon, Allspice + Nutmeg). for warming fall flavor.
Brown Sugar. Make sure it's organic for vegan.
Sea Salt. to balance out the sweetness of apples and brown sugar.
Vanilla extract for a bit of warmth.
Maple syrup. I always use pure maple syrup as a great sweetener option.
Vegan butter. I like Earth Balance buttery spread for baking.
Thick Cut Rolled Oats. Choose gluten-free if necessary.
Coconut Milk. You can use either full-fat canned coconut milk or cream.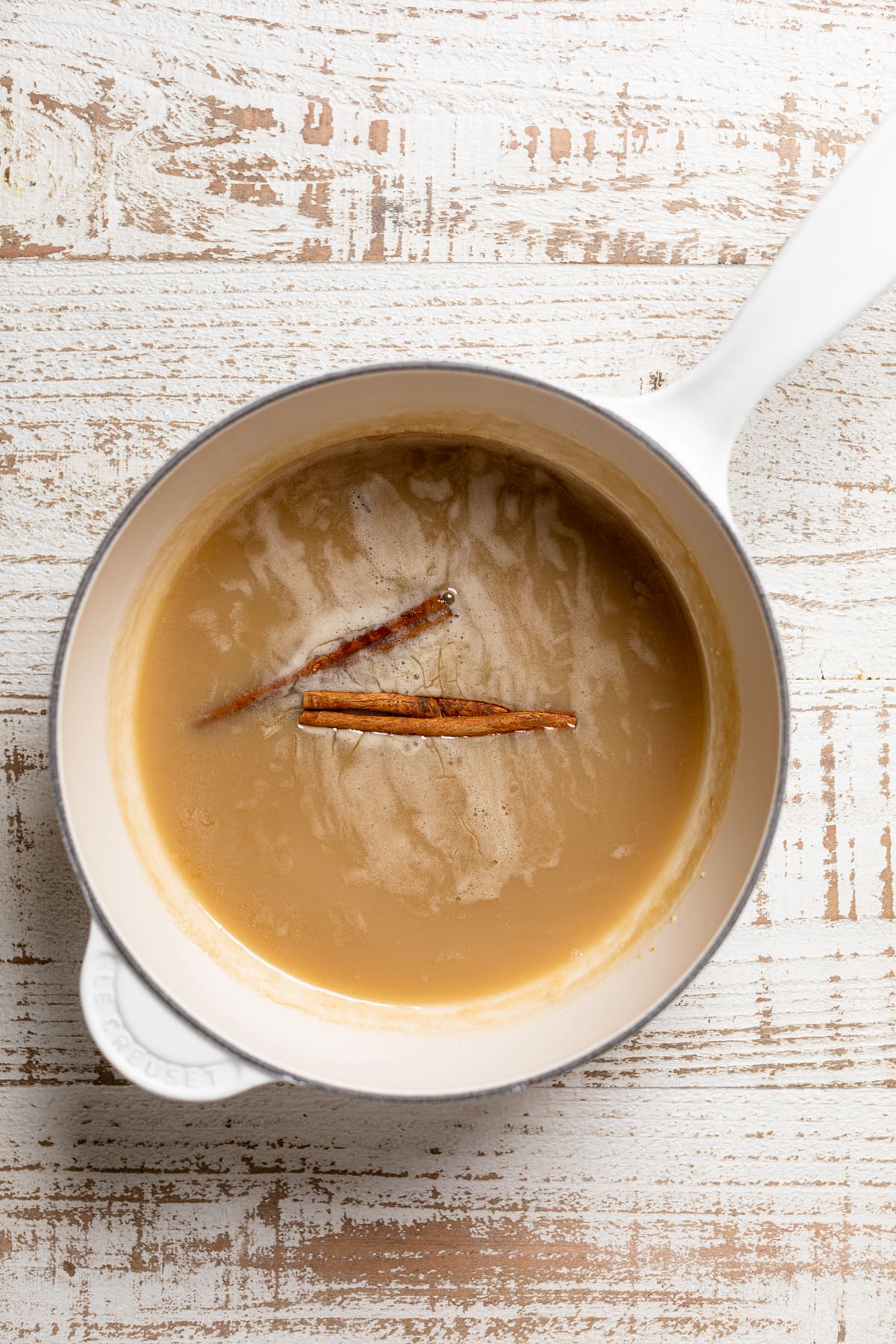 Why You'll Love This Baked Cinnamon Caramel Apples Recipe
It's very easy to whip together and uses minimal staple ingredients.
Ready in about 30 minutes and WORTH THE WAIT.
Warm and comforting sweetness + spices with every bite.
Comes with a gluten-free option for those with a gluten sensitivity.
Perfectly sliced apples that are ultra tender and soft when baked.
Nicely crisp topping made from brown sugar + oats + caramel sauce.
Makes for the perfect sweet treat for the entire family.
SHOP MY FAVORITE BAKEWARE ITEMS AND ACCESSORIES!
Here, I've curated a list of bakeware essentials that I use to achieve my favorite baking treats, especially with these Vegan Baked Cinnamon Caramel Apples. Everything from my fave baking sheets, cast iron skillets, parchment paper, mixing bowls, and more. SEE THEM HERE!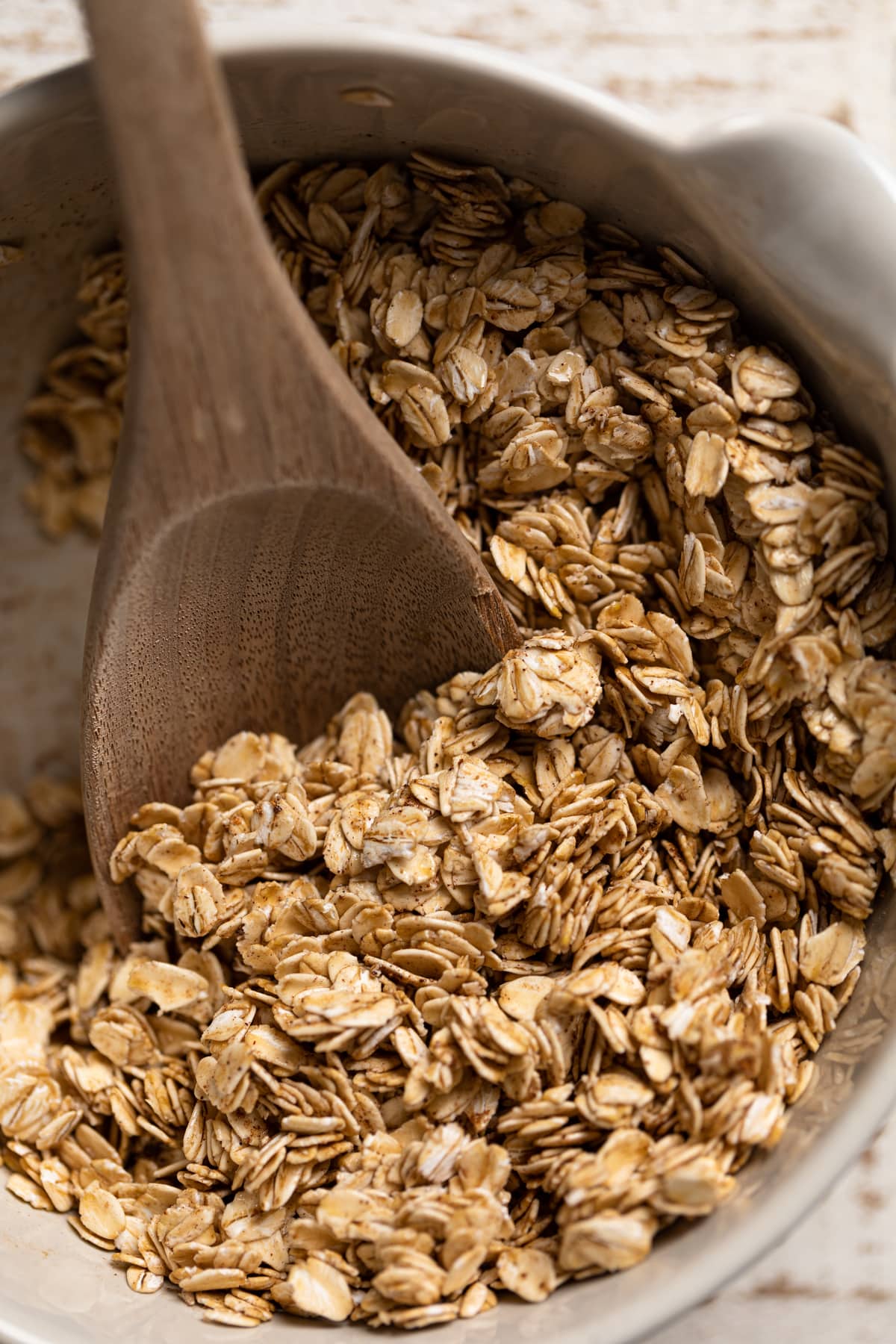 Vegan Caramel Sauce Ingredients
One of the main components in this simple homemade vegan caramel sauce. Here's what you need to make the sauce:
Brown sugar. I use organic to make sure it's vegan.
Vegan butter. I love using the brand Earth balance.
Full-fat coconut milk. You can also use the coconut cream version for a creamier texture.
Best Ways to Use Homemade Vegan Caramel Sauce
When it comes to using this vegan caramel sauce (or any leftovers), I've gathered a list of ways that you can best use it:
Drizzle creamy caramel over oat milk, almond or coconut ice cream.
Add a dollop to vegan brownies (yum!).
You can even add homemade caramel sauce to your favorite desserts like vegan cheesecake, cake, cupcakes, etc.
Also, add a bit of sweetness to your chia pudding, overnight oats, or french toast for a morning kick!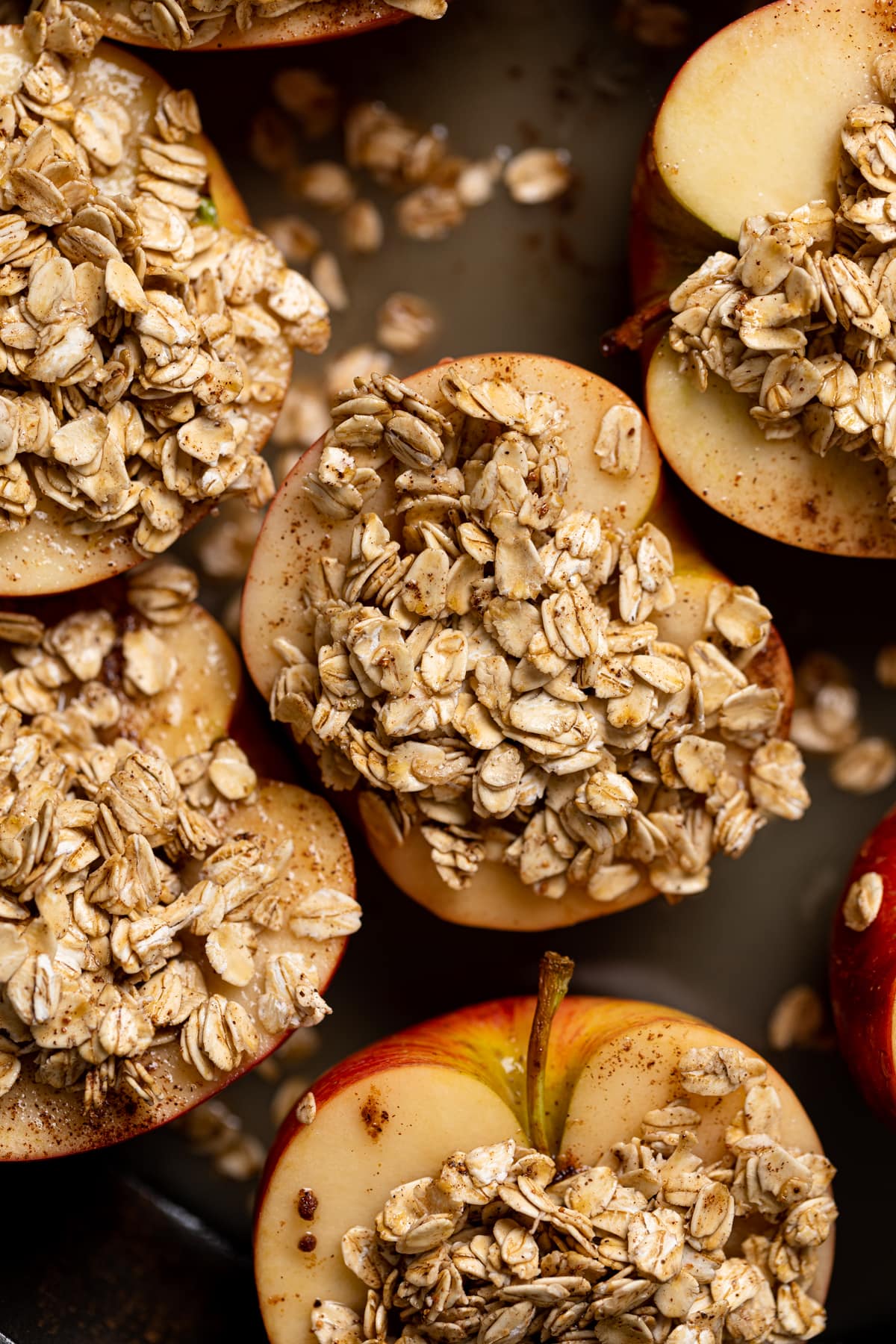 Best Types of Apples for this Recipe
Even though this Vegan Baked Cinnamon Caramel Apples is based on using Gala apples, you can also switch things up and add a slightly new flare in their flavor profile by adding any of the following apples for a bit more sweetness or tart:
Honeycrisp
Fuji
Pink Lady
Golden Delicious
Braeburn
Granny Smith (these tend to 'explode' a bit once baked for a prolonged amount of time.)
and more!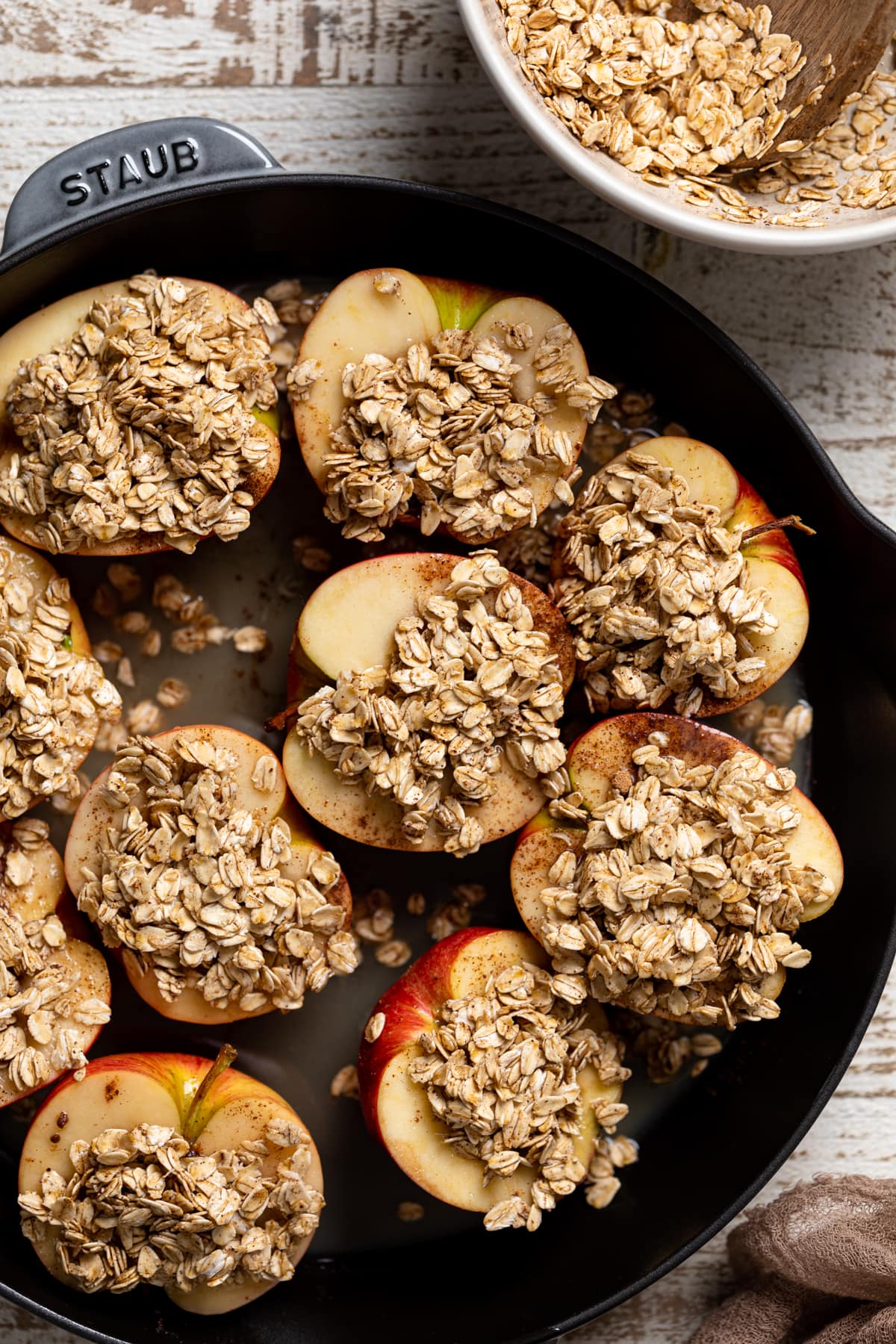 The best part about this recipe and is that you are able to indulge in deliciously sweet flavors with the dairy or gluten.
When using oats, I usually get my GF oats from Bob's Red Mill, which are such a great option. I enjoy the Thick Cut version as well, so Im able to enjoy every bite.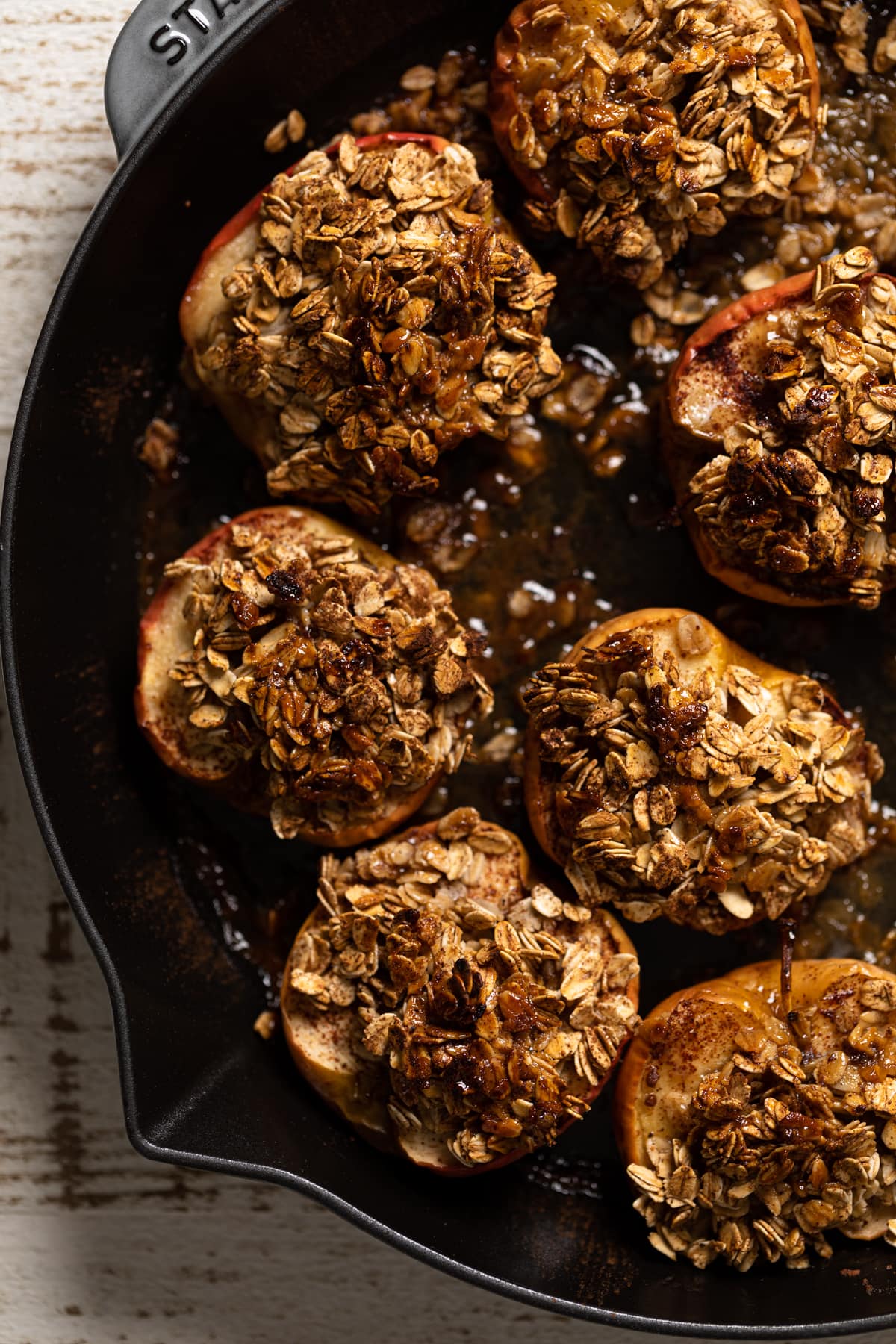 WHAT'S SO GOOD ABOUT APPLES, ANYWAY?
Whelp, in case you weren't aware—Apples have a few great benefits when it comes to your health. Yup. That good saying, "One Apple a day keeps the Doctor away" is a fact. Haha.
In fact, Apples actually help to improve Neurological health, helps to prevent dementia, reduces your risk for stroke, lowers bad cholesterol, reduces your risk of diabetes, helps to ward off breast cancer, and helps to fight obesity.
When it comes to daily nutrition, Apples contain all the important stuff—Vitamin C, B-Complex Vitamins, Fiber, Calcium, Potassium, and Phytonutrients (which helps to protect our bodies from free radicals).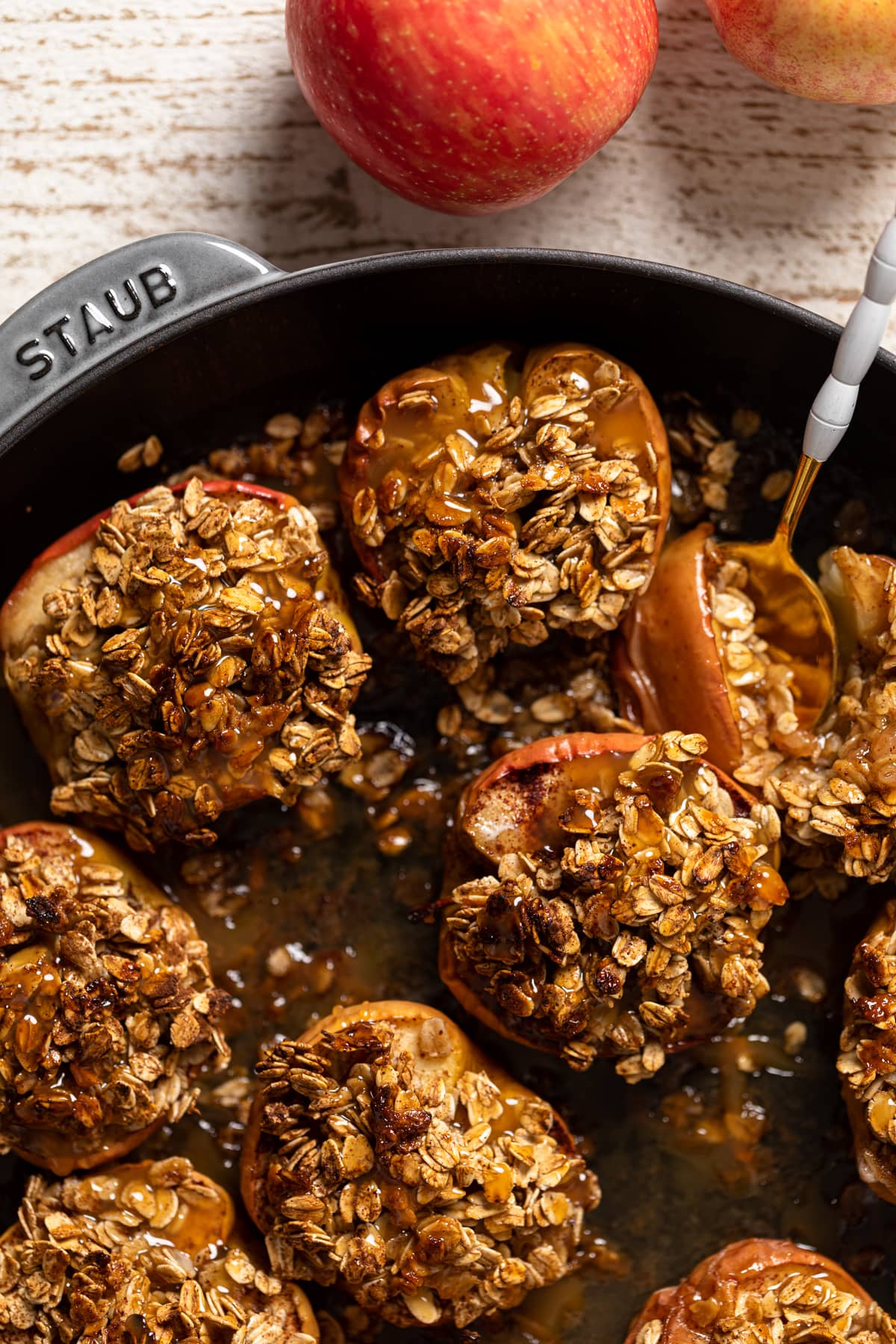 How to Make the Baked Apples Filling with Oatmeal
In a bowl, add the oats, maple syrup, cinnamon, nutmeg, and allspice stirring until combined using a spatula. Mix until everything looks moist and "sticks" together. That simple.
For an extra crunch, you can choose to add nuts such as Walnuts or Pecans. Reduce oats to ½ cup and add the nuts as other ½ cup.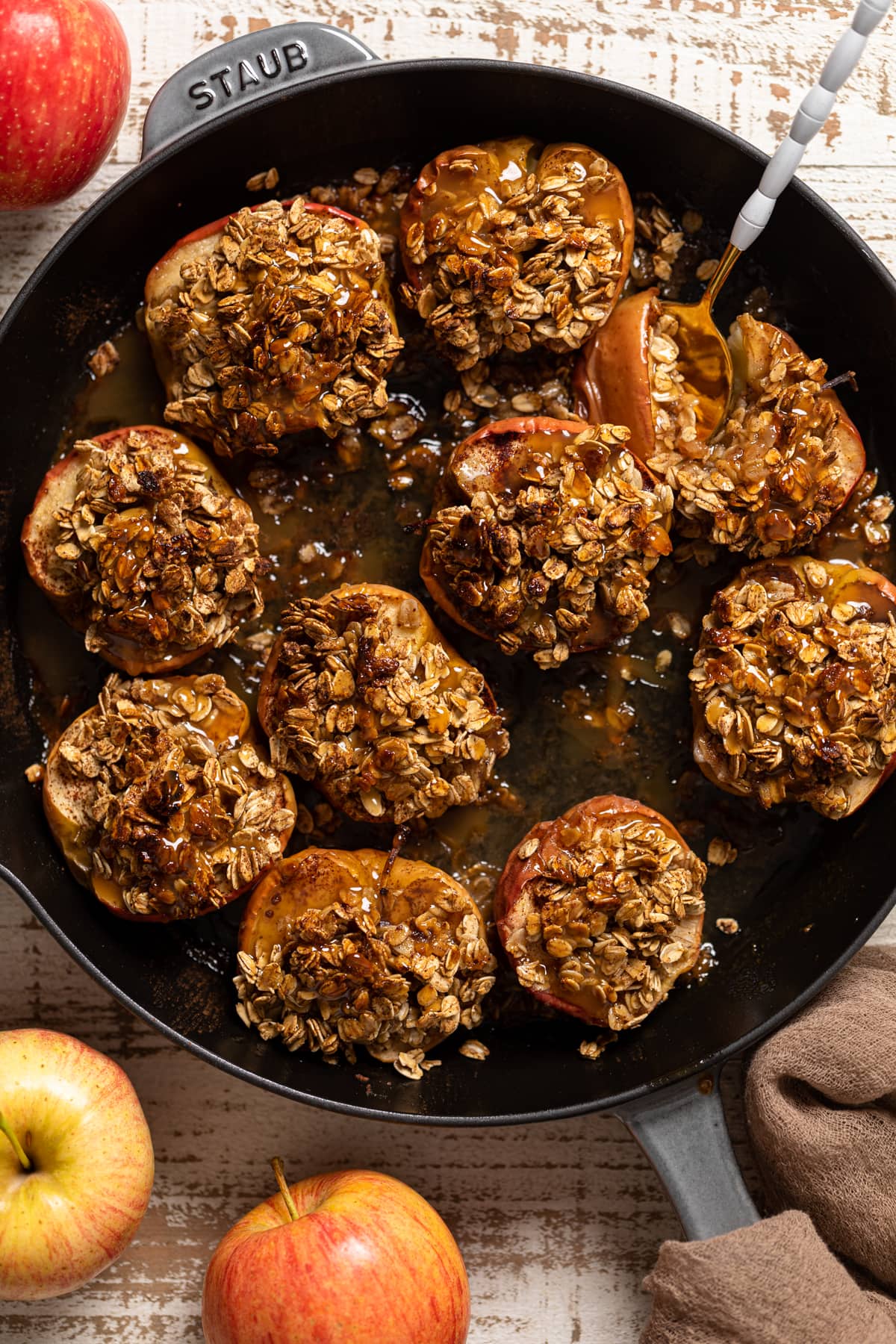 Common FAQs for Vegan Baked Apples
When it comes to making these Vegan Baked Cinnamon Caramel Apples or ANY baked apple related dessert for that matter, here are a few things that are often asked and here are my findings and answers to those questions:
DOES THE SKIN HAVE TO BE REMOVED OFF THE APPLES?
Honestly, I like to sometimes keep on the skin (like in this recipe) and sometimes I peel it. The only difference between the two is the texture and consistency, which doesn't truly bother me. If you prefer a particular texture, definitely peel!
HOW LONG DOES BAKED APPLES TAKE TO BAKE?
Generally, they take about 25-30 minutes for everything to bubble and become golden and tender. However, the automatic rule of thumb is once the topping is golden brown!
HOW TO AVOID BAKED APPLES FROM GETTING SOGGY?
Once stored for later, it'll get soggy in the refrigerated, however, the trick is to re-heat it in the oven for it to warm up and crisp up nicely again.
HOW DO YOU BEST SERVE BAKED APPLES?
For the most simplest, but tasty way---I like to scoop my baked apples in a bowl and top it with my favorite dairy-free ice cream or whipped cream, but you can enjoy it by itself. Of course, you can always change things up with your breakfast by serving a few scoops of baked apples atop your favorite yogurt as a yogurt bowl.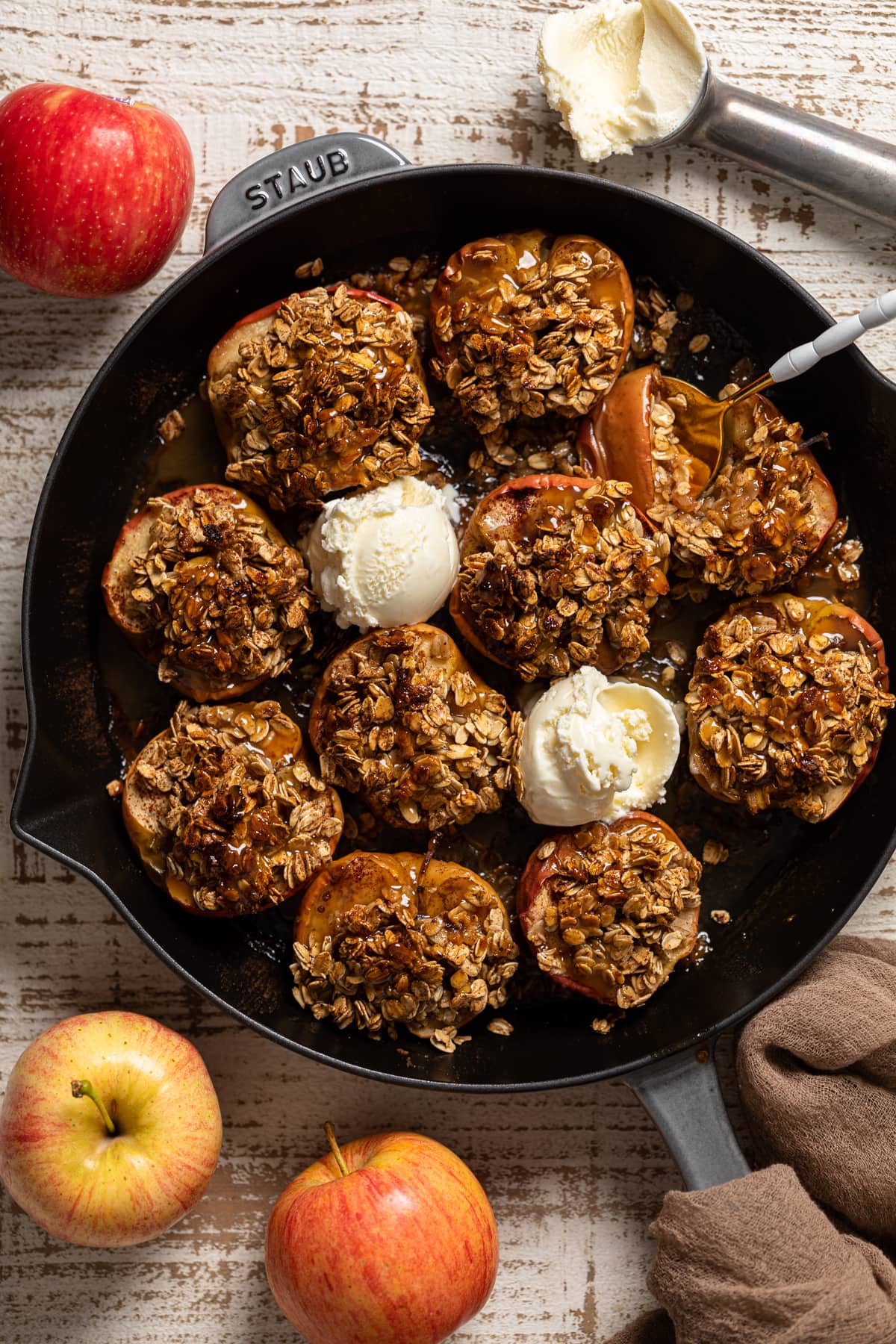 How to Store the Salted Caramel Sauce
Leftover caramel sauce can be stored in a tightly sealed mason jar for up to two weeks. When ready to use, simply reheat sauce in the microwave at 15 second intervals until softened and at room temp.
Best Way to Store Vegan Baked Cinnamon Caramel Apples
Best if served on the same day of making recipe. If made ahead of time (a few hours before serving), simply re-warm in the oven on 350 degrees Fahrenheit. Leftovers should be stored in an air-tight container in the refrigerator for 1-2 days.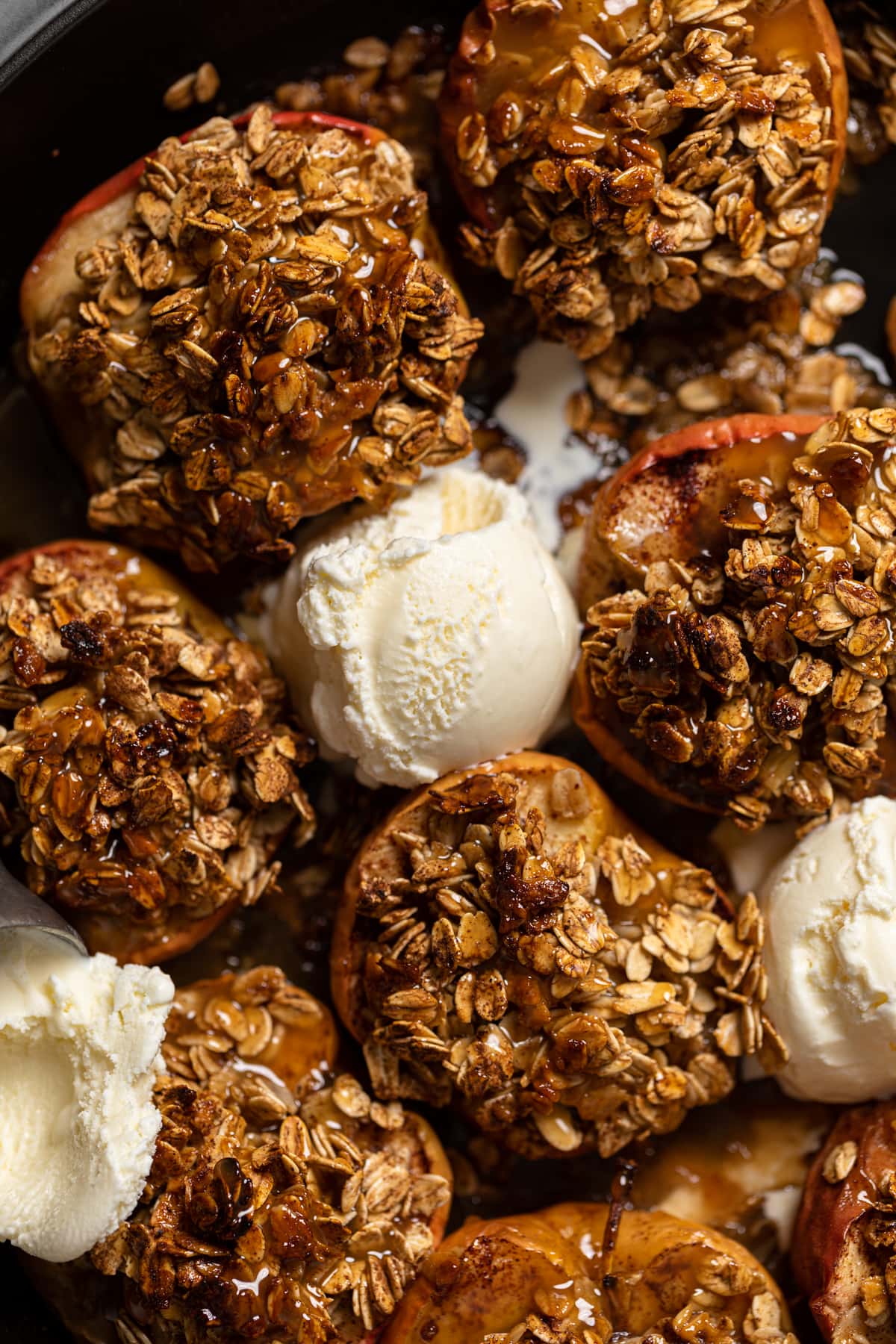 MADE OUR RECIPE(S)?
If you make these Vegan Baked Cinnamon Caramel Apples, tag @orchidsnsweettea_ on Instagram and hashtag it #orchidsandsweettea!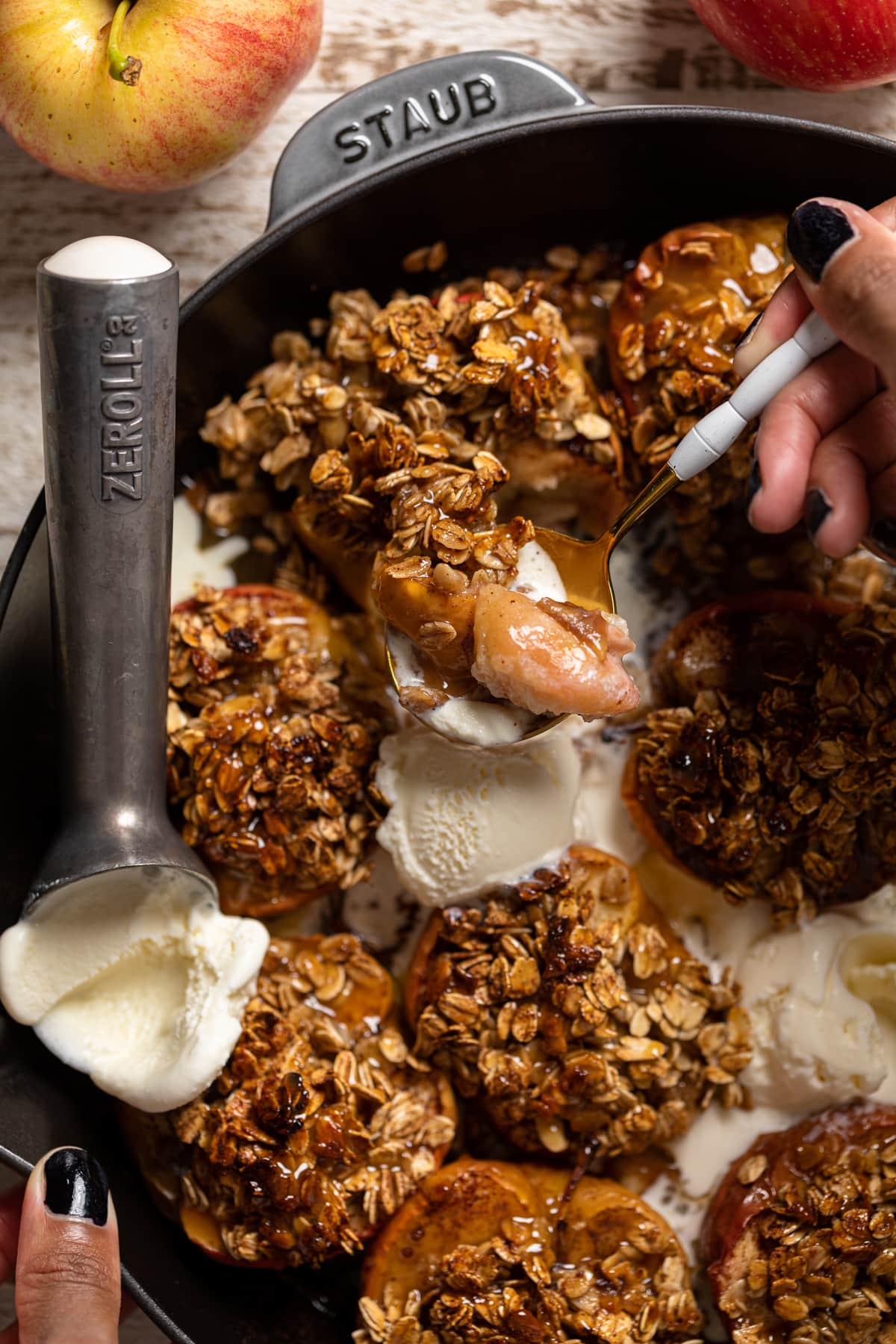 VEGAN CARAMEL SAUCE:
1

cup

full-fat coconut milk

1

cup

organic brown sugar

6

Tbsps

vegan butter

pinch of

sea salt
TO MAKE THE APPLES + FILLING:
Start by pre-heating your oven to 400 degrees Fahrenheit and lightly grease a medium 10-inch cast iron skillet with butter.

In a medium bowl, stir together the filling ingredients until combined and wet-like in texture. Set aside.

Prep the halved apples by scooping out the inside core using a spoon. Set aside in a bowl and squeeze lemon juice on them to prevent them from browning.
TO MAKE VEGAN CARAMEL SAUCE:
Heat the brown sugar in a medium skillet over medium-high heat and stir constantly using a rubber spatula until clumps are formed. Add vegan butter and continue to stir until everything has melted and become a dark 'amber-like' color. Continue to stir consistently until fully melted and bubbly, about 2-3 minutes.
ASSEMBLY:
Add half of the homemade vegan caramel sauce to the bottom of the prepared skillet and then line apples (skin side down + open side up) side by side atop sauce.

Using an ice cream scoop (or spoon), scoop the filling into each apple (don't be afraid to be generous! Haha.) and top with remaining caramel sauce.

Cover with foil, bake for 20 minutes before removing foil and baking for another 5-10 minutes, until the crumble is golden brown and apples are tender. NOTE: Half-way through, be sure to scoop sauces from the sides onto apples to keep them 'moist'.

Once done, remove from oven and serve immediately with a scoop of your favorite dairy-free ice cream or Cocowhip.

Bon Appetit!
STORAGE: Best if served on the same day of making recipe. If made ahead of time (a few hours before serving), simply re-warm in the oven on 350 degrees Fahrenheit. Leftovers should be stored in an air-tight container in the refrigerator for 1-2 days.
FILLING: For an extra crunch, you can choose to add nuts such as Walnuts or Pecans. Reduce oats to ½ cup and add the nuts as other ½ cup.
Calories:
369
kcal
|
Carbohydrates:
58
g
|
Protein:
3
g
|
Fat:
16
g
|
Saturated Fat:
7
g
|
Polyunsaturated Fat:
3
g
|
Monounsaturated Fat:
5
g
|
Trans Fat:
2
g
|
Sodium:
83
mg
|
Potassium:
277
mg
|
Fiber:
4
g
|
Sugar:
42
g
|
Vitamin A:
50
IU
|
Vitamin C:
4
mg
|
Calcium:
55
mg
|
Iron:
2
mg
Vegan Baked Cinnamon Caramel Apples.