This healthy sweet potato smoothie is a creamy, rich, and protein-packed dairy-free drink. It's with cinnamon and made thick and satisfying with vegan yogurt.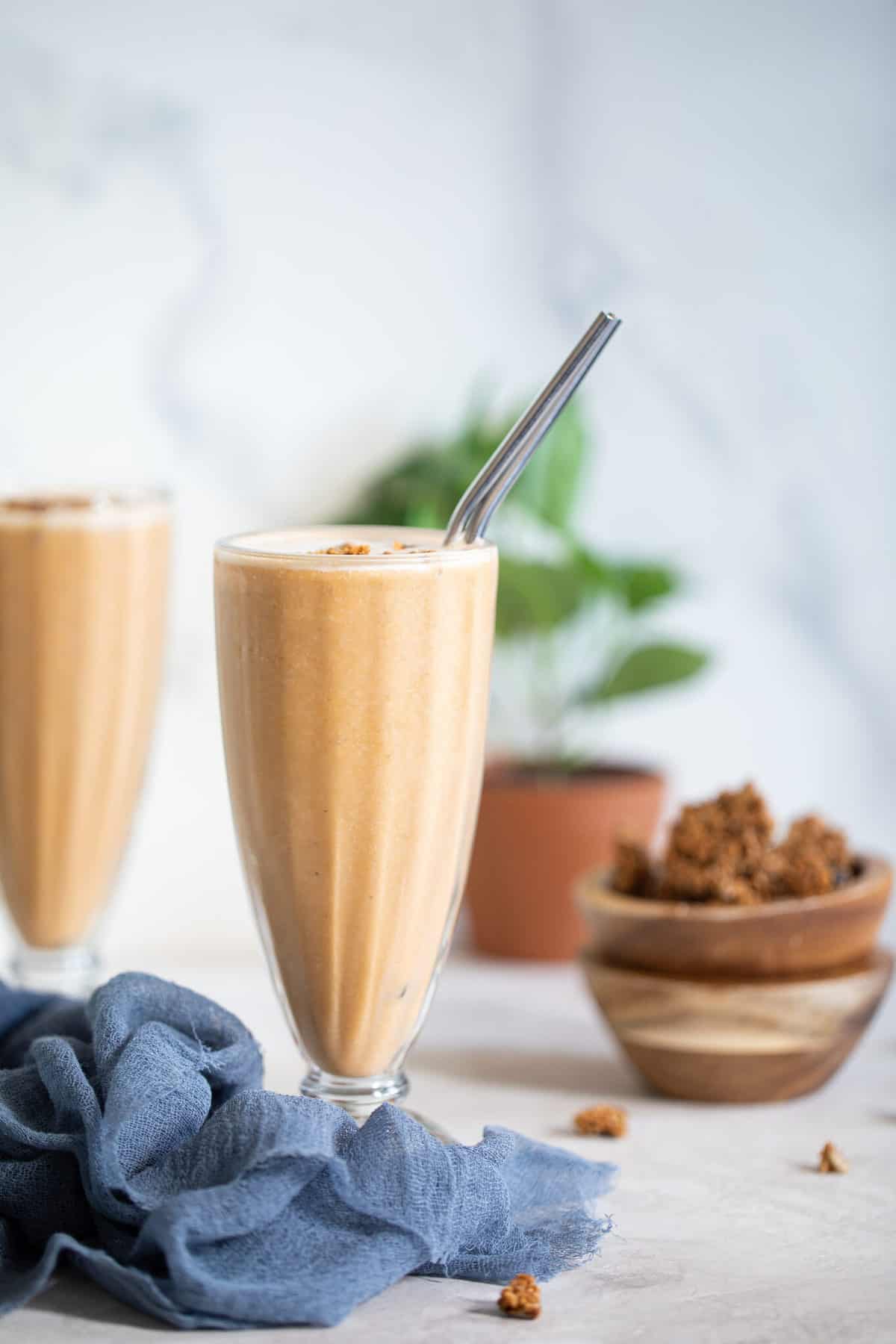 Ever since I started eating less dairy, I've loved making smoothies for breakfast. It's such an easy way to prepare a healthy, filling morning meal that will keep me satisfied until lunch without causing a sugar crash. Plus, I get to enjoy the creamy, thick and milkshake-like texture of smoothies without any dairy.
This recipe is one of my all-time favorites. Sweet potatoes add natural sweetness without needing refined sugar. And cinnamon and nutmeg add the perfect amount of warming spices to balance the creaminess of dairy-free yogurt and banana. Plus it's so easy to make and take on the go.
At the end of the day, this sweet potato breakfast smoothie is a winner all around.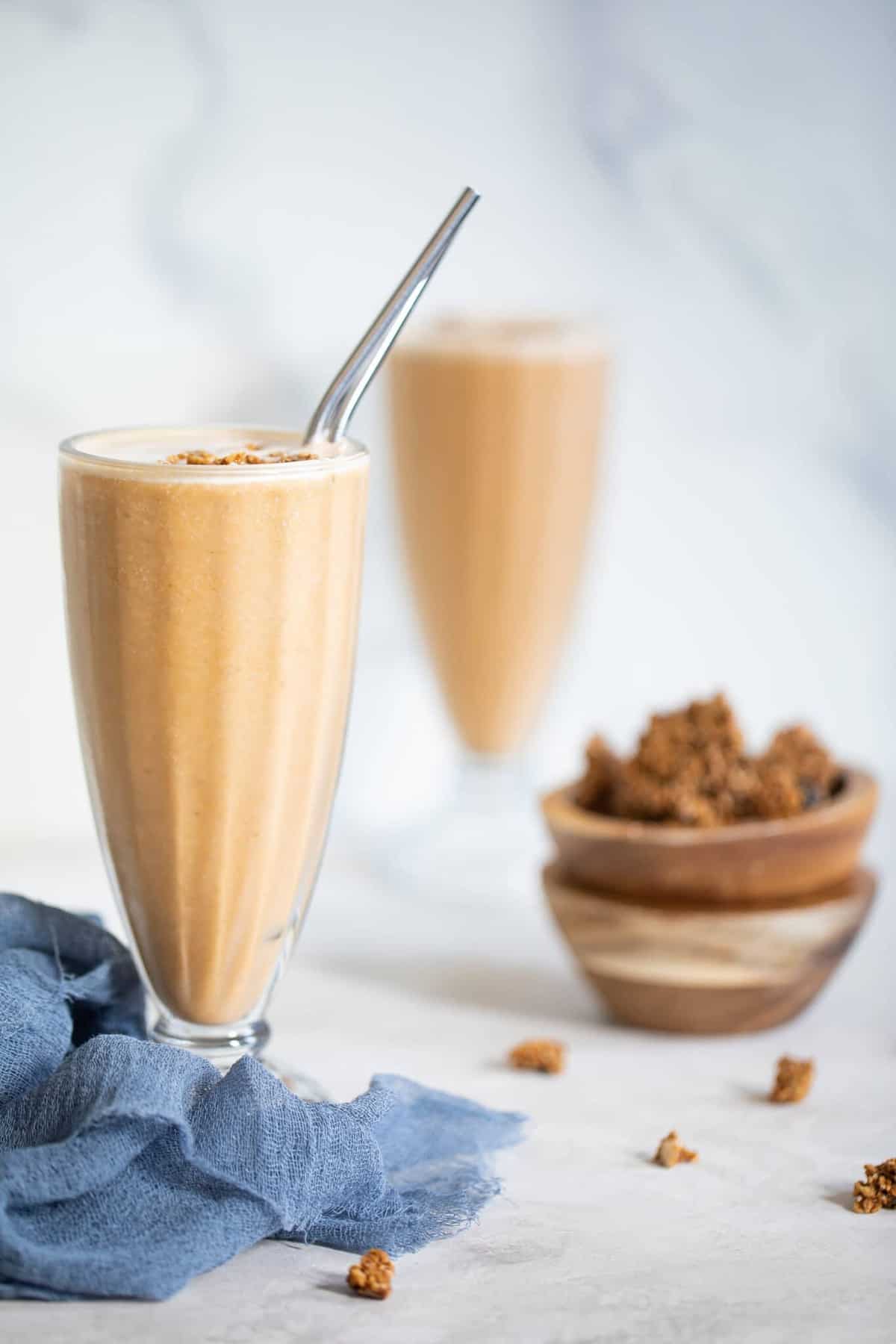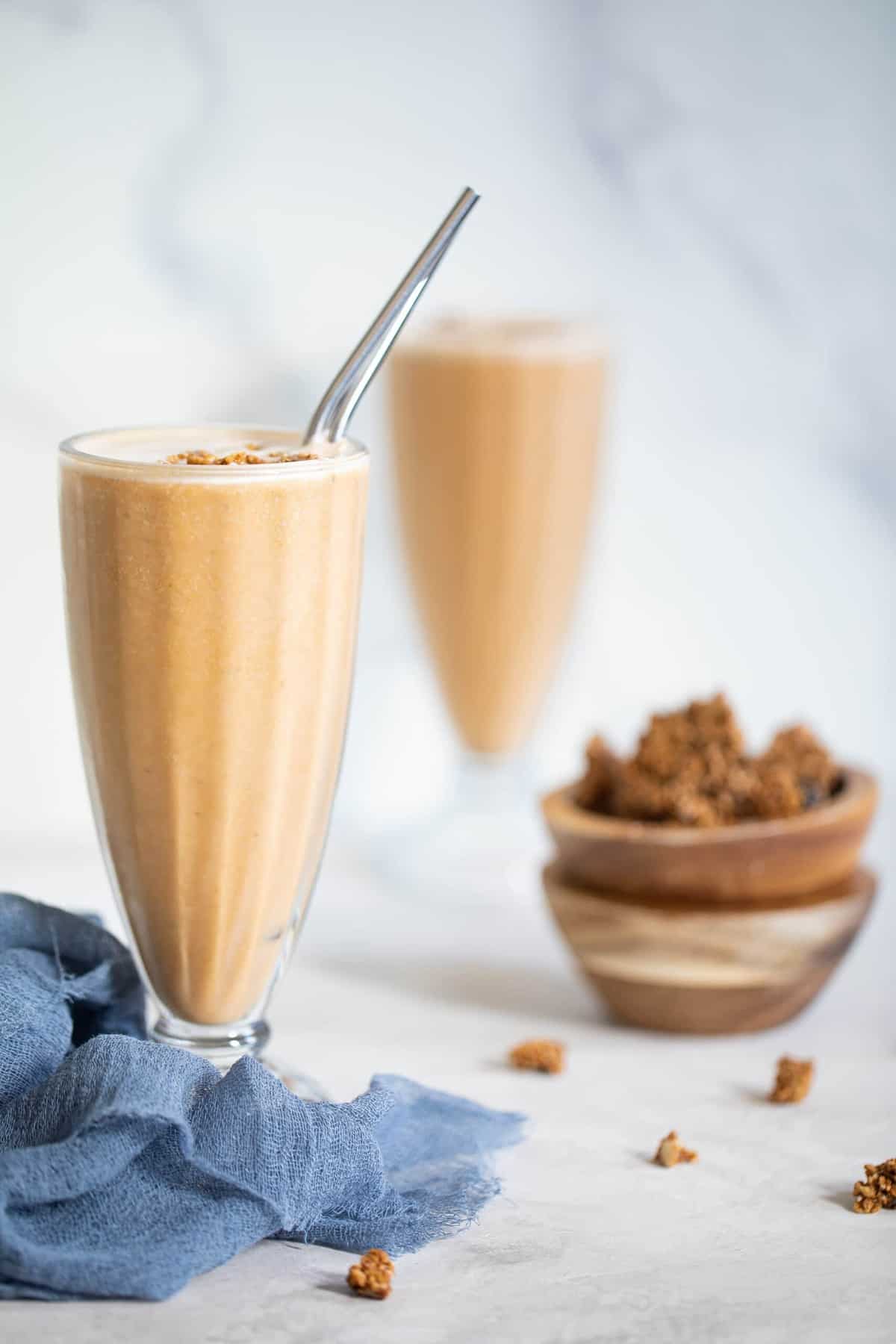 How to Make Sweet Potato Smoothies for Breakfast
It's easy and so simple to blend up a flavorful and healthy sweet potato smoothie that's naturally dairy-free and refined sugar free. Get out your blender and follow a few simple steps!
Ingredients
Here's what you need to build this healthy, vitamin-rich smoothie:
Sweet potato puree. You can easily make your own creamy sweet potatoes puree for this smoothie. I recommend making a big batch and storing it in an airtight container in the fridge to make healthy smoothies all week long.
Banana. Frozen banana makes the creamiest, thickest smoothies. Whenever you have overripe bananas, stick them in the freezer for easy smoothie making any time.
Cinnamon and nutmeg. These add just the right amount of spice to this otherwise sweet breakfast treat.
Almond milk. You can use your favorite plant-based milk!
Pure maple syrup. Use as much sweetener as you like. You can also substitute maple syrup with agave or honey if you're not vegan.
Vanilla extract. To really make this healthy sweet potato smoothie taste like dessert, don't forget a dash of vanilla.
Dairy-free yogurt. Use your favorite! I like oat milk, coconut or almond milk yogurt. I recommend either plain or vanilla flavor for this smoothie.
Almond butter. This adds tons of plant protein and healthy fats to your smoothie. You can substitute almond butter with another nut butter of choice.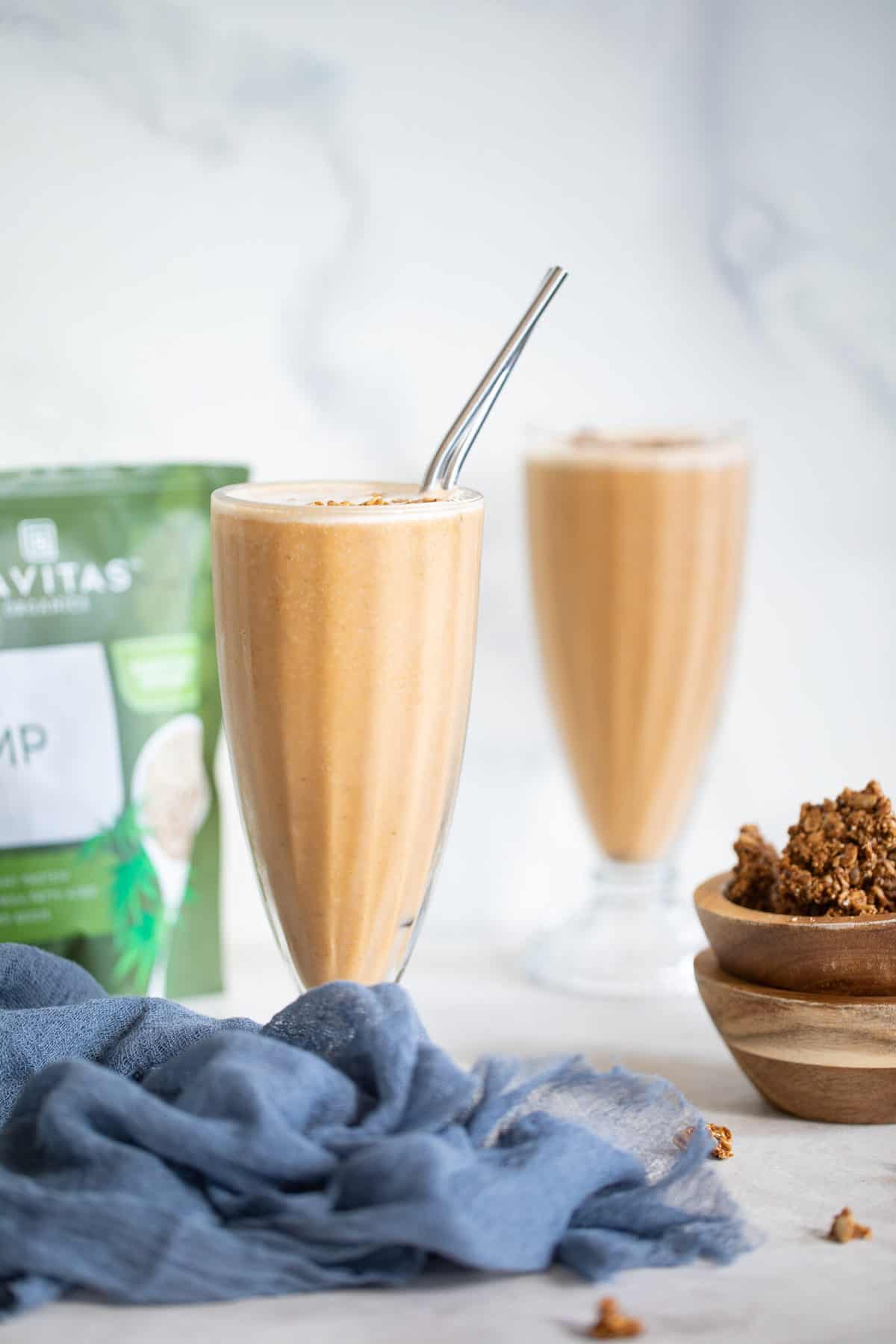 Instructions
After you have all of your ingredients ready to go, here is how to quickly make your sweet potato smoothie:
Place the sweet potato puree and frozen banana into a high-speed blender.
Add the remaining ingredients and blend until smooth.
If you like a thinner consistency or are having trouble blending everything, add a splash more dairy-free milk. Continue blending until you have your desired consistency.
Pour into glasses and add your favorite toppings then sip and enjoy!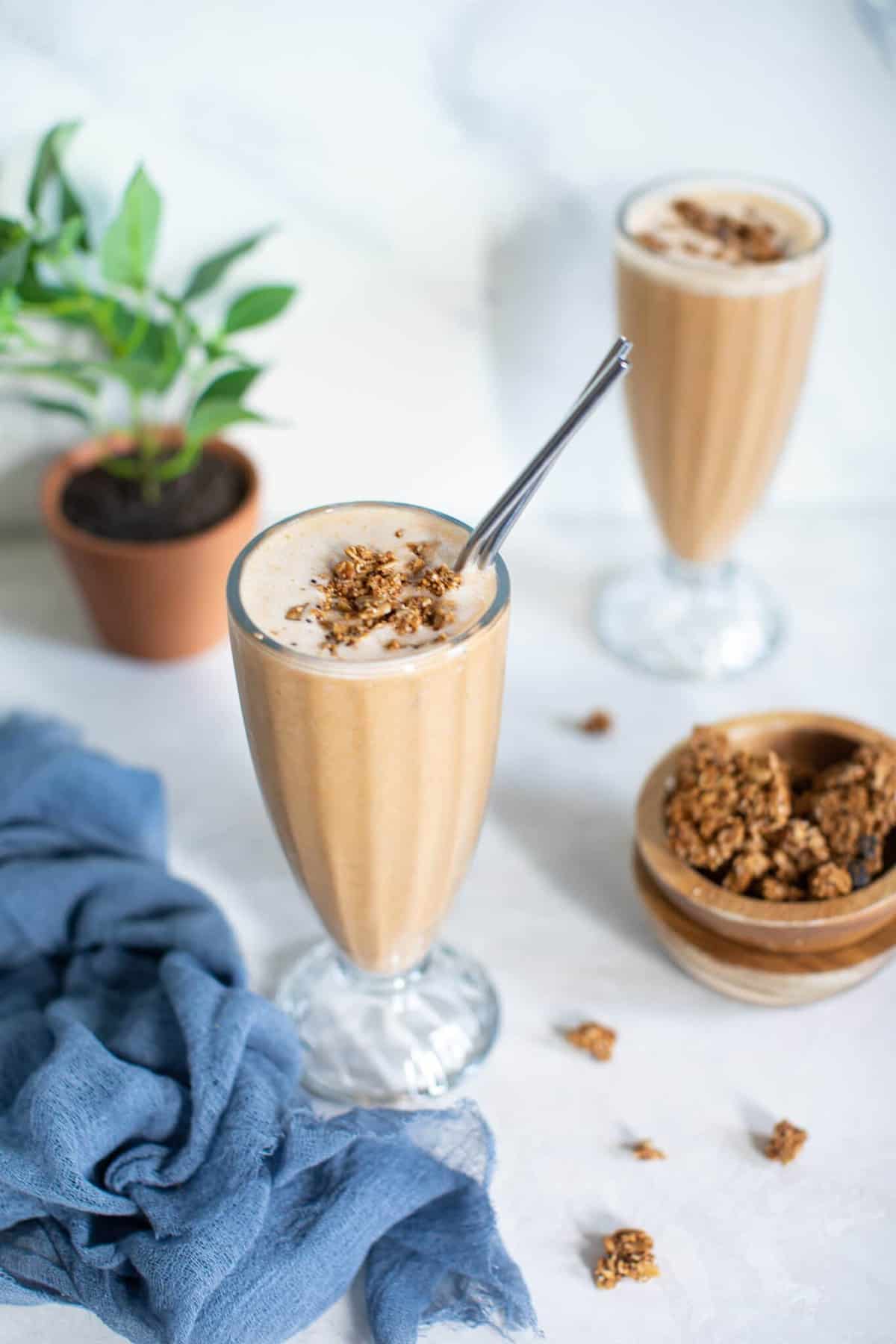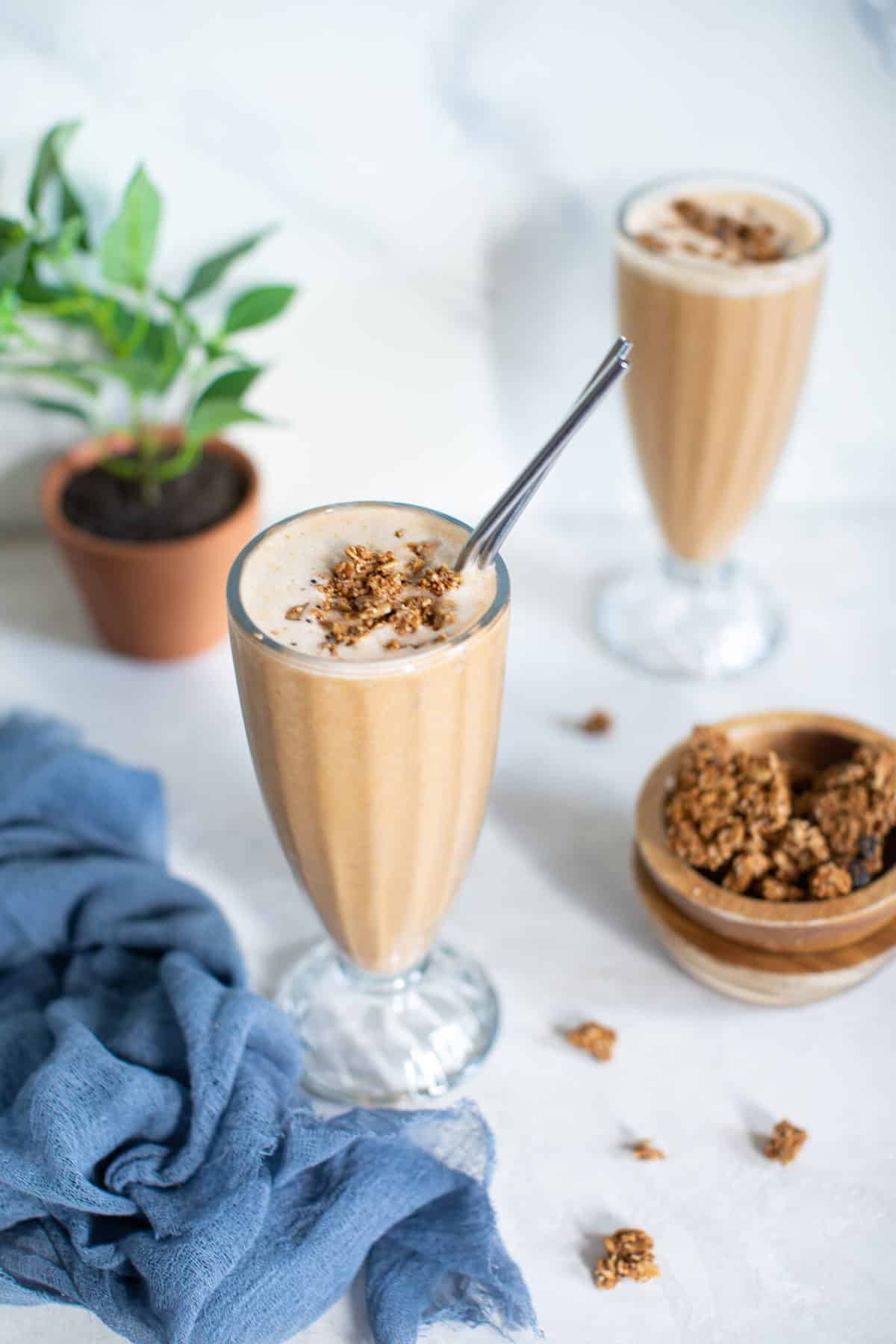 Sweet Potato Smoothie Topping Ideas
I like to dress up my creamy sweet potato smoothie with a few extra toppings. They help make the drink feel like a full meal so I stay full and satisfied. Here are some of my favorite breakfast smoothie toppings:
Almond butter (or another nut butter you love)
Granola
Chia seeds
Hemp seeds
Fresh fruit (berries, sliced banana, etc.)
Dairy-free yogurt
More Healthy Vegan Breakfast Smoothies
Looking for more filling, creamy, and delicious smoothie recipes? You'll love these:
Add all ingredients to a high-powered blender (adding the frozen bananas and sweet potato first, then the rest following) and blend until smooth.

Adjust the amount of milk (or add ice), depending on desired consistency, adding 1 Tbsp more at a time, if needed.

To serve—grab a glass and pour smoothie into each, top with almond butter or granola, and grab a straw.

Sip and enjoy!
STORAGE: Store any leftovers in the refrigerator, tightly sealed or in a covered mason jar, ensuring that you drink it within the same day for best taste and consistency.
SWEET POTATO: Preheat oven to 400 degrees. Thoroughly rinse the outside of your medium size sweet potato off with warm water and then pat dry. Lightly poke each potato with a few small holes (to ensure that the inside cooks more quickly + evenly) and coat them fully with extra virgin olive oil or grapeseed oil. Bake on a foil paper lined baking sheet for 25-30 minutes, until tender when pressed gently. Once done, cut open potato, scoop out insides and mash well to create the "puree".
SWEETENER: Instead of maple syrup, you can use Agave as a substitute.
NUT BUTTER: Instead of using almond butter, you can also substitute with Peanut Butter, Sunflower Seed Butter, Tahini, Soynut Butter, Pecan Butter, Hazelnut Butter, or Granola Butter.
Healthy Sweet Potato Smoothie.