Turmeric is such an incredible anti-inflammatory ingredient and it works hand in hand with another ingredient to create the most powerful benefits in our health. Let's chat about some of the amazing benefits of turmeric + how to use it in your everyday routine.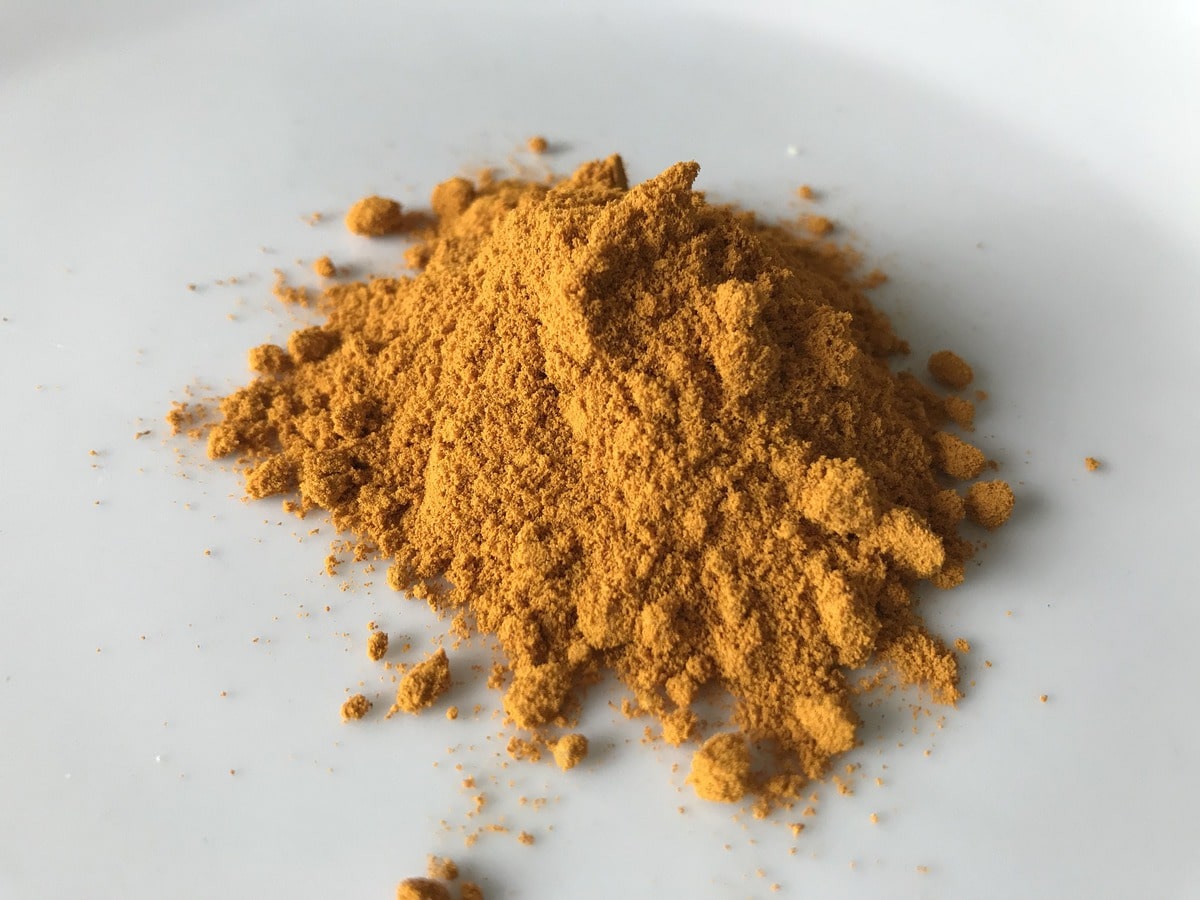 If I'm honest, turmeric is one of those ingredients that I try to incorporate into my diet daily. All it takes is a simple spoonful added to your favorite soup, tea, drink, dessert----you name it!
You can even make things a bit fancy using turmeric like with this Pineapple ginger turmeric lemonade. For a more everyday drink (great for first thing in the morning), this Carrot ginger citrus turmeric juice is the perfect quick drink to enjoy while helping your body
What is Turmeric?
Turmeric has a compound called curcumin, which is a powerful source of anti-inflammatory antioxidants. However, the best way that our bodies can absorb all of these benefits is when we consume turmeric with black pepper. The compound in black pepper piperine is what helps us absorb curcumin, You can't taste the pepper much in this drink, but you get all of the health benefits.
Turmeric: An Incredible Anti-inflammatory Ingredient
In case you weren't aware, Turmeric is an amazing ingredient to incorporate into your dishes. The health benefits that derive from this simple ingredient is so awesome. But if you're wondering, what is turmeric and where you can find it—no worries. Let's talk further!
Turmeric is the spice that gives curry it's yellow hue. That's right—it creates that bright yellow color all on it's own. In addition, the main ingredient in turmeric—curcumin is where all the incredible benefits lie. It has powerful inflammatory effects and is a very strong antioxidant.
It's Best to Combine Turmeric with Black Pepper
The only downside is that curcumin is present at a very low rate in turmeric, therefore, the best way to gain the full benefits of this ingredient is to take supplements with high contents of curcumin, specifically. OK, so where does black pepper come in? Whelp, black pepper's main ingredient–piperine actually helps the body to absorb curcumin (by large increases) which gives us the full effect of health benefits at work.
Piperine on it's own has it's own set of benefits which range from nausea relief to headaches to poor digestion. Therefore, the next time that you chose to add turmeric to your foods/drinks to add a few health benefits, don't forget to add the black pepper. And don't worry—it's not that much that is required either.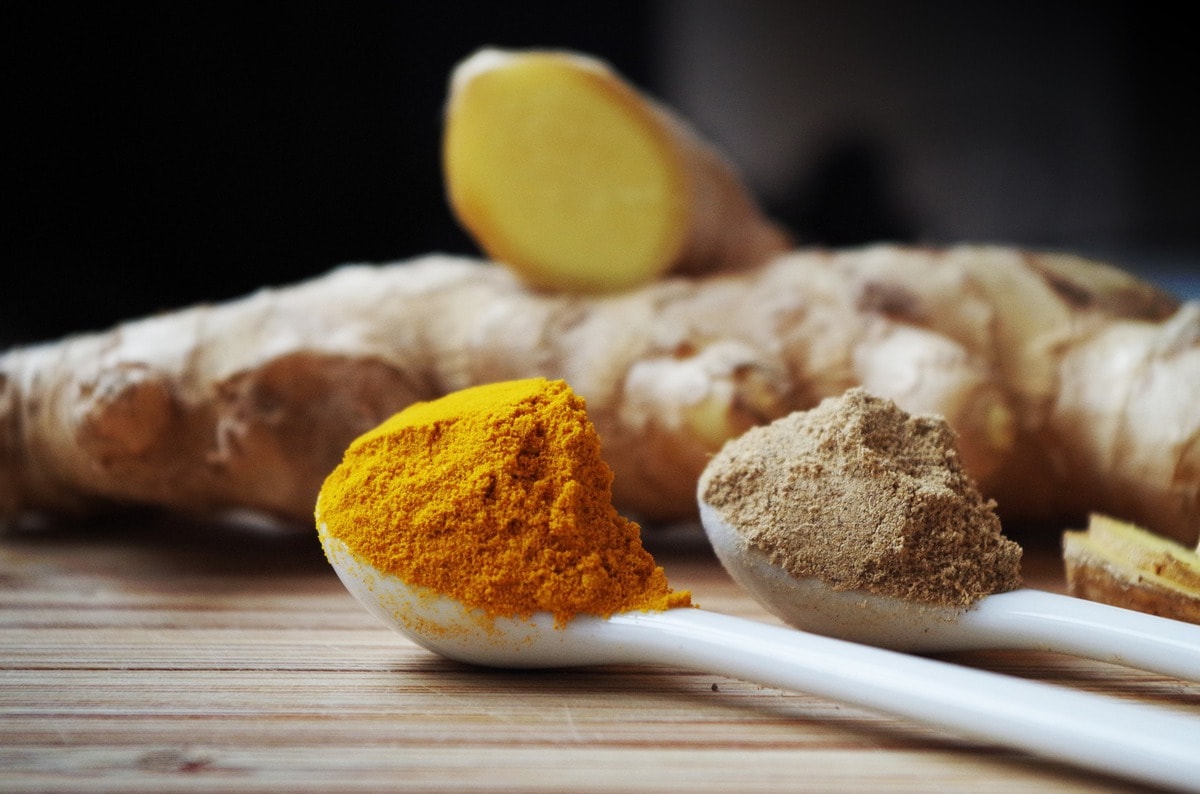 5 Health Benefits of Turmeric You Should Know
As I've mentioned, since turmeric is an every powerful ingredient, I'd love to dig deeper into the specific health benefits that it carries into almost everything. Here are the reasons why you need turmeric:
Helps to Lessen Inflammation
Like I said before, one of the biggest benefits of turmeric is it's ability to help in the reduction of inflammation. As we know, most chronic conditions affect the tissues in our body, therefore, making turmeric beneficial in the healing process.
Yup, that's right. Turmeric has been known to help with pain (which often is caused by some sort of inflammation), especially arthritis.
Works as a Powerful Antioxidant
Along with helping to fight inflammation, turmeric also works to protect the body against free radicals that can do potential harm. In addition, the antioxidant effects from turmeric can help to stimulate the action of other antioxidants which creates a greater defense.
Helps to Fight Depression
Studies have shown that turmeric helps to increase the brain-derived neurotrophic factor (BDNF) levels and reverse the affects of hippocampus shrinking, which both plays a role in depression.
Much like with fighting depression, studies have shown that taking a certain amount of turmeric daily helped to improve memory in adults without dementia. It's said that the reduction in the brain's inflammation + the antioxidant properties of turmeric helped with the improvement overall.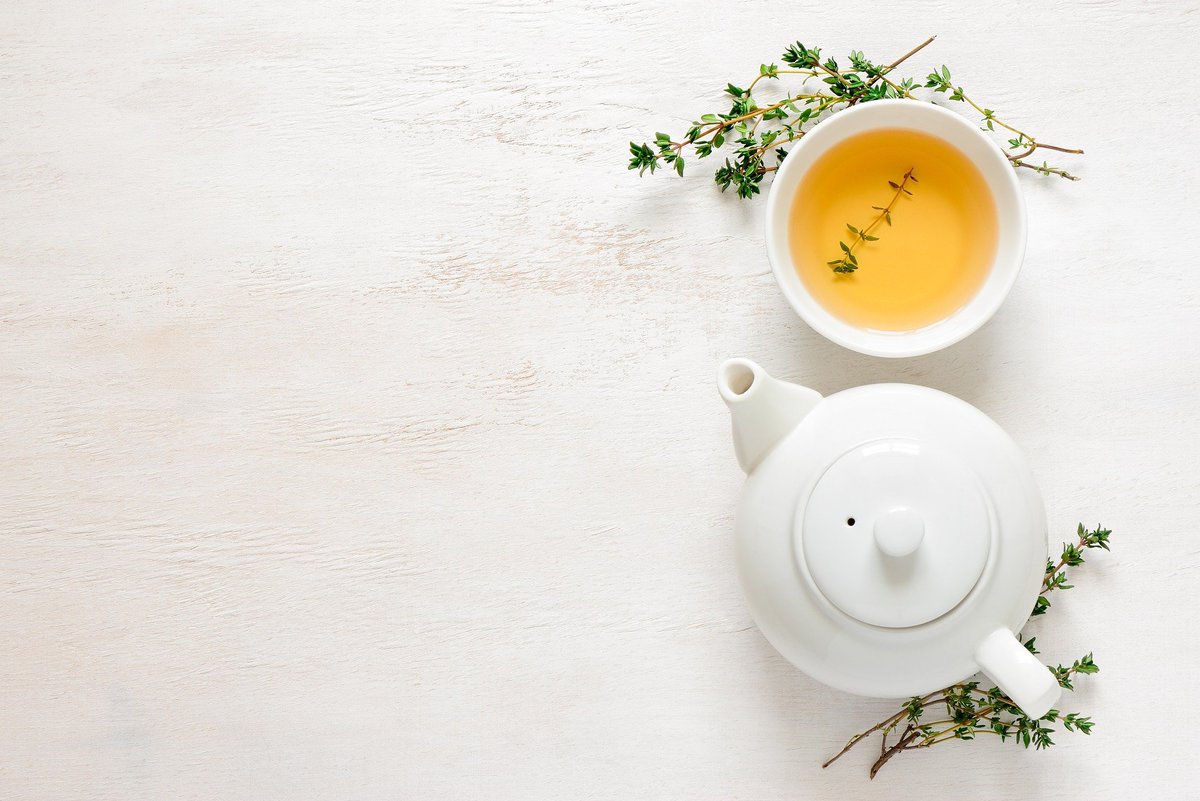 Ways to Add Turmeric in Your Diet
Adding more turmeric into your diet is much simpler than you think, especially since there are various recipes that I've shared that incorporate this ingredient. In general, you can easily add turmeric to:
Smoothies
Soups
Lattes
Teas
Golden milk
Scrambled eggs
Baked goods (i.e. muffins, cakes, donuts, etc.)
Rice
Vegetables
Pancakes/Waffles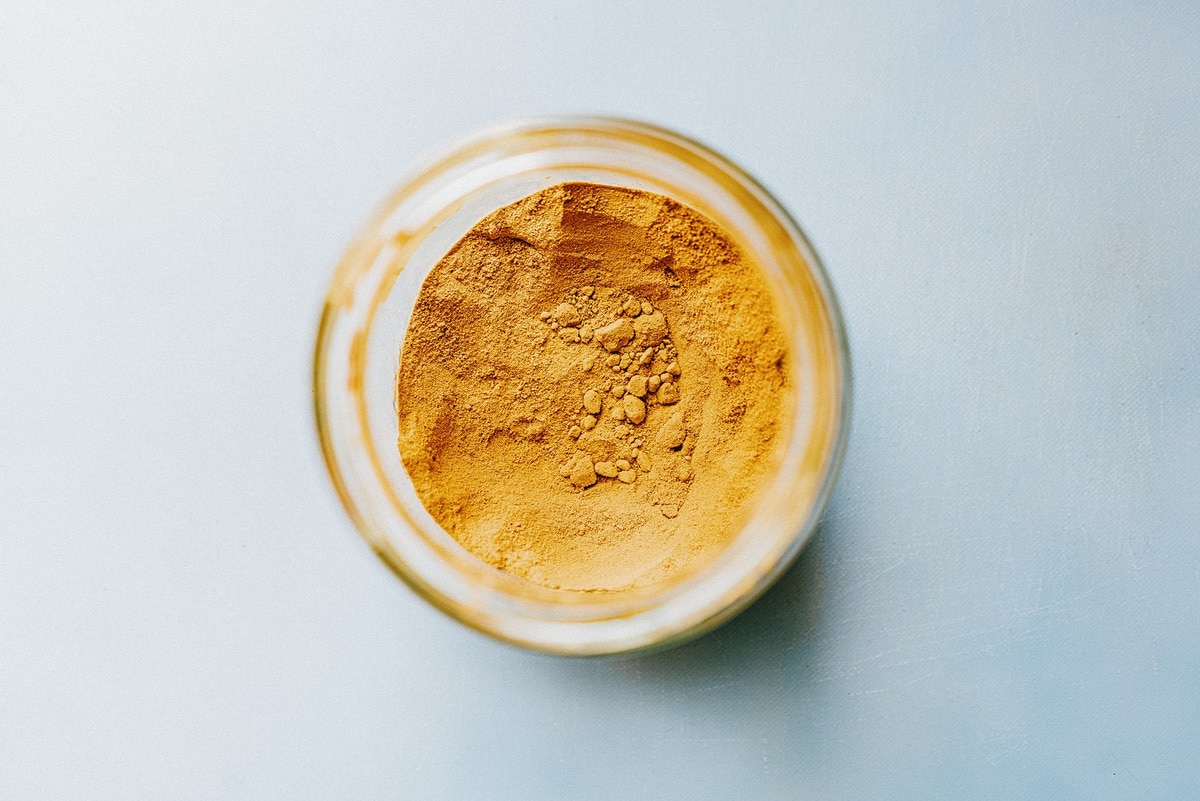 Turmeric-infused Recipes to Try
The following recipes are just a few ways that you can incorporate turmeric and always remember to add a pinch of black pepper to any dish that calls for turmeric for that powerful benefit. Here's my top favorite recipes:
#1: Honey + Turmeric Iced Latte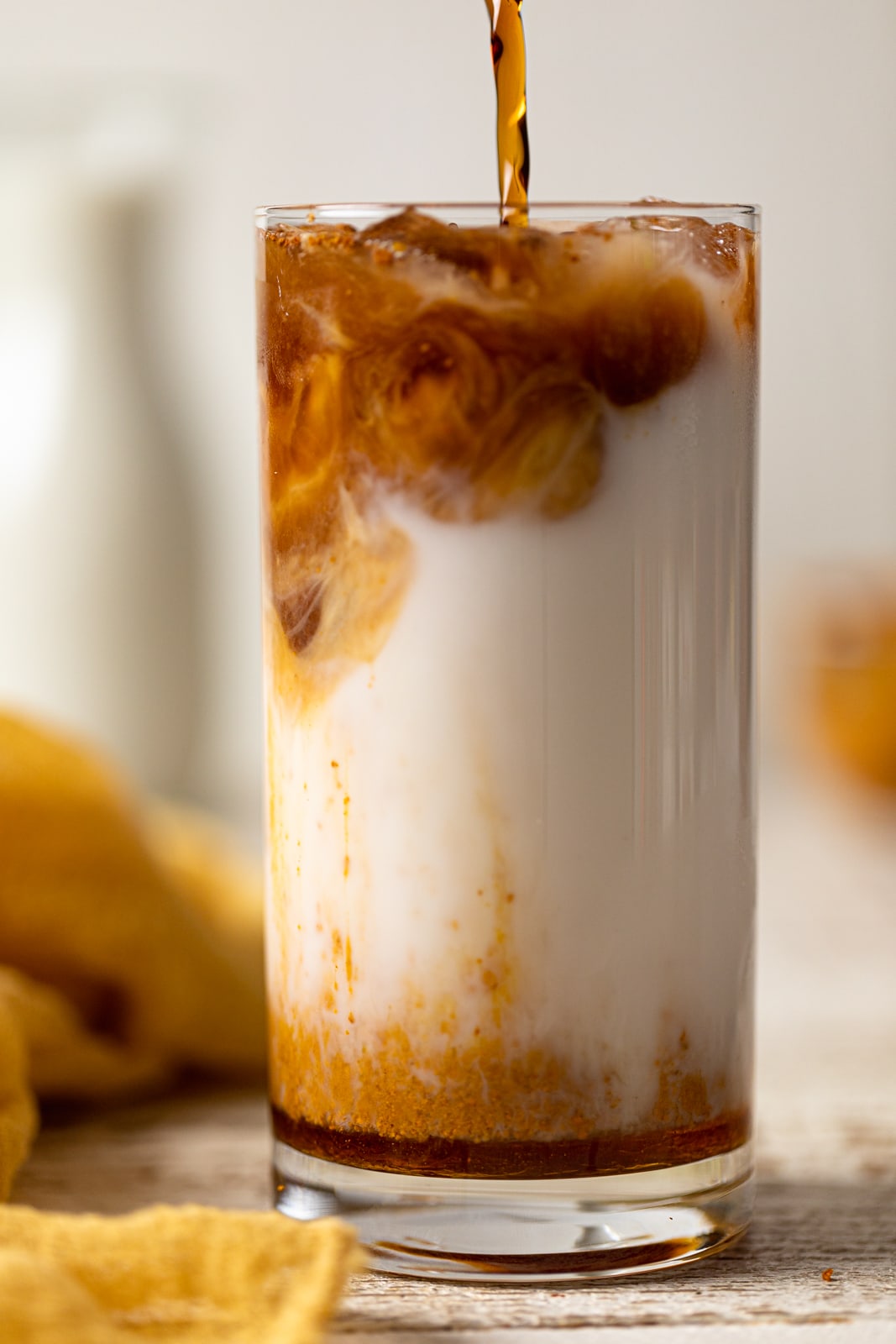 #2: 5 Ingredient Turmeric Wake Up Smoothie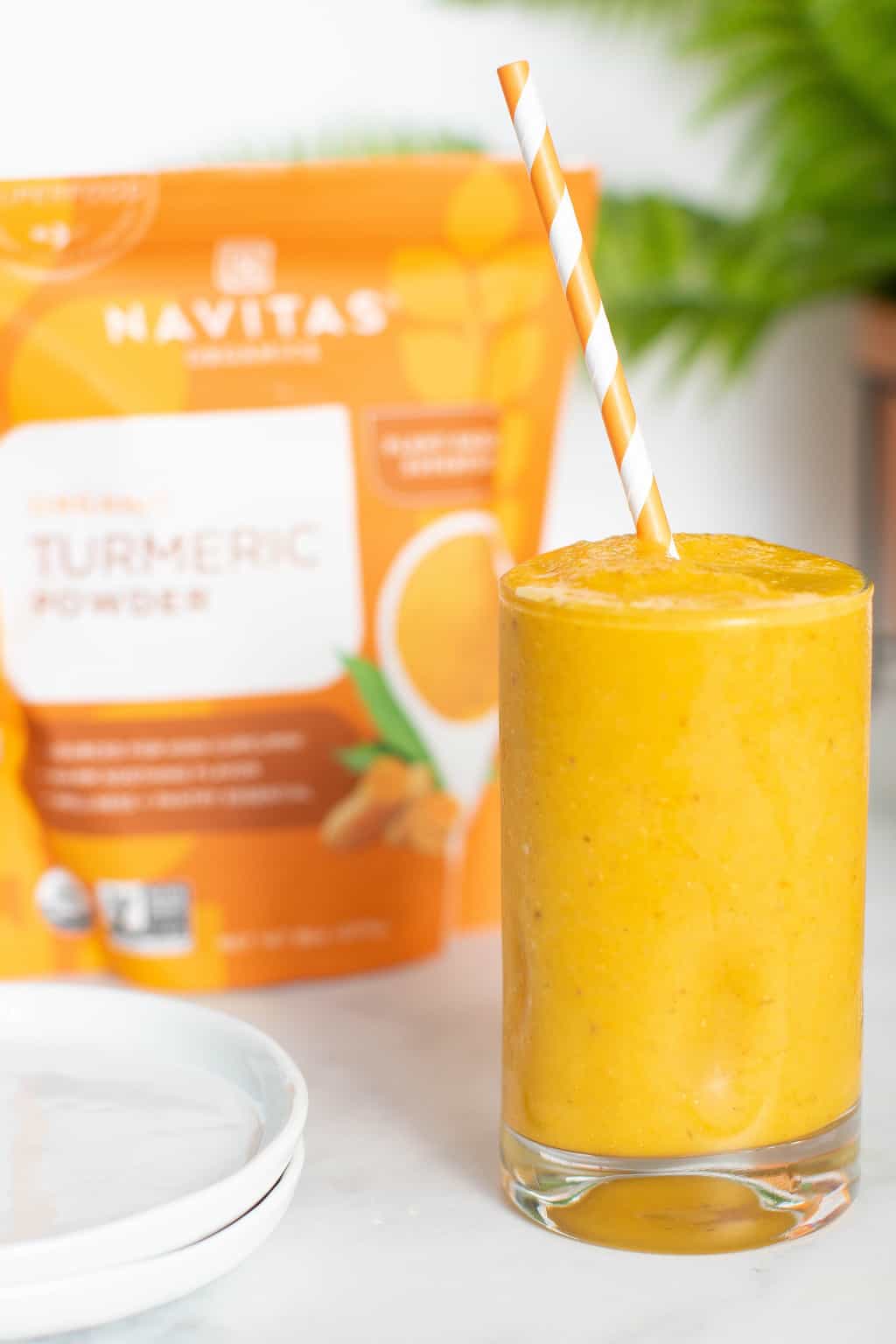 This 5-Ingredient Turmeric 'Wake Up' Smoothie recipe is a delicious and simple way to enjoy a quick, easy breakfast while gaining awesome health benefits from the turmeric, flaxseeds and peaches. Boasting of a hint of sweetness and spice, his smoothie is the perfect meal option for the entire family. Ready in 1, 2, 3!
#3: Vegan Tuscan Kale Chickpea Soup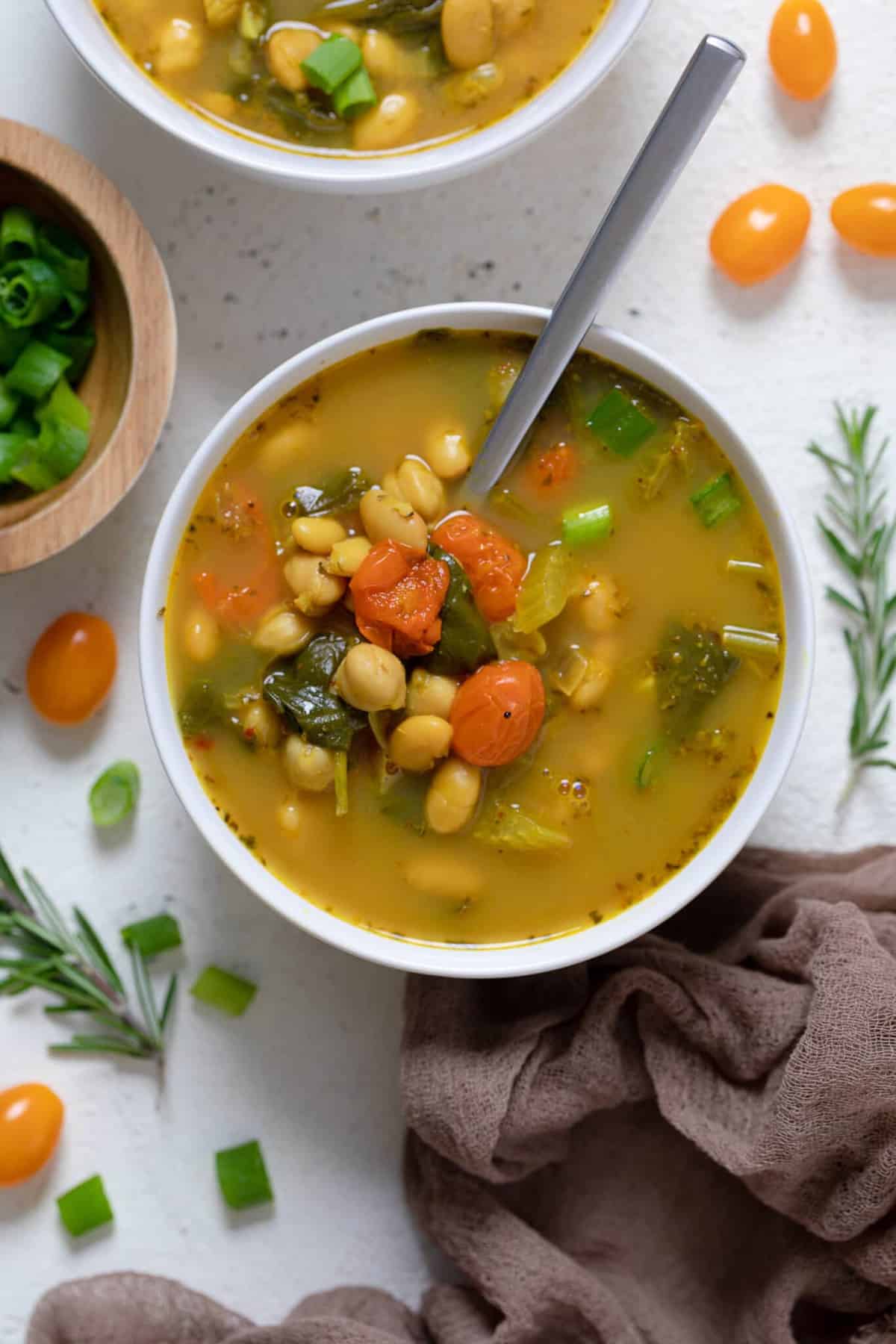 This Vegan Tuscan Kale Chickpea Soup is the perfect comfort and flavorful bowl of goodness for those cold winter days. Filled with herbs and spices, kale or spinach, chickpea, cannellini beans, carrots, tomatoes, celery, garlic, and onions, this soup is quite the healthy meal and surely does warm things up nicely. Super easy to make and only requires only one pot. All vegan + gluten-free.
#4: Spicy Jamaican Vegan Patties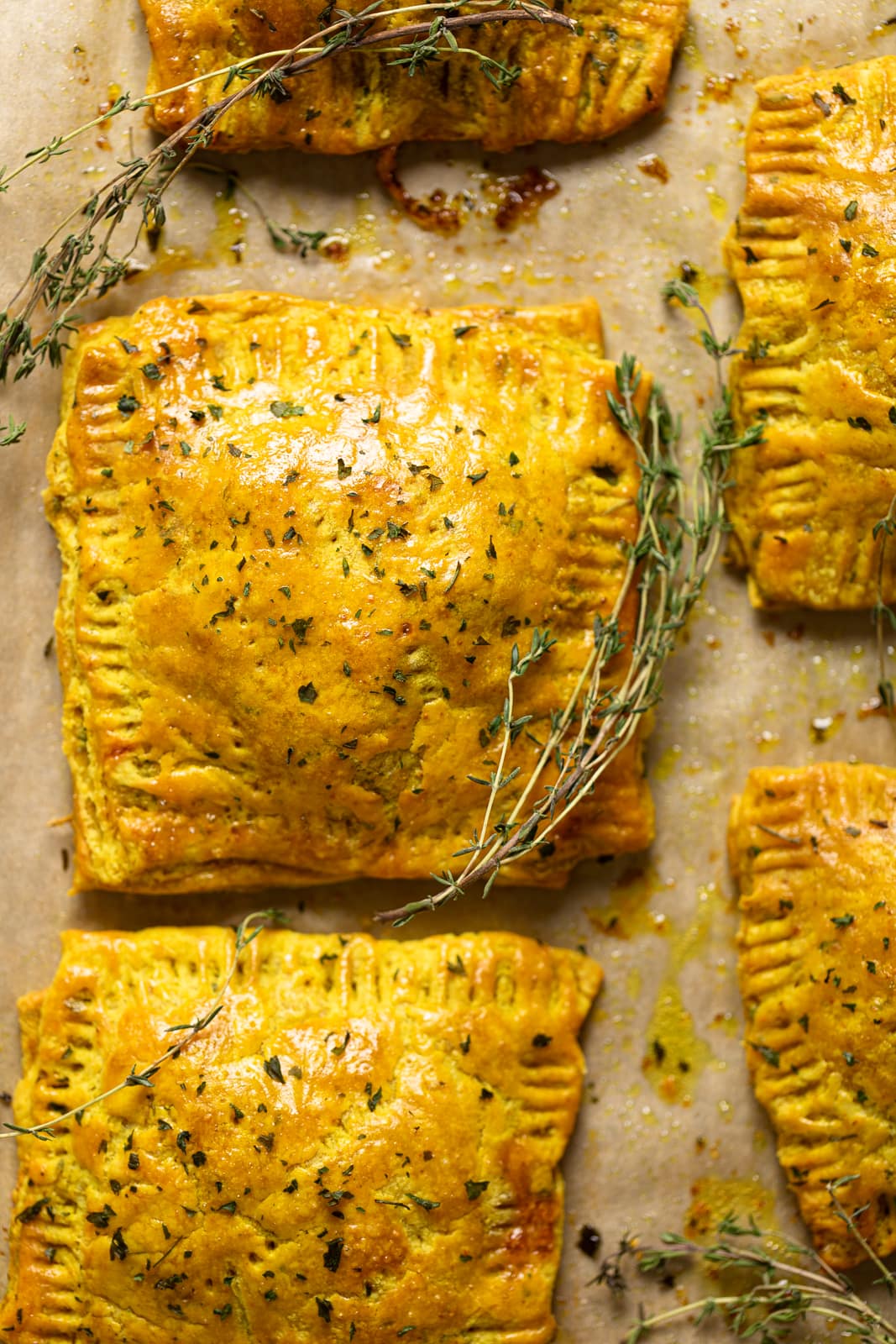 #5: Vegan Jalapeno Queso Dip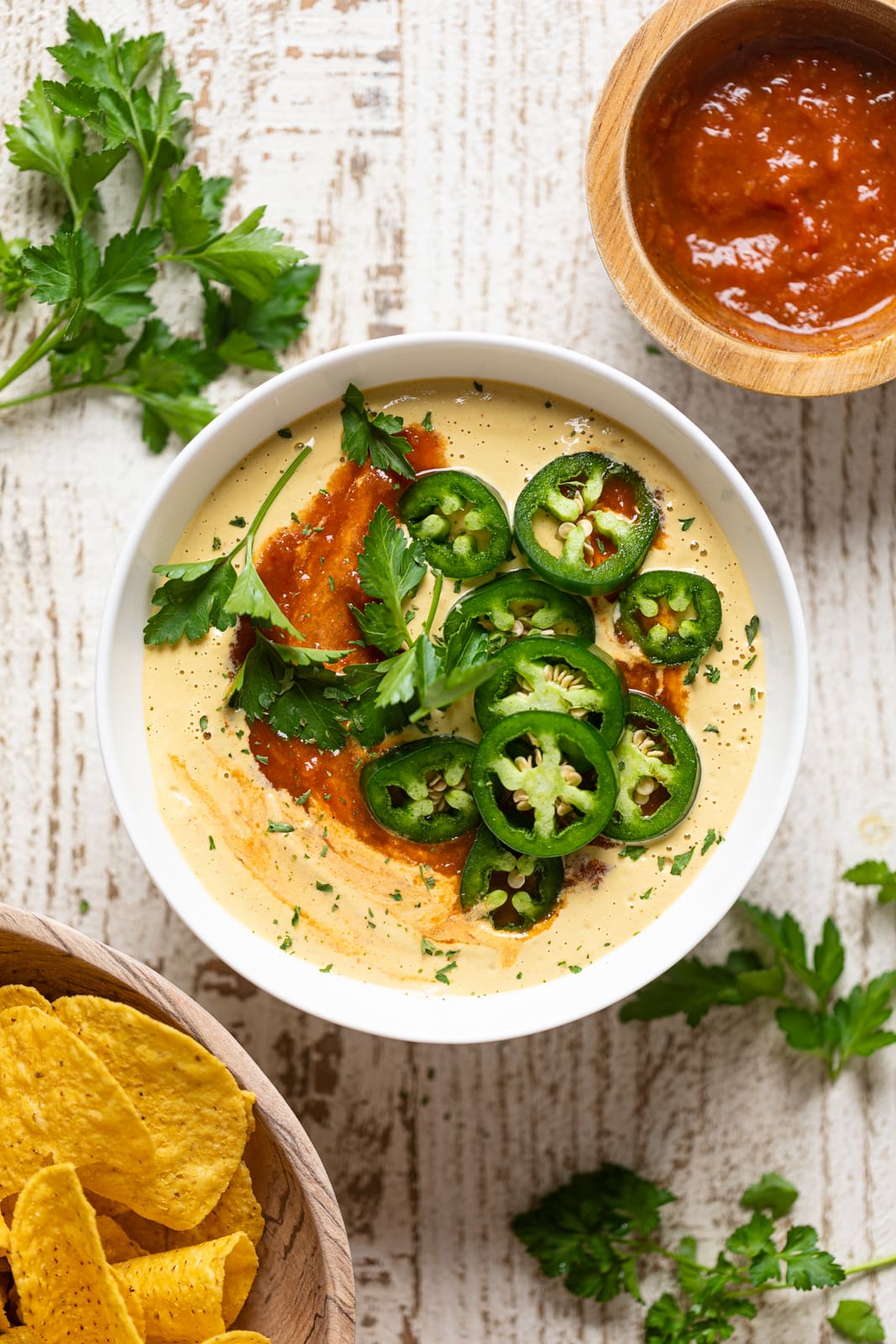 Vegan Jalapeño Queso Dip is the perfect snack for game day with a bit of heat, and tons of gooey, cheesy flavor (but no dairy!).
#6: Easy Spicy Curry Chickpea + Potatoes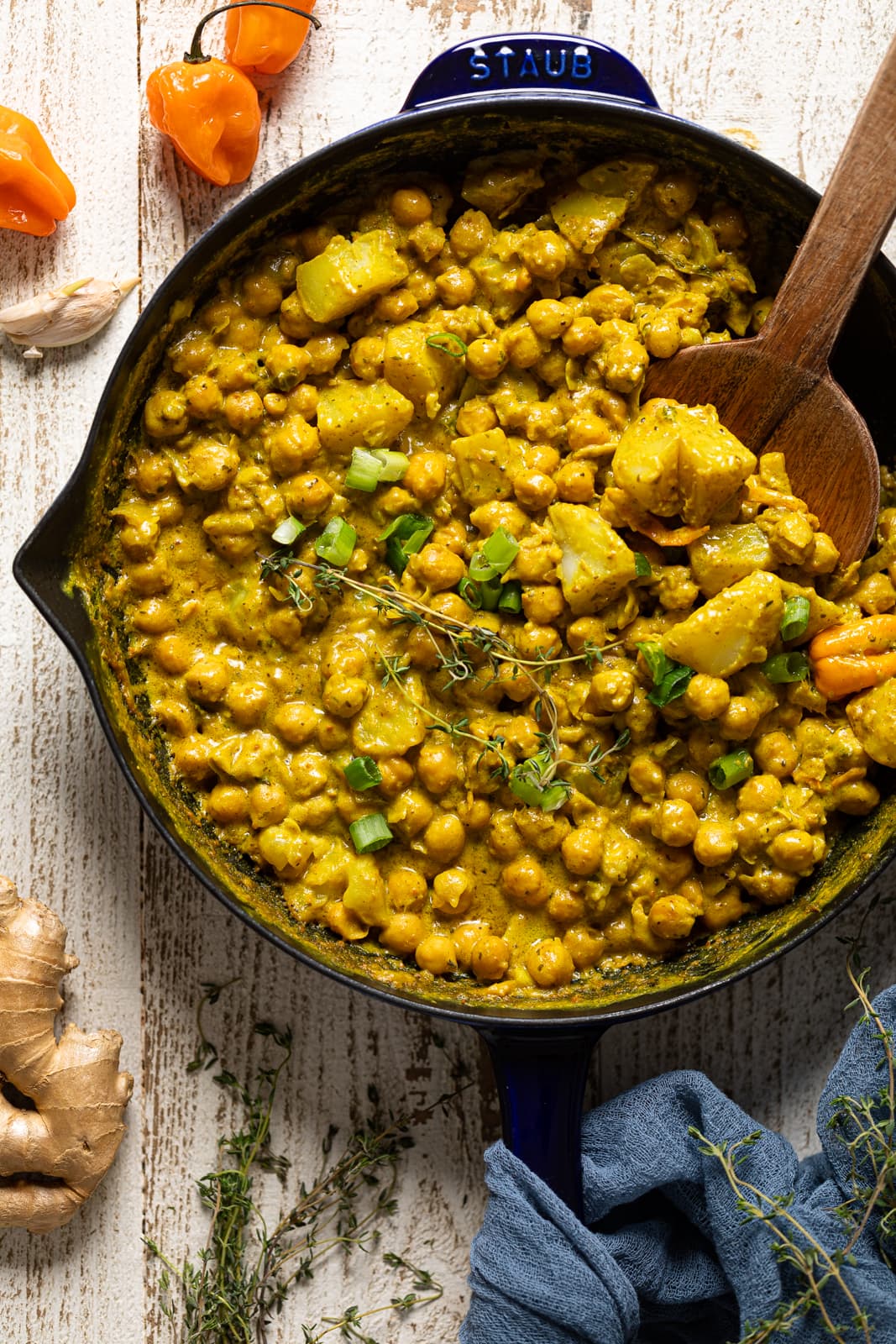 Weeknight meals don't have to be boring or unhealthy just because they're easy! My Easy Spicy Curry Chickpea + Potatoes contains healthy fats, protein, and fiber with a spicy kick! It contains tender chickpeas (from a can!) and red baby potatoes simmered in a flavorful, thick gravy containing scotch bonnet peppers, garlic, soy, and curry powder. This is the easiest curry you will ever make!
How do you use turmeric in your diet? Do you think that it's an incredible anti-inflammatory ingredient?